Looking to build a PC with a high-end processor such as AMD's Ryzen 9 7950X, or the Intel Core i9-13900K? You'll want to make sure that you have a CPU cooler that is up to the task, and ASUS's ROG RYUO III 360 ARGB AIO CPU cooler could just fit the bill.
With AMD's Ryzen 7000 series of processors and Intel's 13th generation Raptor Lake offerings having been on the market for some time now, it's been clearly established that the flagship products for both brands (namely the Ryzen 9 7950X and the Core i9-13900K respectively) have pretty hefty cooling requirements, where end-users would do well to ensure that they purchase the best possible CPU cooler. This is so as to minimise any instances of thermal throttling that could otherwise impair their high-end CPU's performance.
In this regard, high-end all-in-one (AIO) liquid CPU coolers might be a good choice, where they offer better cooling performance than air coolers without the hassle of maintaining a full water cooling setup. Enter the ASUS ROG RYUO III 360 ARGB AIO CPU cooler - as a premium 360mm AIO CPU cooler offering, could this flagship product tame the thermal output of a high-end CPU effectively? Let's find out!
Summary of Specifications
Supported Platforms: AM5, AM4, LGA1700, LGA1200, LGA1151, LGA1150, LGA1155, LGA1156
Radiator Material: Aluminium
Radiator Size: 399.5mm x 120mm x 30mm
Pump Size:

89mm x 89mm x 68.3mm

Fan Model: 3x ASUS ROG AF 12S ARGB

Fan Speed: 2200 +/- 300 RPM

Fan Airflow: 70.07 CFM (max)
Packaging & Accessories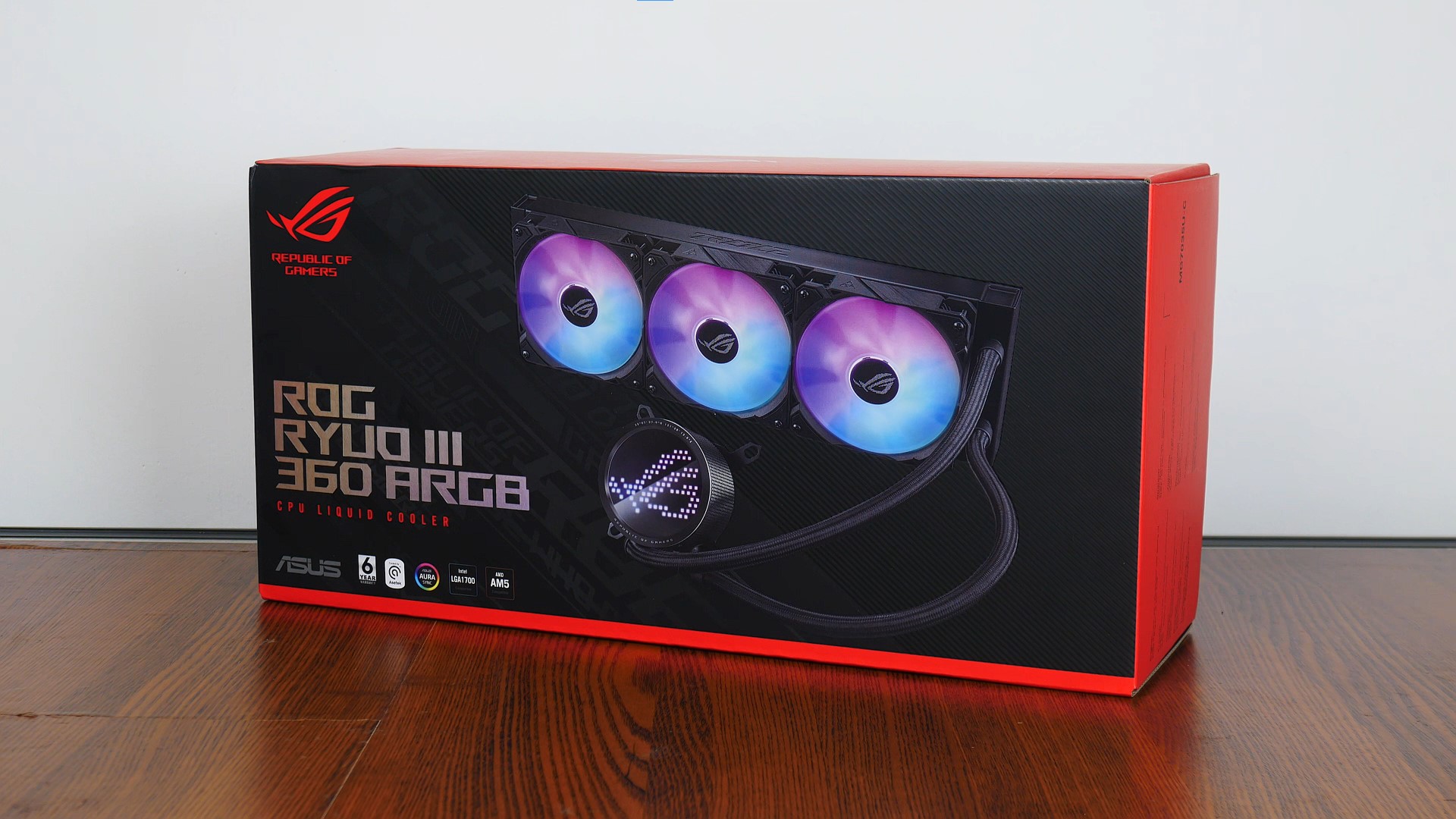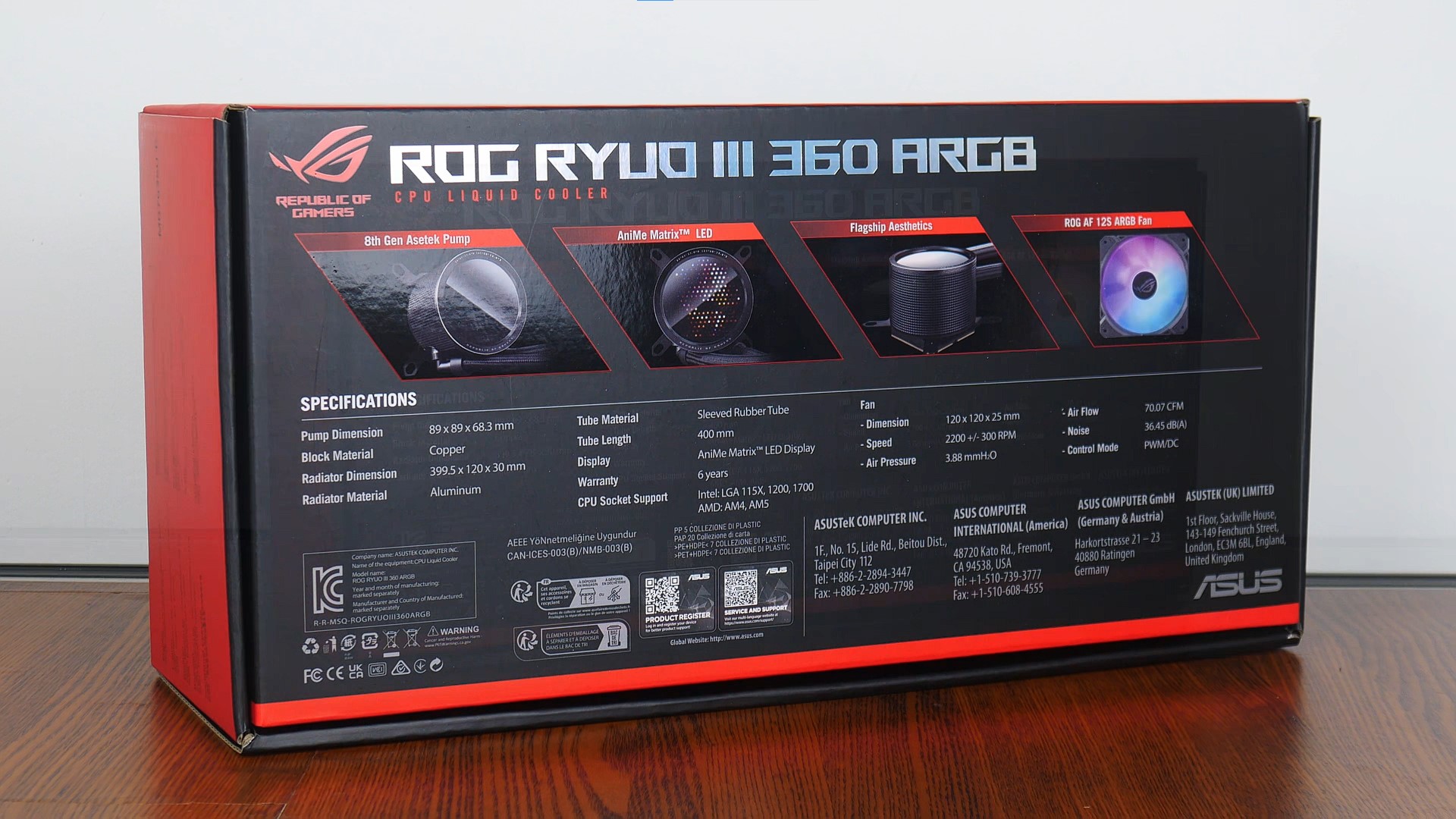 As an offering from the Republic of Gamers line-up, the box of the ROG RYUO III 360 ARGB has the usual red and black colourway that has come to be associated with the ROG brand.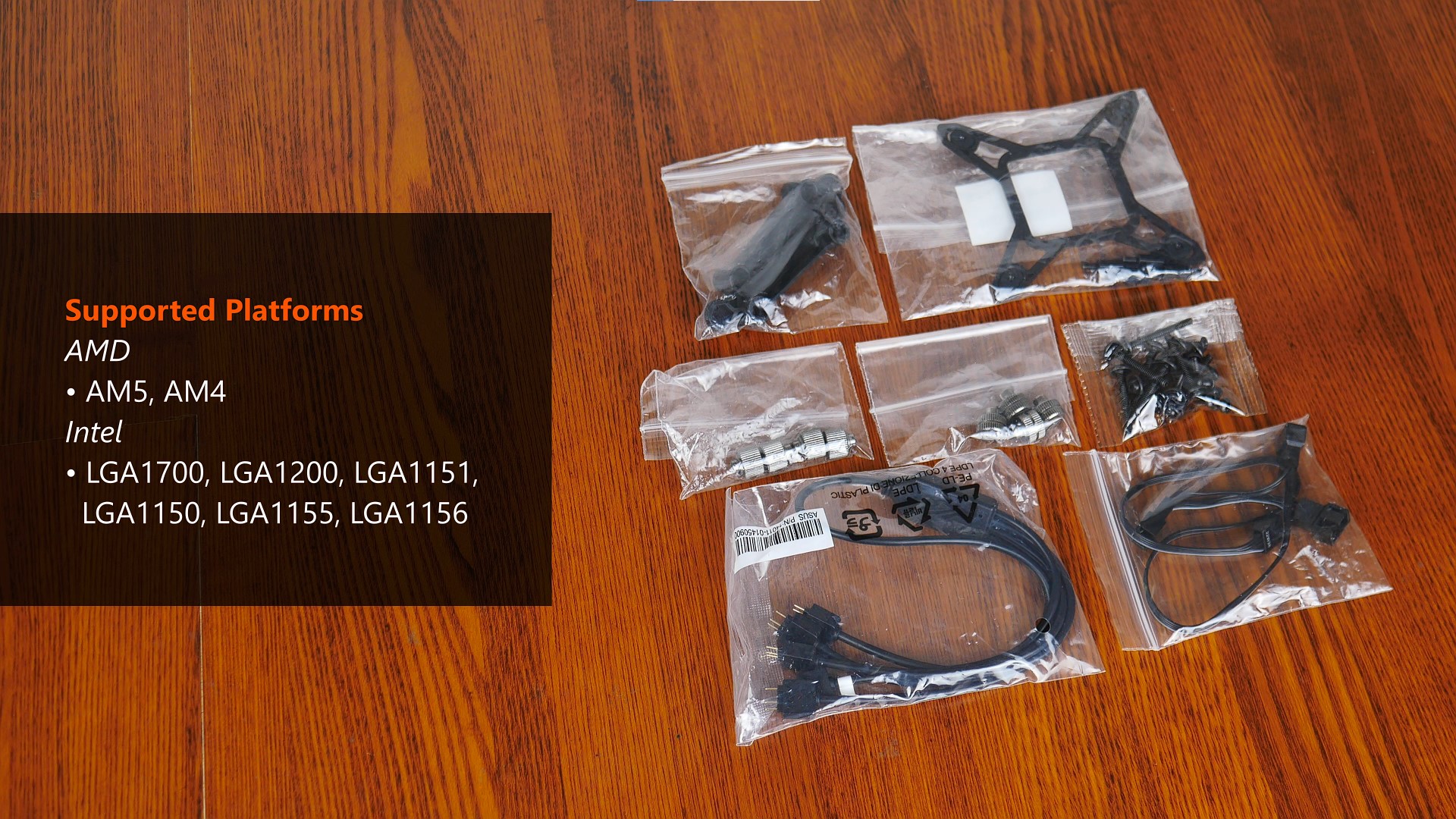 The AIO CPU cooler comes with the necessary brackets and screws to support its use on several AMD and Intel platforms, as well as the following other accessories:
1-to-3 fan splitter cable

1-to-4 addressable RGB splitter cable

ROG VIP card

Velcro cable tie
CPU Cooler Aesthetics & Specs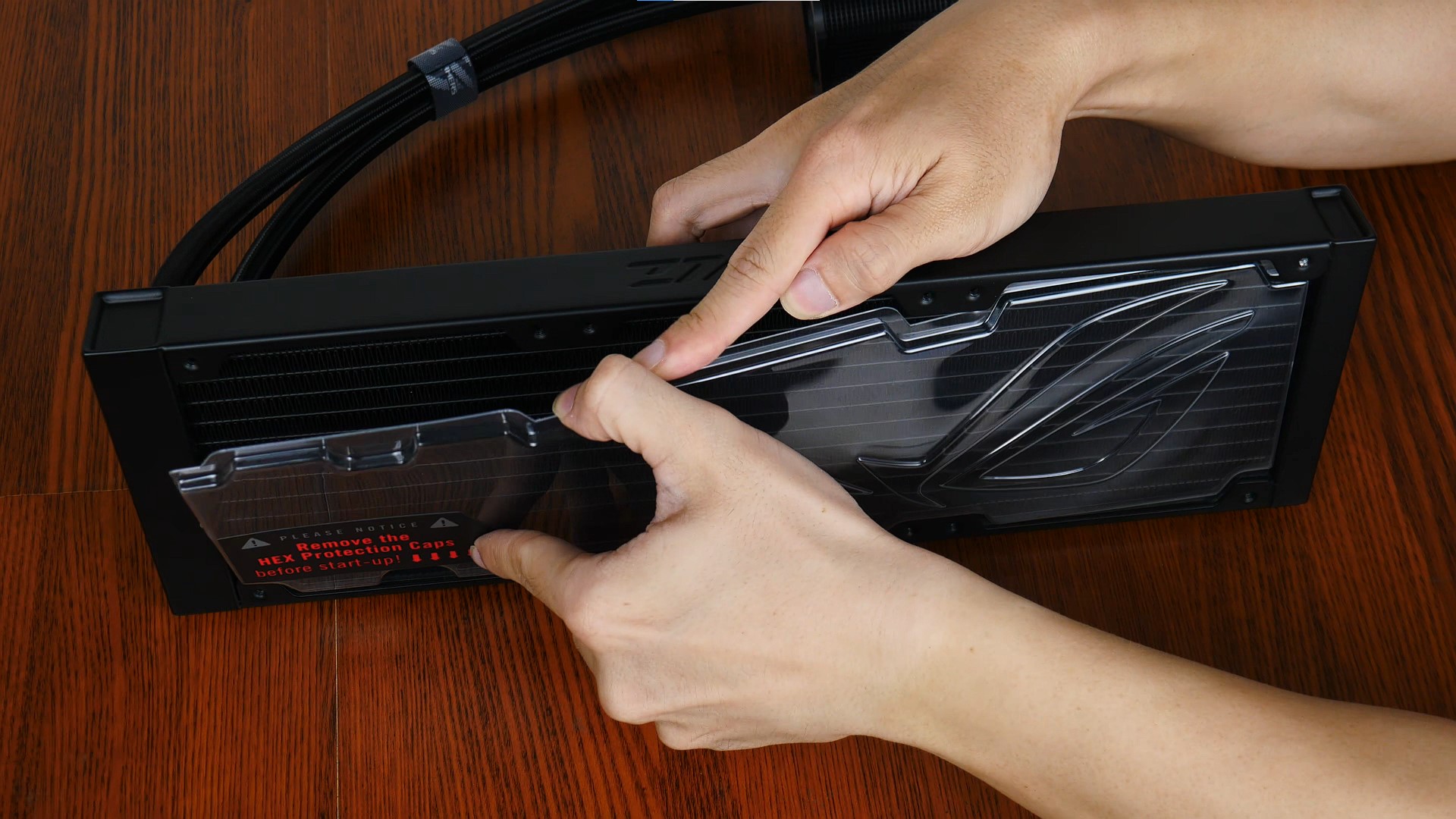 The ROG RYUO III 360 ARGB comes with a 360mm radiator that has a black coloured frame with a matte finish. To protect the radiator fins during shipping, ASUS has included protective plastic caps for the radiator fins on both sides, which is a nice touch.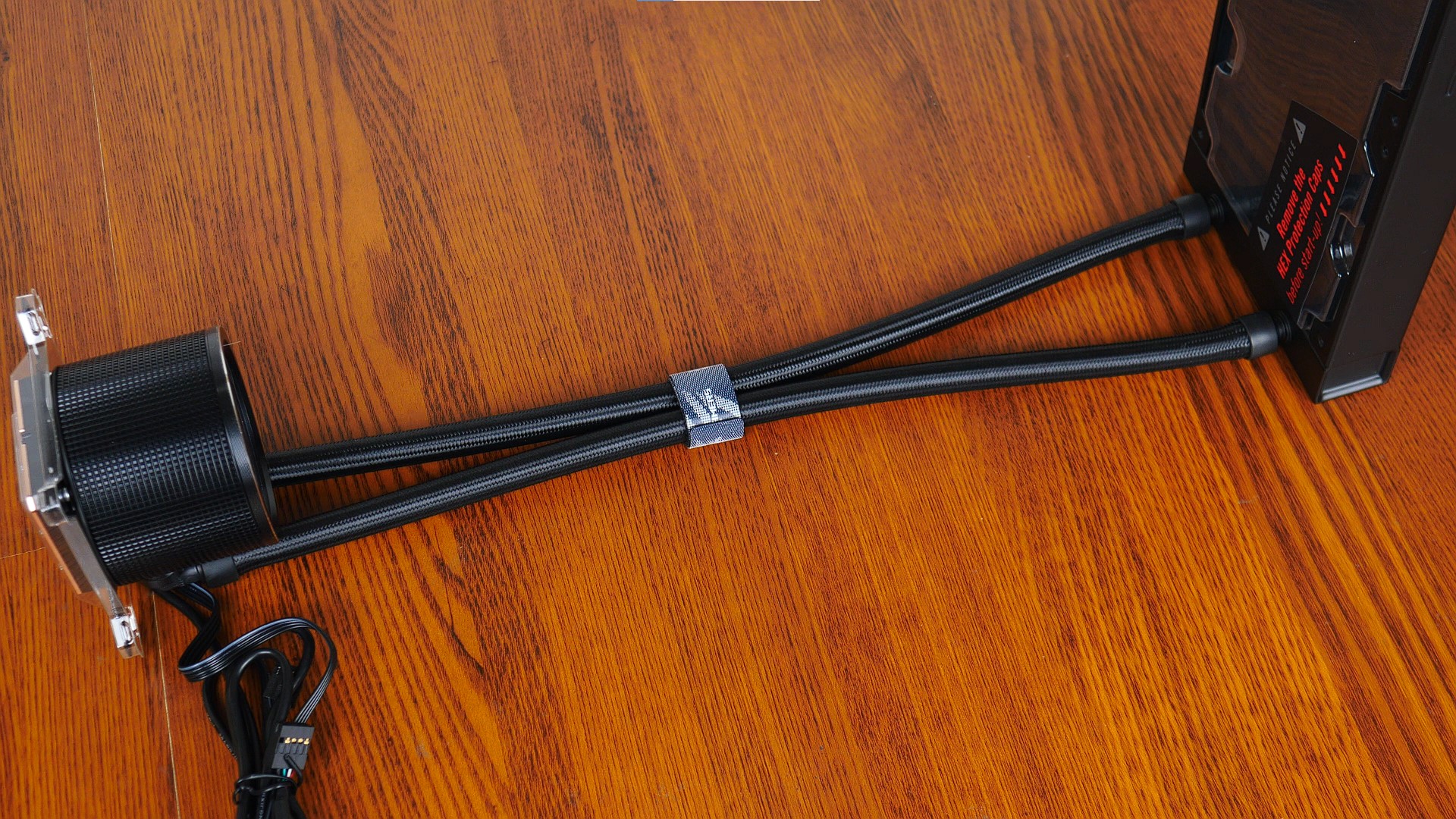 Also included are sleeved rubber tubes that measure 400mm in length, which should be plenty long to cover most installation scenarios.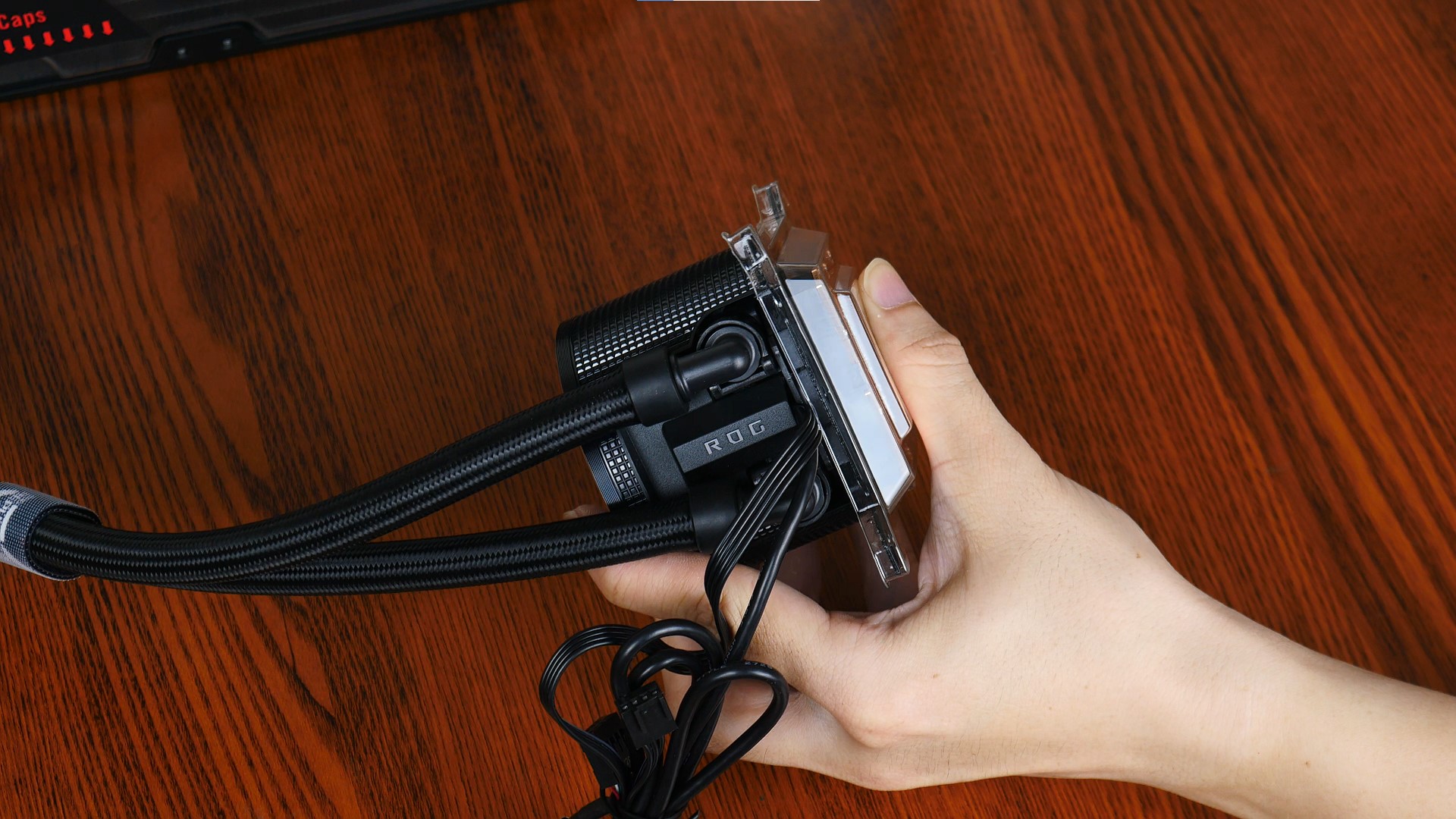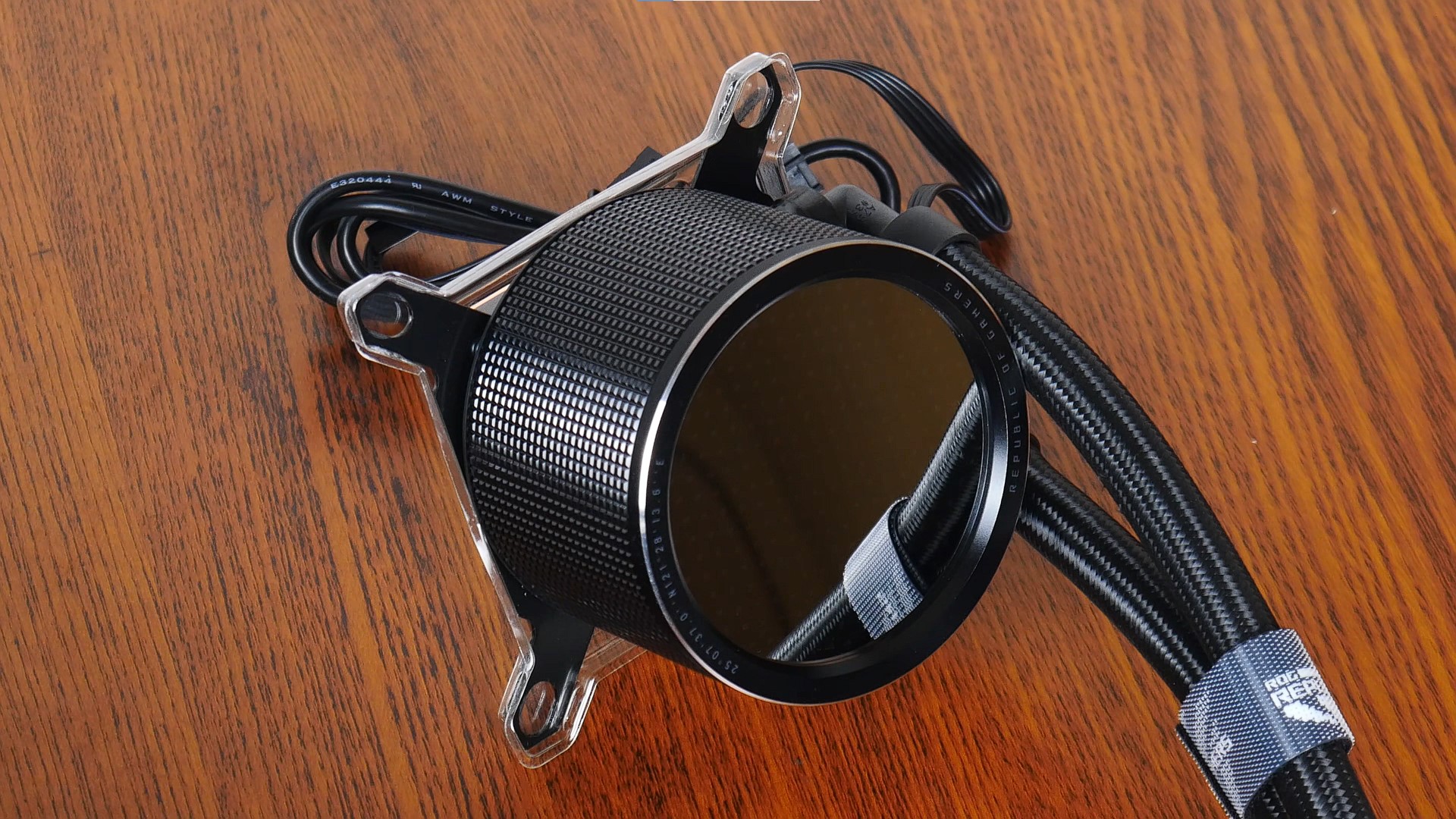 The said tubes connect to the pump assembly by means of two adjustable fittings, and the pump itself has an aluminium housing that has a knurled pattern on the sides, with a circular bezel in silver that according to ASUS, is "diamond-cut" to achieve a premium-looking appearance.
Asetek's 8th generation pump solution forms the core of the pump assembly, with a three-phase motor for higher flow rates and better cooling efficiency. The pump assembly also houses what ASUS terms an "Anime Matrix" LED screen that can be used to display animated graphics as well as vital system statistics. The said screen sits beneath a vacuum coated lens that improves the visibility of the LEDs that make up the display.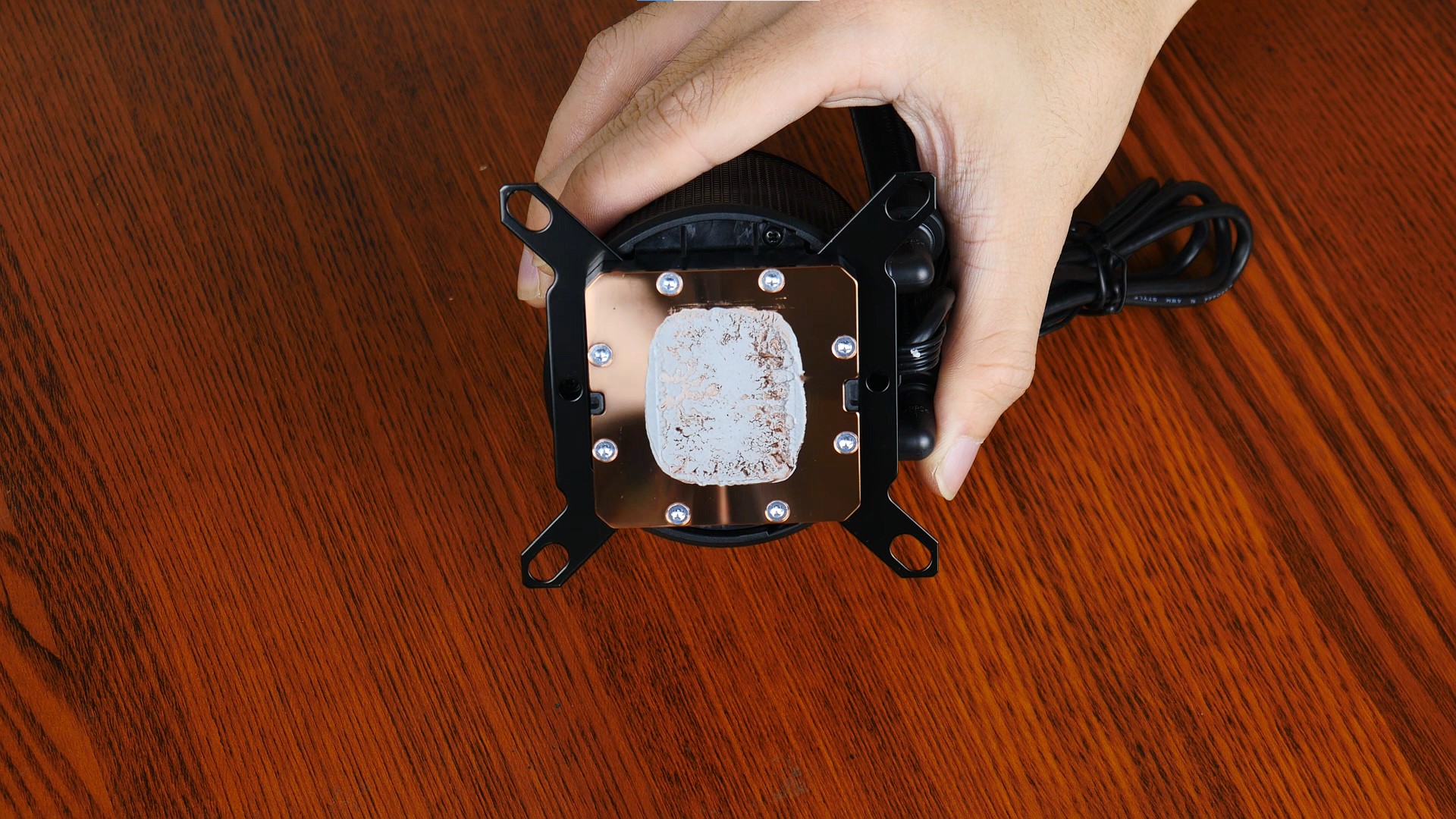 Over on the bottom of the pump assembly is a copper thermal transfer plate that comes with thermal interface material pre-applied.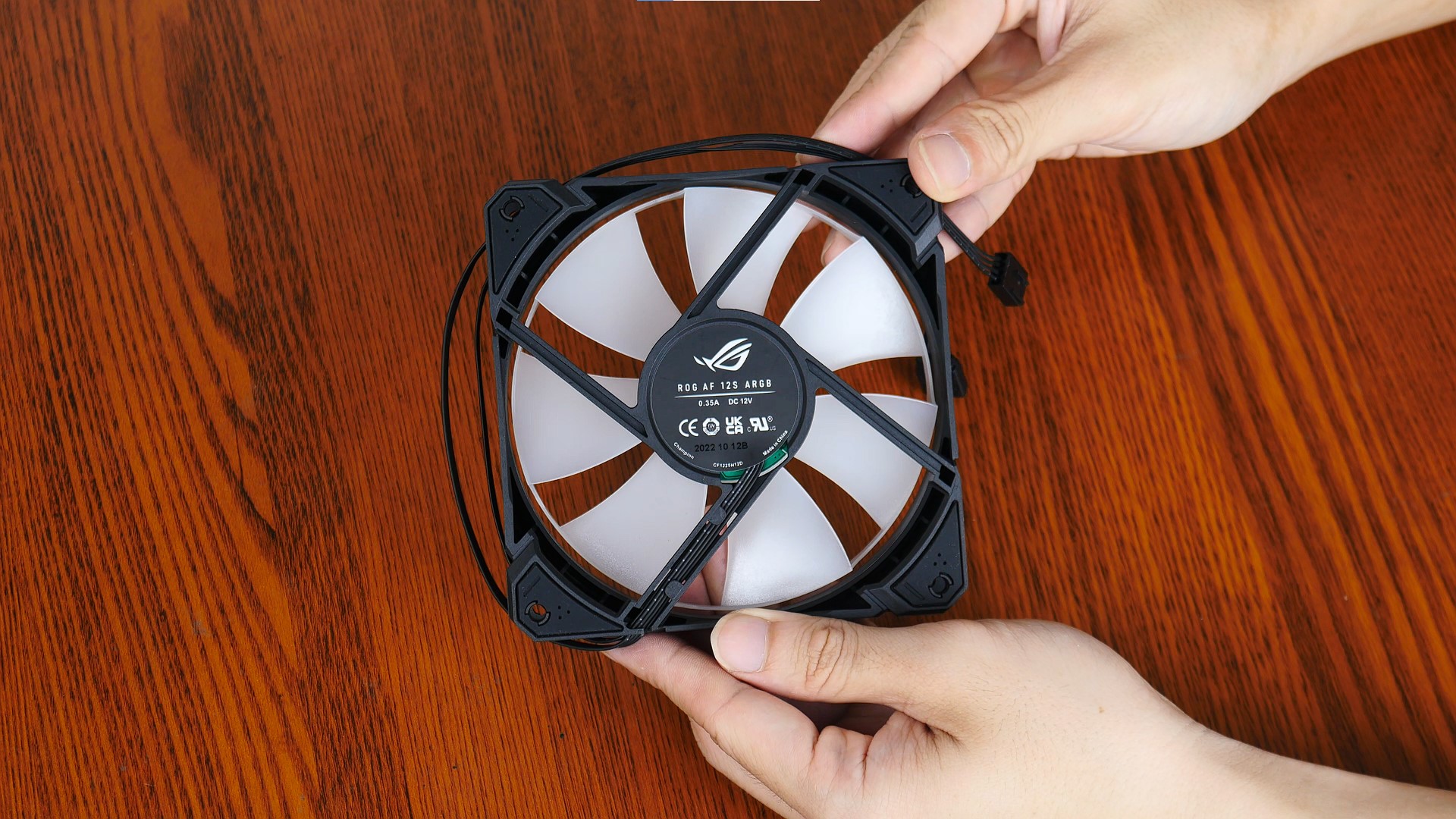 Being an AIO CPU cooler with a 360mm radiator, ASUS has included three ROG AF 12S ARGB fans; the said fans are 120mm parts with a RPM of 2200 +/- 300 RPM, and have four-pin PWM connectors as well as addressable RGB headers. The fan frame comes with rubber dampeners on all four corners so as to reduce the likelihood of noise from unwanted vibrations.
Test Bench Specs, Testing Methodology & Benchmark Results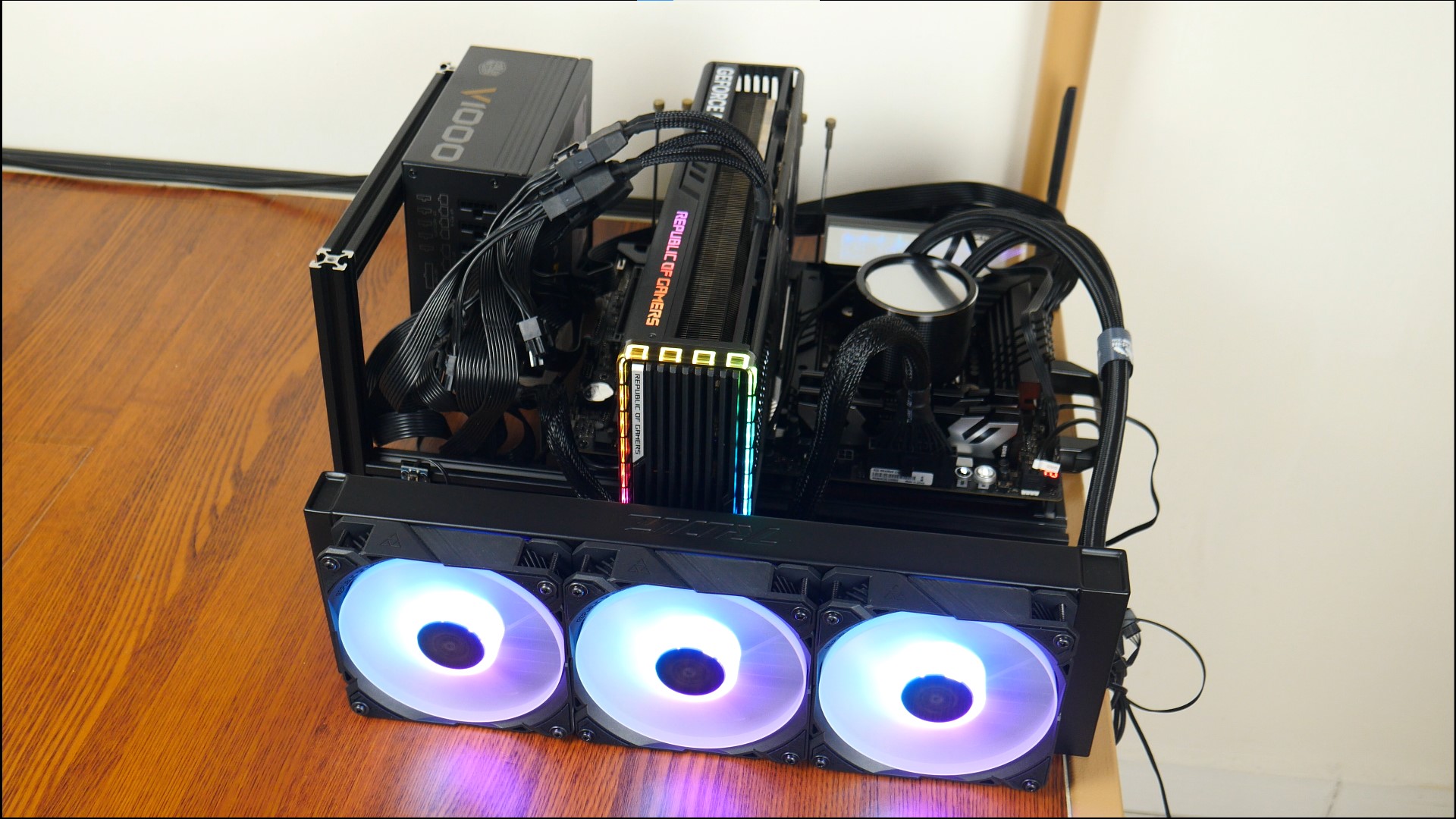 To put the ROG RYUO III 360 ARGB through its paces, it'll be installed on a test bench that is powered by Intel's flagship 13th generation Raptor Lake CPU - the Core i9-13900K, alongside the following components.
Processor: Intel Core i9-13900K
Motherboard: ASUS ROG MAXIMUS Z790 HERO (BIOS 0703)
RAM: 16GBx2 Kingston Fury Renegade DDR5 7200 CL38 (KF572C38K2/32) Engineering Sample, with XMP I memory profile (38-44-44-105 at 1.45V)
Storage: Crucial P3 500GB (CT500P3SSD8)
Graphics Card: ASUS ROG Strix GeForce RTX 4090 OC Edition 24GB GDDR6X
PSU: Cooler Master V1000 Gold 1000W
Case: Open-air Test Bench
OS: Microsoft Windows 11 Pro (21H2)
Graphics Driver: GeForce Game Ready Driver 526.98
As a processor that can draw more than 300W of power when power limits are removed and when used with a CPU cooler that provides adequate thermal headroom, the 13900K should prove to be a challenging processor to cool, which would most definitely put the RYUO III 360 ARGB through its paces.
The following tests were used to assess the thermal performance of the AIO CPU cooler:
Cinebench R23 multi core test

Cyberpunk 2077 single-player campaign

Far Cry 6 single-player campaign
The hardware monitoring app HWiNFO64 was used to measure and log the processor temperature throughout the entirety of testing, where the "CPU Package" temperature readouts were used. For the gaming tests, the 1440p resolution was used together with the highest possible graphics settings, with ray tracing set to the highest possible settings as well, and upscaling technologies such as DLSS and FSR disabled.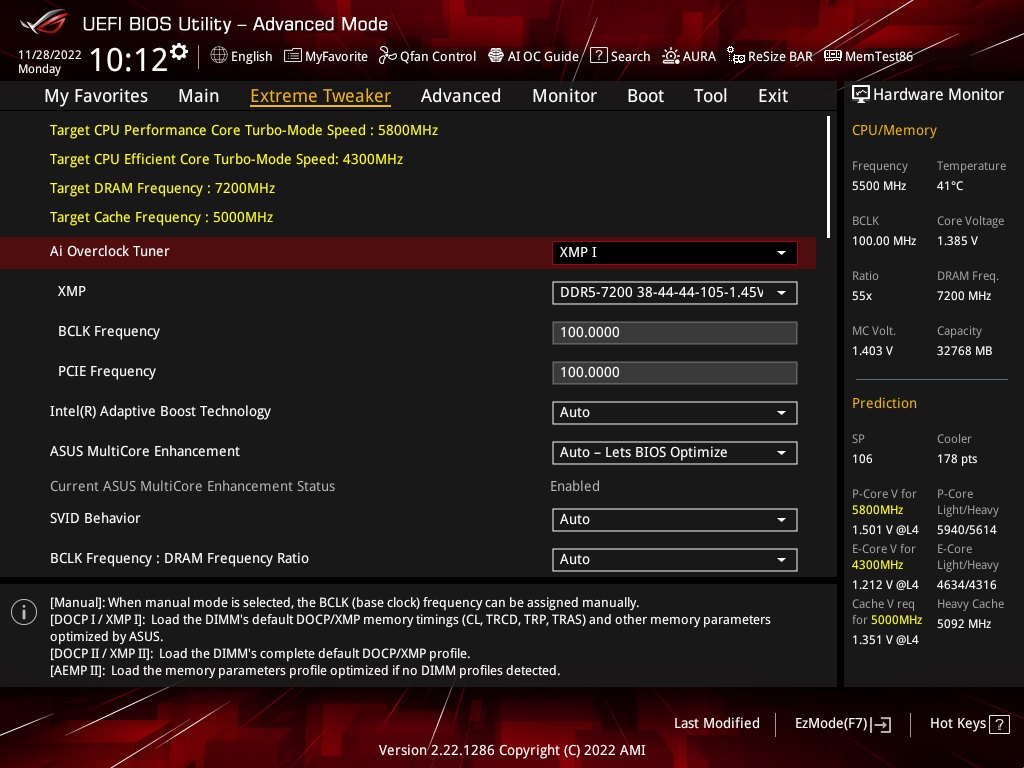 In addition, the stock power limit settings for the i9-13900K were used, where the "ASUS MultiCore Enhancement" setting within the ROG MAXIMUS Z790 HERO's BIOS was set to "Auto - Lets BIOS Optimize", which, as the setting's name implies, allows the BIOS to dynamically optimise the power limits to suit the processor's workload as well as thermal state.
Cinebench R23 Multi Core Test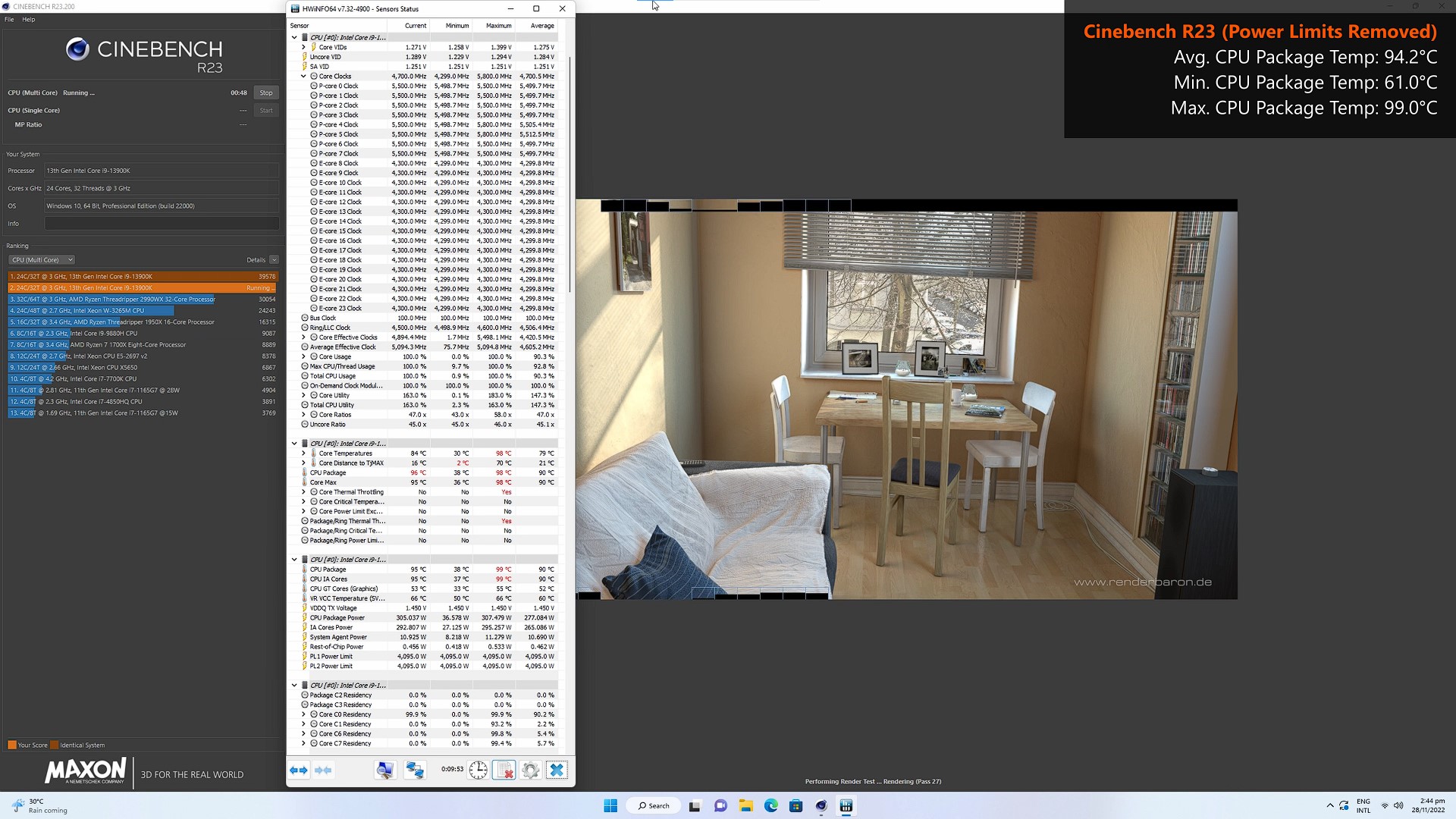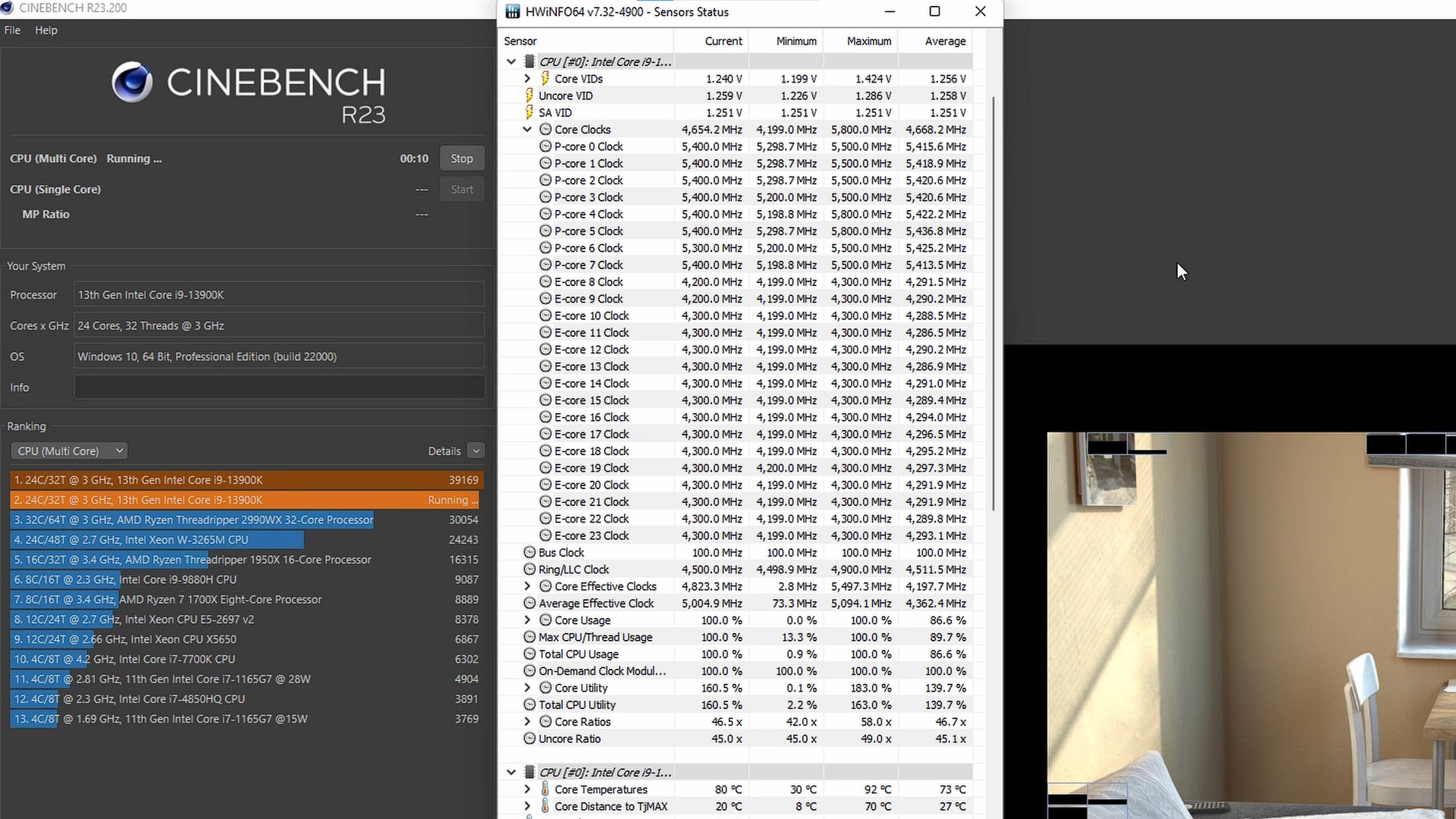 With the Cinebench R23 multi core test, the Core i9-13900K achieved an average CPU Package temperature reading of 89.0°C, a minimum temperature of 60.0°C and a maximum temperature of 92.0°C . In addition, the system obtained a healthy score of 39169 points, with subsequent test runs producing scores around the high-38000 to low-39000 range. Closer inspection of the 13900K's clock behaviour reveals that it achieved an average P-core frequency of around 5.4GHz and an average E-core frequency of around 4.3GHz during the entirety of the test run.
Cyberpunk 2077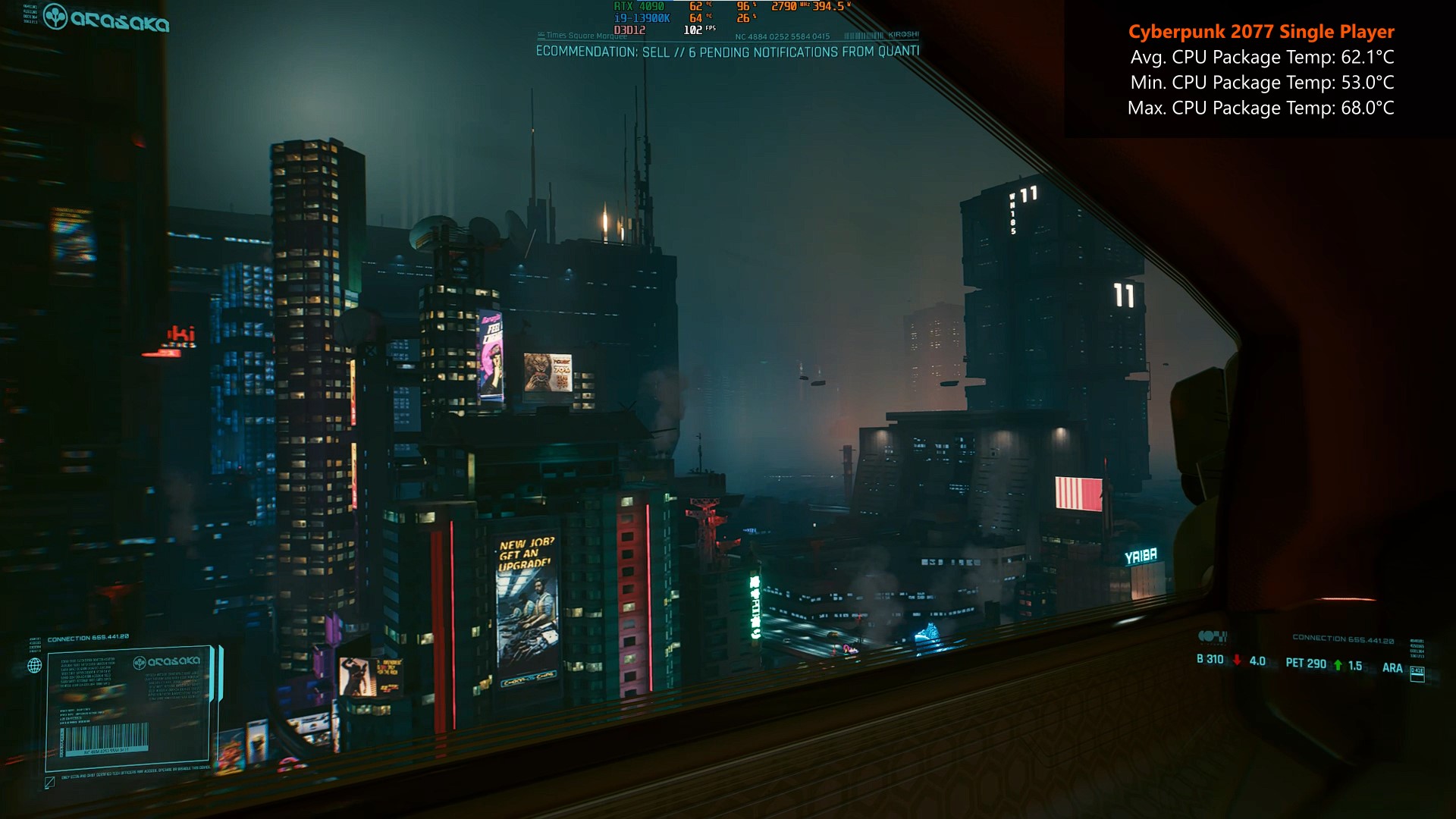 Moving on to a test of actual gameplay with Cyberpunk 2077's single-player mode, the Core i9-13900K achieved an average CPU Package temperature readout of 62.1°C, a low of 53.0°C and a high of 68.0°C.
Far Cry 6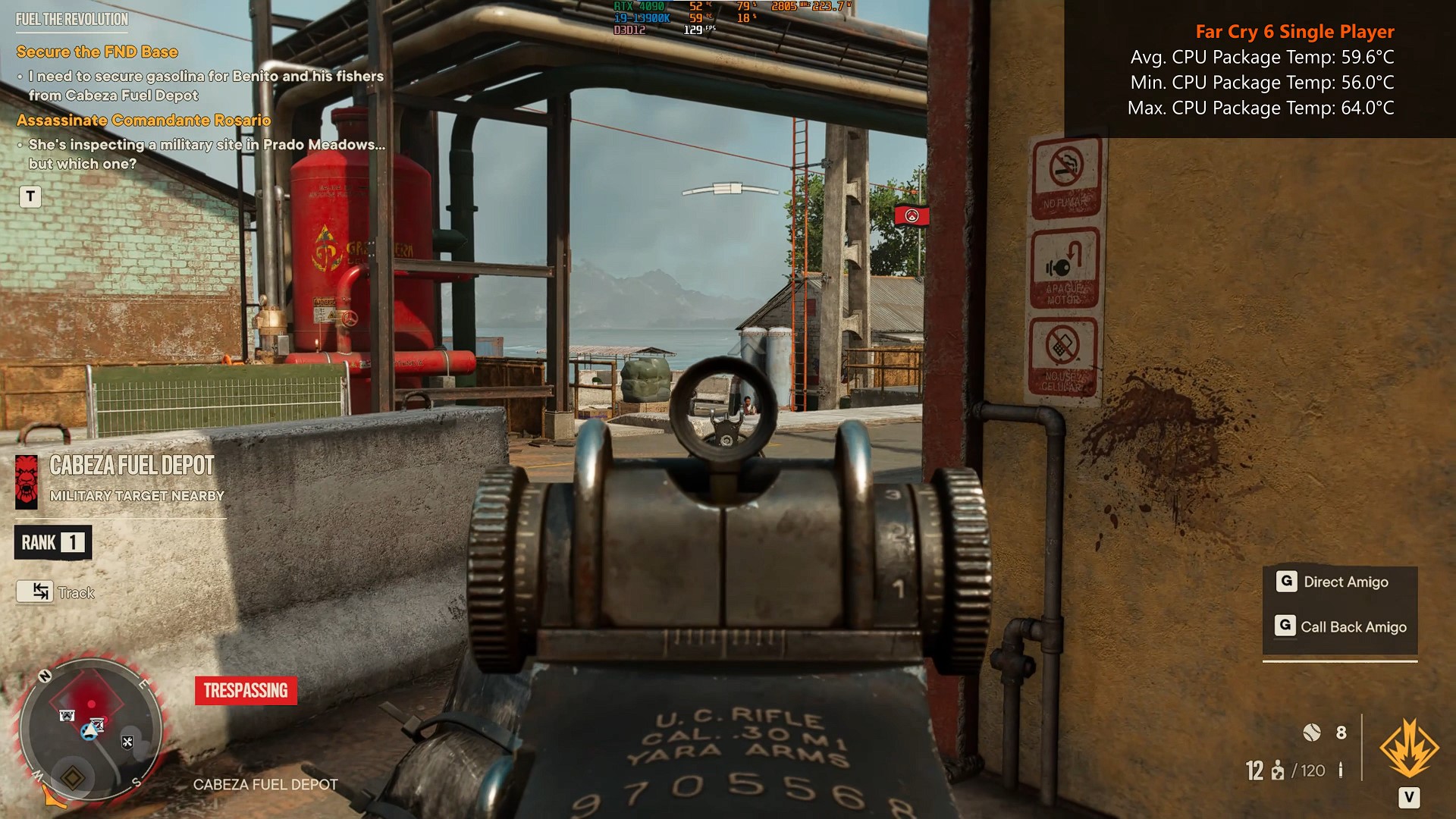 Far Cry 6's single-player mode on the other hand, sees the 13900K achieve an average CPU Package temperature of 59.6°C, a low of 56.0°C and a high of 64.0°C.
With these tests done and dusted, removing the 13900K's power limits would be the next best thing to do, to really push the thermal performance of the ROG RYUO III 360 ARGB to the limit. Bearing in mind that the modern flagship processors of today (such as the AMD Ryzen 9 7950X and the Intel Core i9-13900K featured in this test) are designed to run at extremely high temperatures for prolonged periods of time (95°C for the AMD Ryzen 7950X and 100°C for the Intel Core i9-13900K), testing CPU coolers in such contexts would then be more of a case of whether or not the said coolers can provide sufficient thermal headroom for such high-end processors to run at boosted clock speeds for a sustained period of time.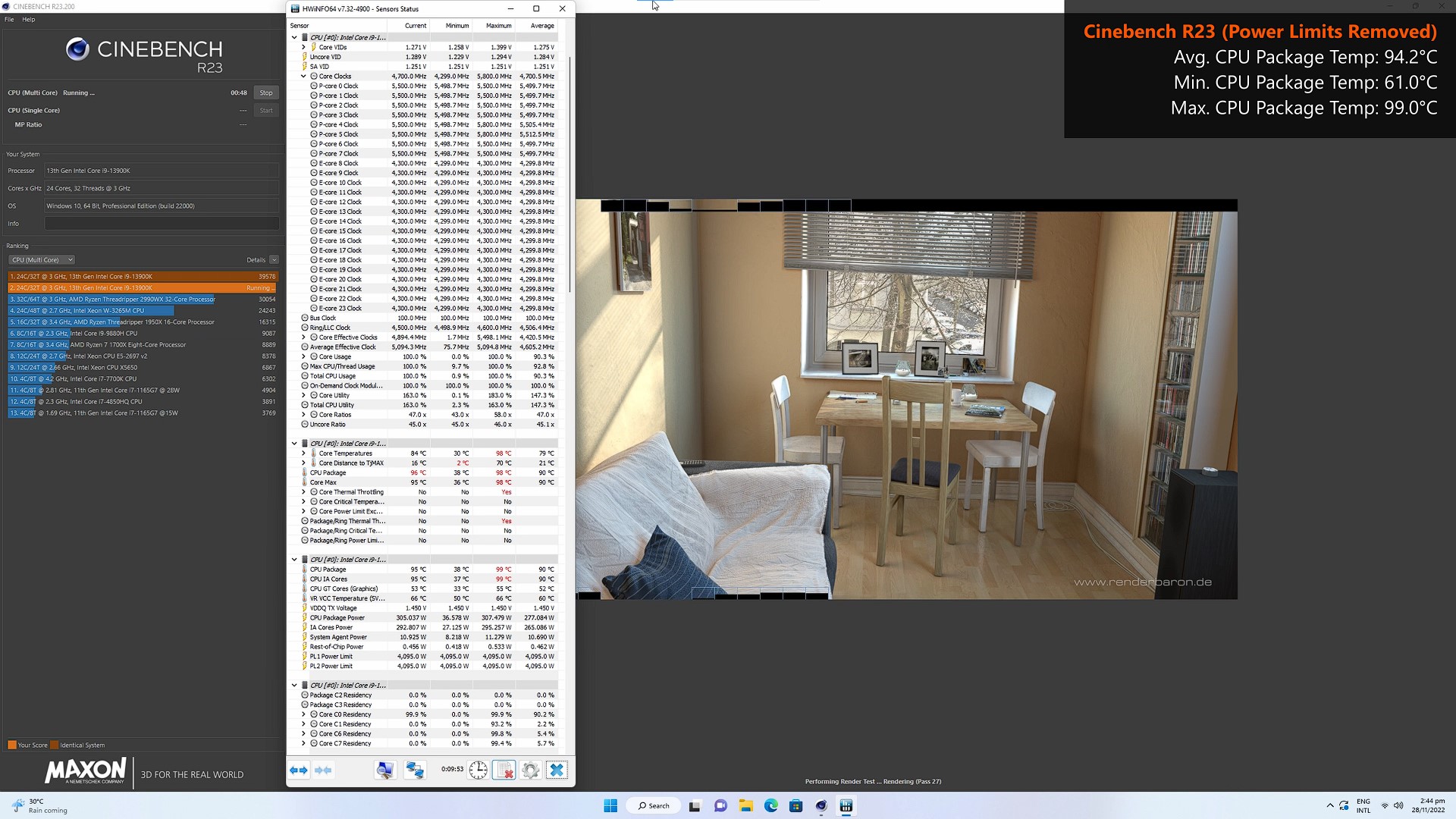 Running the Cinebench R23 multi core test, this time with the power limits for the i9-13900K removed, where the "ASUS MultICore Enhancement" setting within the BIOS was set to "Enabled - Remove all limits", we see that the 13900K achieved an average CPU Package temperature of 94.2°C, with a low of 61.0°C and a high of 99.0°C. In spite of these toasty temperatures, the system was able to put out higher multi core scores with multiple benchmark runs than with the power limits in place, with scores as high as 39578. This was all while the 13900K was drawing as high as 307W of power during the benchmark run.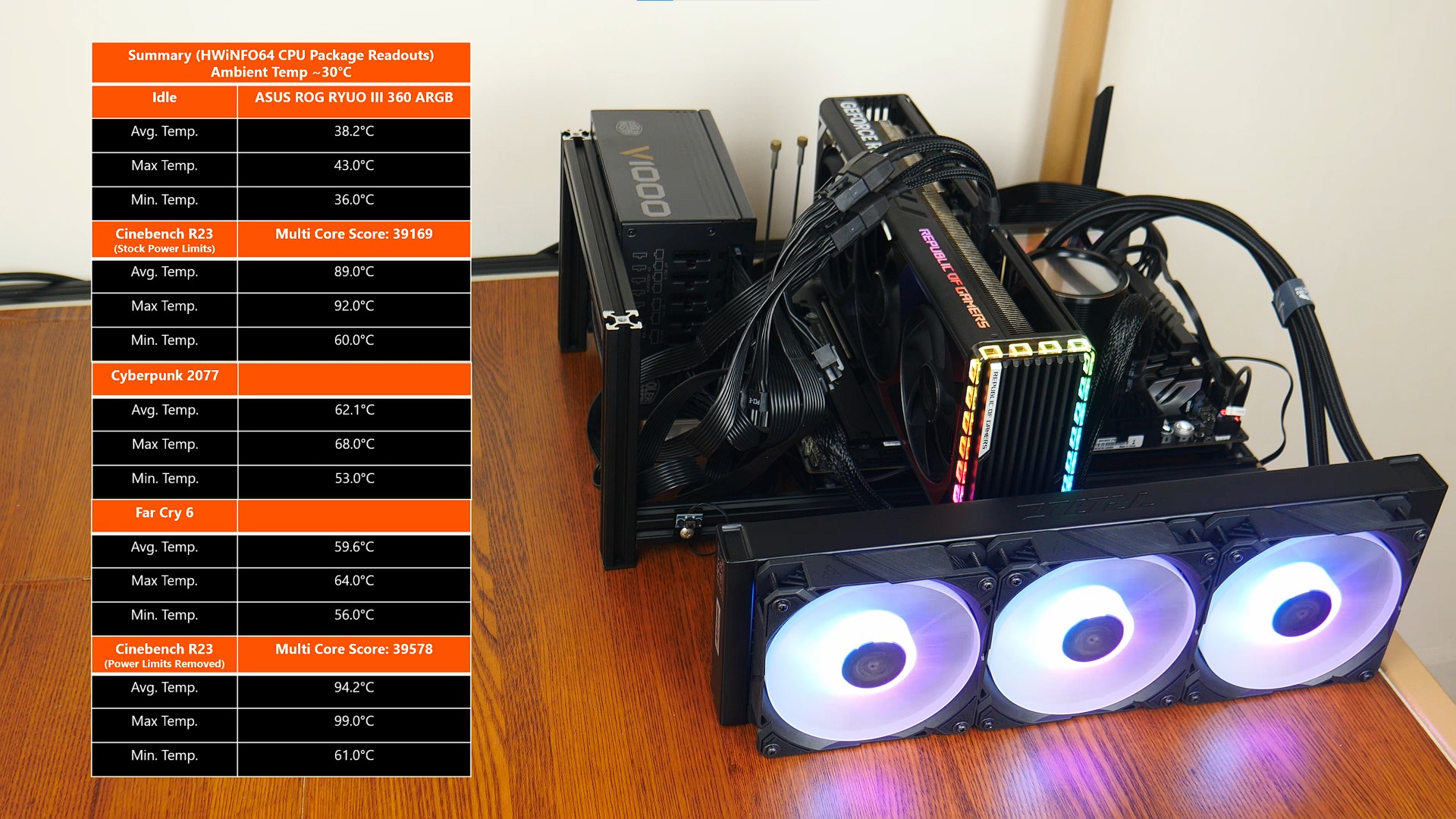 To round up the thermal performance benchmarks, idle temperatures for the ROG RYUO III 360 ARGB were also recorded, with the 13900K achieving an average idle temperature of 38.2°C, with lows of 36.0°C and highs of 43.0°C.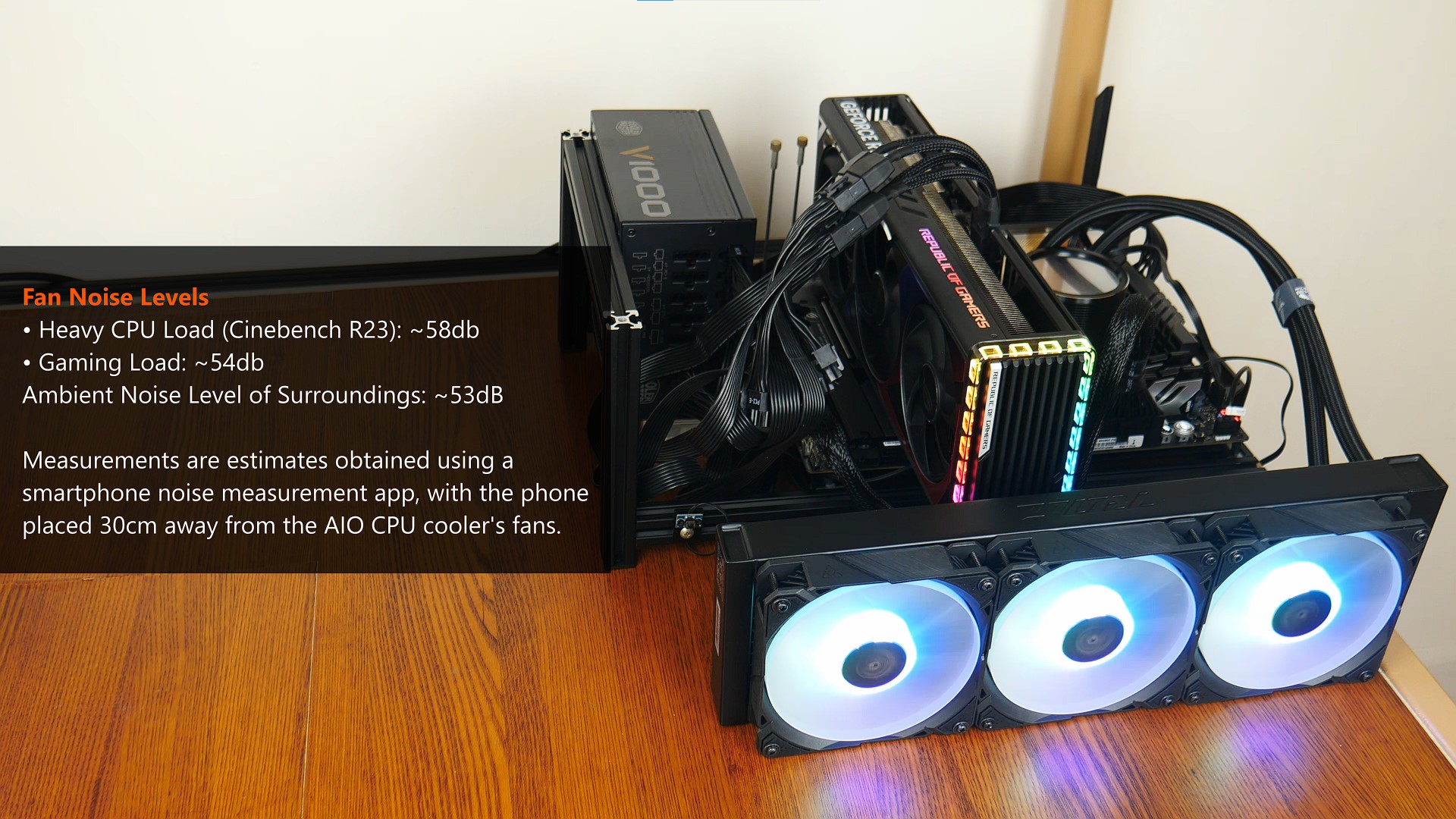 During the entirety of testing, I found that the fans of the RYUO III 360 ARGB were pretty quiet, except when the 13900K was under heavy load running the Cinebench R23 multi core test, where the fans of the AIO CPU cooler increased in speed significantly. As I did not have a decibel meter to measure noise output, I made do with a noise measurement app on my smartphone instead, where placing my phone 30cm away from the AIO's fans, I recorded an average noise level of around 58dB when the system was running Cinebench R23. While playing Cyberpunk 2077 and Far Cry 6, the fans logged 54dB on the noise measurement app - bearing in mind the ambient noise levels of my surroundings at the time of testing was around 53dB, this meant that I could barely hear the fans running while the PC was under moderate loads, which is a pretty good showing.
Anime Matrix LED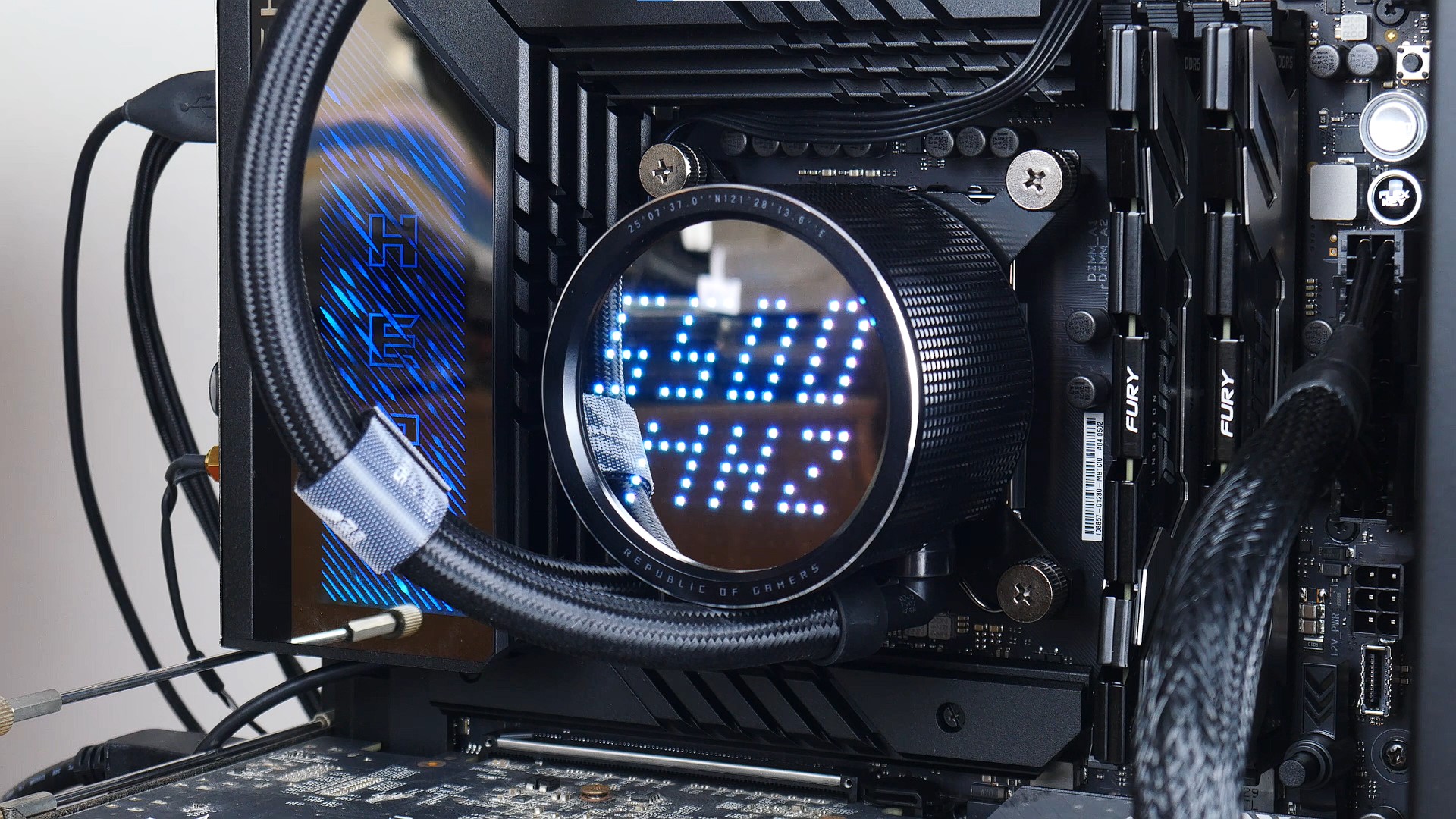 One of the key features that the ROG RYUO III 360 ARGB comes with is its Anime Matrix LED display that is found on the pump assembly. The LEDs have the ability to display a set of preset animations, vital system statistics, as well as custom animated graphics - these settings can be changed within the ASUS Armoury Crate app.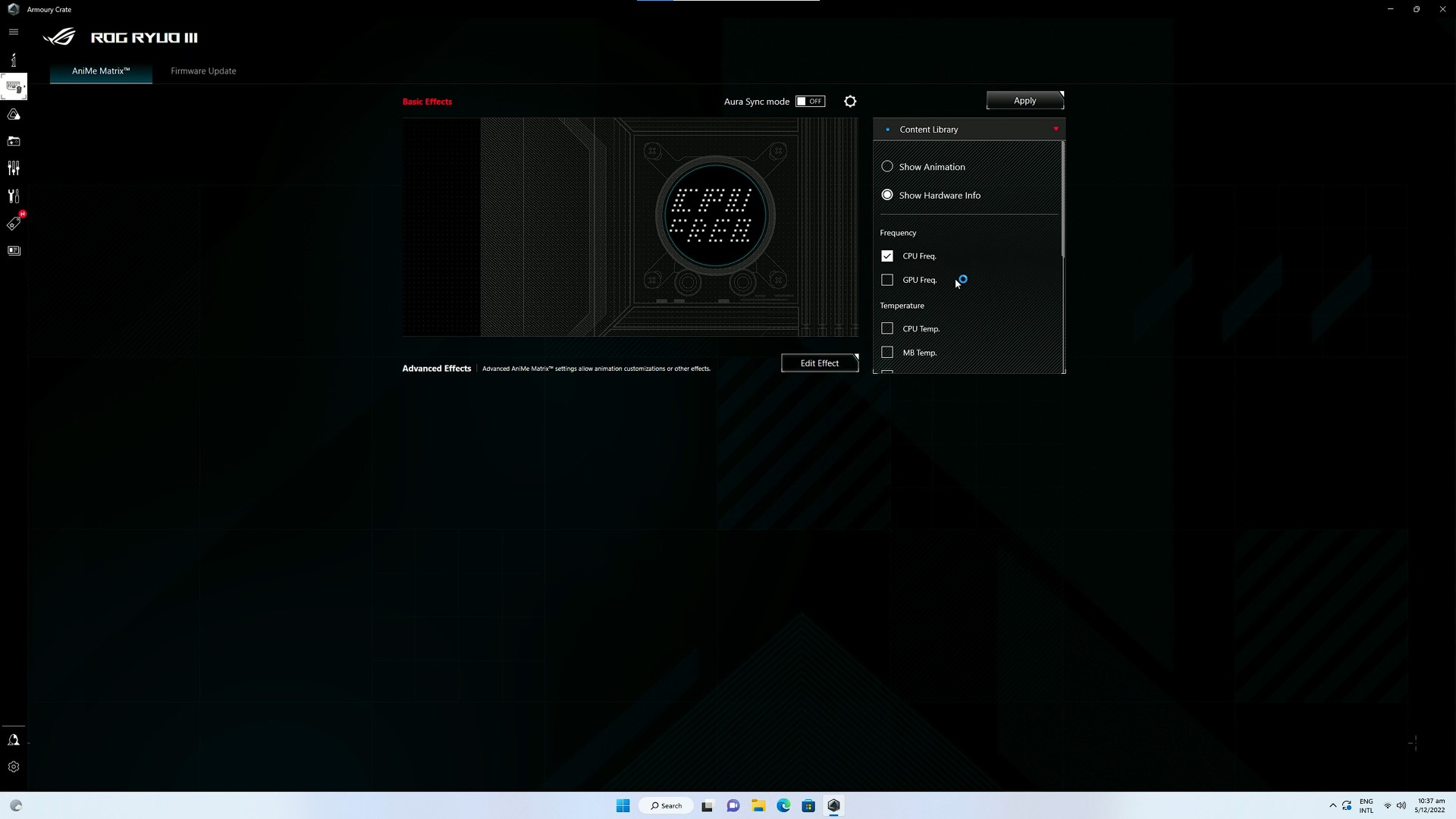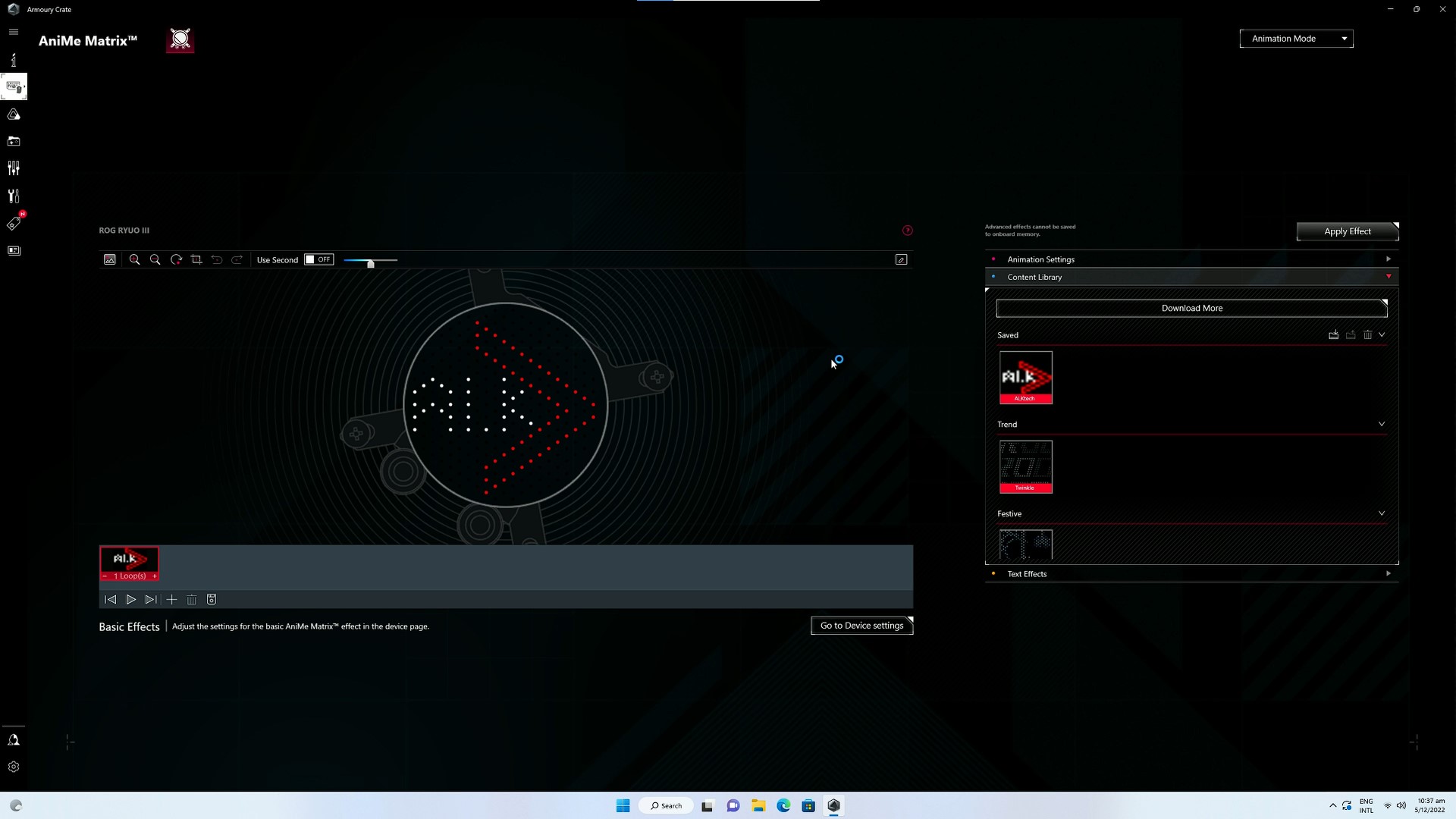 Unfortunately, I found the process of setting up my own custom graphic and animation a little cumbersome, where I had issues working with the position of the LEDs on the display to ensure that my custom graphic would be the right way up. In addition, I did encounter moments where the Armoury Crate app would freeze and simply not display the preset animations and graphics that I had selected.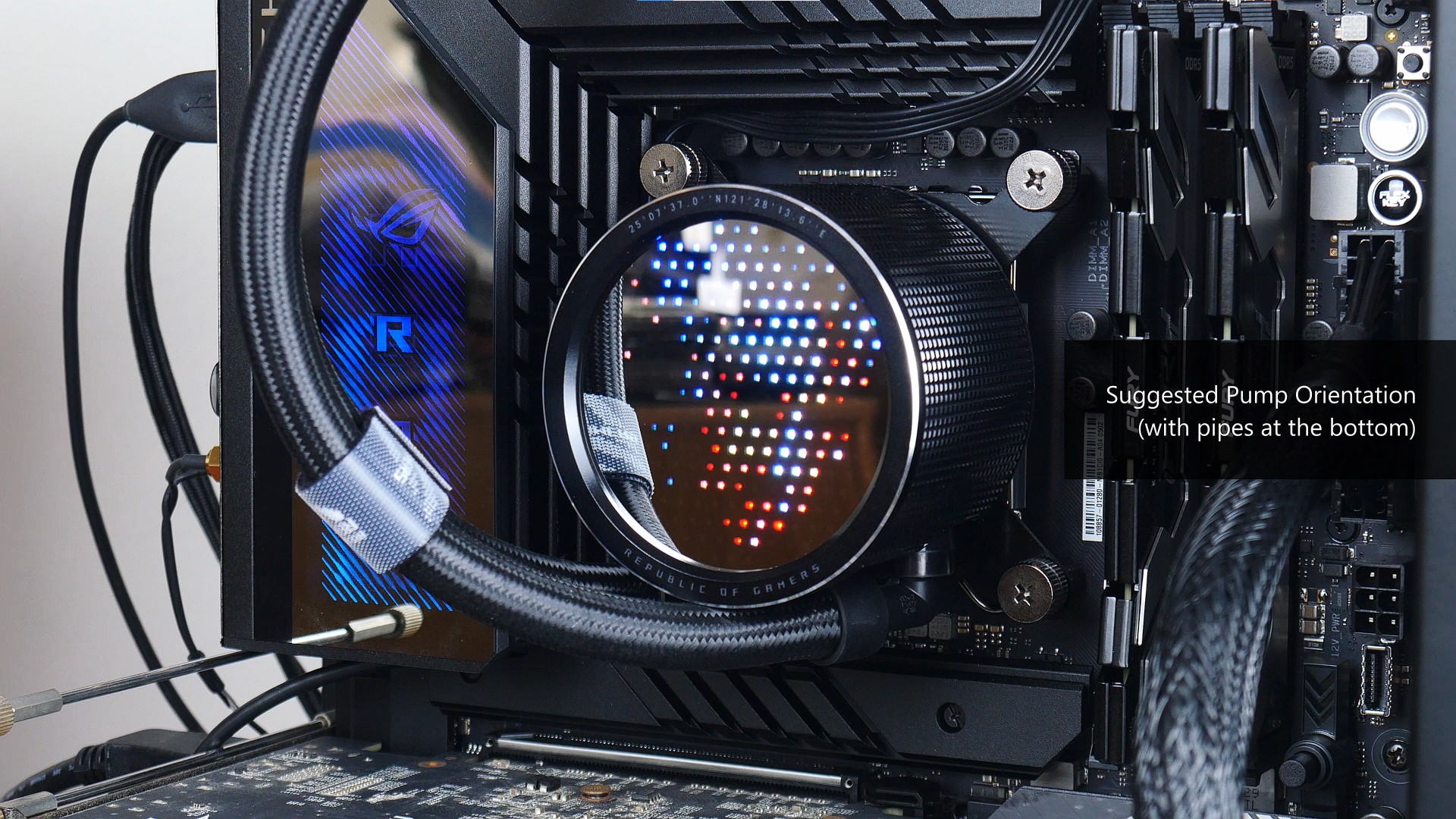 I found that while it was possible to rotate custom graphics and animations to suit the mounting orientation of the pump assembly via the Armoury Crate application, I could not find a way to rotate the preset graphics and animations to suit the various orientations in which one could mount the AIO's pump. In view of this, end-users might want to ensure that the pump is installed in the orientation pictured above, with the pump tubes running from the bottom of the pump housing to the radiator.
Conclusion & Pricing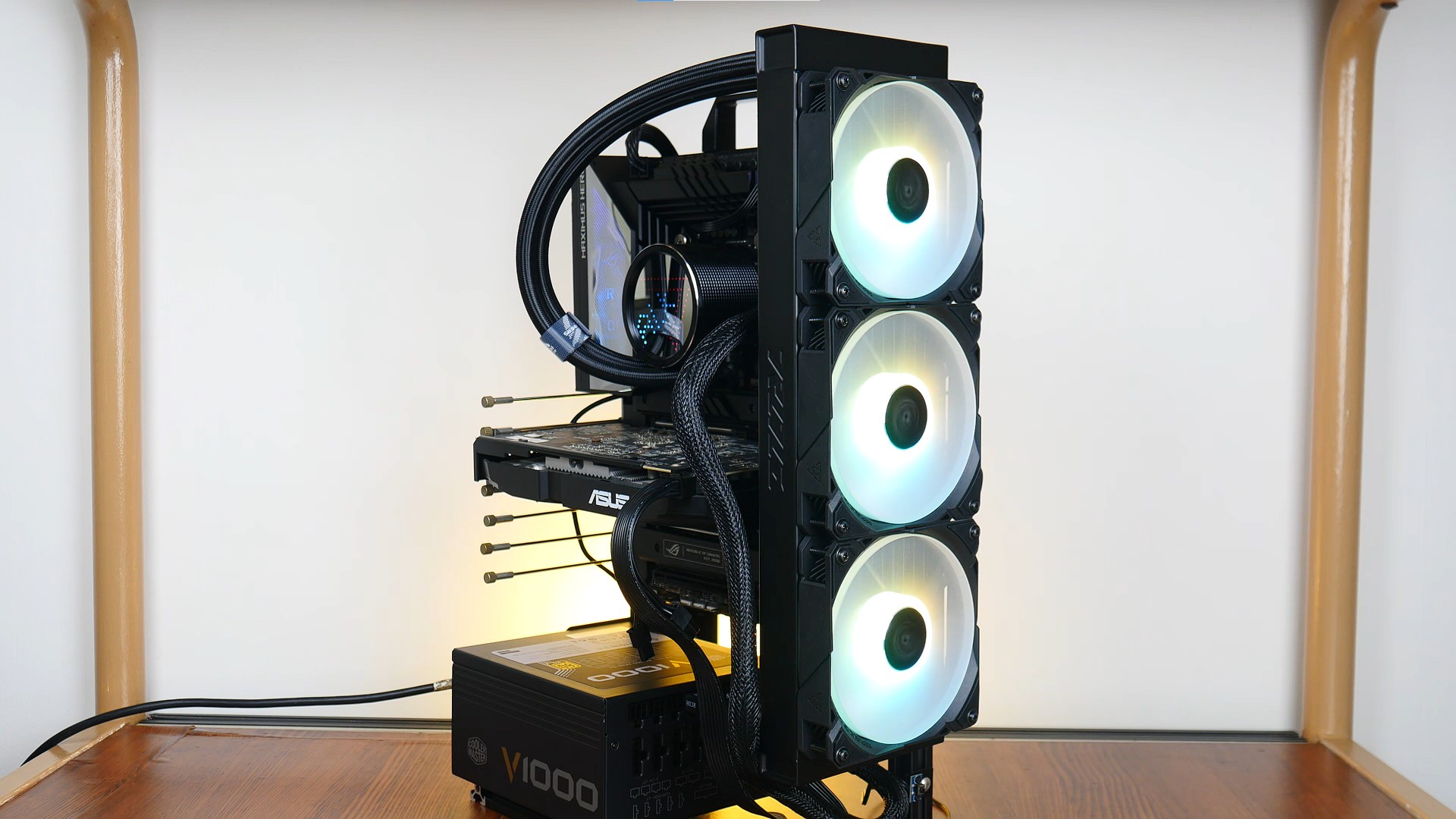 Based on the results of the various benchmark tests that were run, it can be seen that the ROG RYUO III 360 ARGB was able to manage the thermals of the Core i9-13900K well enough to prevent any loss in performance. This can be seen especially during the Cinebench R23 test with the power limits removed, where despite the toasty temperatures, the AIO was able to cool over 300Ws worth of heat output from the 13900K, to allow it to produce a decent set of multi core scores over 39000 points. Under moderate loads, such as gaming, the 13900K achieved pretty respectable temperatures too, making the RYUO III 360 ARGB an AIO CPU cooler to consider especially if you're looking to build a PC with a high-end CPU.
Some downsides worth mentioning include the experience that I had with setting up custom animations and graphics for the Anime Matrix LED display (which hopefully can be improved with future software and firmware updates), as well as its price - the ROG RYUO III 360 ARGB is not cheap, and can be had in Singapore for a price of around $469 Singapore dollars, which roughly converts to $346 US dollars for you international readers.
Get this AIO CPU cooler from Amazon: https://amzn.to/3G2jWNP (affiliate link)
Get this AIO CPU cooler from Shopee Singapore: https://shope.ee/3AYIAPyqcC (affiliate link)
ALKtech may earn commissions from qualifying purchases made using affiliate links, at no extra cost to you as a customer. These commissions go a long way in supporting the platform!
The AIO CPU cooler featured in this article was a review unit provided on loan from ASUS Singapore.