Could MSI's budget Intel B660 motherboard be THE B660 board to get, especially since it supports Intel's upcoming 13th Generation "Raptor Lake" processors?
The PC hardware scene is sure heating up for the last few months of 2022, with AMD's Zen 4 Ryzen 7000 series of processors slated for launch at the end of September 2022, and Intel's 13th Generation "Raptor Lake" processors to follow suit likely in the fourth quarter of 2022.
That said, if you're currently in the market for a new PC build on the incumbent Intel LGA1700 platform, and would like some form of a future upgrade path to Raptor Lake from Intel's current 12th generation Alder Lake processors down the road, you'll be pleased to note that most 12th Generation Intel Alder Lake motherboards have received, or will be receiving BIOS updates that would allow them to support Raptor Lake processors once they are released - the motherboard in today's review as well. Having previously reviewed budget Intel B660 motherboard offerings from ASUS and Gigabyte, we'll round up the holy trinity of PC motherboard brands by taking a look at MSI's PRO B660M-A WIFI DDR4, which like the two boards reviewed previously, sports DDR4 support and built-in WIFI connectivity.
Summary of Specifications
Processor Support: Intel 12th Generation LGA1700 Core, Pentium Gold and Celeron processors & upcoming Intel 13th Generation Raptor Lake LGA1700 processors
Chipset: Intel B660
Memory: 4x DDR4 slots, max 128GB, up to DDR4 4800 (OC) support
Audio: Realtek ALC897 audio
LAN: Realtek RTL8125BG 2.5 Gigabit Ethernet
WIFI: Intel AX201 WIFI 6 with built-in Bluetooth 5.2
Expansion Slots: 1x PCIe 4.0 x16, 1x PCIe 3.0 x4, 1x PCIe 3.0 x1
Storage: 4x SATA III, 2x PCIe 4.0 x4 M.2
Form Factor: microATX
Packaging & Contents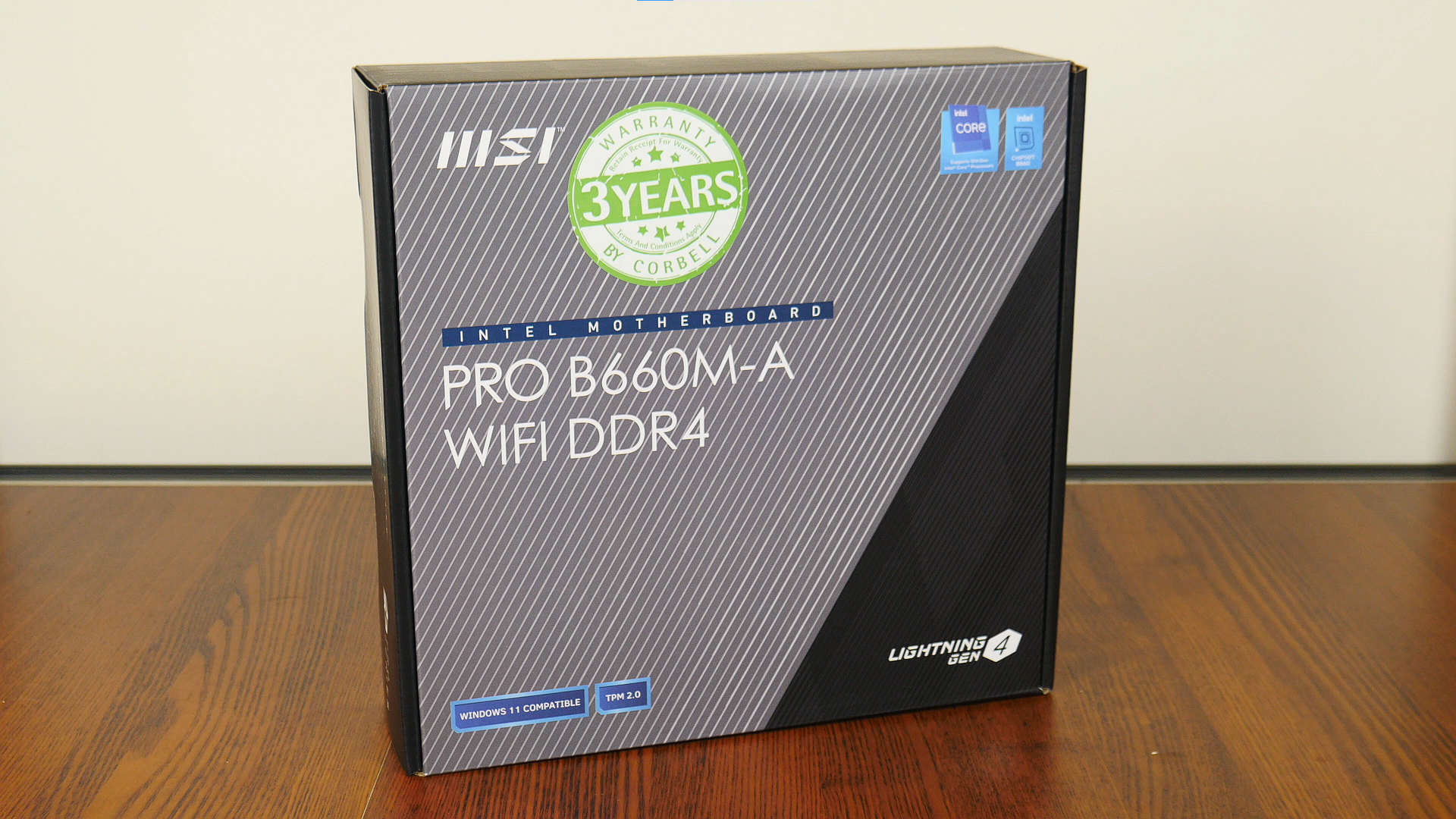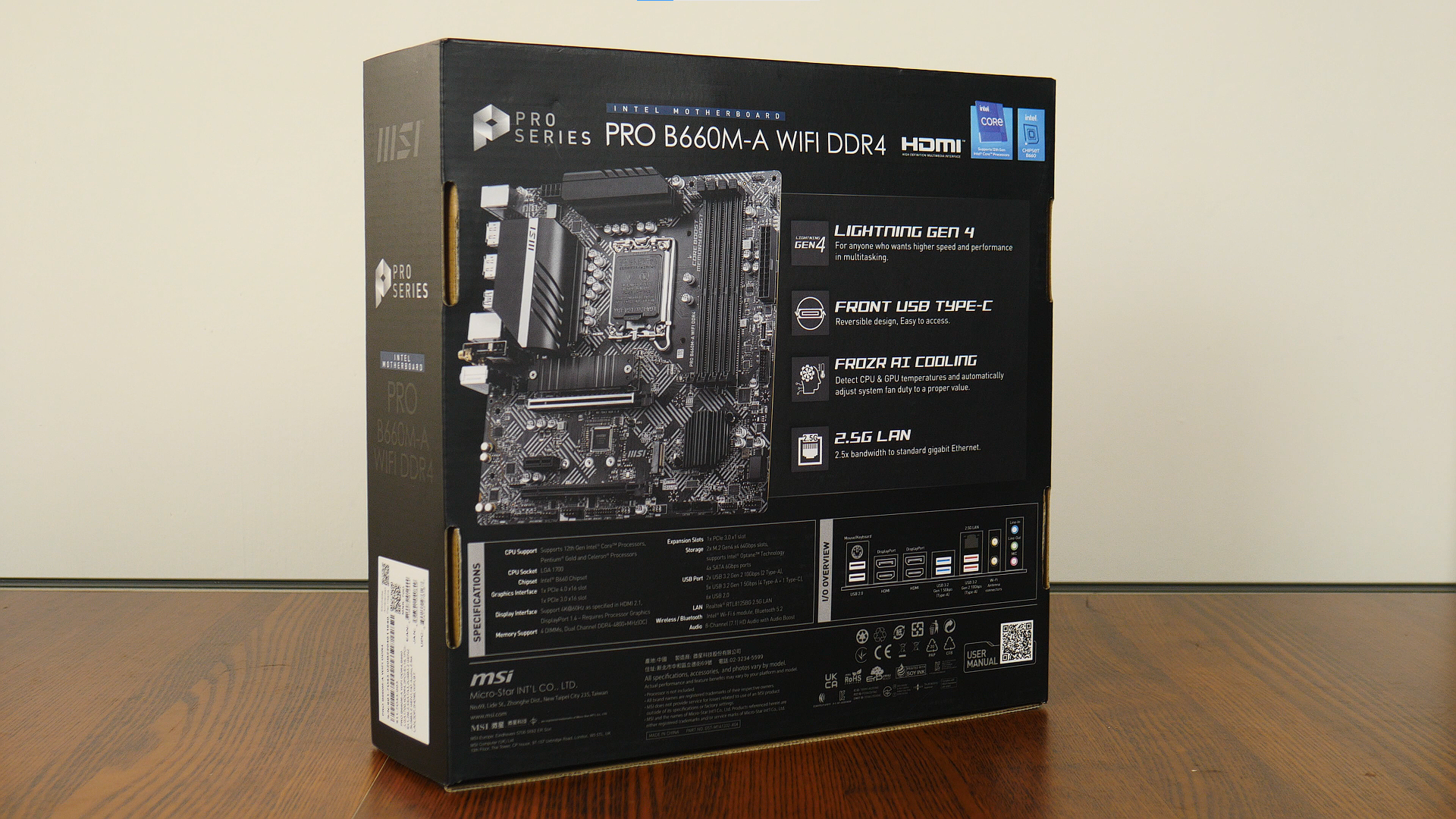 The MSI PRO B660M-A WIFI DDR4 comes in a box sporting a businesslike appearance, with a black and silver colourway. and line motifs featuring prominently on the front of the box.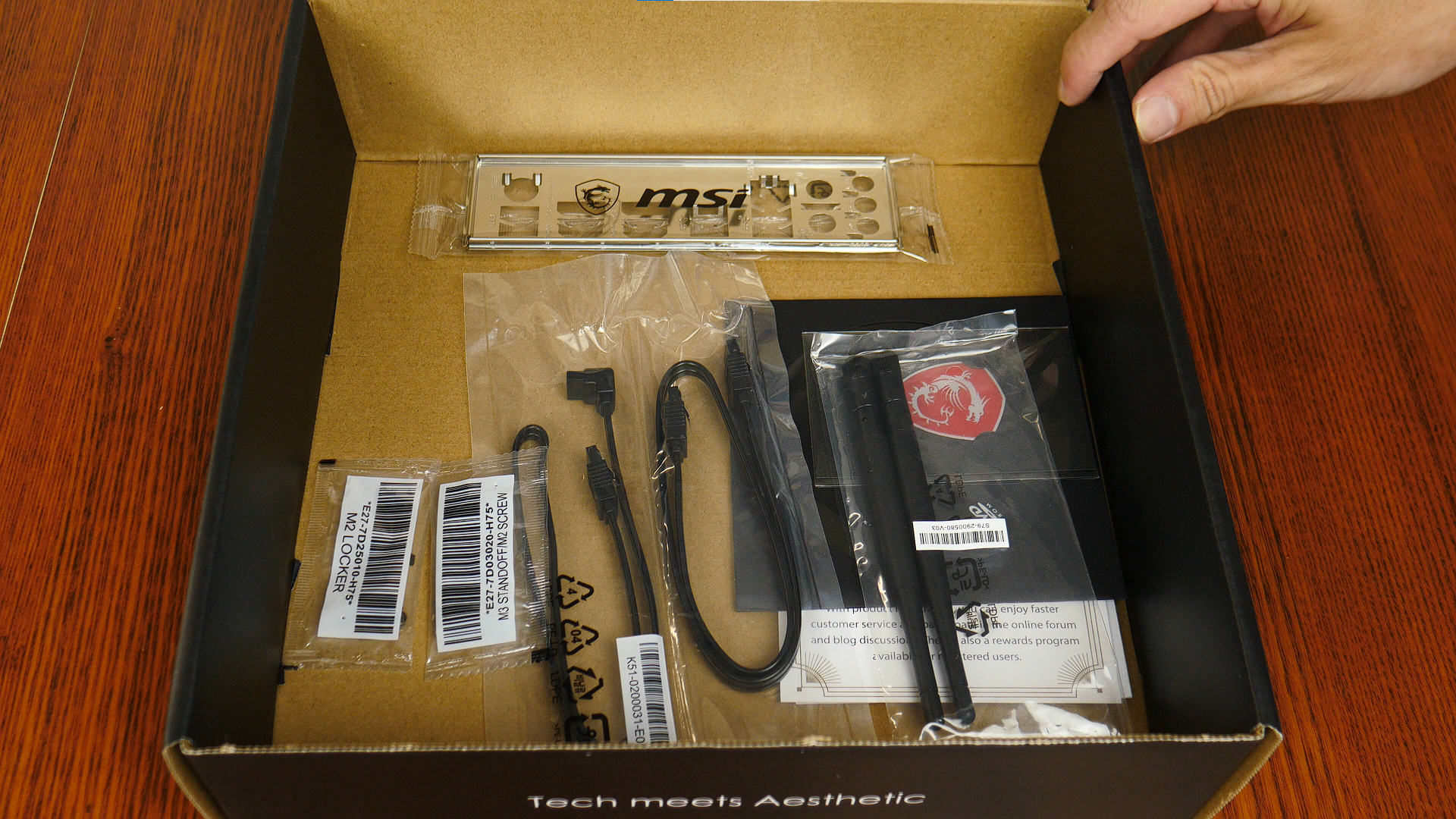 The board comes with the following accessories:
2x SATA III cables
2x M.2 drive screws and standoffs
1x "M.2 Locker" - this allows users to replace the standard screw and standoffs on the second M.2 slot for a tool-free drive installation experience
WIFI antennae
I/O shield
Case badge
Thank You card
Quick start guide
Board Aesthetics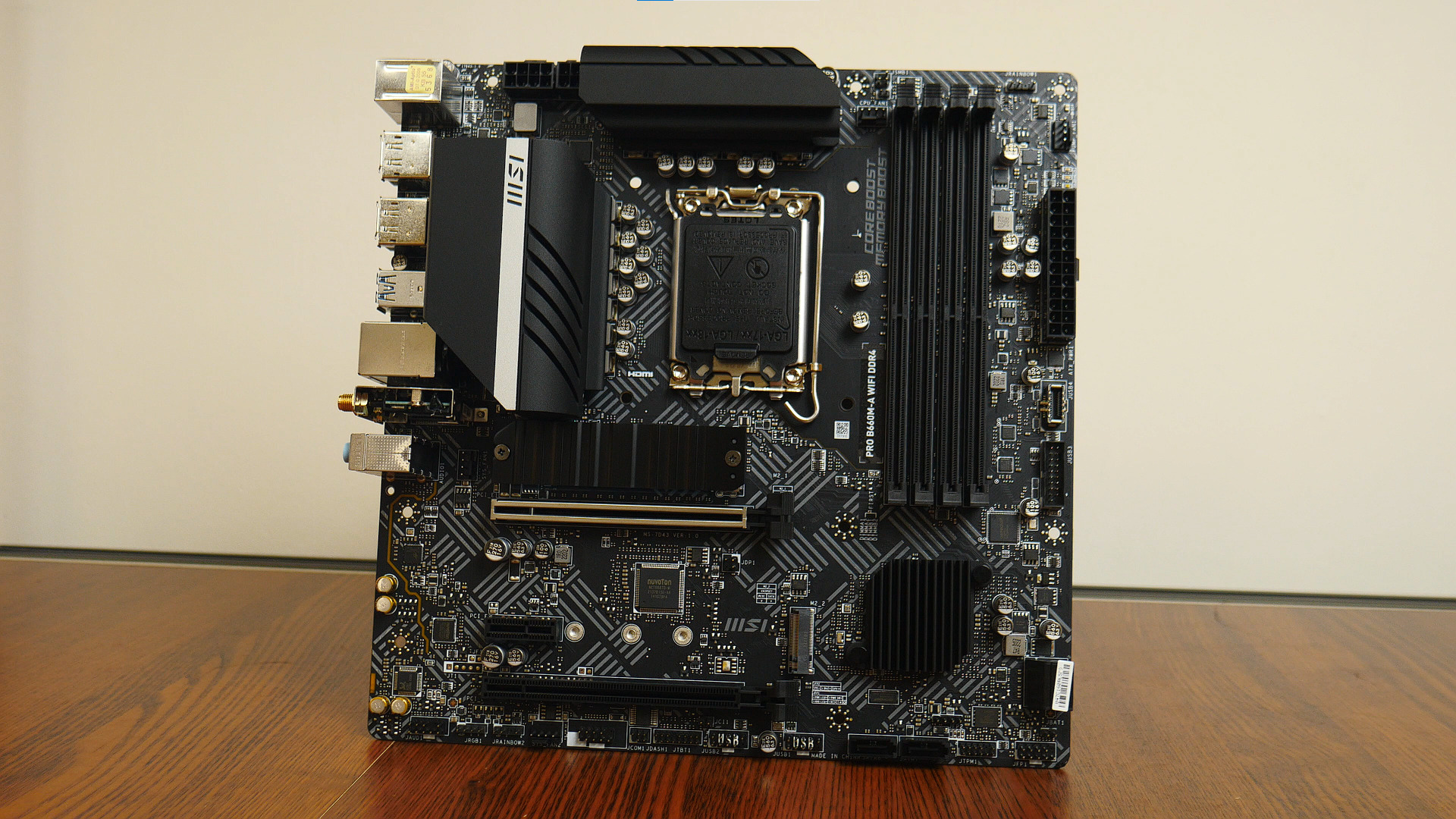 The PRO B660M-A WIFI DDR4 comes with a black-coloured PCB with light grey accents splashed across the board, which confer a rather busy looking aesthetic to the motherboard. Being positioned more towards the budget end of things, the motherboard does not come with an integrated I/O shield design, nor does it come with built-in RGB LEDs.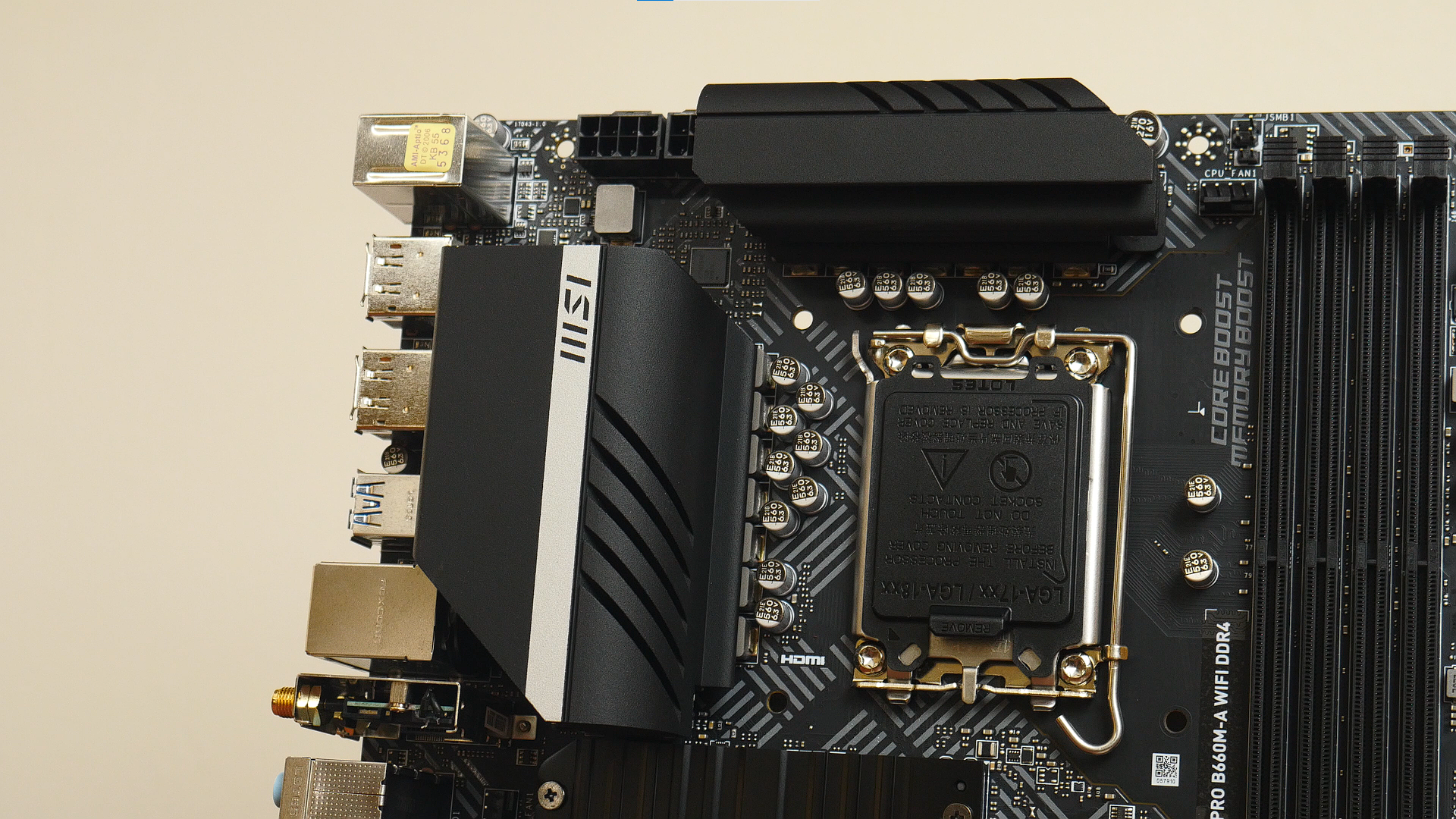 One thing going for the PRO B660M-A WIFI DDR4 are the hefty heatsinks that adorn the VRM area - according to a budget Intel B660 motherboard roundup done by Techspot, this board's VRM performance came up tops against competitor offerings from other brands, and it would appear that this board could even handle the top-of-the-range Core i9-12900K processor, however odd a pairing that would be with this mid-to-low-end board.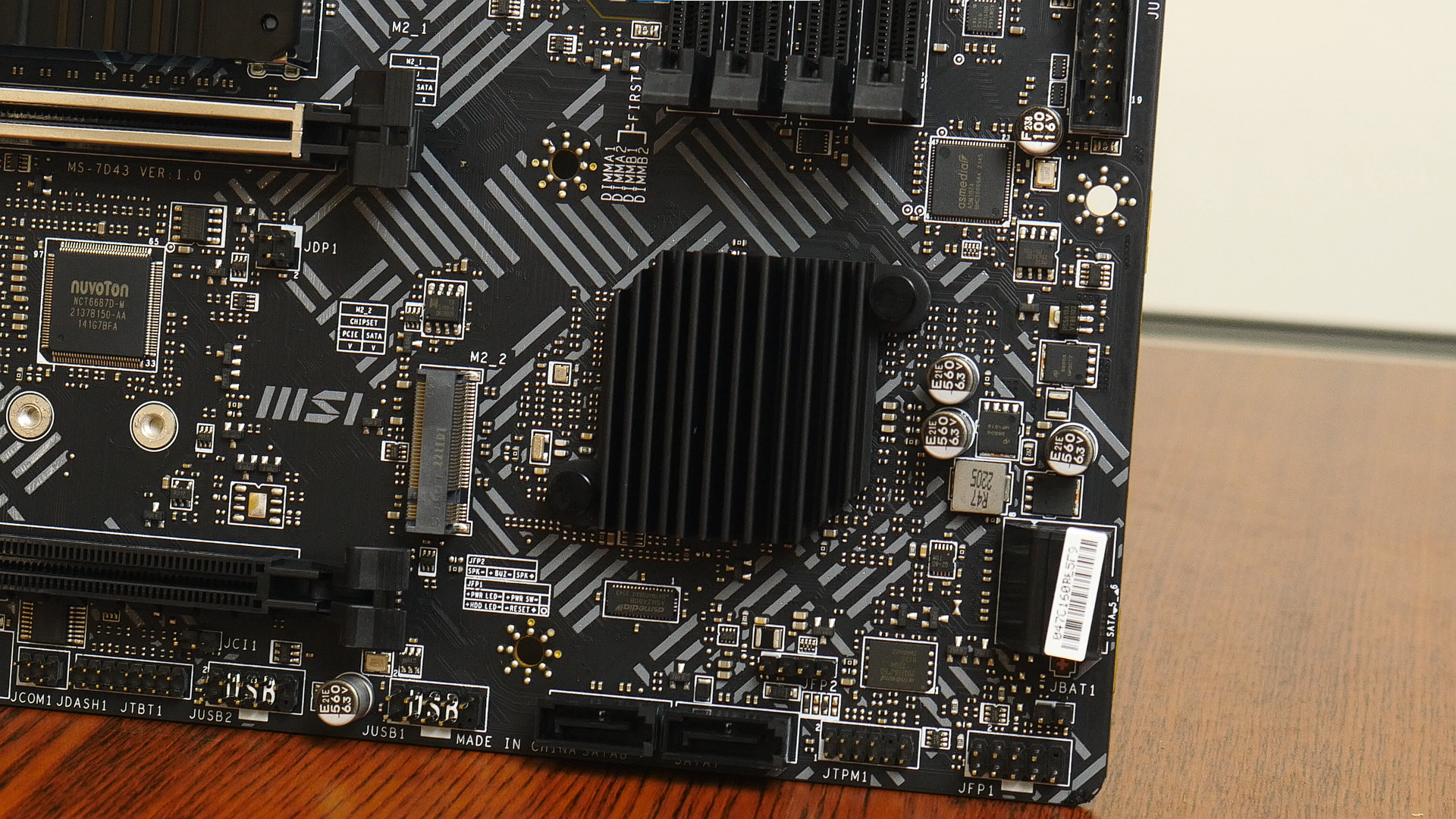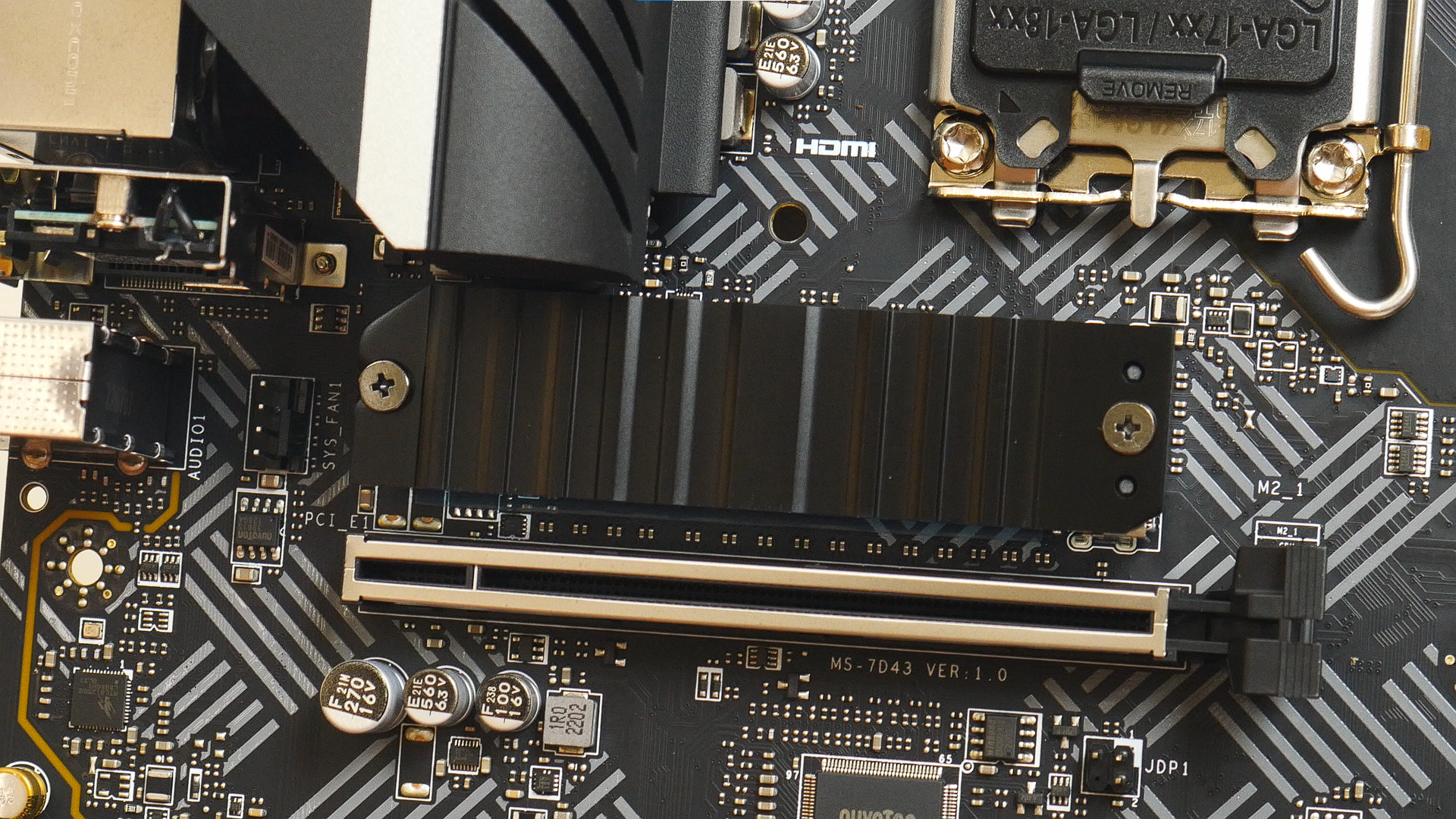 Being a chipset with relatively low heat output, MSI has opted for a passive heatsink for the B660 chipset, and has also included a heatsink for the primary M.2 drive slot.
Memory Support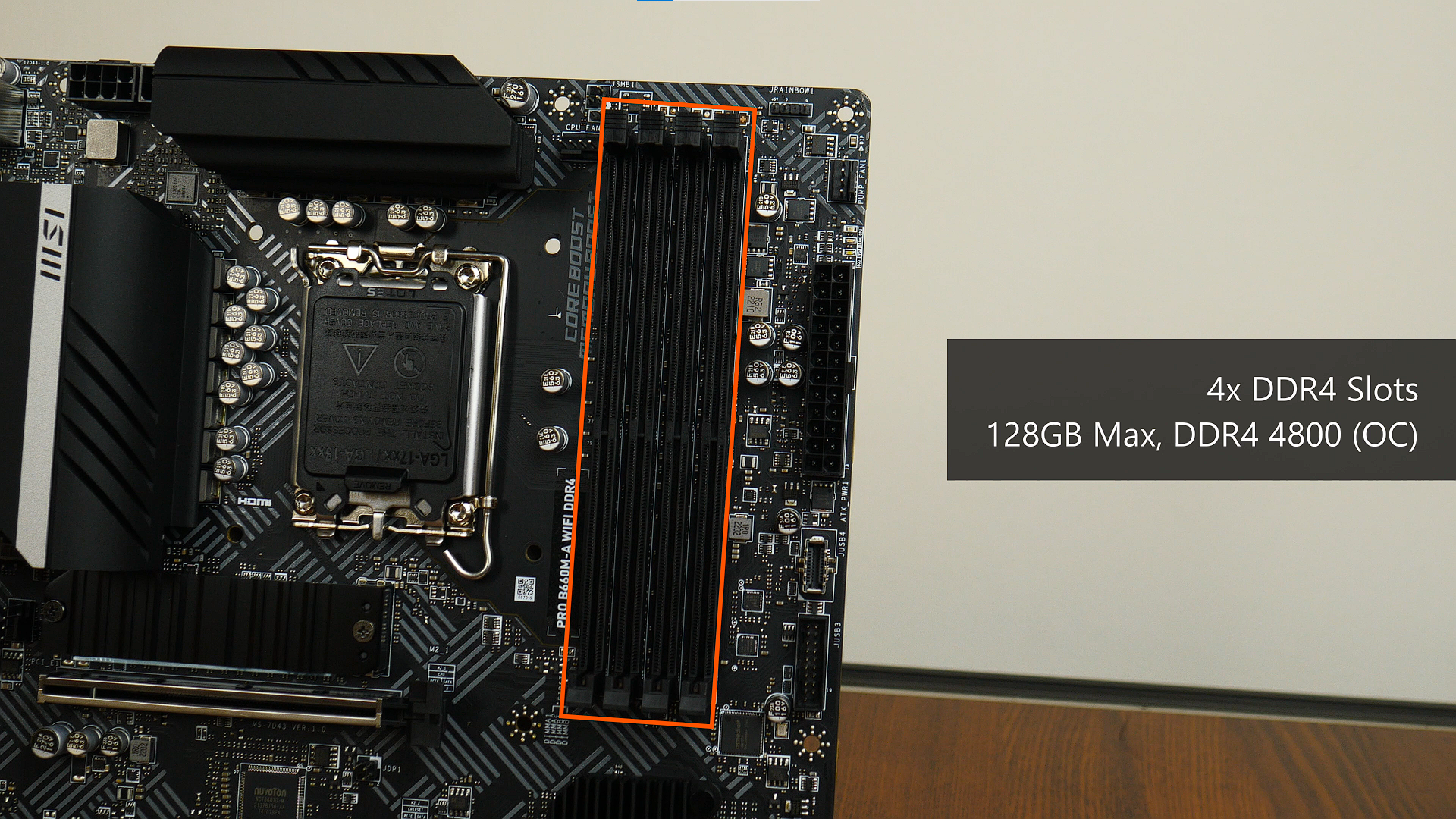 The PRO B660M-A WIFI DDR4 comes with four DDR4 slots with support for up to 128GBs of RAM and the DDR4 4800 standard (overclocked).
Front Panel USB Headers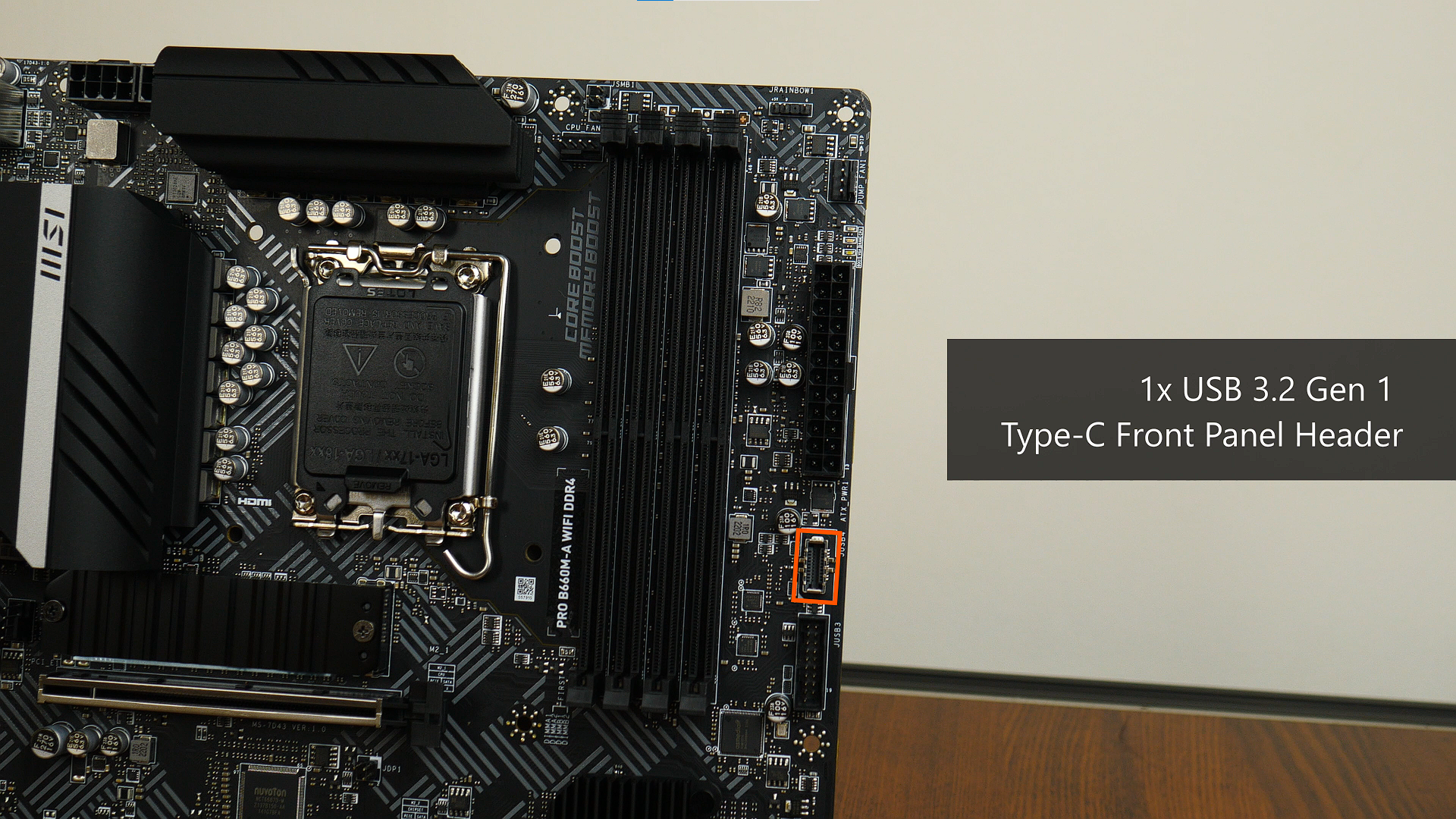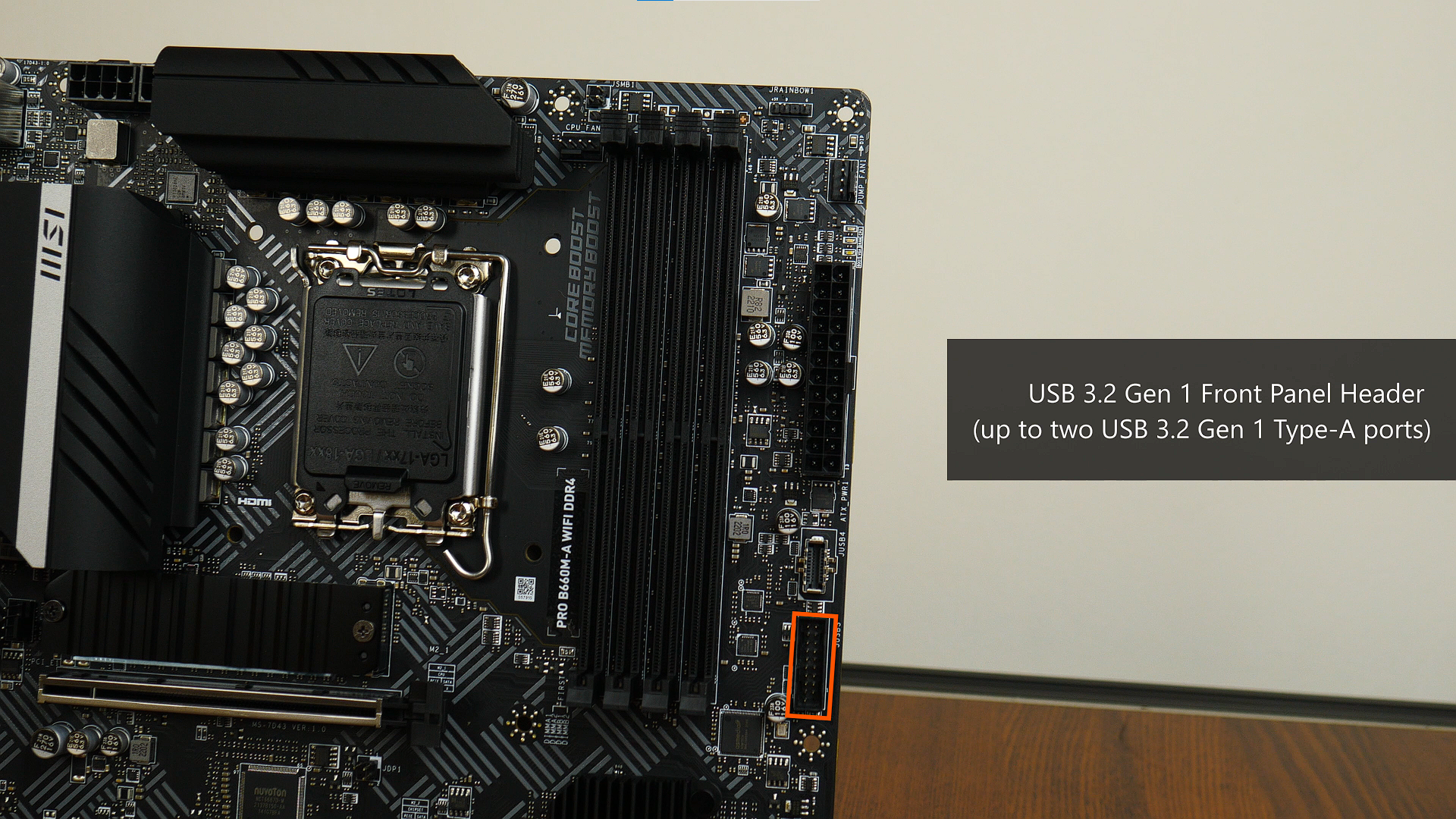 For front panel USB 3.2 connectivity, the PRO B660M-A WIFI DDR4 comes with a single USB 3.2 Gen 1 Type-C front panel header. Also included is a USB 3.2 Gen 1 front panel header that provides for up to two front panel USB 3.2 Gen 1 Type-A ports - this is courtesy of an ASMedia ASM1074 USB 3,2 Gen 1 hub.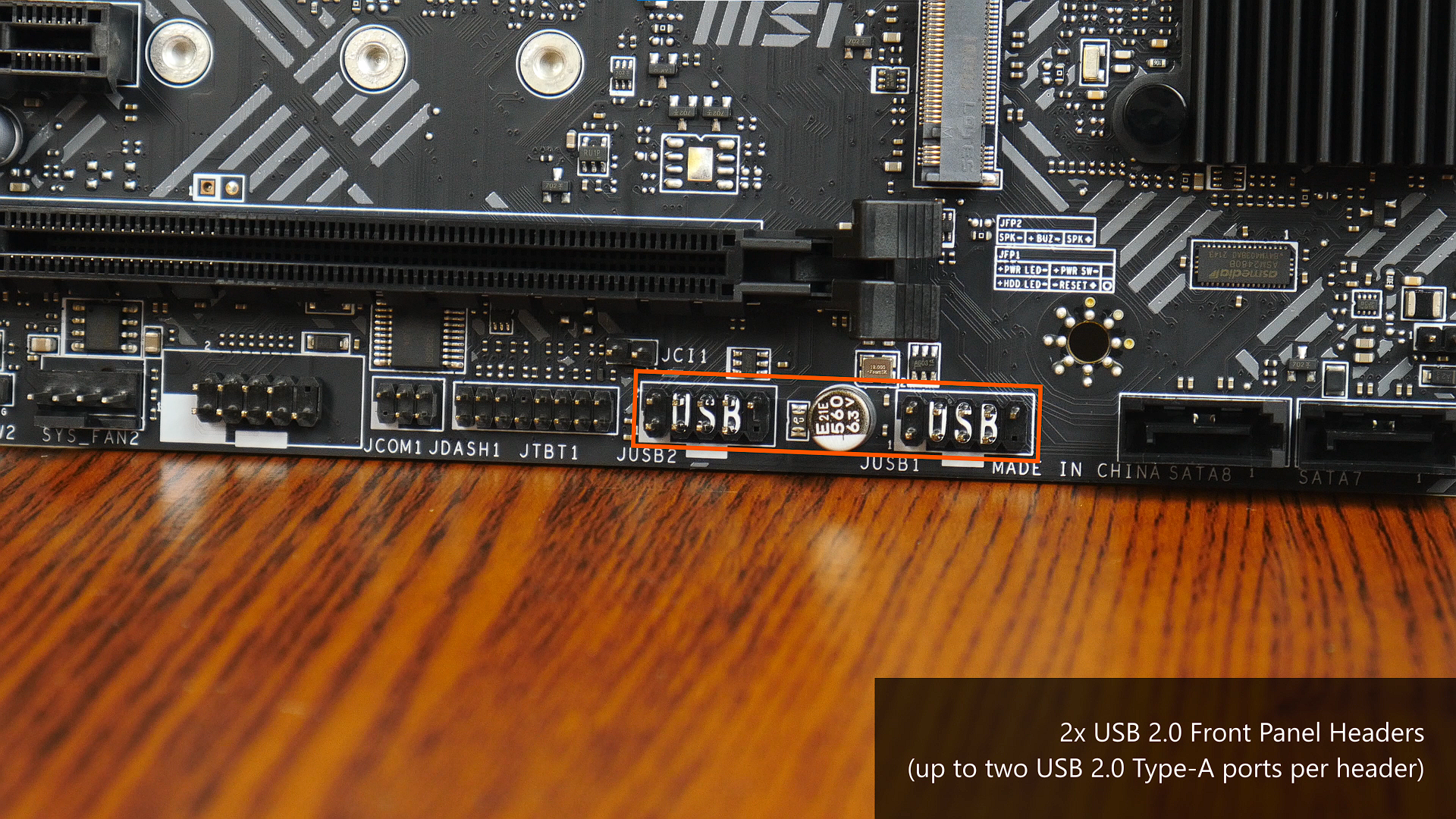 The board also comes with two front panel USB 2.0 headers which are located near the bottom edge, with each header providing support for up to two USB 2.0 Type-A ports per header.
Expansion Slots & Storage Options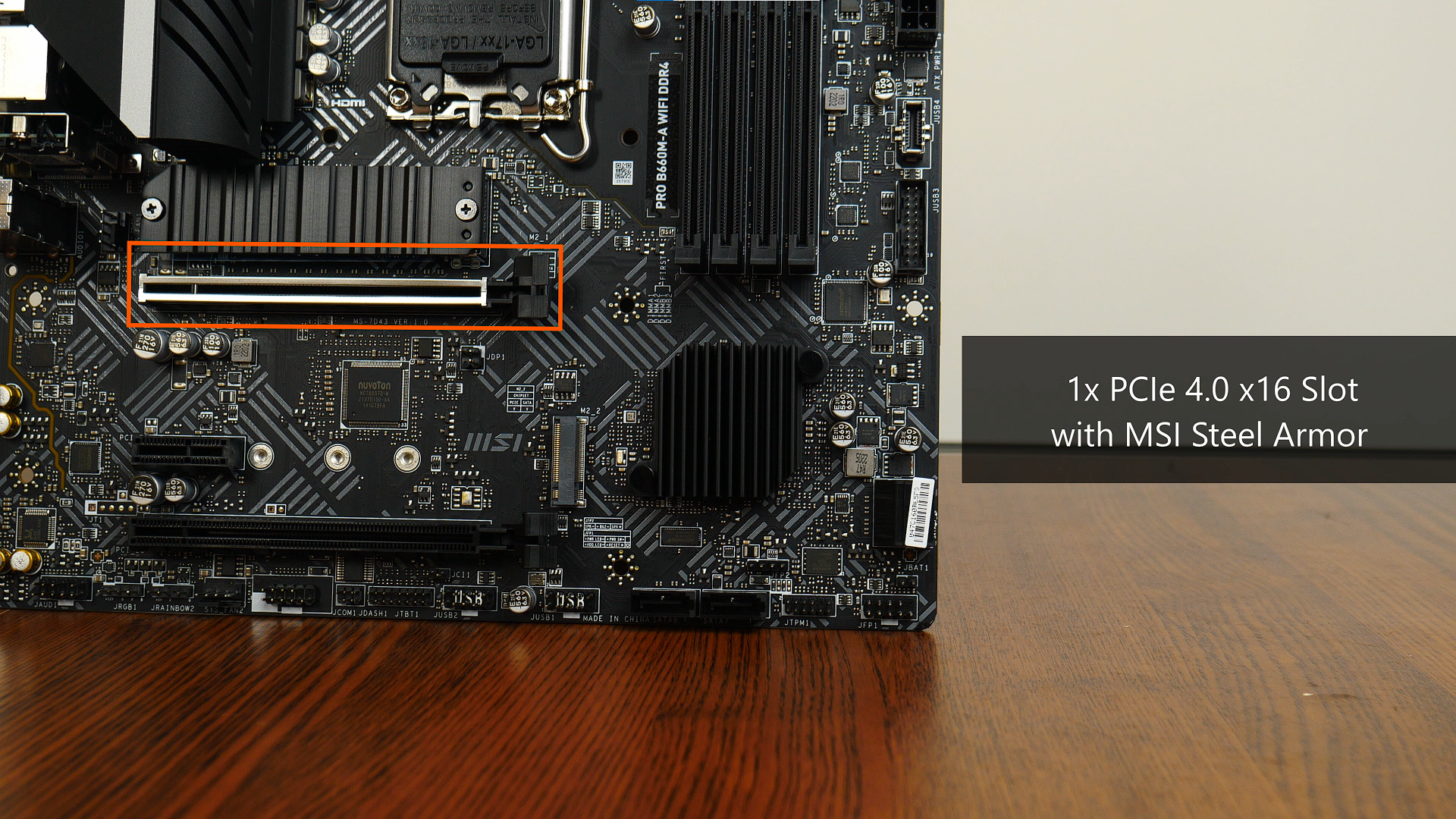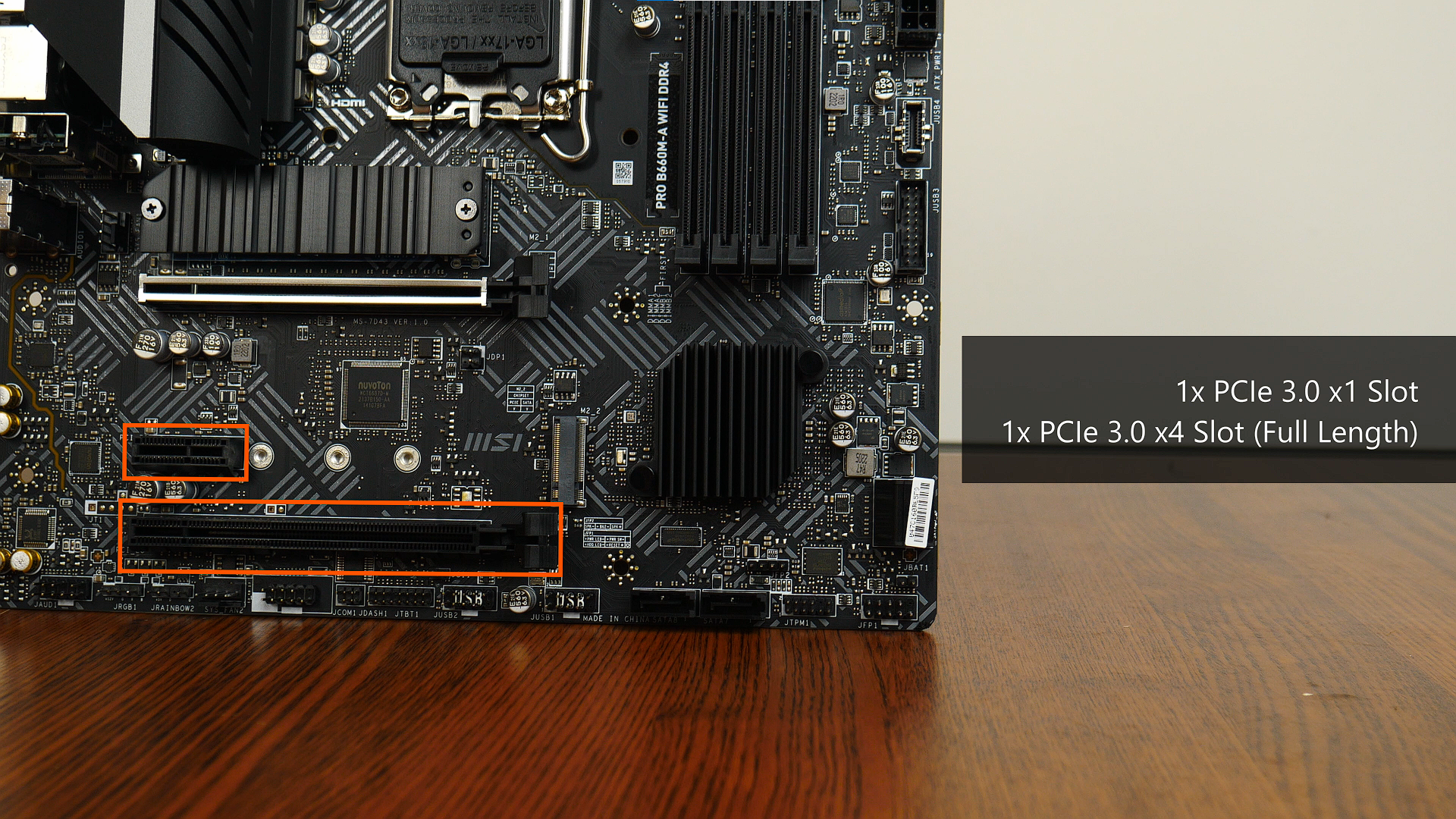 A single PCIe 4.0 x16 slot with the MSI Steel Armor feature is included with this board; Steel Armor is MSI's marketing spiel for reinforced PCIe slots, given how heavy today's graphics cards are getting. Also included are a PCIe 3.0 x1 slot, and a full-length PCIe 3.0 x4 slot.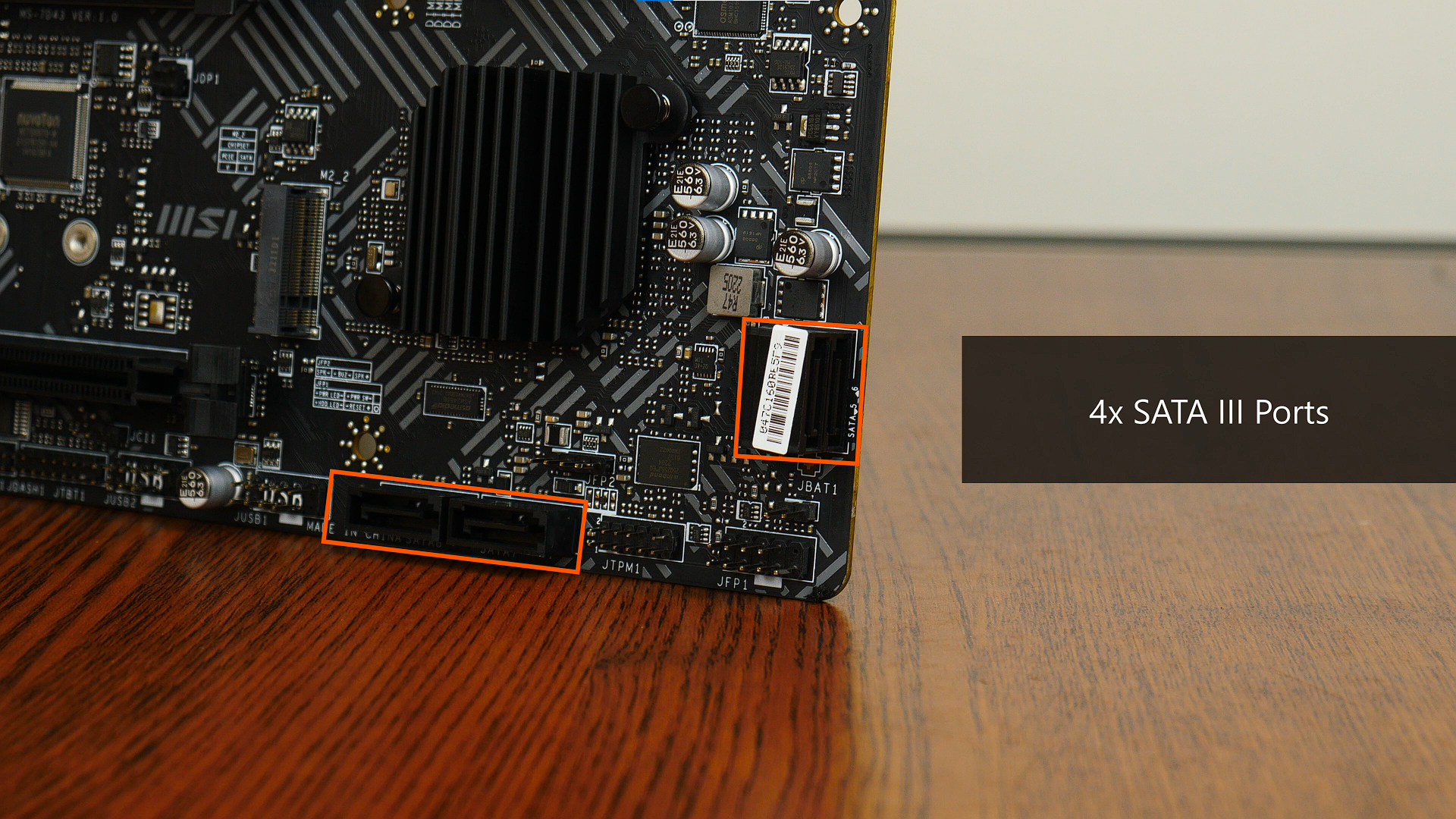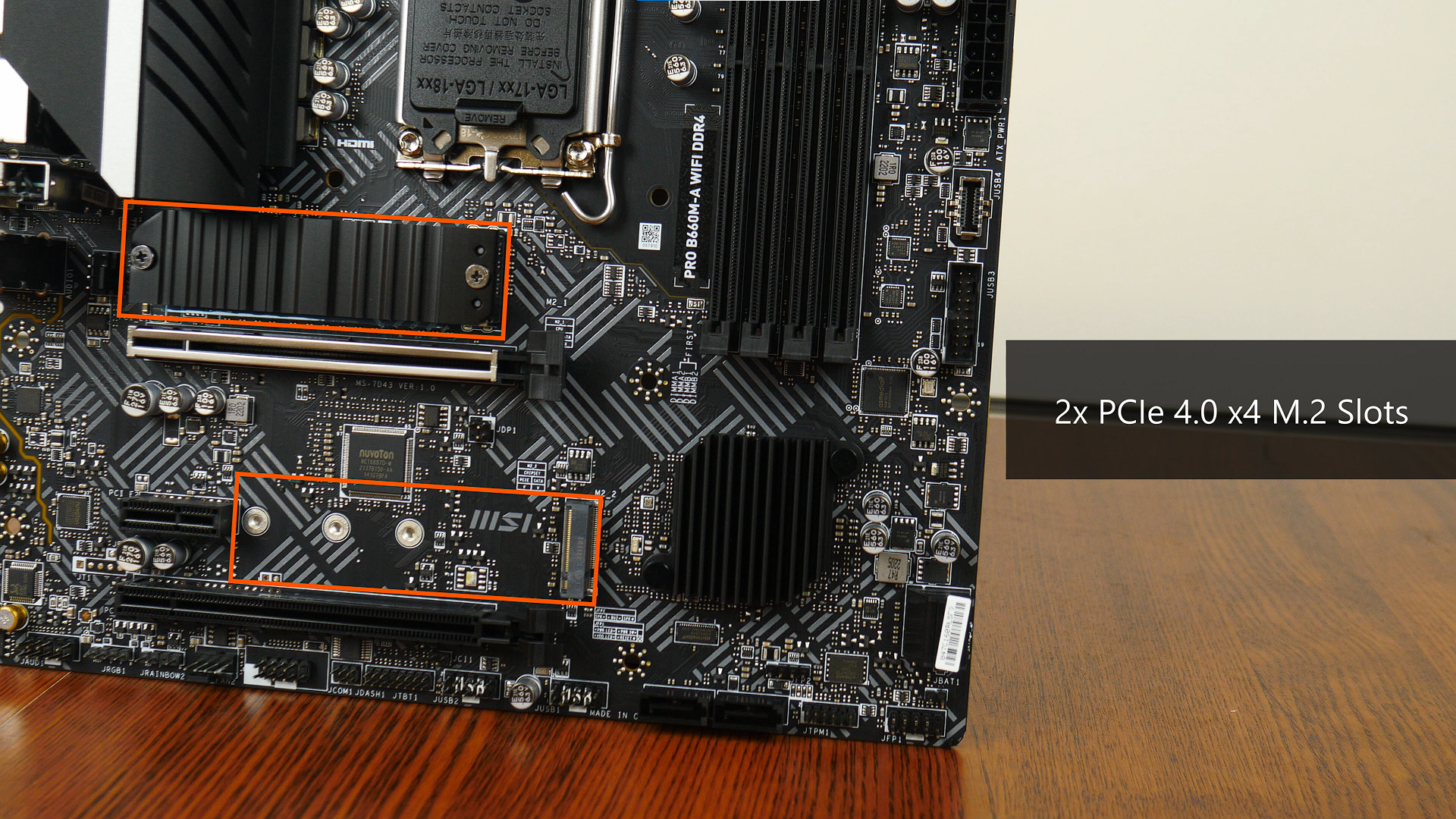 Moving on to storage, four SATA III ports are included with the PRO B660M-A WIFI DDR4, of which two are in a right-angled configuration, and two in a straight-angled configuration. This is accompanied by two PCIe 4.0 x4 M.2 slots for end-consumers intending to install M.2 drives.
Audio & Internet Connectivity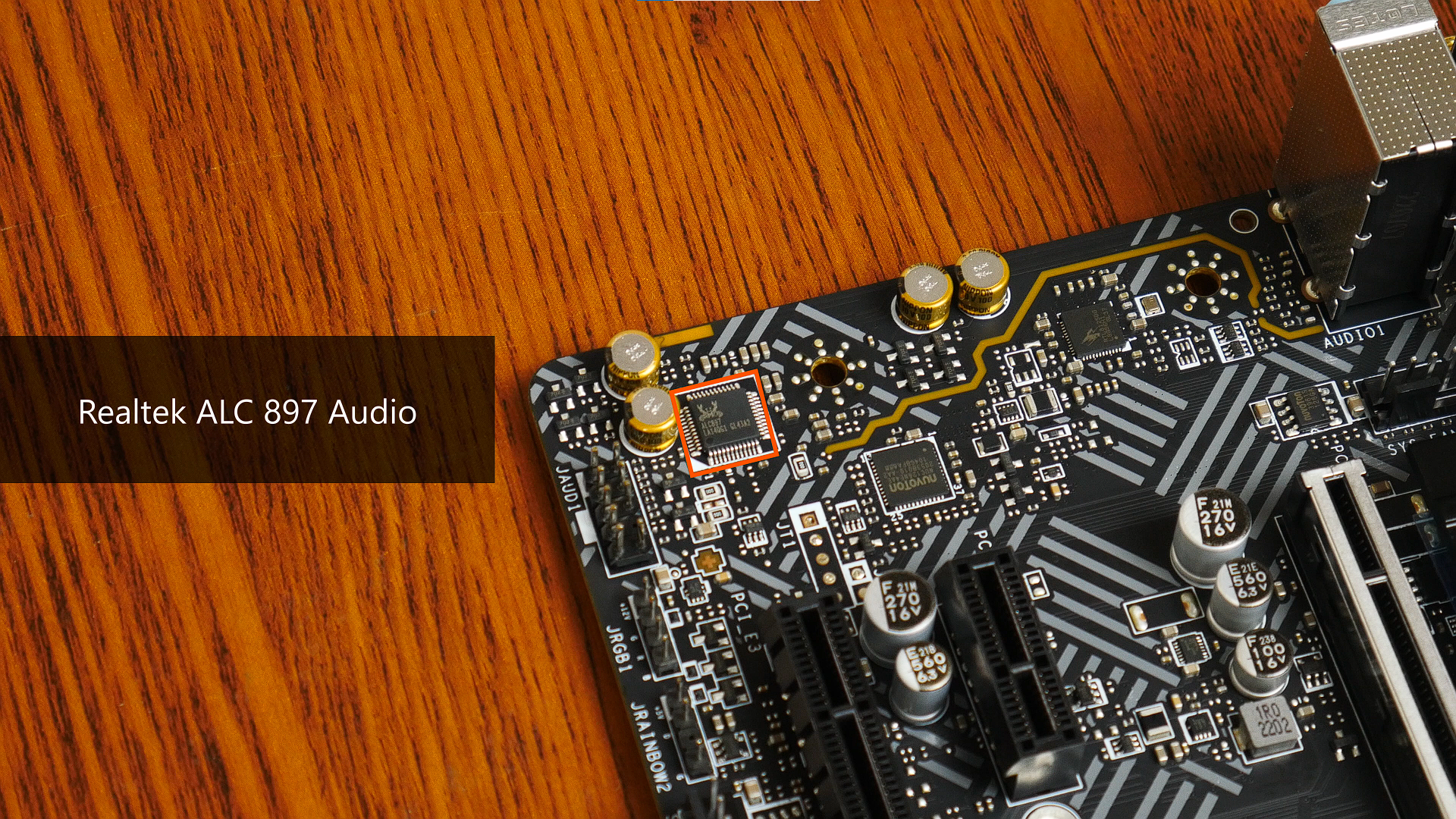 Being more of a mid-low end motherboard offering, MSI has included Realtek's entry-level ALC897 audio codec to power the audio experience.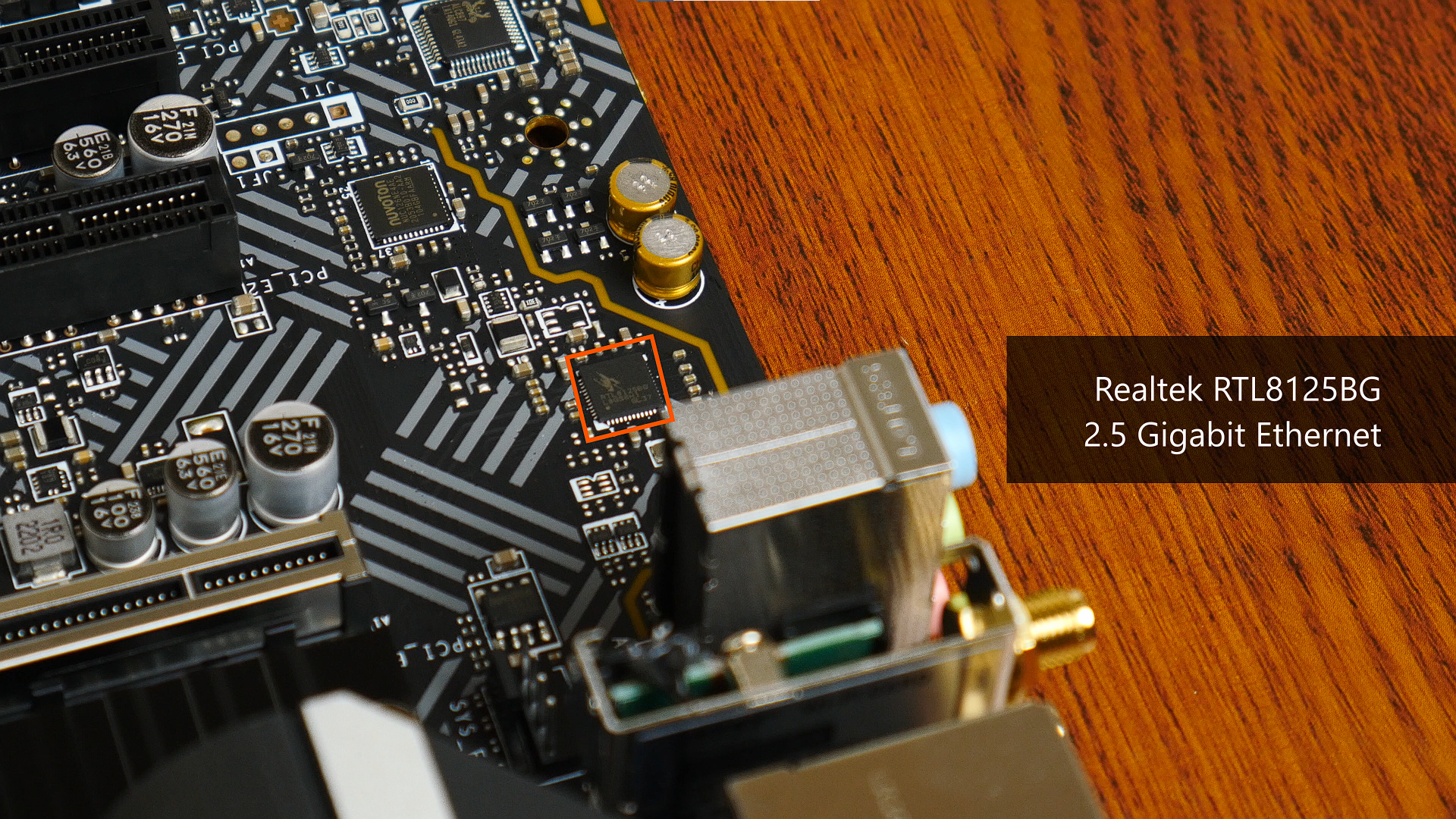 Realtek's RTL8125BG makes an appearance in the internet connectivity department, providing for 2.5 Gigabit Ethernet support.
To round up its internet connectivity features, the PRO B660M-A WIFI DDR4 comes with Intel's AX201 WIFI 6 module, which sports support for Bluetooth 5.2 connectivity as well. The WIFI module appears to be installed on a M.2 Key E slot - this is great as end-users could replace the AX201 WIFI card once newer wireless internet standards are released in the future.
Fan & RGB Headers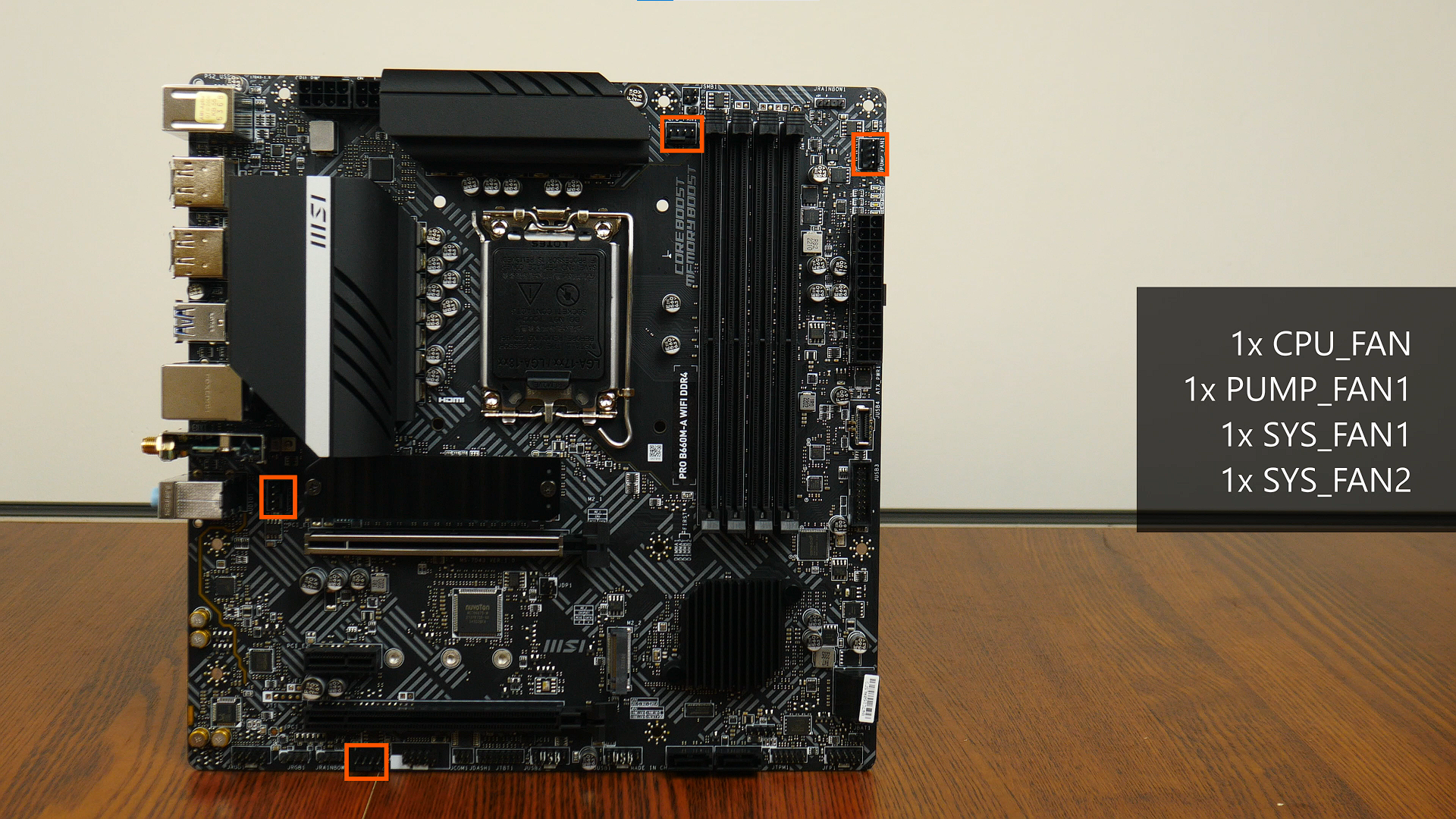 The PRO B660M-A WIFI DDR4 comes with four fan headers:
1x CPU_FAN
1x PUMP_FAN1
1x SYS_FAN1
1x SYS_FAN2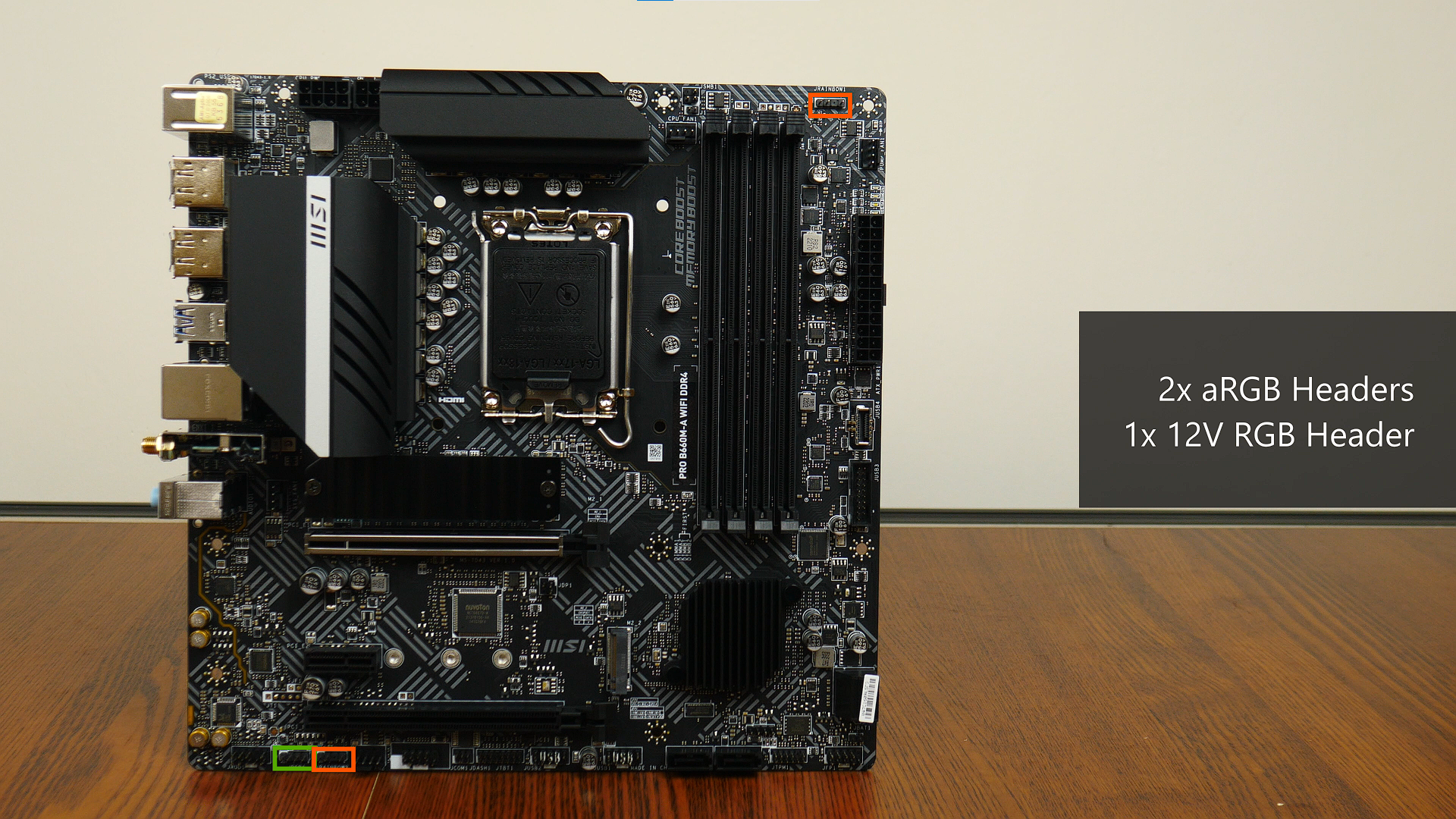 Also included are two addressable RGB headers, and a single 12V RGB header. Again, the board does not come with built-in RGB LEDs.
Other Features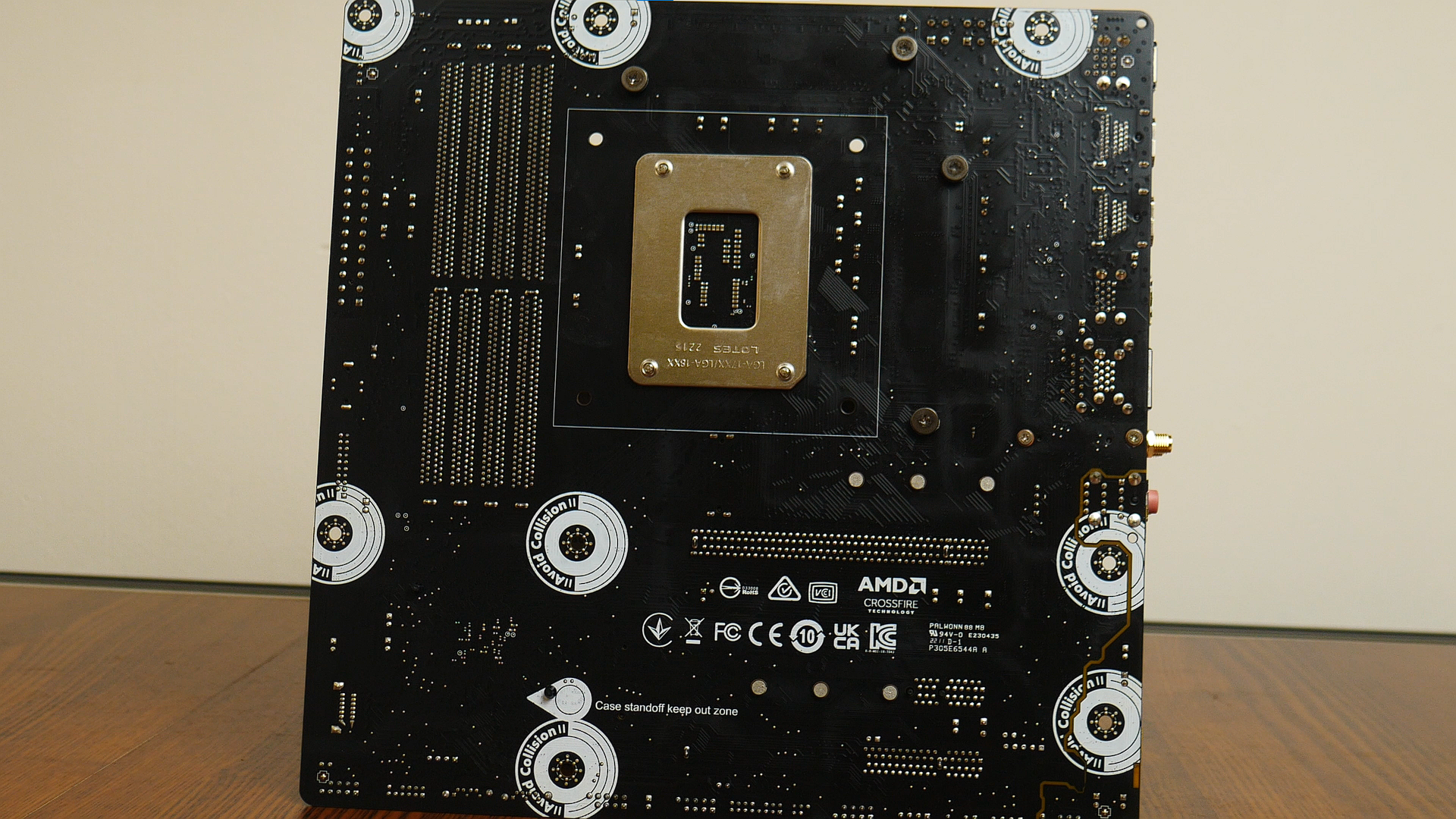 Flipping the board over reveals white painted circles around where the motherboard mounting holes are - MSI terms these "Avoid Collision" prints that apparently serve to protect the PCB from scratches during installation.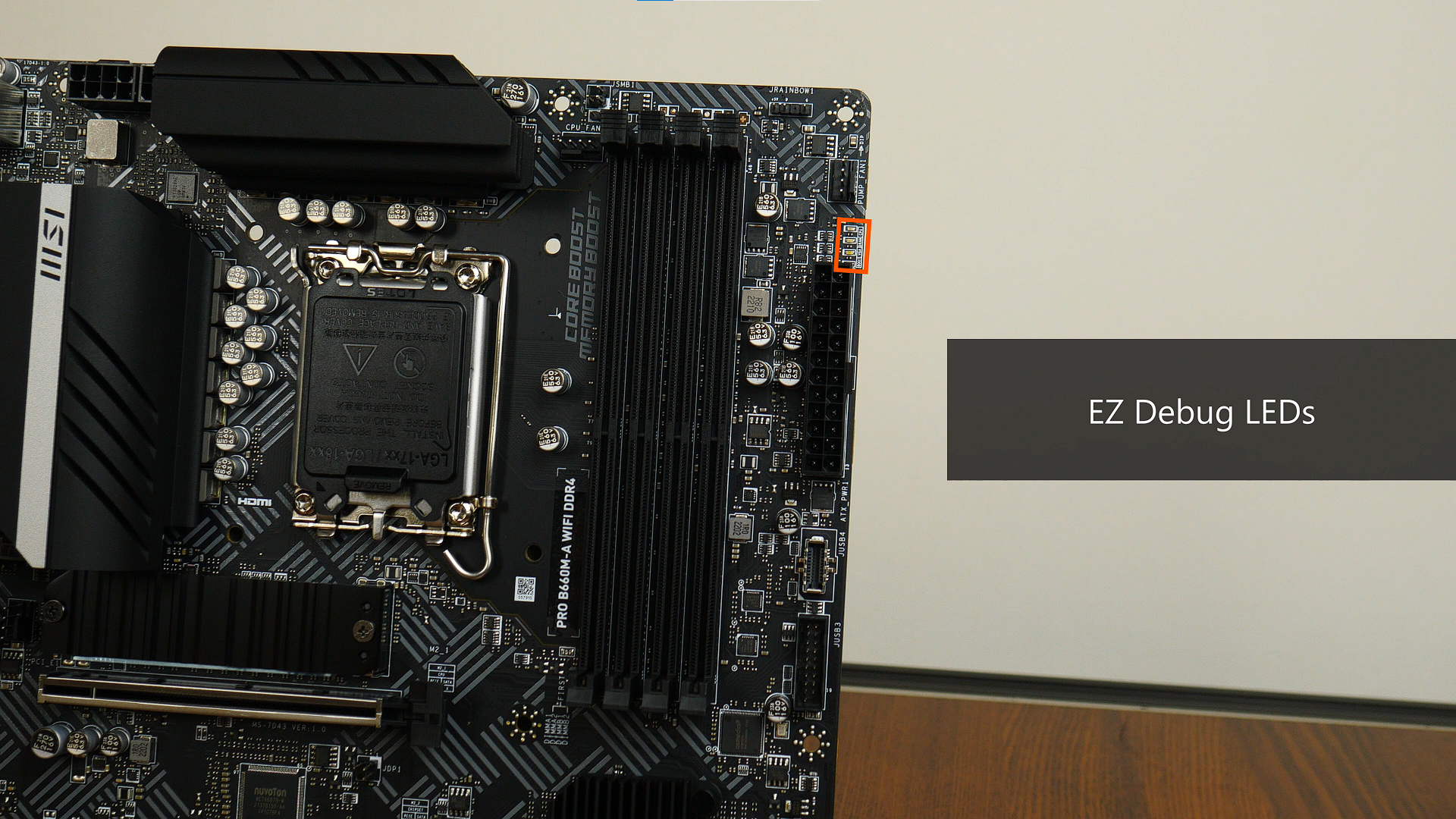 The board also sports "EZ Debug LEDs" that help with troubleshooting Power On Self Test (POST) issues, which is a handy feature to have.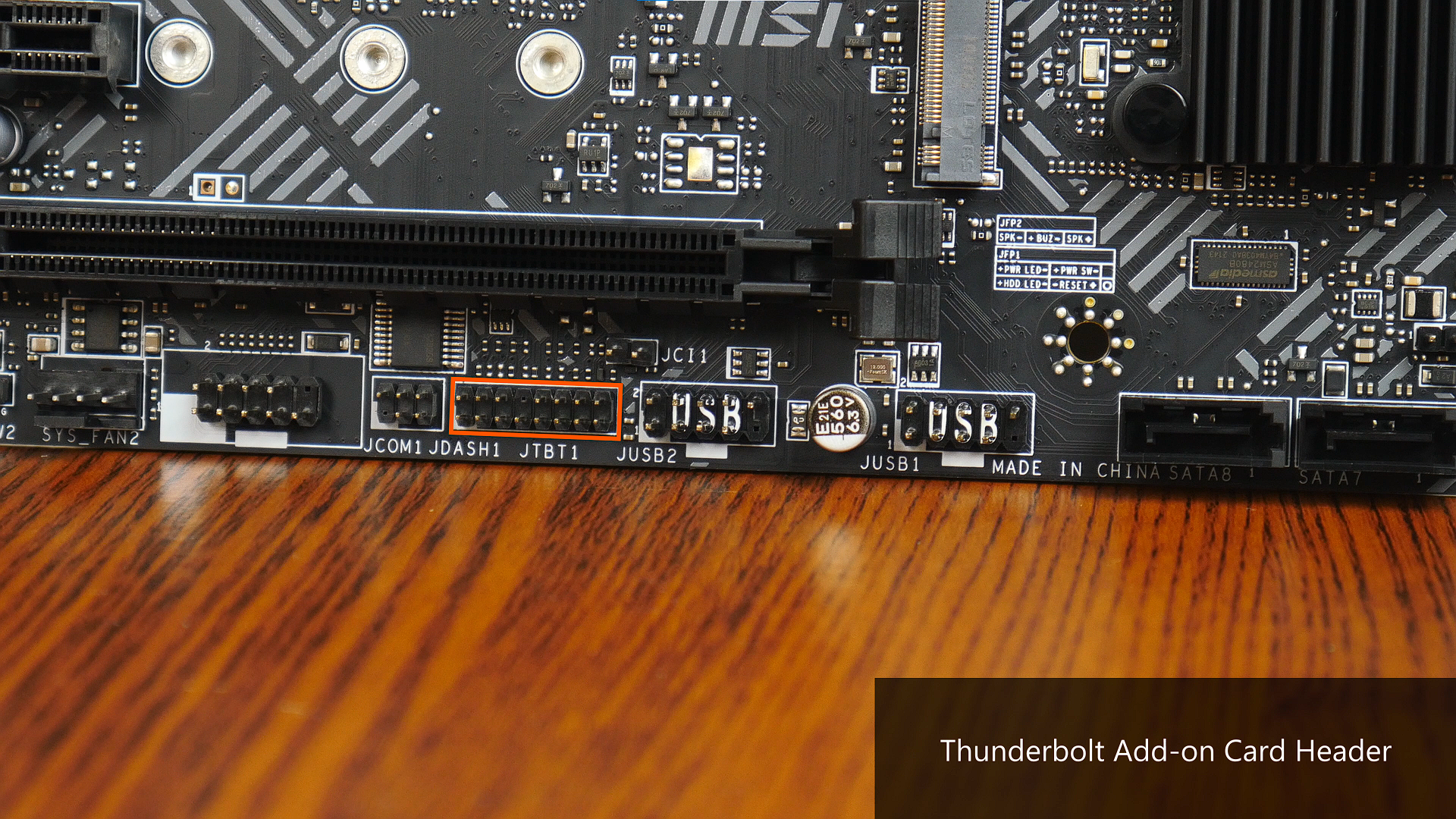 At the bottom edge of the board, MSI's included a Thunderbolt add-on card header, where end-users have the option of purchasing a MSI-branded add-on card that provides Thunderbolt ports as well as additional DisplayPort connectors.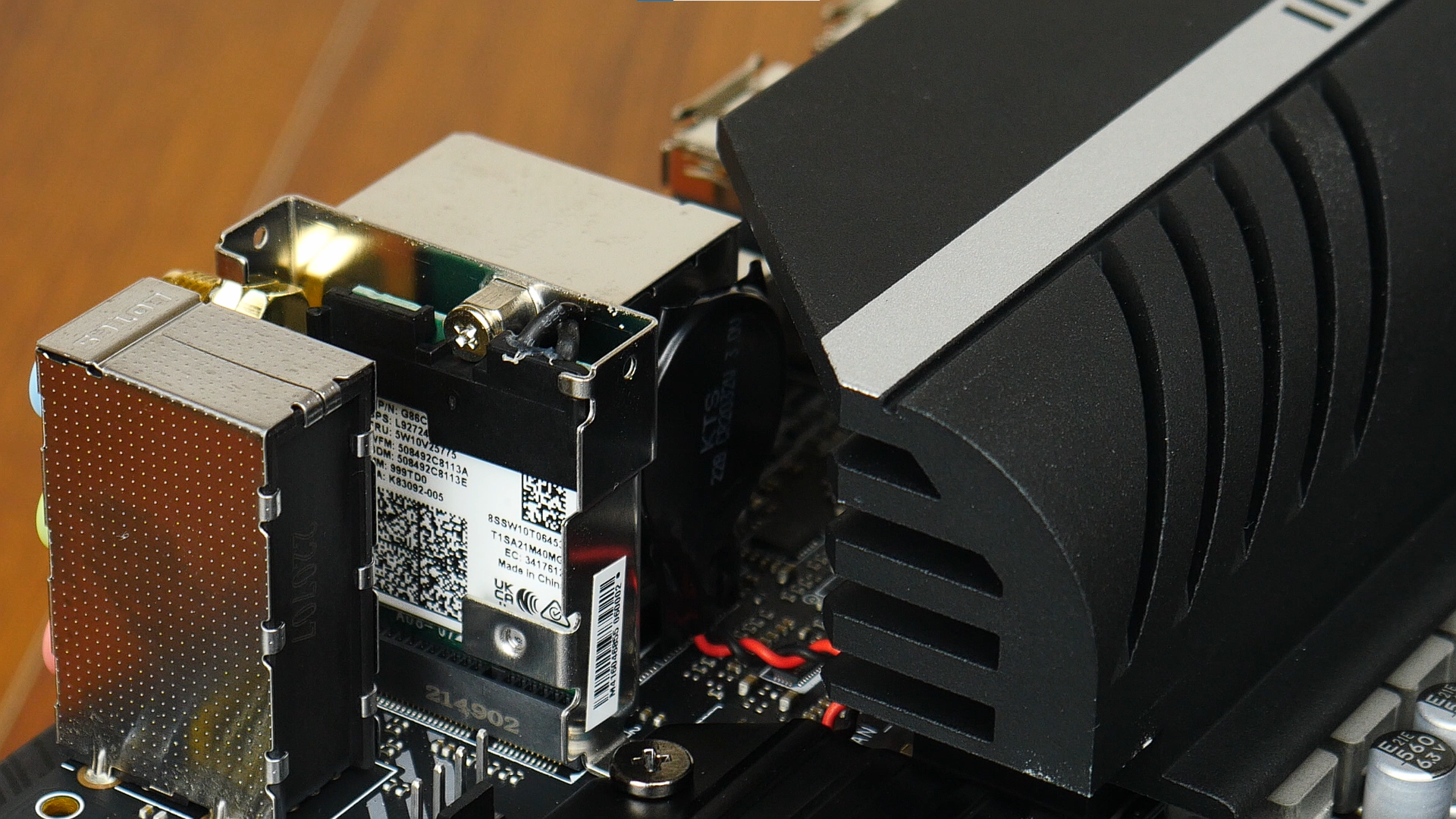 Readers may have noticed that the PRO B660M-A WIFI DDR4 has a non-standard CMOS battery, which appears to be a coin battery of sorts that connects to the motherboard via a two-pin header. In my opinion, this is not ideal as it makes future CMOS battery replacement a hassle - the usual CR2032-battery-in-a-holder arrangement would have been ideal.
Rear I/O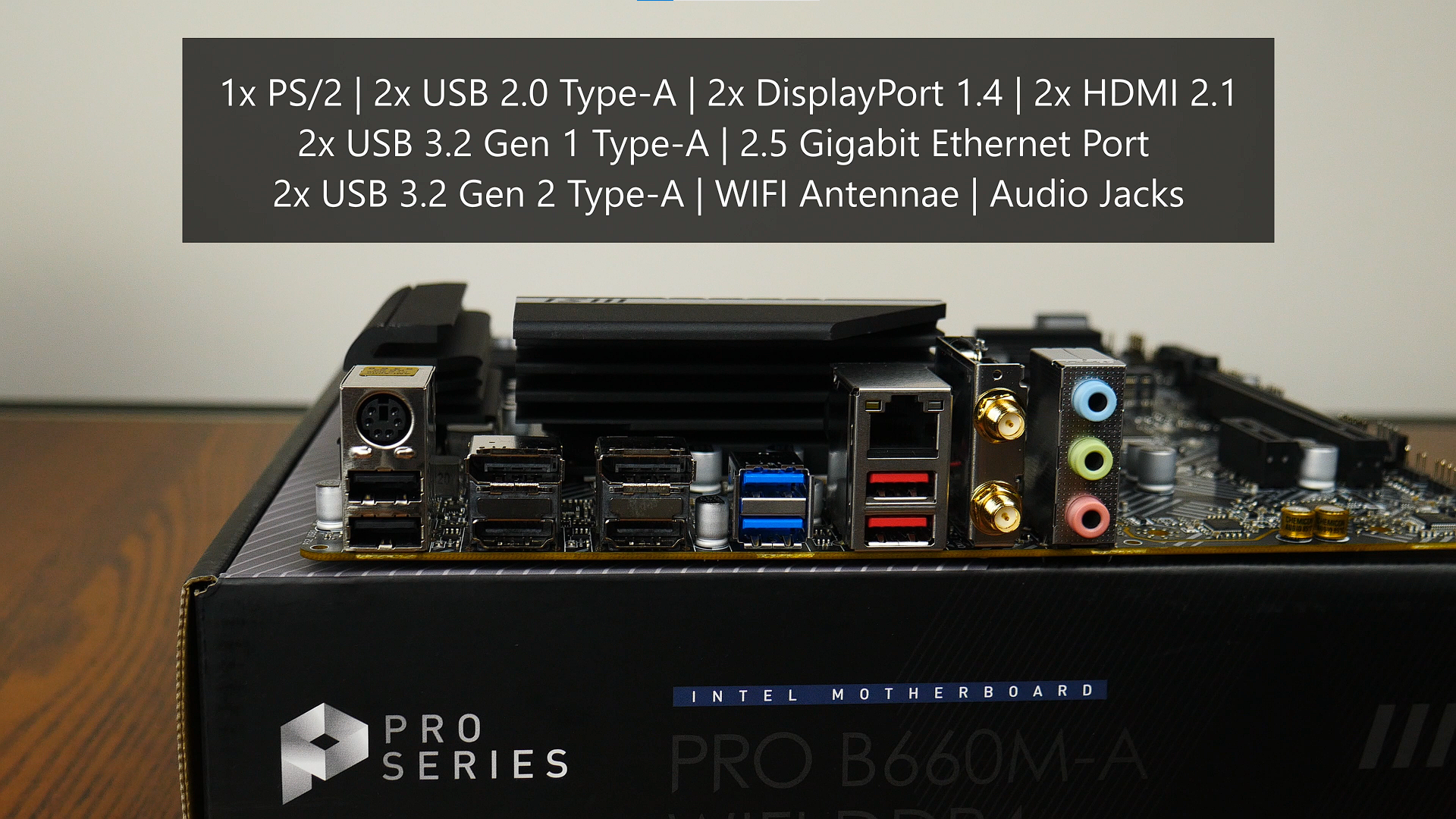 The PRO B660M-A WIFI DDR4 comes with the following rear I/O ports:
1x PS/2 port
2x USB 2.0 Type-A ports
2x DisplayPort 1.4 ports (up to 4K 60Hz display output)
2x HDMI 2.1 ports (up to 4K 60Hz display output)
2x USB 3.2 Gen 1 Type-A ports
2.5 Gigabit Ethernet port
2x USB 3.2 Gen 2 Type-A ports
WIFI antennae connectors
Audio jack connectors
Conclusion & Pricing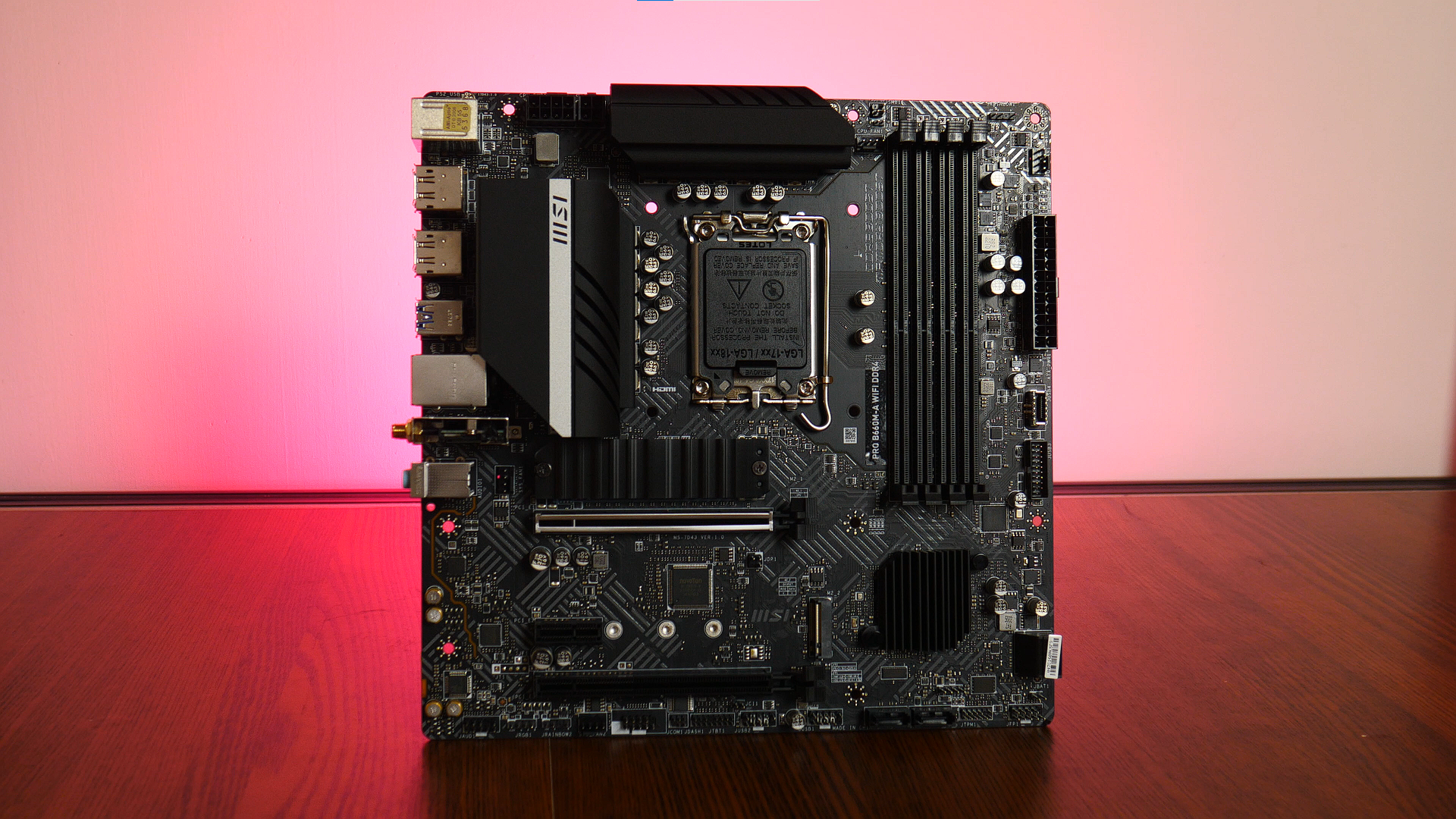 The MSI PRO B660M-A WIFI DDR4 shapes up to be a value-for-money Intel B660 motherboard in the micro ATX form factor. Boasting support for the upcoming 13th generation Intel Raptor Lake processors and a good set of features (e.g. 2.5 Gigabit Ethernet, WIFI 6 etc), MSI's offering is a compelling option, especially when one factors in the supposedly good VRM performance that this board has over its competition, as per the tests that other tech review platforms (such as Techspot) have done.
As of September 2022, this board can be purchased in Singapore for a price of around $240 Singapore dollars from local online and offline retailers. International readers can purchase this board from eCommerce sites such as Amazon and Newegg, where it is going for around $149 US dollars.
Get this board from Amazon: https://amzn.to/3APYIiD (affiliate link)
Get this board from Shopee Singapore: https://shope.ee/6A9XFFlvW5 (affiliate link)
Get this board from Lazada Singapore: https://c.lazada.sg/t/c.Y7Vhye?sub_aff_id=alktech (affiliate link)
ALKtech may earn commissions from qualifying purchases made using affiliate links, at no extra cost to you as a customer. These commissions go a long way in supporting the platform!
The motherboard featured in this article was a retail purchase by ALKtech.