Review: Gigabyte B660M AORUS PRO AX DDR4 Motherboard
Looking to build a mid-range Intel 13th Generation "Raptor Lake" gaming PC build? Gigabyte's B660M AORUS PRO AX DDR4 could be just the board that you're looking for.
With AMD's Ryzen 7000 series of processors having been launched on 27 September 2022, Intel's firing its own salvo in the form of its 13th Generation "Raptor Lake" processors, which will be available for retail purchase come 20 October 2022 alongside motherboards sporting the new top-of-the-range Intel Z790 chipset. As Intel's mid-range Raptor Lake chipsets (H770 and B760) will likely only launch come January 2023, consumers intending to build a mid-range PC powered by Intel's Raptor Lake offerings would have to look to motherboards with Intel's H670 or B660 chipsets as a base for their builds in the meantime. You read that right, motherboards with Intel's 600-series chipsets for Alder Lake will mostly have support for 13th Gen processors with just a BIOS update - the board featured in today's article included.
Positioned as more of a mid-range Intel B660 motherboard offering in the micro ATX form factor, the Gigabyte B660M AORUS PRO AX DDR4 received a BIOS update (BIOS version F7) in August 2022 that added support for Raptor Lake processors, further extending the board's relevancy in a new PC build at least till January 2023, where board offerings with the H770 and B760 chipsets are slated to hit the market.
Summary of Specifications
Processor Support: Intel 12th Generation LGA1700 Core, Pentium Gold and Celeron processors & upcoming Intel 13th Generation Raptor Lake LGA1700 processors
Chipset: Intel B660
Memory: 4x DDR4 slots, max 128GB, up to DDR4 5333 (OC) support
Audio: Realtek ALC897 audio
LAN: Intel I225-V 2.5 Gigabit Ethernet
WIFI: Intel WIFI 6E or WIFI 6 (dependent on board revision number)
Expansion Slots: 1x PCIe 4.0 x16, 1x PCIe 3.0 x4 (full-length)
Storage: 4x SATA III, 2x PCIe 4.0 x4 M.2
Form Factor: microATX
Packaging & Contents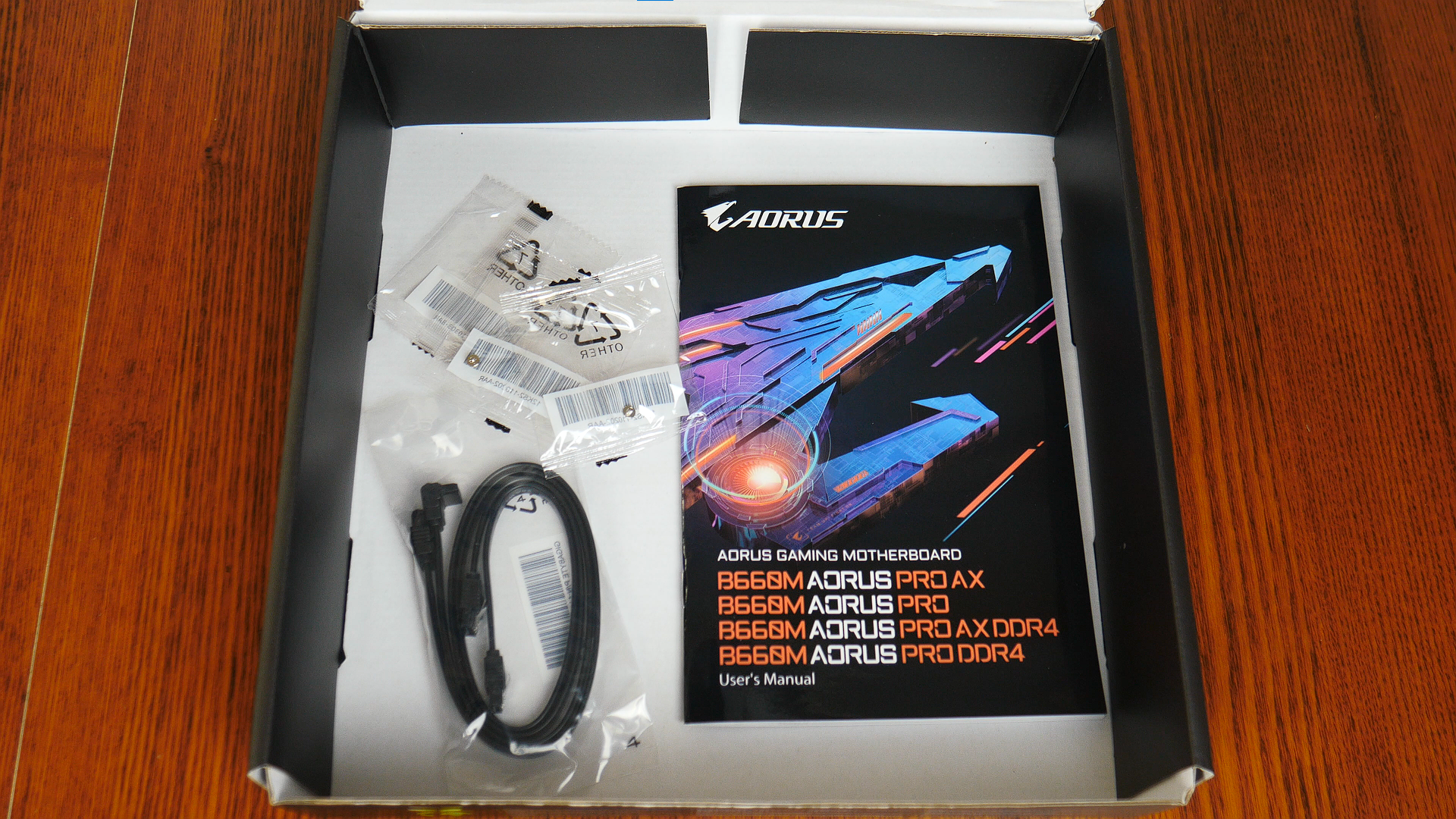 The B660M AORUS PRO AX DDR4 comes with the bare minimum in terms of accessories. which is surprising for a product bearing the AORUS moniker:
1x WIFI antenna
2x SATA III cables
2x M.2 drive screws
1x M.2 drive standoff
1x manual
Eagle-eyed readers will notice that Gigabyte's done away with a DVD driver disc, which is an environmentally-friendly move seeing as optical drives are fast becoming a thing of the past with modern PCs.
Board Aesthetics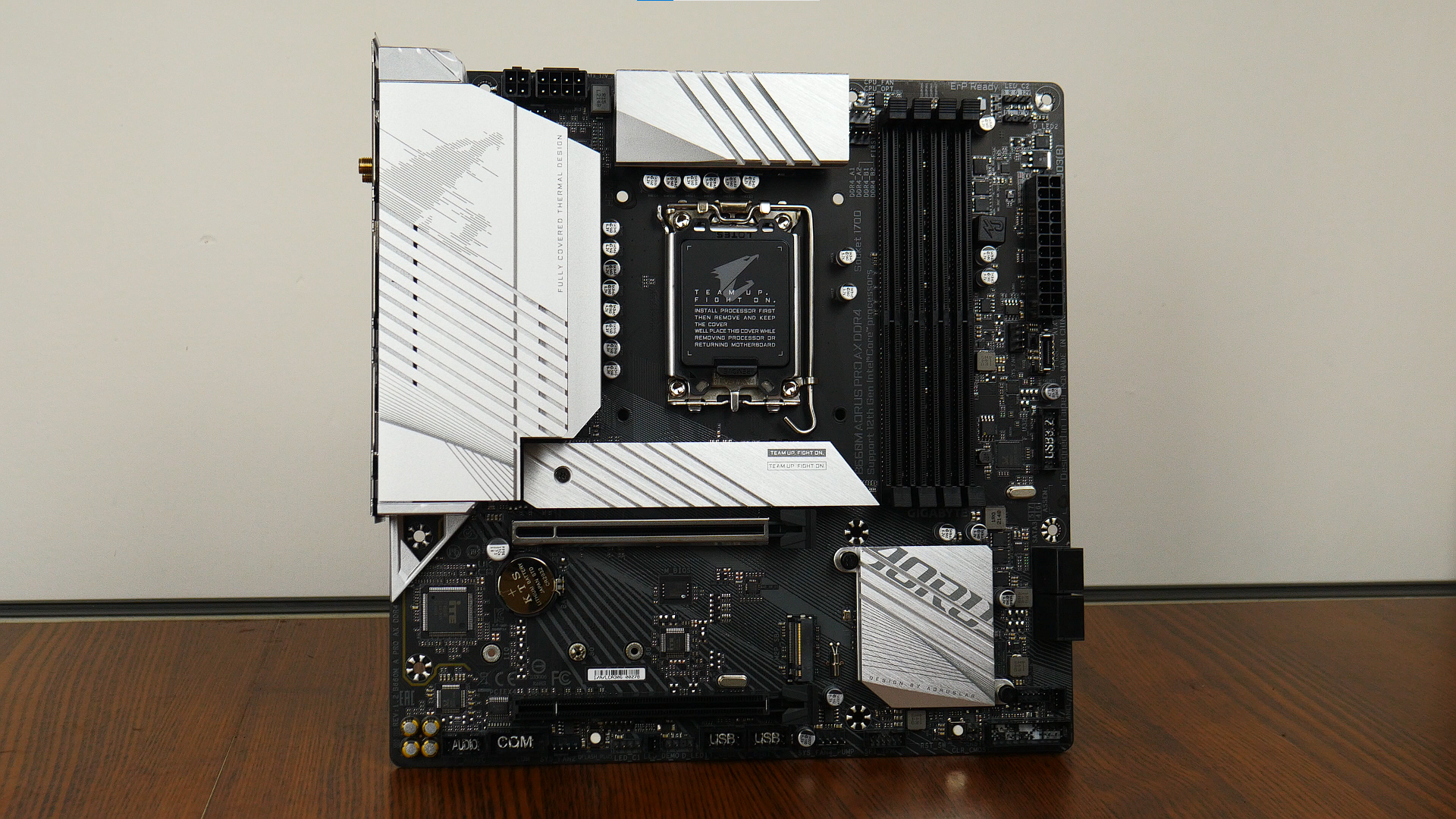 Gigabyte's gone with a silver on black colour scheme for the board, with light grey accents in the bottom half to spice up its appearance. It also comes with an integrated I/O shield, and chunky silver heatsinks for the VRMs.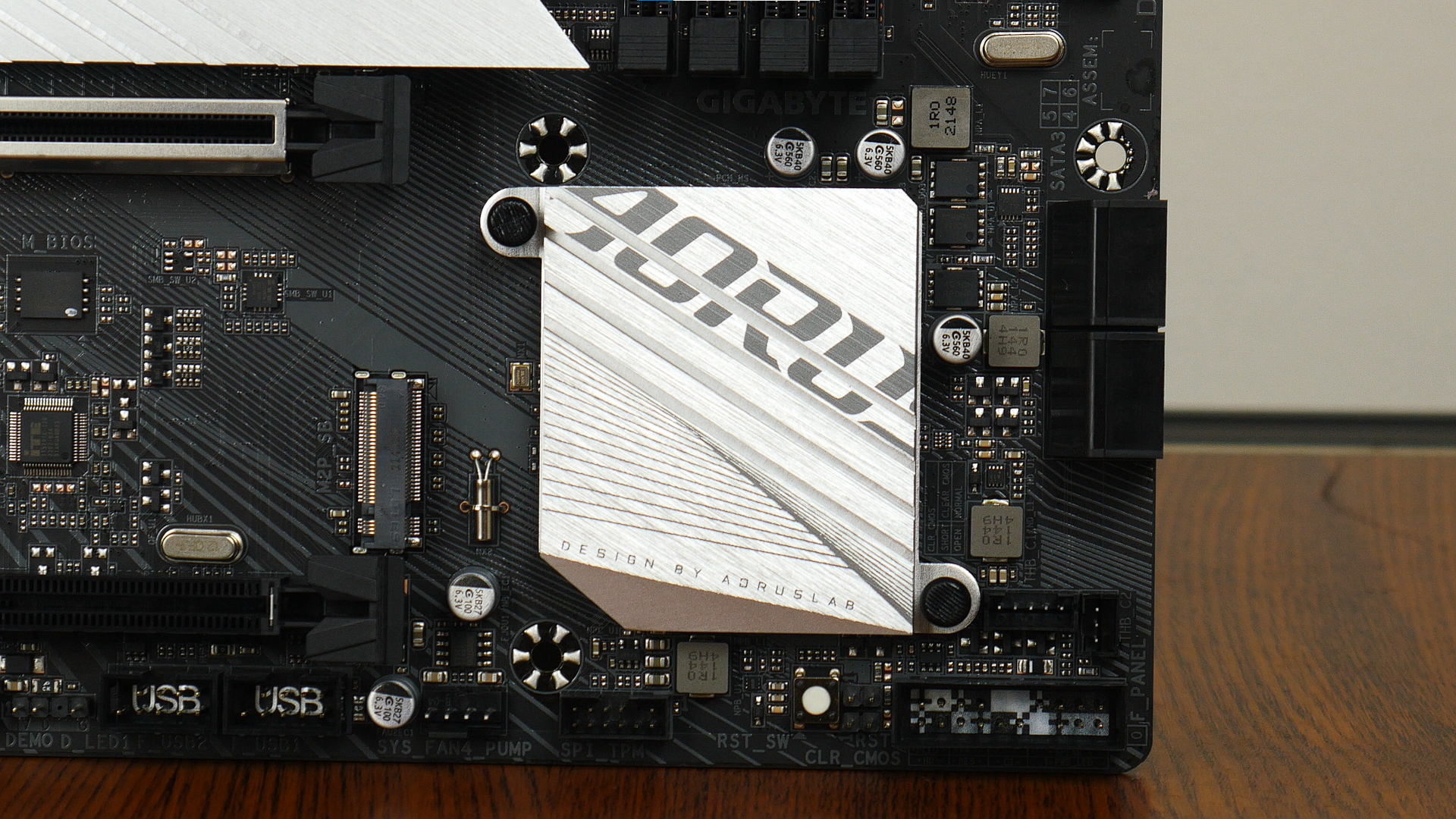 The heatsink for the Intel B660 chipset is a passively-cooled affair with the AORUS motif emblazoned on it. Beneath the chipset heatsink are built-in RGB LEDs that further enhance the visual appeal of the board.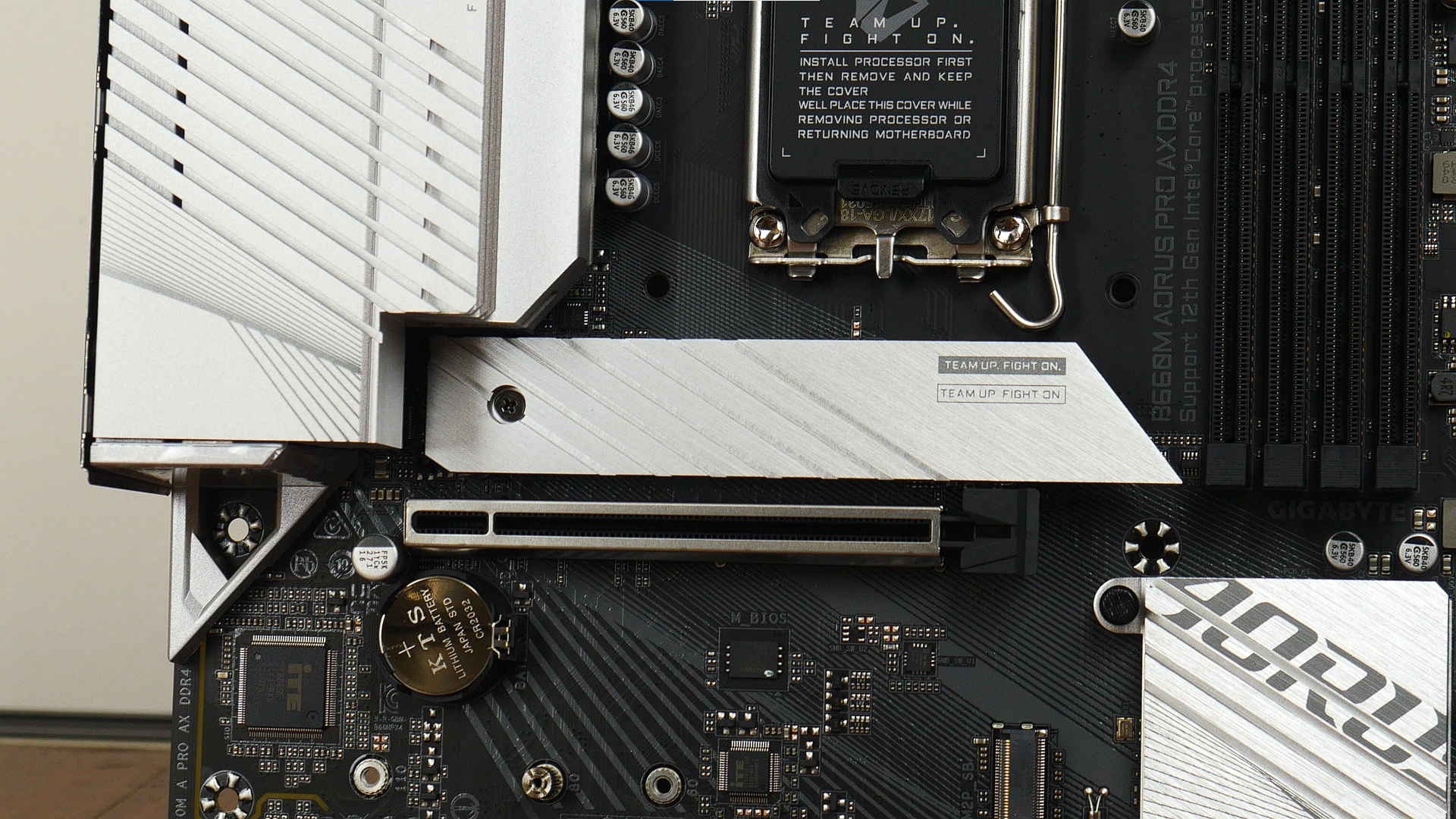 In keeping with the silver-on-black theme, Gigabyte's included a silver heatsink for the primary M.2 drive slot of the B660M AORUS PRO AX DDR4. The second M.2 drive slot does not come with a heatsink.
VRM & Memory Support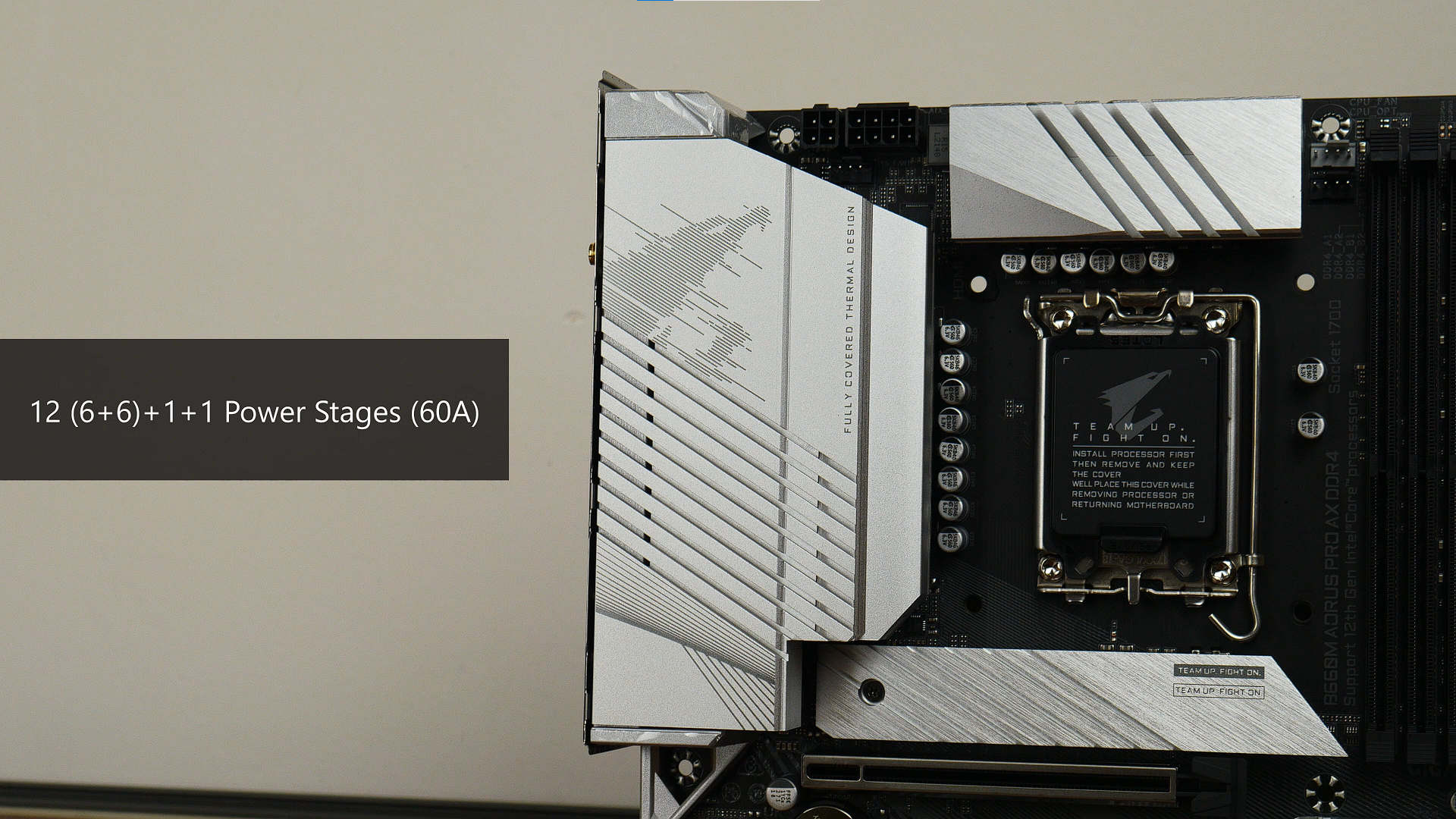 The board comes with 12+1+1 power stages that are rated for 60A, and according to a VRM and performance test of mid-range Intel B660 boards done by Techspot, the B660M AORUS PRO AX DDR4 does pretty well against competitor boards, perhaps indicating that this board would probably do well too in powering Intel's latest 13th Generation processor offerings, even for the higher-end parts.
For memory support, Gigabyte's included four DDR4 slots that support up to 128GBs of RAM, and the DDR4 5333 standard when overclocked. The RAM slots are made of plastic and have a dual-tab design. Being a board that supports DDR4 sure goes a long way in lowering the costs of building a new PC with this board, a plus point for the Intel ecosystem seeing as AMD's AM5 platform for its Ryzen 7000 series of processors is a DDR5-only play.
Front Panel USB Connectivity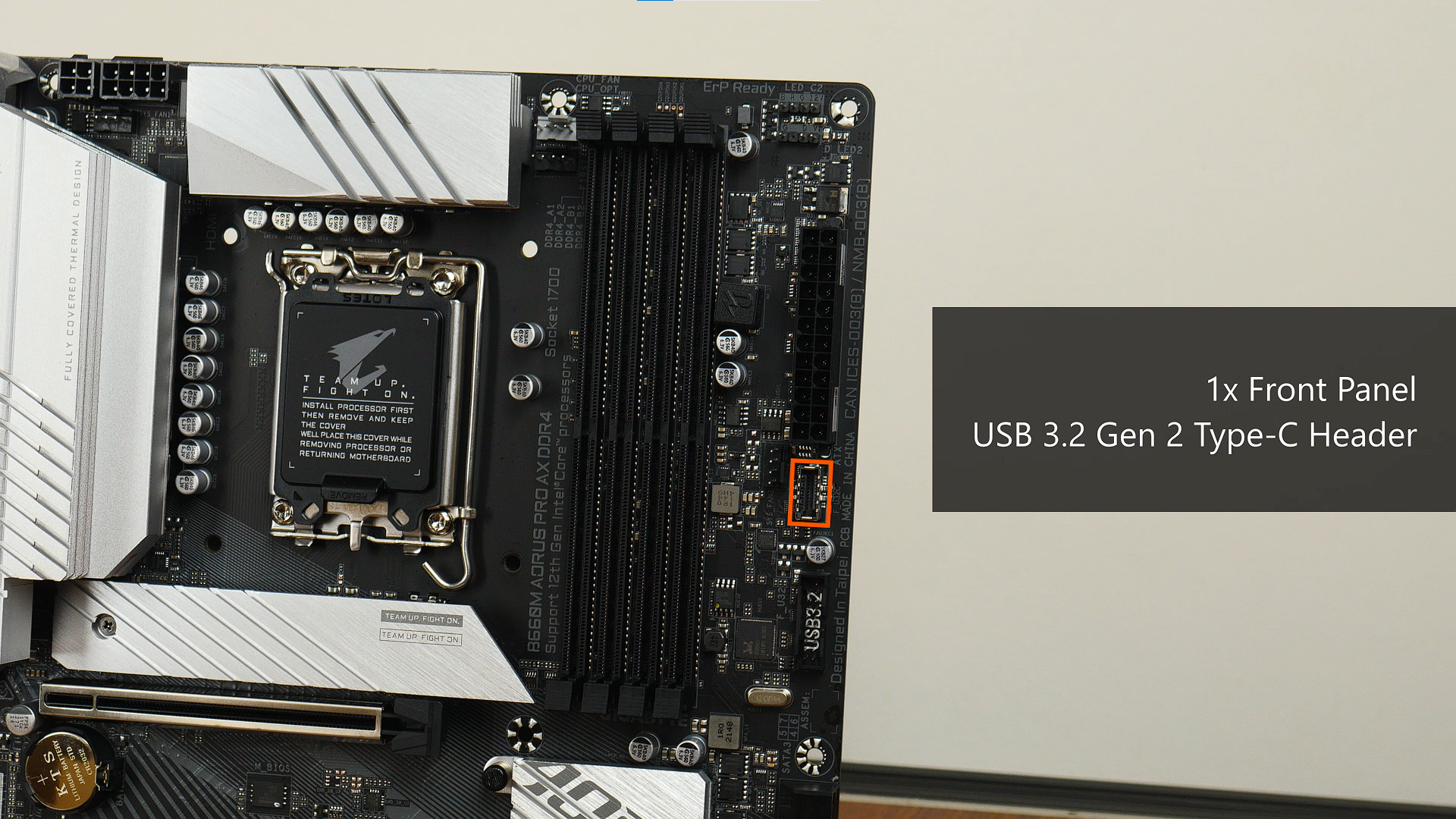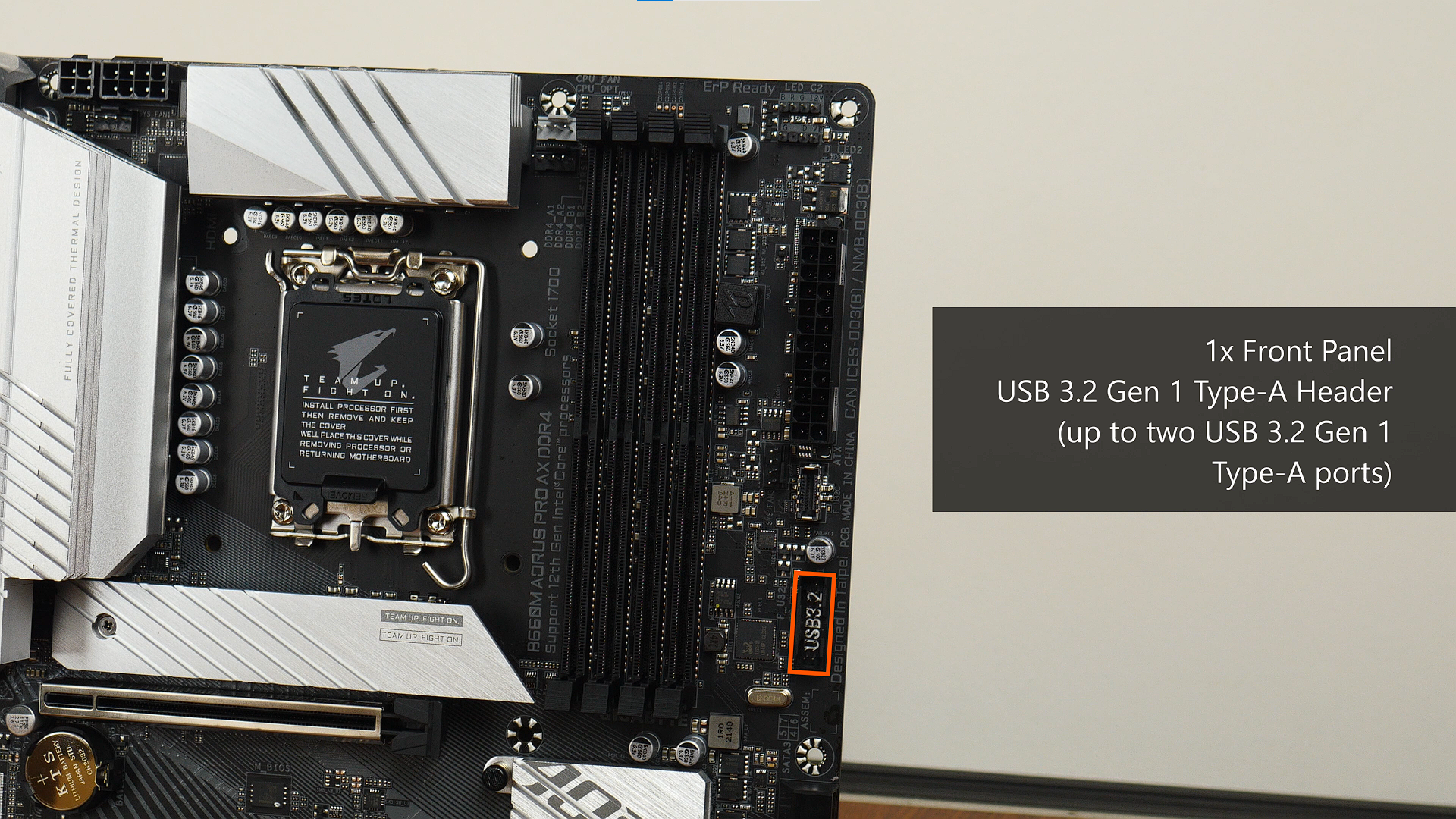 For front panel USB 3.2 connectivity, the B660M AORUS PRO AX DDR4 comes with a single USB 3.2 Gen 2 Type-C front panel header. Also included is a USB 3.2 Gen 1 front panel header that provides for up to two front panel USB 3.2 Gen 1 Type-A ports.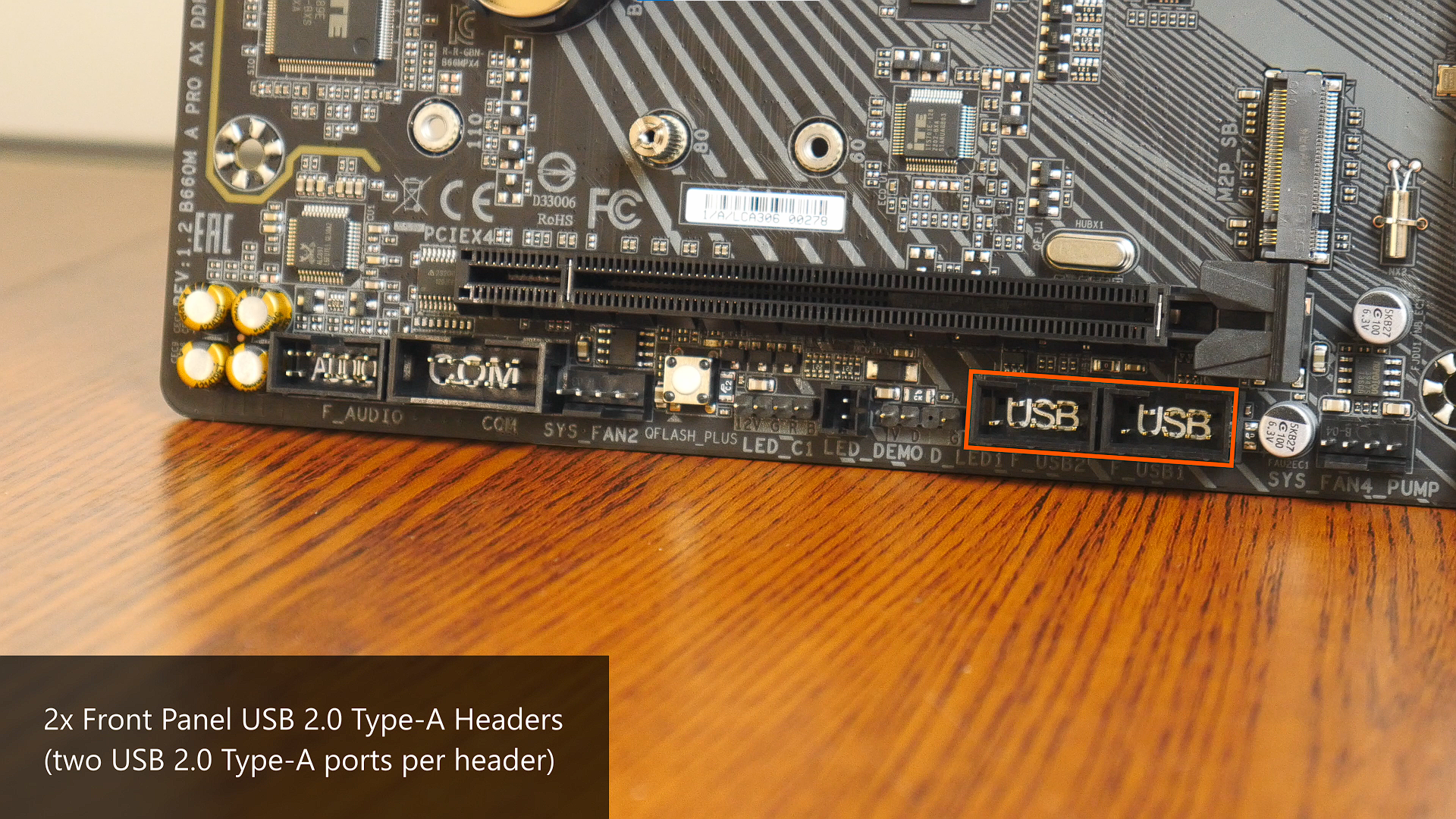 To round up the front panel USB connectivity department, two front panel USB 2.0 headers are provided near the bottom edge of the board, with each header providing support for up to two USB 2.0 Type-A ports.
Expansion Slots & Storage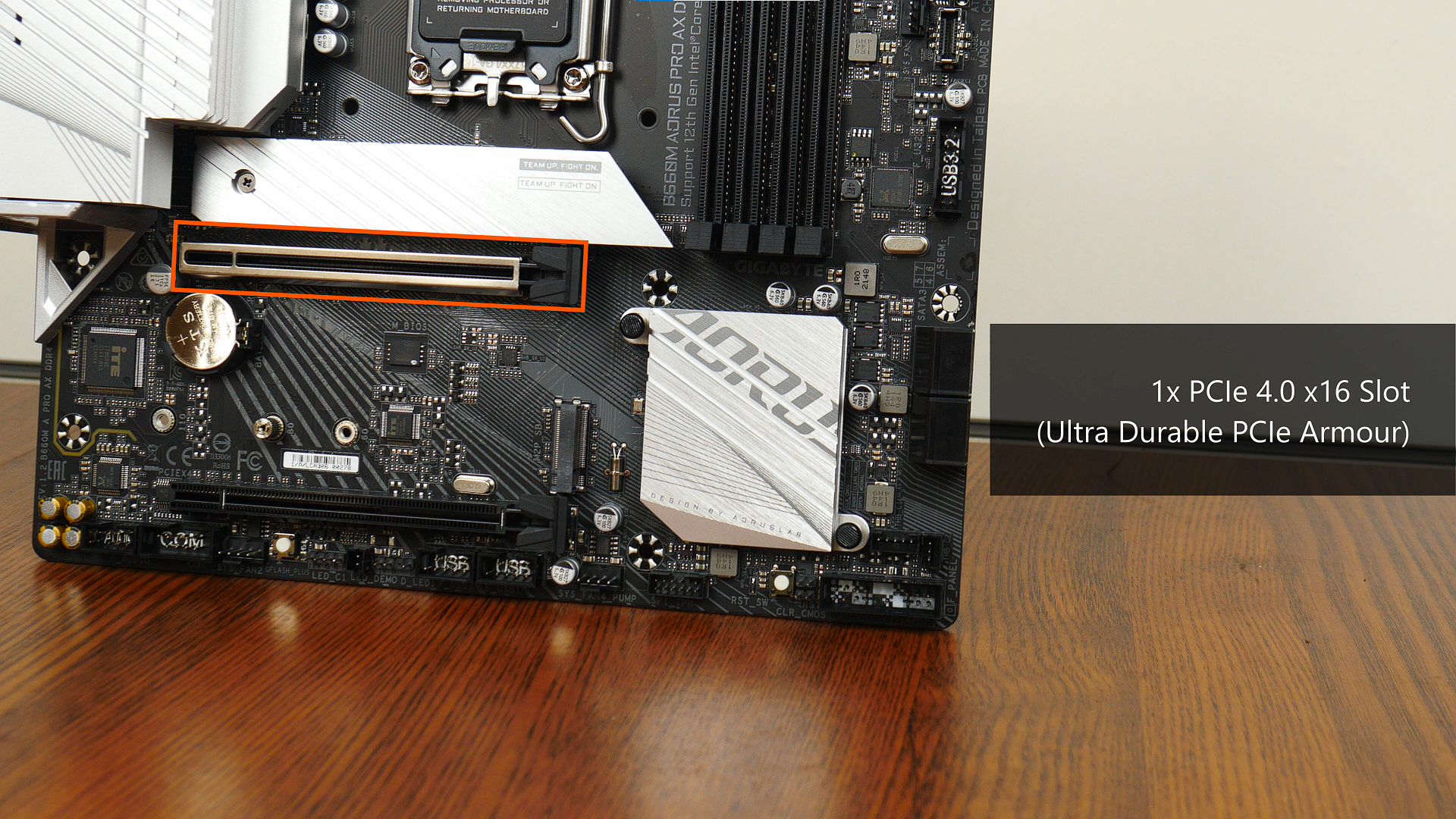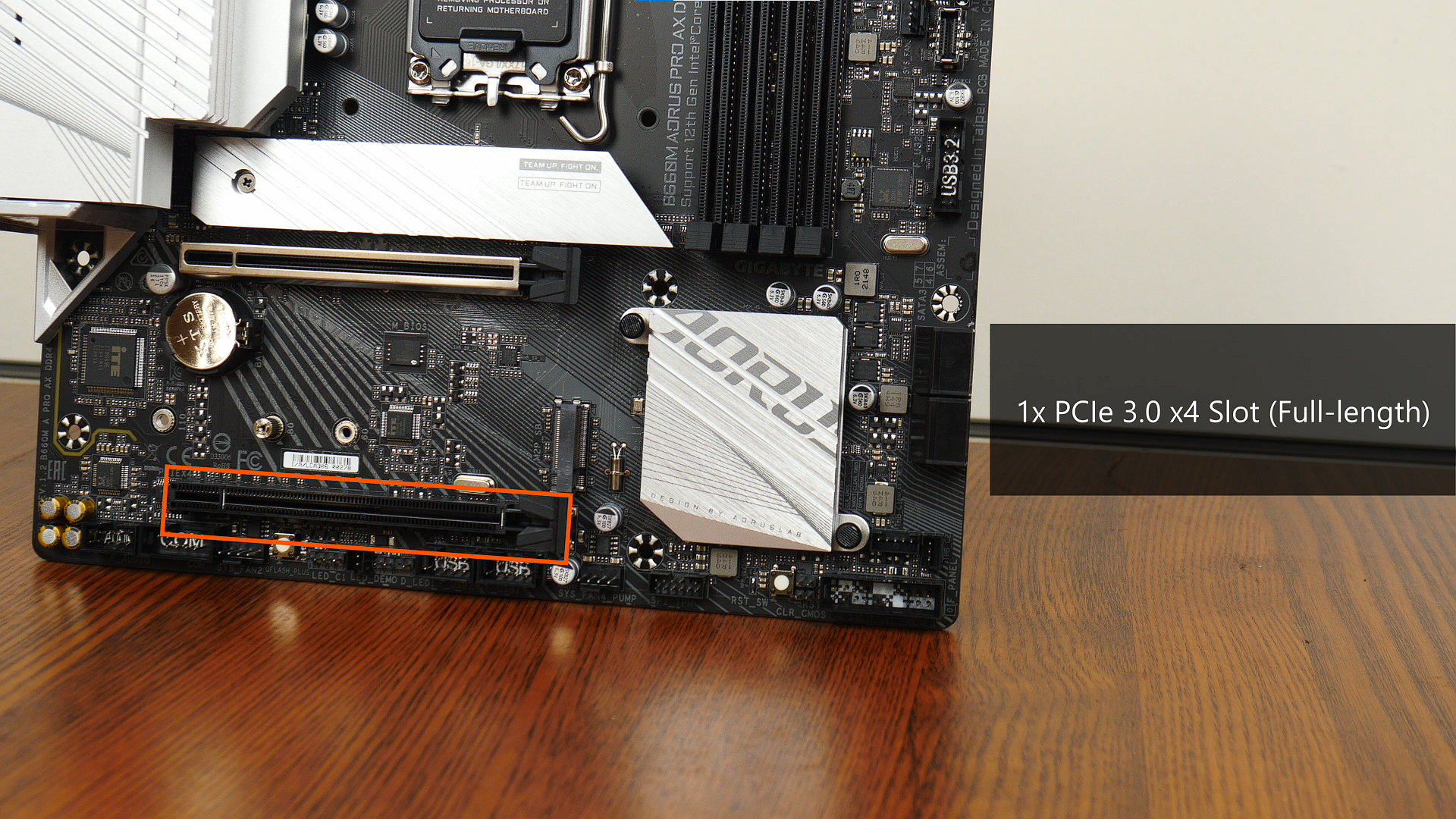 The B660M AORUS PRO AX DDR4 comes with a single PCIe 4.0 x16 slot with the Ultra Durable PCIe Armour feature that reinforces the slot against heavy graphics cards. Also included is a full-length PCIe 3.0 x4 slot that is made of plastic.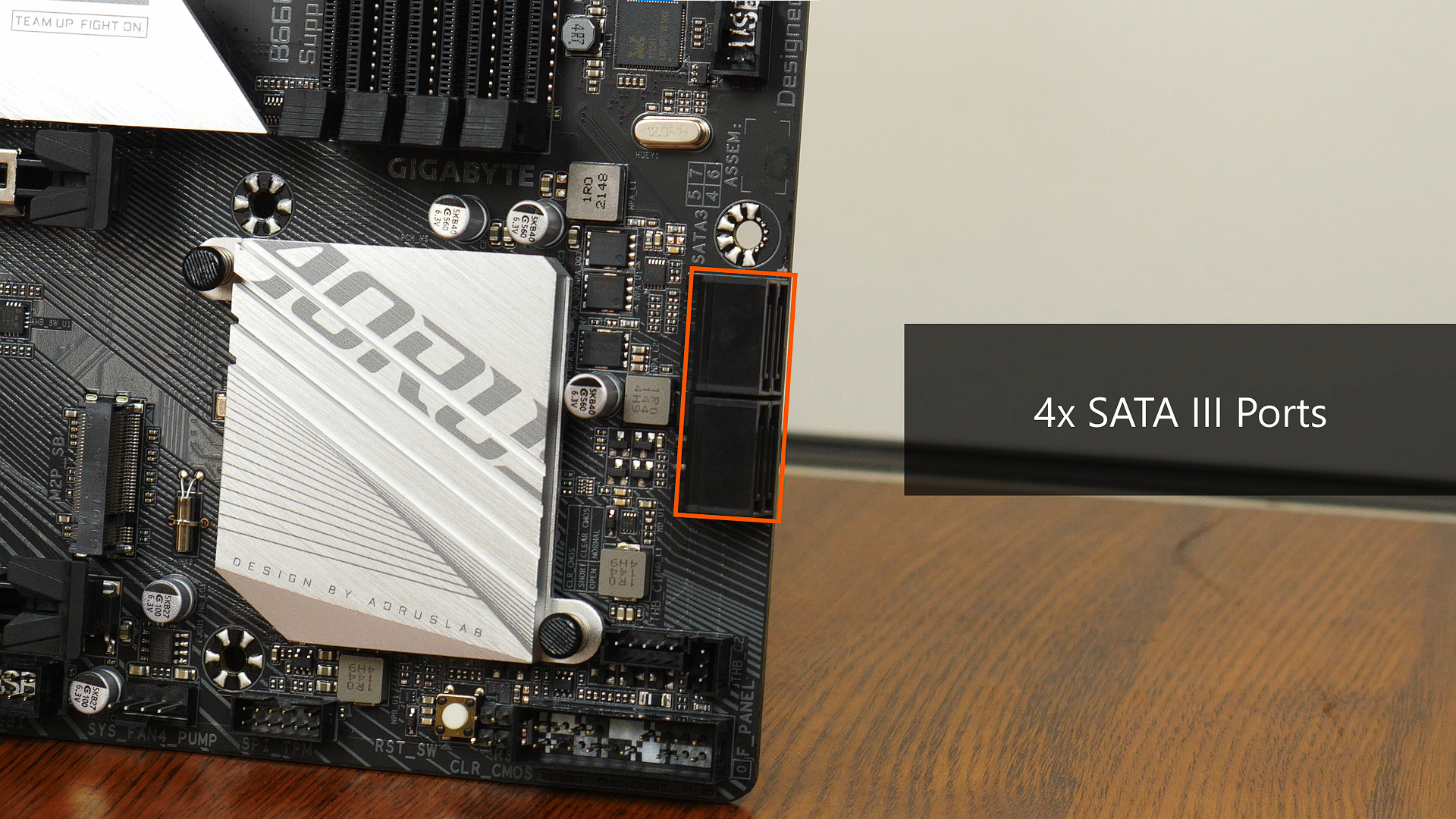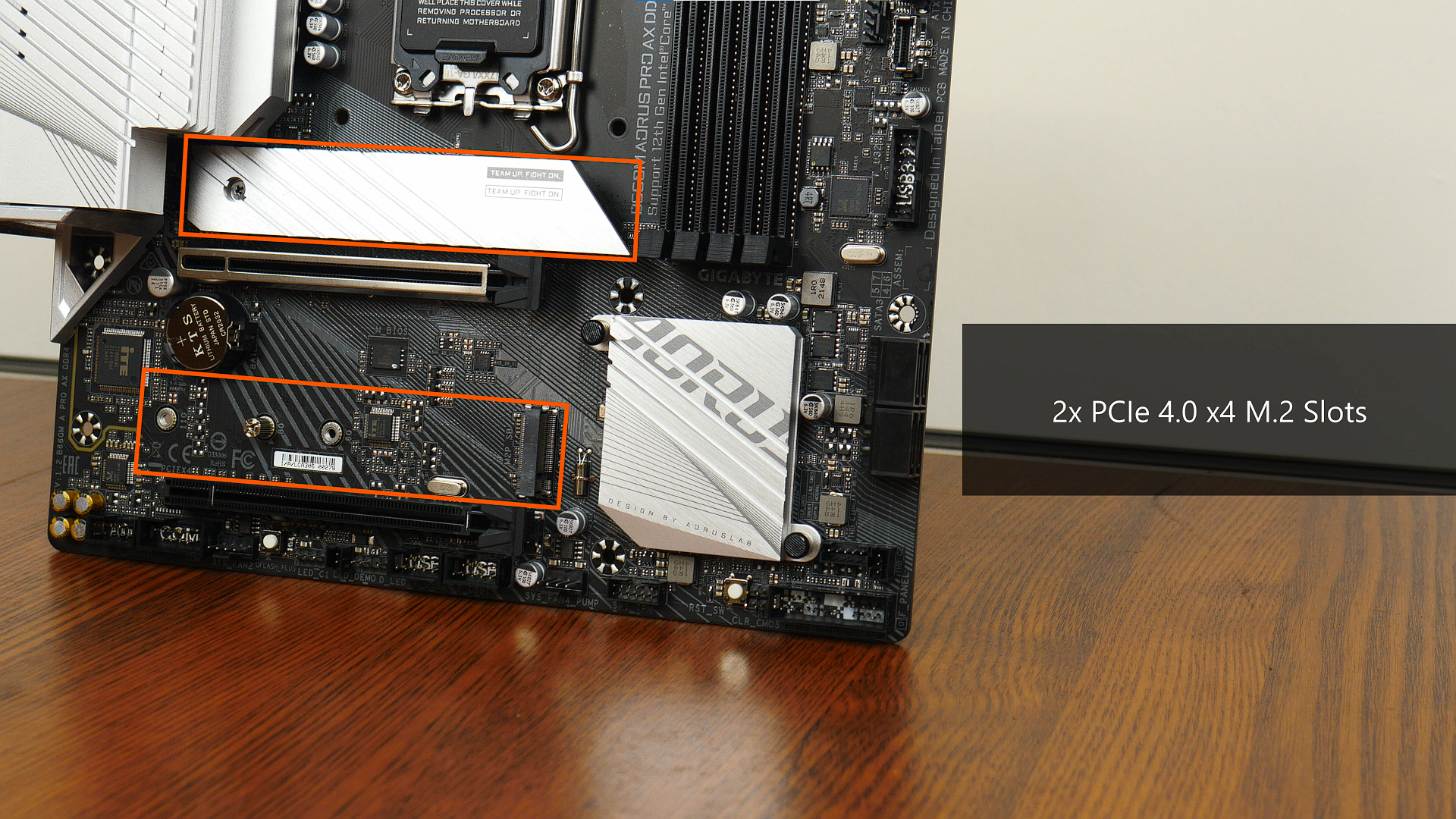 As for storage connectivity options, four SATA III ports that come in a right-angled configuration to aid with cable management are included, and these are accompanied by two PCIe 4.0 x4 M.2 slots. As mentioned earlier, only the primary M.2 slot comes with a heatsink.
Audio & Internet Connectivity
A miss for the B660M AORUS PRO AX DDR4 is its audio codec, Realtek's ALC897, which is a low-end part commonly found on entry-level motherboards.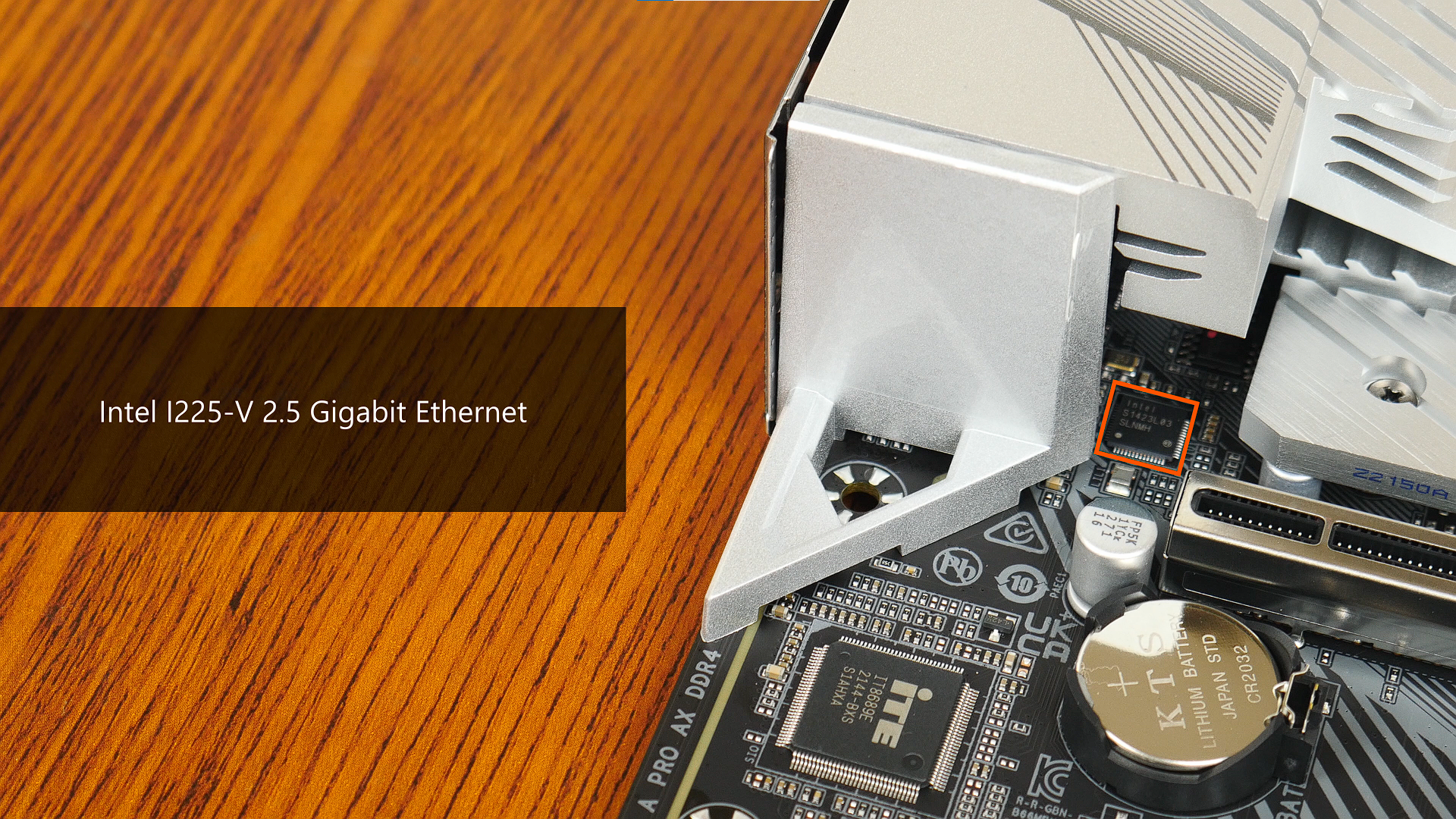 Wired internet connectivity is powered by Intel's I225-V....
...while WIFI is a less-than-straightforward affair for this board. The B660M AORUS PRO AX DDR4 comes in three board revisions: 1.0, 1.1 and 1.2, with each board revision sporting different WIFI modules:
Revision 1.0: Intel AX201NGW WIFI 6 + Bluetooth 5.2
Revision 1.1: Intel AX200NGW WIFI 6 + Bluetooth 5.2
Revision 1.2: Intel AX211NGW WIFI 6E + Bluetooth 5.2
In view of the above, one should try to check the board revision number if possible before making a purchase, as the latest Revision 1.2, which comes with Intel's AX211NGW WIFI 6E module, would be a far superior option compared to Revisions 1.0 and 1.1, which come with older Intel wireless chipsets that serve up WIFI 6 support. The board's revision number can be found on the label that is stuck to the side of the box that the board comes in, and can also be found near where the audio chipset is located, as per the photo above.
Fan & RGB Headers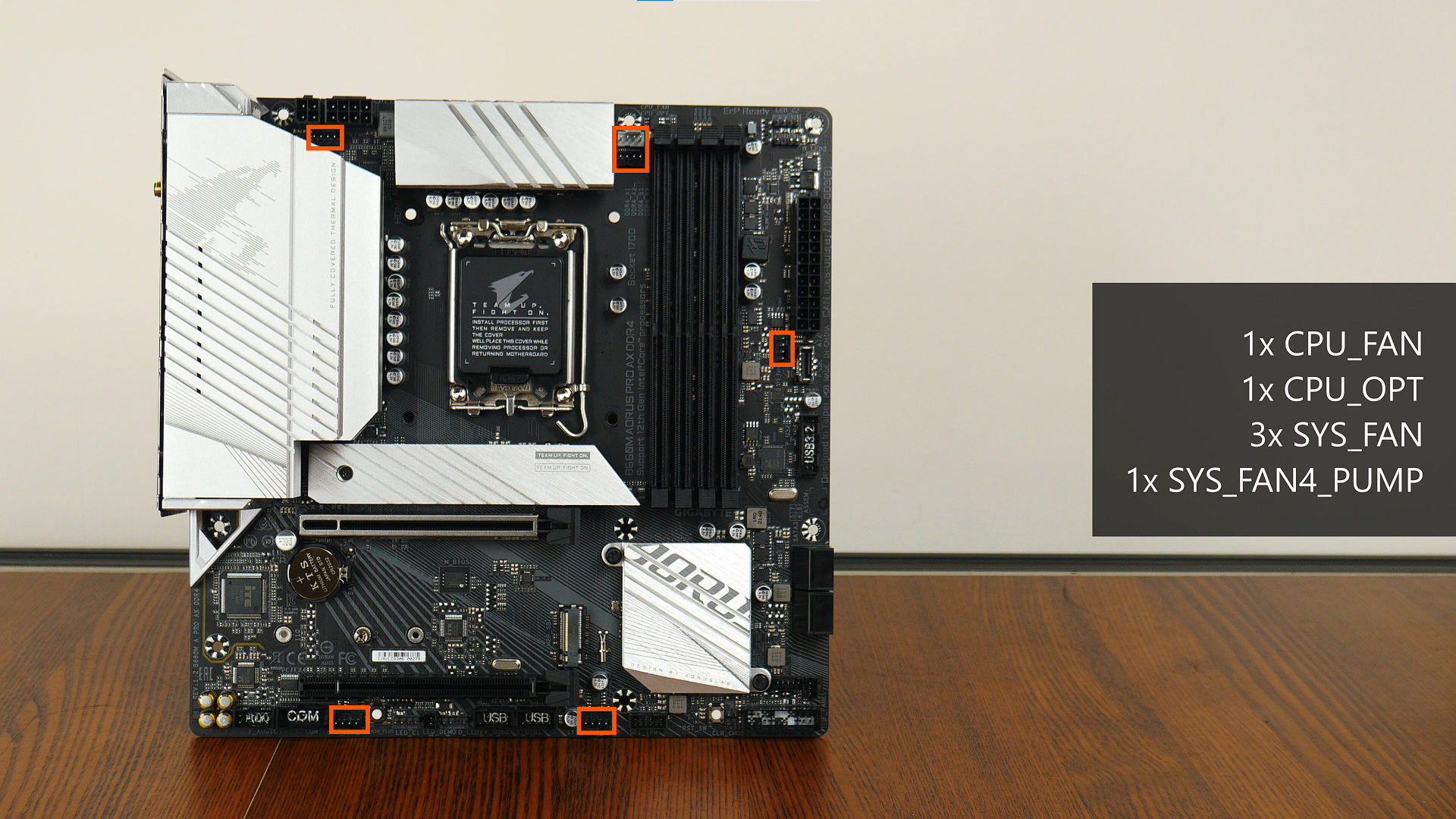 The B660M AORUS PRO AX DDR4 comes with plenty of fan headers, six of them to be precise:
1x CPU_FAN
1x CPU_OPT
3x SYS_FAN
1x SYS_FAN4_PUMP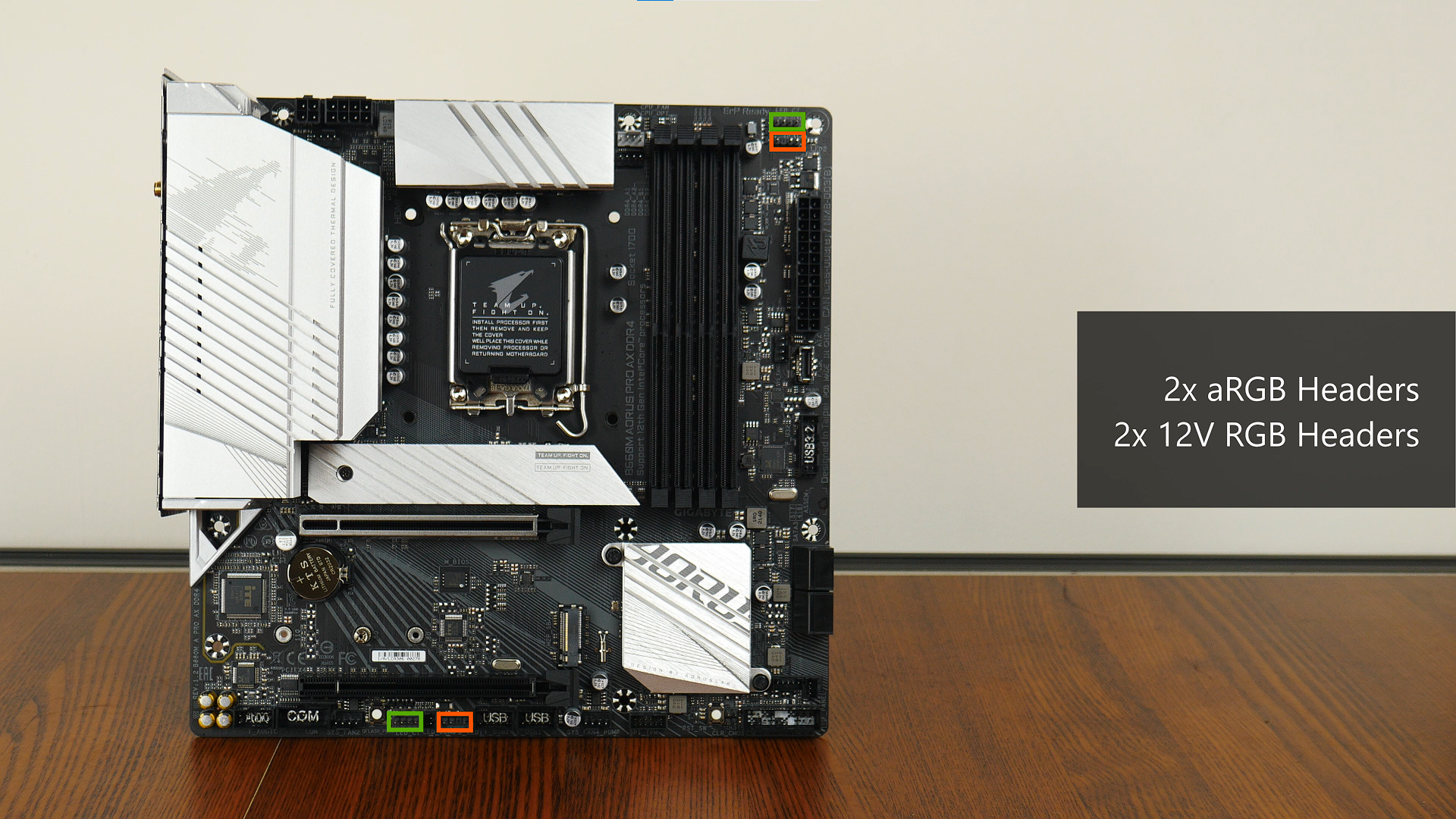 RGB headers are in no short supply too, where Gigabyte has included two addressable RGB headers (5V) and two standard RGB headers (12V).
Other Features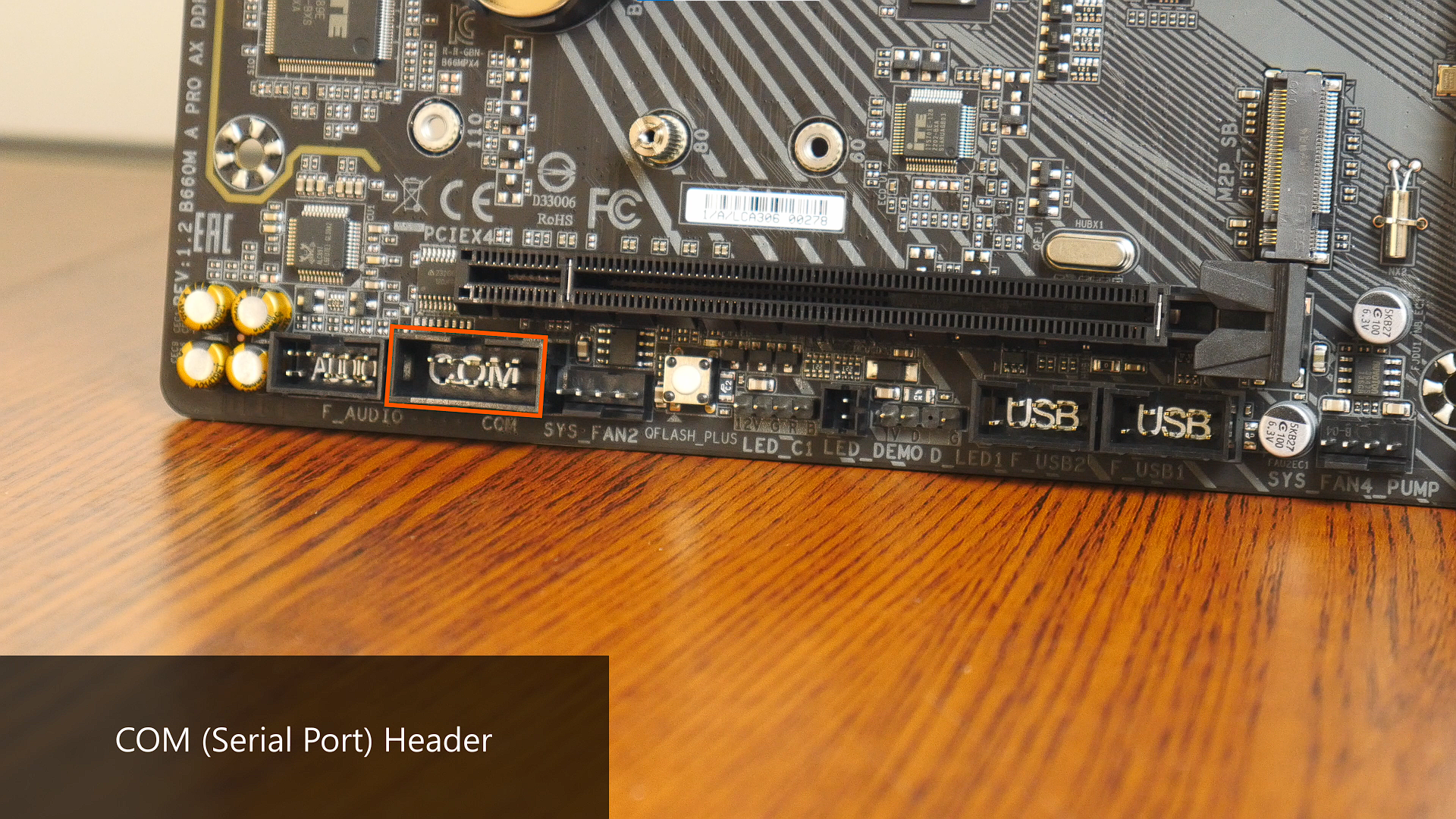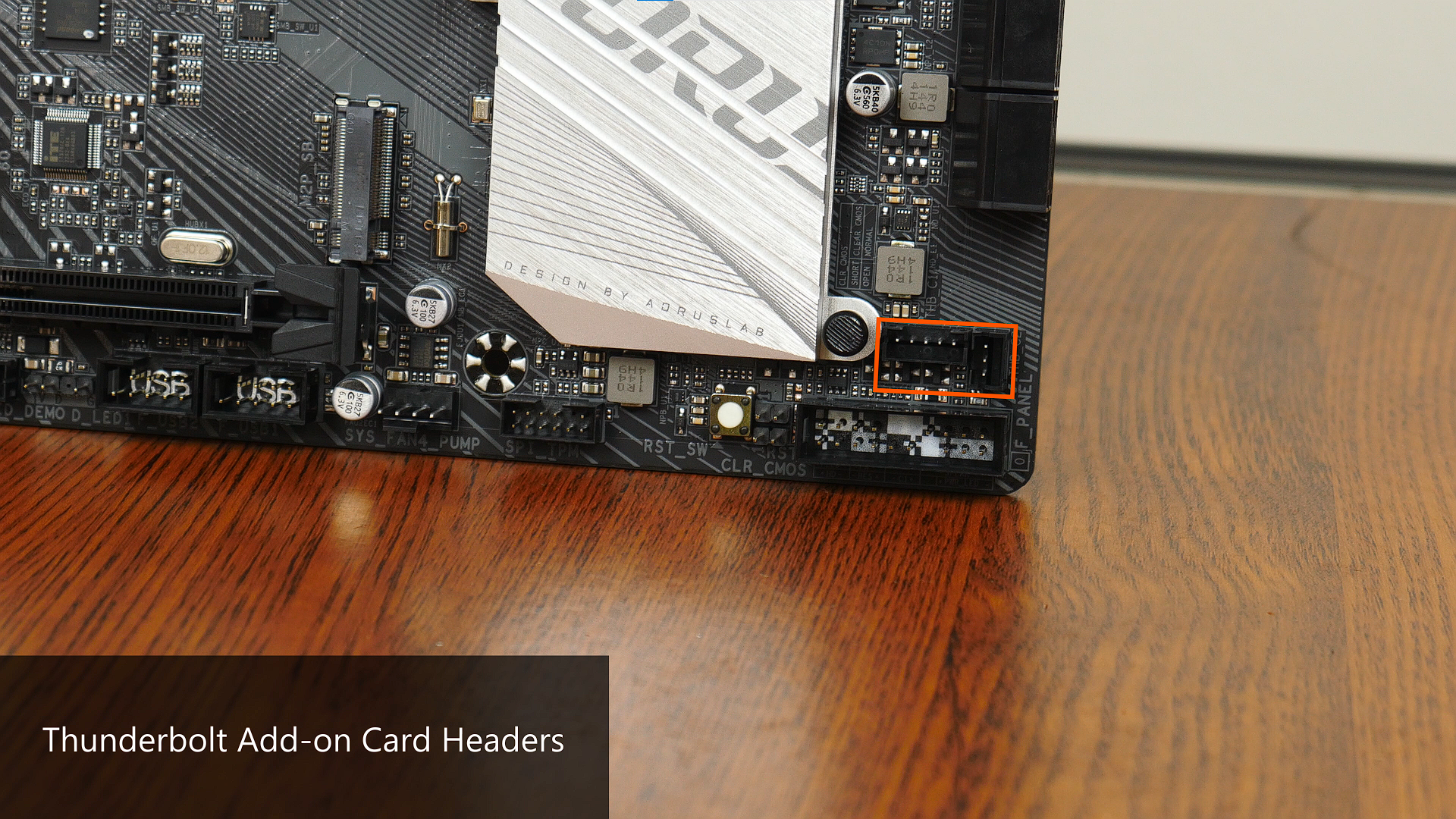 Included with the board are a serial port header, which is a surprising feature to have that could come in useful for situations that call for legacy PC hardware usage, as well as Thunderbolt add-on card headers that are to be used in conjunction with a Thunderbolt add-on card that is optional and sold separately by Gigabyte. The said card adds Thunderbolt 4.0 ports and additional DisplayPort connectors to one's PC.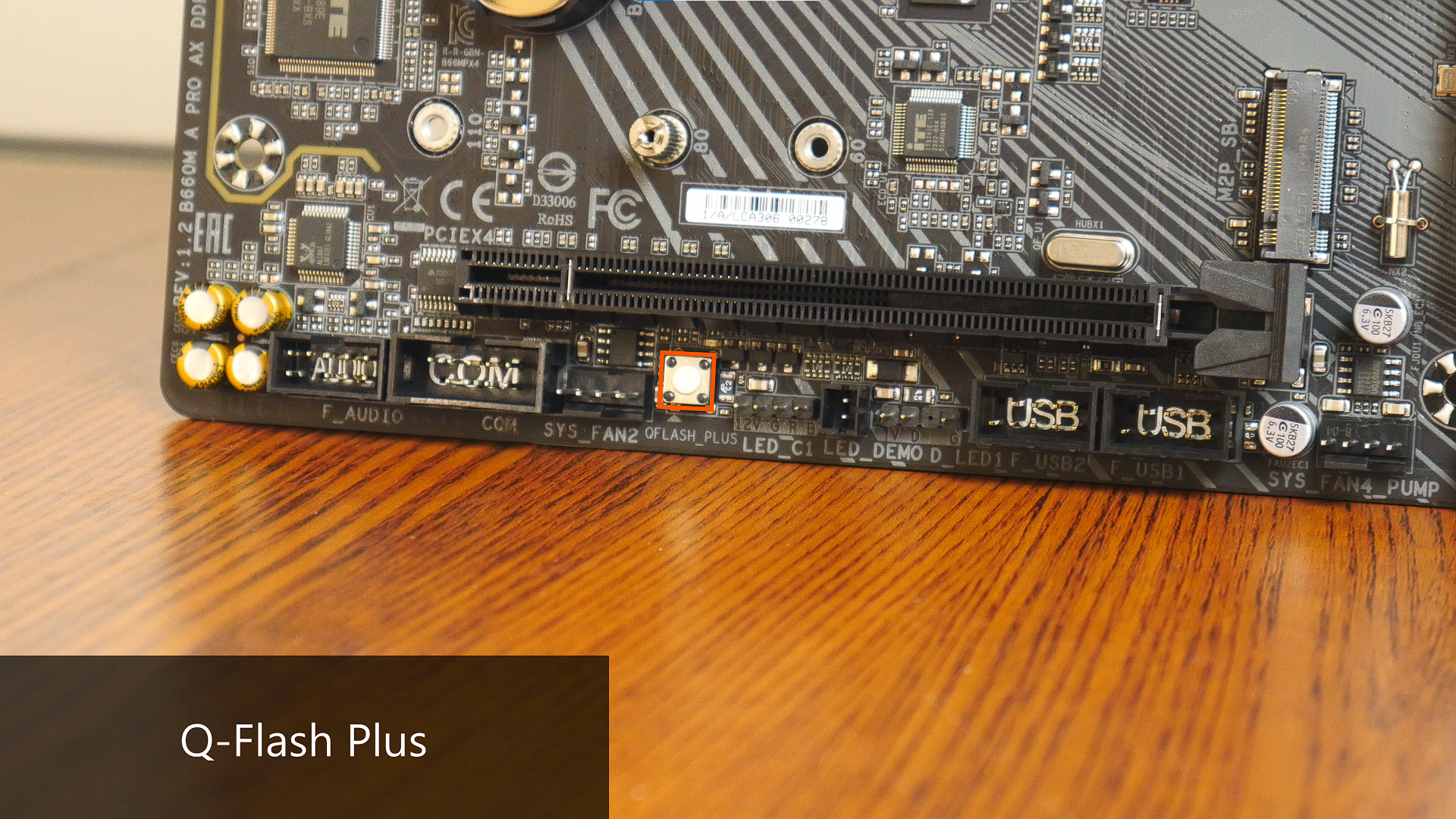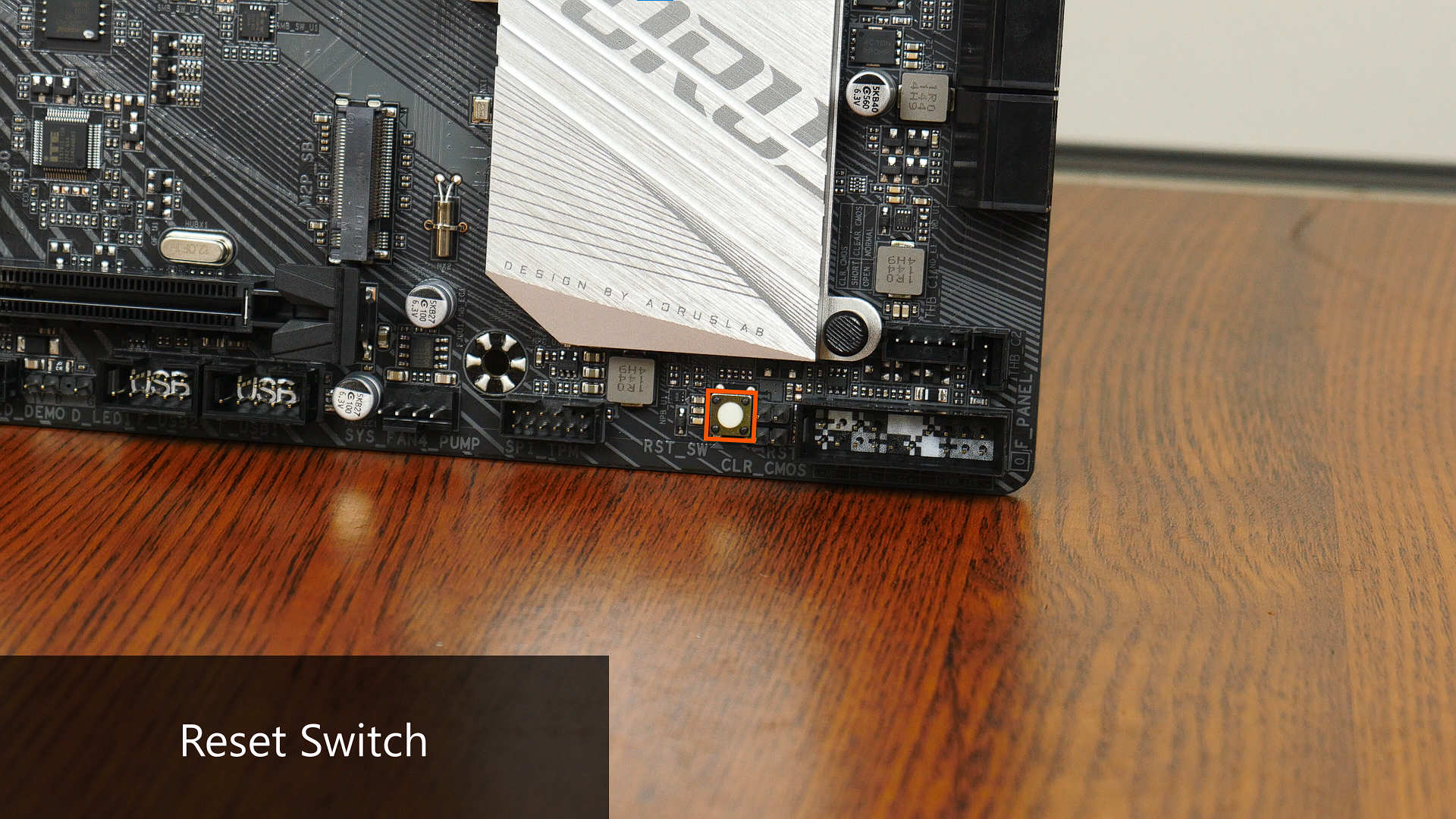 Gigabyte's Q-Flash Plus makes an appearance with this board; Q-Flash Plus allows end-users to update the motherboard BIOS without needing a processor, RAM and graphics card installed. A handy feature to have for sure, especially for end-users who intend to use the B660M AORUS PRO AX DDR4 with an Intel Raptor Lake processor, where it's highly likely a BIOS update via Q-Flash Plus would be needed first before the board would be able to power on with a 13th Gen processor. An onboard reset switch is also included to aid consumers who may be operating this board in an open-case environment,
Rear I/O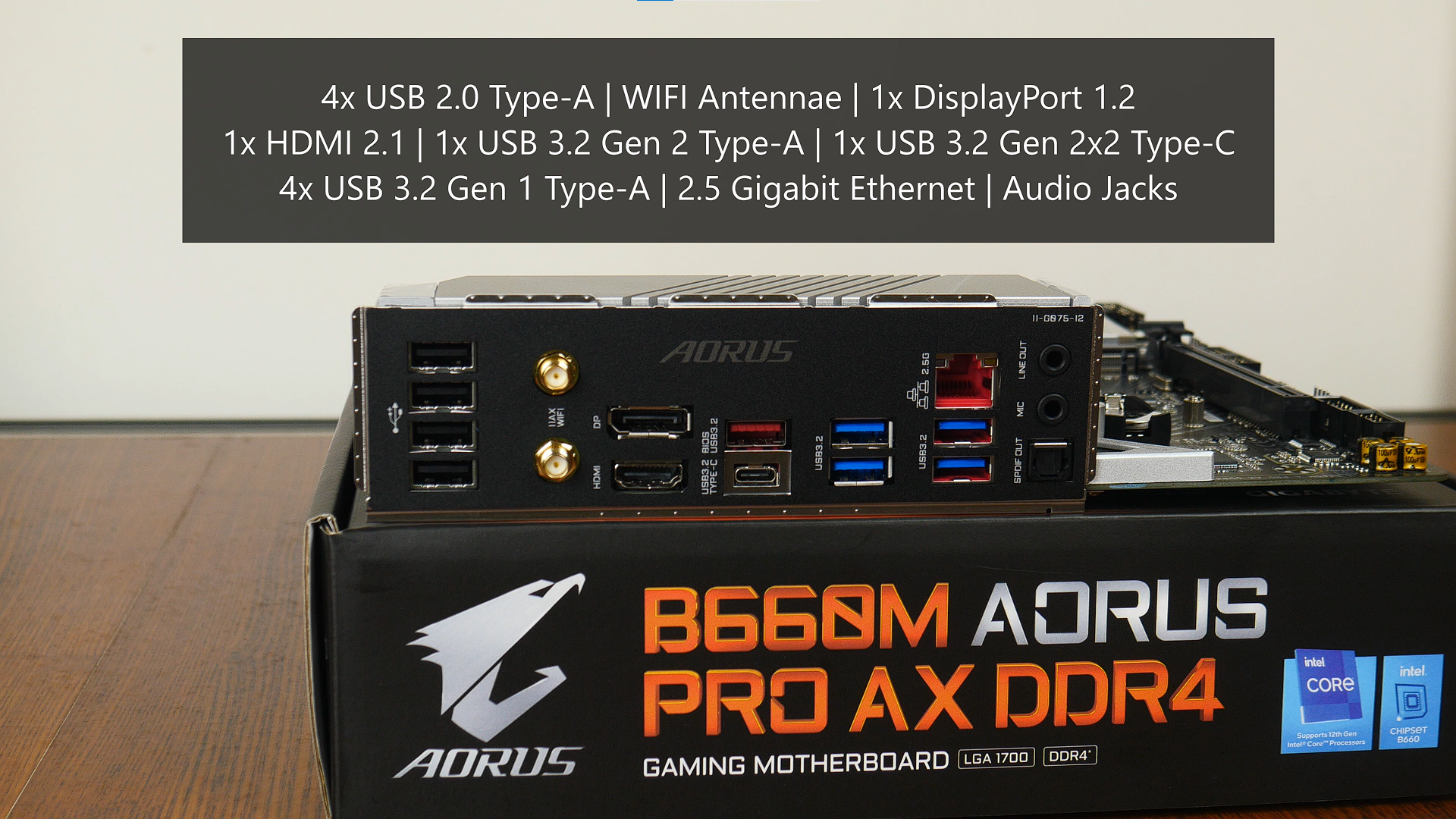 The B660M AORUS PRO AX DDR4 comes with the following rear I/O ports:
4x USB 2.0 Type-A ports
WIFI antennae connectors
1x DisplayPort 1.2 port
1x HDMI 2.1 port
1x USB 3.2 Gen 2 Type-A (10Gbps - supports the Q-Flash Plus feature)
1x USB 3.2 Gen 2x2 Type-C port (20Gbps)
4x USB 3.2 Gen 1 Type-A ports (5Gbps)
2.5 Gigabit Ethernet port
Audio jack connectors
Conclusion & Pricing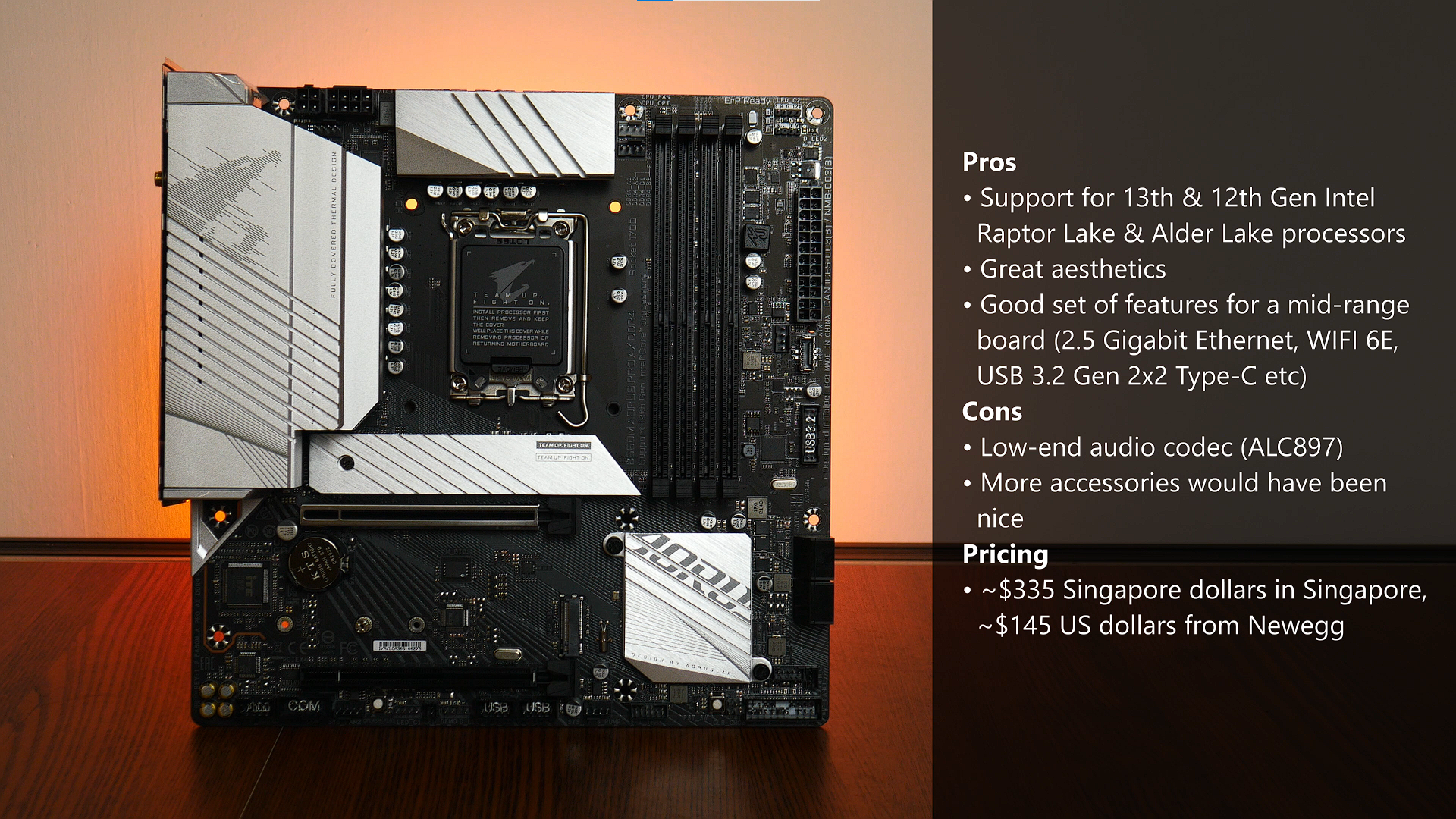 Gigabyte's B660M AORUS PRO AX DDR4 shapes up to be a decent offering of a mid-range Intel B660 motherboard that is Intel 13th Gen Raptor Lake ready. It has great looking aesthetics and a good set of features for its price point (USB 3.2 Gen 2x2 Type-C, WIFI 6E etc), though some minor foibles to highlight include the low-end audio codec that Gigabyte's opted to include with the board, and the sparse set of accessories included for a product that carries the AORUS branding. That aside, given that the mid-and-low-end 700-series of chipsets aren't expected to bring about earth-shattering changes and improvements over the 600-series (e.g. additional PCIe 5.0 support, which didn't manifest in the already-unveiled Z790 chipset), purchasing a board with a 600-series chipset (hopefully with a good discount) for a mid-range/low-end 13th Gen build could actually still be a good move, especially when lower-end 13th Gen parts get released eventually. Note that for the October 20th launch, Intel's releasing only K-series processors with unlocked multipliers, a feature that would go to waste on H670 and B660 boards as these two chipsets do not support overclocking by default.
As of October 2022, the B660M AORUS PRO AX DDR4 can be purchased new for around $335 Singapore dollars from physical and online retailers in Singapore - international readers can purchase this board from eCommerce platforms such as Newegg. where it retails for around $145 US dollars.
Get this board from Amazon: https://amzn.to/3ST7ELz (affiliate link)
Get this board from Shopee Singapore: https://shope.ee/3fSYKtT3QW (affiliate link)
Get this board from Lazada Singapore: https://c.lazada.sg/t/c.YR7fq4?sub_aff_id=alktech (affiliate link)
ALKtech may earn commissions from qualifying purchases made using affiliate links, at no extra cost to you as a customer. These commissions go a long way in supporting the platform!
The motherboard featured in this article was a review unit provided on loan from CDL Trading Pte Ltd, an authorised distributor for Gigabyte in Singapore.