The Gigabyte H610M H DDR4 represents the bargain-basement of an Intel 12th Generation Alder Lake motherboard.
For today's article, we'll be checking out the Gigabyte H610M H DDR4 motherboard. As a budget motherboard with Intel's bargain-basement H610 chipset, which packs support for the latest Intel 12th generation Alder Lake processors in the LGA1700 package, this board is clearly targeted at the low-end PC market.
Summary of Specifications
Processor Support: Intel 12th Generation LGA1700 Core, Pentium Gold and Celeron processors
Chipset: Intel H610
Memory: 2x DDR4 slots, max 64GB, up to DDR4 3200 support
Audio: Realtek ALC897 audio
LAN: Realtek/Intel Gigabit Ethernet (dependent on board revision number)
WIFI: No
Expansion Slots: 1x PCIe 4.0 x16, 1x PCIe 3.0 x1
Storage: 4x SATA III, 1x PCIe 3.0 x4 M.2
Form Factor: microATX
Packaging & Contents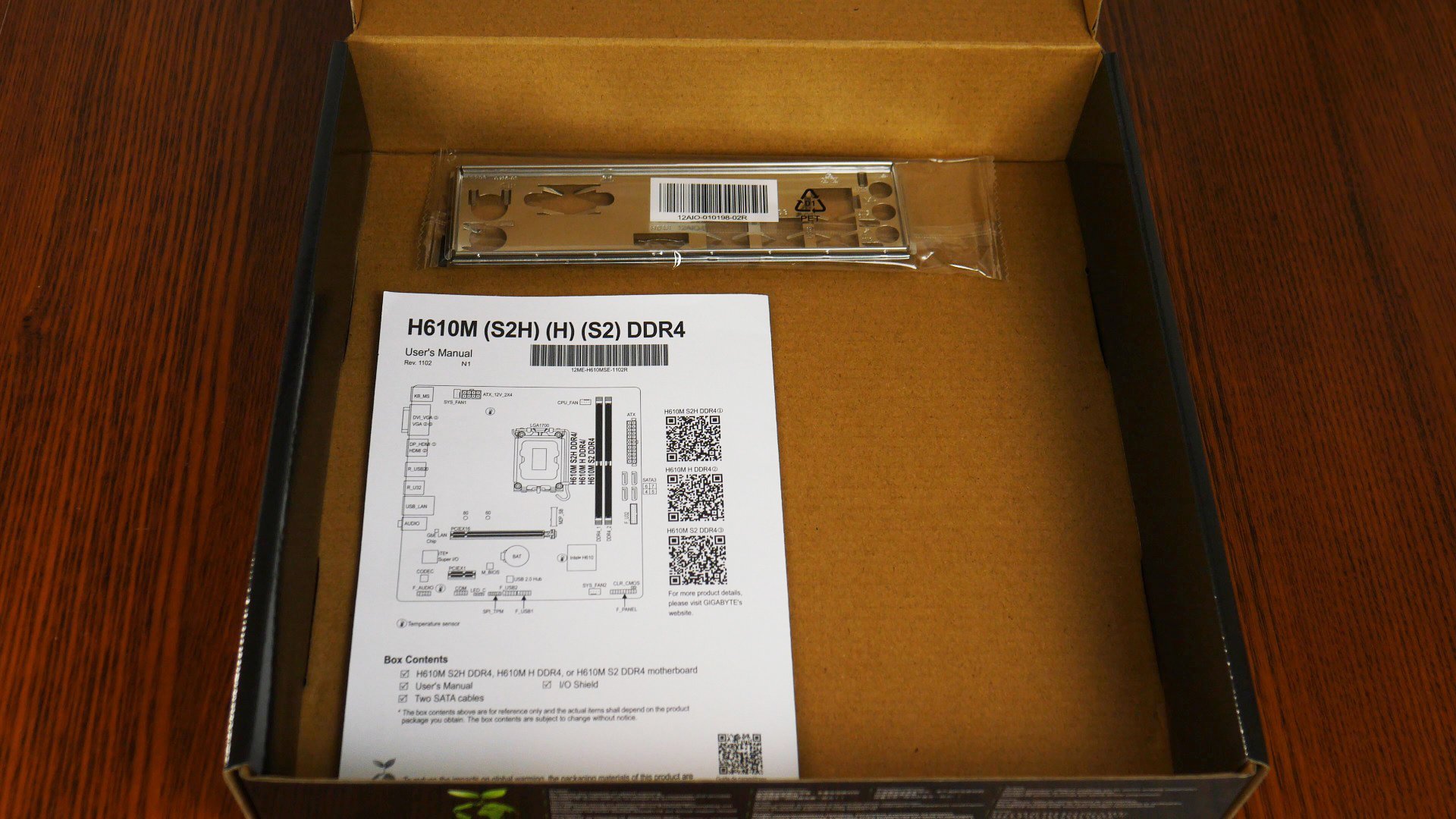 Being a budget-oriented offering, the H610M H DDR4 comes with the absolute minimum in terms of accessories:
2x SATA III cables
1x I/O shield
1x manual
Gigabyte's chosen to do away with a DVD driver disc, which is an environmentally-friendly move seeing as optical drives are going the way of the woolly mammoth with modern PCs.
Board Aesthetics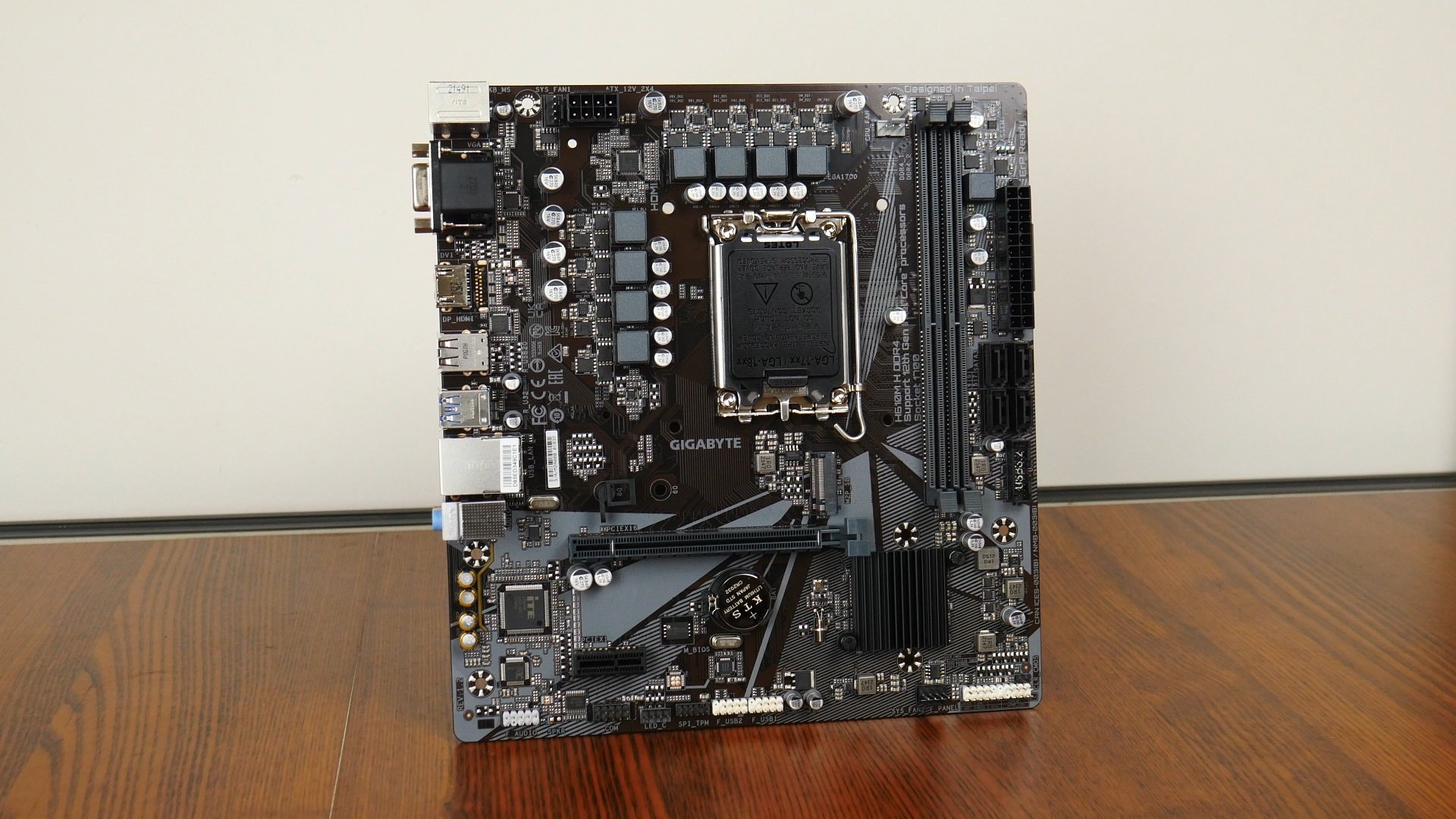 For this board, Gigabyte's gone with a black and grey colour scheme, with angular grey accents on the bottom half of the board that do help with enhancing the board's overall appearance. As an entry-level motherboard, it does not come with an integrated I/O shield, nor does it come with built-in aesthetic LEDs/RGB LEDs.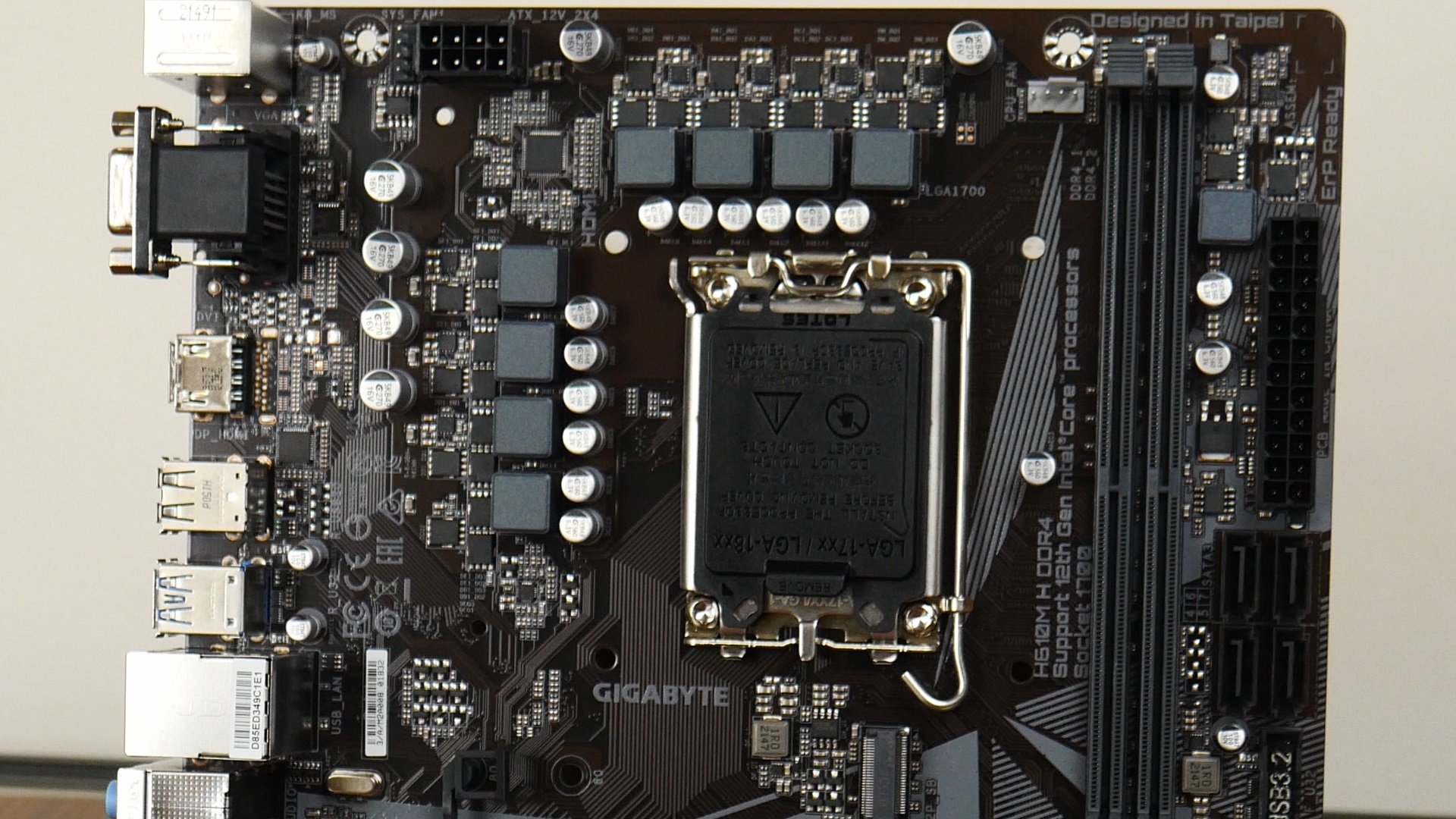 As this board clearly does not have any overclocking chops, the VRMs do not come with any heatsinks at all.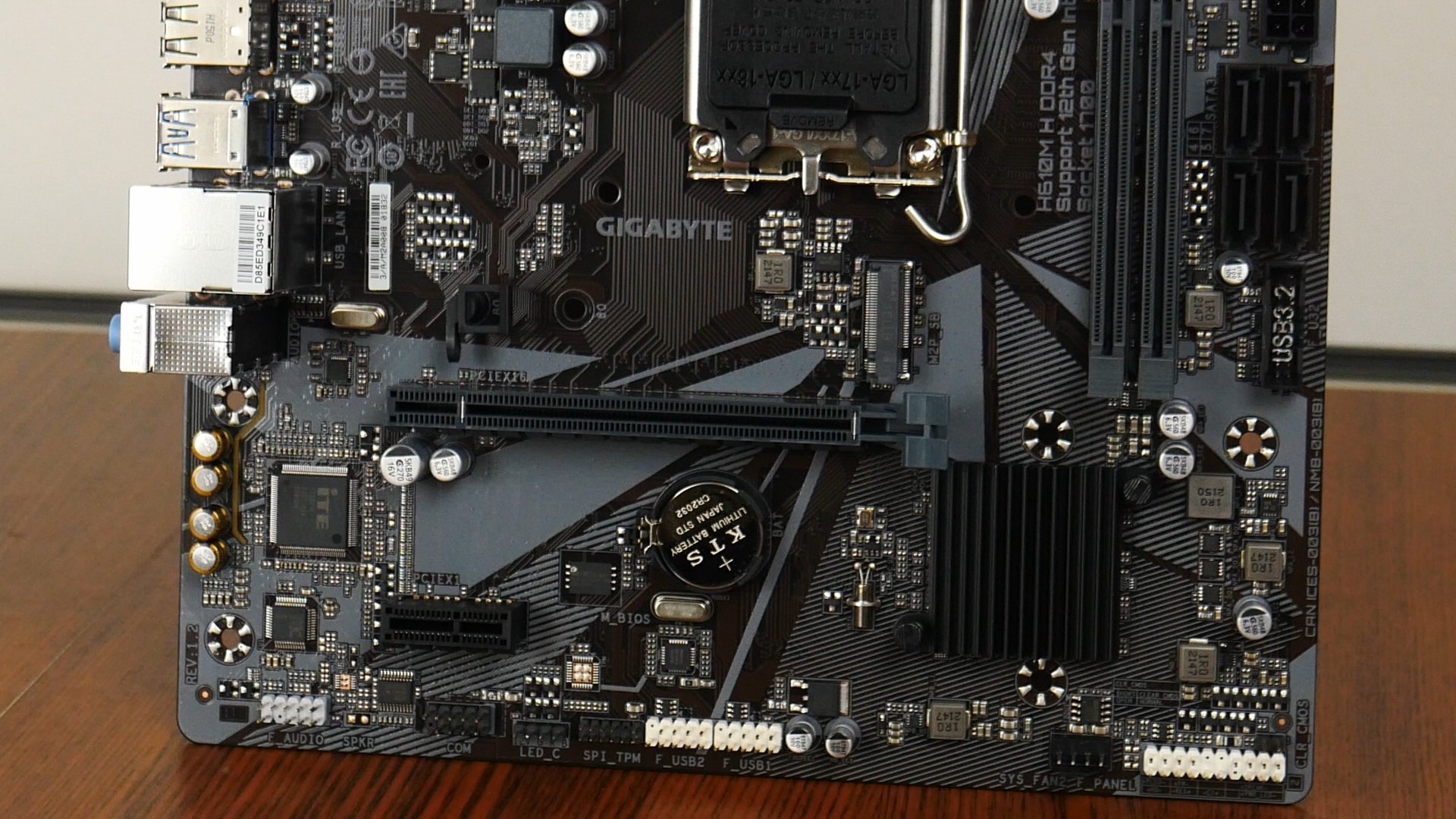 In order to keep manufacturing costs low for this board, the single M.2 slot does not come with a heatsink.
Memory Support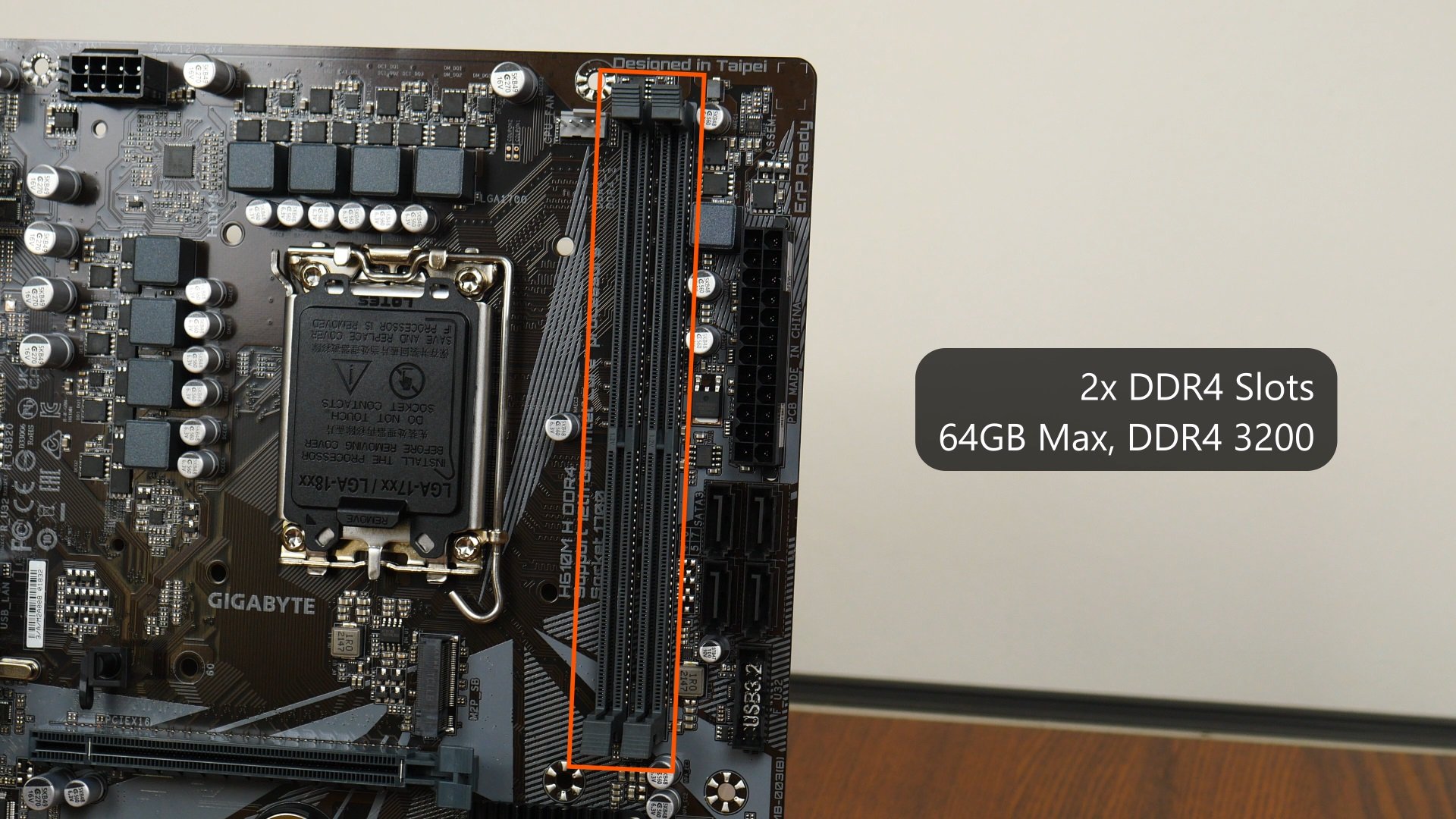 The H610M H DDR4 comes with two DDR4 slots with support for up to 64GBs of RAM, and the DDR4 3200 standard.
USB Front Panel Headers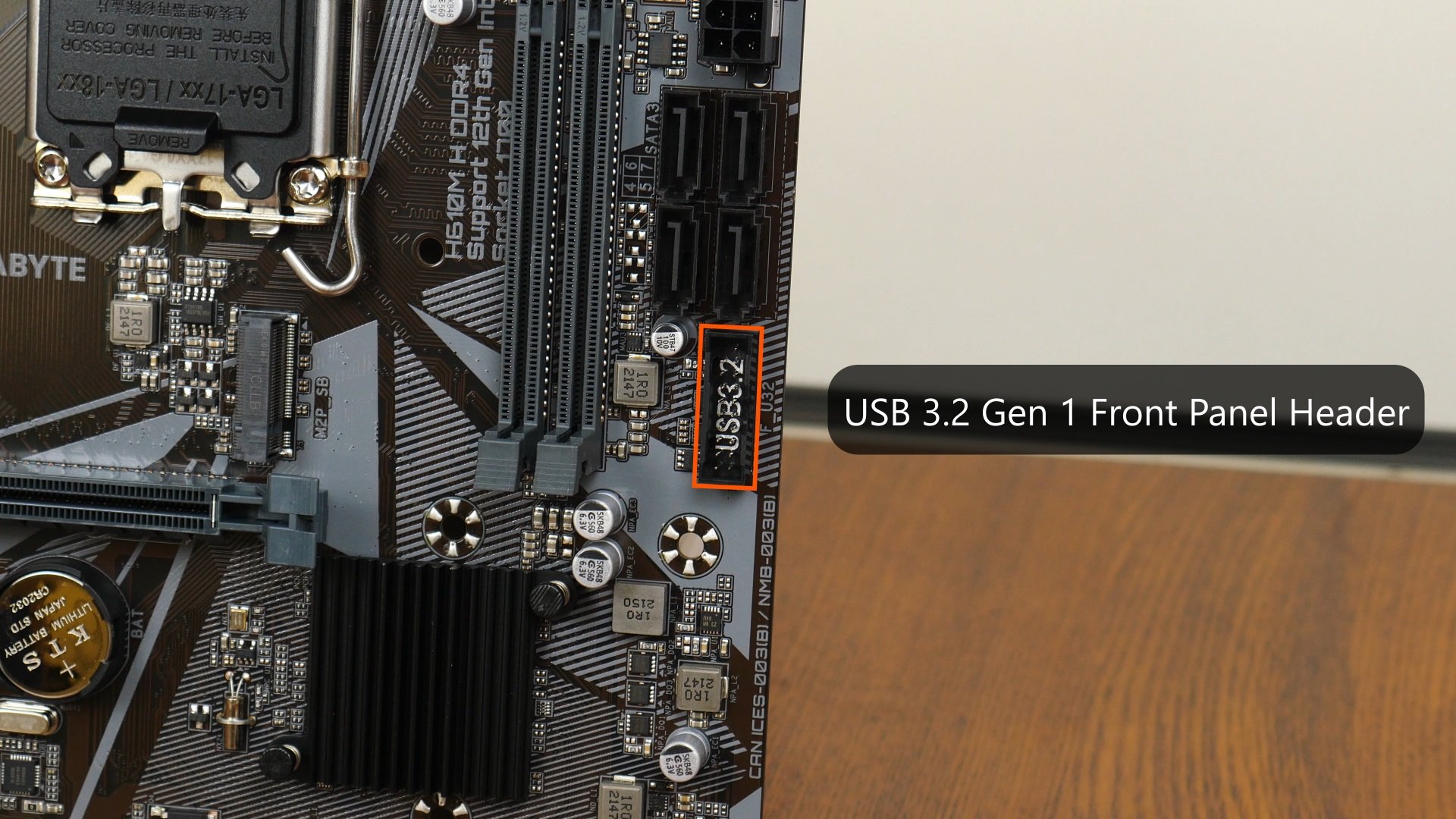 For front panel USB connectivity, the board comes with a single USB 3.2 Gen 1 front panel header, which provides support for up to two front panel USB 3.2 Gen 1 Type A ports. This is complemented by two USB 2.0 front panel headers, with each header providing support for two USB 2.0 Type A ports.
Expansion Slots & Storage Options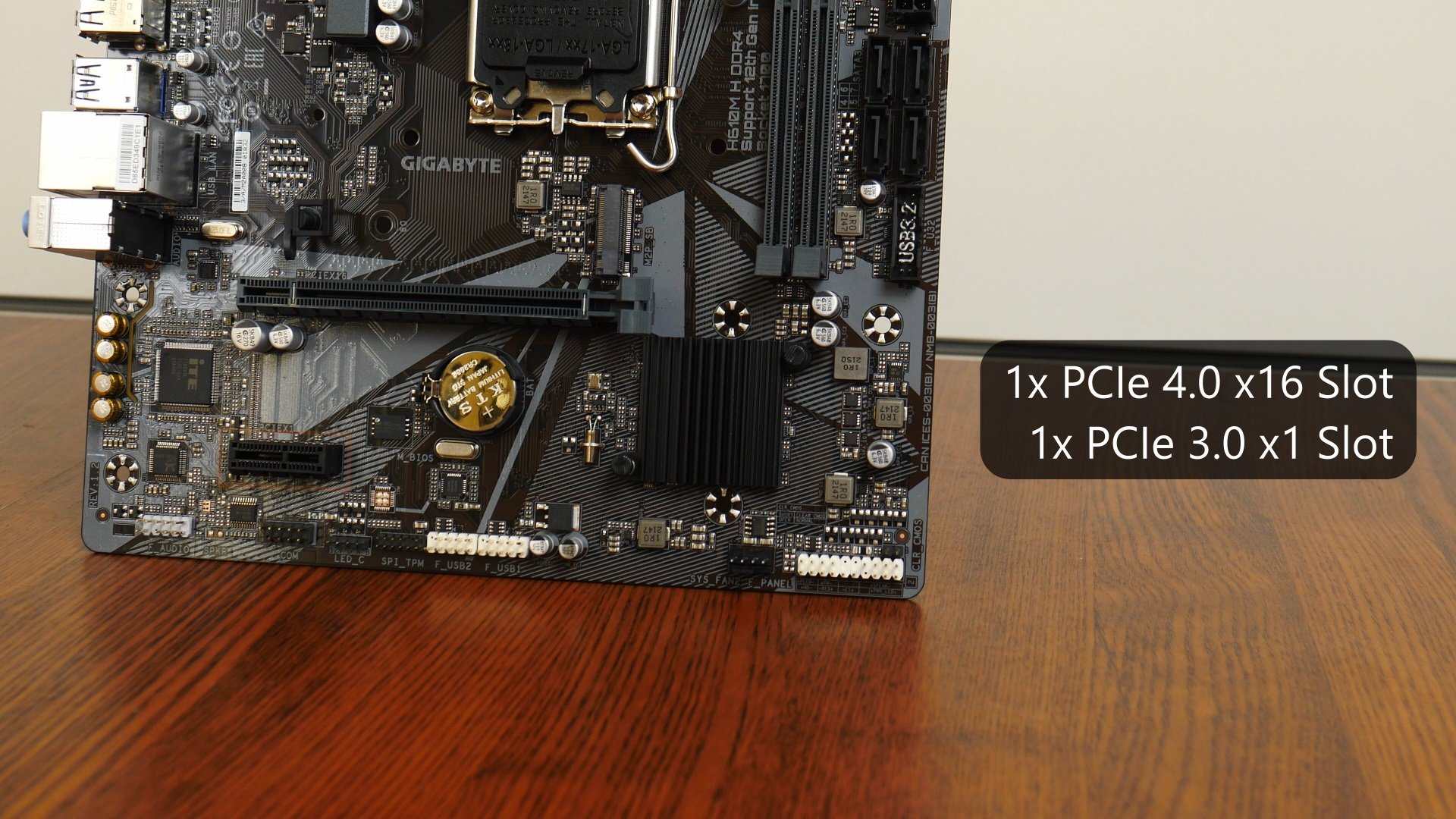 The H610M H DDR4 comes with a single PCIe 4.0 x16 slot, and a PCIe 3.0 x1 slot, with both slots made out of plastic.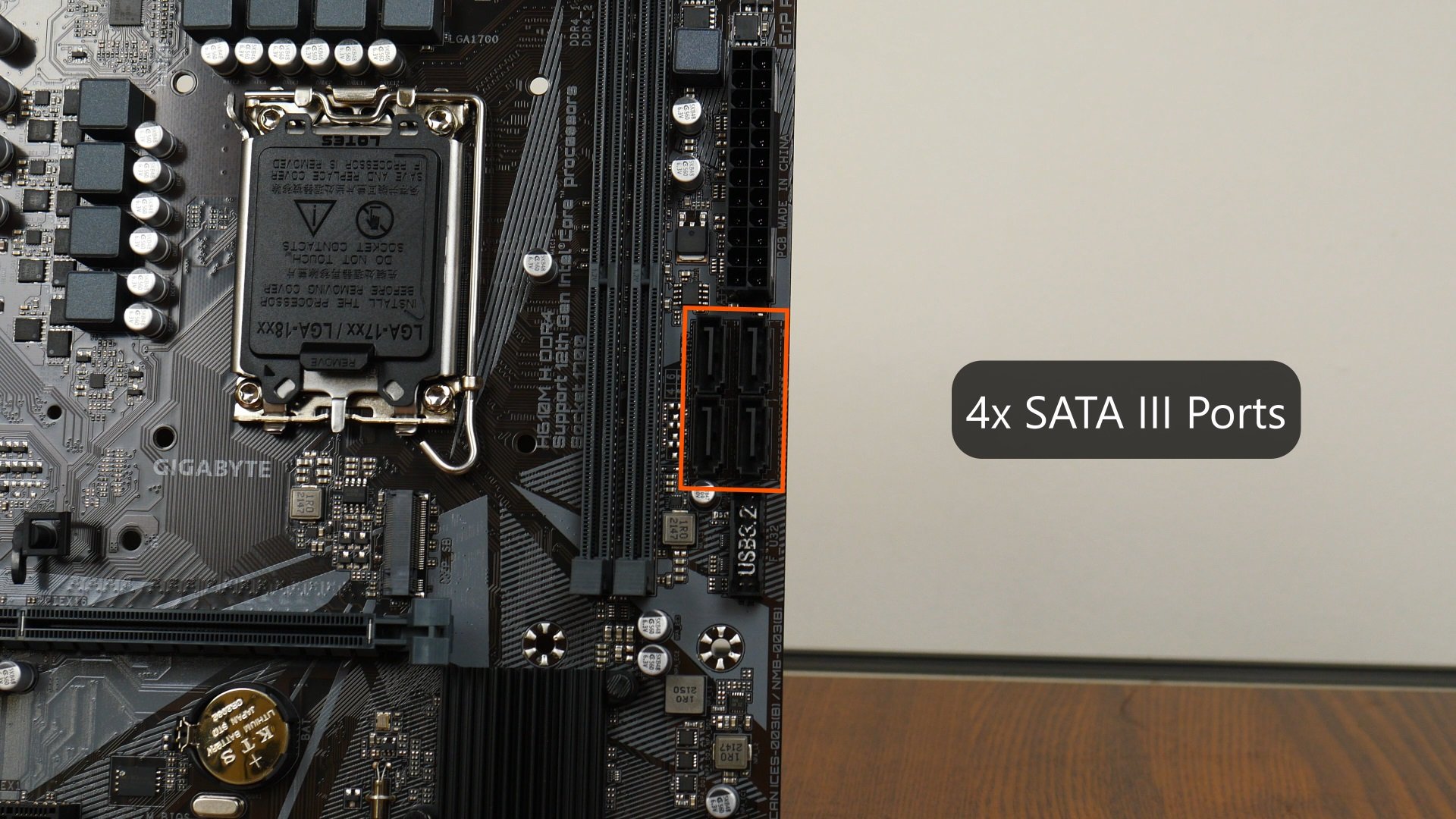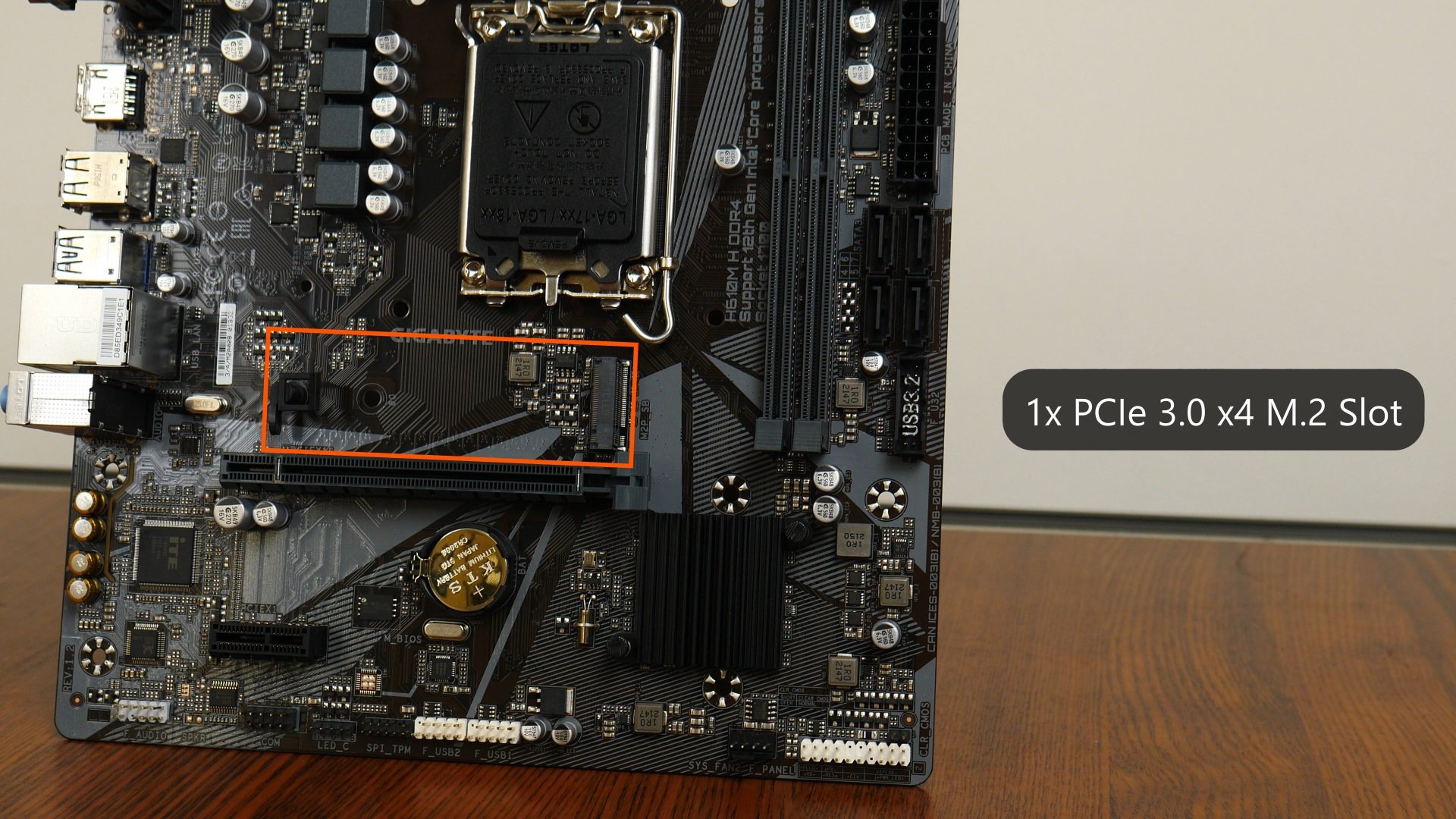 For storage, the board comes with four SATA III ports set in a straight-angled configuration, and a single PCIe 3.0 x4 M.2 slot that is directly connected to the H610 chipset. If you're intending to use a PCIe 4.0-capable M.2 SSD with this motherboard, do note that the SSD will run at PCIe 3.0 speeds instead.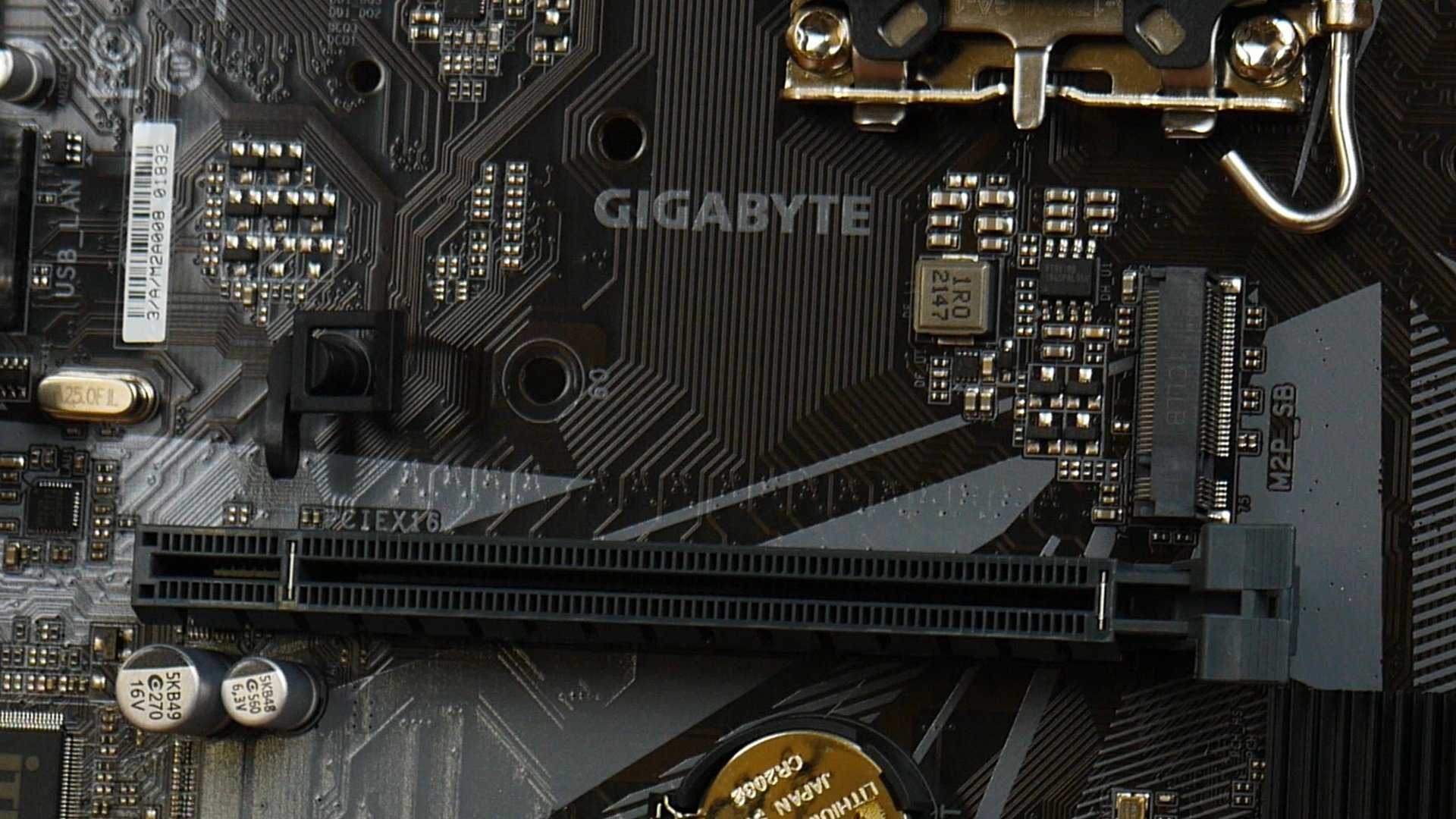 Interestingly, Gigabyte's chosen to go with a plastic latch to hold the M.2 drive in place, instead of the usual metal screw and standoff arrangement. The position of the plastic latch is adjustable so as to cater to M.2 drives of different lengths.
Audio & Internet Connectivity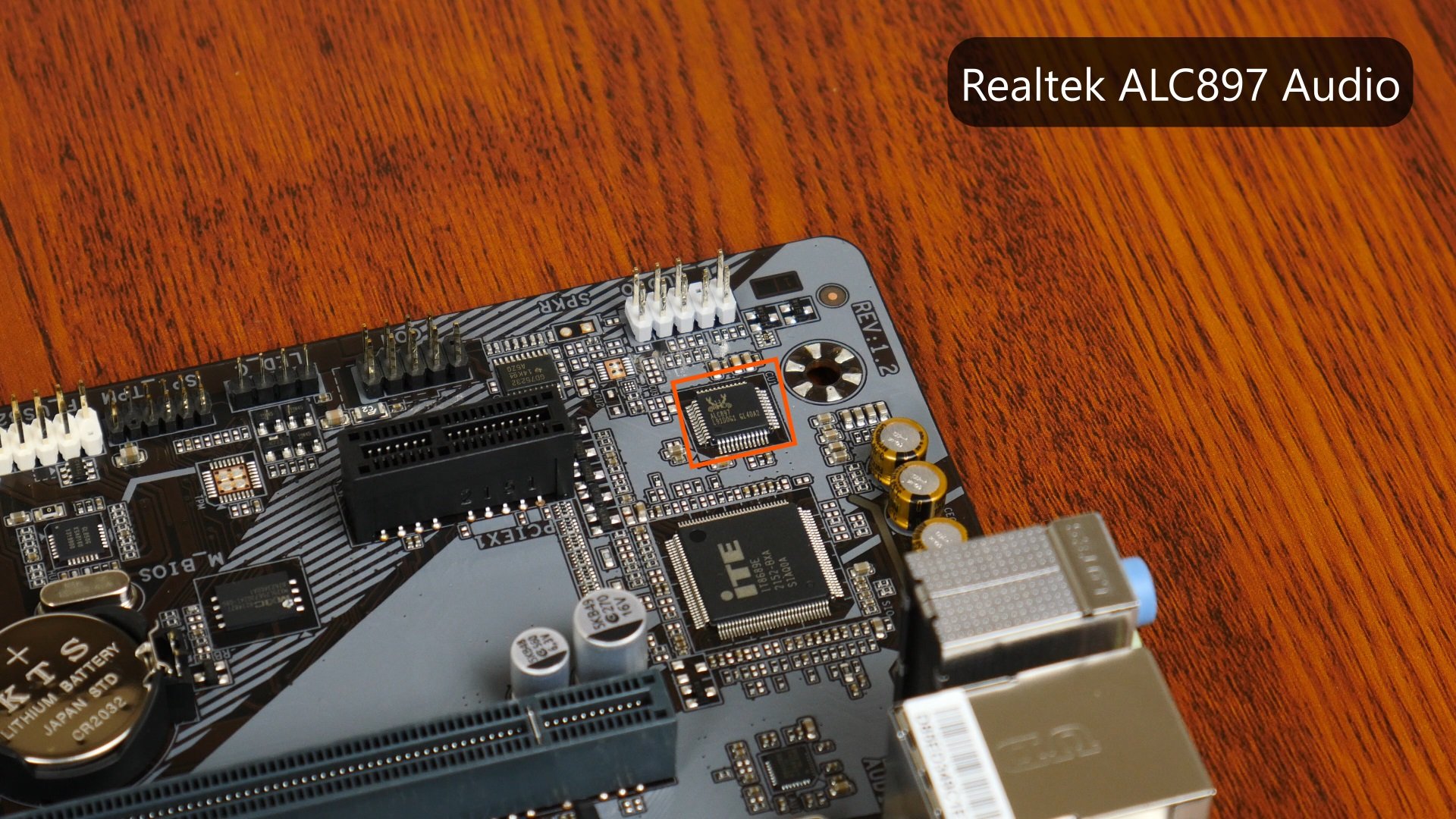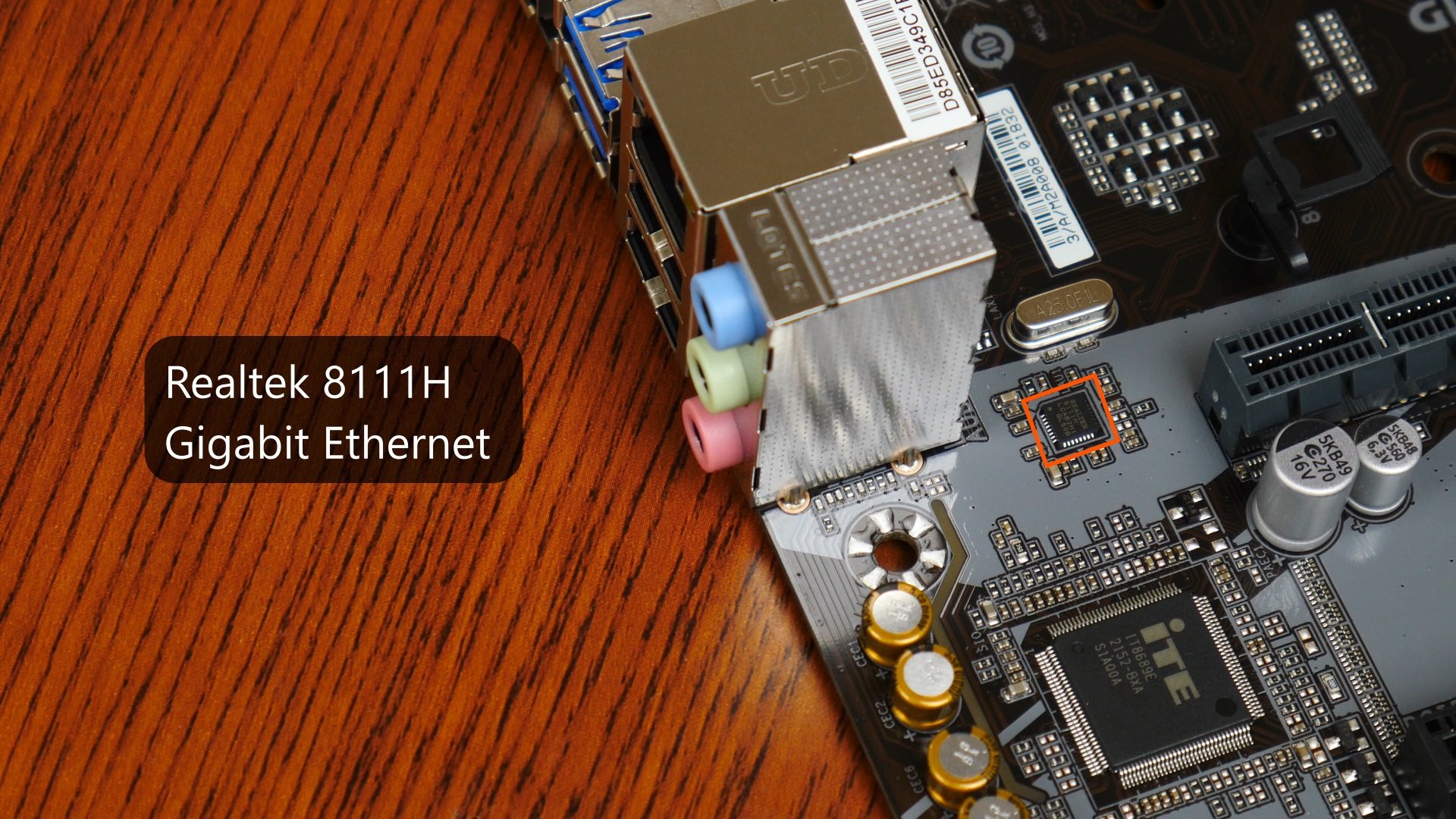 Realtek's ALC897 codec performs audio duty for the H610M H DDR4, while the 8111H chip, also by Realtek, provides Gigabit ethernet support with this board. One thing to note with this board is the fact that different board revisions come with different ethernet chipsets:
Revision 1.0: Intel Gigabit ethernet
Revision 1.1/1.3: Realtek Gigabit ethernet
Revision 1.2 (revision of the board in this article): Realtek 8111H Gigabit ethernet
Fan & RGB Headers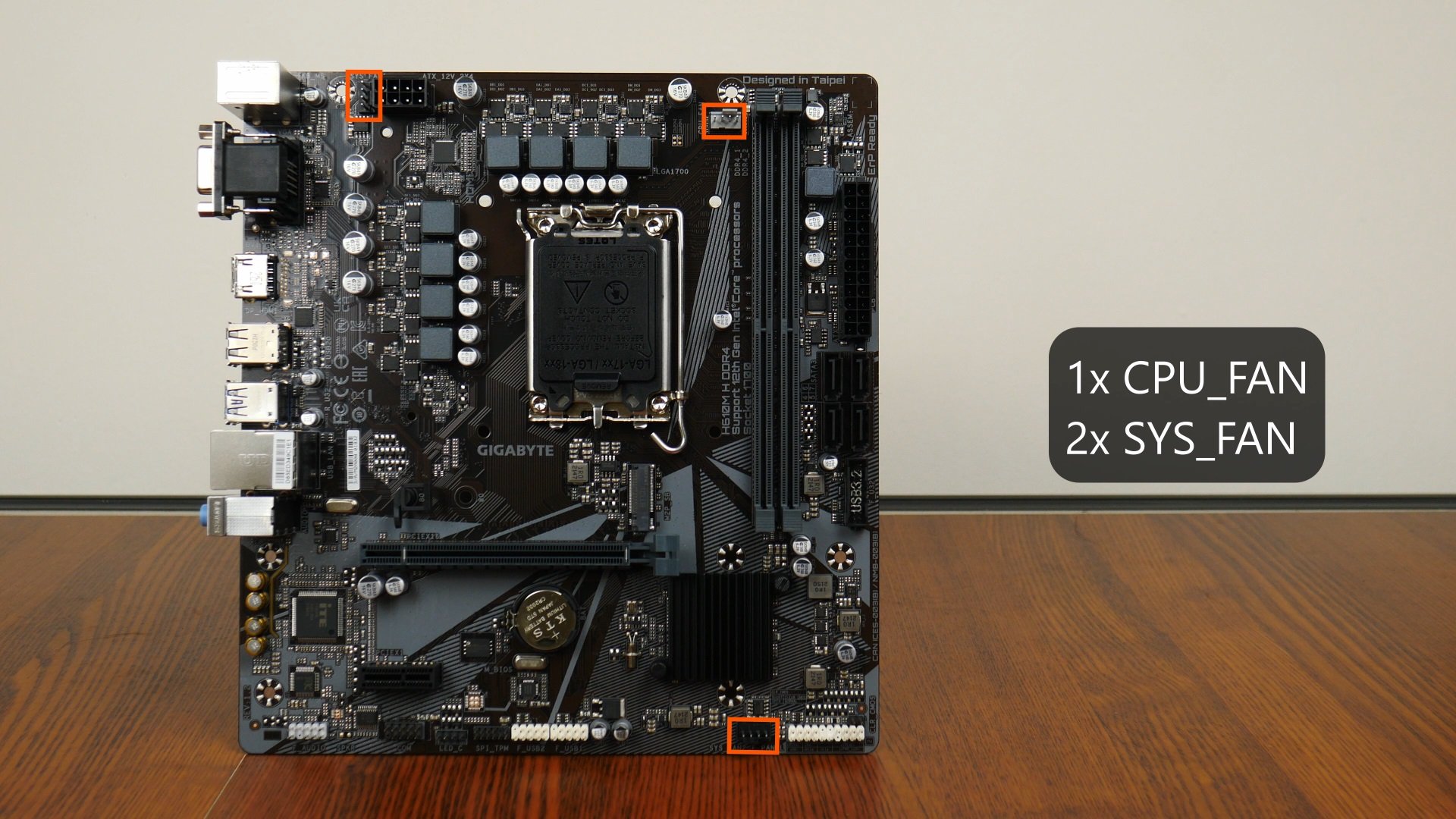 The H610M H DDR4 comes with a total of three fan headers:
1x CPU_FAN
1x SYS_FAN1
1x SYS_FAN2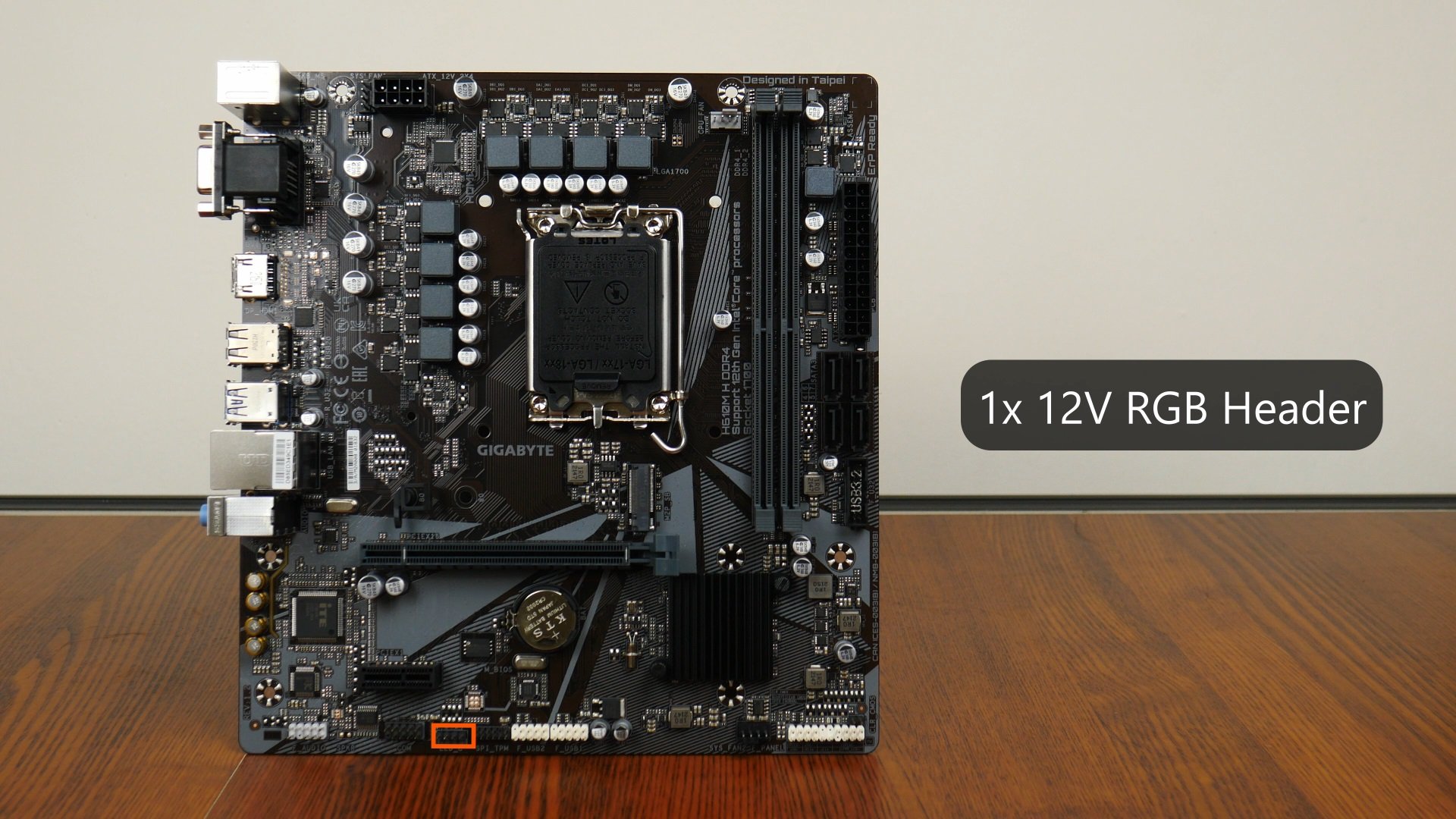 RGB support is a little lacking with this board however - it comes with just a single 12V RGB header, with no addressable RGB headers provided at all.
Rear I/O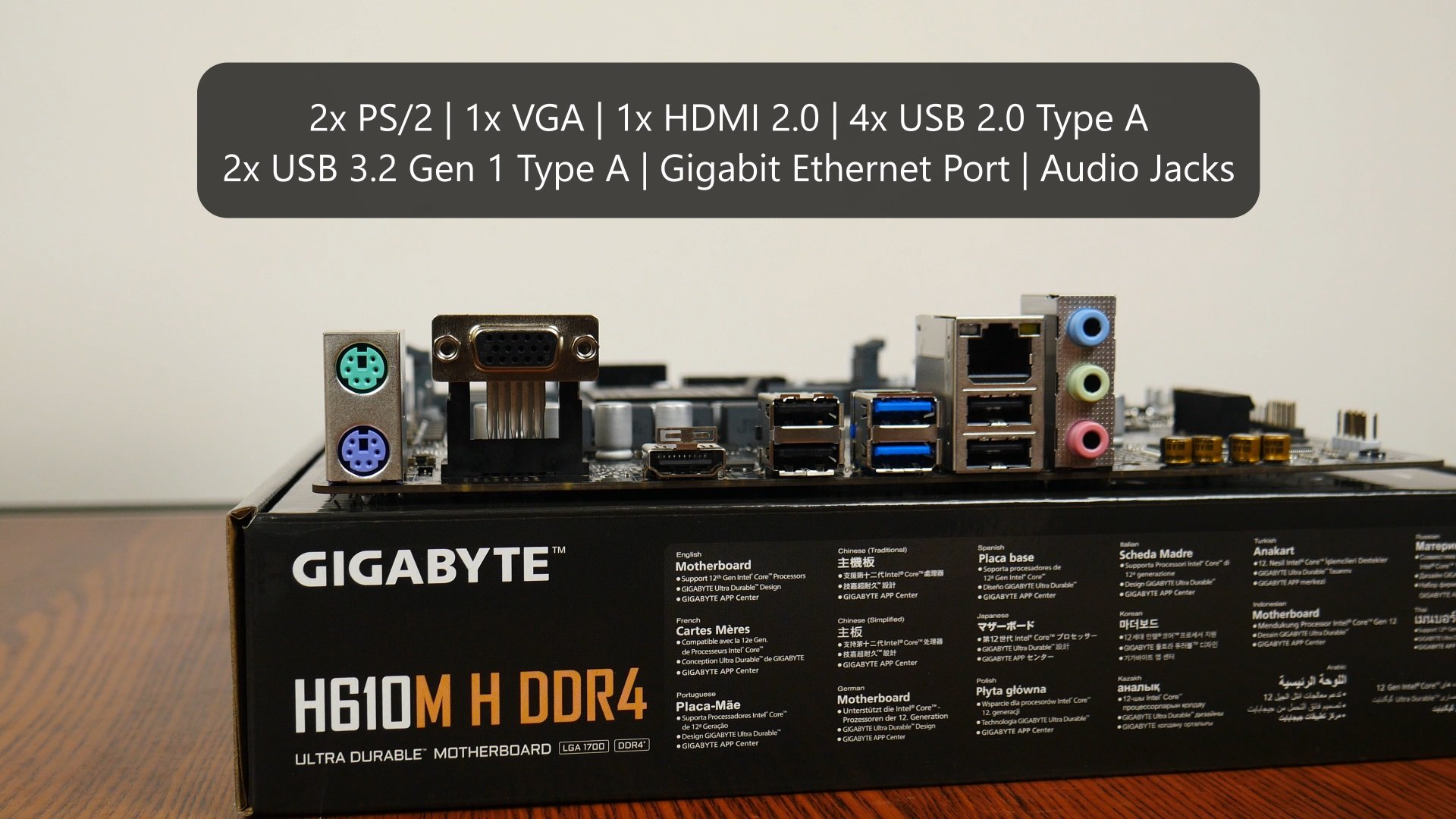 The H610M H DDR4 comes with the following rear I/O ports
2x PS/2 ports
1x VGA port
1x HDMI 2.0 port (supports 4K resolution at 30Hz instead of 60Hz)
4x USB 2.0 Type-A ports
2x USB 3.2 Gen 1 Type-A ports
Gigabit Ethernet port
Audio jack connectors
Conclusion & Pricing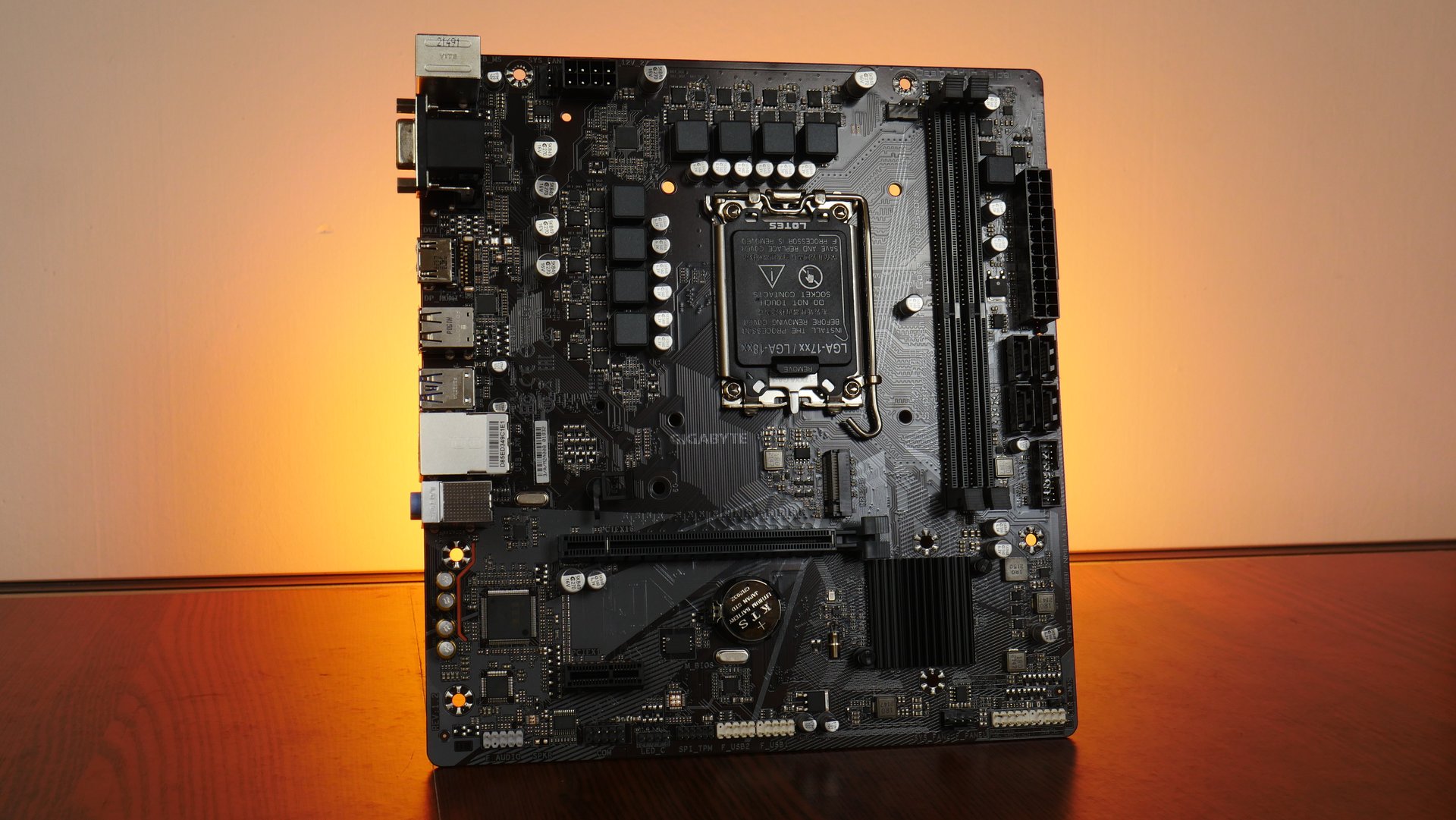 To sum up, the Gigabyte H610M H DDR4 is a basic Intel 12th Generation Alder Lake motherboard that is well-suited for a low-end PC build, targeted at PCs meant for internet surfing and office productivity work. In view of this, an Intel Core i3, Pentium Gold or Celeron processor would be right at home with this board.
If you're intending to get a Core i5 and above processor however, you might be better off with a board with Intel's B660 chipset instead, as there are budget B660 boards out there which are near the price range of the H610M H DDR4, and these boards could net you access to features such as PCIe 4.0 x4 M.2 slots, a better power delivery solution and even 2.5 Gigabit Ethernet.

As of June 2022, this board can be had for a price of around S$159 Singapore dollars, which converts to approximately $115 US dollars.
Get this board from Amazon: https://amzn.to/39Zo1p4 (affiliate link)
Get this board from Shopee Singapore: https://shope.ee/8p8ItGBsiu (affiliate link)
Get this board from Lazada Singapore: https://c.lazada.sg/t/c.YULMpj?sub_aff_id=alktech (affiliate link)
ALKtech may earn commissions from qualifying purchases made using affiliate links, at no extra cost to you as a customer. These commissions go a long way in supporting the platform!
The motherboard featured in this article was a review unit provided on loan from CDL Trading Pte Ltd, an authorised distributor for Gigabyte in Singapore.