Could this be THE entry-level Intel B660 motherboard to get?
UPDATE (20 October 2022) - With the launch of Intel's 13th Gen Raptor Lake processors, this board now supports the latest 13th Gen processors as well, with a BIOS update available from Gigabyte's website. The article has been updated accordingly to reflect this.
The entry-level motherboard segment is always an interesting space to watch, especially as board manufacturers try to outclass the competition with feature sets and price points that can set them apart effectively.

For today's post, we'll be checking out the Gigabyte B660M DS3H AX DDR4 motherboard. As an entry-level Intel B660 motherboard with support for the latest Intel 13th generation Raptor Lake processors and their predecessor, the 12th generation Alder Lake processors, this board packs support for the latest PCIe 4.0 standard, 2.5 Gigabit Ethernet and WIFI 6 (or 6E - more on that later in this article), while maintaining legacy DDR4 support to help keep the costs of your Intel 12th Gen PC build low.
Summary of Specifications
Processor Support: Intel 12th Generation LGA1700 Core, Pentium Gold and Celeron processors - 13th generation processors supported with a BIOS update
Chipset: Intel B660
Memory: 4x DDR4 slots, max 128GB, up to DDR4 5333 (OC) support
Audio: Realtek ALC897 audio
LAN: Realtek RTL8125BG 2.5 Gigabit Ethernet
WIFI: Intel WIFI 6/WIFI 6E (dependent on board revision number)
Expansion Slots: 1x PCIe 4.0 x16, 2x PCIe 3.0 x1
Storage: 4x SATA III, 2x PCIe 4.0 x4 M.2
Form Factor: microATX
Packaging & Contents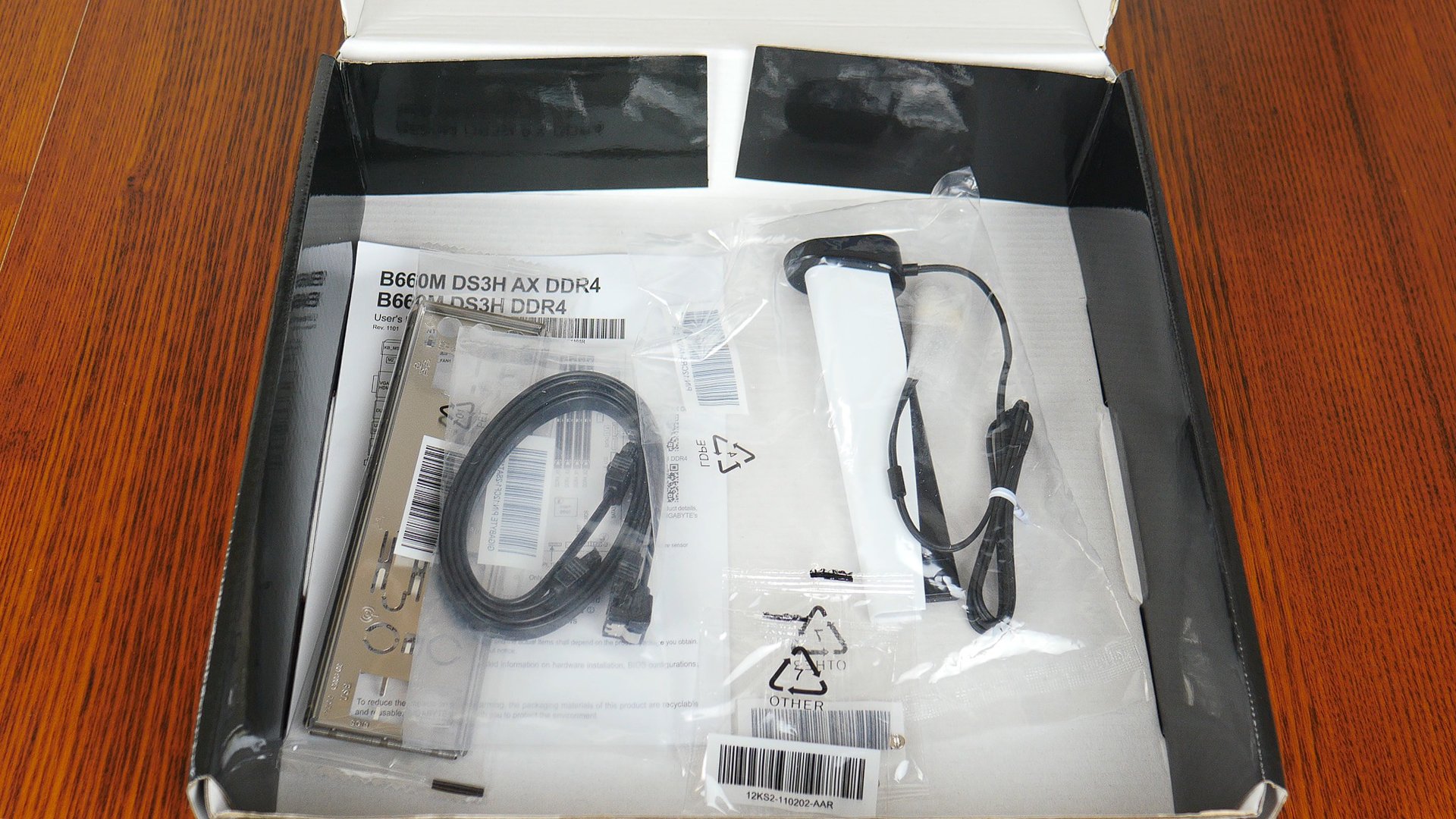 Being a budget-oriented offering, the B660M DS3H AX DDR4 comes with minimal accessories:
1x WIFI antenna
2x SATA III cables
2x M.2 drive screws
1x I/O shield
1x manual
Eagle-eyed readers will notice that Gigabyte's chosen to do away with a DVD driver disc, which is an environmentally-friendly move seeing as optical drives are fast becoming a thing of the past with modern PCs.
Board Aesthetics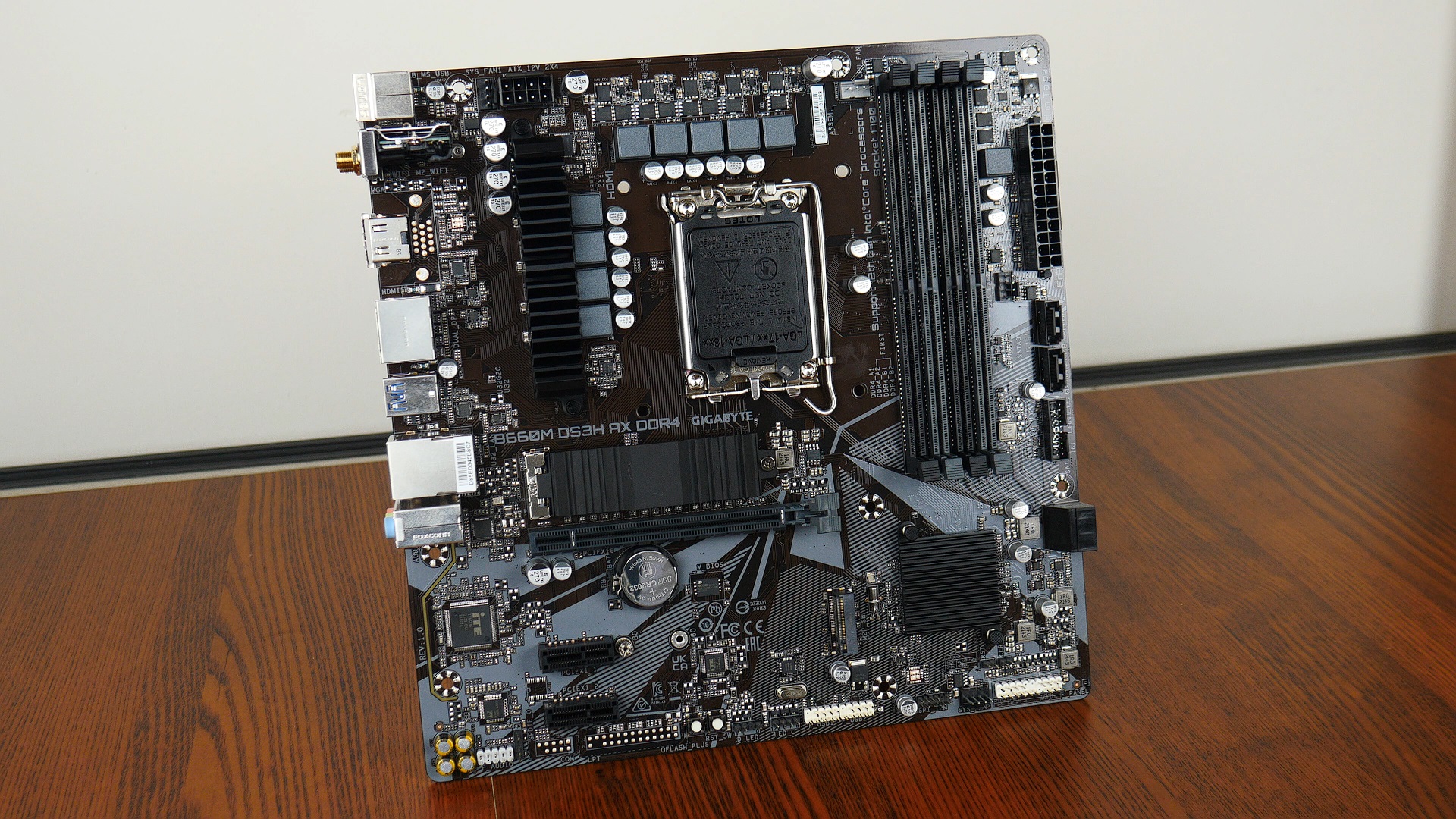 For the B660M DS3H AX DDR4, Gigabyte's gone with a black and grey colour scheme, with angular grey accents splashed across the bottom half of the board. This certainly lends some visual interest to the board, which otherwise would look rather plain. Again, being an entry-level motherboard offering, it does not come with an integrated I/O shield, nor does it come with built-in aesthetic LEDs/RGB LEDs.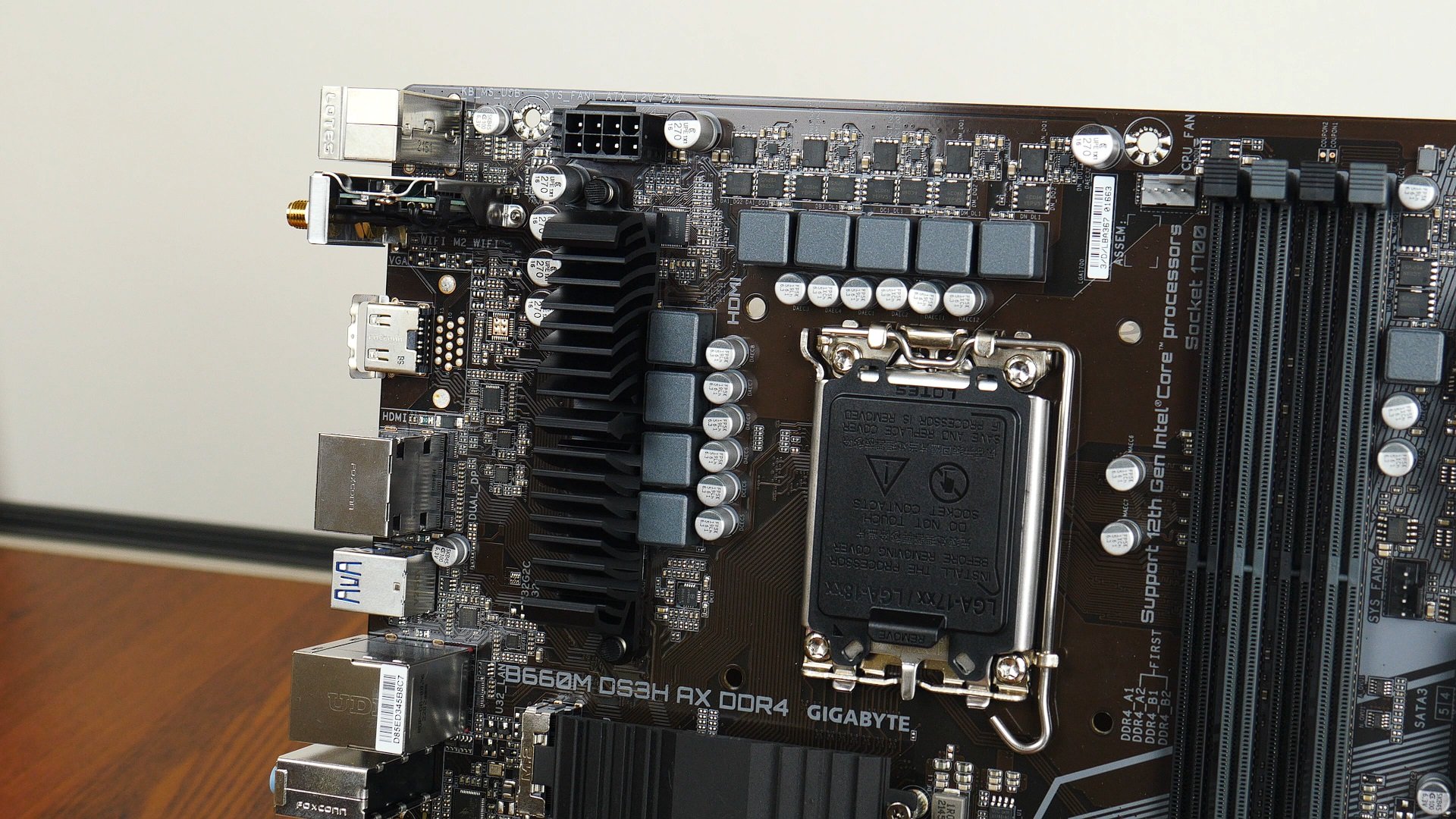 As this board is clearly not targeted at overclockers, Gigabyte's elected to have just a single VRM heatsink for its 6+2+1 power delivery solution.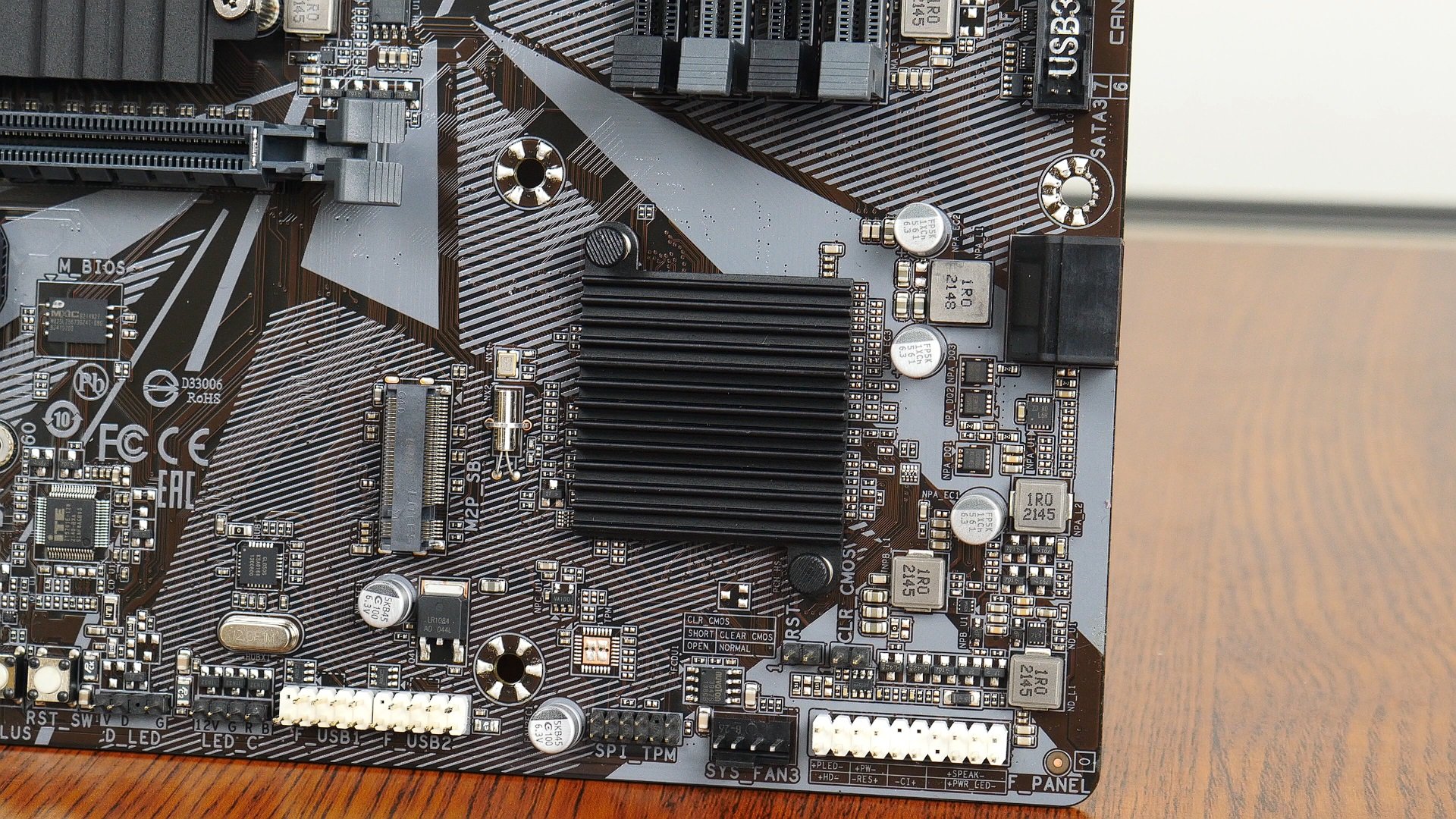 The B660 chipset is cooled by a passive heatsink that isn't very sizeable as well.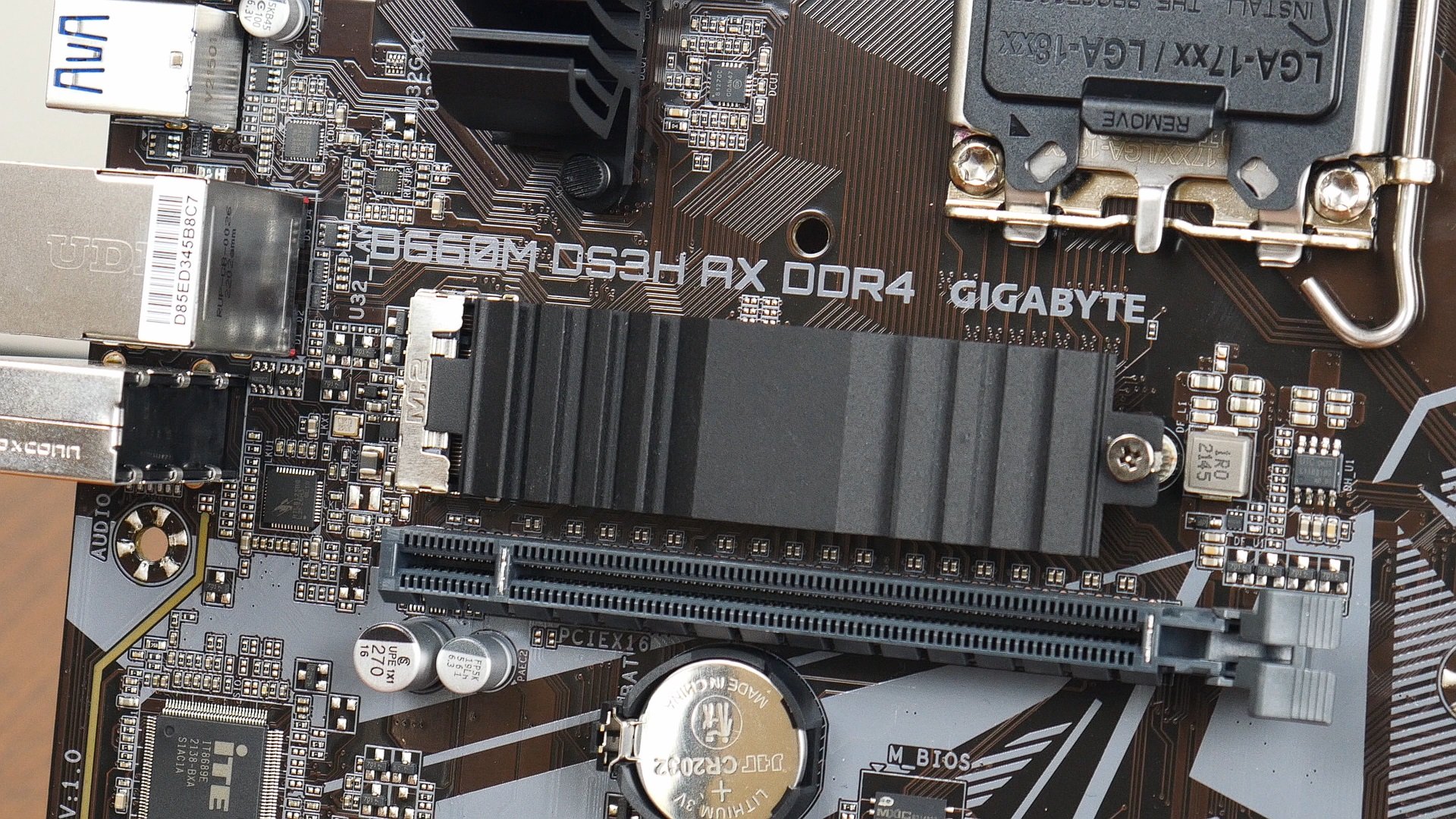 What is very much welcome is the inclusion of a M.2 drive heatsink, which Gigabyte could have omitted in the name of cost savings.
Memory Support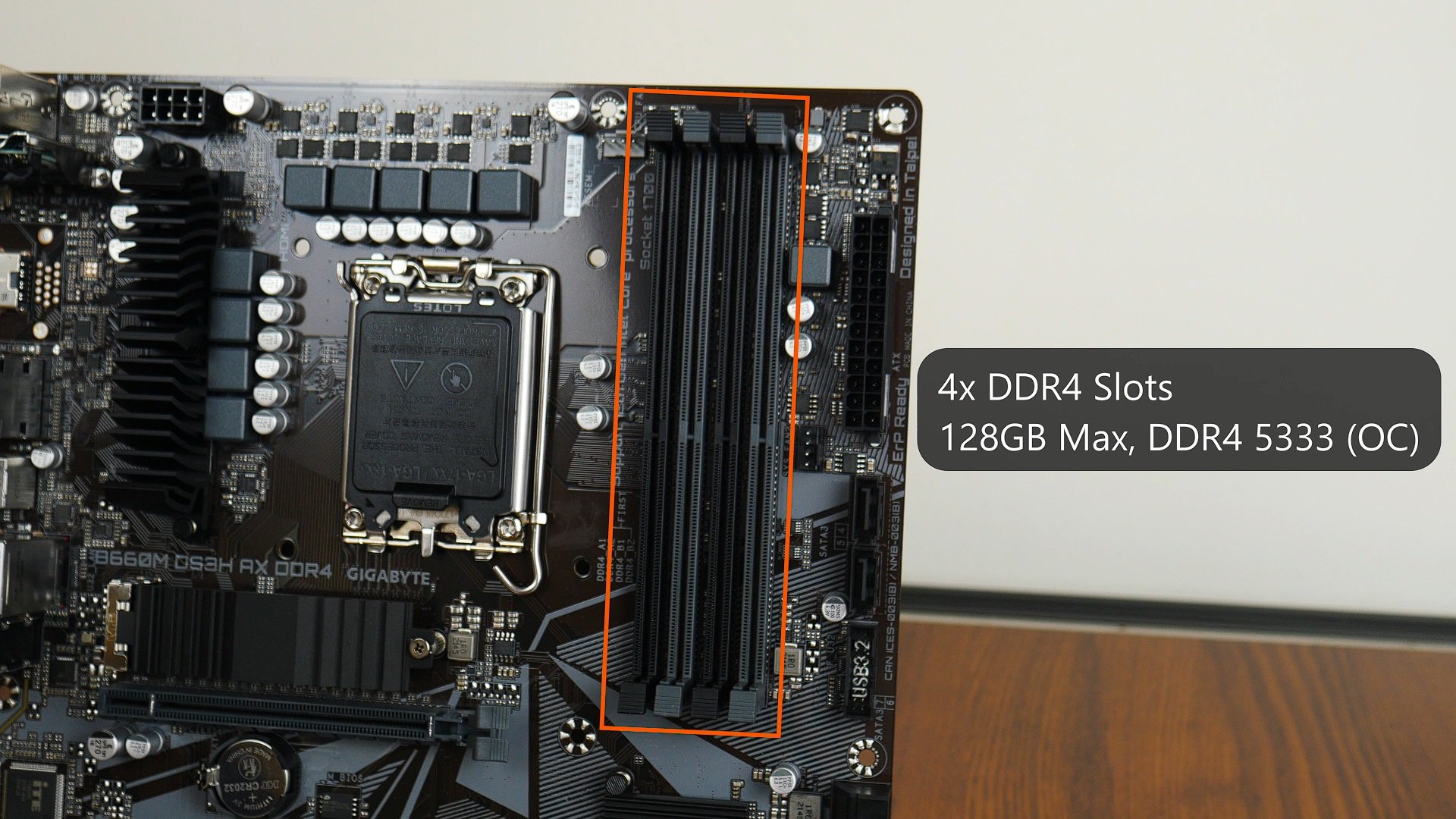 The B660M DS3H AX DDR4 comes with four DDR4 slots with support for up to 128GBs of RAM, and the DDR4 5333 standard when overclocked. Having support for DDR4 memory instead of DDR5 is a surefire way of keeping the costs of a PC build with this motherboard low, seeing as DDR5 prices are still much more expensive than their DDR4 brethren.
USB Front Panel Headers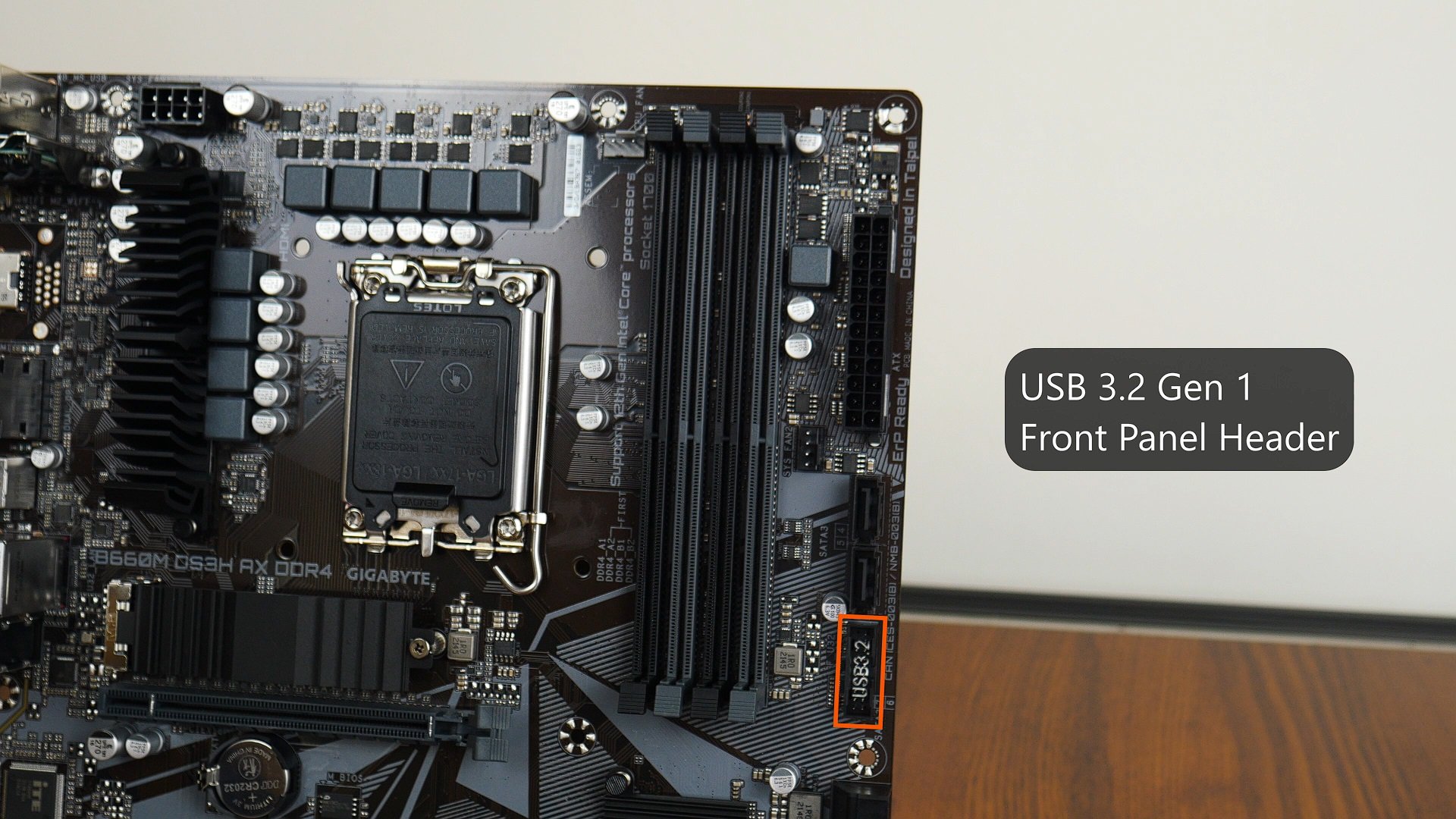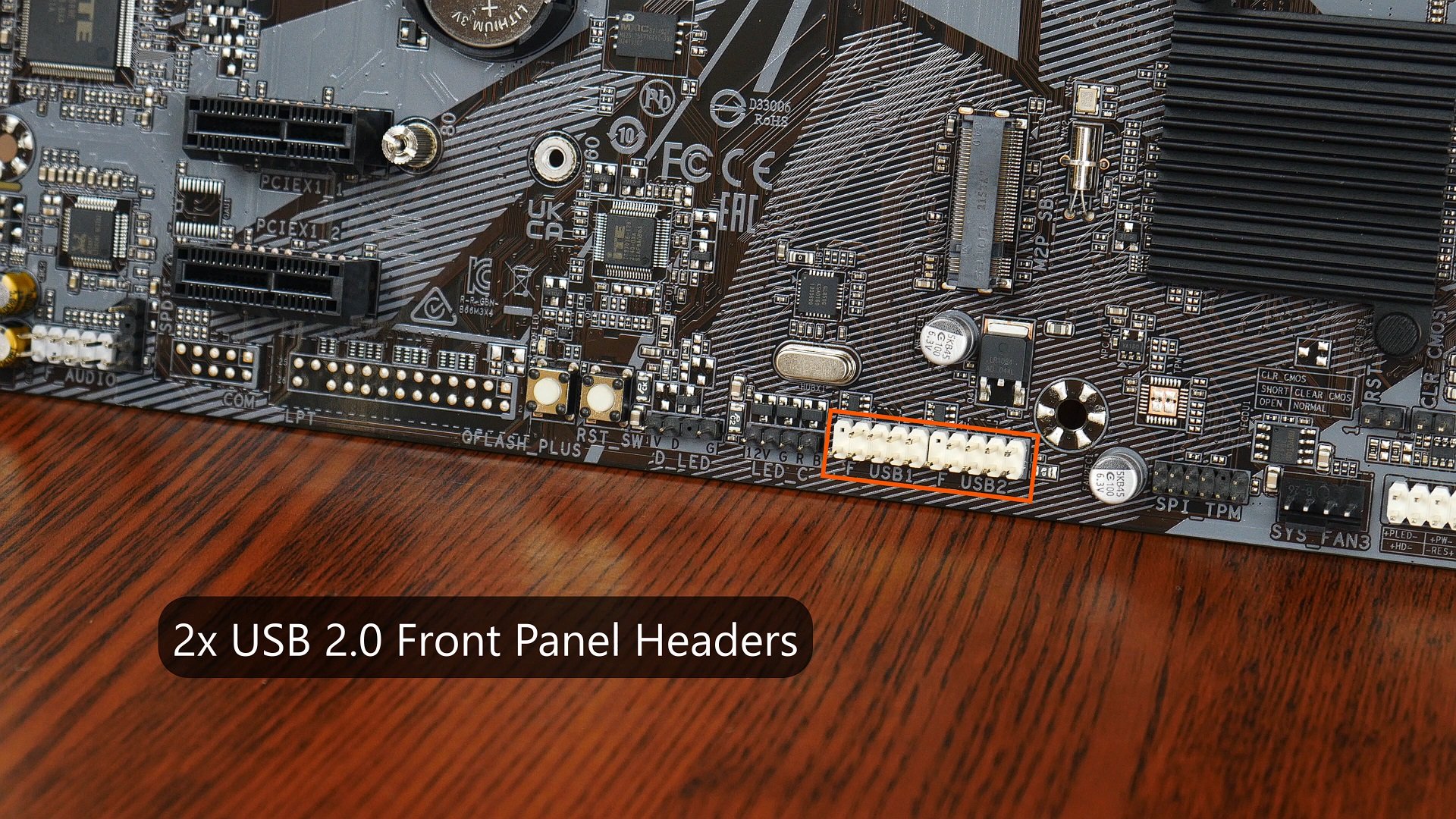 For front panel USB connectivity, the board comes with a single USB 3.2 Gen 1 front panel header, as well as two USB 2.0 front panel headers.
Expansion Slots & Storage Options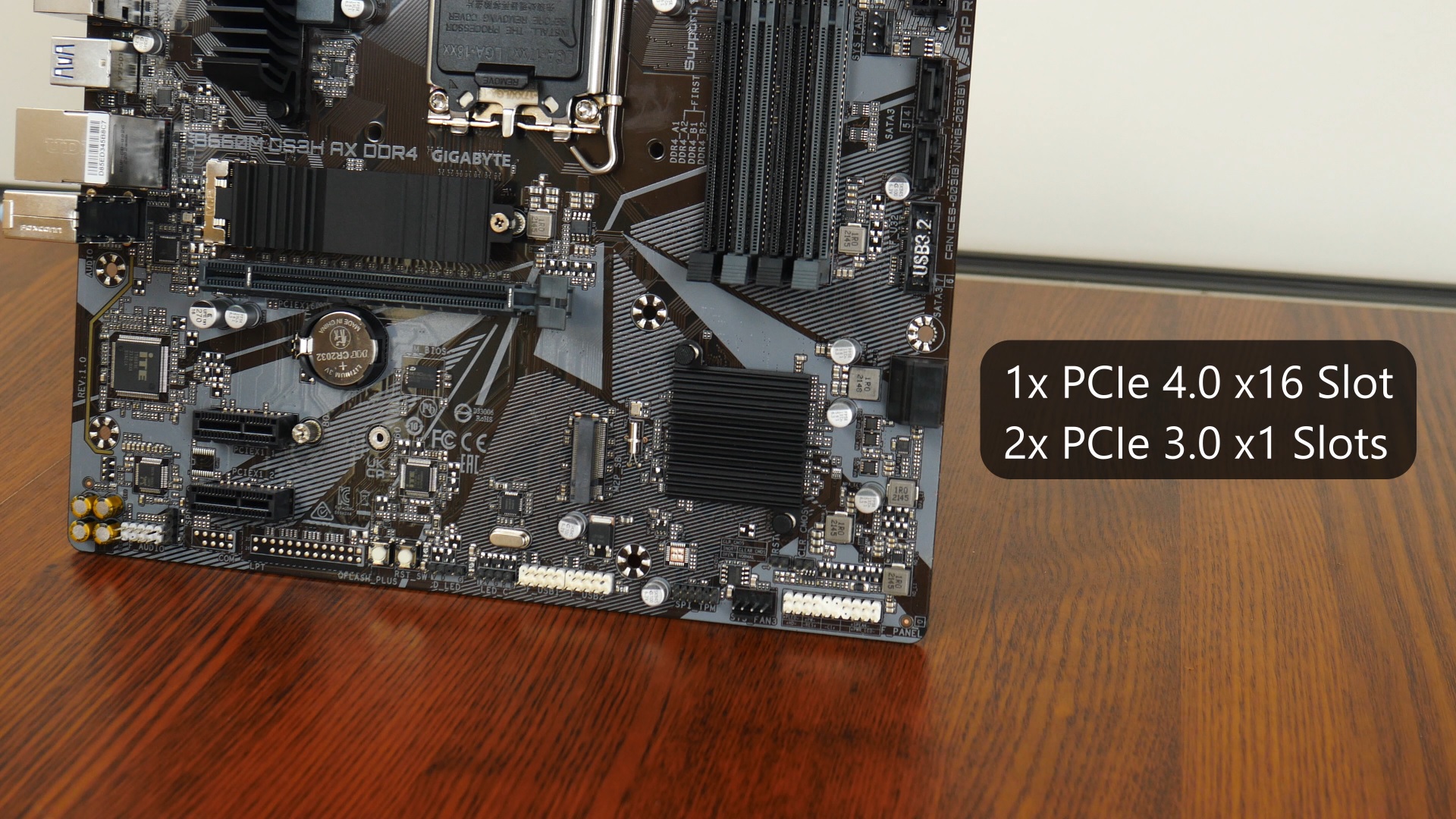 The B660M DS3H AX DDR4 comes with a single PCIe 4.0 x16 slot, and two PCIe 3.0 x1 slots. All three slots are made of plastic.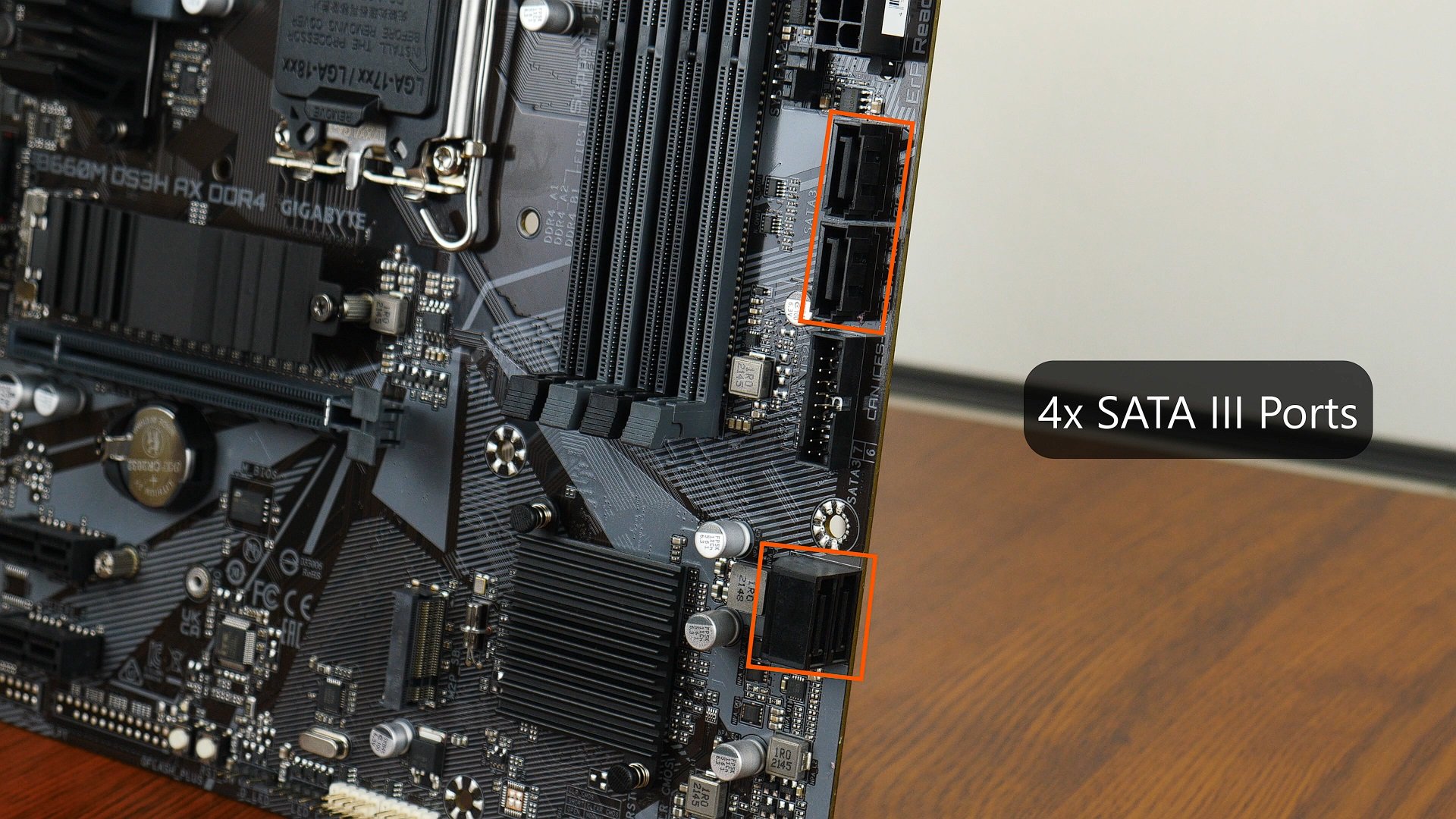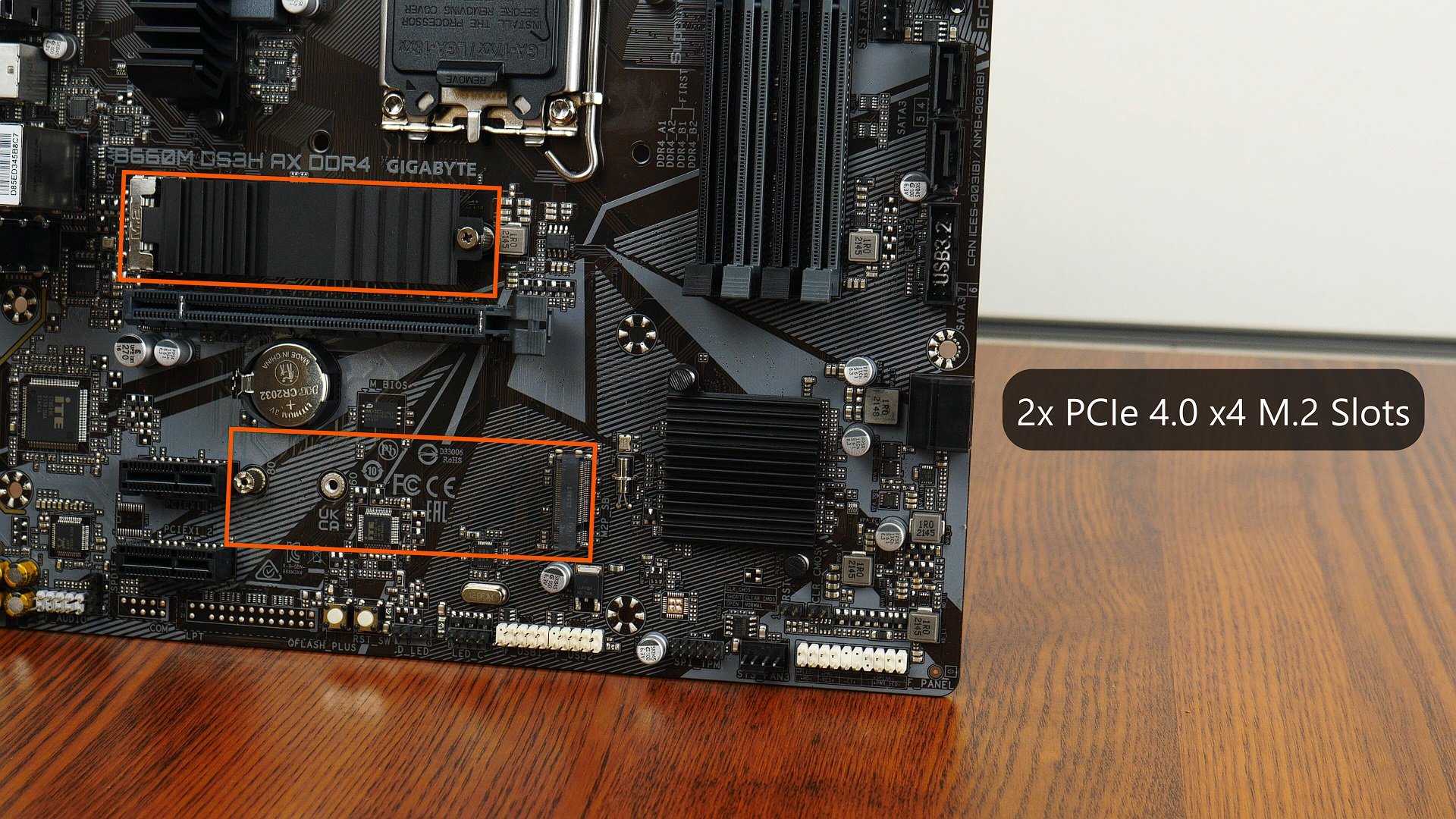 Gigabyte has included four SATA III ports, with two ports set in a right-angled configuration, and the remaining two ports in a straight-angled layout. Also included are two PCIe 4.0 x4 M.2 slots, of which one of them comes with a heatsink.
Audio & Internet Connectivity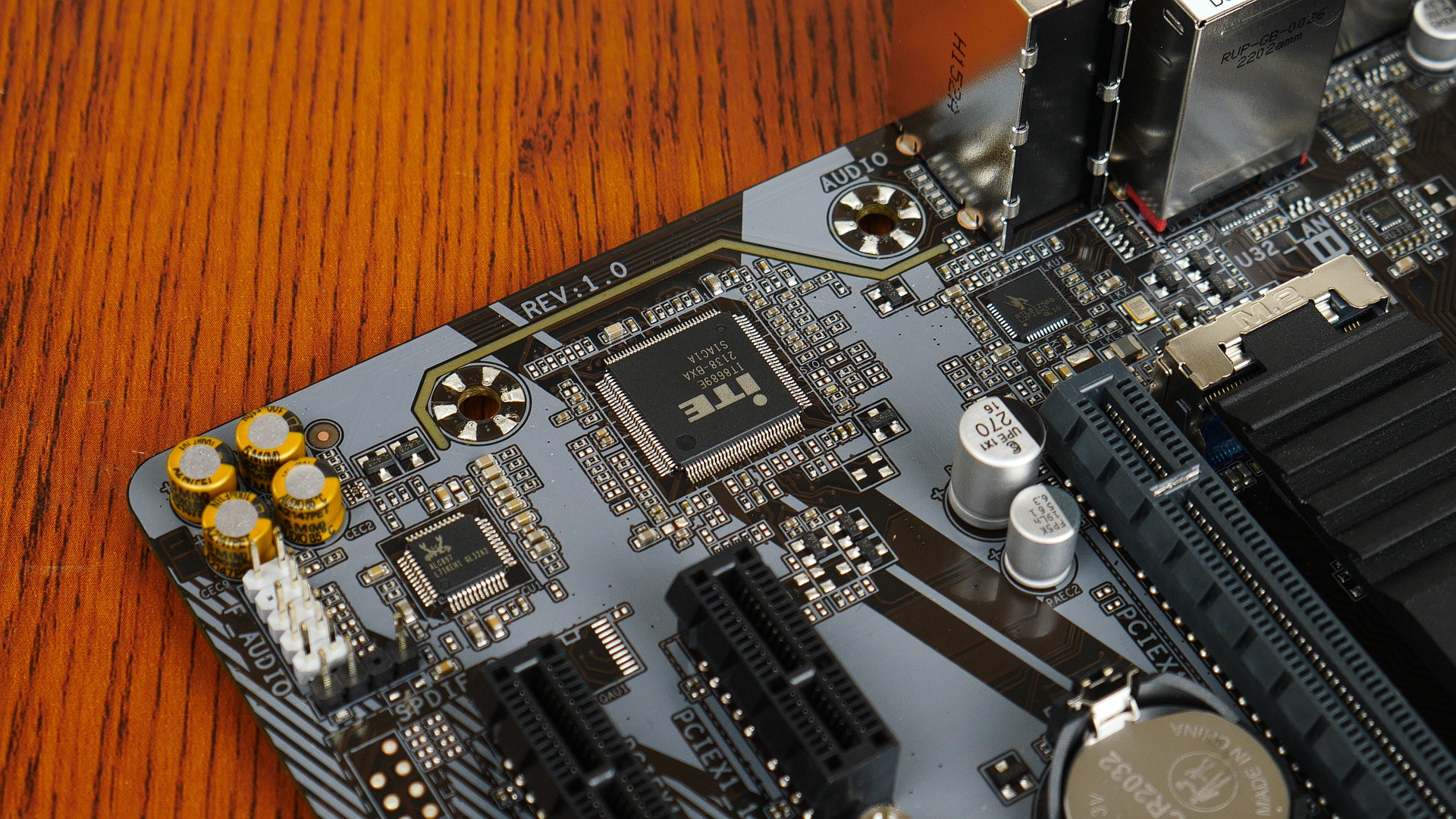 Realtek's ALC897, an audio codec commonly found in lower-end motherboards, shores up the audio aspect of this board, while the RTL8125BG chip, also a Realtek part, provides for 2,5 Gigabit Ethernet support. Gigabyte could have skimped and included a Gigabit Ethernet part with the B660M DS3H AX DDR4 - their choice of including 2.5 GbE certainly burnishes the credentials of this board amongst the competition.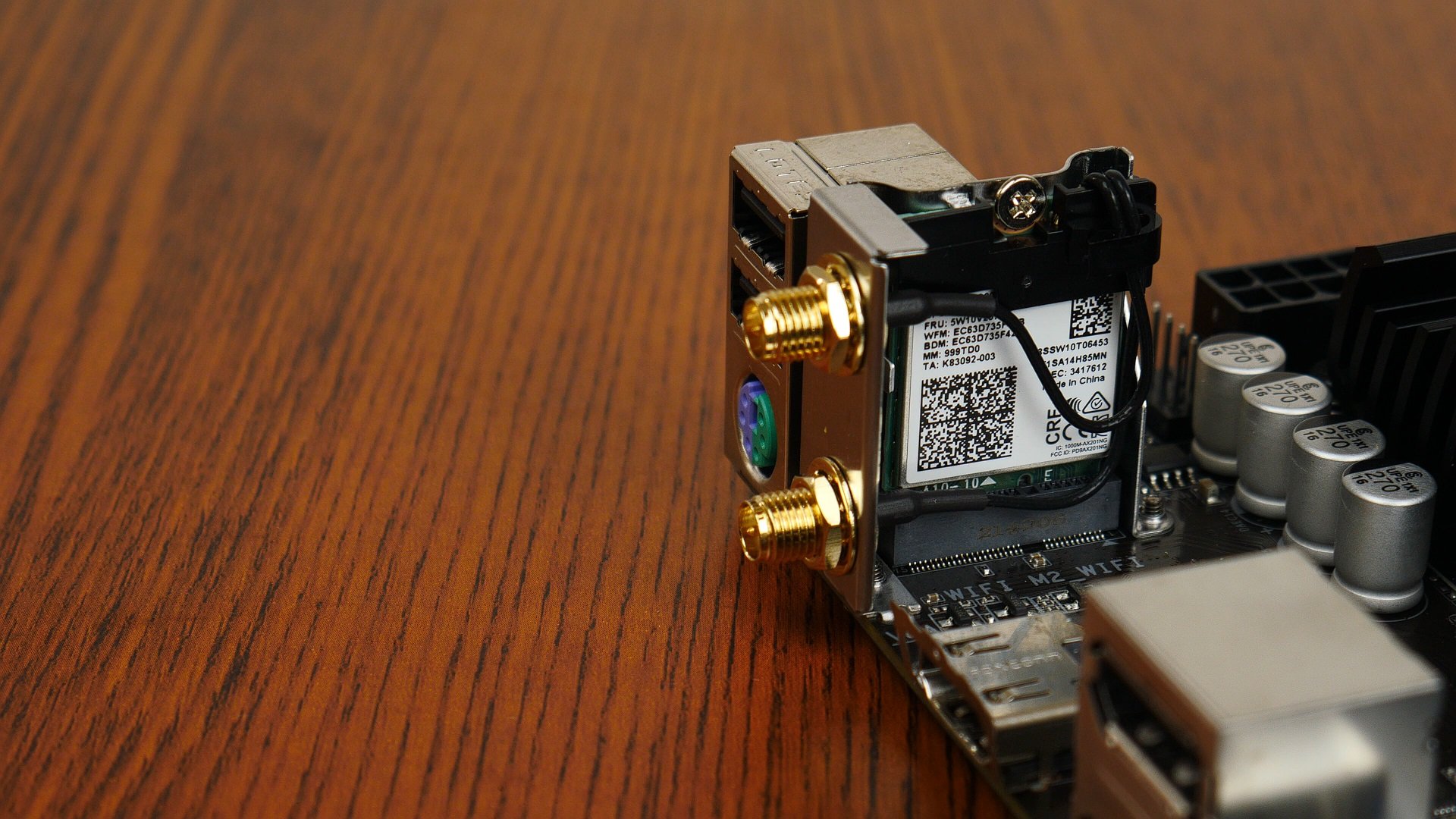 WIFI connectivity however, is less straightforward as for some reason, the B660M DS3H AX DDR4 comes in 3 board revisions (as of May 2022). With each board revision, comes a different WIFI chipset:
Revision 1.0: Intel AX201 WIFI 6 + Bluetooth 5.2
Revision 1.1: Intel AX200 WIFI 6 + Bluetooth 5.2
Revision 1.2: Intel AX211 WIFI 6E + Bluetooth 5.2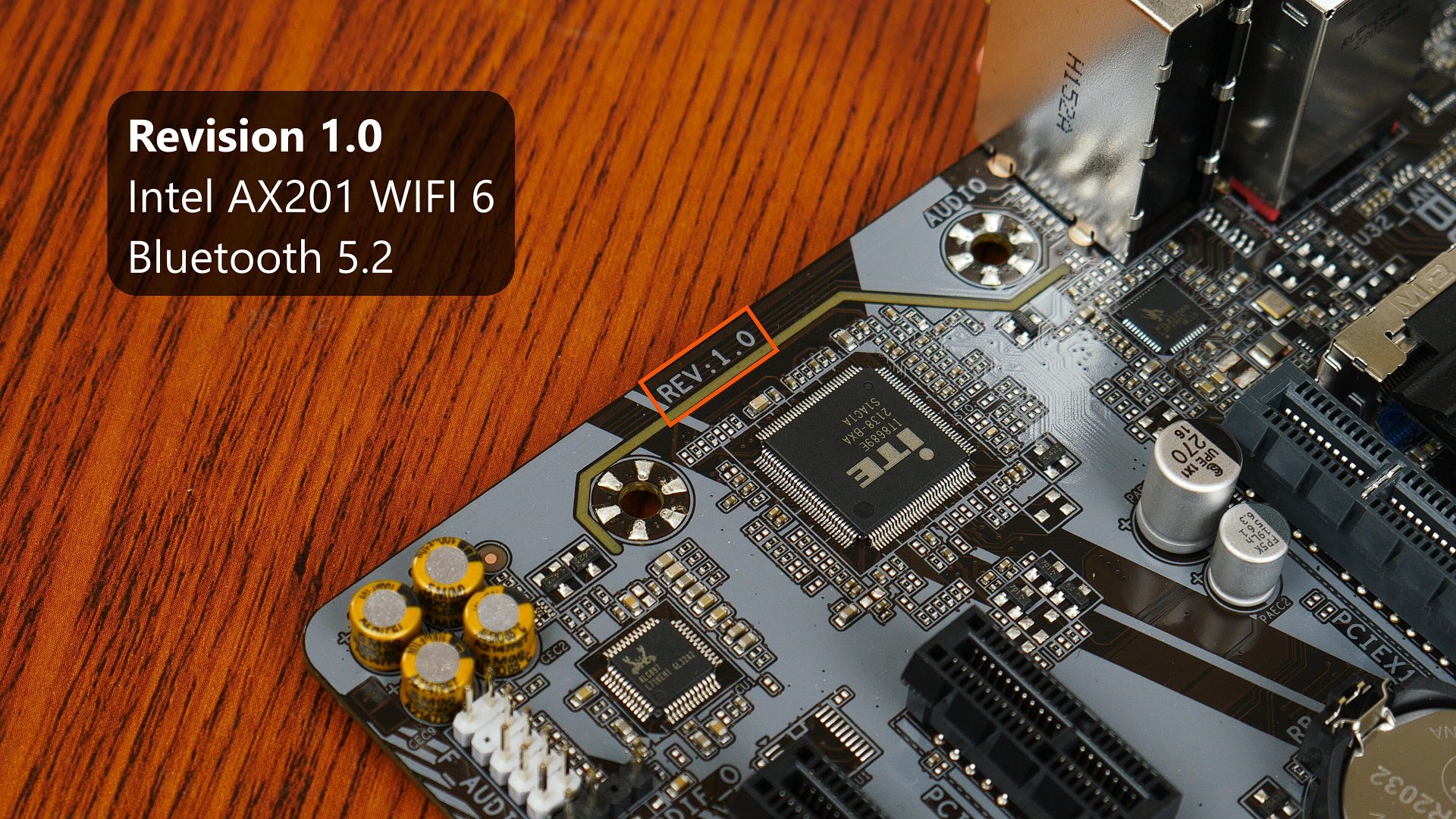 In view of the above, you should try to check the board revision if possible before making a purchase, as Revision 1.2, with built-in WIFI 6E, would be a far superior option compared to Revisions 1.0 and 1.1, which come with WIFI 6 support.
Fan & RGB Headers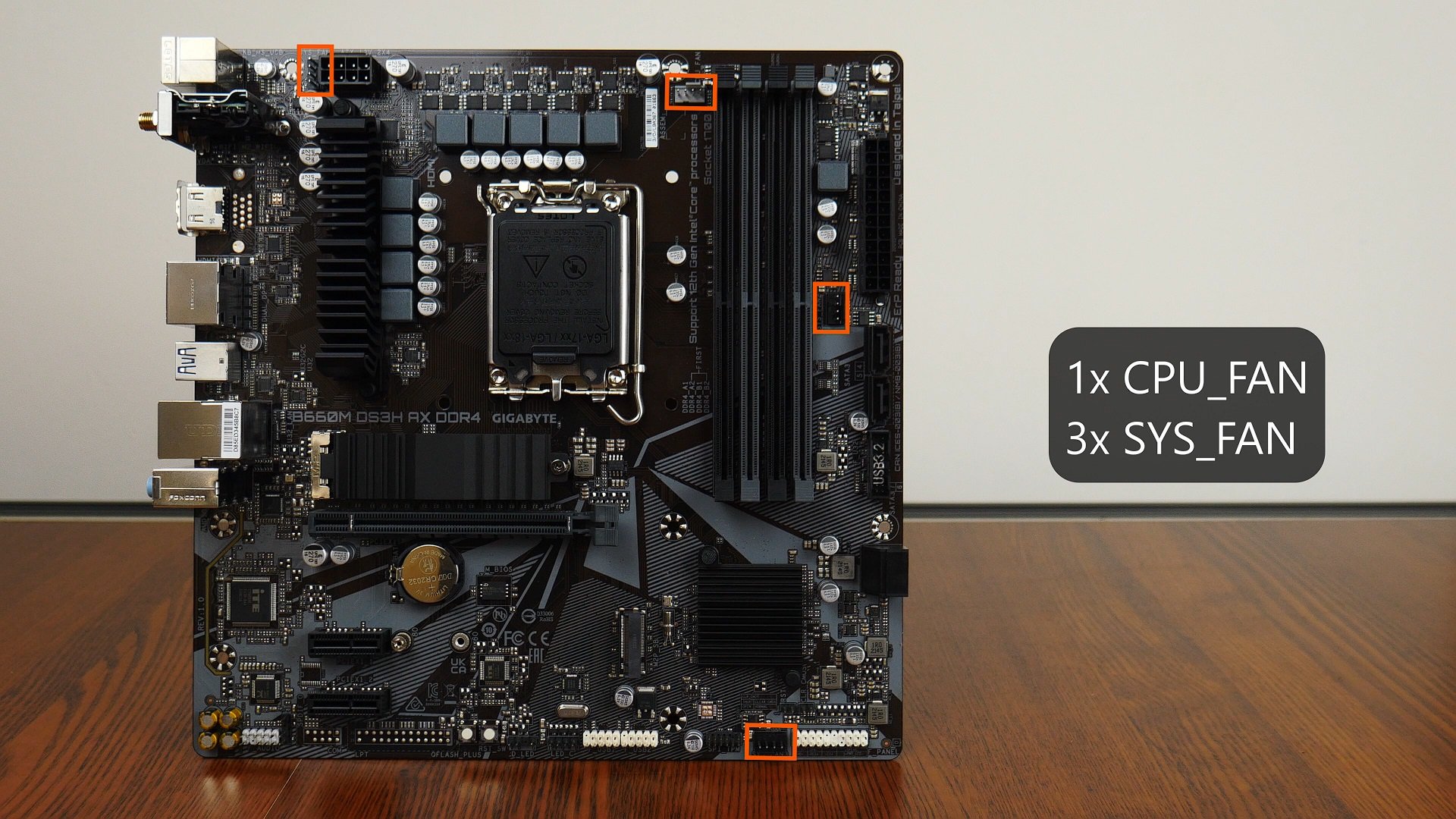 The B660M DS3H AX DDR4 comes with a total of four fan headers:
1x CPU_FAN
1x SYS_FAN1
1x SYS_FAN2
1x SYS_FAN3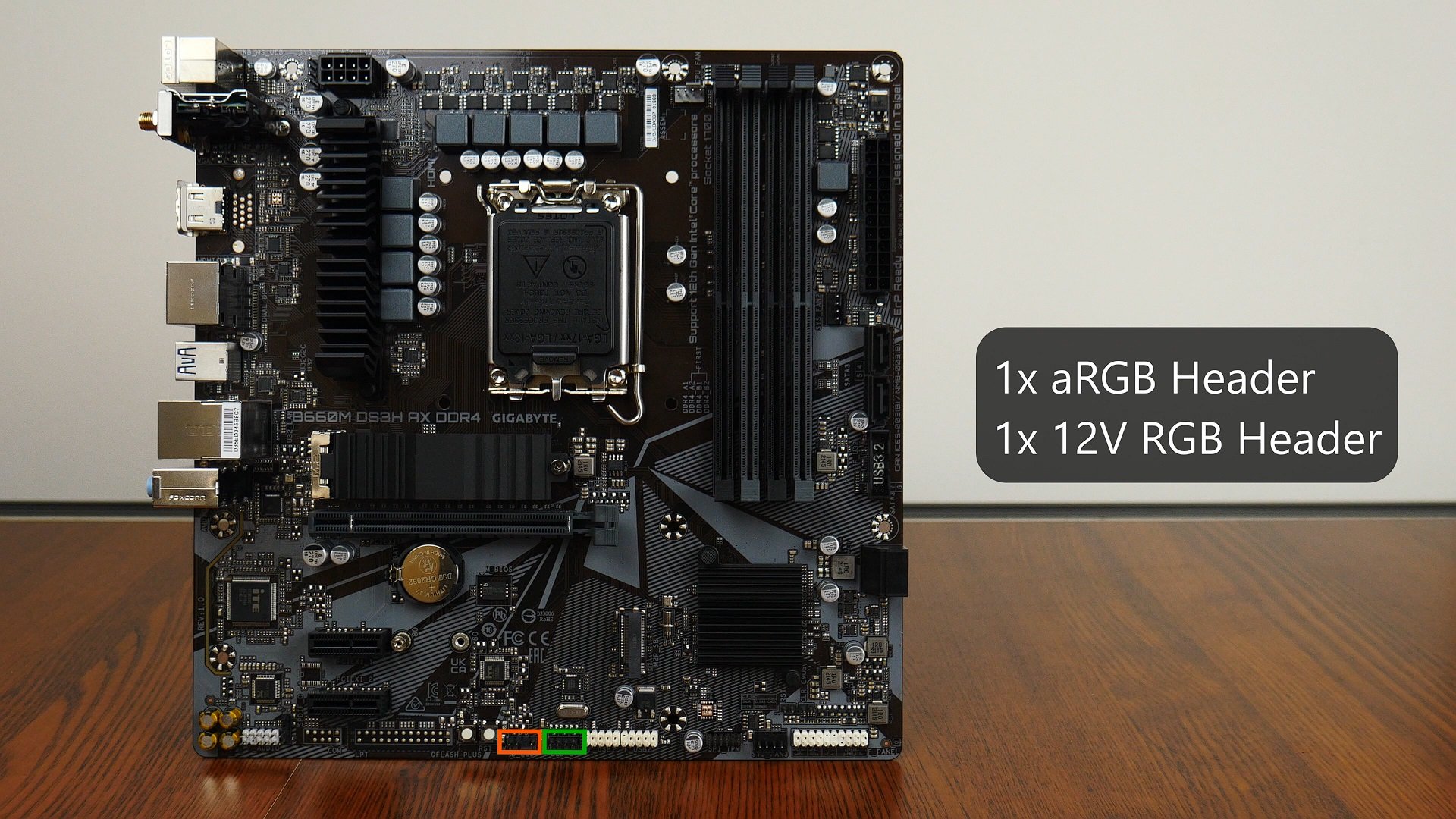 In the RGB department, Gigabyte has endowed the board with just a single addressable RGB header and a 12V RGB header.
Rear I/O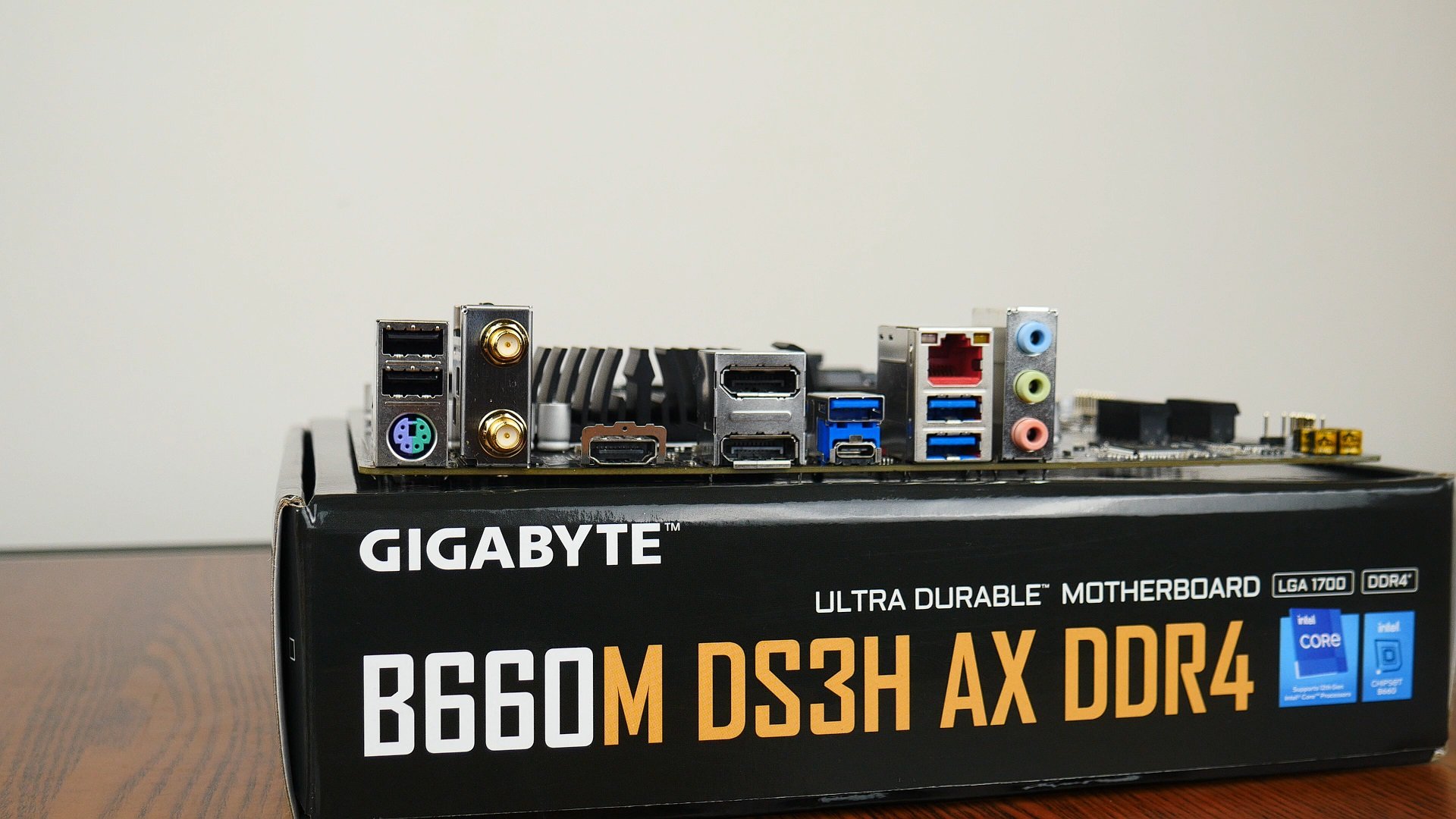 The B660M DS3H AX DDR4 comes with the following rear I/O ports:
2x USB 2.0 Type-A ports (one port supports the Q-Flash Plus feature)
1x PS/2 port
WIFI antennae connectors
1x HDMI 2.0 port
2x DisplayPort 1.2 ports
3x USB 3.2 Gen 1 Type-A ports
1x USB 3.2 Gen 2 Type-C port
2.5 Gigabit Ethernet port
Audio jack connectors
Other Special Features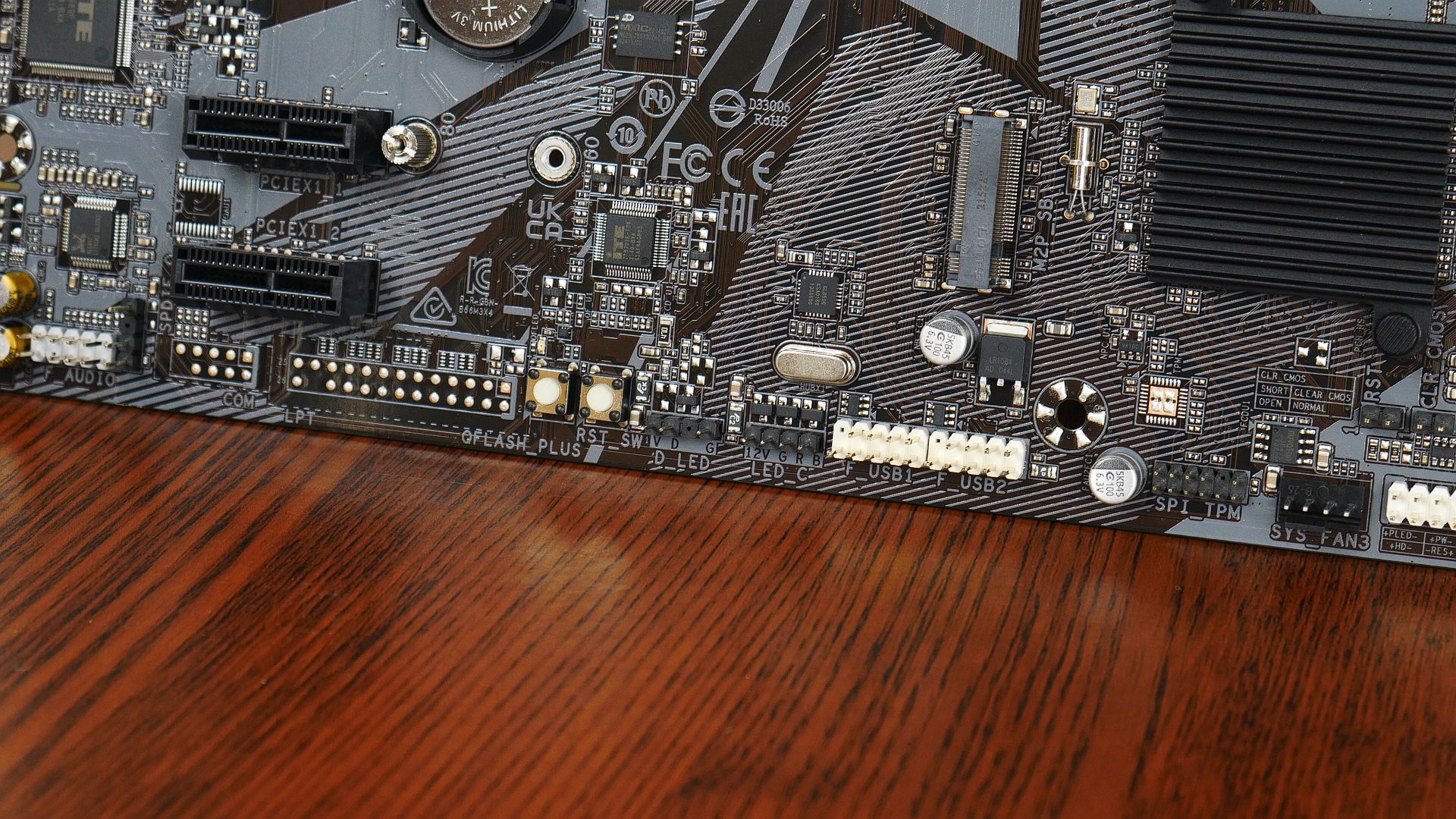 Two interesting features that Gigabyte has included with this board, is a Q-Flash Plus switch, and an on-board reset switch. The reset switch is straightforward enough - it allows users of this board with an open-case configuration to reset their PC with the simple press of a switch located near the bottom edge of the board.
Q-Flash Plus is a feature that allows users of this board to update the BIOS without needing to have a processor, RAM or graphics card installed. Simply plug in a USB drive (with the BIOS ROM loaded on it) to the appropriate rear I/O USB port, ensure that the board is connected to a power supply, and hit the QFLASH_PLUS switch pictured above. A handy feature to have, especially when Intel's 13th generation processors codenamed "Raptor Lake" hits the shelves - this feature would definitely come into play especially for end-users who intend to upgrade to a Raptor Lake processor in the future.
Conclusion & Pricing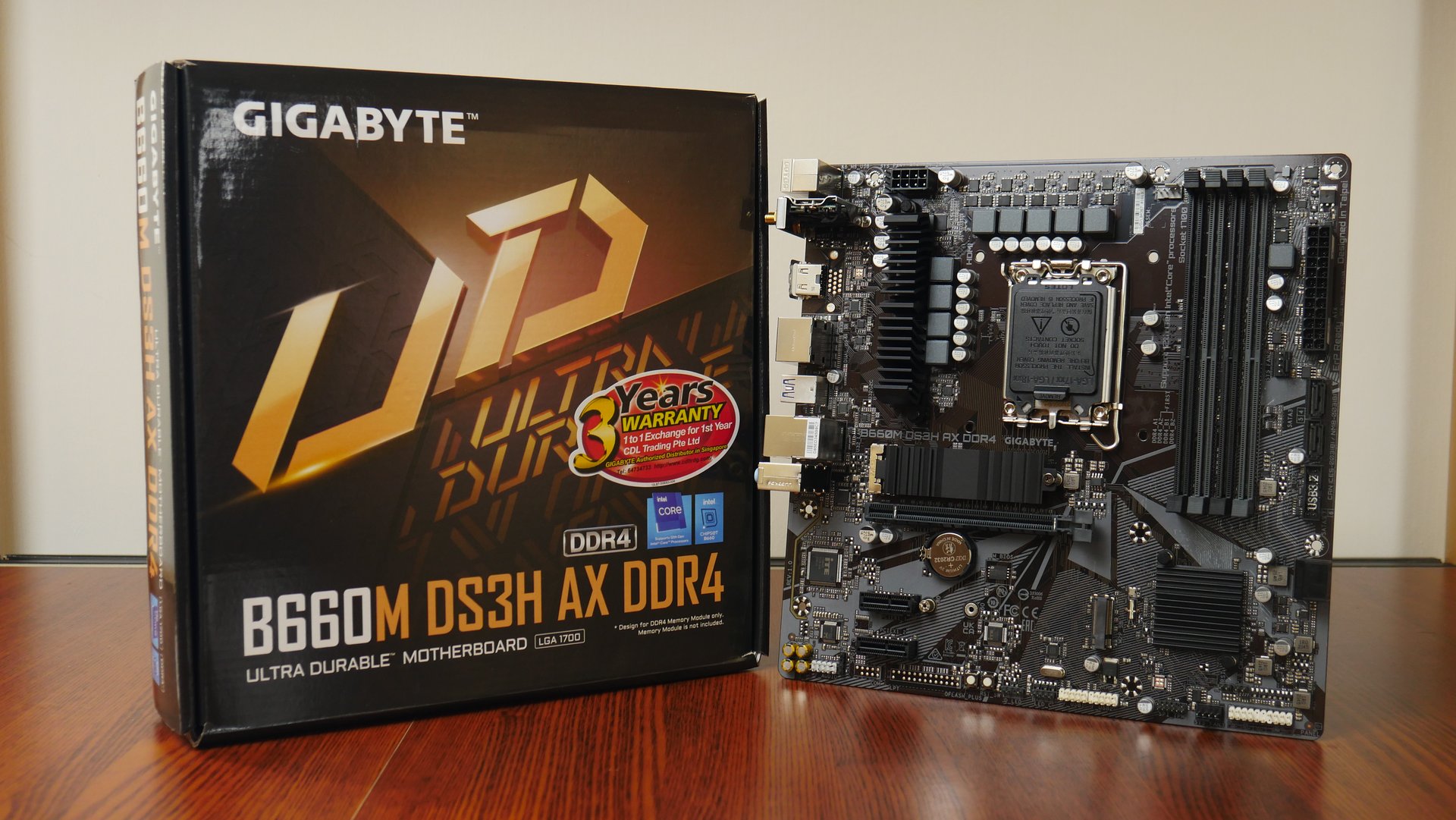 The Gigabyte B660M DS3H AX DDR4 motherboard is a great offering of an entry-level Intel B660 motherboard. It packs the latest bells and whistles such as PCIe 4.0 support, 2.5 Gigabit Ethernet and WIFI 6E (only with Revision 1.2 of this board), while maintaining support for legacy features such as DDR4 which is going to help keep the costs of building a PC with this board low,
One shortcoming is the fact that the board comes in different revisions with different WIFI chipsets. In view of this, you will be well-placed to do a check on the board revision before making a purchase, where Revision 1.2 would offer the best value with WIFI 6E support.
As of October 2022, the board can be had for around S$209 in Singapore through offline and online retailers. International eCommerce platforms such as Amazon and Newegg have this board listed for around US$119.
Get this board from Amazon: https://amzn.to/38rv2OM (affiliate link)
Get this board from Shopee Singapore: https://shope.ee/8zRj65XWDI (affiliate link)
Get this board from Lazada Singapore: https://c.lazada.sg/t/c.YWBN2w?sub_aff_id=alktech (affiliate link)
ALKtech may earn commissions from qualifying purchases made using affiliate links, at no extra cost to you as a customer. These commissions go a long way in supporting the platform!
The motherboard featured in this article was a review unit provided on loan from CDL Trading Pte Ltd, an authorised distributor for Gigabyte in Singapore.