Review: Gigabyte B760M DS3H AX DDR4 LGA1700 Motherboard
Gigabyte's entry-level Intel B760 motherboard hits the sweet spot with a good set of features for consumers intending to build an Intel 13th Gen Raptor Lake PC on a budget.
Intel's 13th generation Raptor Lake processor offerings were first released for sale to the general public on 20th October 2022, with "K" series CPU offerings such as the Core i9-13900K and Core i5-13600K hitting the shelves alongside motherboards powered by the range-topping Intel Z790 chipset. Fast forward to January 2023, where Intel finally released the rest of its Raptor Lake CPU and chipset stack, in the form of products such as the Core i5-13400 CPU, to chipsets such as the Intel B760 and H770. For today's article, we'll be taking a look at an entry-level Intel B760 motherboard offering for consumers on a budget - the Gigabyte B760M DS3H AX DDR4.
Summary of Specifications
Processor Support: Intel 13th Gen Core processors & 12th Gen Core, Pentium Gold and Celeron processors
Chipset: Intel B760
Memory: 4x DDR4 slots, max 128GB, up to DDR4 5333 (OC) support
Audio: Realtek ALC897 audio codec
LAN: Realtek RTL8125BG 2.5 Gigabit Ethernet
WIFI: AMD/Intel/Realtek WIFI 6E with Bluetooth (exact WIFI module dependent on board revision number)
Expansion Slots: 1x PCIe 4.0 x16, 2x PCIe 3.0 x1
Storage: 4x SATA III, 2x PCIe 4.0 x4 M.2 (NVMe mode only)
Form Factor: Micro ATX
Packaging & Contents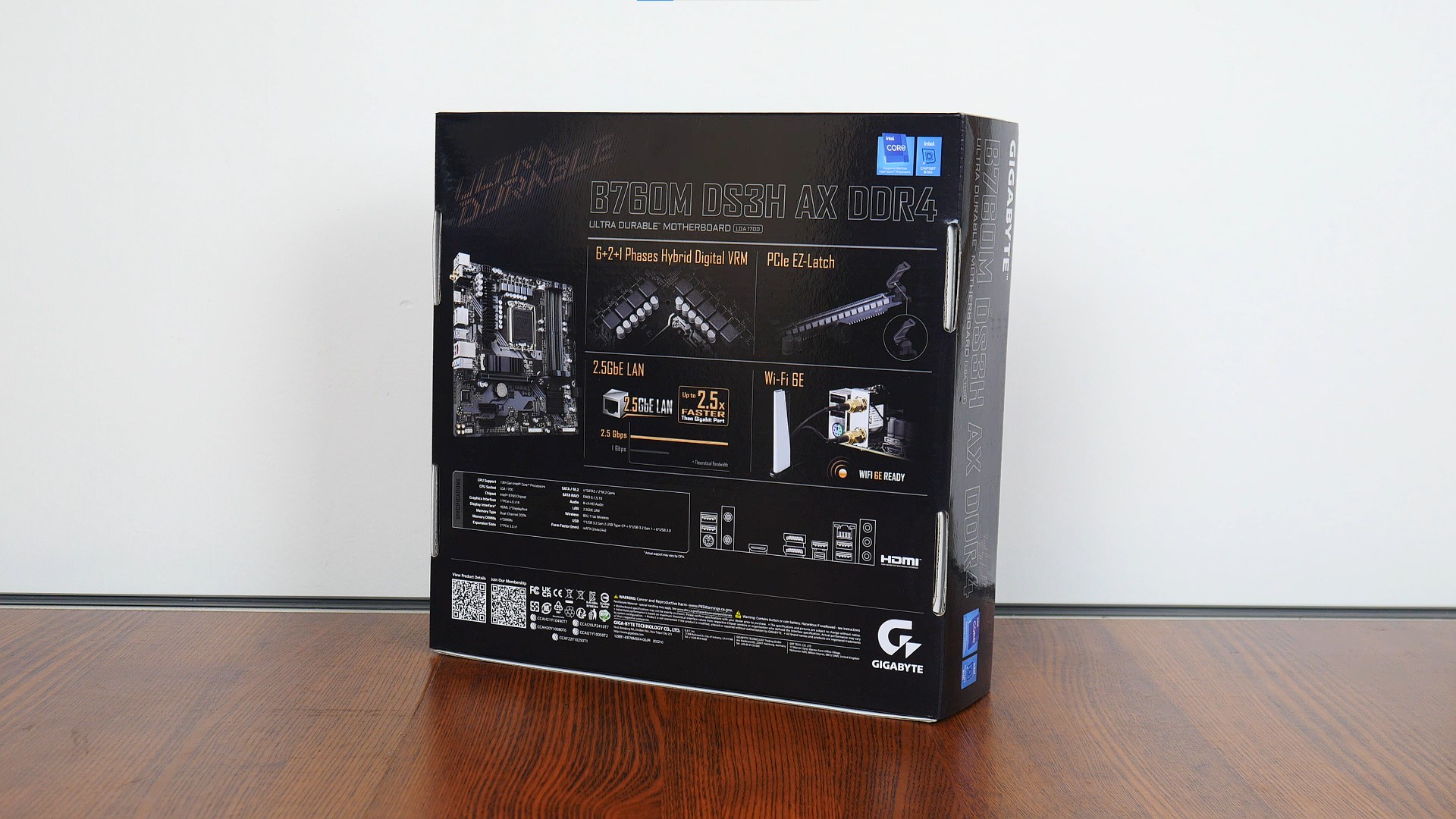 The B760M DS3H AX DDR4 comes in a box sporting a black and orange colourway that's in-line with the brand identity of the Ultra Durable series of product offerings by Gigabyte. The Ultra Durable line-up of products are targeted at consumers on a budget, placing below the Gigabyte Gaming and AORUS series of motherboard offerings.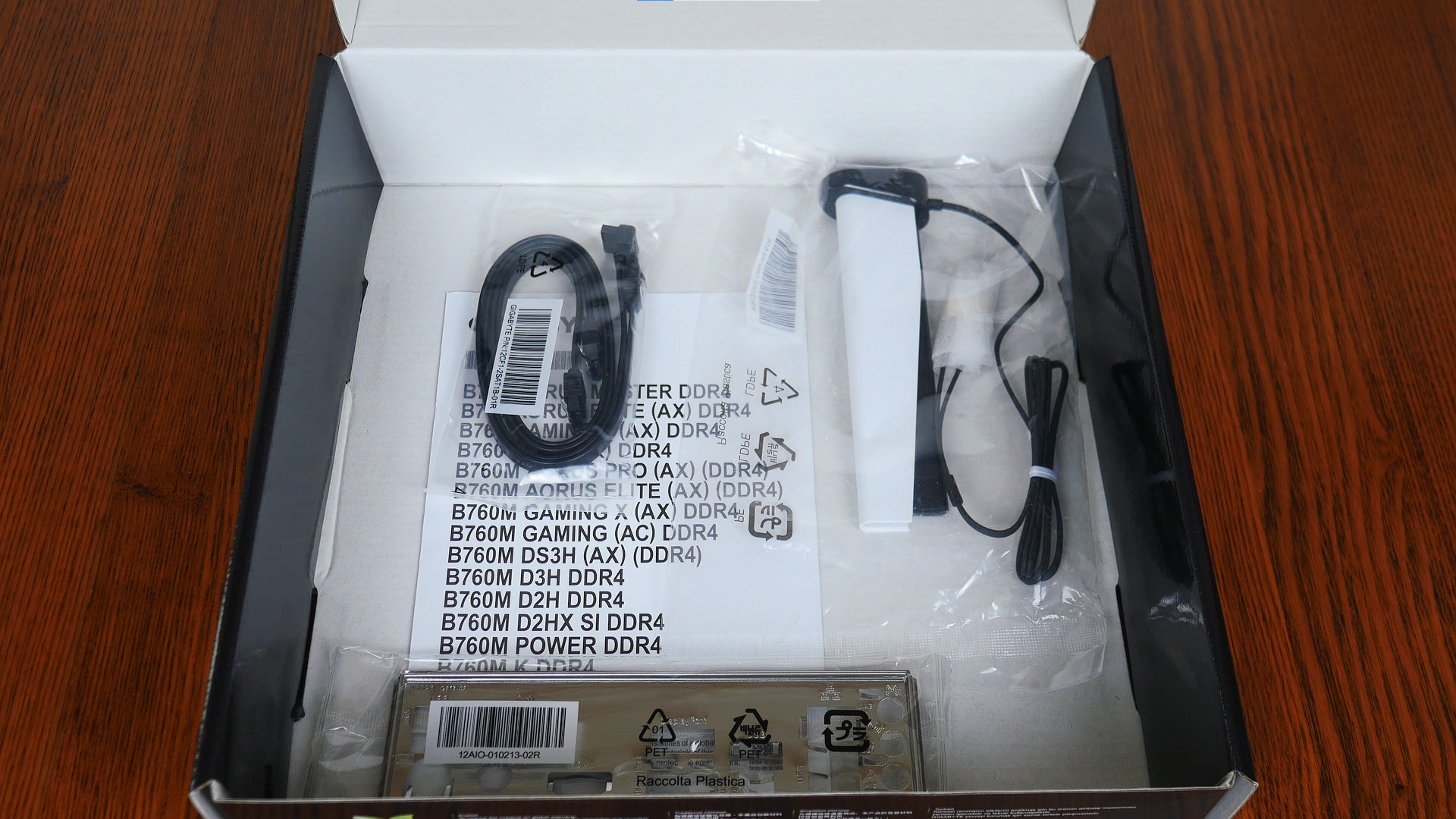 Included with the board are the following accessories:
WIFI antenna
2x SATA III cables
I/O shield
Quick start guide
Board Aesthetics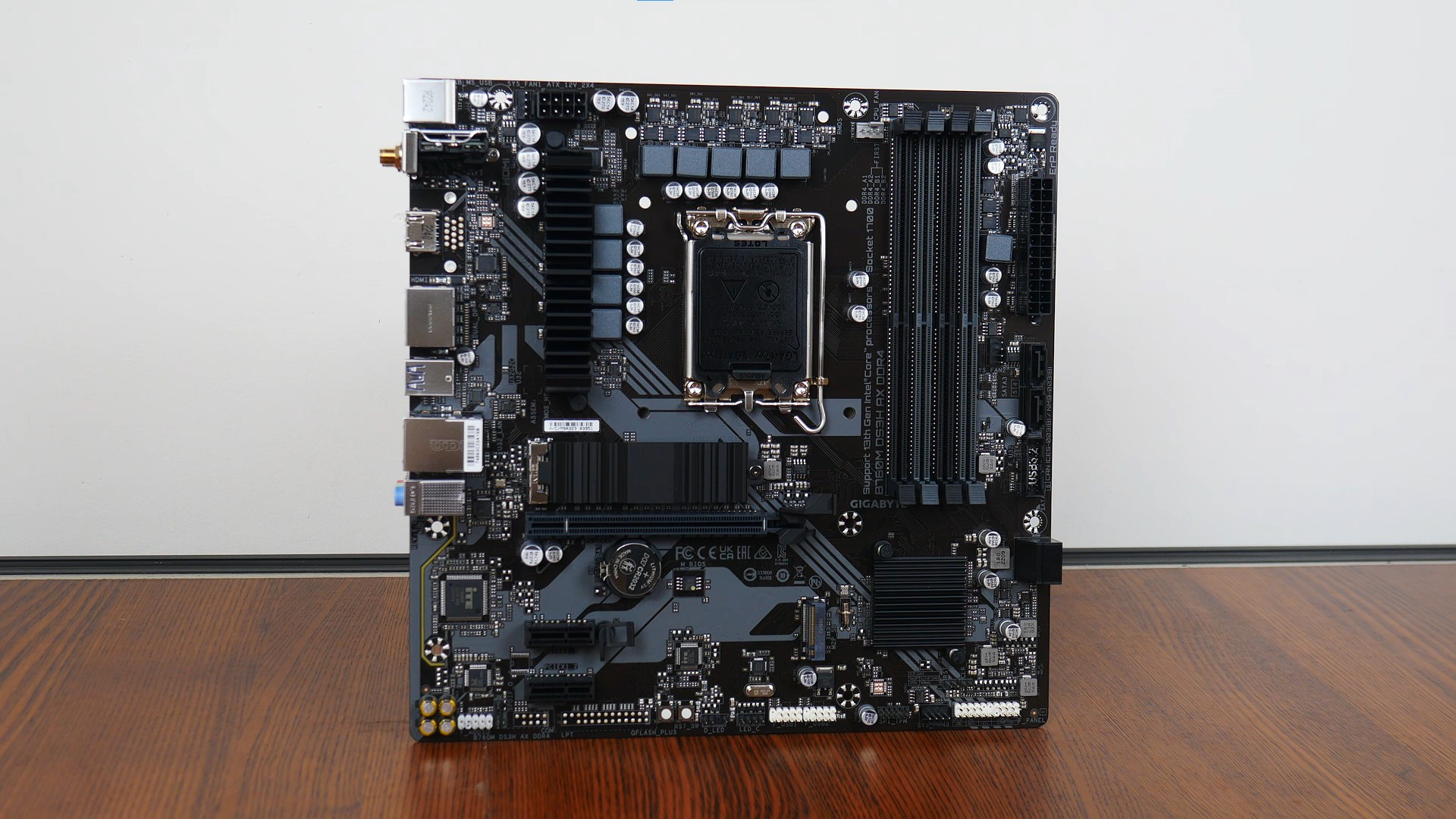 In terms of aesthetics, the B760M DS3H AX DDR4 sports a run-of-the-mill appearance with a black PCB that's adorned with light grey motifs for contrast. Being a budget-oriented board offering, it doesn't come with an integrated I/O shield design, nor does it come with built-in RGB LED accents. It does of course, come with onboard RGB headers, more on this later on in this article. Another sign of its budget-oriented pedigree is the fact that Gigabyte's only included partial heatsink coverage for the motherboard's VRM modules.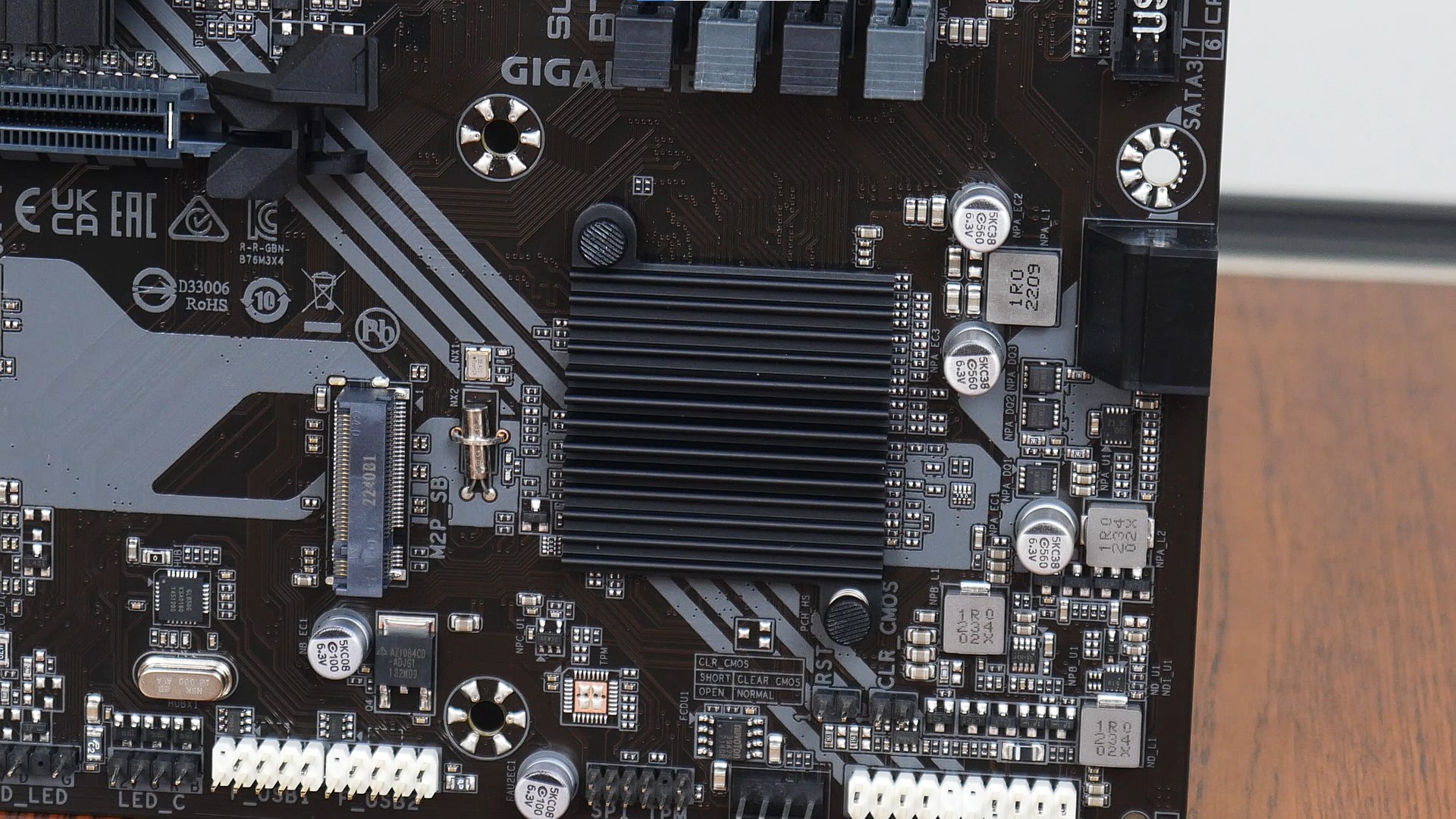 To cool the Intel B760 chipset, Gigabyte's included a nondescript-looking passive heatsink.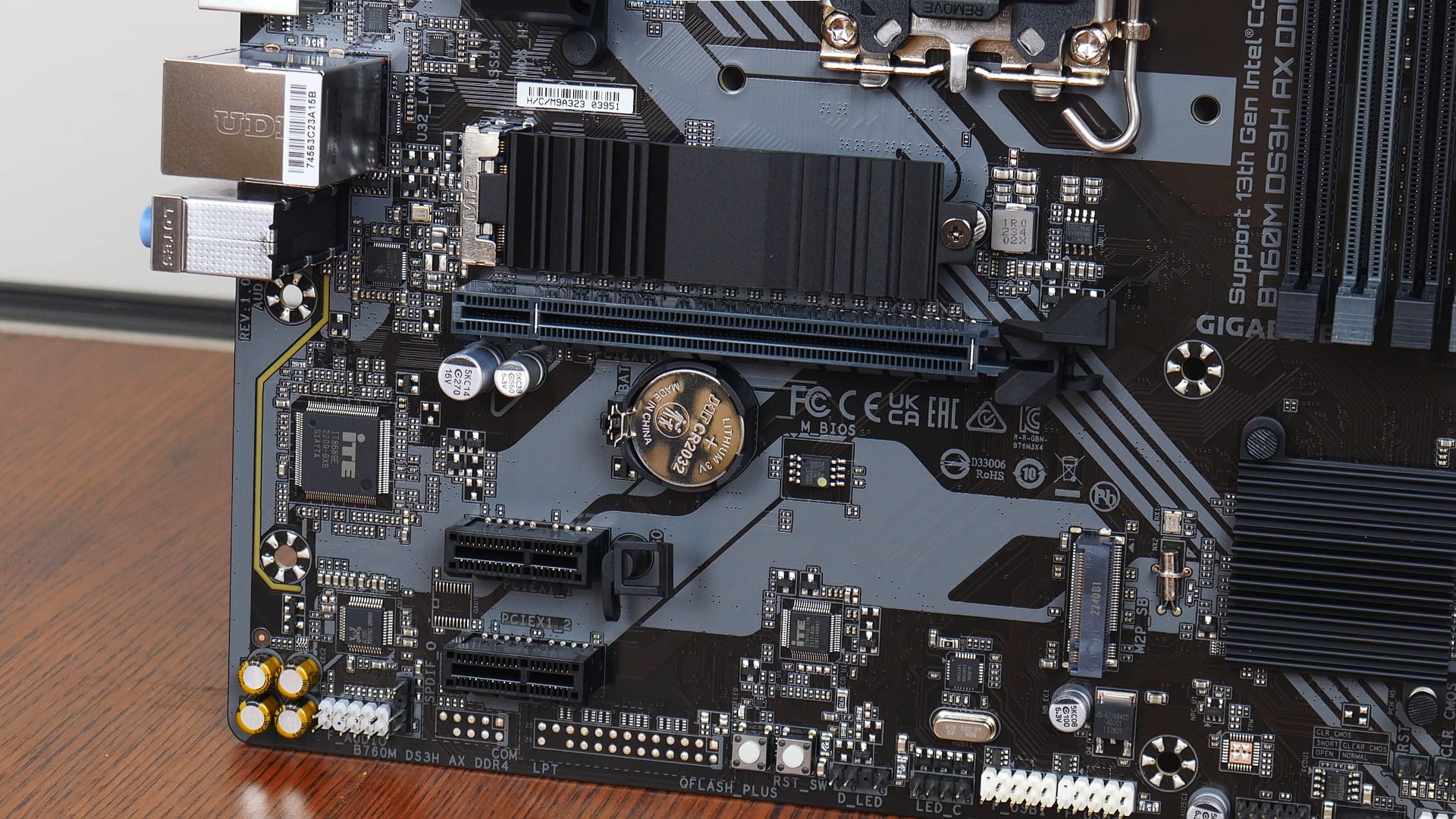 It's great to note that despite the B760M DS3H AX DDR4 being a budget motherboard offering, Gigabyte's elected to include a M.2 heatsink for the board's primary M.2 drive slot.
VRM & Memory Support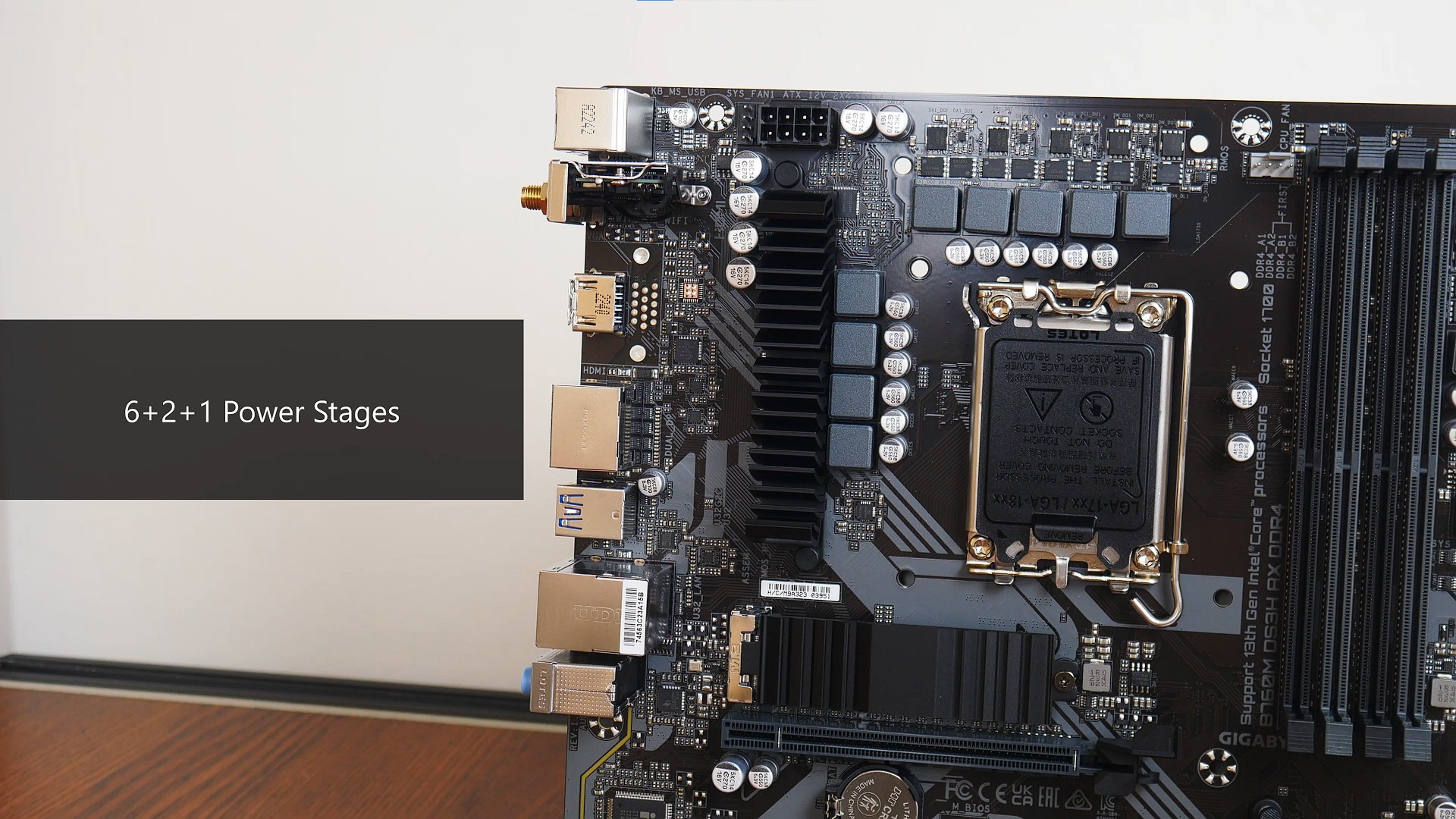 The board's power delivery solution is courtesy of a 6+2+1 setup...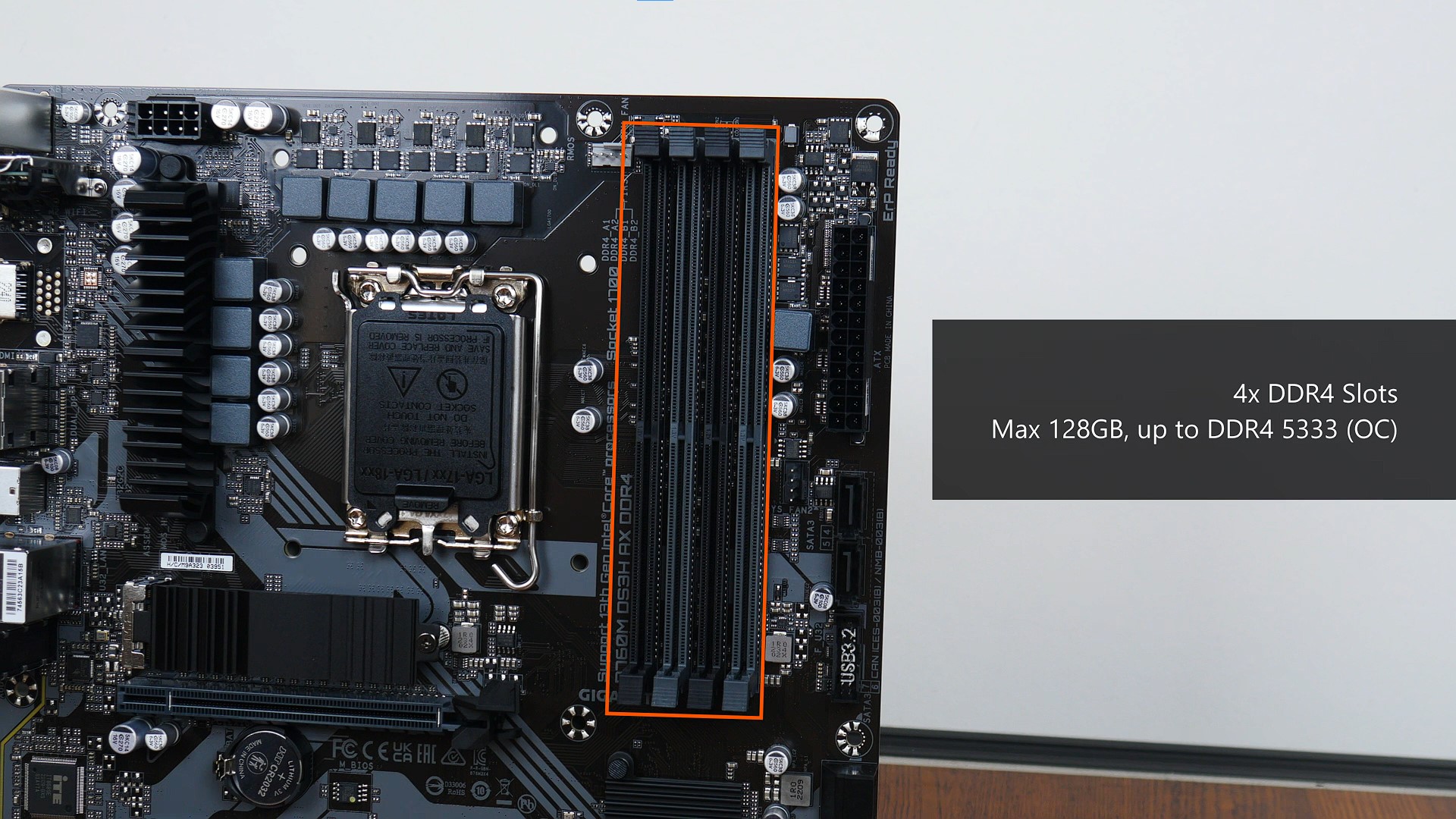 ...while memory support is courtesy of four DDR4 slots - the board supports a maximum of 128GBs of RAM and the DDR4 5333 standard (overclocked). The slots are your standard dual-tabbed plastic affair.
Front Panel USB Connectivity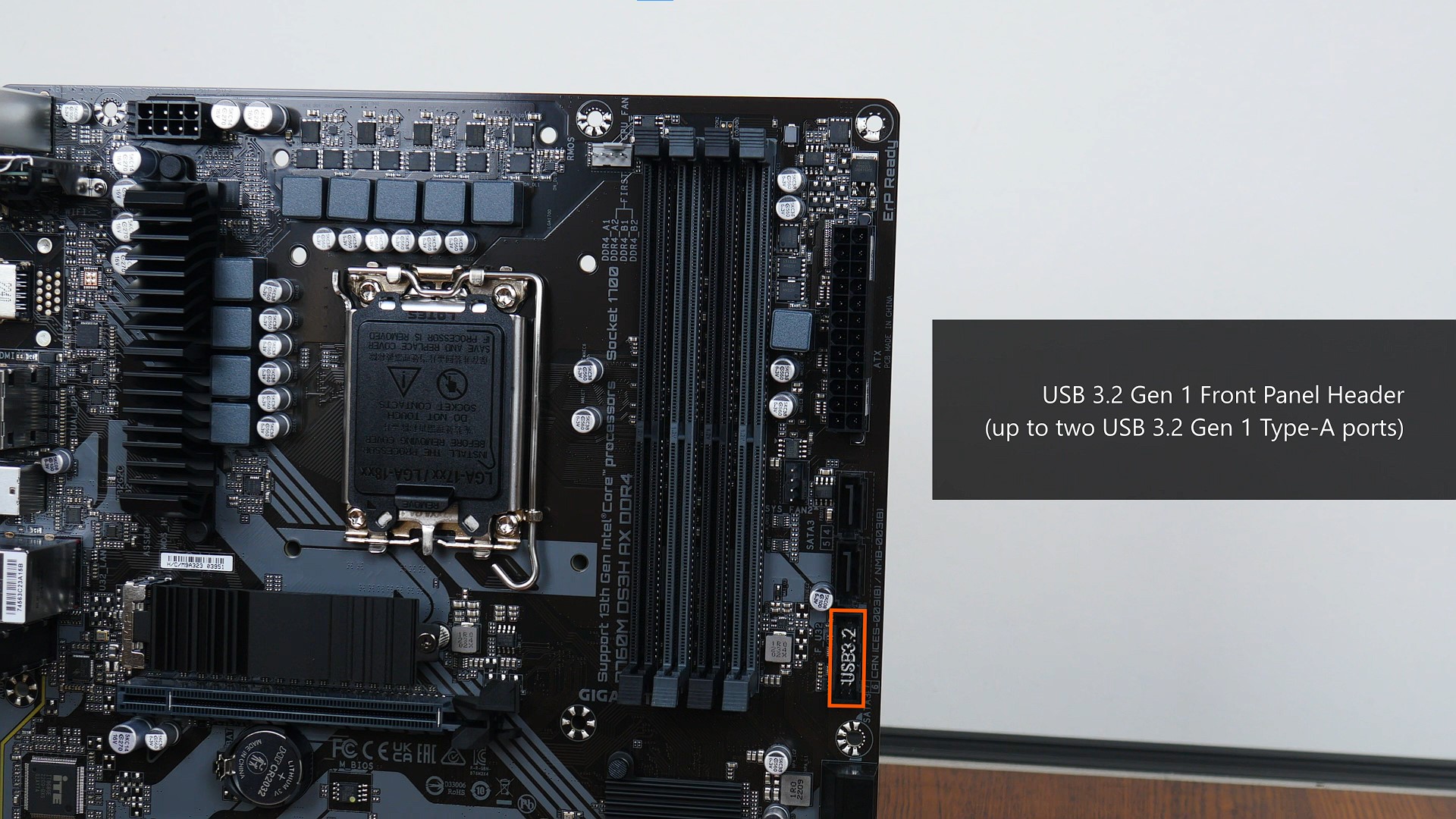 For front panel USB connectivity, Gigabyte's included a single USB 3.2 Gen 1 front panel header that provides for two front panel USB 3.2 Gen 1 Type-A ports. Do note that the board does not come with a front panel USB Type-C header.
Near the bottom edge of the board are two front panel USB 2.0 headers, with each of these headers providing support for two front panel USB 2.0 Type-A ports, for a total of four ports.
Expansion Slots & Storage Options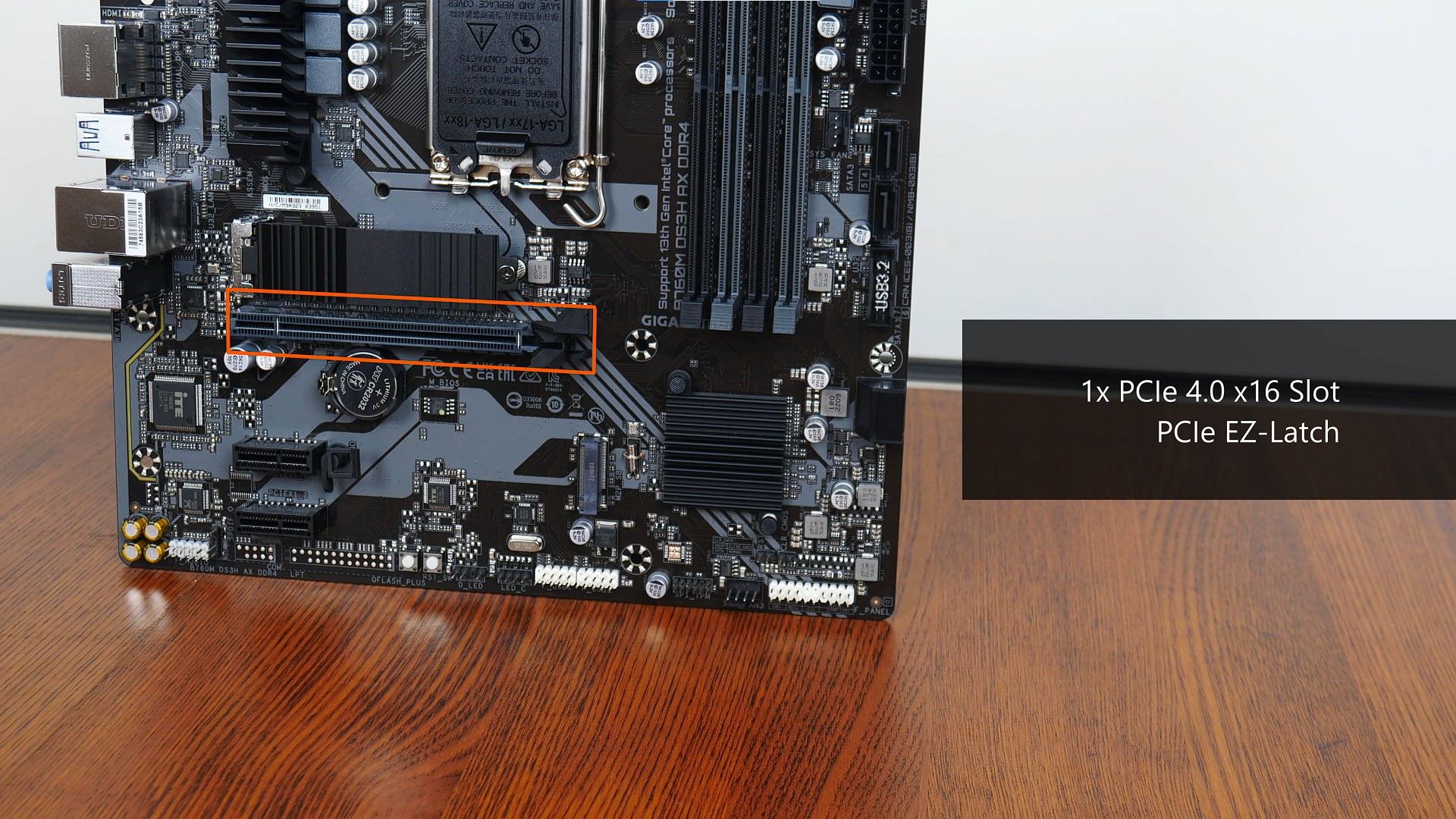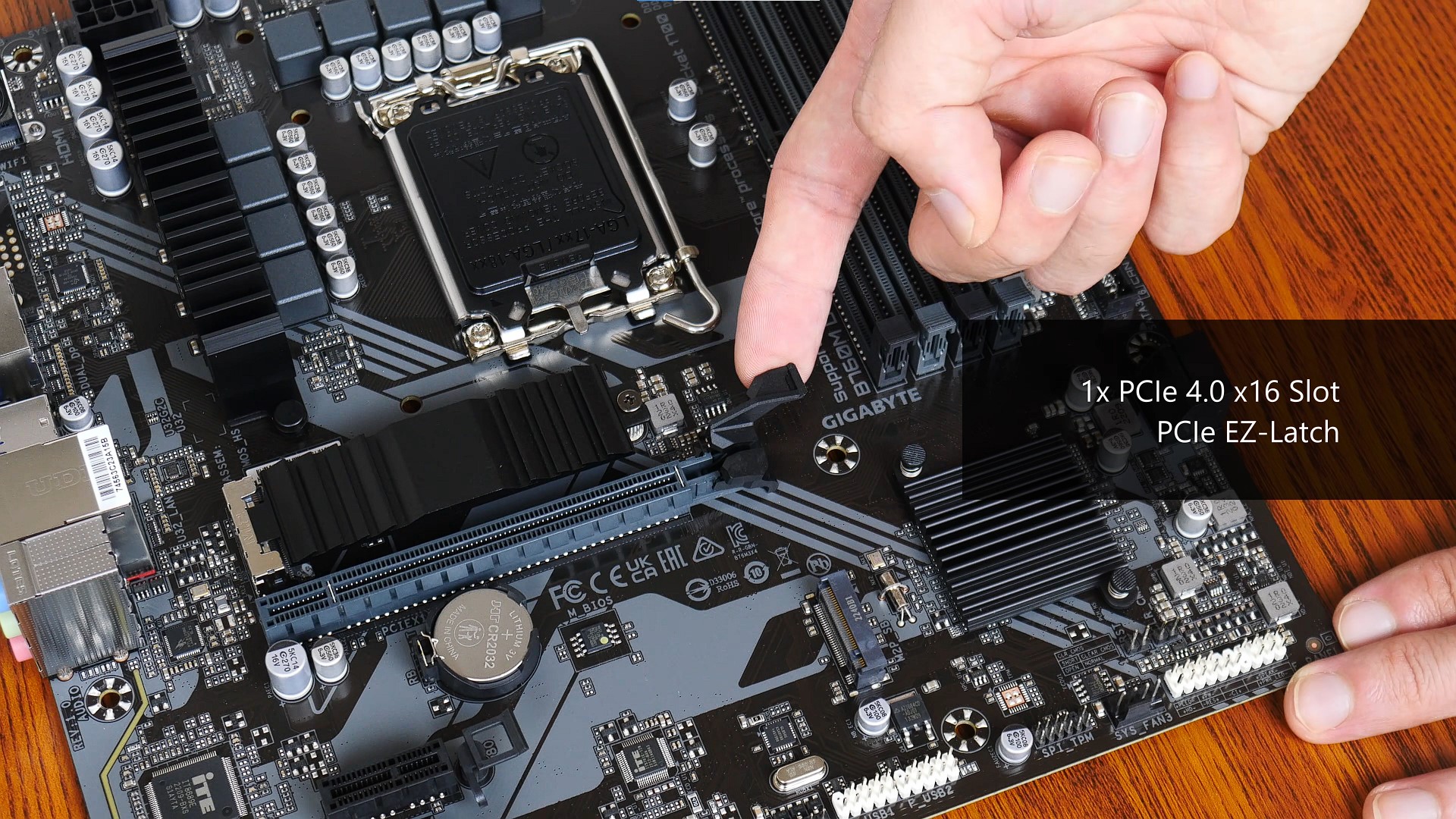 In terms of expansion slots, the B760M DS3H AX DDR4 comes with a single PCIe 4.0 x16 slot made out of plastic - the said slot sports the EZ-Latch feature that is essentially an oversized graphics card retention tab that helps make removing a graphics card from a board less of a painful affair, especially in a completed PC build.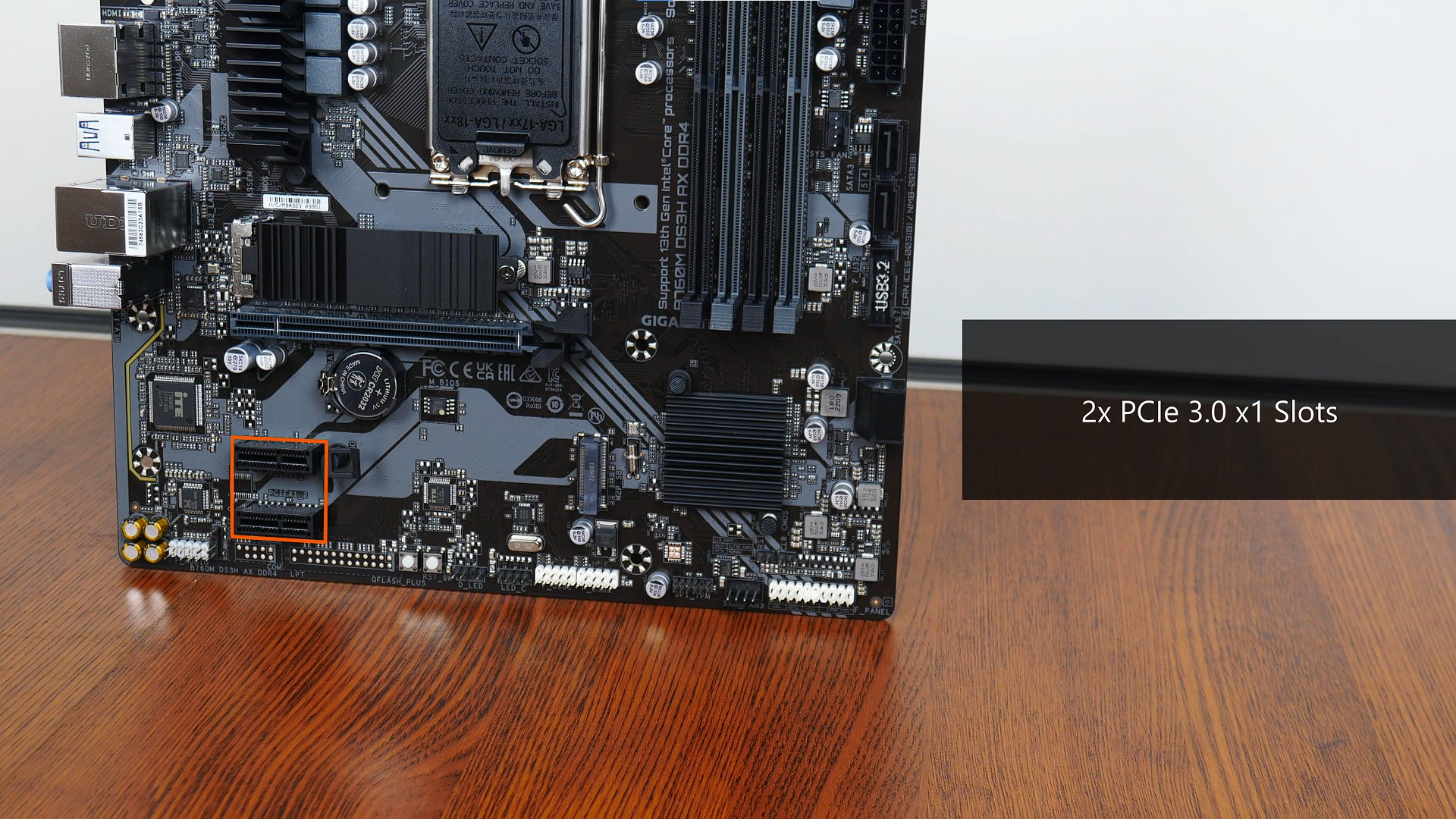 Also included are two PCIe 3.0 x1 slots.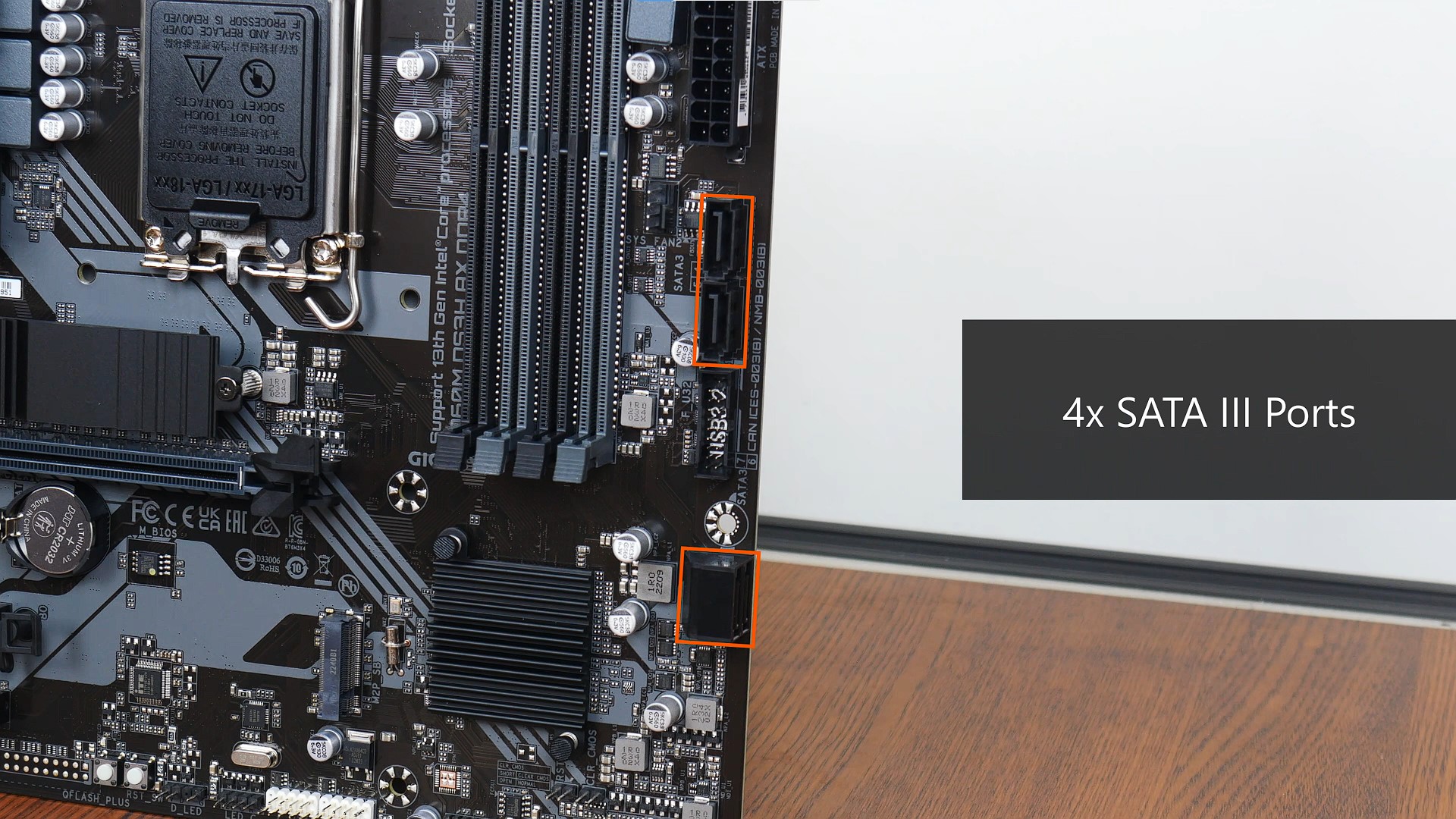 Moving on to internal storage options, Gigabyte's included four SATA III ports, with two ports in a right-angled orientation to aid with cable management, and another two ports in a straight-angled configuration.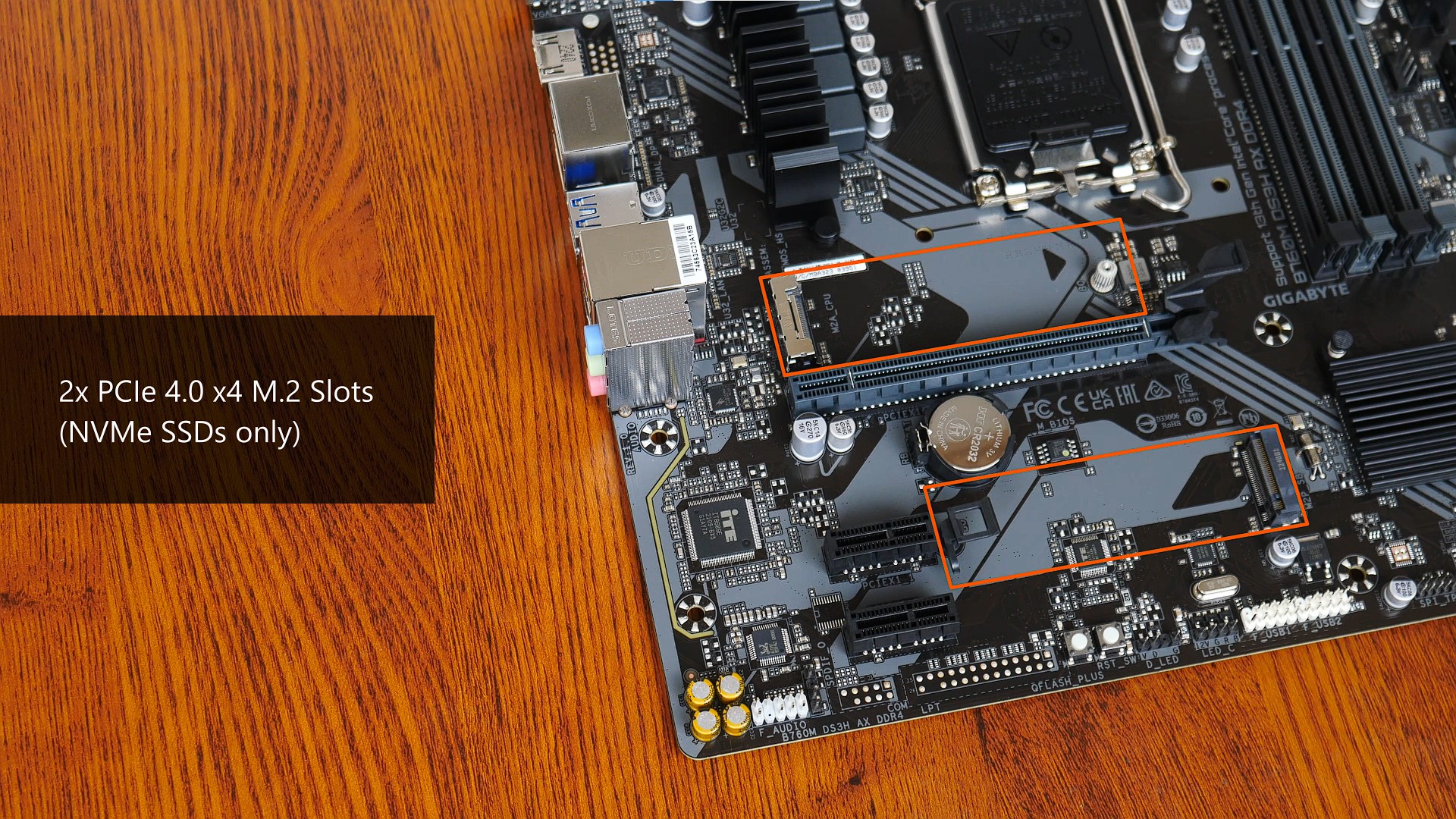 The board also comes with two PCIe 4.0 x4 M.2 slots. Do note that these slots support NVMe SSDs only - SATA M.2 drives are not supported.
Audio & Internet Connectivity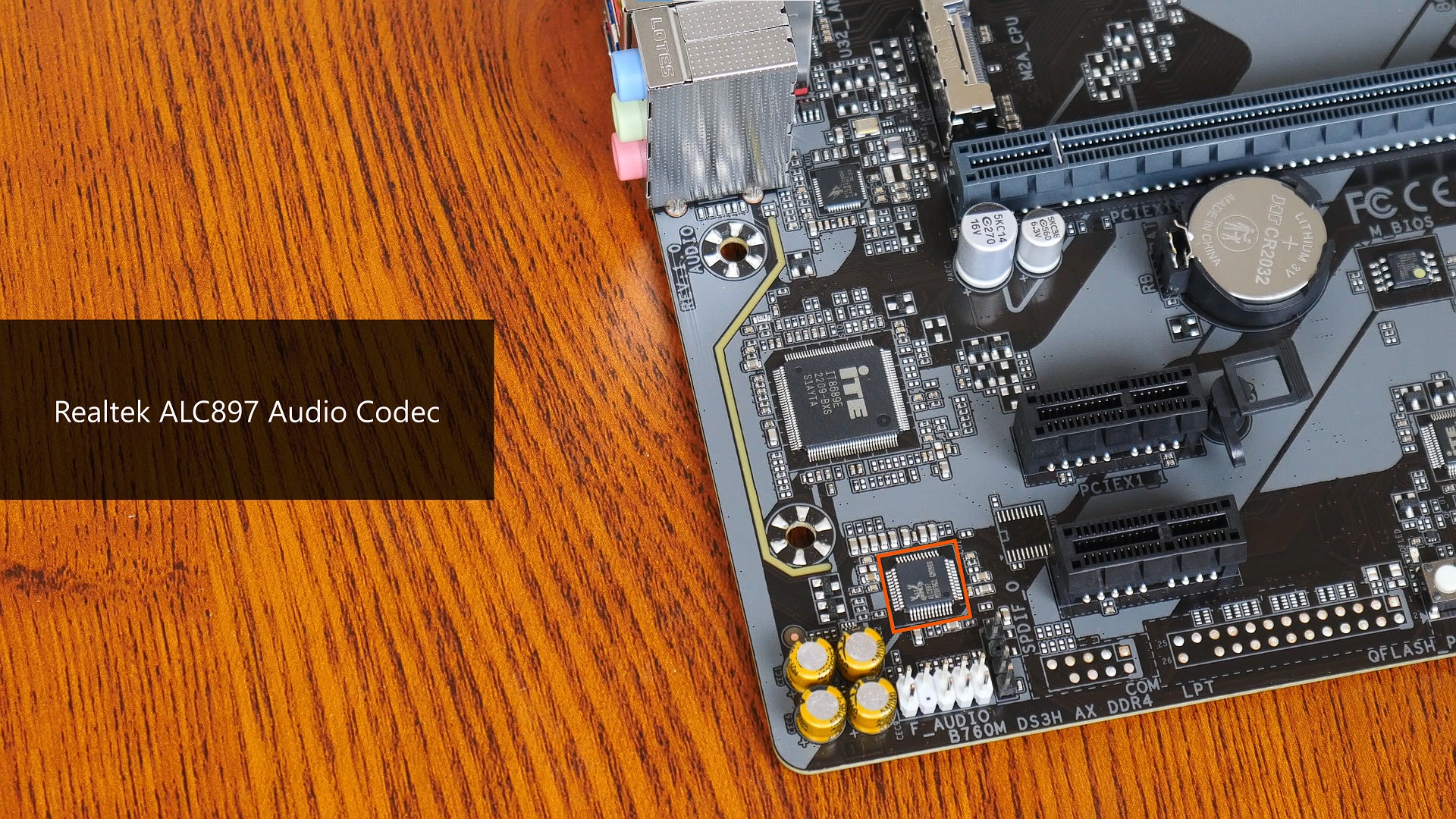 As an entry-level motherboard offering, no surprises here that Gigabyte's included Realtek's ALC897 audio codec.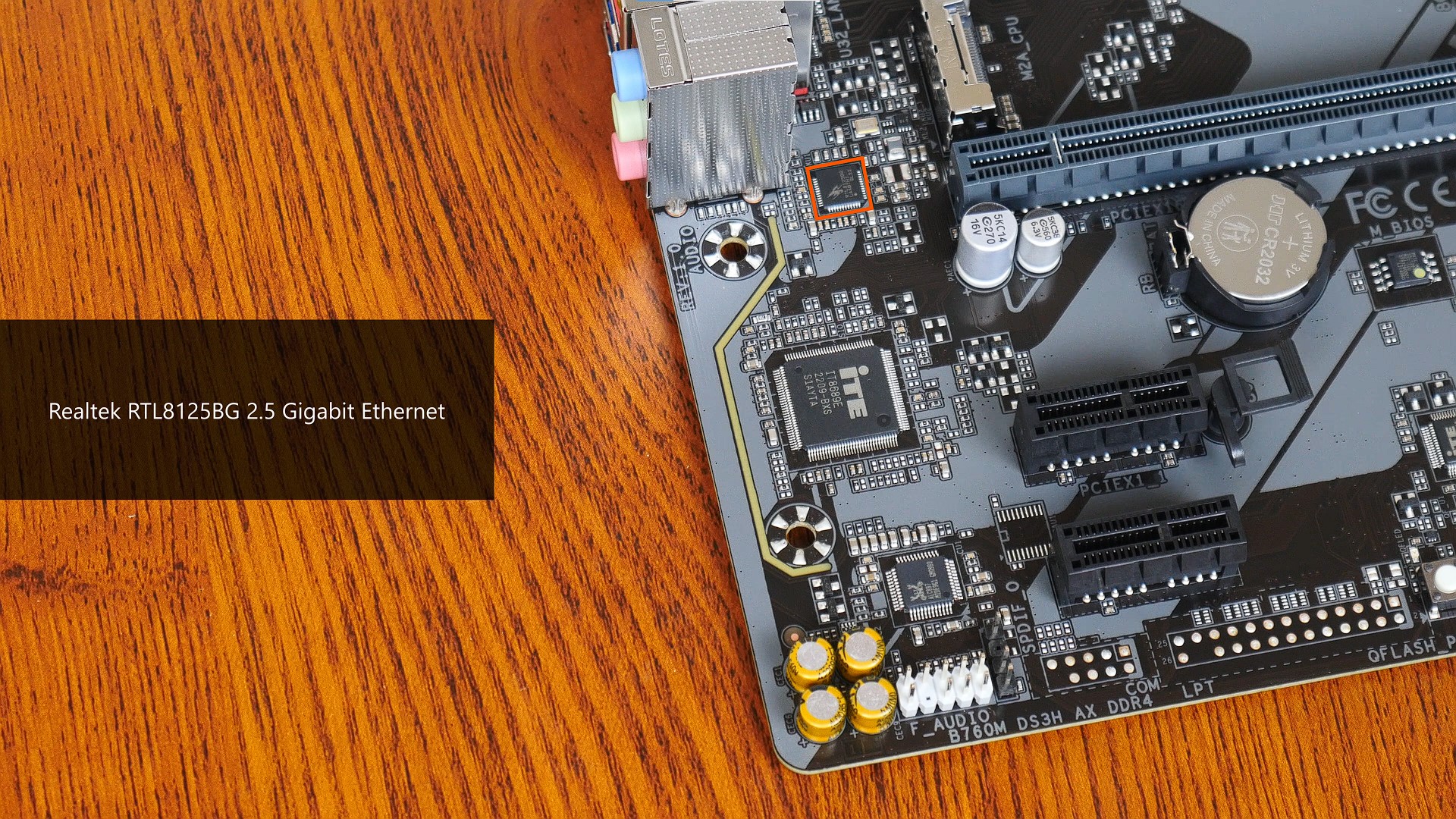 Wired internet connectivity is courtesy of Realtek's RTL8125BG that provides support for 2.5 Gigabit Ethernet - it appears that 2.5 Gigabit Ethernet has become the norm even on entry-level motherboard offerings, which is great for budget-conscious consumers.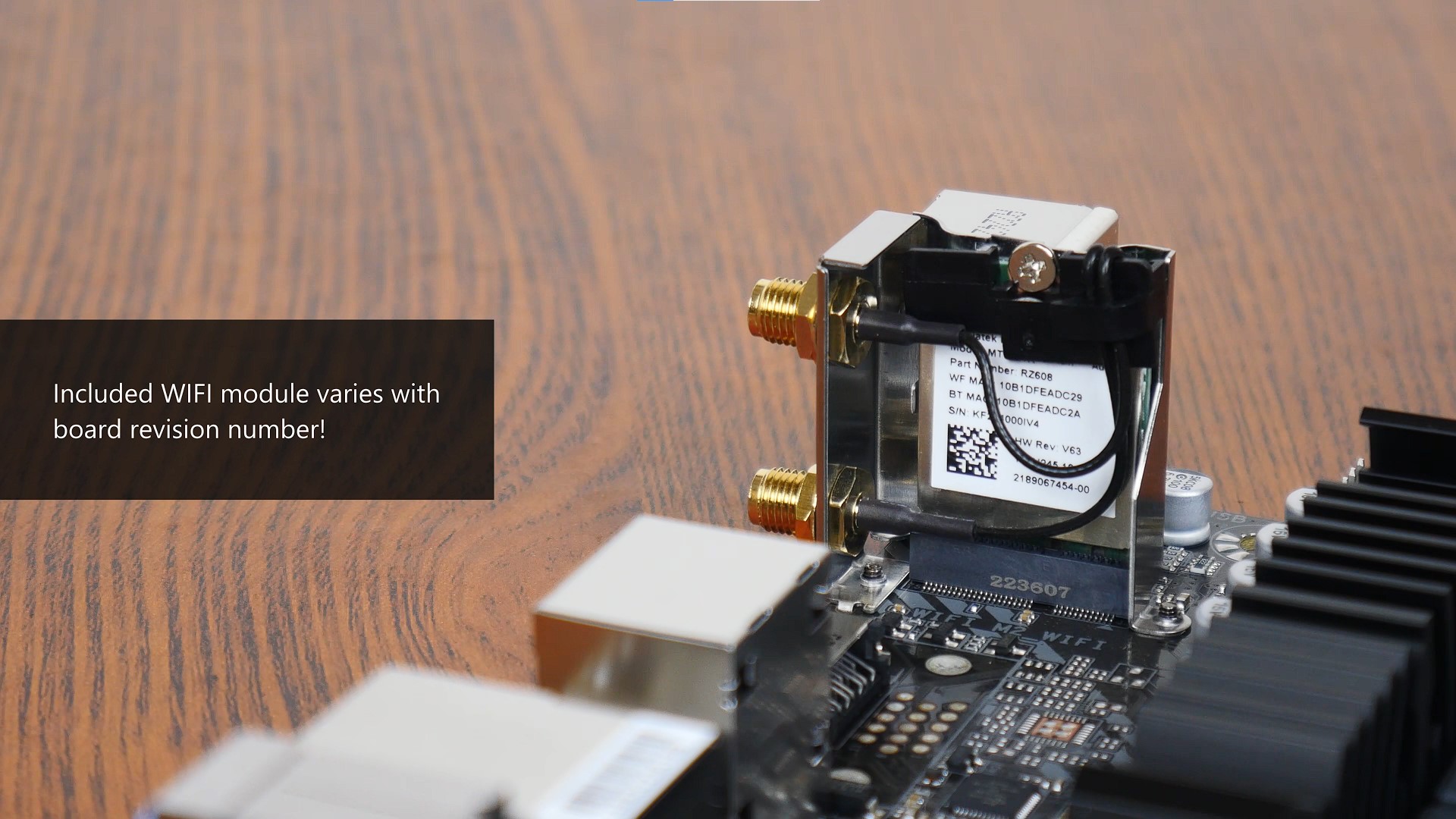 It's deja vu for yours truly, when I realised like its predecessor, the B660M DS3H AX DDR4 that I reviewed in May last year, the B760M DS3H AX DDR4 comes in several board revisions, with each revision sporting a different WIFI module that all serve up WIFI 6E support:
Revision 1.0: AMD RZ608 WIFI 6E (80 MHz) + Bluetooth 5.2
Revision 1.1: Intel AX210 WIFI 6E (160 MHz) + Bluetooth 5.3
Revision 1.2: Intel AX211 WIFI 6E (160 MHz) + Bluetooth 5.3
Revision 1.3: Realtek RTL

8852CE WIFI 6E (160 MHz) + Bluetooth 5.3
In view of the above, if you're intending to purchase this board for your PC build, you'd do well to check with the retailer the board revision number before making a purchase, as Revisions 1.1 to 1.3 come with better WIFI modules that support 160 MHz channel widths for the best possible wireless performance, and support for Bluetooth 5.3 as well.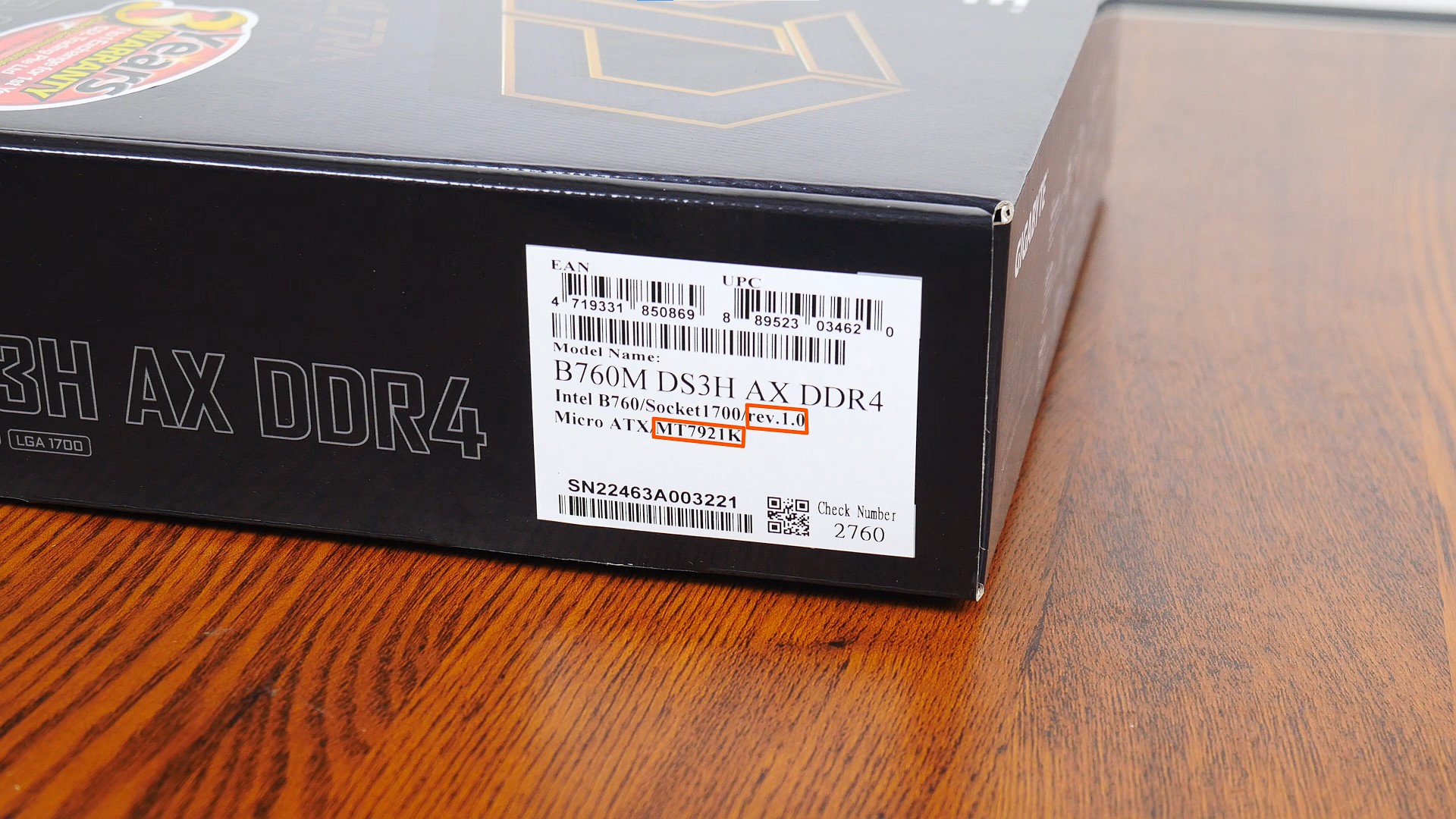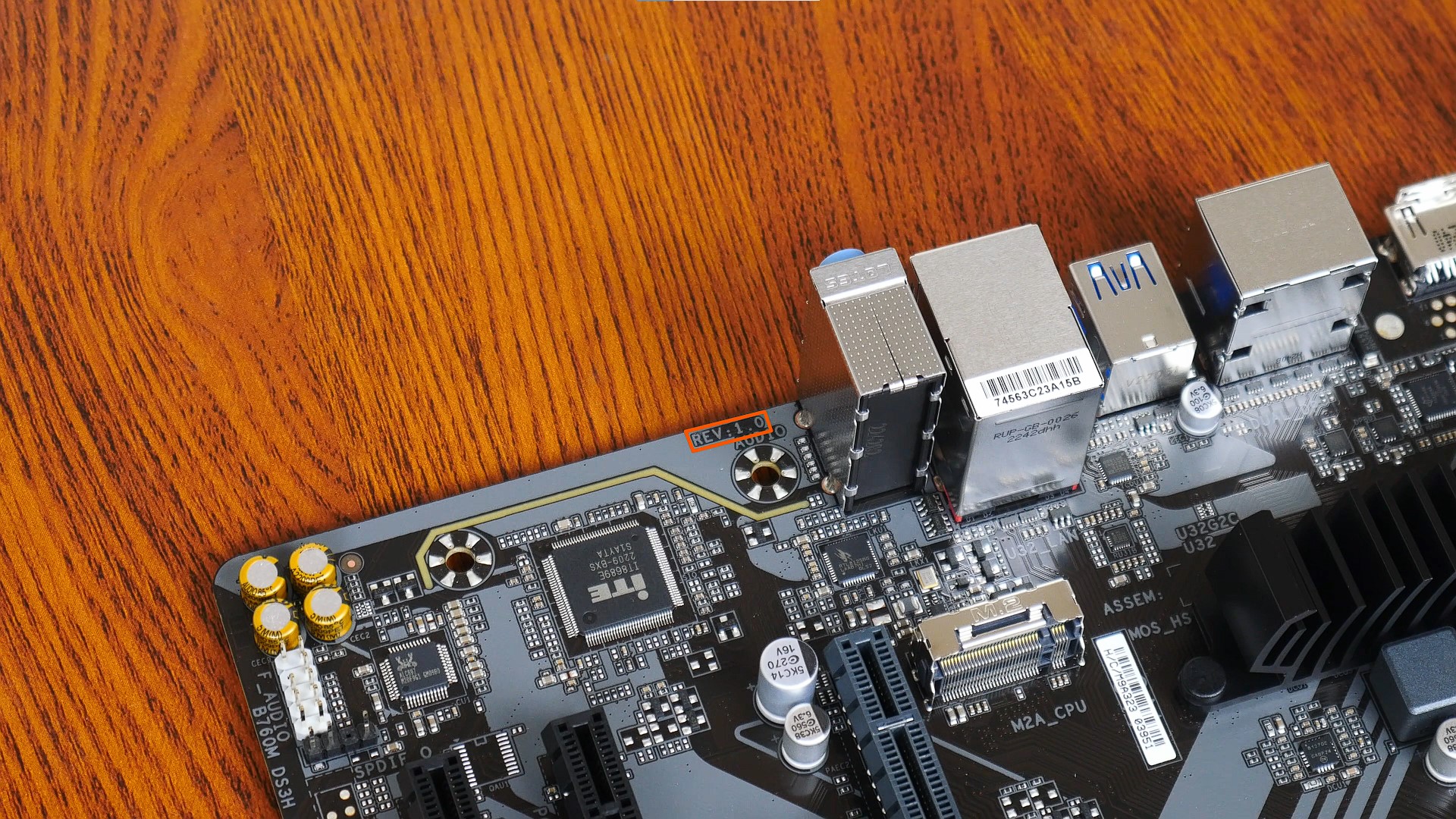 The B760M DS3H AX DDR4's board revision number is easy to identify, where you have the option of either 1) checking the label that is stuck to the side of the box or 2) checking the revision number that is printed directly on to the motherboard, as pictured above.
Fan & RGB Headers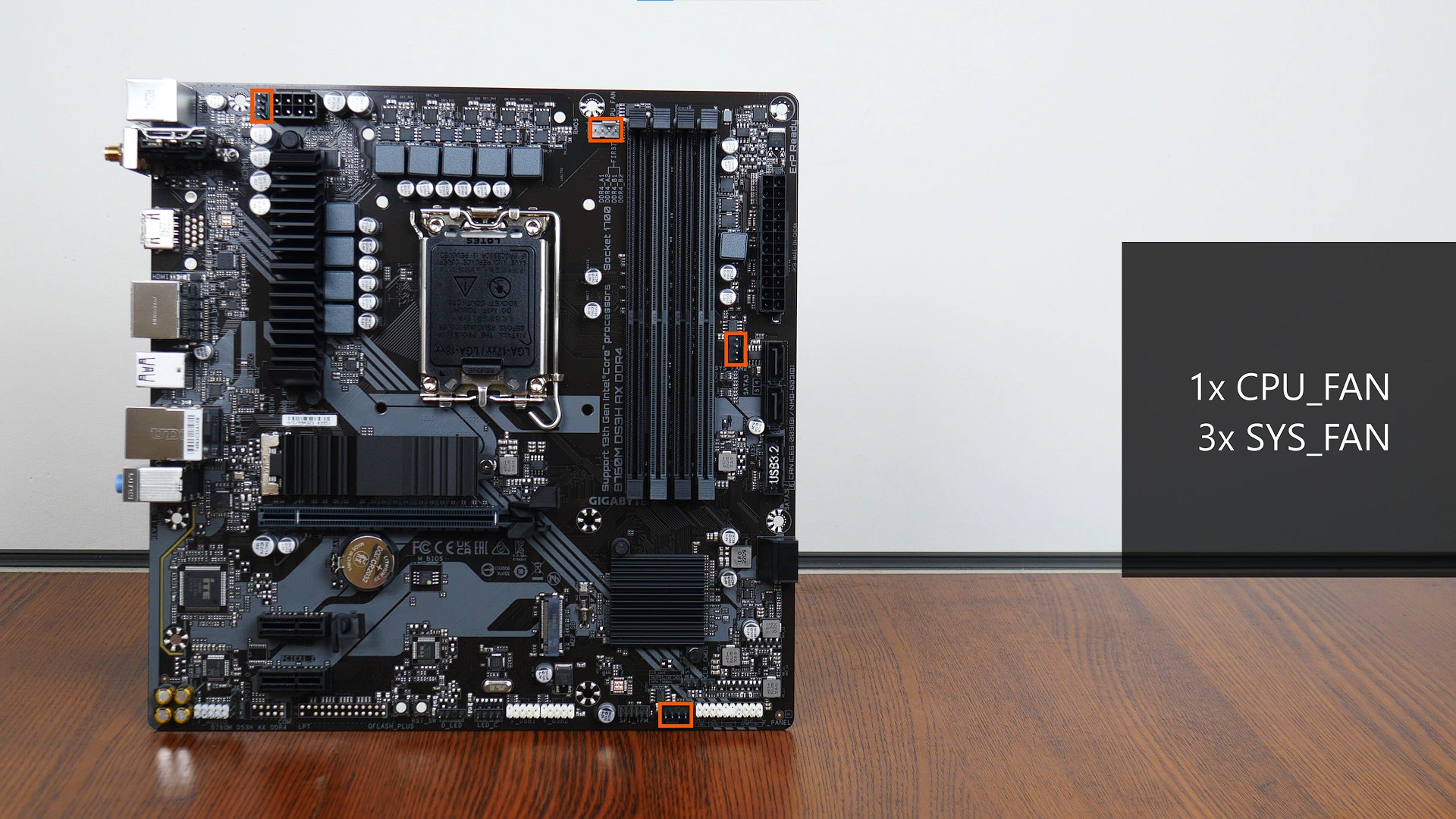 The B760M DS3H AX DDR4 comes with a total of four fan headers: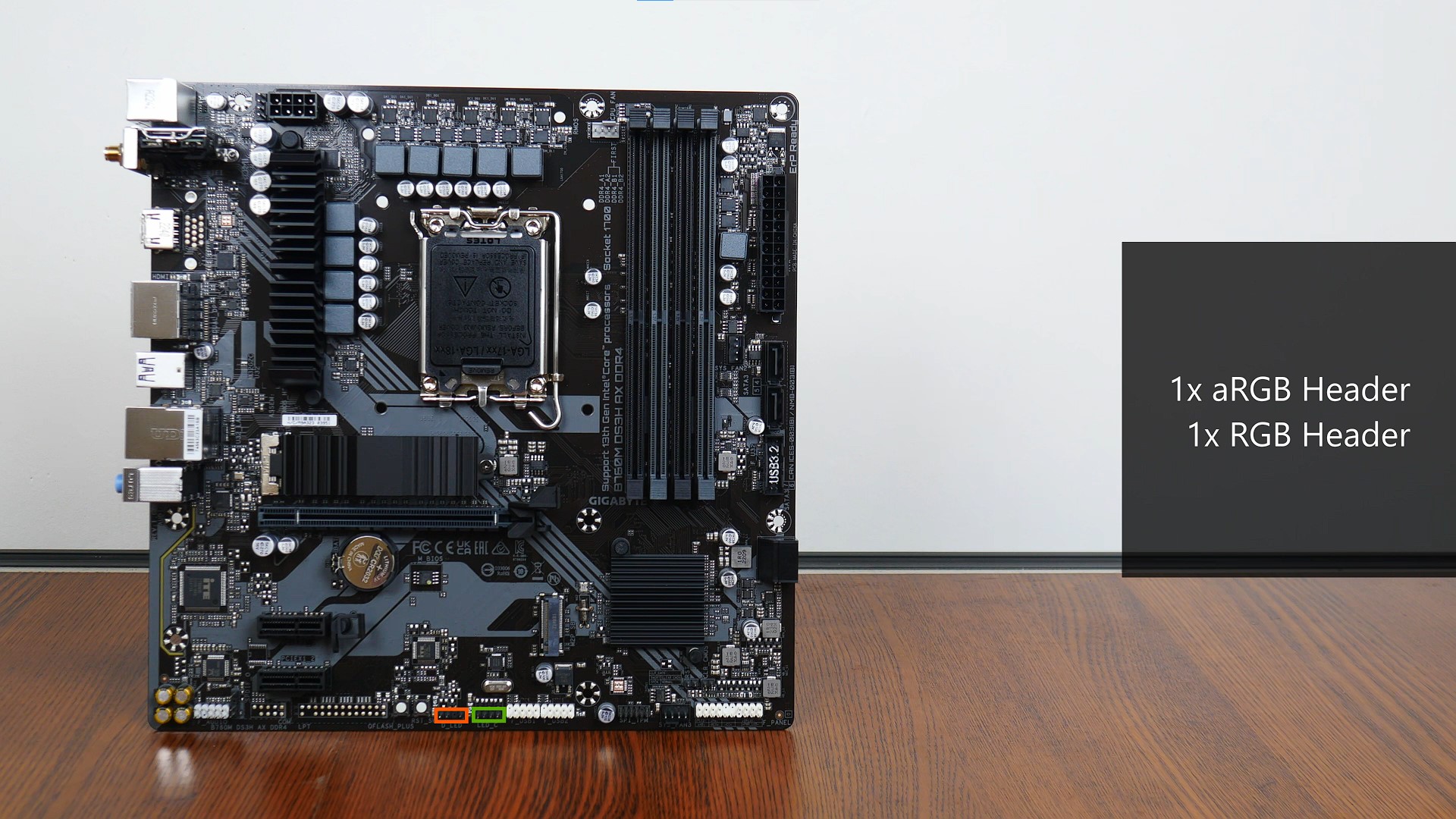 Also included are a single addressable RGB header, as well as a 12V RGB header.
Other Features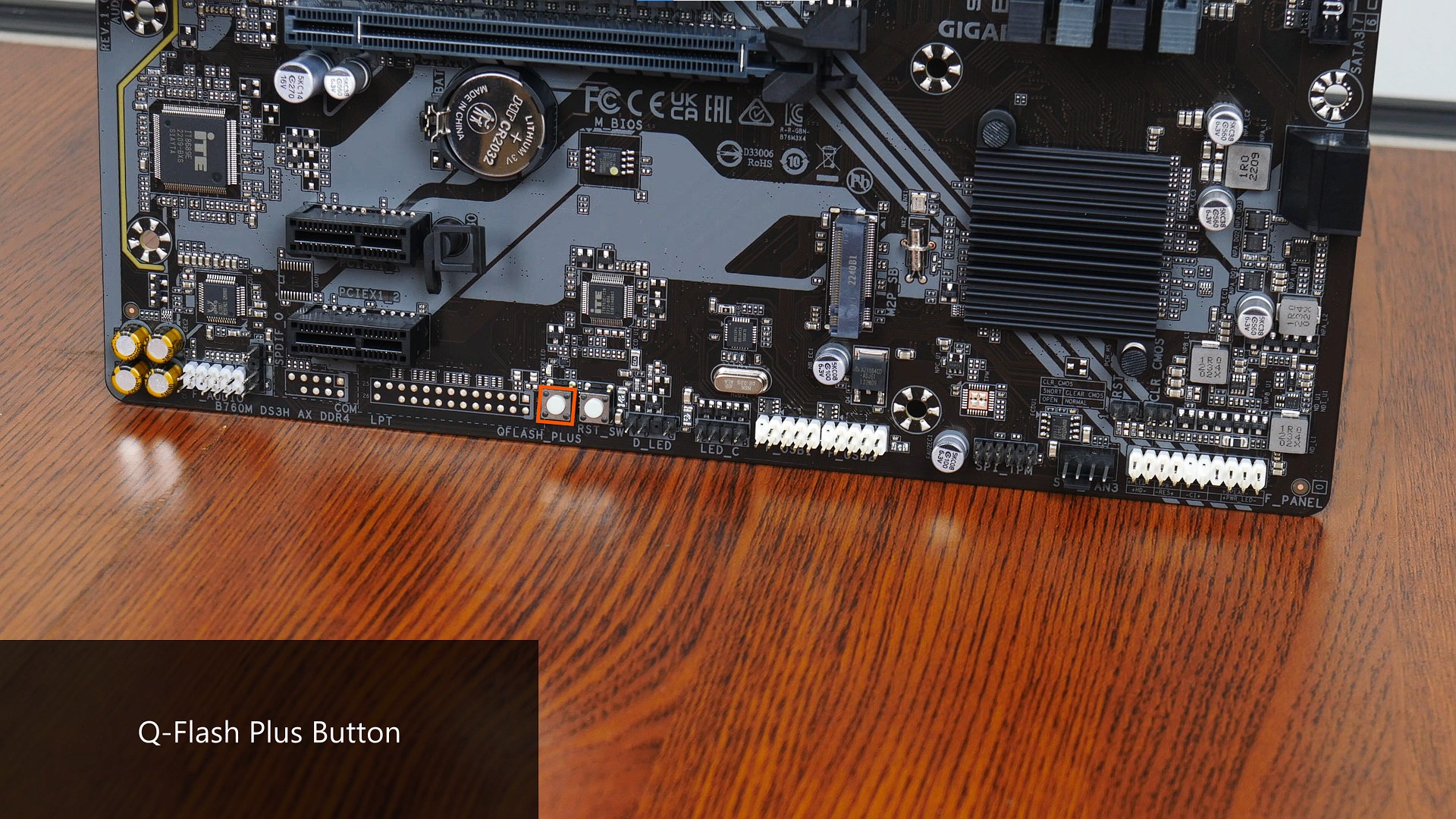 Located near the bottom edge of the board is a Q-Flash Plus button that allows end-users to update the board's BIOS without needing to install a CPU, RAM or graphics card.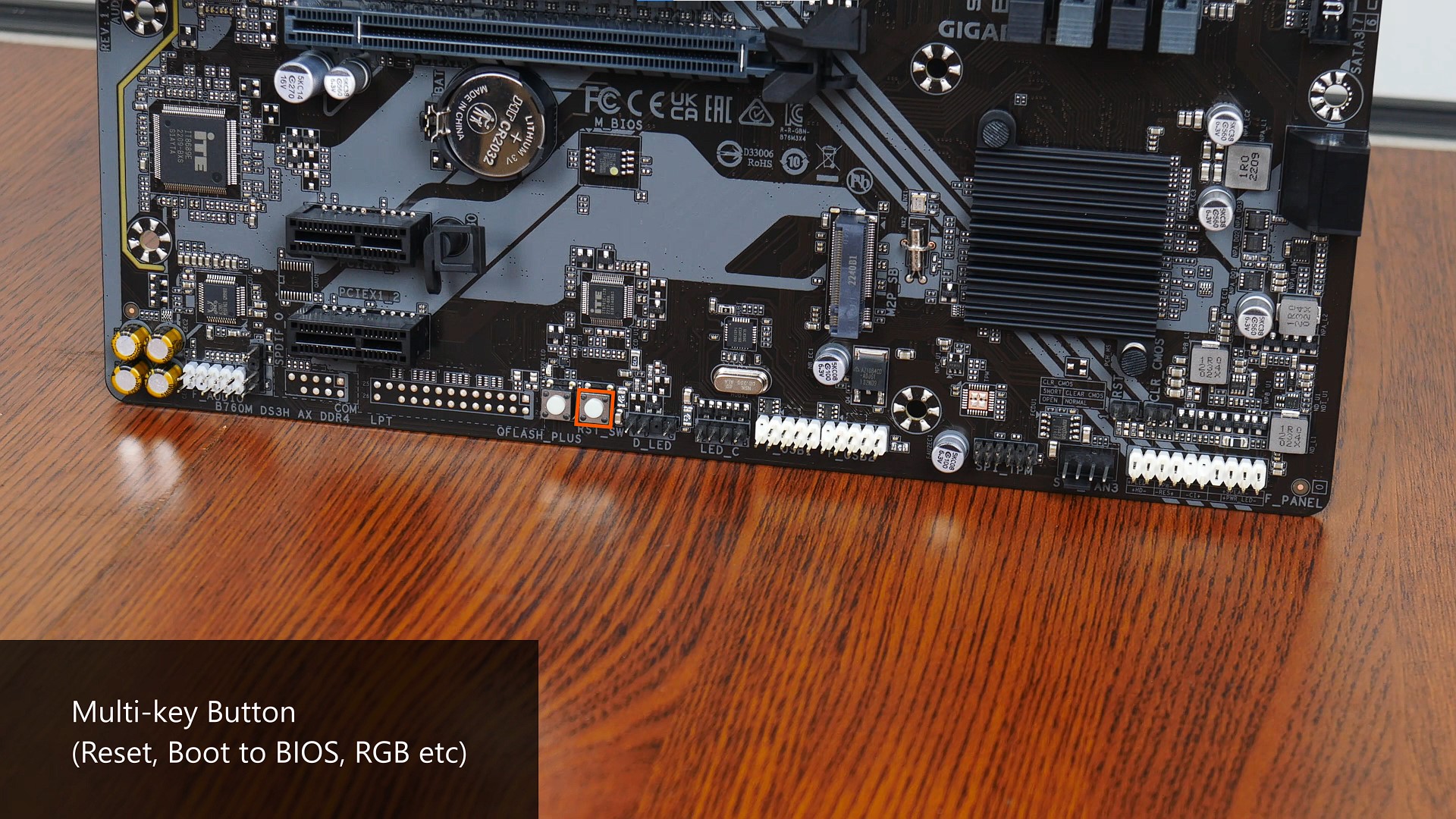 To the right of the Q-Flash Plus button is a reset button - the reset button is also what Gigabyte terms a multi-key button that can be re-mapped within the BIOS to serve a variety of different functions. This includes serving as a switch that can enable and disable the board's on-board RGB devices, and so on.
Rear I/O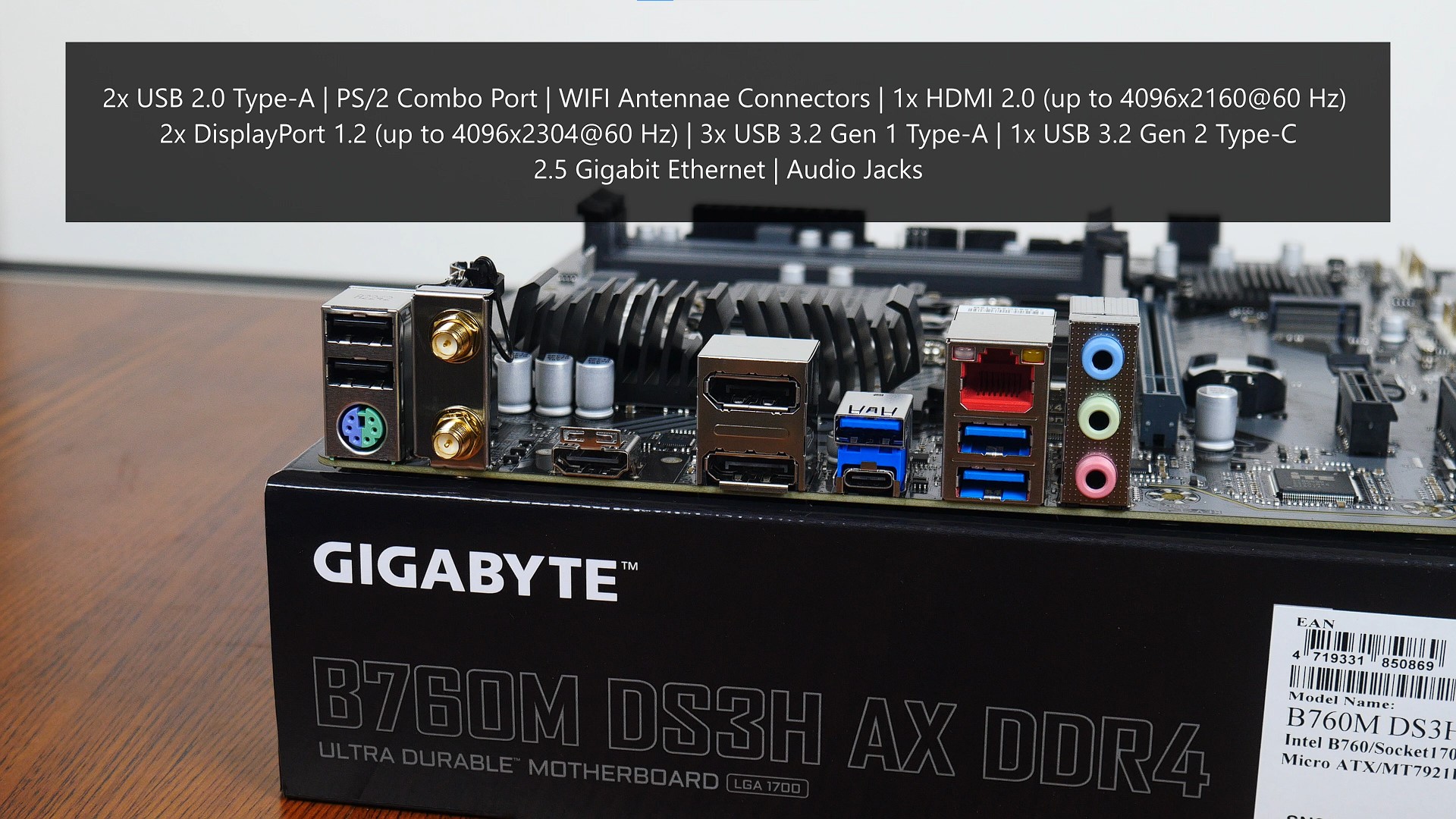 The B760M DS3H AX DDR4 comes with the following ports on the rear I/O:
2x USB 2.0 Type-A
1x PS/2 combo port
WIFI antennae connectors
1x HDMI 2.0 connector (supports display output of up to 4096x2160@60 Hz)
2x DisplayPort 1.2 (supports display output of up to 4096x2304@60 Hz)
3x USB 3.2 Gen 1 Type-A (5 Gbps)
1x USB 3.2 Gen 2 Type-C (10 Gbps)
2.5 Gigabit Ethernet port
Audio jacks
Conclusion & Pricing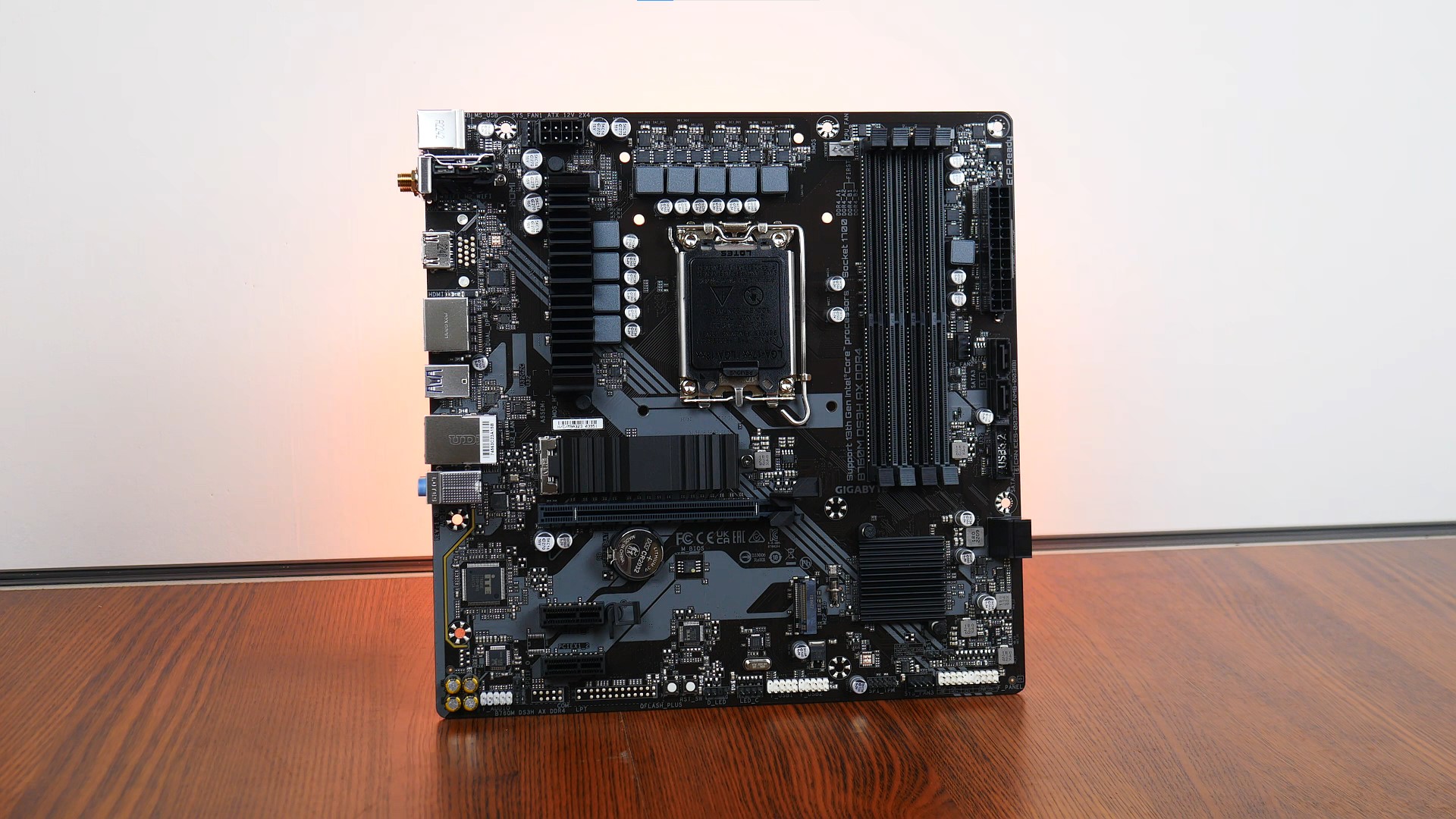 The Gigabyte B760M DS3H AX DDR4 shapes up to be an Intel B760 motherboard offering that checks the right boxes as an entry-level offering, where even at its price point, Gigabyte's managed to include features such as 2.5 Gigabit Ethernet and WIFI 6E support. No doubt, you don't get very much else in terms of aesthetics and other bells and whistles, but this is to be expected at the entry-level, where this board would be well-suited for business PCs and perhaps even budget gaming PCs.
That said, it's worth noting that the B760M DS3H AX DDR4 is nearly identical to its predecessor, the B660M DS3H AX DDR4 in terms of specs, where the B660 board also comes with support for Intel's 13th generation Raptor Lake processors. I can't say that I'm very surprised by how similar both boards are, especially given that the Intel B760 chipset was never intended to be a revolutionary upgrade over the Intel B660 chipset that preceded it. With this in mind, if the B660M DS3H AX DDR4 is still available new where you're from, and at a price cheaper than the B760M DS3H AX DDR4, getting the B660 board might not be such a bad idea to save that extra few dollars, though you might have to deal with a BIOS update via the Q-Flash Plus feature (that the B660M DS3H AX DDR4 also has), as these boards might not ship with the latest BIOS that support 13th generation processors right out-of-the-box. However, if the B760 variant, for whatever reason, is cheaper or on par in terms of price with its predecessor, getting the B760M DS3H AX DDR4 would then be a no-brainer.
As of February 2023, the B760M DS3H AX DDR4 can be had for a price of around $232 Singapore dollars from offline and online retailers in Singapore. International readers can purchase this board for around $140 US dollars from eCommerce sites such as Newegg.
Get this board from Amazon: https://amzn.to/3ZK3lGC (affiliate link)
Get this board from Shopee Singapore: https://shope.ee/frkOmGQ0O (affiliate link)
ALKtech may earn commissions from qualifying purchases made using affiliate links, at no extra cost to you as a customer. These commissions go a long way in supporting the platform!

The motherboard featured in this article was a review unit provided on loan from CDL Trading Pte Ltd, an authorised distributor for Gigabyte in Singapore.