Serving up modern features such as PCIe 5.0 connectivity for a graphics card and a good assortment of USB 3.2 ports, the ASUS TUF GAMING B760M-PLUS WIFI D4 shapes up to be a mainstream Intel B760 motherboard with a balanced feature set.
Intel's 13th generation Raptor Lake processor offerings first hit the shelves on 20th October 2022, with "K" series CPU offerings such as the then range-topping Core i9-13900K and Core i5-13600K, alongside motherboards powered by the high-end Intel Z790 chipset. Fast forward to 3rd January 2023, Intel announced and released the rest of its Raptor Lake CPU and chipset line-up, in the form of products such as the mid-range Core i5-13400 CPU, to chipsets such as the Intel B760 and H770. For today's article, we'll be taking a look at an Intel B760 motherboard offering targeted at mainstream consumers looking to build a mid-range micro ATX gaming PC - the ASUS TUF GAMING B760M-PLUS WIFI D4. As the micro ATX variant of the TUF GAMING B760-PLUS WIFI D4 that I reviewed some weeks back, like its bigger brother, this board also serves up DDR4 support and modern features such as PCIe 5.0 support for a graphics card.

Summary of Specifications
Processor Support: Intel 13th Gen Core processors & 12th Gen Core, Pentium Gold and Celeron processors
Chipset: Intel B760
Memory: 4x DDR4 slots, max 128GB, up to DDR4 5333 (OC) support
Audio: Realtek ALC897 audio codec
LAN: Realtek RTL8125BG 2.5 Gigabit Ethernet
WIFI: Intel AX201NGW WIFI 6 module with built-in Bluetooth 5.2
Expansion Slots: 1x PCIe 5.0 x16, 1x PCIe 4.0 x1, 1x PCIe 4.0 x16 (operates at x4 mode)
Storage: 4x SATA III, 2x PCIe 4.0 x4 M.2 (NVMe mode only)
Form Factor: Micro ATX
Packaging & Contents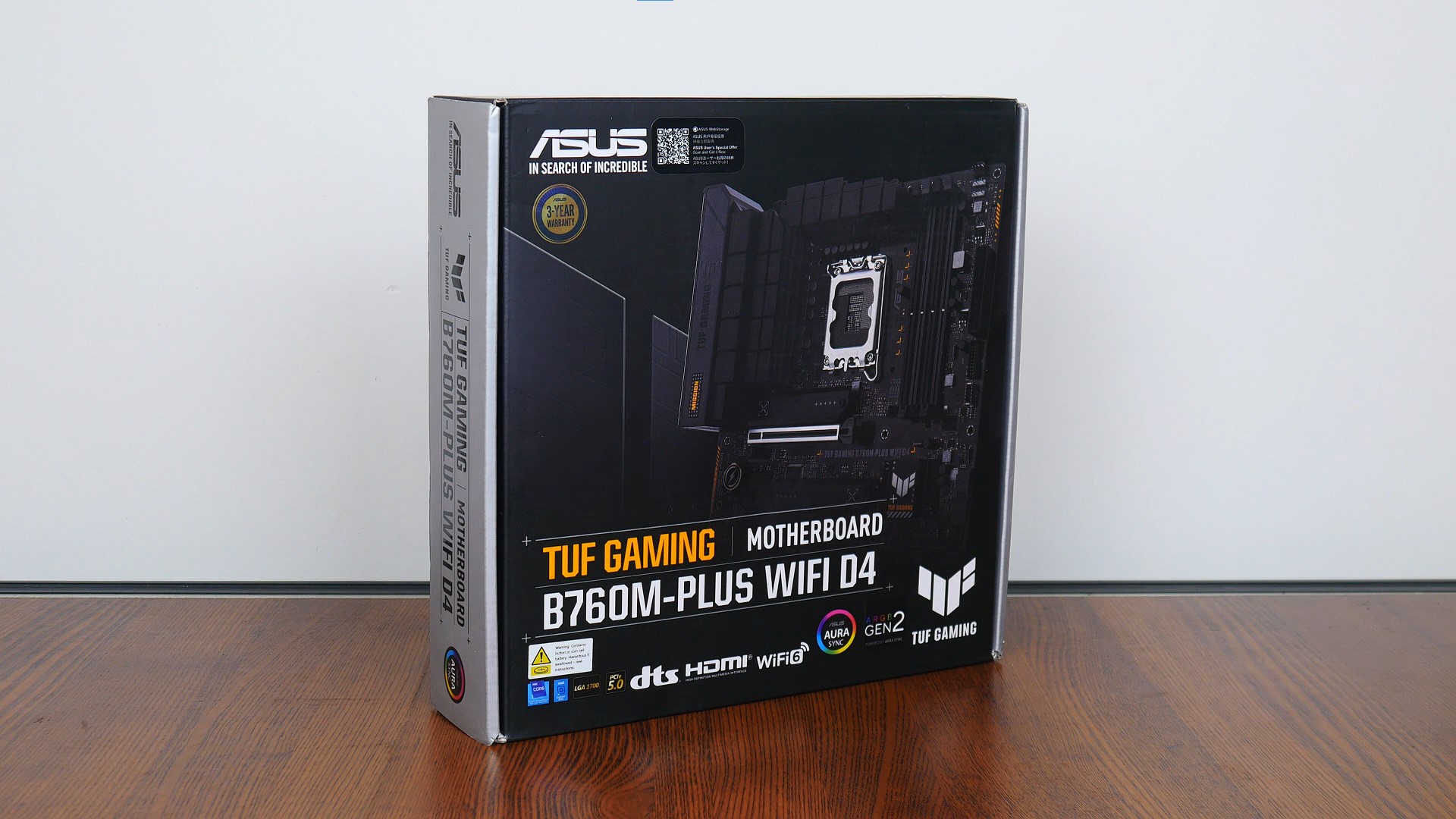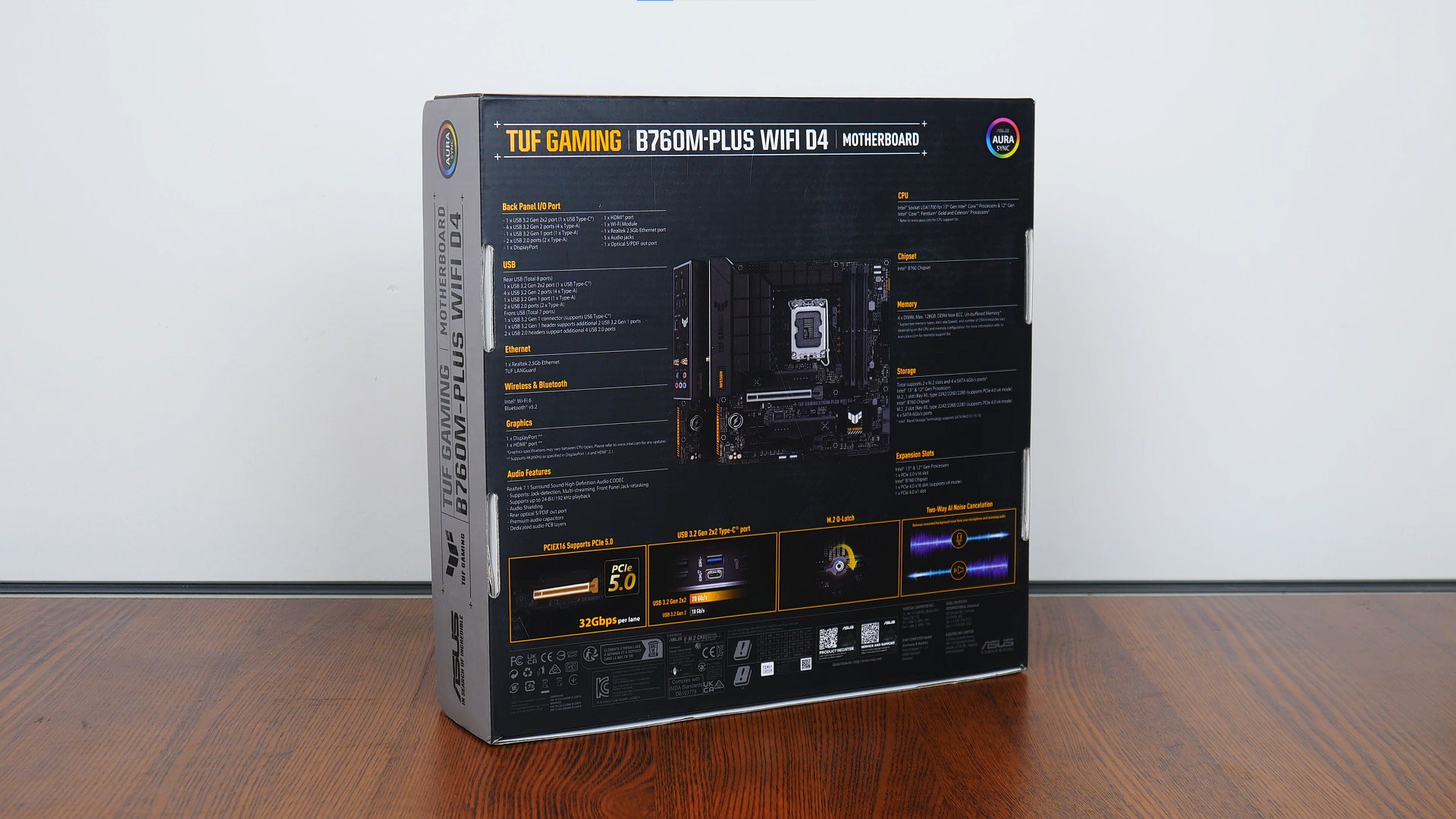 The TUF GAMING series of product offerings is targeted at mainstream gamers, where it places above the PRIME series of value-oriented motherboards, and beneath the enthusiast-oriented Republic of Gamers line-up. In keeping with the TUF GAMING brand identity, the B760M-PLUS WIFI D4 comes in a black and silver box with yellow accents.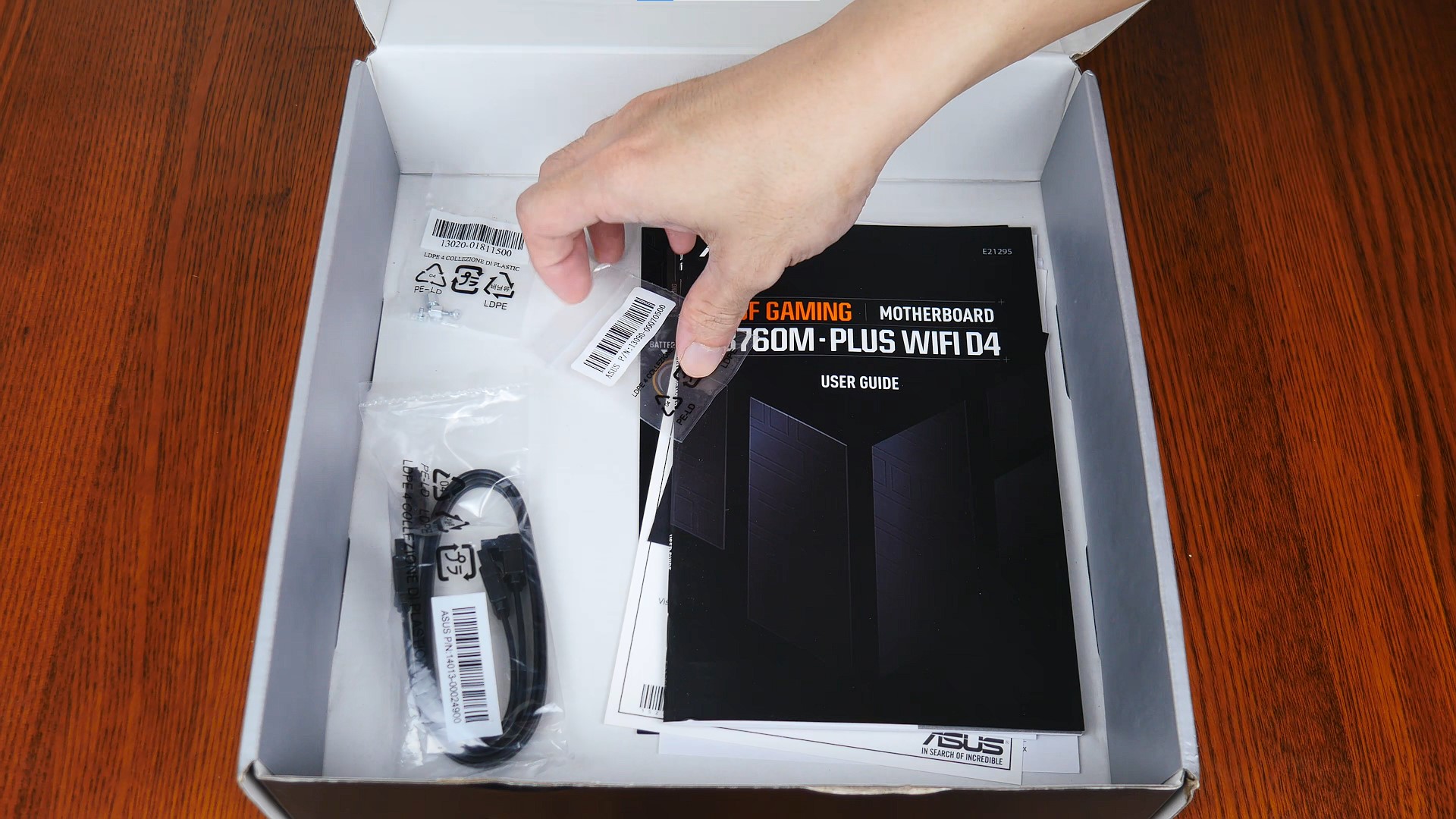 The board comes with the following accessories:
WIFI antenna
2x SATA III cables
Pack of M.2 drive screws and standoffs
Pack of M.2. drive rubber pads (adds height clearance for single-sided M.2 SSDs)
Motherboard manual
DVD driver disc
Quick start guide
TUF Gaming Certificate of Reliability
ASUS WebStorage promotional leaflet
TUF Gaming sticker sheet
Board Aesthetics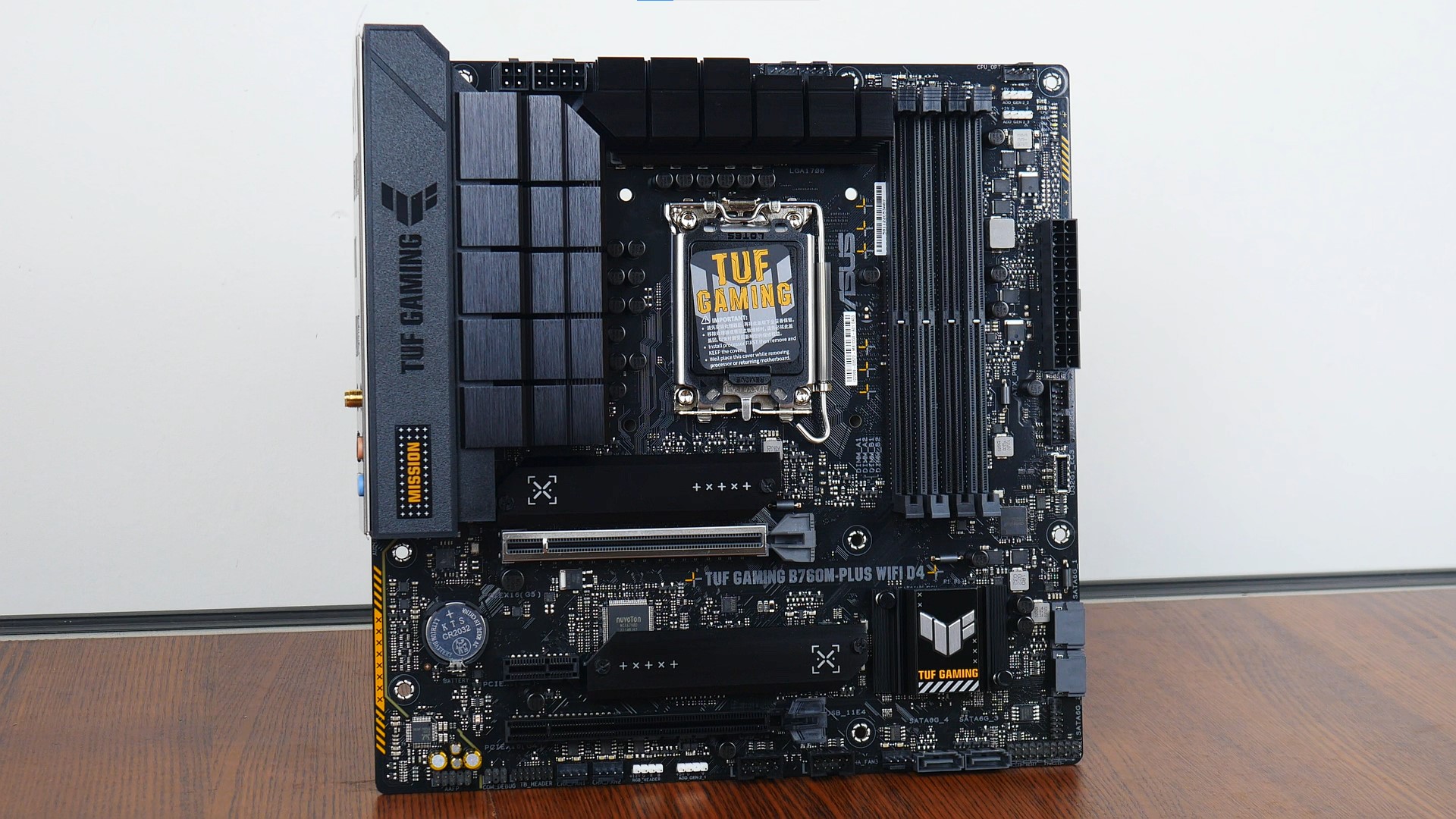 As can be seen, ASUS has gone for a black, grey and yellow colourway for the B760M-PLUS WIFI D4, where it also comes with chunky black heatsinks all around, and sports an integrated I/O shield design.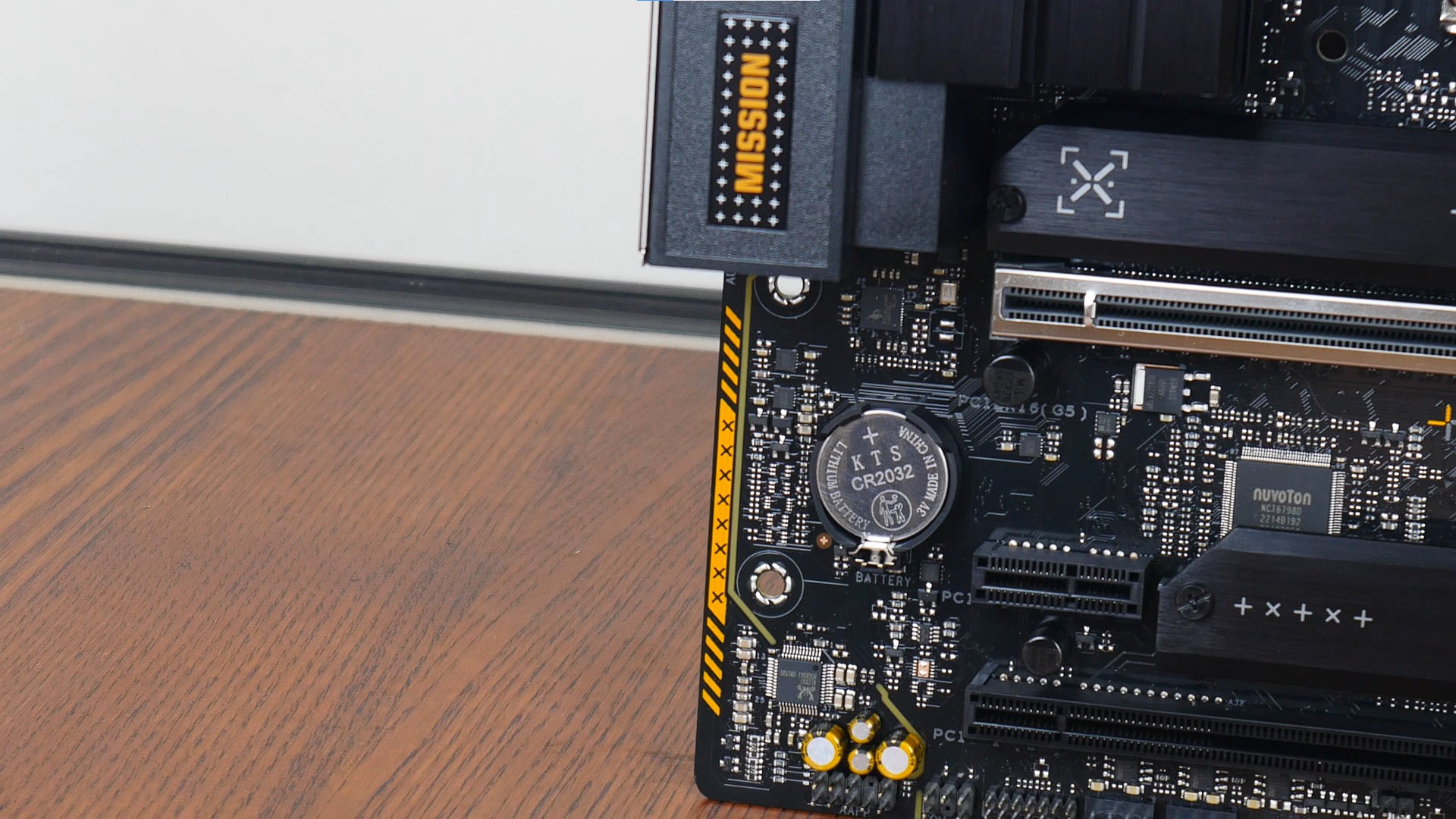 To spice things up in the aesthetics department, yellow gamer-oriented motifs are printed directly on to the PCB of the motherboard. That said, despite its gamer-oriented pedigree, ASUS has elected not to include onboard RGB LED accents, though the board does of course come with plenty of RGB headers for your RGB-capable peripherals.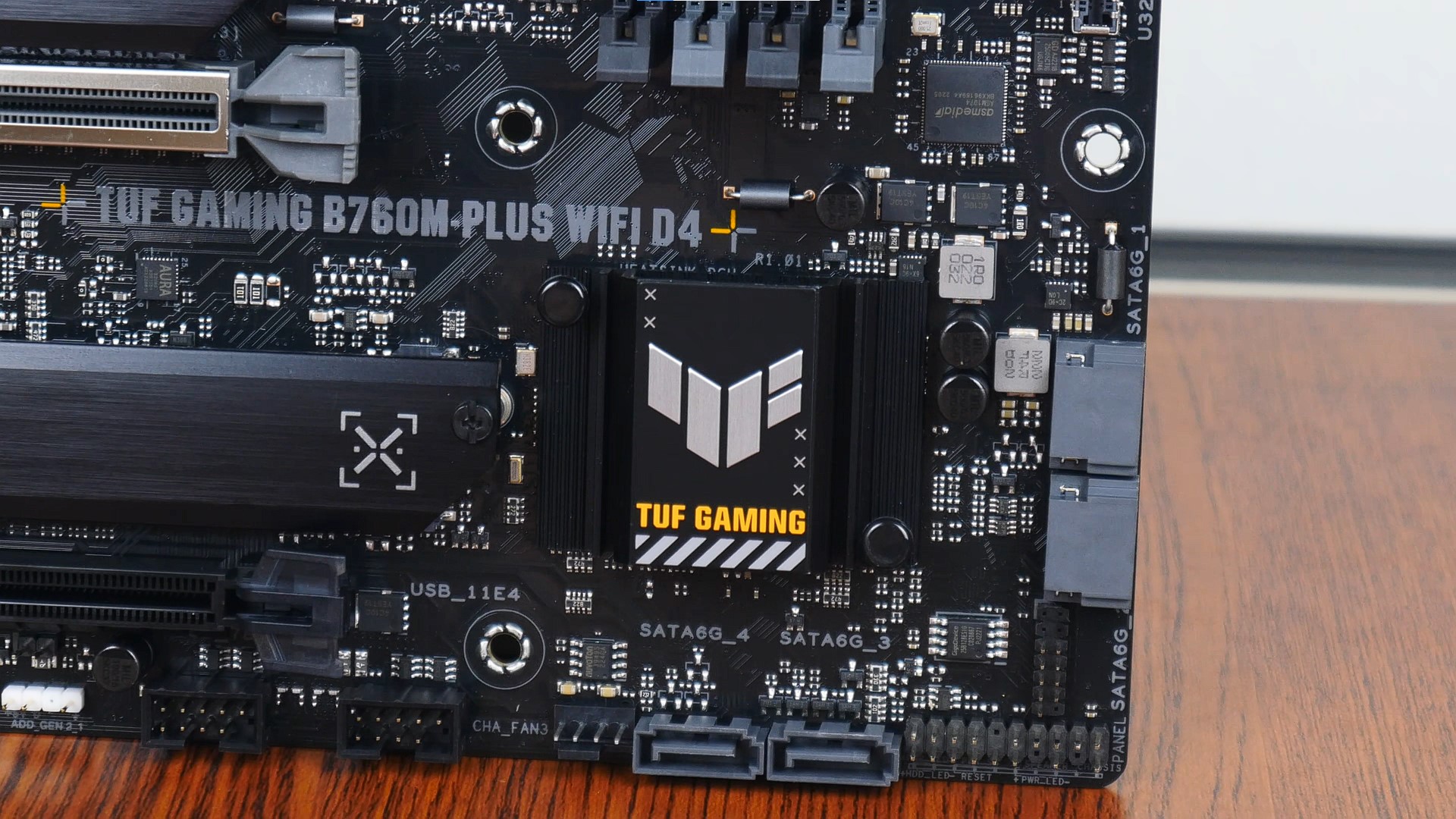 Chipset cooling duty is courtesy of a passive heatsink that comes adorned with a TUF GAMING motif....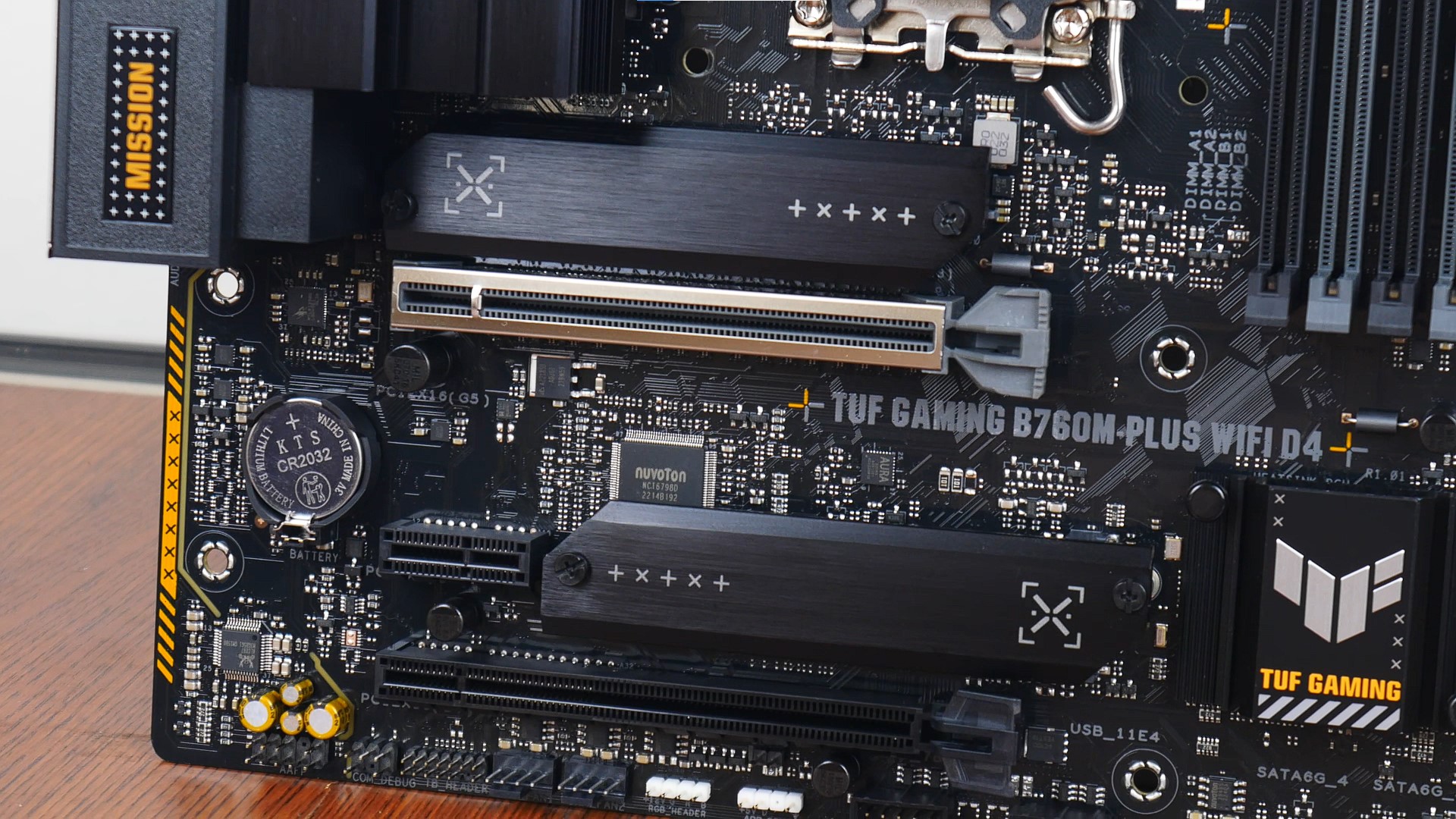 ...while heatsinks are also included for the two M.2 drive slots that this board comes with.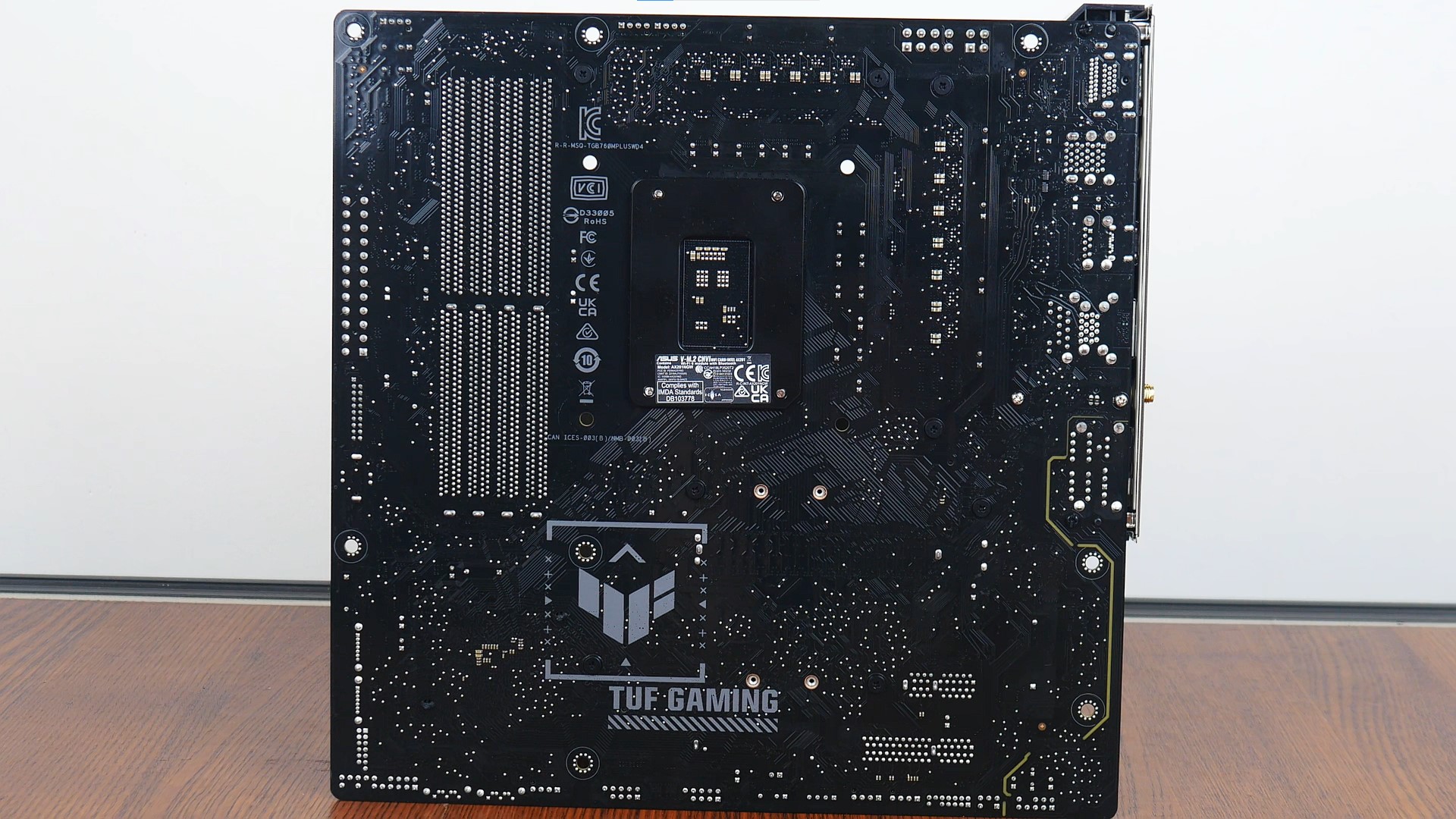 Interestingly enough, ASUS has included some TUF GAMING motifs on the rear of the motherboard as well, despite the fact that these motifs would likely never see the light of day once the board is installed inside of a PC case.
VRM & Memory Support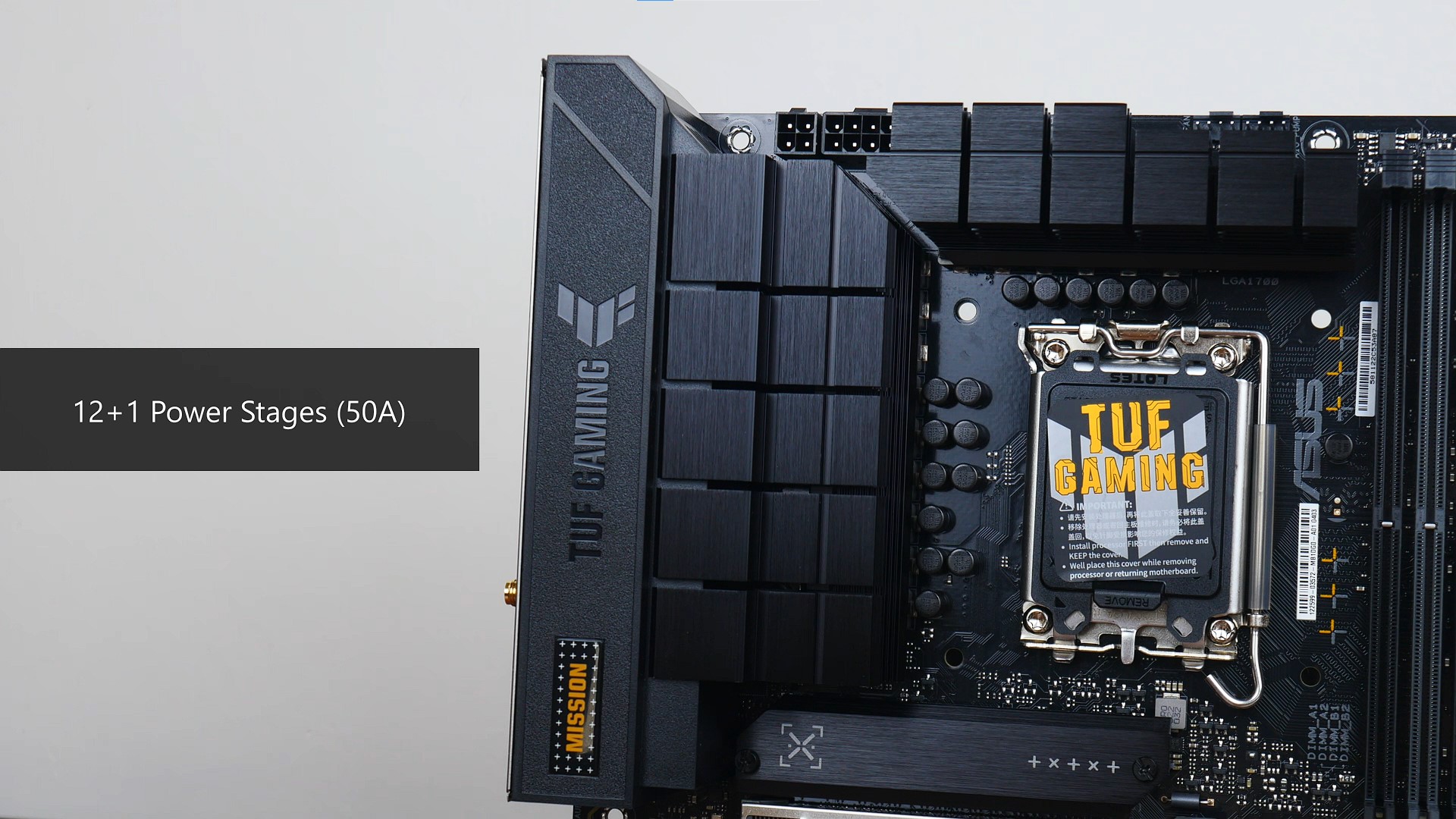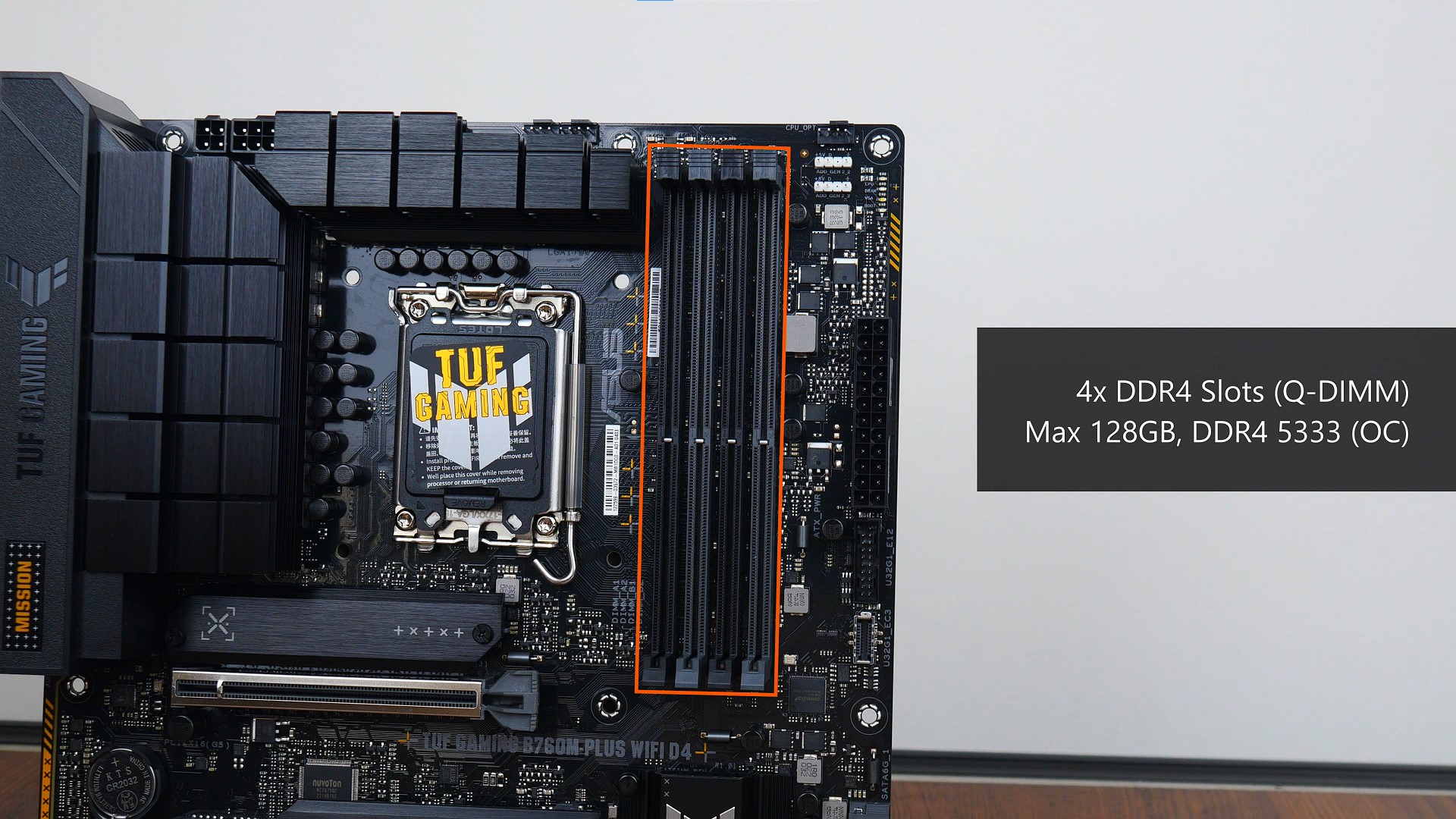 The TUF GAMING B760M-PLUS WIFI D4 comes with 12+1 DrMOS power stages that are rated for up to 50A, and also features four DDR4 slots that support a maximum of 128GBs of RAM and the DDR4 5333 standard when overclocked. The RAM slots boast a single-tab design called Q-DIMM, which makes installing and removing memory modules a breeze, especially for completed builds.
Front Panel USB Connectivity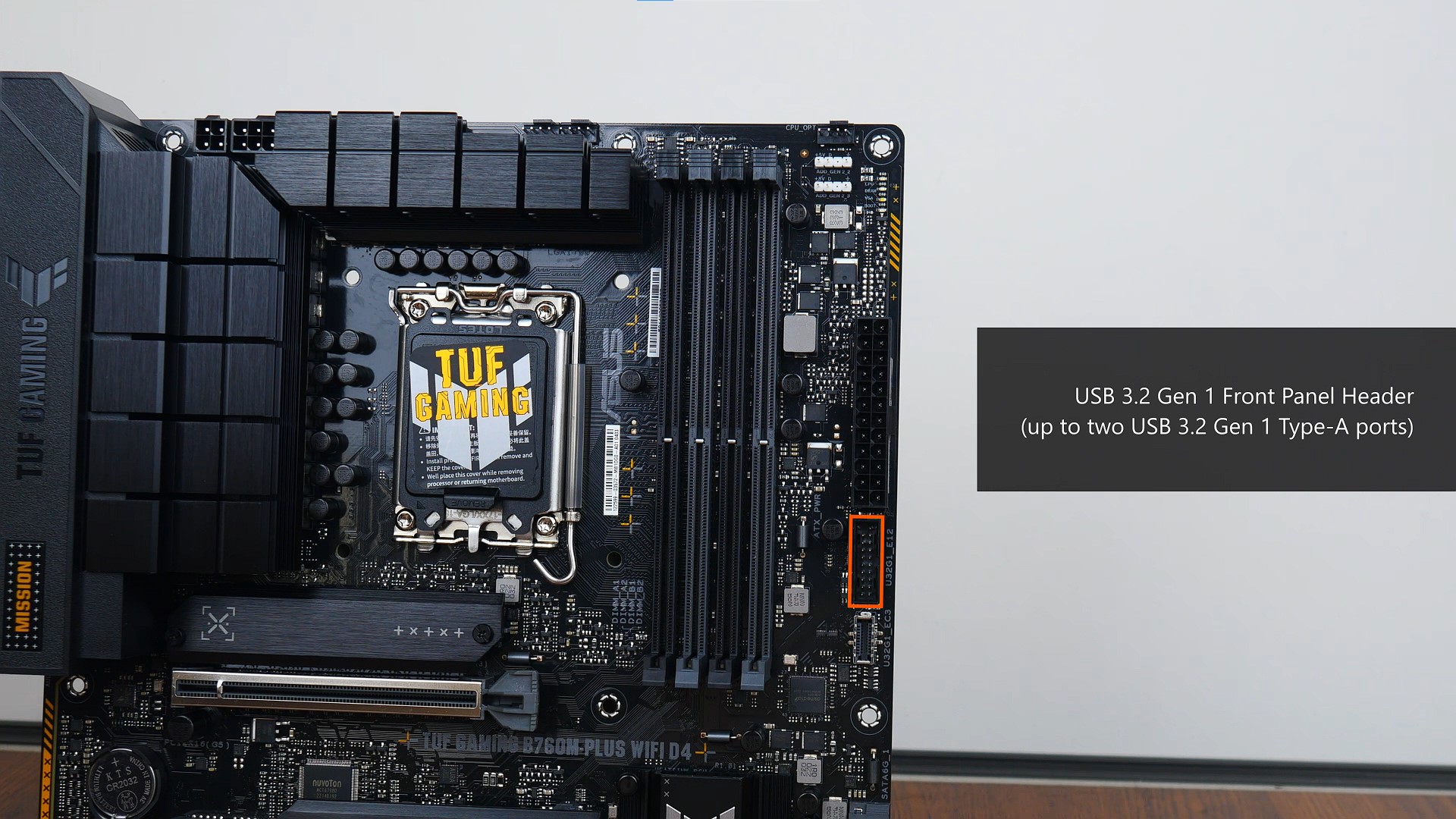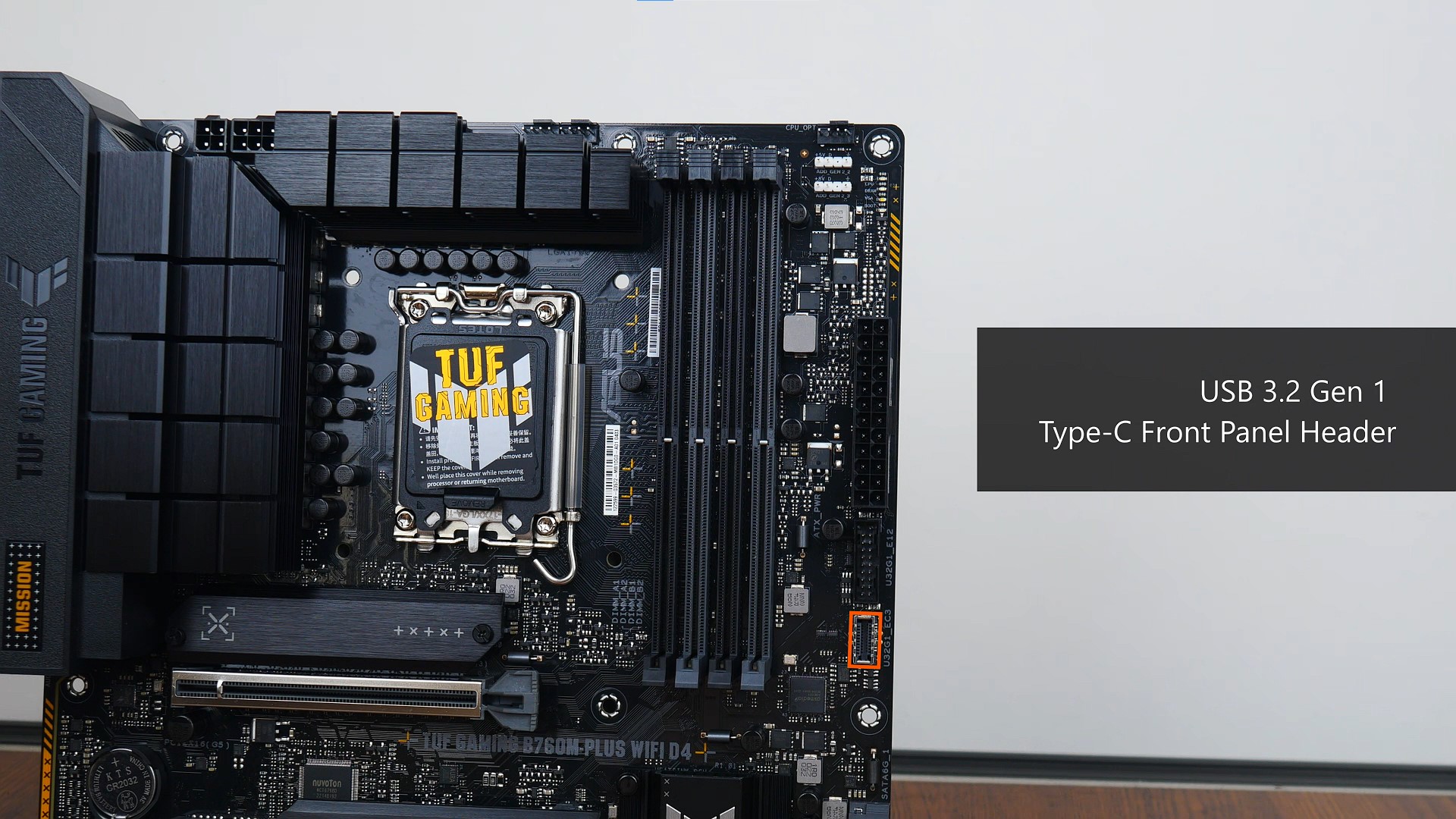 For front panel USB connectivity, ASUS has included a USB 3.2 Gen 1 Type-A front panel header near the RAM slots, which supports up to two front panel USB 3.2 Gen 1 Type-A ports. Right next to the said header is a USB 3.2 Gen 1 Type-C front panel header as well.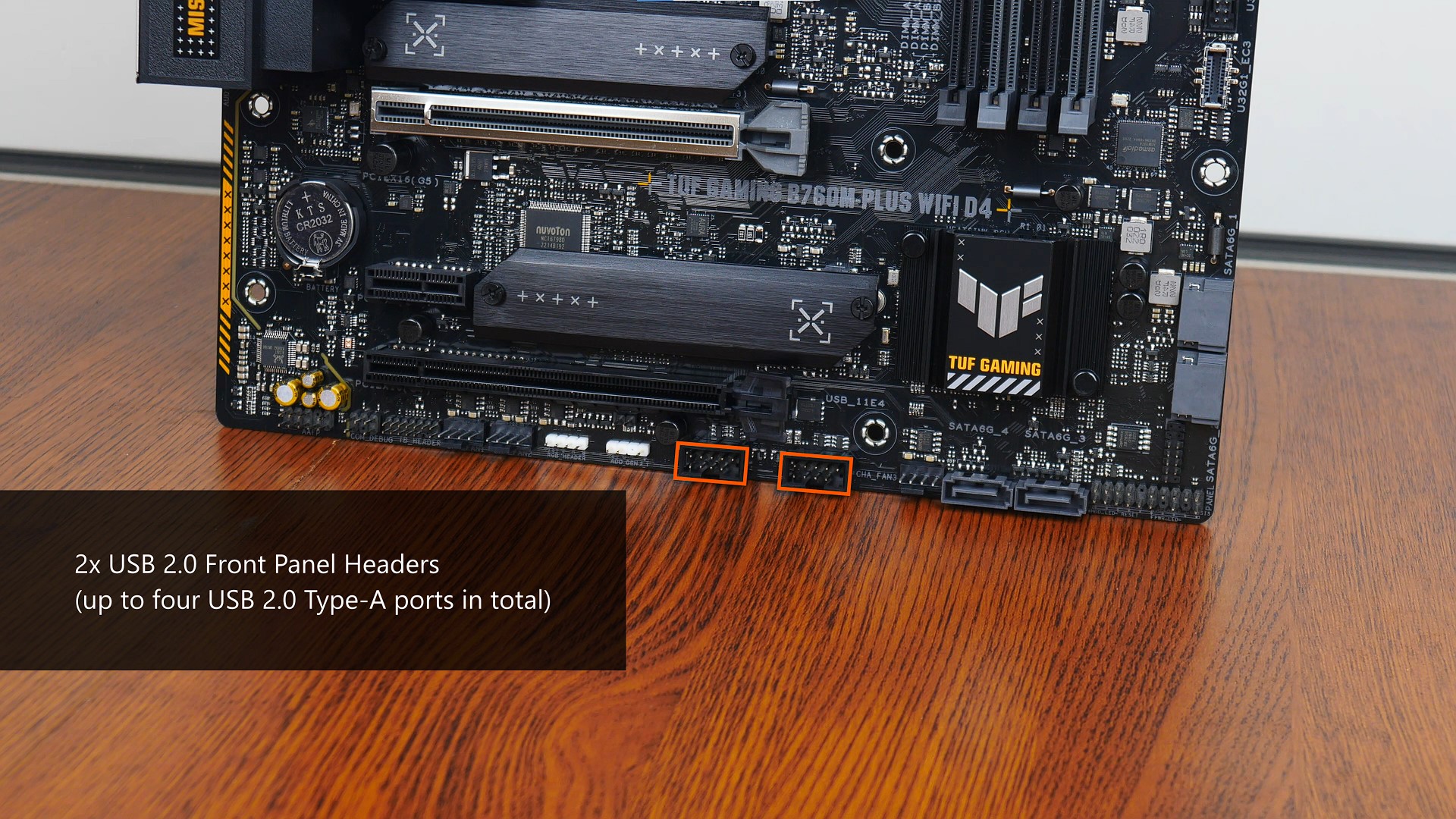 In the same vein, two USB 2.0 front panel headers can be found near the bottom edge of the board, with each of these USB 2.0 headers providing support for up to two front panel USB 2.0 Type-A ports, for a total of four ports.
Expansion Slots & Storage Options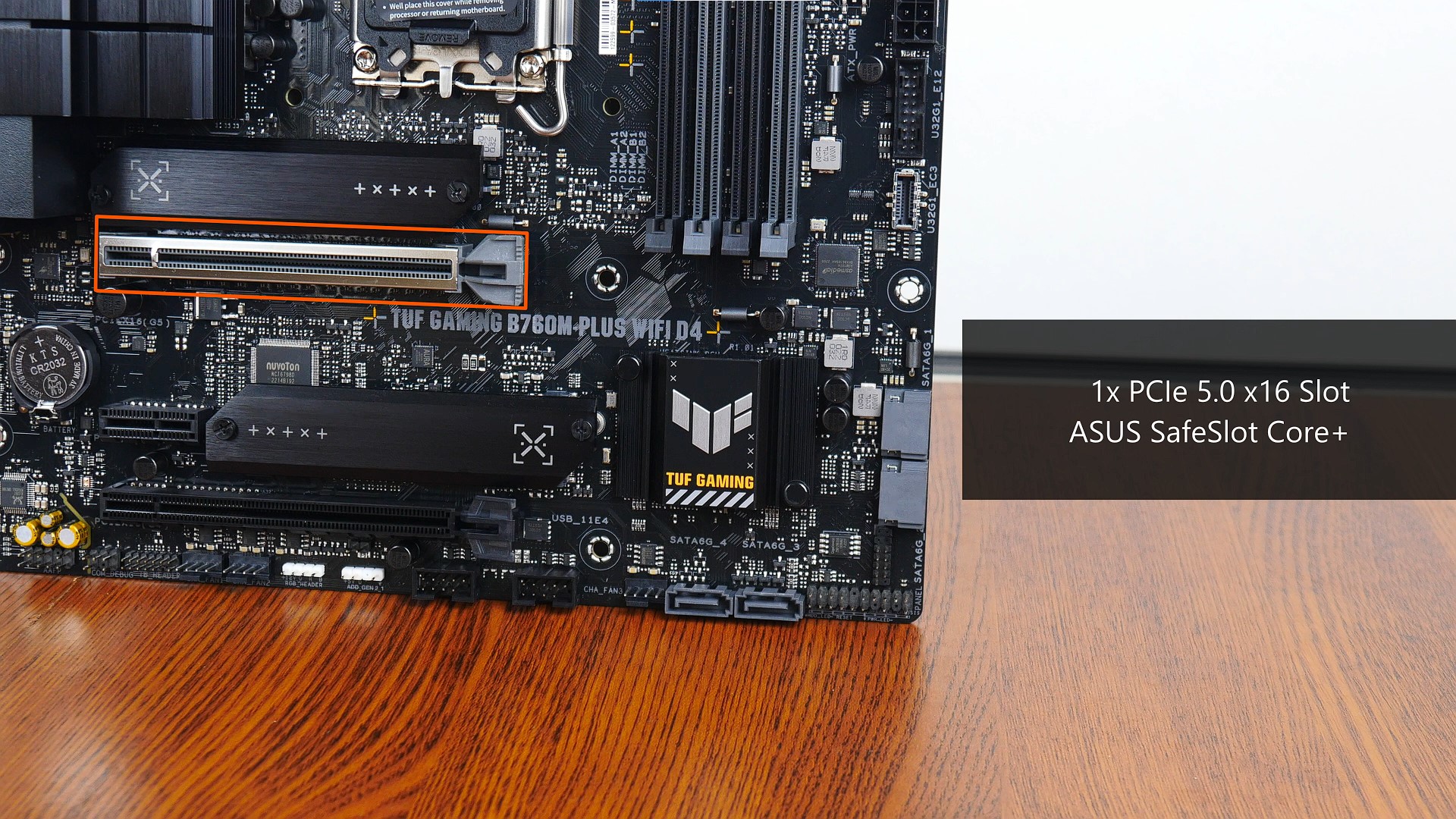 In terms of expansion slots, the TUF GAMING B760M-PLUS WIFI D4 comes with a single PCIe 5.0 x16 slot for a graphics card - the said slot comes with the SafeSlot Core+ feature that reinforces the slot against heavy graphics cards. Also included is a single PCIe 4.0 x1 slot as well as a full-length PCIe 4.0 x16 slot that operates at x4 mode.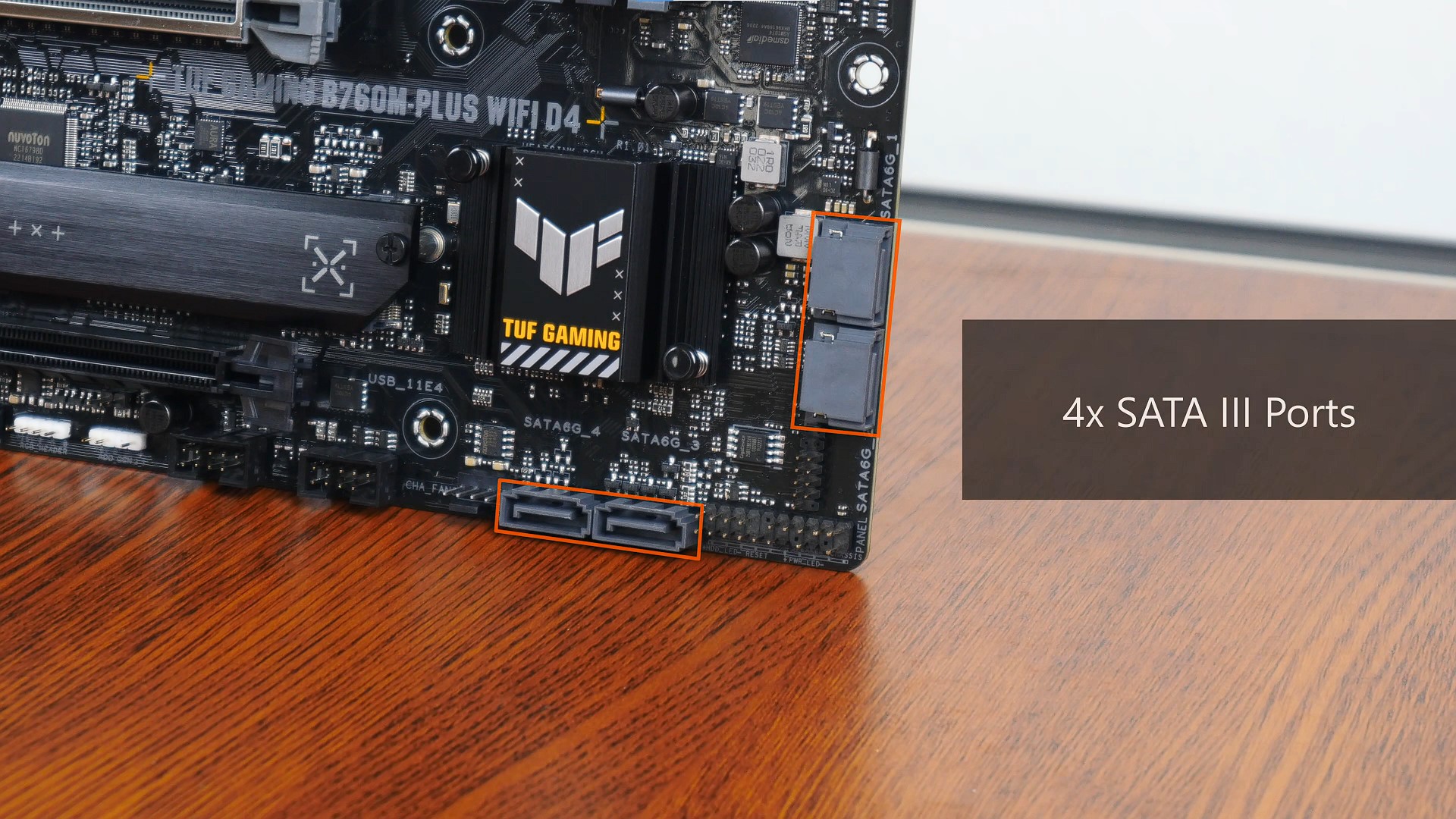 For your storage needs, ASUS has included four SATA III ports, with two ports in a right-angled configuration, and the remaining two ports in a straight-angled configuration.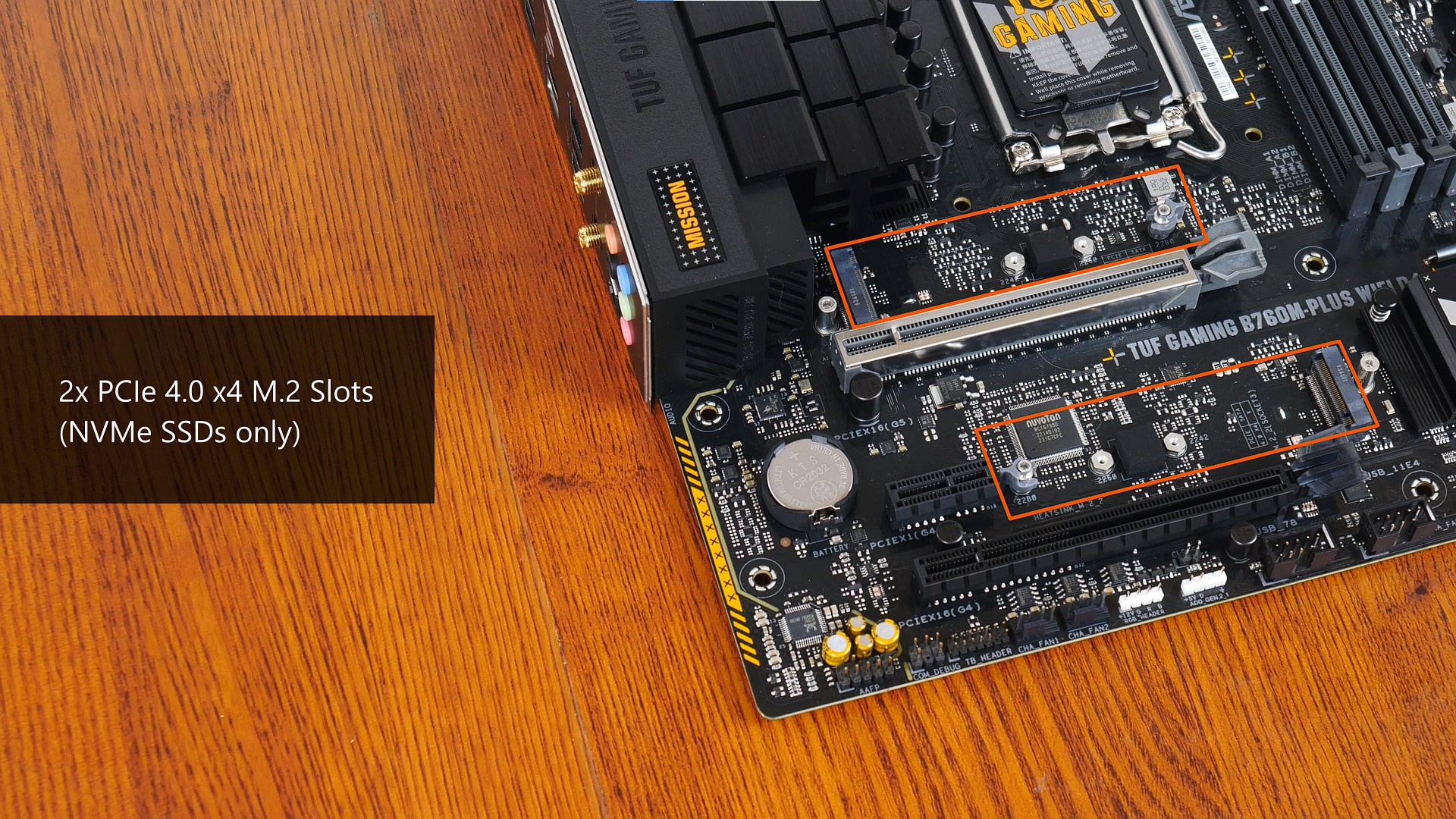 Two PCIe 4.0 x4 M.2 slots are also included with the board - do note that both these slots support NVMe SSDs only – M.2 SATA drives are not supported. That said, the M.2 slots come with the Q-Latch feature that facilitates the tool-less installation and removal of your M.2 SSDs.
Audio & Internet Connectivity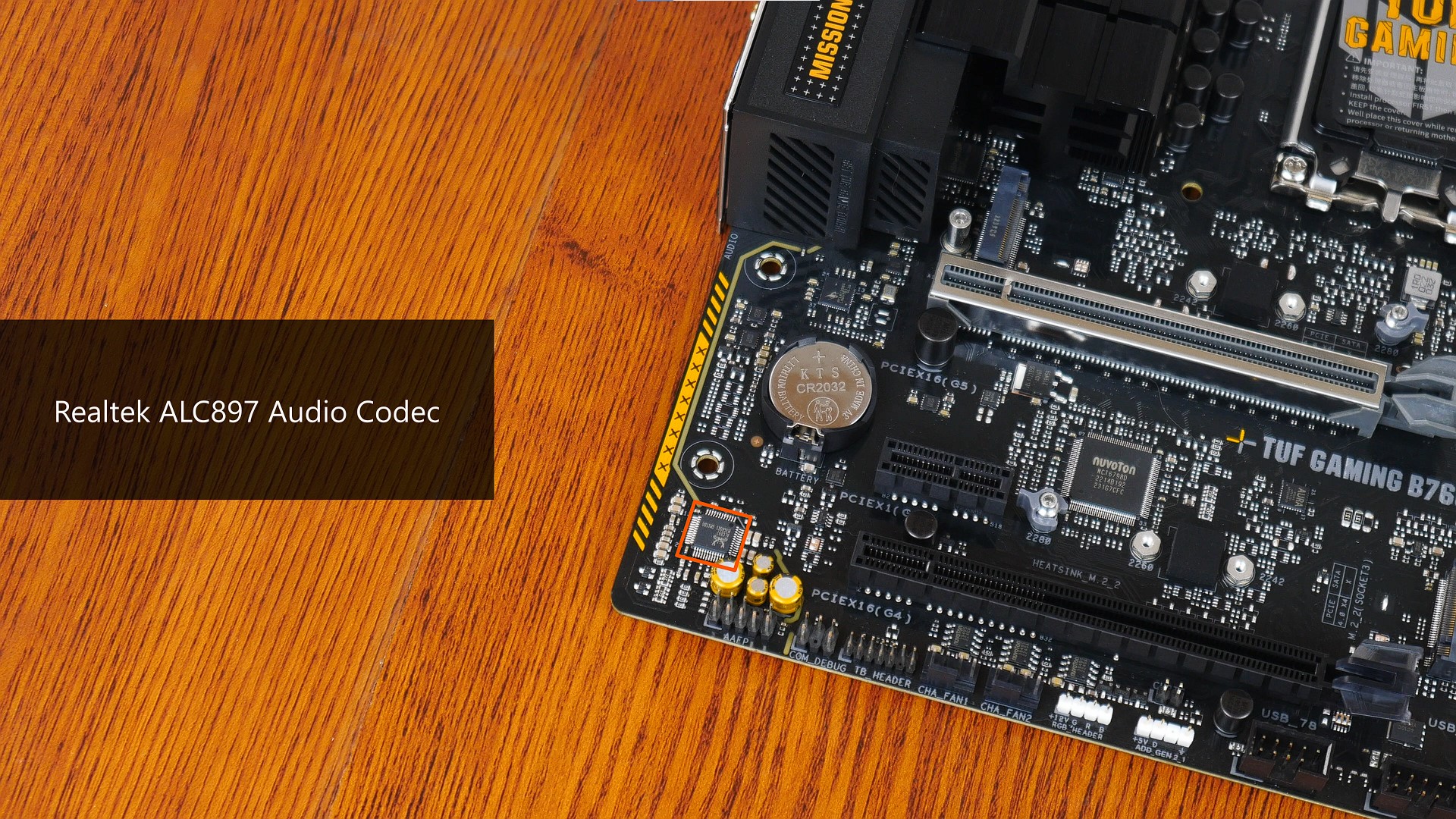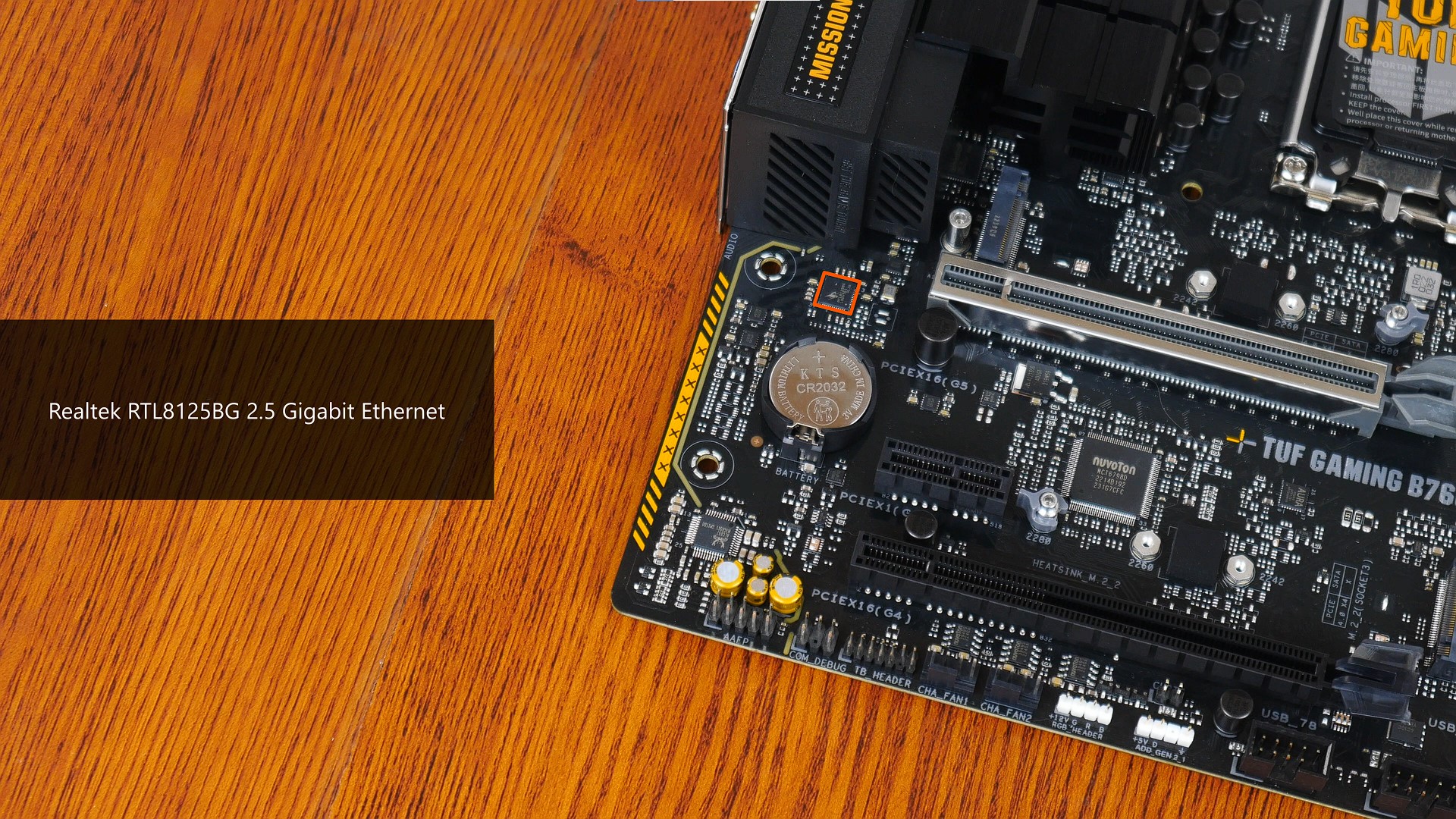 Powering the board's audio experience is Realtek's ALC897 audio codec, which is an entry-level part. Wired internet connectivity is also courtesy of a Realtek part, the RTL8125BG that provides support for 2.5 Gigabit Ethernet. Wireless connectivity on the other hand, is by means of an Intel AX201NGW module that serves up WIFI 6 and Bluetooth 5.2 support.
Fan & RGB Headers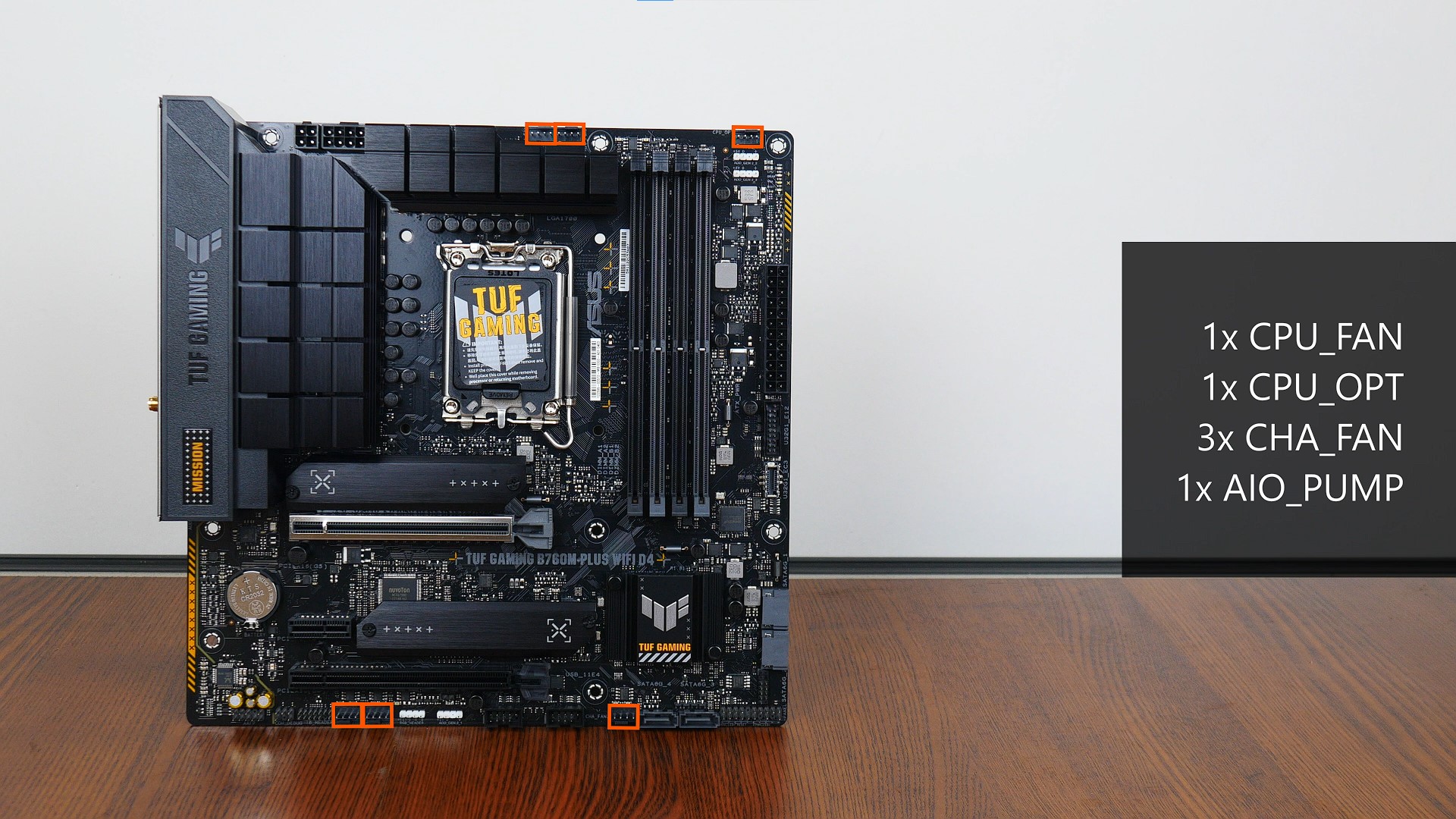 The TUF GAMING B760M-PLUS WIFI D4 comes with six fan headers:
1x CPU_FAN
1x CPU_OPT
3x CHA_FAN
1x AIO_PUMP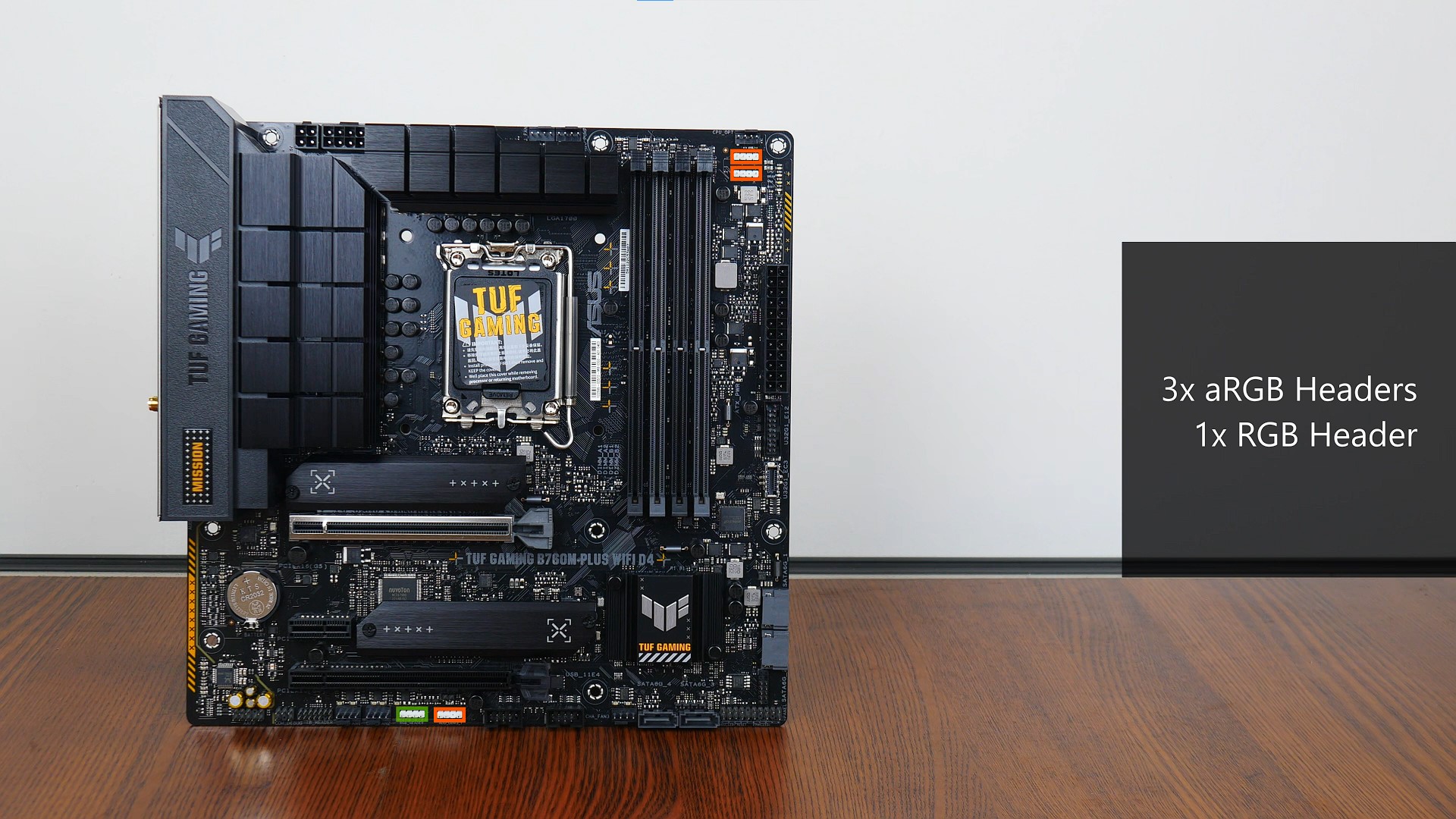 Also included are three addressable RGB headers, and a single 12V standard RGB header.
Other Features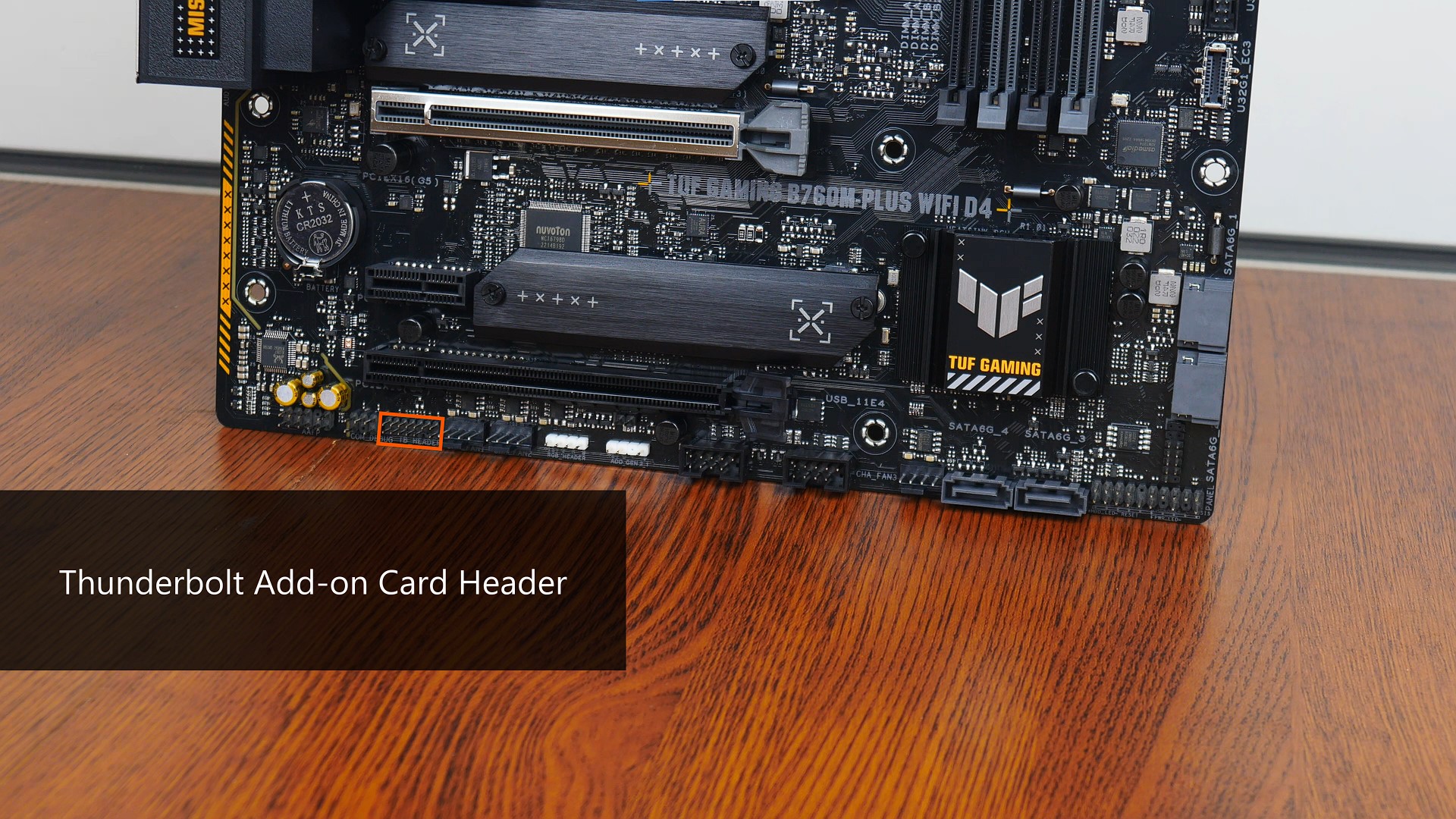 Near the bottom edge of the motherboard is a Thunderbolt add-on card header, which is to be used in conjunction with a Thunderbolt 4 add-on card that is sold separately by ASUS.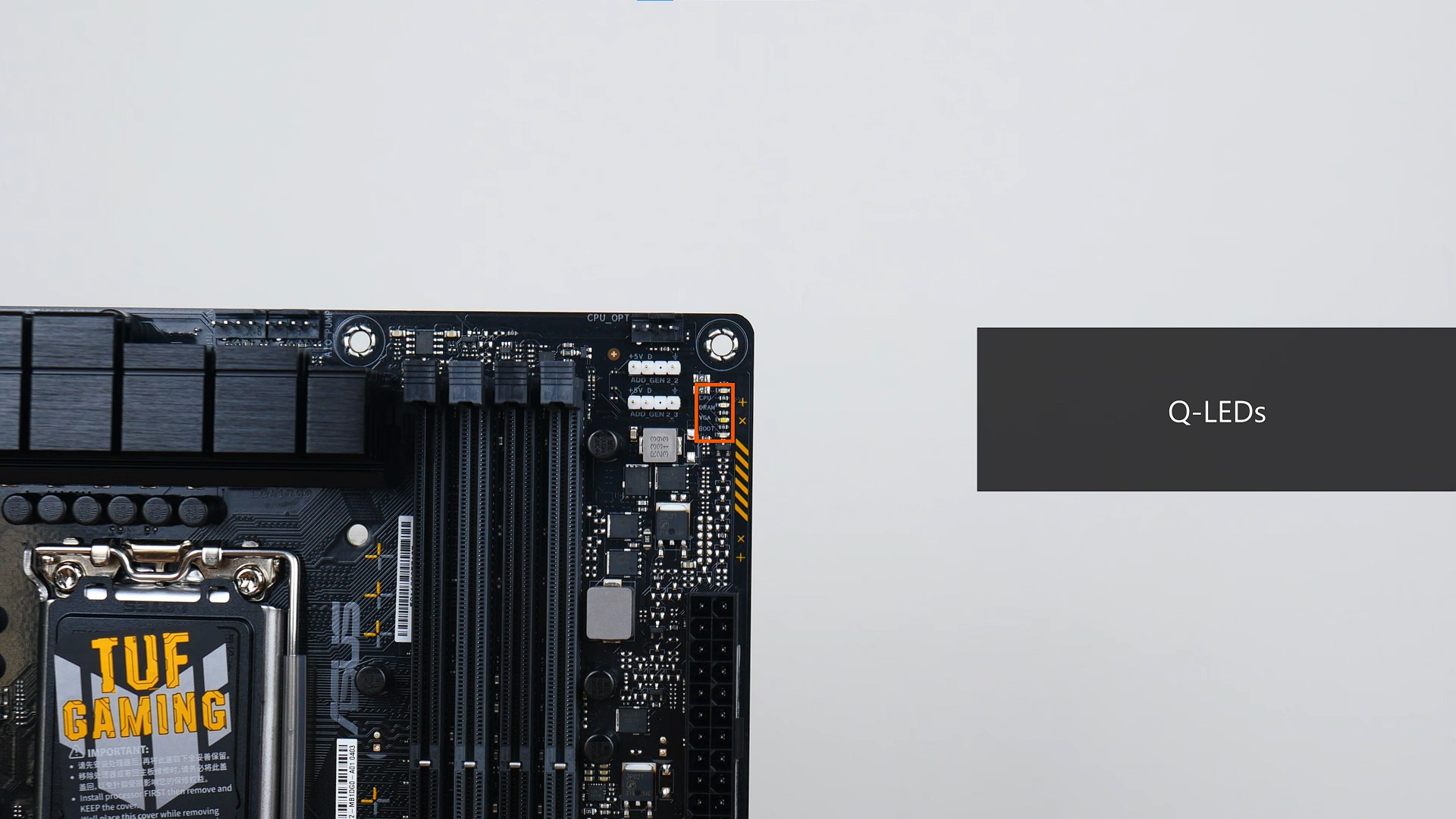 ASUS has also included a set of Q-LEDs up top, that can help with troubleshooting Power On Self Test (POST) issues.
Rear I/O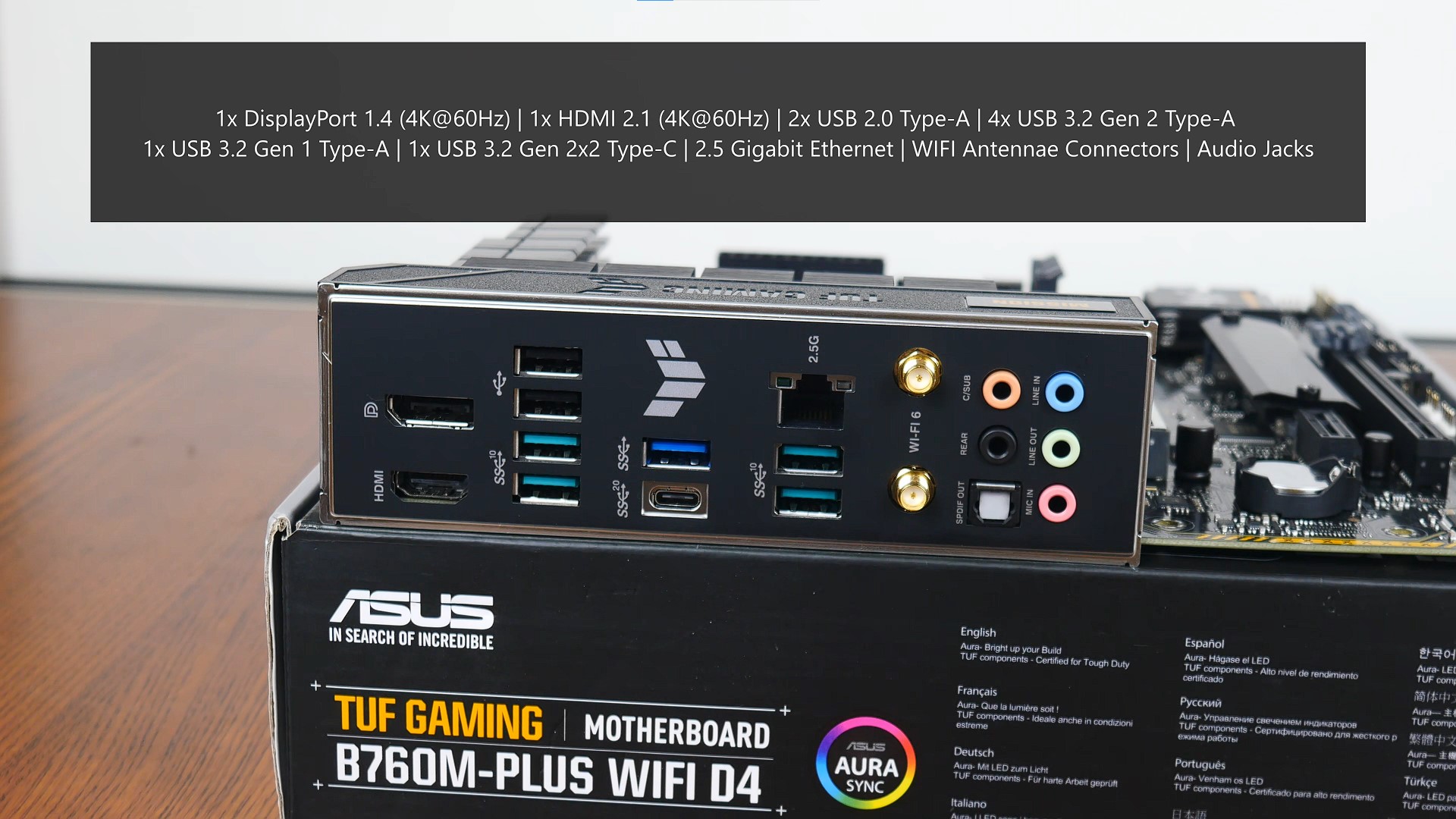 The TUF GAMING B760M-PLUS WIFI D4 comes with the following ports on the rear I/O:
1x DisplayPort 1.4 (supports display output of up to 4K resolution at 60 Hz)
1x HDMI 2.1 (supports display output of up to 4K resolution at 60 Hz)
2x USB 2.0 Type-A
4x USB 3.2 Gen 2 Type-A (10 Gbps)
1x USB 3.2 Gen 1 Type-A (5 Gbps)
1x USB 3.2 Gen 2x2 Type-C (20 Gbps)
2.5 Gigabit Ethernet port
WIFI antenna connectors
Audio jacks
Conclusion & Pricing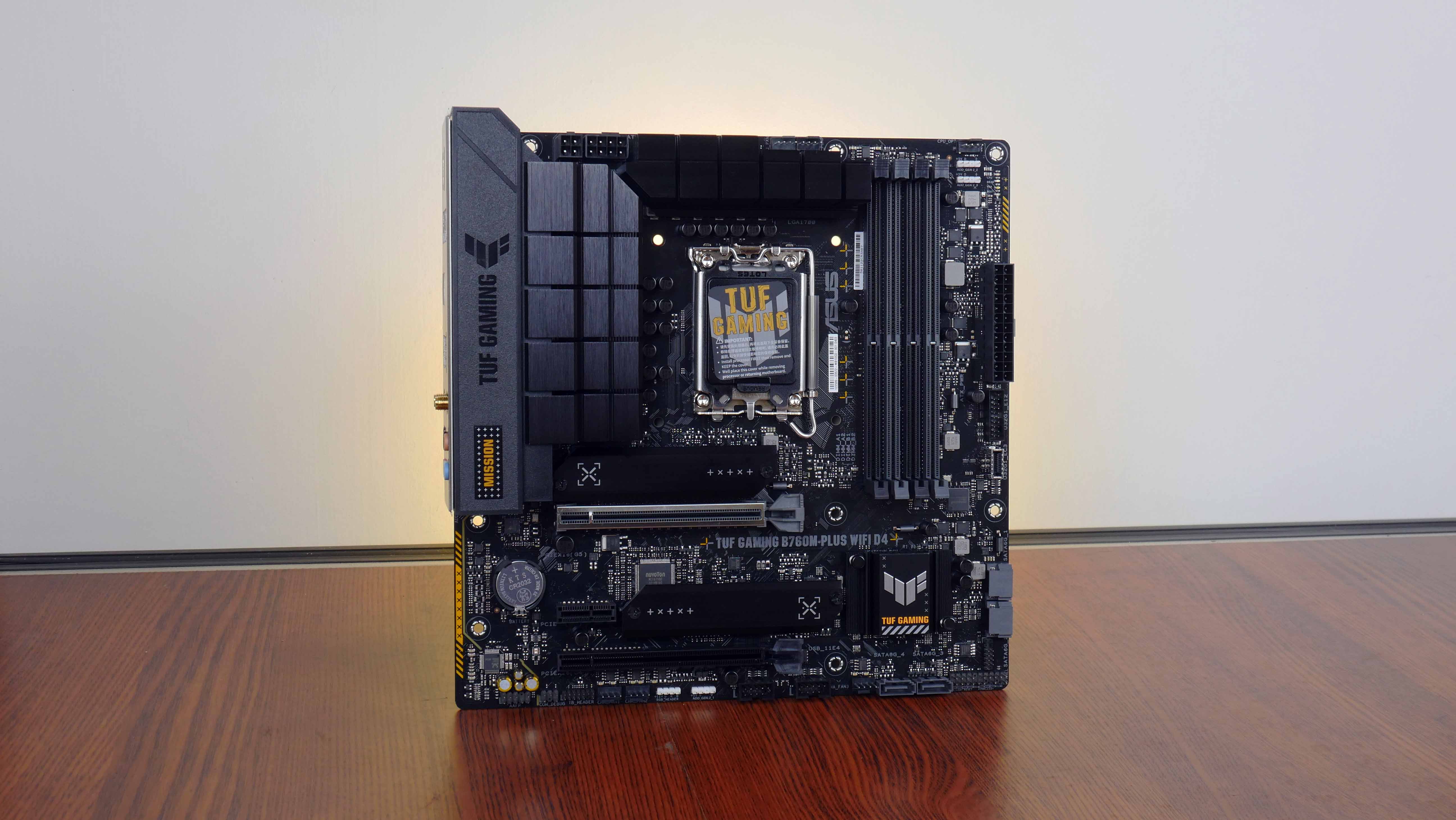 Given its price and specifications, the ASUS TUF GAMING B760M-PLUS WIFI D4 serves up just the right balance of features, where it comes with a PCIe 5.0 x16 slot for a graphics card, alongside a good mix of USB 3.2 connectivity options and 2.5 Gigabit Ethernet. That said, it would have been great had the board come with WIFI 6E support instead of WIFI 6 - this would have been the proverbial cherry on top of the icing, as WIFI 6E modules have become increasingly common even with low-end motherboard offerings of today from other competitor brands.
In addition, this is a refrain that I've been putting out for my reviews concerning Intel B760 motherboards - the value proposition that budget and mainstream Intel B760 boards have against motherboards powered by its predecessor chipset, the Intel B660, which also supports Intel's latest 13th generation CPUs with just a BIOS update. If you're able to find new B660 boards for cheap, you might find that the incremental improvements from the B760 chipset might not be worth the additional cost, where the money saved from getting a B660 board could be put to use on the other components of your PC build instead.

As of February 2023, the TUF GAMING B760M-PLUS WIFI D4 is available in Singapore for a price of around $346 Singapore dollars - international readers can purchase this motherboard from online retailers such as Amazon for around $190 US dollars.

Get this motherboard from Amazon: https://amzn.to/3k8MXPX (affiliate link)
Get this motherboard from Shopee Singapore: https://shope.ee/1fl3hEPVpo (affiliate link)
ALKtech may earn commissions from qualifying purchases made using affiliate links, at no extra cost to you as a customer. These commissions go a long way in supporting the platform!
The motherboard featured in this article was a review unit provided on loan from ASUS Singapore.