Review: Gigabyte B650M DS3H AM5 Motherboard
Could this entry-level AM5 motherboard offering be the salve that AMD needs to stay relevant at the low-to-mid range of the DIY PC market?
With AMD's "Zen 4" Ryzen 7000 series of processors and Intel's 13th generation Raptor Lake processor offerings now available for purchase by consumers, there's no better time to be in the market for a new PC, as the tech titans of the CPU world square it off for market dominance. Now that AMD's mid-range AM5 chipset offerings, the B650E and B650, have been on shelves for some time, could entry-level motherboards powered by these chipsets address the value conundrum that the mid-range Ryzen 7000 series of products have found themselves in? For this article, ALKtech checks out an entry-level AM5 motherboard that is powered by the AMD B650 chipset - the Gigabyte B650M DS3H. Positioned as the lowest rung of Gigabyte's AMD B650 product stack, could this board pave the way for AMD's relevance in the mid-to-low range, with parts such as the Ryzen 5 7600X and future Zen 4 Ryzen 3 APU and CPU offerings?
Summary of Specifications
Processor Support: AMD Ryzen 7000 series (Zen 4) AM5 processors
Chipset: AMD B650
Memory: 4x DDR5 slots, max 128GB, up to DDR5 6400 (OC) support
Audio: Realtek ALC897 audio codec
LAN: Realtek RTL8125BG 2.5 Gigabit Ethernet
WIFI: None
Expansion Slots: 1x PCIe 4.0 x16, 1x PCIe 3.0 x1
Storage: 4x SATA III, 2x PCIe 4.0 x4 M.2 (M.2 slots support NVMe drives only)
Form Factor: Micro ATX
Packaging & Contents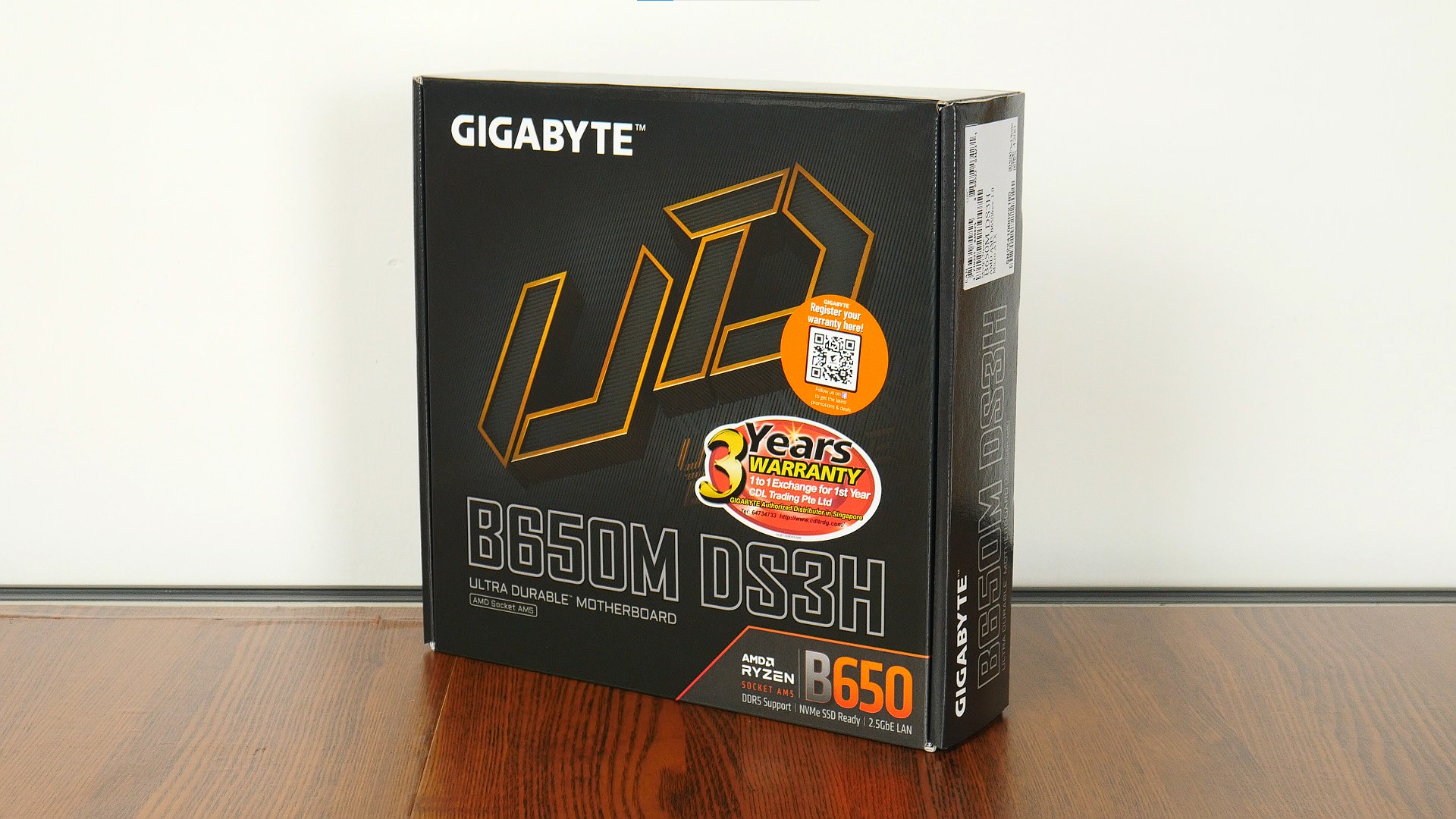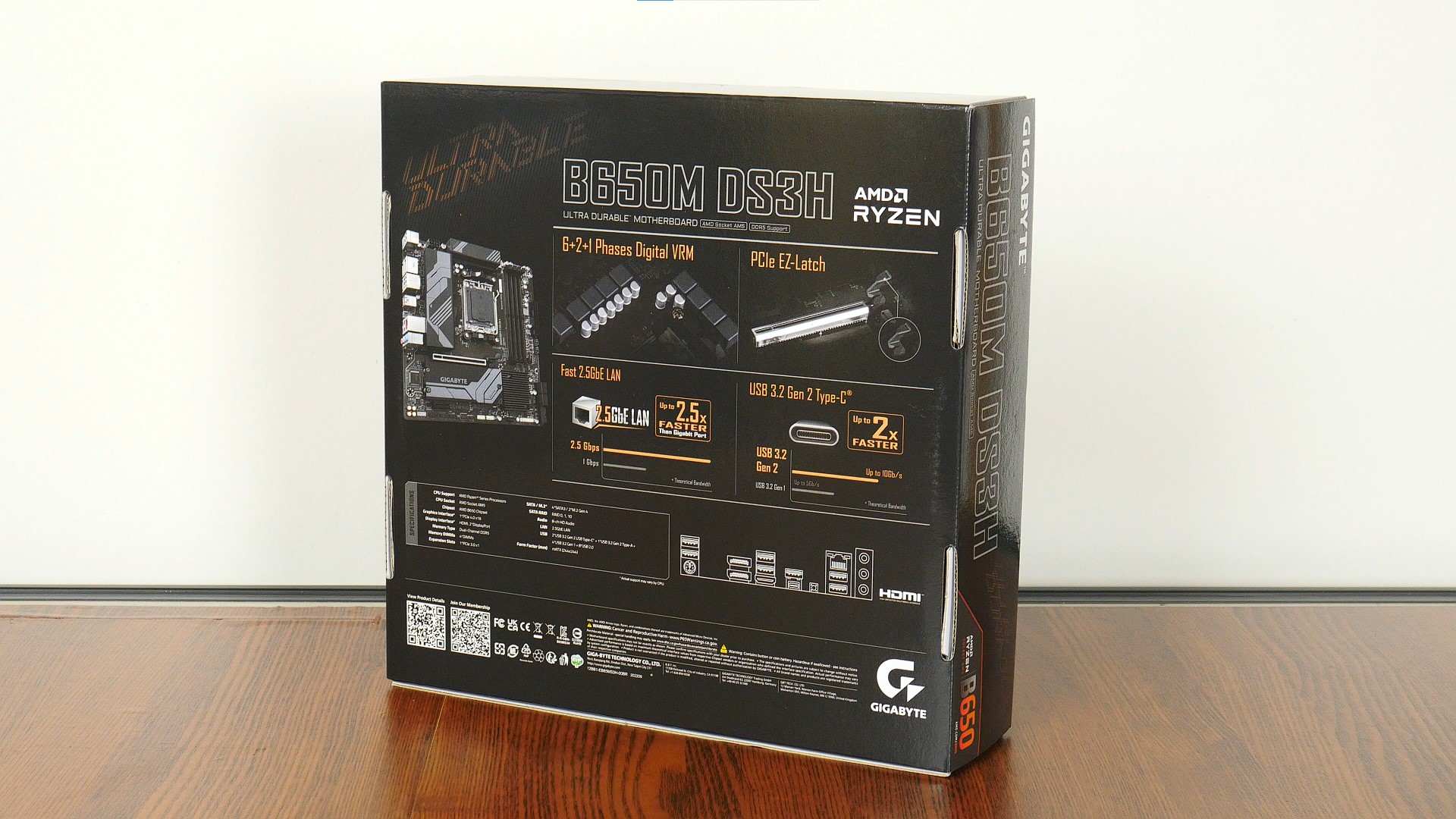 The B650M DS3H comes in a box with the usual black and orange colourway that is in line with the brand identity of the Ultra Durable series of product offerings by Gigabyte. The Ultra Durable line-up of products are targeted at consumers on a budget, placing below Gigabyte's Gaming X range and AORUS series of motherboard offerings.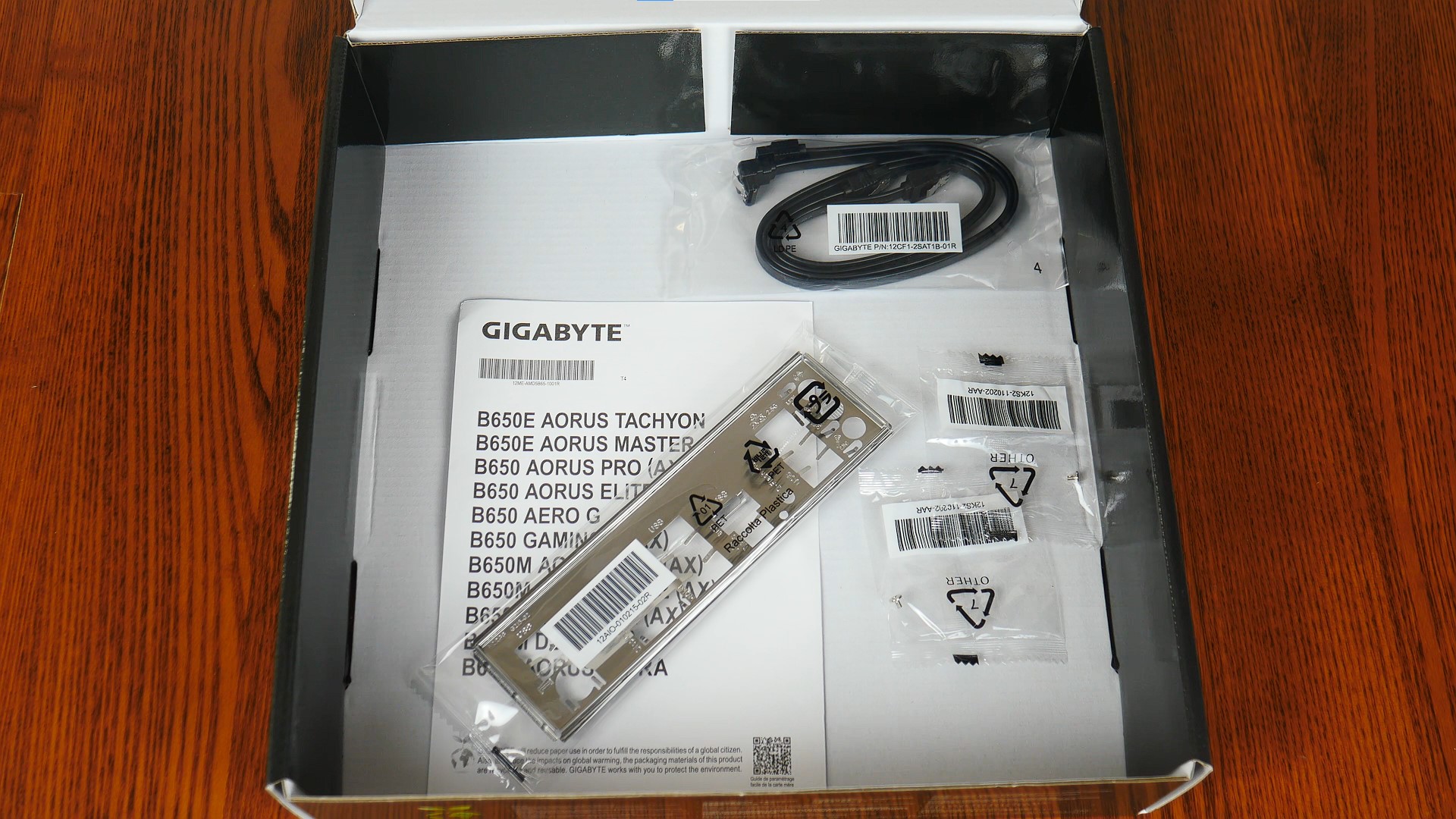 Included with the motherboard are the following accessories:
2x SATA III cables
2x M.2 drive screws
I/O shield
Quick start guide
Board Aesthetics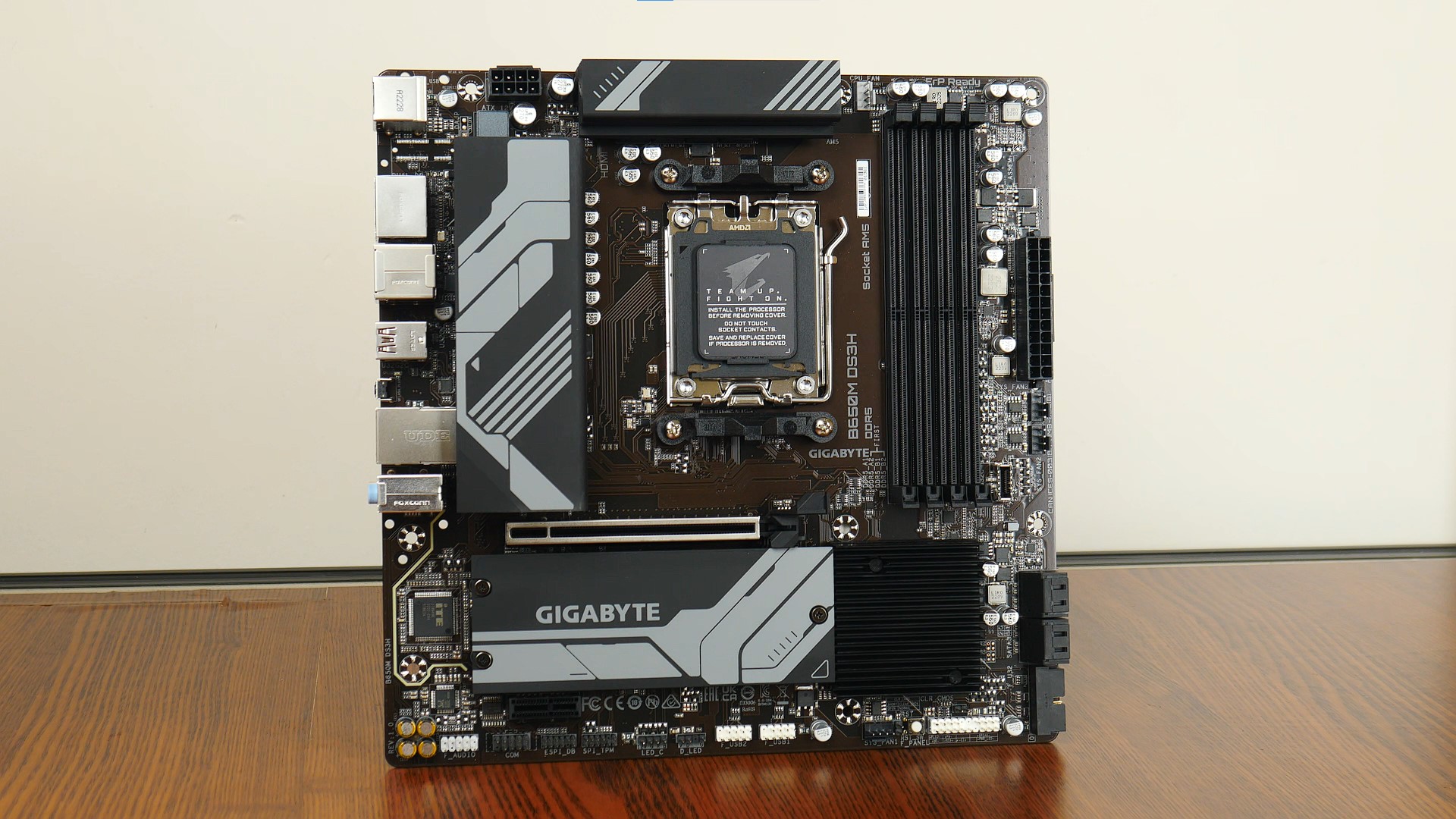 The B650M DS3H comes with a black PCB with grey industrial-looking accents on the heatsinks for added visual appeal.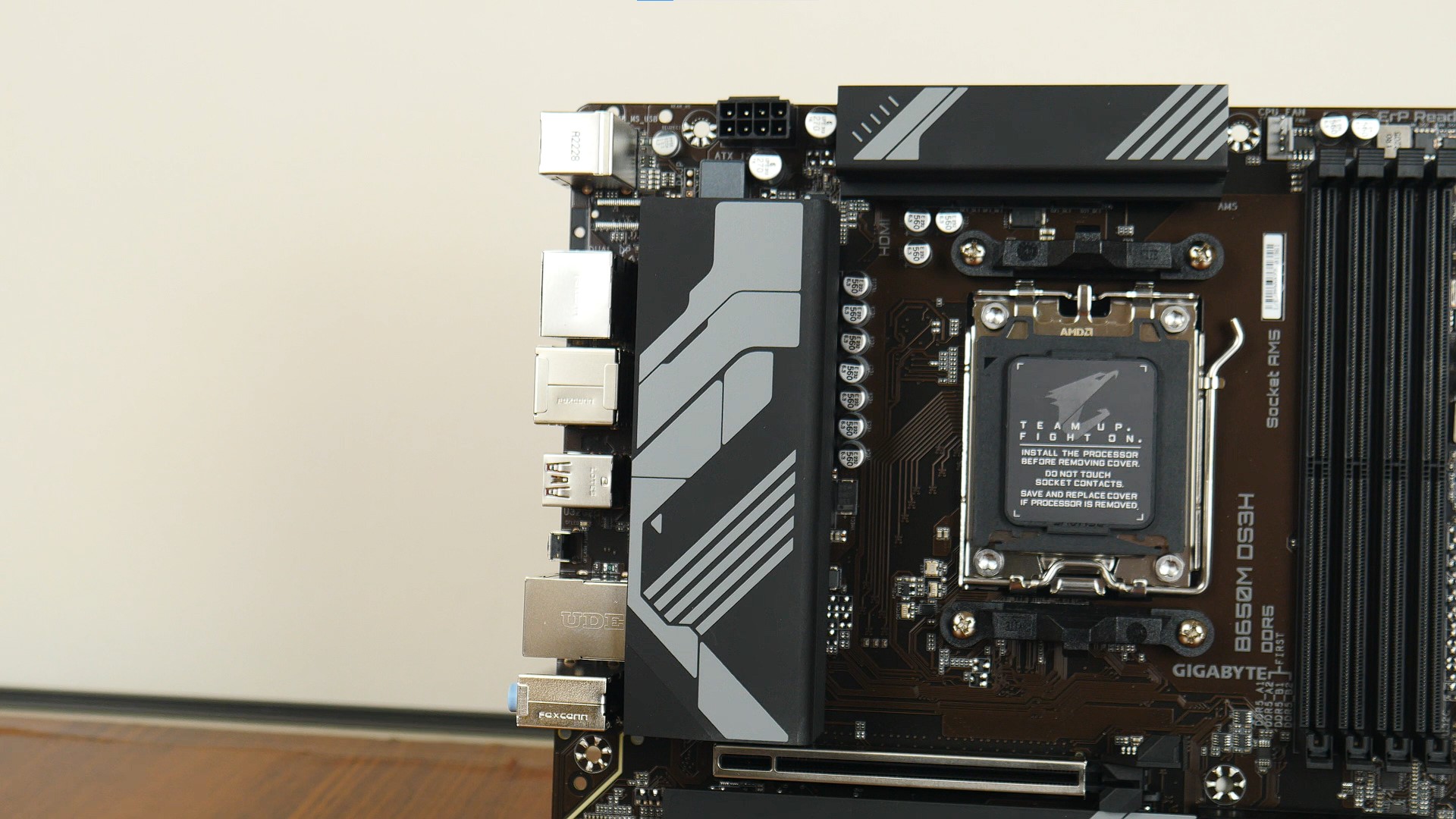 Being a budget-oriented board, it does not come with an integrated I/O shield, though it does feature decently-sized heatsinks for the VRMs.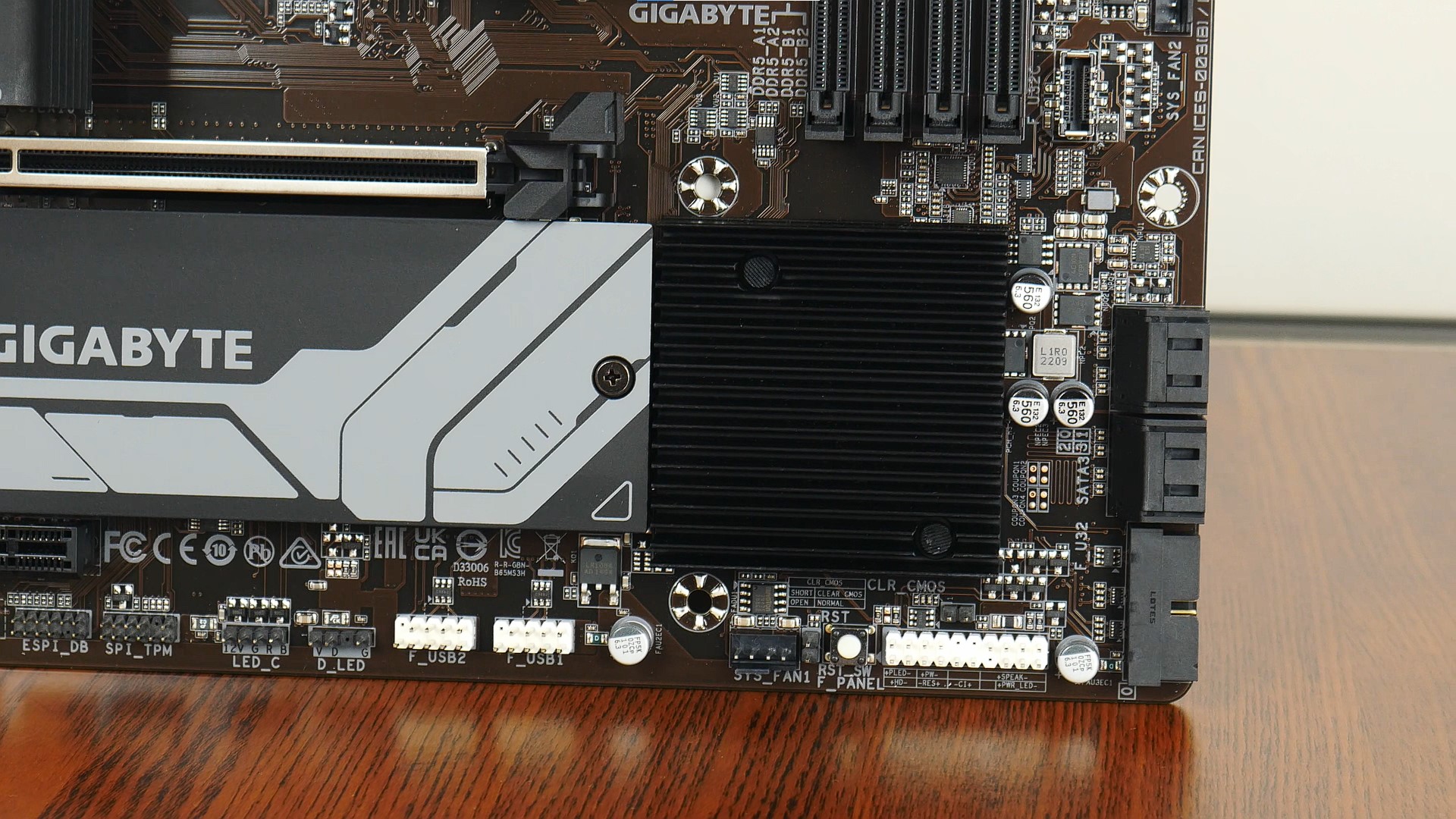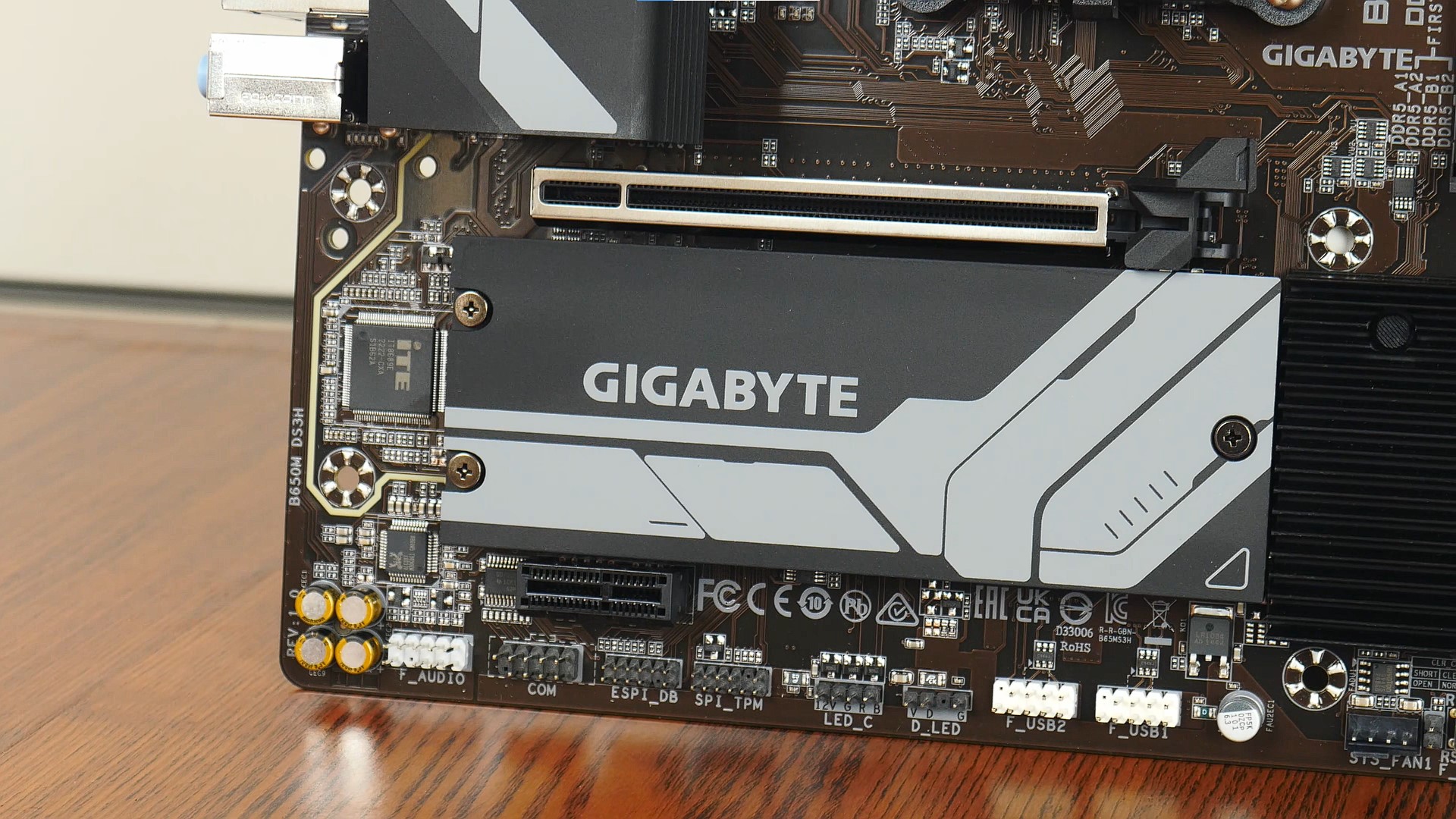 For chipset cooling, Gigabyte's included a nondescript-looking black passive heatsink, while for M.2 drive cooling, a shared rectangular heatsink is included for the two M.2 drive slots that the board comes with.
Memory Support & VRM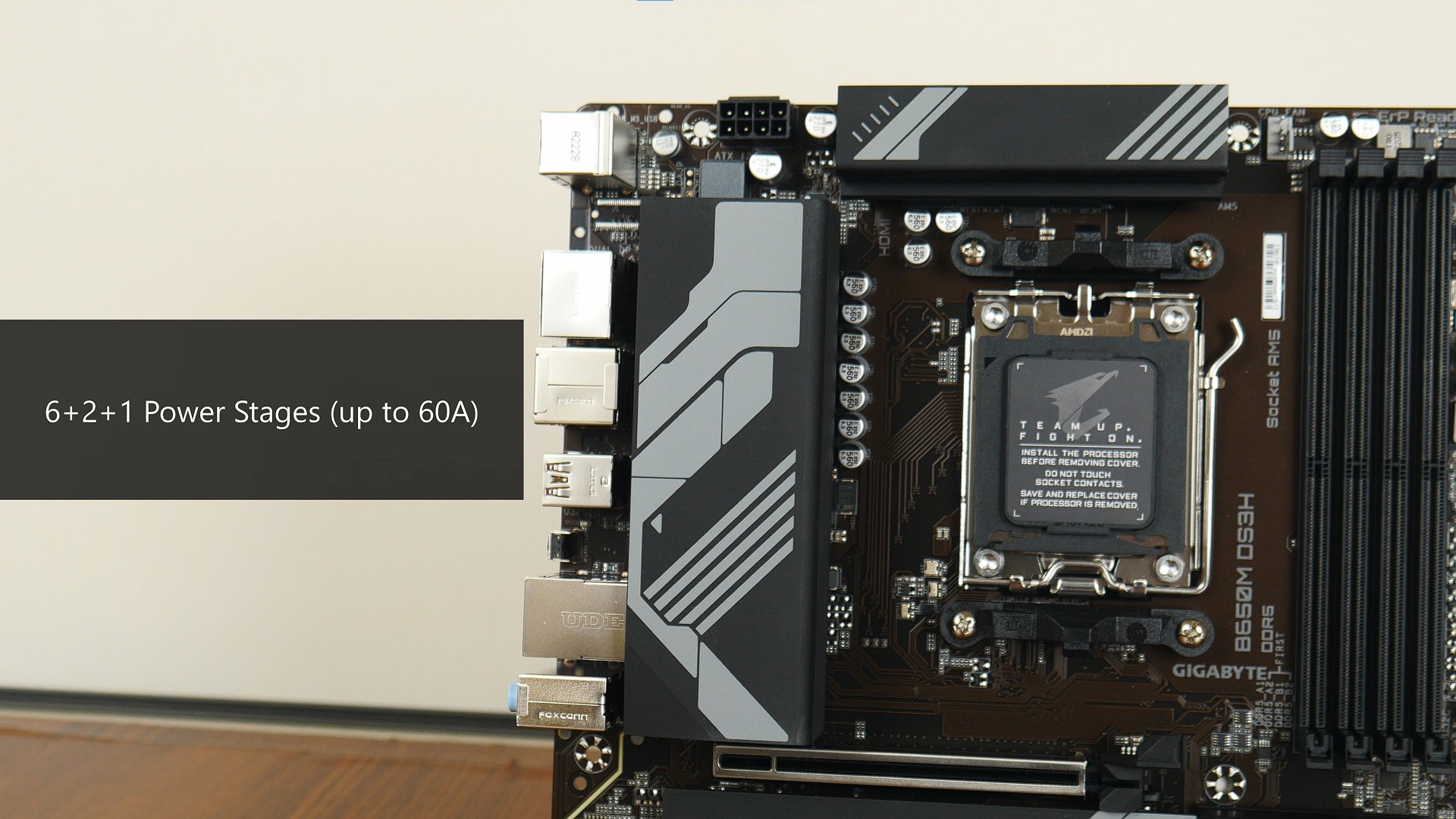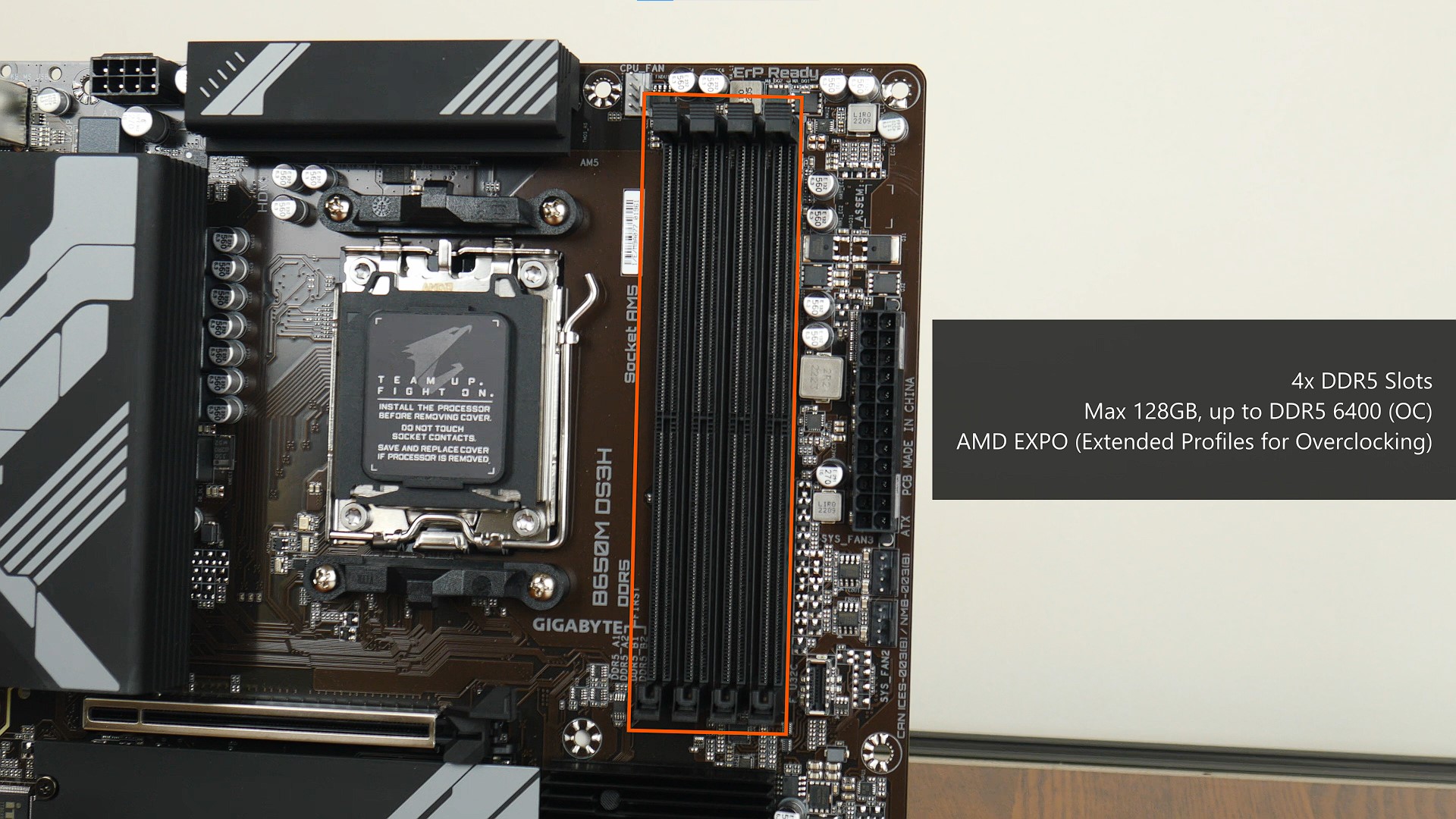 The board comes with 6+2+1 power stages rated for up to 60A, and four DDR5 slots that support up to 128GBs of RAM and the DDR5 6400 standard when overclocked. The RAM slots are made of plastic, and feature a single-tabbed design. Being an AM5 motherboard, the board also features AMD EXPO - Extended Profiles for Overclocking, which are built-in overclocking profiles for DDR5 memory, similar to what XMP stands for in Intel's ecosystem.
Front Panel USB Headers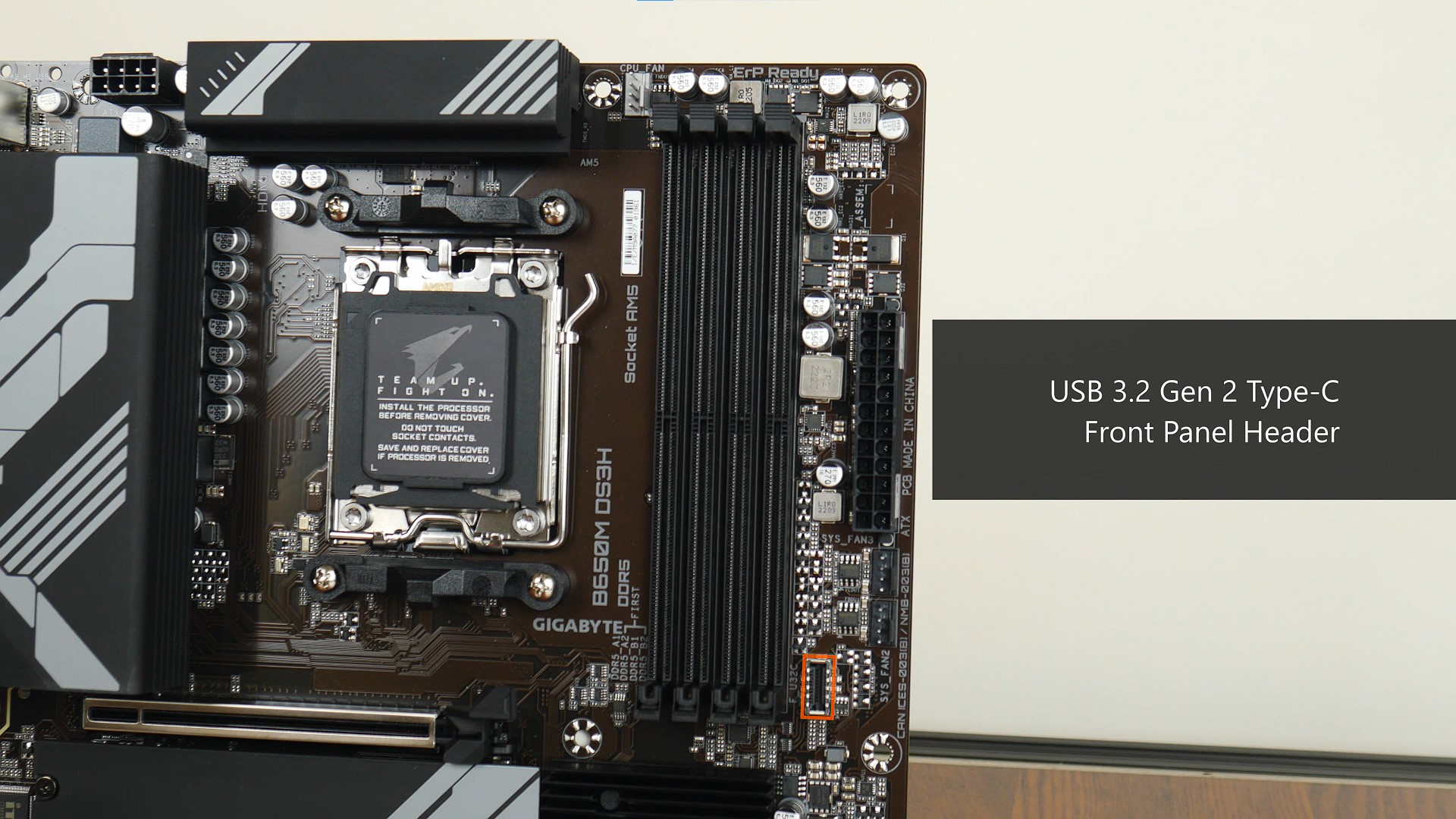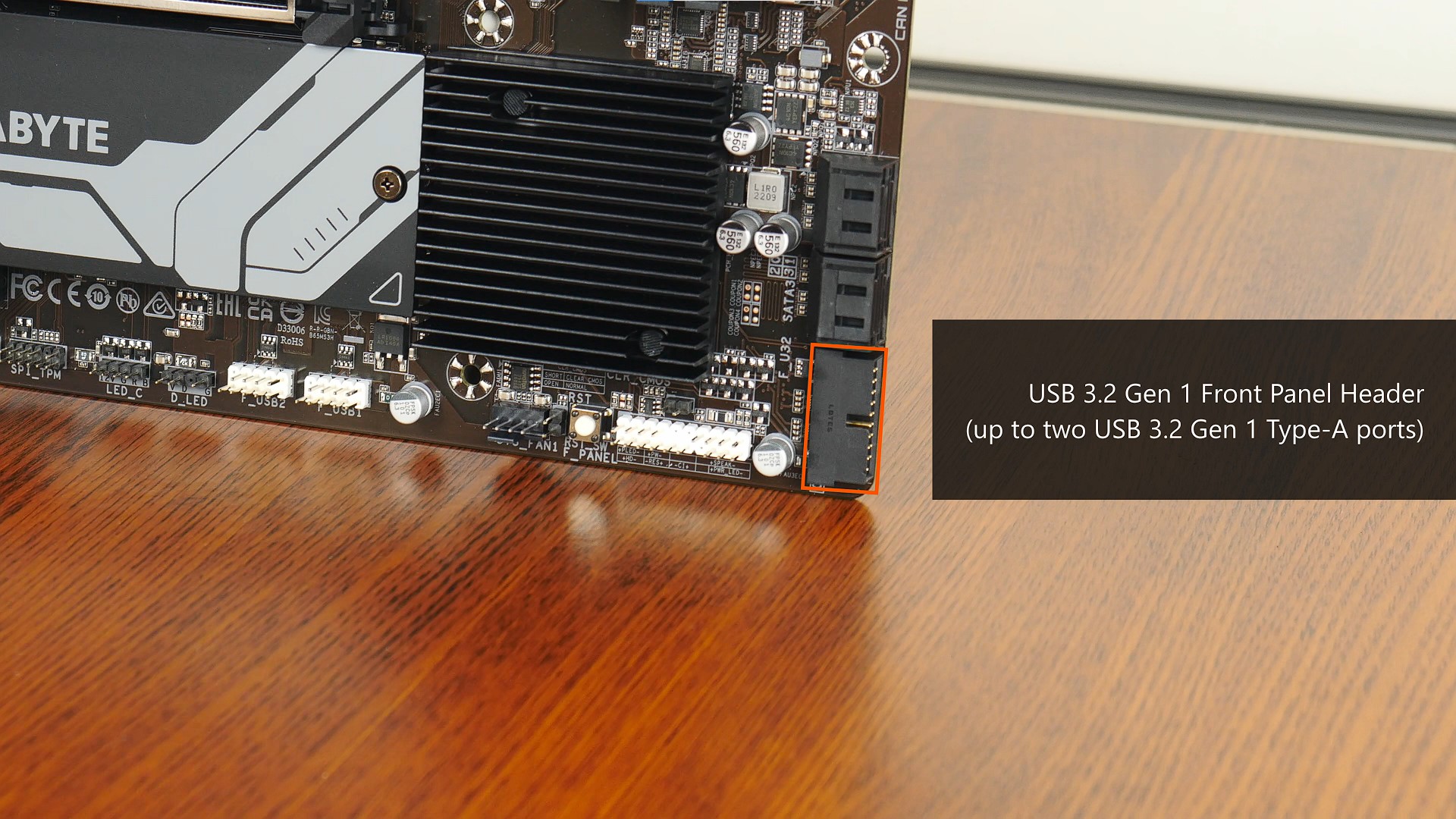 For front panel USB connectivity, Gigabyte's included a USB 3.2 Gen 2 Type-C front panel header near the RAM slots, as well as a USB 3.2 Gen 1 Type-A front panel header in a right-angled configuration near the bottom edge of the board, which provides for up to two USB 3.2 Gen 1 Type-A ports.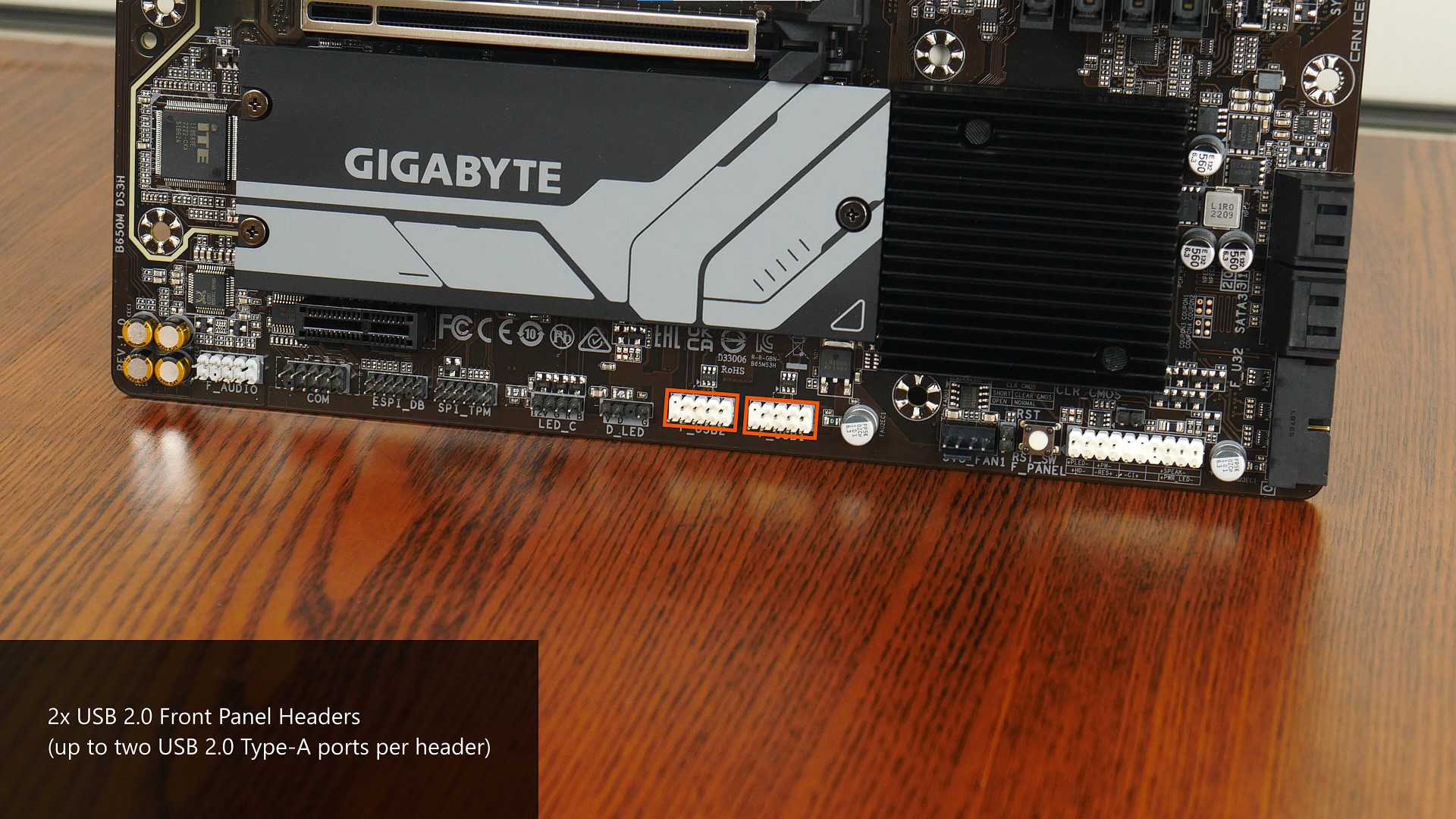 Also included are two USB 2.0 front panel headers that provide for up to two USB 2.0 Type-A ports per header.
Expansion Slots & Storage Options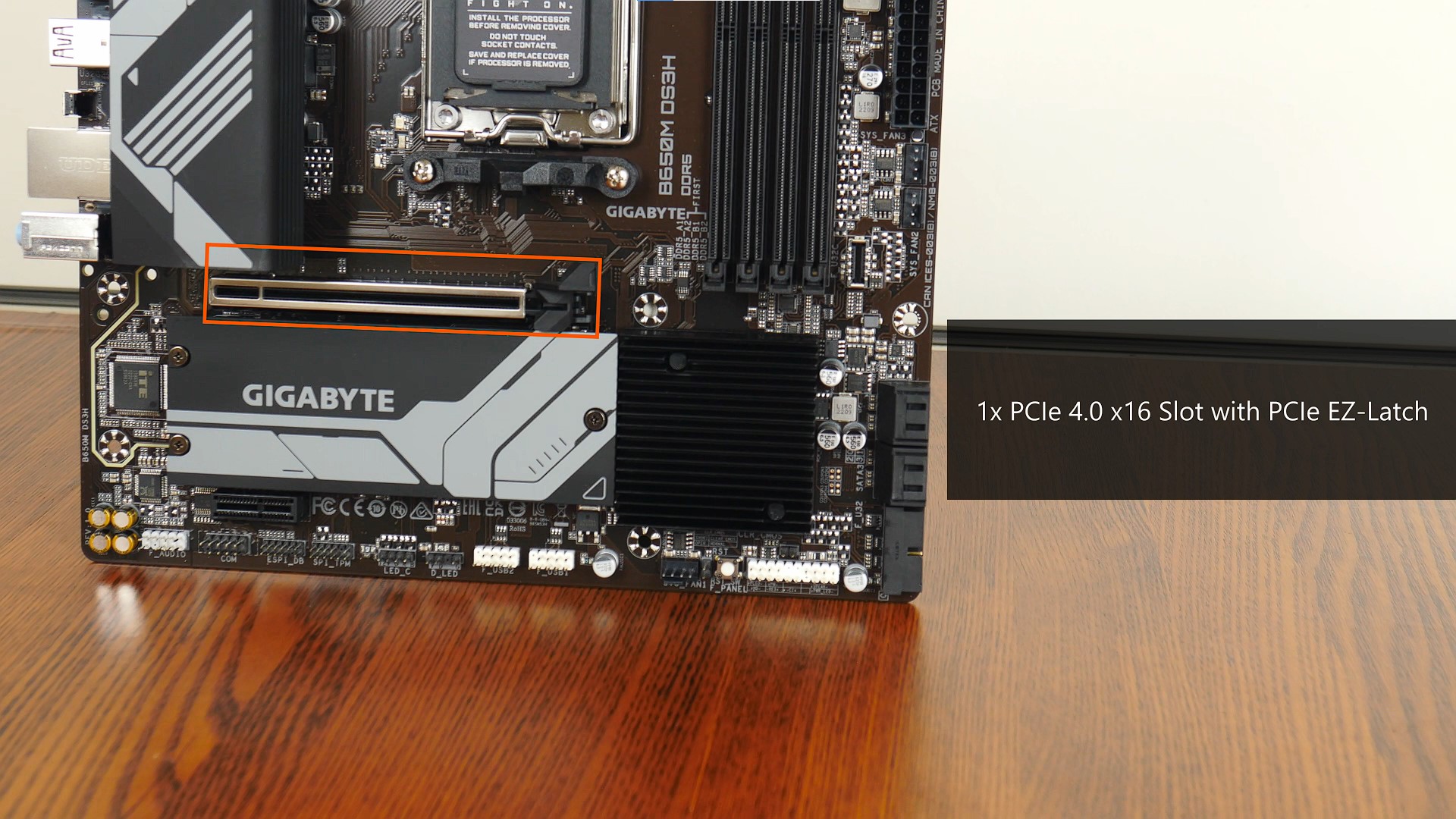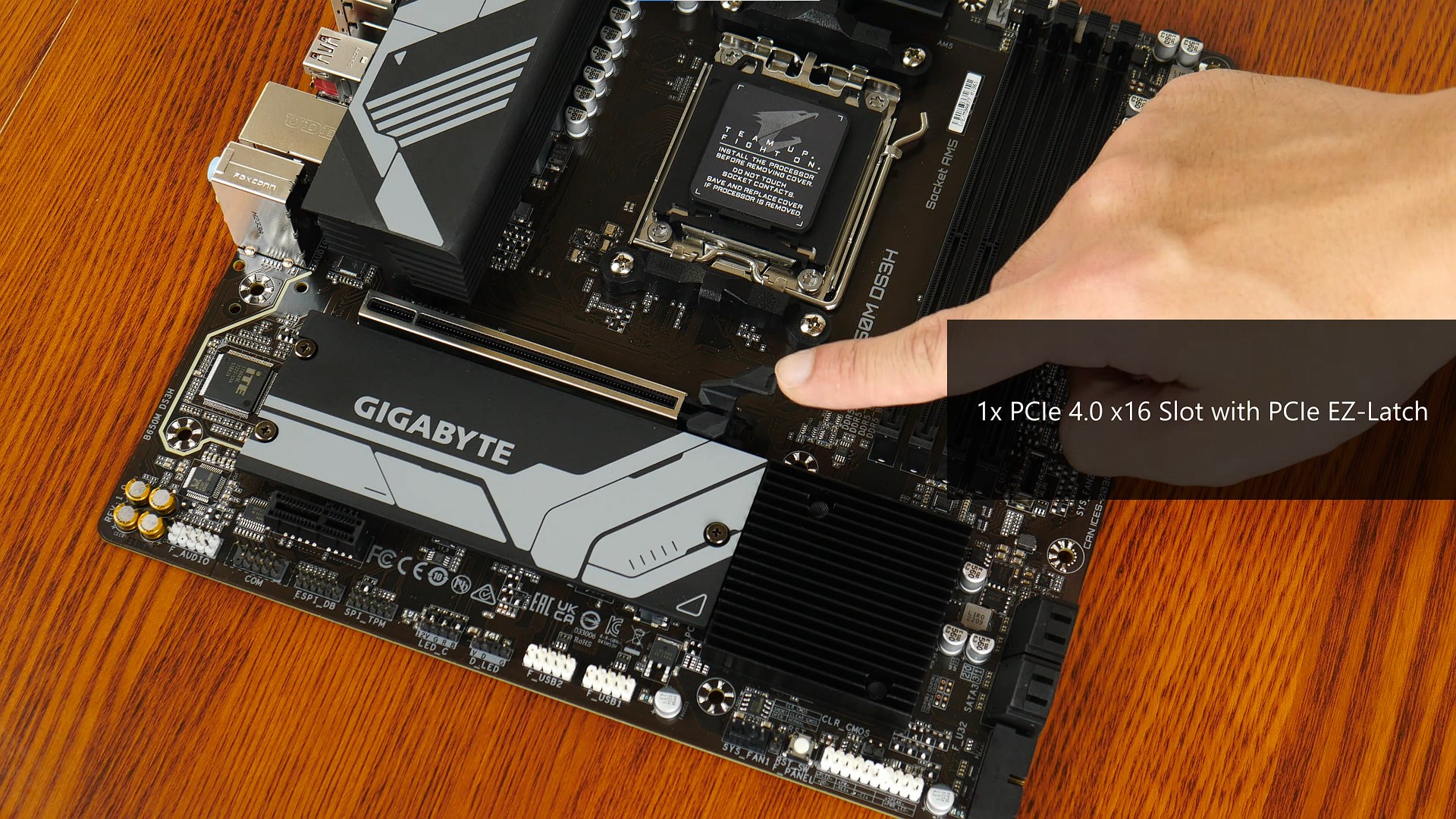 The B650M DS3H comes with a single reinforced PCIe 4.0 x16 slot that features EZ-Latch, which is essentially an oversized graphics card retention tab that facilitates the easy removal of a graphics card from the slot.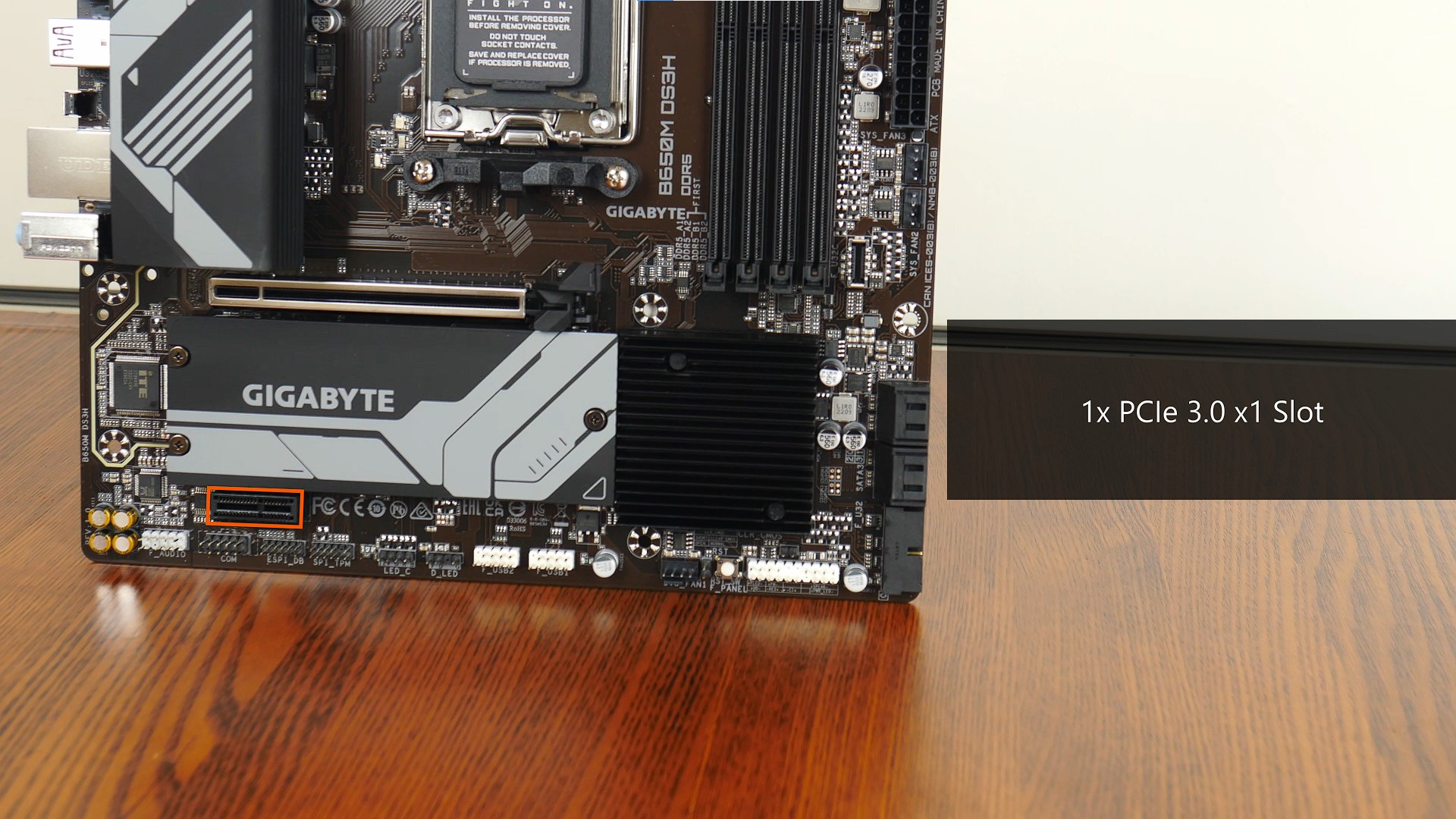 Also included is a single PCIe 3.0 x1 slot to round up the expansion slots that the board comes with.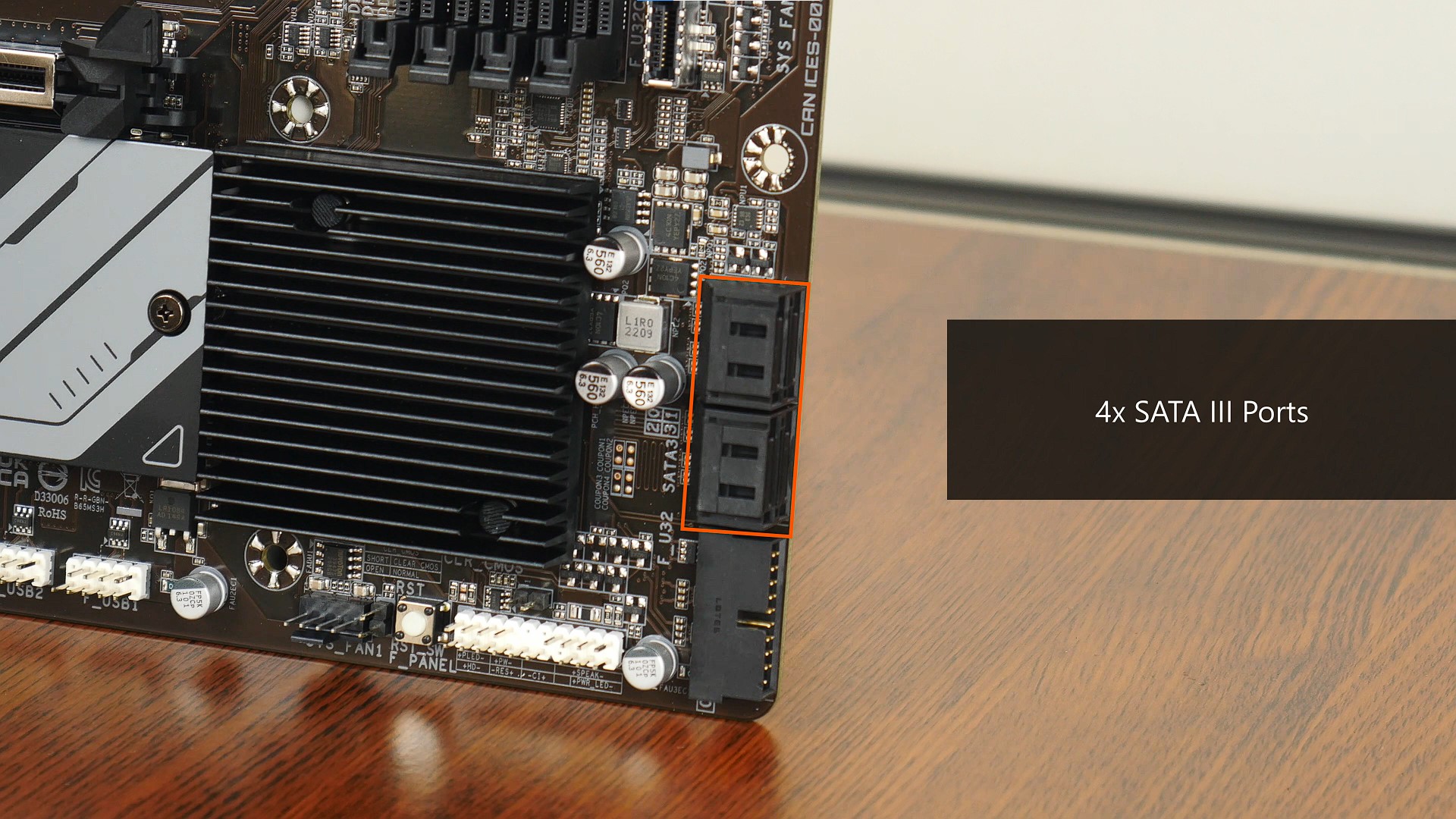 Moving on to storage, the B650M DS3H comes with four SATA III ports in a right-angled configuration so as to aid with cable management.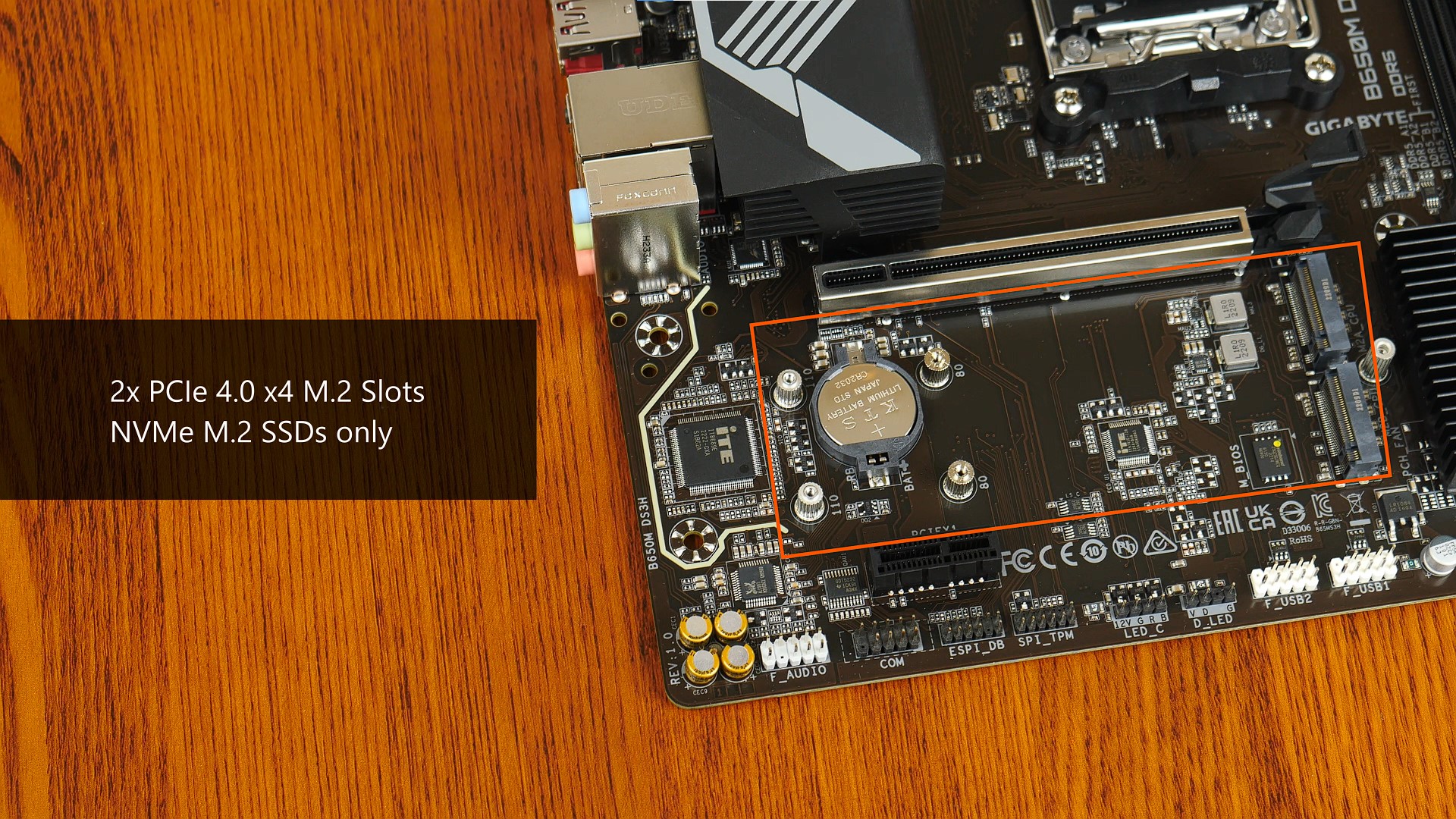 Also included are two PCIe 4.0 x4 M.2 slots that support NVMe M.2 SSDs only - SATA M.2 drives are not supported with this motherboard.
Audio & Internet Connectivity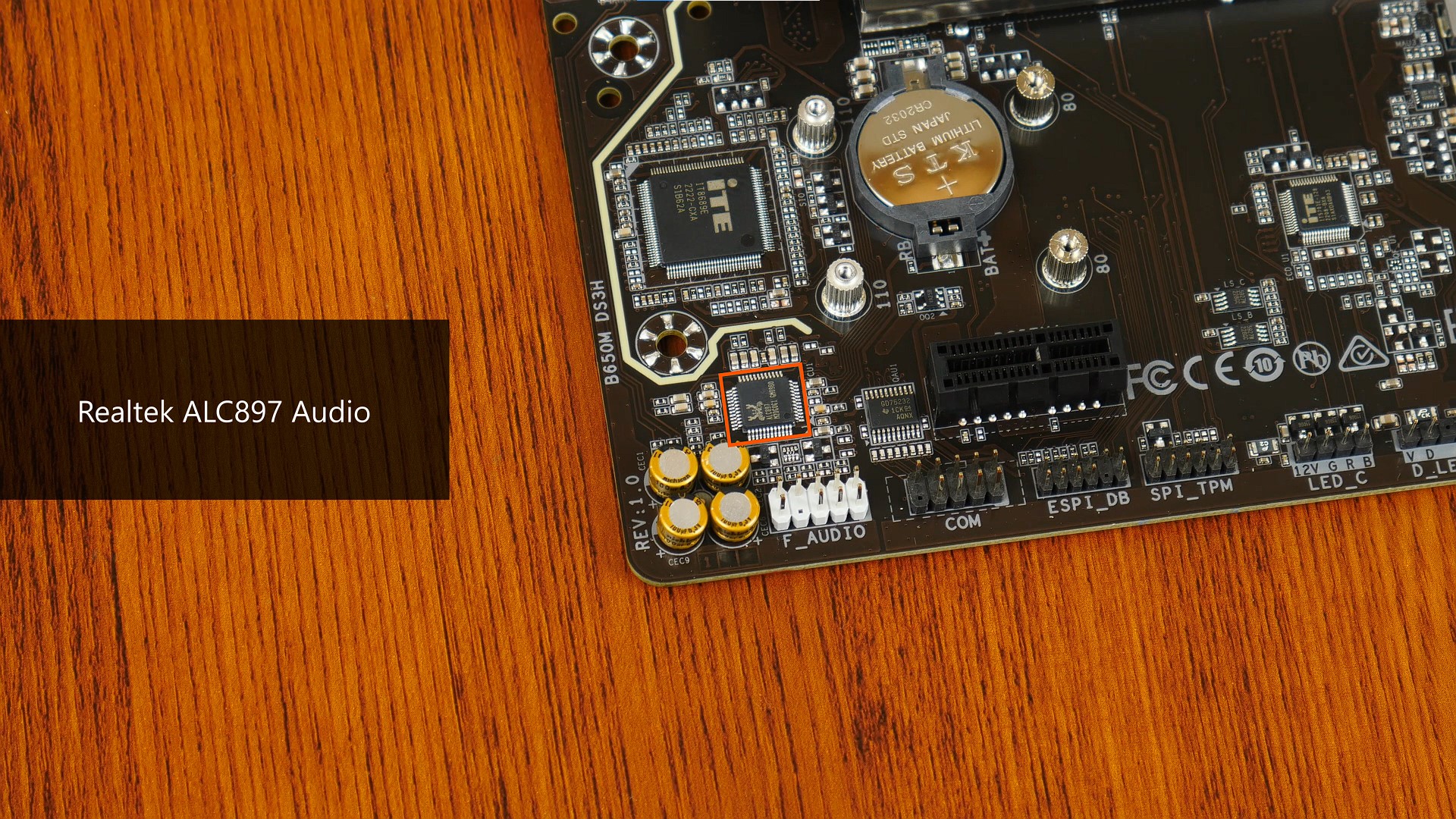 Being the entry-level board that it is, the B650M DS3H comes with Realtek's ALC897 audio codec, which is commonly found on entry-level motherboard offerings.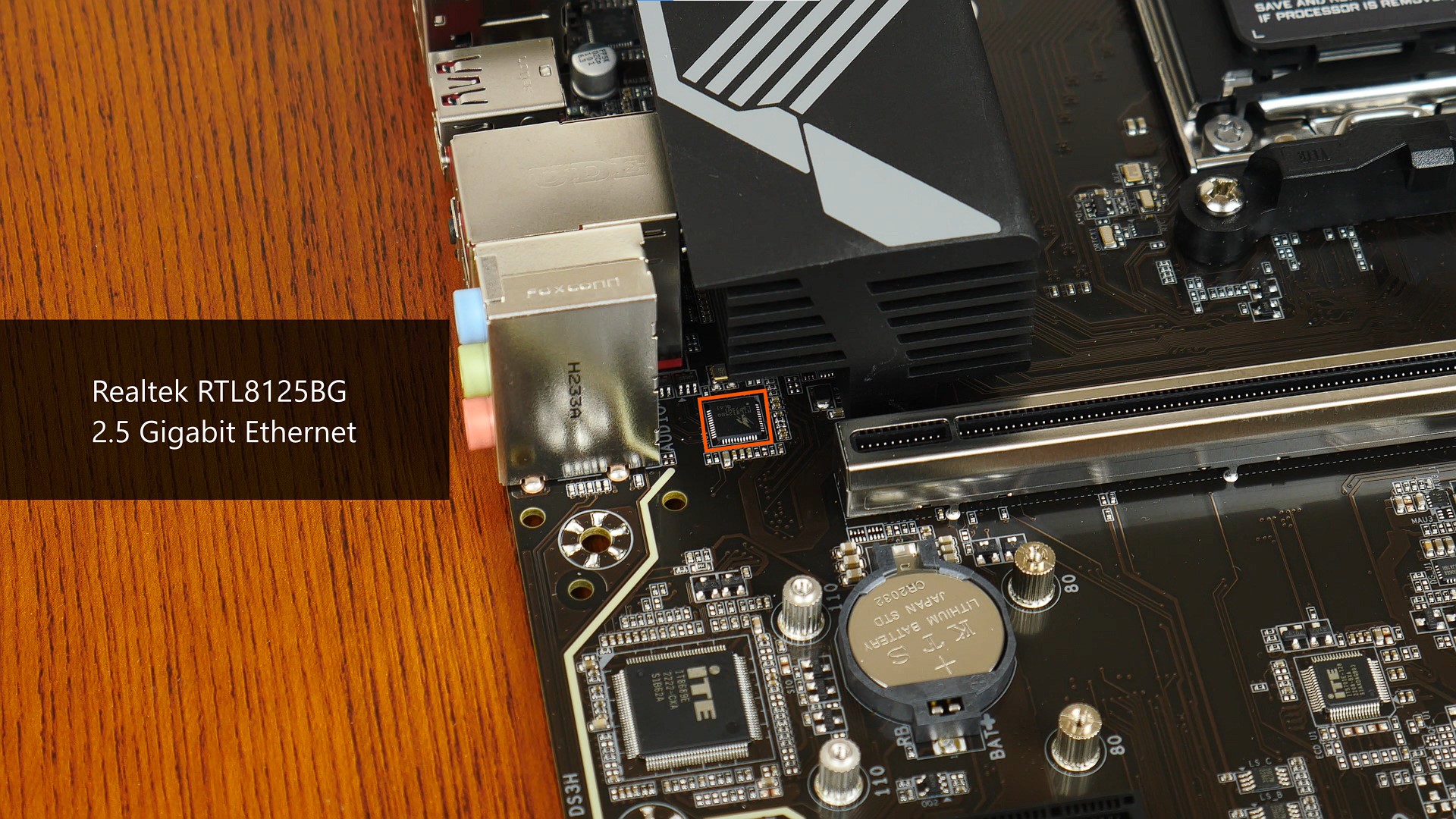 Wired internet connectivity is courtesy of a Realtek part as well - the RTL8125BG chip, which serves up 2.5 Gigabit Ethernet. Do note that this board does not come with built-in WIFI.
Fan & RGB Headers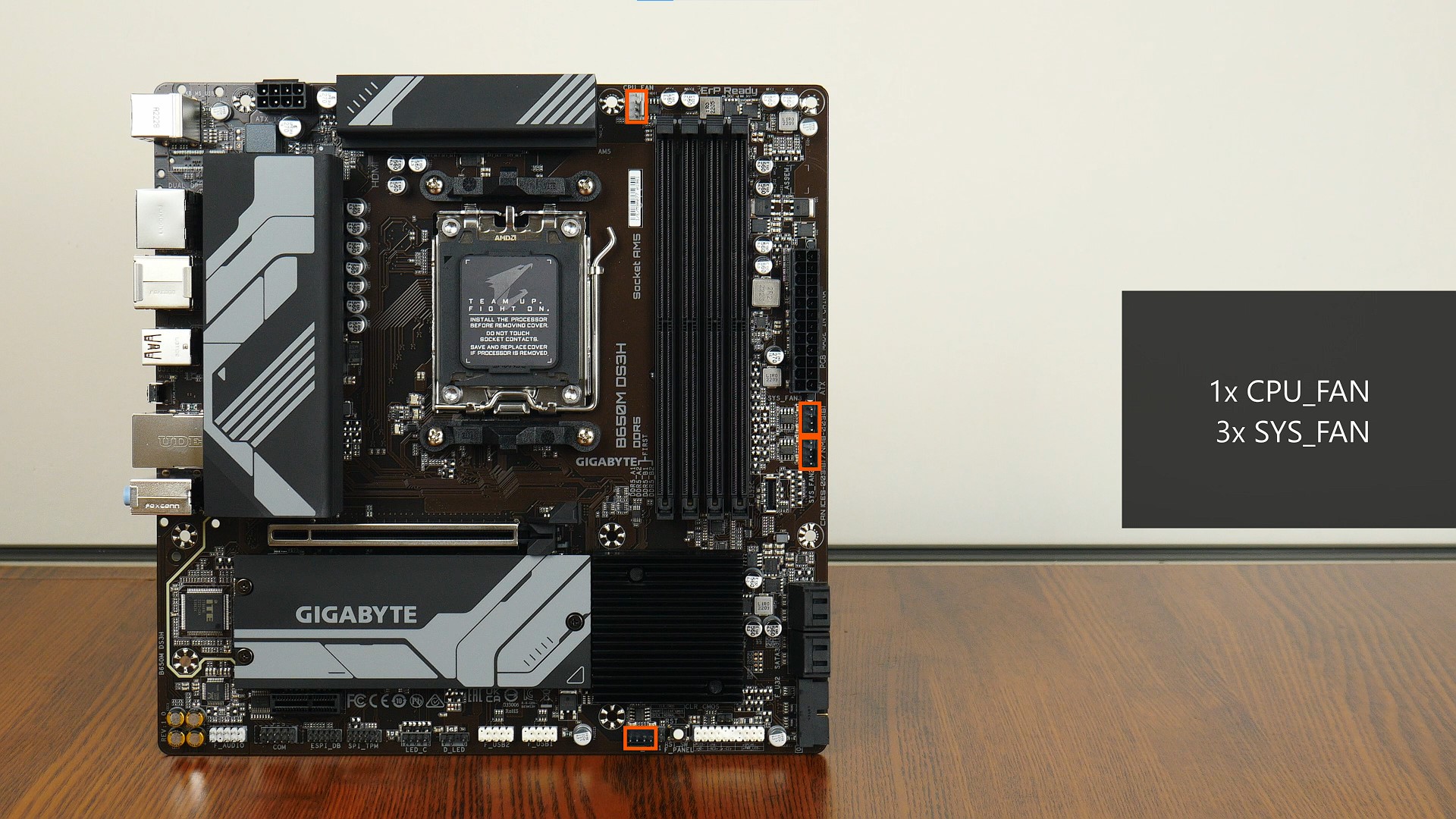 Gigabyte's included four fan headers with the board: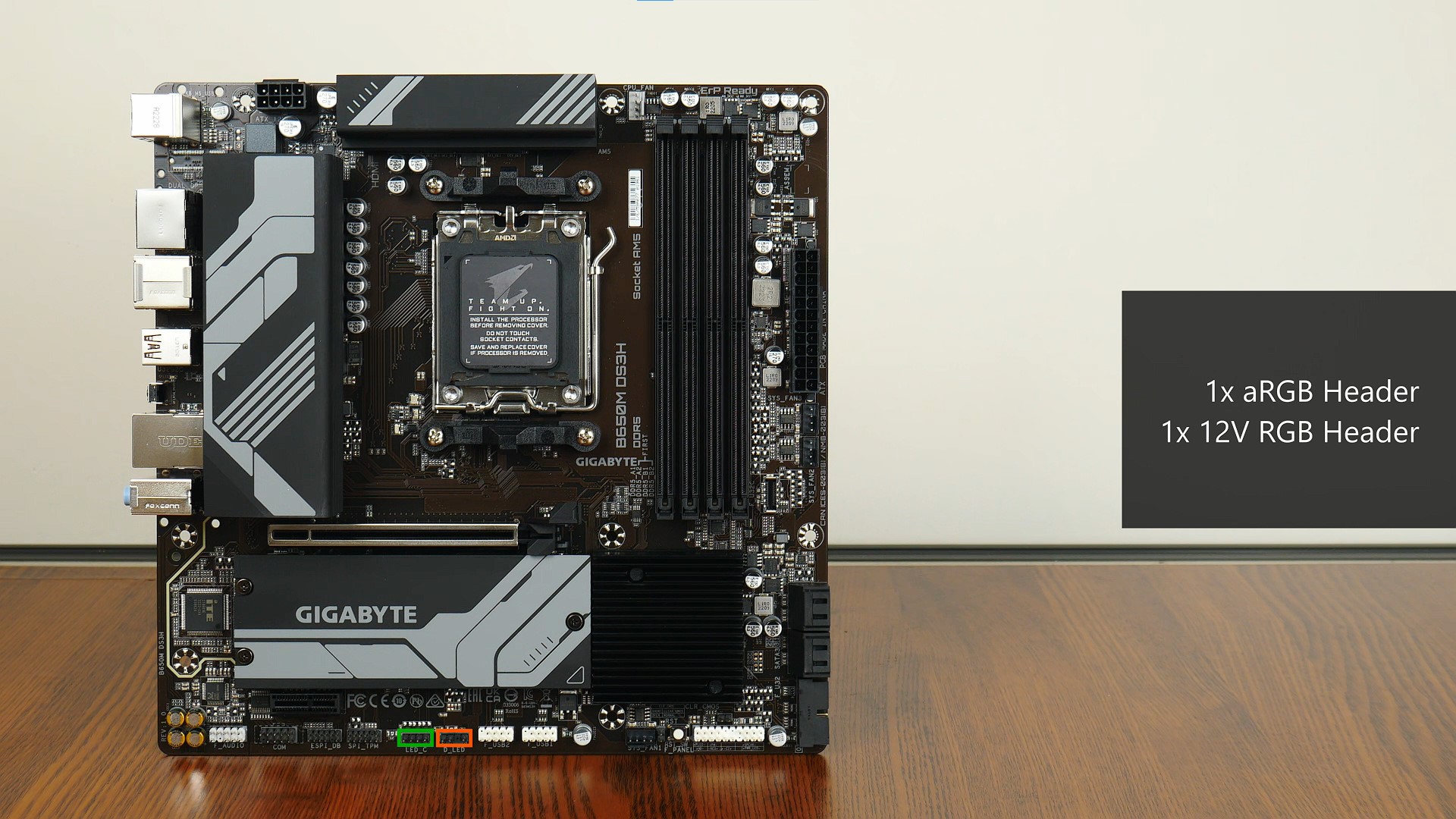 For end-users intending to install peripherals with RGB lighting, a single addressable RGB header and a 12V RGB header are included for this very purpose.
Other Features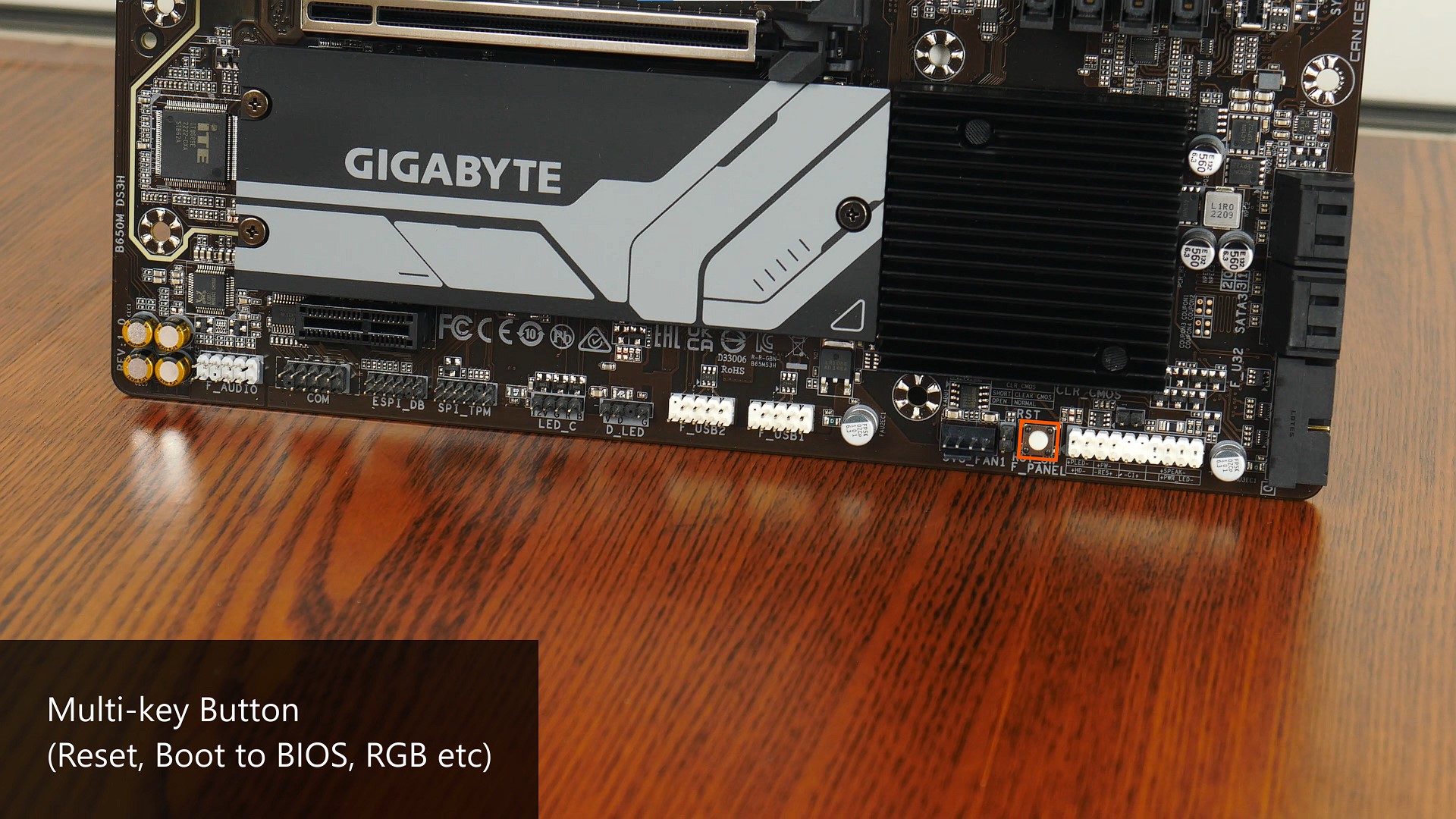 A useful feature that Gigabyte's included with the board is a multi-key button that can be configured within the BIOS to serve a variety of different functions. Some possible functions include to serve as a reset switch, or even to control the RGB lighting effects of supported peripherals connected to the RGB headers of the motherboard.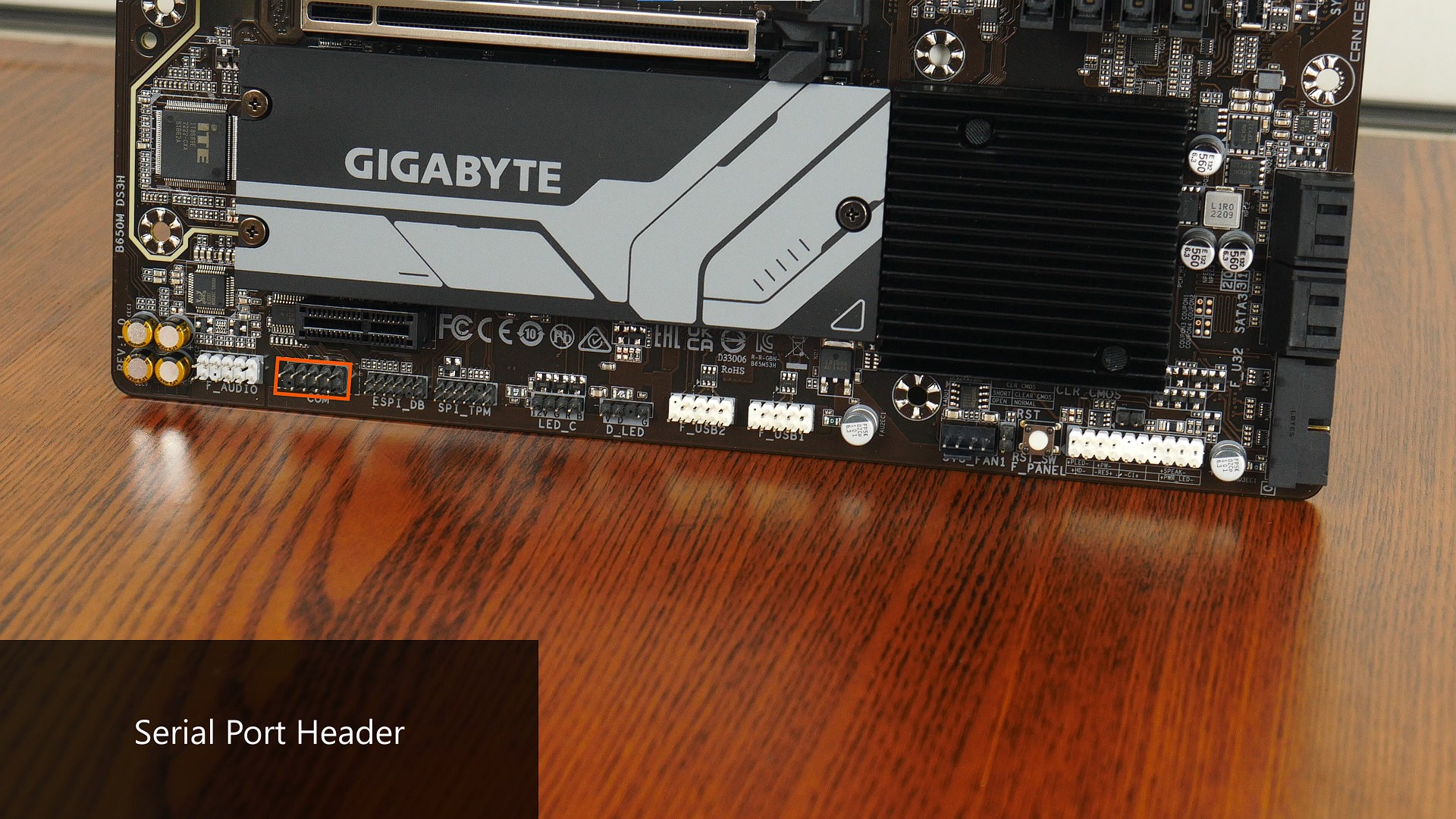 A serial port header is also included near the bottom edge of the board - useful to have especially for situations that call for the use of legacy PC hardware.
Rear I/O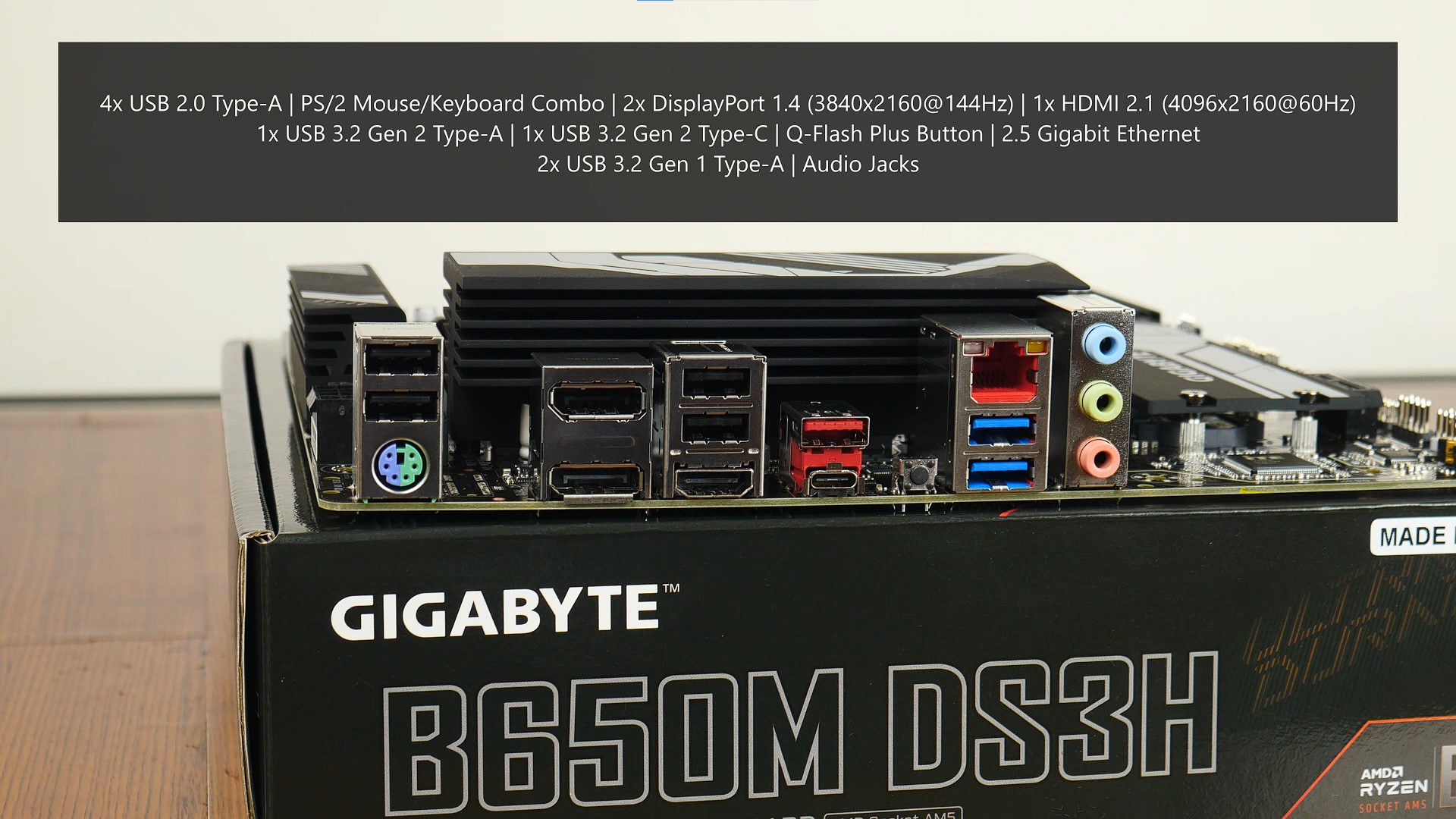 The rear I/O of the board comprises the following ports:
4x USB 2.0 Type-A

1x PS/2 mouse & keyboard combo port

2x DisplayPort 1.4 (max 3840x2160 resolution at 144Hz)

1x HDMI 2.1 (max 4096x2160 resolution at 60Hz)

1x USB 3.2 Gen 2 Type-A

1x USB 3.2 Gen 2 Type-C

Q-Flash Plus button

2.5 Gigabit Ethernet port

2x USB 3.2 Gen 1 Type-A

Audio jacks
Conclusion & Pricing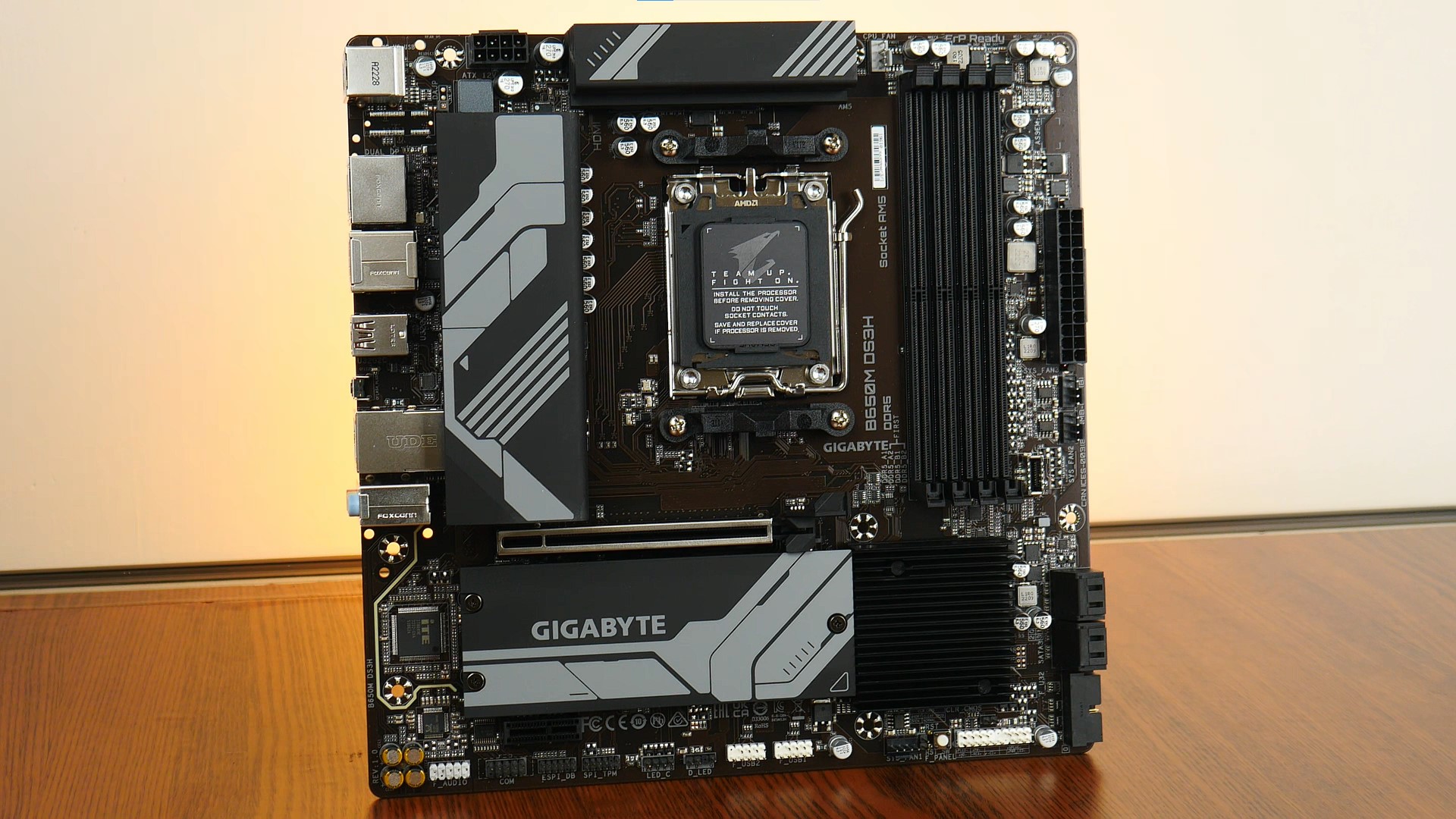 The B650M DS3H comes with the right amount of modern features that matter for a board positioned at the entry-level, with 2.5 Gigabit Ethernet, an ample variety of USB 3.2 connectivity options, and handy features such as the onboard multi-key button. Given its feature set, the board would be right at home with a lower-end Zen 4 CPU, such as the Ryzen 5 7600X, or even future Zen 4 APU and CPU parts from the Ryzen 3 line-up once they're eventually announced and launched in due course.
For international readers, the board is currently available through eCommerce sites such as Amazon for approximately $160 US dollars, whilst Singaporean readers can purchase this board for around $325 Singapore dollars from local retailers in Sim Lim Square. Given these prices, it can be seen that budget boards for the AM5 platform are no longer as "budget" as before given their current prices, especially for the Singapore market. In order for AMD to stay relevant at the mid-to-low end, downwards price adjustments are certainly needed for both AMD's AM5 CPU and motherboard offerings. One also does hope that other new Zen 4 processors at the low-to-mid range (e.g. the Ryzen 3 series) will arrive with more palatable price points as well.
Get this board from Amazon: https://amzn.to/3UwmzMK (affiliate link)
Get this board from Shopee Singapore: https://shope.ee/6f7ByLwXPn (affiliate link)
Get this board from Lazada Singapore: https://c.lazada.sg/t/c.YjAY42?sub_aff_id=alktech (affiliate link)
ALKtech may earn commissions from qualifying purchases made using affiliate links, at no extra cost to you as a customer. These commissions go a long way in supporting the platform!
The motherboard featured in this article was a review unit provided on loan from CDL Trading Pte Ltd, an authorised distributor for Gigabyte in Singapore.