The ASUS TUF GAMING B650M-PLUS WIFI is a mid-range micro ATX AM5 motherboard with a balanced feature set that is ready for AMD's latest 3D V-Cache Ryzen 7000 series CPU offerings, as well as future generations of Ryzen processors built atop the AM5 socket.
With AMD's latest 3D V-Cache AM5 gaming CPUs (namely the 7950X3D and 7900X3D) making waves in terms of their gaming performance, as well as the growing anticipation for the upcoming Ryzen 7 7800X3D CPU that might well be the value king for anyone looking to build a performance-oriented gaming PC, the AMD AM5 platform sure is looking attractive, especially when one considers AMD's plans for platform longevity.
For today's article, we'll be checking out a mid-range AMD B650 motherboard offering that is X3D ready and could represent the sweet spot in terms of value for anyone intending to build an AM5 gaming PC - the ASUS TUF GAMING B650M-PLUS WIFI.
Summary of Specifications
Processor Support: AMD Ryzen 7000 series (Zen 4) AM5 processors
Chipset: AMD B650
Memory: 4x DDR5 slots, max 128GB, up to DDR5 6400+ (OC) support
Audio: Realtek ALC897 audio codec
LAN: Realtek RTL8125BG 2.5 Gigabit Ethernet
WIFI: MediaTek MT7921 WIFI 6 module with built-in Bluetooth 5.2
Expansion Slots: 1x PCIe 4.0 x16, 1x PCIe 4.0 x1, 1x PCIe 4.0 x16 (x4 mode)
Storage: 4x SATA III, 1x PCIe 5.0 x4 M.2, 1x PCIe 4.0 x4 M.2 (M.2 slots support NVMe drives only)
Form Factor: Micro ATX
Packaging & Contents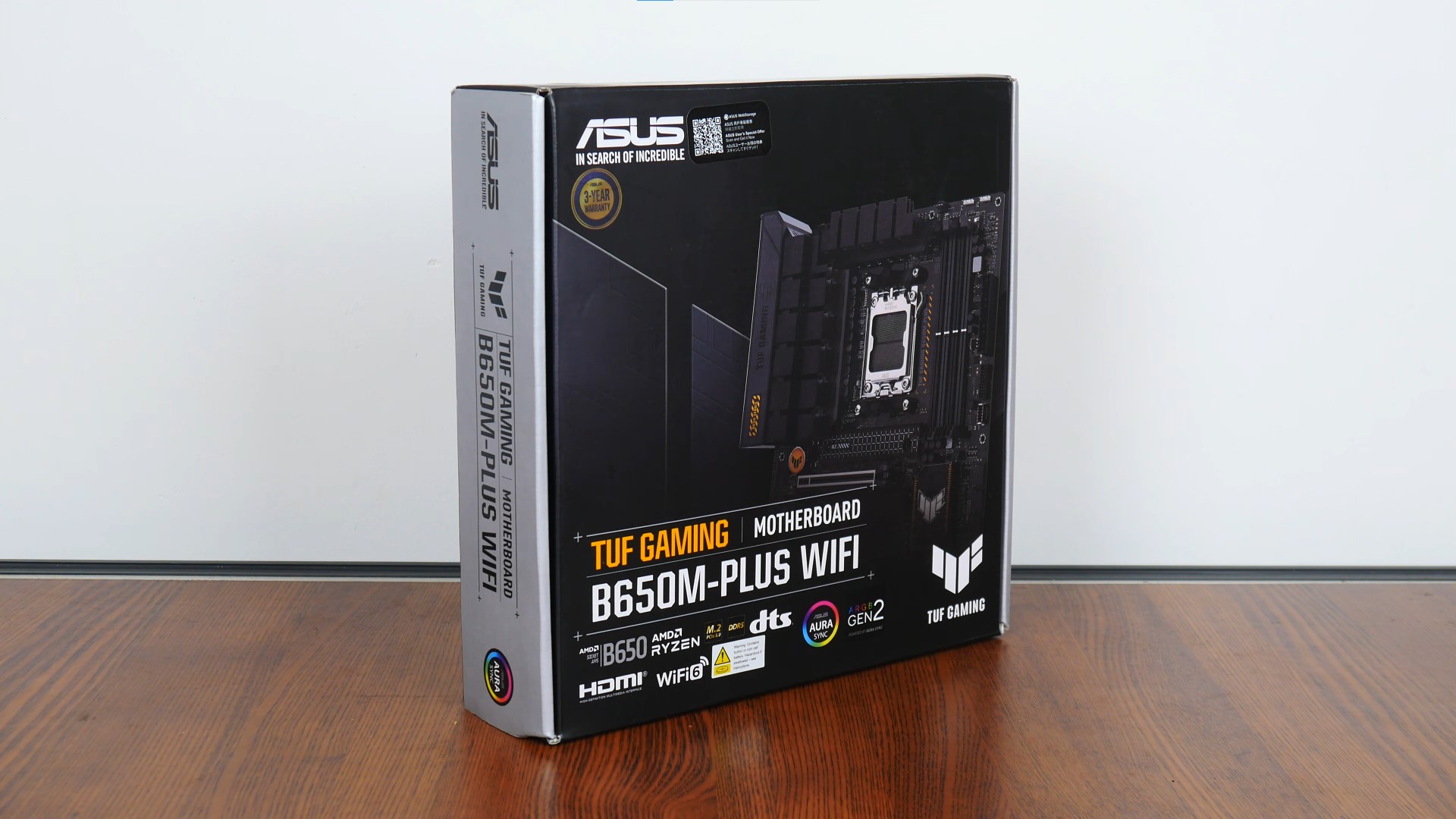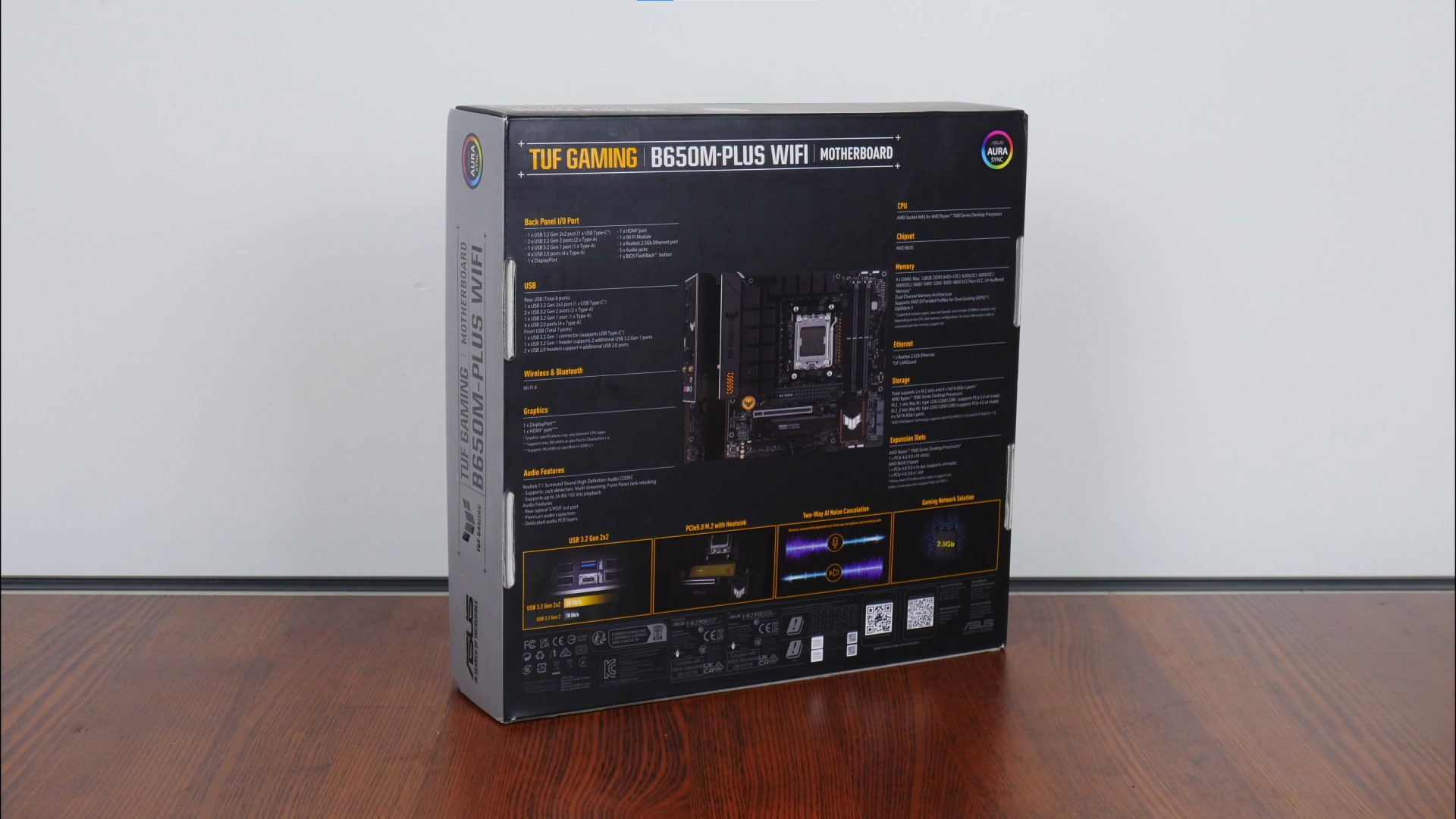 The TUF GAMING series of motherboard offerings are targeted at gamers on a budget, where it places below the ROG Crosshair and ROG STRIX series of boards, and above the value-oriented PRIME series of motherboard offerings by ASUS. In keeping with the design language of the TUF GAMING series of products, the B650M-PLUS WIFI comes in a box sporting a silver-on-black colour scheme, with touches of yellow thrown in for contrast.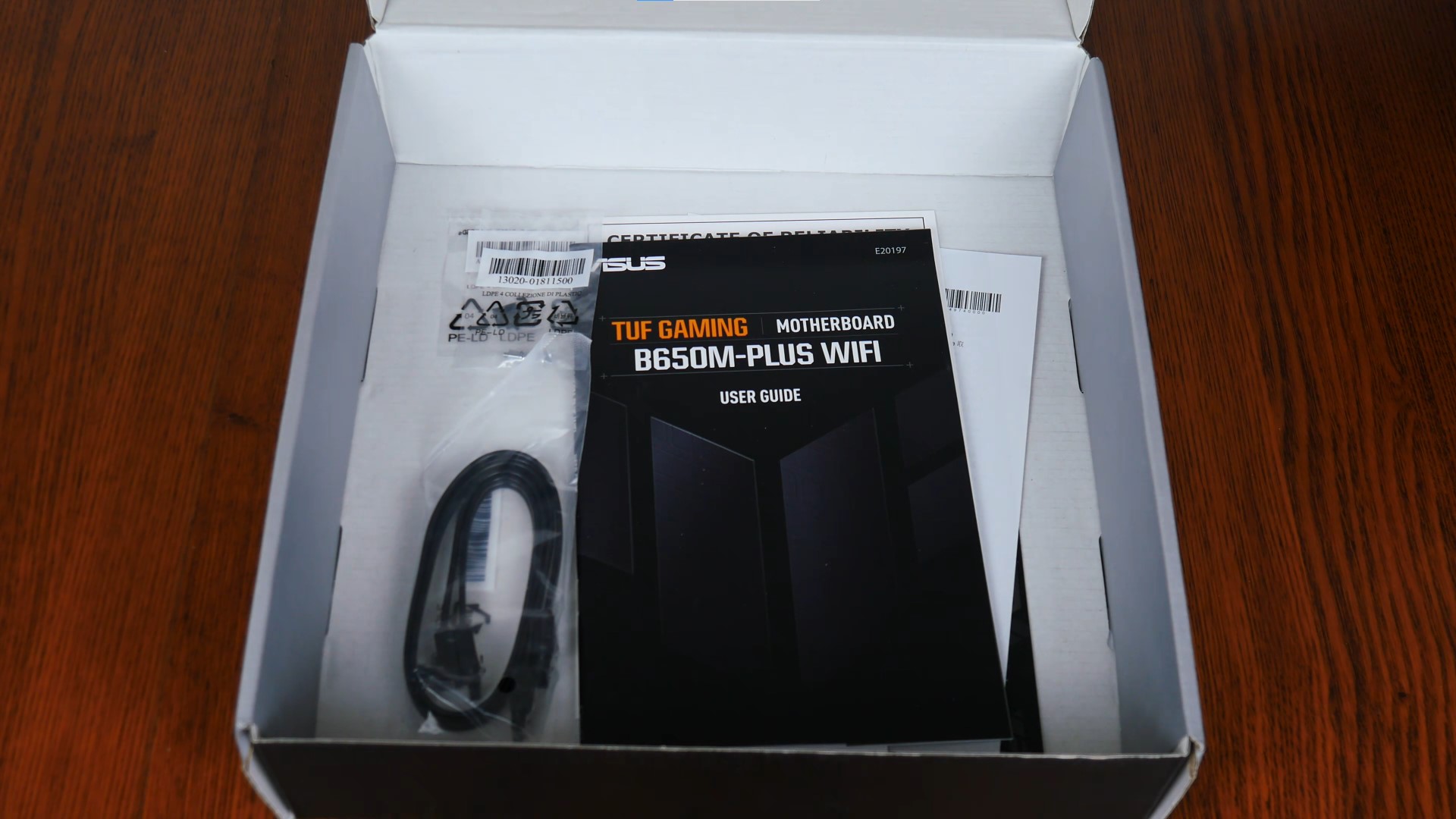 The board comes with the following accessories:
WIFI antenna
2x SATA III cables
Pack of M.2 screws and standoffs
Packs of M.2. drive rubber pads (adds additional height clearance for single-sided M.2 SSDs)
Motherboard manual
DVD driver disc
Quick start guide
TUF Gaming Certificate of Reliability
ASUS WebStorage promotional leaflet
TUF Gaming sticker sheet
Board Aesthetics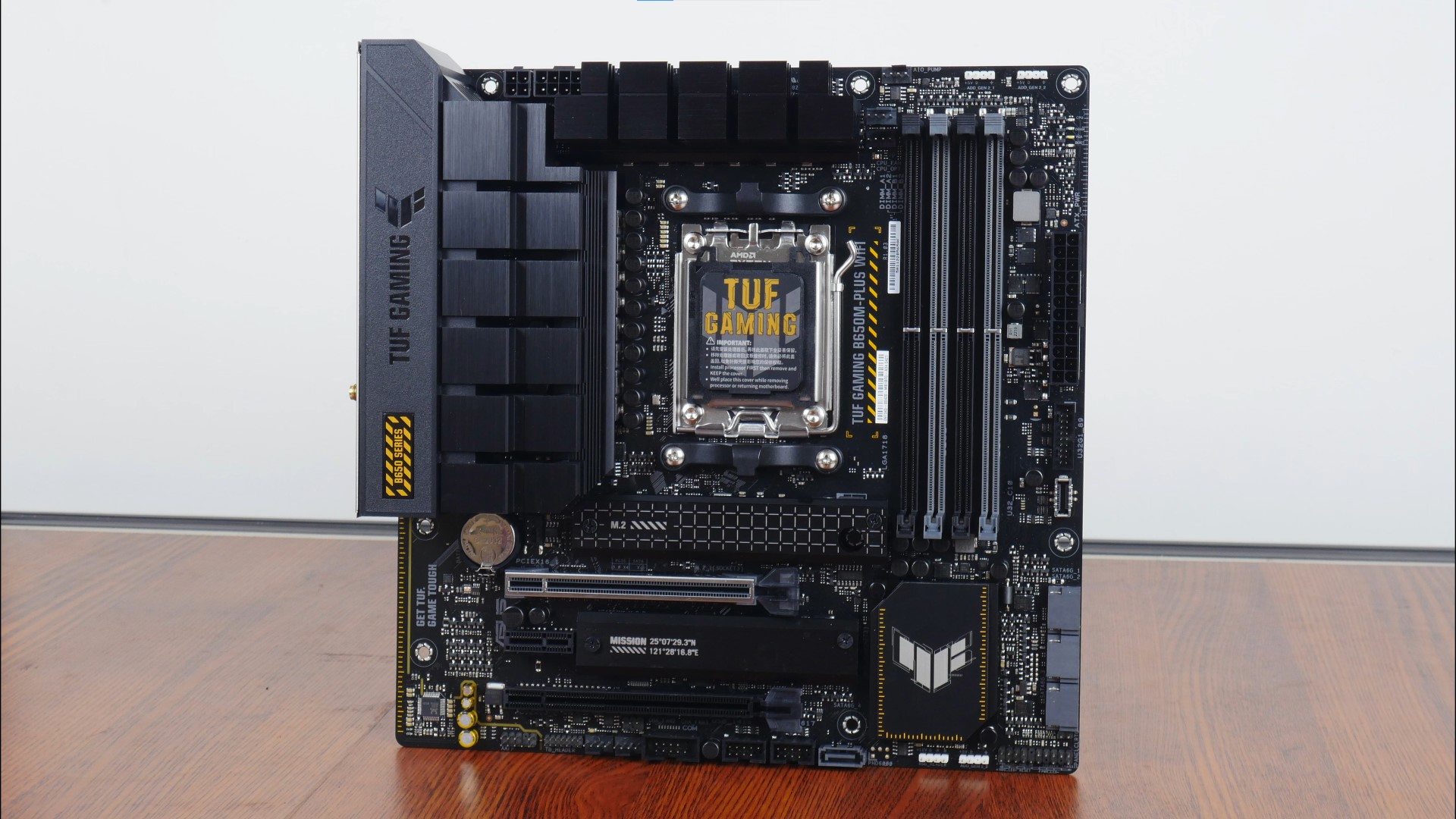 The TUF Gaming B650M-PLUS WIFI sports a black-and-grey colour scheme with touches of yellow thrown in for contrast. It features an integrated I/O shield design, and comes with large black heatsinks all around that are adorned with military-inspired motifs. RGB junkies should note that the board does not come with built-in RGB LED accents, though it does of course come with a handful of RGB headers for you to connect your RGB-capable peripherals with,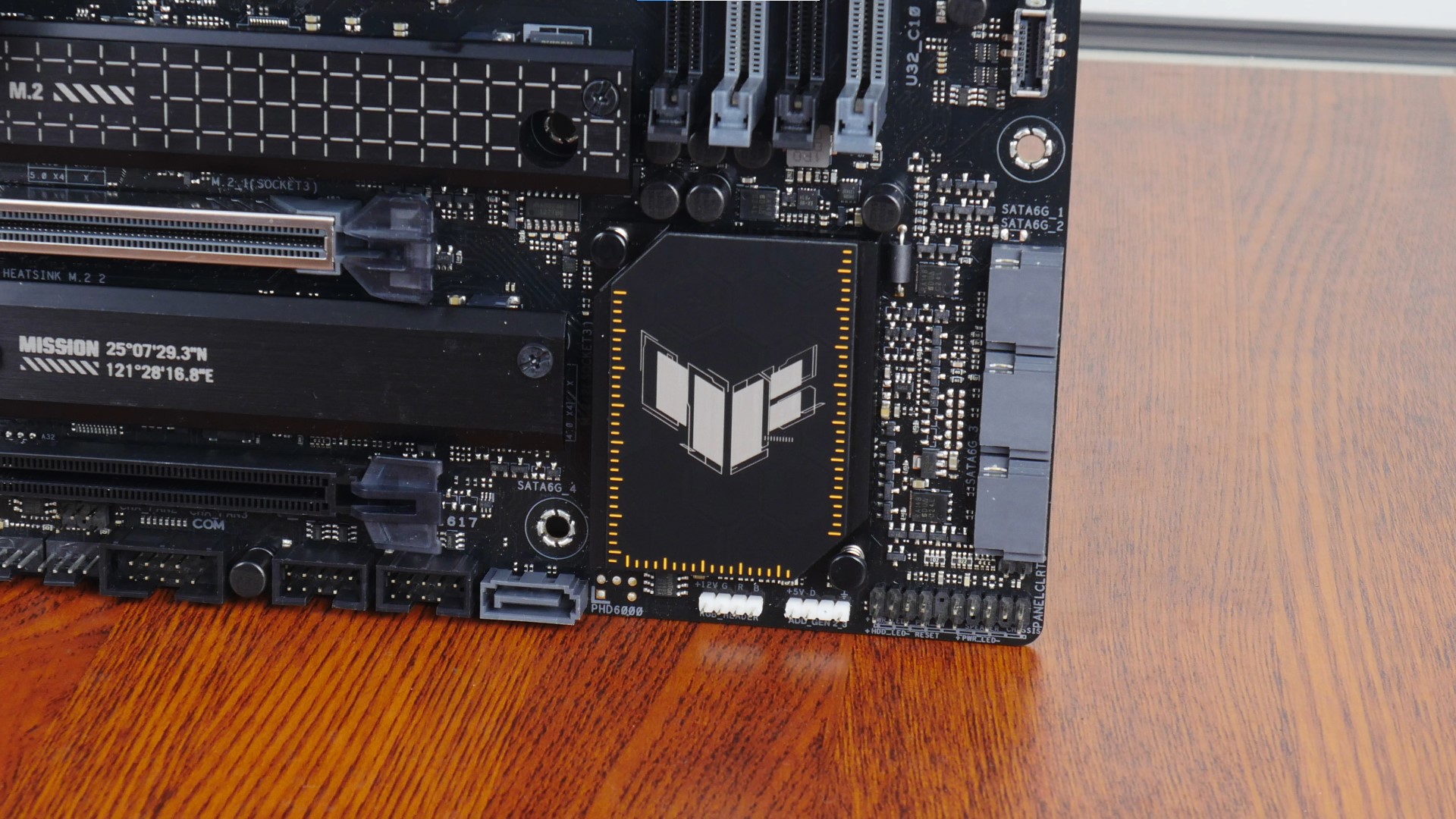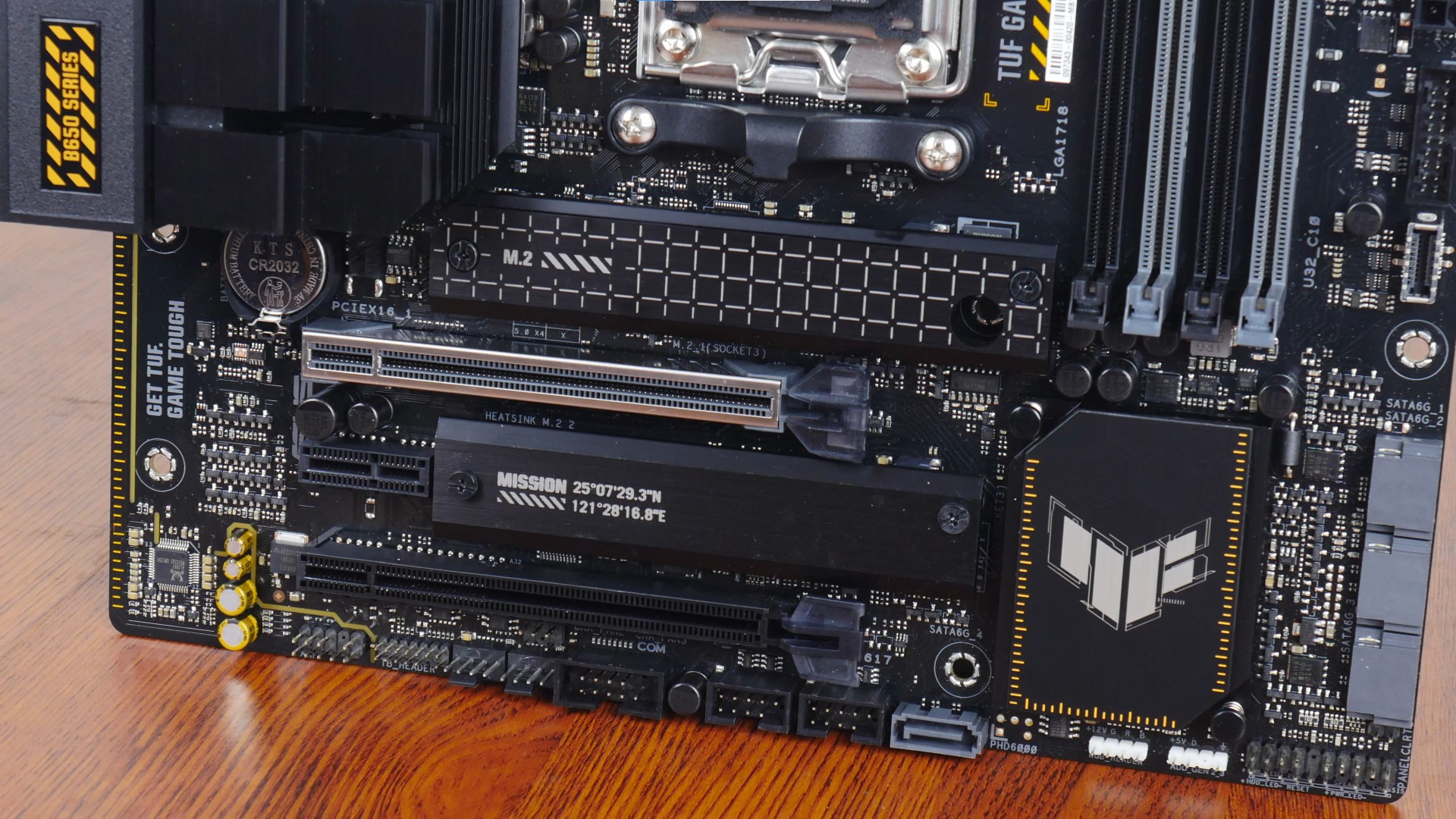 Unlike the AMD X670E that comes with a dual chipset design, the B650 comes in a single-chip package, and ASUS has included a passive heatsink for cooling duty, where it comes adorned with the TUF Gaming emblem. Also included are heatsinks for the two M.2 slots that this board comes with.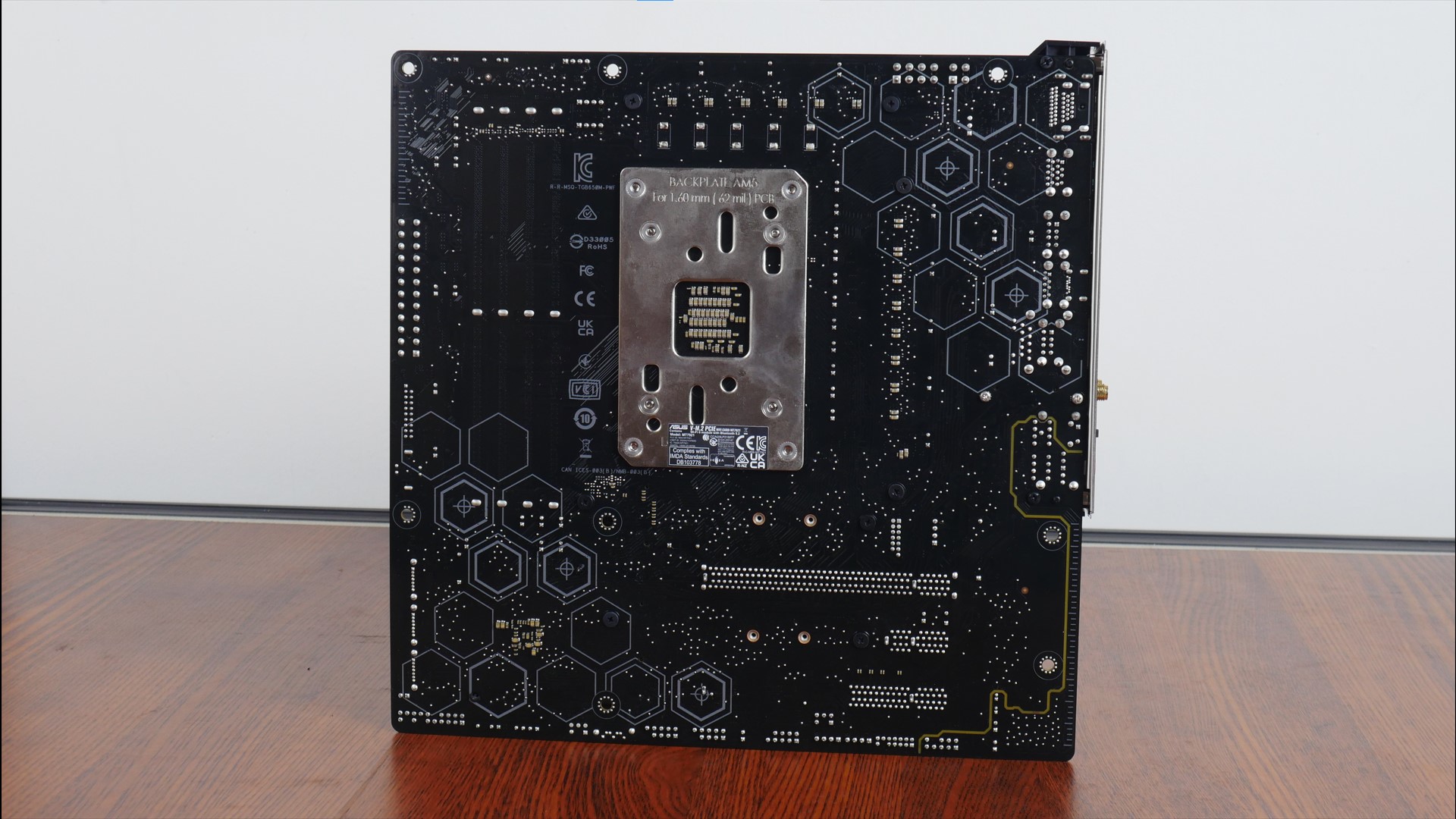 The rear of the motherboard comes adorned with TUF Gaming motifs - a nice touch that unfortunately might go unappreciated once the board is installed inside of a PC case.
VRM & Memory Support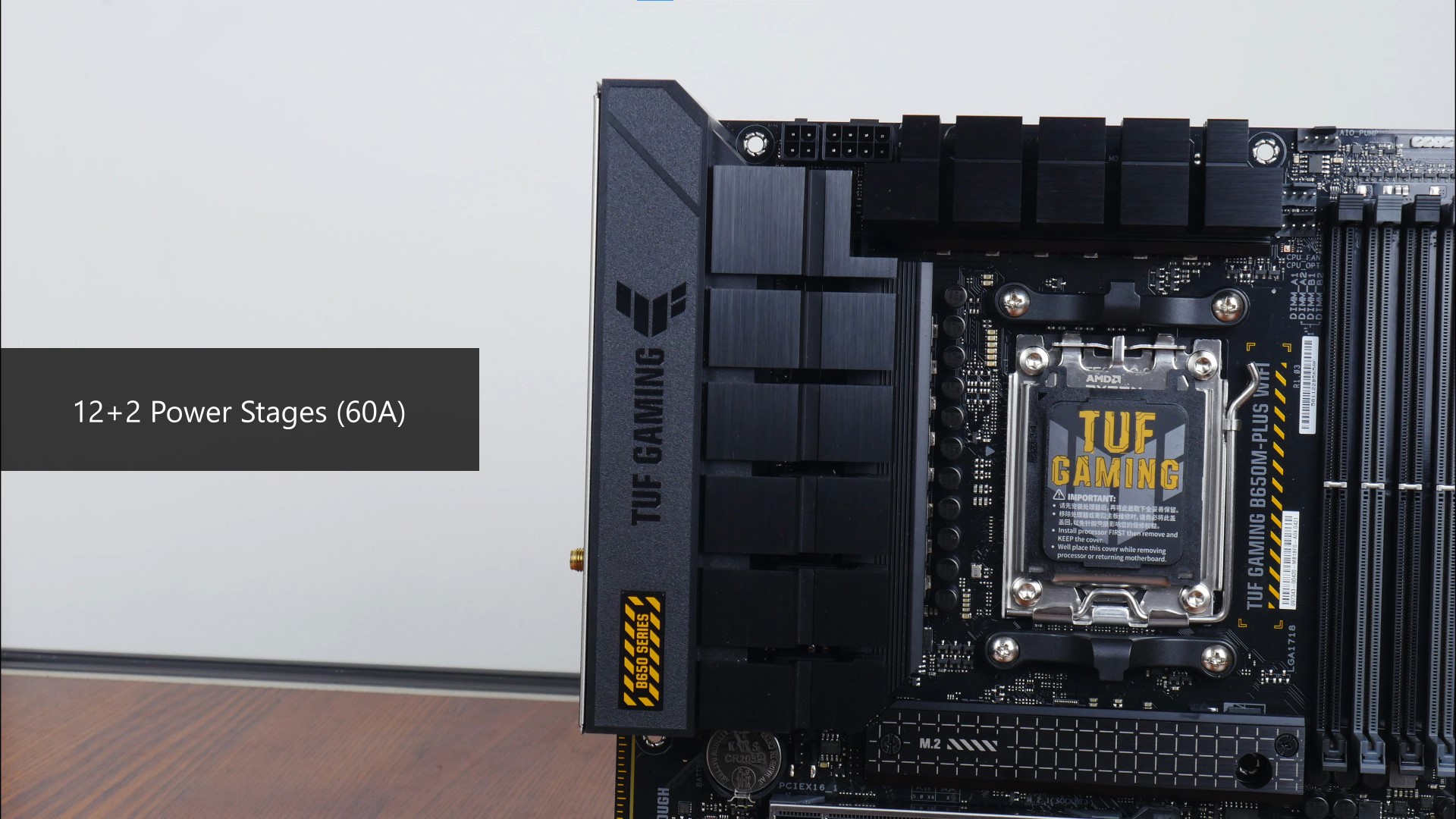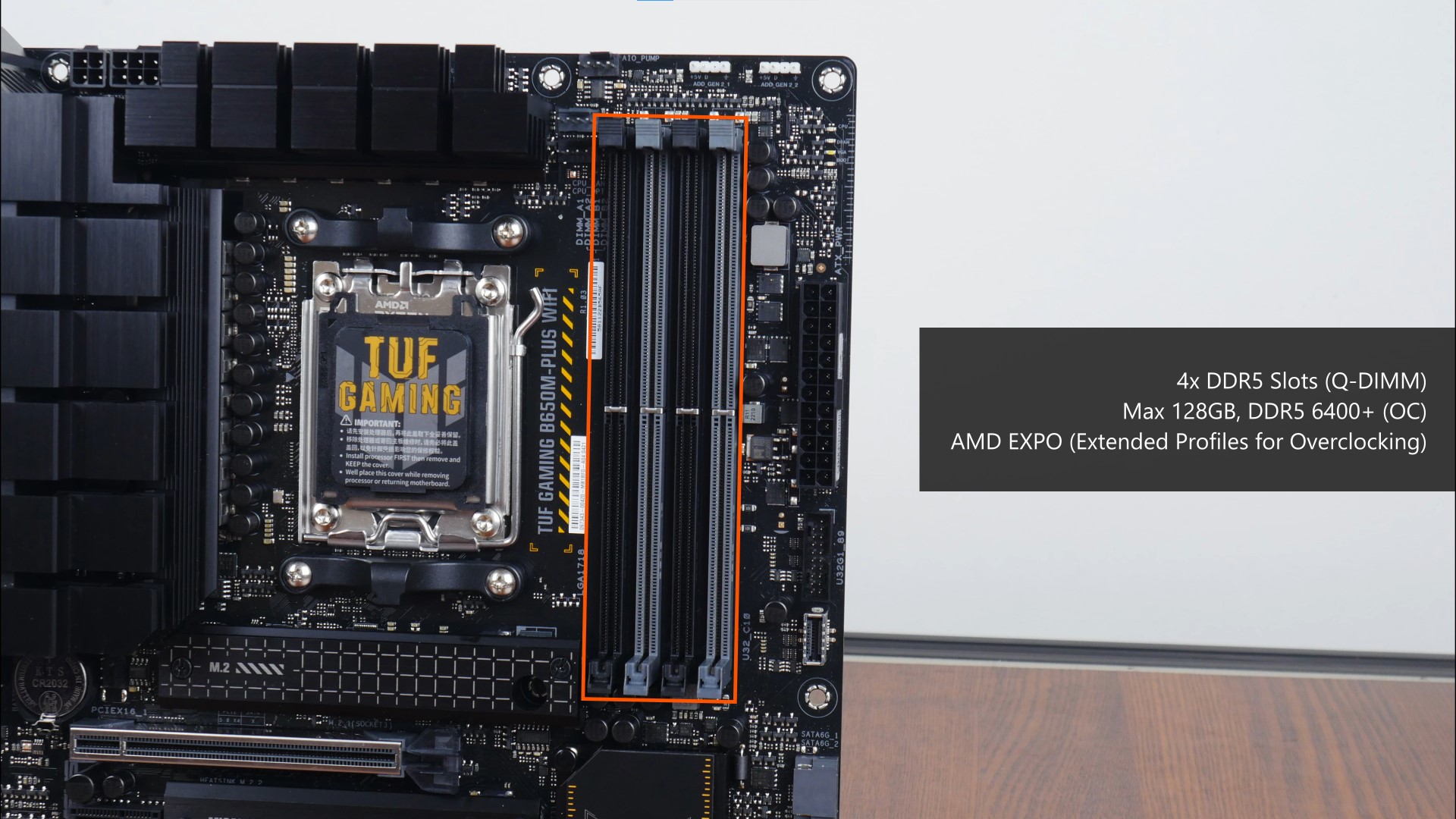 ASUS has equipped the B650M-PLUS WIFI with 12+2 power stages that are rated for up to 60A each. The board also sports four DDR5 slots with support for up to 128GBs of RAM, and the DDR5 6400+ standard when overclocked. The memory slots are of a single-tabbed design - what ASUS calls "Q-DIMM", which makes the removal of installed memory modules less of a painful affair. The board also features AMD EXPO - Extended Profiles for Overclocking, which are built-in overclocking profiles for DDR5 memory, similar to what XMP stands for in Intel's ecosystem.
Front Panel USB Headers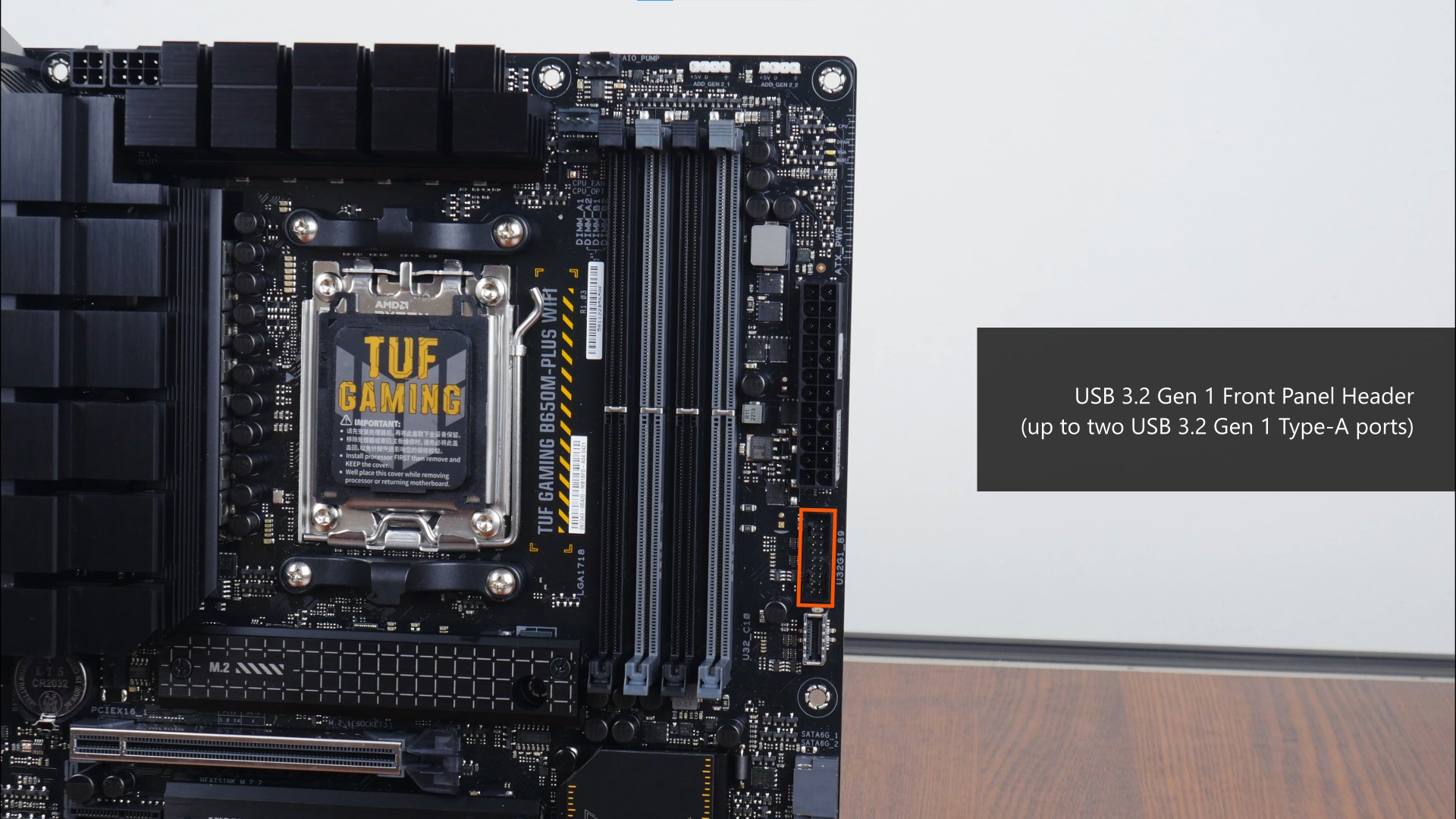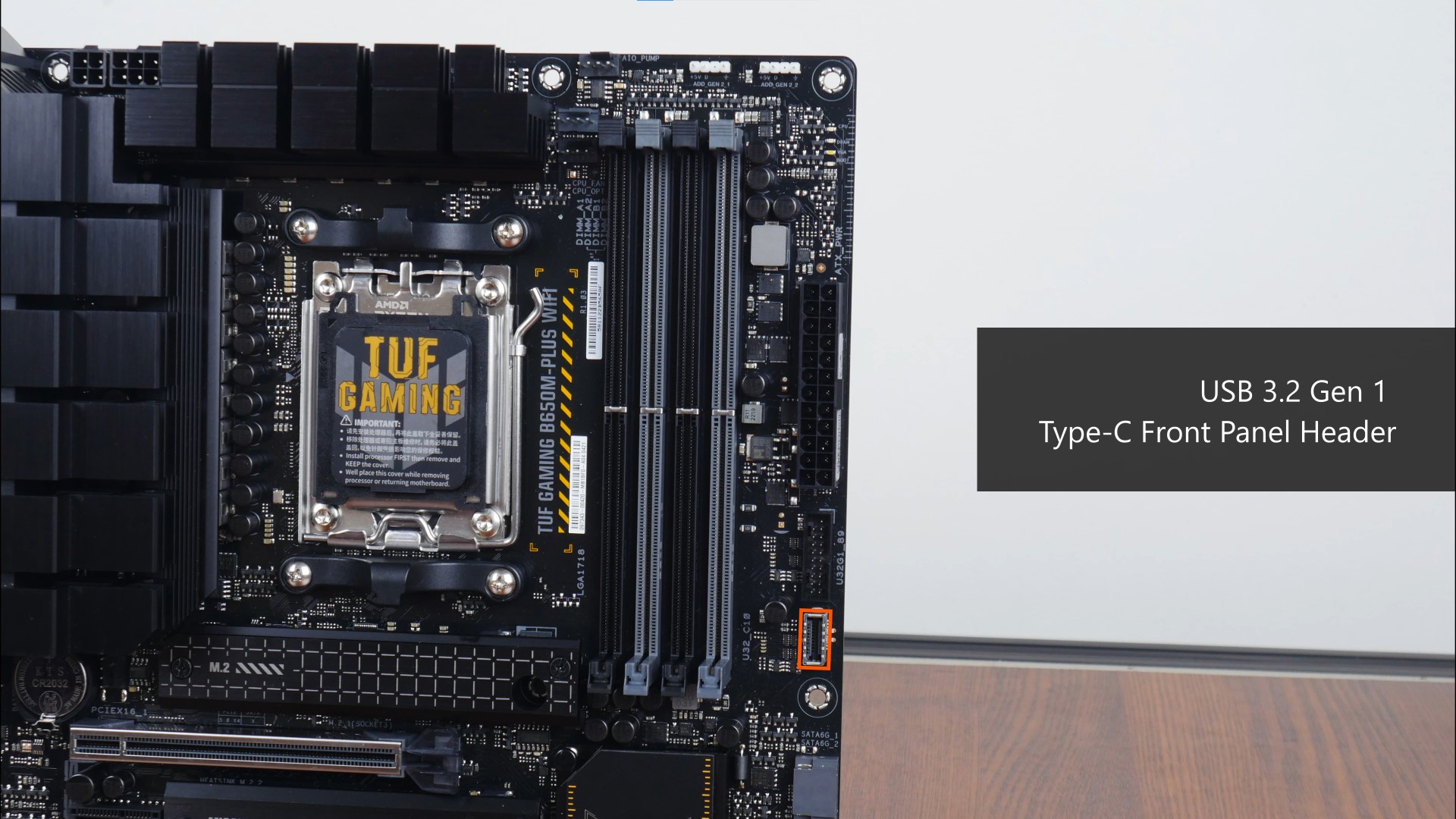 For front panel USB connectivity, the board comes with a USB 3.2 Gen 1 Type-A front panel header that provides for up to two front panel USB 3.2 Gen 1 Type-A ports, as well as a USB 3,2 Gen 1 Type-C front panel header that provides for a single front panel USB 3.2 Gen 1 Type-C port.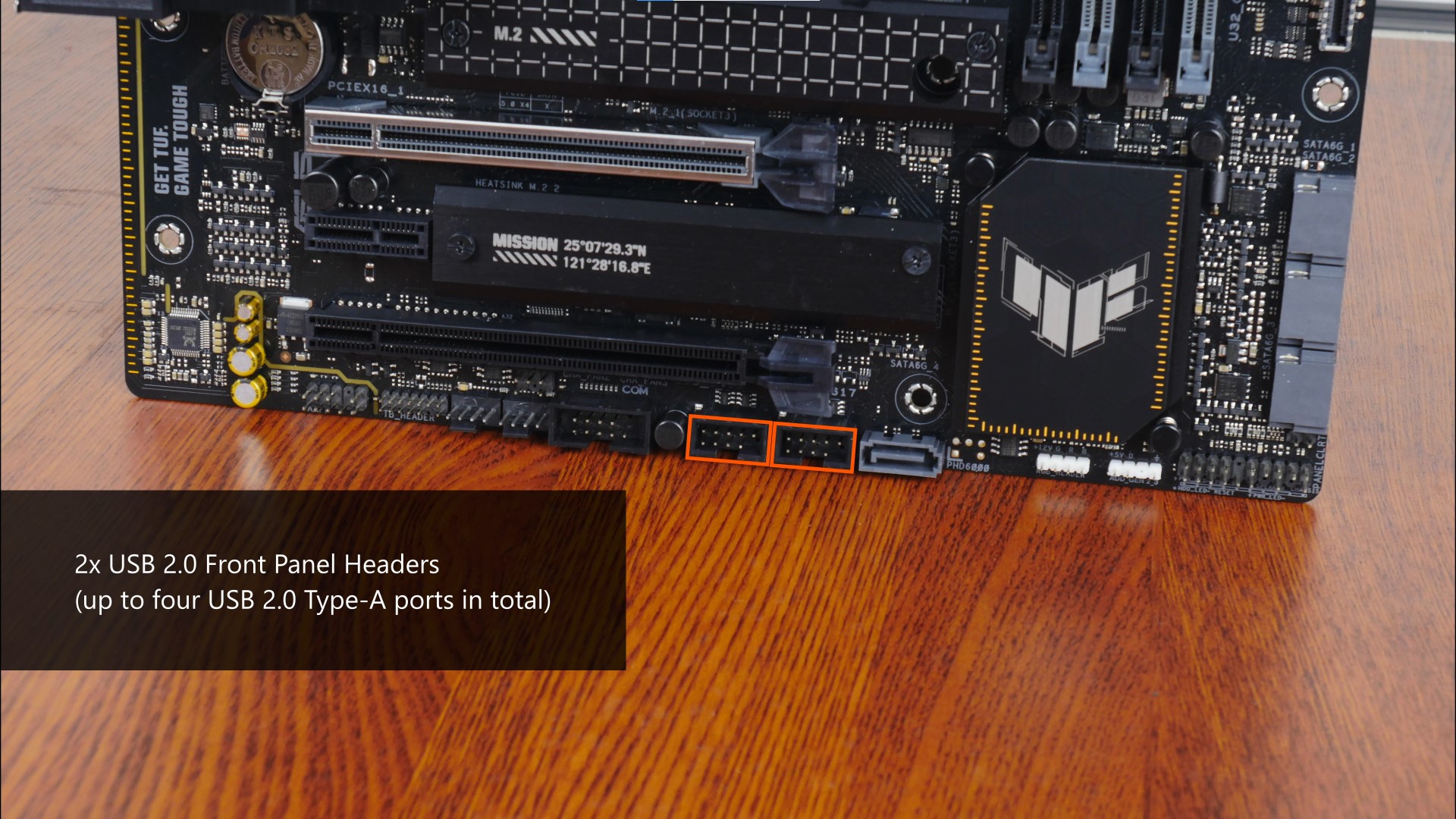 Also included are two front panel USB 2.0 headers that can be found near the bottom edge of the board. Each of these headers provide support for two front panel USB 2.0 Type-A ports, for a total of up to four ports.
Expansion Slots & Storage Options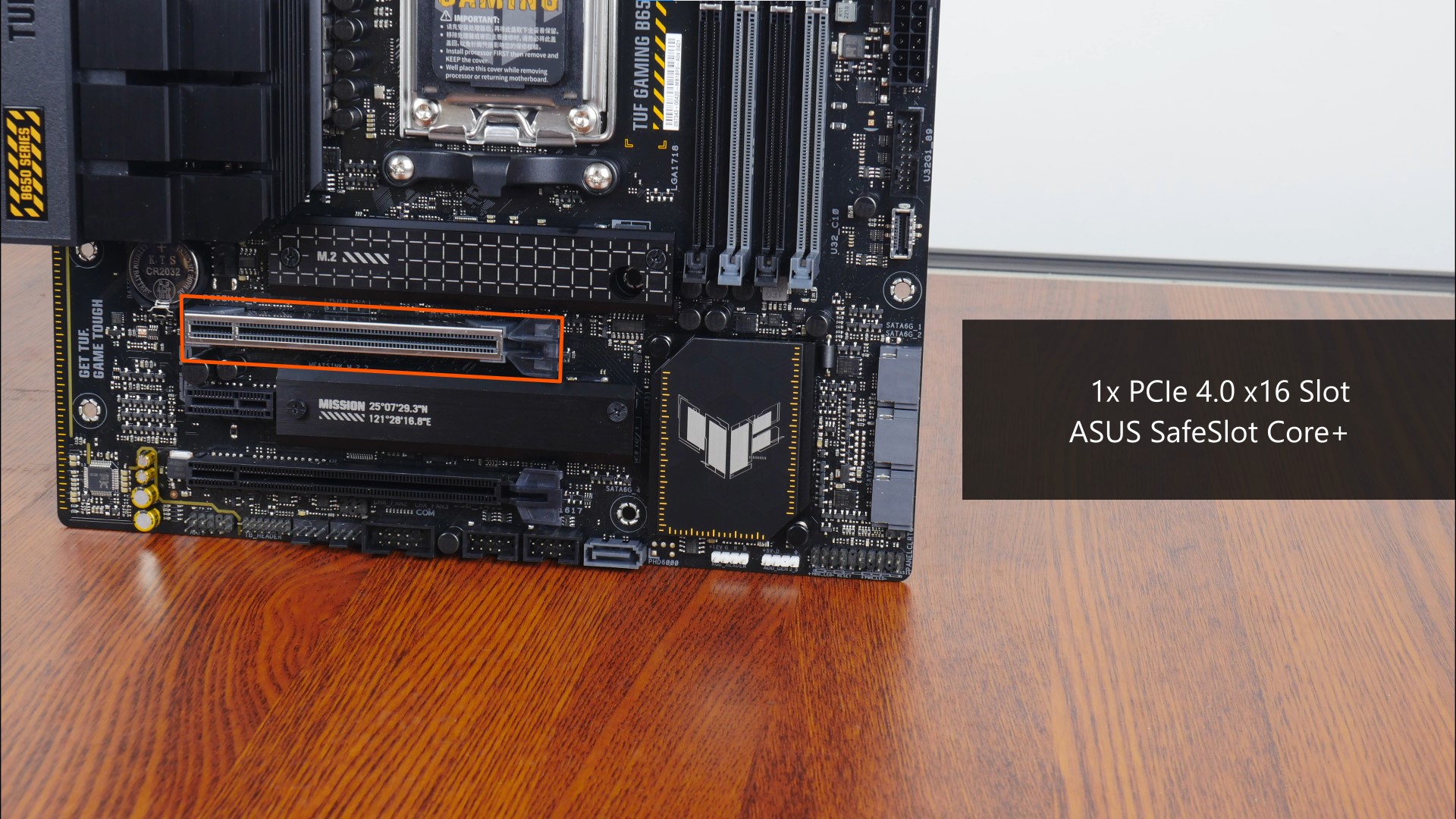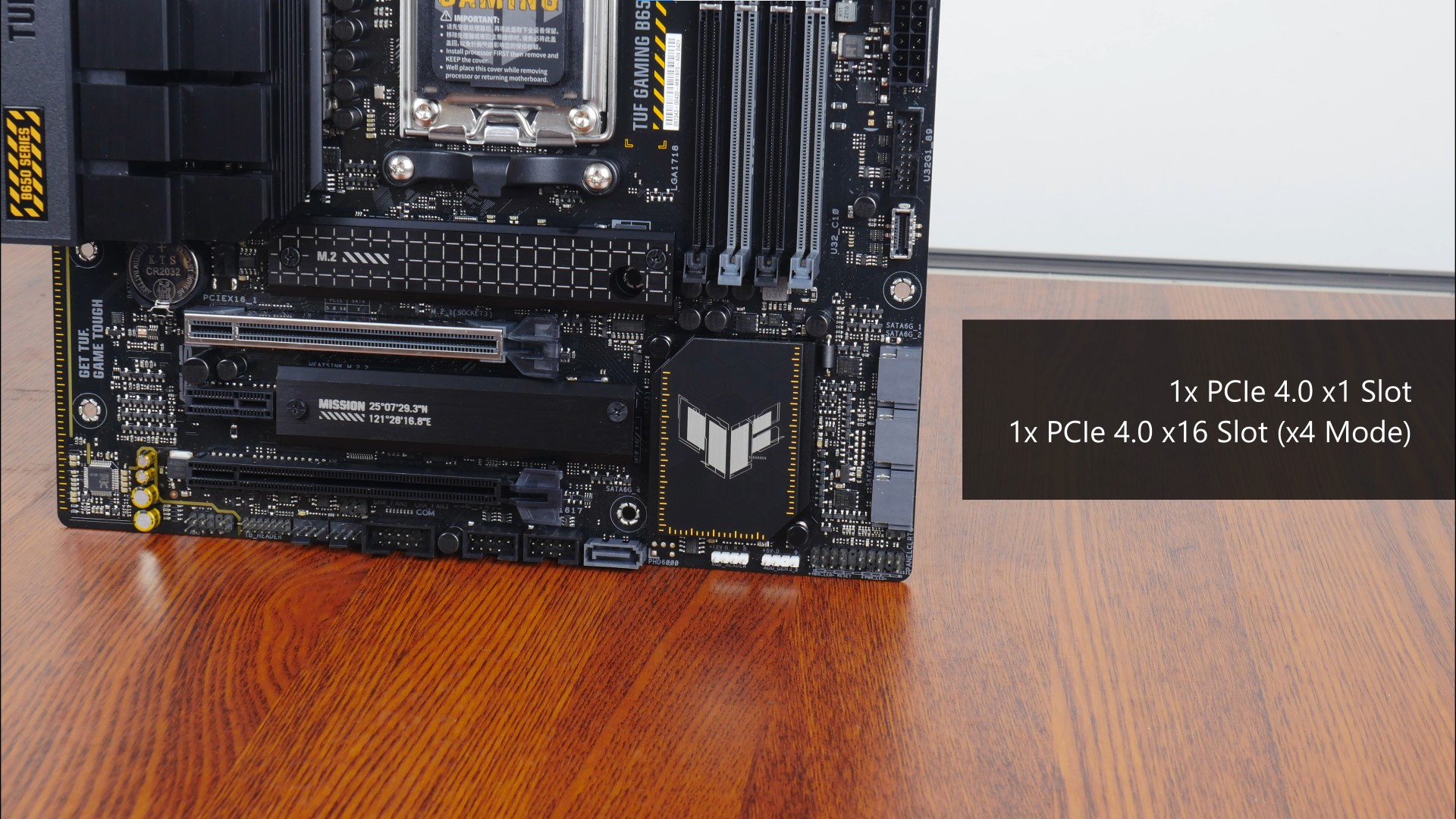 The TUF GAMING B650M-PLUS WIFI comes with a single PCIe 4.0 x16 slot for a graphics card, a PCIe 4.0 x1 slot as well as a PCIe 4.0 x16 slot that operates at x4 mode. The primary PCIe 4.0 x16 slot comes with the SafeSlot Core+ feature that reinforces the slot for use with heavy graphics cards.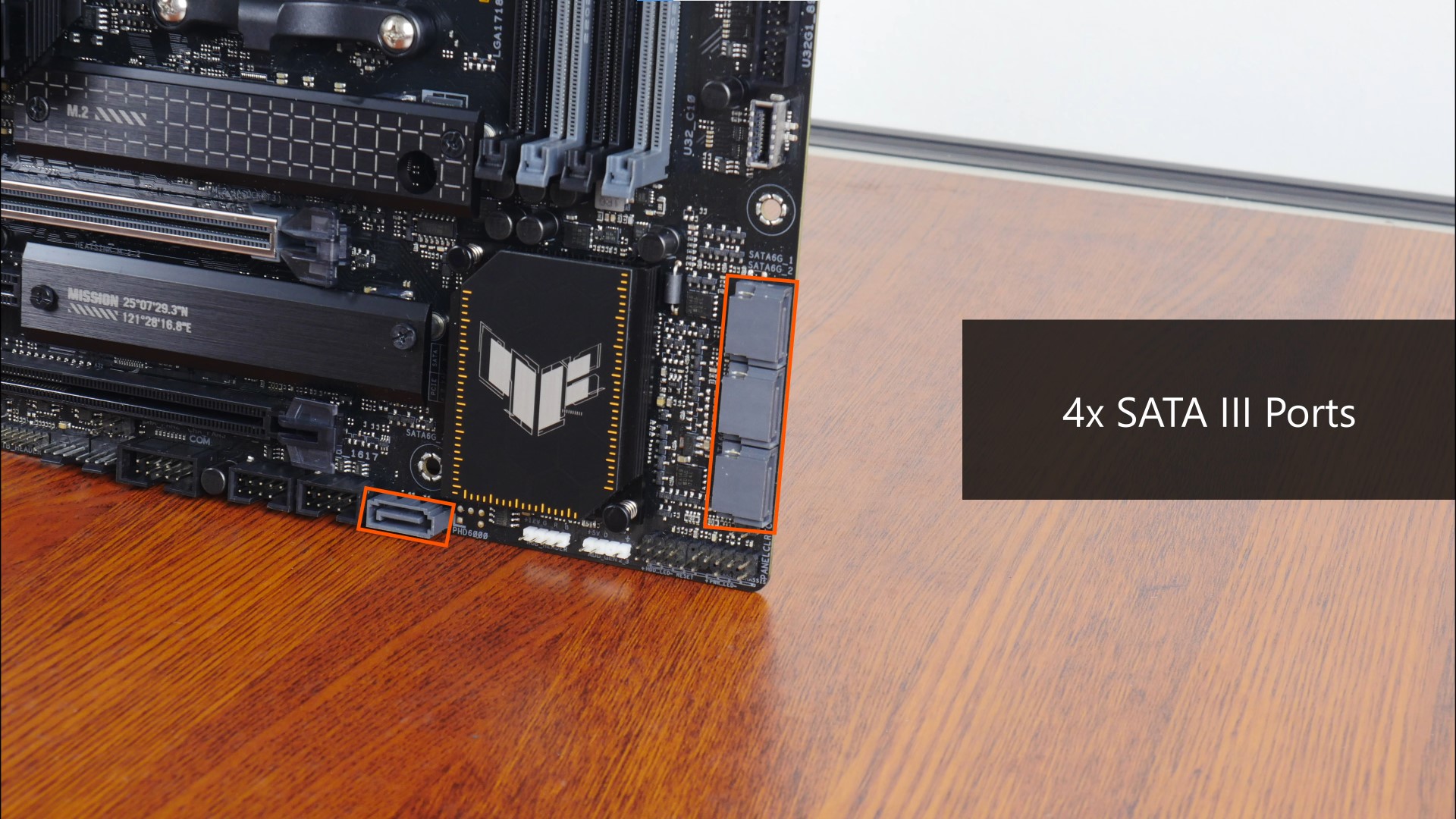 For your storage device needs, ASUS has included four SATA III ports, with three ports in a right-angled configuration to aid with cable management, and a single port in a straight-angled configuration.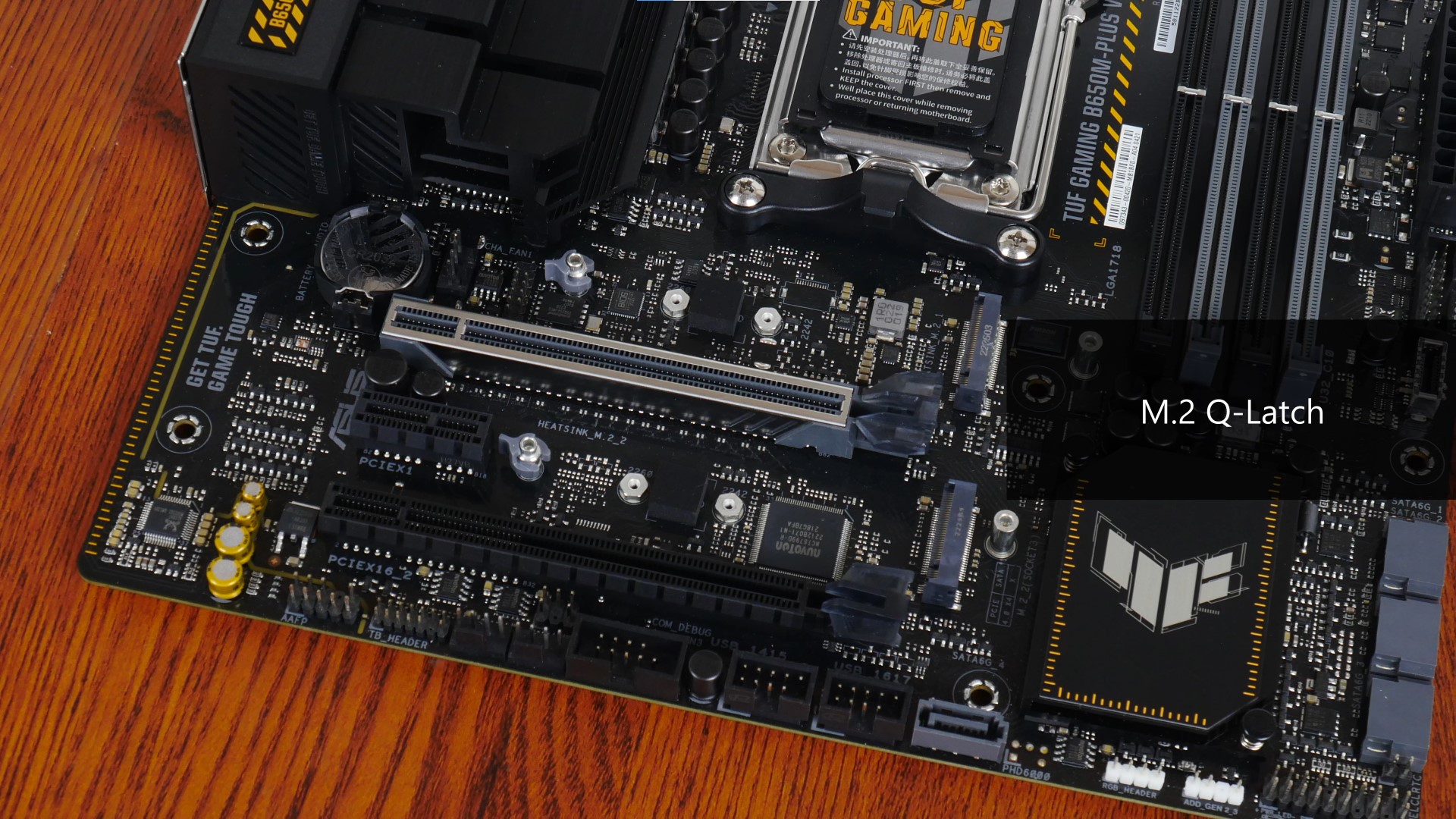 M.2 drive support is by way of two M.2 slots, with the topmost slot supporting the PCIe 5.0 x4 standard, and the bottommost slot supporting the PCIe 4.0 x4 standard. Do note that these two slots support NVMe SSDs only - SATA M.2 drives are not supported. That said, both these slots come with the M.2 Q-Latch feature, which allows for the tool-less installation and removal of M.2 drives from the slot, once the respective M.2 drive heatsinks have been removed.
Audio & Internet Connectivity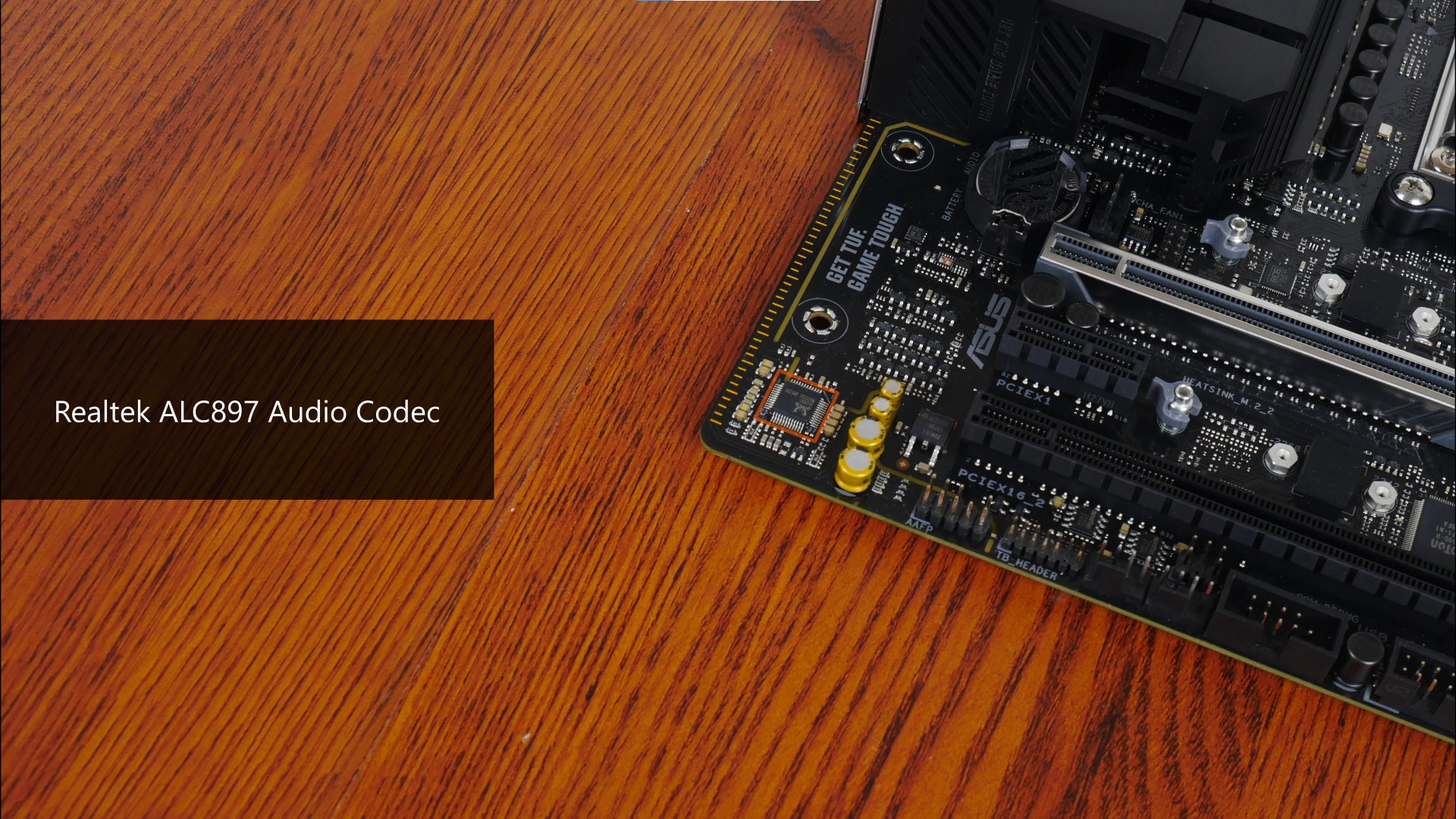 Powering the board's audio experience is Realtek's ALC897 audio codec, an entry-level part.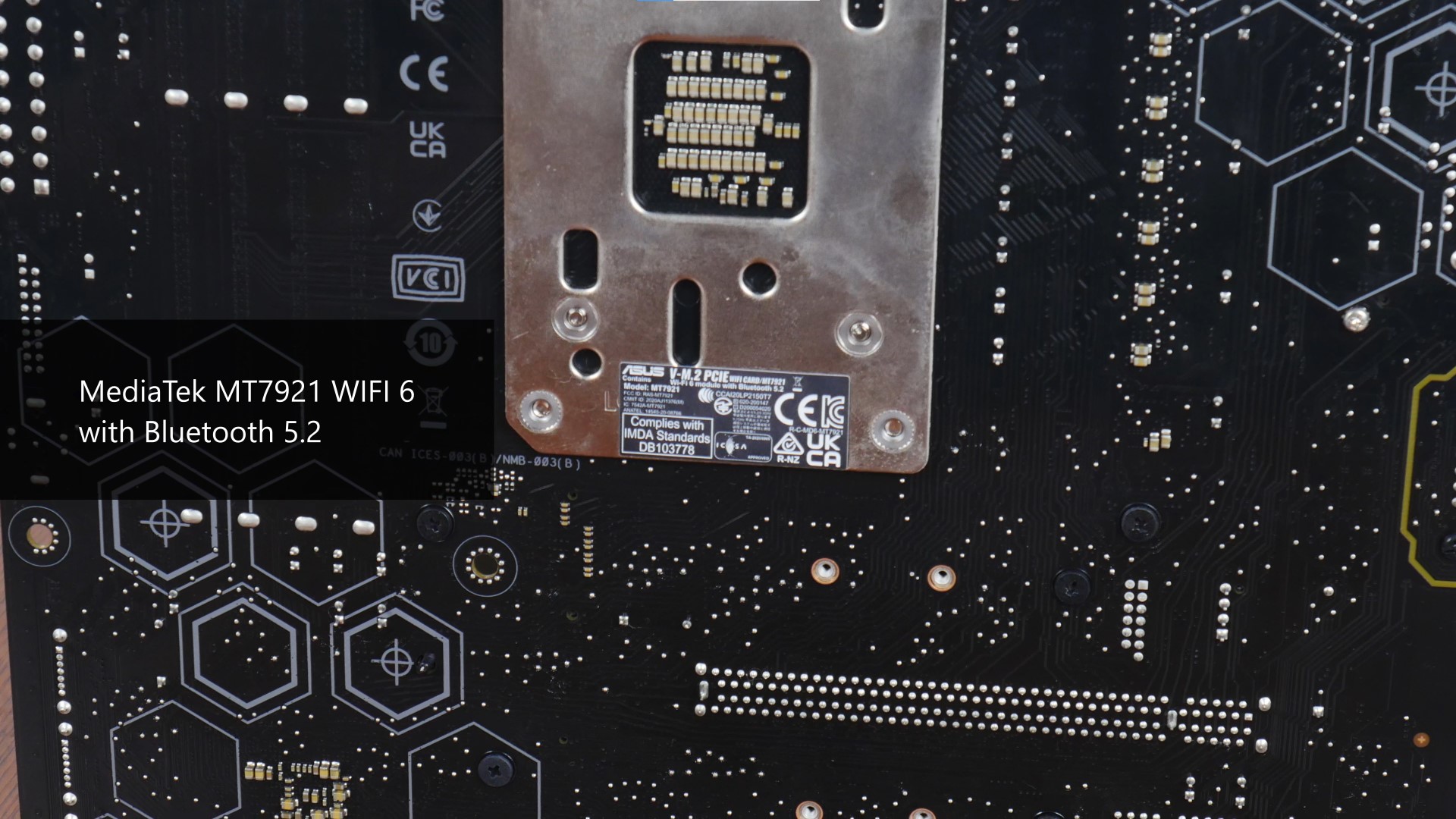 The board's internet connectivity capabilities are courtesy of another Realtek part, the RTL8125BG chip that serves up support for 2.5 Gigabit Ethernet, while wireless duty is care of a MediaTek MT7921 module that supports WIFI 6 and Bluetooth 5.2 connectivity.
Fan & RGB Headers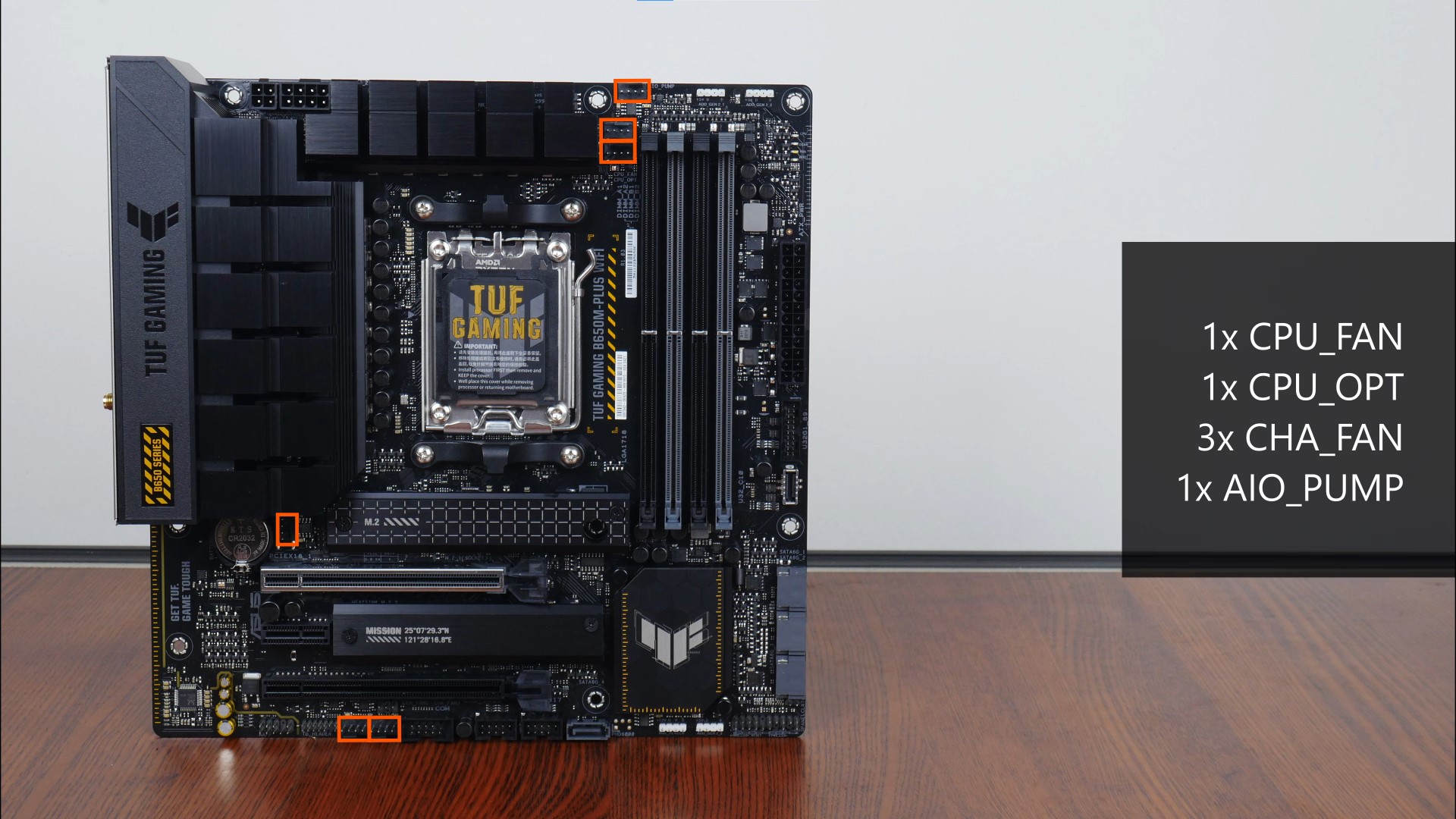 The TUF Gaming B650M-PLUS WIFI comes with six fan headers:
1x CPU_FAN
1x CPU_OPT
3x CHA_FAN
1x AIO_PUMP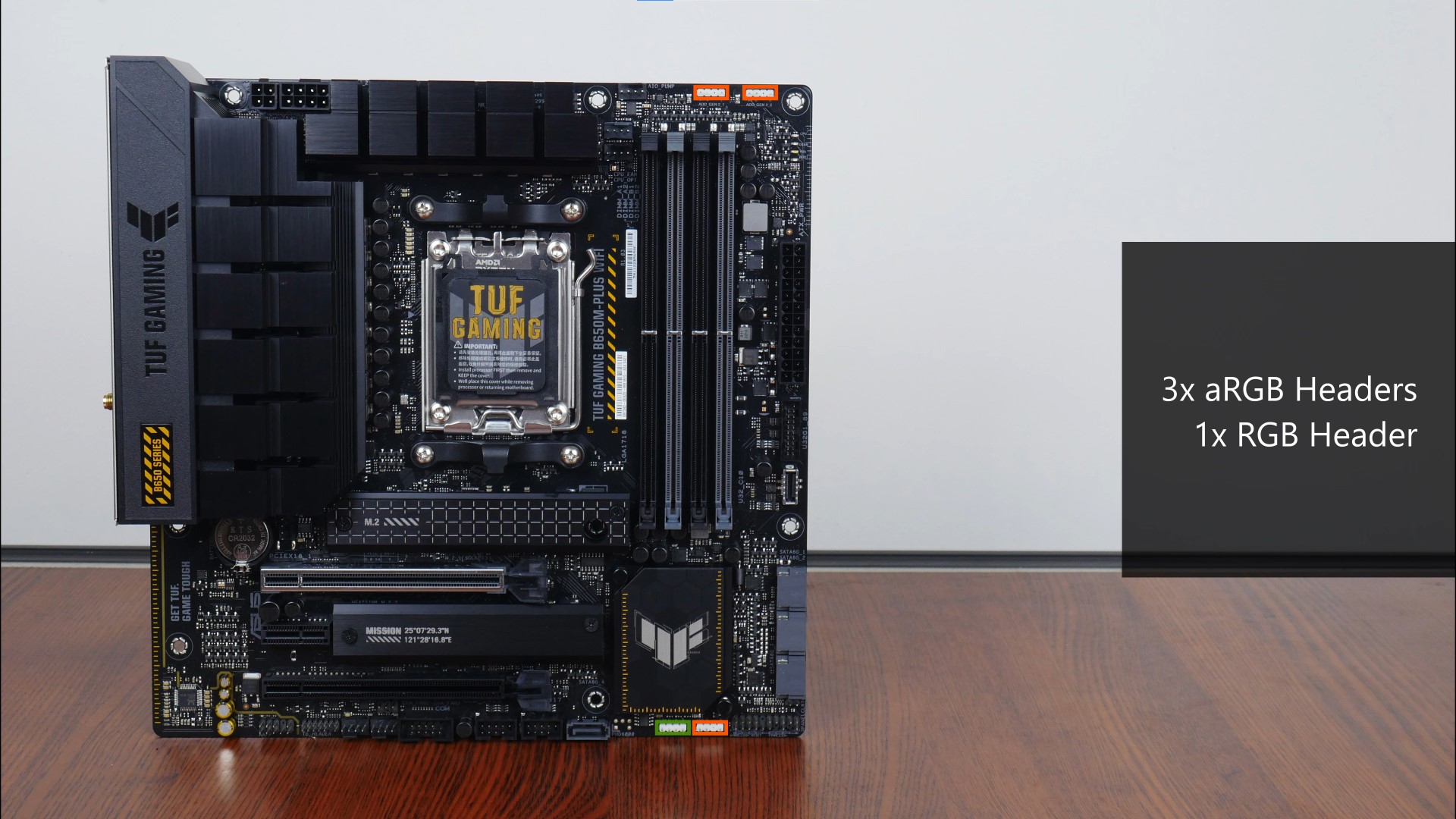 Also included are three addressable RGB headers, as well as a single 12V RGB header.
Other Features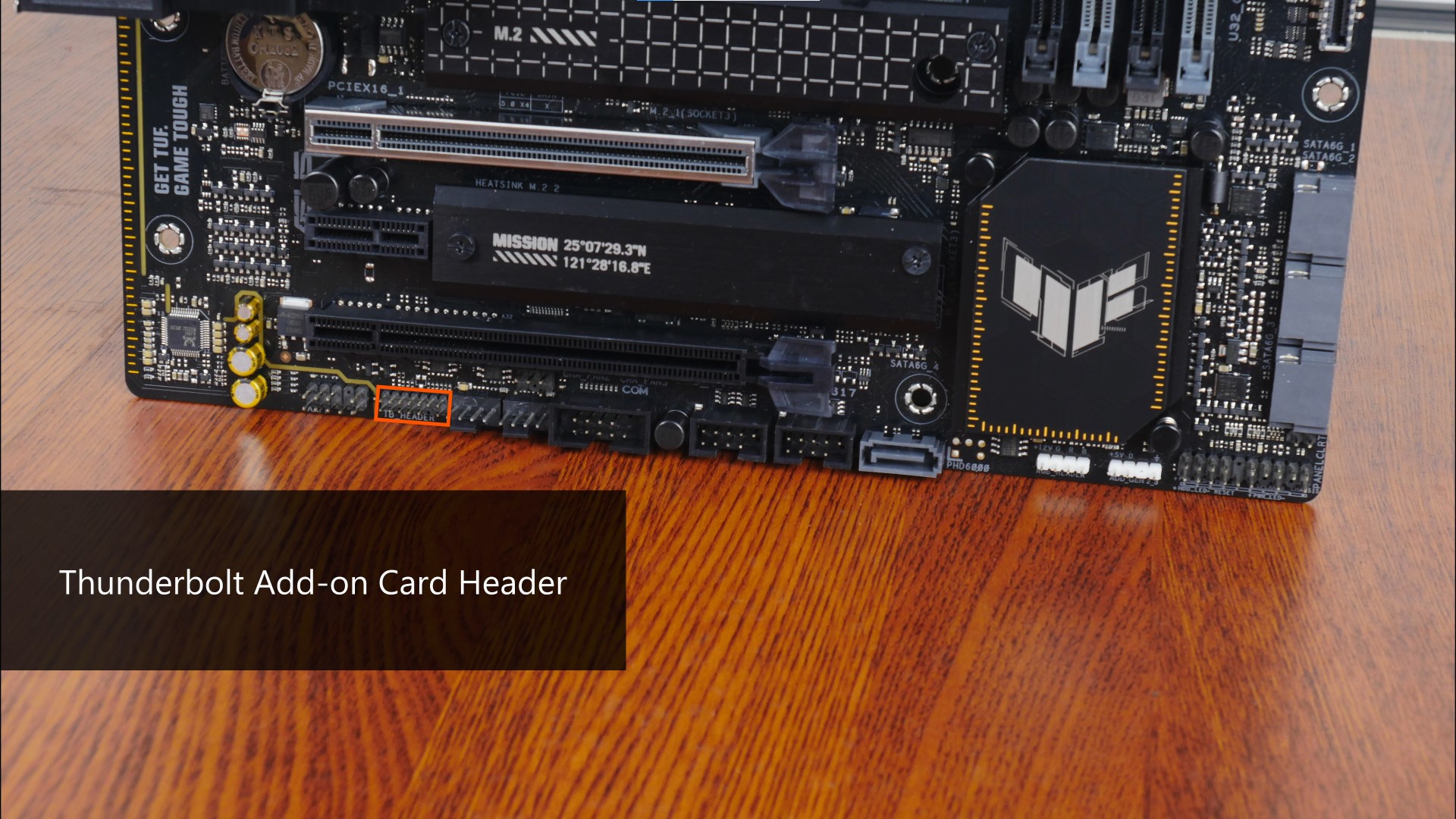 Near the bottom edge of the board is a Thunderbolt add-on card header, which is to be used in conjunction with a Thunderbolt 4 add-on card that is sold separately by ASUS.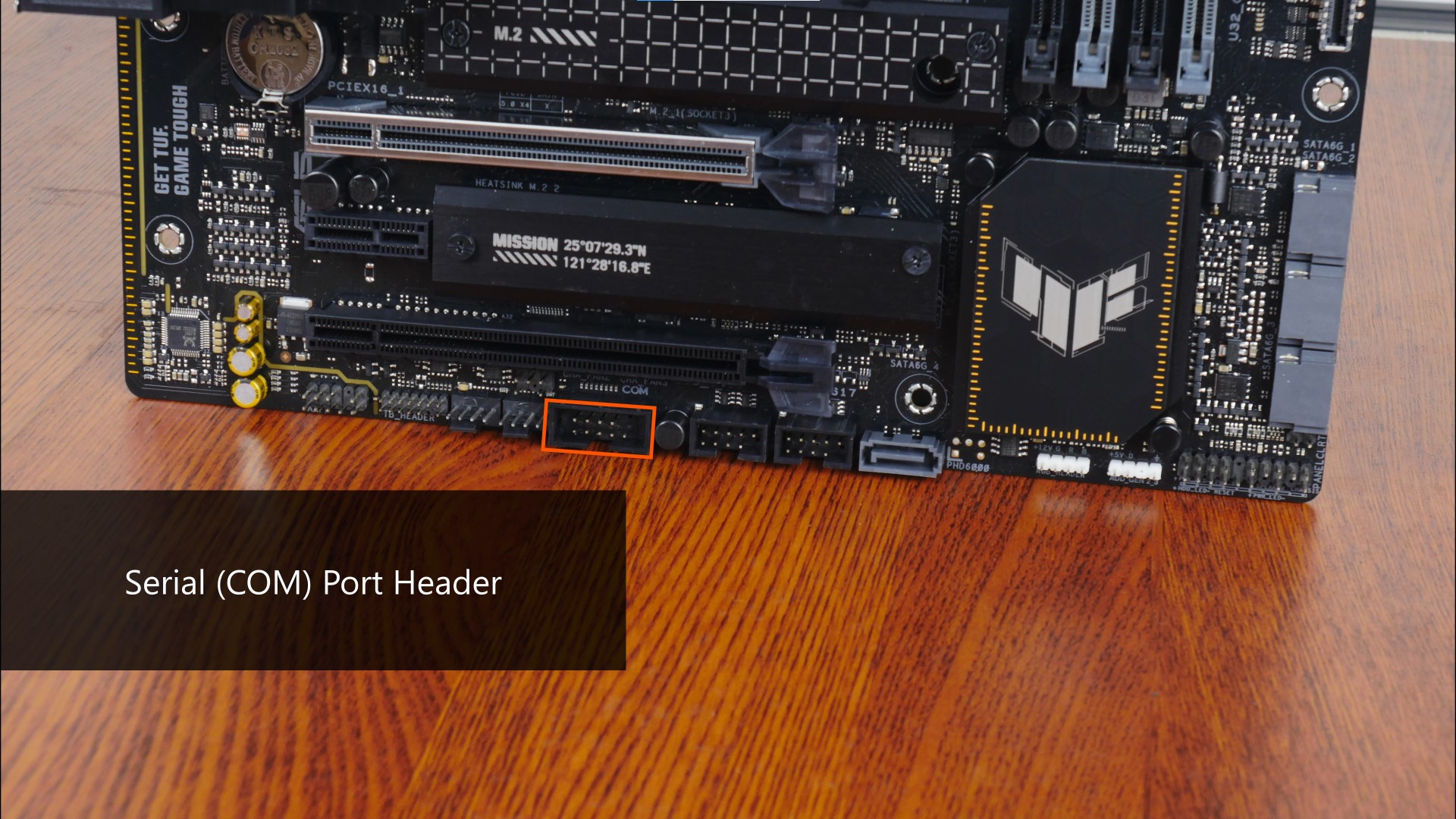 Moving on, ASUS has included a serial port header near the bottom edge of the board too, which could come in useful for situations that call for the use of legacy PC peripherals.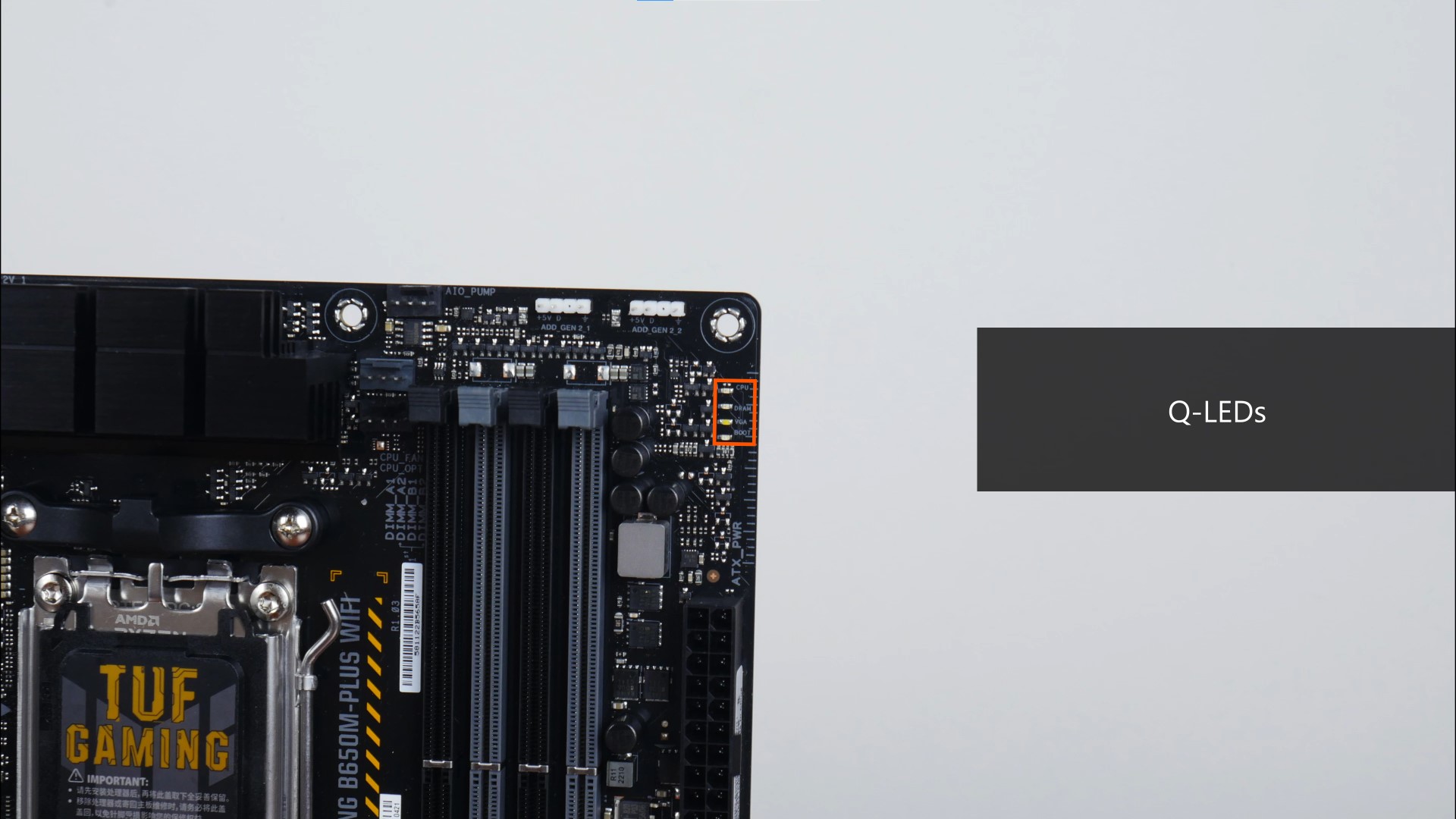 The board also comes with ASUS's Q-LED feature, which are LEDs on the motherboard that help with troubleshooting Power On Self Test (POST) issues.
Rear I/O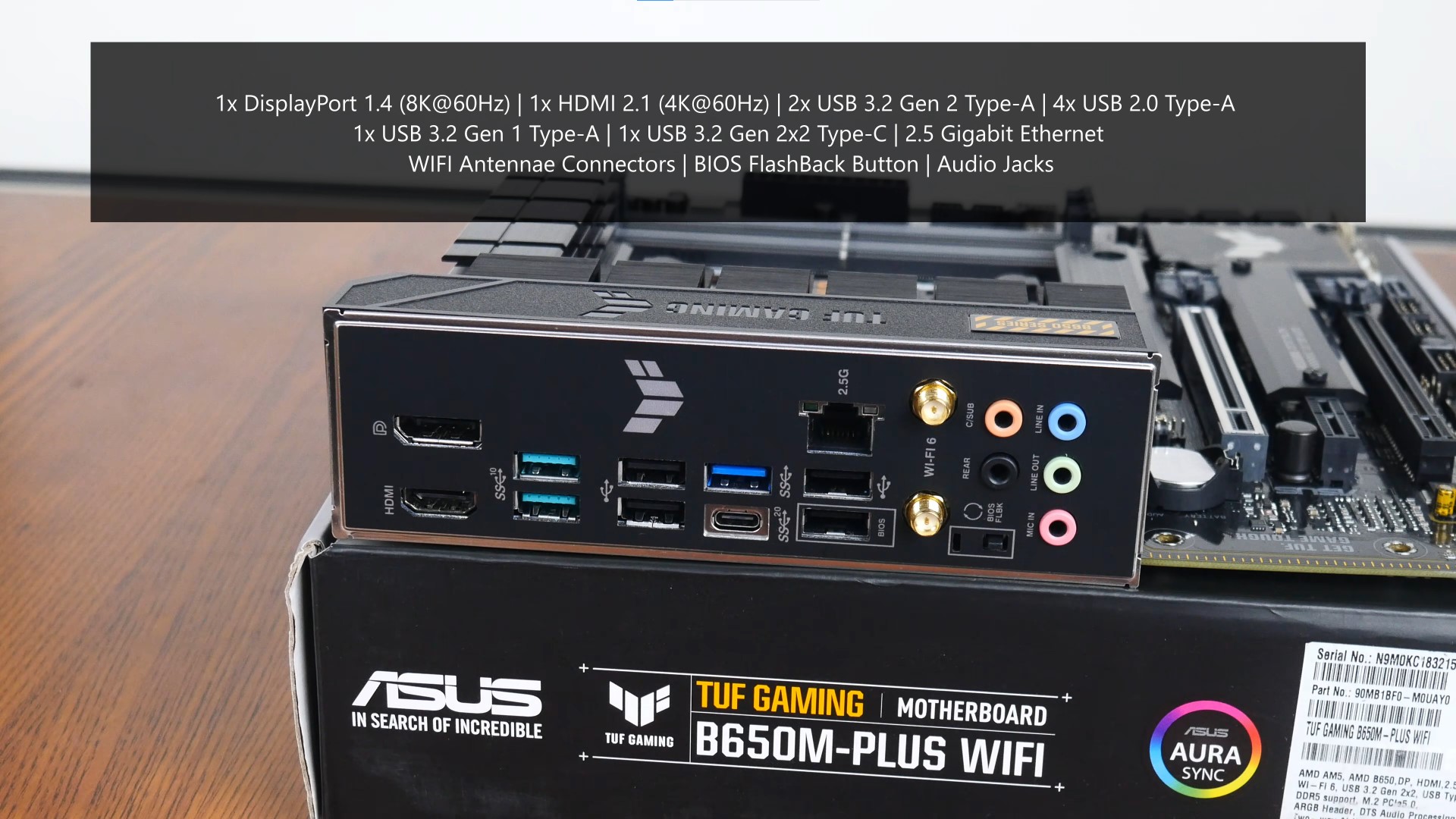 The board comes with the following rear I/O ports:
1x DisplayPort 1.4 (max 8K resolution @ 60Hz)
1x HDMI 2.1 (max 4K resolution @ 60Hz)
2x USB 3.2 Gen 2 Type-A (10 Gbps)
4x USB 2.0 Type-A
1x USB 3.2 Gen 1 Type-A (5 Gbps)
1x USB 3.2 Gen 2x2 Type-C (20 Gbps)
2.5 Gigabit Ethernet port
WIFI antennae connectors
BIOS FlashBack button
Audio jack connectors
The BIOS FlashBack feature allows end-users to update the motherboard's BIOS without needing a processor, RAM and graphics card to be installed. This is a much needed feature for sure, given that the AM5 platform should support several generations of new Ryzen processors in the future.
Conclusion & Pricing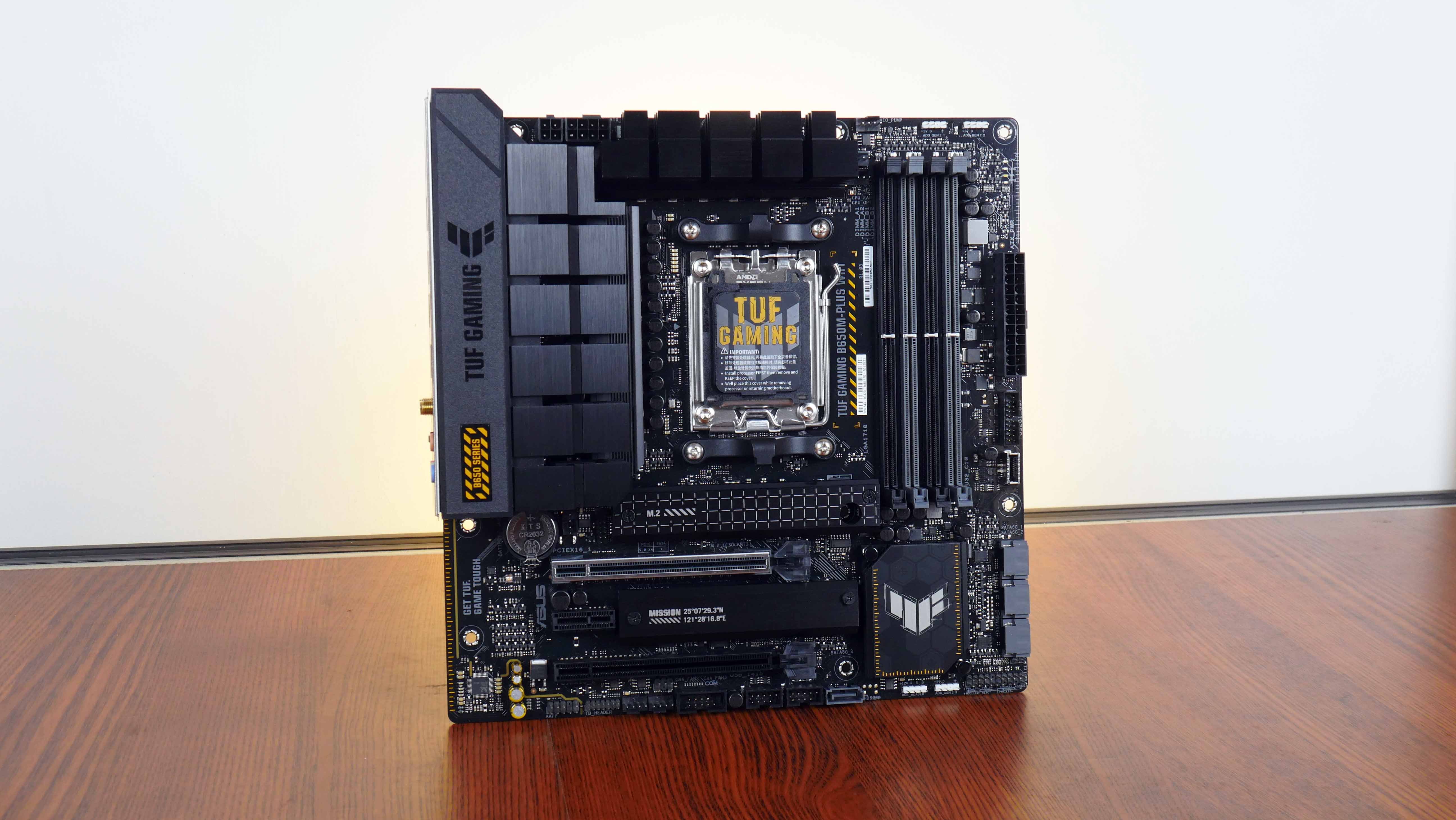 To sum up, the ASUS TUF GAMING B650M-PLUS WIFI shapes up to be a balanced AMD AM5 motherboard offering, where it comes with modern features that matter, such as PCIe 5.0 support for a M.2 drive, 2.5 Gigabit Ethernet and a decent VRM setup that (hopefully) shouldn't have any issues handling even the upcoming generations of Ryzen CPUs that will be built on the AM5 platform. That said, it would have been great to see the inclusion of a WIFI 6E module with this board instead of WIFI 6, as even the entry-level motherboards of today do come with WIFI 6E modules as standard.
As of March 2023, the TUF GAMING B650M-PLUS WIFI is available in Singapore for a price of around $393 Singapore dollars through offline and online retailers, while for you international readers, this board can be had for around $230 US dollars from e-Commerce sites such as Amazon.
Get this board from Amazon: https://amzn.to/3ZLR97Z (affiliate link)
Get this board from Shopee Singapore: https://shope.ee/9p7OvAWyji (affiliate link)
Get this board from Lazada Singapore: https://c.lazada.sg/t/c.YPzxW0?sub_aff_id=alktech (affiliate link)
ALKtech may earn commissions from qualifying purchases made using affiliate links, at no extra cost to you as a customer. These commissions go a long way in supporting the platform!
The motherboard featured in this article was a review unit provided on loan from ASUS Singapore.