Gigabyte serves up a niche AMD AM5 motherboard targeted at the professional content creator market, with sleek aesthetics perfect for a white-themed PC build.
With AMD's "Zen 4" Ryzen 7000 series of processors and Intel's 13th generation Raptor Lake processor offerings now available for purchase on the market, competition between Team Blue and Team Red sure is heating up, perhaps more so on Team Red's end (AMD), where the company is undoubtedly facing pricing and value issues with their Ryzen 7000 series of processors, especially at the mid-range. Imagine pairing a mid-range Ryzen 5 7600X processor with an expensive X670E or X670 motherboard, factor in the cost of DDR5 RAMs, and you get a situation where AMD's priced itself out of the mid-range market. A final kicker is how Intel's 13th Gen Raptor Lake offerings at the mid-range (e.g. the i5-13600K) are trouncing AMD's offerings handily, especially with productivity workloads.
Now that AMD's mid-range AM5 chipset offerings, the B650E and B650, have also hit the shelves, could motherboards powered by these cheaper chipsets help with the value conundrum that the Ryzen 7000 series of products have found themselves in? In today's article, ALKtech checks out an interesting AM5 motherboard that is powered by the AMD B650 chipset - the Gigabyte B650 AERO G. As a motherboard positioned on the higher end of the B650 spectrum that is targeted at professional content creators with a sleek aesthetic to match, the centerpiece of this board is its VisionLINK feature, which makes working with a pen display device a seamless affair.
Summary of Specifications
Processor Support: AMD Ryzen 7000 series (Zen 4) AM5 processors
Chipset: AMD B650
Memory: 4x DDR5 slots, max 192GB, up to DDR5 6666+ (OC) support
Audio: Realtek ALC1220-VB audio codec
LAN: Intel I225-V 2.5 Gigabit Ethernet
WIFI: MediaTek

MT7922A22M (

AMD RZ616 chipset) WIFI 6E module with built-in Bluetooth 5.2
Expansion Slots: 1x PCIe 4.0 x16, 1x PCIe 3.0 x1, 1x PCIe 4.0 x16 (x4 mode)
Storage: 4x SATA III, 1x PCIe 5.0 x4 M.2, 2x PCIe 4.0 x4 M.2 (M.2 slots support NVMe drives only)
Form Factor: ATX
Packaging & Contents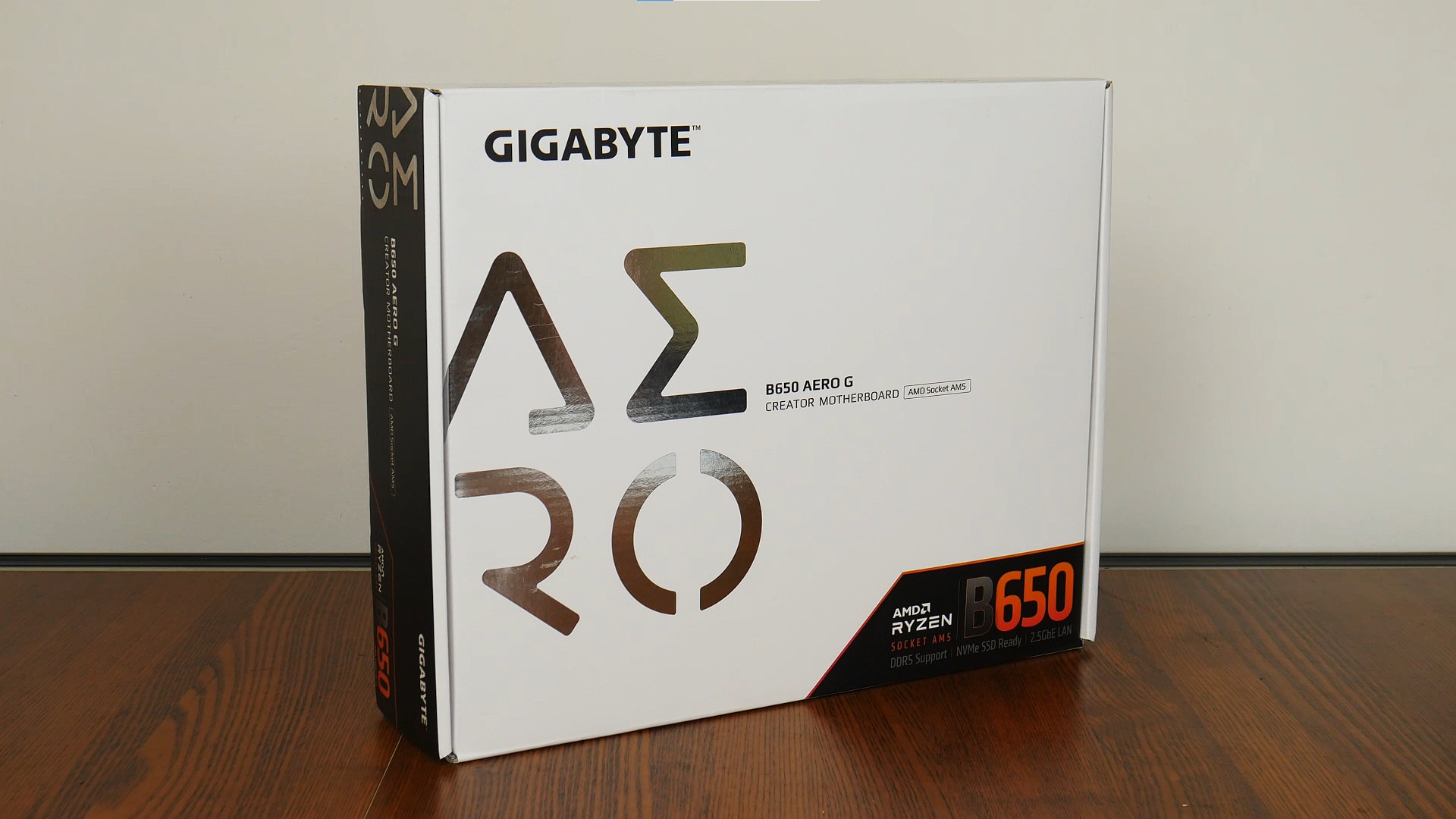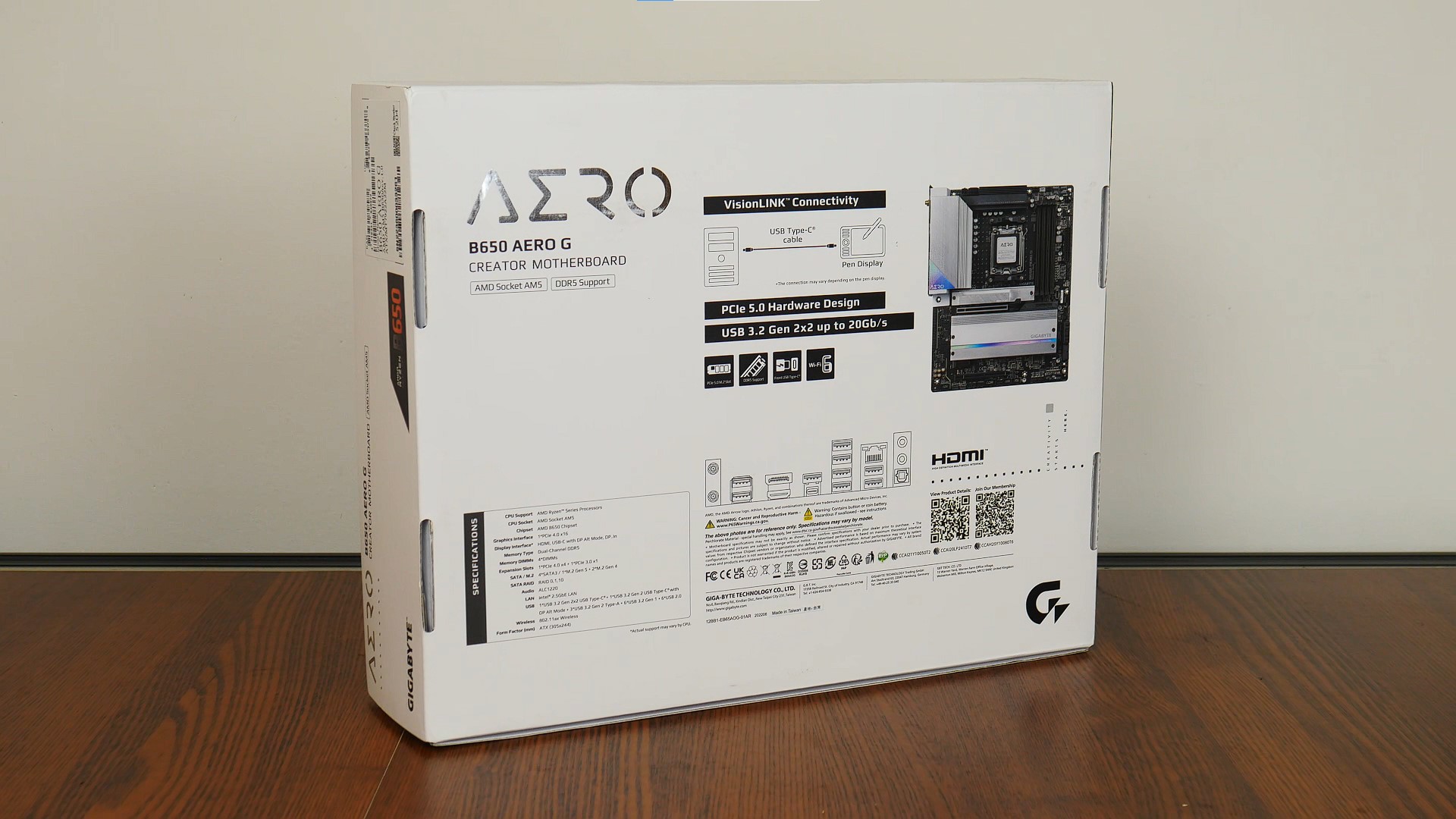 The B650 AERO G comes in a sleek white box with touches of black and silver for an aesthetically-pleasing appearance, which is in-line with the brand identity of the AERO G series of products by Gigabyte.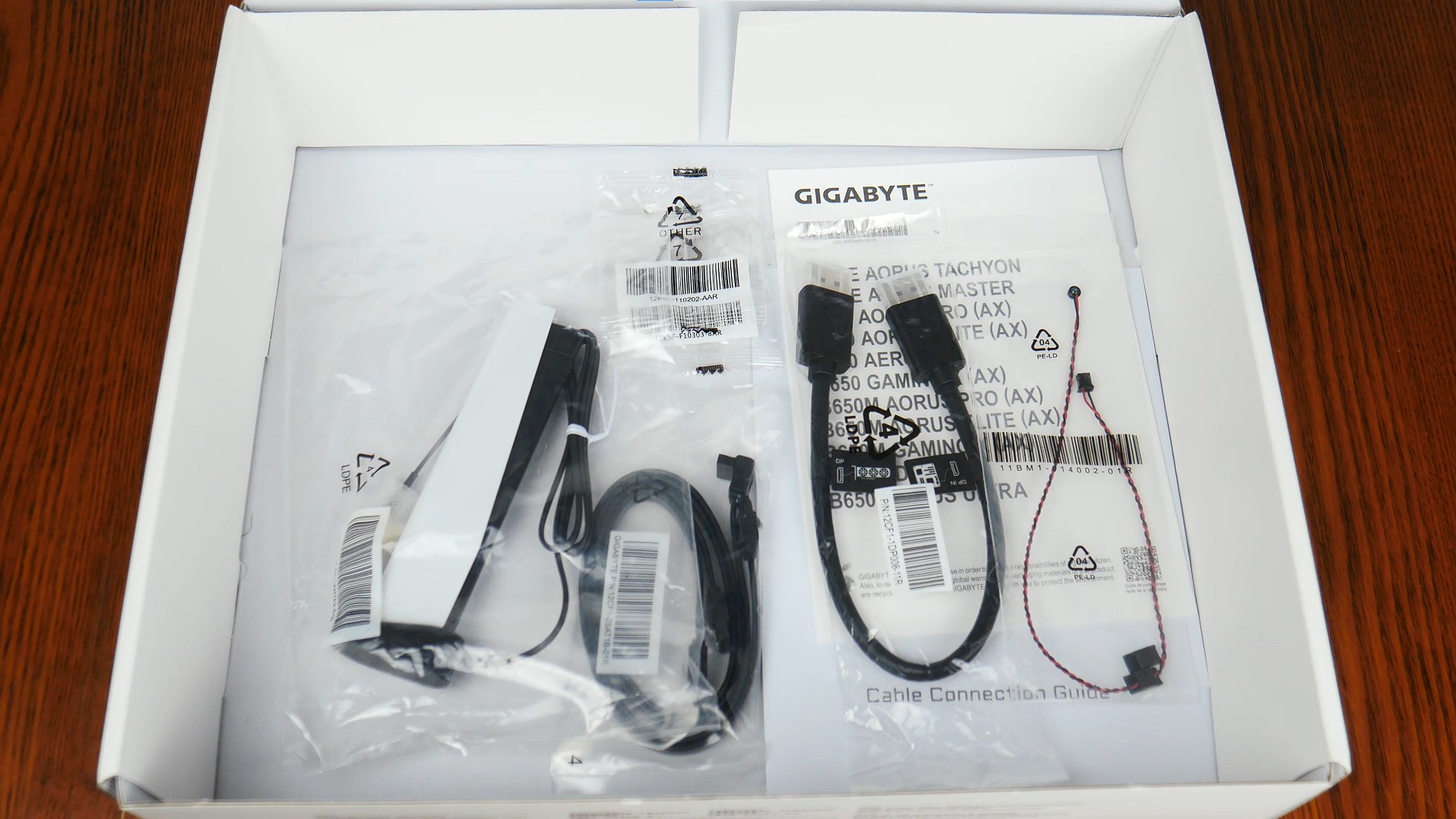 Included with the motherboard are the following accessories:
WIFI antenna
2x SATA III cables
Spare M.2 screw and standoff
DisplayPort cable (for VisionLINK)
Noise detection cable
Quick start guide
VisionLINK guide
Board Aesthetics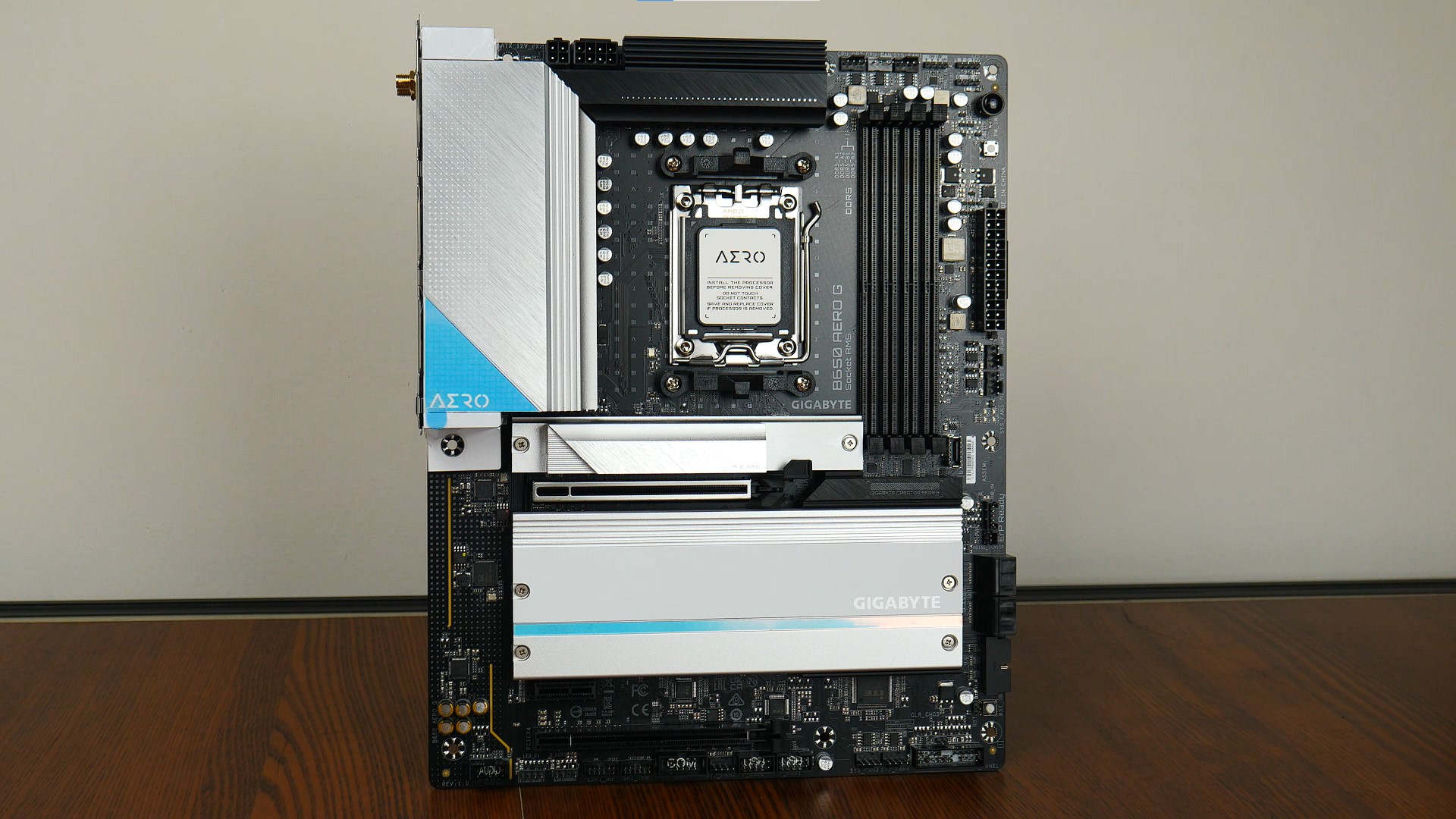 The B650 AERO G comes with a black PCB featuring subtle grey accents and large silver heatsinks. It also comes with an integrated I/O shield design, and does not feature any built-in RGB LED effects.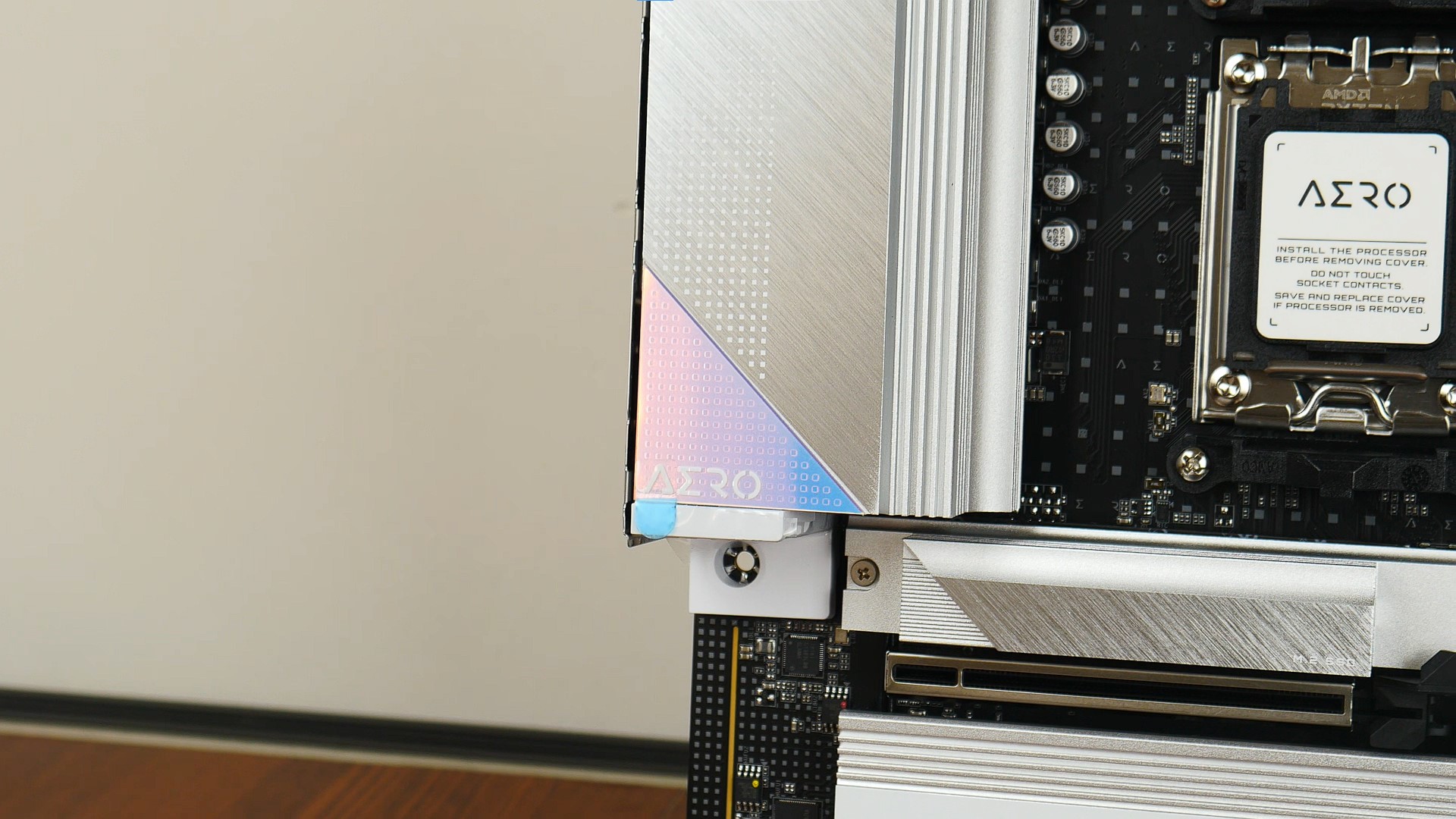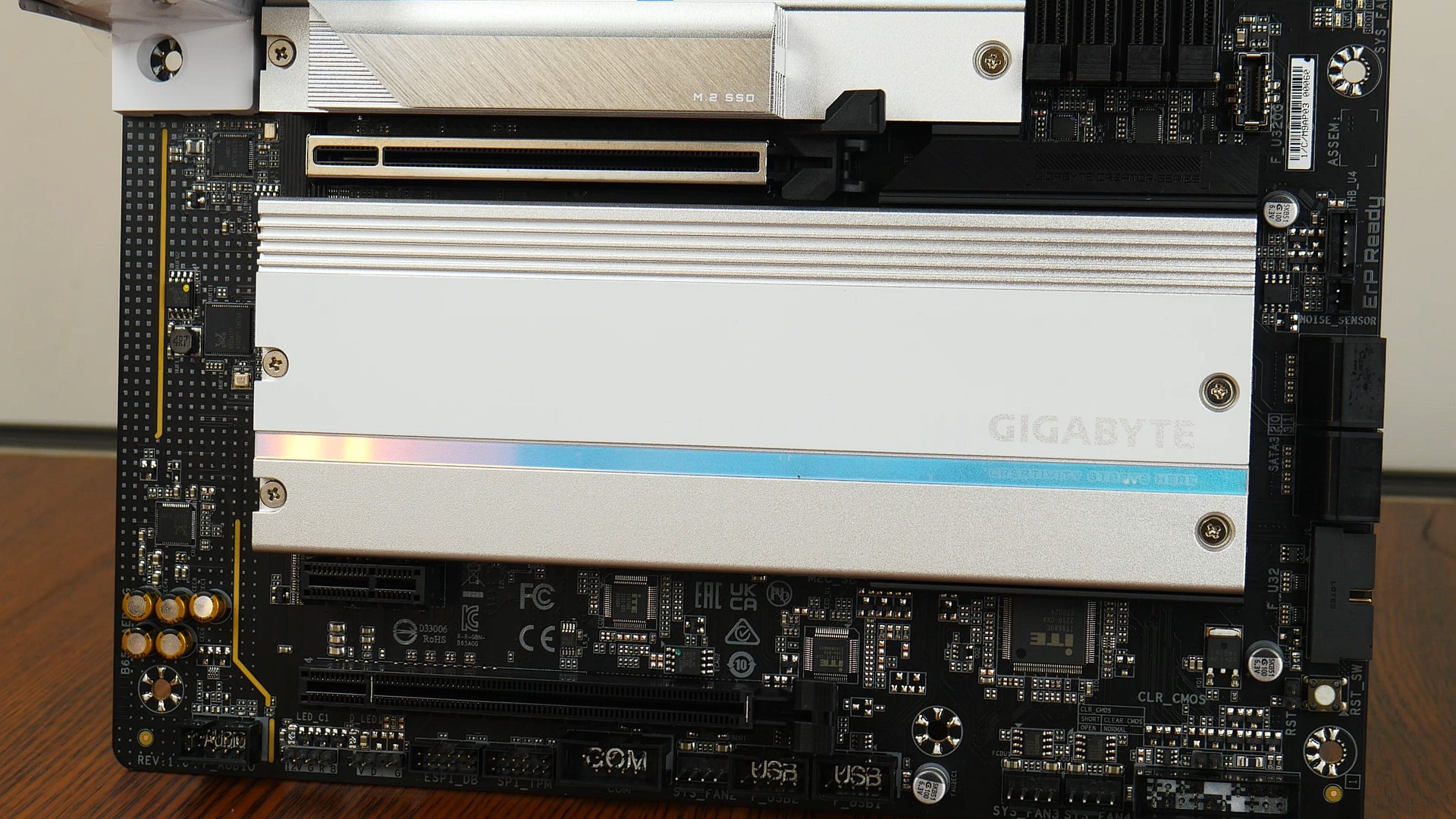 Featuring prominently on the board are plastic inserts that have a pearlescent-ish kind of finish. The colour of these inserts changes between a light shade of blue and pink, depending on the viewing angle. This visual feature certainly adds flair to the overall appearance of the board.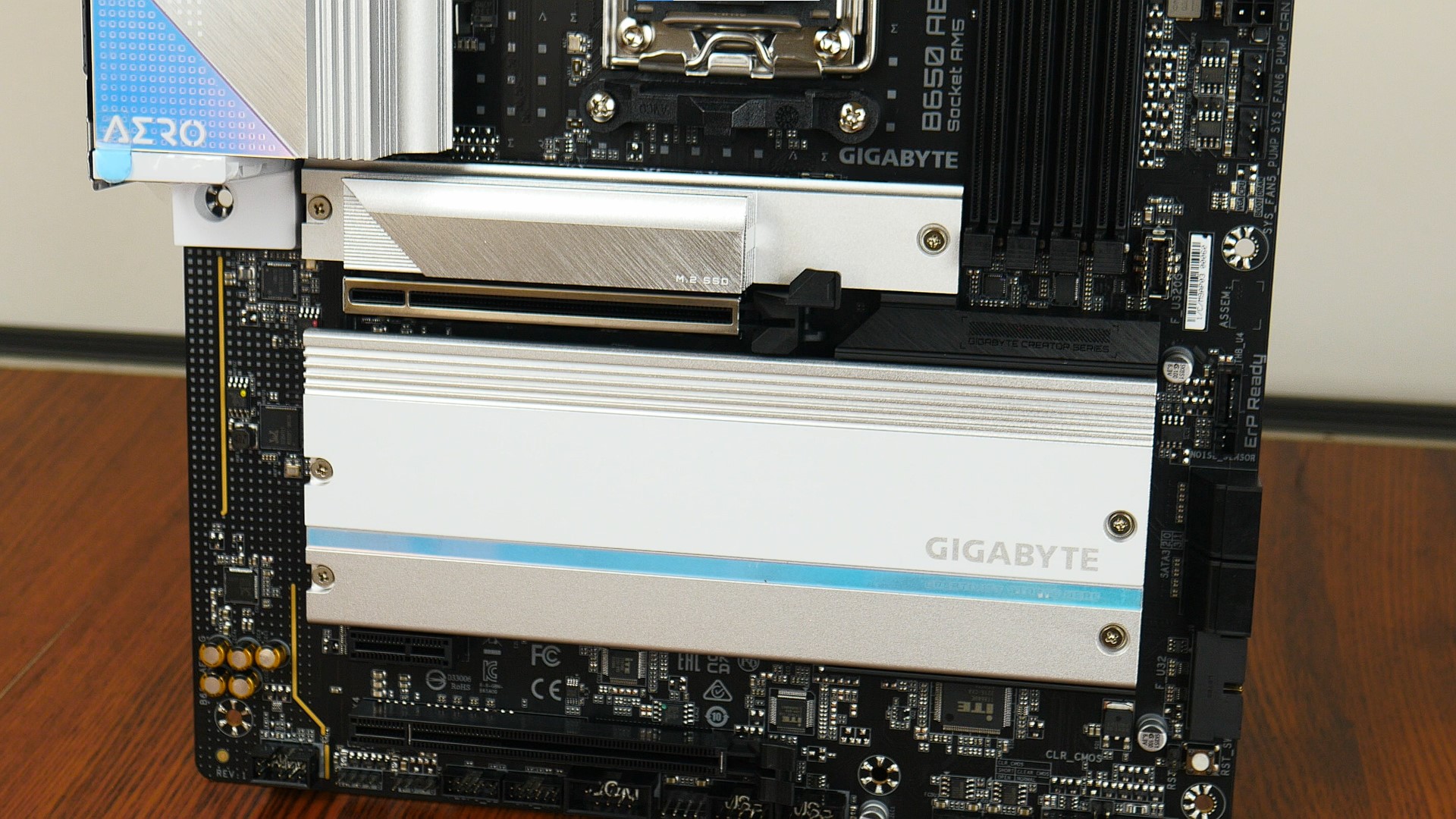 For M.2 drive cooling, Gigabyte has included heatsinks for all three M.2 drive slots that the board comes with - the heatsink for the two PCIe 4.0 x4 M.2 slots is a large rectangular affair that also doubles up as a passive heatsink for the B650 chipset.
Memory Support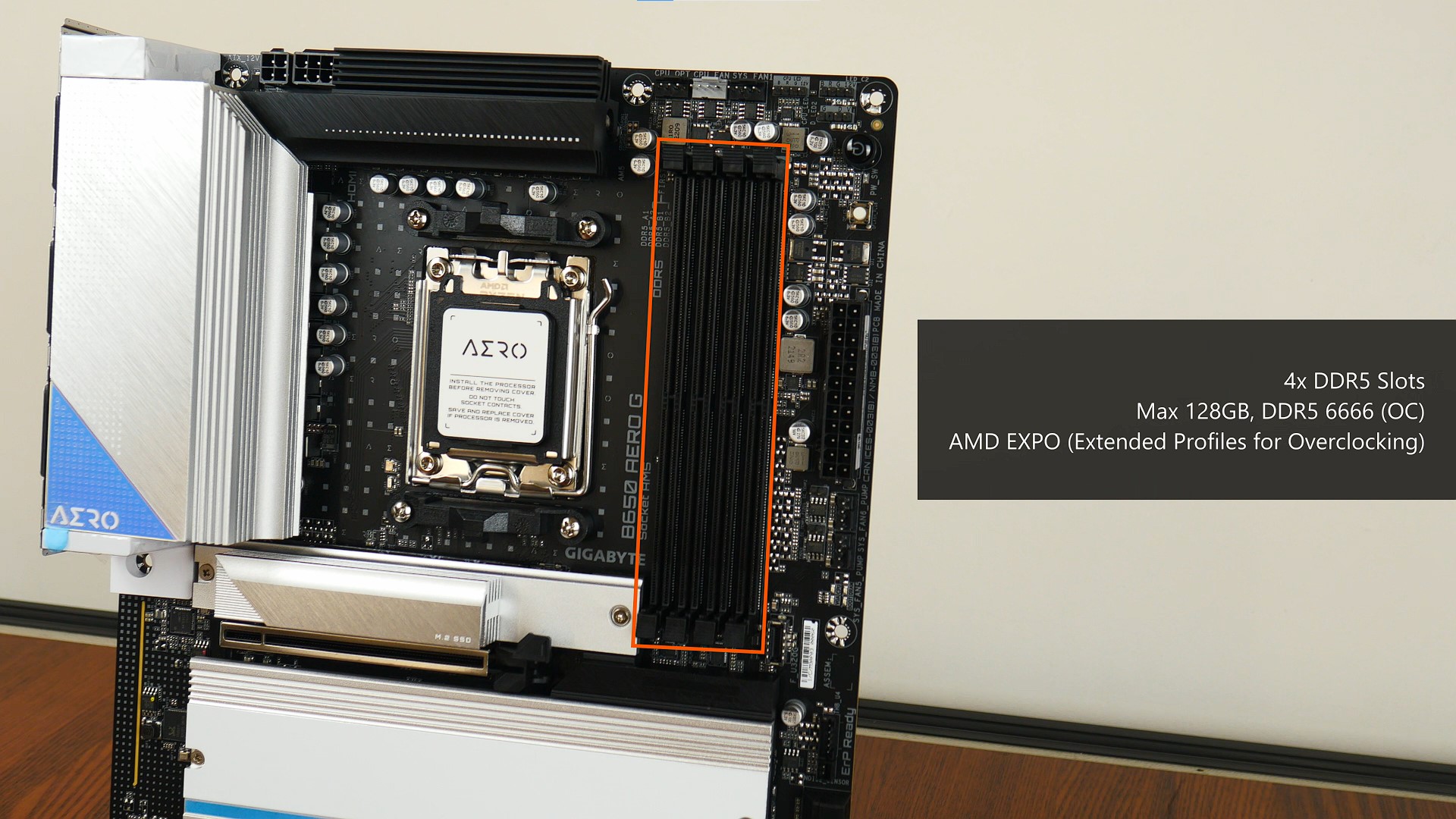 Editor's note as of August 2023: the article and video for this motherboard were published before 48GB DDR5 memory modules were available - according to Gigabyte's specs page, this board now supports up to 192GB of RAM with 4x 48GB DDR5 memory modules.
In terms of memory support, the board comes with four DDR5 slots with support for up to 192GBs of RAM, and the DDR5 6666 standard when overclocked, with slots of a dual-tabbed design. The board also features AMD EXPO - Extended Profiles for Overclocking, which are built-in overclocking profiles for DDR5 memory, similar to what XMP stands for in Intel's world.
Front Panel USB Headers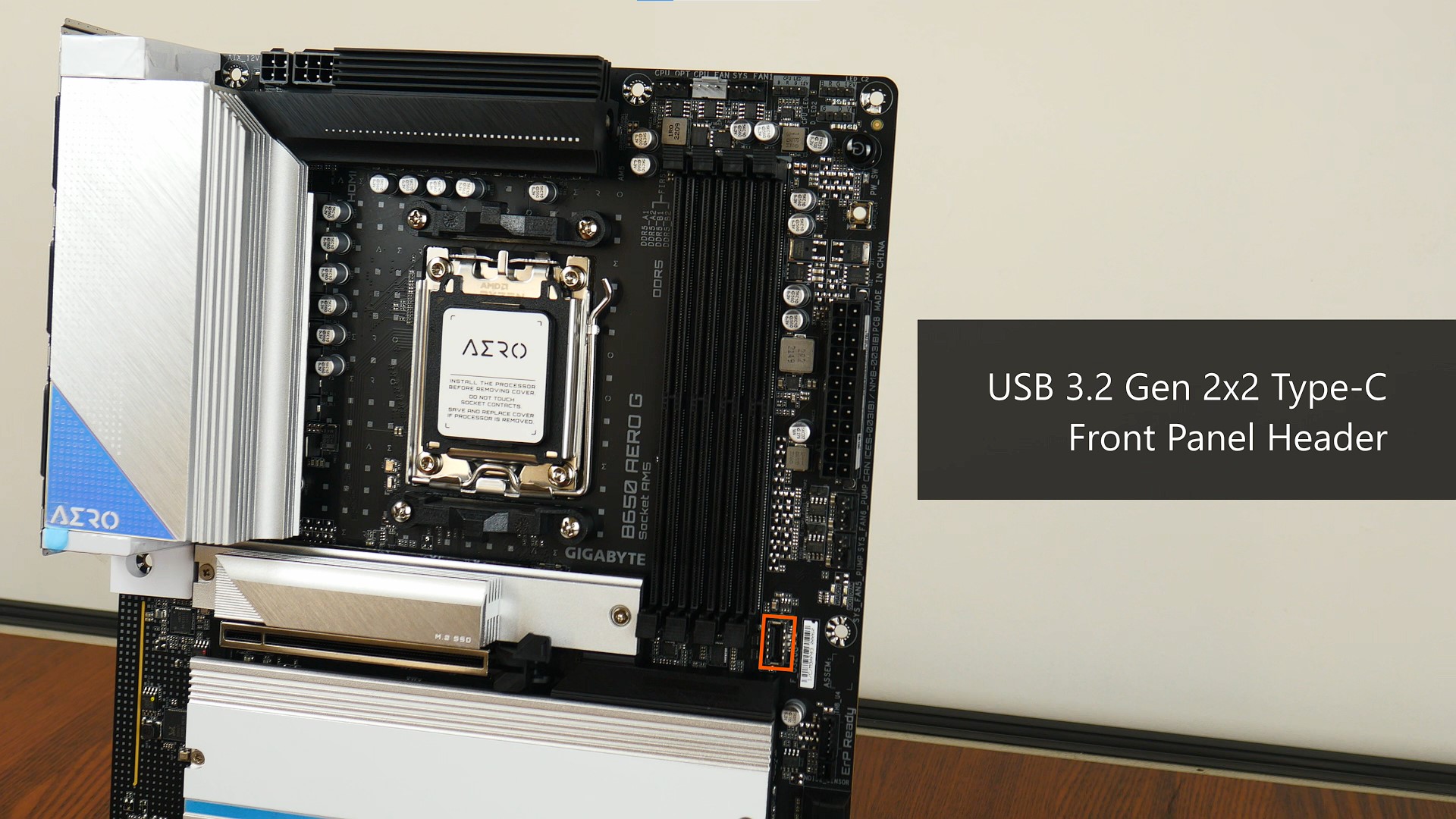 The B650 AERO G comes with no shortage of front panel USB headers - we get a USB 3,2 Gen 2x2 (20 Gbps) Type-C front panel header near the RAM slots...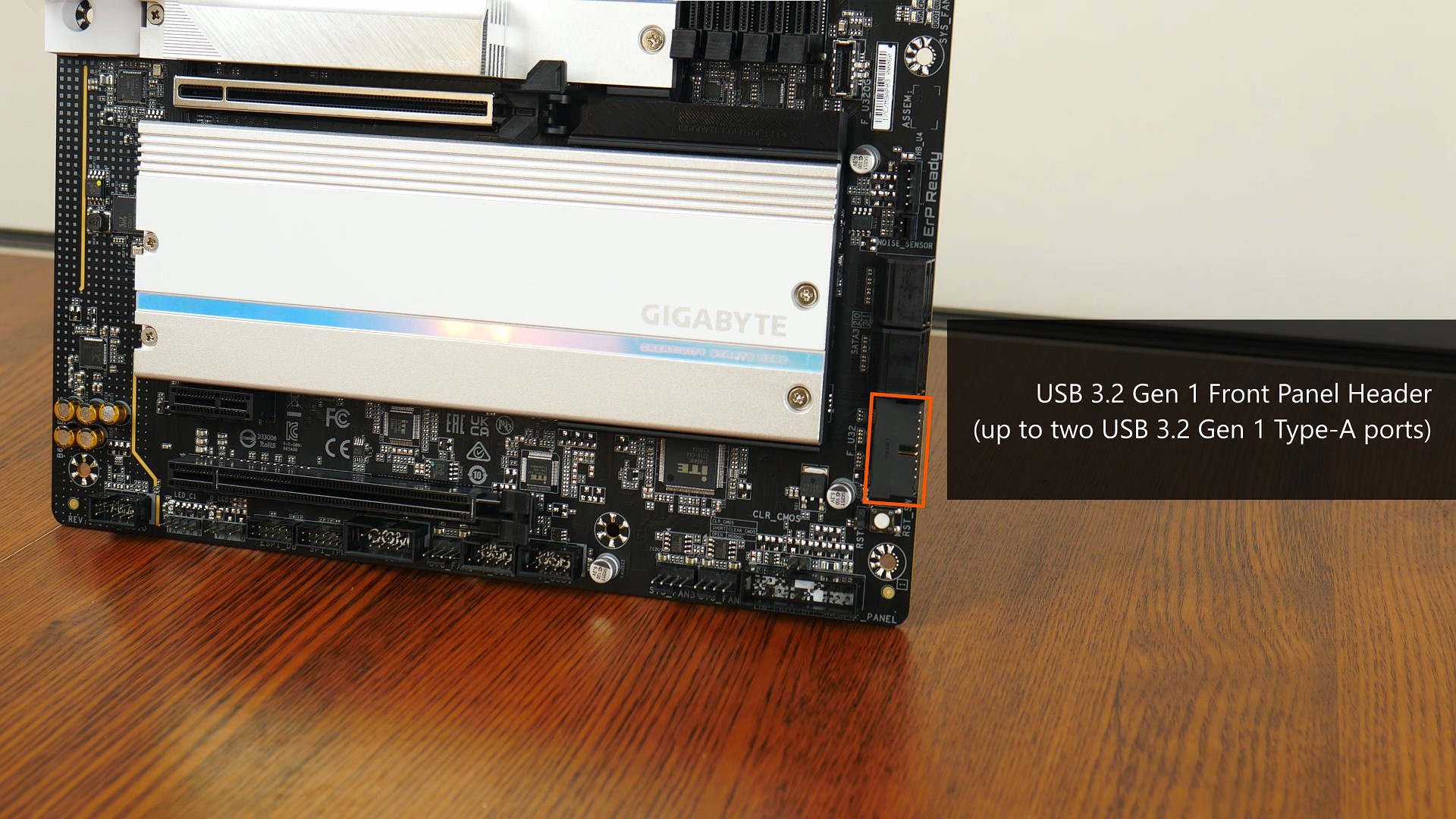 ....which is accompanied by a USB 3.2 Gen 1 front panel header that provides for up to two USB 3.2 Gen 1 Type-A ports. The said front panel header is positioned at a right-angle, so as to aid with cable management.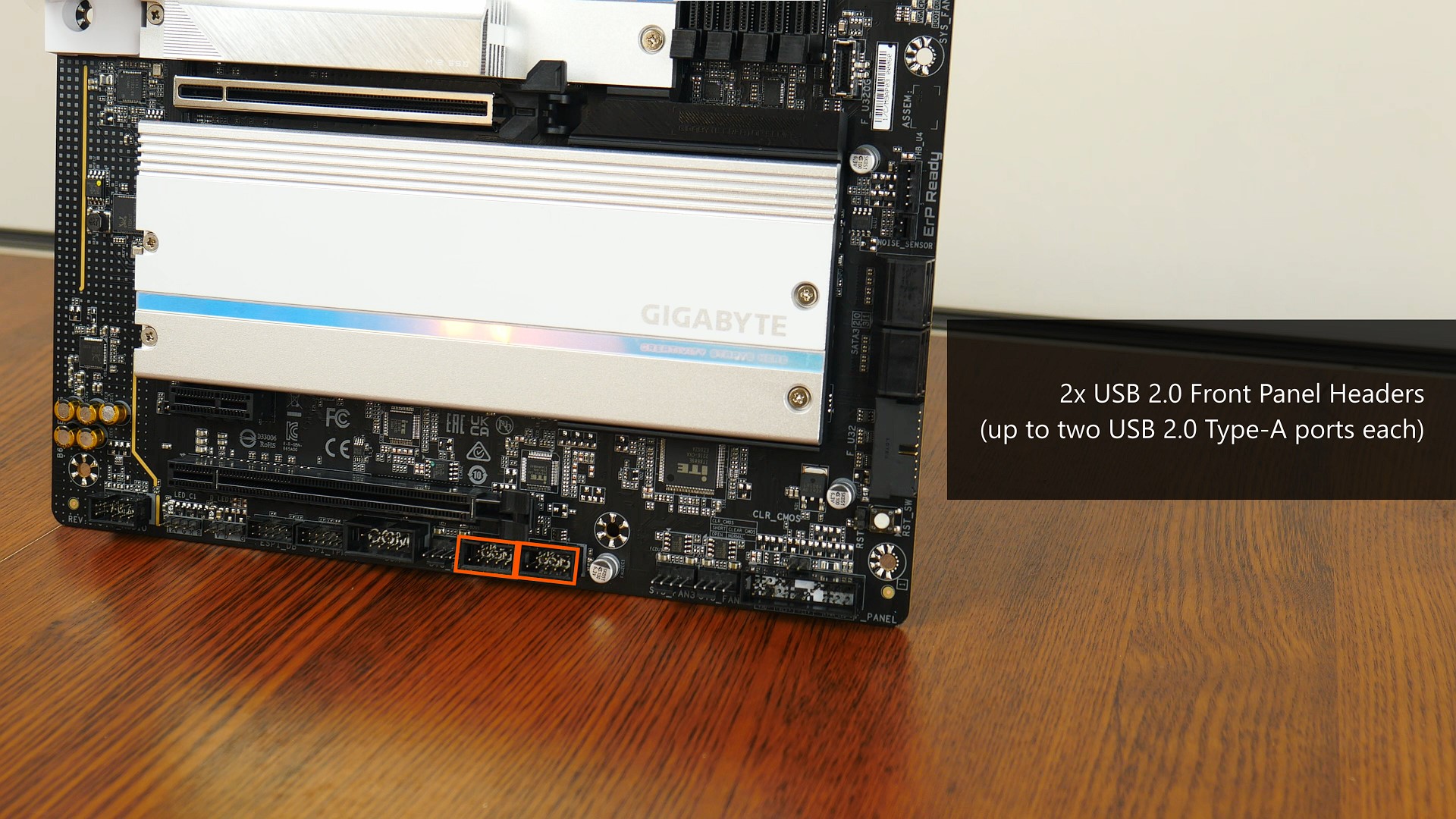 Rounding up the front panel USB header department are two front panel USB 2,0 headers found near the bottom edge of the board, with each header providing support for two USB 2,0 Type-A ports.
Expansion Slots & Storage Options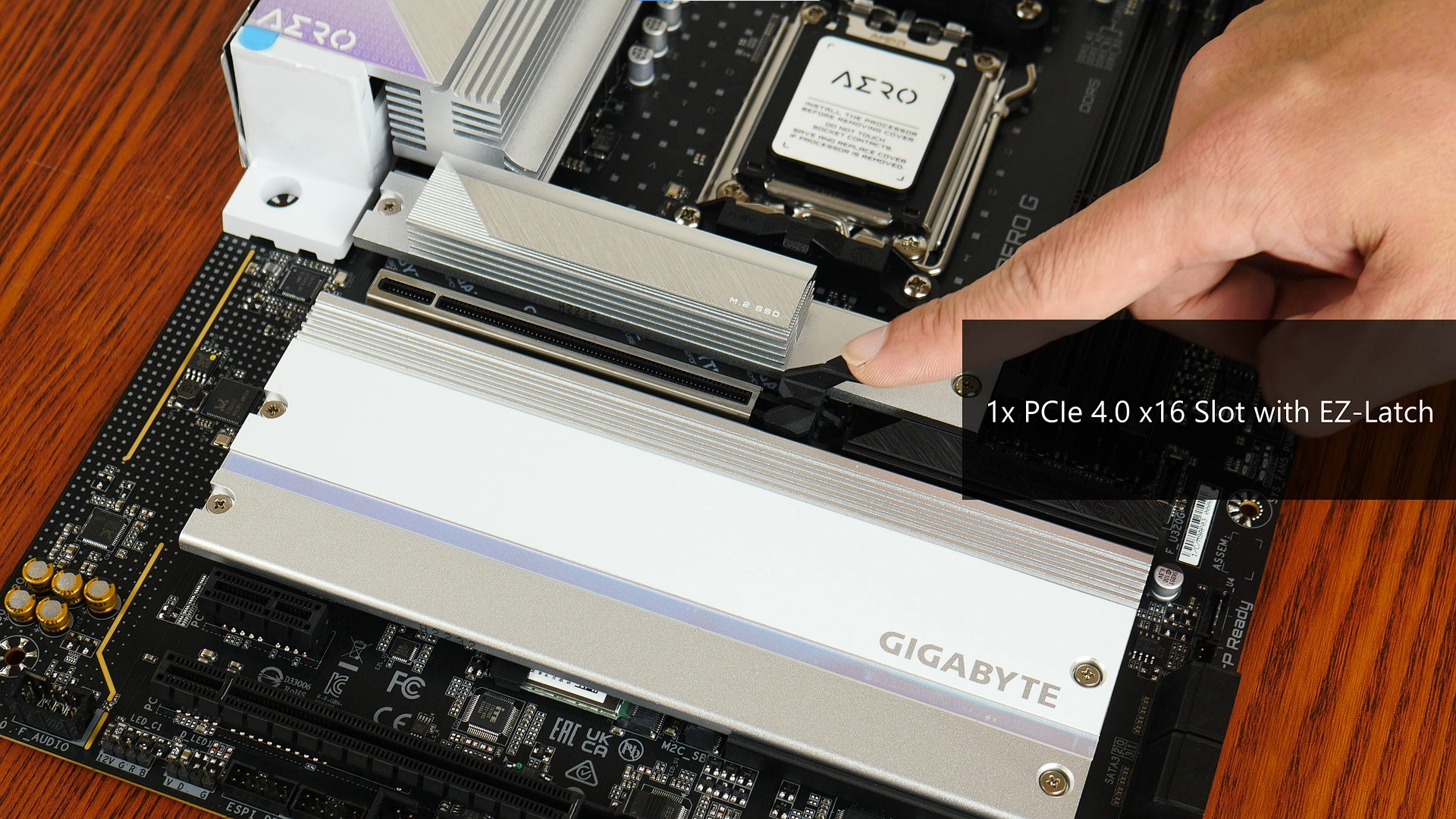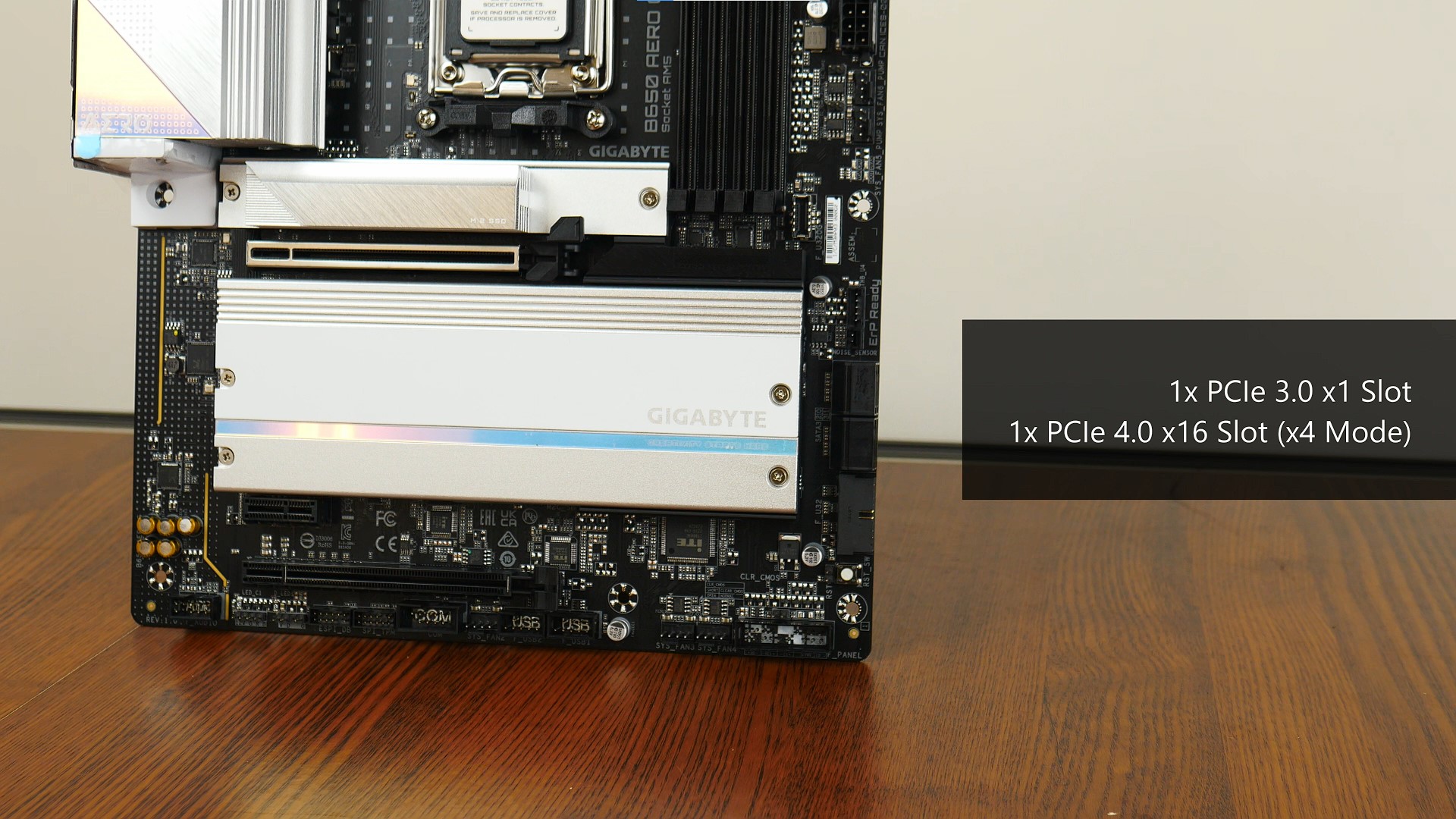 Included with the board is a single PCIe 4.0 x16 slot for a graphics card, a PCIe 3.0 x1 slot, as well as a full-length PCIe 4.0 x16 slot that operates at x4 mode. The PCIe 4.0 x16 slot designated for a graphics card is of a reinforced design, so as to cater for heavy graphics cards. It also has an oversized retention latch that Gigabyte calls "EZ-Latch", which helps with making the removal of a graphics card from the slot an easier affair.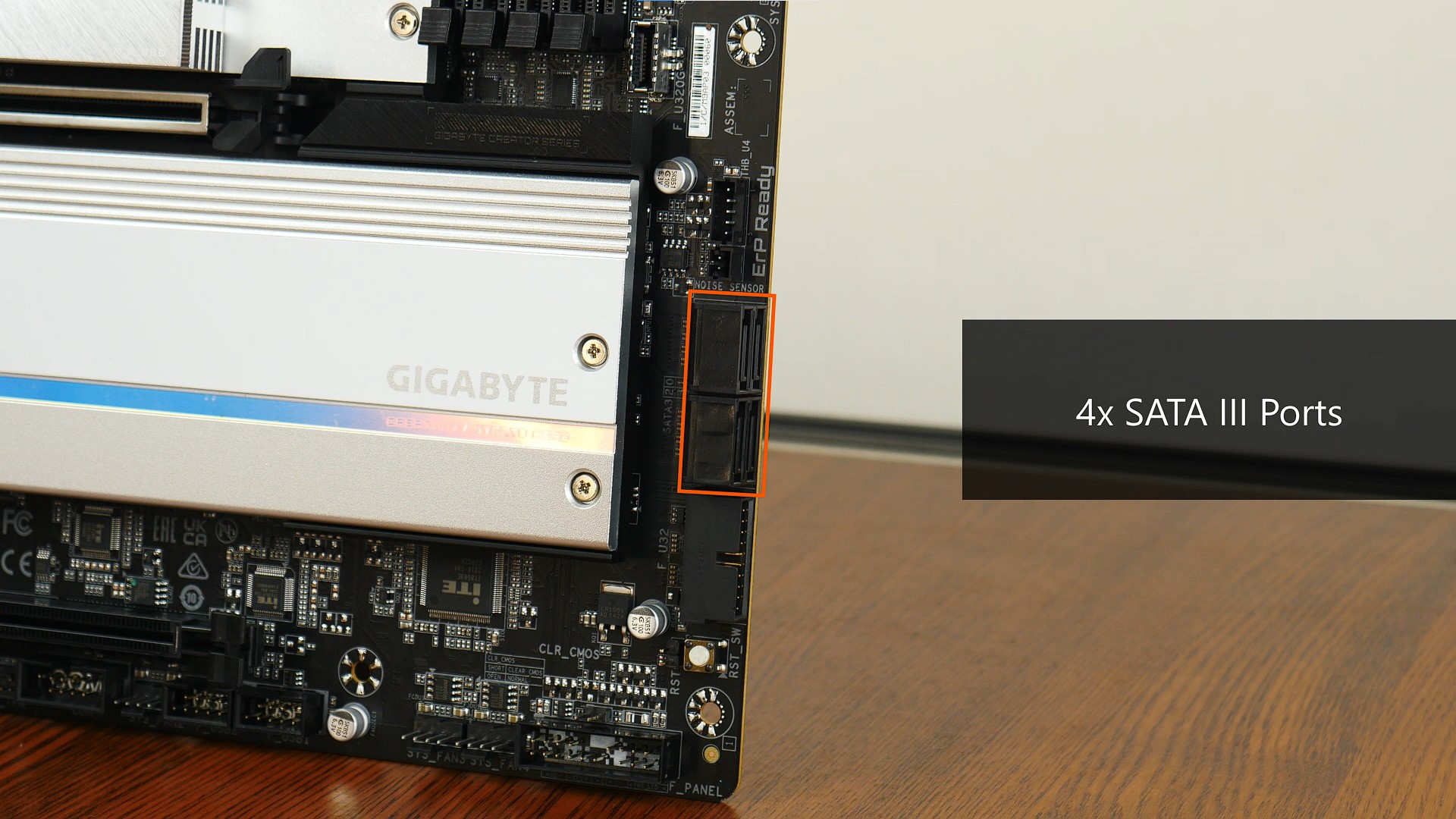 Moving on to storage, Gigabyte's provided four SATA III ports, which are all in a right-angled configuration to aid with cable management.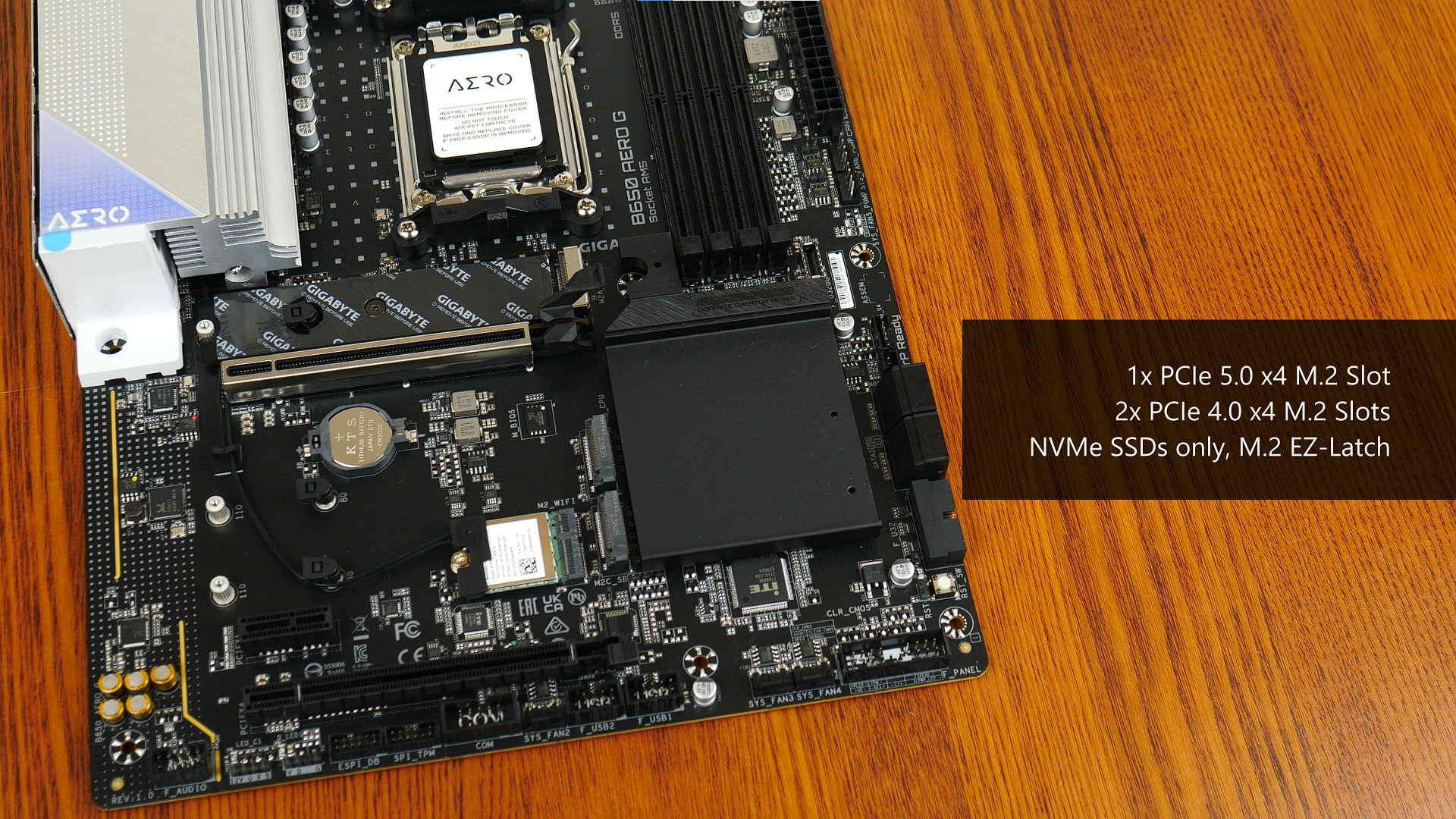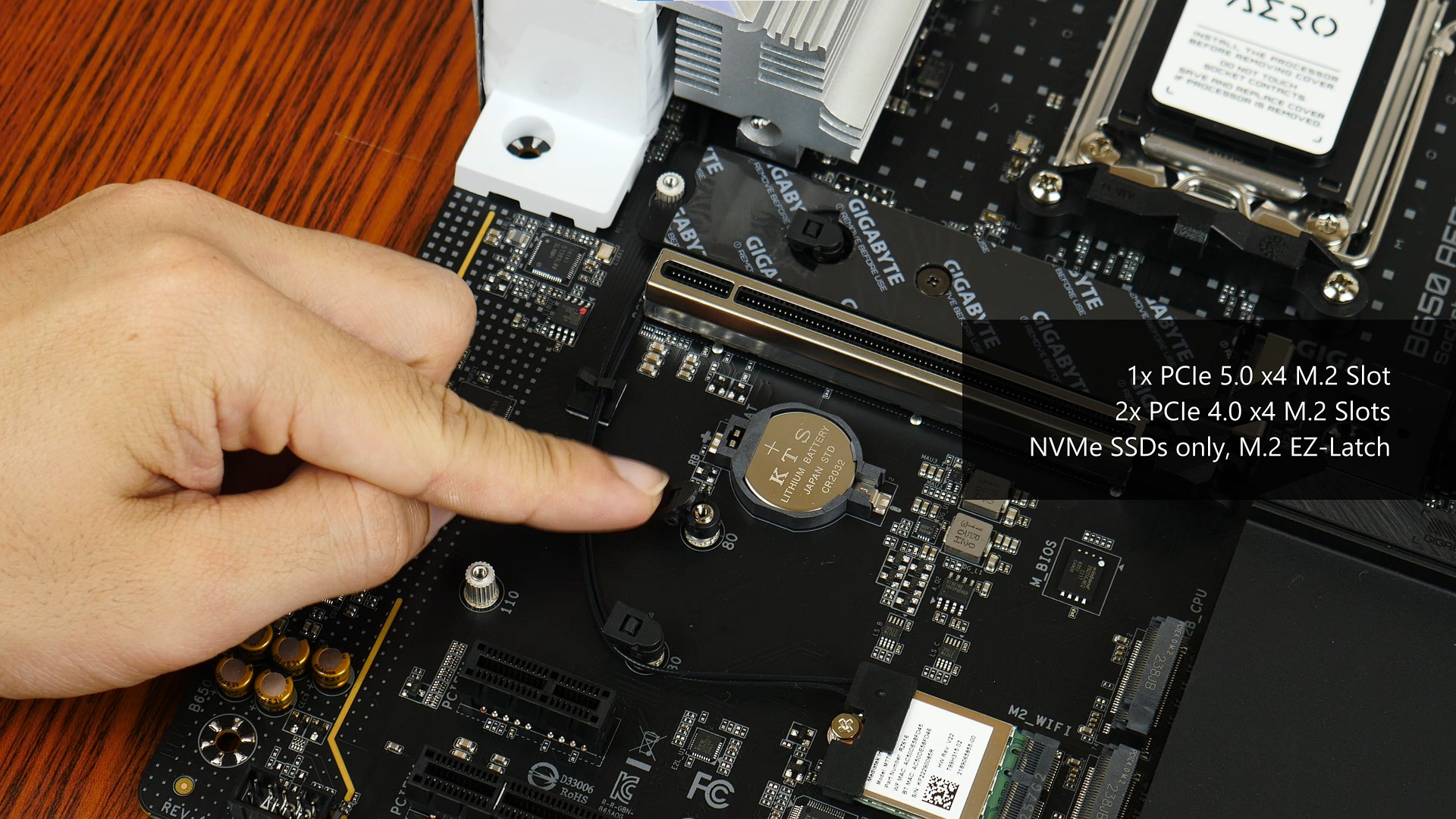 Three M.2 slots are included with the board, with one slot being compliant to the PCIe 5.0 x4 standard, and the remaining two being PCIe 4.0 x4 slots. Gigabyte's also included its M.2 EZ-Latch feature for all slots, which allows for the tool-less installation and removal of M.2 SSDs. Do note that all three slots support NVMe SSDs only - end-users with M.2 SATA drives will be out of luck.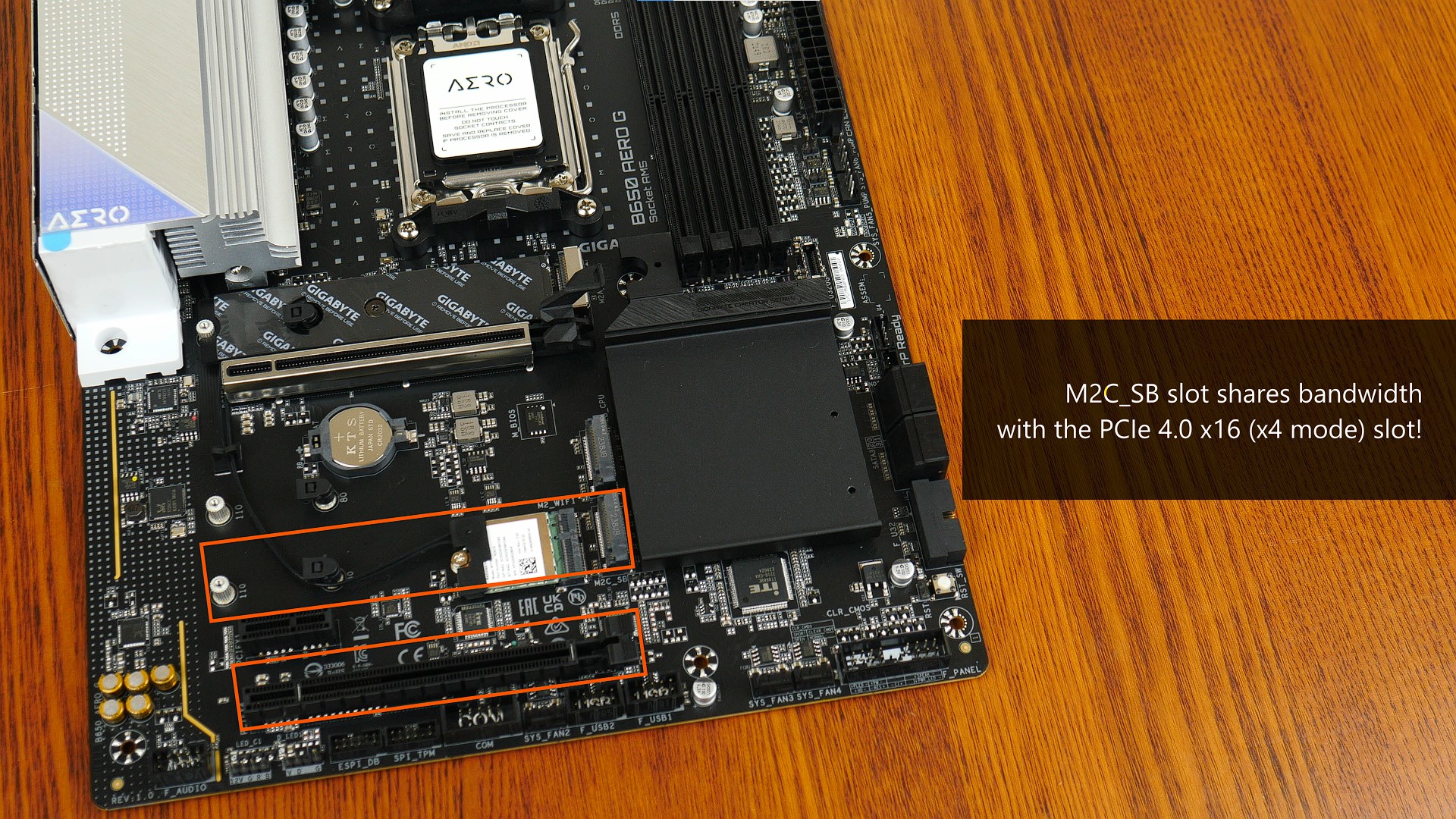 Also, those who intend to populate all three M.2 slots would do well to note that the third M.2 slot, M2C_SB, shares bandwidth with the PCIe 4.0 x16 slot that operates at x4 mode. If a M.2 SSD is installed on the M2C_SB slot, the said PCIe 4.0 x16 slot will be disabled.
Audio & Internet Connectivity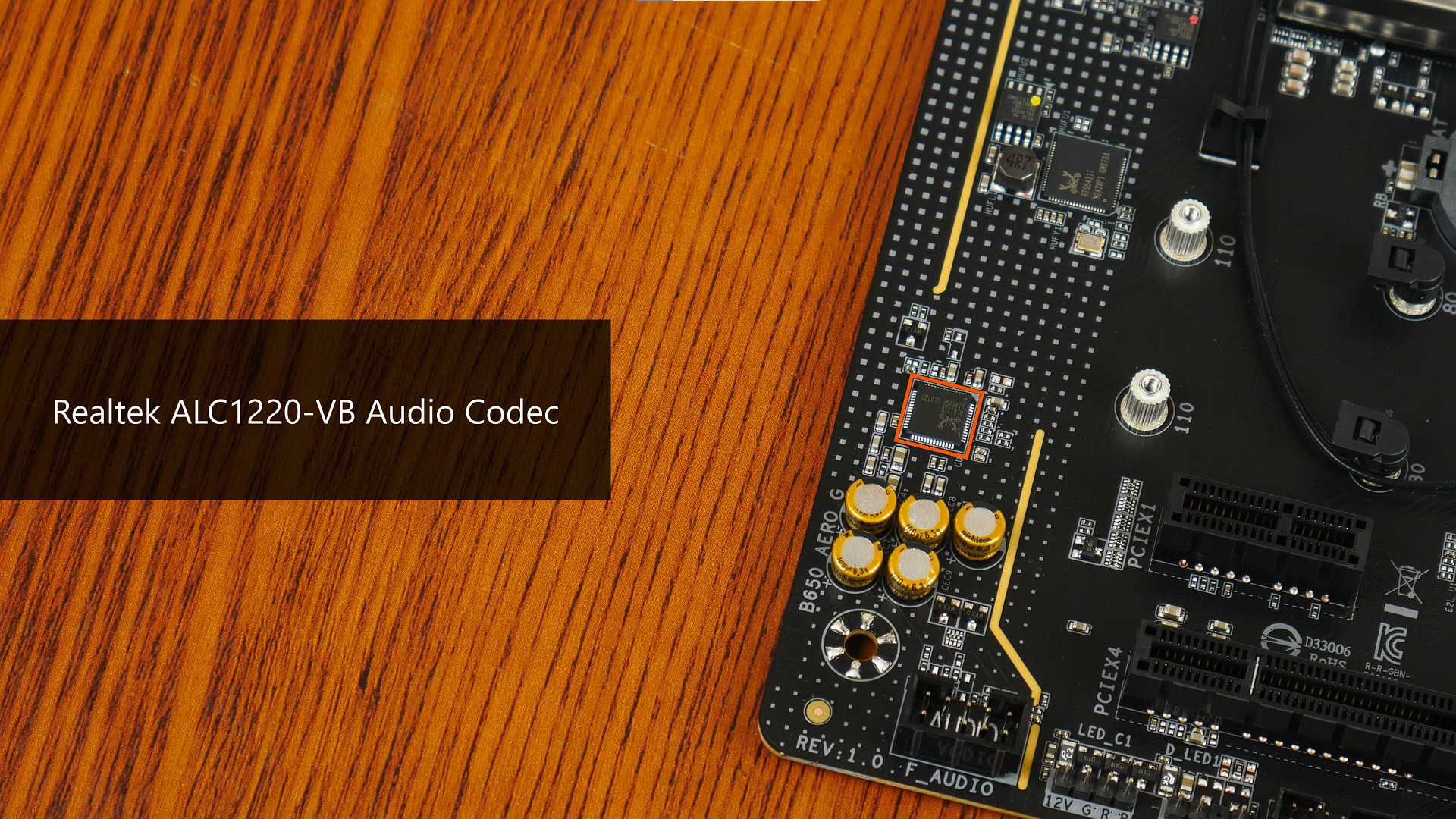 Gigabyte's included a Realtek ALC1220-VB audio codec, which can be considered a higher-end audio offering.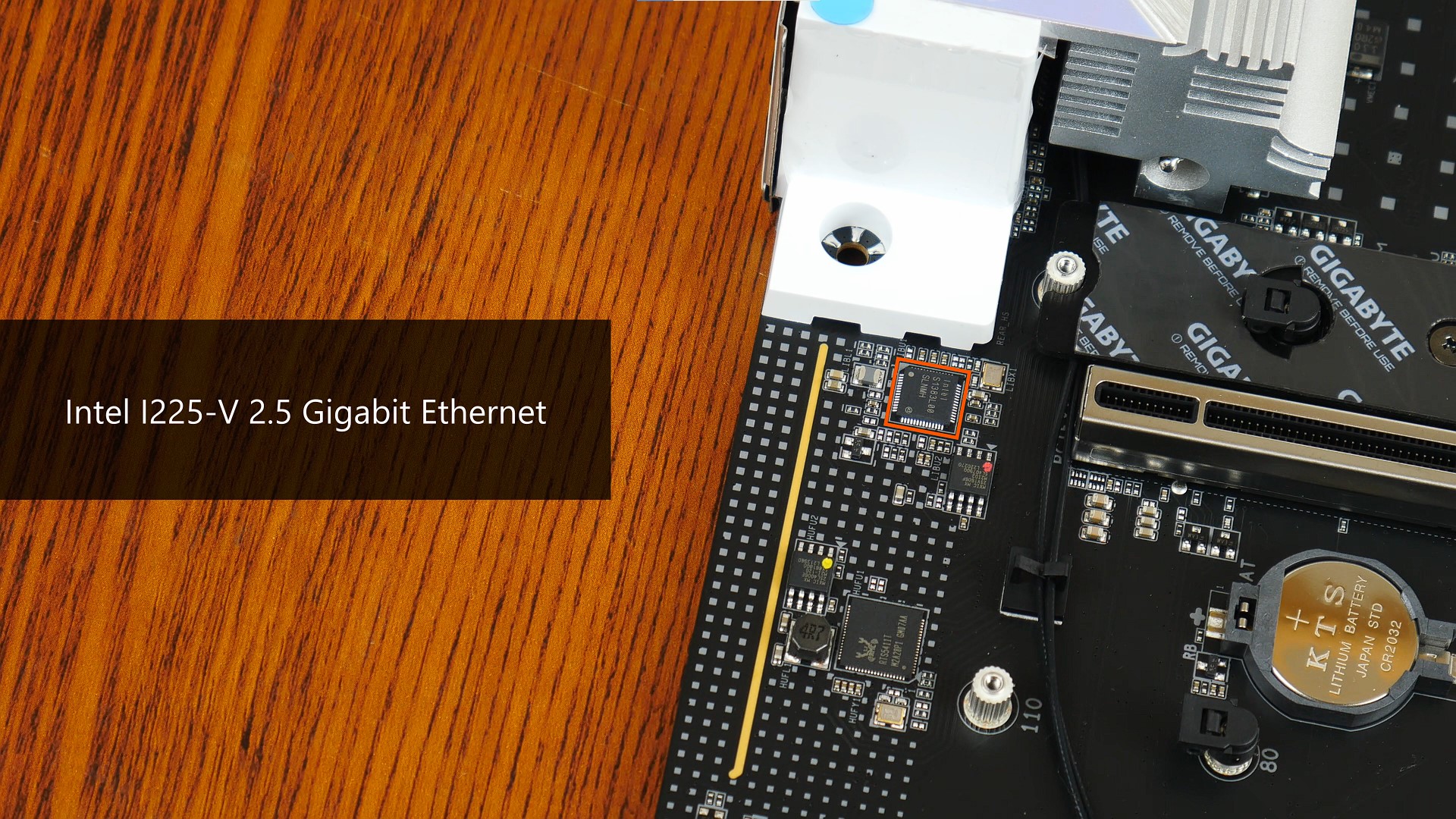 Wired and wireless internet connectivity are courtesy of an Intel I225-V chip and MediaTek's MT7922A22M WIFI module respectively. The I225-V supports 2.5 Gigabit Ethernet, while the MediaTek module serves up WIFI 6E and Bluetooth 5.2 connectivity thanks to AMD's RZ616 chipset.
Fan & RGB Headers
The B650 AERO G comes with no shortage of fan headers, eight of them, to be precise:
1x CPU_FAN
4x SYS_FAN
2x SYS_FAN_PUMP
1x CPU_OPT
Should you wish to deck out your PC build with RGB accessories, Gigabyte's got you covered with three 12V RGB headers, as well as two addressable RGB headers.
Other Features
Gigabyte's included quite a number of interesting features with the board, starting with...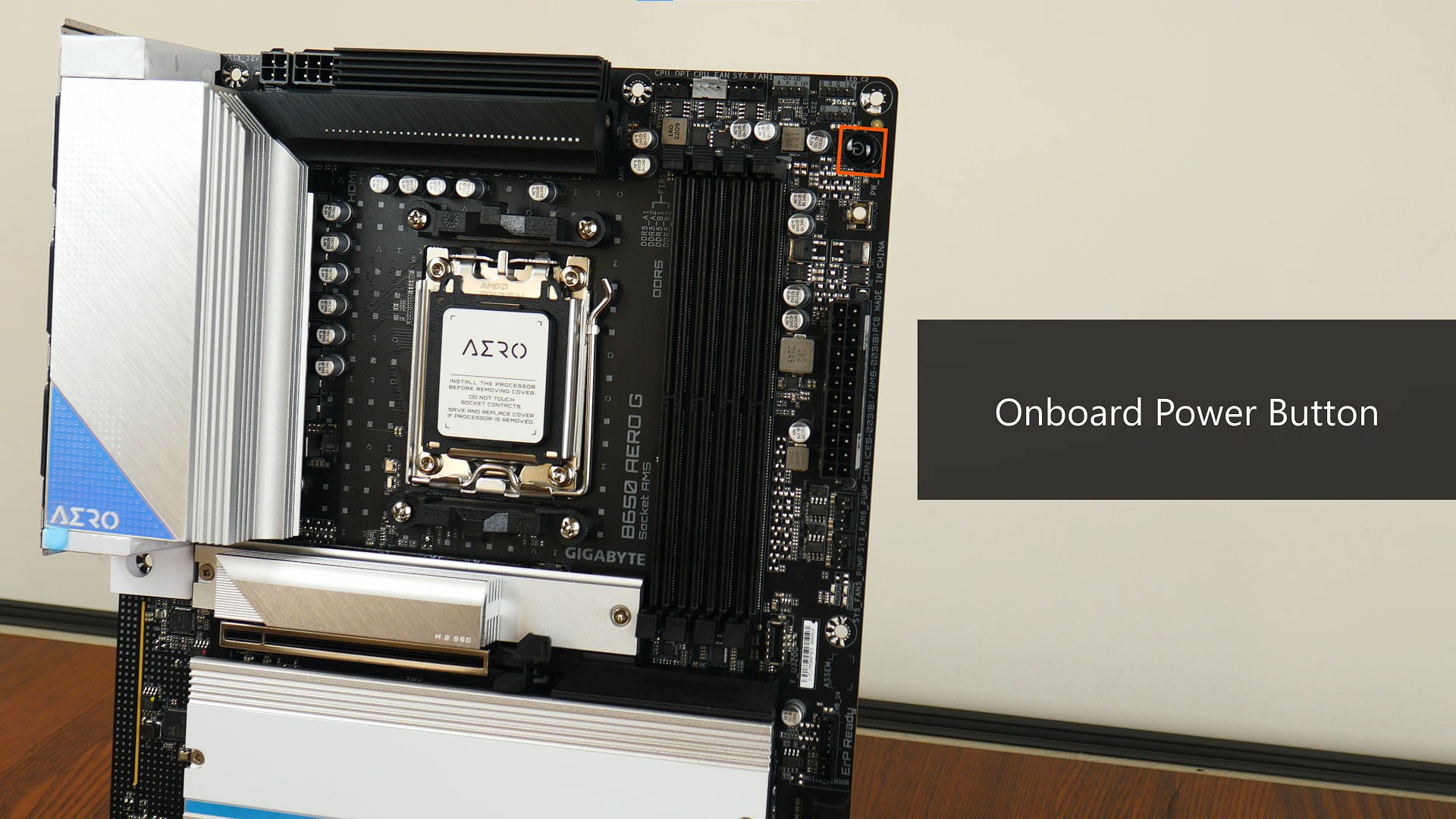 ...an onboard power button that could come in handy for open-case setups...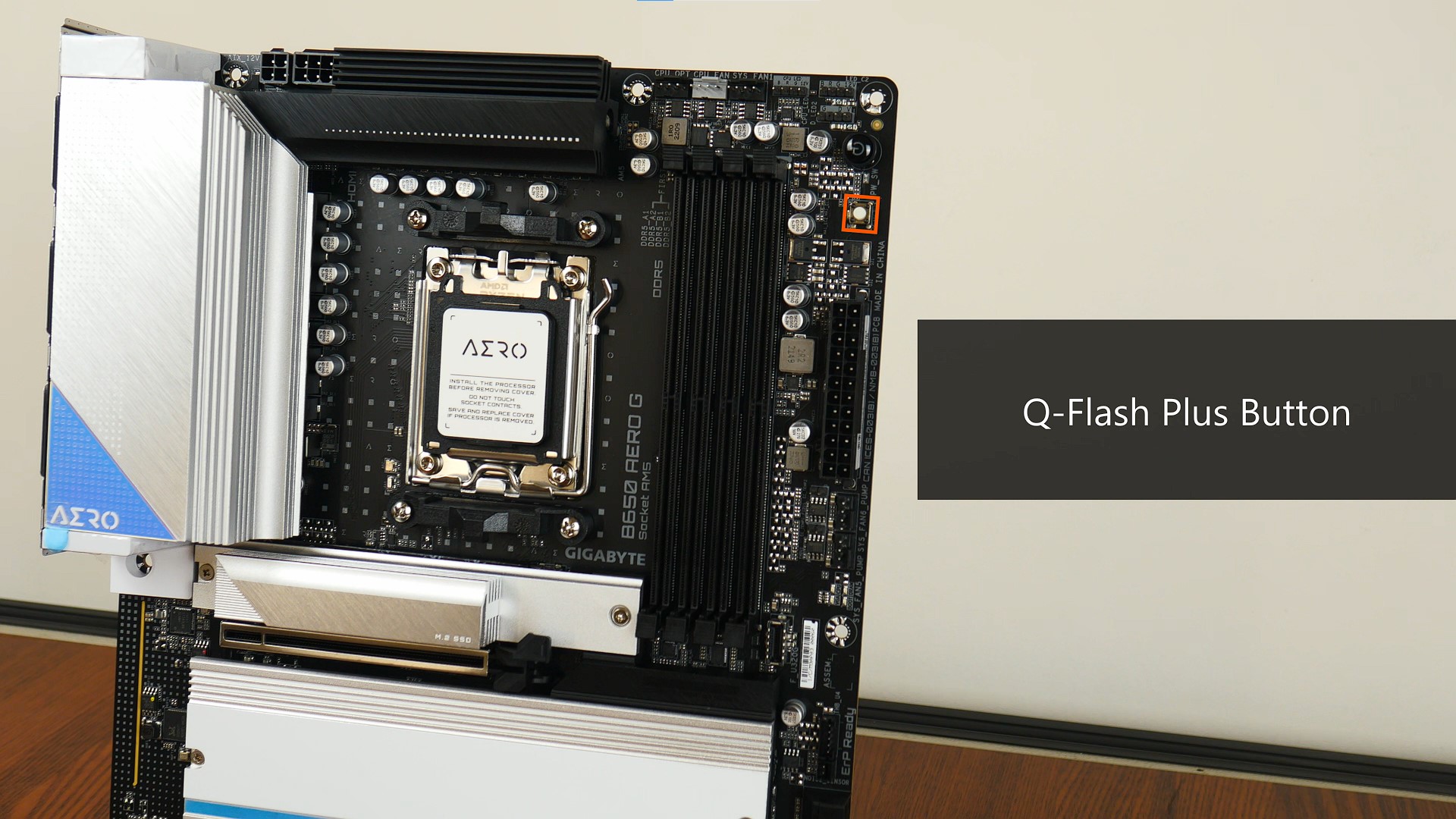 ...a Q-Flash Plus button that allows end-users to flash the board's BIOS without needing to install a CPU, RAM or graphics card. A much-needed feature for sure, seeing as AMD has committed to support several generations of Ryzen processors on the AM5 platform.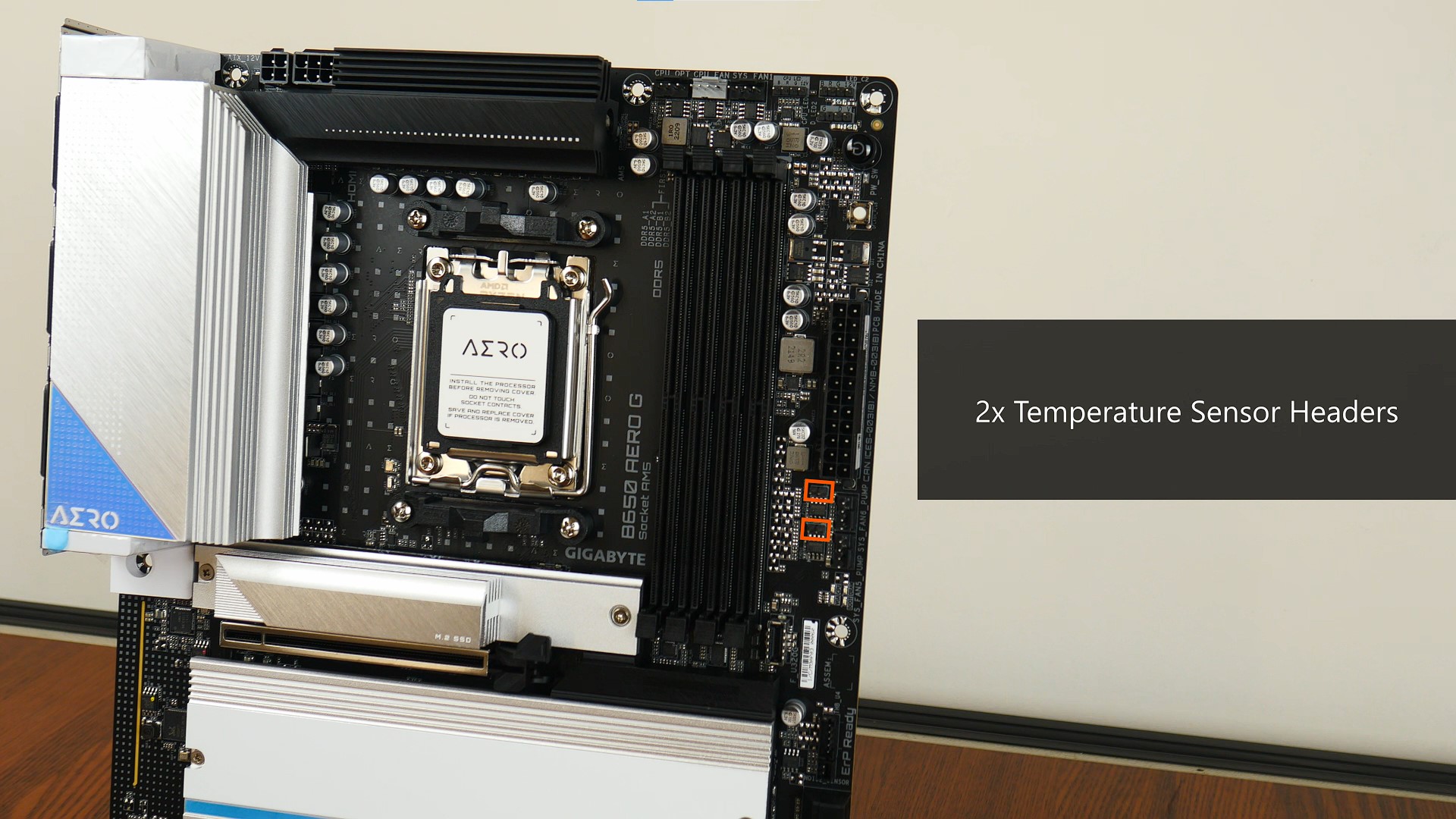 Also included are a pair of temperature sensor headers that allow end-users to connect thermistor cables to - this would allow for the monitoring of thermals for other components within your PC. Do note that thermistor cables do not come included with the motherboard, and will need to be purchased separately.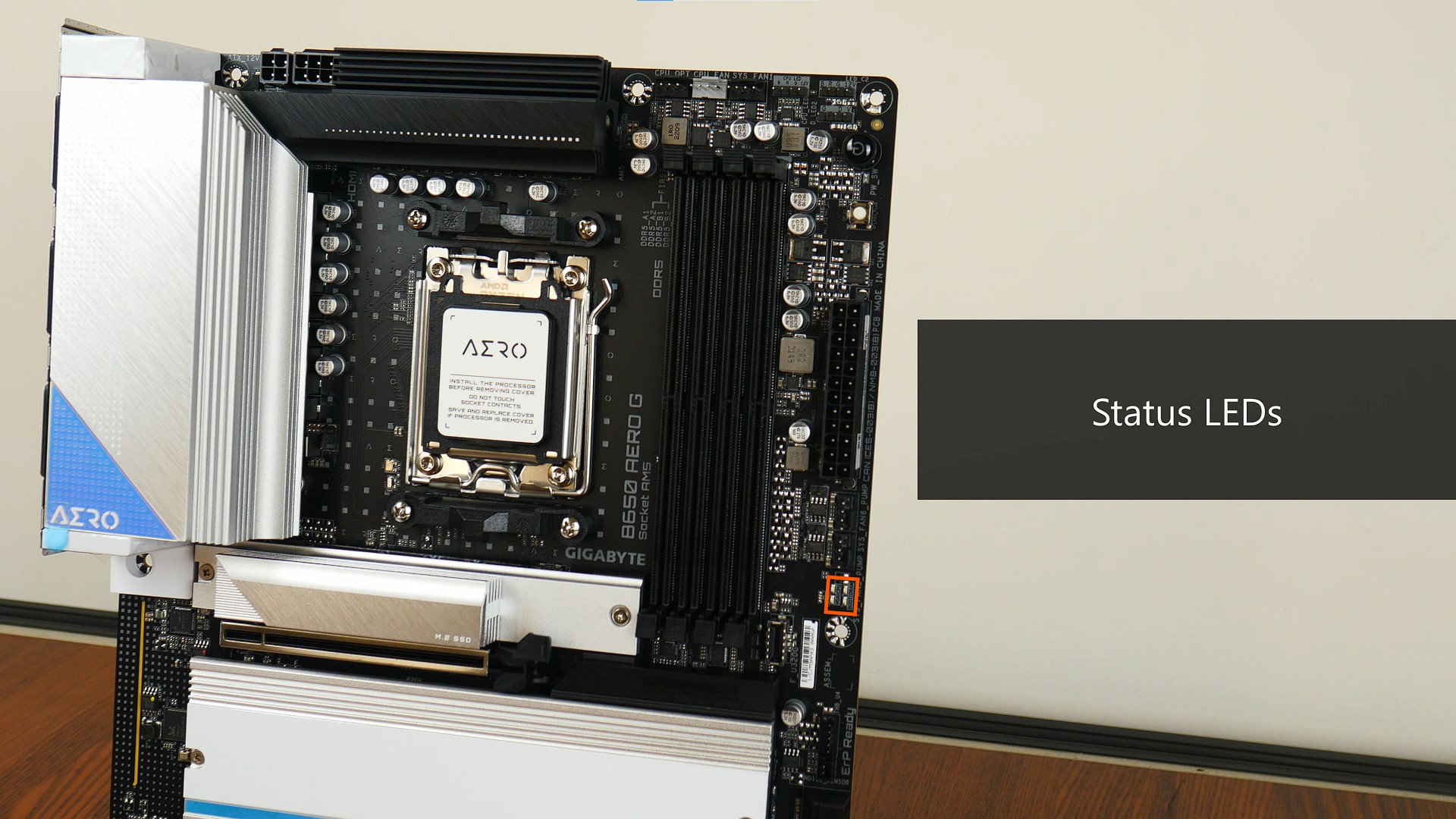 To help with troubleshooting Power On Self Test (POST) issues, Gigabyte's included a set of status LEDs for this very purpose.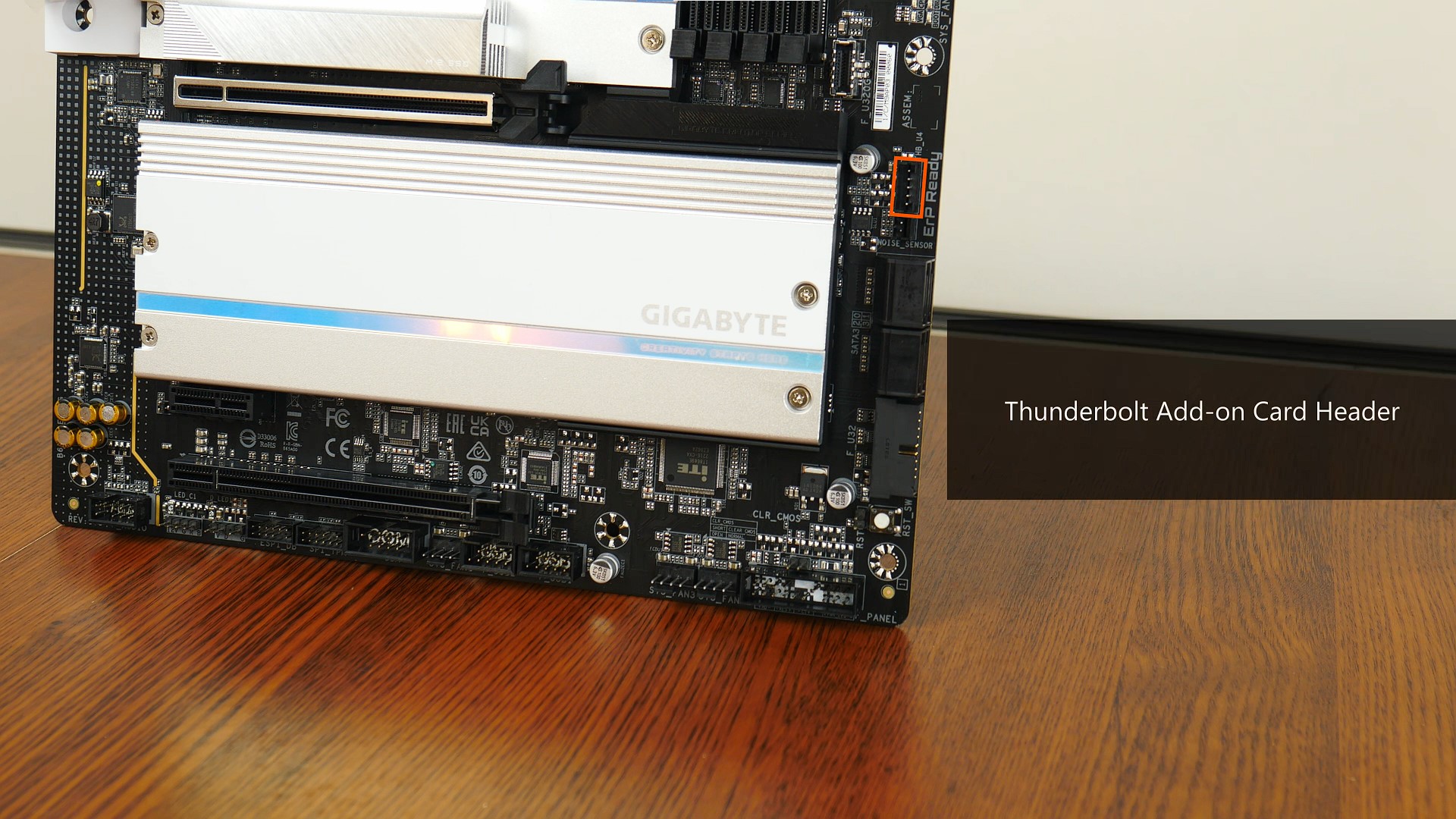 The board also comes with a Thunderbolt add-on card header that allows end-users to hook up a Thunderbolt add-on card that is sold separately by Gigabyte.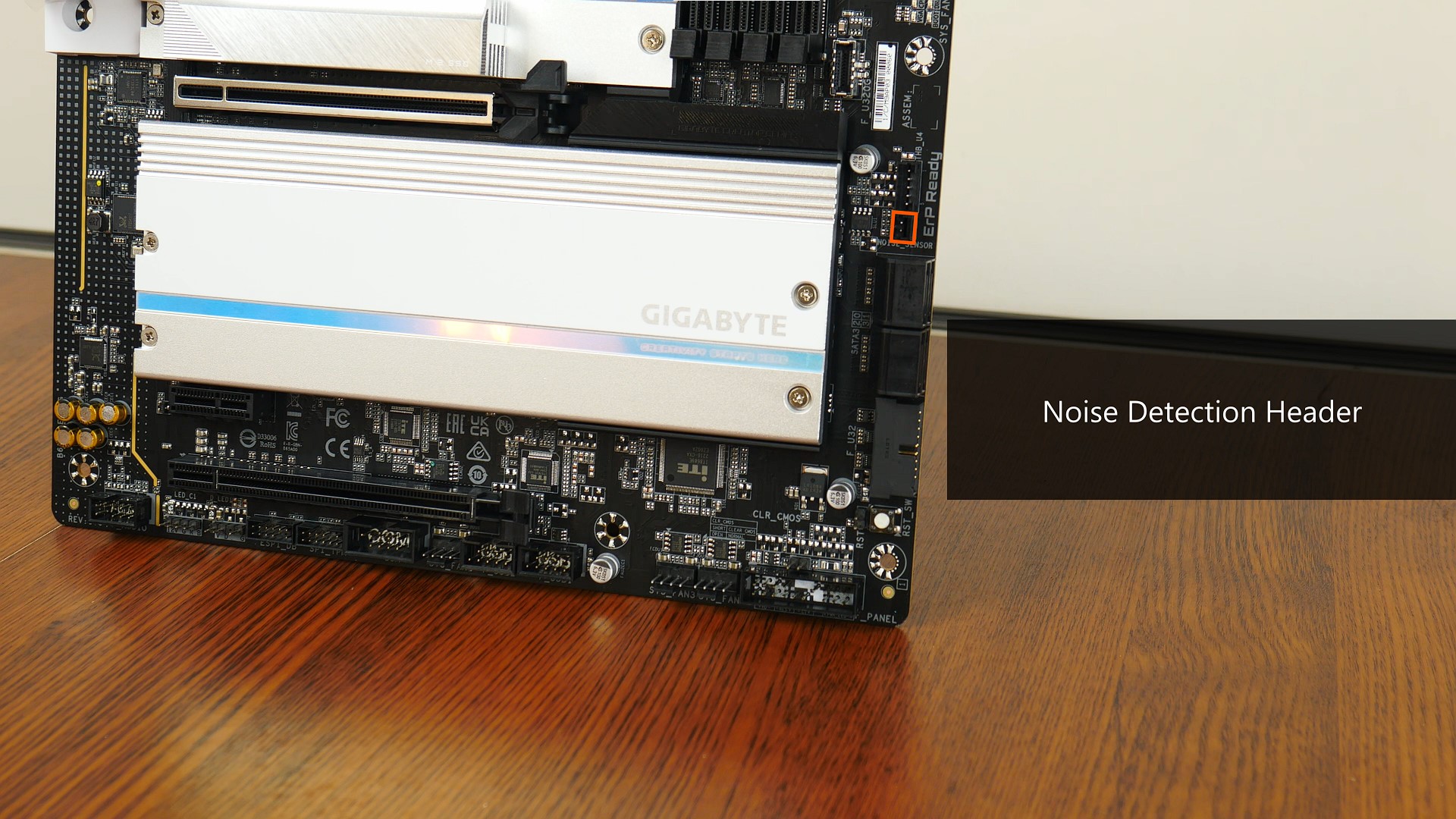 To monitor for any abnormal noises within your PC case, owners of this board have the option of connecting the included noise detection cable to the on-board noise detection header so as to enable this functionality.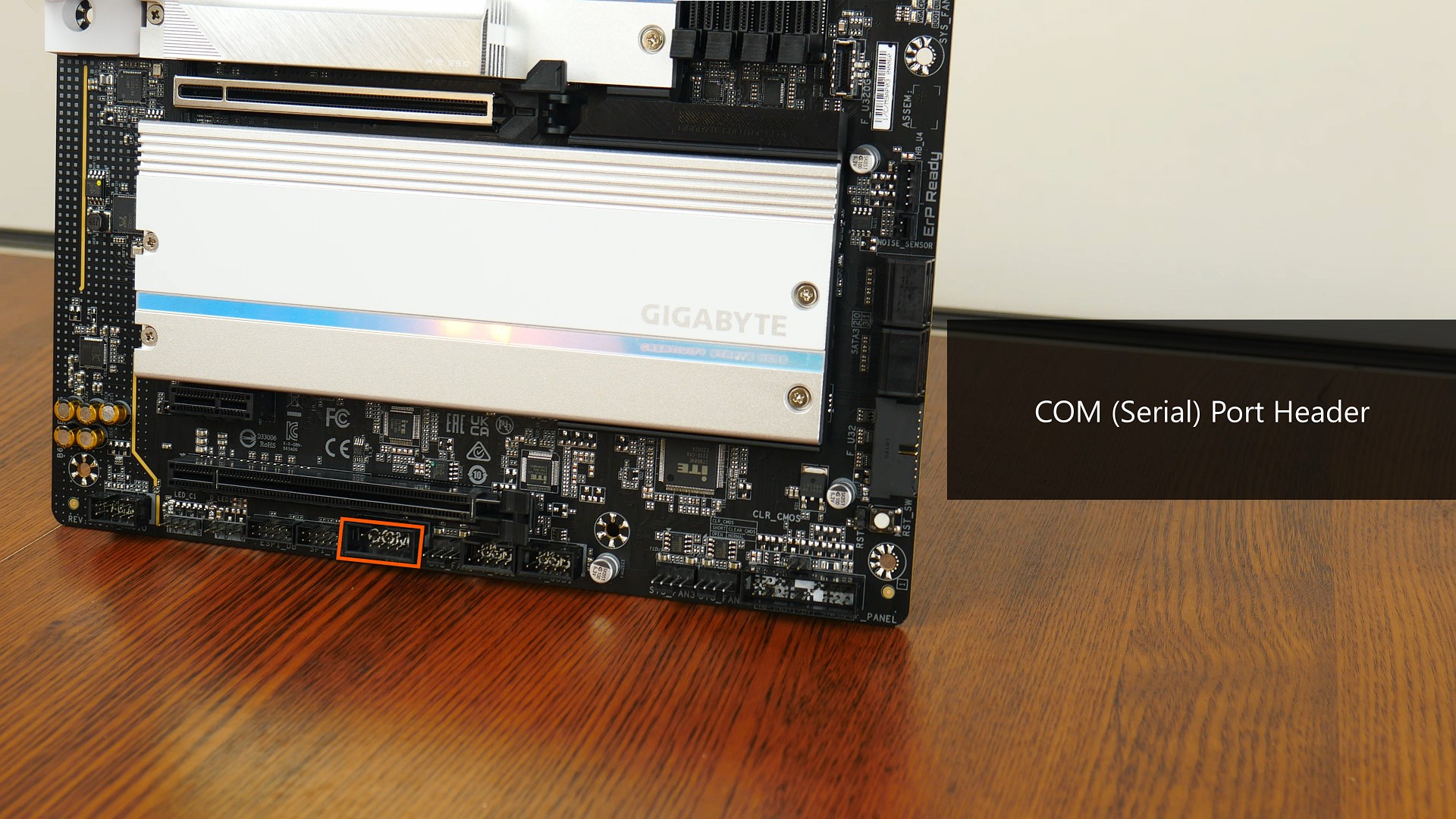 A surprising feature of this board is a serial port header, which could come in handy for individuals or businesses that still use legacy PC hardware.
Rear I/O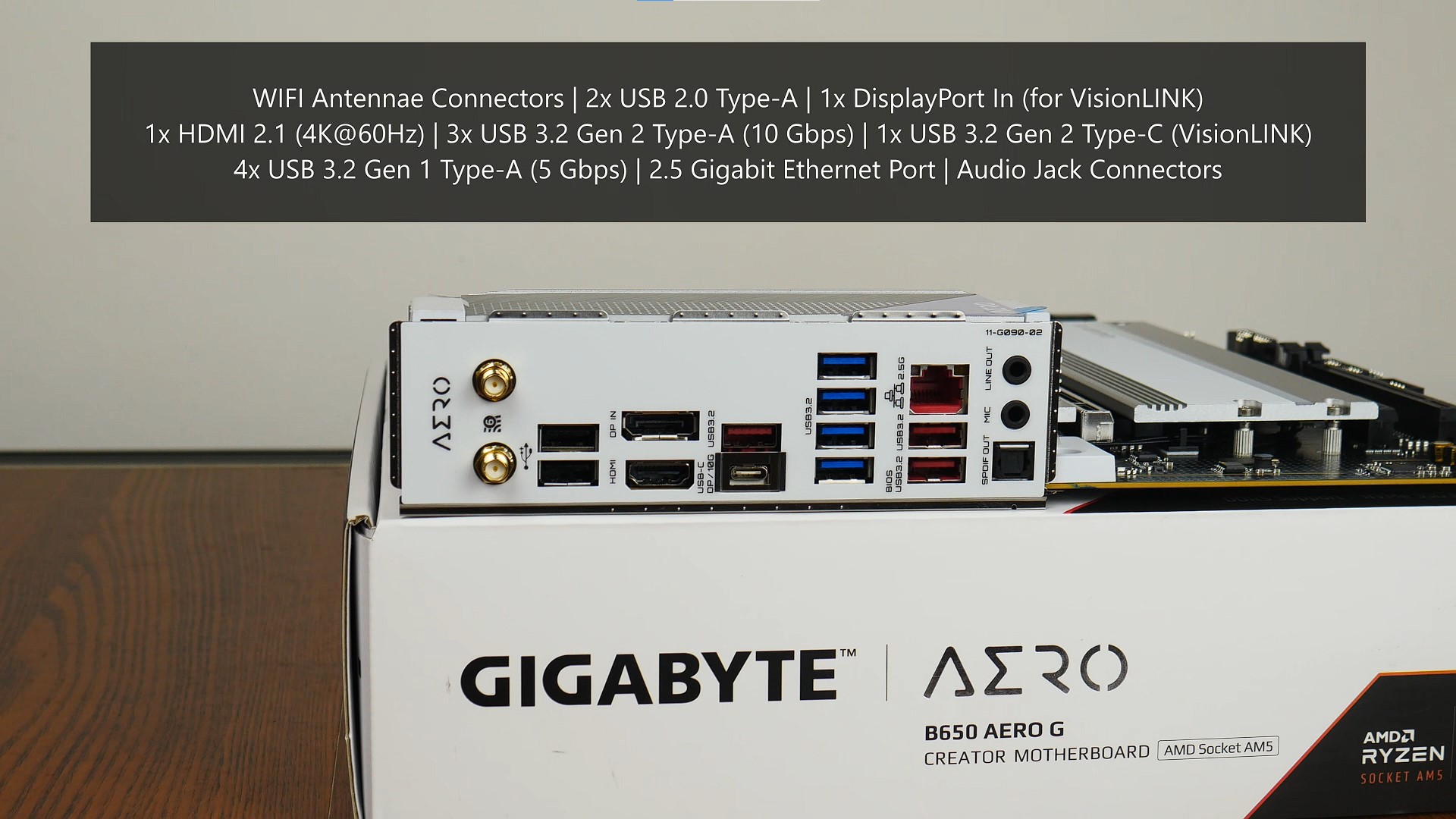 The rear I/O of the board comprises the following ports:
WIFI antennae connectors
2x USB 2.0 Type-A
1x DisplayPort In (for VisionLINK)
1x HDMI 2.1 (max 4K resolution at 60Hz)
3x USB 3.2 Gen 2 Type-A (10 Gbps)
1x USB 3.2 Gen 2 Type-C (10 Gbps, VisionLINK compliant with 60W Power Delivery and 4K@144Hz display output)
4x USB 3.2 Gen 1 Type-A (5 Gbps)
2.5 Gigabit Ethernet port
Audio jack connectors
VisionLINK
A key feature of the AERO G series of motherboards is VisionLINK, which is something that Gigabyte targets specifically at professional content creators, namely graphic designers who use a pen display device.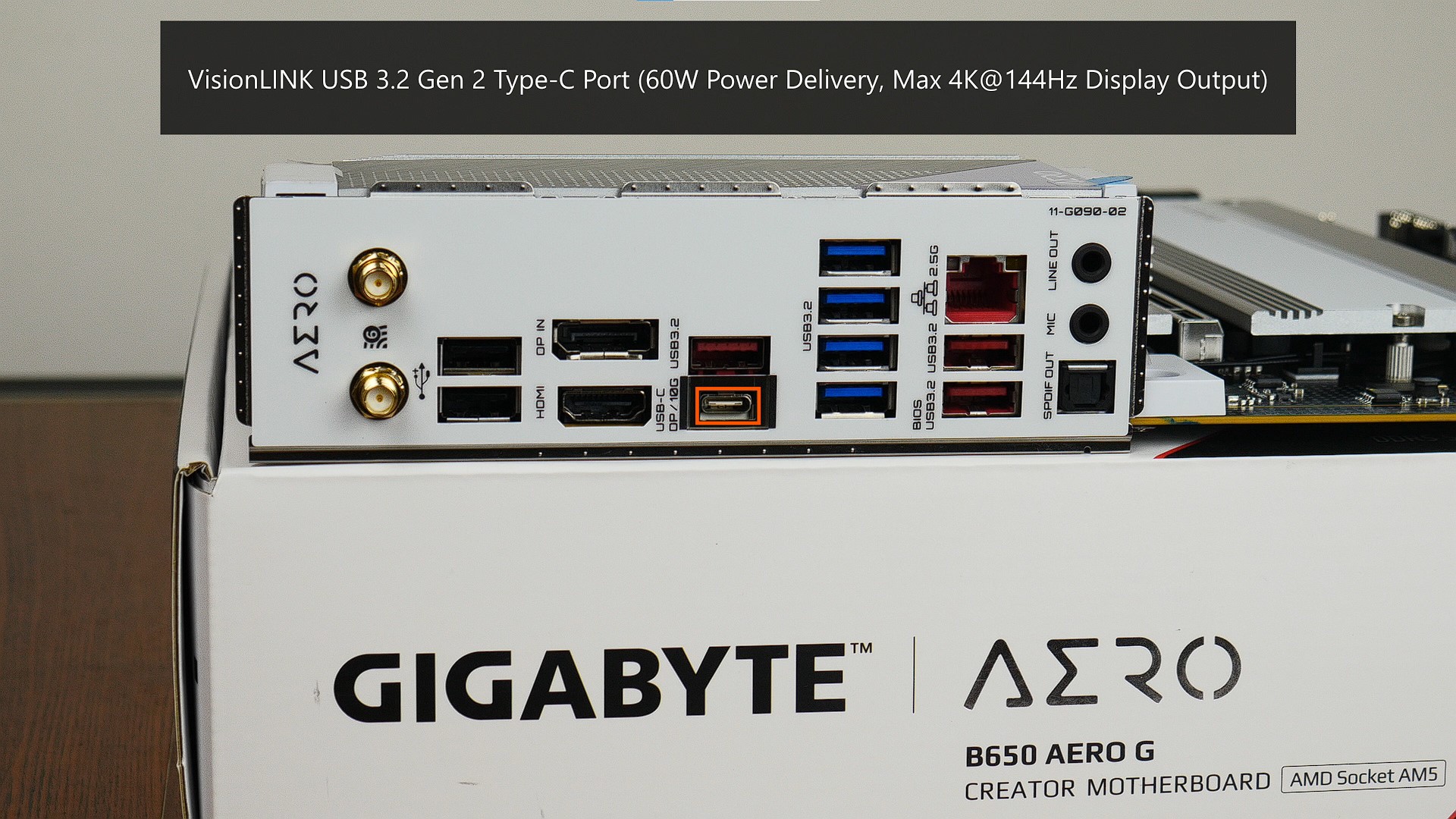 The centerpiece of VisionLINK is a USB 3.2 Gen 2 Type-C port found on the rear I/O that supports Power Delivery of up to 60W, and display output of up to 4K resolution at 144Hz.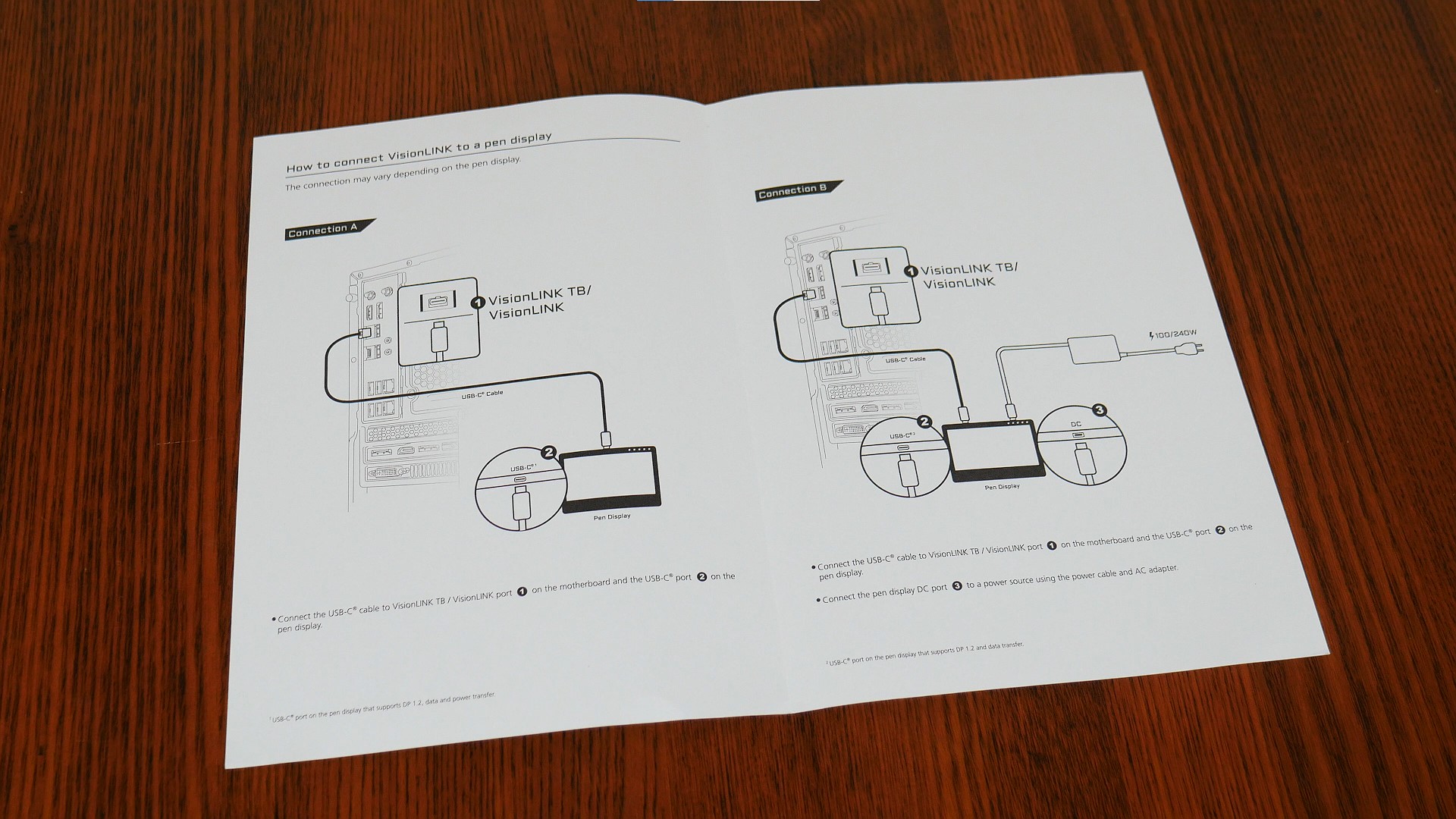 As per the illustrations from the VisionLINK guide above, one would hook up a pen display, such as a Wacom, to the said VisionLINK USB Type-C port - this would enable both display output and drawing inputs accordingly on one's pen display device, thereby simplifying the setup process of a pen display device with a PC.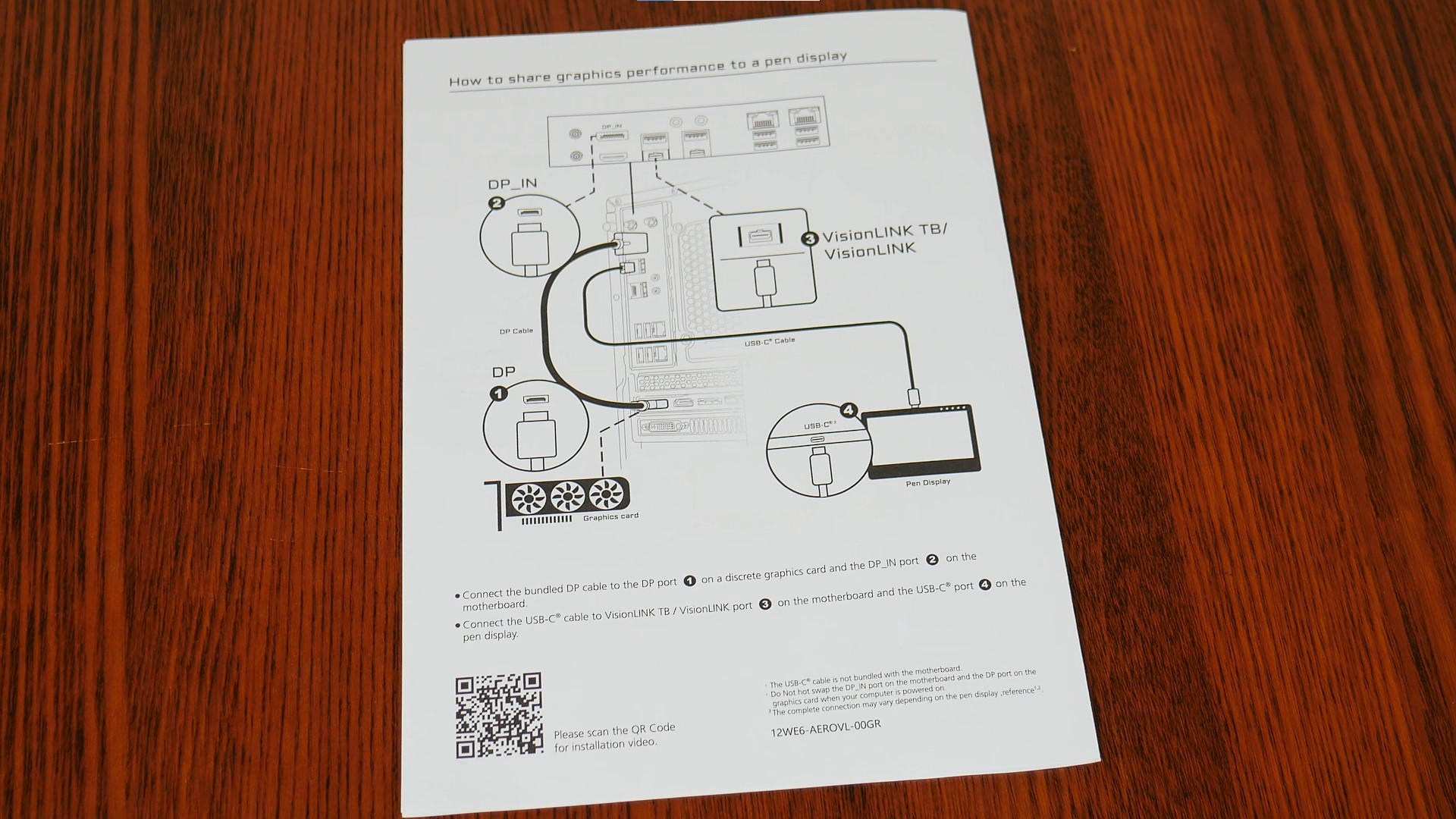 You can take things one step further by sharing the processing power of your graphics card with your pen display device for a smoother visual experience. This is done by using the included DisplayPort cable to connect your graphics card's DisplayPort connector to the DisplayPort In connector found on the rear I/O of the motherboard. At the same time, you will need to ensure that your pen display is connected to the VisionLink USB 3.2 Gen 2 Type-C port as well.
All in all, VisionLINK comes across as a handy feature to have for content creators focused on graphic design.

Conclusion & Pricing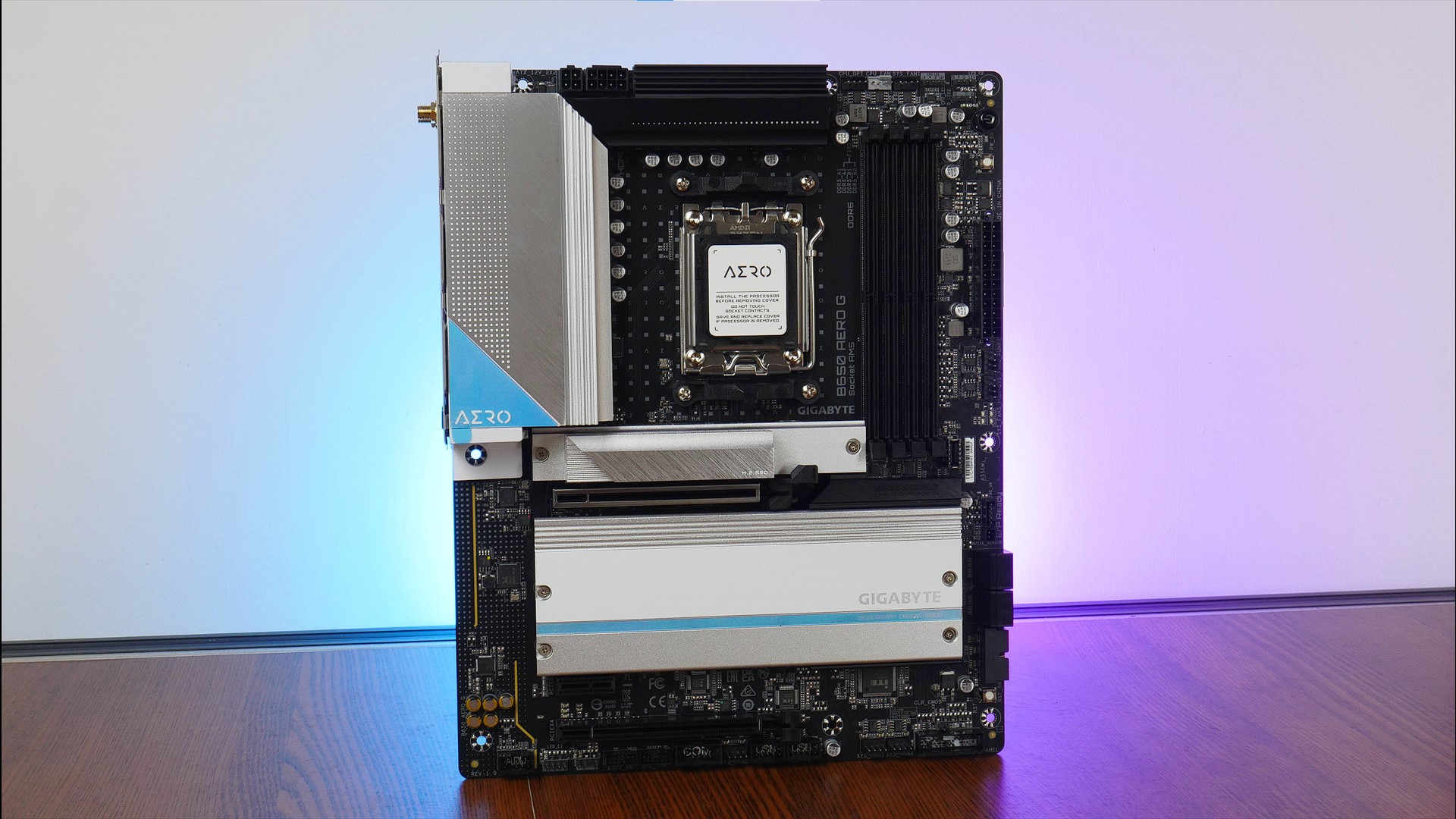 The Gigabyte B650 AERO G is an interesting AM5 motherboard offering, in that it's targeted squarely at professional content creators, especially graphic designers, where VisionLINK seems to be the unique selling proposition for this board. Backed up by features such as PCIe 5.0 support for a M.2 drive, 2.5 Gigabit Ethernet with WIFI 6E, as well as an extensive list of supporting features such as onboard thermal sensor headers and noise headers, the B650 AERO G also has a sleek aesthetic that lends itself well to white-themed PC builds.
One issue to highlight though, is the board's price - being a B650 offering positioned on the higher-end of the spectrum, the B650 AERO G isn't cheap, and even comes within a whisker of the pricing territory of lower-end AMD X670 and even X670E motherboard offerings (depending on which country you're based in). In Singapore, this board can be purchased for around $512 Singapore dollars, while international eCommerce sites such as Newegg have the board listed for around $270 US dollars.
In view of this, potential buyers of this board will have to consider whether or not the price premium is worth paying for - given its price, the B650 AERO G certainly does not help with the AM5 value issue that was covered at the start of this article. With this in mind, if you're a professional content creator who could do with the benefits that VisionLINK offers, and would still like to build a PC powered by a higher-end AMD Ryzen 7000 series offering (such as the 7700X), then the B650 AERO G could shape up to be a solid offering in such a context. One does hope though, that AMD will start to adjust prices of its AM5 processors and motherboards downwards, and as soon as possible, as the value conundrum that it's presently facing can only do harm to the company's market share the longer it's left unchecked.
Get this board from Amazon: https://amzn.to/3SRtlv6 (affiliate link)
Get this board from Shopee Singapore: https://shope.ee/2puCWd2Vo9 (affiliate link)
ALKtech may earn commissions from qualifying purchases made using affiliate links, at no extra cost to you as a customer. These commissions go a long way in supporting the platform!
The motherboard featured in this article was a review unit provided on loan from CDL Trading Pte Ltd, an authorised distributor for Gigabyte in Singapore.