The MM712 is Cooler Master's take on a value-oriented mid-range wireless gaming mouse, with features such as a 19000 DPI PixArt optical sensor, LK 2.0 optical micro switches for the left and right mouse buttons and a hole-free design that weighs in at just 59 grams.
Special thanks to Cooler Master for sponsoring the mouse featured in this article.
Cooler Master is a brand well known for its CPU coolers and PC cases in the DIY PC market. As industry veterans, they've since moved on to manufacturing other products as well, such as mice and keyboards, to even audio products such as gaming headsets and earphones.

For today's article, ALKtech checks out a mid-range wireless gaming mouse, the Cooler Master MM712. Sporting a 19000 DPI PixArt PAW 3370 optical sensor, a right-handed ambidextrous design and triple connectivity options (2.4 GHz, Bluetooth, wired), all in a sleek package that weighs in at just 59 grams, read on to find out if this mouse is any good.
Summary of Specifications

Form Factor: Ambidextrous (optimised for right-handed use)


Connectivity: 2.4 GHz wireless, Bluetooth or wired connection via included Ultraweave USB Type-C to USB Type-A cable



RGB Lighting: Yes - illuminated Cooler Master logo on mouse hump

Sensor: 19000 DPI PixArt PAW 3370 optical sensor

Buttons: Six (customisations possible via MasterPlus app)

Switches: LK 2.0 optical micro switches, 70-million click lifespan (for left and right mouse buttons)

Mouse Feet: 95% PTFE

Dimensions: 116.5mm (L) x 62.4mm (W) x 38.3mm (H)


Weight: 59 grams (without cable and dongle)
Packaging & Accessories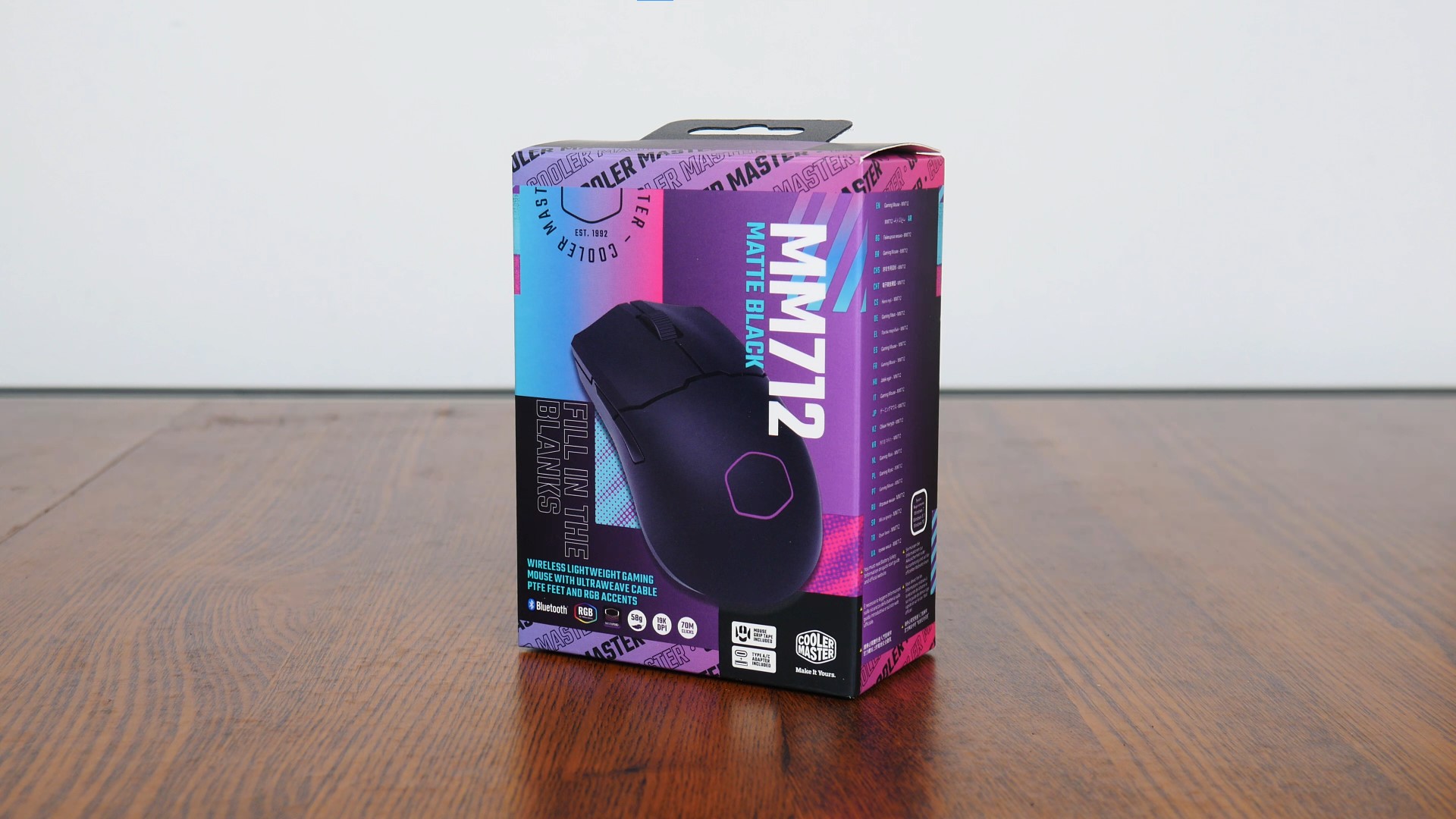 The MM712 comes shipped in a box sporting compact dimensions, with a purple colourway featuring splashes of cyan and pink - colours that are very much in-line with Cooler Master's brand identity,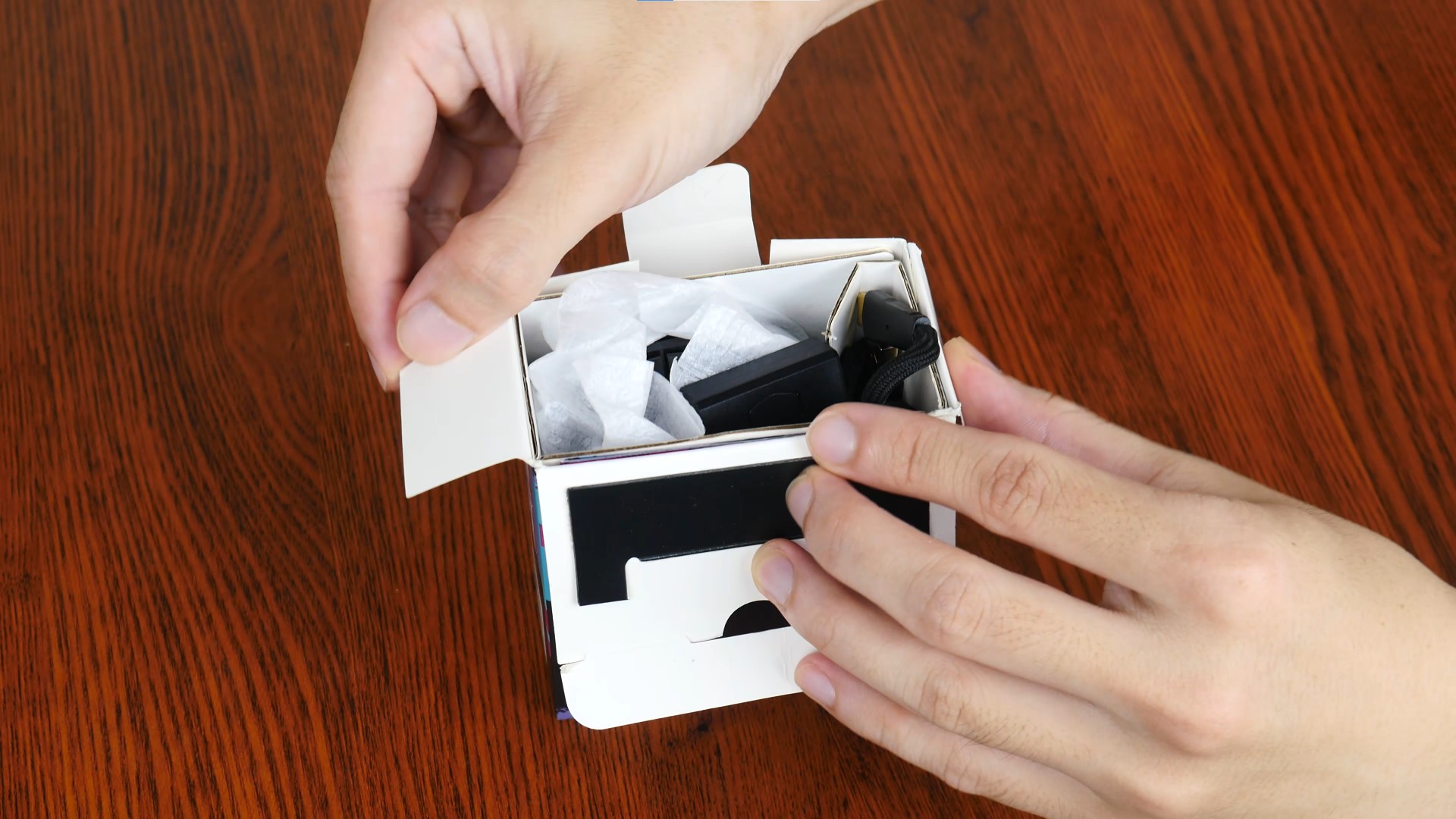 Accompanying the mouse are the following accessories:
Wireless dongle adapter (USB Type-A female to USB Type-C female)
1.8m Ultraweave charging/data cable (USB Type-A male to USB Type-C male)
Quick start guide
Grip tapes
Aesthetics, Build Quality & Physical Features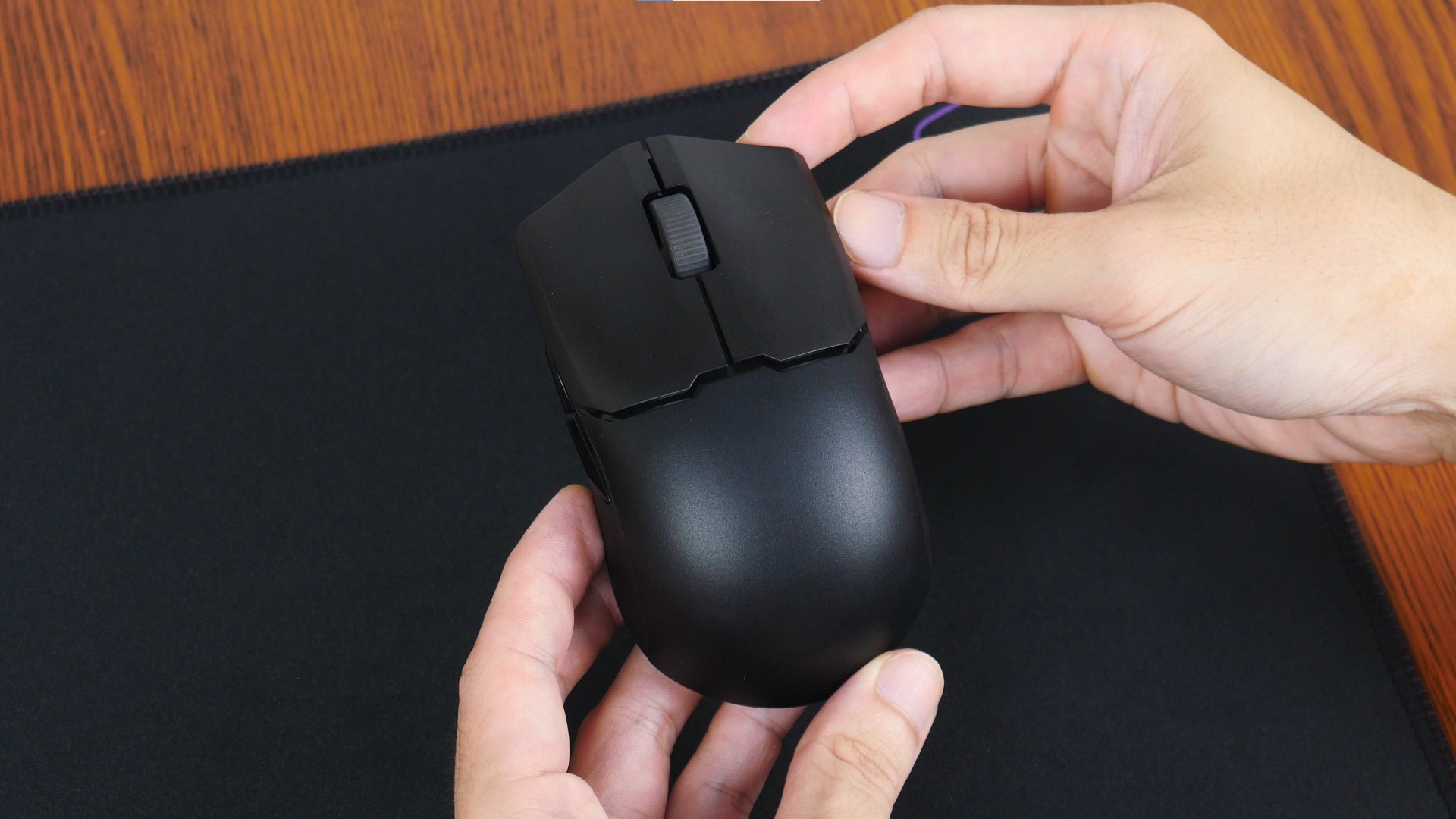 With the MM712 out of its packaging, it can be seen that the mouse sports a rather subdued aesthetic that belies its gaming pedigree, making it a versatile offering that can be used even in the office.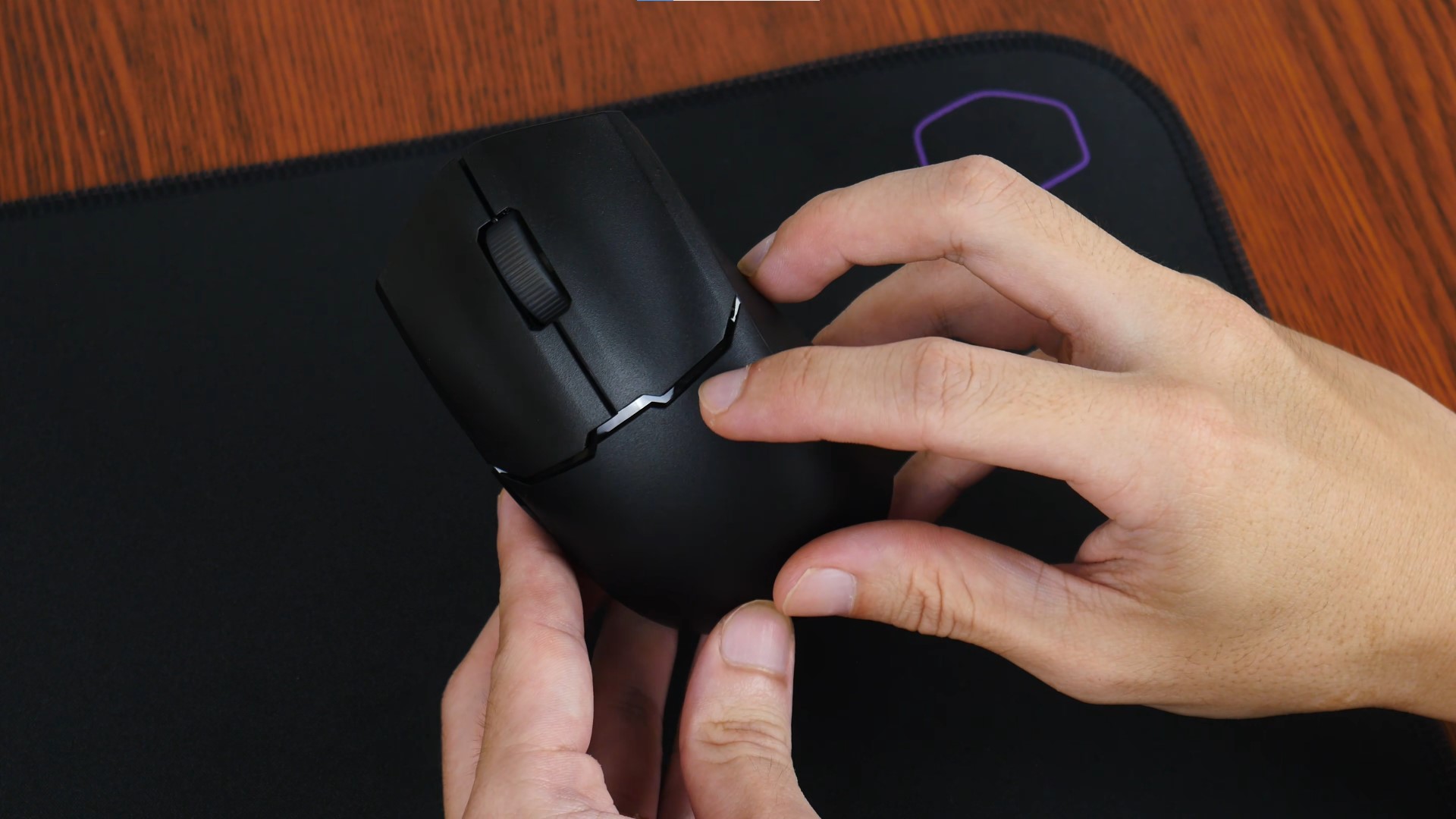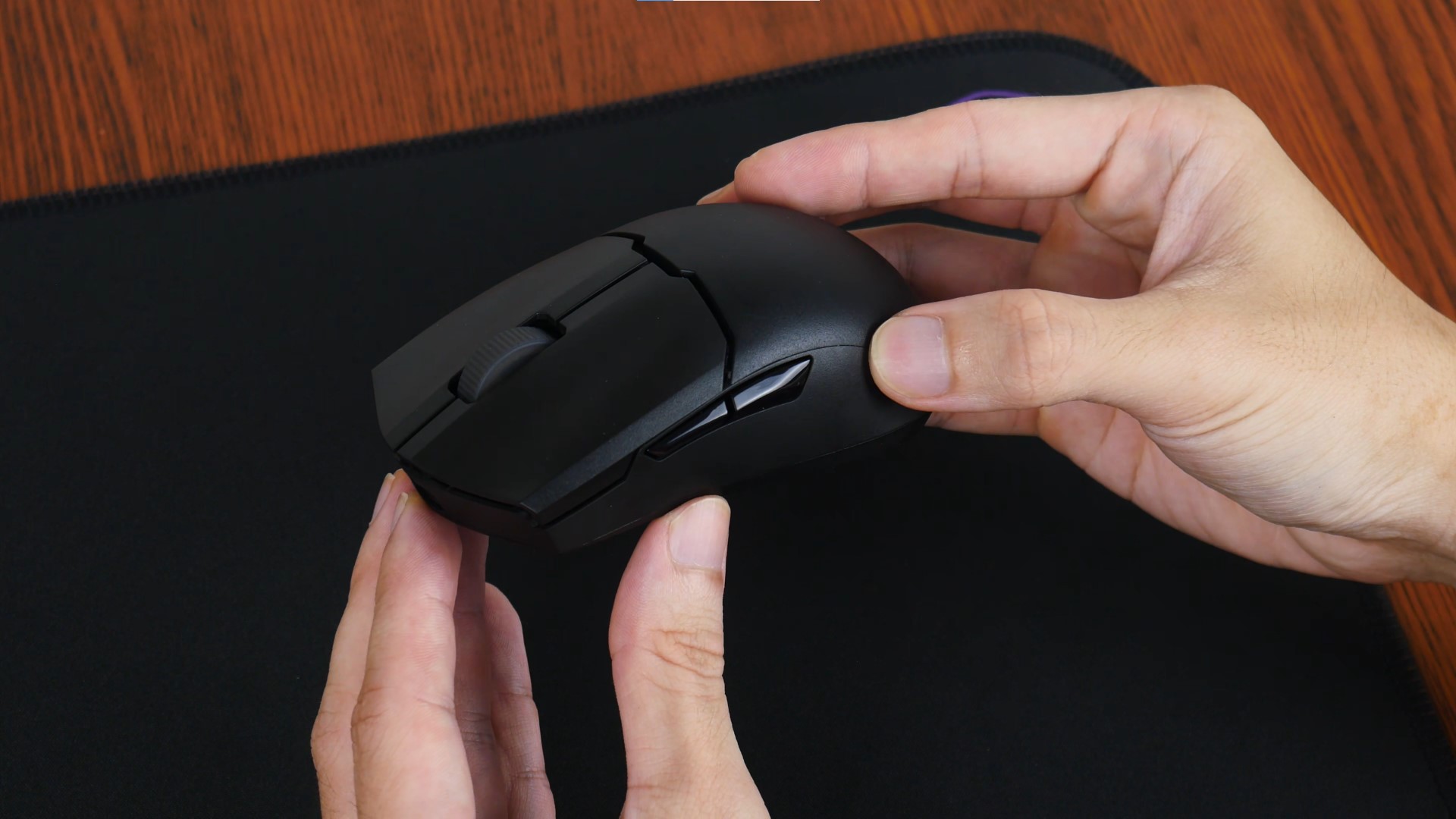 The mouse is finished in matte black plastic all around; for added contrast, Cooler Master's gone for a glossy finish for the spaces between where the left and right mouse buttons meet the hump of the mouse, as well as for the two side buttons.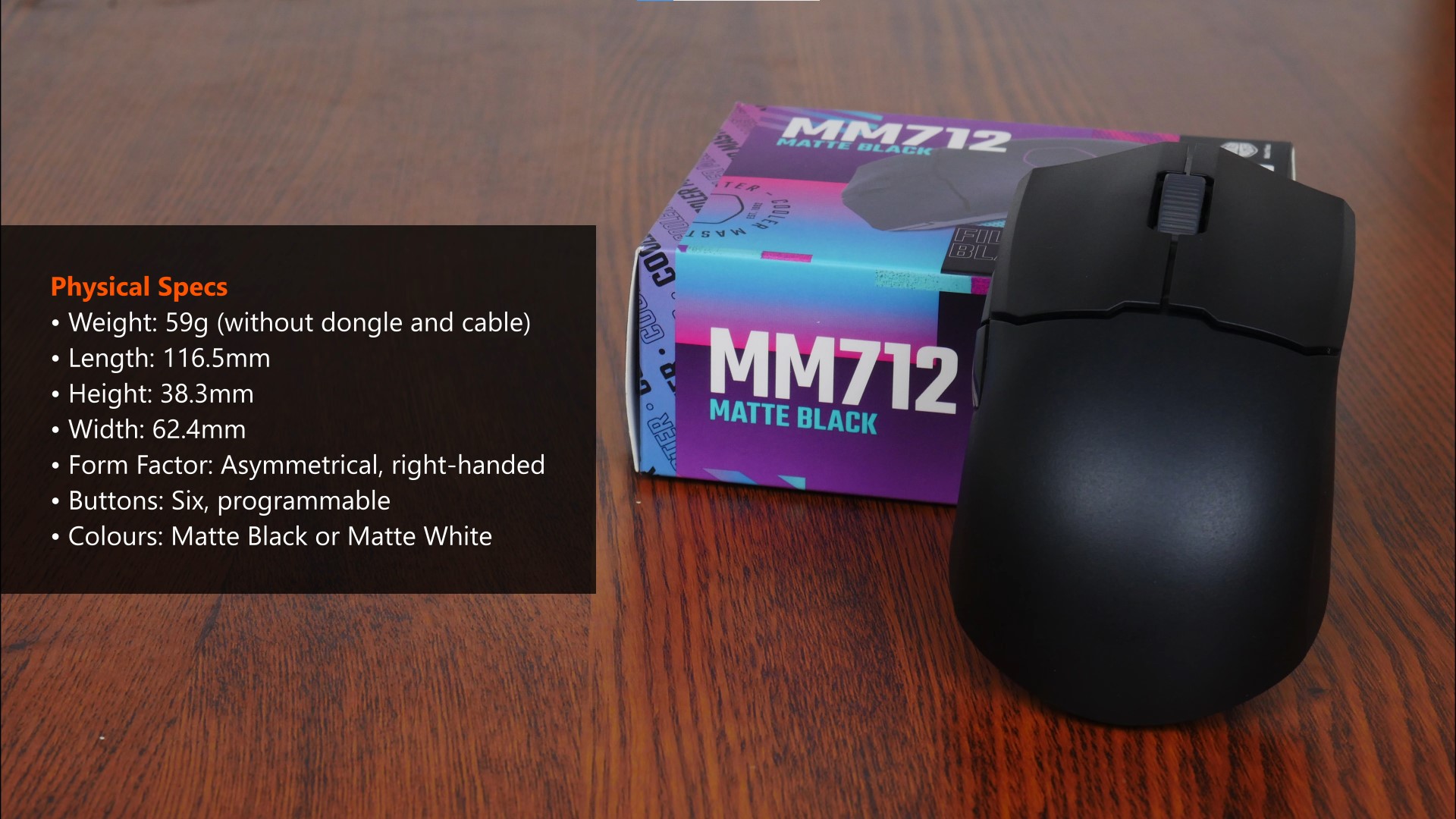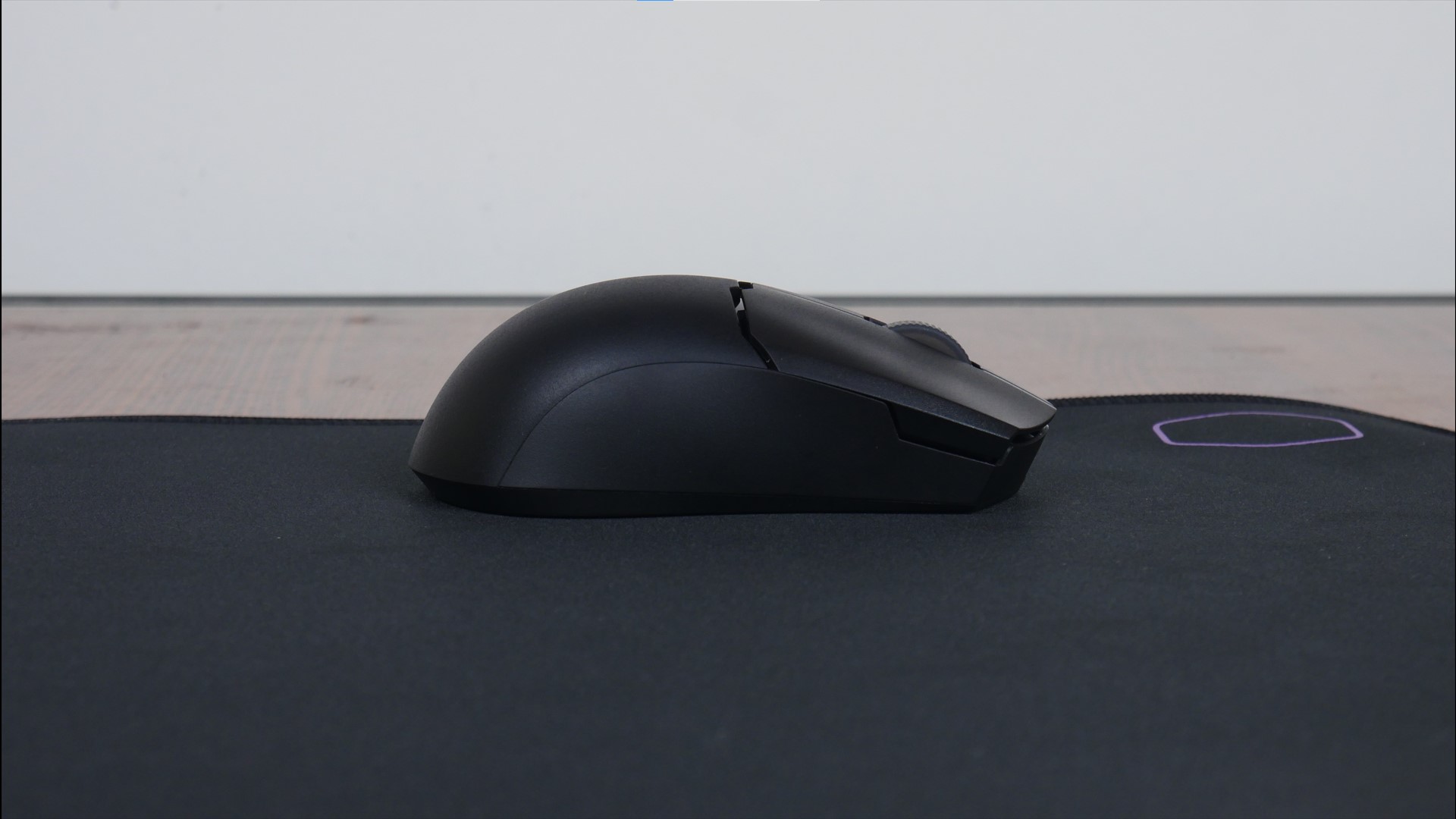 The MM712 has an ambidextrous shape designed for right-handed users, seeing as Cooler Master has included two side buttons on the left side of the mouse. It comes with six programmable buttons in total, which can be reprogrammed to perform different functions via Cooler Master's MasterPlus app, and the mouse is also available in a choice of two colours, either Matte Black or Matte White.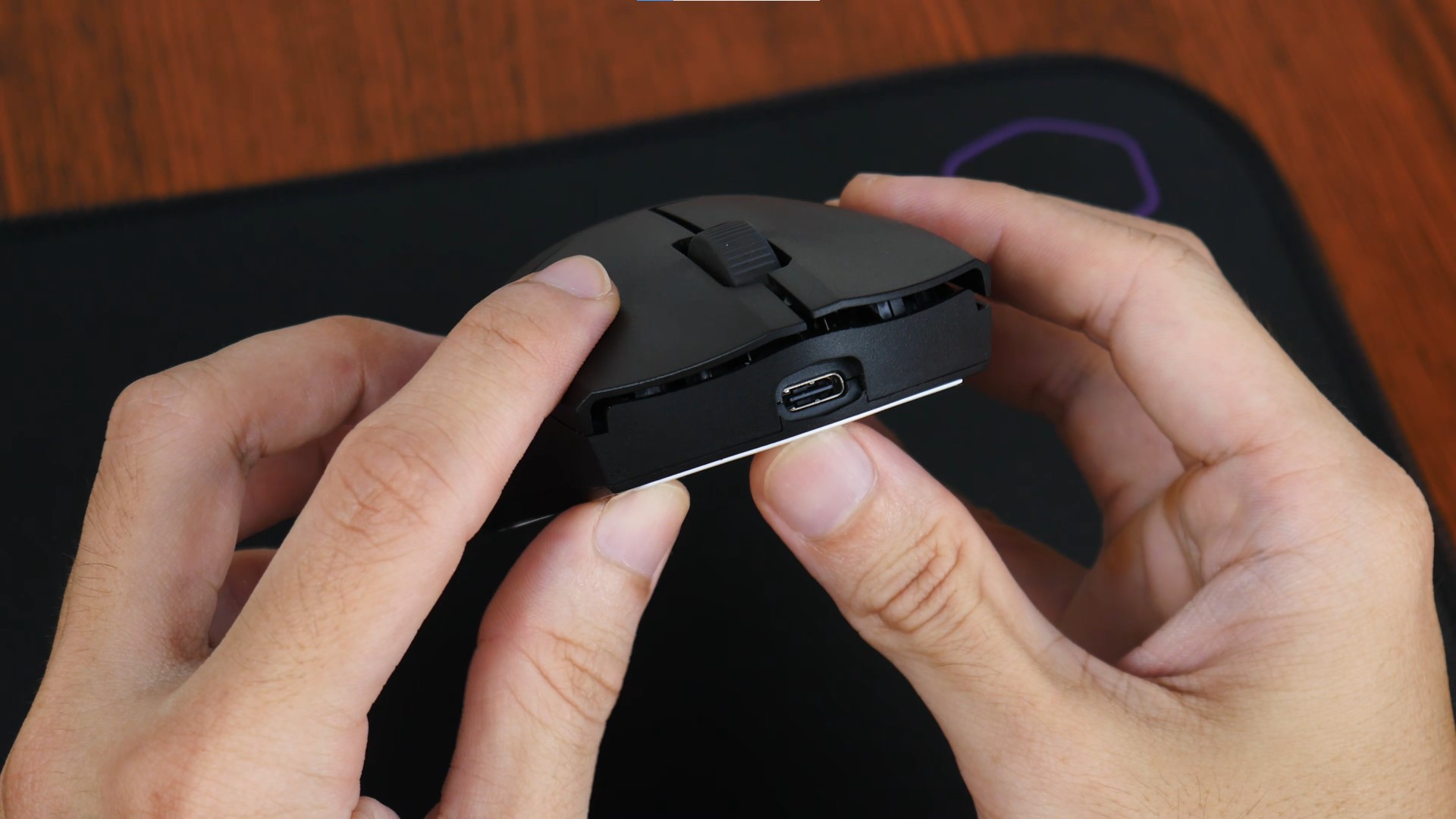 From my experience using the MM712, I found that the left and right mouse buttons exhibited minimal sideways play; there was a tiny bit of pre-click travel, and some amount of post-click travel when the left and right mouse buttons are pressed down with force.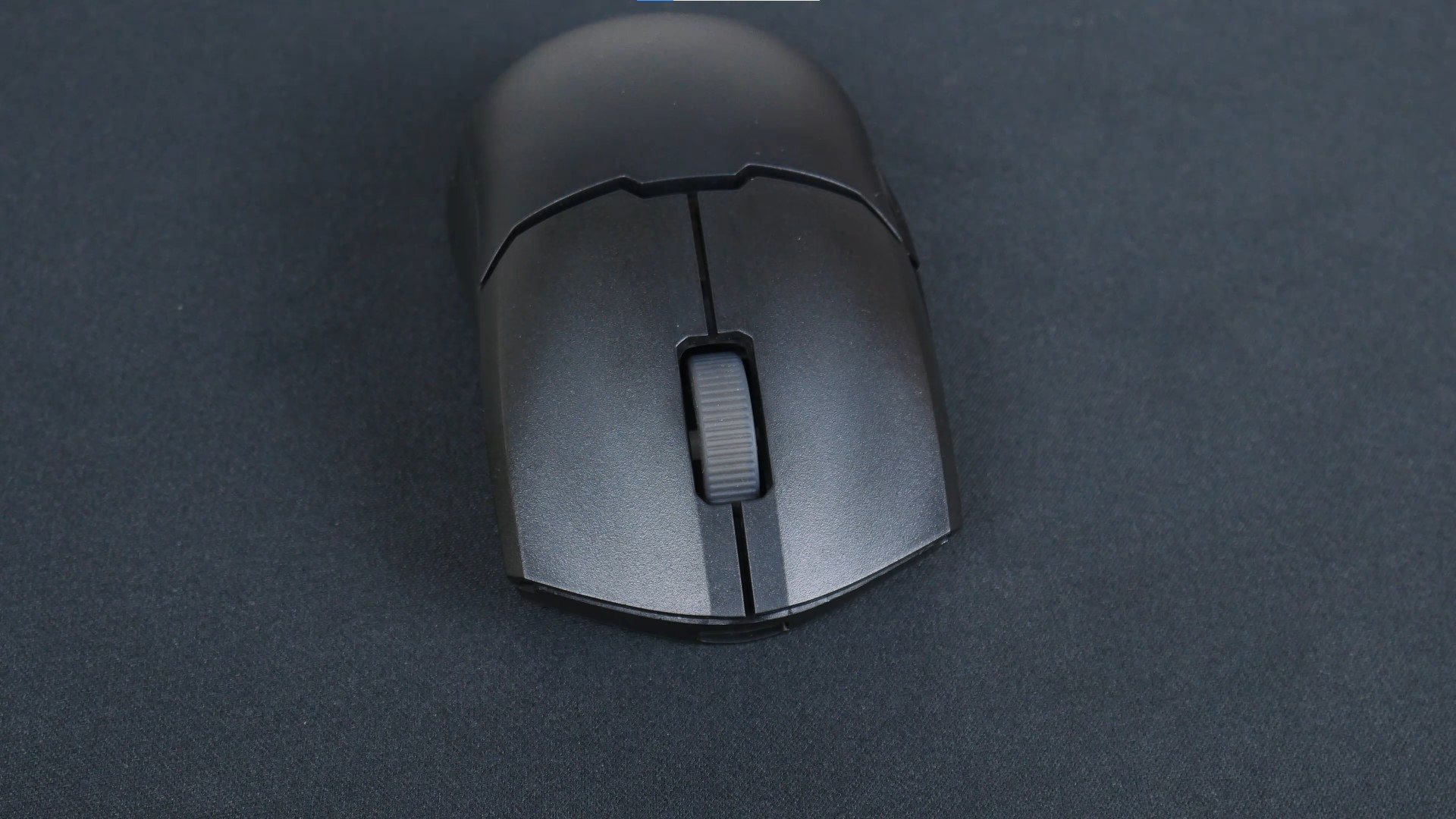 The scroll wheel of the MM712 is an ordinary affair with distinct scroll steps. It comes with a rubberised finish to afford better grip while scrolling.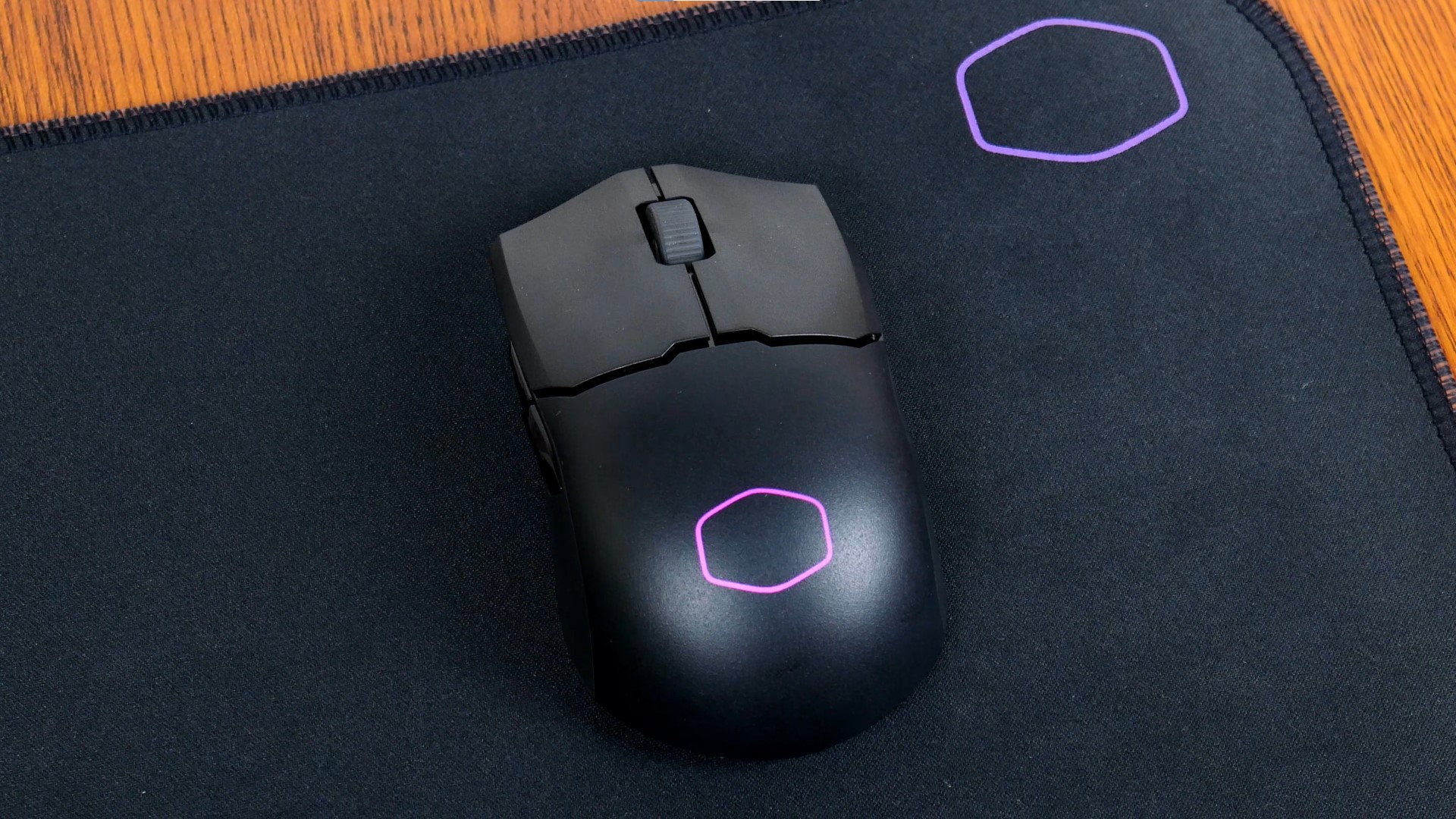 Fans of RGB lighting will be pleased to note that the MM712 comes with an illuminated Cooler Master logo outline on the rear hump of the mouse. Given the way that the RGB lighting effect has been executed, the MM712 has a certain aesthetic versatility that allows for it to be used even in office settings due to its low-key appearance, especially when the RGB lighting is switched off.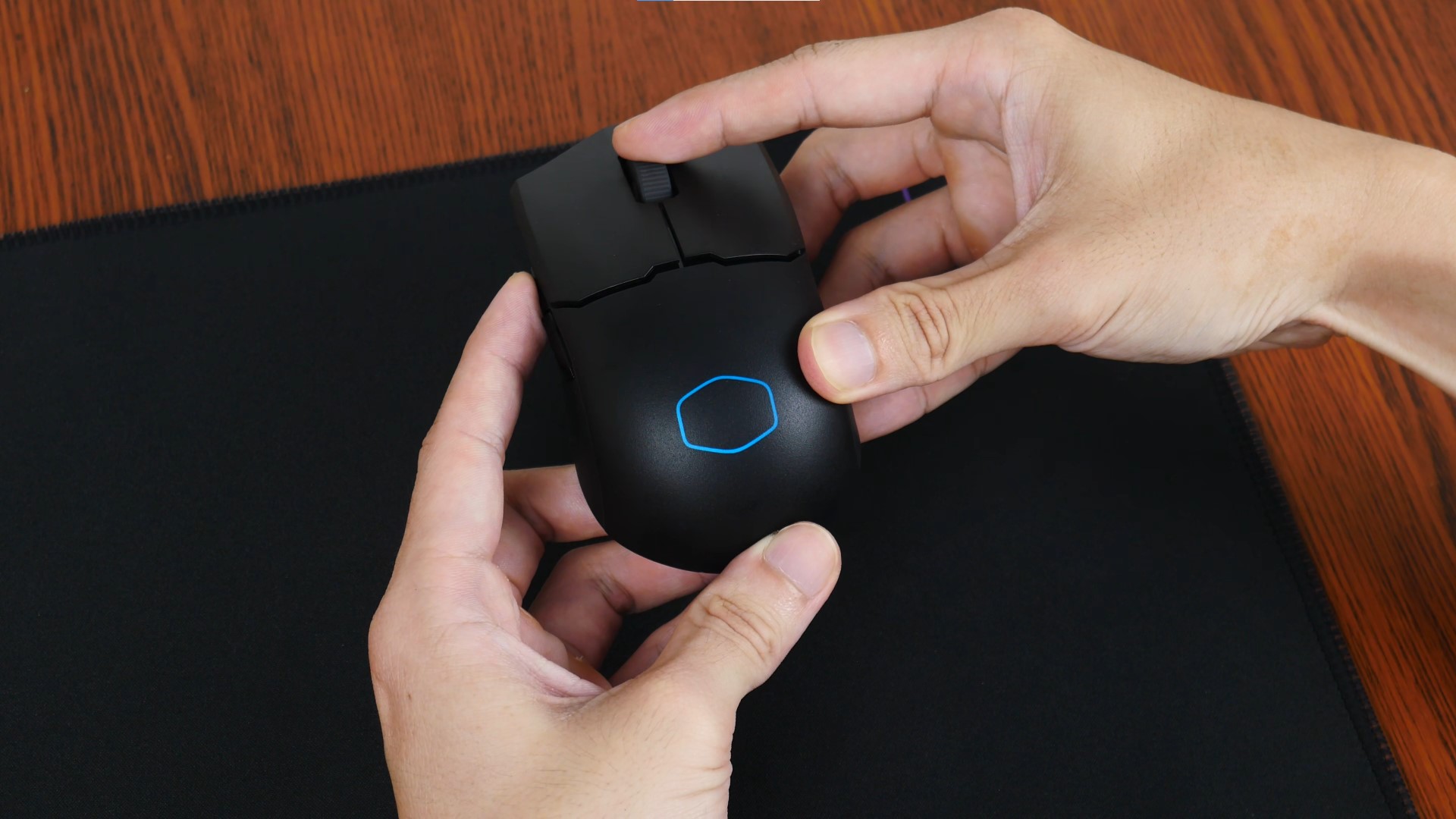 Changing the RGB LED colours and lighting effects is a straightforward affair, where end-users have the option of either customising the said effects via the Cooler Master MasterPlus app, or pressing down on a combination of mouse buttons to change the lighting effects on-the-fly; pressing down on the scroll wheel and the topmost side button would allow end-users to cycle through a selection of colours, while pressing down on the scroll wheel and the bottommost side button would allow one to select from a choice of lighting effects.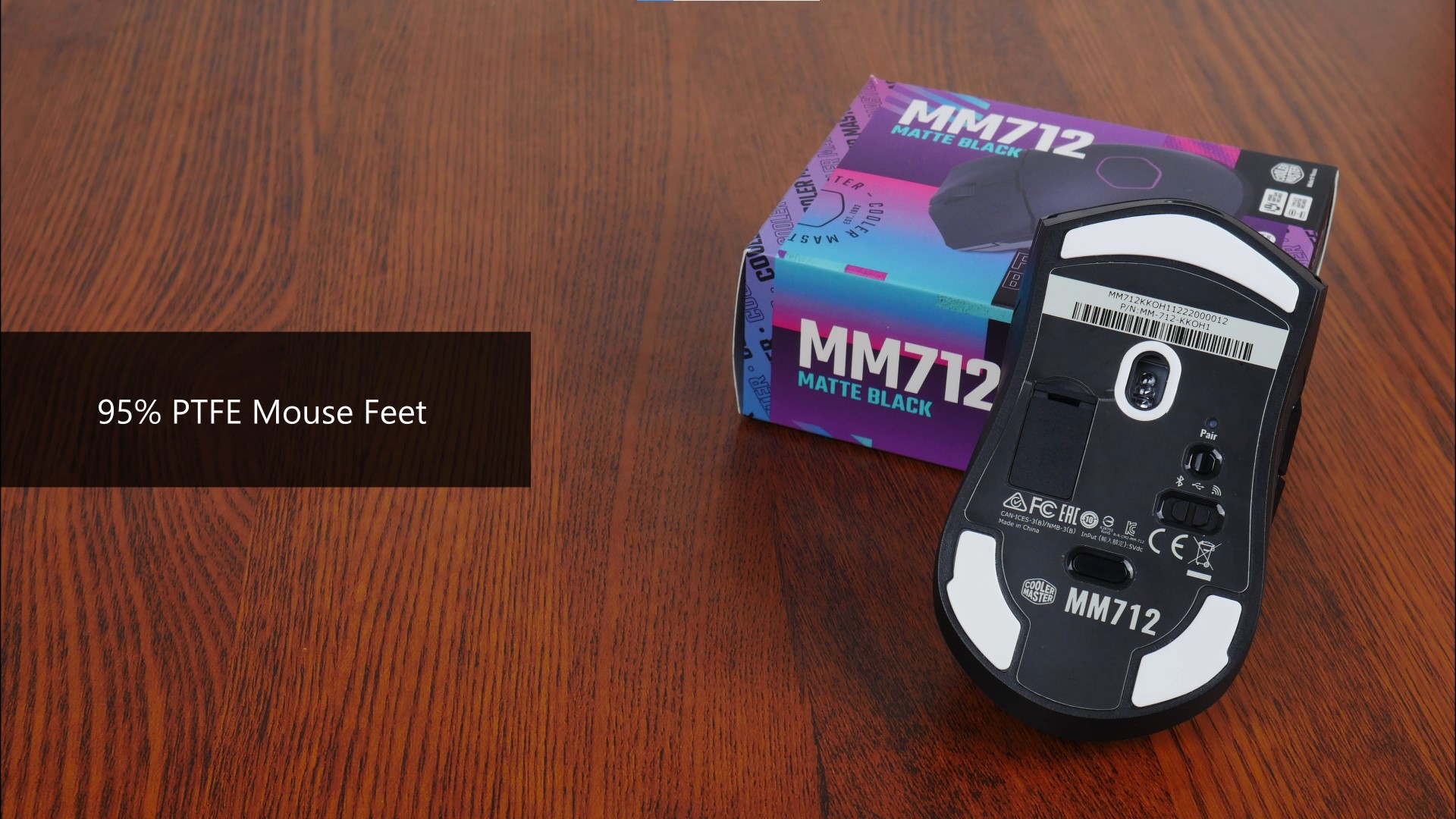 Shifting our attention to the underside of the mouse, the MM712 comes with 95% PTFE plastic feet, and features a connection mode switch that allows end-users to toggle between 2.4 GHz connection mode, Bluetooth connection mode as well as wired connection mode. Right above the said connection mode switch, is a Pairing button that is to be used for Bluetooth pairing purposes, while closer to the bottom of the mouse is a DPI button that allows for on-the-fly DPI adjustments, It's worth noting that the said DPI button can be reprogrammed via the MasterPlus app to serve different functions instead.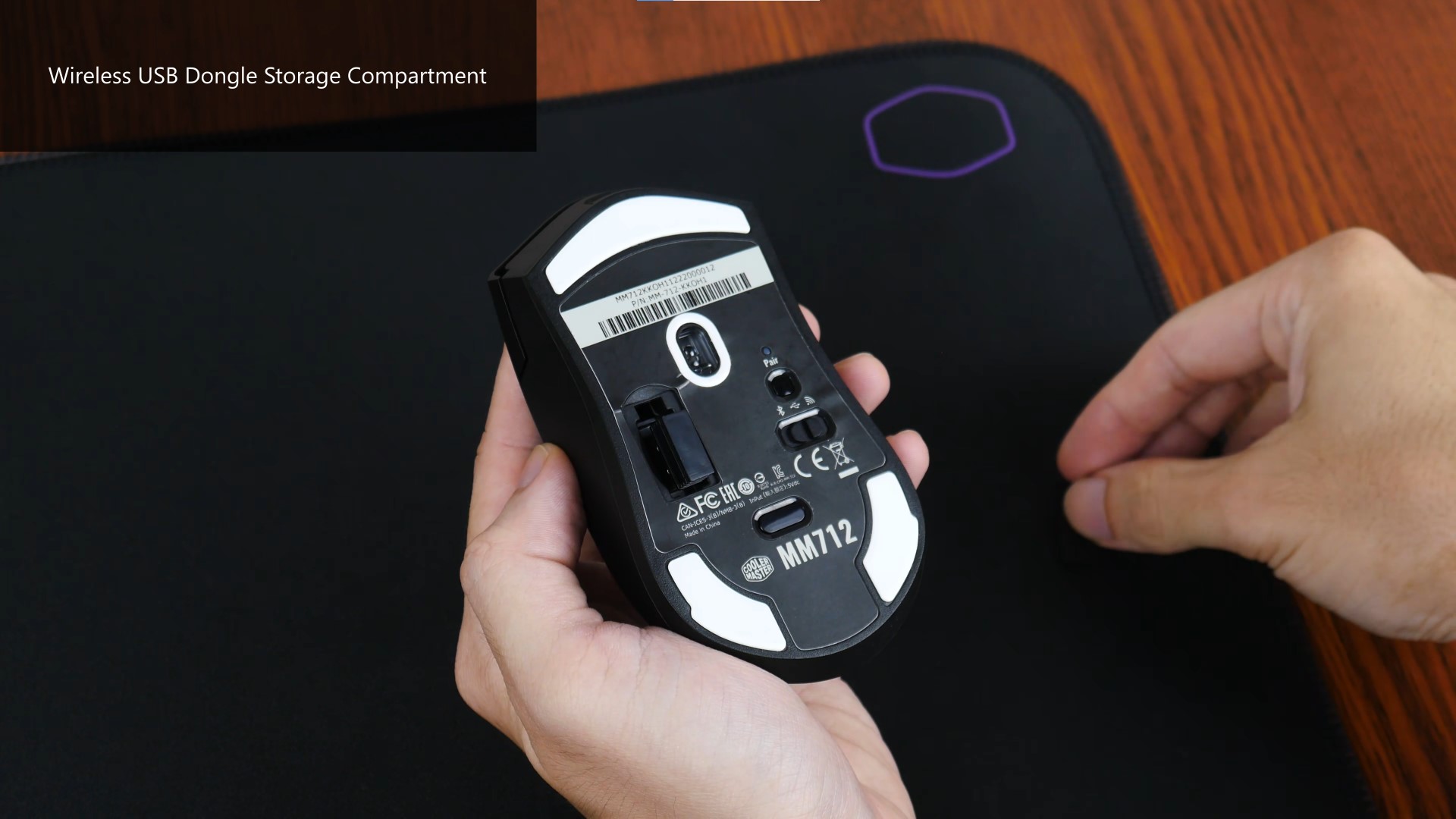 A storage compartment for the USB Type-A wireless dongle can be found on the underside of the mouse too - the said compartment is spring-loaded, such that the dongle springs up for easy removal once the compartment lid is popped off. A nifty quality-of-life feature to have for sure.
Tech Specs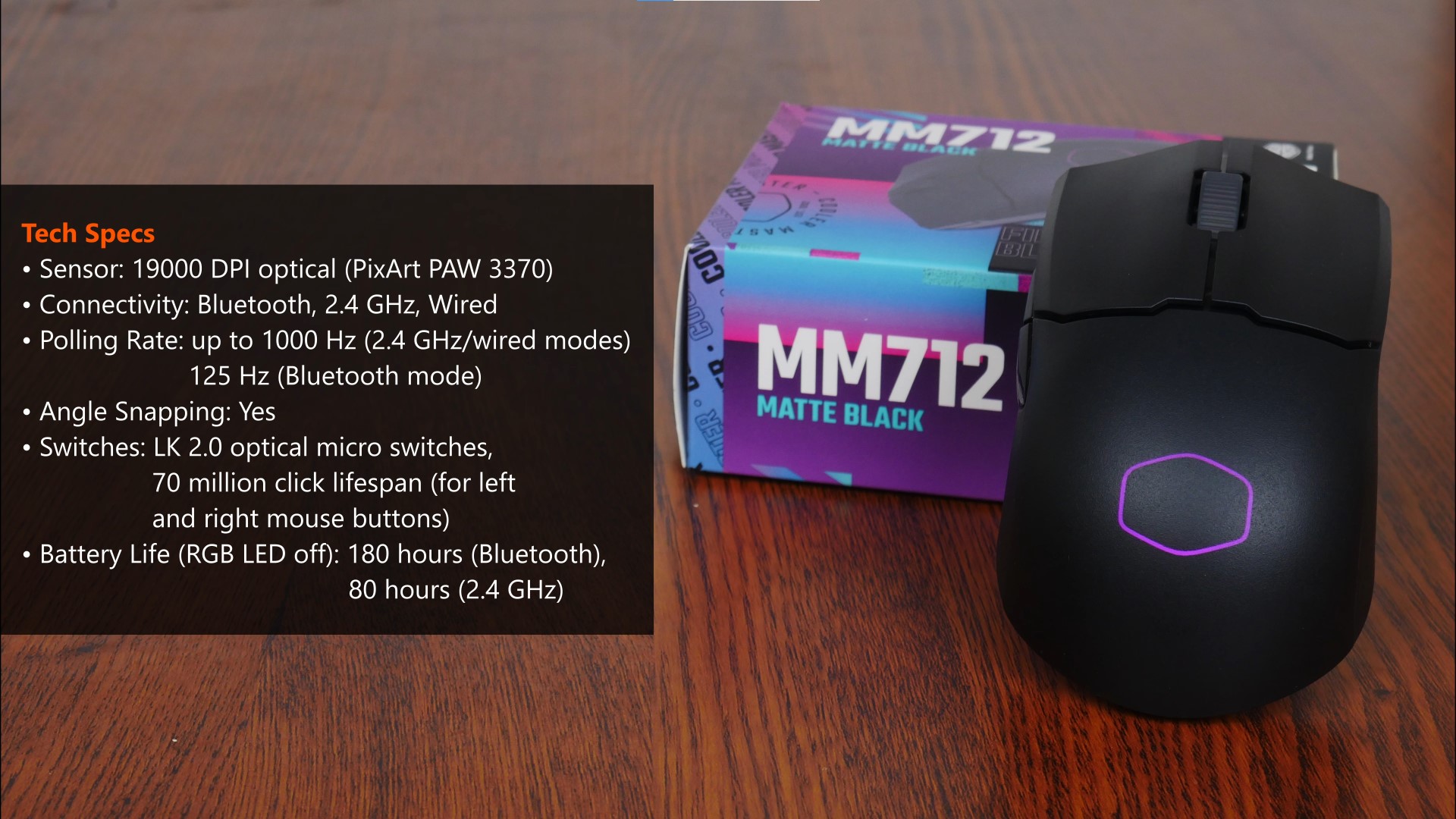 The MM712 sports a PixArt PAW 3370 optical sensor that is rated for up to 19000 DPI, and it comes with LK 2.0 optical micro switches for the left and right mouse buttons that are rated for a lifespan of up to 70 million clicks each. Polling rates can be specified by end-users via the MasterPlus app, and the mouse also features angle snapping, which can be enabled or disabled also through the MasterPlus app.
In terms of battery life, Cooler Master has equipped the MM712 with a 500mAh battery, and touts it to have a battery life of up to 180 hours on the Bluetooth connection mode, or up to 80 hours on the 2.4 GHz connection mode.
Usage Experience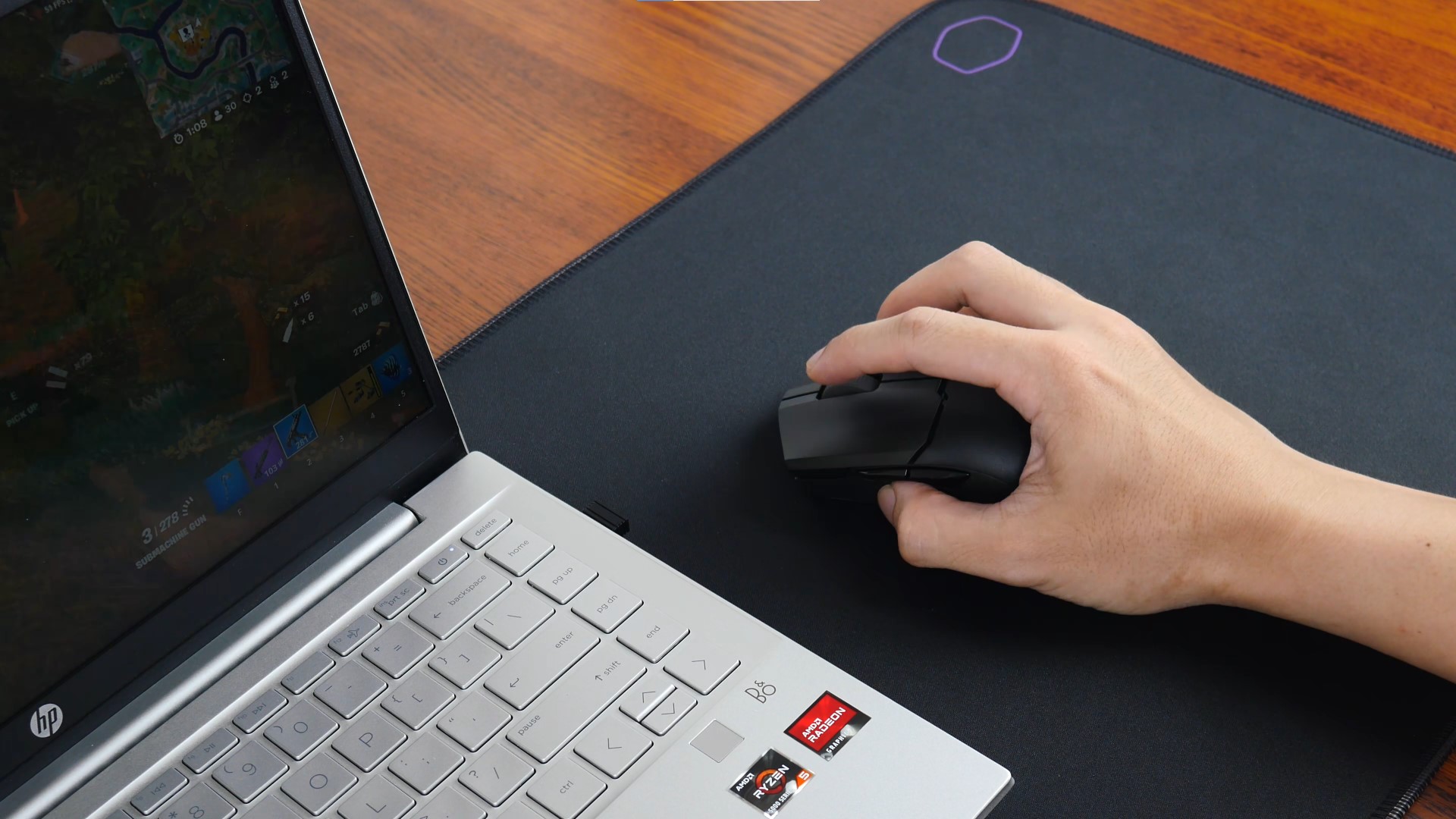 On to the usage experience with the MM712, I played several rounds of Fortnite with it, and as a gamer who uses more of a claw grip while gaming, I found the mouse pretty comfortable to use, where its profile and height suited me pretty well. As someone who's used to gaming mice that are much longer, I found the MM712 pretty comfortable to use despite its shorter length, which was a pleasant surprise.
Using the large version of the Cooler Master MP750 gaming mousepad, I found the glide action of the mouse to be buttery smooth thanks to its 95% PTFE plastic feet.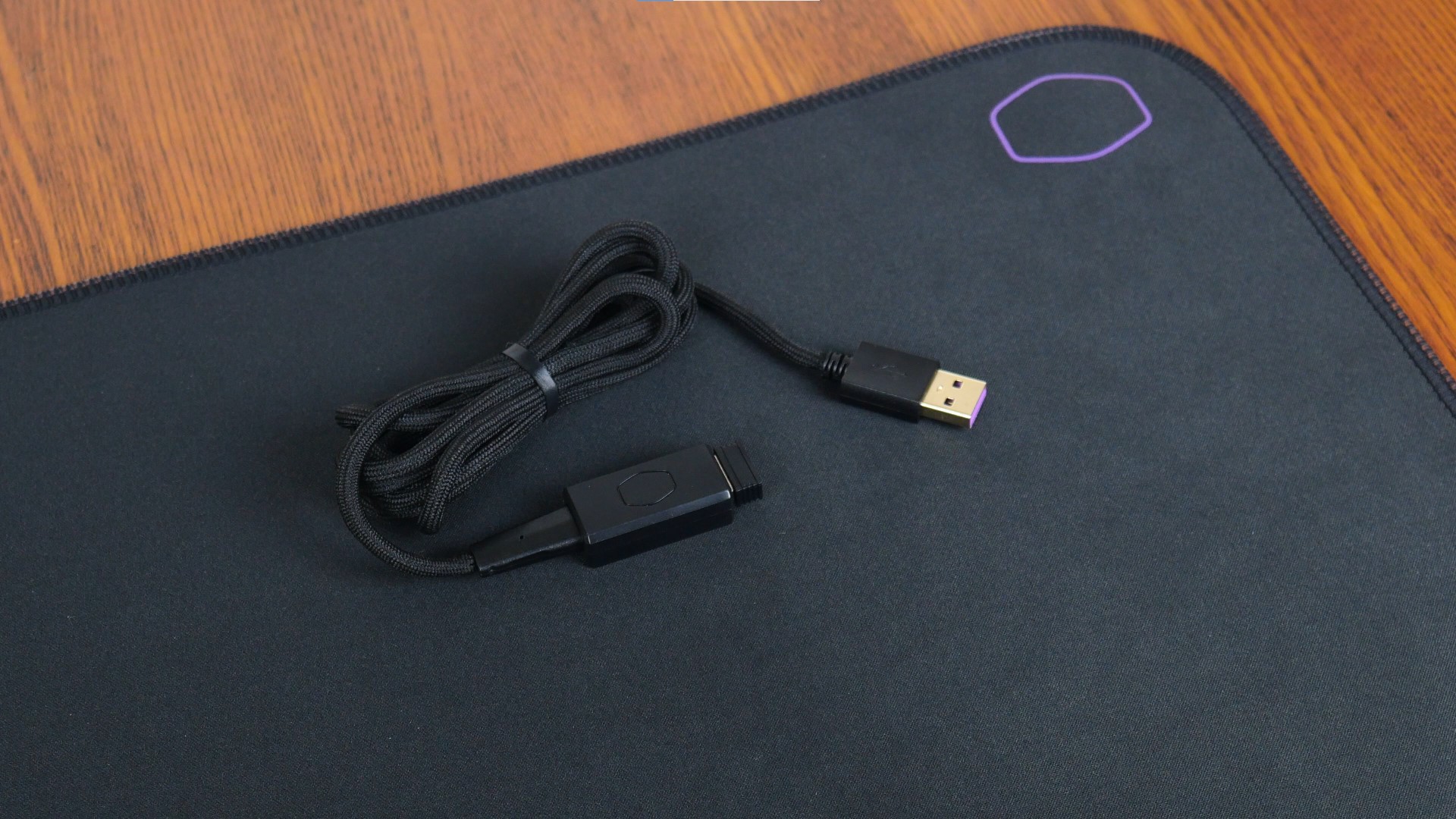 The inclusion of the wireless dongle adapter is a plus in my book, where it affords more flexibility in terms of how one can connect the wireless USB dongle to a PC. Simply attach the wireless dongle to the dongle adapter, where you can then attach the said dongle adapter to the included USB Type-A to USB Type-C Ultraweave cable - doing so would allow end-users to position the wireless dongle as close as possible to where the mouse would be used, so as to minimise the possibility of any connectivity issues when using the MM712 on the 2.4 GHz mode.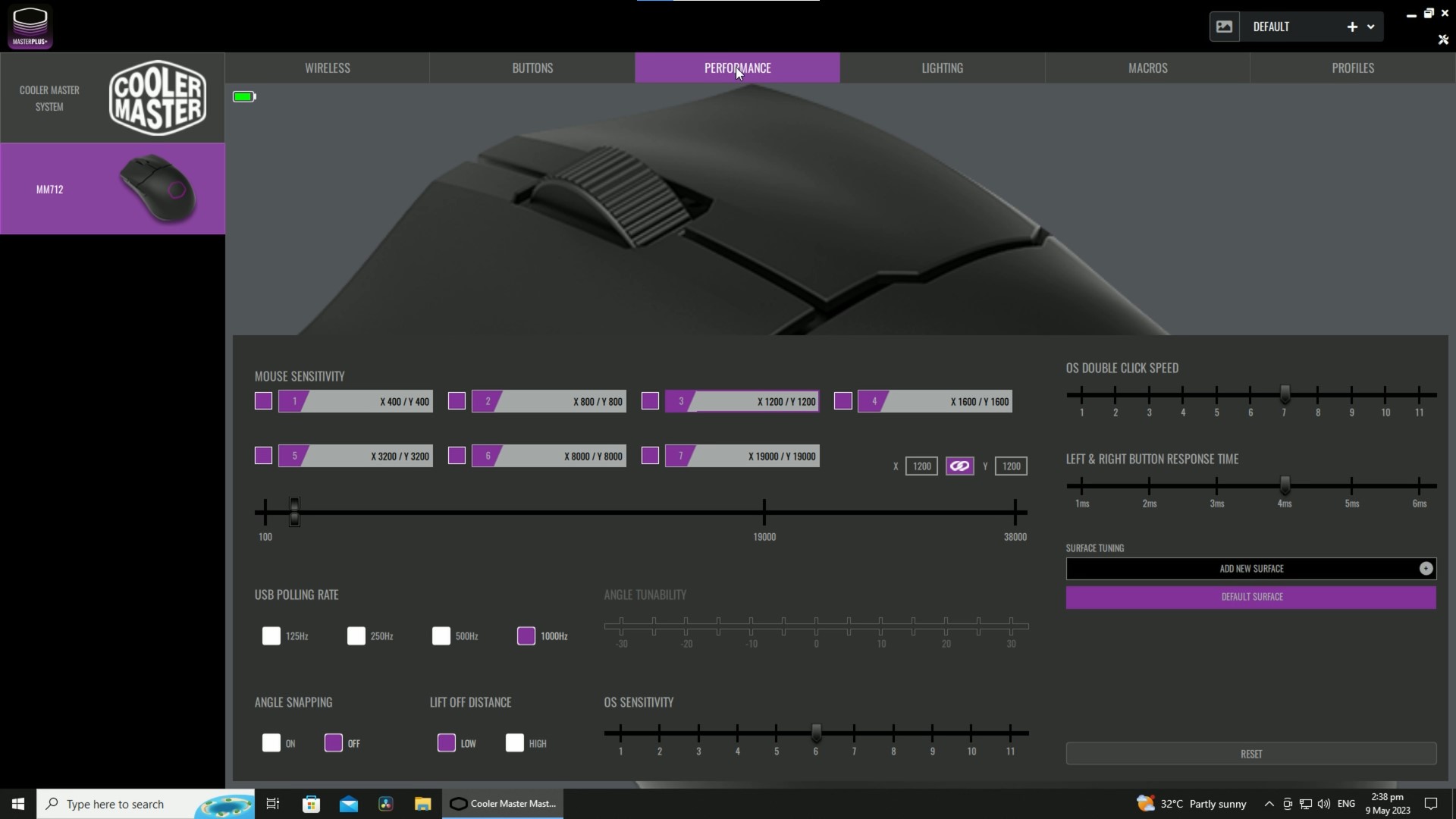 To gain access to the MM712's full suite of features. the Cooler Master MasterPlus app will have to be downloaded and installed - the said app is also used to manage the settings of other compatible products in Cooler Master's stable (such as headsets, keyboards and so on).
Within the app, end-users will be able to perform a variety of different actions, such as customising the primary functions of the MM712's six programmable buttons, to adjusting the DPI settings of the mouse, tweaking the polling rate, or even enabling or disabling the angle snapping feature that the mouse comes with. Moving on to the other tabs within the app, one also gets the ability to customise the RGB lighting effects of the mouse, setup macros, as well as create and save custom user profiles.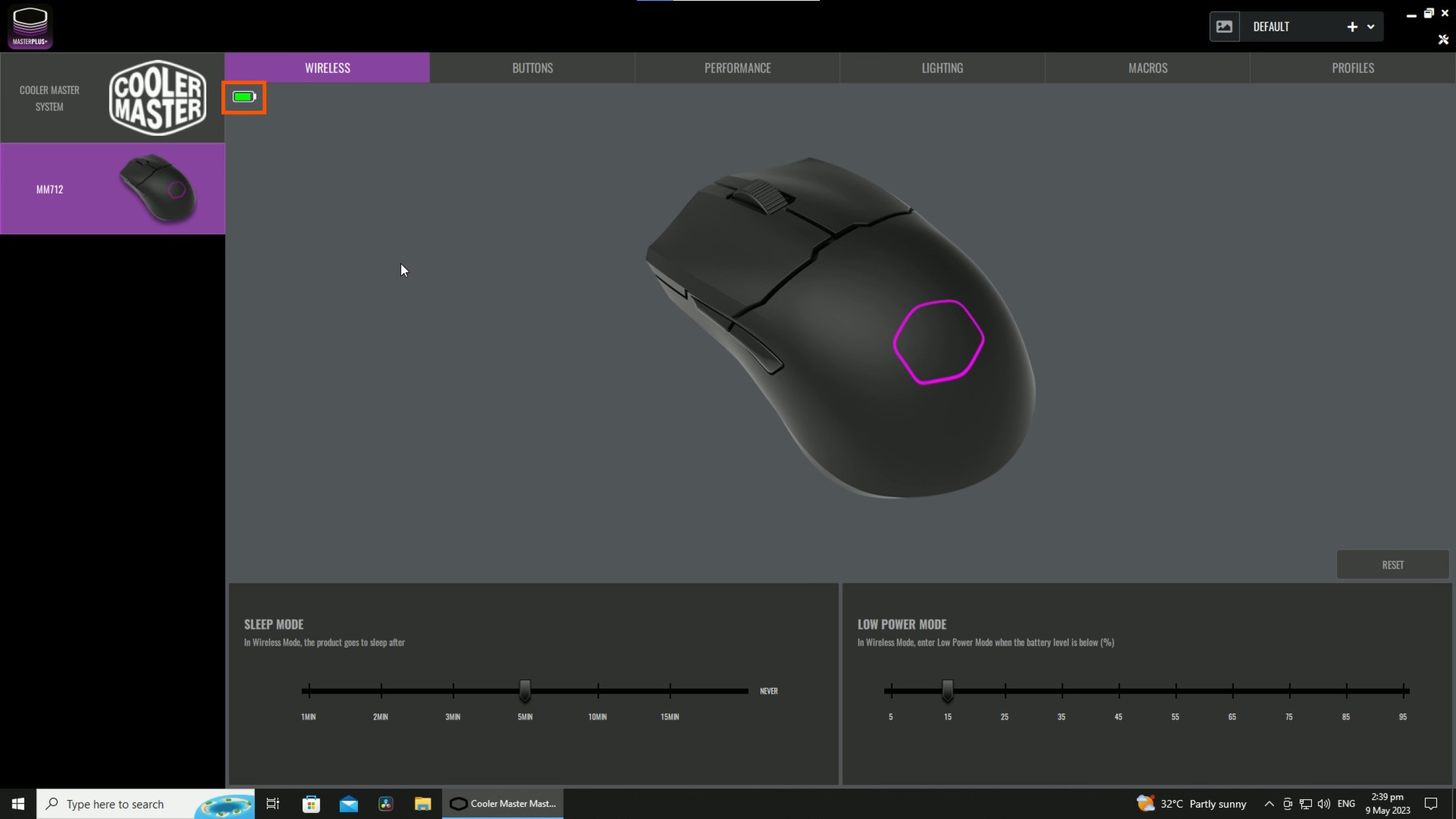 The battery charge level of the MM712 can also be monitored from within the MasterPlus app - as can be seen above, the battery indicator is just a battery motif with no bars, lines or percentage values - this could make it difficult for end-users to get a more accurate sensing on the amount of charge left for their MM712s.
Conclusion & Pricing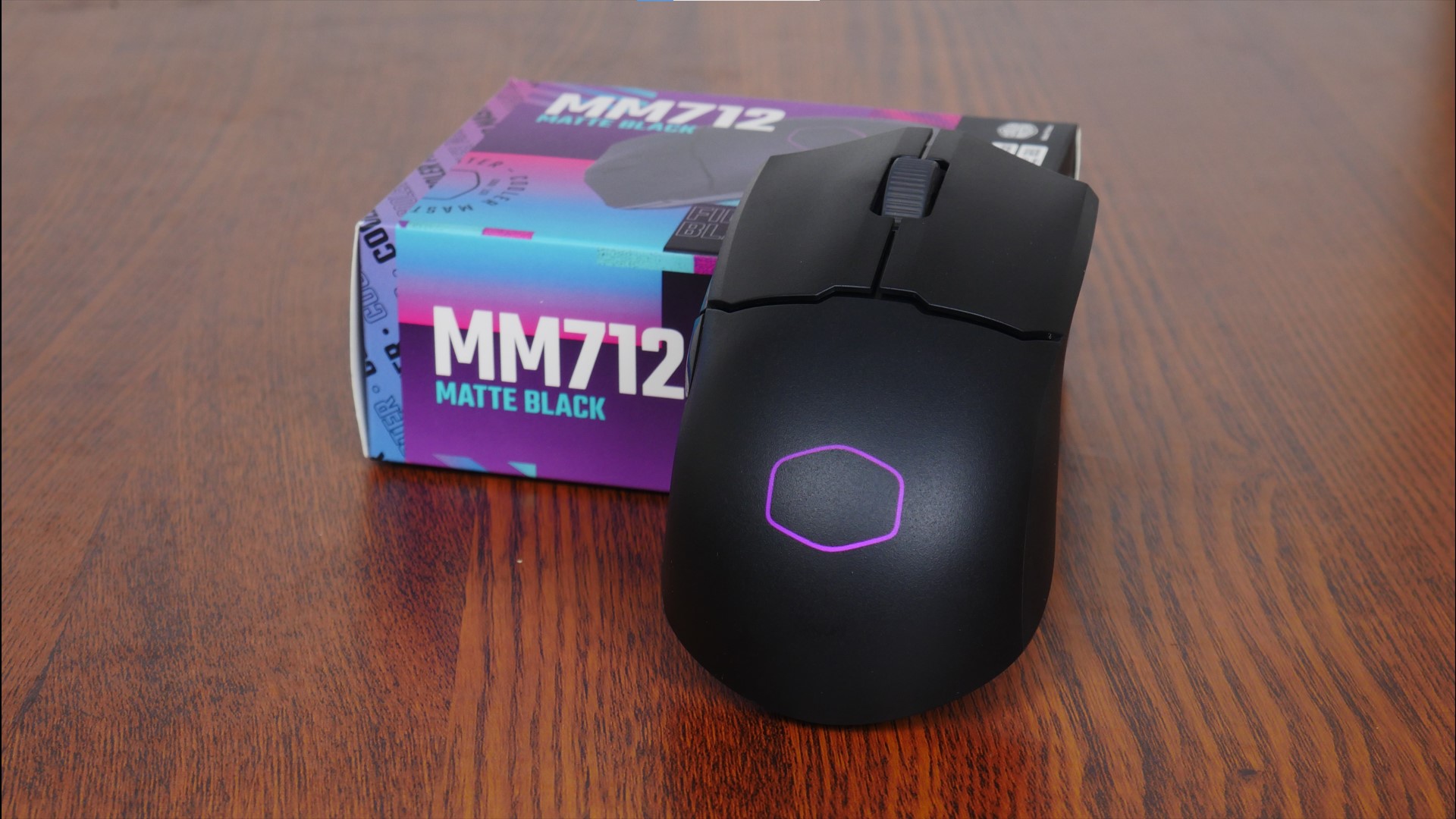 All in all, I found that the Cooler Master MM712 was a pleasure to use, and definitely delivers value as a mid-range wireless gaming mouse, especially with its 19000 DPI Pixart sensor, its light weight, triple connectivity options as well as good build quality.
As of May 2023, the MM712 can be had for a price of around $69.99 US dollars from e-Commerce sites such as Amazon.
Get this gaming mouse from Amazon: https://amzn.to/3LP9M4Y (affiliate link)

ALKtech may earn commissions from qualifying purchases made using affiliate links, at no extra cost to you as a customer. These commissions go a long way in supporting the platform!

The gaming mouse featured in this article was sponsored by Cooler Master.