Review: ASUS ZenScreen Go MB16AWP Portable Wireless Monitor
The ZenScreen Go MB16AWP is a rare breed, being a true portable wireless monitor with a built-in battery and dimensions that make it a good productivity-oriented companion on the go.
The portable monitor segment has increased in popularity over the past few years, with major brands releasing slews of products to capture market share - ASUS being one of these brands. The company already has an extensive line-up of portable monitors catered to the needs of different consumer segments. For instance, the ProArt series is targeted at professional content and media creators, while the Republic of Gamers (ROG) line-up is designed for the needs of gamers. For today's article, we'll be taking a look at a new offering from the ZenScreen family which is targeted at mainstream consumers - the ZenScreen Go MB16AWP.
Packaging & Contents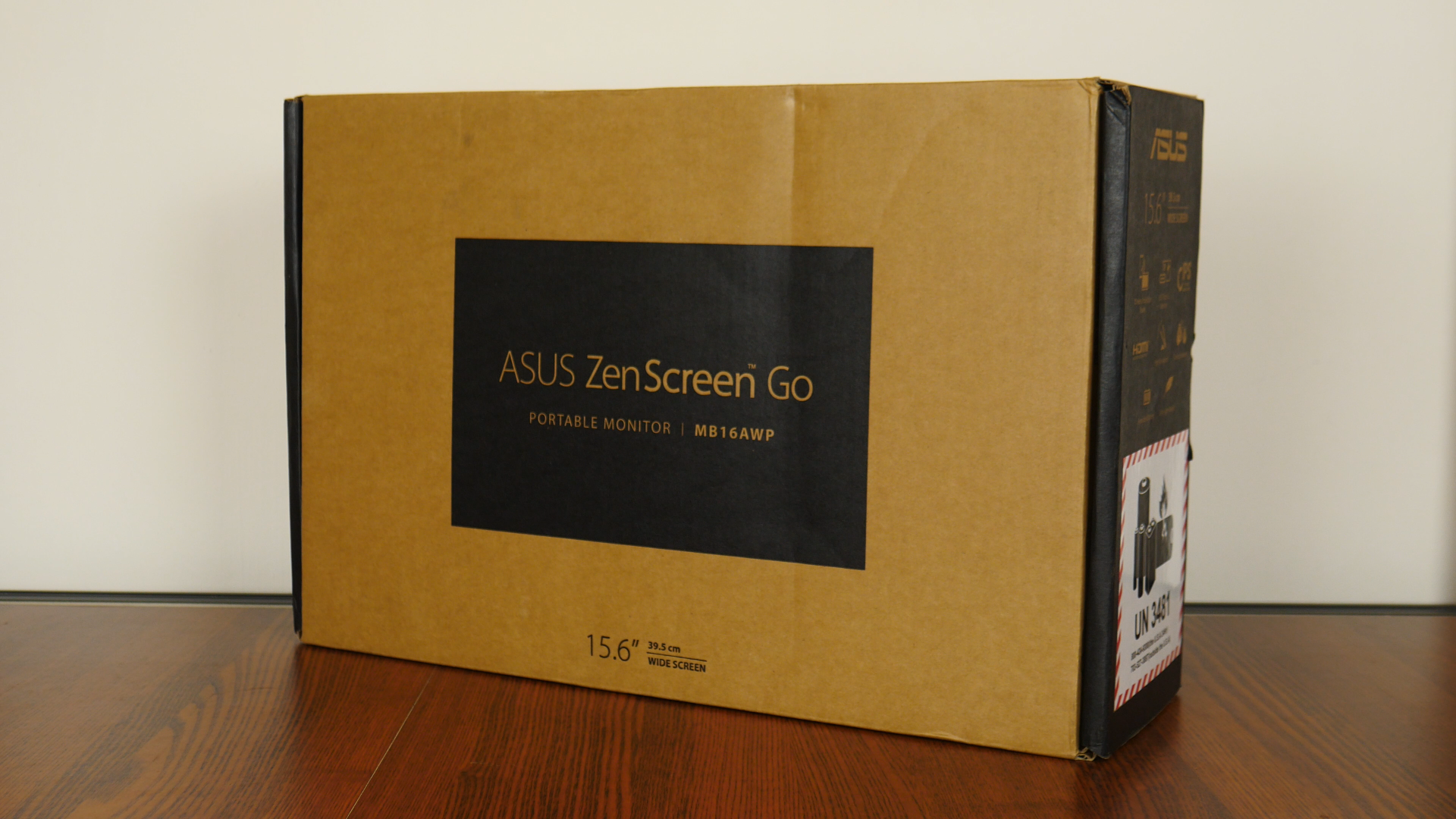 The ZenScreen Go MB16AWP comes in a utilitarian brown cardboard box, and has a summary of the monitor's specifications printed on the side.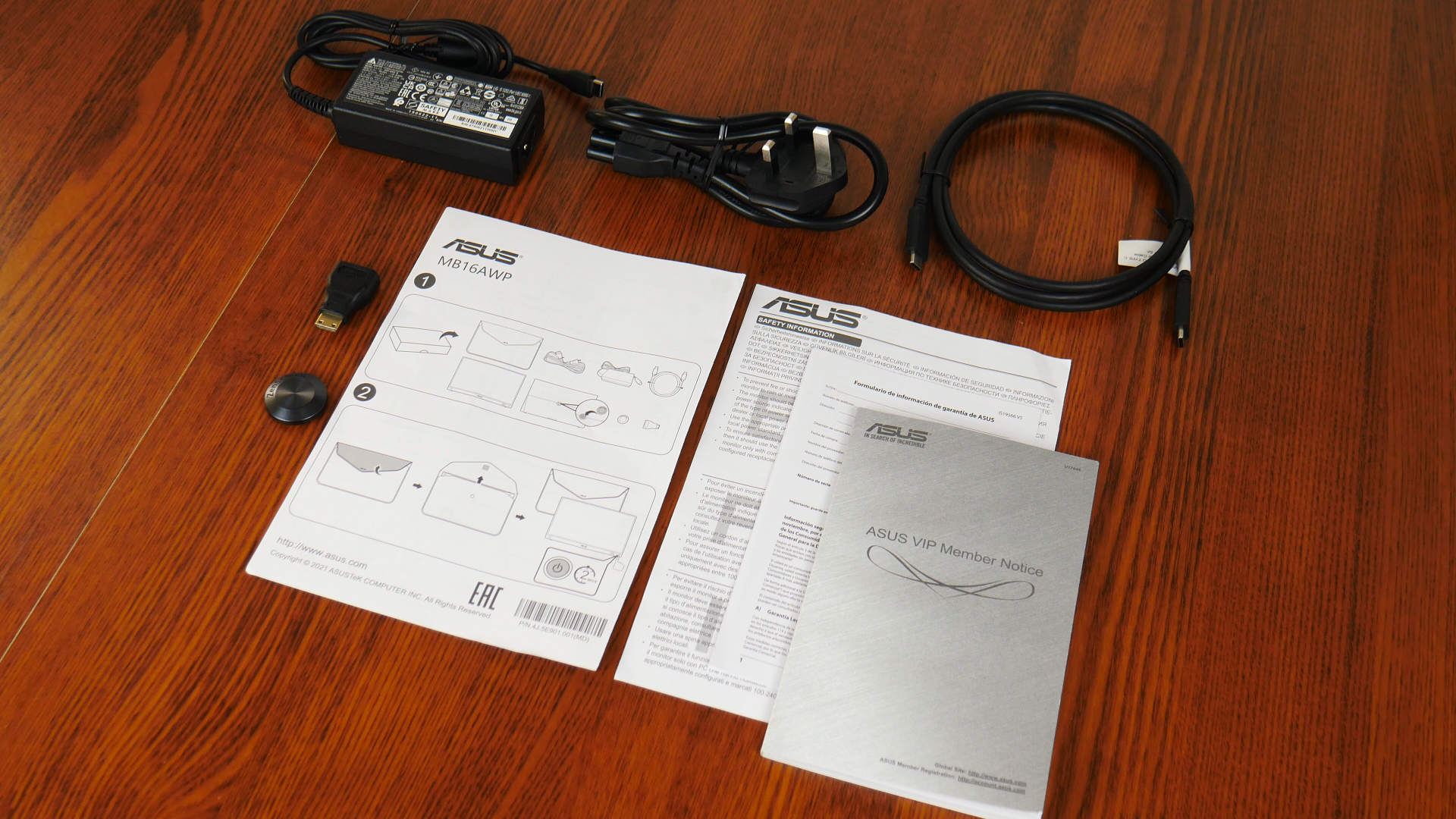 ASUS has included the following accessories with the portable monitor:
Power brick
Power cord
USB-C male to USB-C male cable
HDMI to mini HDMI adapter
Tripod hole cover
Quick start guide
Warranty information booklets
Monitor sleeve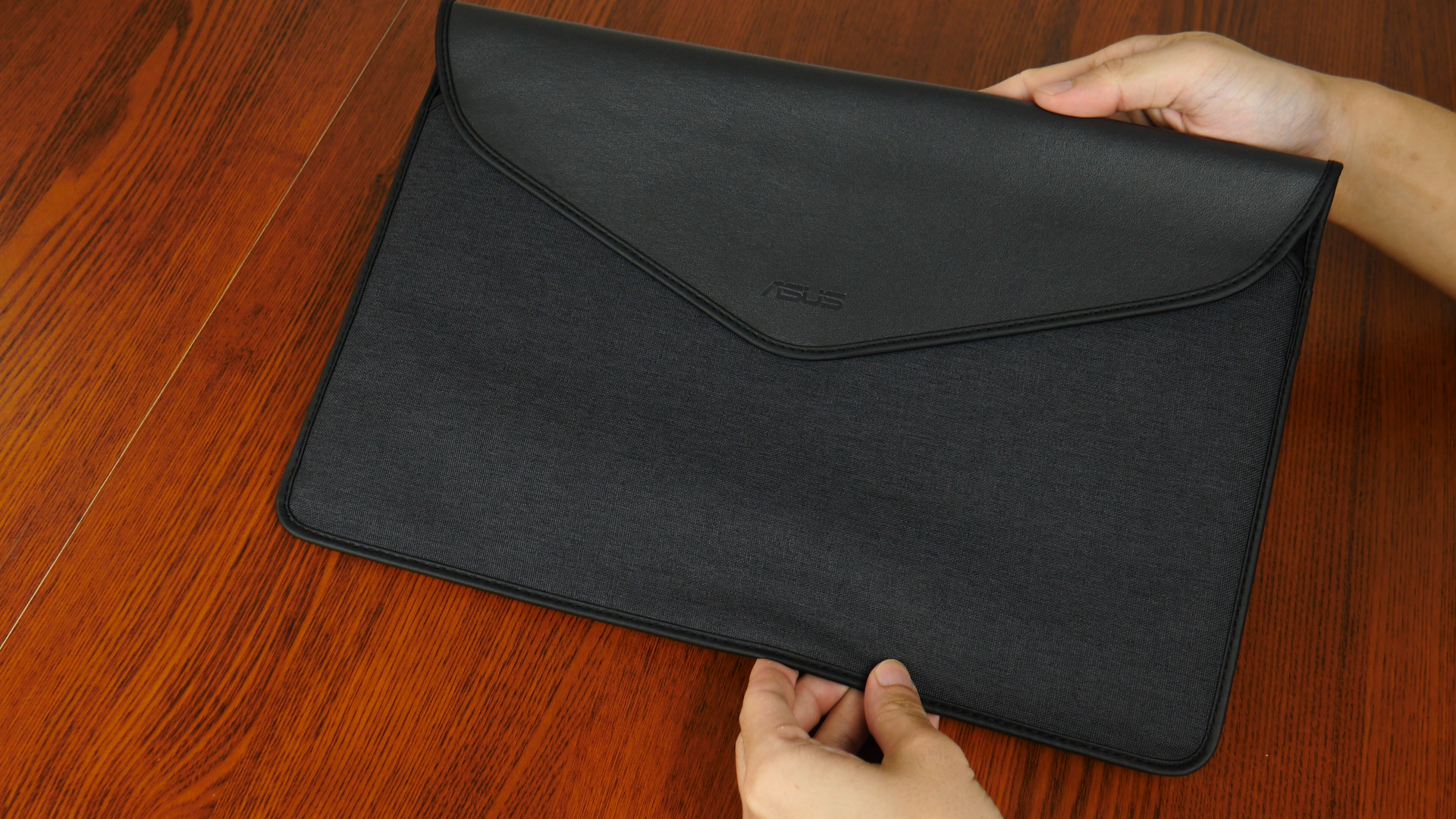 The included monitor sleeve is a nice touch, and made out of a combination of fabric and synthetic leather.
Specifications
Display: 15.6" IPS panel, full HD (1080P) resolution, anti-glare matte finish, LED backlighting
Refresh Rate: 60Hz max (dependent on connection type)
Response Time: 5ms (GTG)
Maximum Brightness: 250nits
Battery: Built-in 7800mAh, up to 3.5 hours of battery life
Speakers: Built-in 1W stereo speakers
Connectivity: Mini HDMI, USB-C, wireless
Dimensions with Stand (W x H x D) : 357.9mm x 224.78mm x 11.5 mm
Weight: 1.09kg
Aesthetics & Build Quality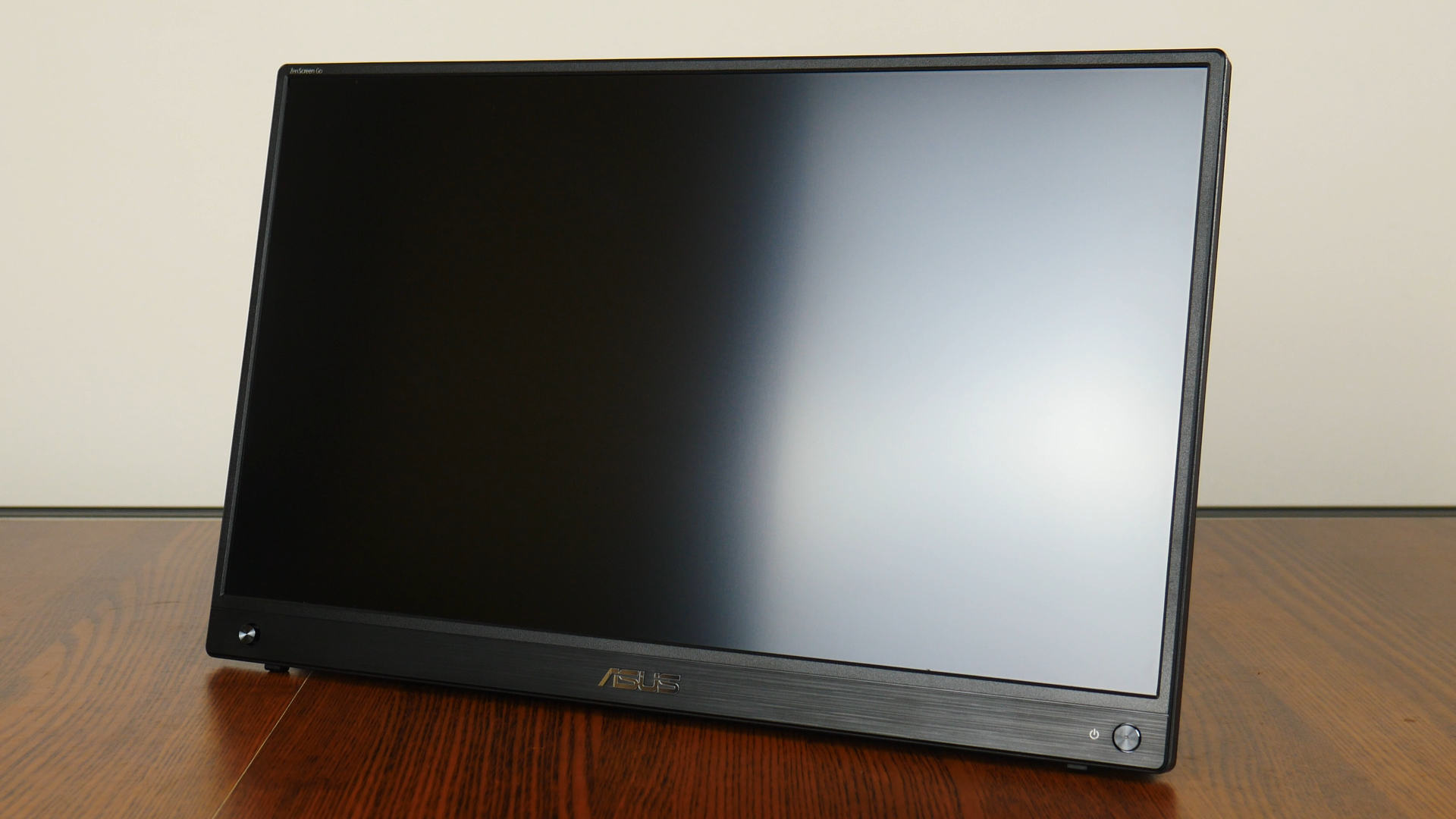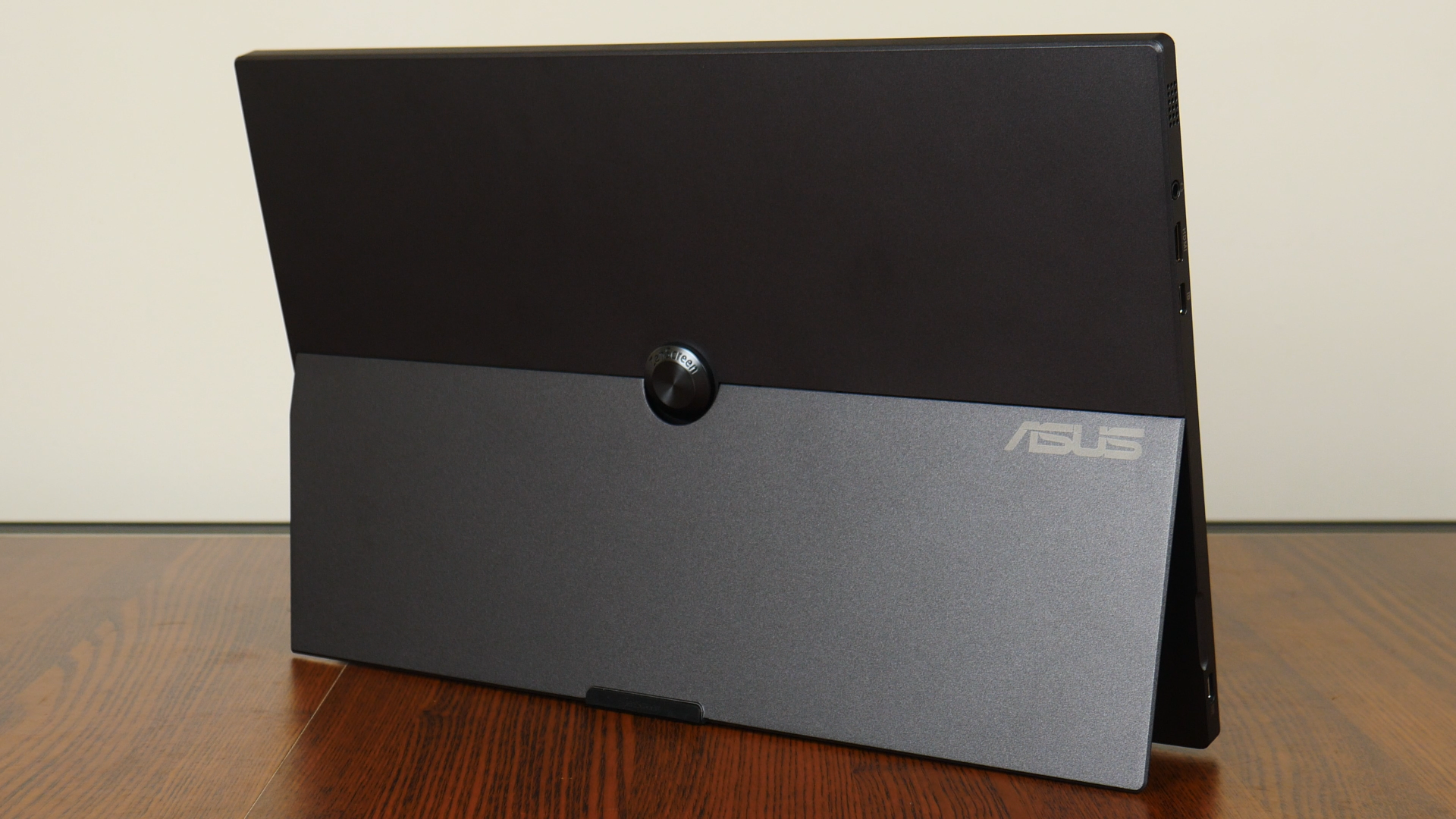 The ZenScreen Go MB16AWP has a business-like appearance, with a front bezel made out of black textured plastic, and the rest of the monitor body in light grey. It comes with a built-in adjustable stand made out of metal, that allows for tilt adjustments of between 15 degrees to 75 degrees.
Monitor controls are courtesy of a five-way joystick located on the bottom left section of the front bezel, while the power button is situated in the right corner of the bottom edge of the front bezel.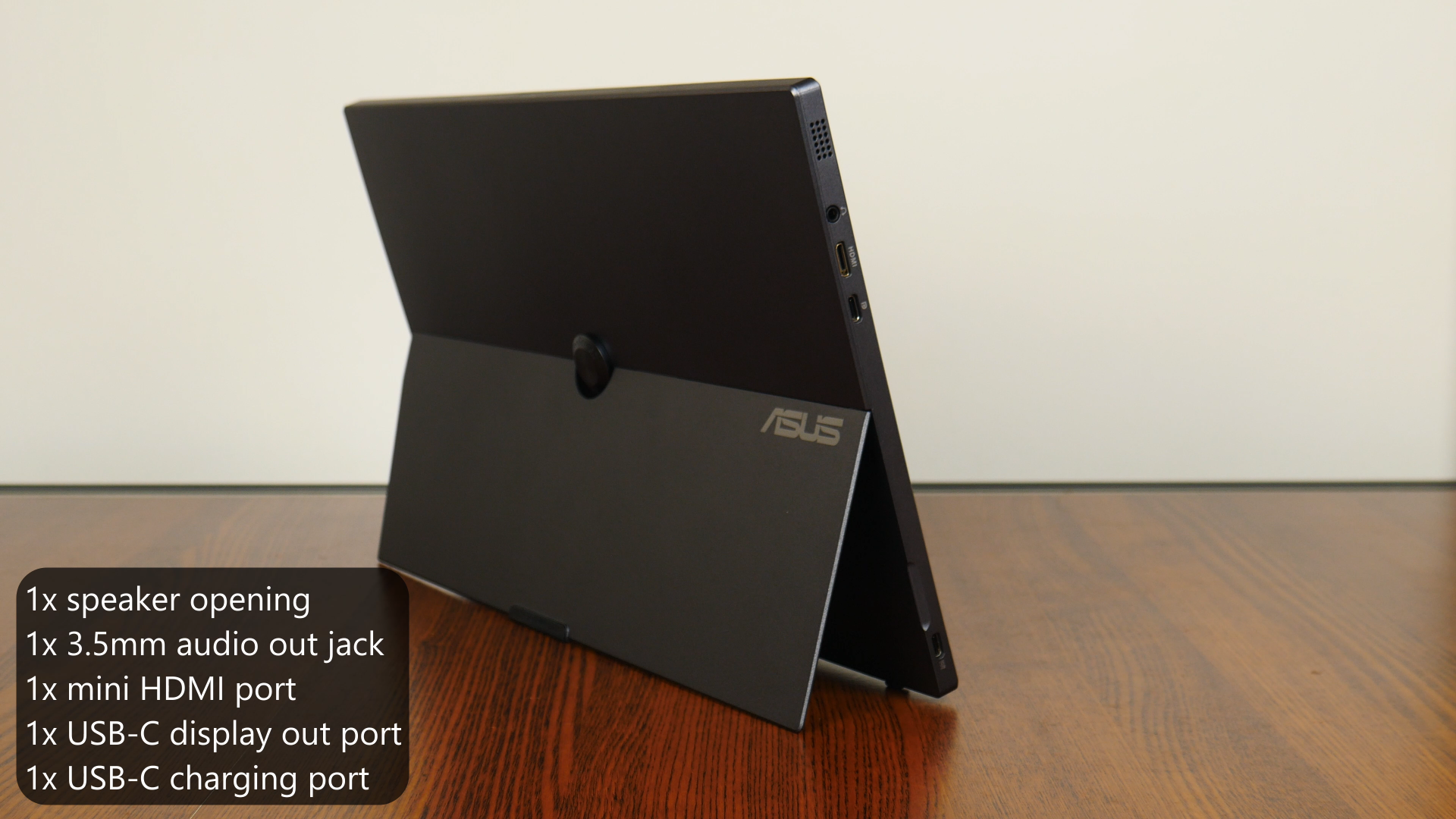 The left short edge of the monitor houses the opening for the first of the two 1W built-in speakers, a 3.5mm audio out jack for external audio devices, a mini HDMI port, a USB-C display out port, as well as a USB-C charging port.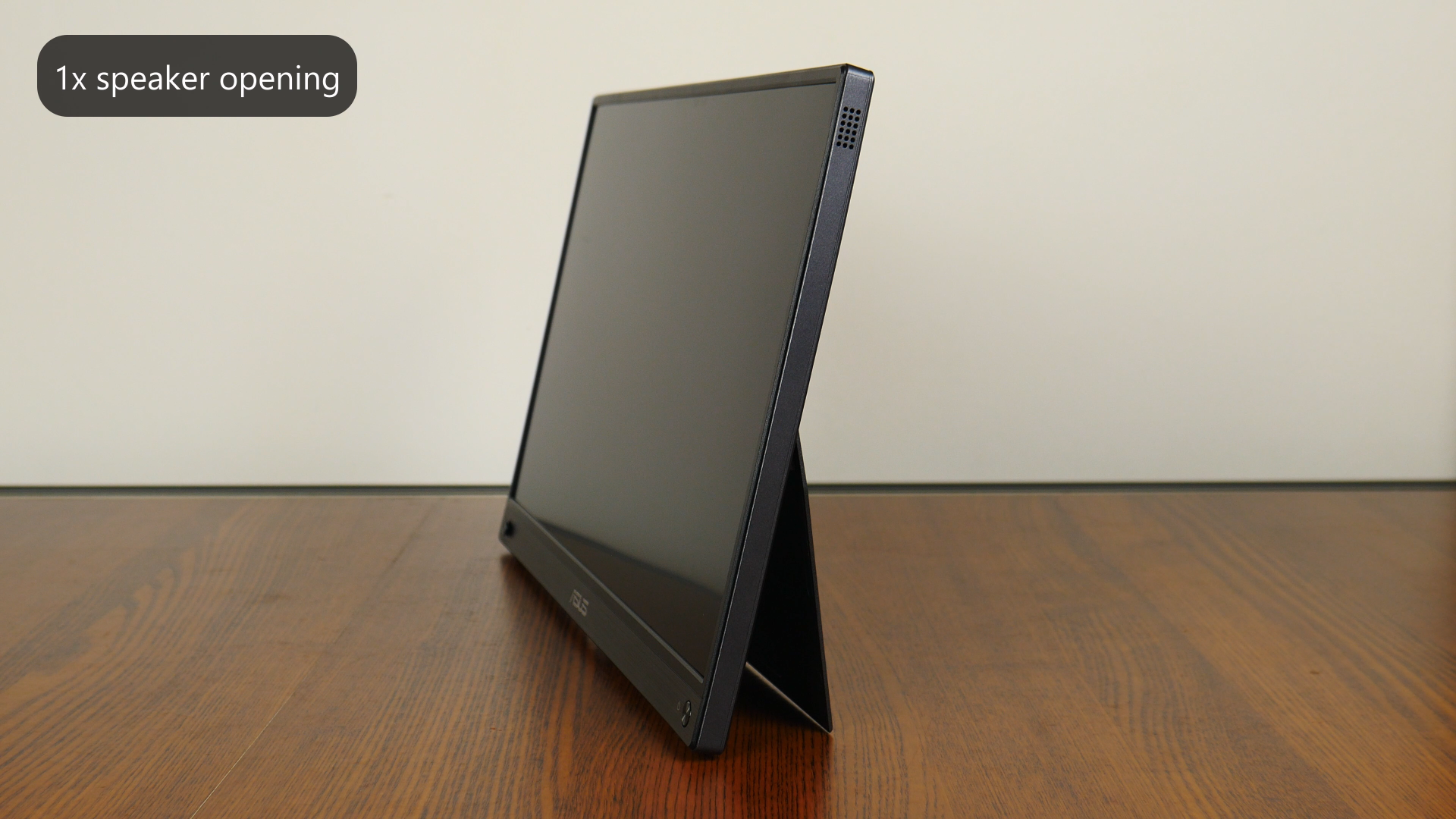 The right edge on the other hand, has the opening for the second built-in speaker.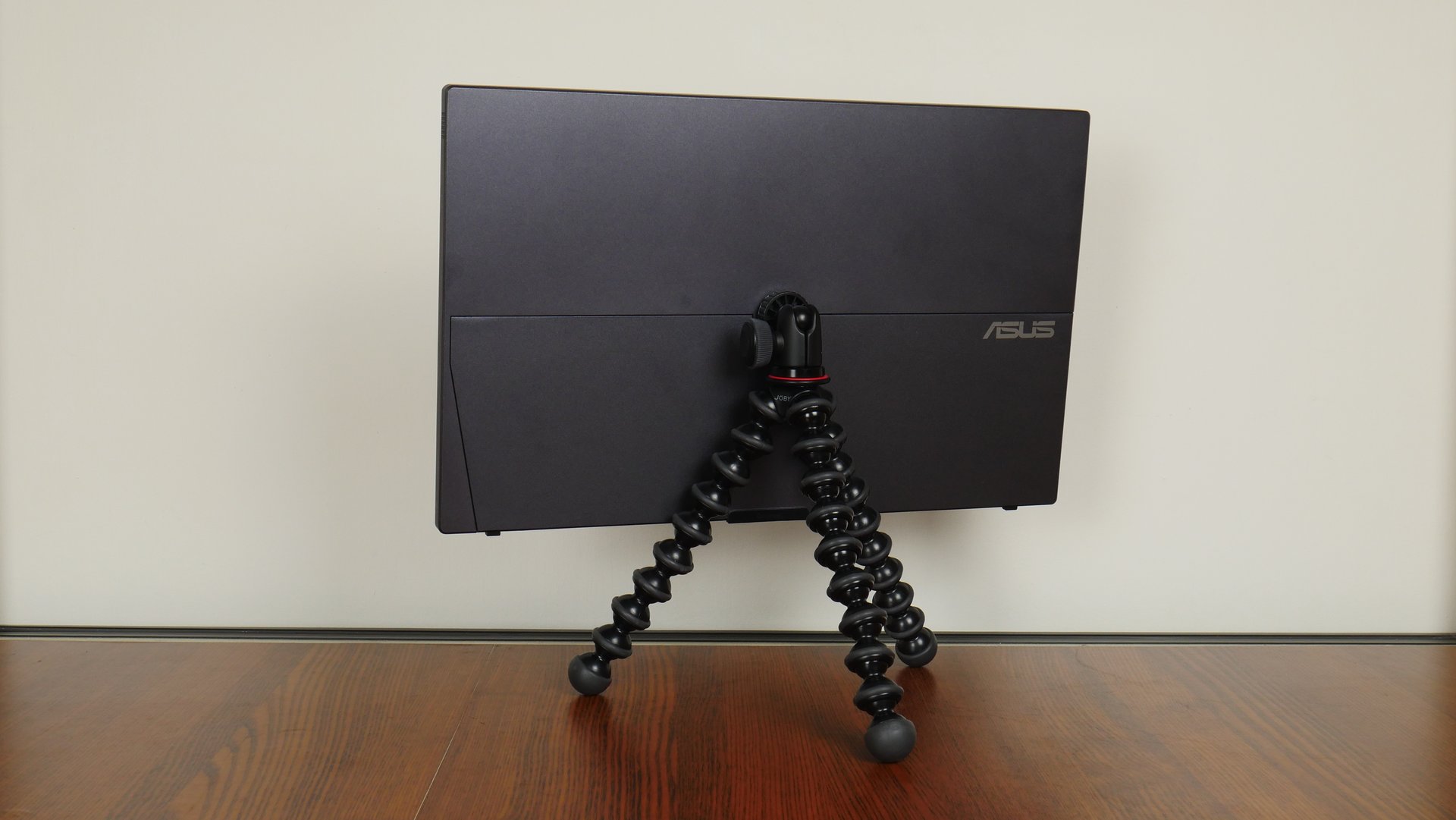 The ZenScreen Go MB16AWP comes with a tripod mounting hole on the rear of the monitor that allows end-users to attach a tripod stand (sold separately), so as to accord more flexibility in the way that the monitor can be positioned.
Connectivity Options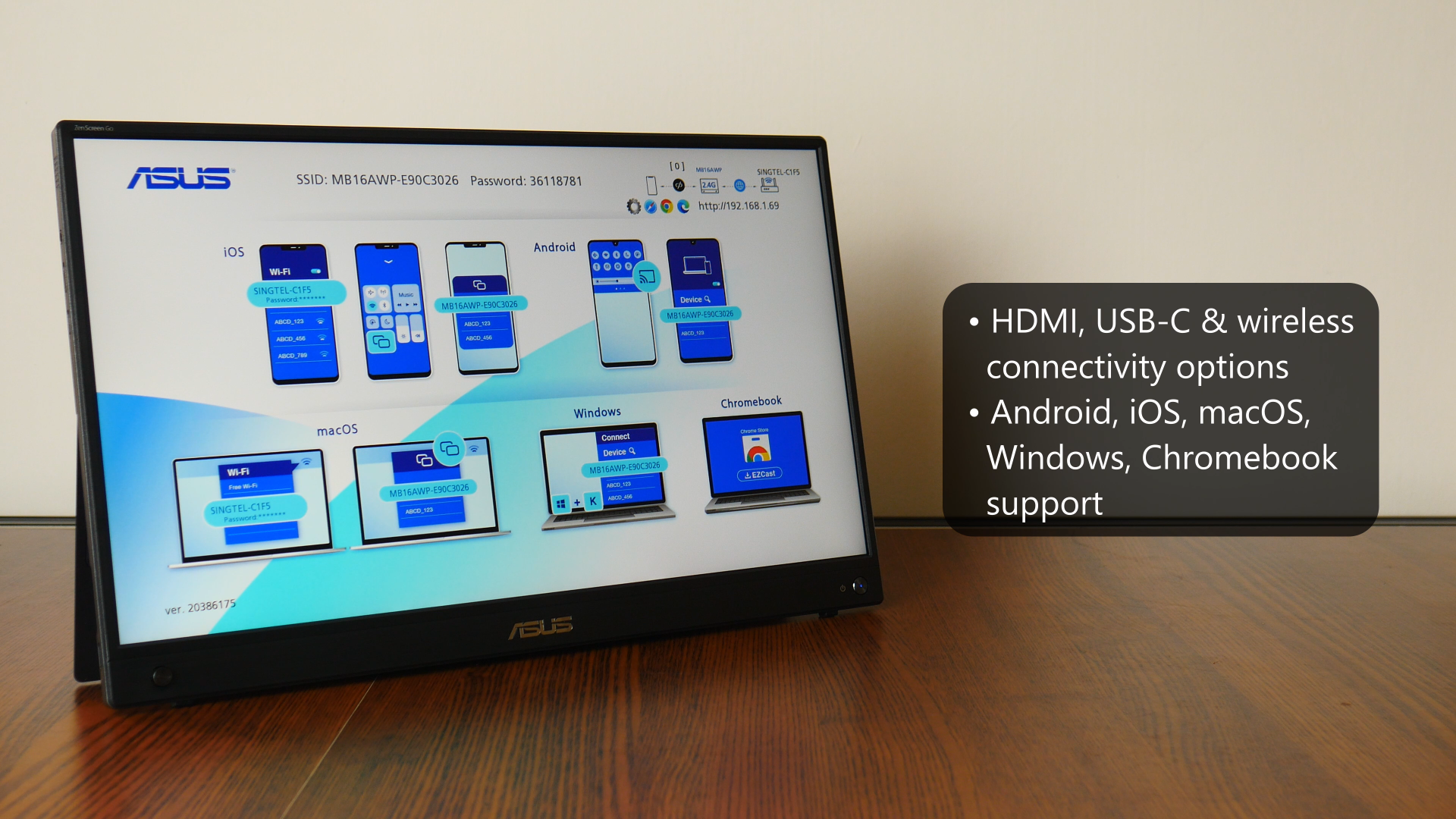 One thing going for the MB16AWP is its plethora of connectivity options, where users have the choice of connecting to the monitor either via a wired HDMI or USB-C connection, or linking up wirelessly via a 5GHz WIFI connection. Do note that to connect to the monitor via USB-C, your device's USB-C port must support display output.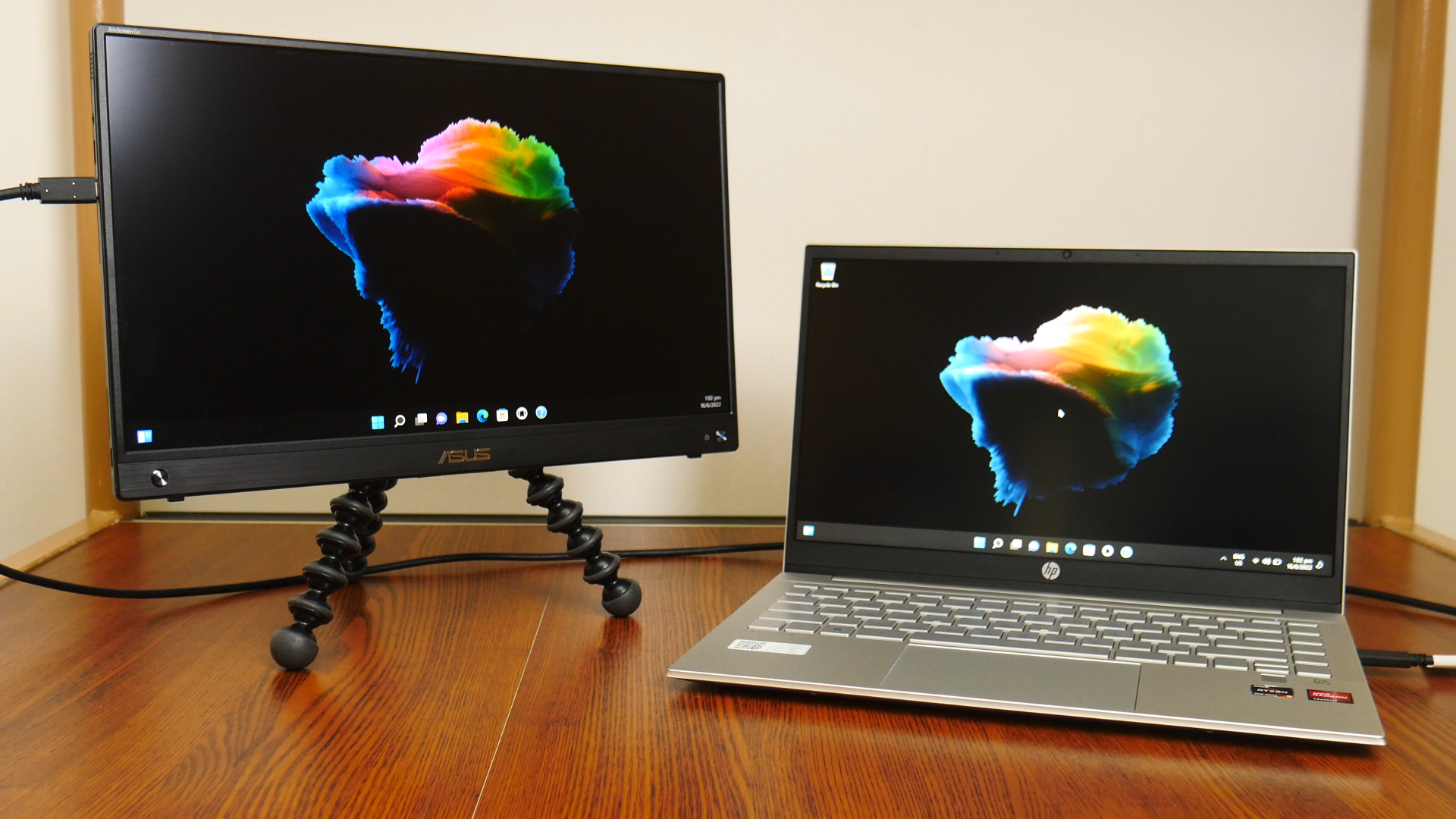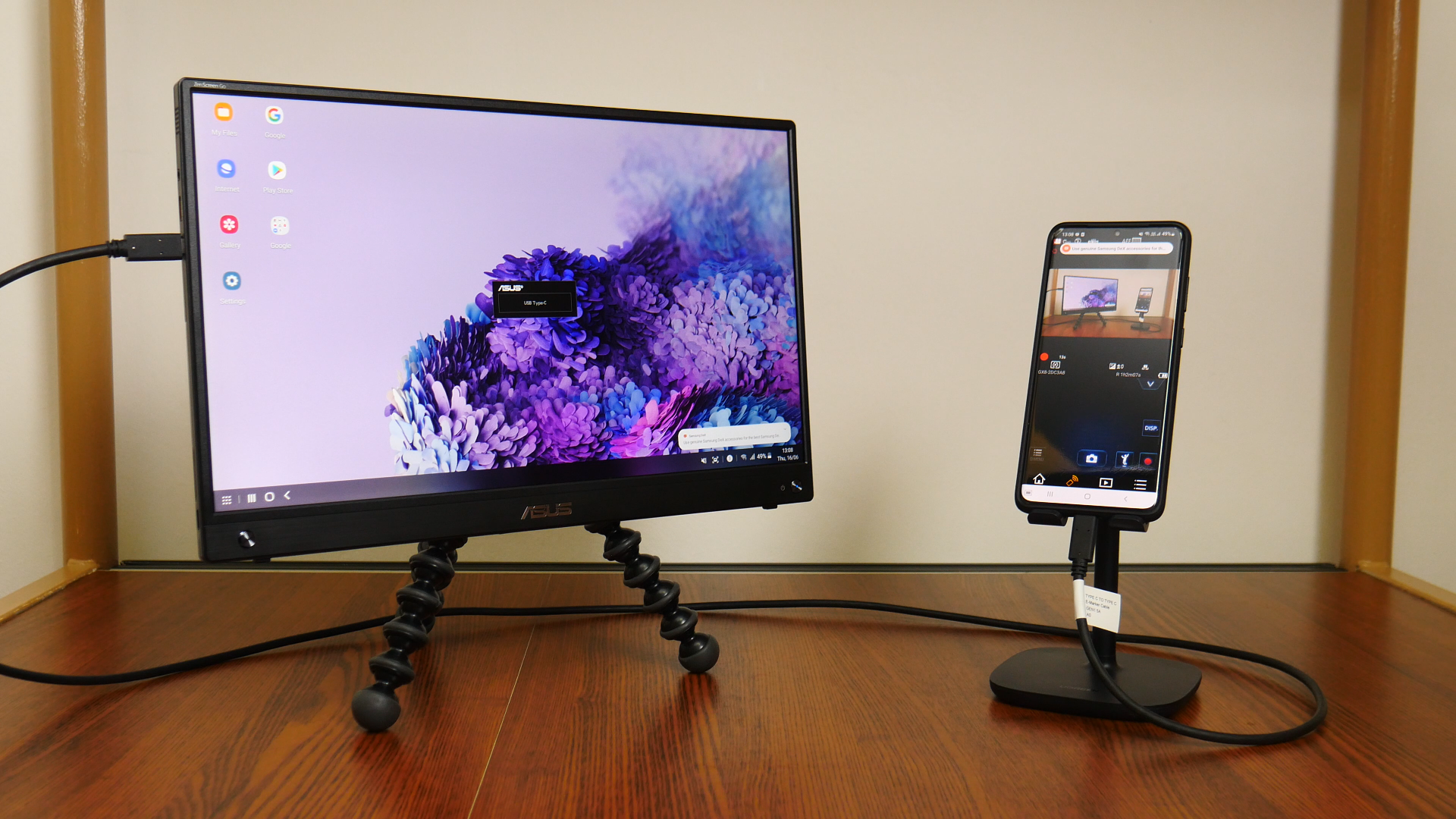 Connecting a device via the HDMI or USB-C port is a straightforward plug-and-play affair,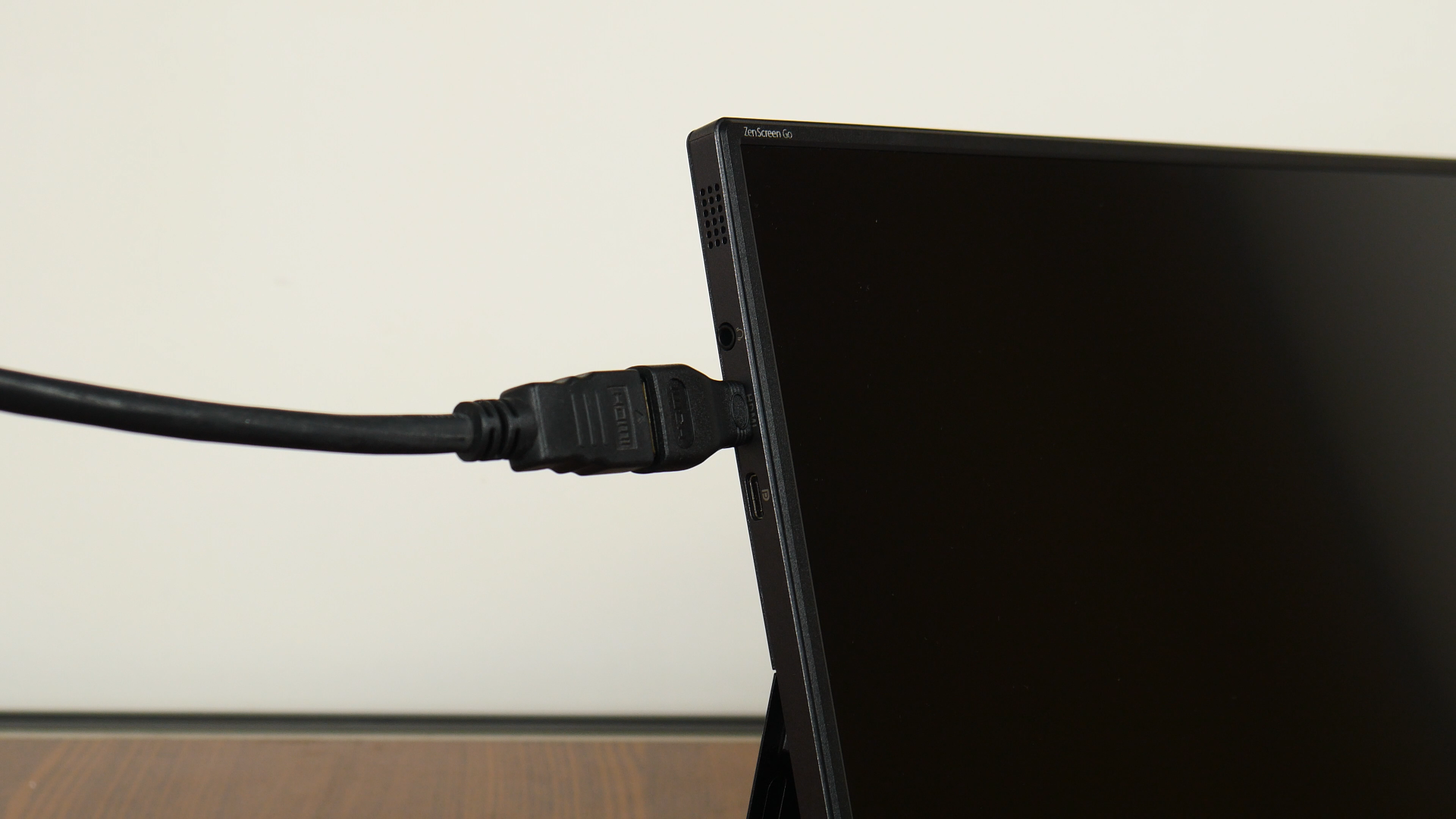 Given the size of the included HDMI to mini HDMI adapter relative to the monitor, which makes for a rather ungainly appearance, it might be advisable for anyone seeking to use a wired connection with this monitor to opt for a USB-C connection over HDMI where possible.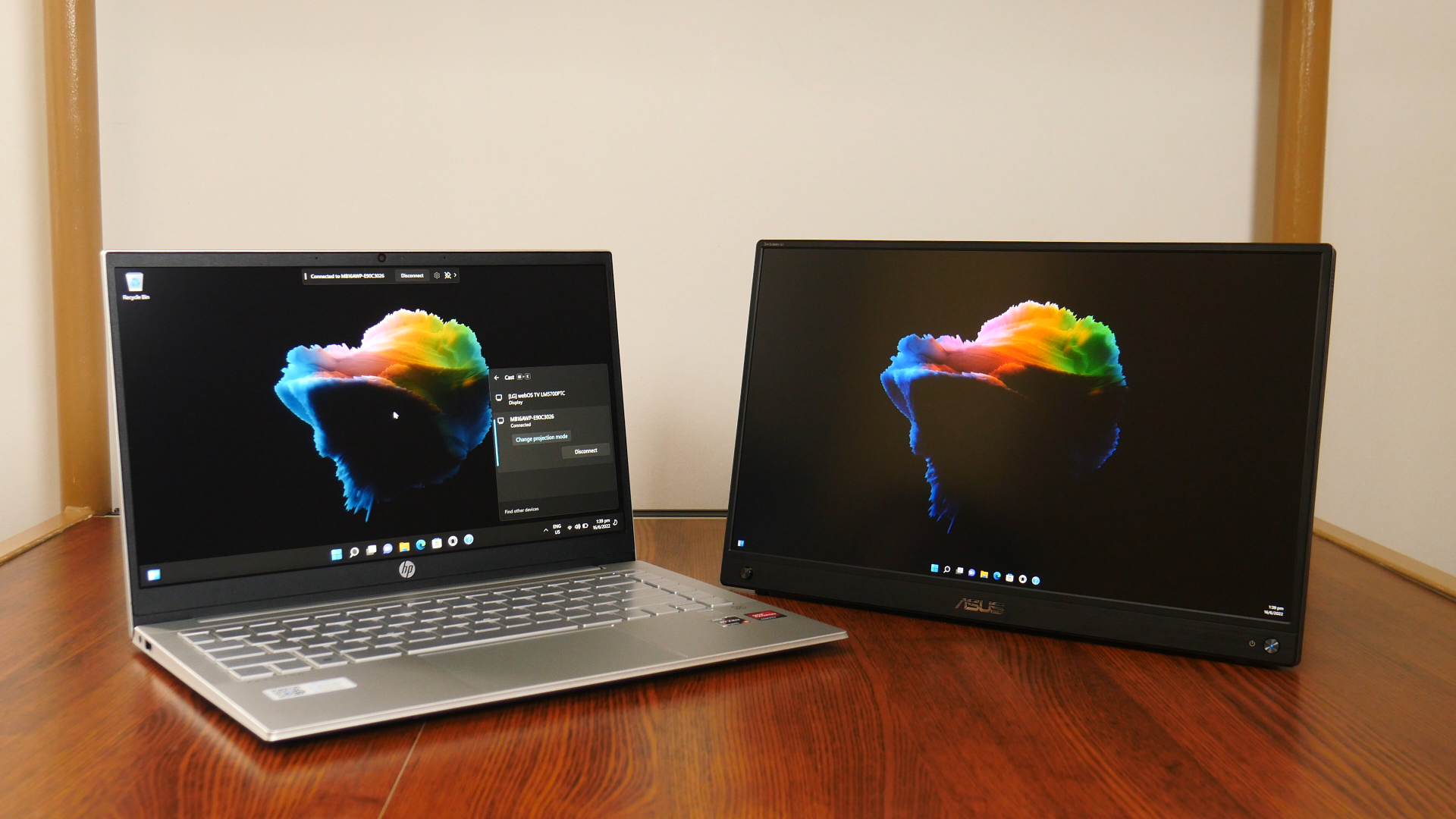 The wireless connection feature for this monitor boasts support for a wide range of devices, from PCs powered by macOS or Windows, to mobile devices on the Android, iOS and Chromebook platform.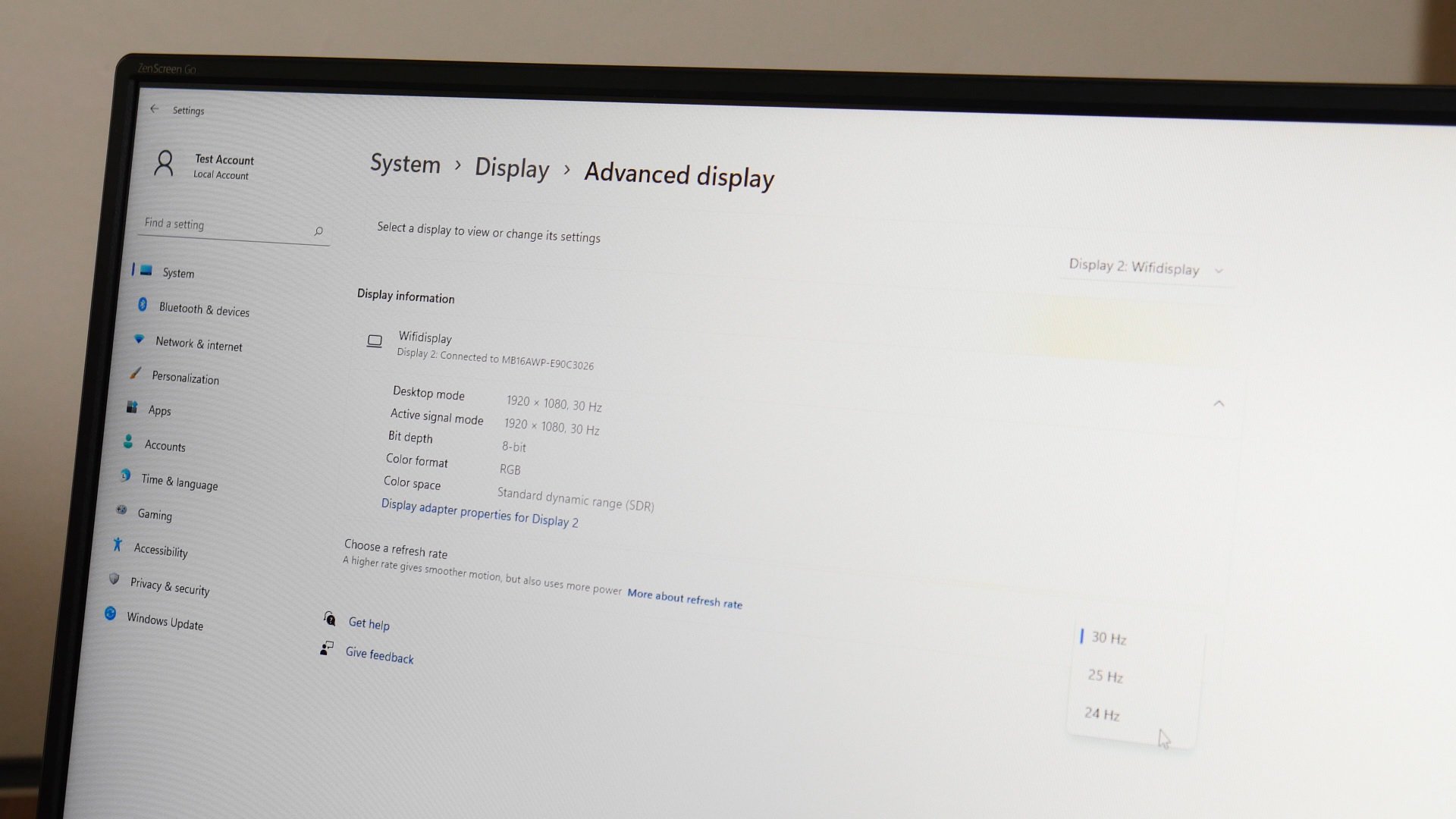 Do note that due to a Miracast limitation, the maximum refresh rate of Windows PCs connected wirelessly to the MB16AWP is capped at 30Hz. As a result of this, on-screen visuals appeared choppy at times during testing, and this was most evident when watching videos or playing games with this portable monitor. The refresh rate limitation does not seem to affect Mac users who intend to connect to the monitor wirelessly.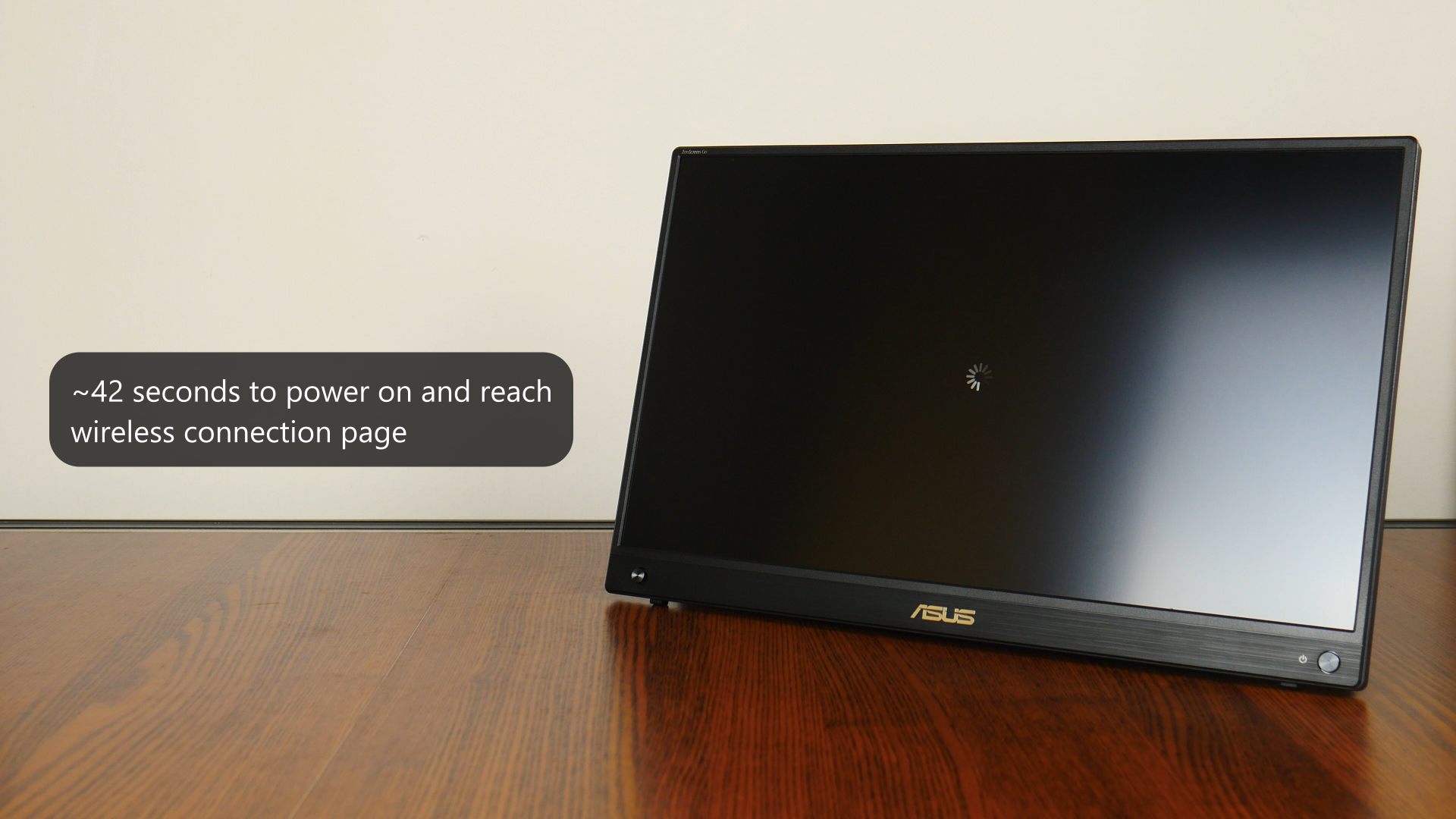 Another thing to highlight is the time taken to power up the monitor to reach the wireless connection page, where it took the monitor 42 seconds or so from pressing the power button, to get to the page where the monitor is ready for a wireless connection. Hopefully the power-on duration for the MB16AWP can be reduced with a future firmware update from ASUS, as 42 seconds is a rather lengthy wait for users who intend to use this monitor predominantly via a wireless connection..
Panel Performance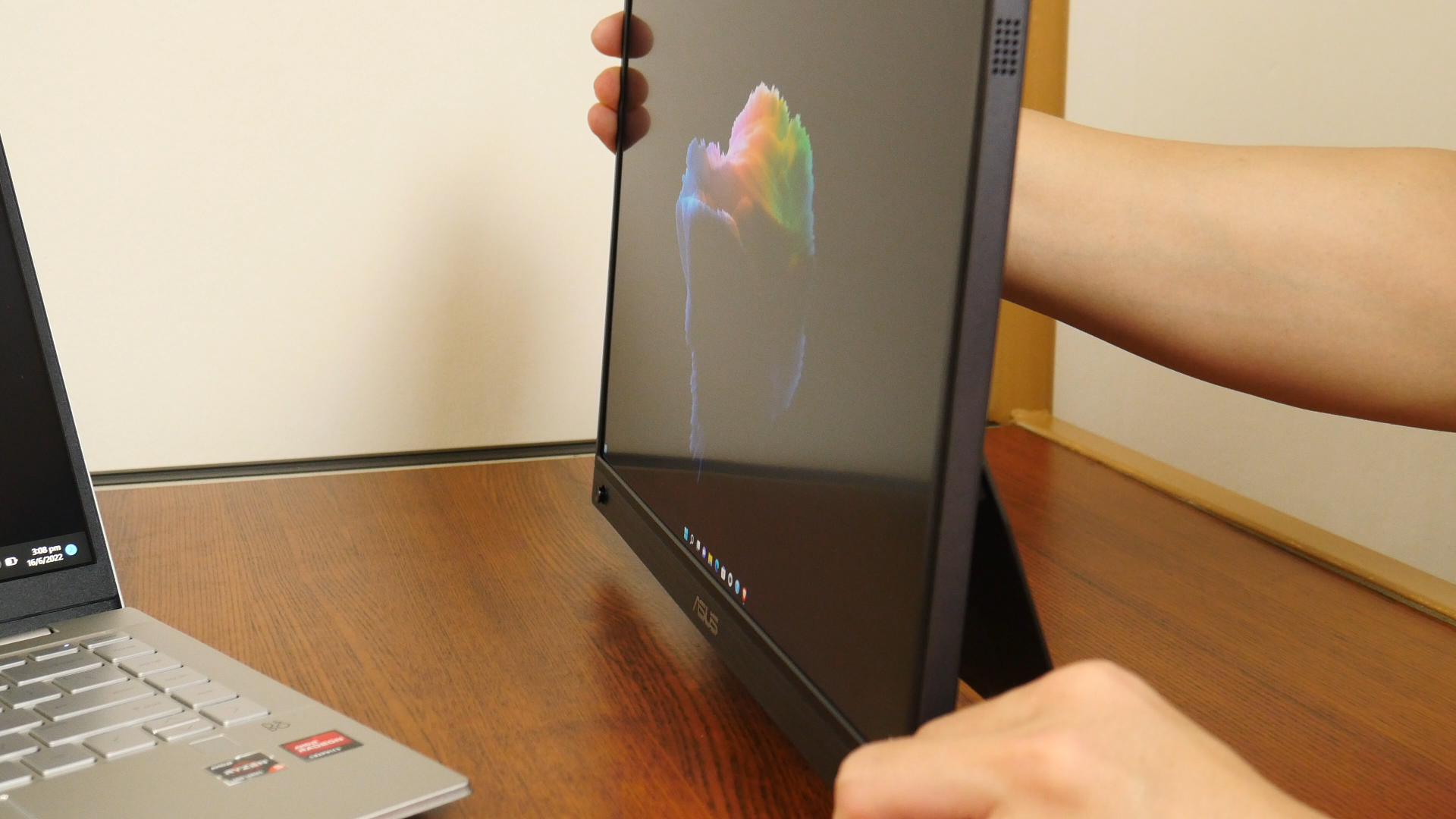 Being a monitor with an IPS panel, the viewing angles are great for this monitor, and colours are rich right out of the box on default settings.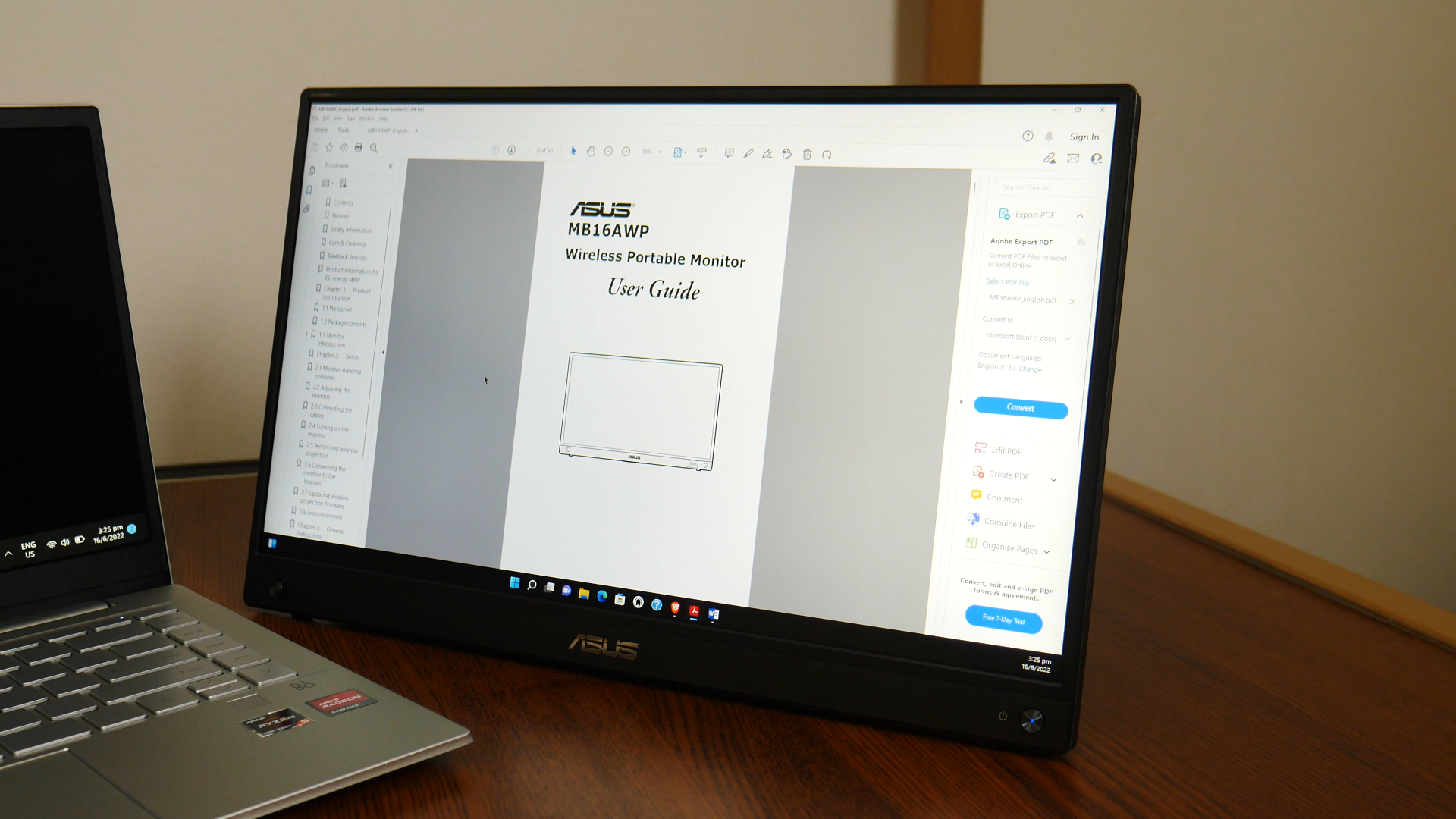 For productivity purposes, the ZenScreen Go MB16AWP breezes through tasks such as word processing with relative ease, though the eagle-eyed might be able to discern slight visual choppiness when say, scrolling through PDF files or going through PowerPoint slides while connected wirelessly with a Windows device, due to the 30Hz refresh rate limitation as mentioned earlier.
As a portable monitor with a response time of 5ms and a maximum refresh rate of 60Hz, readers who are intending to use the MB16AWP to watch movies and TV shows would be well advised to use a wired connection for the best possible visual experience. Given the response time and refresh rate that this monitor is capable of, one might get away with a spot of light gaming, though the 60Hz refresh rate may be limiting especially if your device is capable of playing games at framerates above 60FPS.
Other Features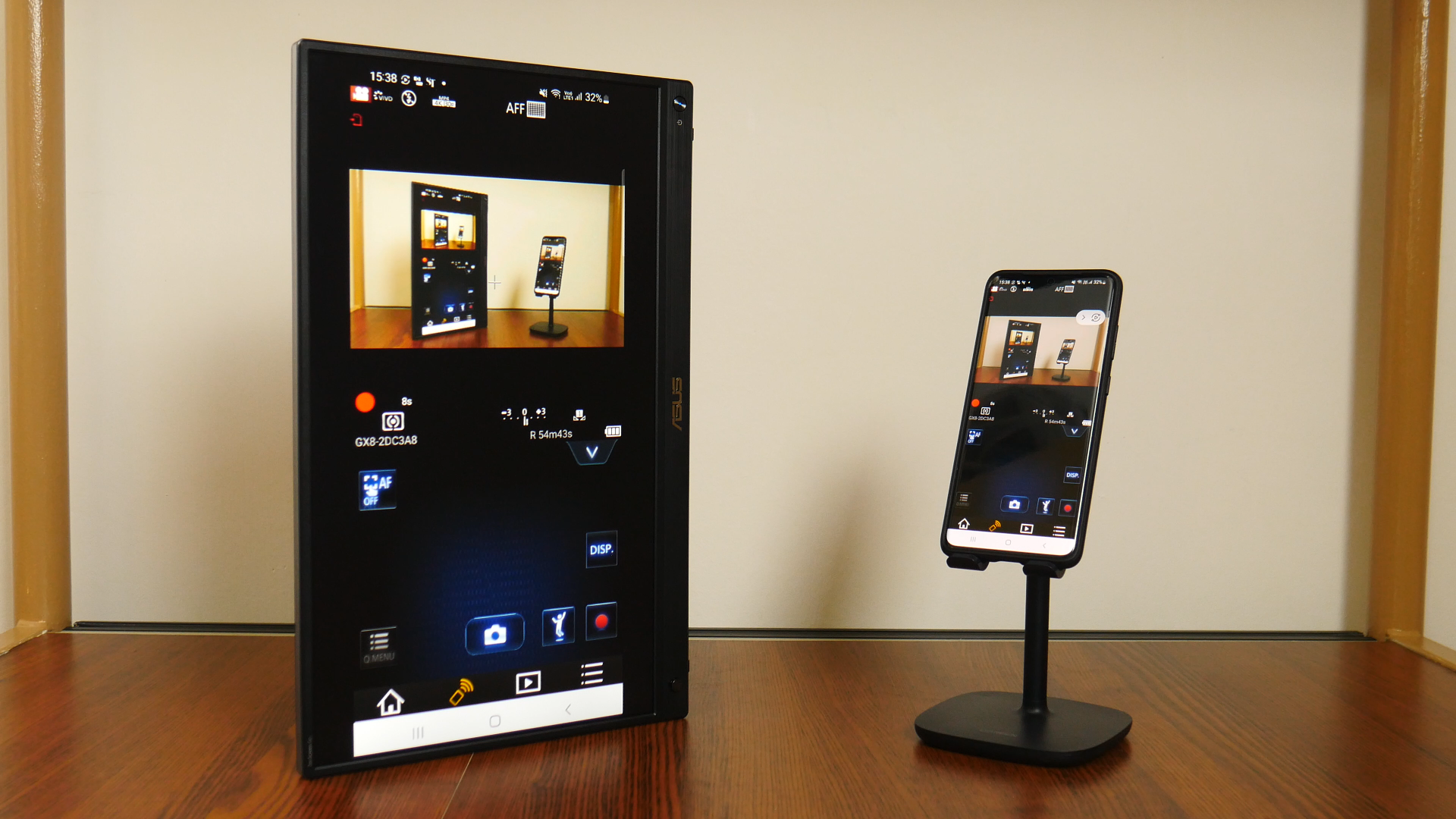 The ZenScreen Go MB16AWP boasts what ASUS calls a "G-sensor", which allows for automatic screen rotation when the monitor is placed in either a landscape or portrait orientation. This feature does not work with Windows devices as of the time of writing this article however, and could be enabled once ASUS releases its DisplayWidget app meant for this particular model of ZenScreen Go. In the meantime, Windows users would have to head over to the Windows Control Panel to manually adjust the monitor's display orientation accordingly.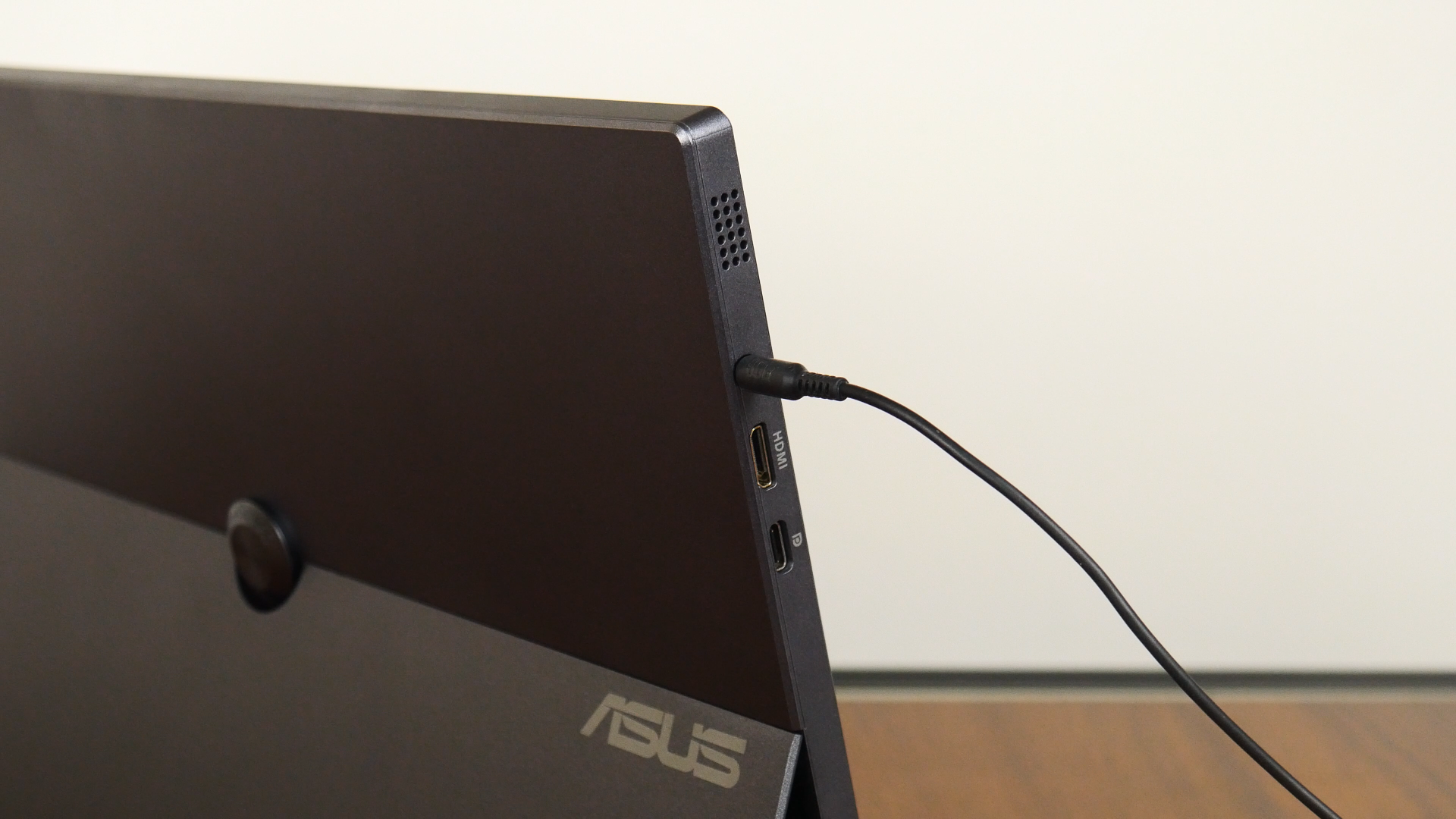 While the built-in 1W stereo speakers are a good-to-have, their sound quality leaves much to be desired. Even when turned up to the maximum volume, the speakers are very soft - you'd be better off plugging in an external set of speakers or earphones to the monitor via the included 3.5mm audio out jack instead.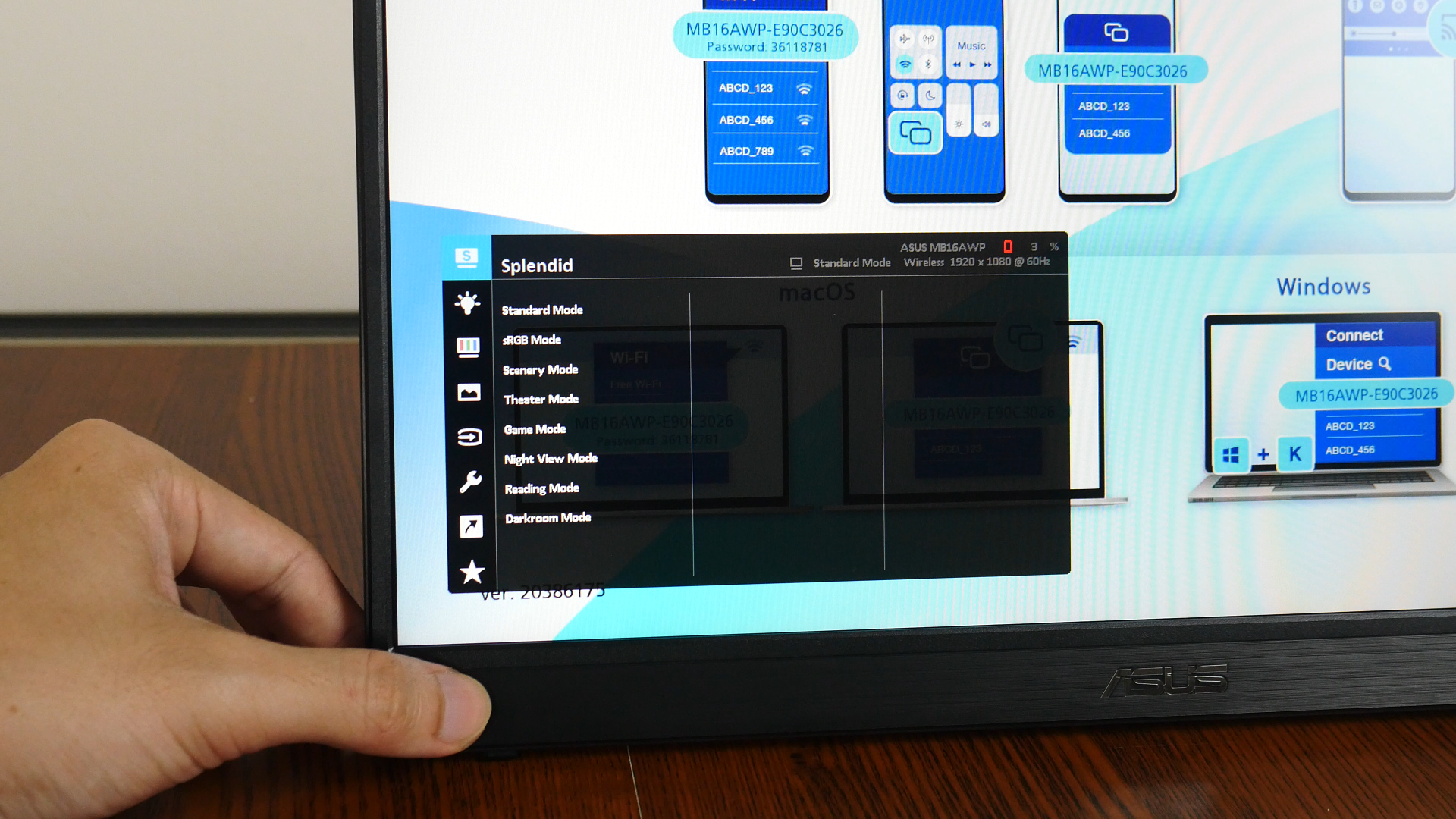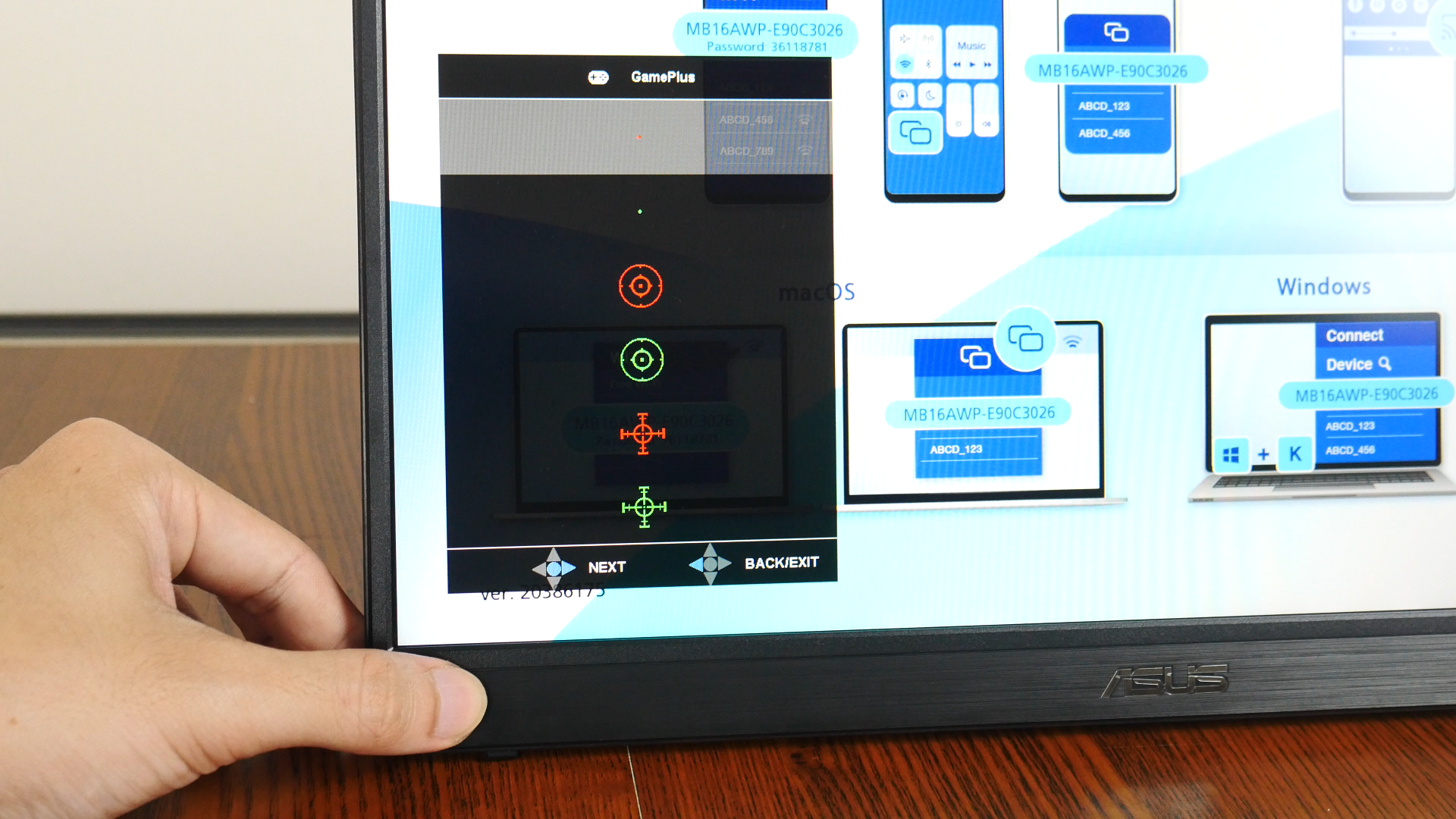 Accessing and navigating the ZenScreen Go MB16AWP's OSD is a straightforward process with the five-way joystick, and changing typical settings such as brightness, contrast, colour temperature and so on is a breeze. Some noteworthy features include a Blue Light Filter with four different presets, as well as a GamePlus menu which even allows users to enable an on-screen crosshair for gaming purposes - a surprising inclusion given that this portable monitor isn't targeted at the gaming market in the first place.
Conclusion & Pricing
The ASUS ZenScreen Go MB16AWP is a well-built true portable wireless monitor which manages to keep a slim and portable profile, despite the fact that it has a built-in battery and a plethora of wired and wireless connectivity options. It'll do well in the context of productivity tasks on the go, especially with a wireless connection which will help to reduce clutter.
However, the monitor does have some shortcomings that could impact the overall usage experience, such as the amount of time needed to power on the monitor for a wireless connection, the 30Hz refresh rate cap that Windows users would face due to Miracast limitations, as well as the lack of auto-rotation capabilities when connected to a Windows device.
The ZenScreen Go MB16AWP has a recommended retail price of S$799, or US$479 from international eCommerce sites such as Amazon. While the price for this portable monitor is rather steep compared to other offerings out there, it's worth noting that the MB16AWP is a truly portable wireless monitor after all, with little or no competition from other portable monitor brands out there. With this in mind, the price premium might be worth it if your use cases call for a wireless monitor with decent battery life and good build quality.
Get this monitor from Amazon: https://amzn.to/3AmF13h (affiliate link)
Get this monitor from Shopee Singapore: https://shope.ee/L9jsK3w84 (affiliate link)
ALKtech may earn commissions from qualifying purchases made using affiliate links, at no extra cost to you as a customer. These commissions go a long way in supporting the platform!
The monitor featured in this article was a review unit provided on loan from ASUS Singapore.