Review: ASUS ZenWiFi XD5 Mesh WiFi System
The ASUS ZenWiFi XD5 is a sleek-looking whole home mesh WiFi system that sports up to 5000 square feet of coverage and support for the WIFI 6 standard.
Mesh WiFi systems have exploded in popularity over the past few years, thanks to their ability to banish "dead" WiFi zones without the need to setup and manage multiple WiFi routers. For today's article, we'll be taking a look at a whole-home mesh WiFi system by ASUS - the ZenWiFi XD5. Available in a pack of up to three nodes, the XD5 packs quite a fair bit of punch despite the nodes' diminutive size, where they sport support for the WIFI 6 standard with a maximum wireless bandwidth of up to 3000 Mbps.
Summary of Specifications
Supported Network Standards: IEEE 802.11a, IEEE 802.11b, IEEE 802.11g, WiFi 4 (802.11n), WiFi 5 (802.11ac), WiFi 6 (802.11ax), IPv4, IPv6
Max Data Rates: 802.11a : up to 54 Mbps, 802.11b : up to 11 Mbps, 802.11g : up to 54 Mbps,
WiFi 6 (802.11ax) (2.4GHz) : up to 574 Mbps, WiFi 6 (802.11ax) (5GHz) : up to 2402 Mbps
Antenna Type: Internal, dual band antennae x2
Ports (per XD5 node): 1x WAN, 1x LAN (both Gigabit)
Buttons (per XD5 node): 1x WPS, 1x Reset
USB Port: No
Available Colours: Black or white
Available in a pack of one, two or three nodes
Packaging & Contents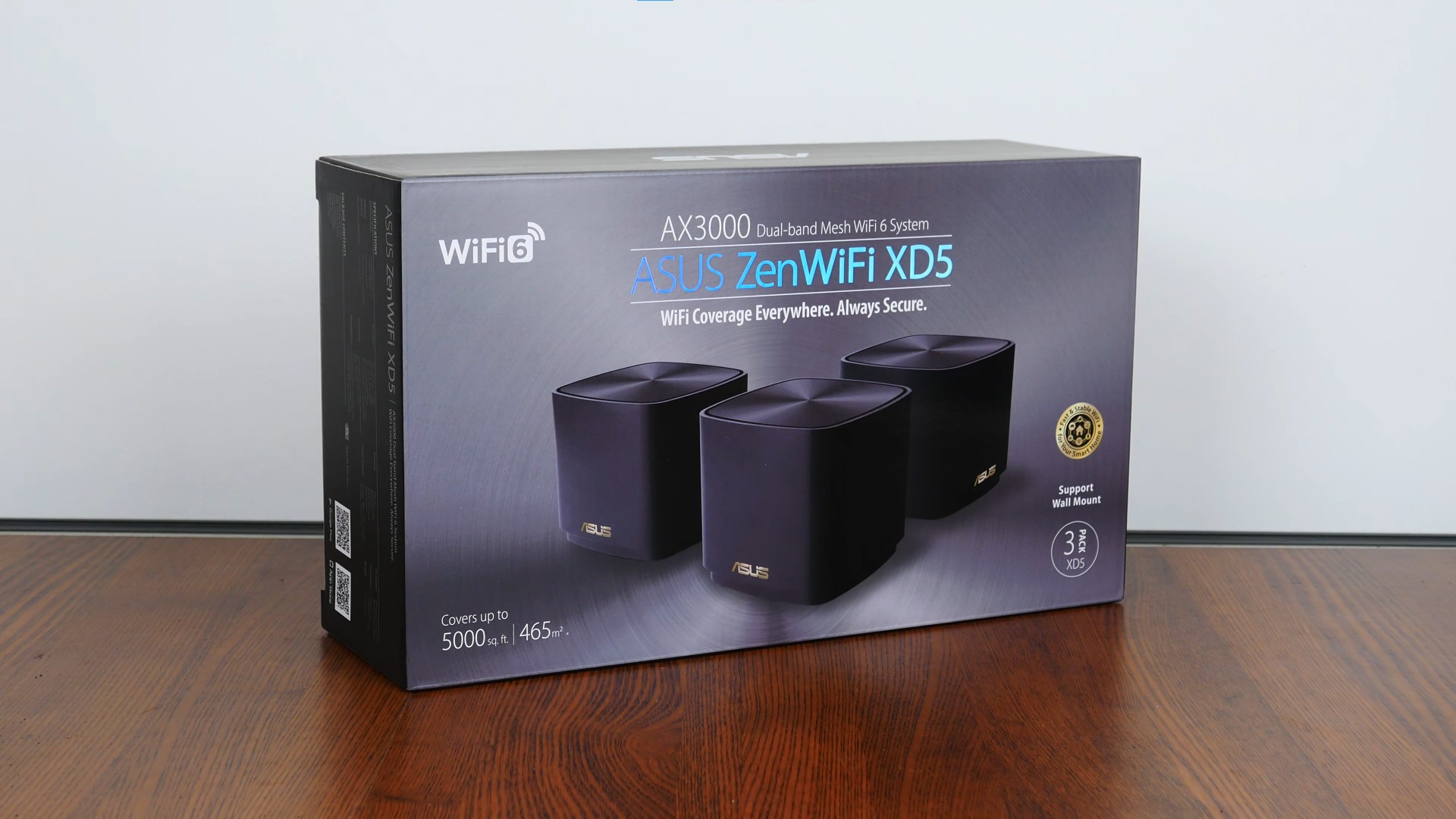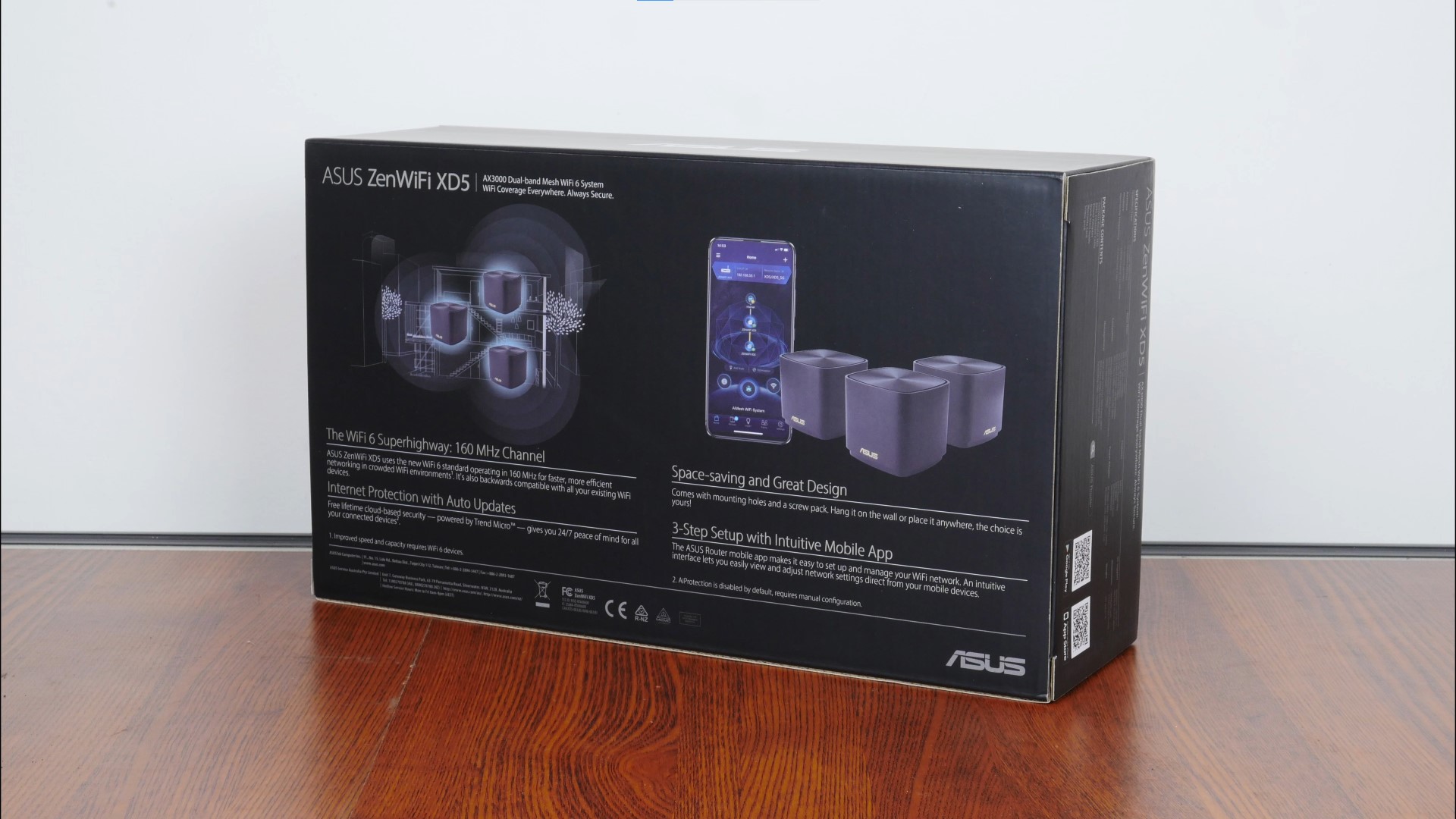 The ZenWiFi XD5 comes in a greyish-silver box featuring an image of the XD5 nodes on the front - as you might have surmised from the said image, ASUS sent over the three-pack version of the ZenWiFi XD5 for this review. Moving over to the rear of the box, we get the usual summary of specs for this mesh WiFi system.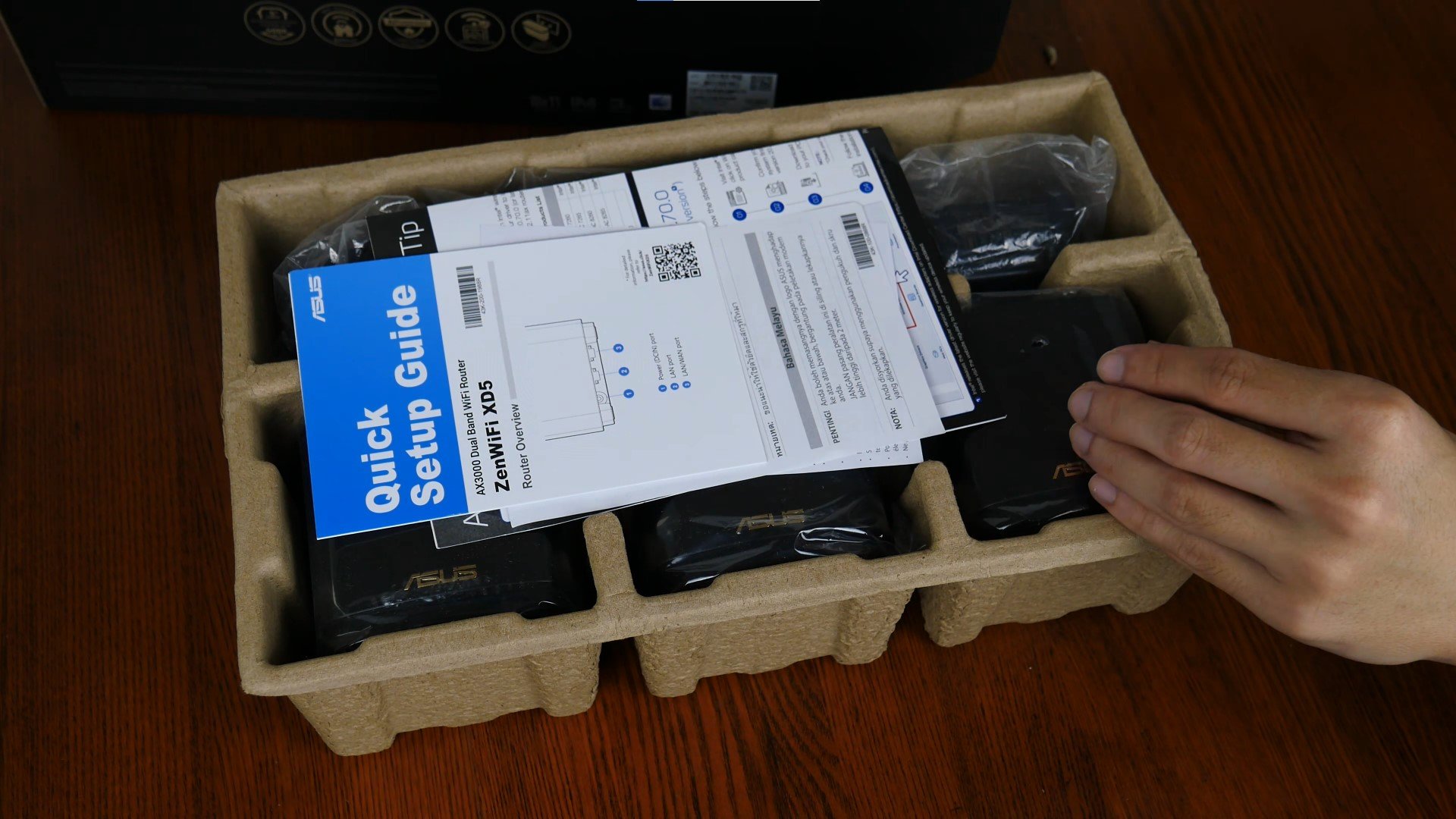 ASUS has included the following accessories with the ZenWiFi XD5:
Warranty information leaflet
Quick setup guide
Wall mount setup guide
Safety information leaflet
Advanced WiFi tips leaflet
3x power adapters with international power plug converter attachments
3x wall mounting screw packs
1x Ethernet cable
Aesthetics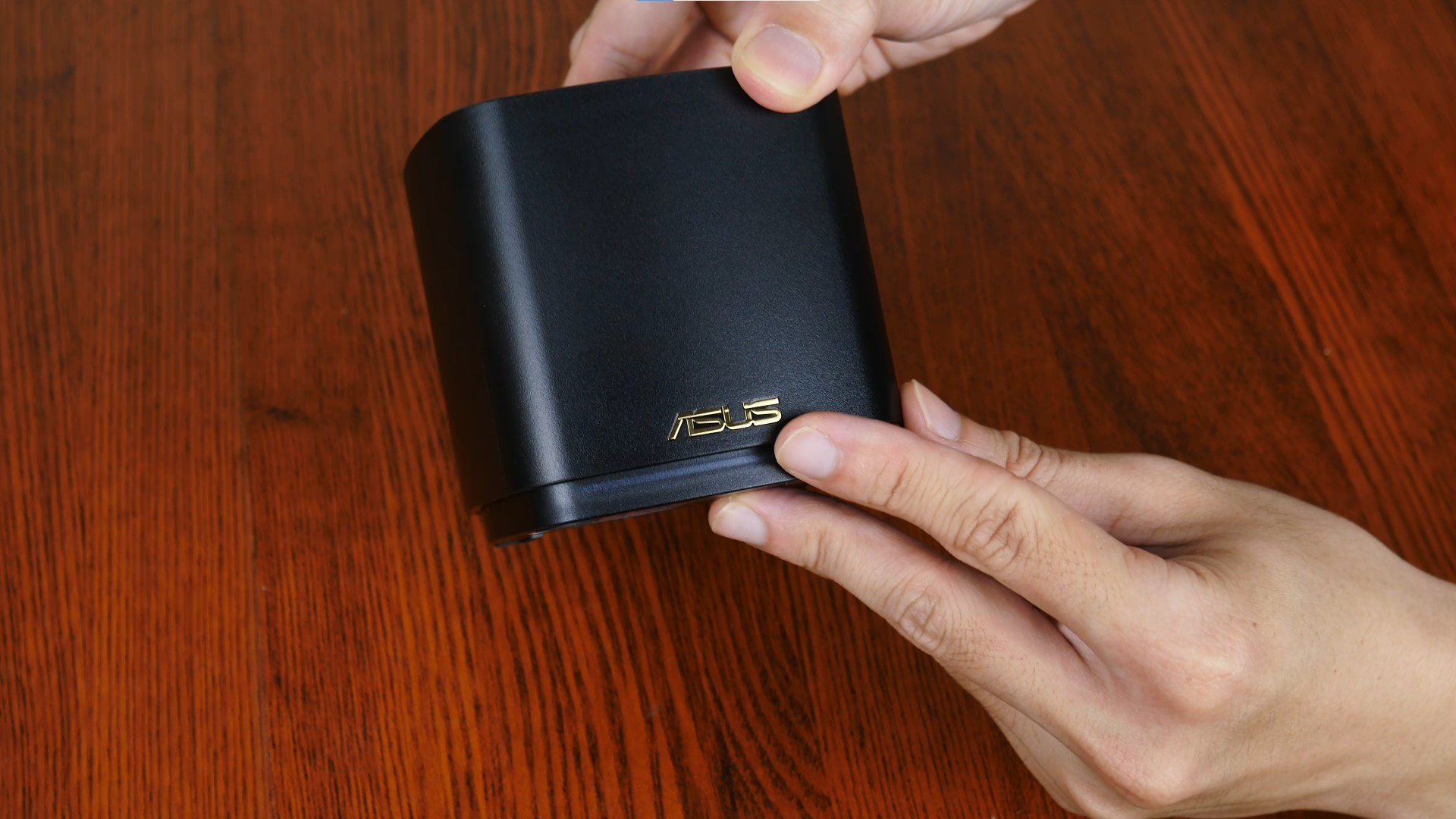 The ZenWiFi XD5 sports a rather minimalistic design, with a cube-like shape that sports rounded corners. The nodes are made of plastic with a matte finish and feature the ASUS logo in a gold chrome finish.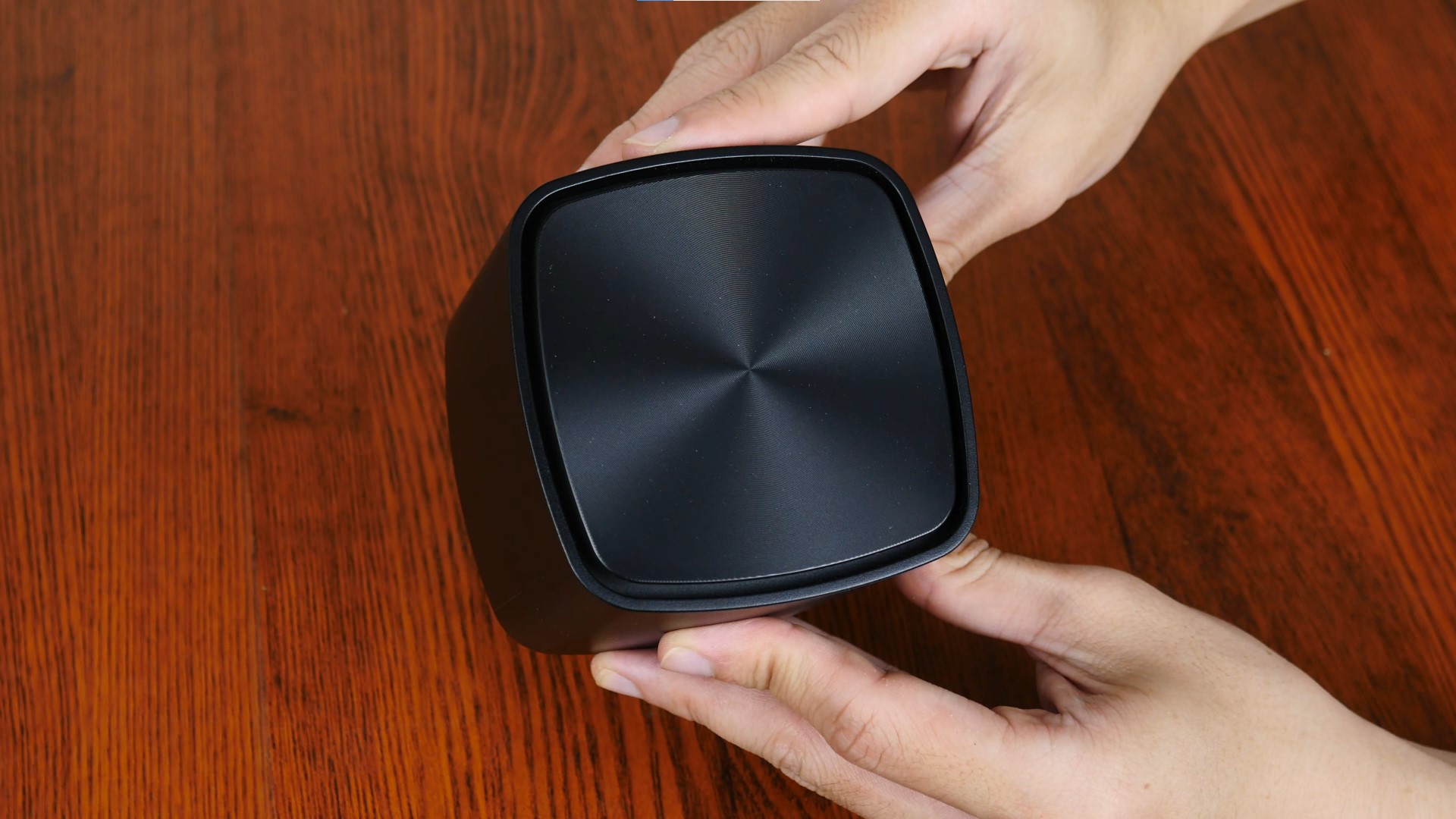 As can be seen, ASUS has adorned the top of the XD5 nodes with a concentric circular pattern that adds a sense of visual flair, especially under different lighting conditions. Do note that the XD5 is available in a choice of two colours, black or white, allowing end-users to select a colour that best matches the nodes' surroundings.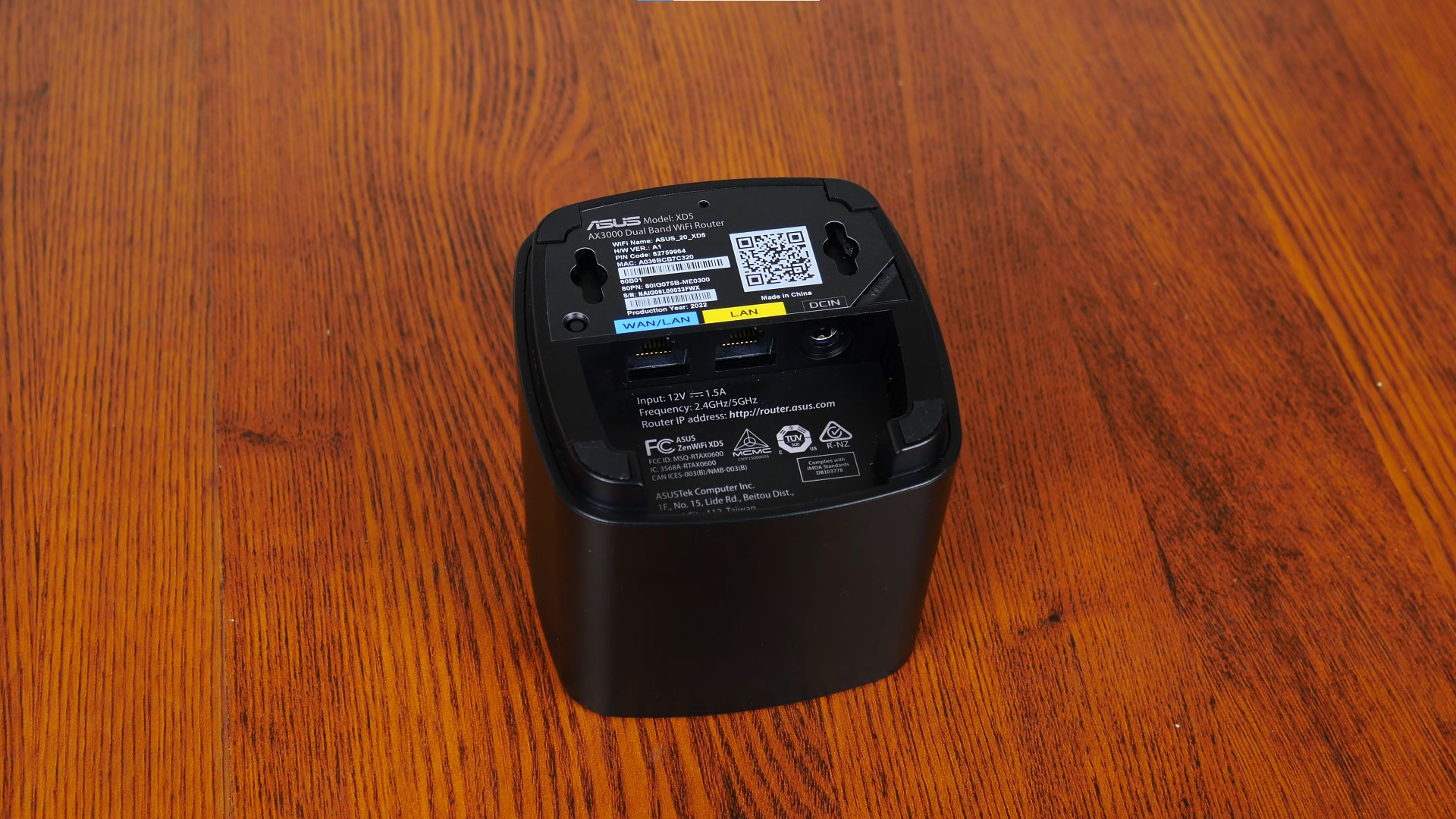 The bottom of the XD5 nodes is a simple affair, where we get two wall mount openings, a Gigabit WAN port, a Gigabit LAN port, a power adapter port as well as a WPS button. The XD5 nodes unfortunately do not come with USB ports.
Technical Features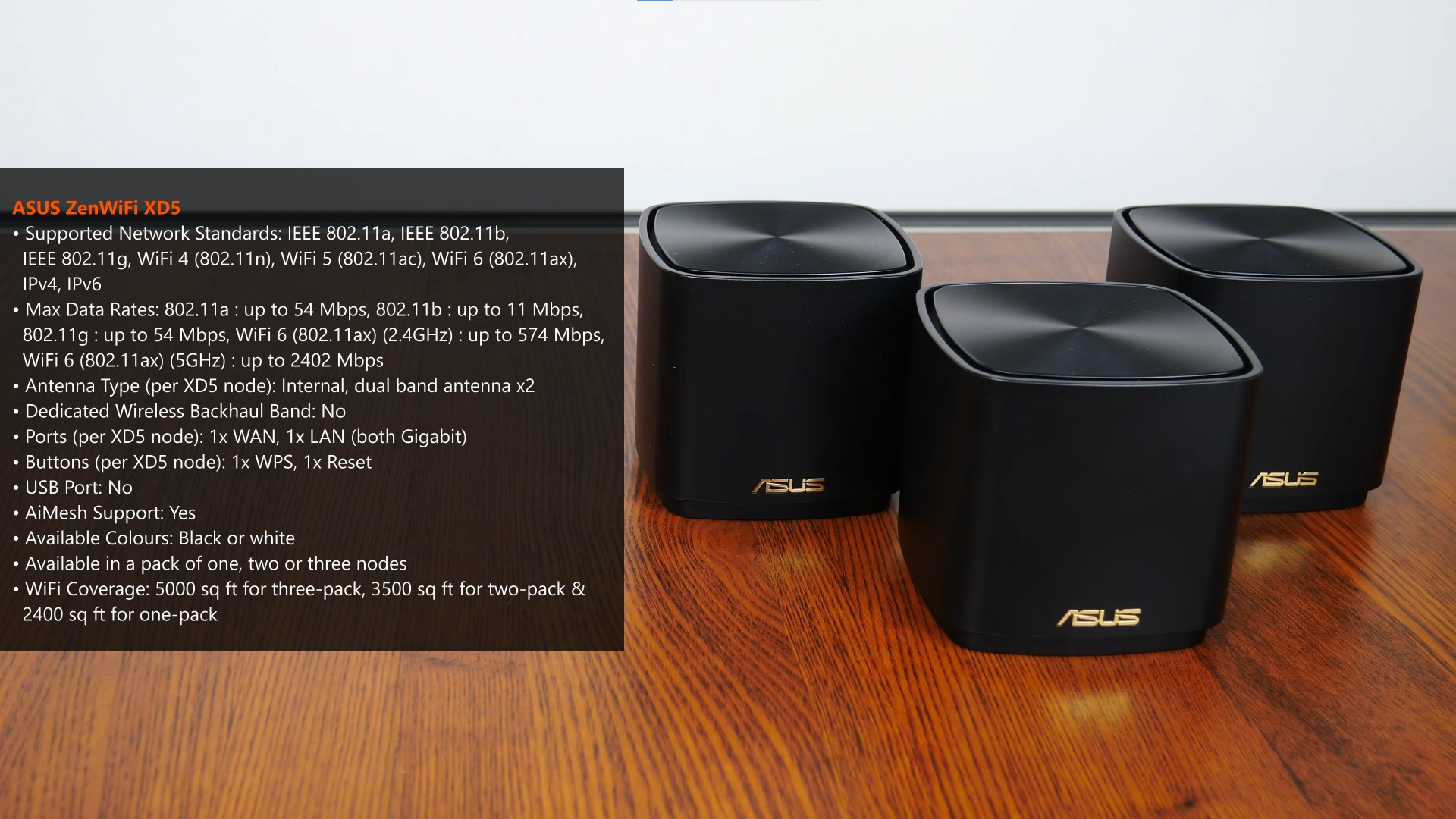 The ZenWiFi XD5 is a dual band mesh system with a maximum bandwidth of up to 3000 Mbps, according to ASUS. For the 5 GHz band, the XD5 supports dual stream (2x2) 160 MHz channel widths with up to 2400 Mbps transfer speeds, and for the 2.4 GHz band, we get dual stream support for a maximum transfer speed of up to 574 Mbps.
It's worth noting that the XD5 does not have a dedicated band for backhauling, meaning to say, if you're intending to link up the XD5 router units wirelessly instead of via a wired backhaul setup, you will be sacrificing data transfer bandwidth as a result. Also, the dual Ethernet ports that come included on each XD5 router conform to the Gigabit Ethernet standard, meaning to say, that these ports will be the bottleneck in your network setup should you have a multi-gig internet plan, where your wireless connection's maximum theoretical speed will be capped at 1 Gbps.
According to ASUS, the three-pack version of the XD5 provides for up to 5000 sq ft (465 m2) of WiFi coverage, while the two-pack and single-pack variants provide for up to 3500 sq ft and 2400 sq ft of WiFi coverage respectively. That said, the XD5 supports ASUS's AiMesh system, which allows other AiMesh-supported ASUS networking devices to be added to a mesh network easily for seamless connectivity.
Setup & Usage Experience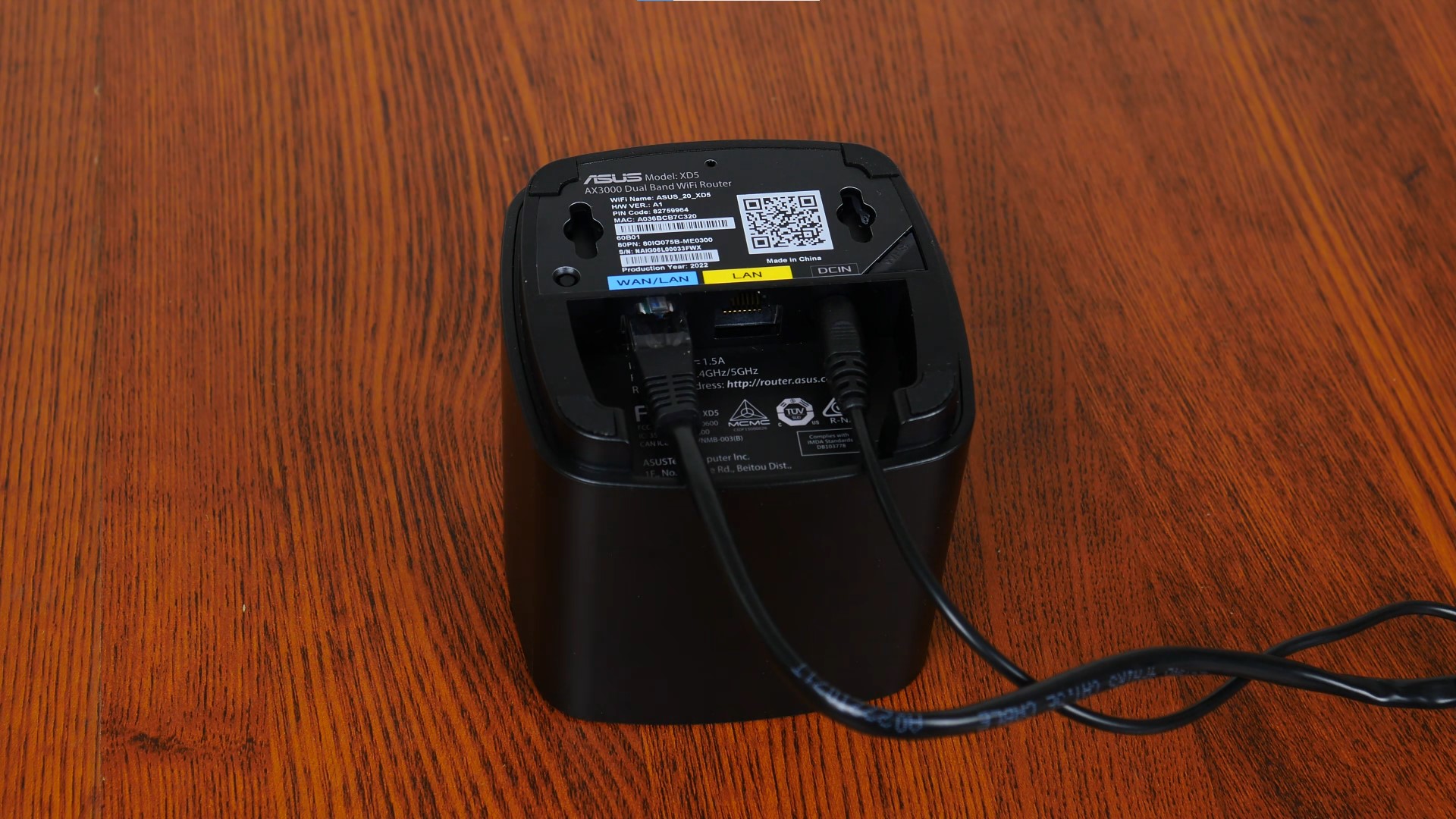 As setup experiences go, the ZenWiFi XD5 was a breeze to set up all thanks to the fact that the nodes come pre-synced right out of the box. After connecting the primary node to the mains and your modem, you'll need to download the "ASUS Router" app to continue the setup process.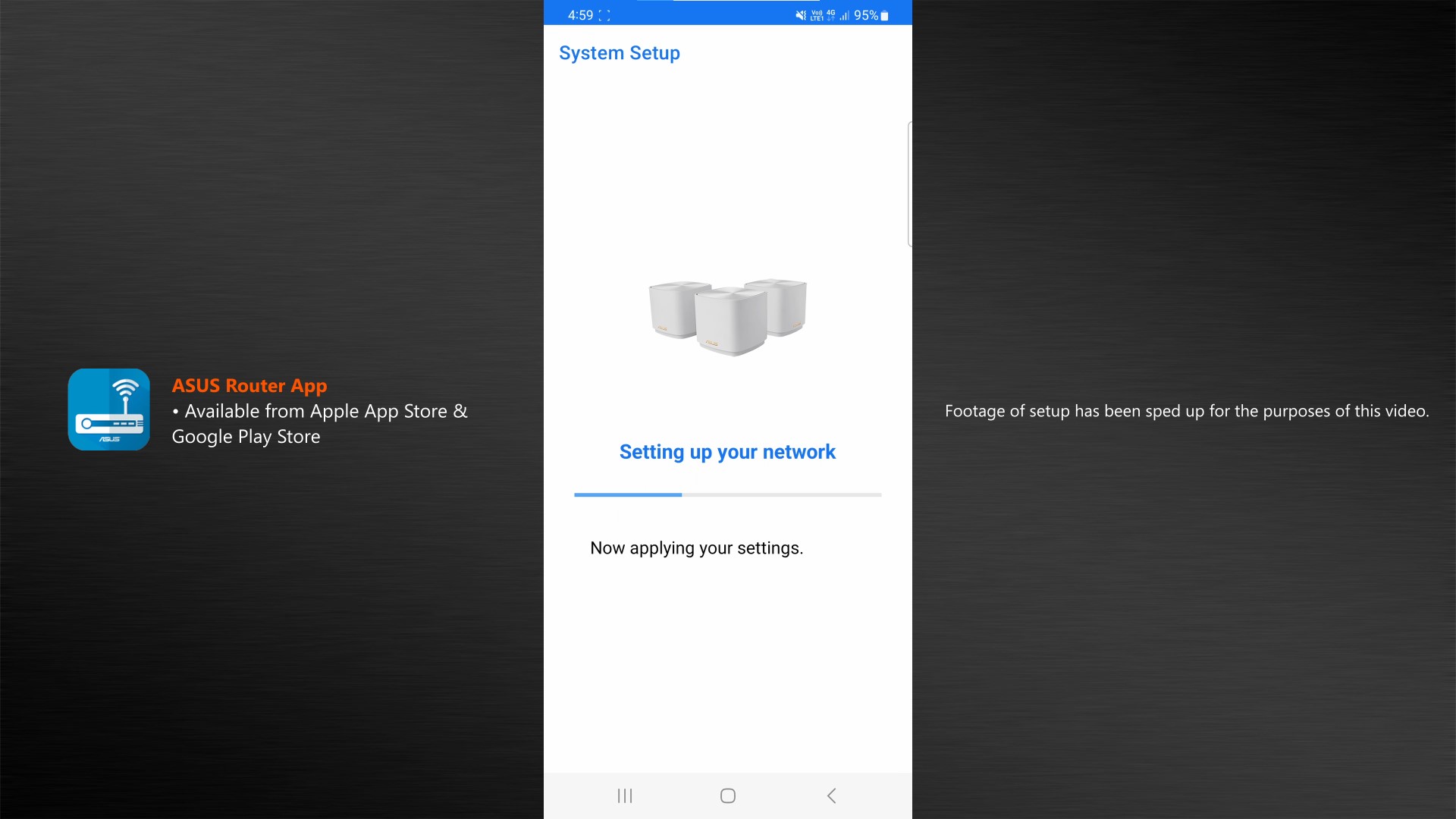 The ASUS Router app is available to download from both the Apple App store and Google Play store - after following the app's on-screen instructions to a T on my Android mobile phone, I was able to get the main node and an accompanying satellite node set up in 10 minutes for the purposes of doing a quick test of the XD5's wireless prowess.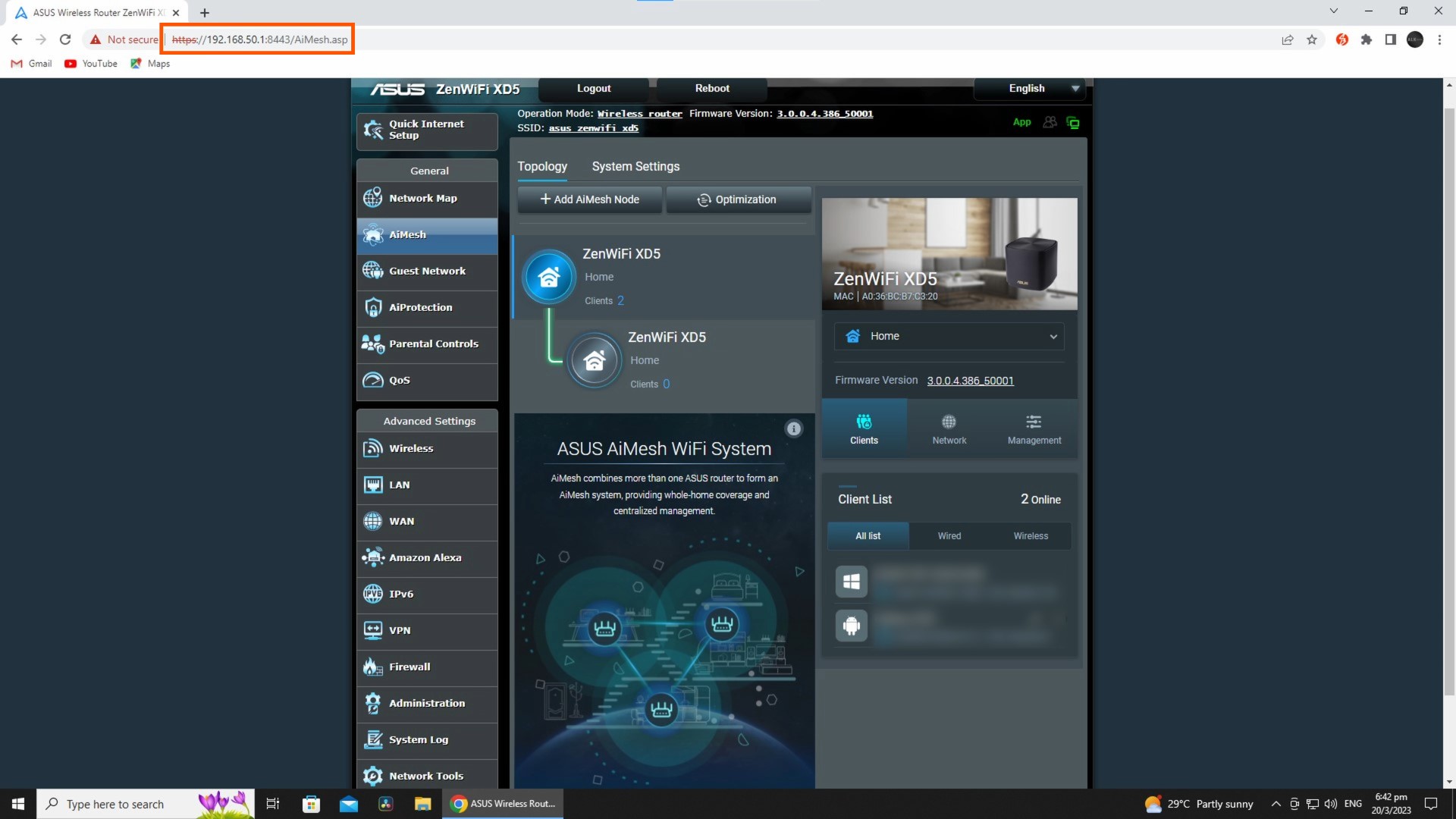 For power users requiring access to more router settings, the ZenWiFi XD5 comes with a web interface that can be accessed via a web browser by simply keying in "192.168.50.1" into the said browser's address bar. As can be seen above, end-users get access to features such as AiProtection (a network security feature), parental controls, Quality of Service settings (QoS) and so on via the XD5's web interface.
Test Setup & Benchmarking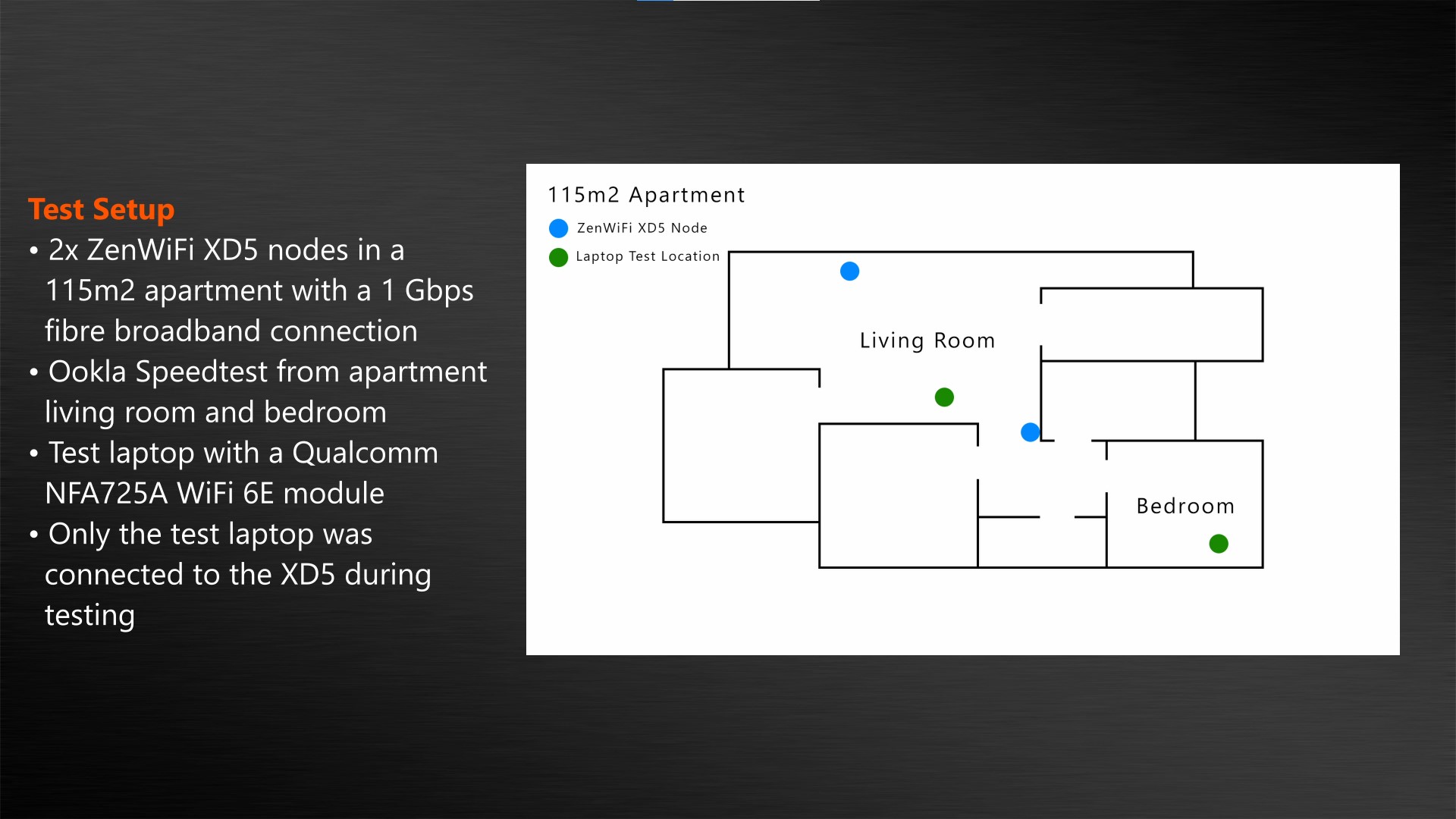 To do a quick connectivity test of the ZenWiFi XD5, a mesh network comprising two XD5 nodes were set up in an 115m2 apartment that comes equipped with a 1 Gbps fibre internet connection, with node placement locations as well as test locations as indicated on the floorplan graphic above. The node placed in the living room was designated the main router, while the second node closer to the bedroom marked in the floorplan above was designated a satellite node.
The web version of Speedtest by Ookla was used on a laptop sporting a Qualcomm NFA725A WIFI 6E module, where the said laptop was used to run the speed test from both the living room and bedroom, on both the XD5's 2.4 GHz and 5 GHz bands. During the entirety of testing, no other devices (other than the test laptop) were connected to the ZenWiFi XD5. In addition, no tweaks were made to the XD5, where it was left on the default out-of-box settings.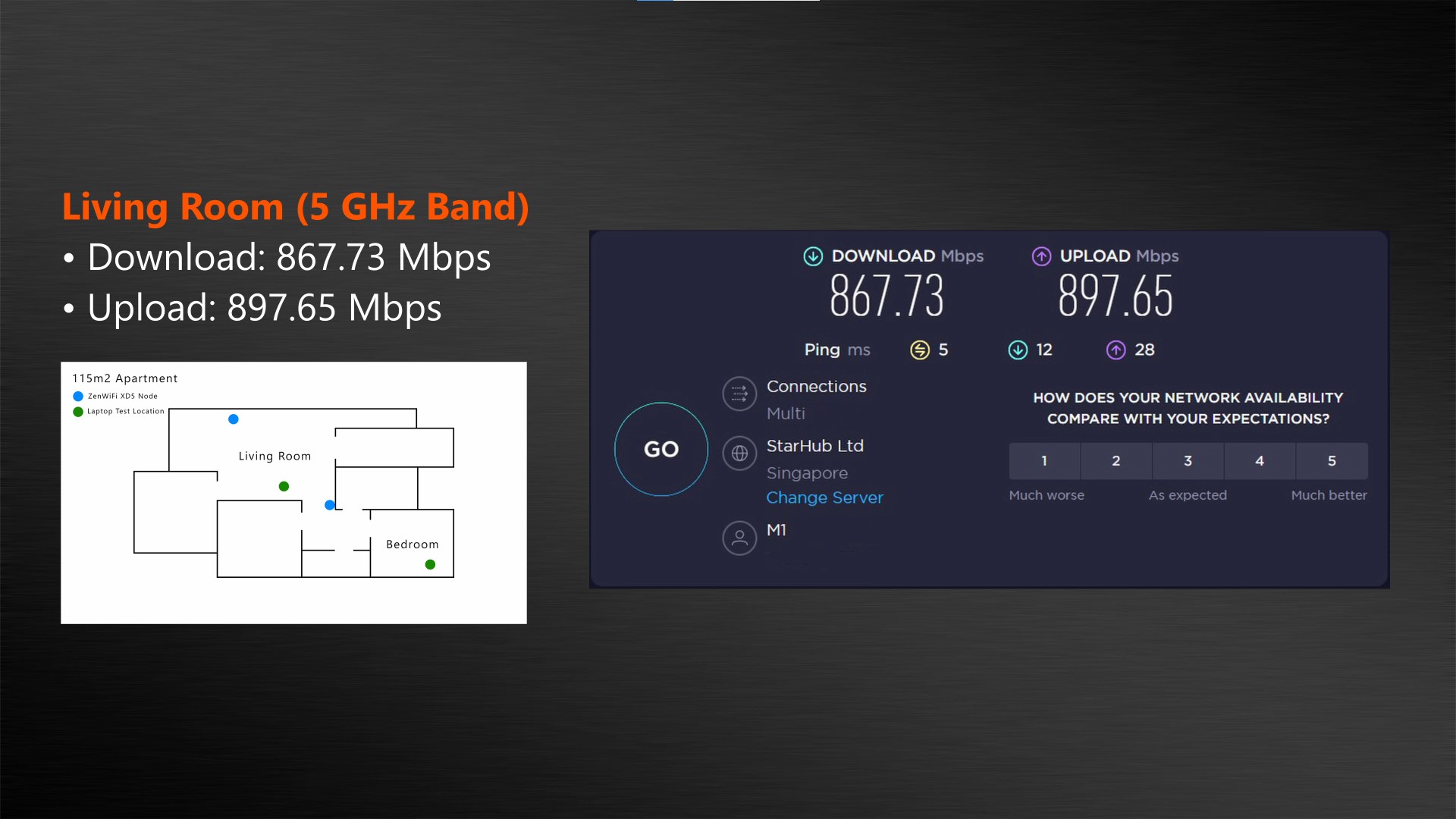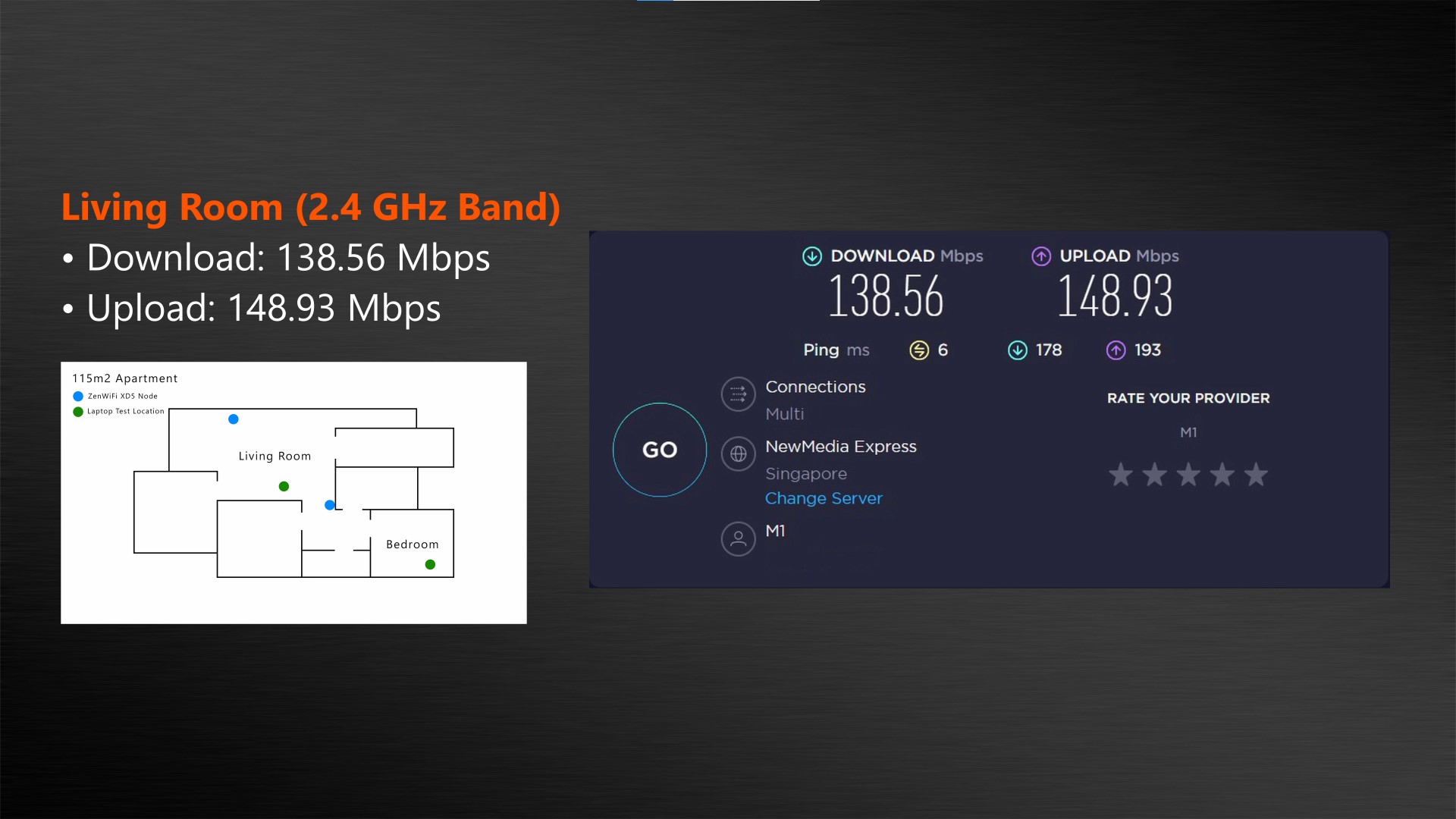 In the first location within the apartment's living room, a download speed of 867.73 Mbps and an upload speed of 897.65 Mbps on the 5 GHz band were obtained. Switching over to the 2.4 GHz band, I got a download speed of 138.56 Mbps and an upload speed of 148.93 Mbps.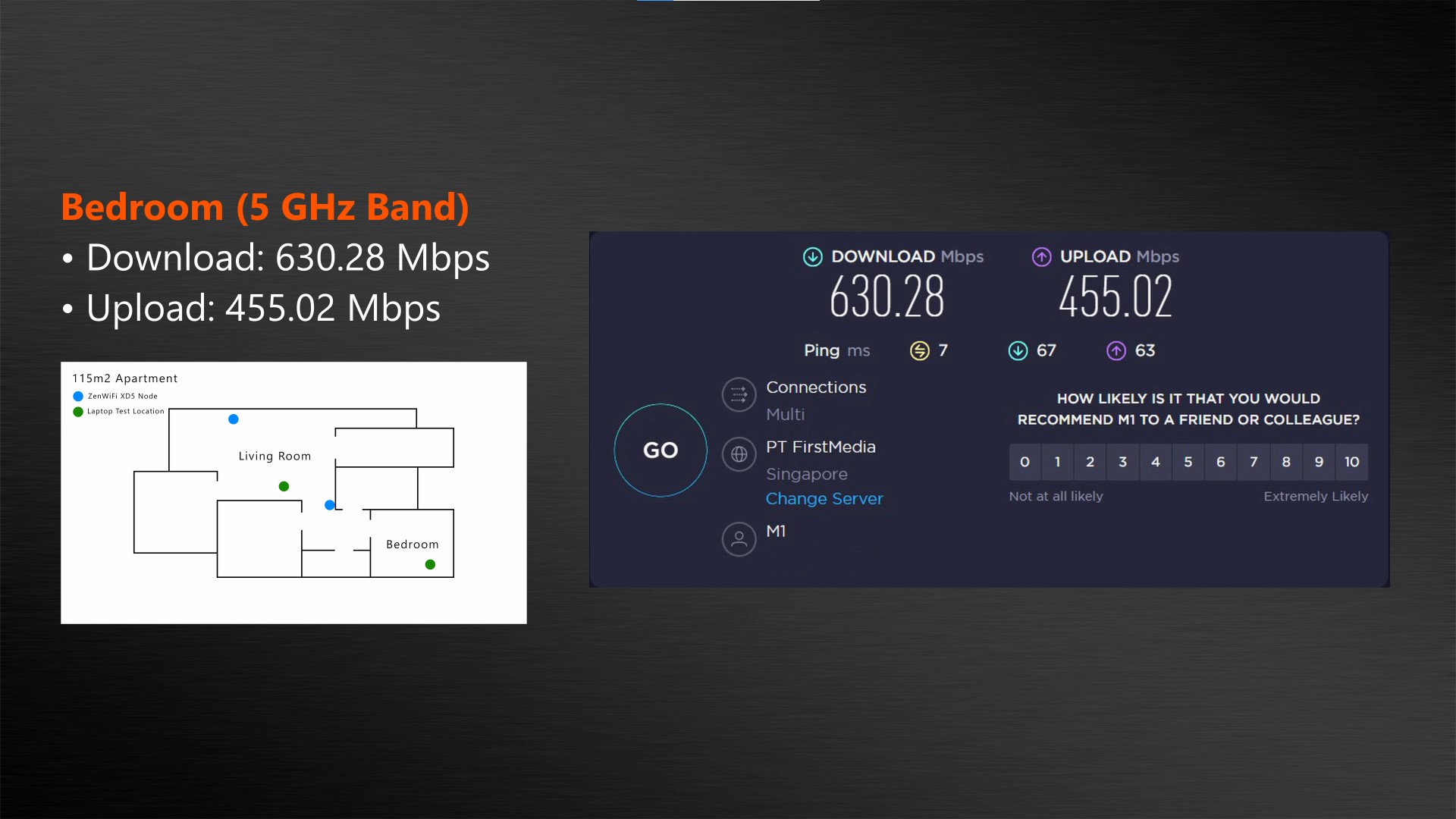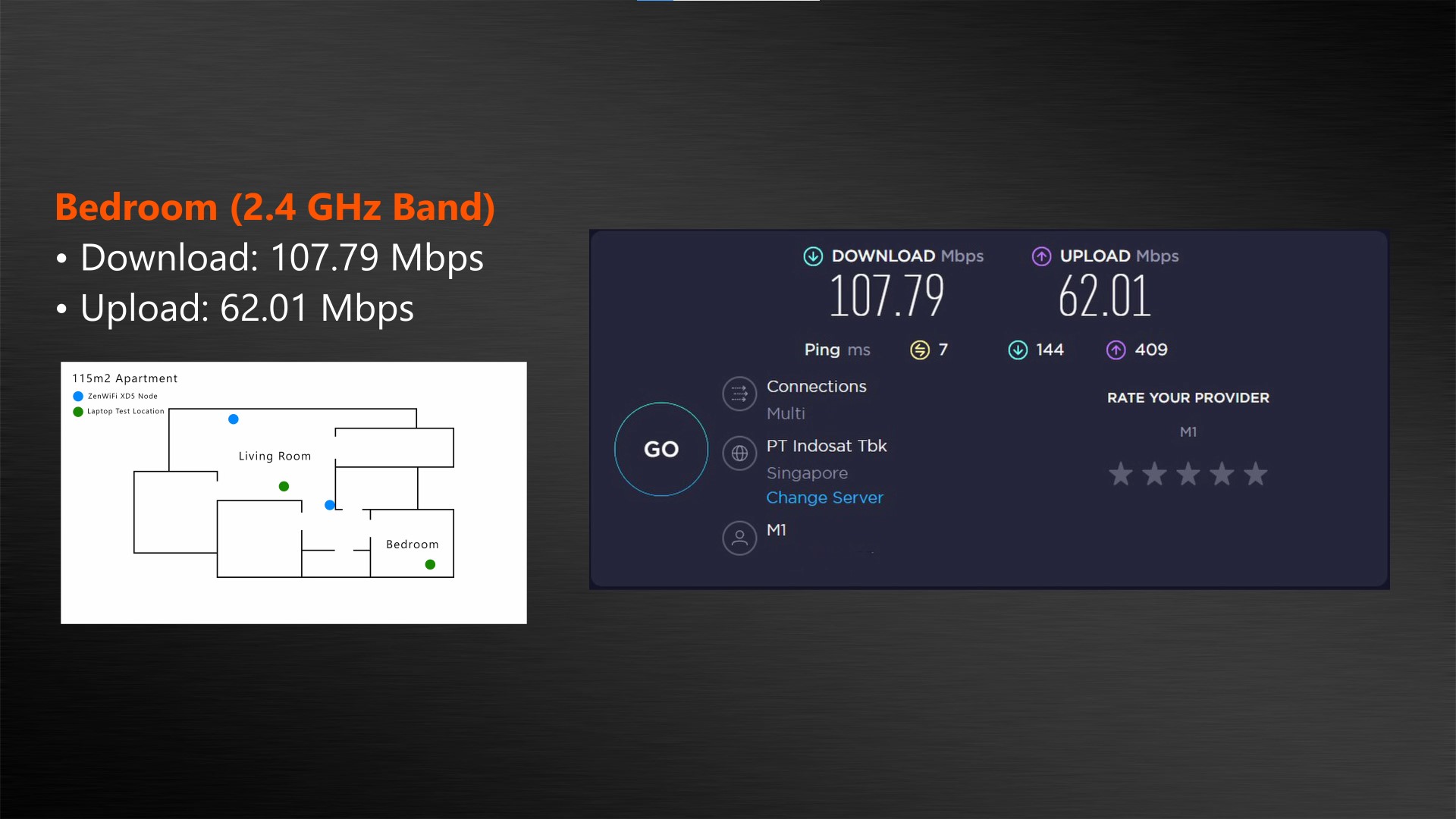 Moving over to the bedroom, the XD5 achieved a download speed of 630.28 Mbps and an upload speed of 455.02 Mbps on the 5 GHz band. Switching over to the 2.4 GHz band, a download speed of 107.79 Mbps and an upload speed of 62.01 Mbps were attained.
Pricing & Conclusion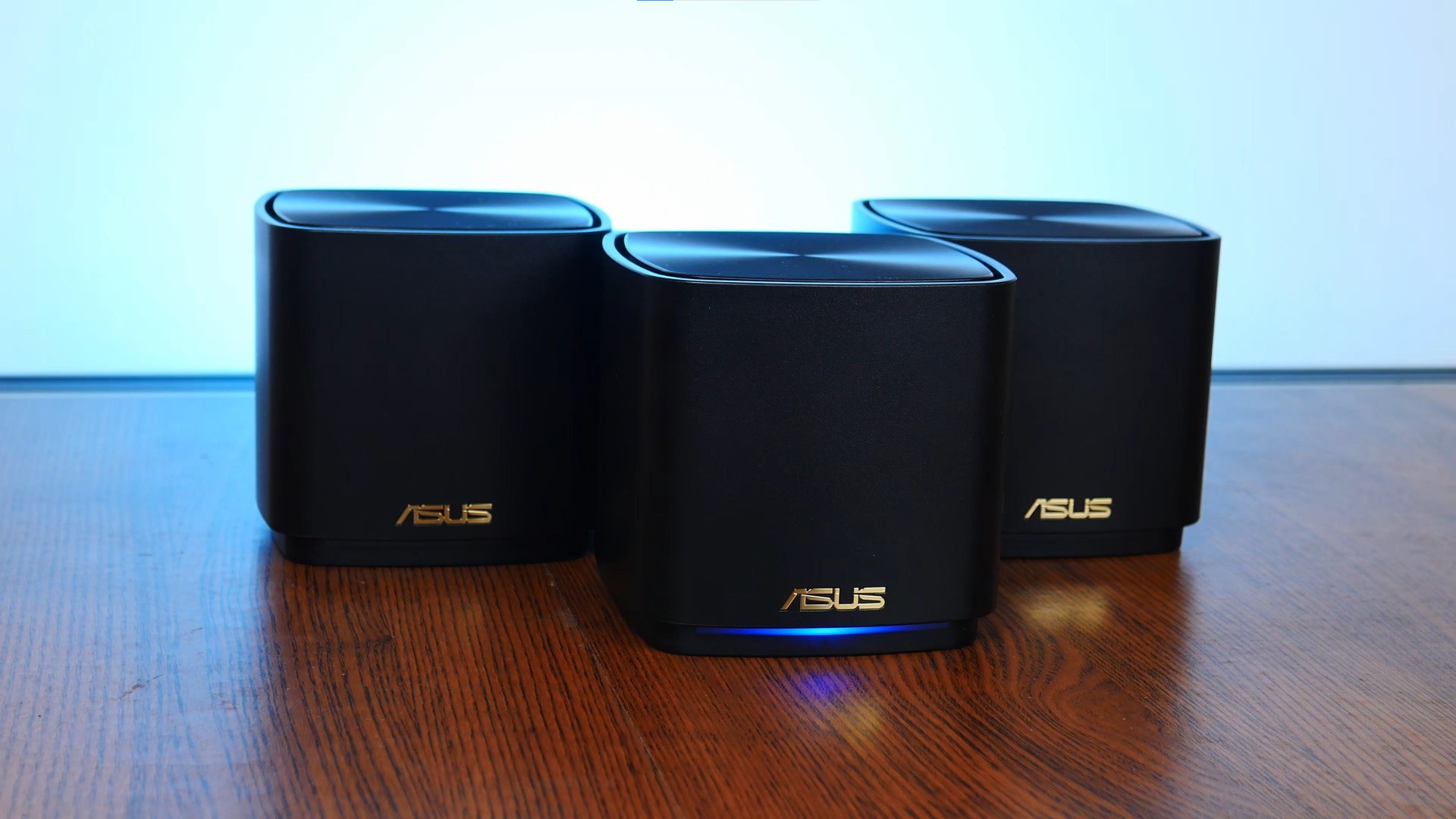 With that, the ASUS ZenWiFi XD5 comes across as a WIFI 6 mesh system that, despite its diminutive design with no visible antennas, manages to put out pretty decent WiFi connection speeds. In addition, it comes with a sleek-looking design that should allow it to blend in nicely with its surroundings, and was a cinch to setup thanks to the ASUS Router app.

As of end-March 2023, the ZenWiFi XD5 three-pack is available to purchase for a price of around $489 in Singapore; international folks can purchase the XD5 for around $260 US dollars from e-Commerce sites such as Amazon.

Get this mesh WiFi system from Amazon: https://amzn.to/3K31man (affiliate link)

Get this mesh WiFi system from Shopee Singapore: https://shope.ee/5fI4DBqU4d (affiliate link)
Get this mesh WiFi system from Lazada Singapore: https://c.lazada.sg/t/c.YPukPr (affiliate link)

ALKtech may earn commissions from qualifying purchases made using affiliate links, at no extra cost to you as a customer. These commissions go a long way in supporting the platform!

The mesh WiFi system featured in this article was a review unit provided on loan from ASUS Singapore.