Review: ASUS PRIME Z790-P WIFI LGA1700 Motherboard
High-end Intel chipset in a budget package? That's the ASUS PRIME Z790-P WIFI for you.
There's no better time than now to be building a new PC, what with the likes of AMD and Intel squaring it off with their Zen 4 Ryzen 7000 series and 13th Generation Raptor Lake processor offerings respectively. With Intel having taken the performance and value crown with processors such as the i5-13600K, building a new PC on the LGA1700 platform would seem like a compelling option, despite the fact that the said processor socket will be End-Of-Life come Intel's 14th generation Meteor Lake processor offerings.
That said, if you've weighed things up, and have decided to go with Team Blue for your PC build, you'll be faced with a plethora of motherboard choices. To go with a motherboard powered by the new Intel Z790 chipset, or stick with tried and tested offerings sporting the Z690 or B660 chipsets (which support 13th Gen with a BIOS update)? For today's article, we'll be taking a look at an oddball of a motherboard offering; one that has a budget-oriented set of features while still serving up Intel's top-of-the-line Intel Z790 chipset, the ASUS PRIME Z790-P WIFI.
Summary of Specifications
Processor Support: Intel 13th Gen Core processors & 12th Gen Core, Pentium Gold and Celeron processors
Chipset: Intel Z790
Memory: 4x DDR5 slots, max 192GB, up to DDR5 7200+ (OC) support
Audio: Realtek ALC897 audio codec
LAN: Realtek RTL8125BG 2.5 Gigabit Ethernet
WIFI: Intel AX201NGW WIFI 6 module with built-in Bluetooth 5.2
Expansion Slots: 1x PCIe 5.0 x16, 3x PCIe 4.0 x16 (x4 mode), 1x PCIe 3.0 x1
Storage: 4x SATA III, 2x PCIe 4.0 x4 M.2 (NVMe mode only), 1x PCIe 4.0 x4 M.2 (NVMe & SATA mode)
Form Factor: ATX
Packaging & Contents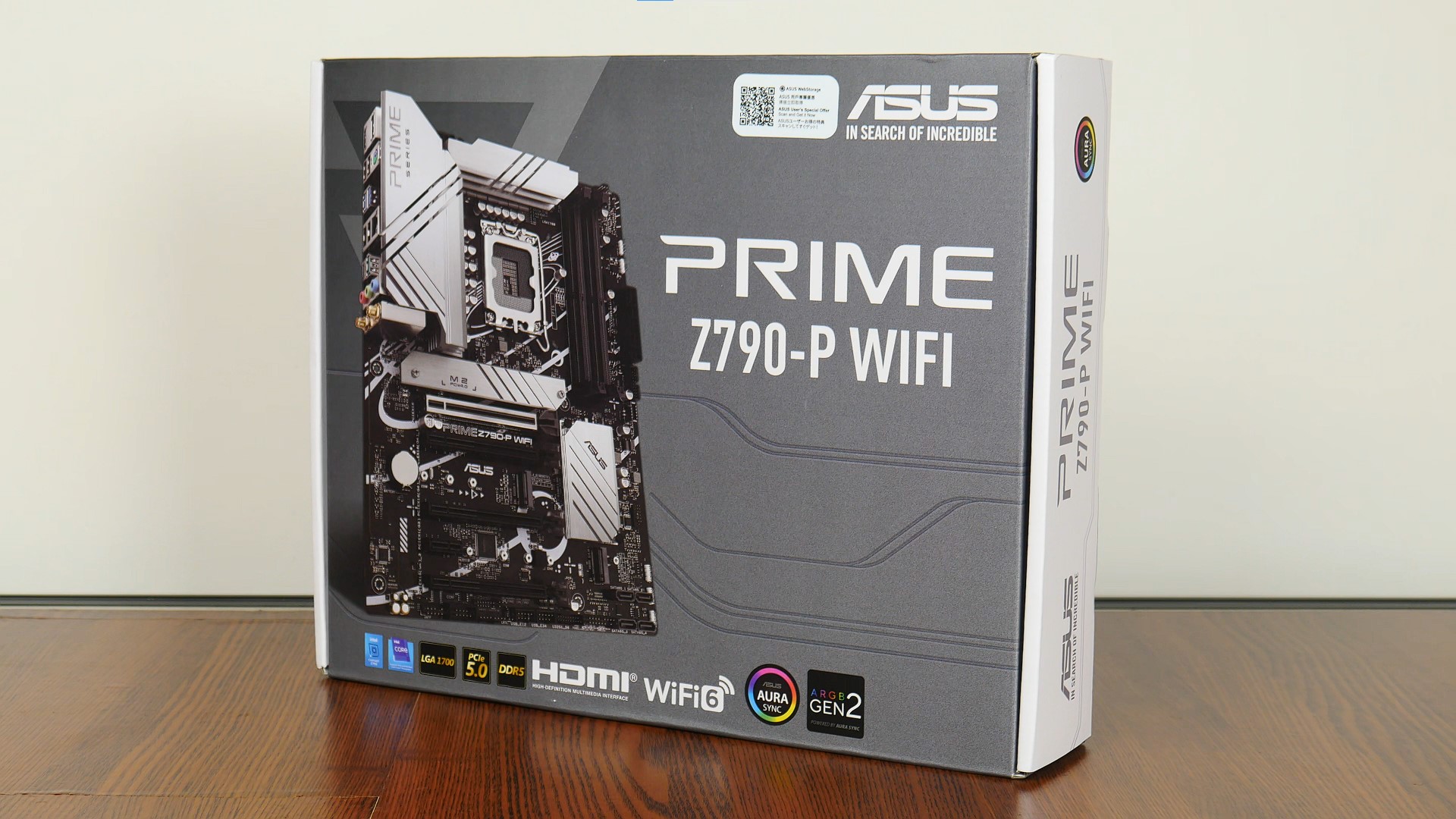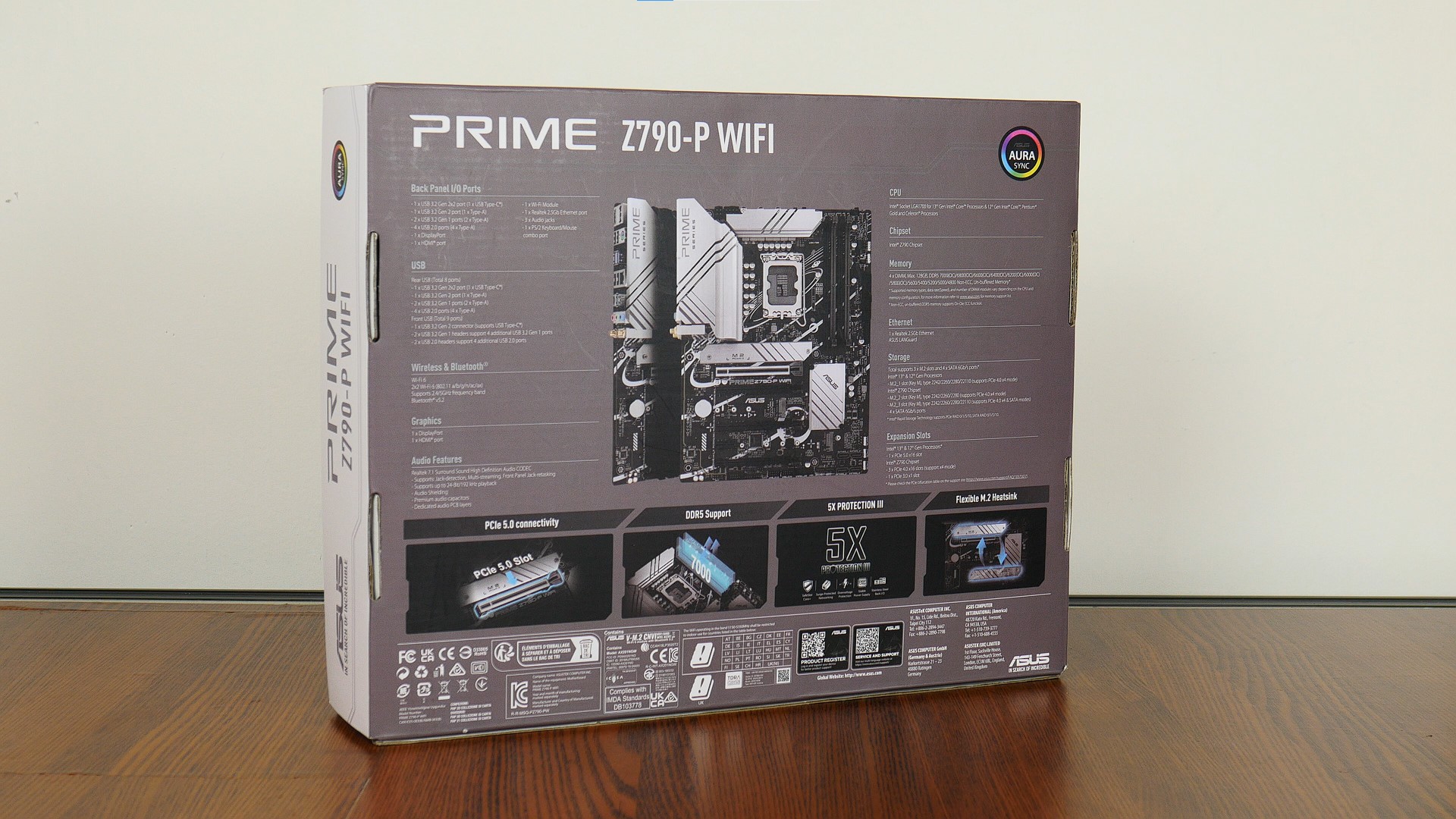 In keeping with the design language of the PRIME series of motherboards, the Z790-P WIFI comes in a conservatively-styled grey and white box.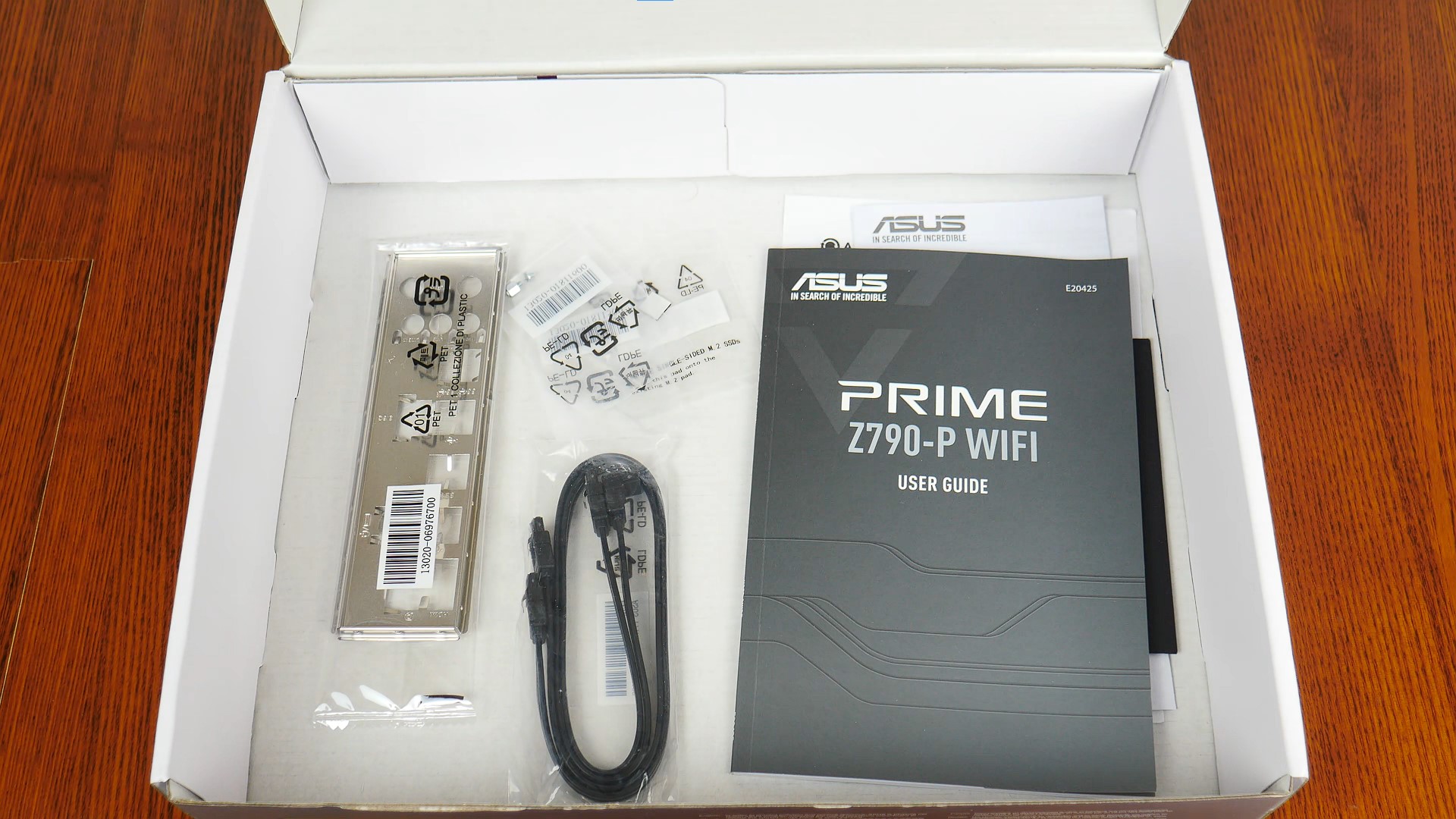 The board comes with the following accessories:
WIFI antenna
2x SATA III cables
2x pack of M.2 drive screws and standoffs
1x

M.2 rubber pad (adds height clearance for single-sided M.2 SSDs)

I/O shield

User manual

DVD driver disc

Quick start guide

ASUS WebStorage promotional leaflet
Board Aesthetics
In terms of aesthetics, ASUS has gone for a black and silver colour scheme, with white motifs printed onto the PCB.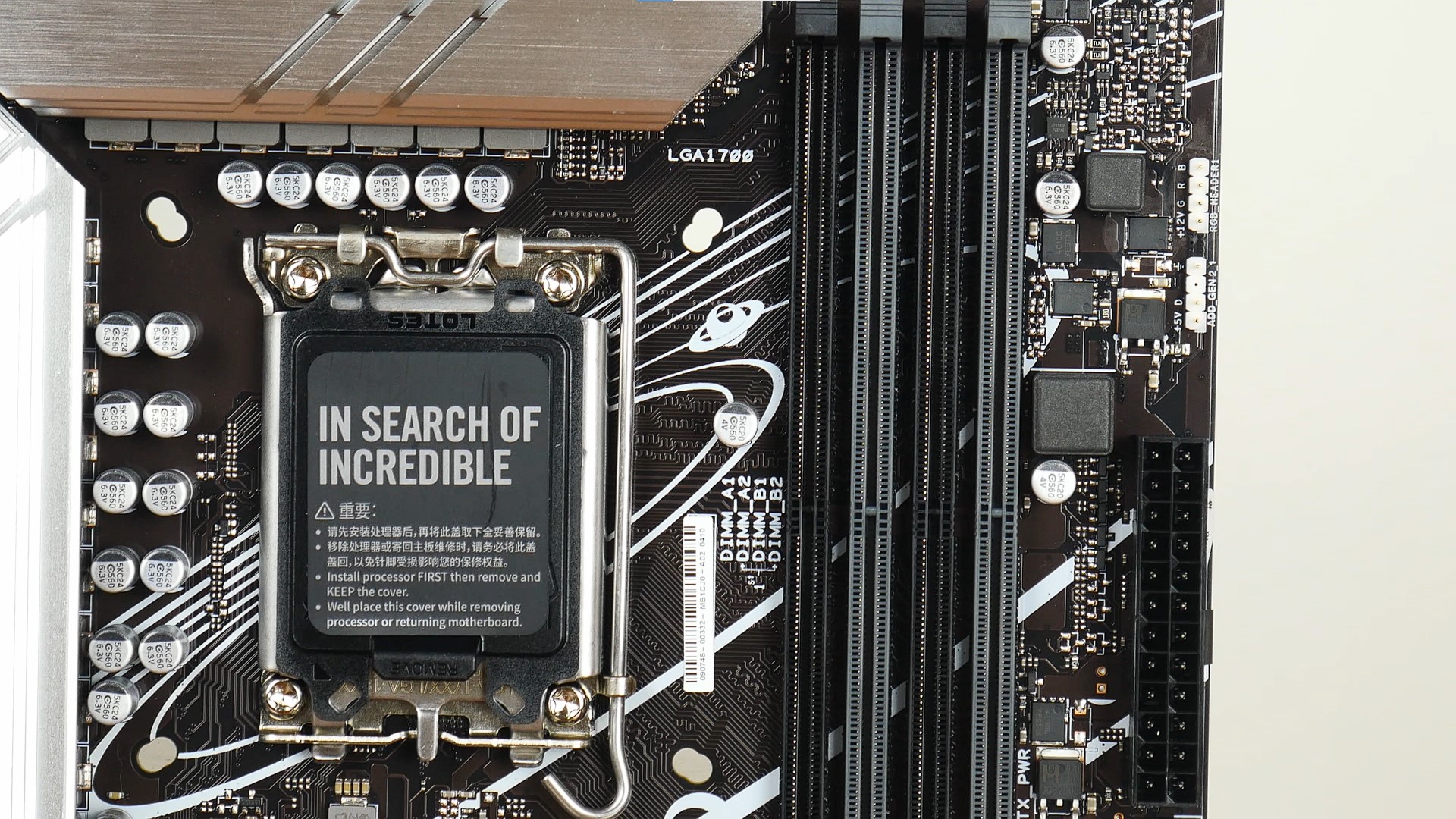 It would appear that ASUS has gone with a space theme for its PRIME series of motherboards, where the latest boards from the said line-up have had space-inspired design elements, and the Z790-P WIFI is no exception. We see that the white printed motifs on the PCB seem to be a representation of the solar system, and that might just be the planet Saturn that I spy lurking near the processor socket.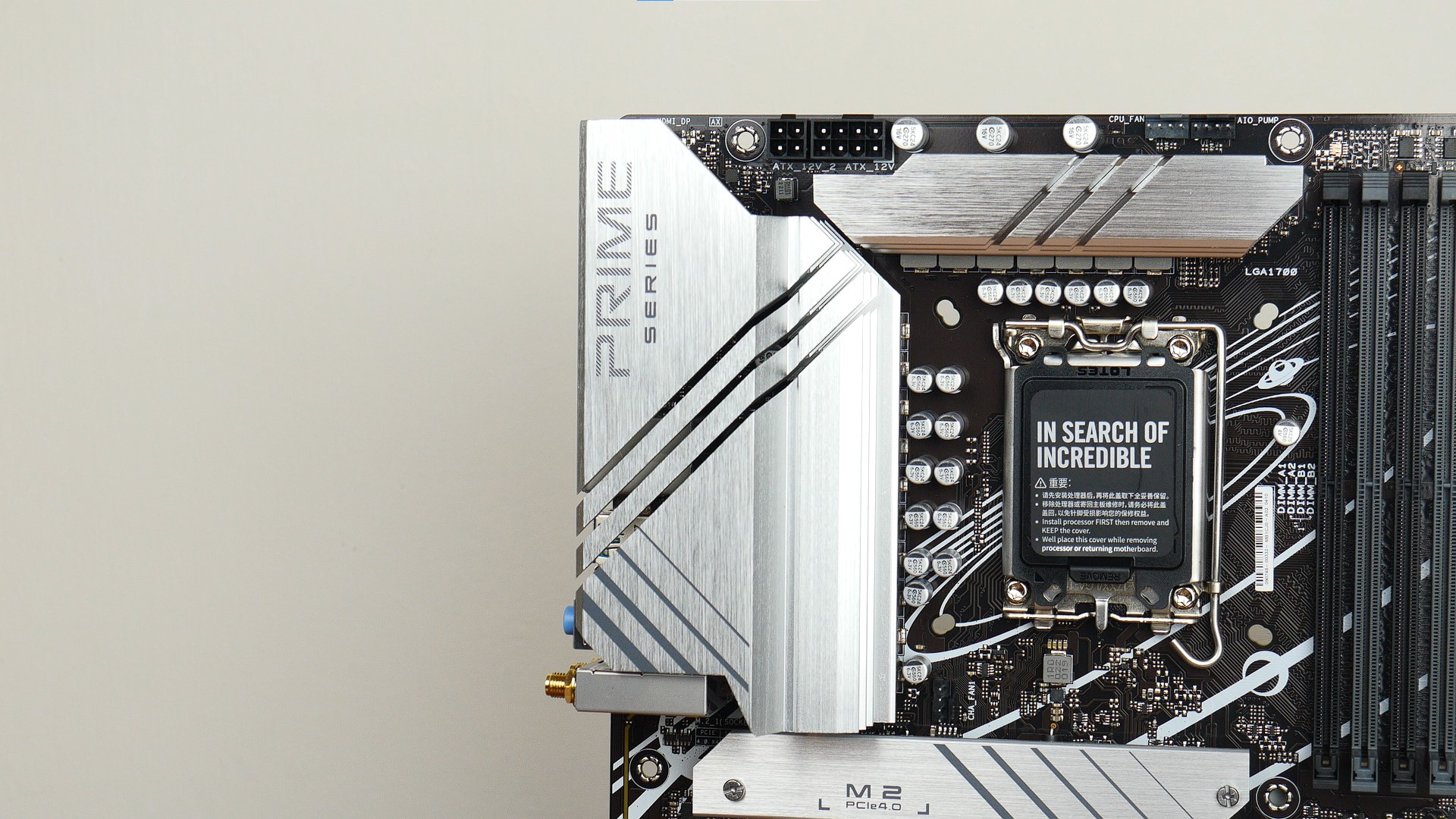 The board does not come with an integrated I/O shield, and comes equipped with decently-sized silver heatsinks for the VRMs.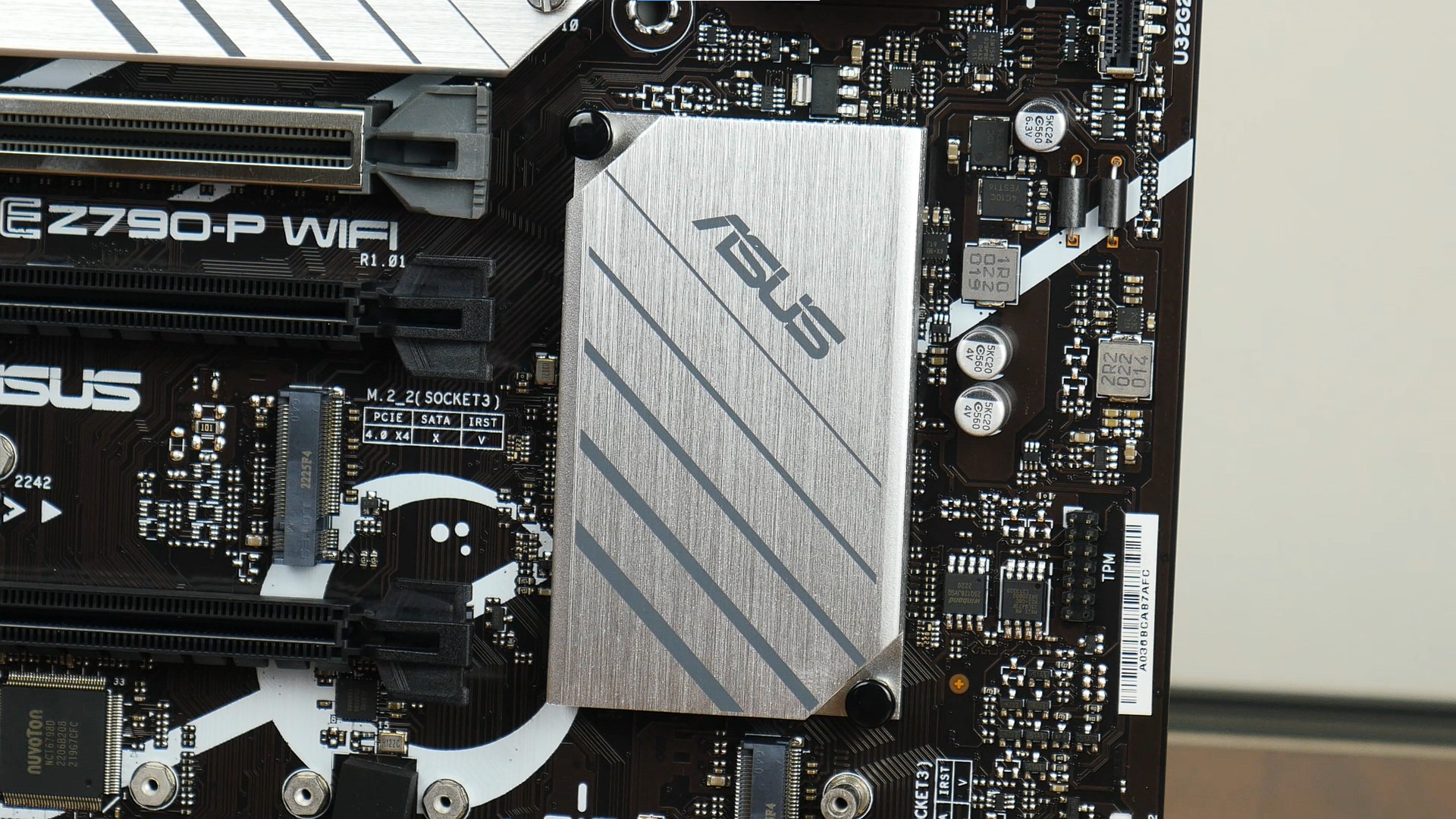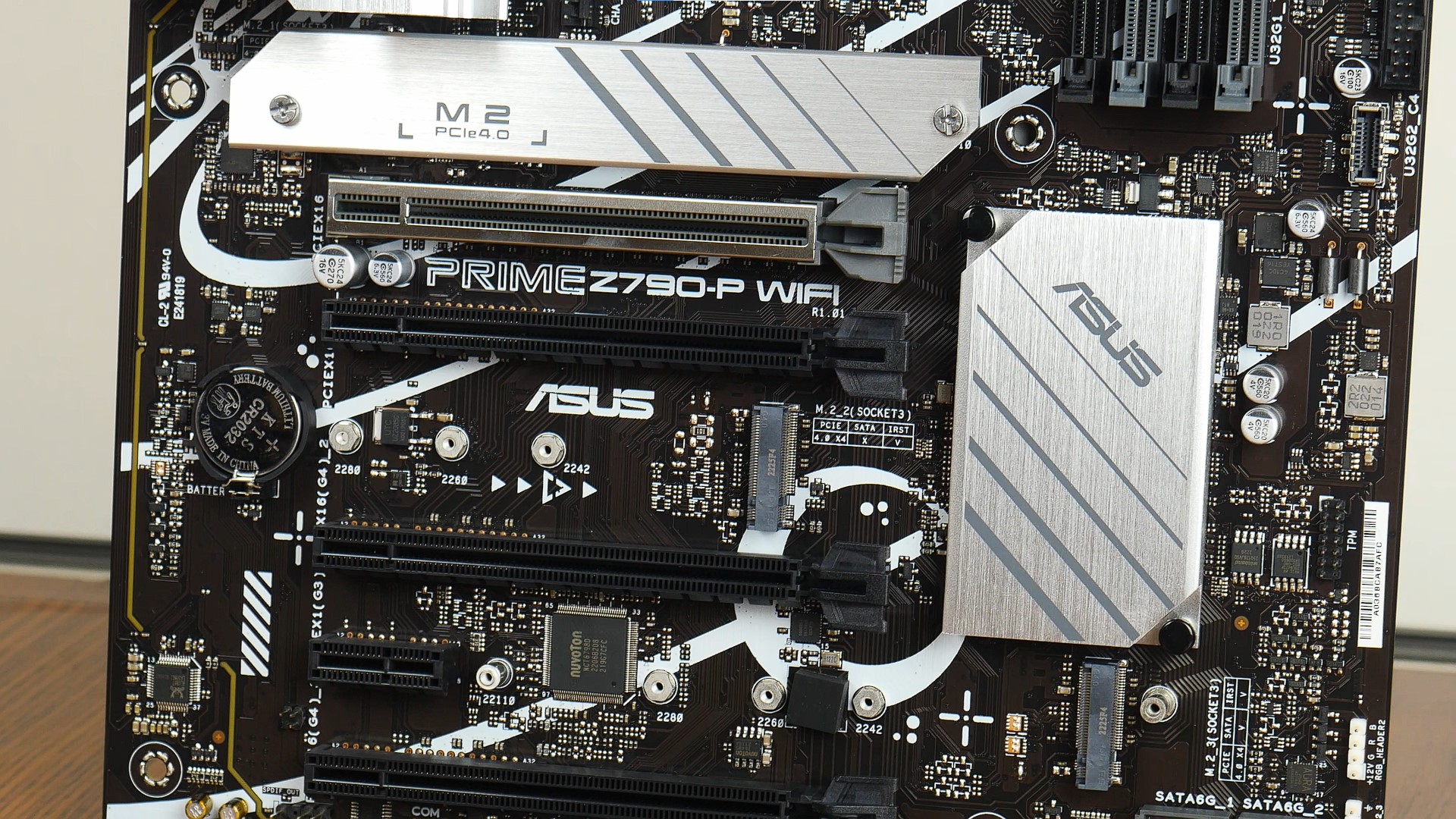 The Z790 chipset is a passively-cooled affair, and as an indication of the Z790-P WIFI's budget-oriented pedigree, only one out of the three M.2 drive slots comes with a heatsink.
VRM & Memory Support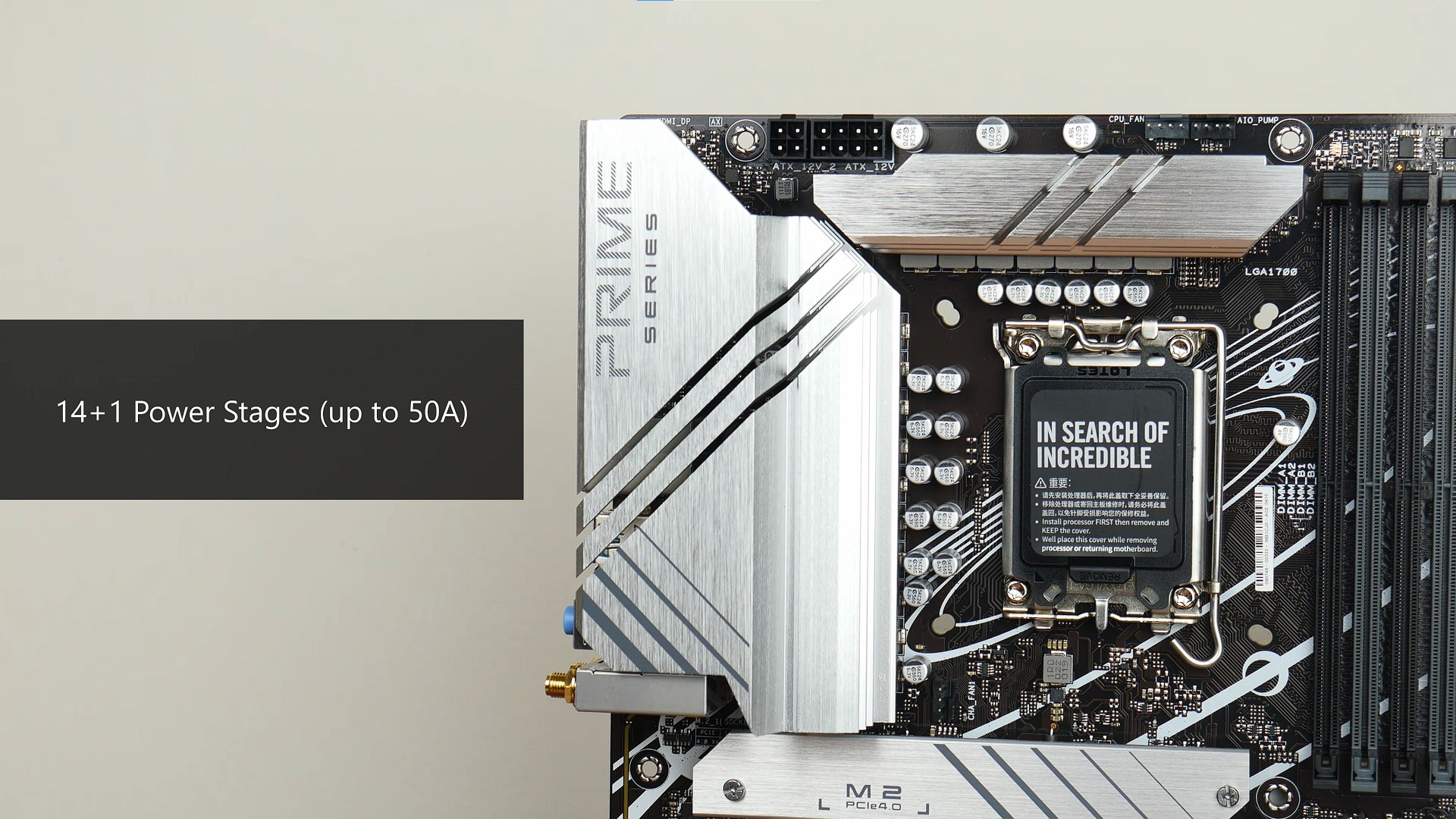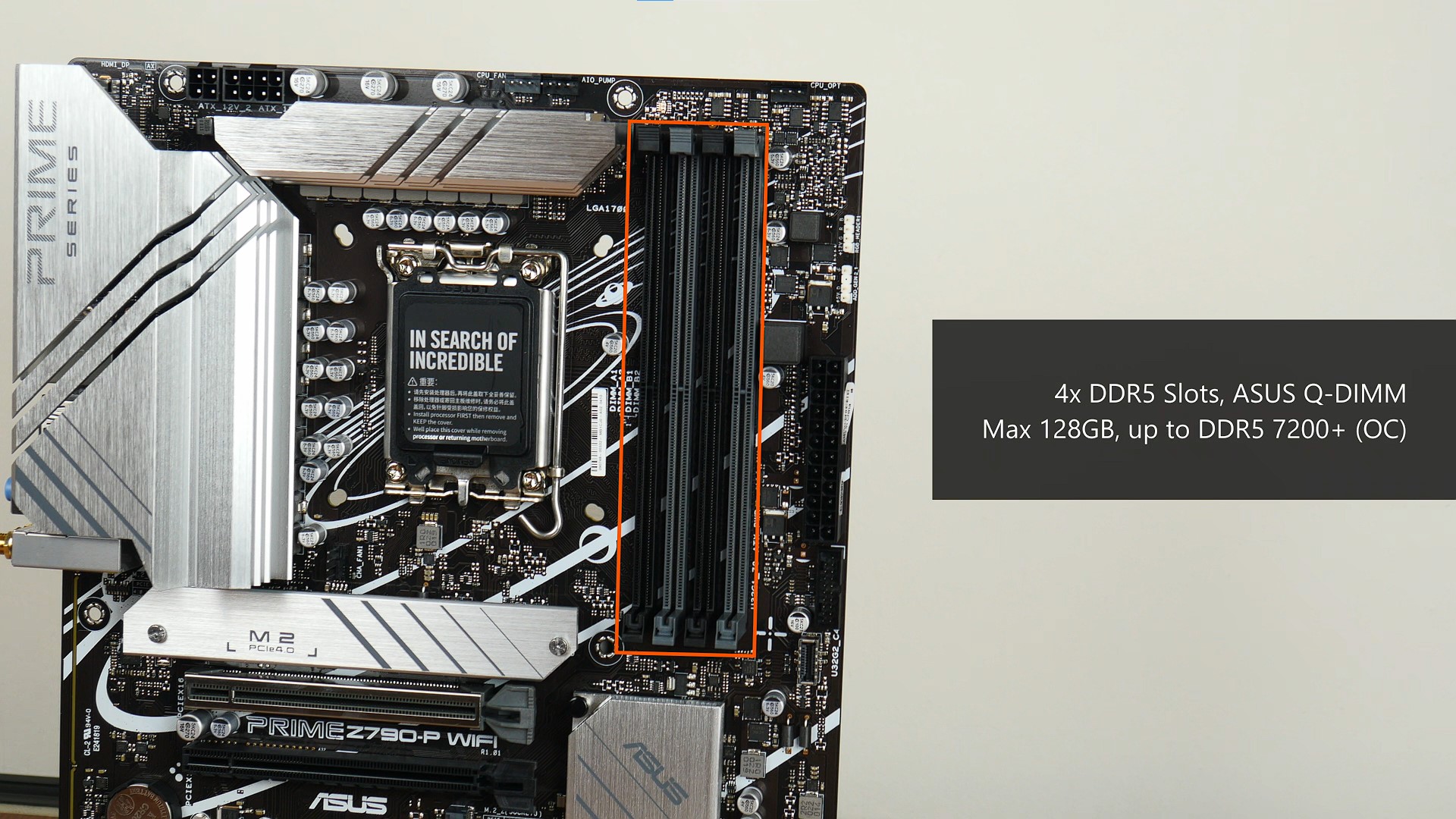 Editor's note as of August 2023: the article and video for this motherboard were published before 48GB DDR5 memory modules were available - according to ASUS's specs page, this board now supports up to 192GB of RAM with 4x 48GB DDR5 memory modules.
The board comes with 14+1 teamed power stages rated for up to 50A each, and sports four DDR5 slots that support a maximum of 192GBs of RAM and the DDR5 7200+ standard when overclocked. Do note that ASUS has a variant of the PRIME Z790-P that serves up support for DDR4 memory instead - the PRIME Z790-P WIFI D4. In view of this, if you're intending to get this board, it might be a good idea to double check the model name before purchase. That said, the RAM slots feature a single-tab design called Q-DIMM, which helps with RAM installation and removal especially for completed builds.
Front Panel USB Headers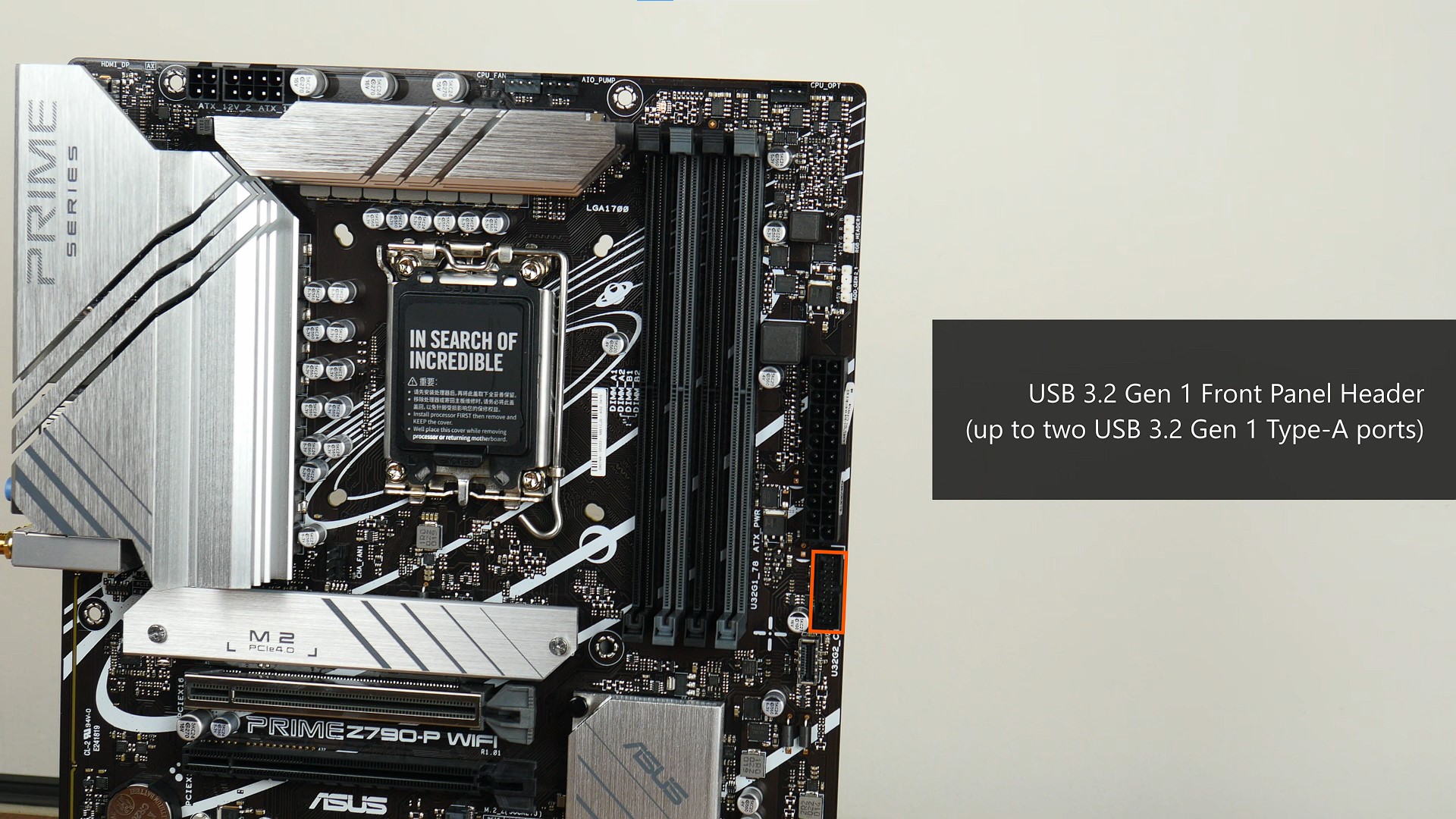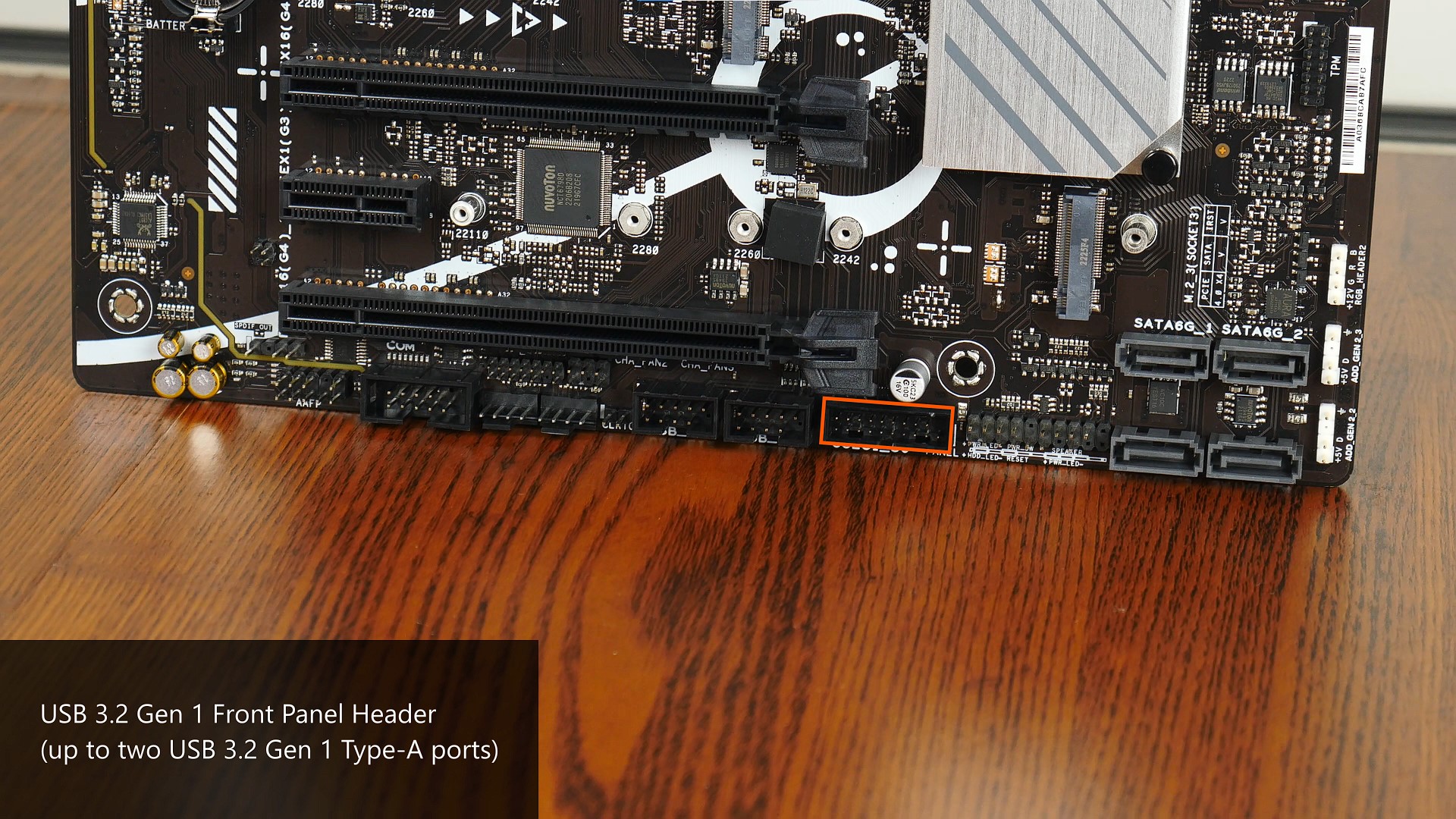 Front panel USB 3.2 Gen 1 Type-A headers are in no short supply with this board - we get one located near the RAM slots, and another near the bottom edge of the board. Both headers support up to two USB 3.2 Gen 1 Type-A ports each.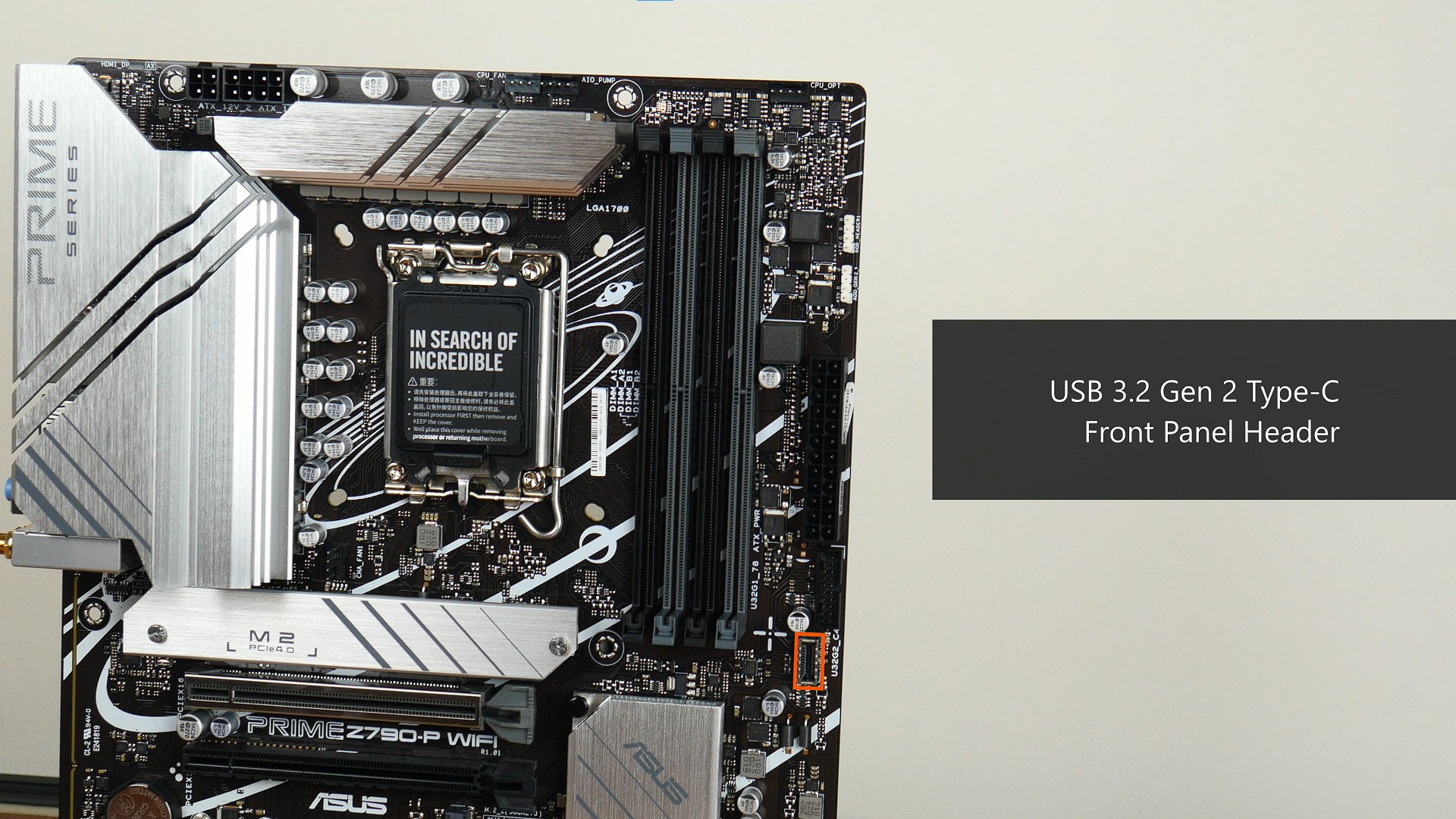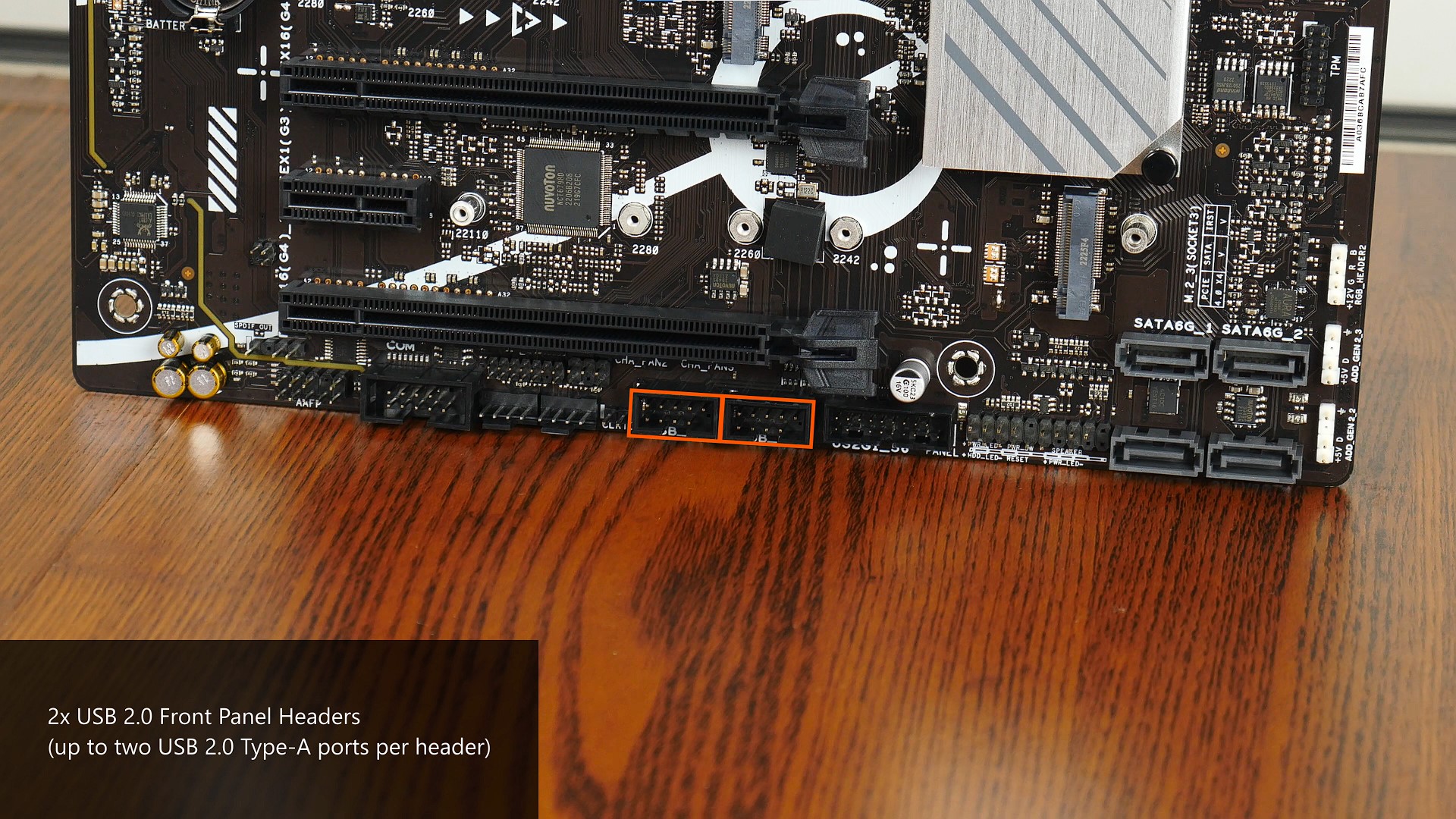 Also included near the RAM slots is a USB 3.2 Gen 2 Type-C front panel header, as well as two USB 2.0 front panel headers located near the bottom edge of the board. Each of these USB 2.0 headers provide support for two front panel USB 2.0 Type-A ports.
Expansion Slots & Storage Options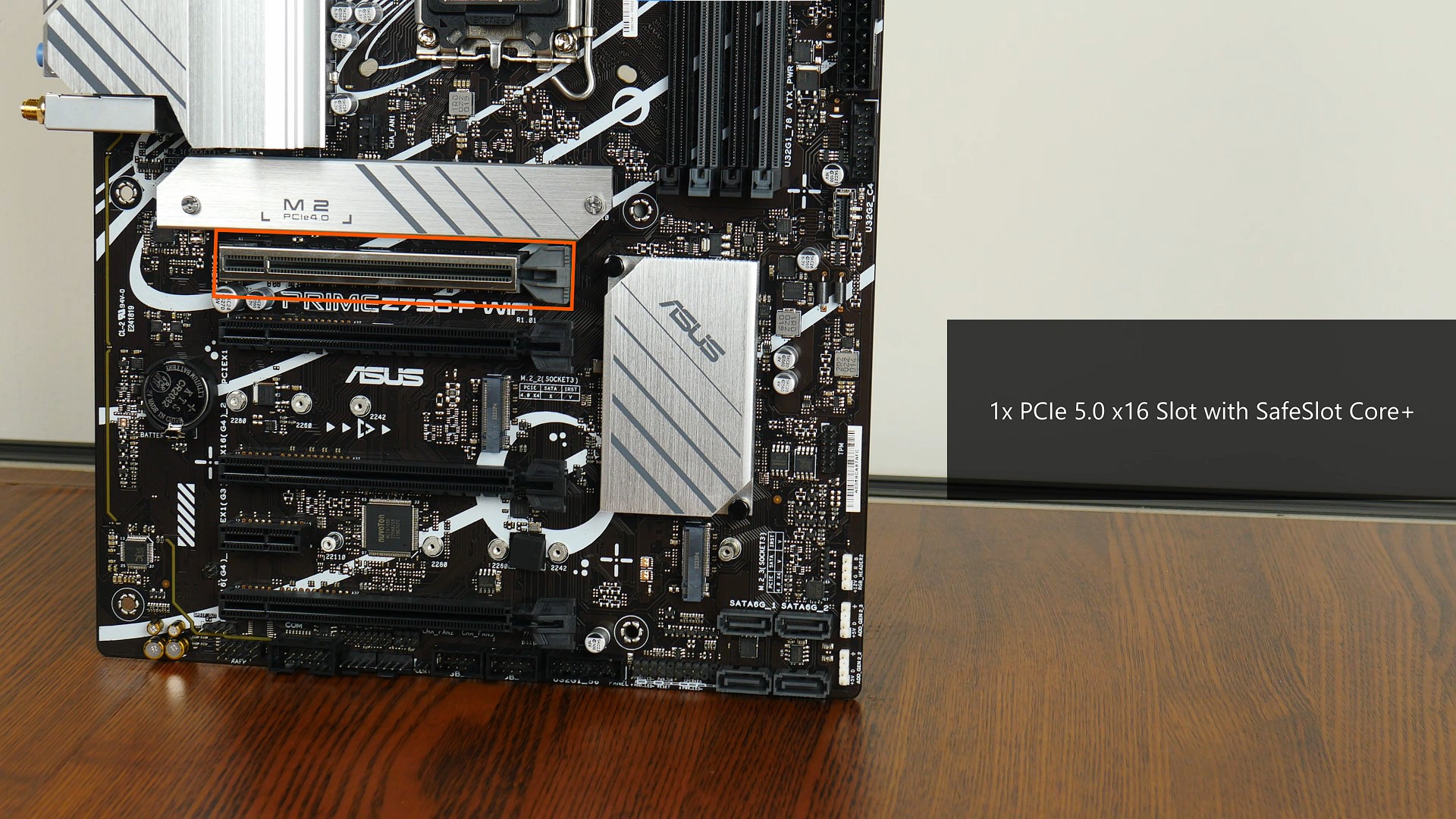 The PRIME Z790-P WIFI comes with a single PCIe 5.0 x16 slot that boasts the SafeSlot Core+ feature that reinforces the slot against heavy graphics cards.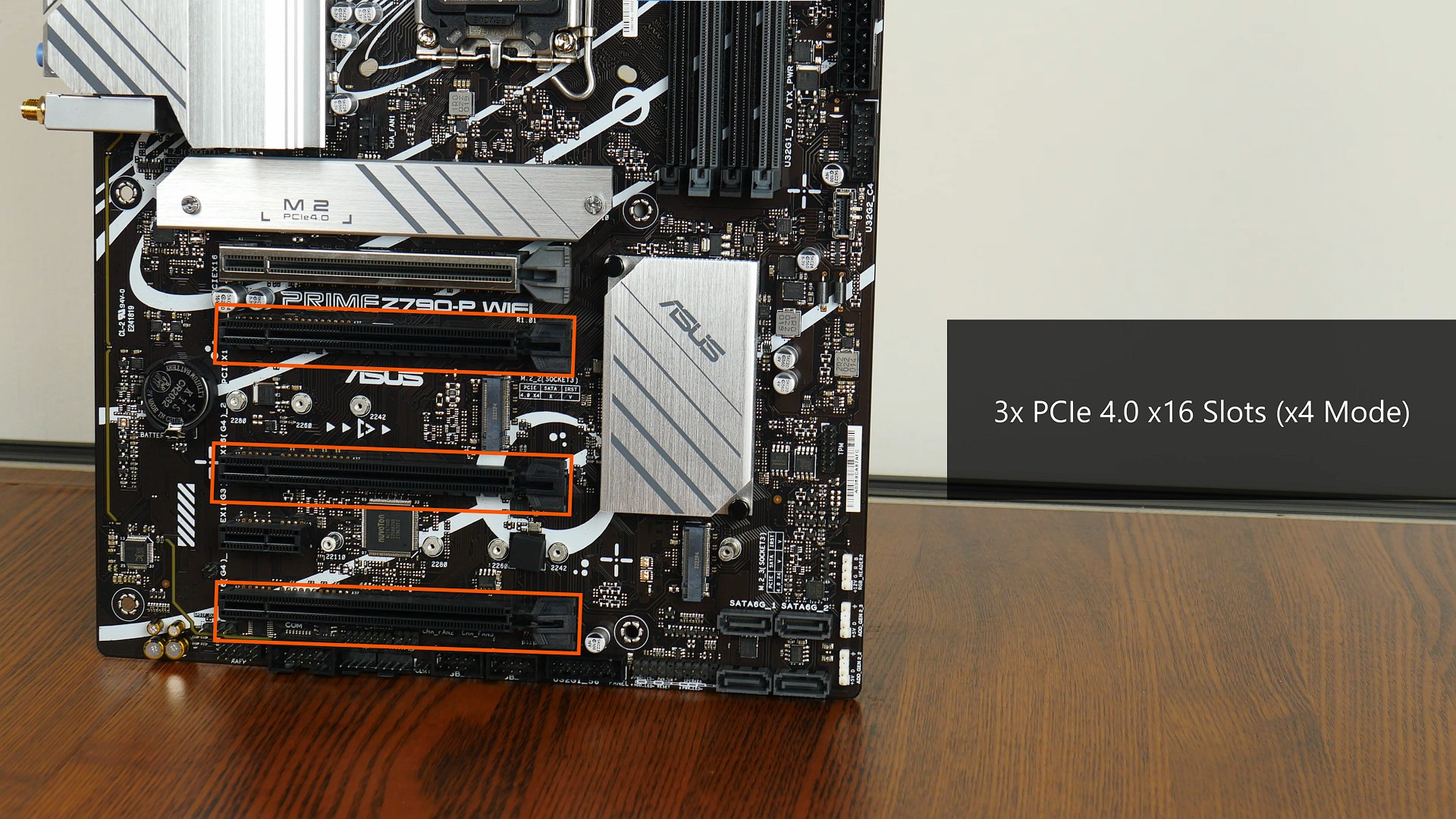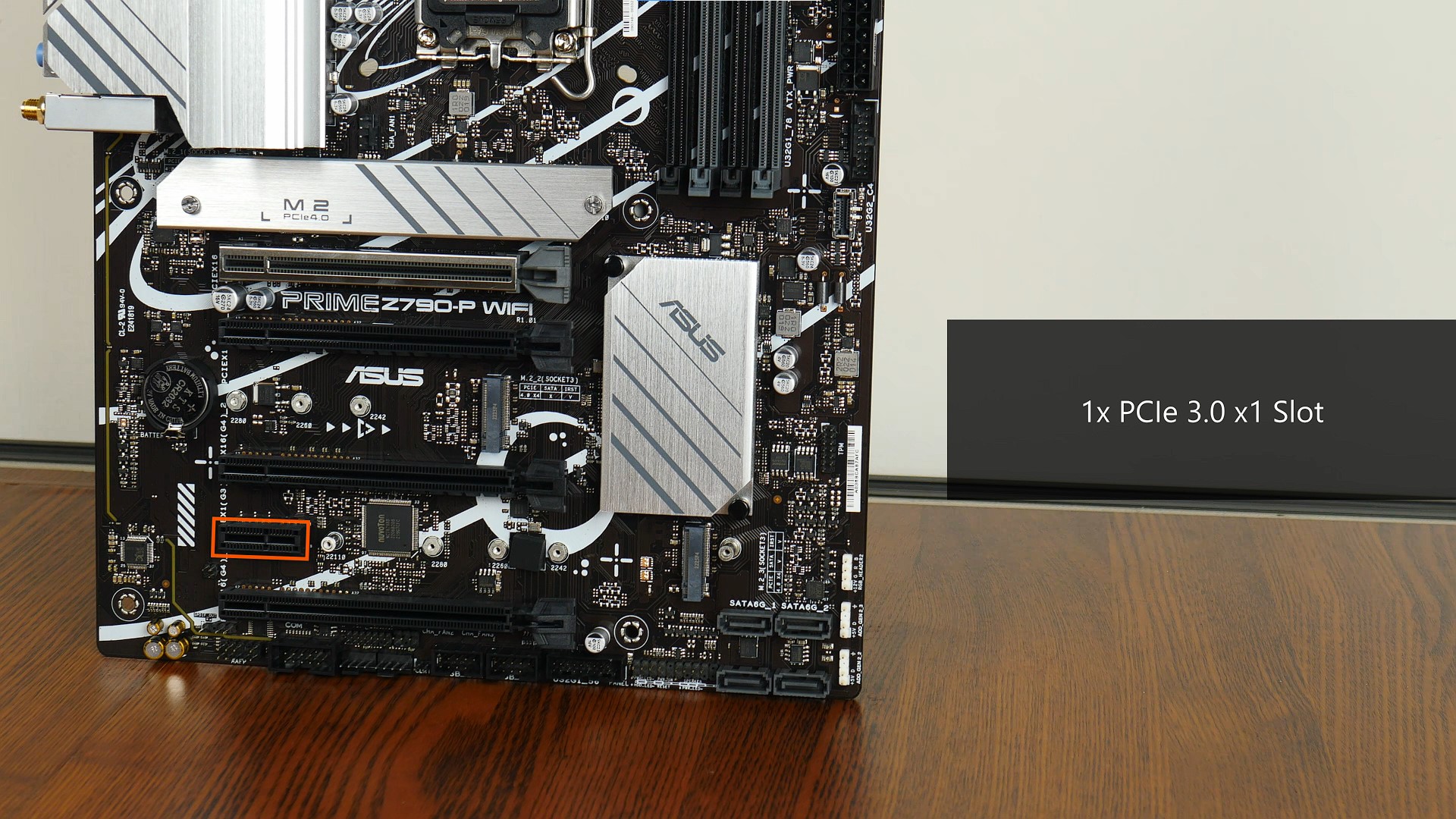 Also included are three PCIe 4.0 x16 slots that all operate at x4 mode, as well as a single PCIe 3.0 x1 slot.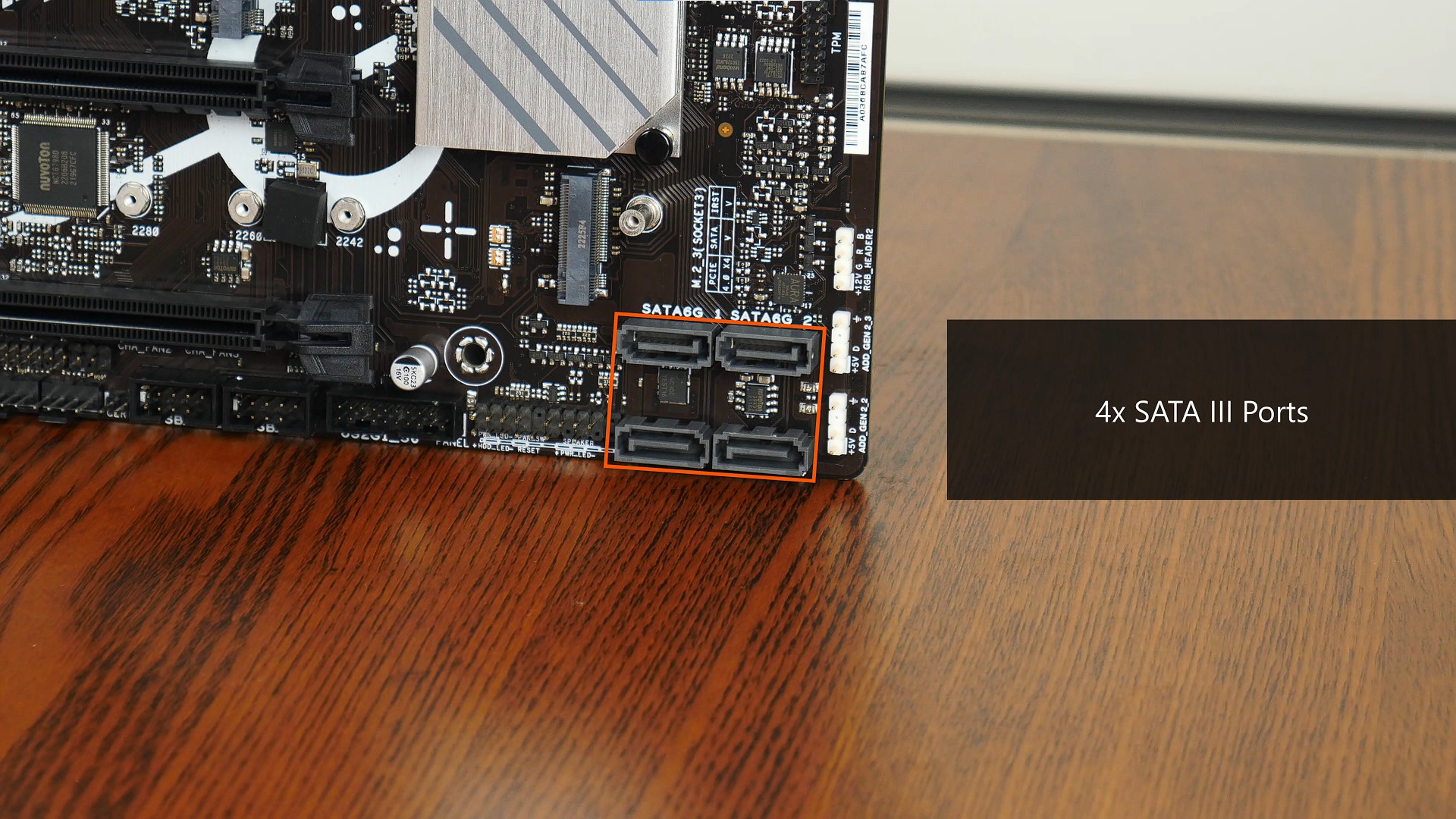 Moving on to storage connectivity options, the PRIME Z790-P WIFI comes with four SATA III ports in a straight-angled configuration.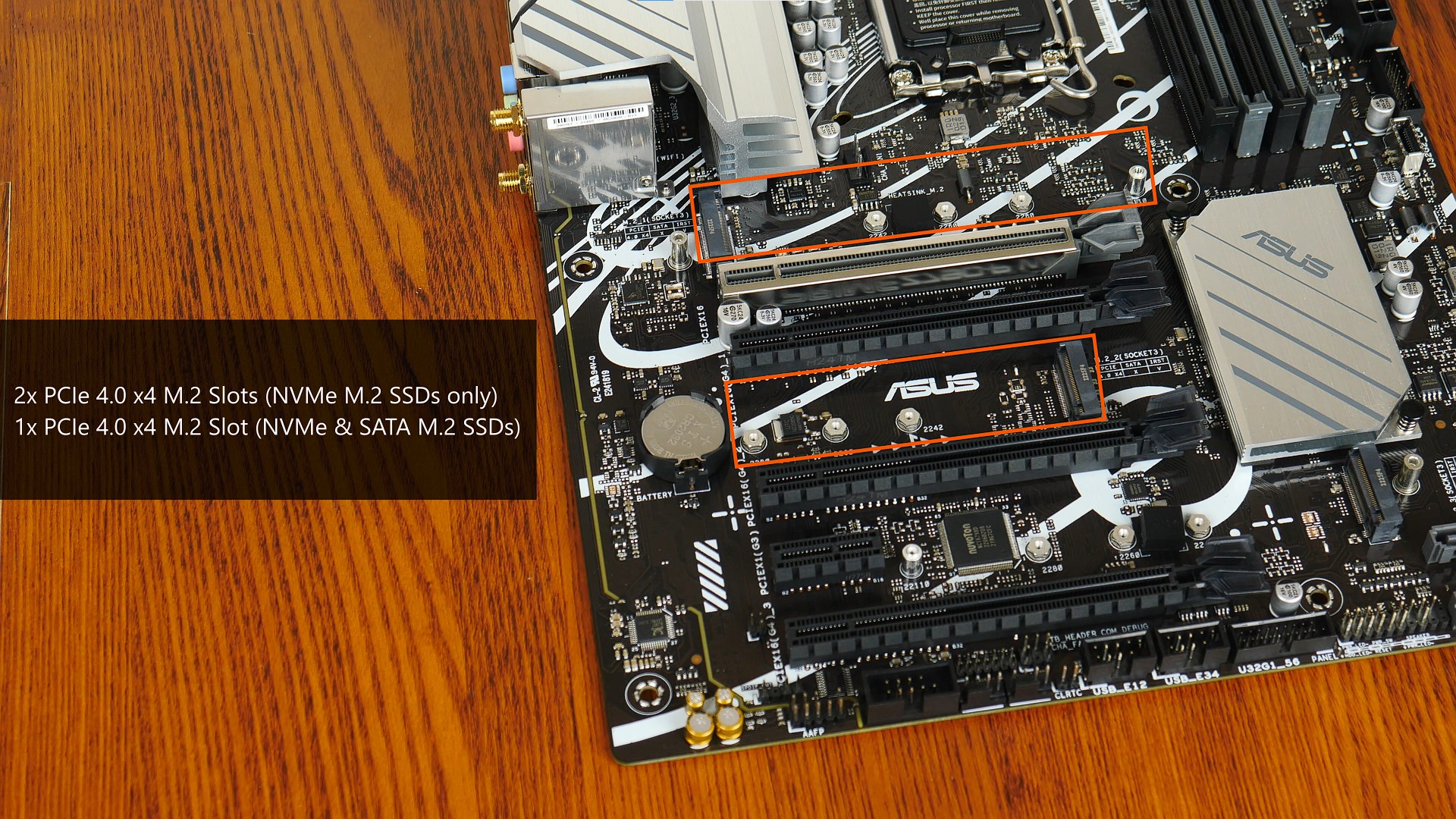 The board also comes with three PCIe 4.0 x4 M.2 slots, of which the first two slots indicated above support NVMe M.2 SSDs only.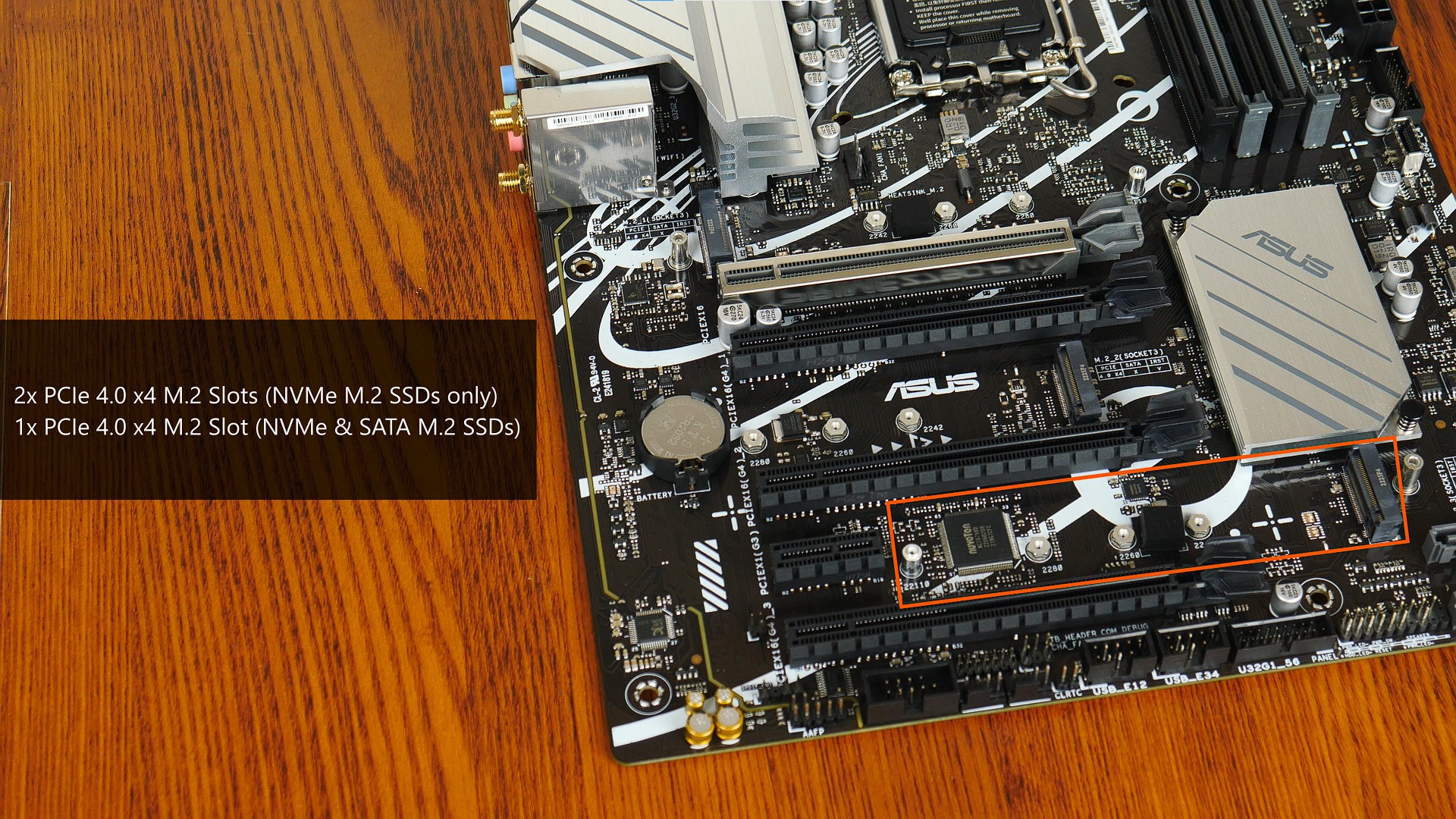 On the other hand, the third slot as indicated above supports both NVMe and SATA M.2 drives.
Audio & Internet Connectivity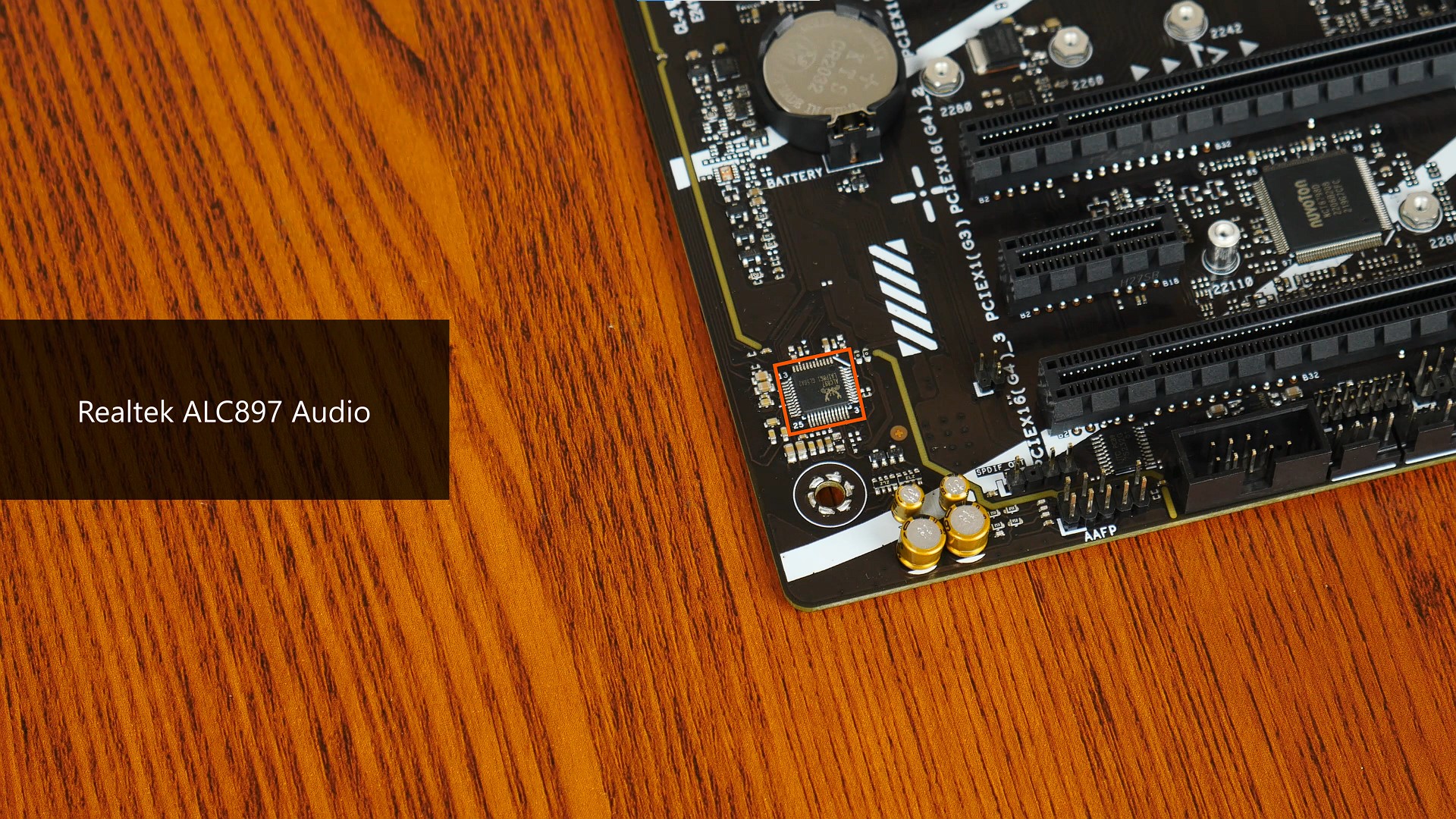 As an budget-oriented board, no surprises here that ASUS has chosen to include Realtek's entry-level ALC897 audio codec.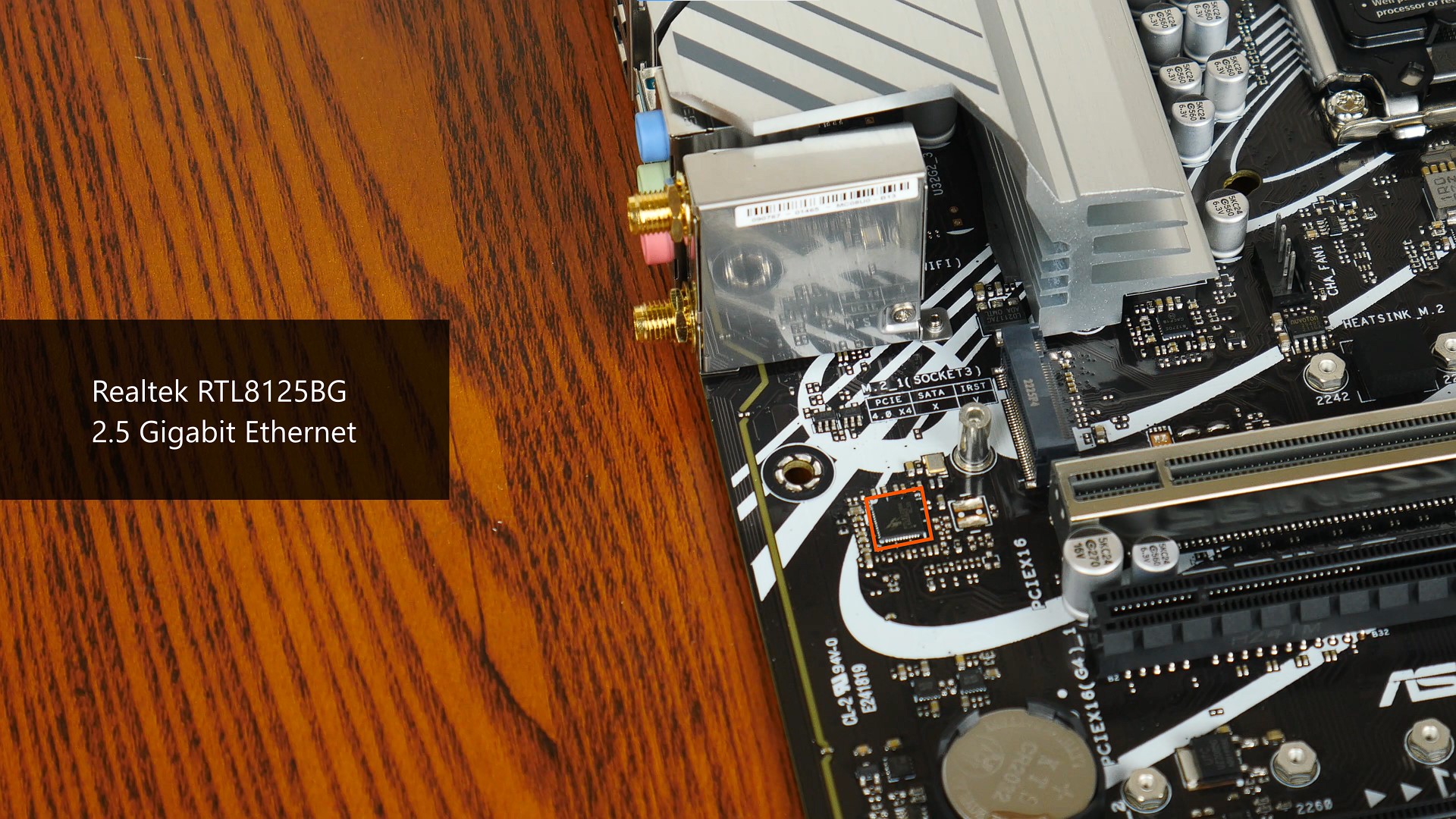 Wired internet connectivity is courtesy of another Realtek part, the RTL8125BG, which serves up 2.5 GIgabit Ethernet. Wireless connectivity on the other hand, is powered by Intel's AX201NGW WIFI 6 module that also serves up Bluetooth 5.2 connectivity.
Fan & RGB Headers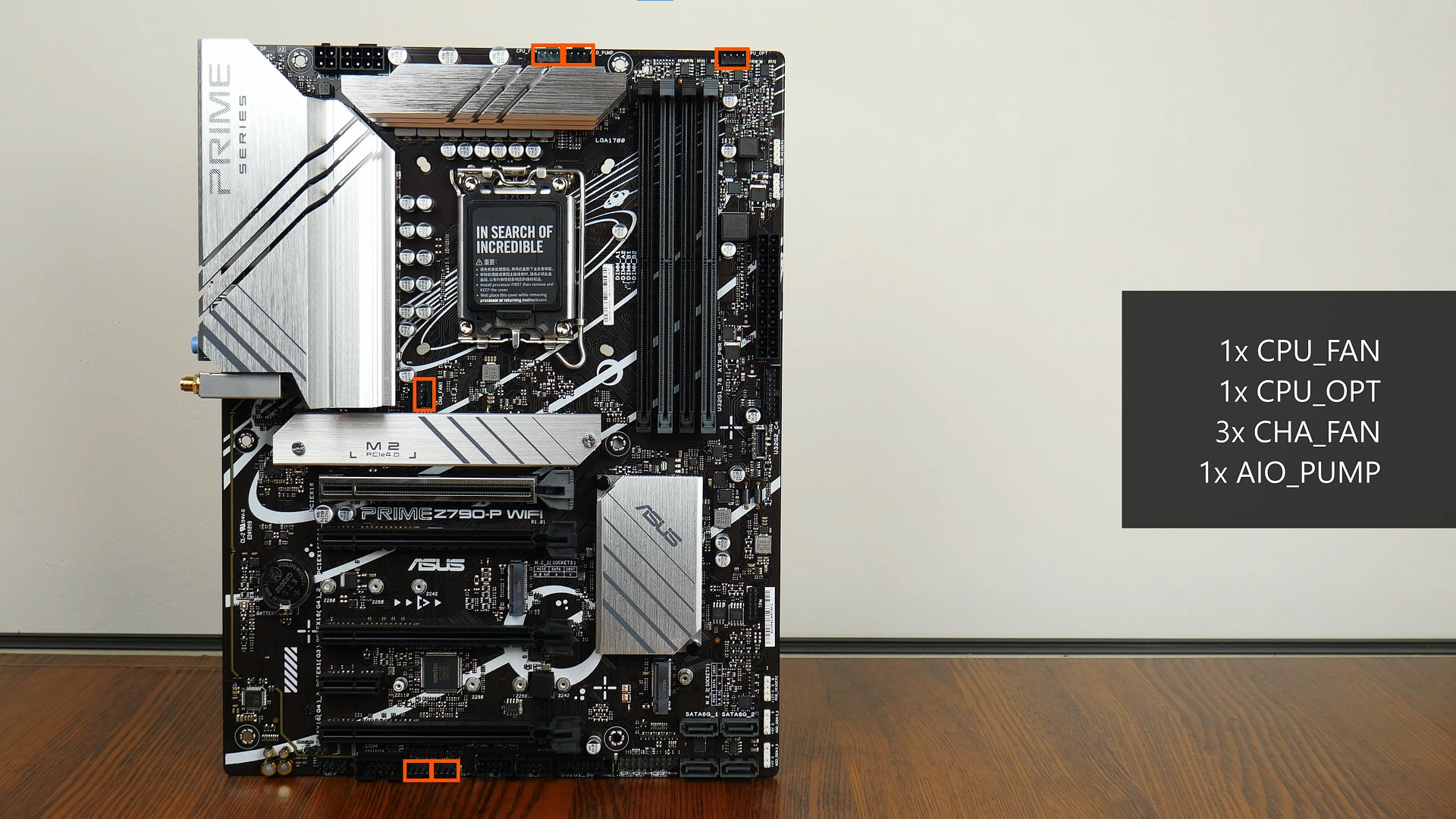 The Z790-P WIFI comes with six fan headers:
1x CPU_FAN
1x CPU_OPT
3x CHA_FAN
1x AIO_PUMP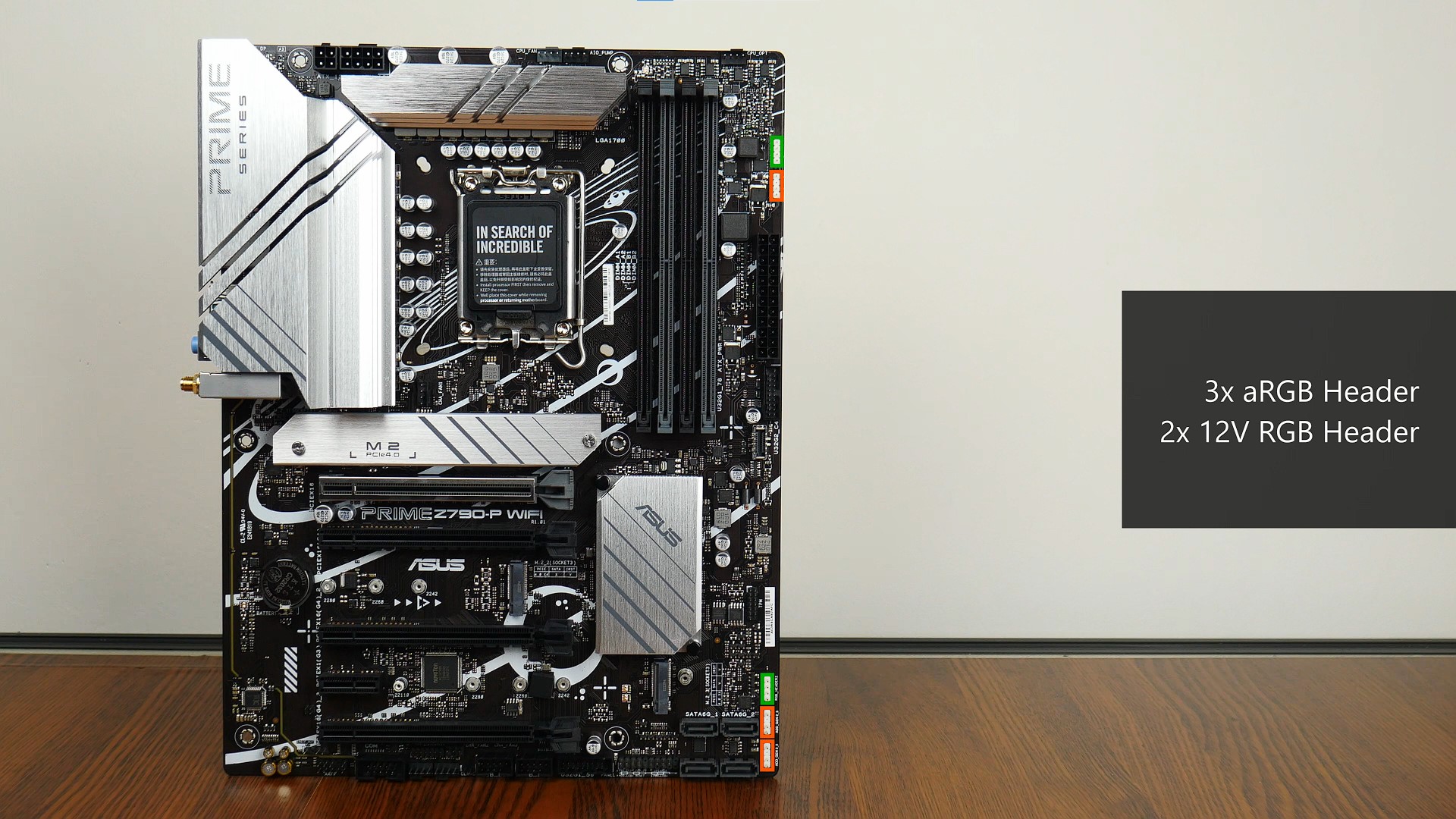 Also included are three addressable RGB headers, and two 12V standard RGB headers.
Other Features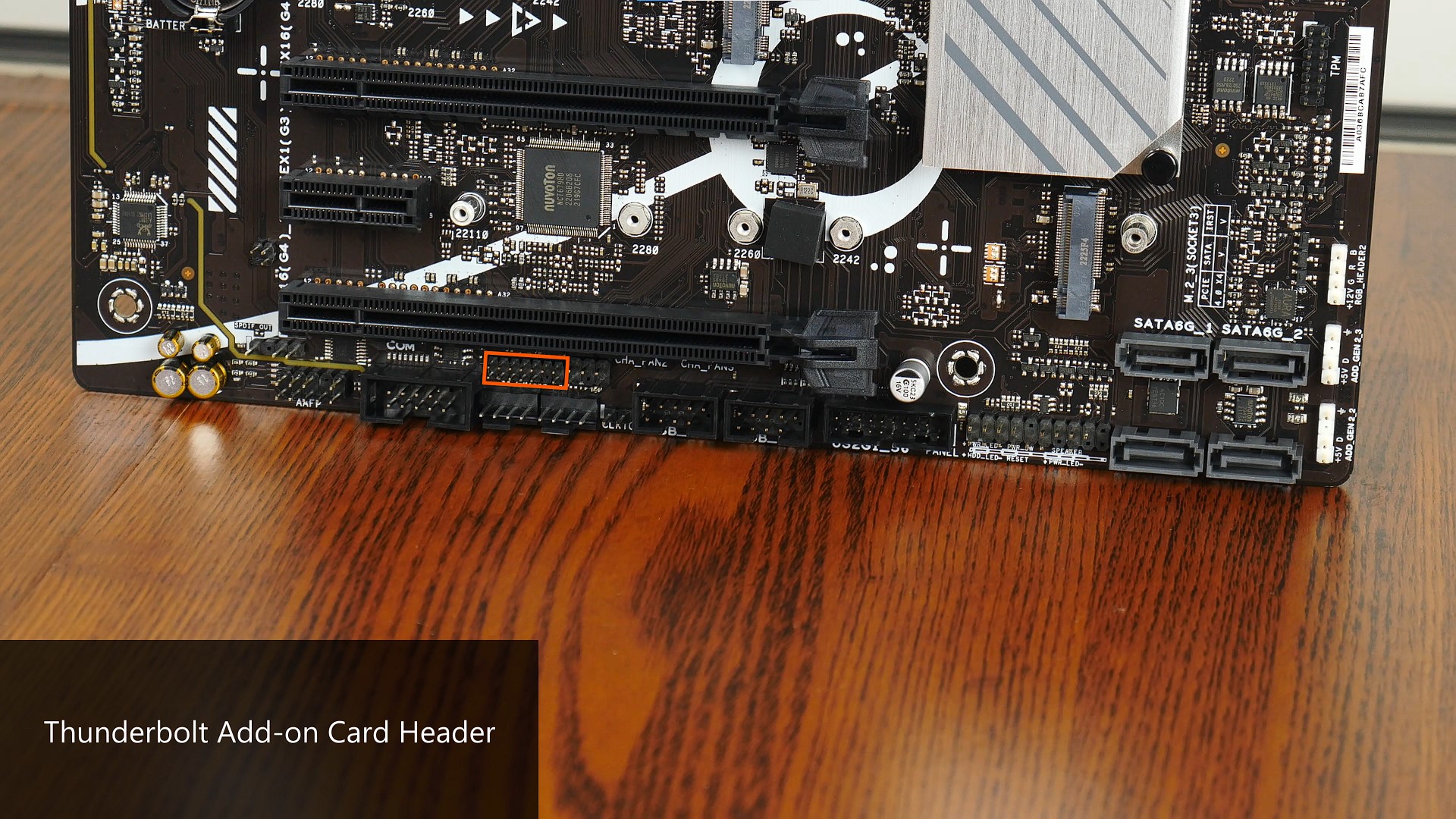 The PRIME Z790-P WIFI does not come with built-in Thunderbolt ports. It does however, come with a Thunderbolt add-on card header that is to be used in conjunction with an add-on card that is sold separately by ASUS. The said add-on card adds Thunderbolt 4 ports and additional DisplayPort connectors to the PC.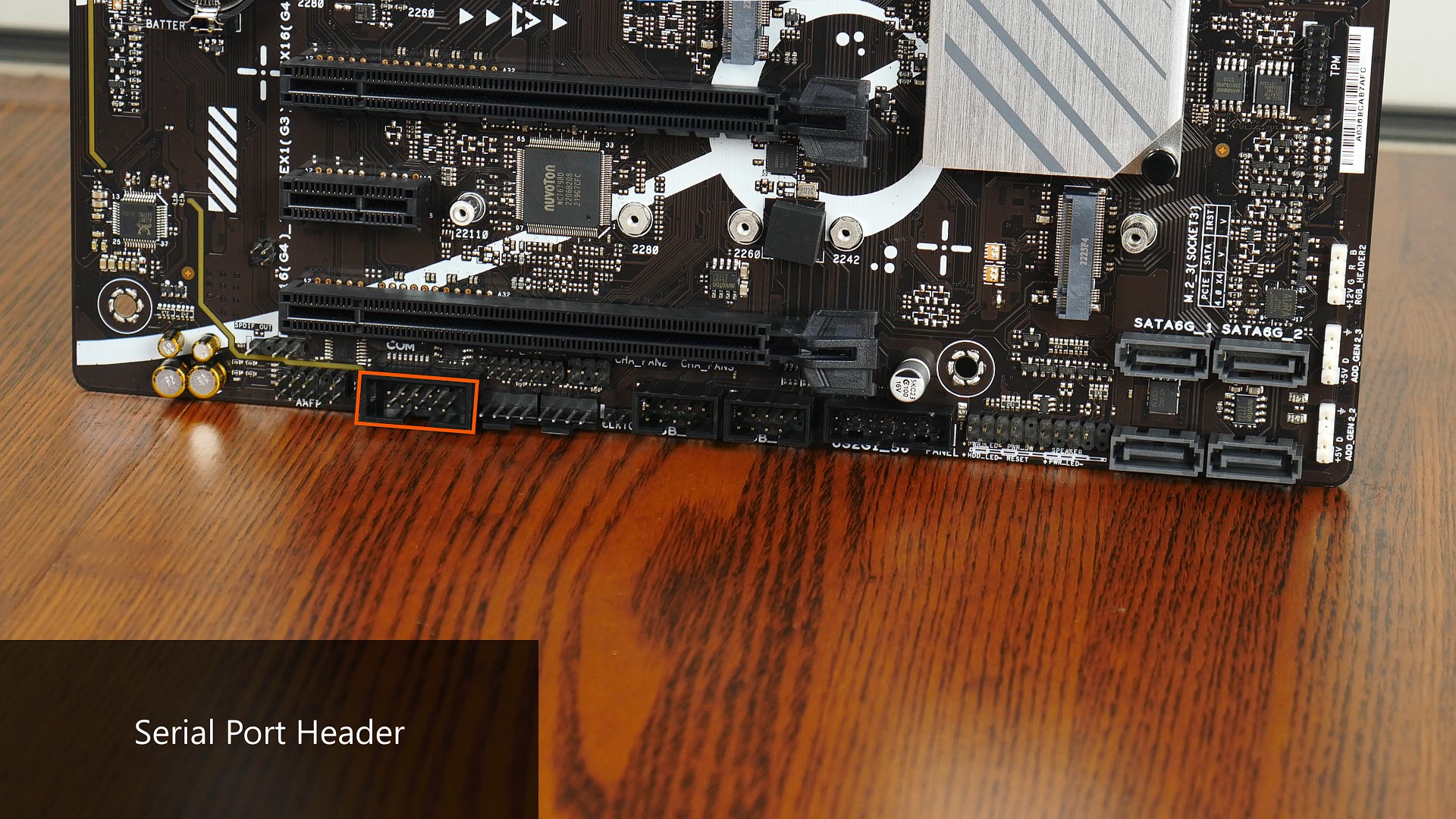 Also included is a serial port header, a feature that could come in useful in situations that call for the use of legacy PC hardware.
Rear I/O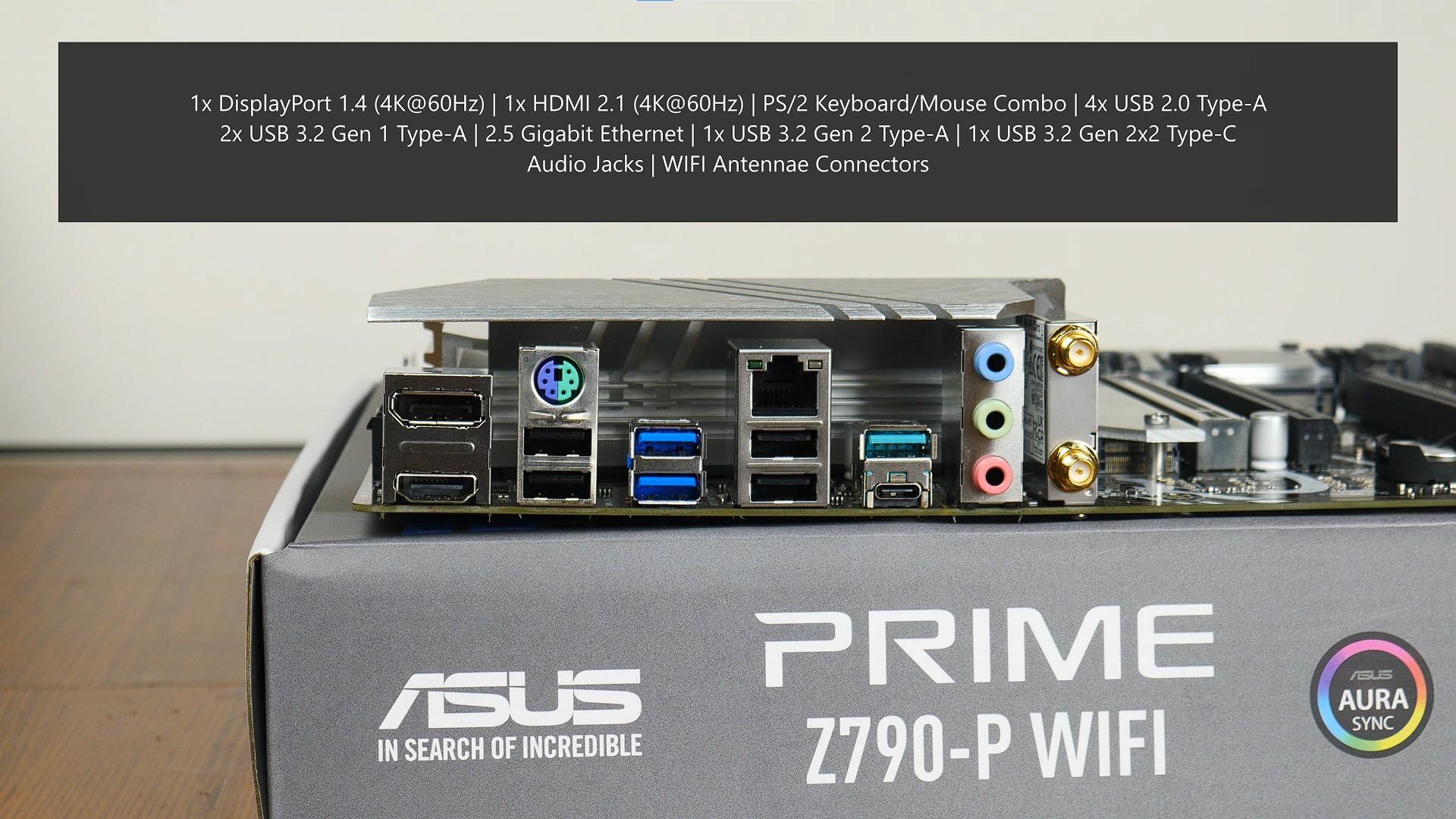 Being a budget-oriented motherboard offering, the Z790-P WIFI does not come with a built-in I/O shield. The board comes with the following ports on the rear I/O:
1x DisplayPort 1.4 (supports display output of up to 4K@60Hz)
1x HDMI 2.1 (supports display output of up to 4K@60Hz)
1x PS/2 mouse & keyboard combo port
4x USB 2.0 Type-A
2x USB 3,2 Gen 1 Type-A (5 Gbps)
2.5 Gigabit Ethernet port
1x USB 3.2 Gen 2 Type-A (10 Gbps)
1x USB 3.2 Gen 2x2 Type-C (20 Gbps)
Audio jacks
WIFI antennae connectors
Conclusion & Pricing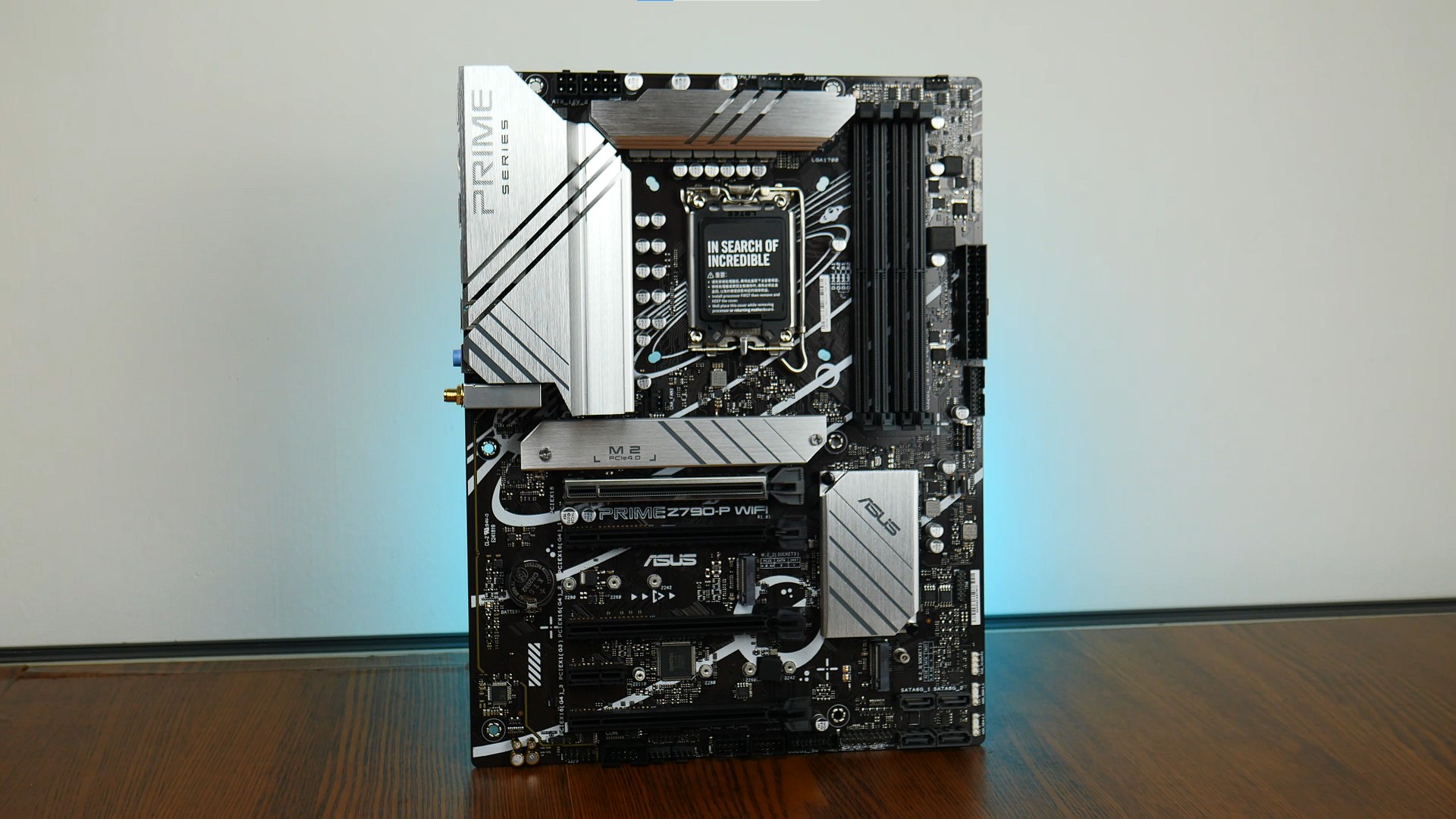 Bearing in mind that the PRIME Z790-P WIFI is intended to be on the low-end of the Intel Z790 motherboard spectrum, ASUS has done a good job of kitting out the board with just the right amount of features for a moden Intel 13th Generation Raptor Lake system, while doing away with frills so as to keep costs low. We still get features such as a decent VRM setup, PCIe 5.0 support for a graphics card, 2.5 Gigabit Ethernet and ample USB 3.2 connectivity options, while doing away with less important features such as an integrated I/O shield, heatsinks for all M.2 drives and so on.
The elephant in the room that needs addressing however, is the value that such low-end motherboards with high-end chipsets can bring to the table, especially given the current market situation where previous-gen Intel Z690 and B660 motherboards can still be had new on the market, and the fact that the Z790 offers only minimal incremental improvements over the Z690 that it replaces. In addition, Z690 and B660 boards can likely be bought on the cheap, could sport better features than low-end Intel Z790 motherboards, and more importantly, offer support for the latest Intel 13th Generation CPUs with just a BIOS update.
Granted, the situation would change once new Z690 and B660 boards have completely sold out on the market, and when motherboards touting Intel's mid-range 700 series chipsets (e.g. B760, H770) launch likely in January next year. Till then, it might be worth looking at older Intel Z690 and B660 boards to see which offerings serve up the best value, before committing to a purchase.
The PRIME Z790-P WIFI is currently available for a price of around $439 Singapore dollars through online and physical retailers in Singapore, or around $240 US dollars for international readers from eCommerce sites such as Amazon.
Get this motherboard from Amazon: https://amzn.to/3UYXuKV (affiliate link)
Get this motherboard from Shopee Singapore: https://shope.ee/5pYDd4St1c (affiliate link)
ALKtech may earn commissions from qualifying purchases made using affiliate links, at no extra cost to you as a customer. These commissions go a long way in supporting the platform!

The motherboard featured in this article was a review unit provided on loan from ASUS Singapore.