Are you a professional content creator looking to build a new Intel 13th Generation Raptor Lake PC for productivity purposes? The ProArt Z790-CREATOR WIFI could be just the motherboard for you, with features such as 10 Gigabit Ethernet and dual Thunderbolt 4 ports.
For professional content creators, having a PC with high-speed connectivity options for content creation devices is essential, on top of a productivity-oriented CPU, copious amounts of RAM, fast storage drives and not forgetting, a good graphics card suited for the workload at hand. If you've already decided on Intel's 13th Generation Raptor Lake CPUs to bear the brunt of your productivity workloads, deciding on a suitable motherboard as the base of your build would be the next task at hand, and for today's article, we've got just the motherboard that might check the boxes for your pro content creation needs - the ASUS ProArt Z790-CREATOR WIFI.

Summary of Specifications
Processor Support: Intel 13th Gen Core processors & 12th Gen Core, Pentium Gold and Celeron processors
Chipset: Intel Z790
Memory: 4x DDR5 slots, max 192GB, up to DDR5 7200 (OC) support
Audio: Realtek S1220A audio codec
LAN: Marvell AQtion 10 Gigabit Ethernet & Intel I226-V 2.5 Gigabit Ethernet
WIFI: Intel AX210NGW WIFI 6E module with built-in Bluetooth 5.3
Expansion Slots: 2x PCIe 5.0 x16 (operates at x8 mode when both slots are used concurrently), 1x PCIe 4.0 x16 (operates at x4 mode)
Storage: 8x SATA III, 3x PCIe 4.0 x4 M.2 (NVMe mode only), 1x PCIe 4.0 x4 M.2 (NVMe & SATA modes)
Form Factor: ATX
Packaging & Contents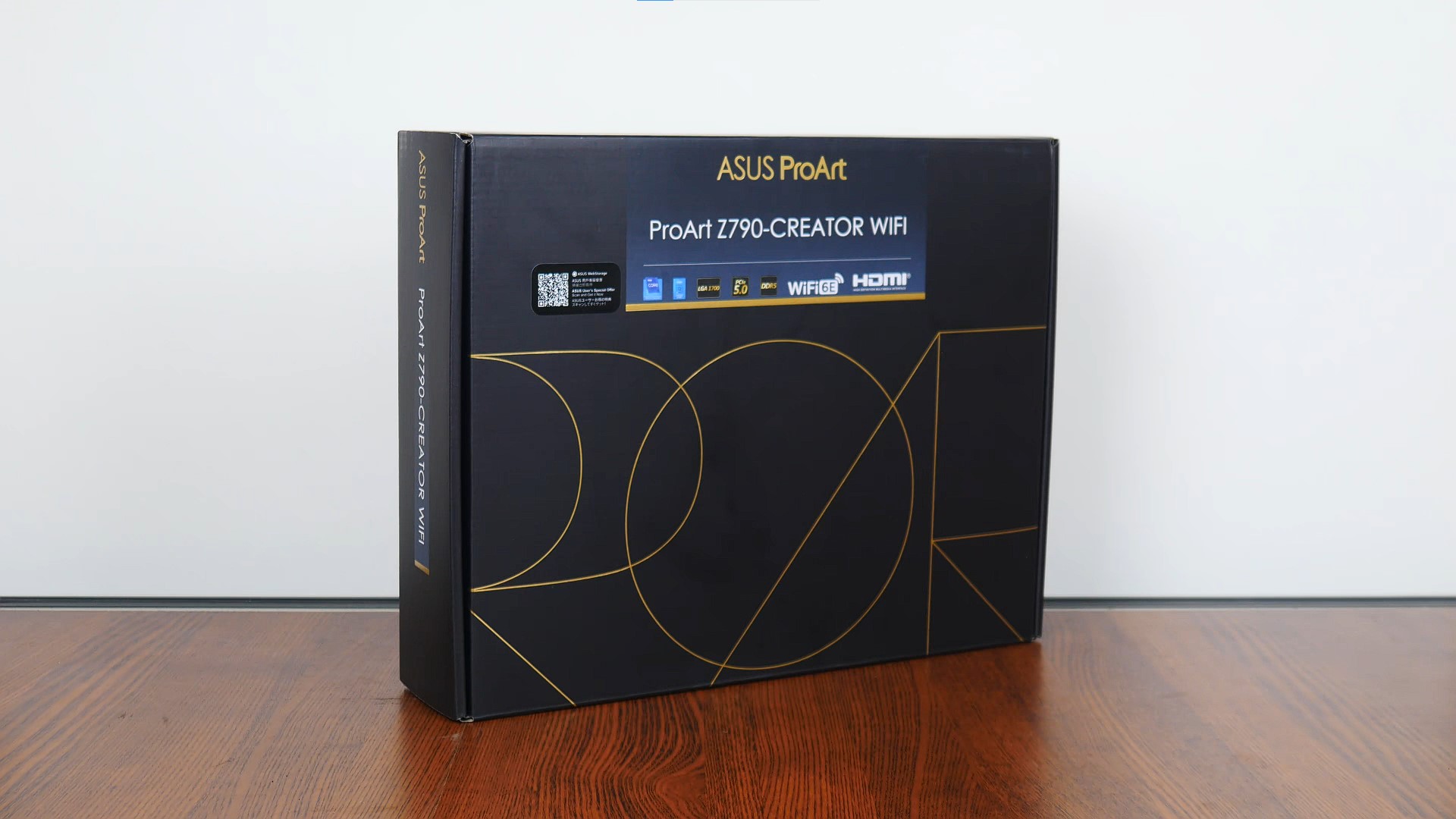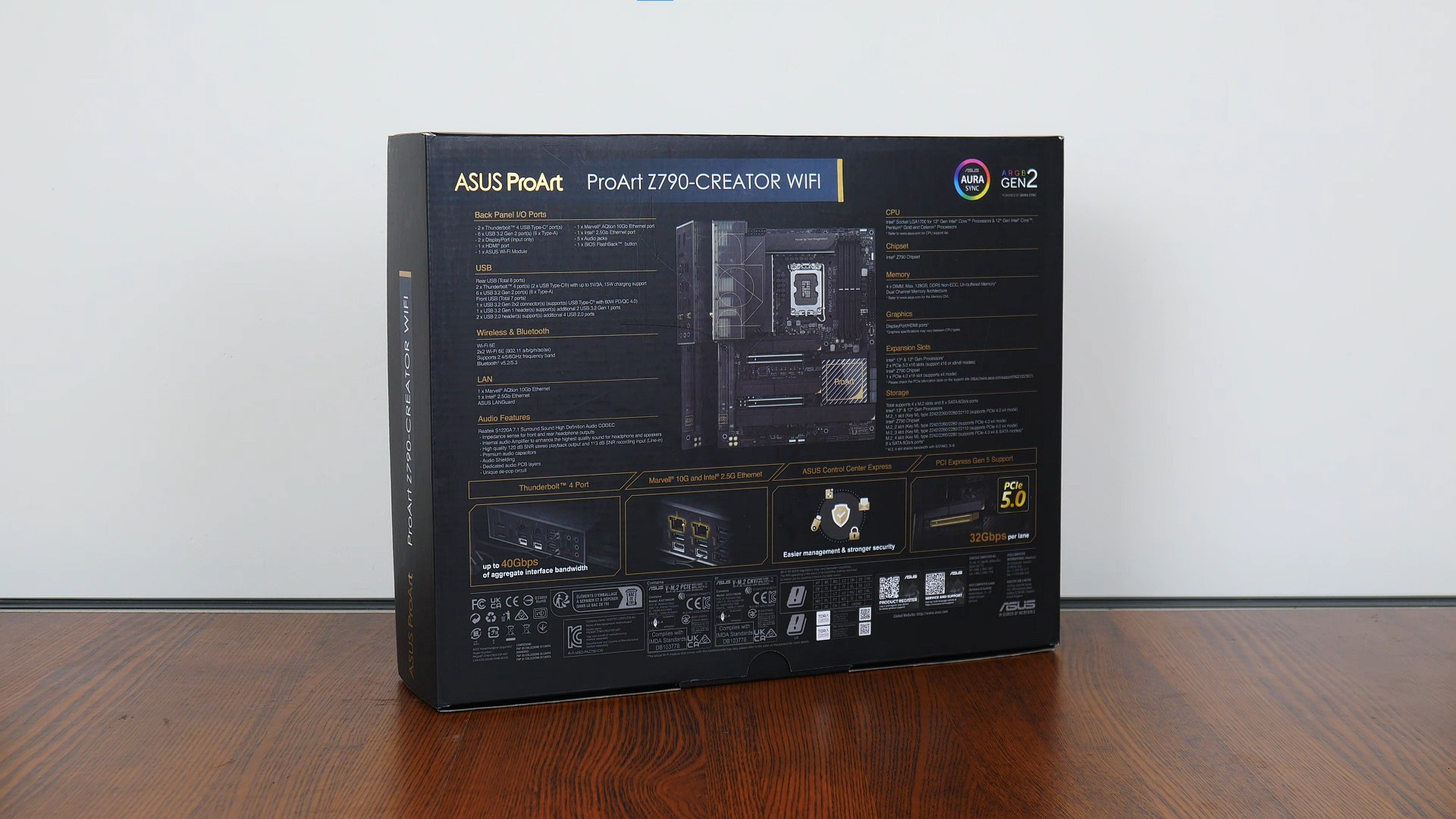 The ASUS ProArt moniker is reserved for product offerings that are targeted primarily at professional content creators – we're talking about the likes of filmmakers, motion graphics designers and so on. In this regard, the ProArt Z790-CREATOR WIFI comes in a box sporting a black and gold colourway, with a minimalist aesthetic that looks pretty sleek.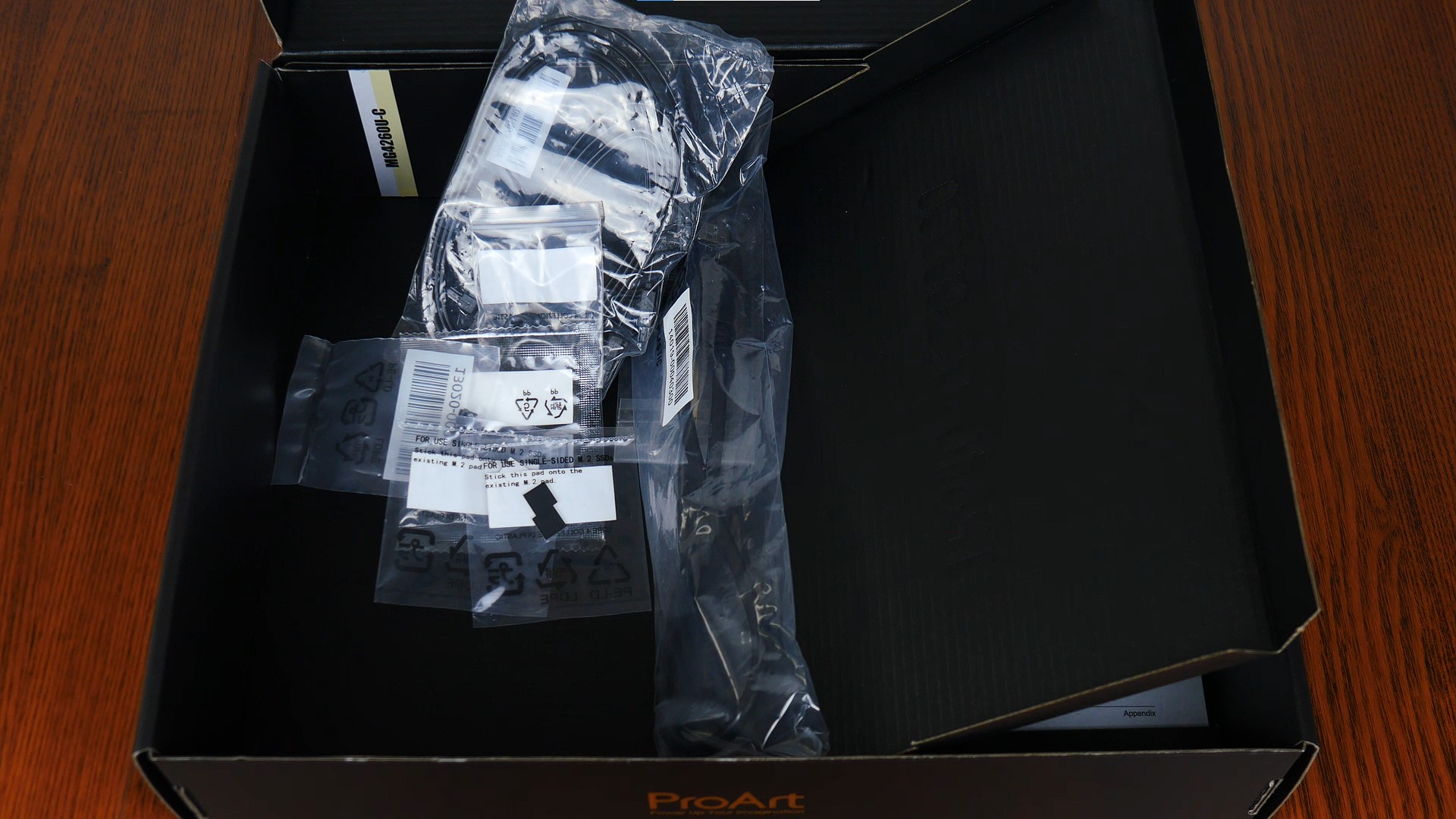 The board comes with the following accessories:
WIFI antenna
ASUS Control Center Express license key
Motherboard manual
DVD driver disc
ASUS WebStorage promotional offer leaflet
DisplayPort cable
Metal ProArt ruler
4x SATA III cables
Rubber cover for I/O shield cover screw hole
Q-Connector
Spare Q-Latch attachments
2 packs of M.2 drive rubber pads
Board Aesthetics
ASUS has gone for a black and gold colourway for the ProArt Z790-CREATOR WIFI, lending the board a rather classy and sleek-looking aesthetic. The board does not come with any integrated RGB LED accents, though it does come with a handful of RGB headers, where their respective locations will be covered later on in this article.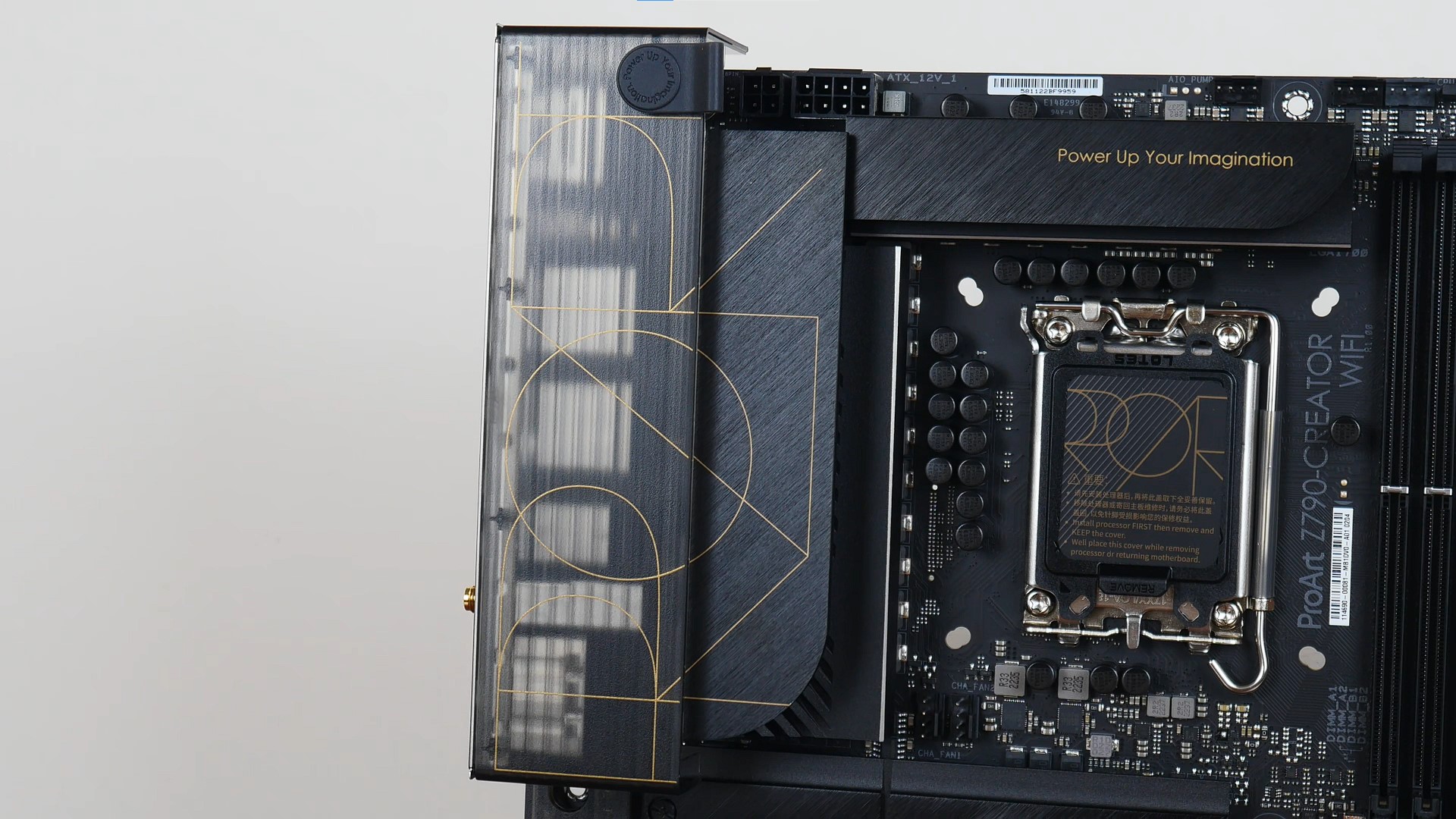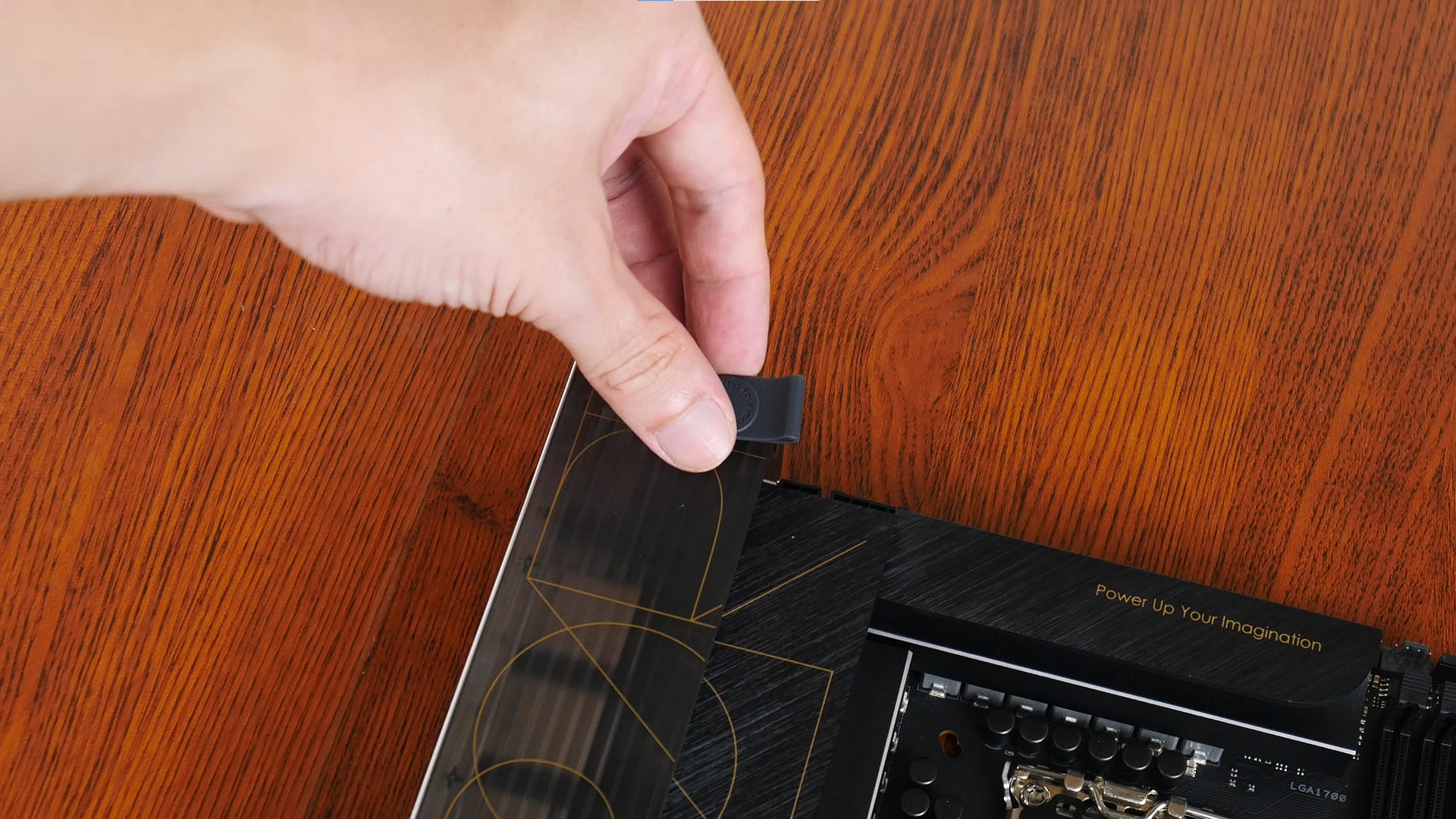 The board comes with an integrated I/O shield design, where we get a translucent plastic shroud with a stylised ProArt motif printed onto it. A sign of ASUS's attention-to-detail for the board's aesthetics is the inclusion of a rubber cover for the screw hole that can be found on the said plastic shroud. That said, the VRM heatsinks included with the Z790-CREATOR WIFI are sizeable, and boast a stylish curvy design.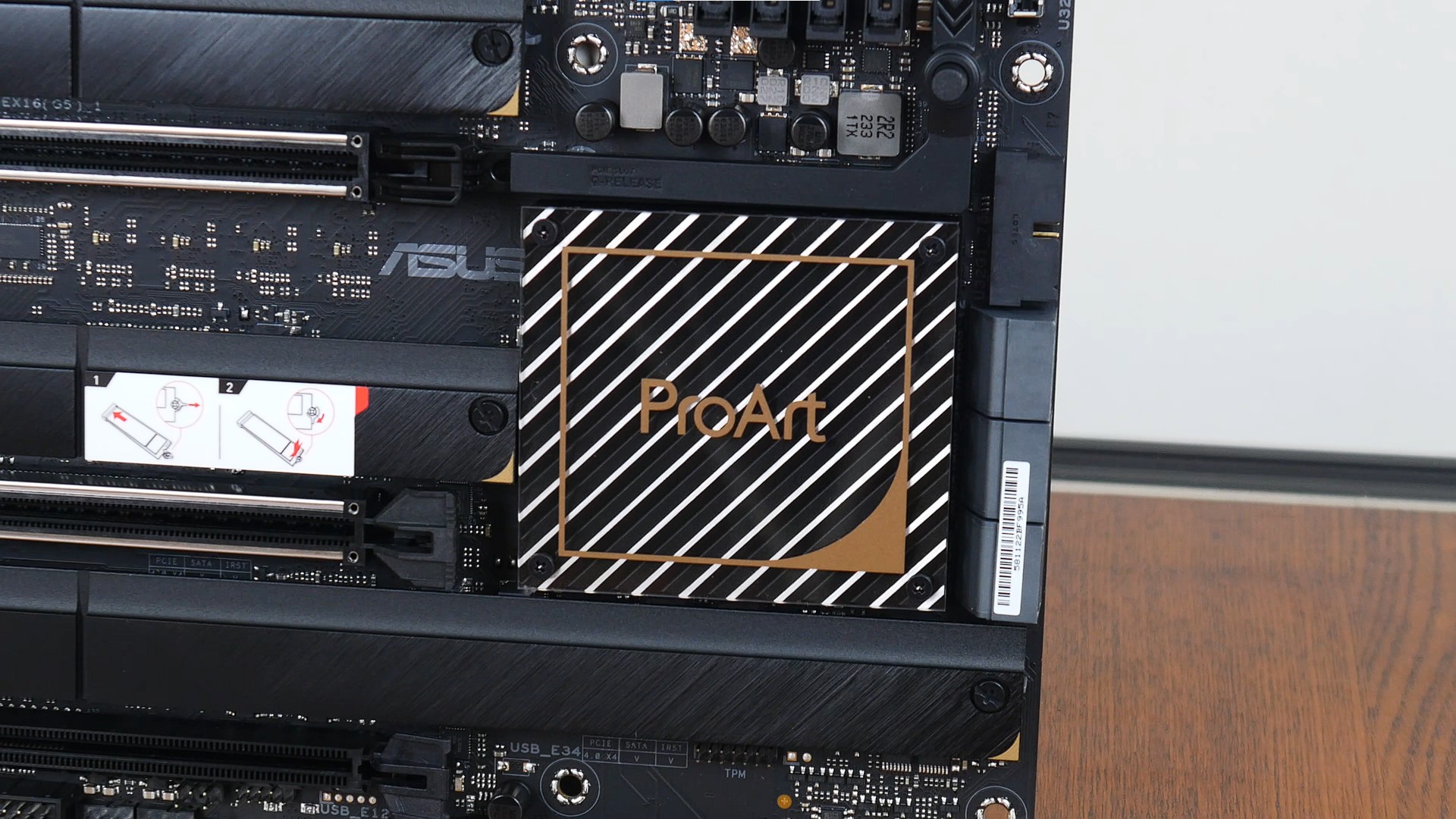 To cool the board's Intel Z790 chipset, ASUS has included a passive heatsink that has an aesthetic plastic cover secured in place by four screws.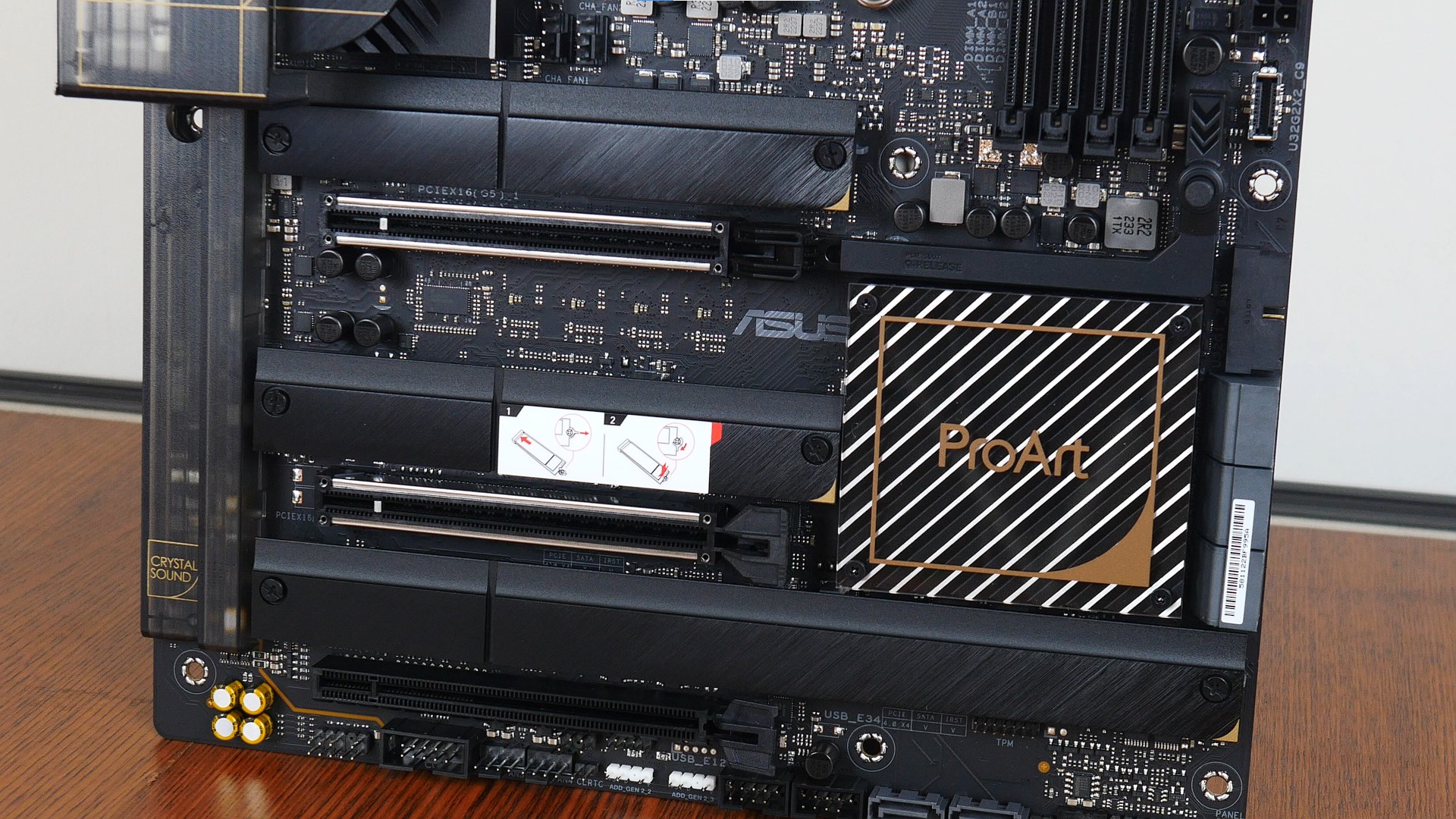 Also included are heatsinks for all four M.2 slots that the Z790-CREATOR WIFI comes with, where the third and fourth M.2 slots share a common heatsink.
VRM & Memory Support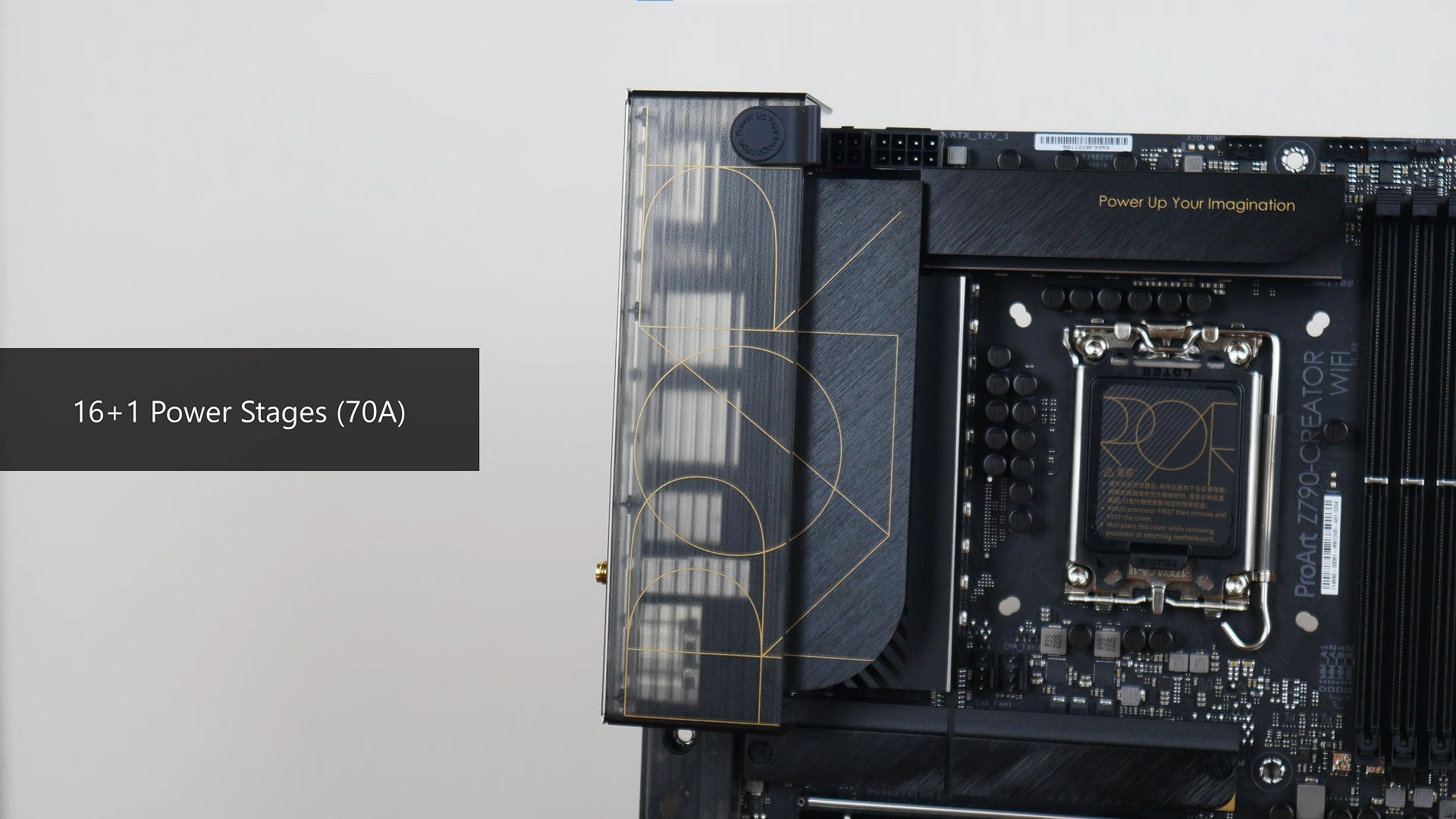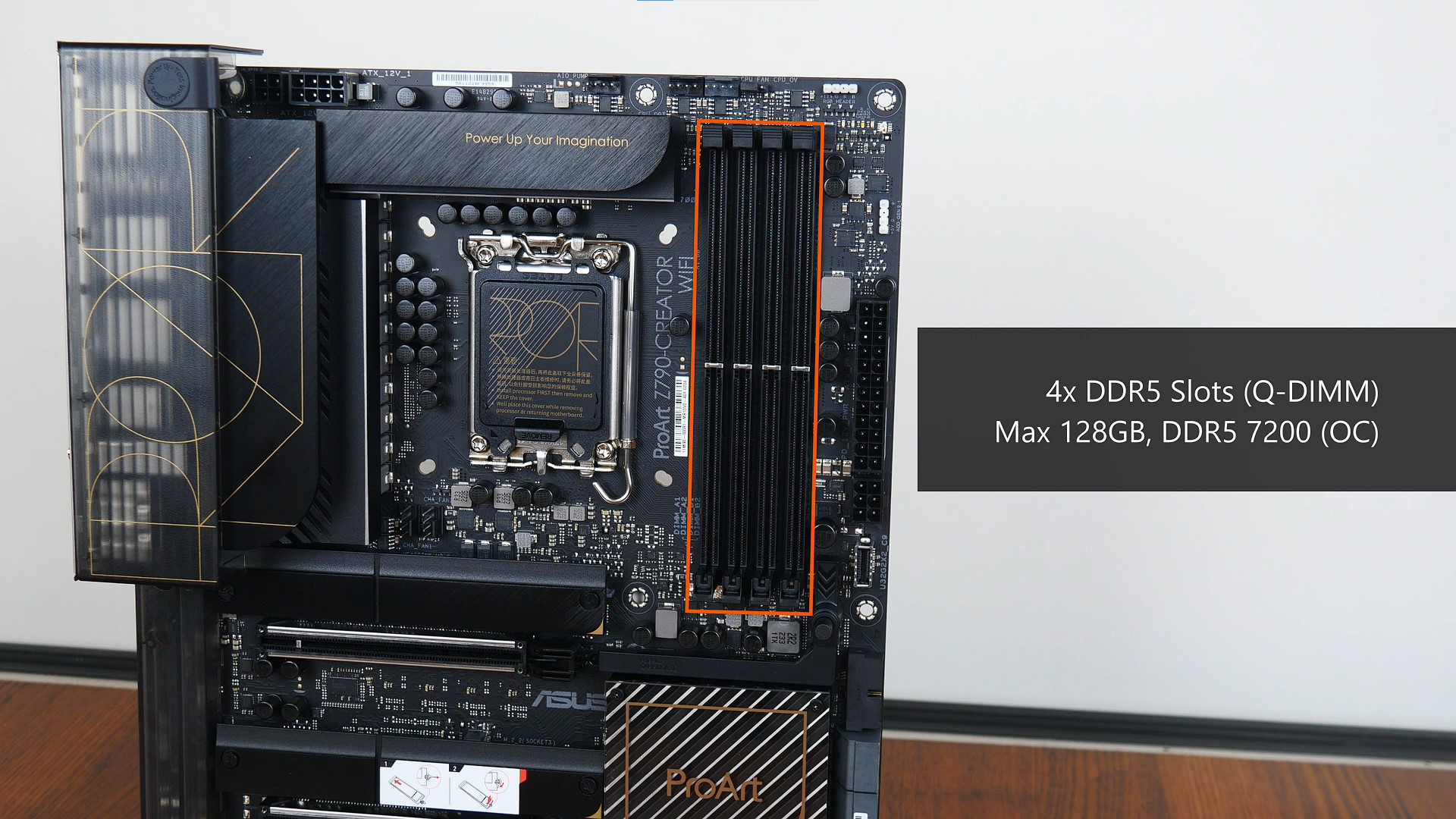 Editor's note as of August 2023: the article and video for this motherboard were published before 48GB DDR5 memory modules were available - according to ASUS's specs page, this board now supports up to 192GB of RAM with 4x 48GB DDR5 memory modules.
The ProArt Z790-CREATOR WIFI comes with 16+1 power stages that are rated for 70A, and also sports four DDR5 slots that support a maximum of 192GBs of RAM and the DDR5 7200 standard when overclocked. The RAM slots come with a single-tab design called Q-DIMM, which makes installing and removing memory modules a breeze, especially for completed builds.
Front Panel USB Connectivity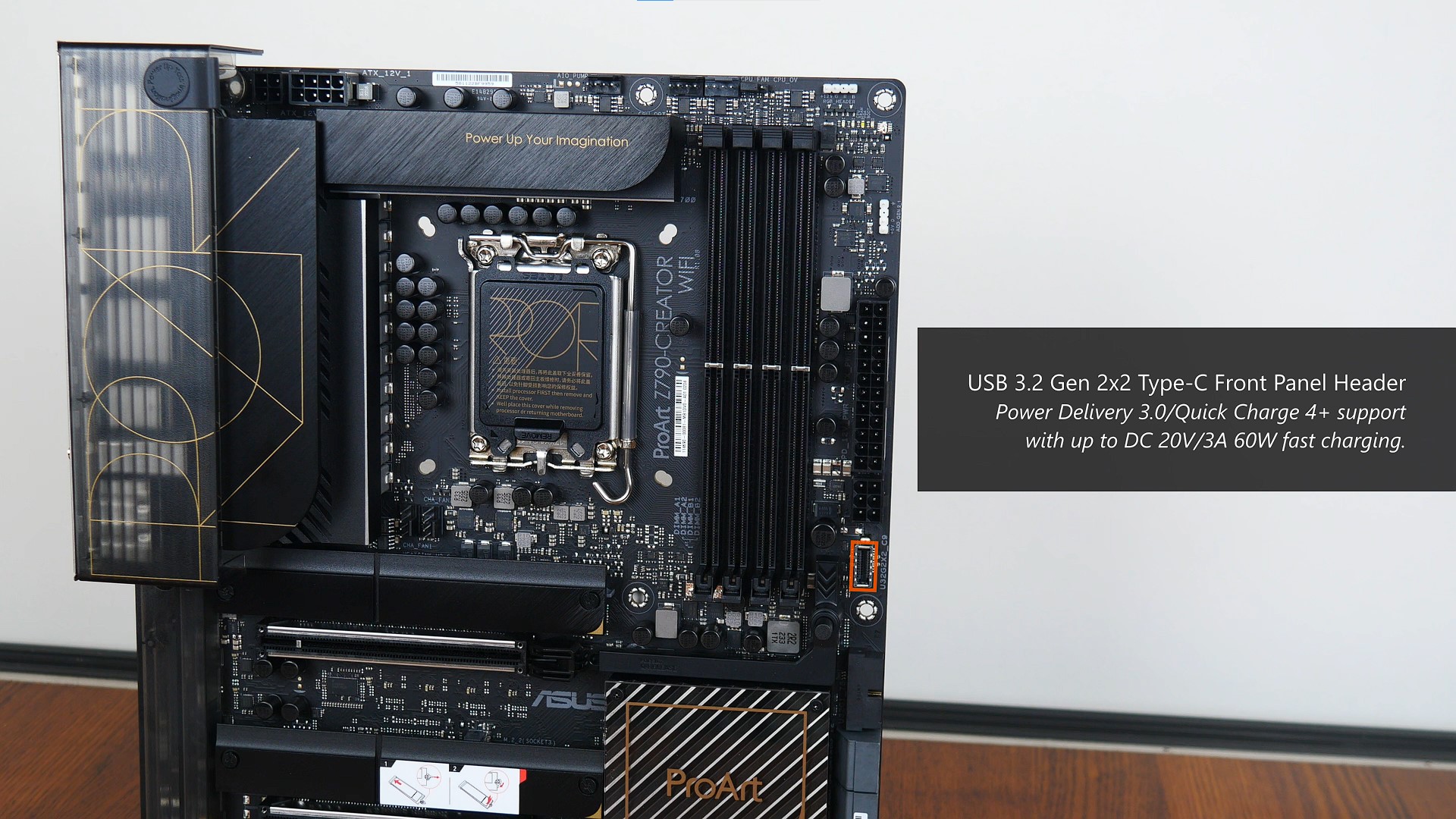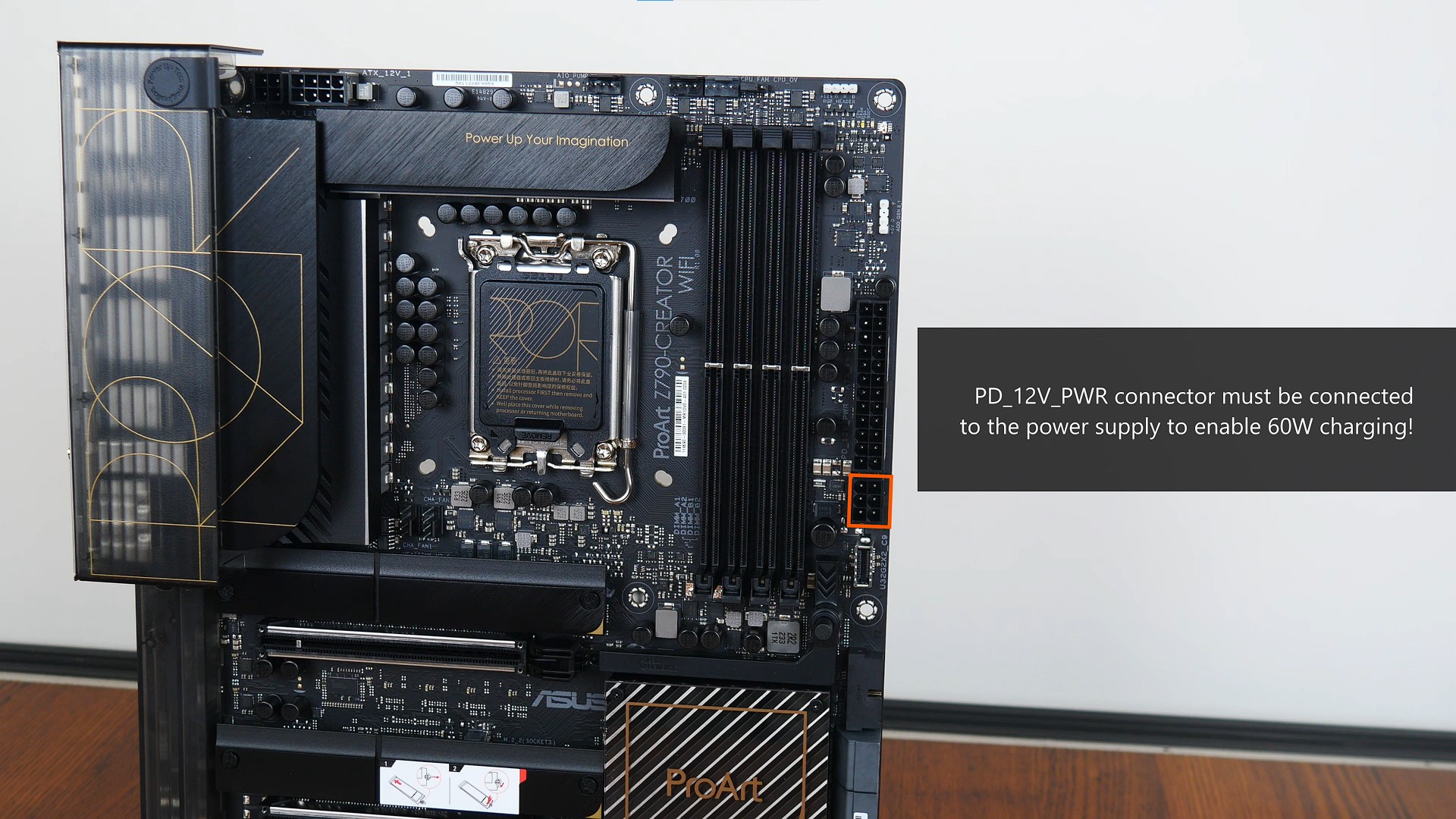 For front panel USB connectivity, ASUS has included a USB 3,2 Gen 2x2 Type-C front panel header near the memory slots - the USB Type-C port dished up by this header also supports the Quick Charge 4+ standard with up to 60W of power output for charging. For 60W charging to be enabled, the 6-pin PD_12V_PWR motherboard power connector located right next to the said header has to be hooked up to your PC's power supply unit - connecting the typical 8-pin PCIe graphics card power connector (which usually employs a 6+2 pin header) will do just the trick.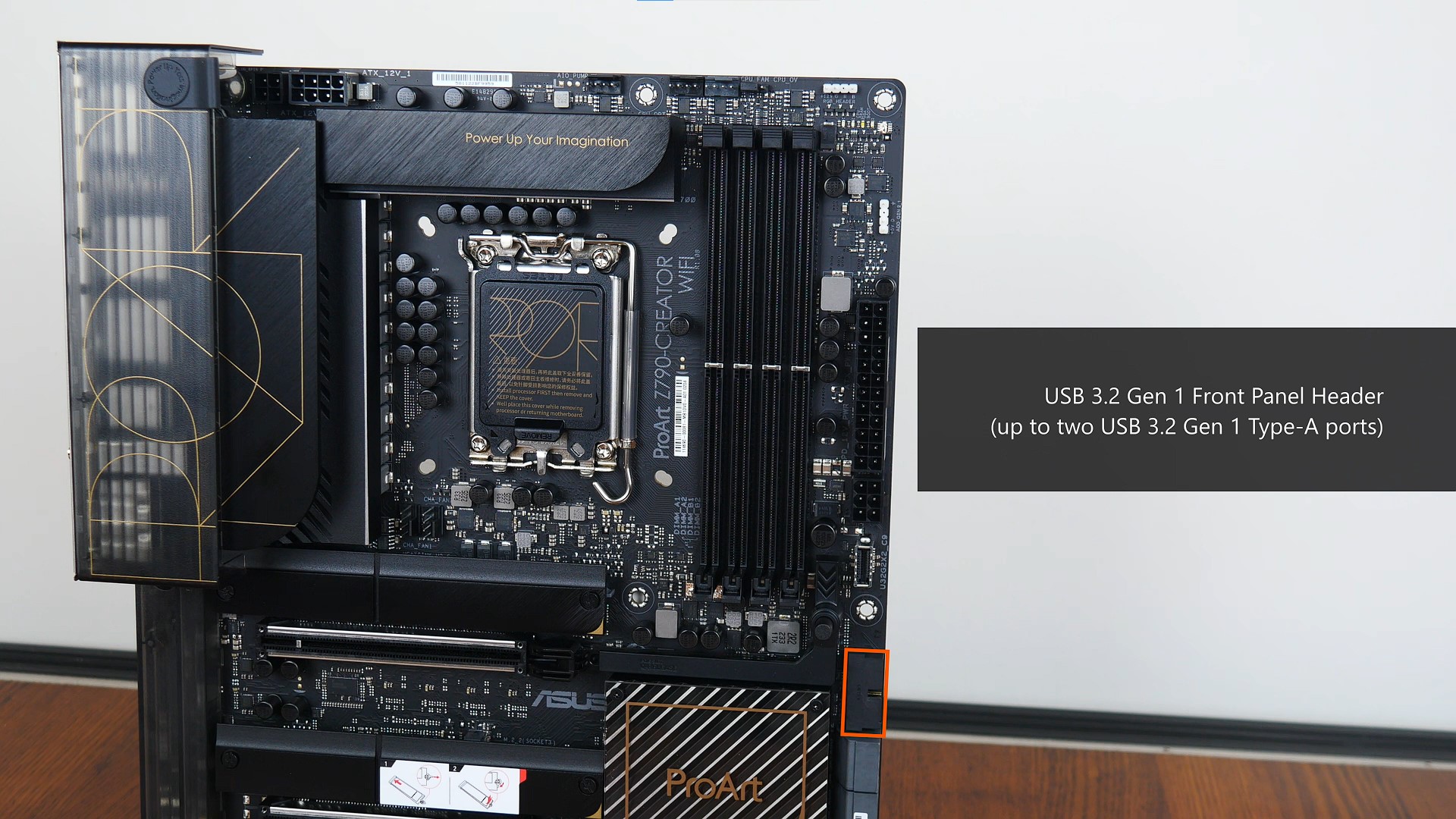 Also included is a single USB 3.2 Gen 1 Type-A front panel header in a right-angled configuration to aid with cable management - the said header supports up to two front panel USB 3.2 Gen 1 Type-A ports. Rounding off the front panel USB connectivity department are two USB 2.0 front panel headers that can be found near the bottom edge of the board, with each of these USB 2.0 headers providing support for up to two front panel USB 2.0 Type-A ports, for a total of four ports.
Expansion Slots & Storage Options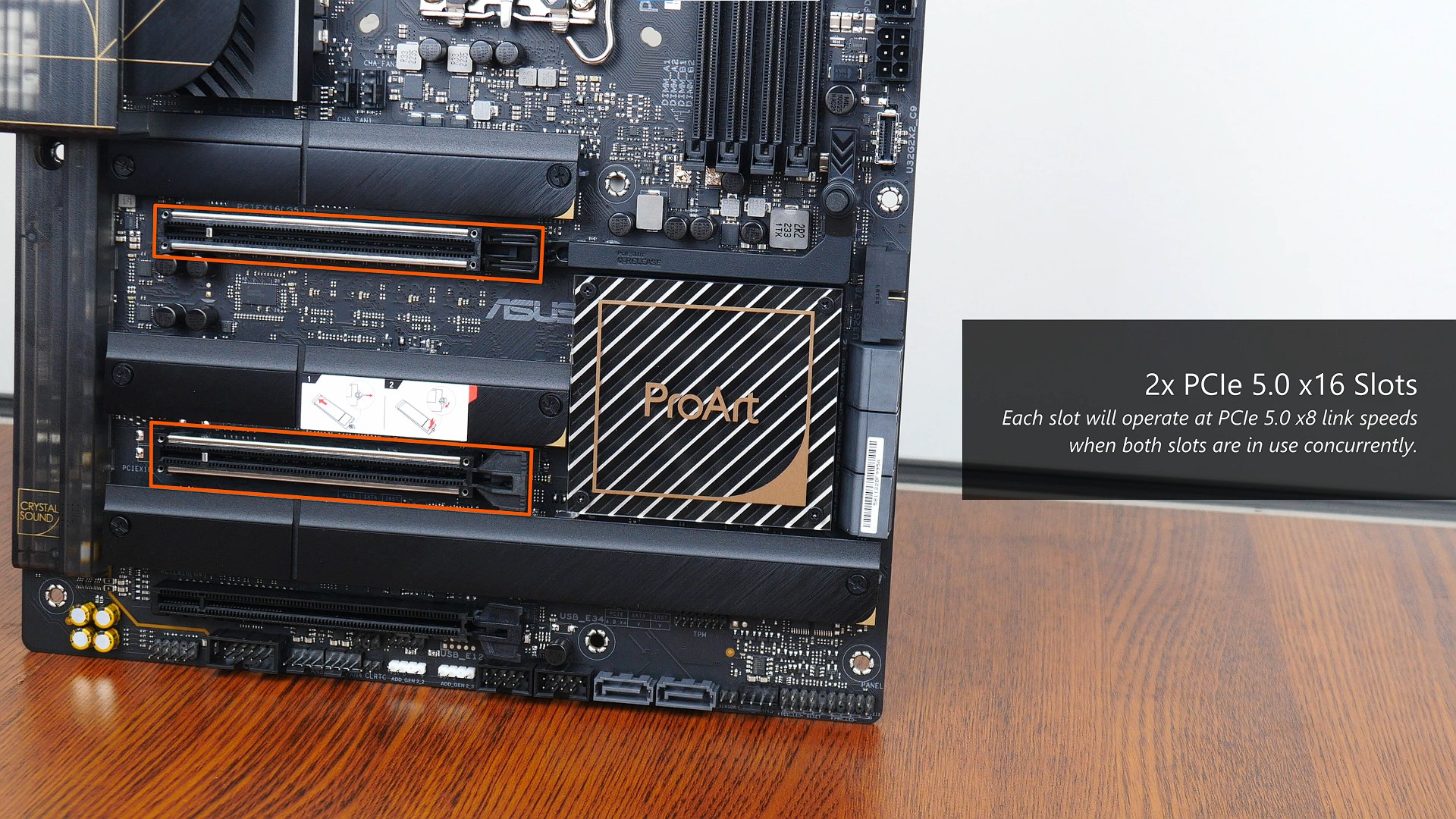 As a motherboard offering targeted at professional content creators who may be using multiple graphics cards to power through their workloads, no surprises here that ASUS has included dual PCIe 5.0 x16 slots. Do note though that due to chipset limitations, these two slots will operate at x8 link speeds each when both slots are in use concurrently. Otherwise, the primary (top) PCIe 5.0 slot will operate at full x16 link speed should there be a single graphics card installed in the said primary PCIe 5.0 slot. That said, both slots come with the SafeSlot feature that reinforces the slots for use with heavy graphics cards.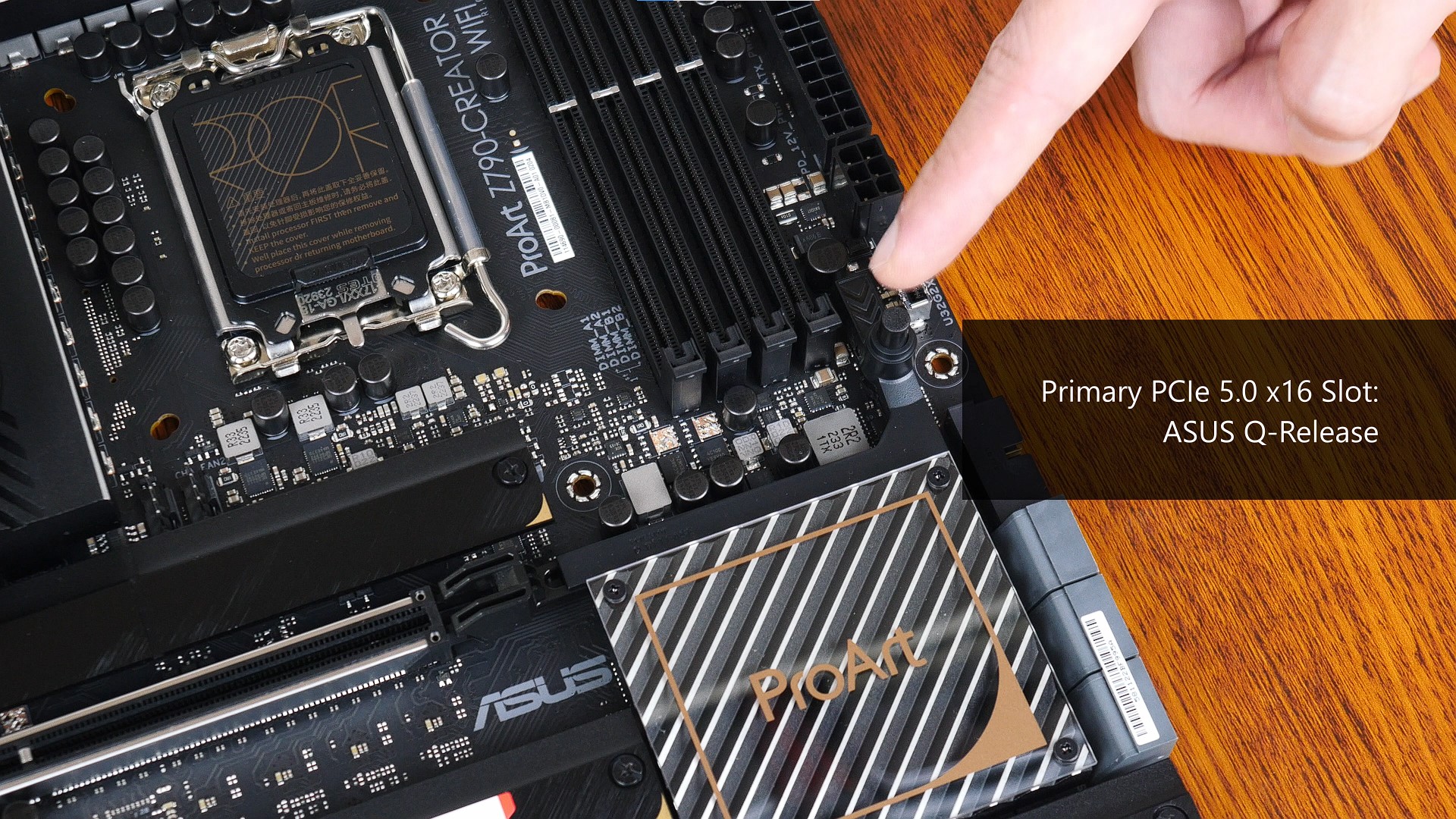 The primary PCIe 5.0 slot comes with a quality-of-life feature, Q-Release, which facilitates the easy removal of your graphics card from the motherboard in a completed build. Simply pressing down on the button pictured above will release the latch that holds the graphics card in place, thereby allowing for the easy removal of a graphics card out and away from the PCIe 5.0 x16 slot.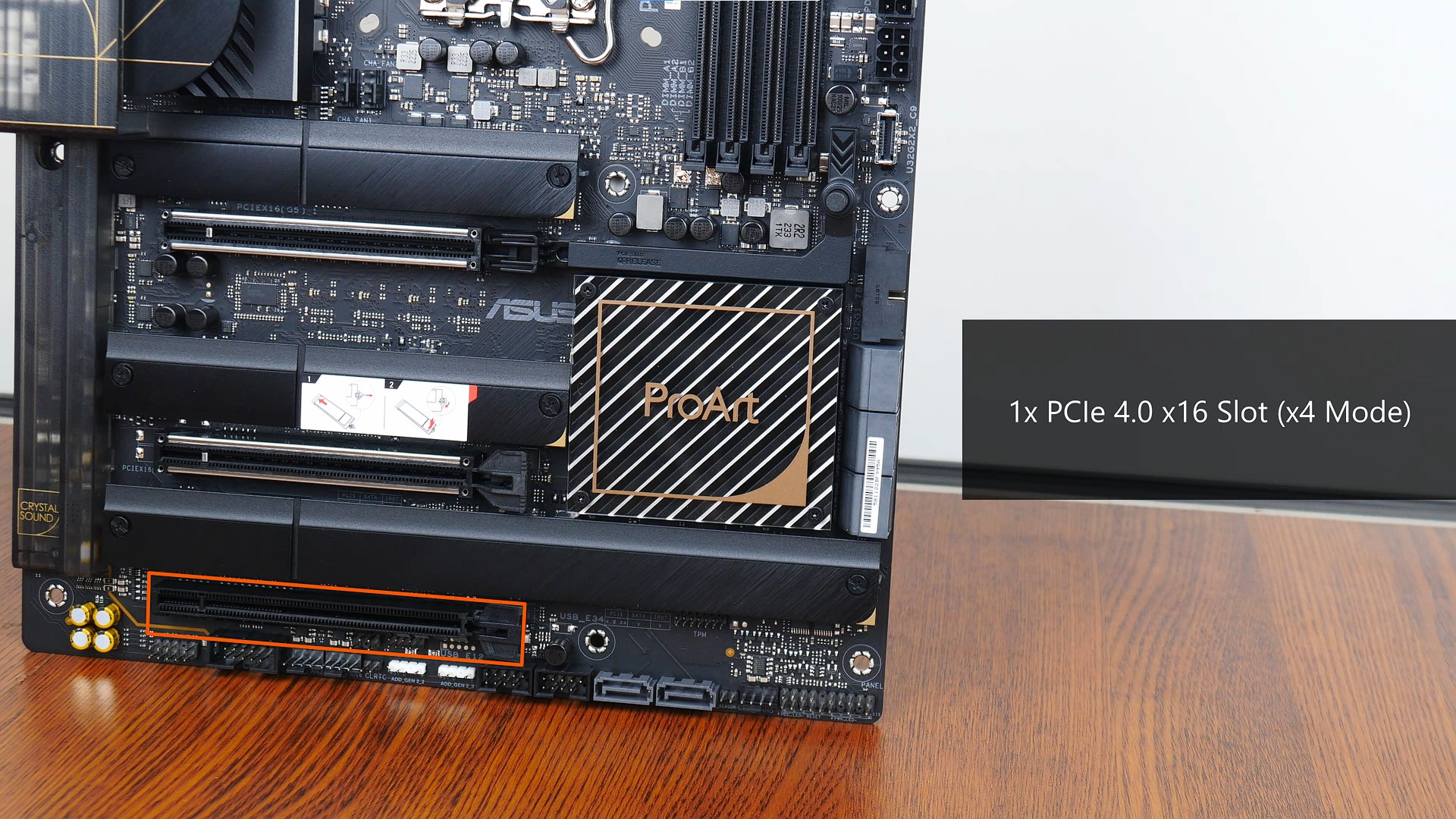 The Z790-CREATOR WIFI also comes with a single PCIe 4.0 x16 slot that operates at x4 mode.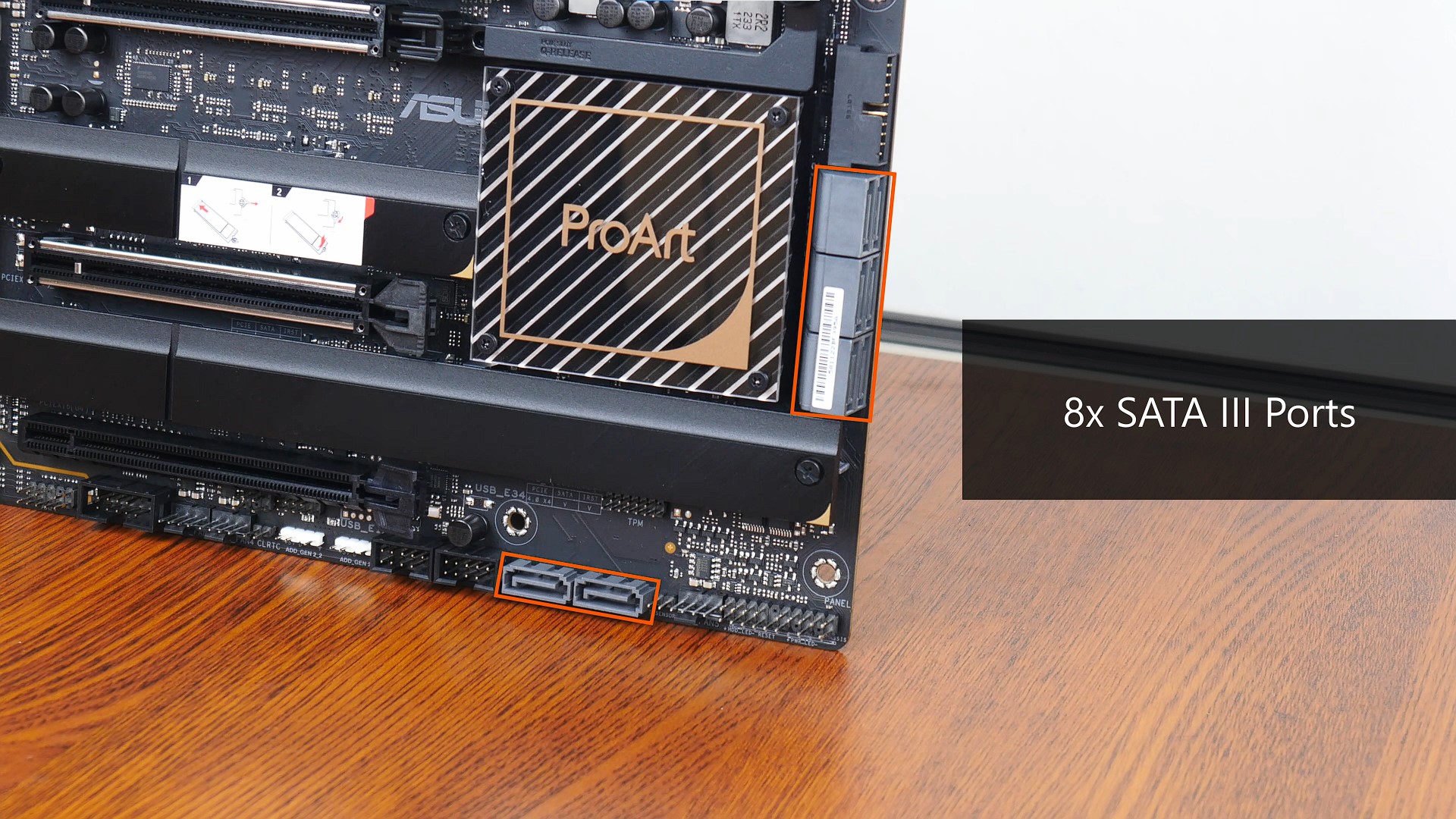 Moving on to storage, a whopping eight SATA III ports are included with the board, with six ports in a right=angled configuration to aid with cable management, and two ports in a straight-angled configuration.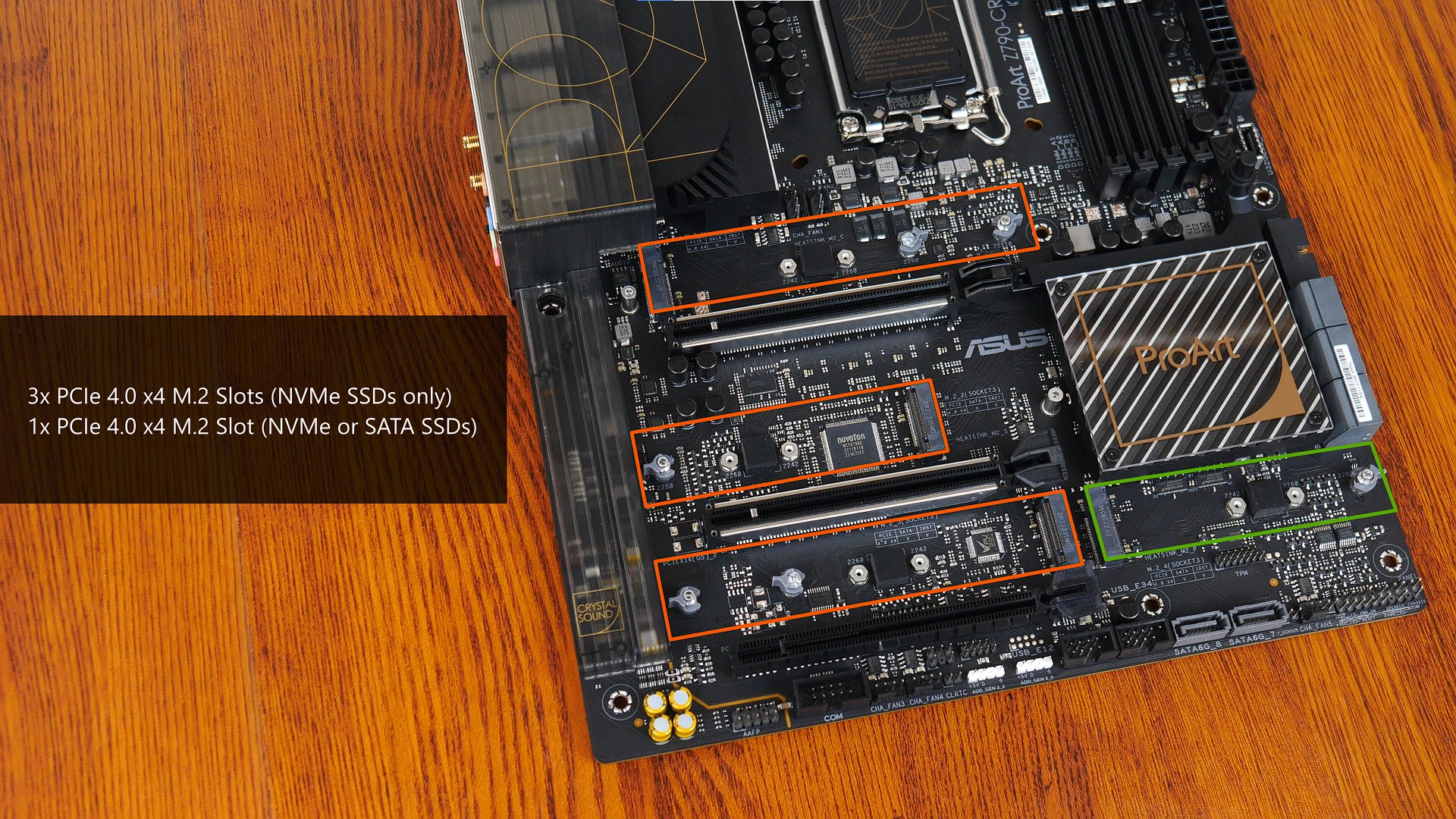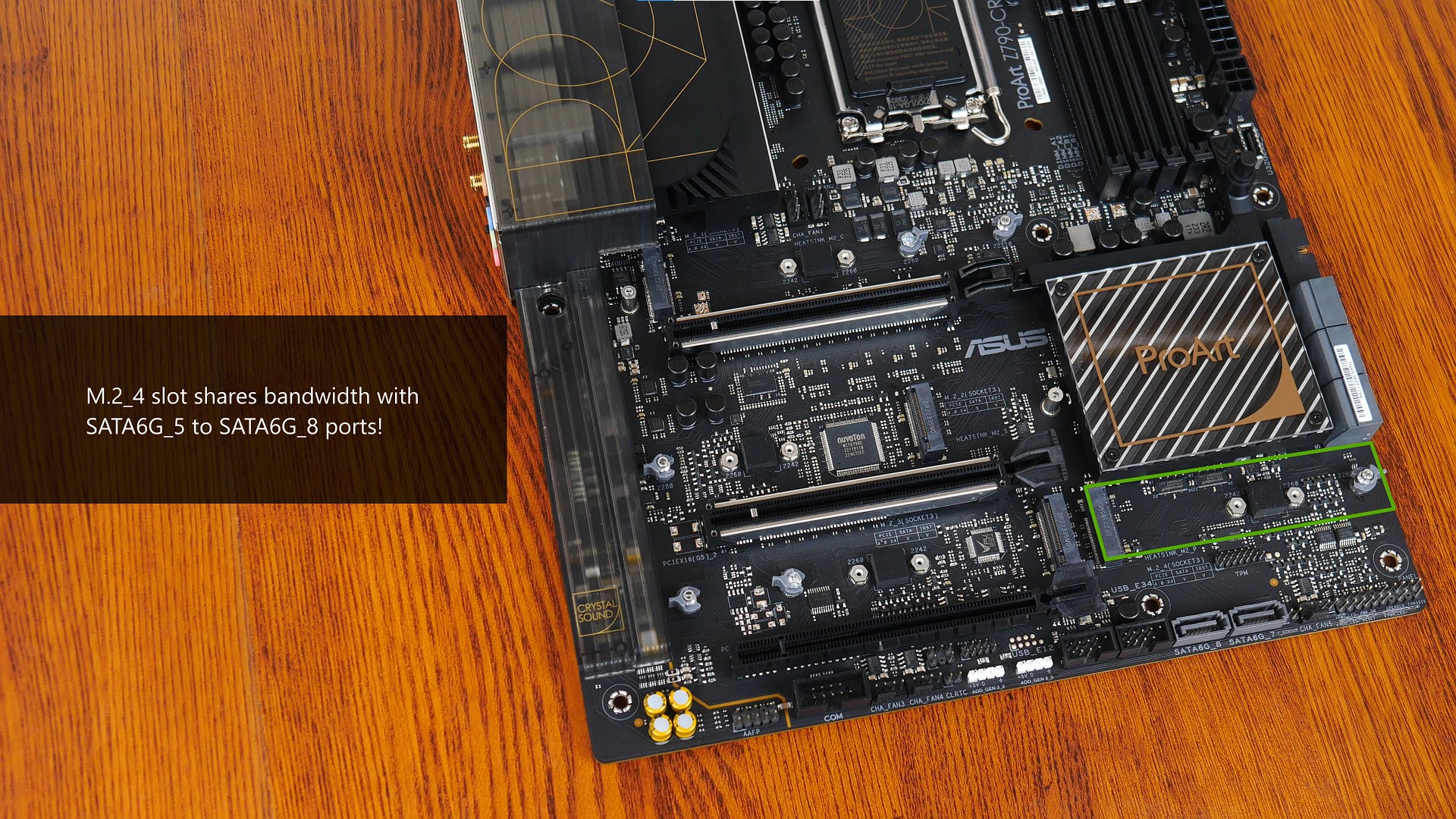 M.2 slots are in no short supply with this board too, where we get three PCIe 4.0 x4 M.2 slots that support NVMe SSDs only, and a single PCIe 4.0 x4 M.2 slot that supports both NVMe or SATA M.2 drives. Potential owners of this board would do well to note that the fourth M.2 slot, M.2_4 (which supports both NVMe and SATA drives) shares bandwidth with the fifth to eighth SATA III ports, where if a M.2 drive is installed in this said slot, SATA ports SATA6G_5 to SATA6G_8 will be disabled.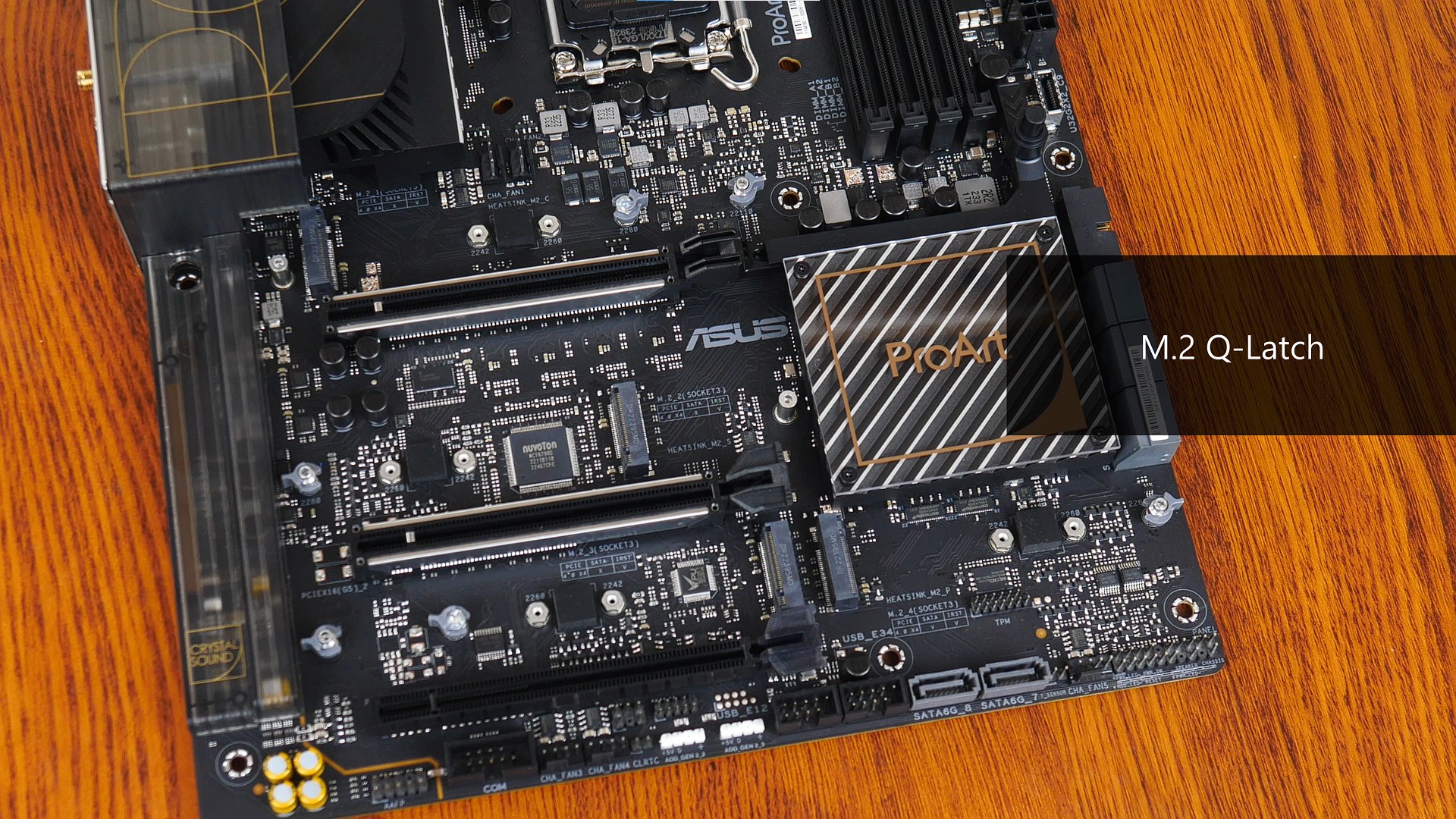 To facilitate the tool-less installation and removal of your M.2 SSDs, ASUS has included its M.2 Q-Latch feature that allows end-users to install and remove M.2 drives without needing to fumble with a screwdriver - you would still need your screwdriver to install and remove the M.2 drive heatsinks though.
Audio & Internet Connectivity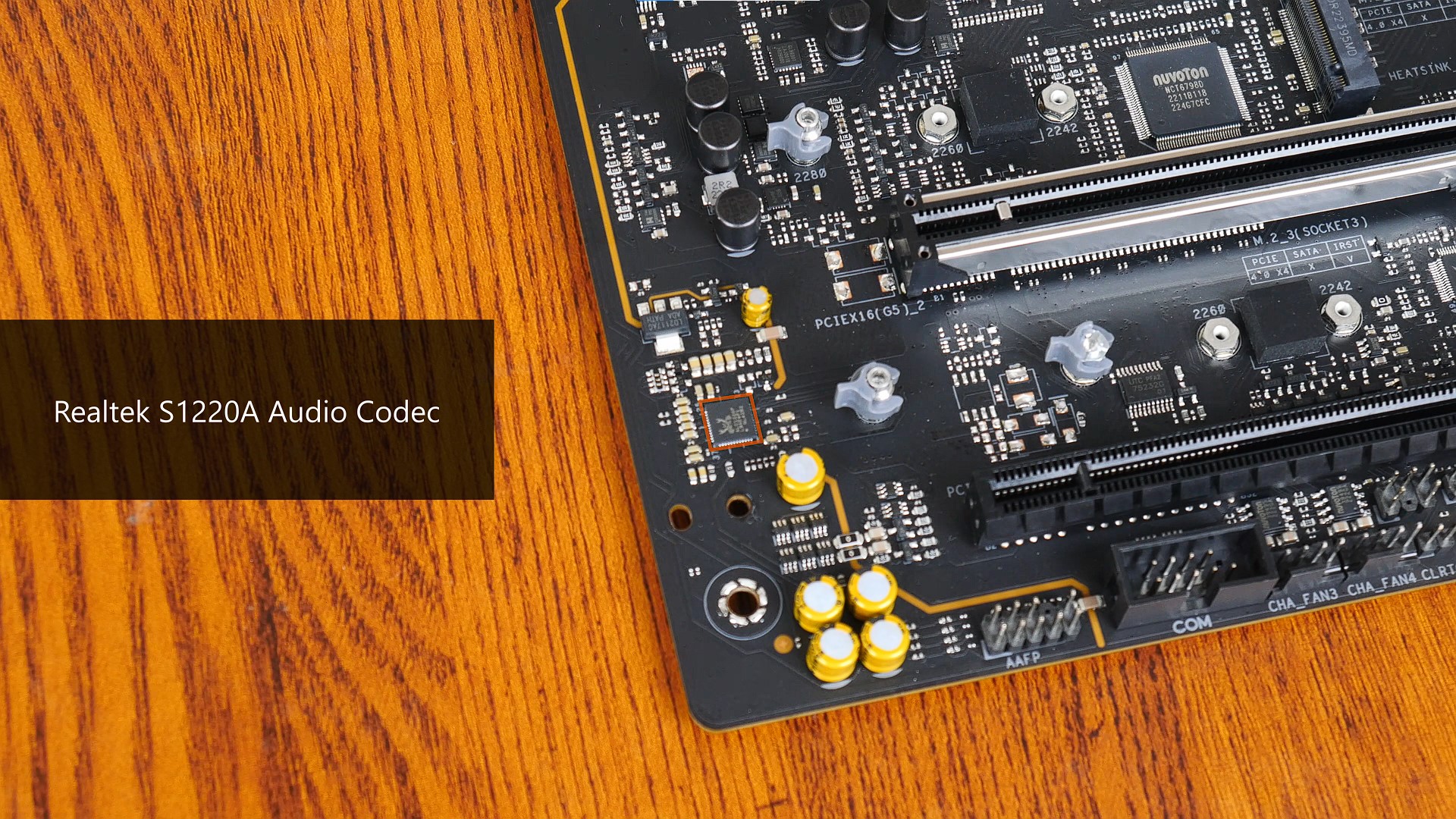 Powering the board's audio experience is Realtek's S1220A audio codec, which sits beneath a decorative plastic shroud that was removed for the photo above.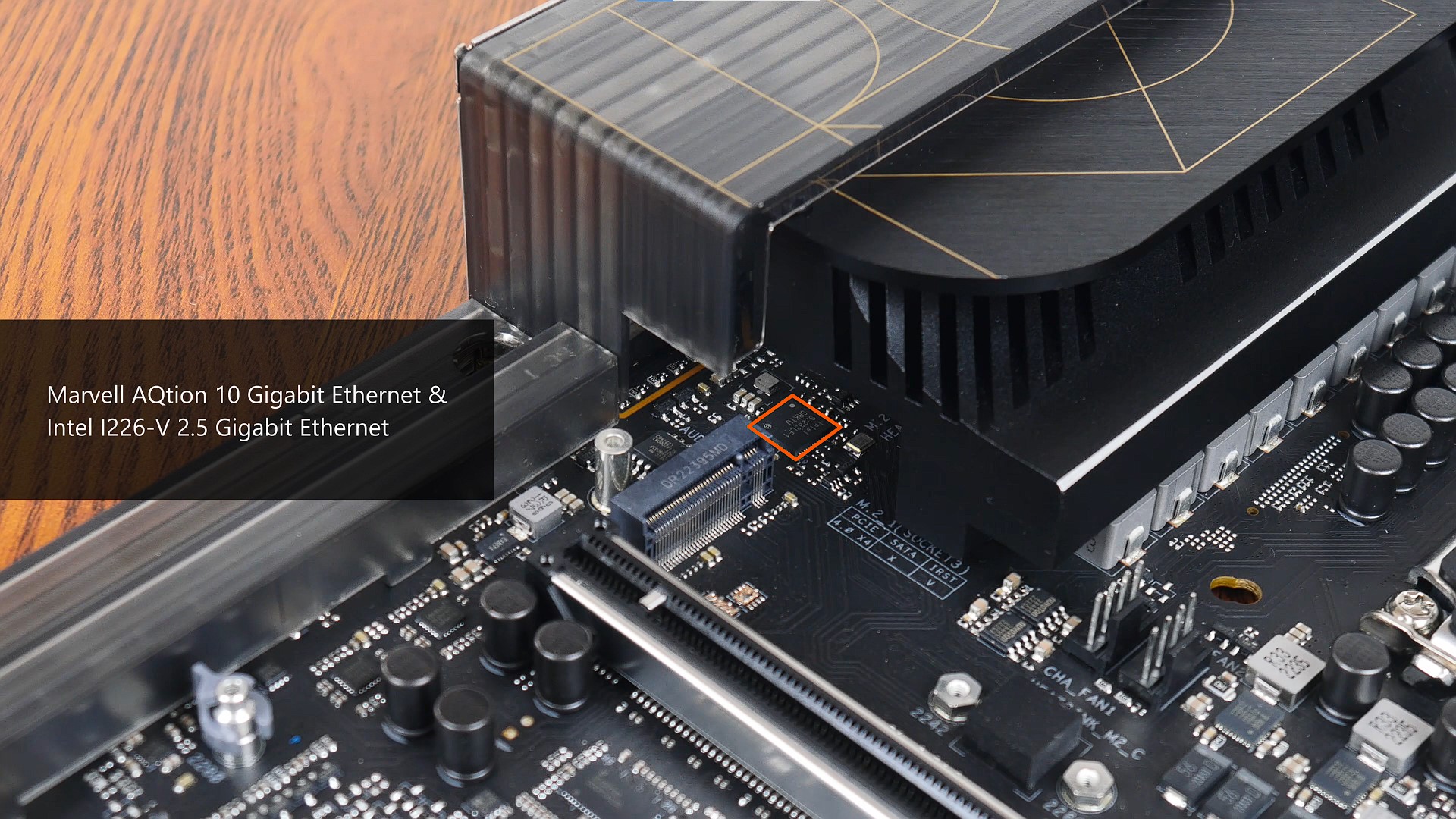 One of the key selling points for this motherboard is the fact that it comes with dual Ethernet ports, with the primary port being powered by Marvell's AQtion 10 Gigabit Ethernet controller, and the secondary port being shored up by an Intel I226-V chip that serves up support for 2.5 Gigabit Ethernet.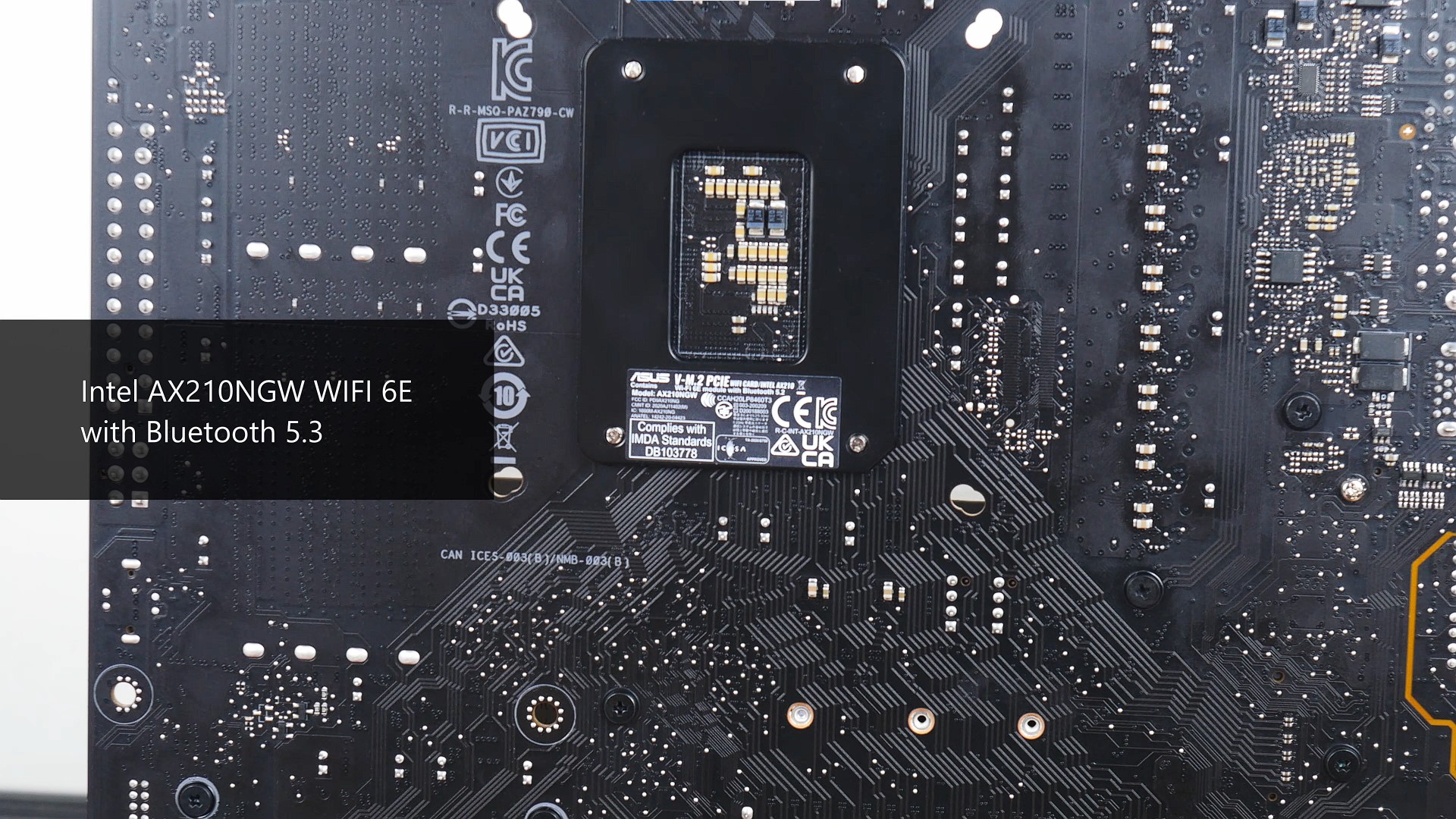 Wireless internet connectivity on the other hand, is powered by an Intel AX210NGW WIFI 6E module, which also serves up Bluetooth 5.3 connectivity.
Fan & RGB Headers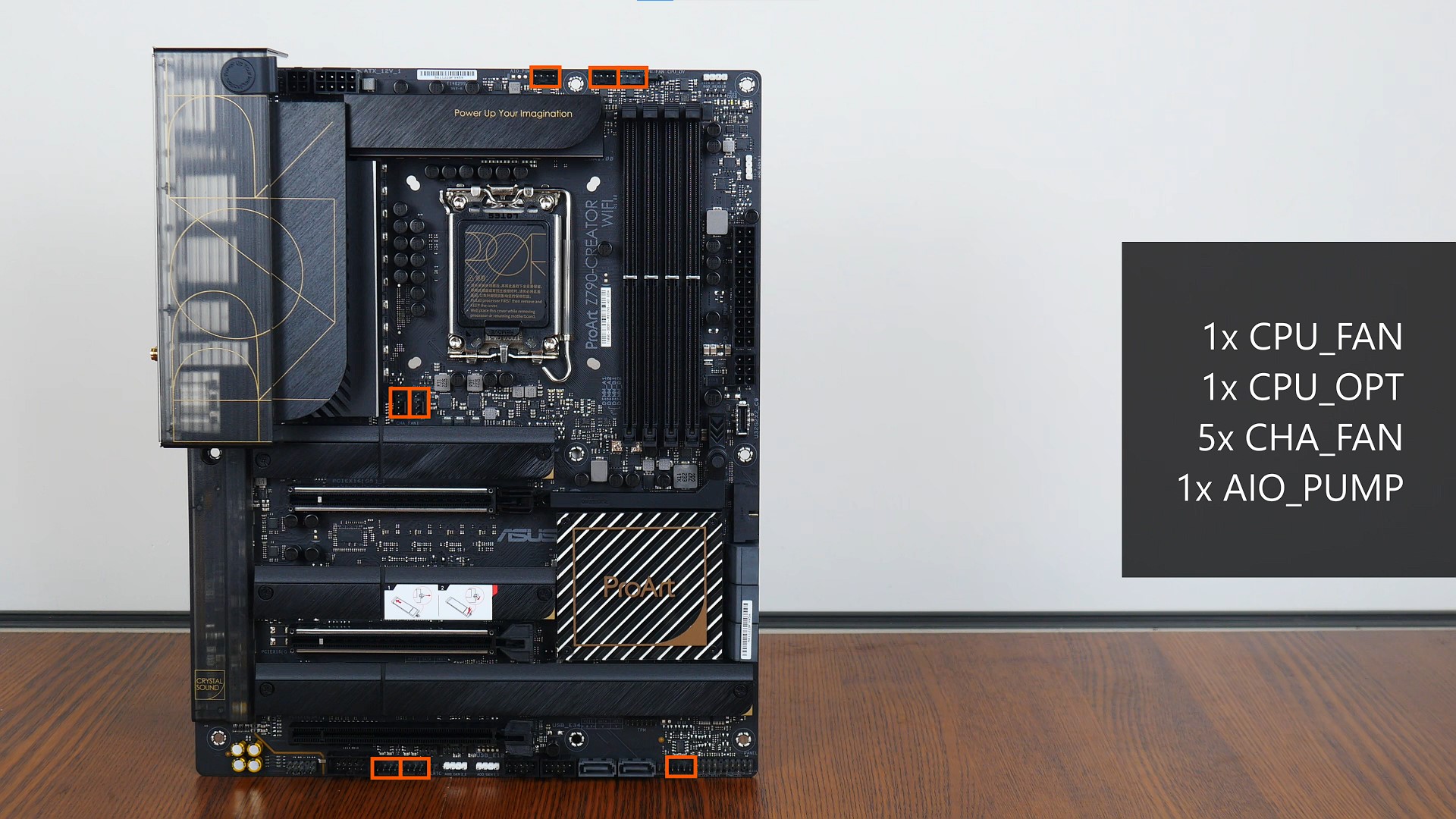 Continuing with the theme of "more is best" is the fact that the board comes with plenty of fan headers - eight of them, to be precise.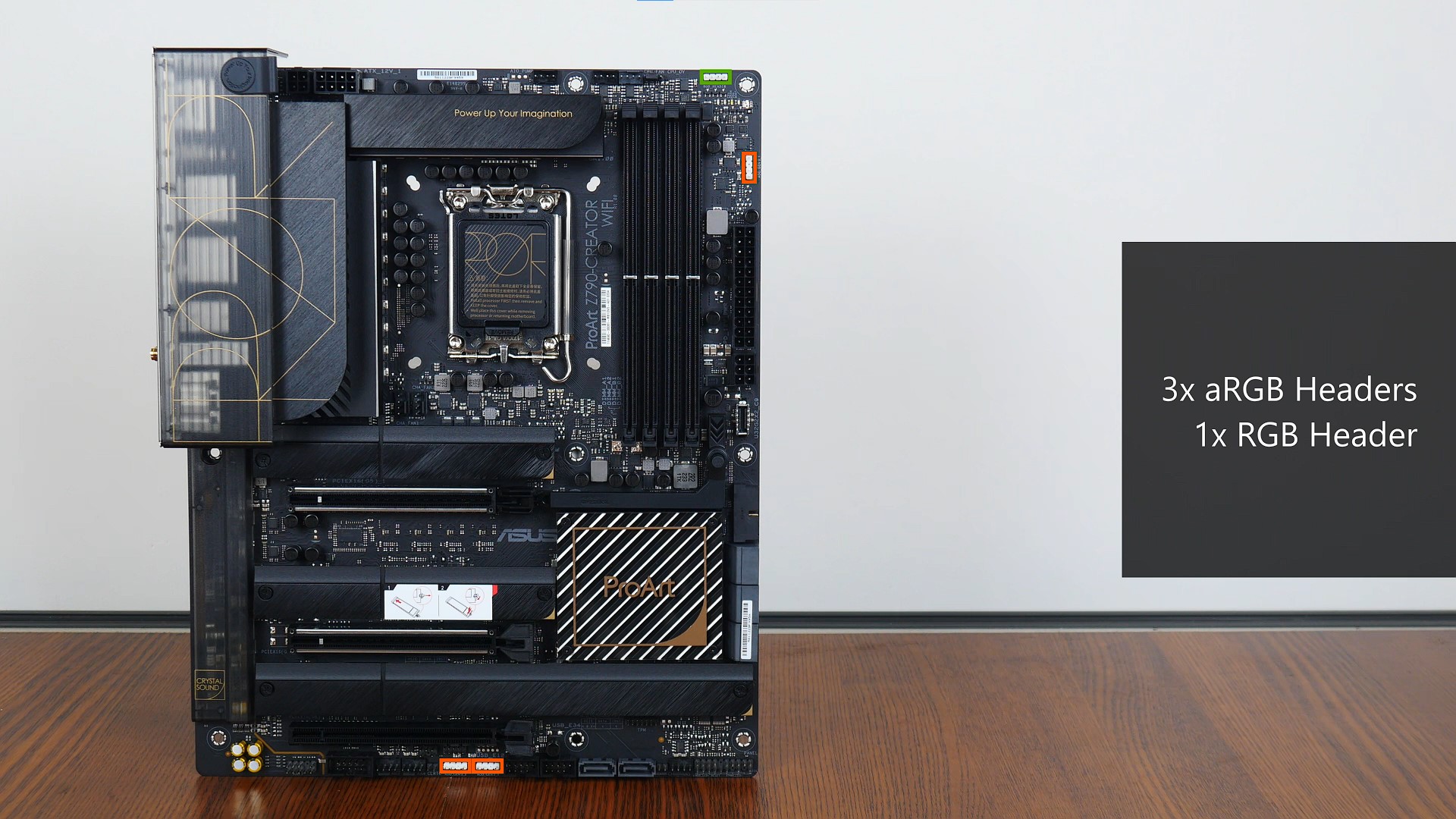 Also included are three addressable RGB headers, and a single 12V standard RGB header.
Other Features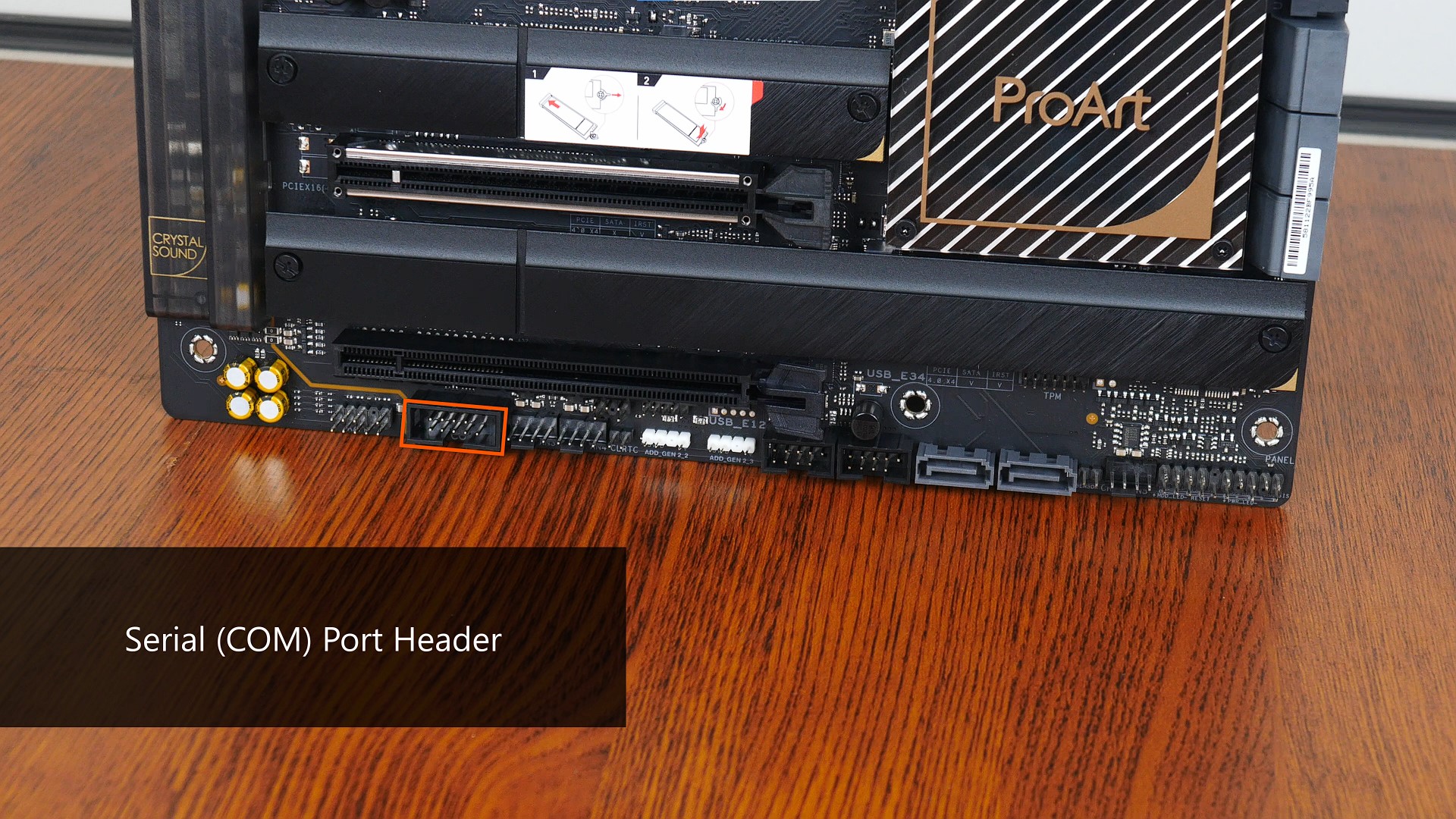 End-users intending to use legacy PC hardware might take comfort in the knowledge that the Z790-CREATOR WIFI comes with a serial port header that is located near the bottom edge of the board.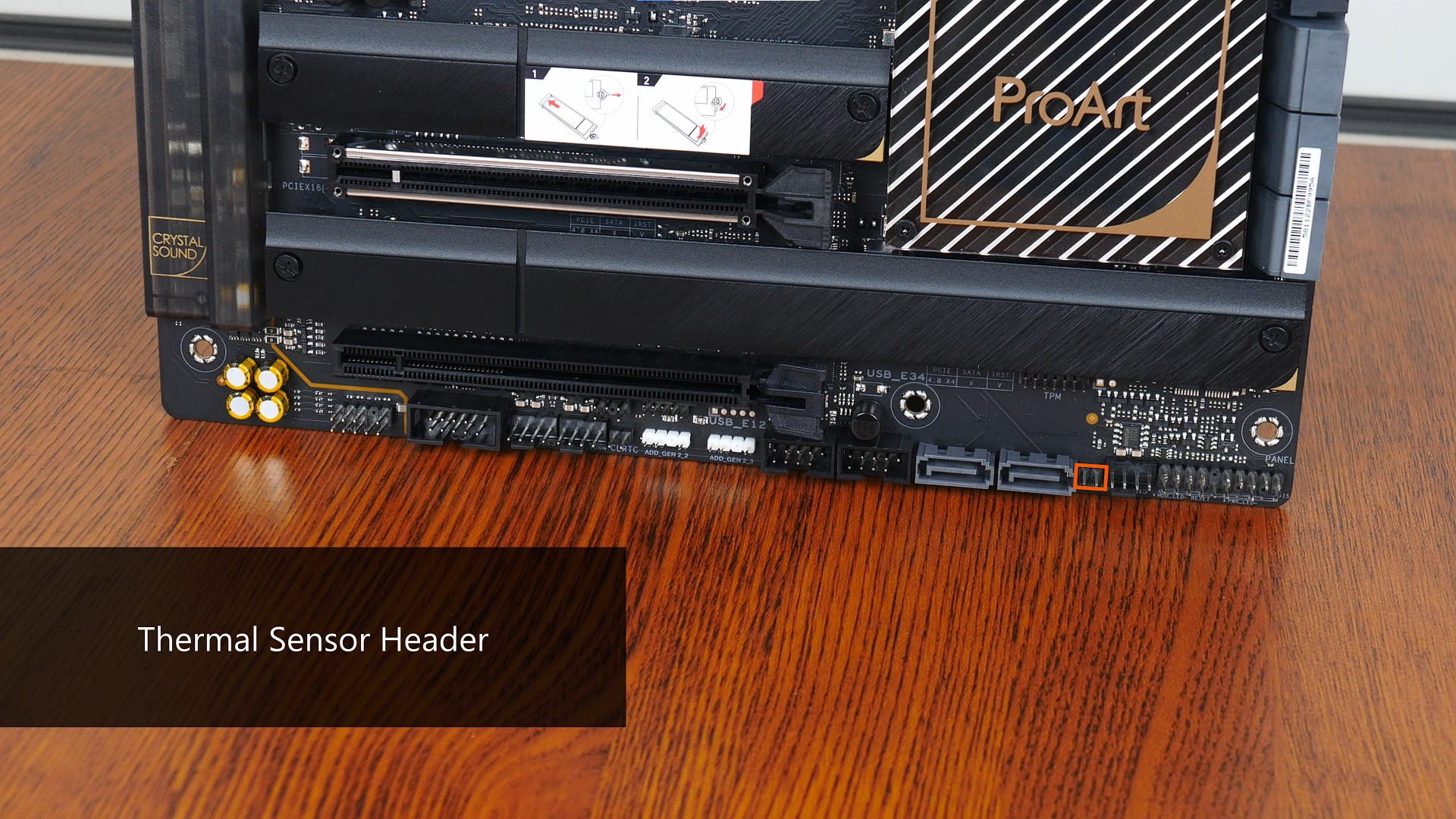 A thermal sensor header is also included with the board, where it allows for the installation of an optional thermal sensor to monitor the temperature of components within your PC case.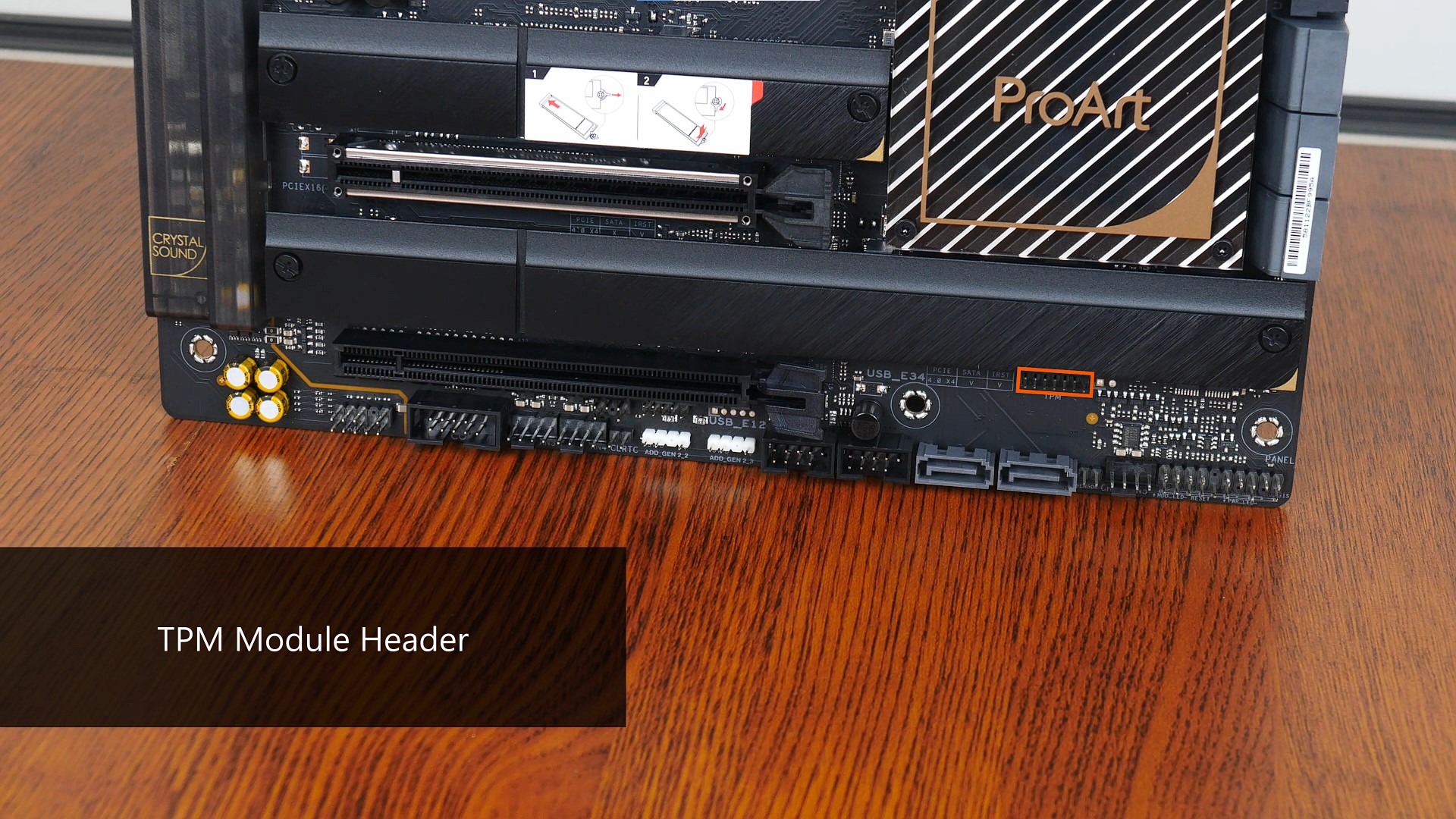 For end-users that require an additional layer of data security, the Z790-CREATOR WIFI comes with a TPM header that permits the installation of an optional TPM module.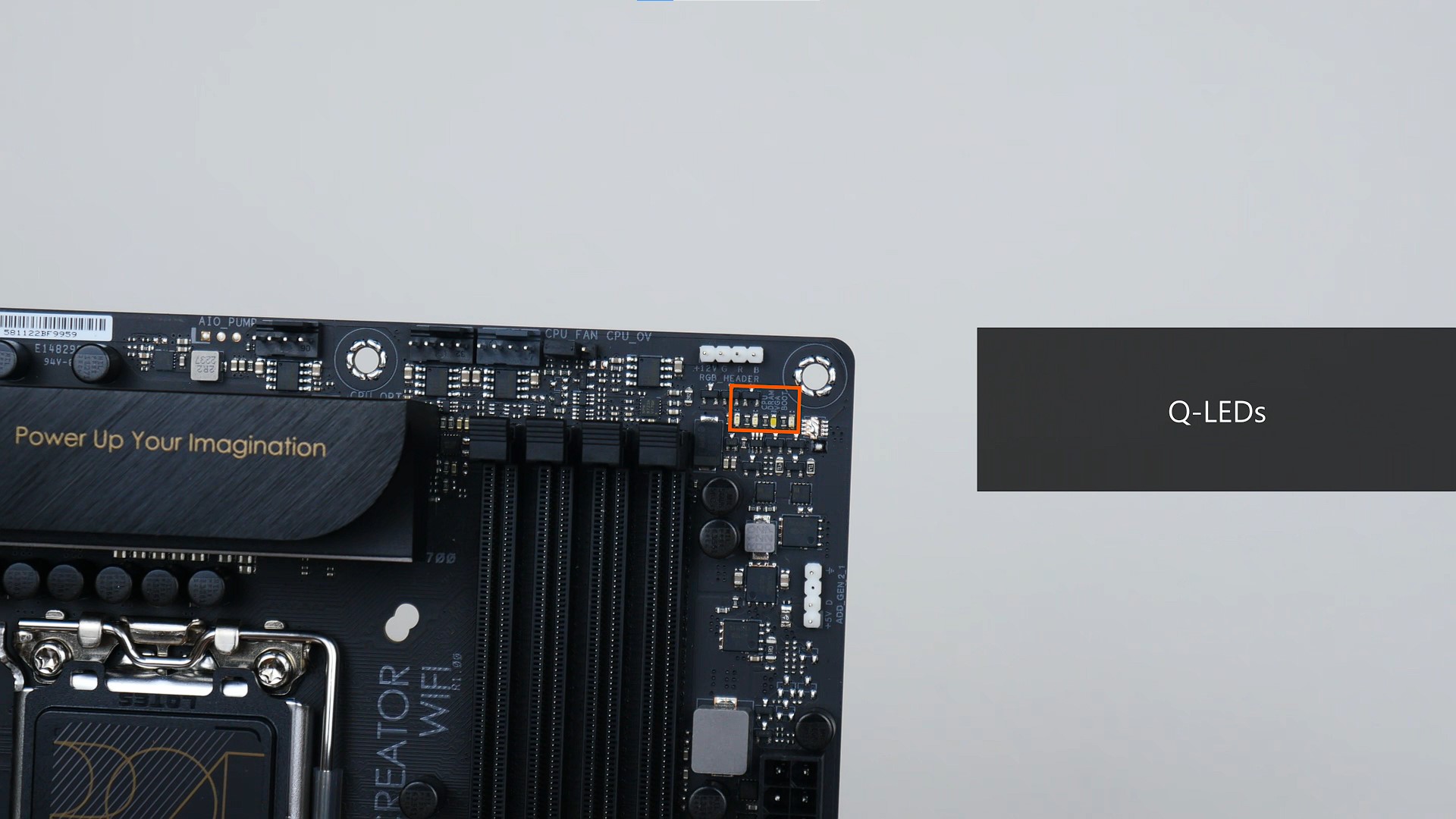 Moving over to the top edge of the motherboard, we get a set of Q-LEDs that can help with troubleshooting Power On Self Test (POST) issues.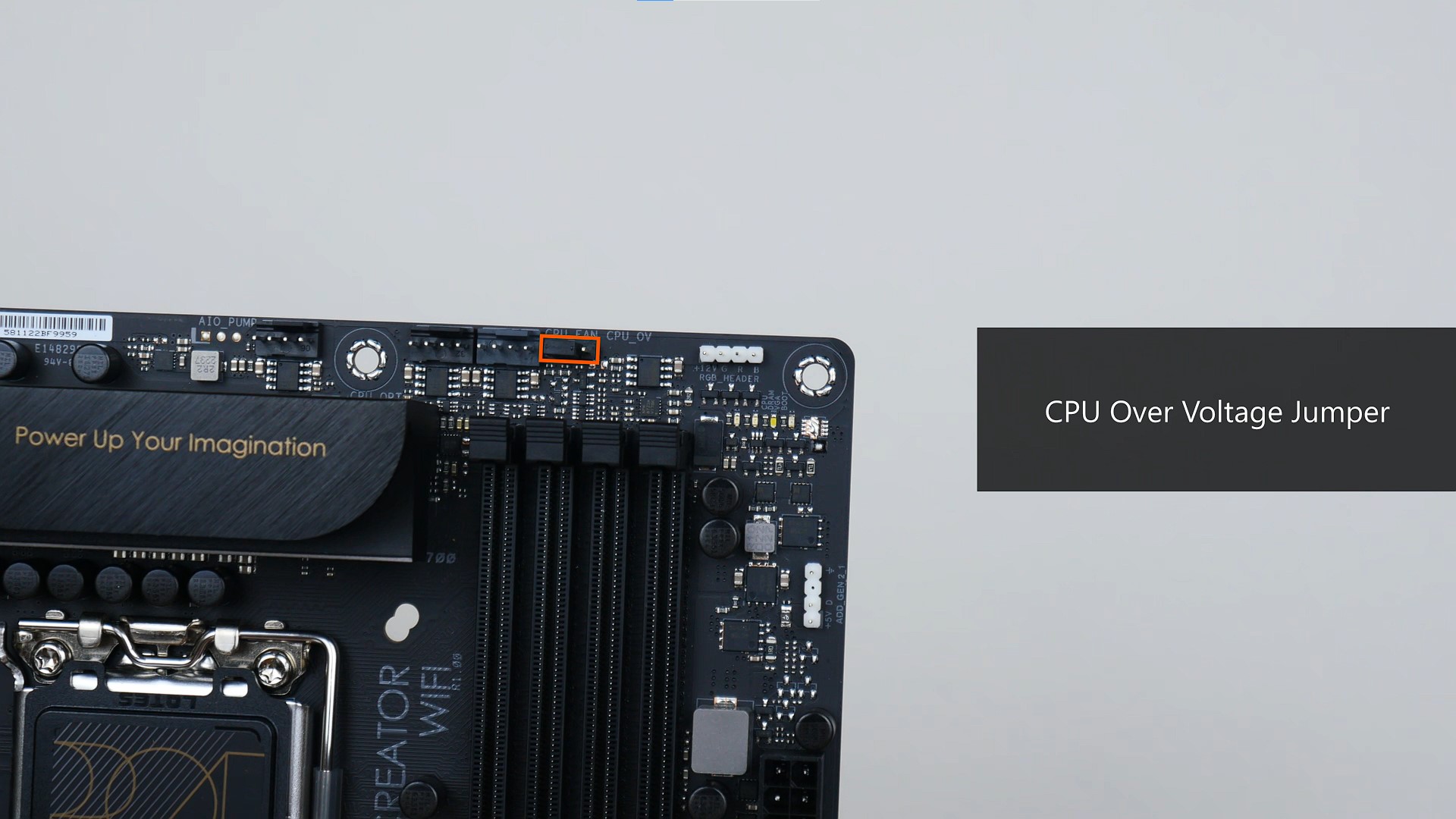 Near the Q-LEDs is a CPU Over Voltage jumper - the said jumper allows end-users to unlock a wider range of voltage options for overclocking purposes.
Rear I/O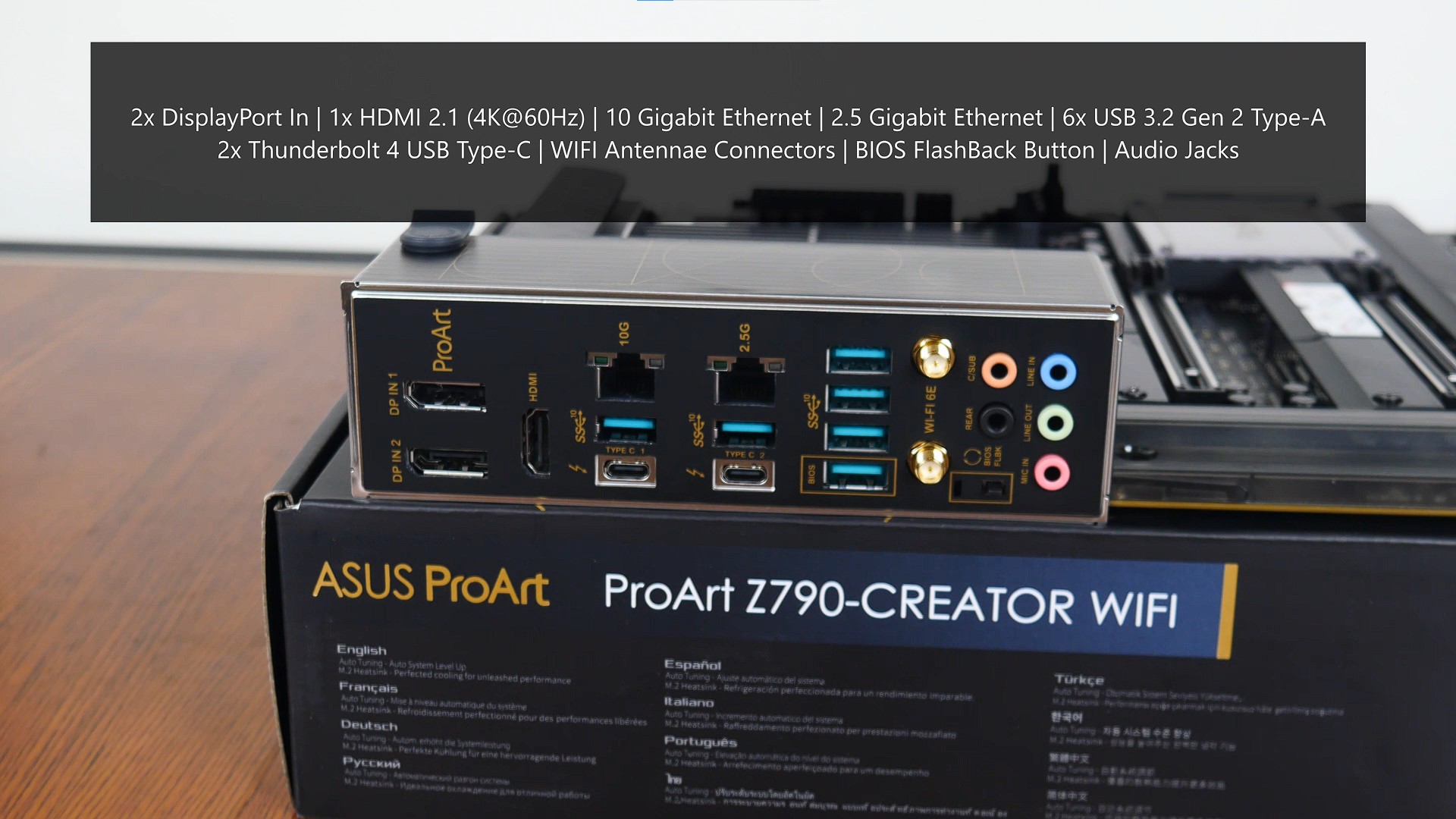 The ProArt Z790-CREATOR WIFI comes with the following ports on the rear I/O:
2x DisplayPort In ports
1x HDMI 2.1 port (

supports display output of up to 4K resolution at 60 Hz)

10 Gigabit Ethernet port

2.5 Gigabit Ethernet port

6x USB 3,2 Gen 2 Type-A (10 Gbps)

2x Thunderbolt 4 USB Type-C

WIFI antennae connectors

Audio jack connectors
Near the audio jacks is a BIOS FlashBack button - BIOS FlashBack allows for one to update the board's BIOS without needing to install a CPU, RAM or graphics card.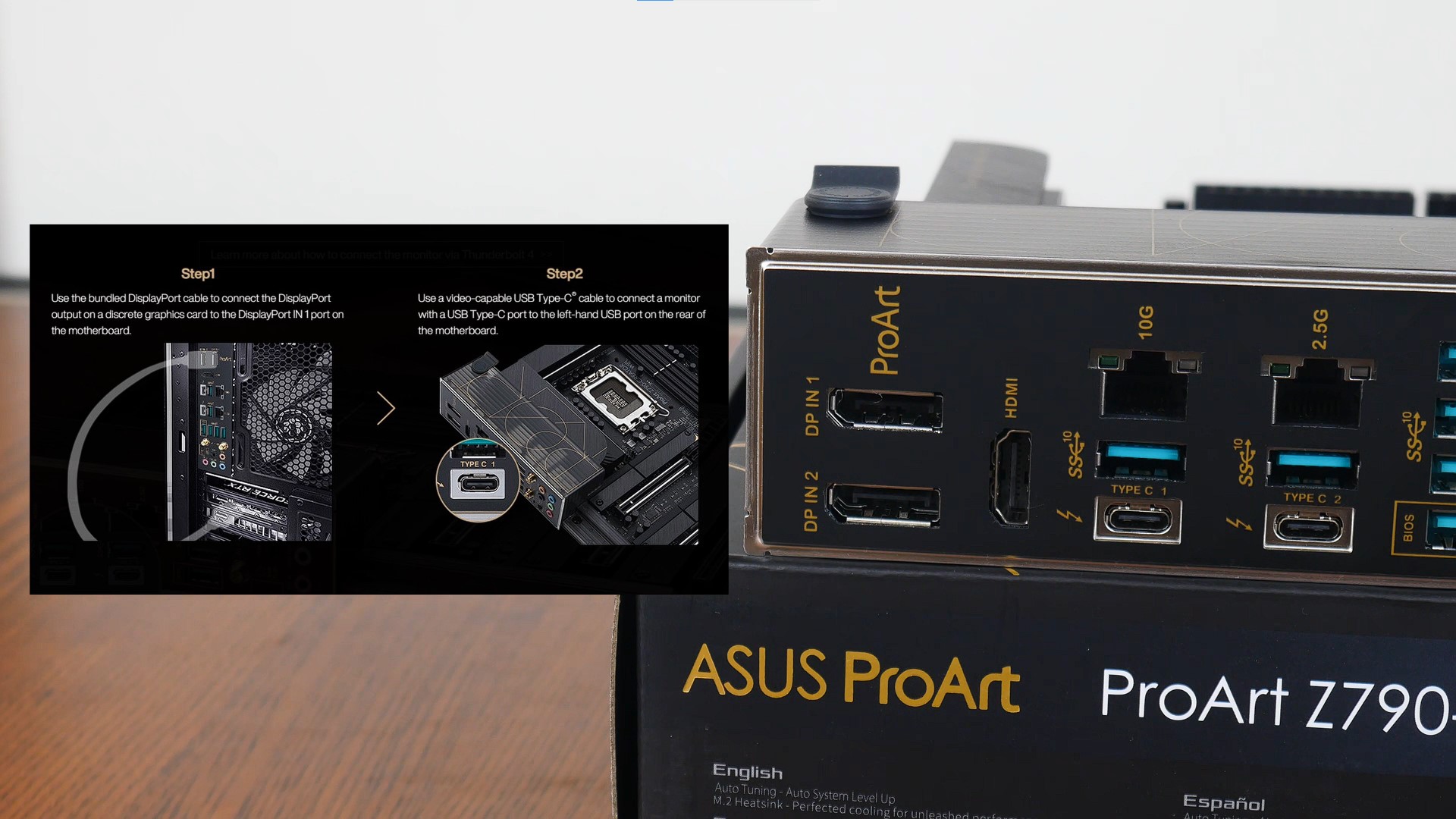 The dual Thunderbolt 4 ports found on the rear I/O can be used for video output - handy especially if professional content creation devices such as a high-resolution pen display or multiple colour accurate monitors are to be used with this motherboard. One such way to utilise this feature would be to connect the DisplayPort output port on your graphics card to the DisplayPort In 1 port on the rear I/O using the included DisplayPort cable, and thereafter, use a display-capable Thunderbolt 4 cable to connect your display device to the Thunderbolt 4 Type-C 1 port, as illustrated by the screengrab above from ASUS's website.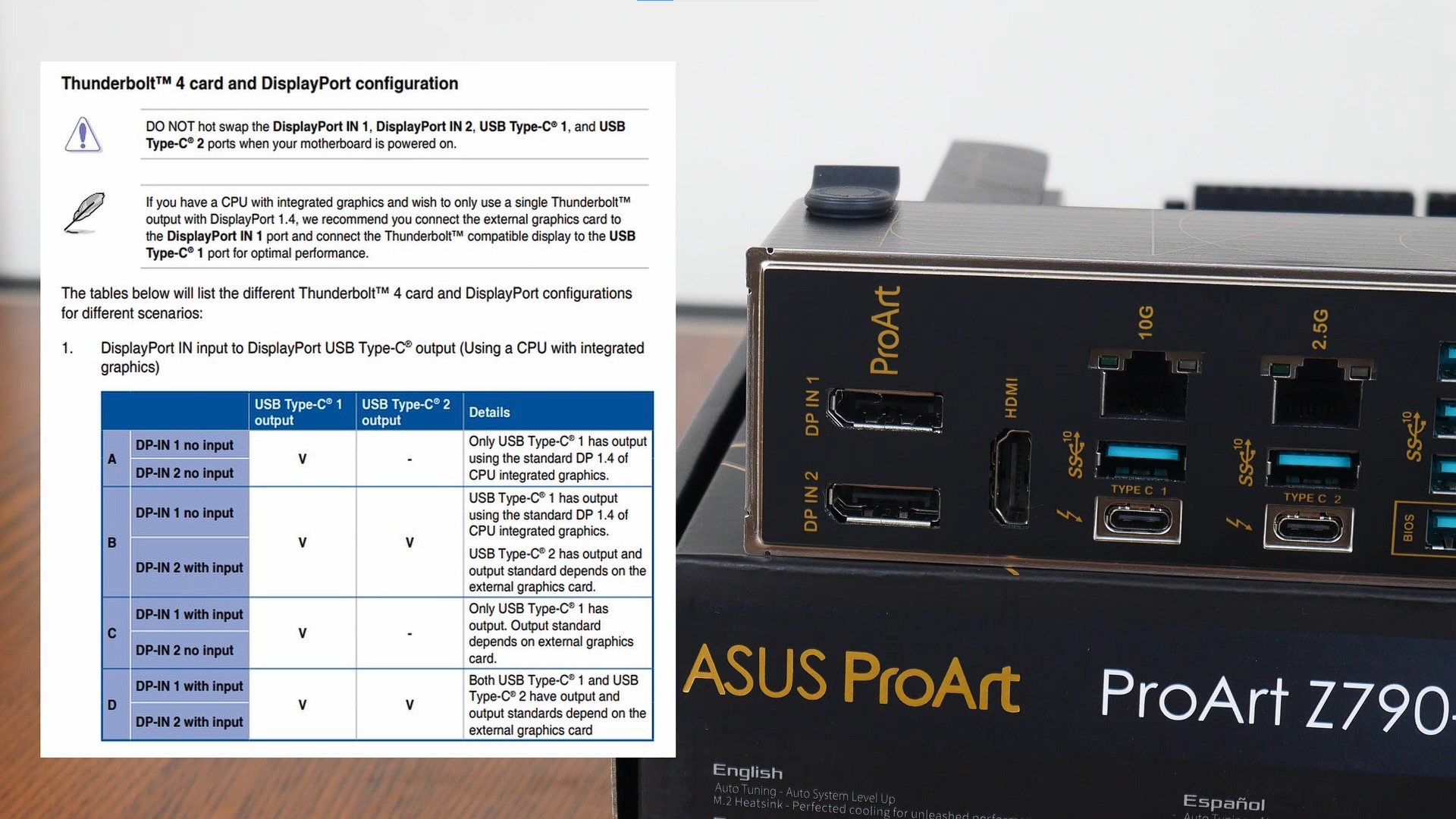 There's a whole list of other permutations in which you could hook up your display devices to the Thunderbolt 4 ports for display output, which depends on factors such as whether or not your CPU comes with integrated graphics, and so on. For more information, ASUS has included several tables in the motherboard's user manual that illustrate how the DisplayPort In ports are to be used for display output on the respective Thunderbolt 4 ports.
Conclusion & Pricing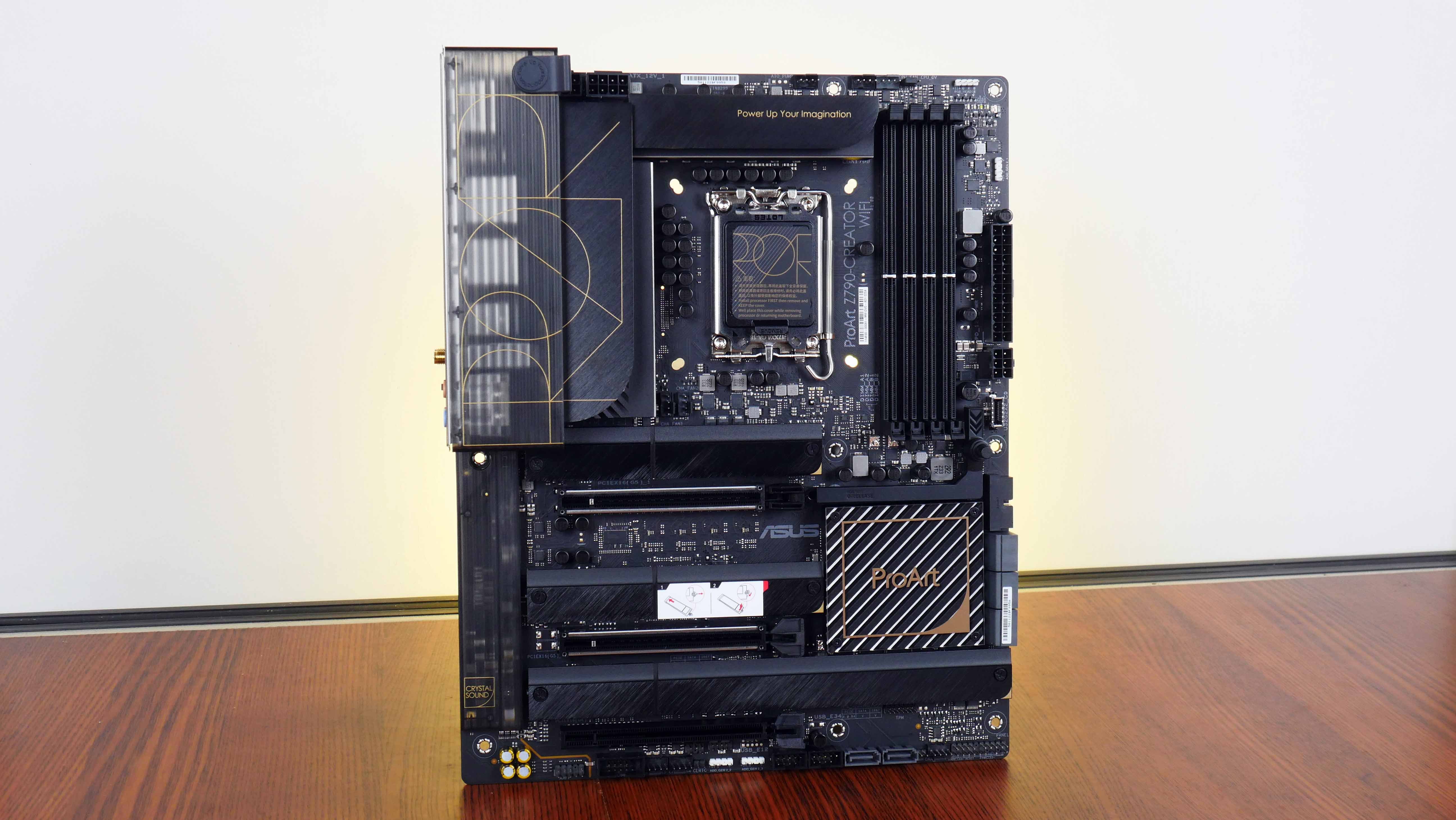 To sum up, the ASUS ProArt Z790-CREATOR WIFI is a full-fledged Intel Z790 motherboard that comes with plenty of features targeted squarely at professional content creators. It has a classy-looking aesthetic, good VRM setup that's great for high-end Intel 13th generation CPUs, dual PCIe 5.0 slots for graphics cards, 10 Gigabit Ethernet, a good audio codec and more importantly, a whole host of USB connectivity options with dual Thunderbolt 4 ports to support the usage of multiple professional content creation devices.
These features do come with a hefty price tag though, where as of end-February 2023, the Z790-CREATOR WIFI can be purchased in Singapore for a price of around $756 Singapore dollars - international readers can purchase this motherboard from online retailers such as Amazon for around $444 US dollars.

Get this motherboard from Amazon: https://amzn.to/3xyFmNE (affiliate link)

Get this motherboard from Shopee Singapore: https://shope.ee/9zQExAk16v (affiliate link)

ALKtech may earn commissions from qualifying purchases made using affiliate links, at no extra cost to you as a customer. These commissions go a long way in supporting the platform!

The motherboard featured in this article was a review unit provided on loan from ASUS Singapore.