Could this AM5 motherboard offering serve up the value that AMD so desperately needs at the mid-range?
As the dust settles on new motherboard and processor releases from both AMD and Intel, ALKtech continues its coverage of the AMD AM5 platform's motherboard offerings, this time going further down the spectrum with the ASUS TUF Gaming B650-PLUS WIFI motherboard. Equipped with the entry-level AMD B650 chipset, and positioned as more of a gaming motherboard for consumers on a budget, the TUF Gaming B650-PLUS WIFI sports support for the latest Ryzen 7000 series of processors, but the real question is, can this motherboard help with the value issue that plagues the AM5 platform, especially in the face of Intel's 13th Generation Raptor Lake CPU offerings that have taken the performance and value crown from AMD?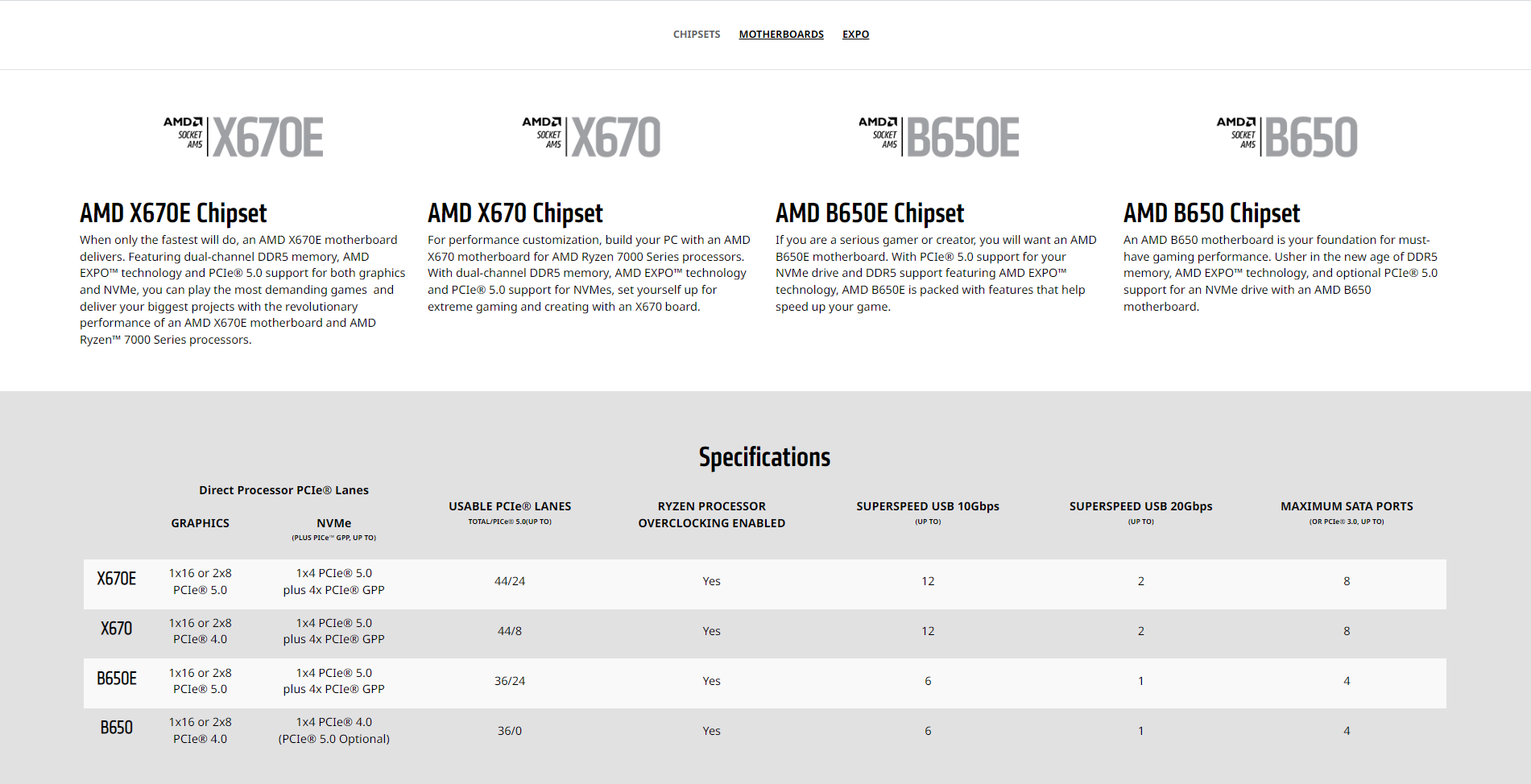 Source: AMD website
As a quick recap, AMD launched its AM5 platform with the X670E and X670 chipsets, which saw the introduction of really pricey motherboards at the high-end that called into question the value that mid-range CPU parts (such as the Ryzen 5 7600X) could offer to potential end-consumers. Motherboards with the B650E and B650 chipsets were soon launched thereafter, where AMD pared away PCIe lanes, USB 3.2 ports as well as SATA ports so as to pave the way for the creation of AM5 motherboard offerings at a lower price point. The TUF Gaming B650-PLUS WIFI in today's article, as its name implies, serves up the entry-level B650 chipset in a budget gamer-oriented package.
Summary of Specifications
Processor Support: AMD Ryzen 7000 series (Zen 4) AM5 processors
Chipset: AMD B650
Memory: 4x DDR5 slots, max 128GB, up to DDR5 6400+ (OC) support
Audio: Realtek ALC S1200A audio codec with premium audio capacitors
LAN: Realtek 2.5 Gigabit Ethernet
WIFI: MediaTek MT7921 WIFI 6 module with built-in Bluetooth 5.2
Expansion Slots: 1x PCIe 4.0 x16, 2x PCIe 4.0 x1, 1x PCIe 4.0 x16 (x4 mode)
Storage: 4x SATA III, 1x PCIe 5.0 x4 M.2, 2x PCIe 4.0 x4 M.2 (M.2 slots support NVMe drives only)
Form Factor: ATX
Packaging & Contents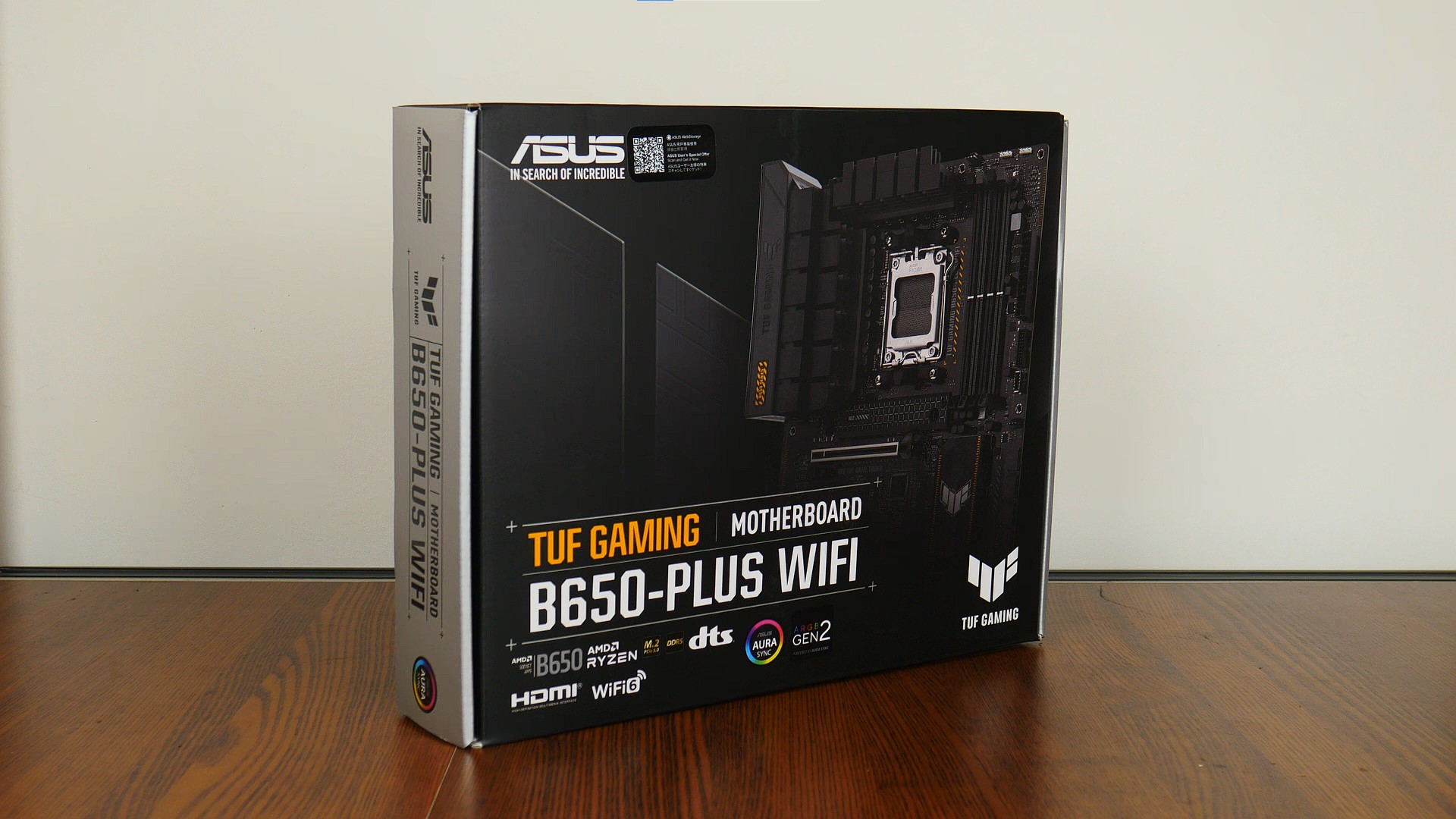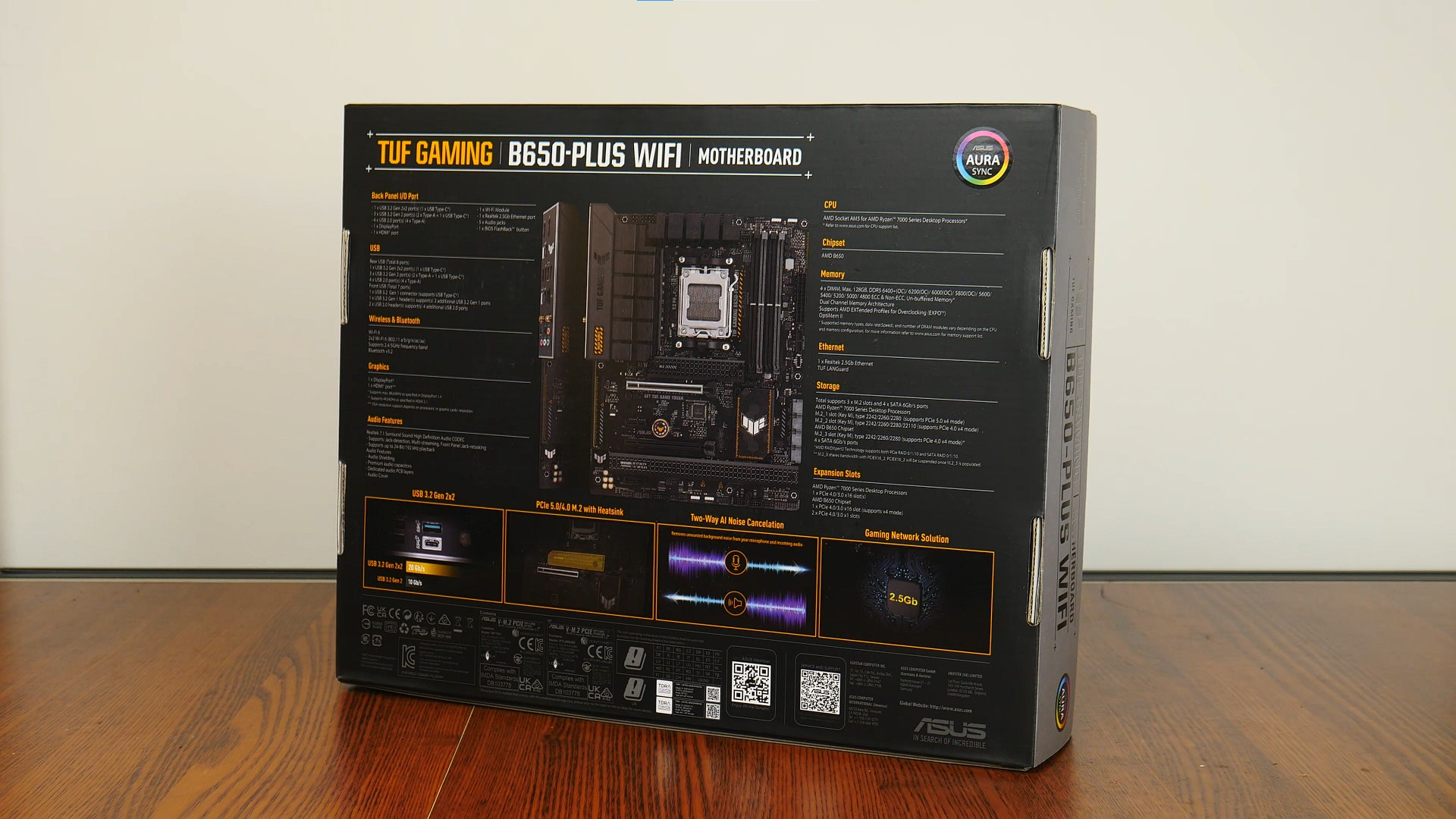 In keeping with the TUF Gaming line-up's brand identity, the B650-PLUS WIFI comes in a black and silver box with yellow accents.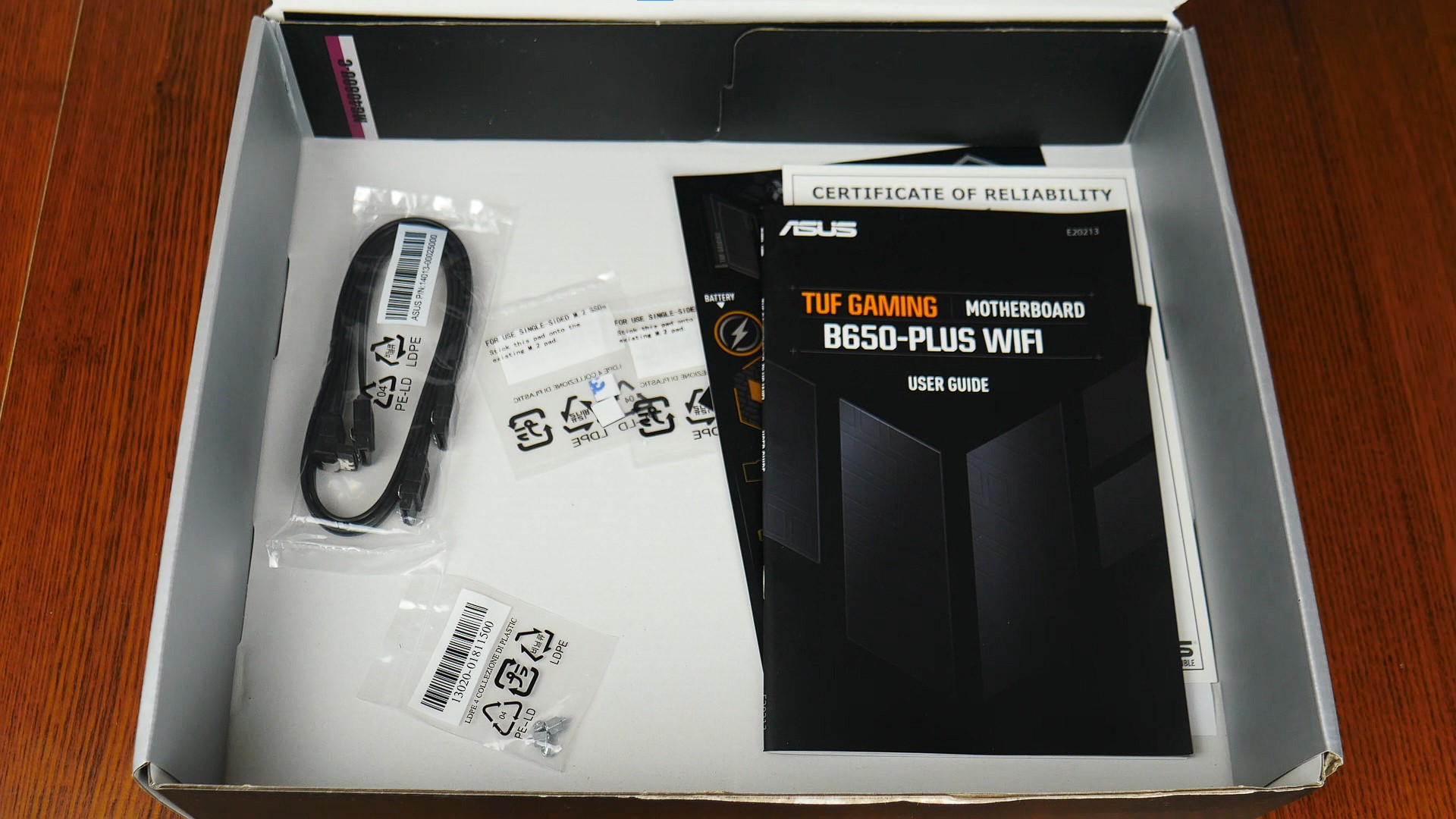 The board comes with the following accessories:
WIFI antenna
2x SATA III cables
Pack of M.2 screws and standoffs
2x packs of M.2. drive rubber pads (adds height clearance for single-sided M.2 SSDs)
Motherboard manual
DVD driver disc
TUF Gaming Certificate of Reliability
ASUS WebStorage promotional leaflet
TUF Gaming sticker sheet
Board Aesthetics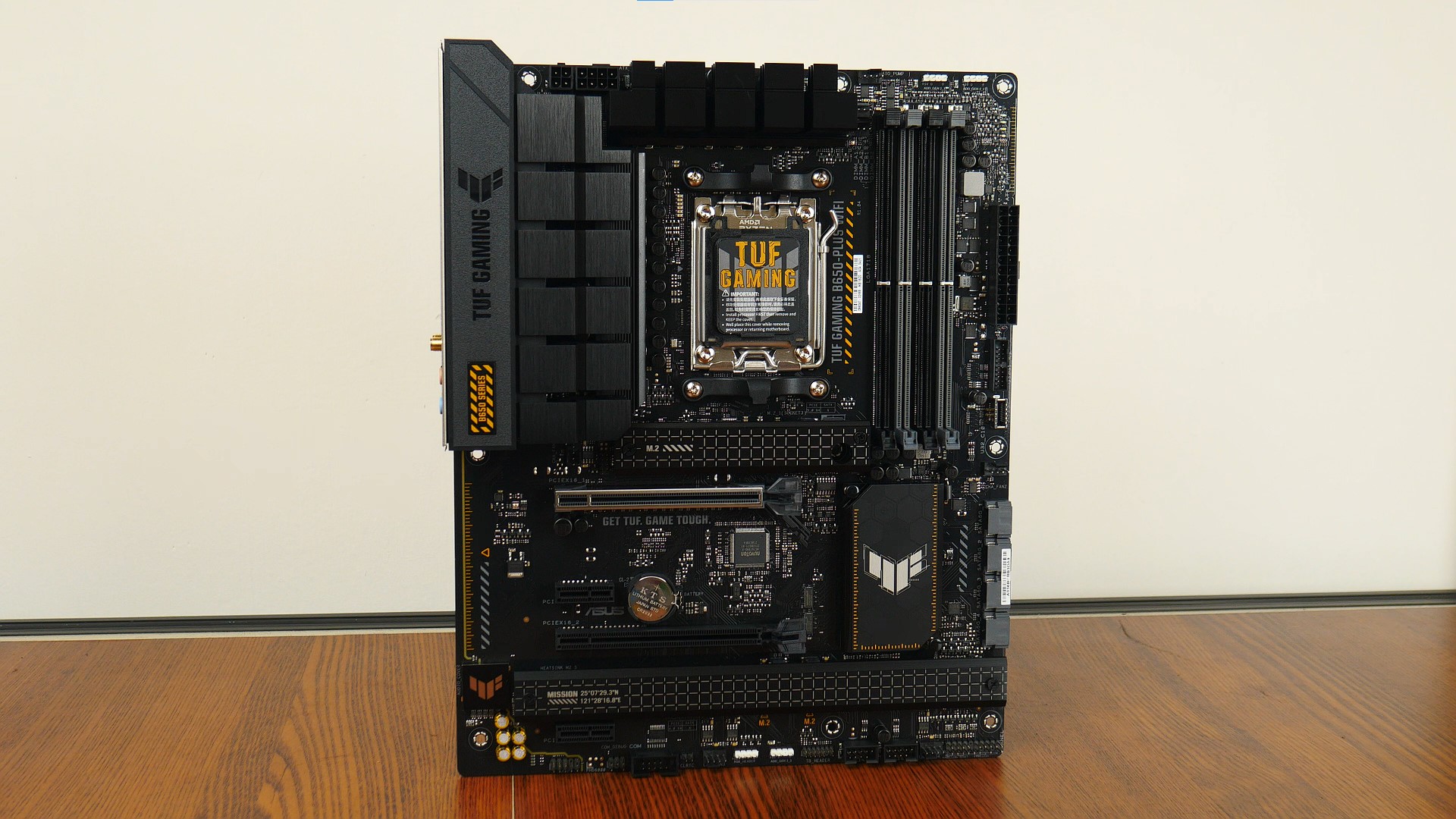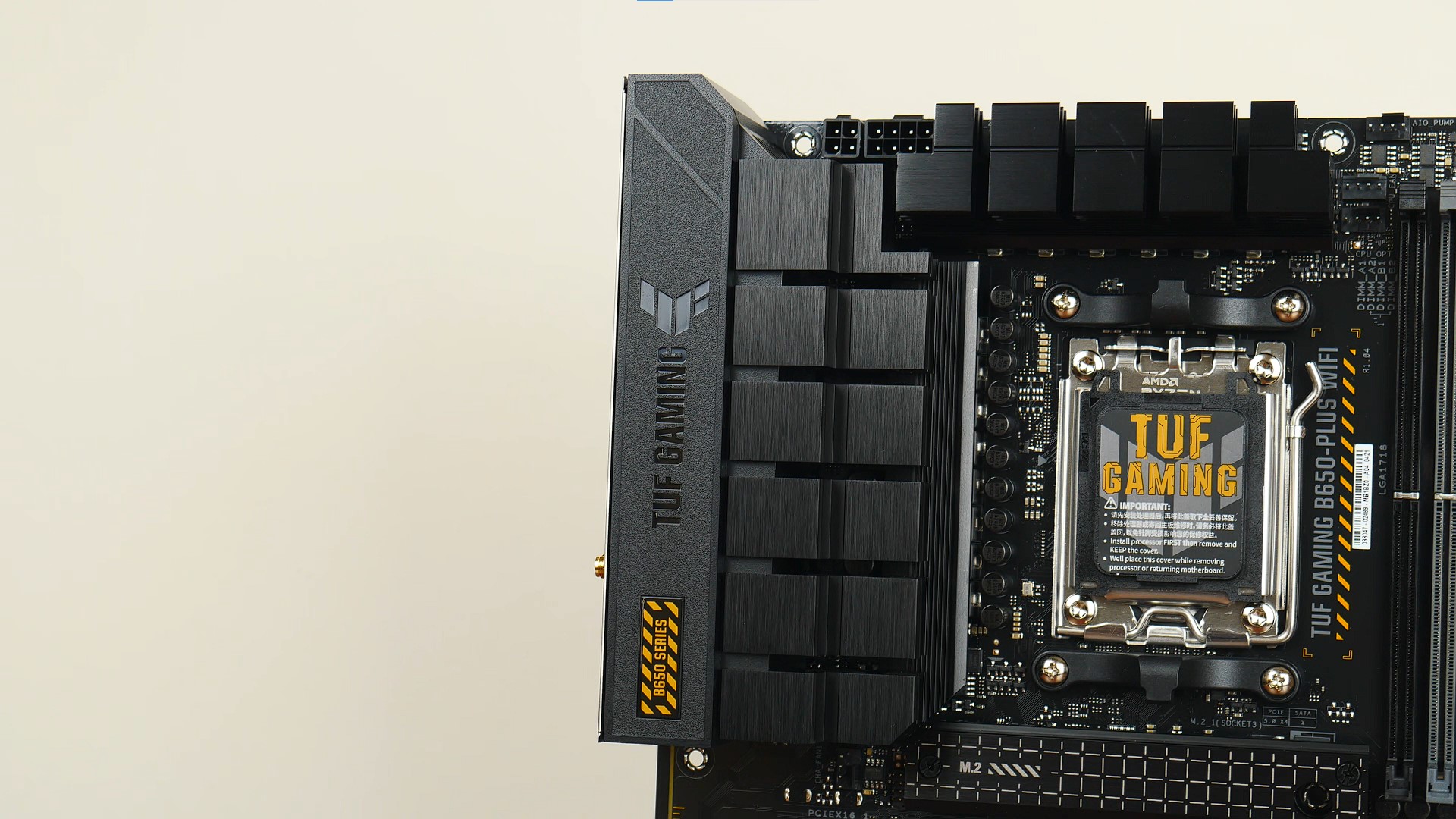 The TUF Gaming B650-PLUS WIFI has a black and grey colour scheme with touches of yellow thrown in for contrast. It features an integrated I/O shield, and comes with large black heatsinks all around that are adorned with military-inspired motifs.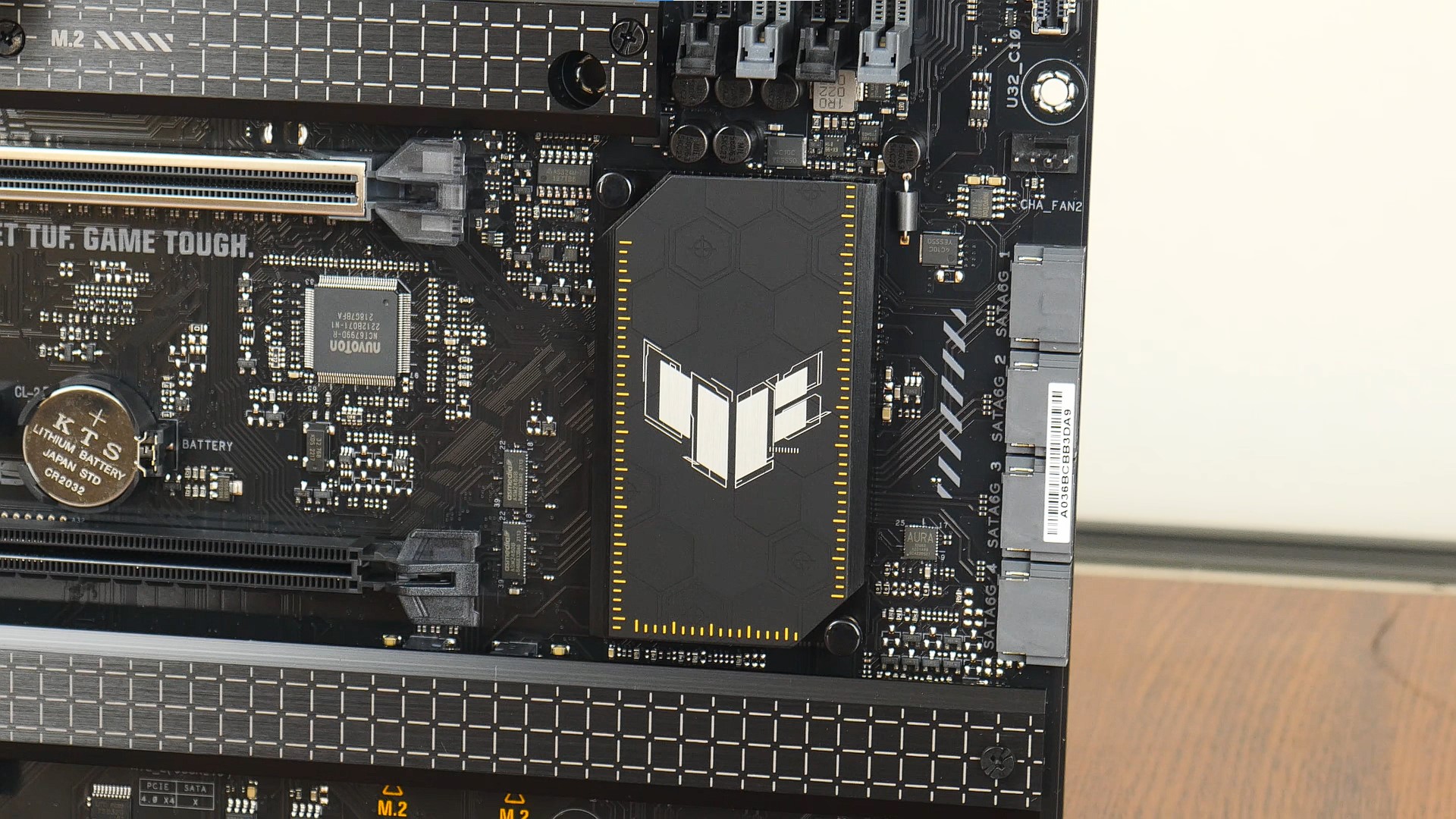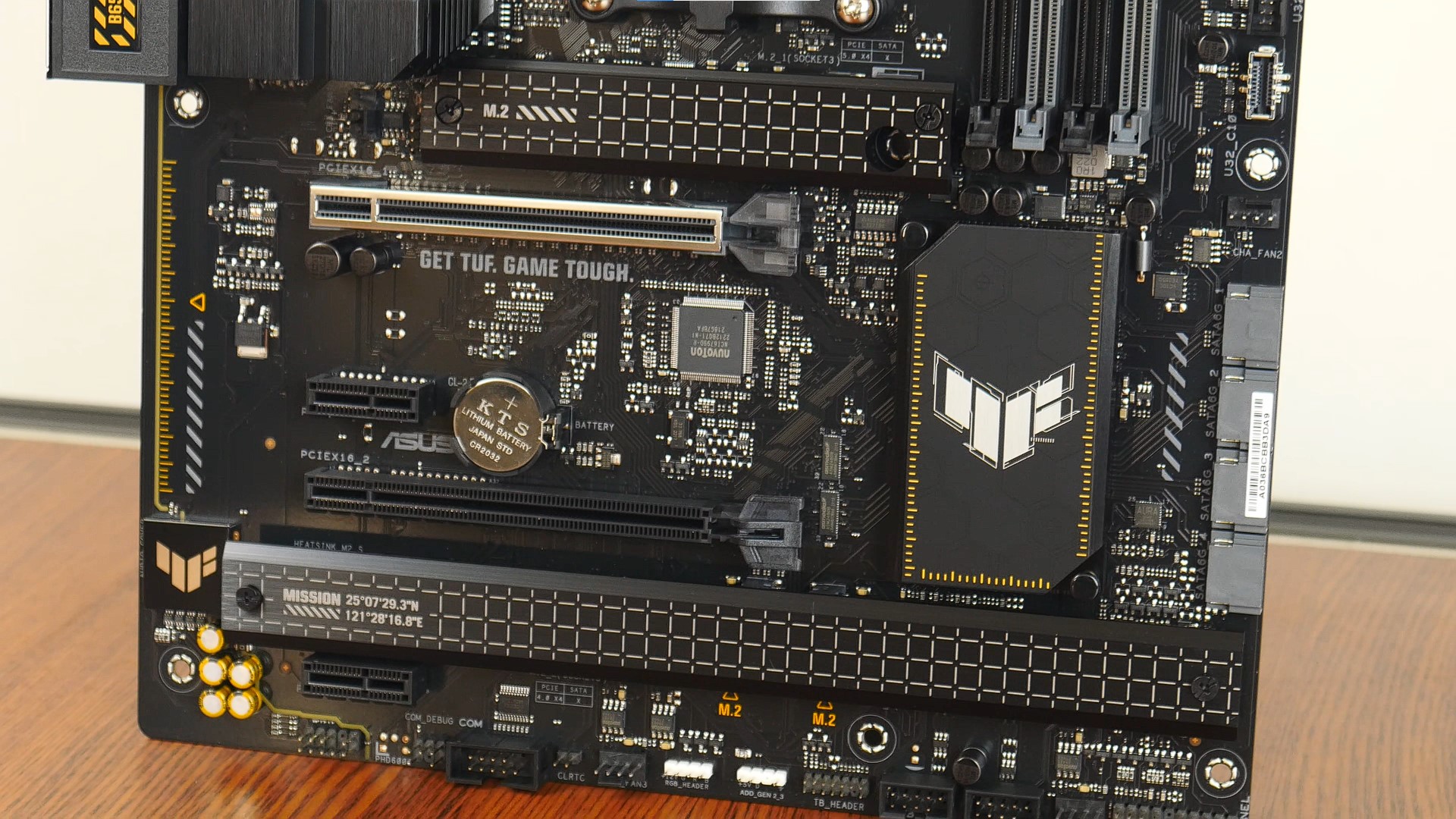 Unlike the X670E, the B650 comes with a single-chipset design, and ASUS has included a passive heatsink for the chipset, which comes adorned with the TUF Gaming emblem. Also included are heatsinks for all three M.2 slots that the board comes with, with the second and third M.2 slots sharing a common heatsink.
Flipping over the board, we see that ASUS has decorated the rear of the motherboard with TUF Gaming motifs too - a nice touch that unfortunately might go unappreciated, as most PC cases do not have transparent side panels all around, or even motherboard trays with cut-outs in the right positions so that owners can catch a glimpse of these motifs.
VRM & Memory Support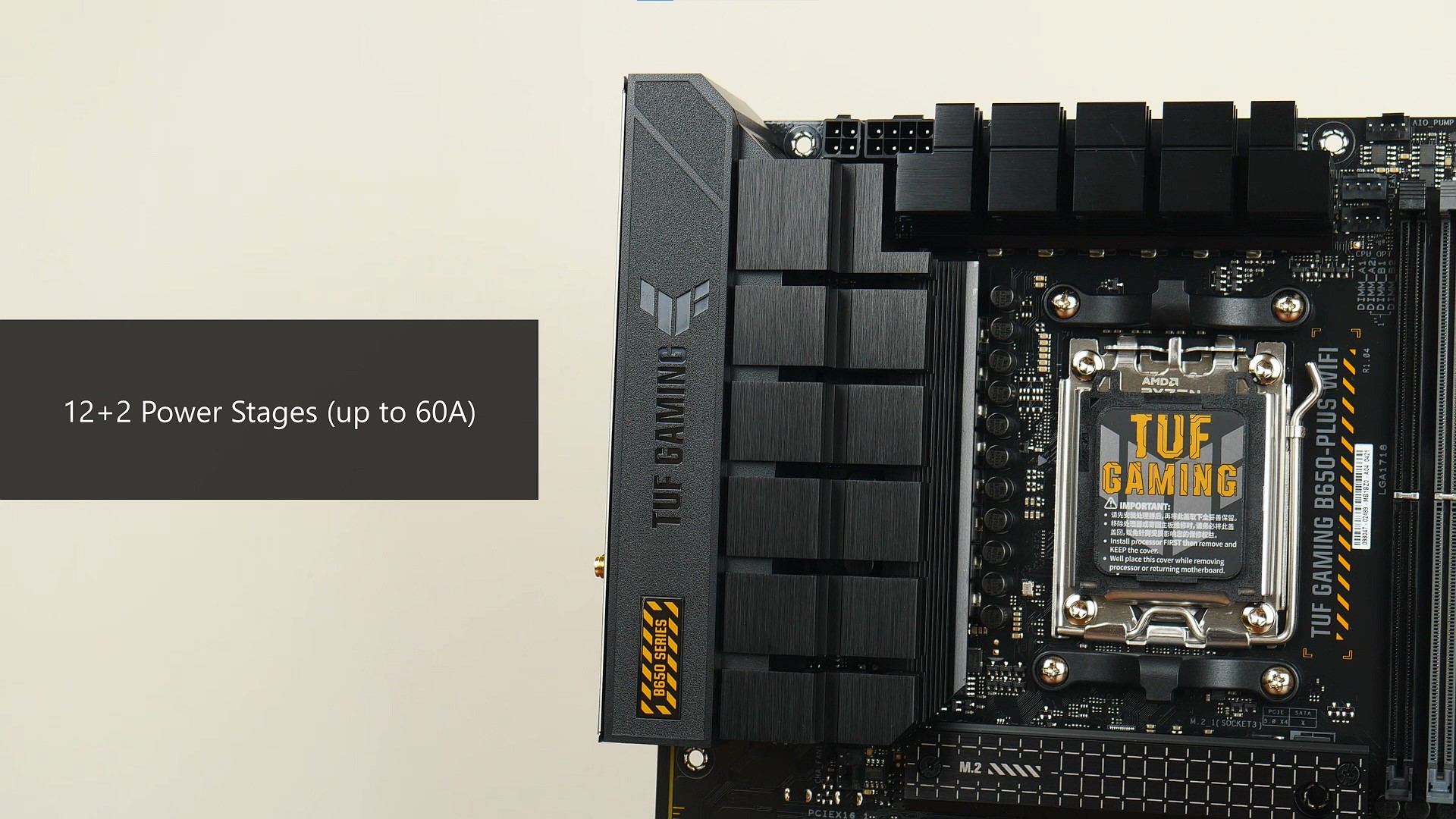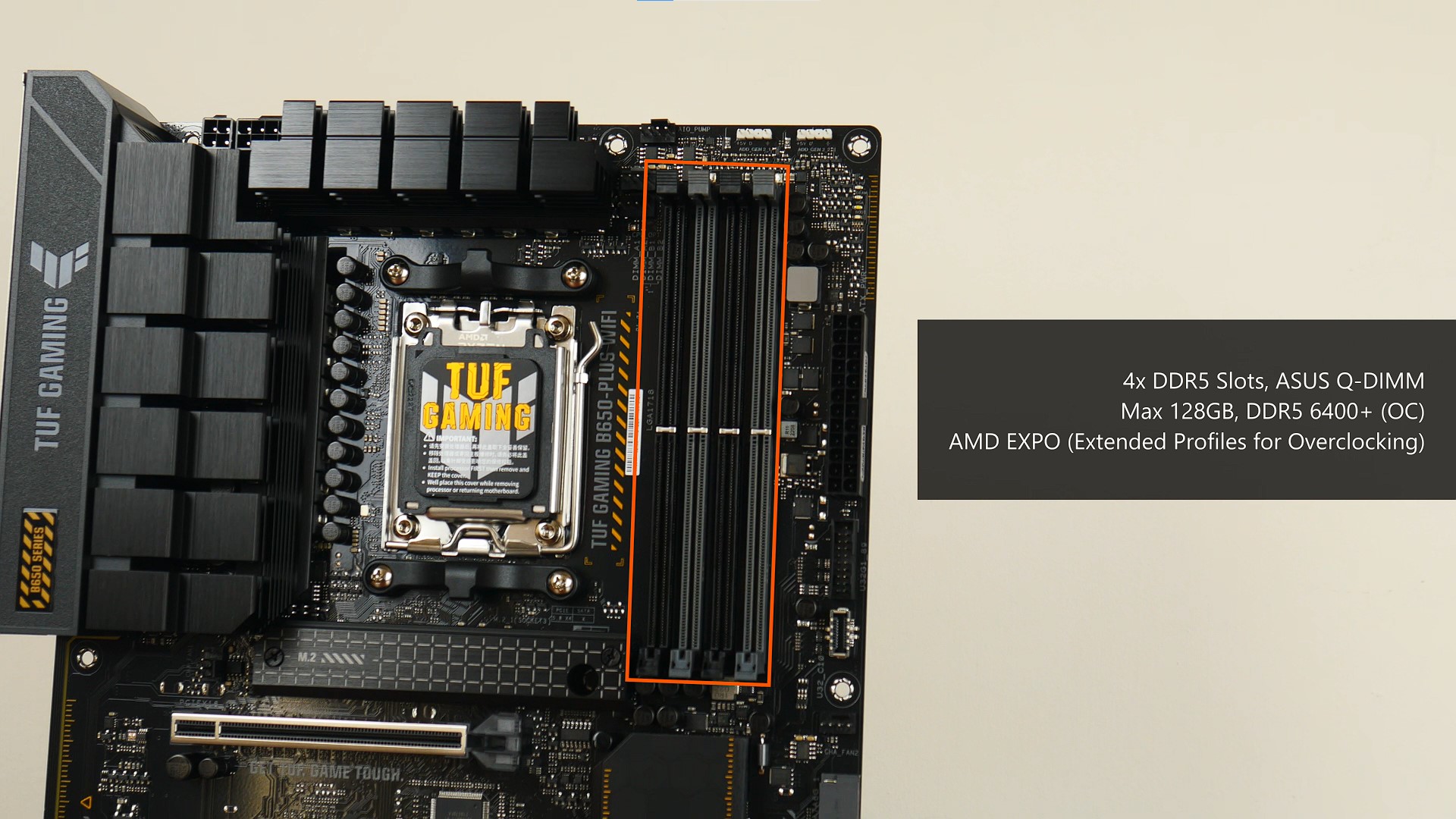 The board comes with 12+2 power stages that are rated for up to 60A each, and has four DDR5 slots with support for up to 128GBs of RAM, and the DDR5 6400+ standard when overclocked. The memory slots are of a single-tabbed design - what ASUS calls "Q-DIMM", which facilitates the removal of memory modules especially when a lengthy graphics card is installed, where such graphics cards might block the lower retention tabs of the memory slots. The board also features AMD EXPO - Extended Profiles for Overclocking, which are built-in overclocking profiles for DDR5 memory, similar to what XMP stands for in Intel's ecosystem.
Front Panel USB Headers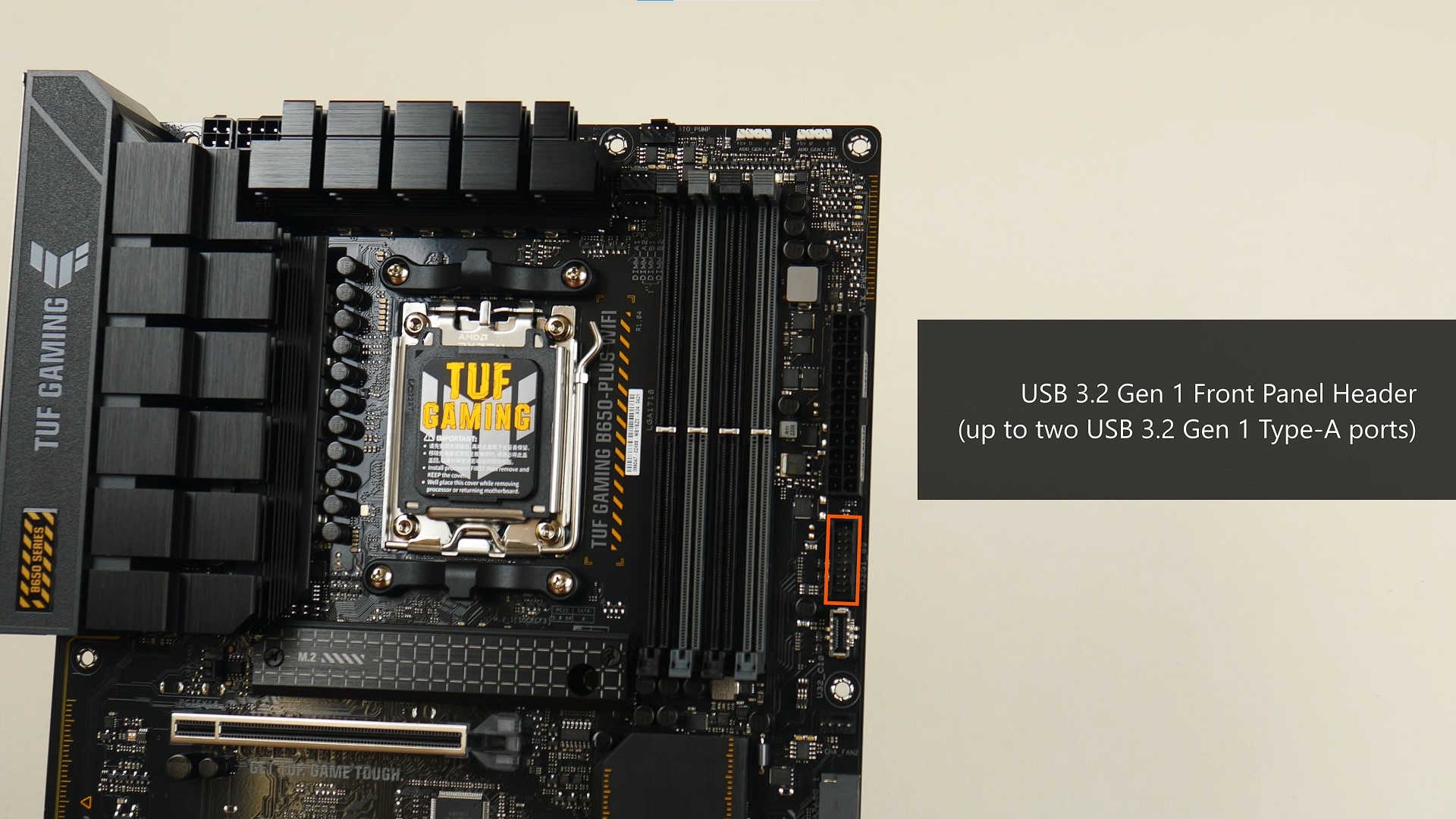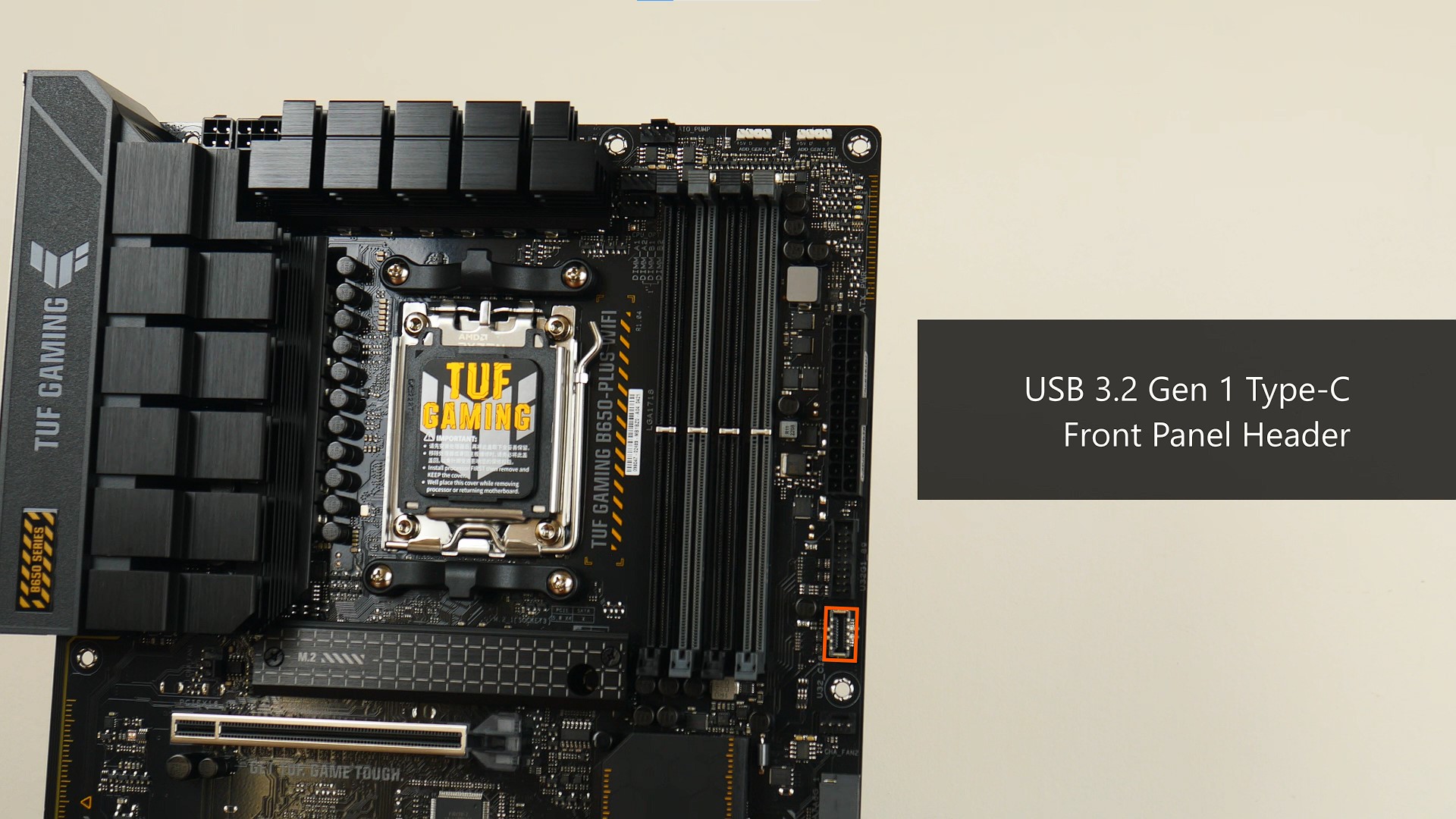 The TUF Gaming B650-PLUS WIFI comes with a USB 3.2 Gen 1 Type-A front panel header that provides for up to two front panel USB 3.2 Gen 1 Type-A ports, as well as a USB 3,2 Gen 1 Type-C front panel header that provides for a single front panel USB 3.2 Gen 1 Type-C port.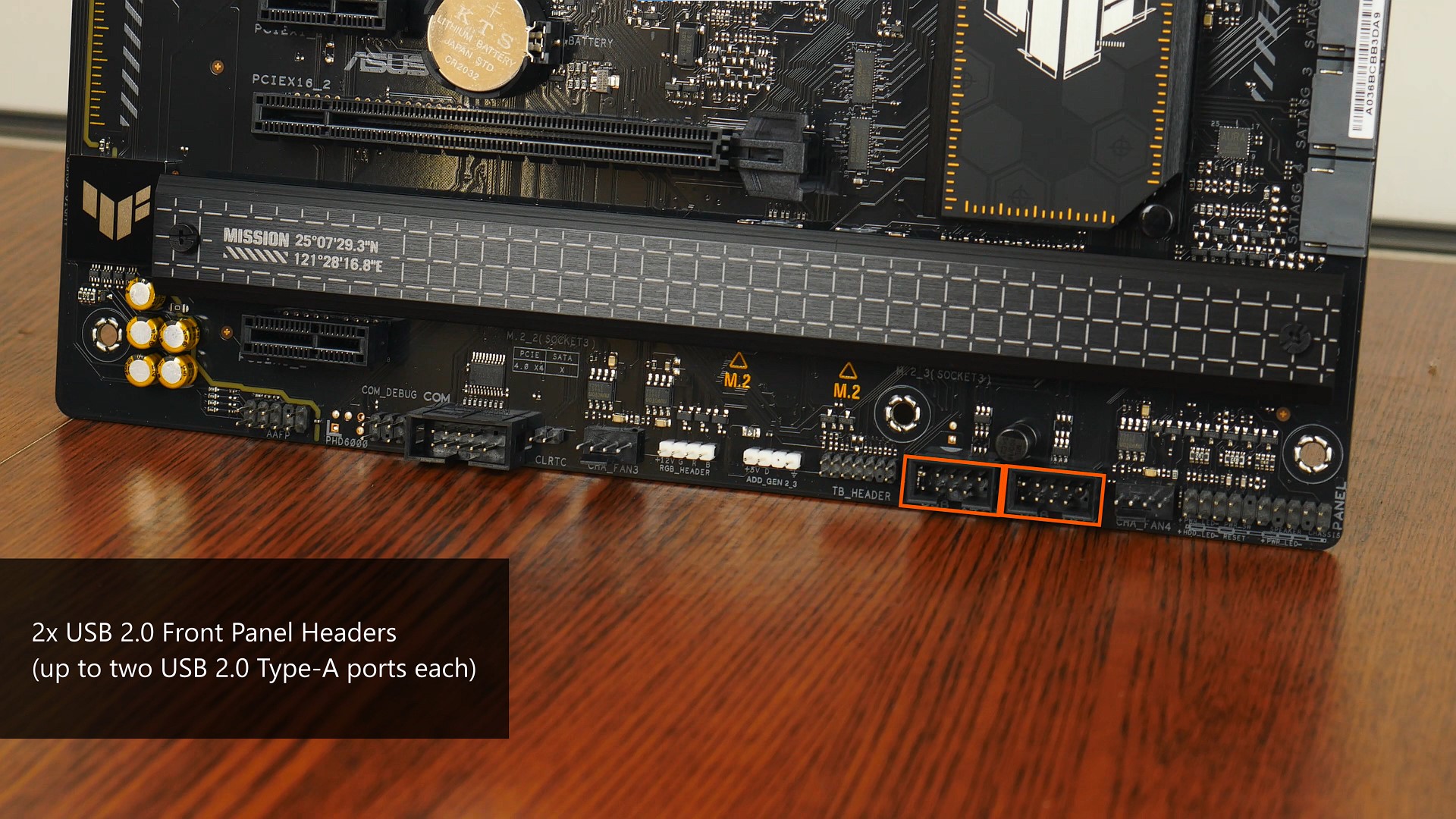 Also included are two front panel USB 2.0 headers near the bottom edge of the board, with each header providing support for two USB 2.0 Type-A ports, for a total of up to four front panel USB 2.0 Type-A ports.
Expansion Slots & Storage Options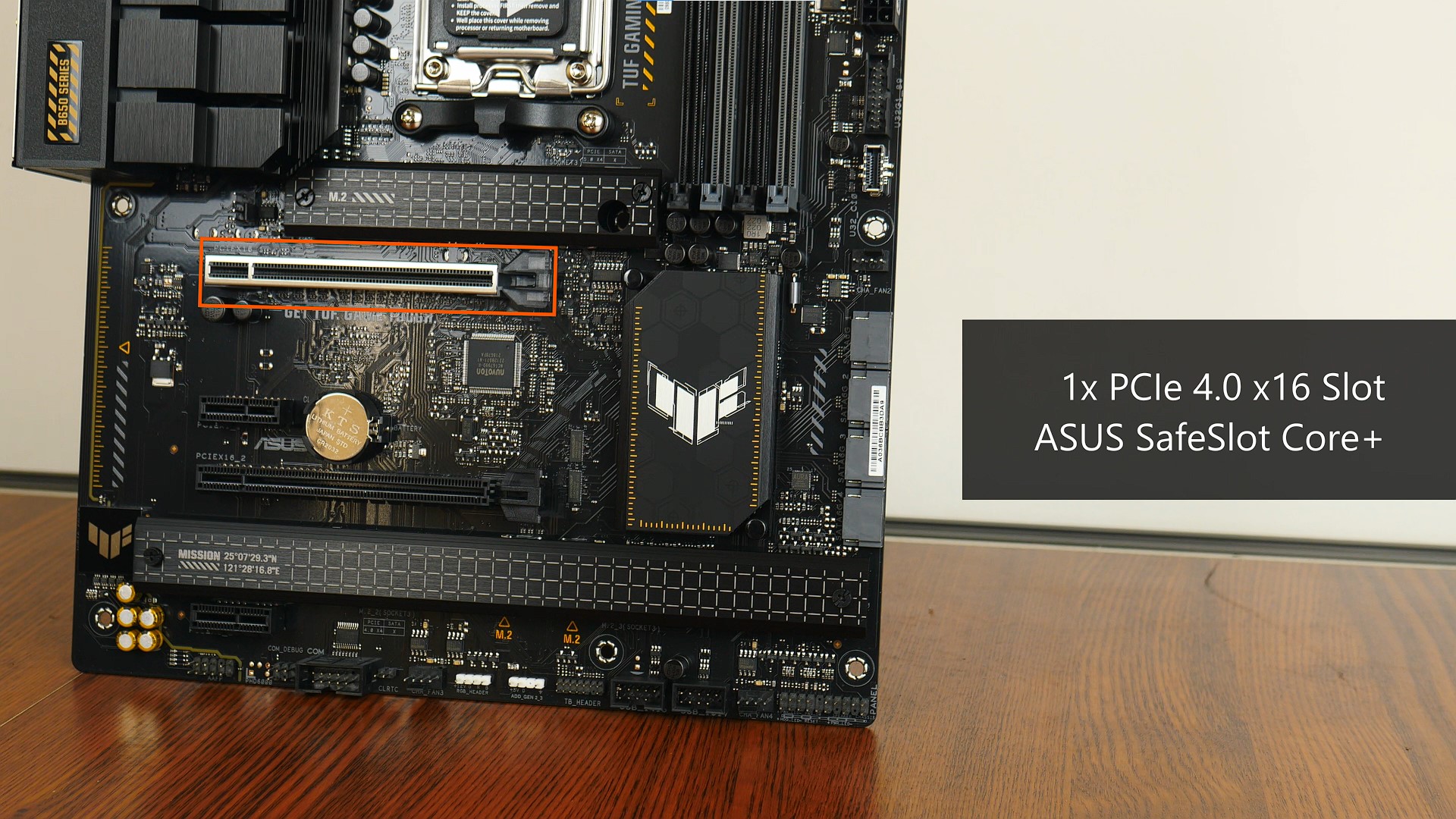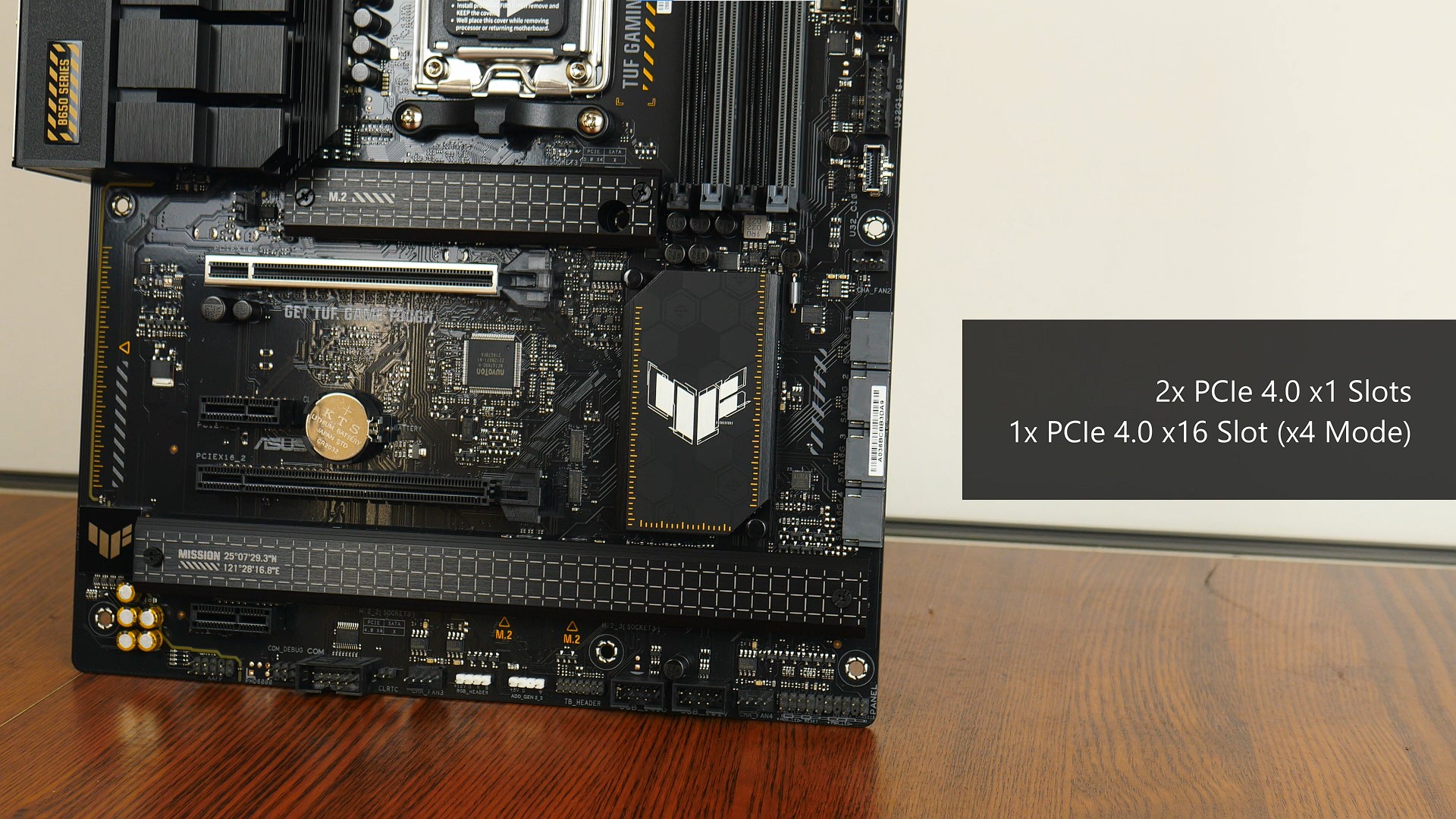 In terms of expansion slots, the board comes with a single PCIe 4.0 x16 slot for a graphics card, two PCIe 4.0 x1 slots, as well as a PCIe 4.0 x16 slot that operates at x4 mode. The primary PCIe 4.0 x16 comes with the SafeSlot Core+ feature that reinforces the card against heavy graphics cards.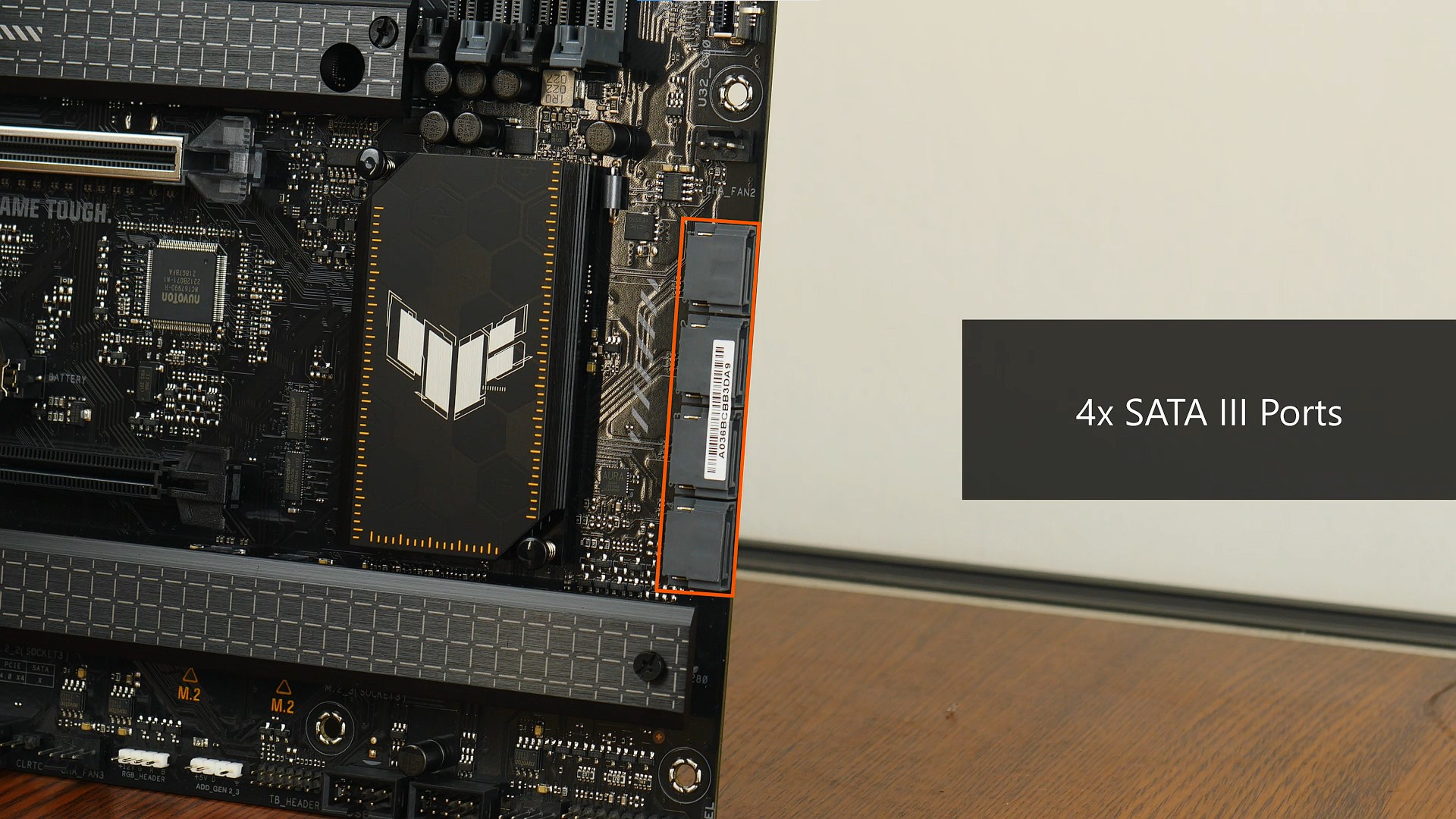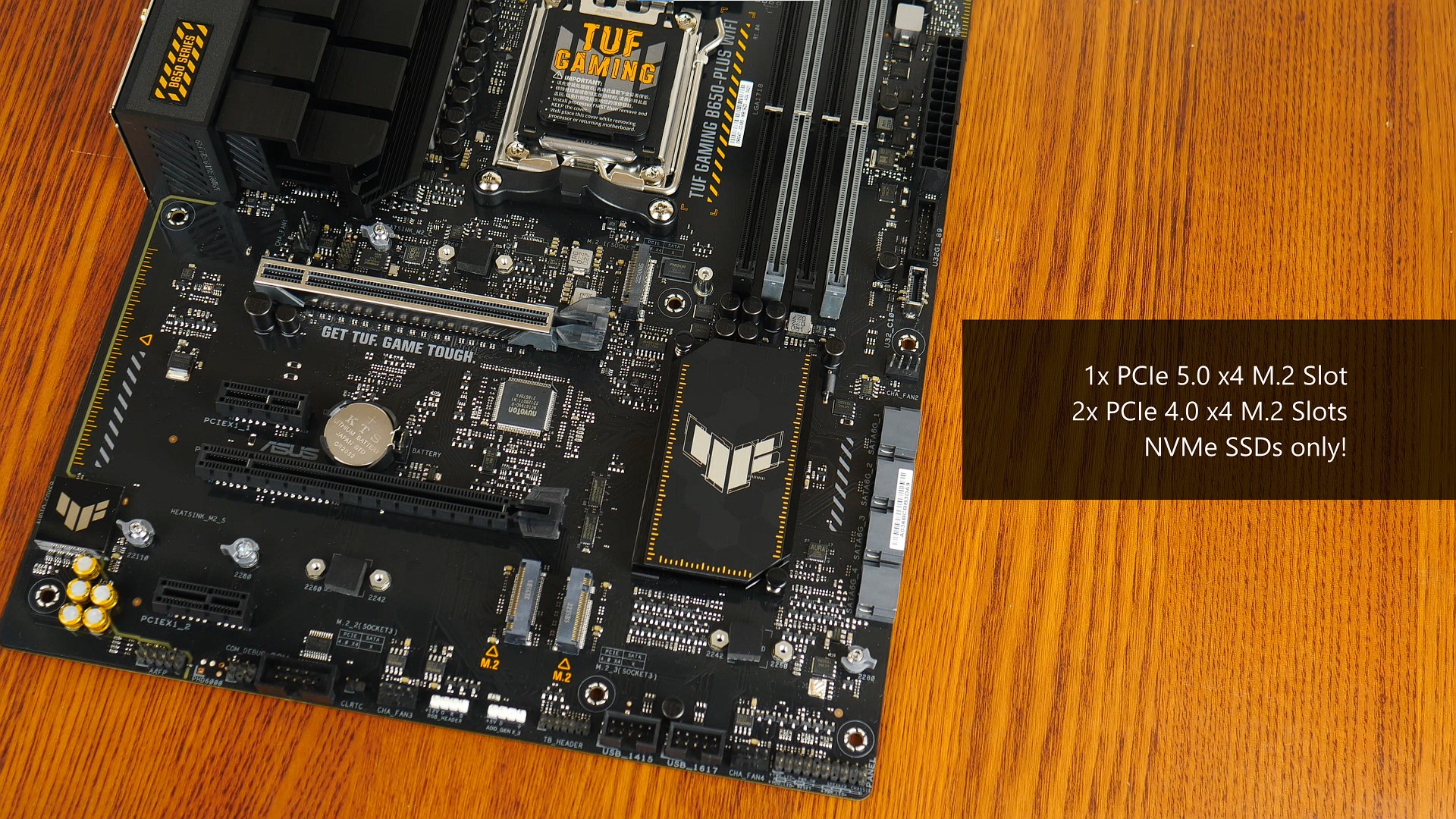 For storage device support, ASUS has included four SATA III ports, with all ports in a right-angled configuration to aid with cable management. In terms of M.2 drives, the B650-PLUS WIFI comes with a single PCIe 5.0 x4 M.2 slot and two PCIe 4.0 x4 M.2 slots. Do note that all three M.2 slots support NVMe M.2 drives only - owners of M.2 SATA drives will be out of luck.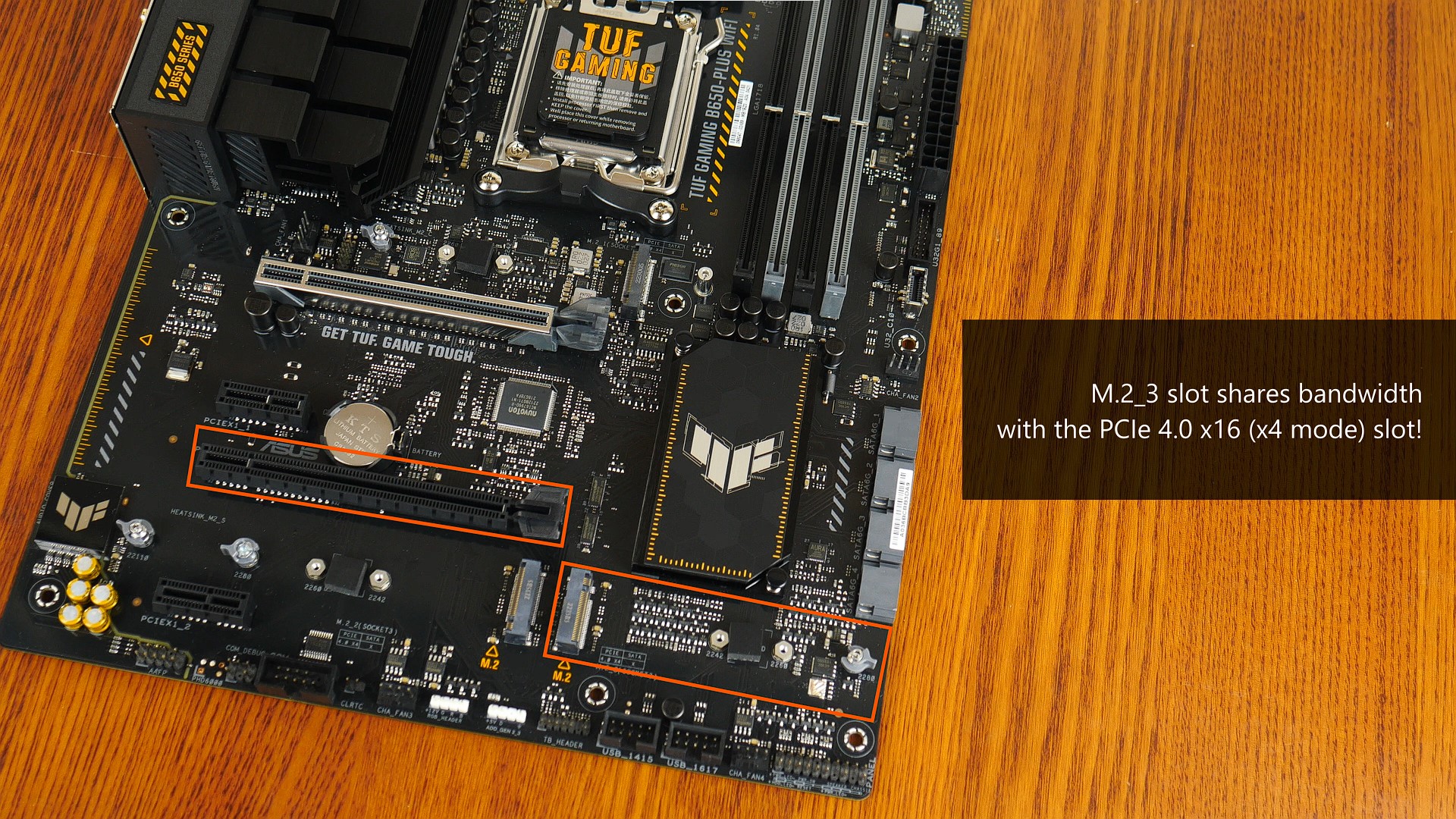 Potential owners of this board would do well to note that 0ne of the PCIe 4.0 x4 M.2 slots, slot M.2_3, shares bandwidth with the full-length PCIe 4.0 x16 slot that operates at x4 mode, where if a NVMe M.2 SSD is installed on the M.2_3 slot, the said PCIe 4.0 x16 slot will be disabled.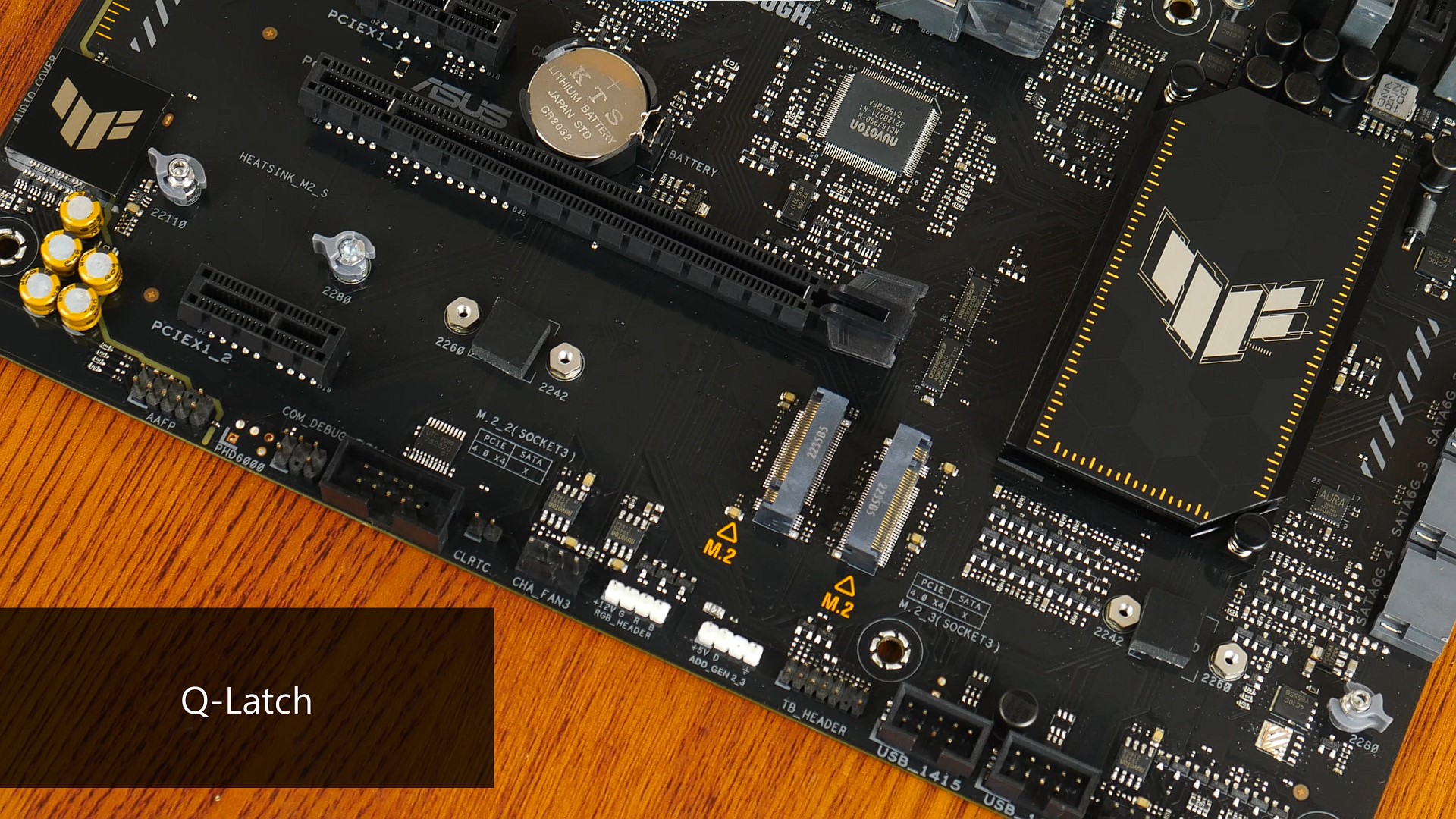 ASUS has included a useful quality-of-life feature, Q-Latch, for all three M.2 drive slots. Q-Latch allows for the tool-less installation and removal of M.2 drives from the slot, once the respective heatsinks have been removed.
Audio & Internet Connectivity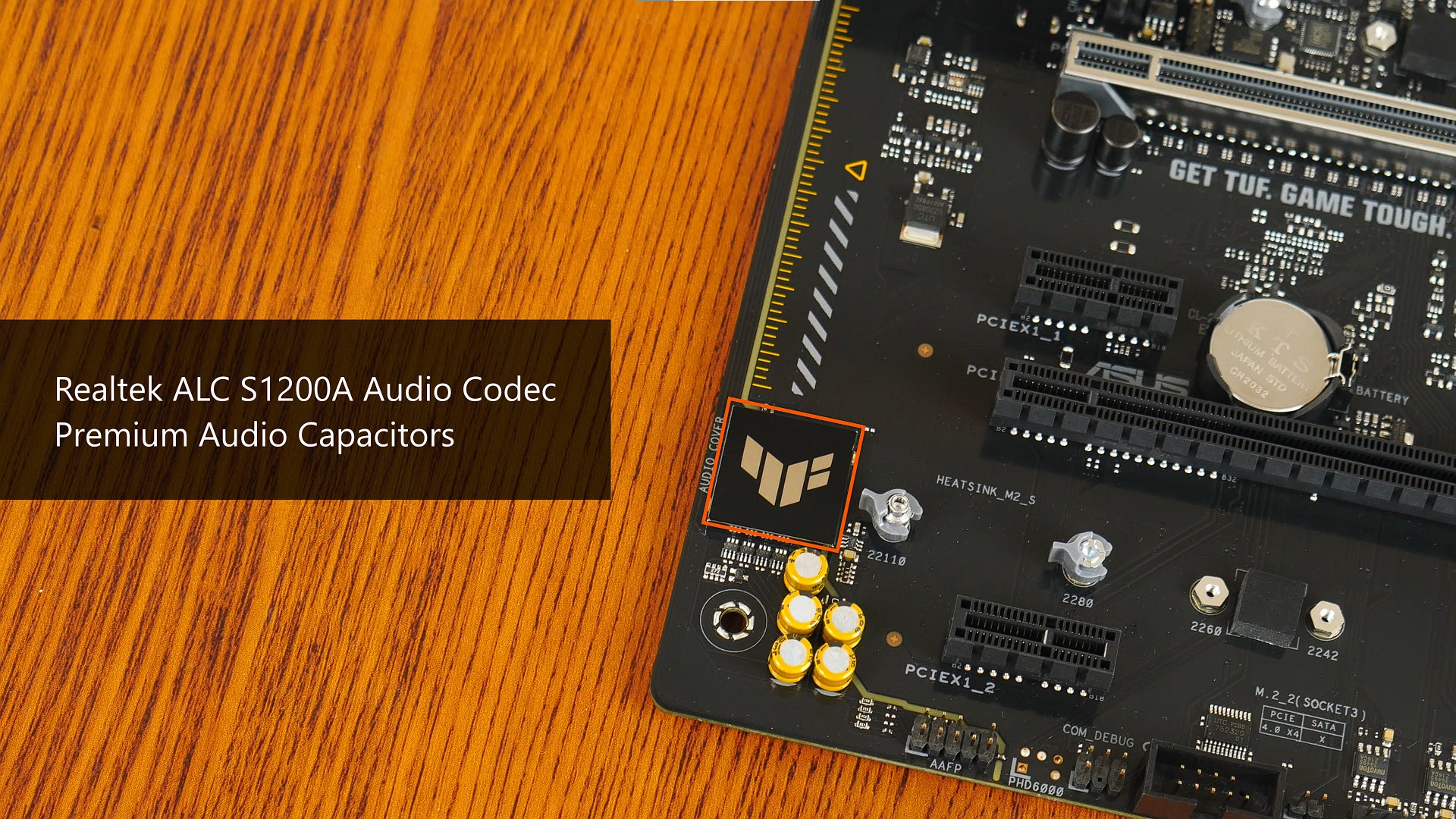 The board's audio is powered by Realtek's ALC S1200A audio codec, and comes with "premium audio capacitors" according to ASUS. Wired internet connectivity is also powered by a Realtek part that serves up 2.5 GIgabit Ethernet support.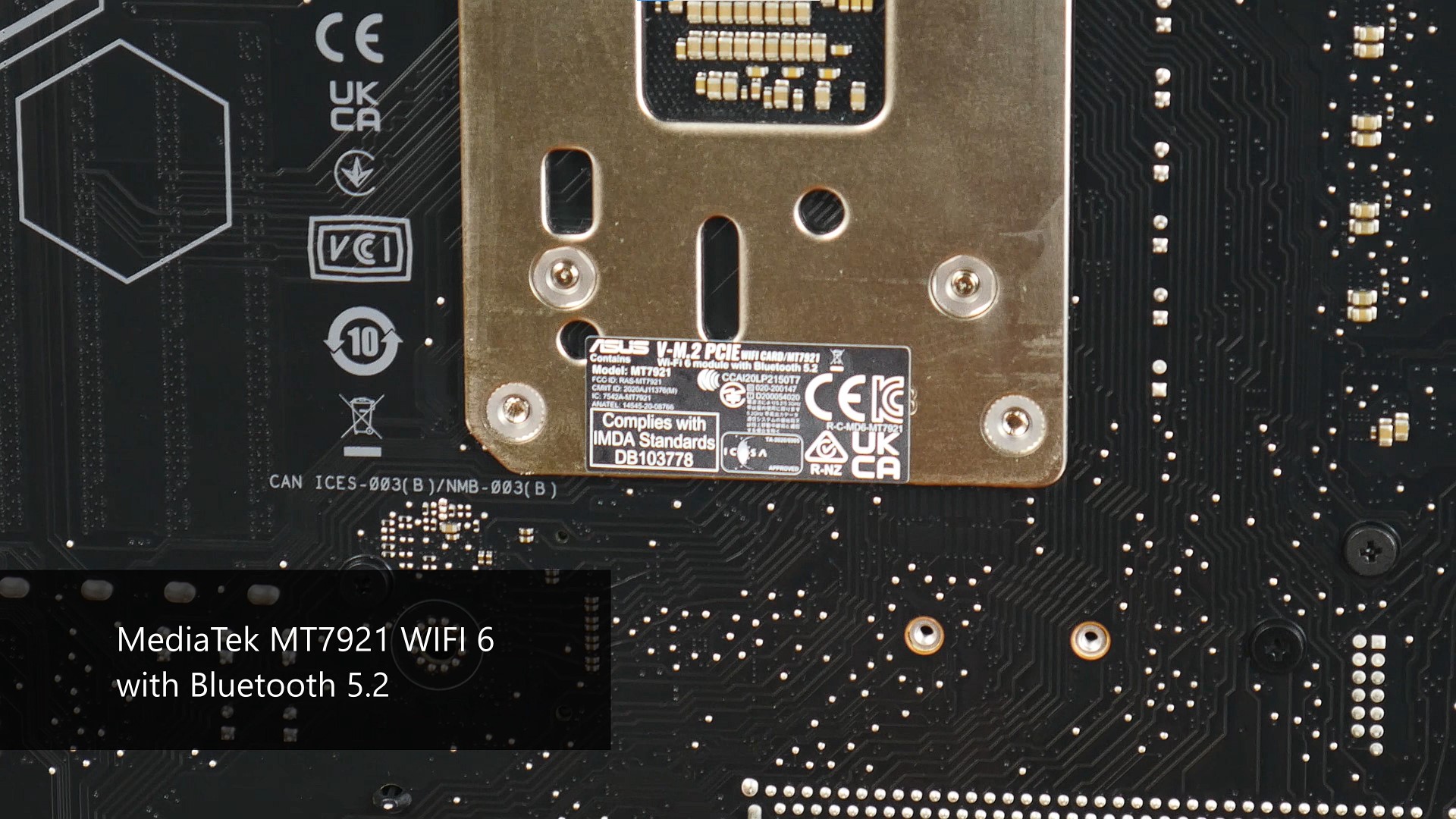 Wireless connectivity on the other hand, is powered by a MediaTek MT7921 WIFI 6 module that also offers Bluetooth 5.2 support.
Fan & RGB Headers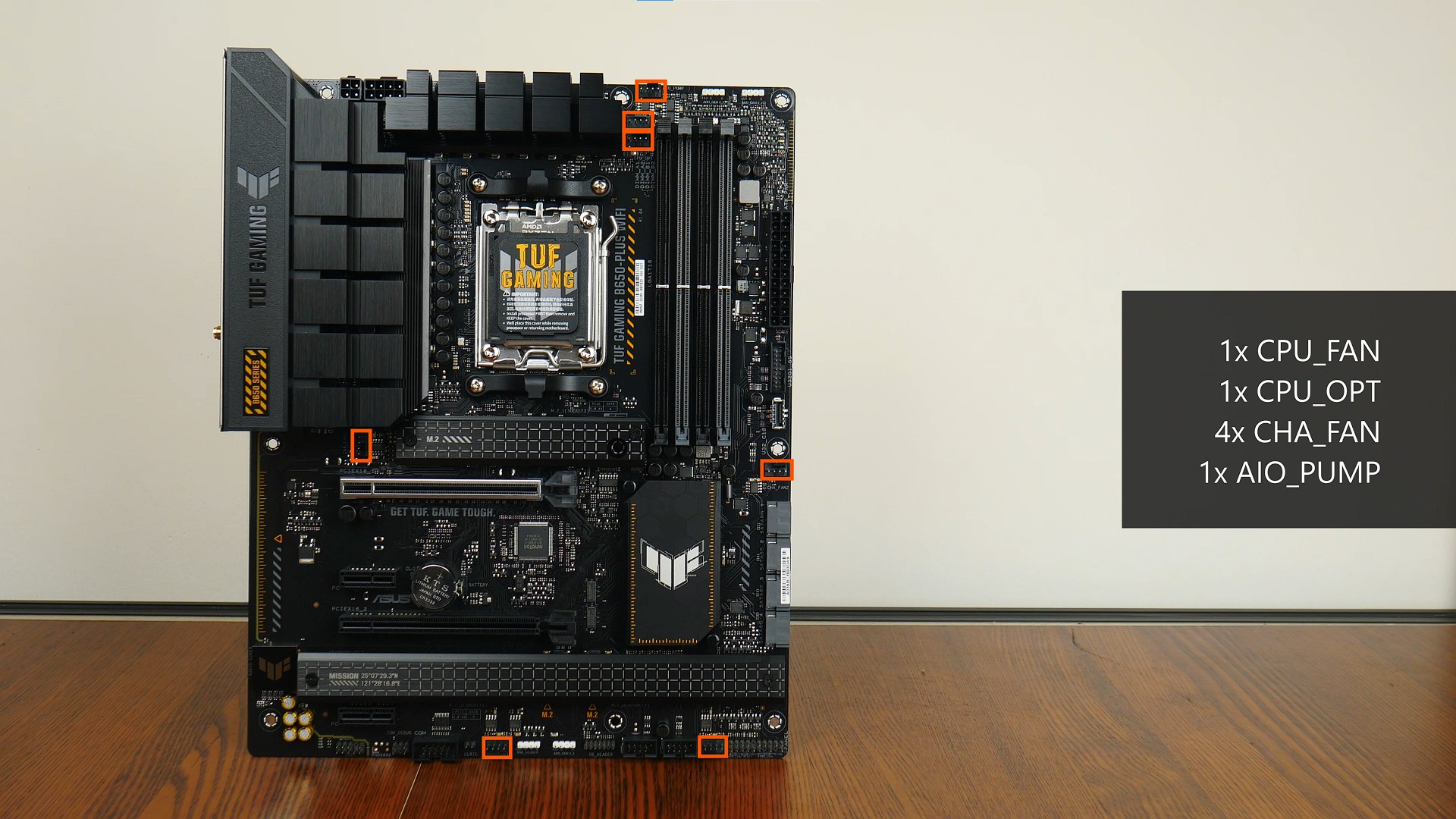 The TUF Gaming B650-PLUS WIFI comes with seven fan headers:
1x CPU_FAN
1x CPU_OPT
4x CHA_FAN
1x AIO_PUMP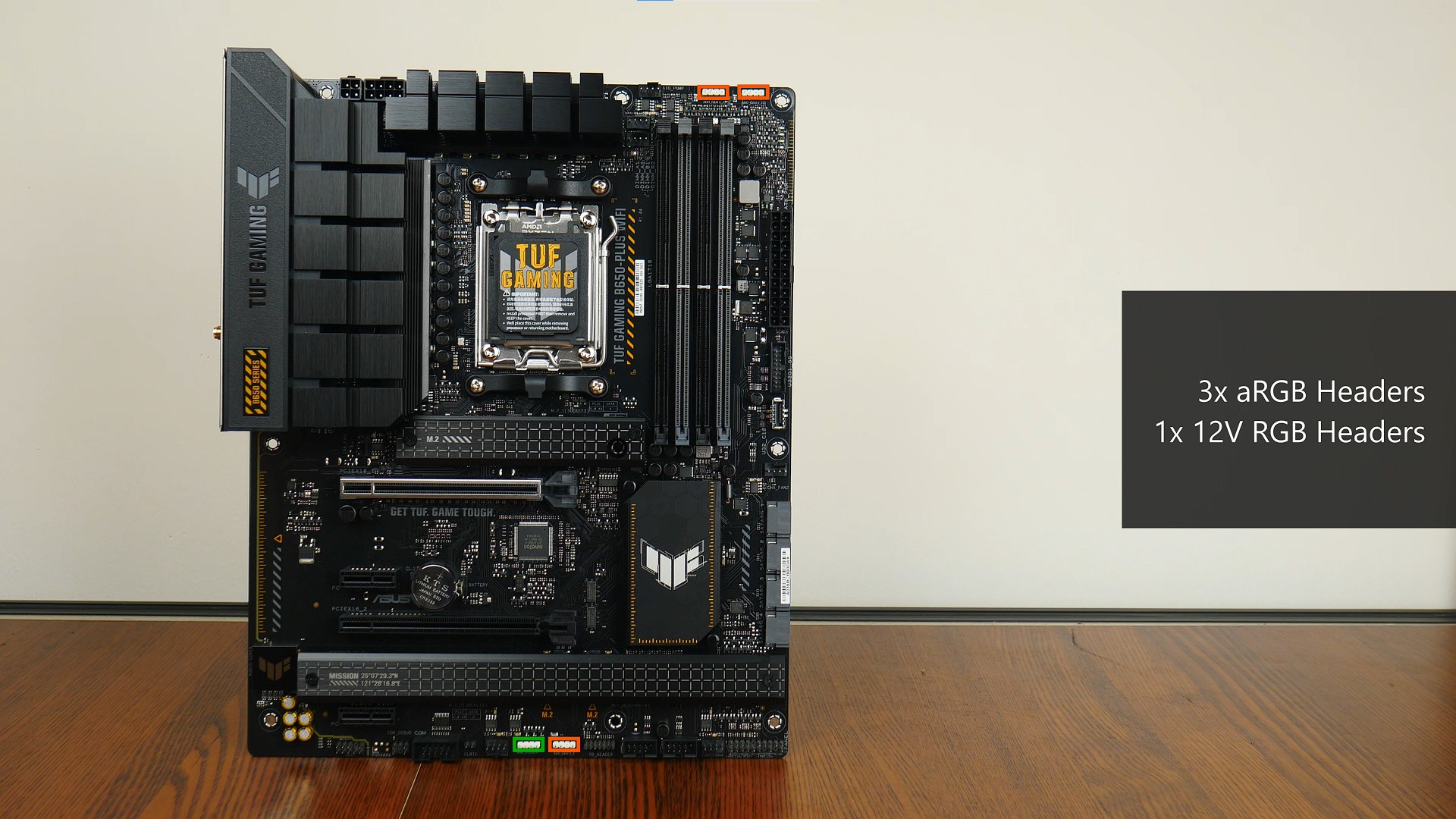 Also included are three addressable RGB headers, as well as a single 12V RGB header.
Other Features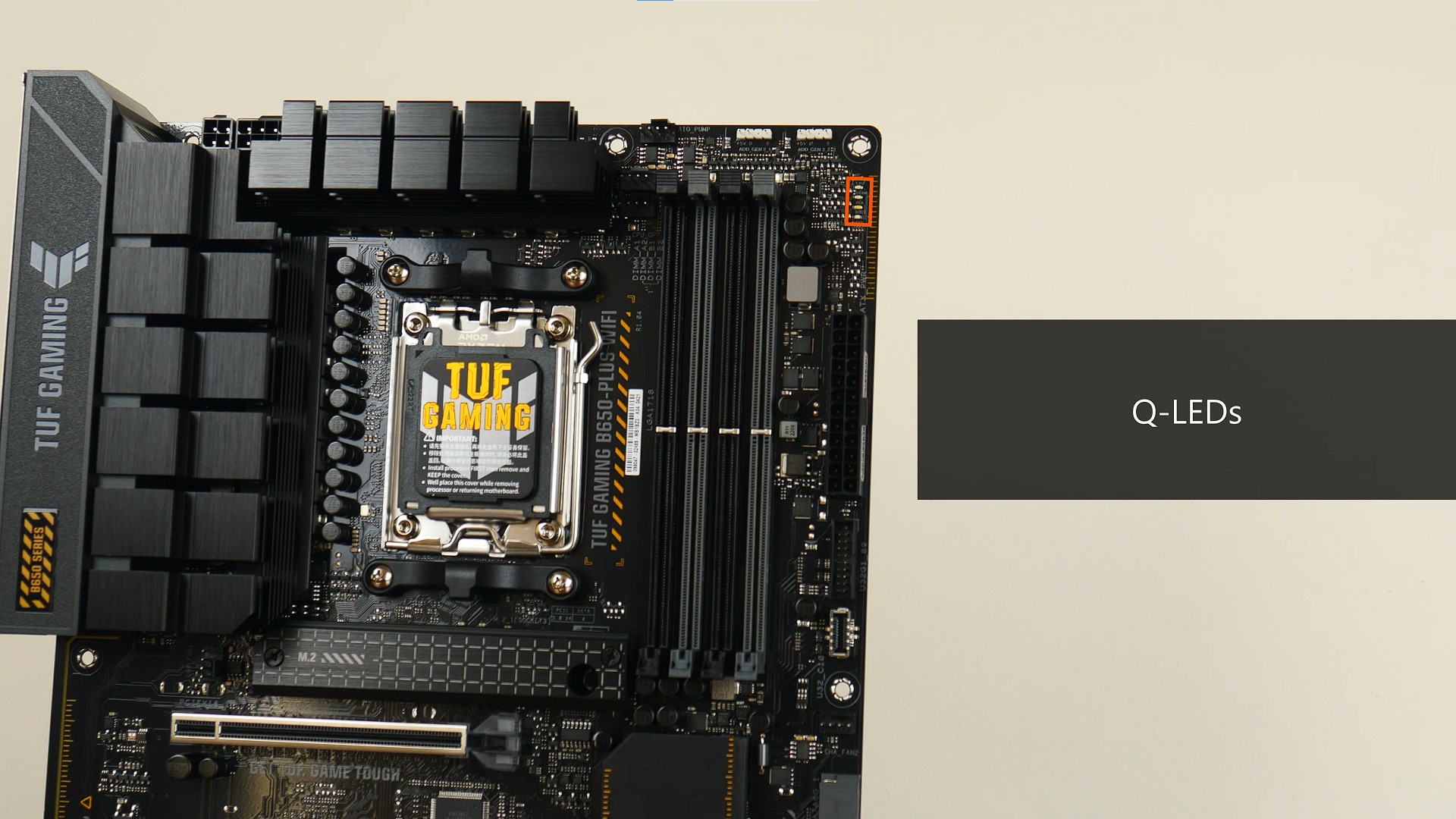 The board comes with ASUS's Q-LED feature, which are LEDs on the motherboard that help with troubleshooting Power On Self Test (POST) issues.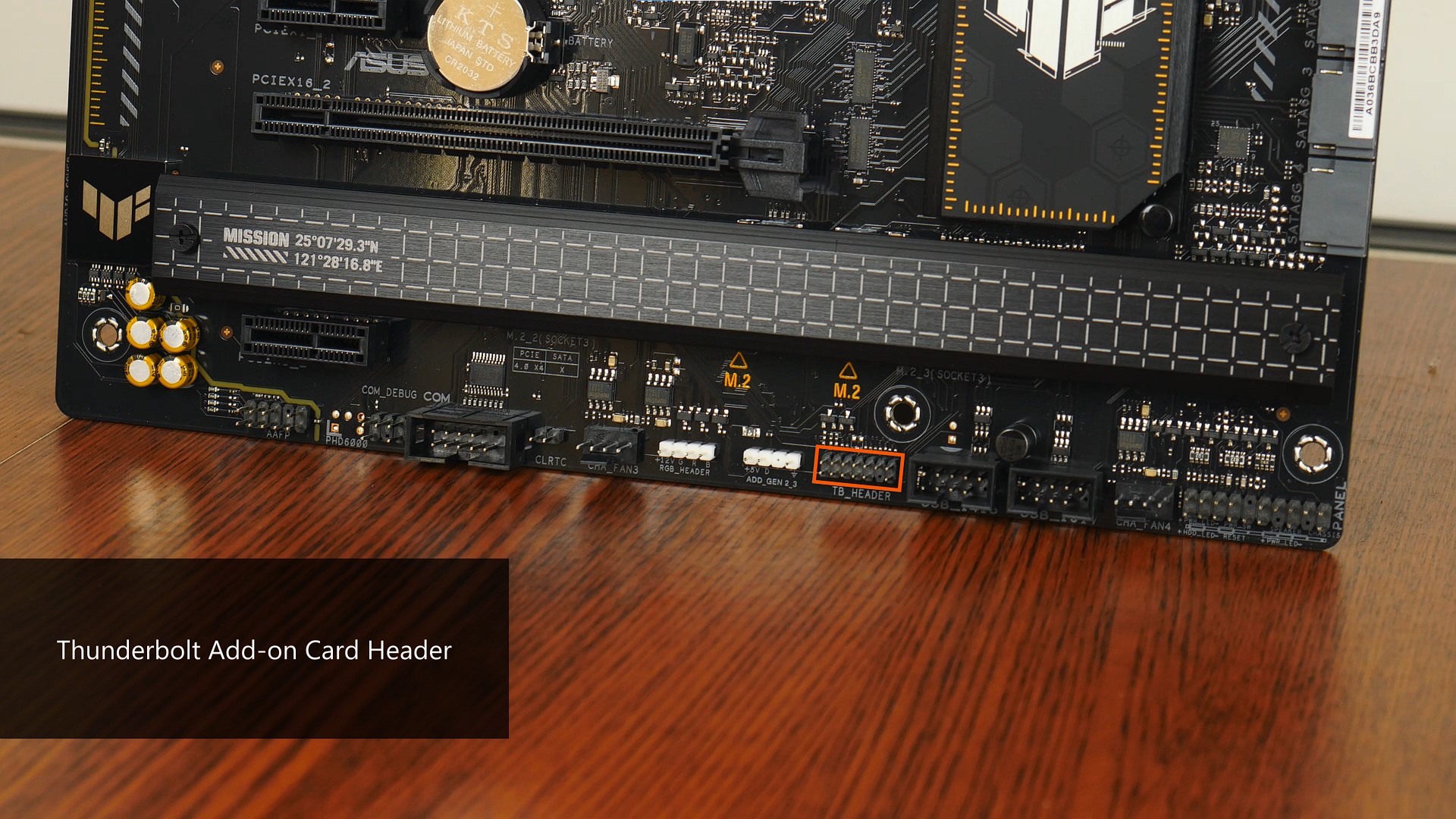 Also included is a Thunderbolt add-on card header, which is to be used in conjunction with a Thunderbolt 4 add-on card that is sold separately by ASUS.
Rear I/O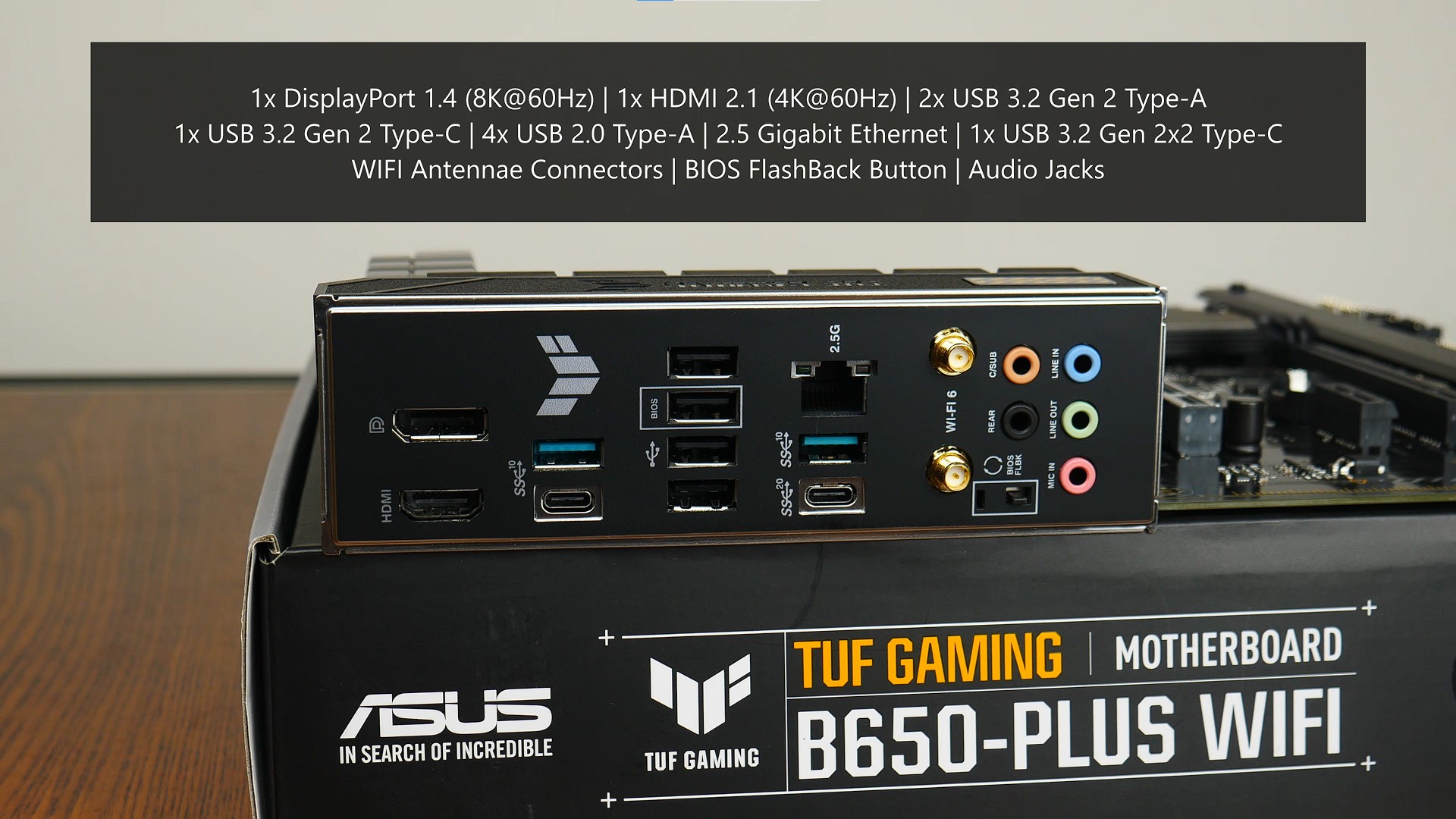 The board comes with the following rear I/O ports:
1x DisplayPort 1.4 (max 8K resolution @ 60Hz)
1x HDMI 2.1 (max 4K resolution @ 60Hz)
2x USB 3.2 Gen 2 Type-A (10 Gbps)
1x USB 3.2 Gen 2 Type-C (10 Gbps)
4x USB 2.0 Type-A
2.5 Gigabit Ethernet port
1x USB 3.2 Gen 2x2 Type-C (20 Gbps)
WIFI antennae connectors
BIOS FlashBack button
Audio jack connectors
The BIOS FlashBack feature allows end-users to update the motherboard's BIOS without needing a processor, RAM and graphics card installed. This would be a much needed feature for sure, given that the AM5 platform should support several generations of new Ryzen processors in the future.
Conclusion & Pricing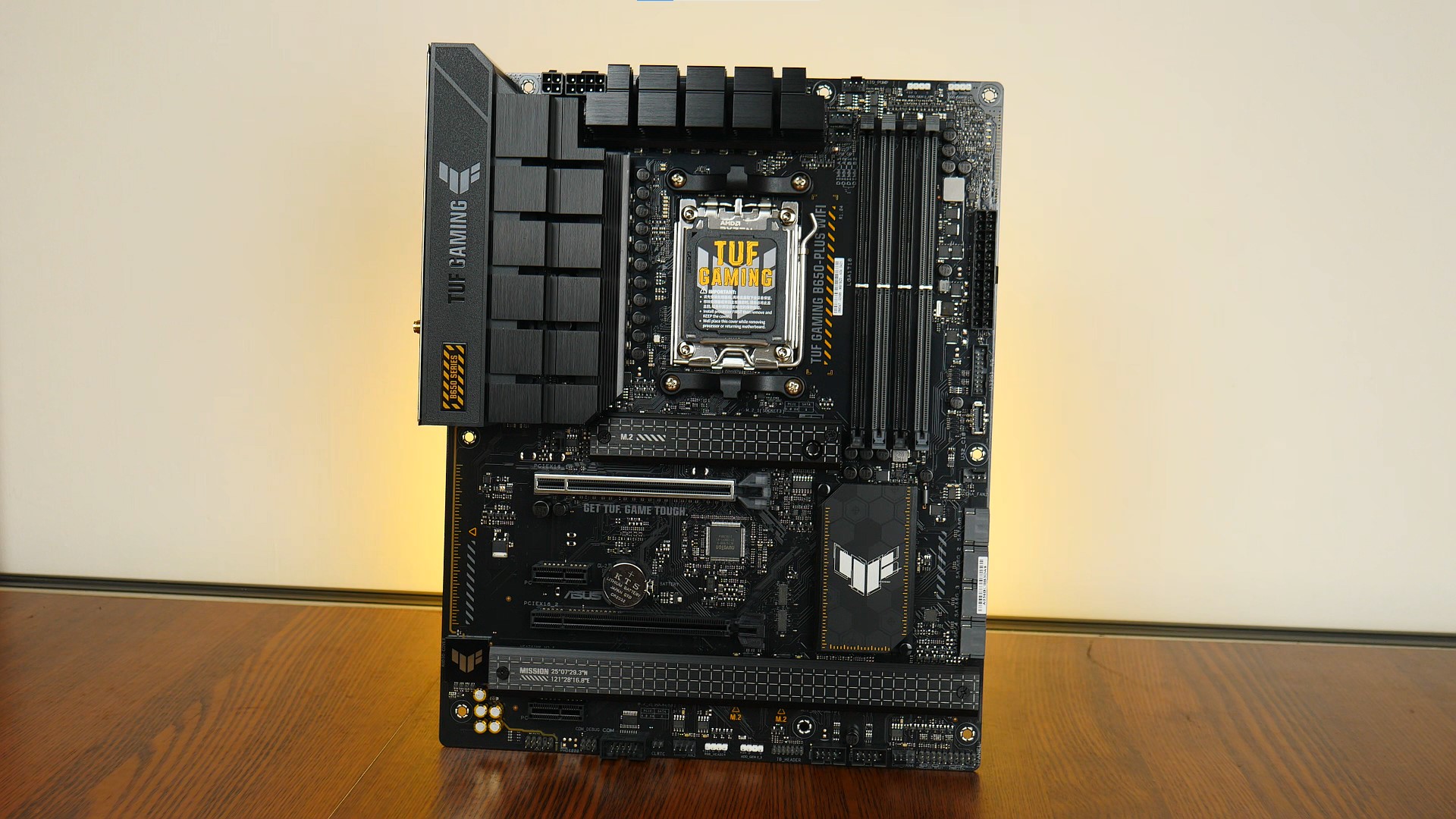 To make the TUF Gaming B650-PLUS WIFI a motherboard that is friendlier on the wallet, ASUS has stripped away bells and whistles while retaining features that matter. You still get stuff like a PCIe 5.0 x4 M.2 slot, 2.5 Gigabit Ethernet as well as a more premium audio codec, while doing away with features such as the latest WIFI 6E standard, and other quality-of-life features found on higher-end ASUS boards such as Q-Latch, onboard power buttons and the like - features that in all honesty, aren't really necessary for a board targeted at gamers on a budget. All in all, the B650-PLUS WIFI does come across as a balanced motherboard offering that is great for its target consumer demographic.
That said, one issue that this board (along with AM5 motherboards from other manufacturers for that matter) faces is the value issue that I've written extensively about in my other AM5 motherboard reviews. Given Intel's superior 13th generation Raptor Lake offerings and cheaper motherboard options, AMD's present prices for its Ryzen 7000 processor and motherboard offerings do seem rather expensive, though an argument can be made for the AM5 platform being more future-proof compared to Intel's dead-end LGA1700 platform that will be replaced entirely once Intel's 14th generation Meteor Lake offerings come around.
As of early-November 2022, the TUF Gaming B650-PLUS WIFI is available for around $417 Singapore dollars through online and physical retailers in Singapore, while international readers can purchase this board from eCommerce sites such as Amazon for around $240 US dollars.
Get this board from Amazon: https://amzn.to/3hcNE94 (affiliate link)
Get this board from Shopee Singapore: https://shope.ee/1fiOhOOYjo (affiliate link)
Get this board from Lazada SIngapore: https://c.lazada.sg/t/c.YjKxDk?sub_aff_id=alktech (affiliate link)
ALKtech may earn commissions from qualifying purchases made using affiliate links, at no extra cost to you as a customer. These commissions go a long way in supporting the platform!
The motherboard featured in this article was a review unit provided on loan from ASUS Singapore.