Review: MSI Modern MD272P 27 Inch 1080p Business Productivity Monitor
The business-oriented MSI Modern MD272P packs features such a 1080p 75 Hz IPS panel, USB Type-C video input, as well as a built-in KVM switch, making it perfect for end-users who have to switch frequently between work devices such as a desktop PC and a laptop.
Tired of the hassle of having to connect and disconnect your keyboard, mouse and monitor every single time that you switch between work devices such as your desktop PC and laptop? Fret not, as MSI may have the answer for you, in the form of its Modern MD272 series of business-oriented monitor offerings.

For today's article, ALKtech checks out the Modern MD272P, a 27" monitor offering that sports a 1080p panel with a 75 Hz refresh rate, alongside features such as USB Type-C video input and a built-in KVM switch. Read on to find out if this monitor is any good!
Packaging & Contents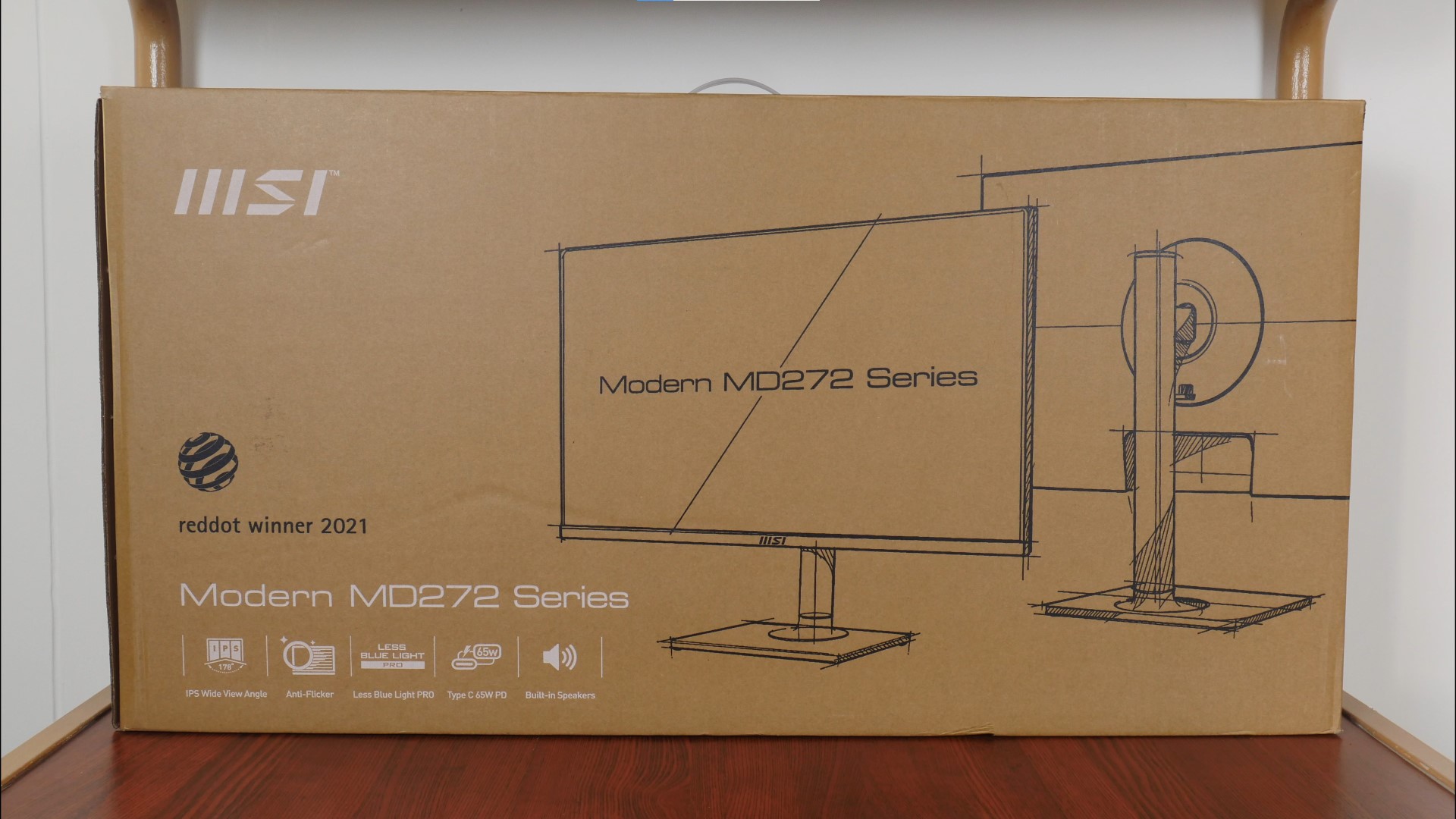 The MD272P sits within MSI's Modern line-up of business and productivity monitors, and as such, comes shipped in an unassuming brown cardboard box.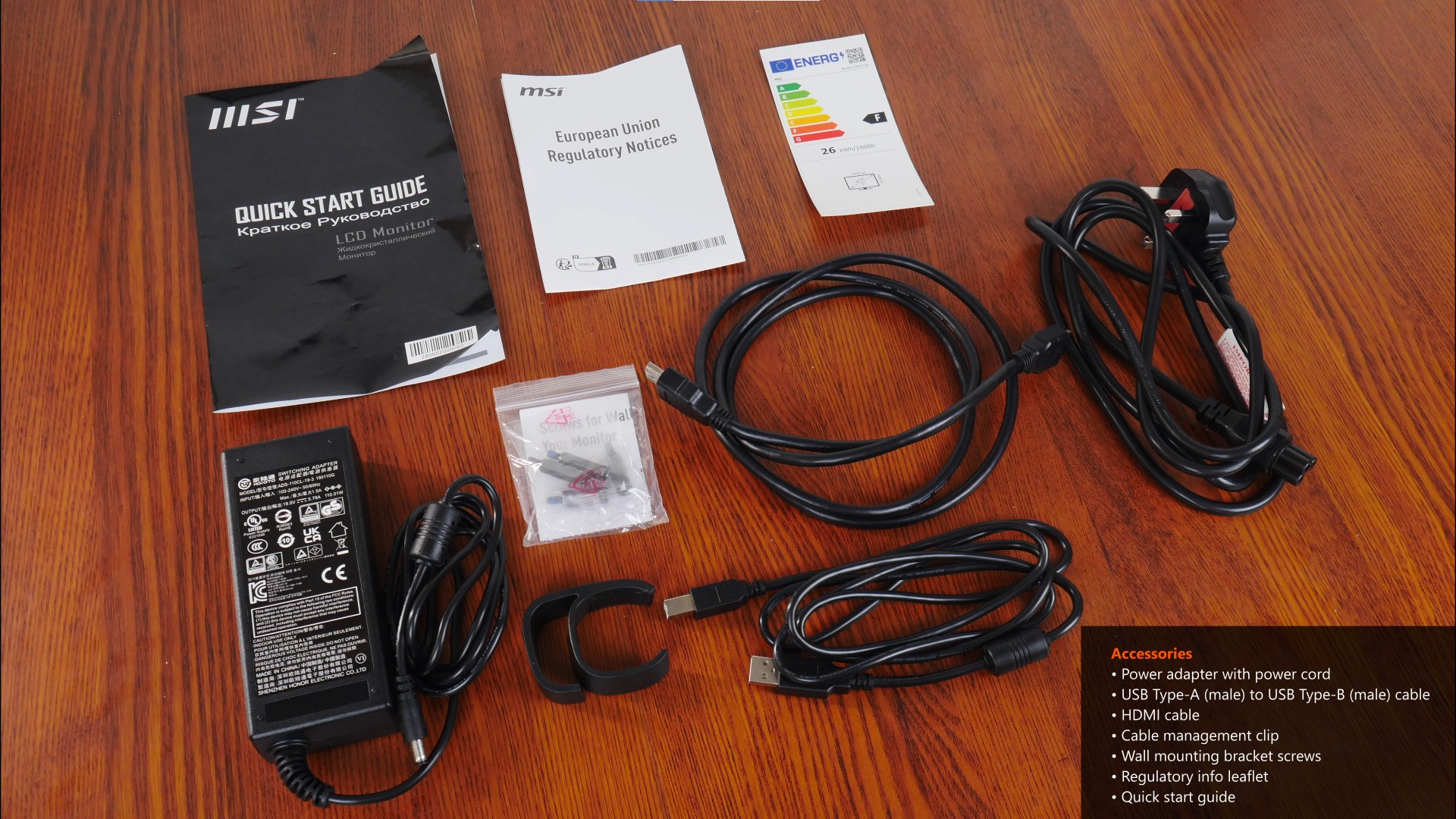 The MD272P comes with the following accessories:
Power adapter with power cord
USB Type-A (male) to USB Type-B (male) cable
HDMI cable
Cable management clip
Wall mounting bracket screws
Regulatory information leaflet
Quick start guide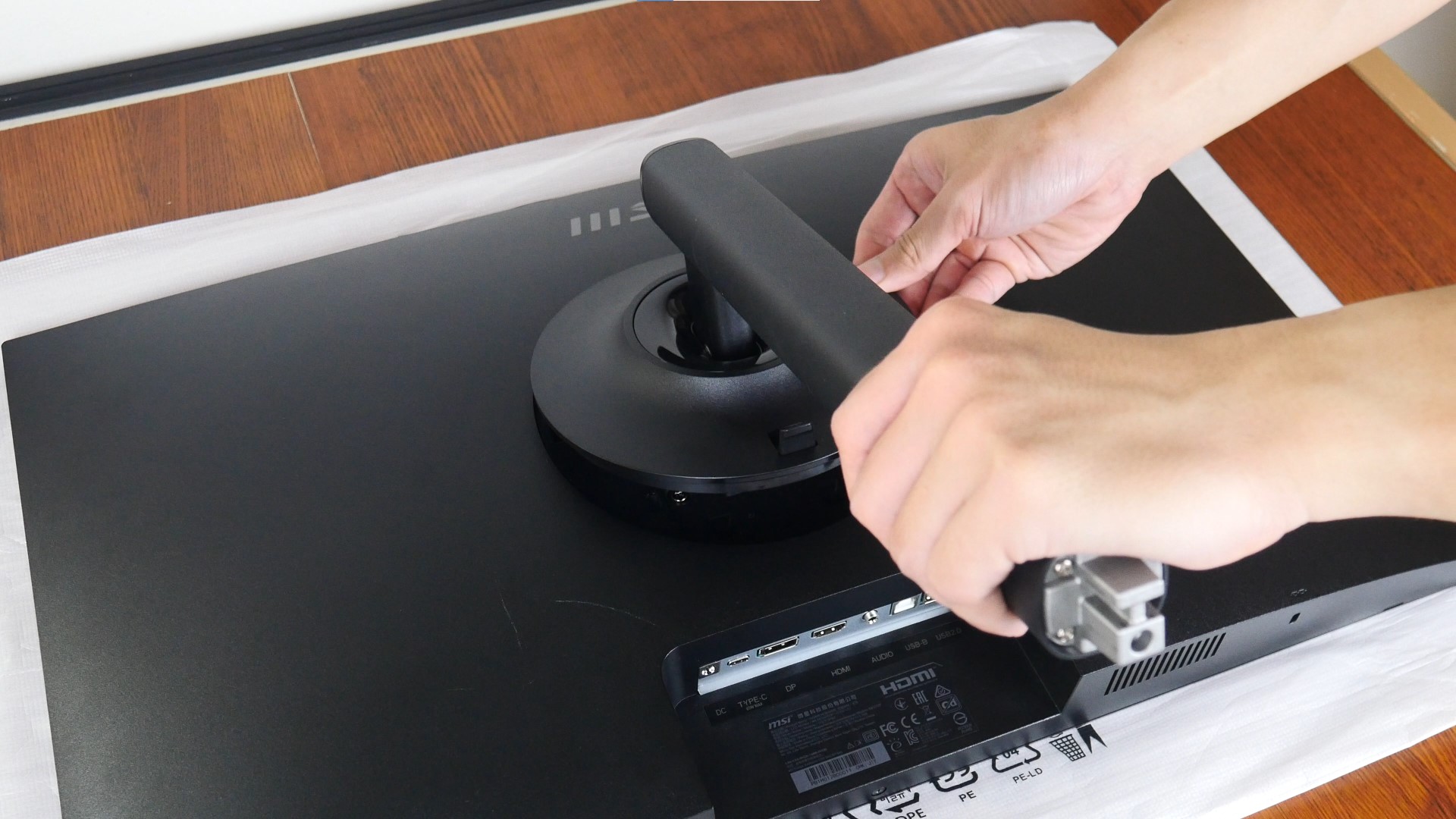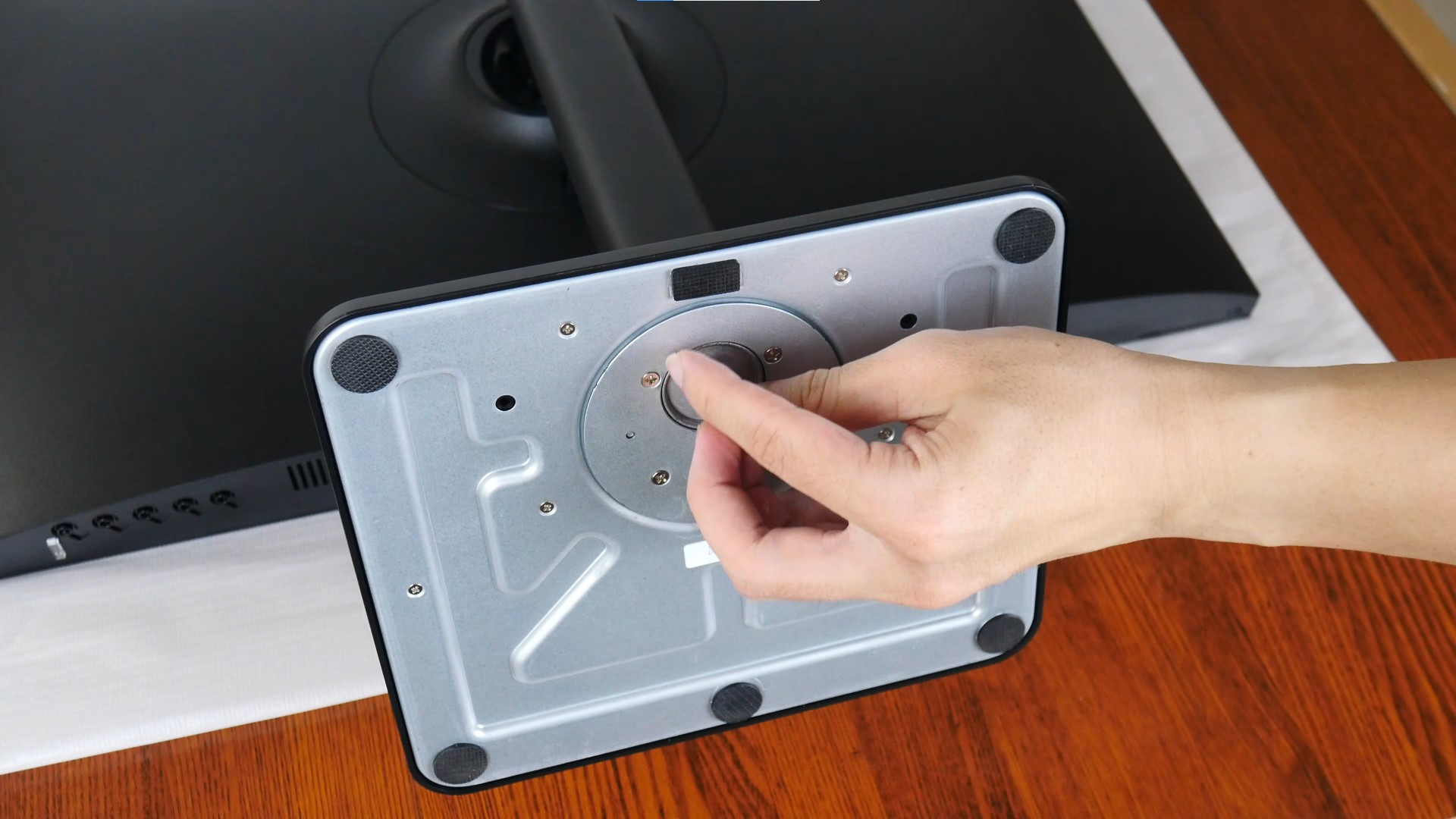 An adjustable stand comes included with the MD272P, which is easy to set up and attach to the monitor.
Aesthetics, Build Quality & Physical Features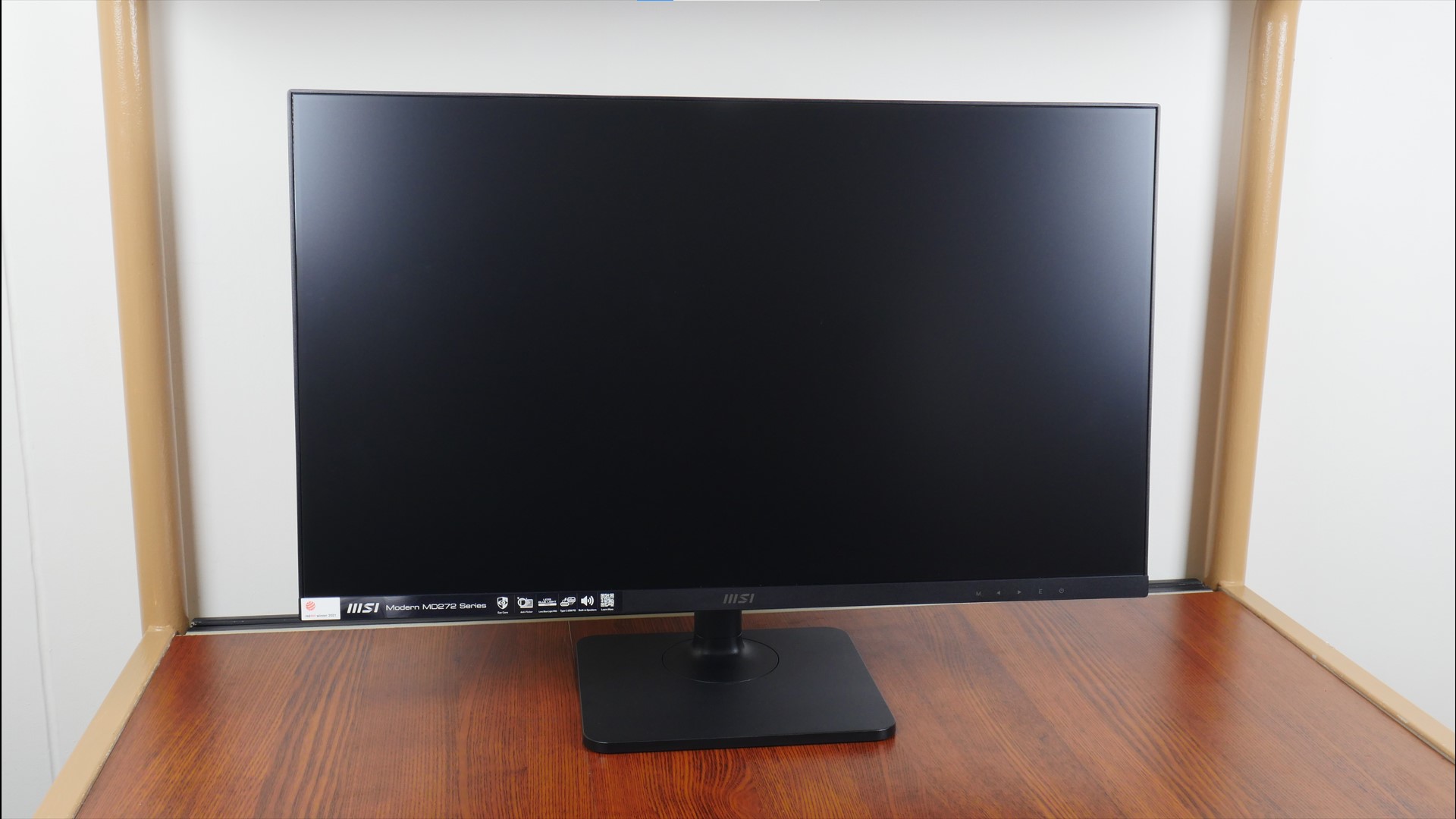 As a monitor targeted at business users, no surprises here that the MD272P comes with a no-nonsense aesthetic, where it sports a slim bezel design and a matte black finish all around. As can be seen, the MSI logo and legends for the on-monitor controls are printed in grey on the bottom bezel.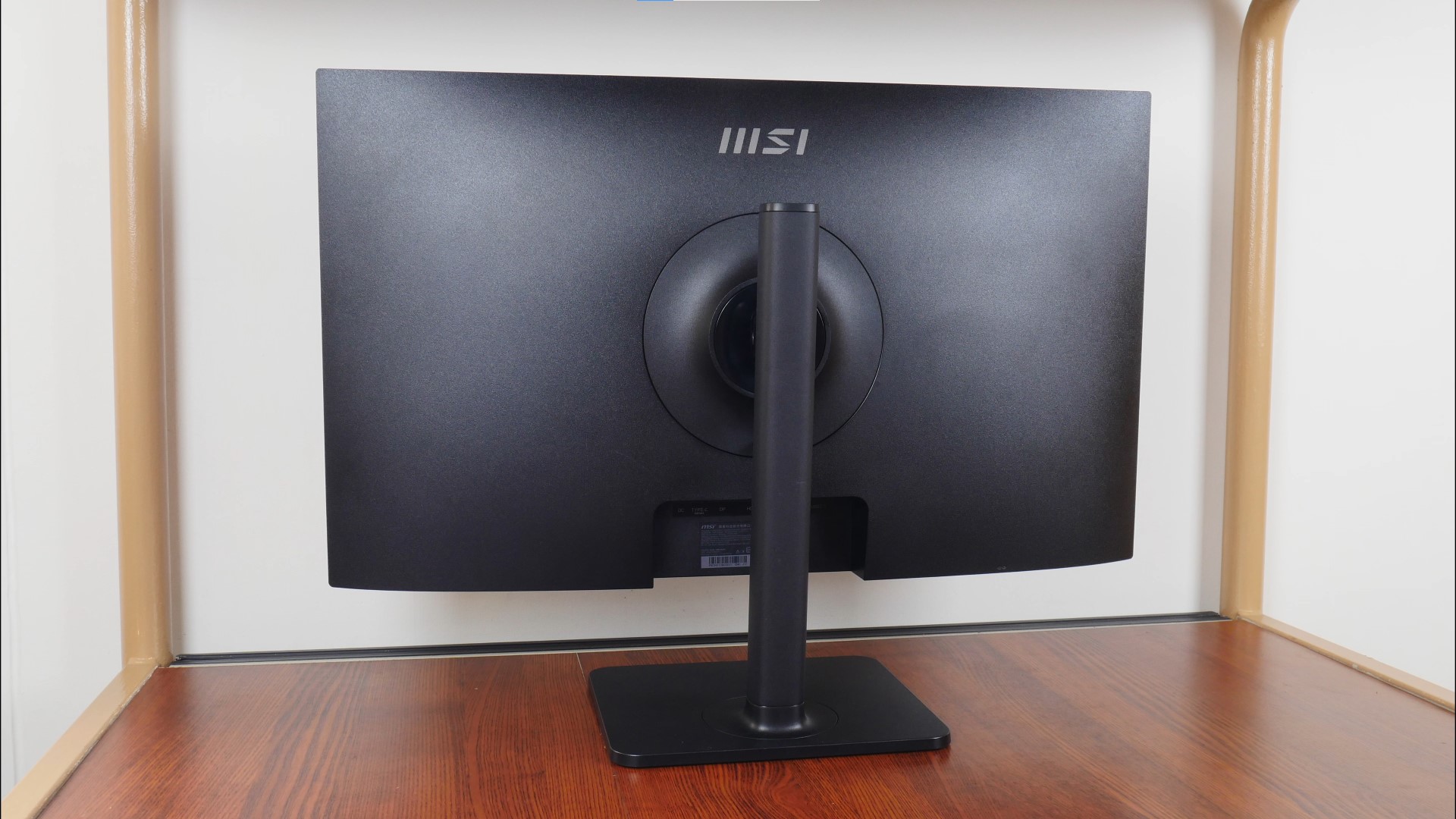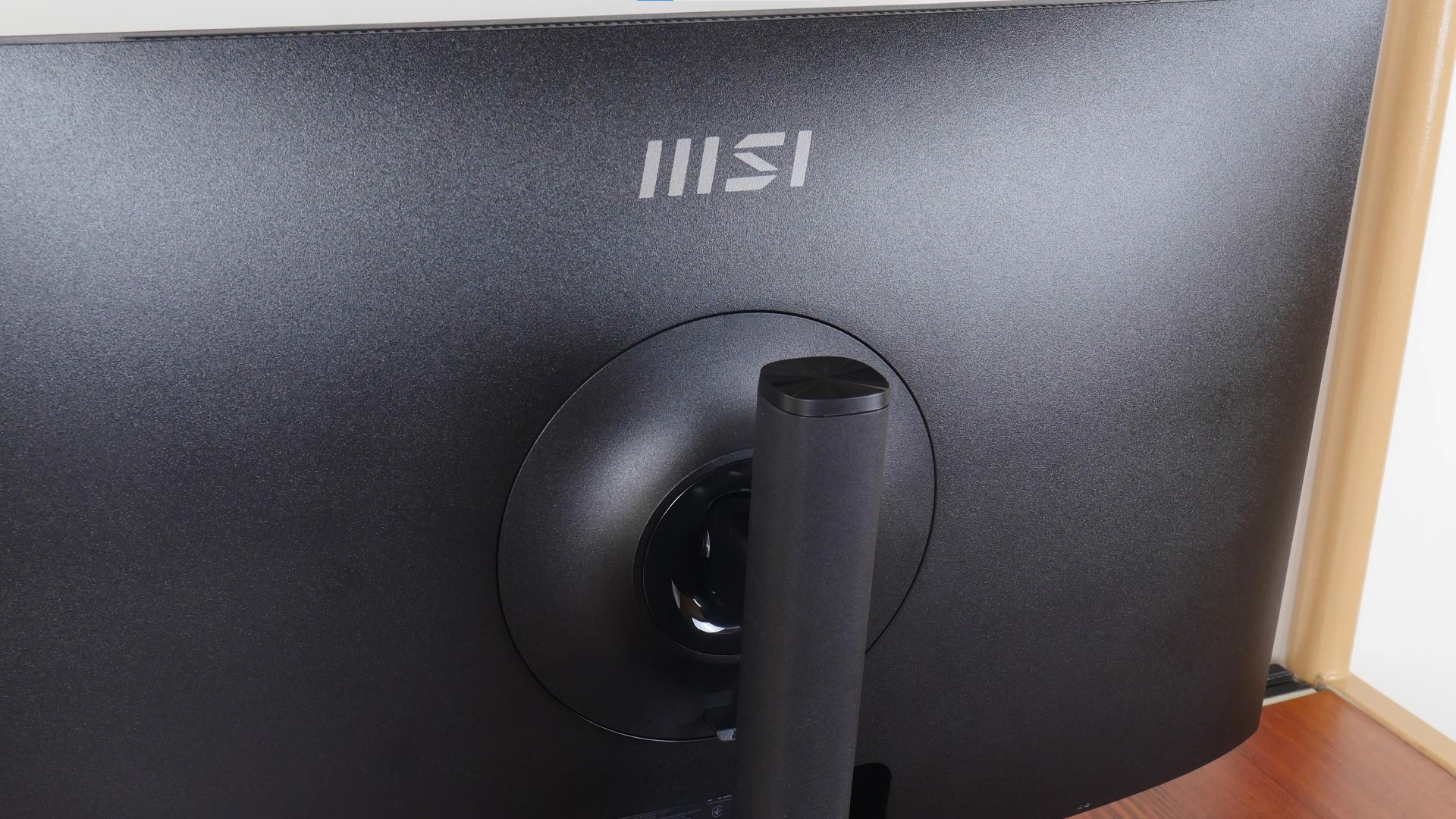 The same unassuming design language extends to the rear of the monitor, where we get the MSI logo printed in grey up top, and a matte textured finish all around as well. For contrast, MSI's included a small circle of glossy black plastic where the monitor stand attaches to the monitor.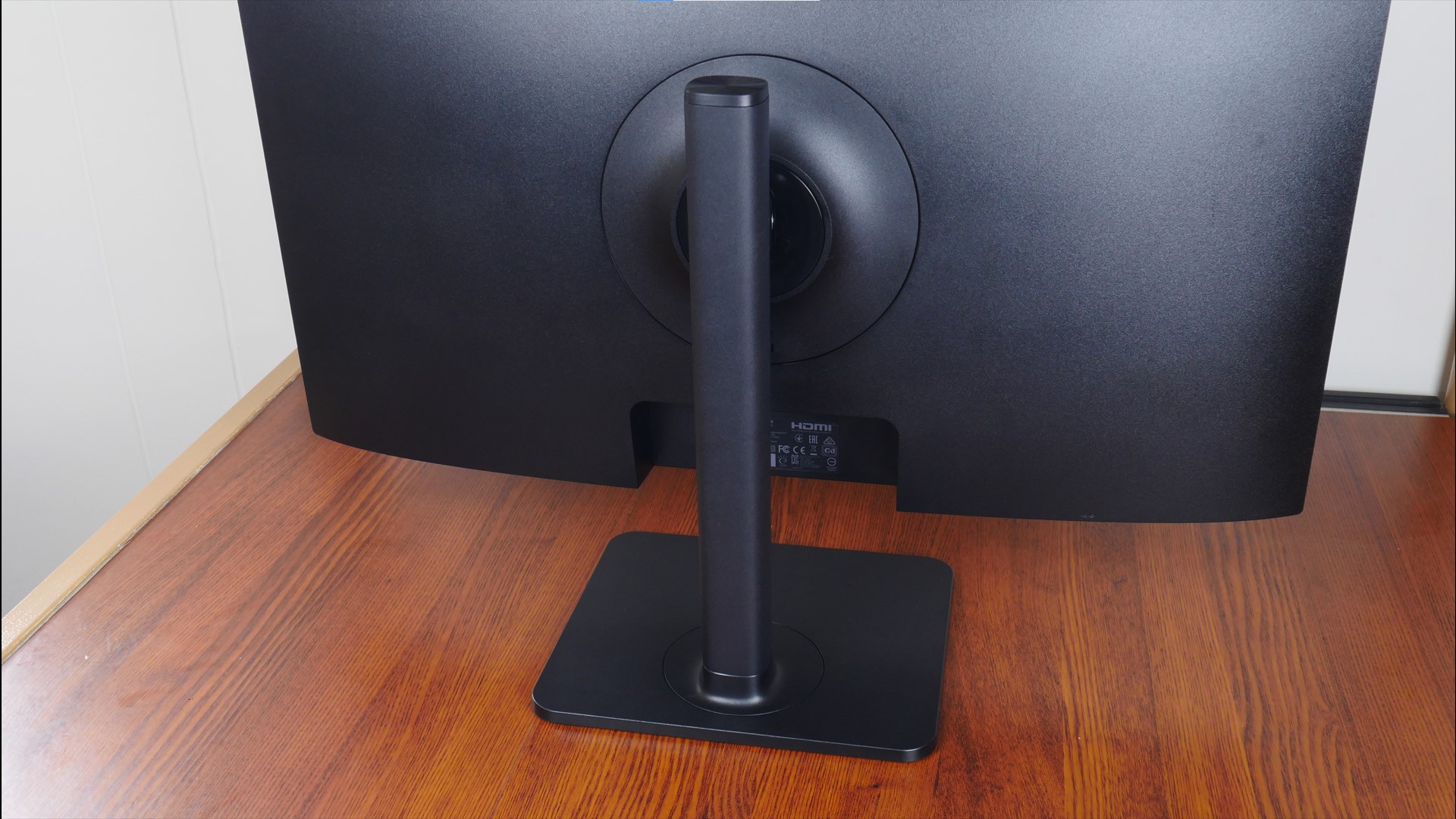 The monitor stand is a solidly-built affair, comprising of an arm that is made of metal, and a base that is made of a combination of plastic and metal. No cable management openings are included on the stand, though MSI's included a detachable cable management clip as part of the accessories pack for this very purpose.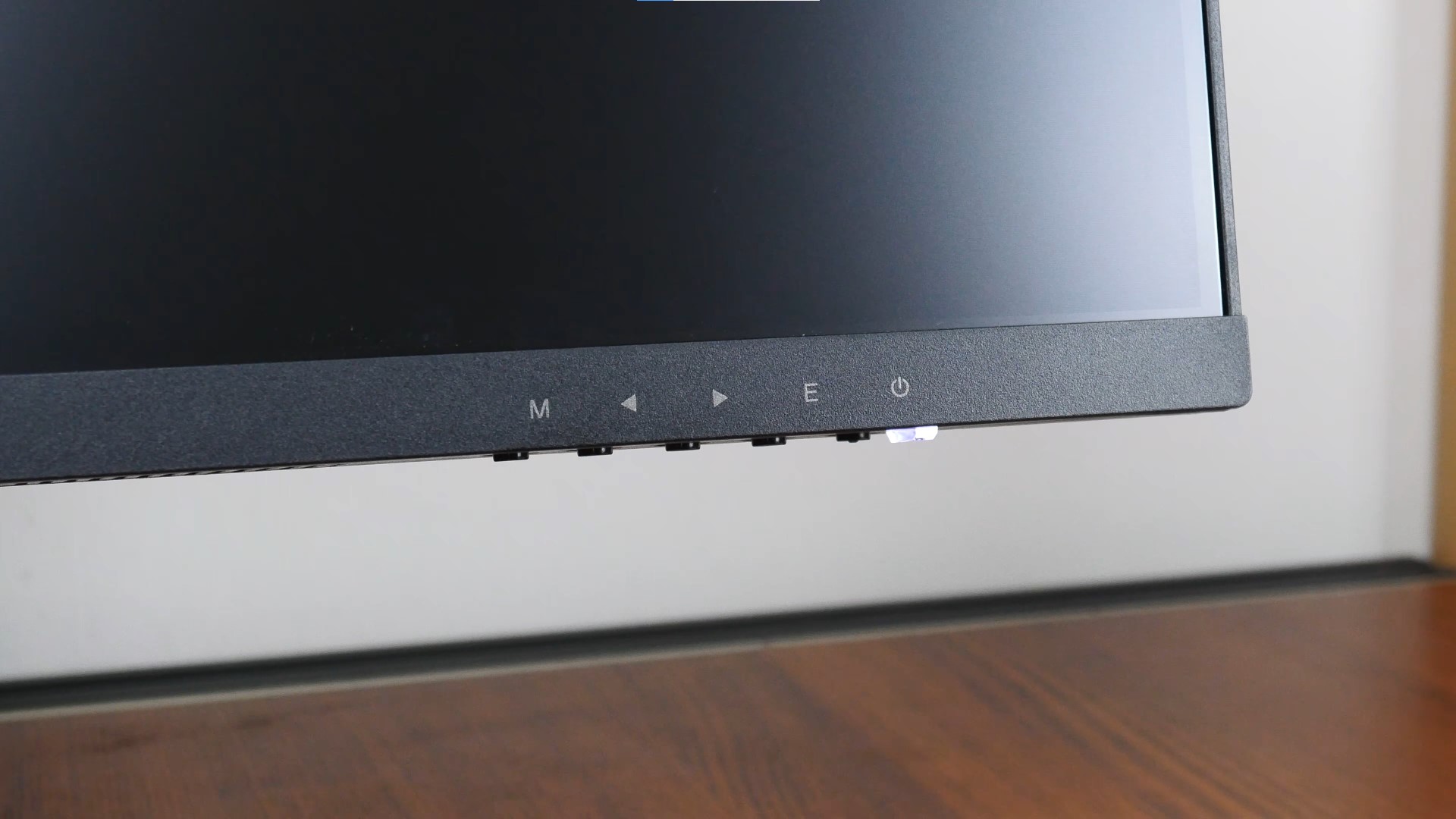 The MD272P's controls are located on the underside of the bottom edge of the monitor, where we also get a white-coloured power indicator LED.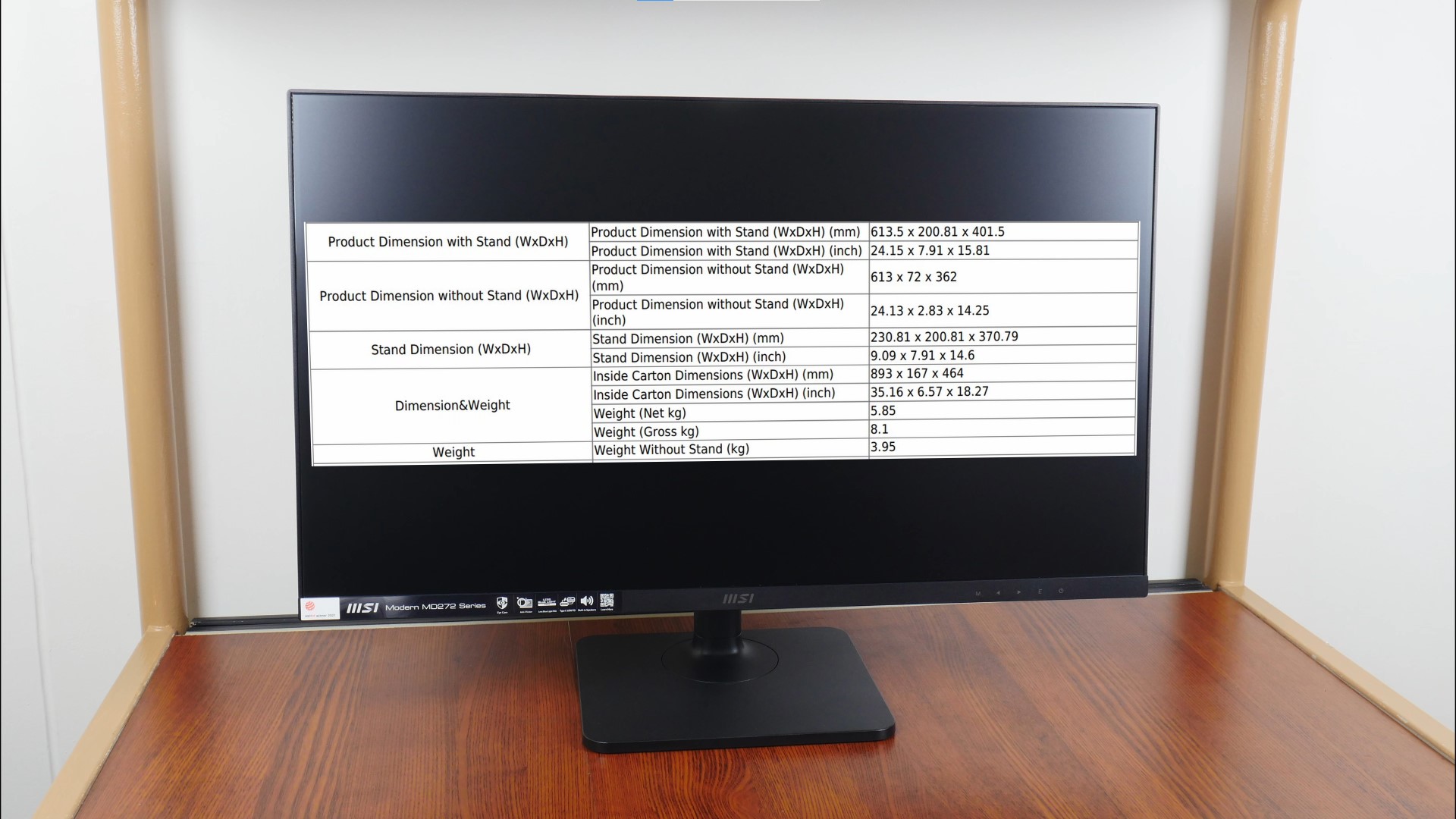 In terms of size, the MD272P doesn't occupy too much real estate as a 27" monitor due to its dimensions, which can be seen in the photo above. With the stand attached, the monitor has a net weight of 5.85 kilograms; without the stand, the monitor weighs in at 3.95 kilograms.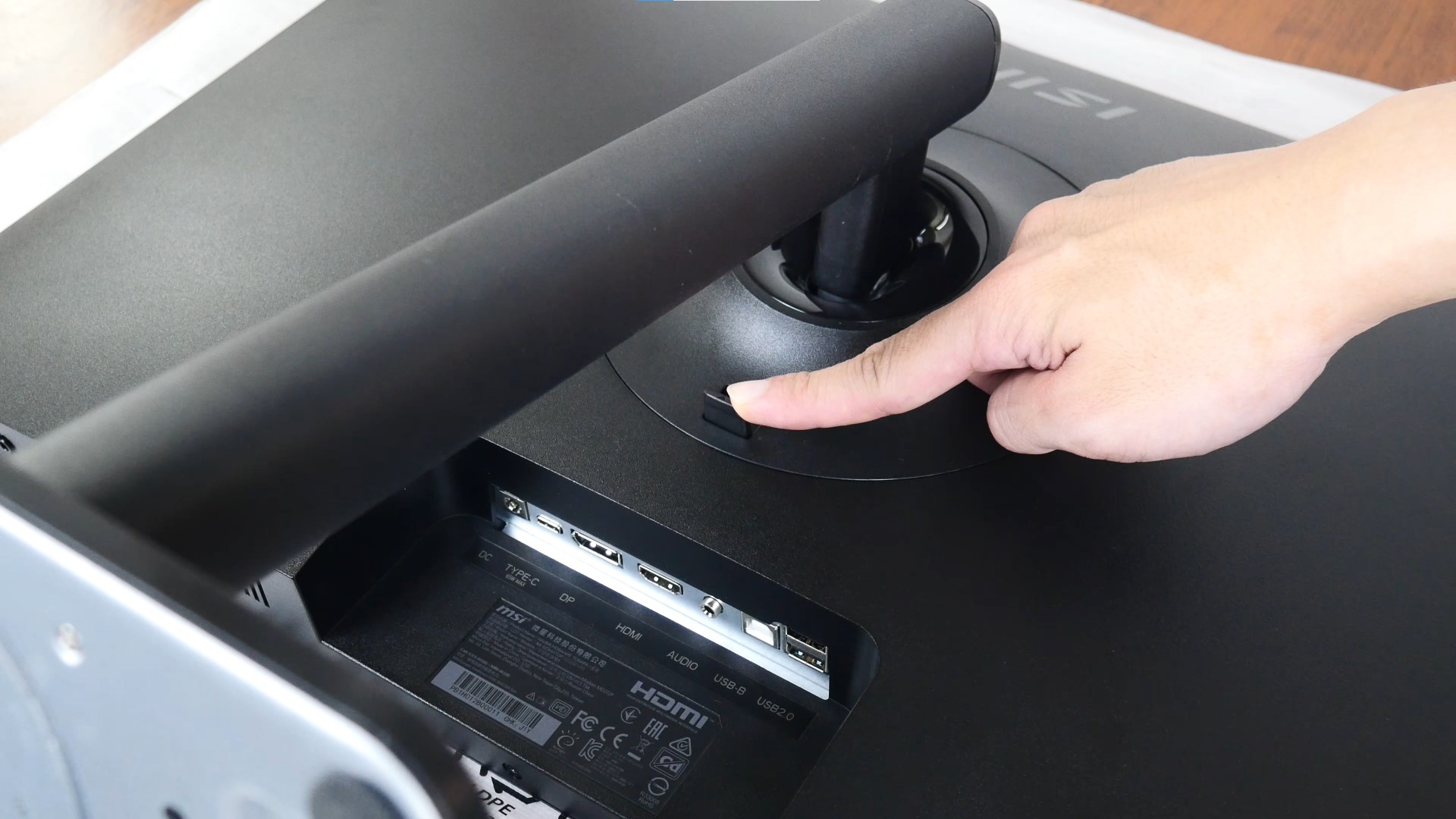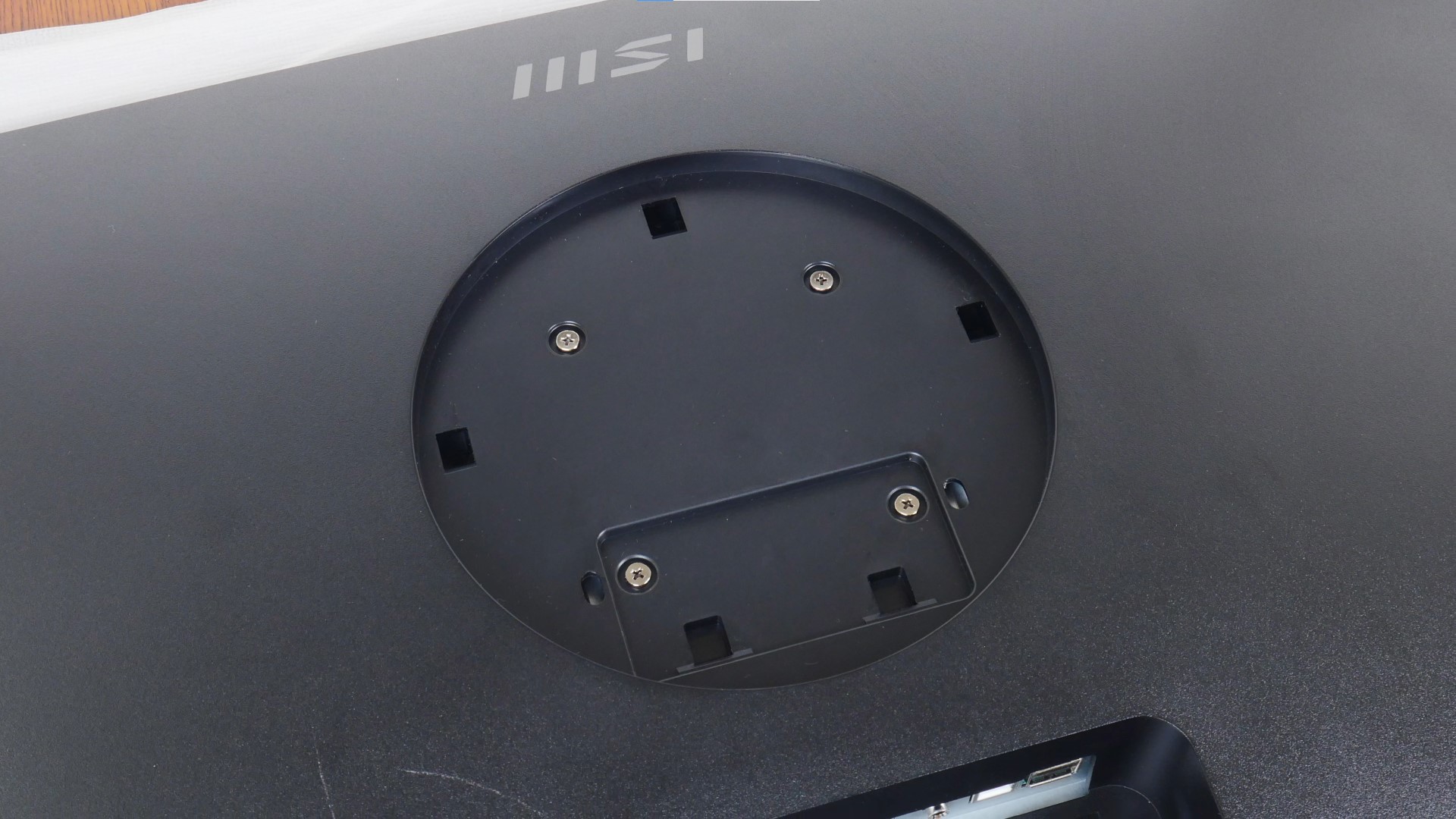 As can be seen above, MSI has included 75mm by 75mm VESA mounts with the monitor, where the said mounts can be accessed by removing the stand with just the simple press of a latch.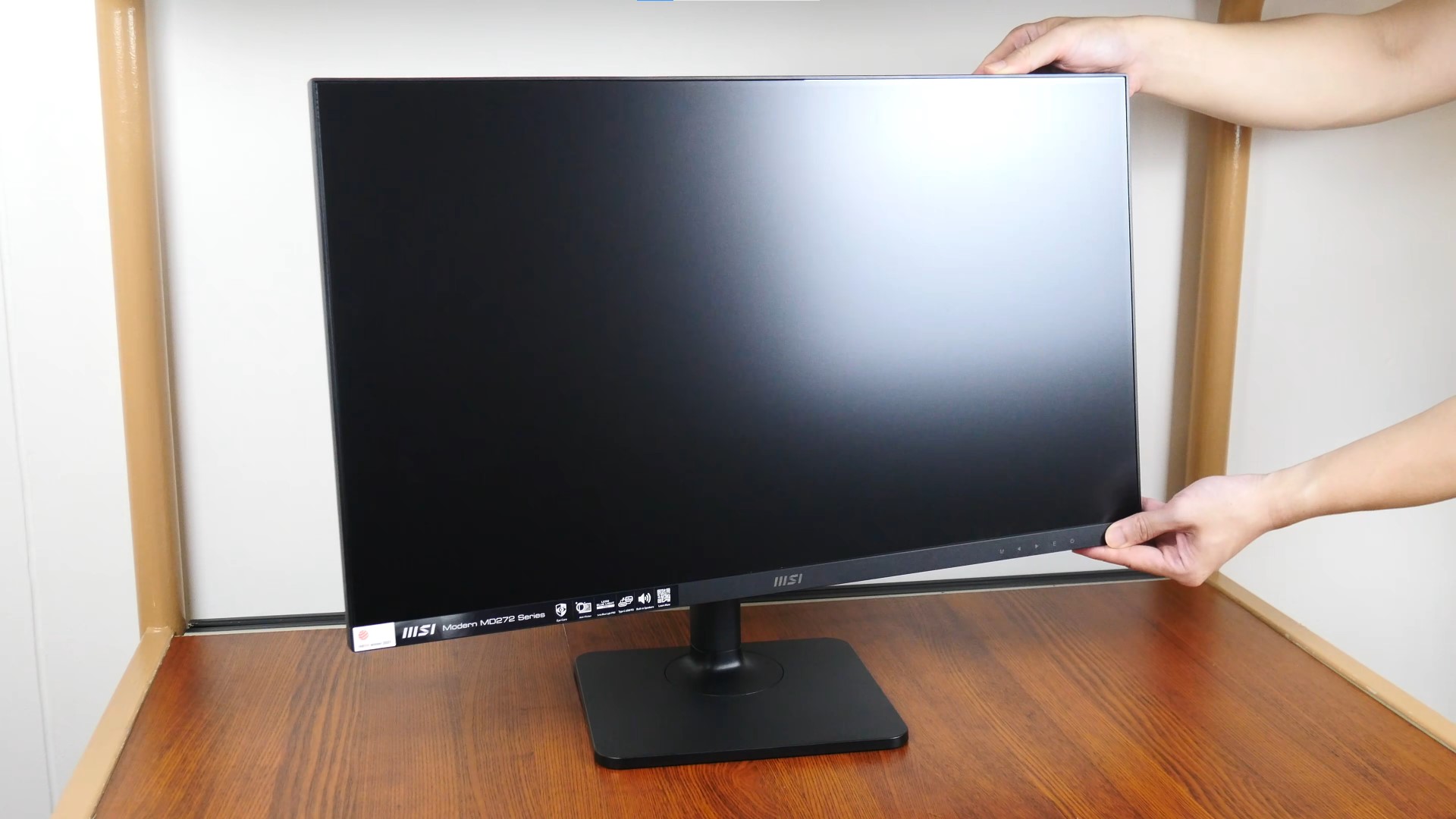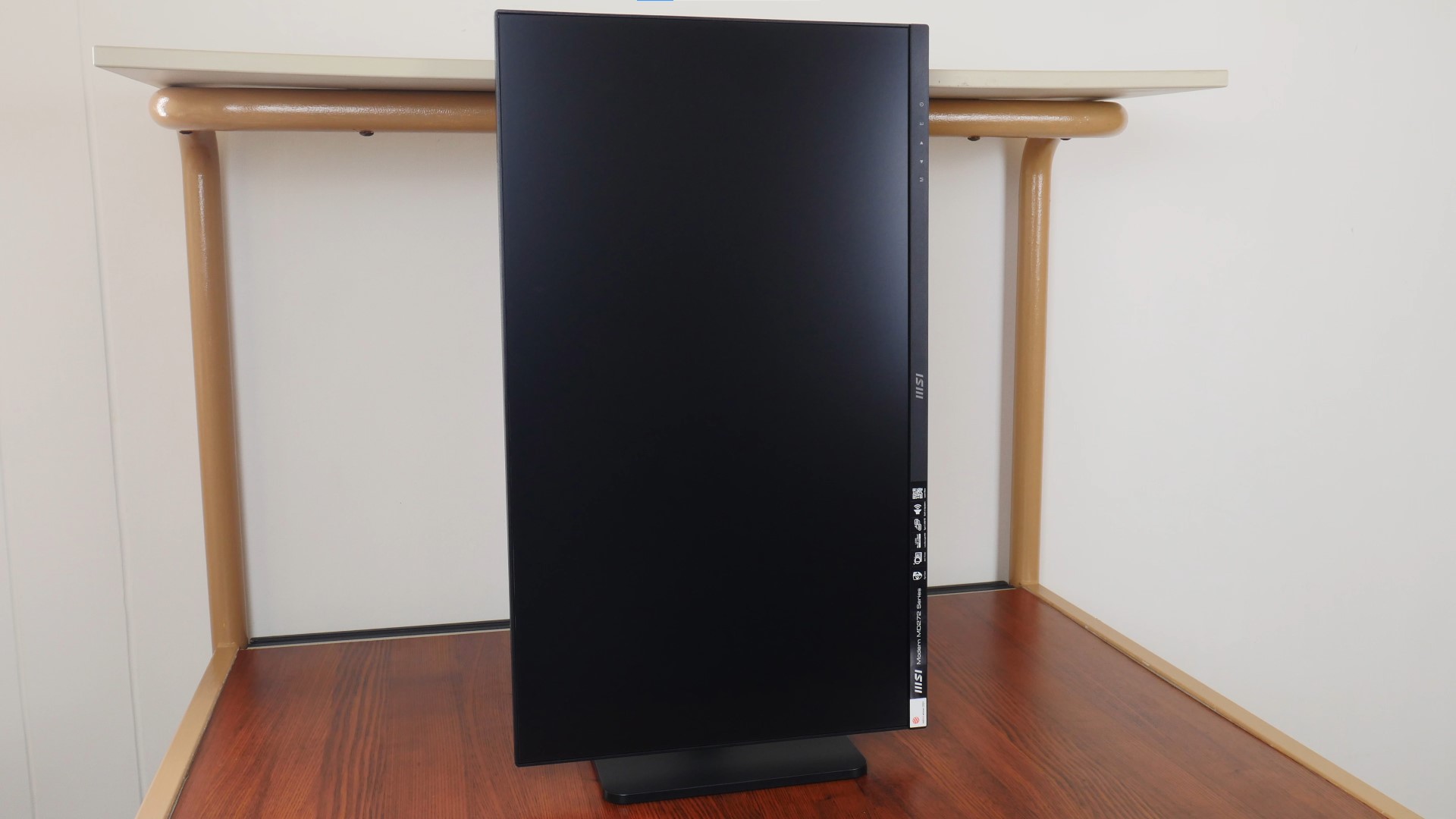 To afford flexibility in terms of how the monitor might be set up on a desk, the MD272P's stand serves up 110mm of height adjustment, 30 degrees of swivel to the left and right, as well as tilt adjustments of between -5 degrees to +20 degrees. The stand also has pivot adjustments, where end-users can pivot the MD272P 90 degrees clockwise or anti-clockwise - handy for work situations that call for the use of portrait-mode visuals.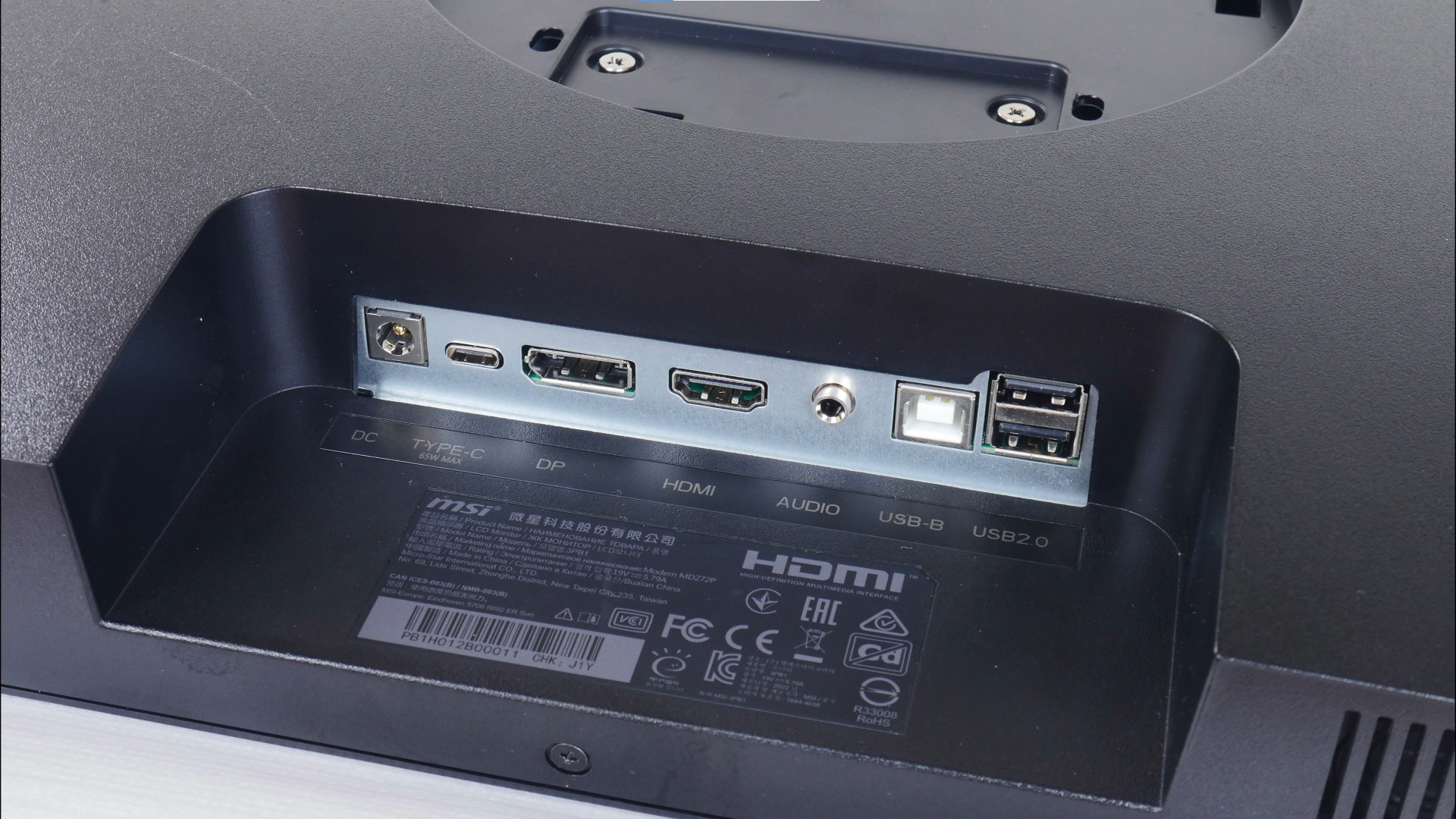 The monitor's rear I/O comprises of a power adapter jack, a USB Type-C port that supports DisplayPort Alternate Mode for display input purposes as well as Power Delivery (65W), which would allow end-users to charge compatible devices such as a laptop while the monitor is in use. Also included is a full-sized DisplayPort connector, a HDMI port, a 3.5mm audio jack, a USB 2.0 Type-B (female) port, as well as two USB 2.0 Type-A (female) ports.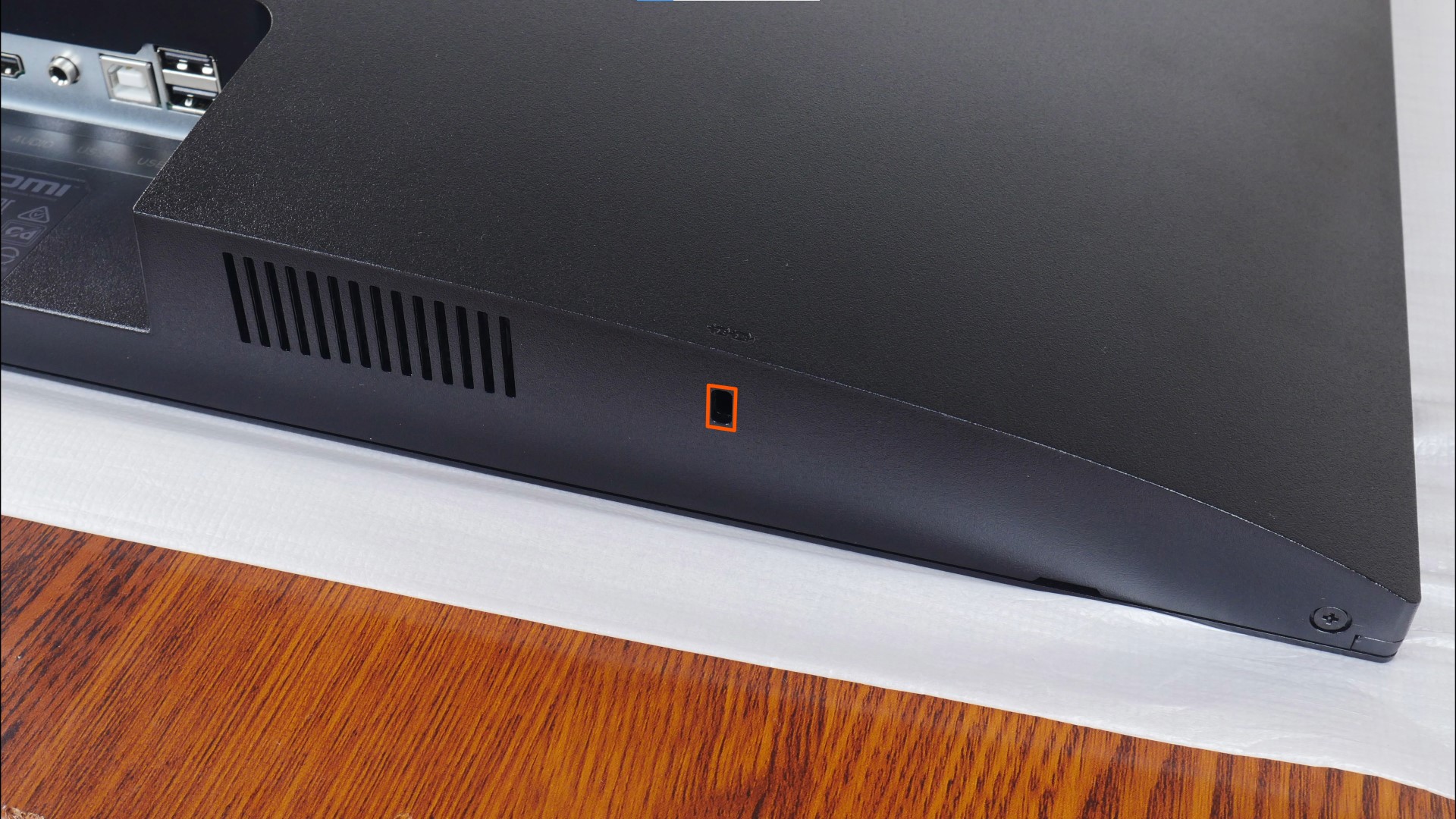 As a business-oriented monitor offering, no surprises here that MSI has included a Kensington lock slot opening on the bottom edge of the monitor.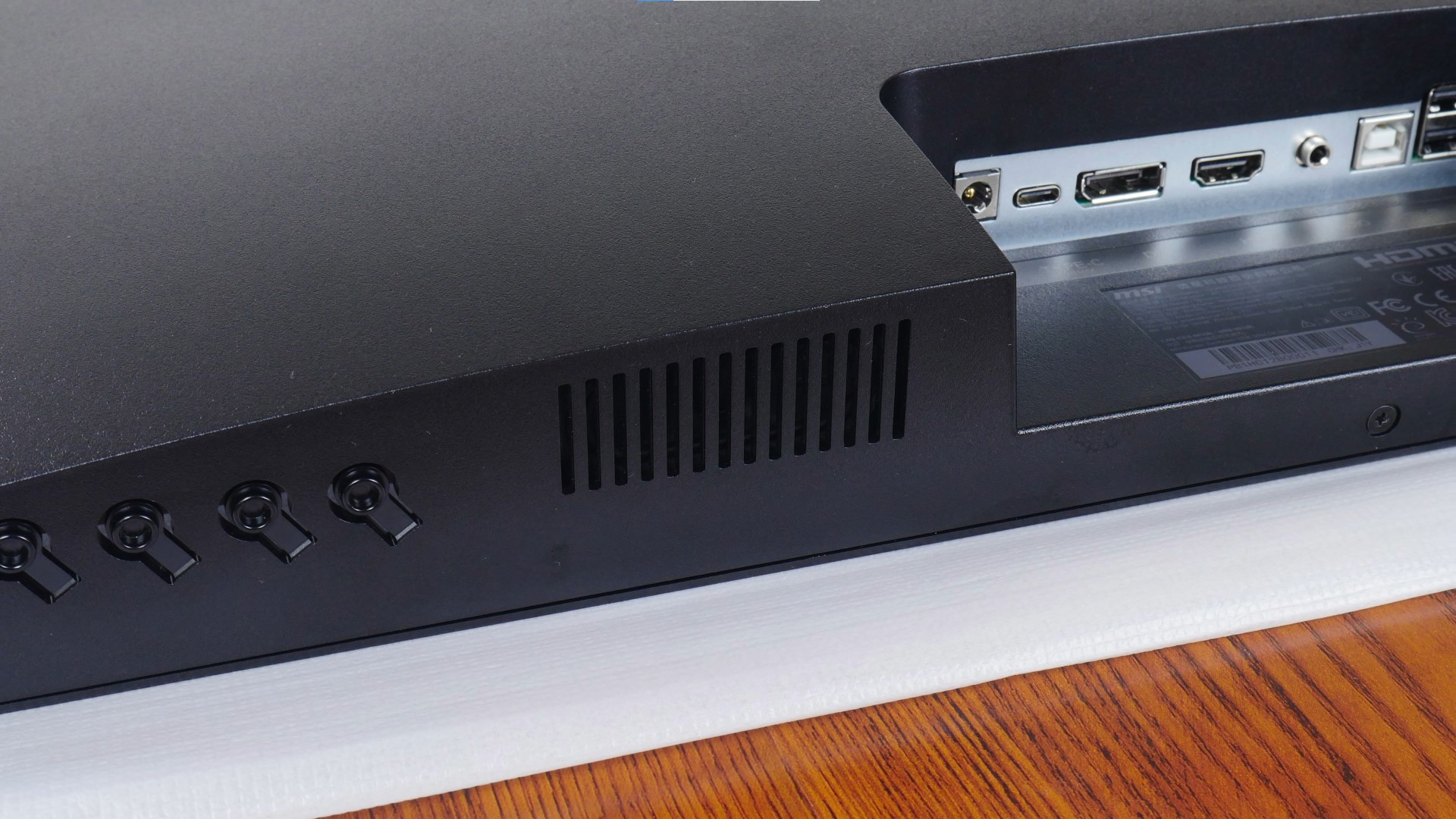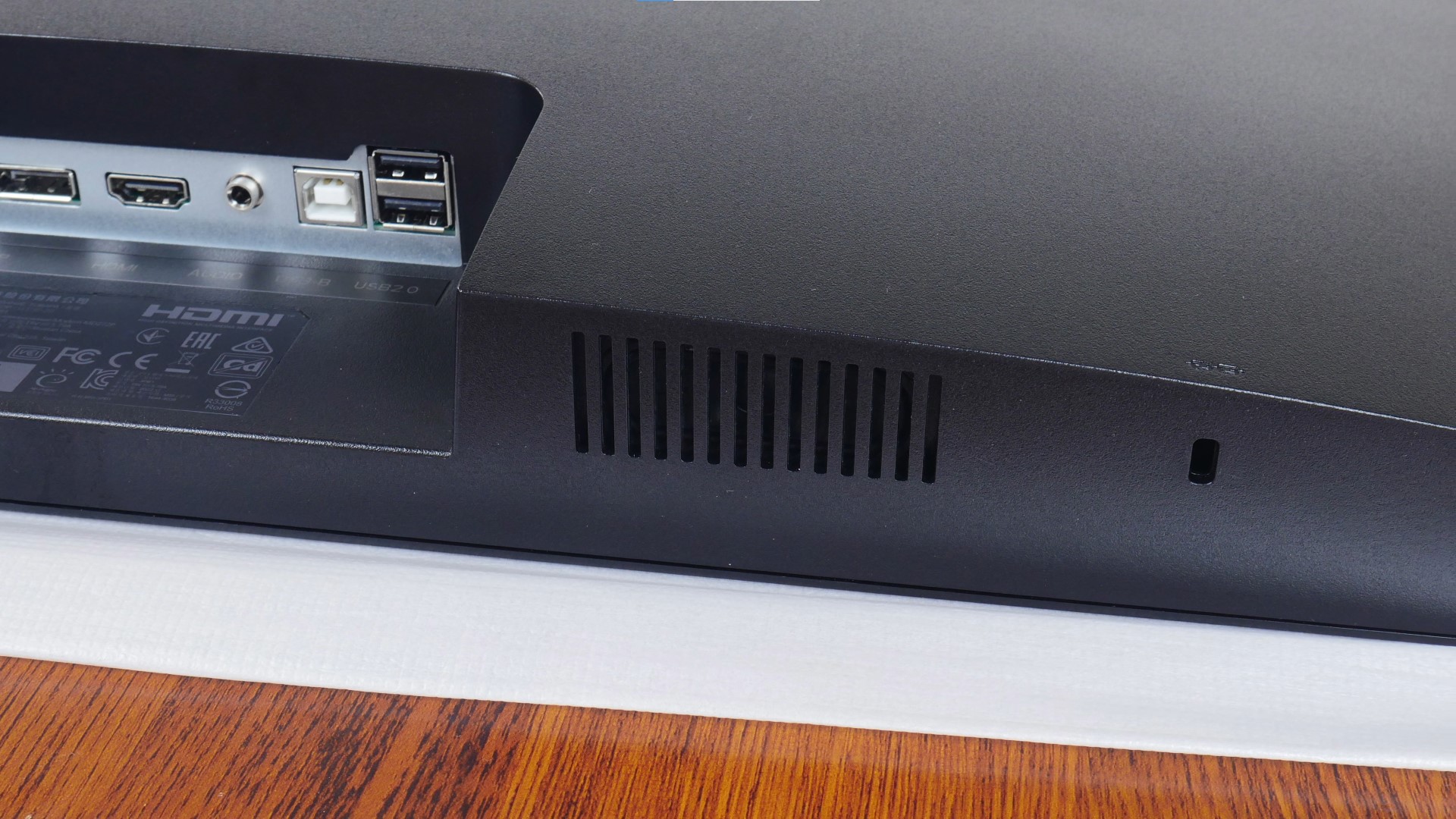 While still on the bottom edge of the monitor, we get two openings for the built-in speakers that the MD272P comes with.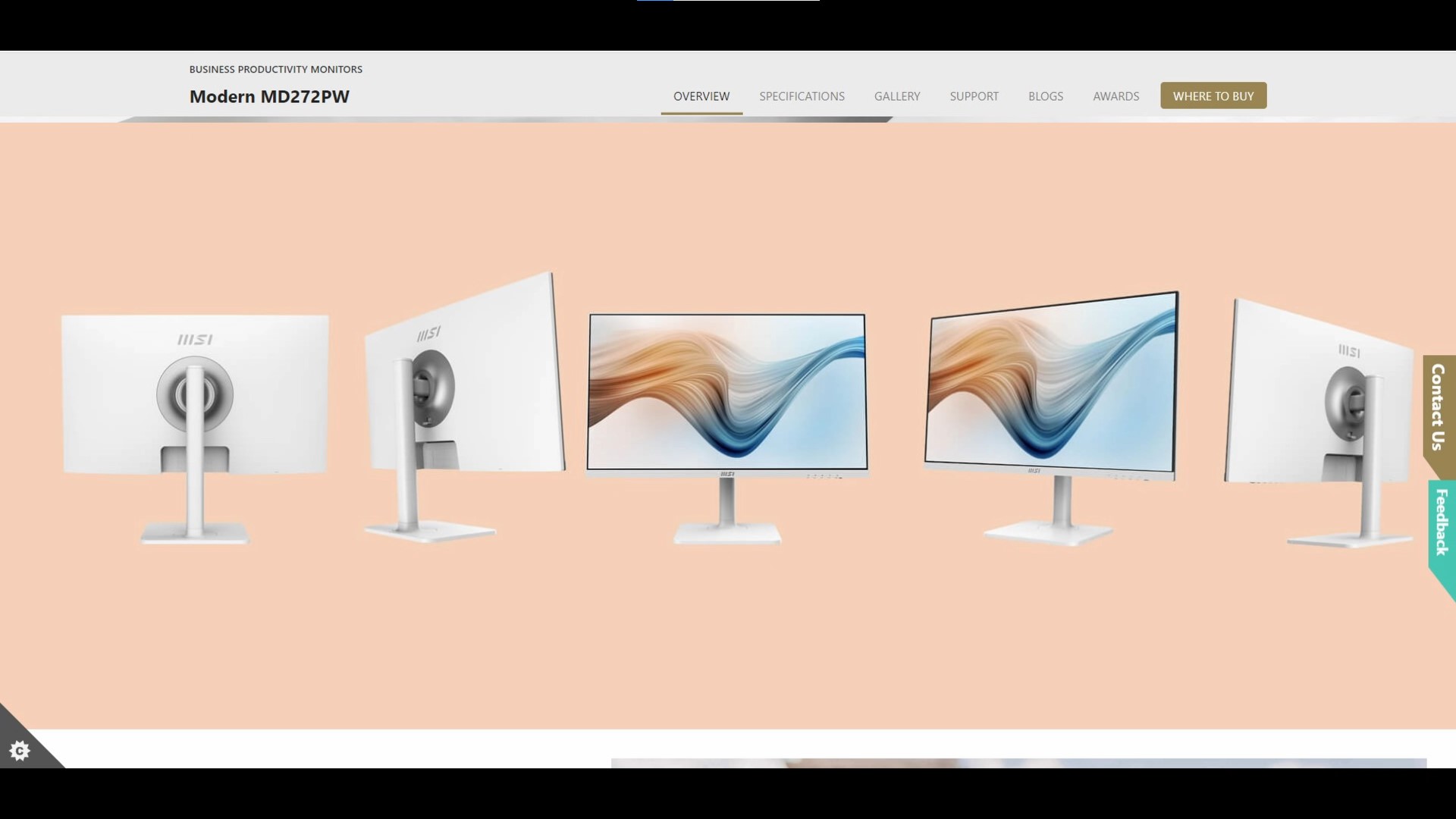 To round up this section on aesthetics and physical features, it's worth mentioning that MSI does produce a white-coloured variant of the MD272P, which bears the model name MD272PW as pictured above.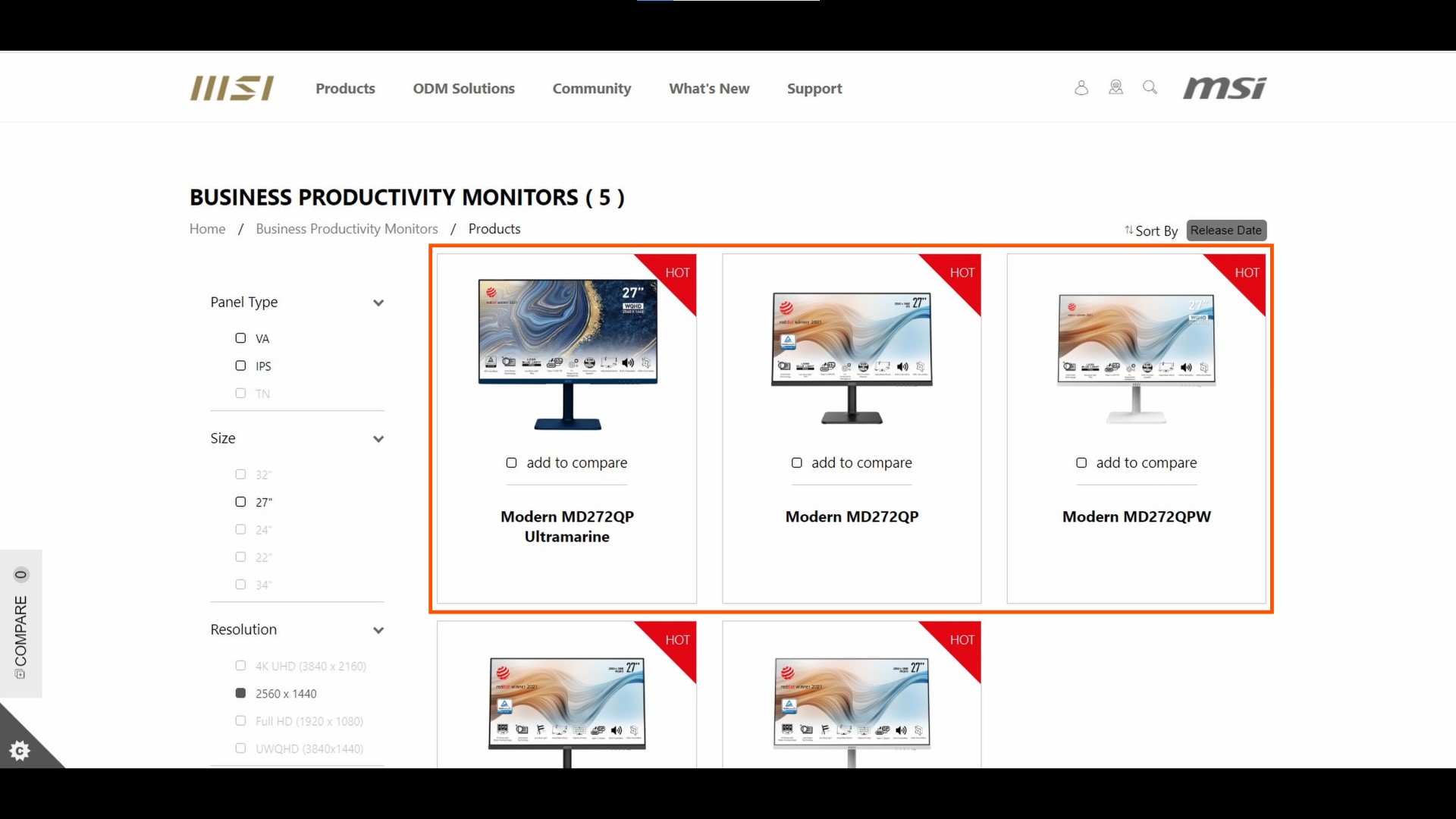 For readers on the lookout for a business monitor with a higher resolution panel, MSI does also produce a 1440p (QHD) variant of the MD272P: the MD272QP. The MD272QP series of monitors come shipped with a 75 Hz 1440p panel, alongside the same aesthetics and features as found on the MD272P, such as USB Type-C video input, a built-in KVM switch and so on.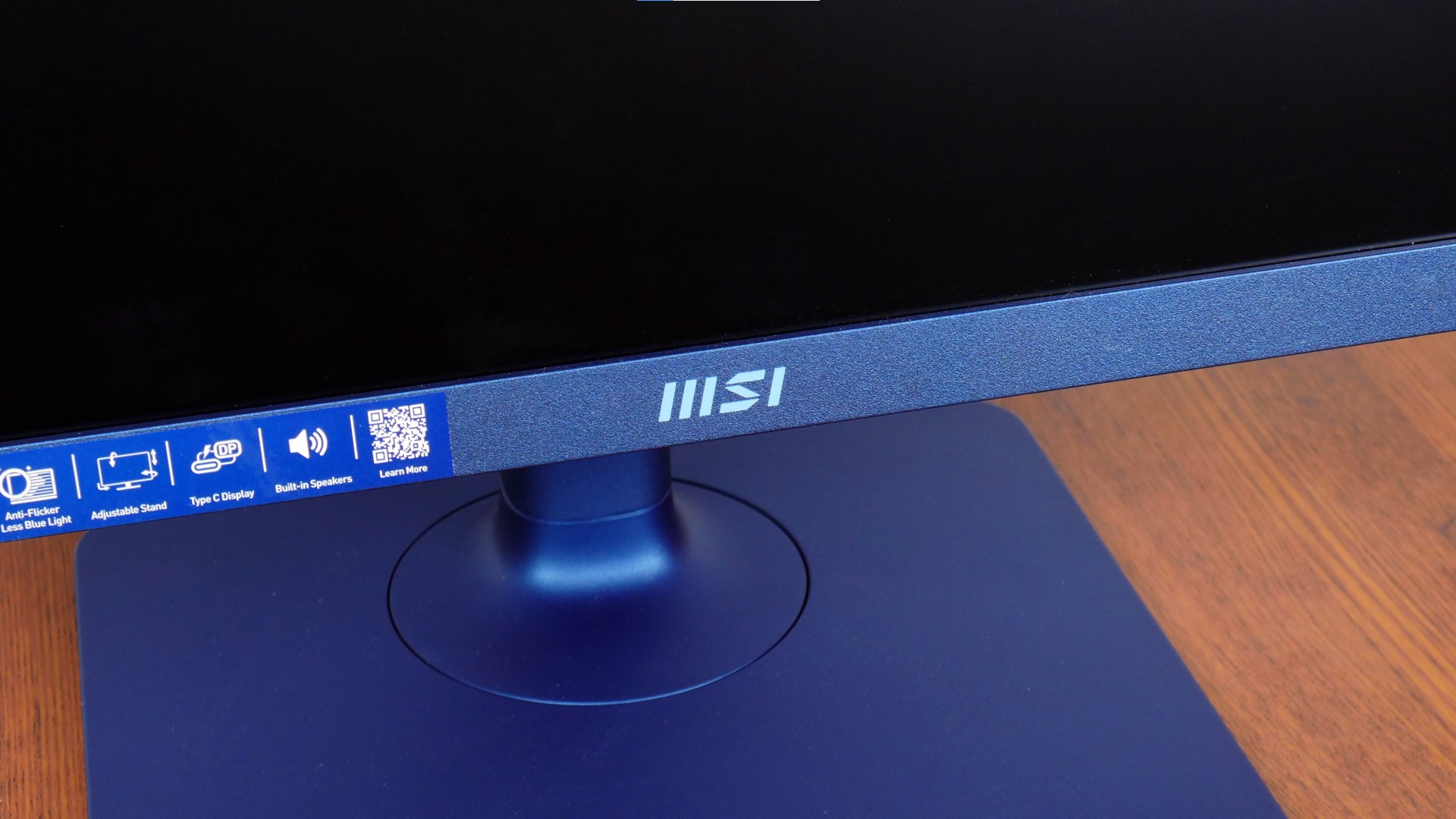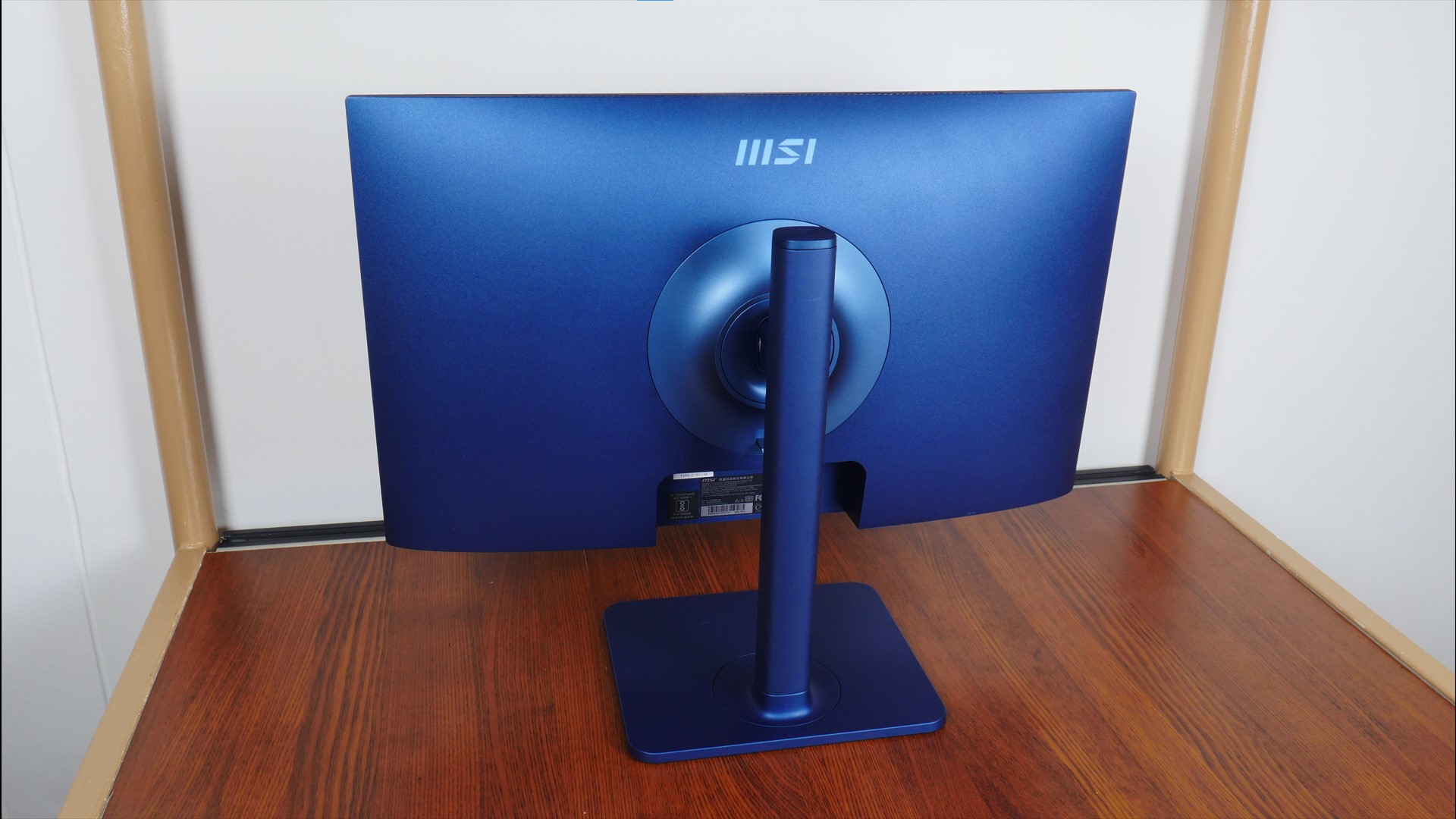 It's worth noting that the MD272QP series is available in three colours - black (MD272QP), white (MD272QPW) and a shade of blue that MSI terms "Ultramarine" (MD272QP Ultramarine). As can be seen in the photos above, the said Ultramarine colour does lend a certain uniqueness and "pop" to the overall aesthetic of the monitor. Unfortunately, the Ultramarine colour is only available with the MD272QP series - the MD272P with its 1080p panel is only available in black or white, as mentioned earlier.
Panel Specifications & Usage Experience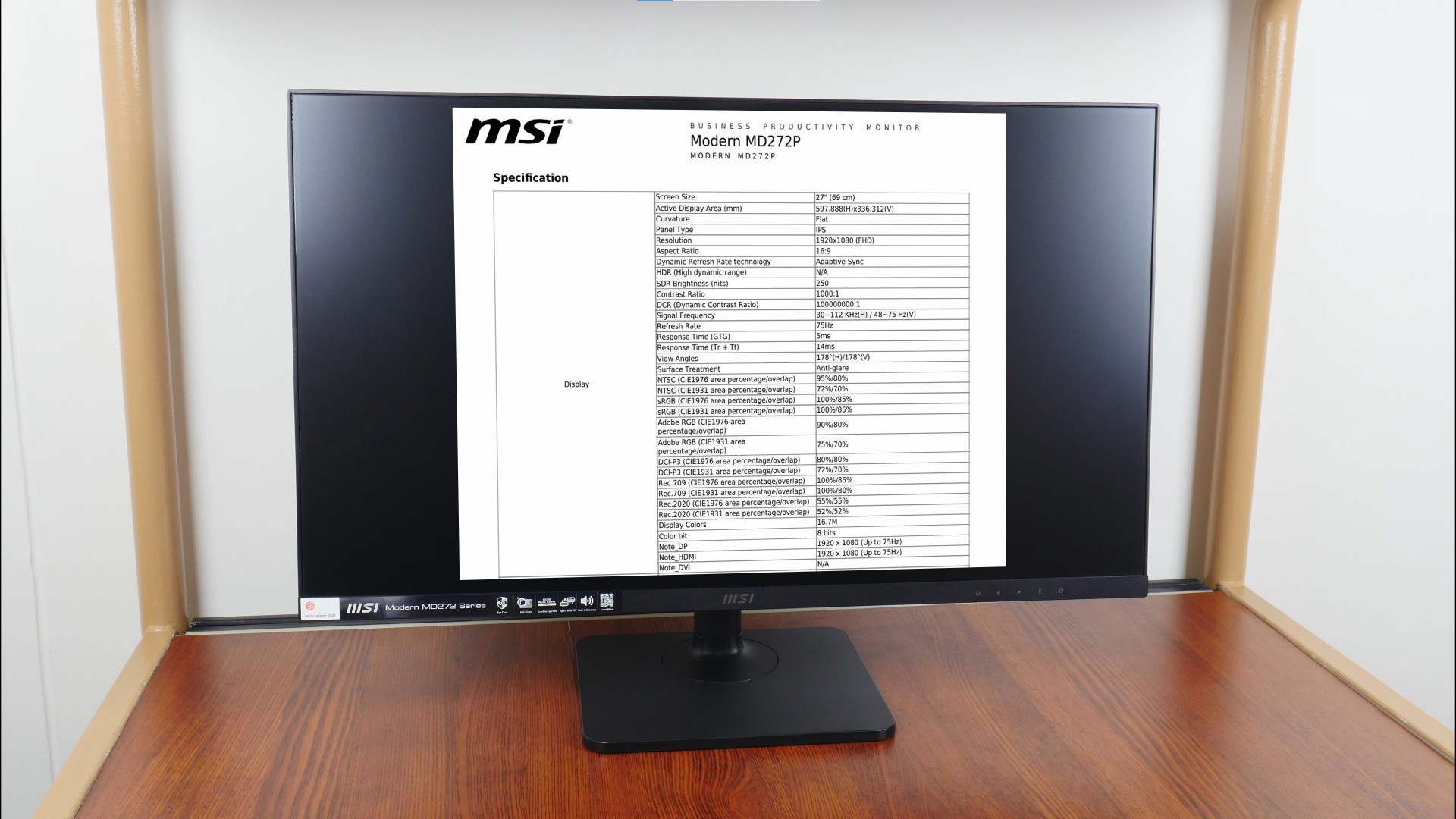 The MD272P comes with a 27" IPS panel that supports the 1080p resolution. The said panel supports a maximum brightness of 250 nits, has a refresh rate of up to 75Hz, a 5ms Grey-to-Grey response time, and comes with an anti-glare surface treatment. The panel also supports an 8-bit colour depth and comes with the colour accuracy specifications as indicated in the image above.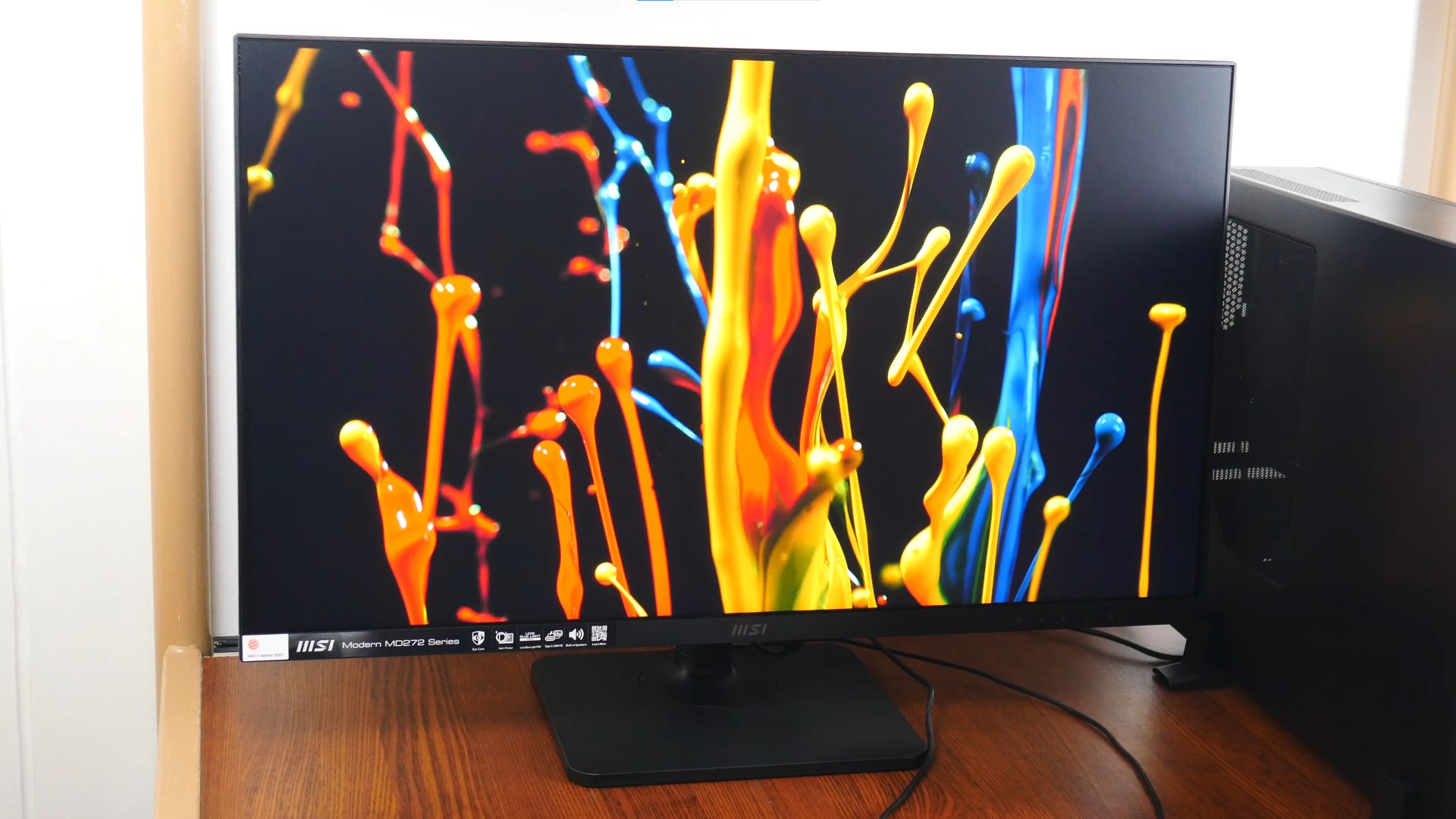 To put the monitor through its paces, I tested it with a MSI PRO DP130 productivity desktop PC that MSI loaned together with the MD272P for this review. Unfortunately, I did not have the equipment to do a proper test of the panel's actual colour accuracy - that said, based on subjective observation alone, I found that the visuals produced by the MD272P's panel were decently crisp with vibrant colours - a showing that would be more than sufficient for the end-user demographic that this monitor is targeted at.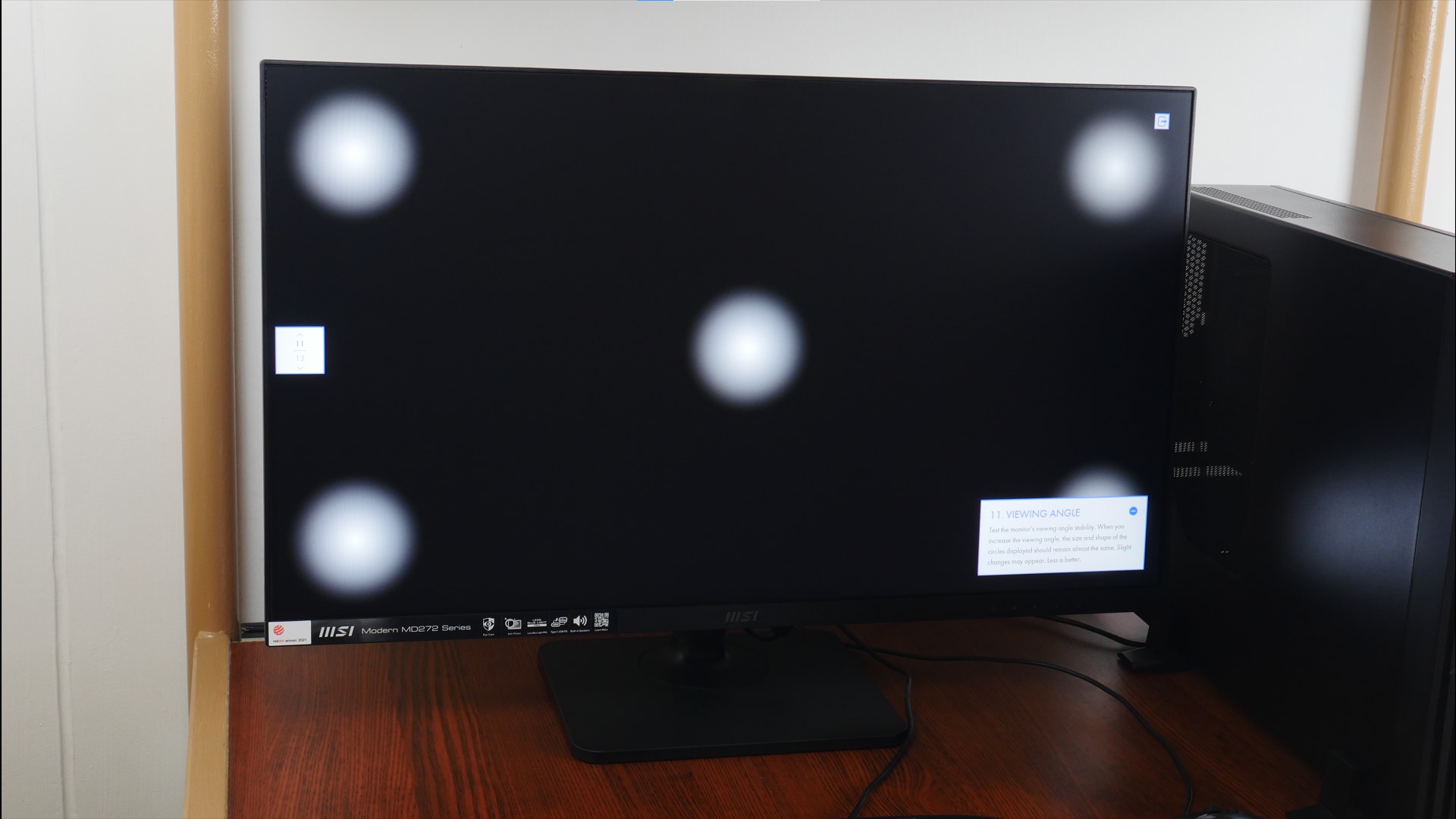 In terms of viewing angles, MSI advertises the MD272P to have 178 degree horizontal and vertical viewing angles - I found the viewing angles pretty decent while putting the monitor through its paces. I was also unable to detect any IPS glow when displaying a black background under low-lighting conditions.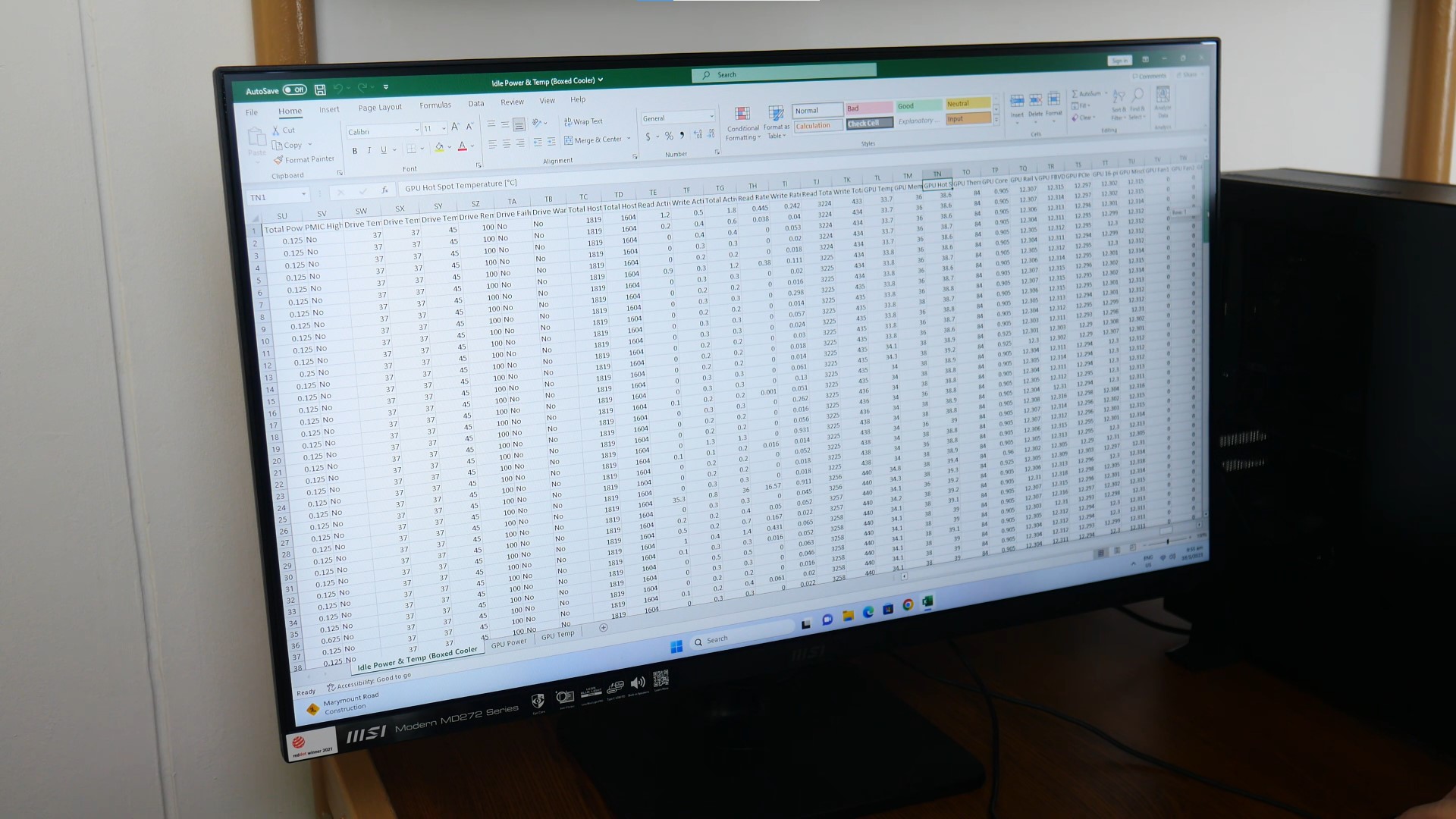 As a business productivity monitor, the MD272P's 75Hz refresh rate is more than adequate, where visuals were decently smooth for the kind of workload that this monitor is designed for; one shouldn't have any issues with using this monitor for basic entertainment purposes as well, such as streaming movies online, watching videos on YouTube and so on.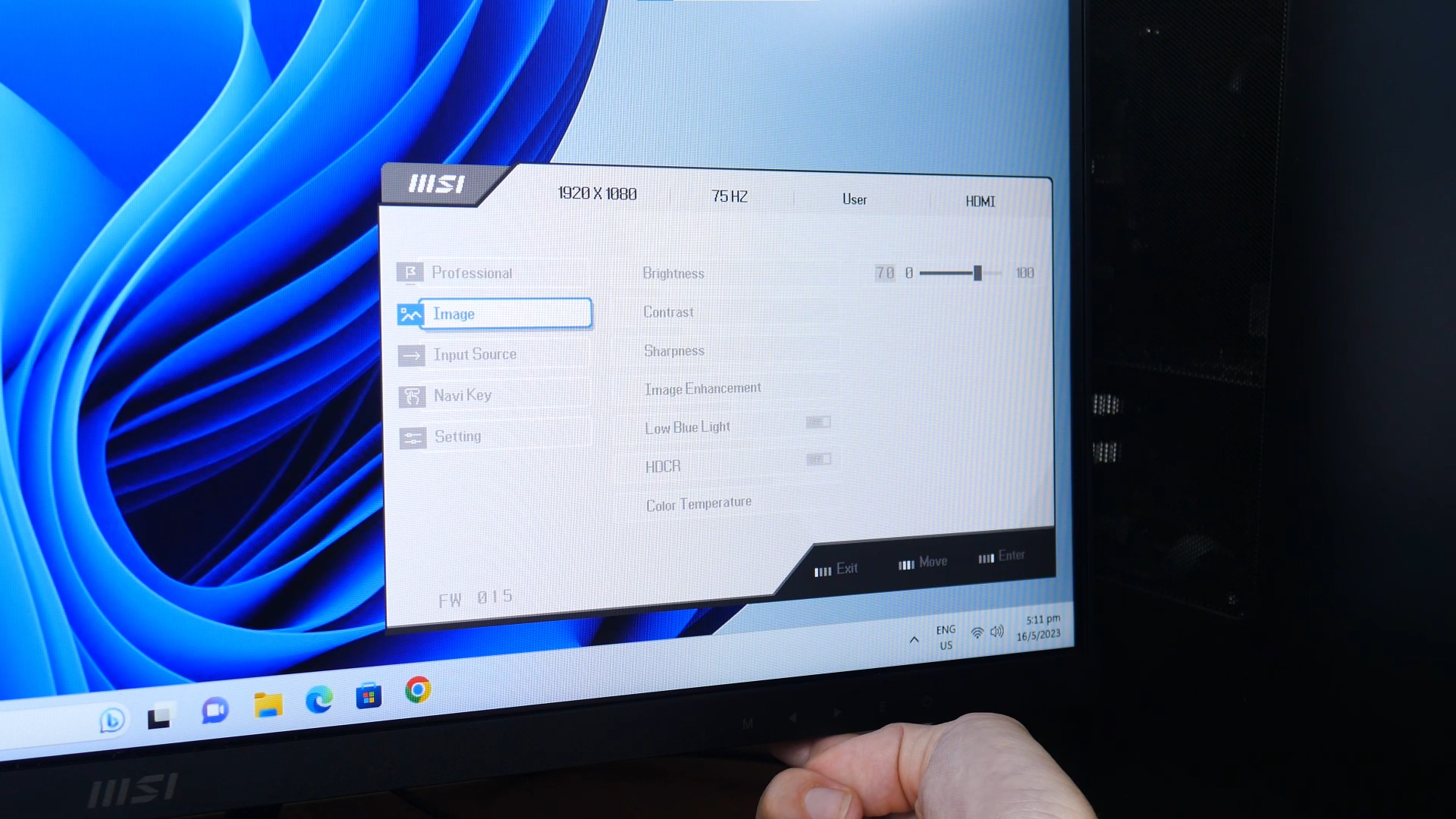 Tweaking the settings of this monitor is a breeze with the controls found on the underside of the bottom edge of the monitor, where we get easy access to performance settings such as response time, the ability to tweak the KVM settings of the monitor and so on. Naturally, other typical settings such as Brightness, Contrast, a Low Blue Light filter, the ability to select the video input source and of course, administrative settings such as language, speaker volume and so on, are all within easy reach with just a couple of button clicks.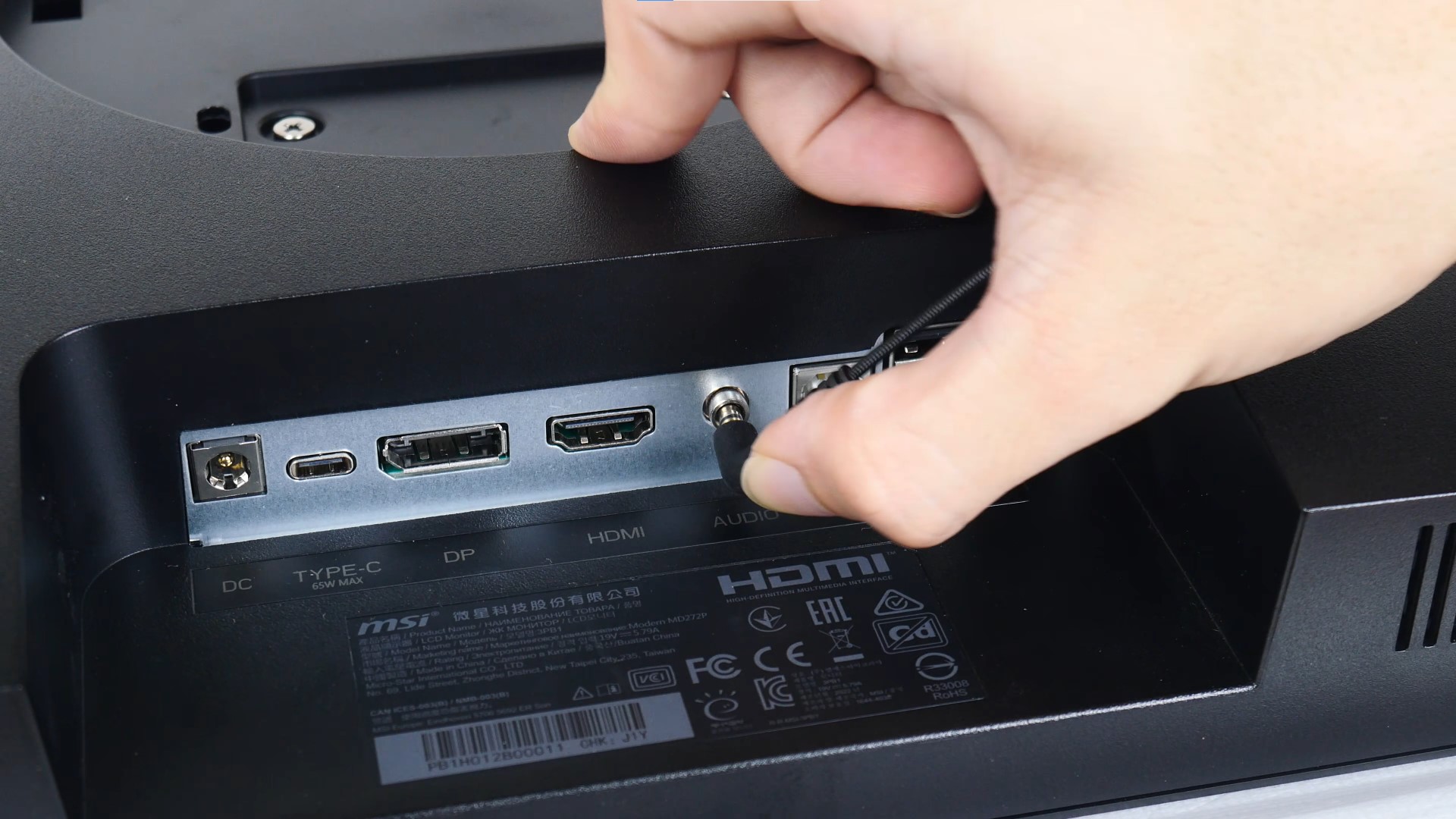 The MD272P comes with a pair of 2W built-in speakers, along with a 3.5mm audio jack on the rear that allows end-users to plug in their own earphones or speakers to the monitor for audio output purposes. That said, the monitor's speaker performance does leave much to be desired - while the speakers were pretty loud, the audio quality was rather flat, with a distinct lack of bass and definition.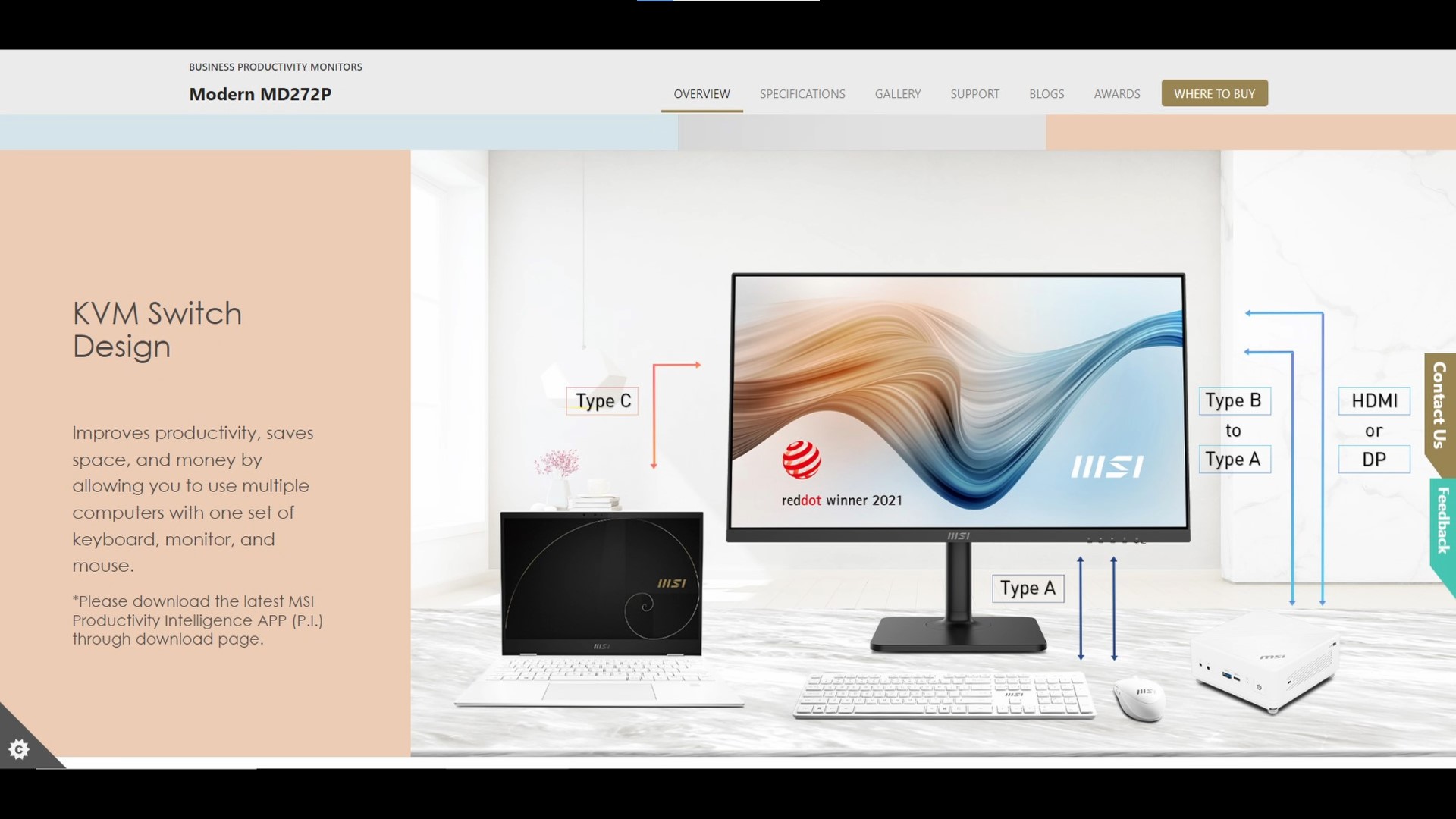 A key feature of the MD272P is its built-in keyboard video mouse switch, also abbreviated as KVM, where end-users will be able to toggle between display outputs on the MD272P for up to two connected devices (such as a desktop PC and a laptop), and use the same keyboard and mouse to control both devices.
As illustrated by the image above, a typical setup could be to have a keyboard and mouse connected to the MD272P's USB 2.0 Type-A downstream ports, a desktop PC connected to the MD272P by means of the included USB Type-A to USB Type-B cable and either a DisplayPort or HDMI connection, as well as a compatible laptop connected to the monitor via a USB Type-C connection.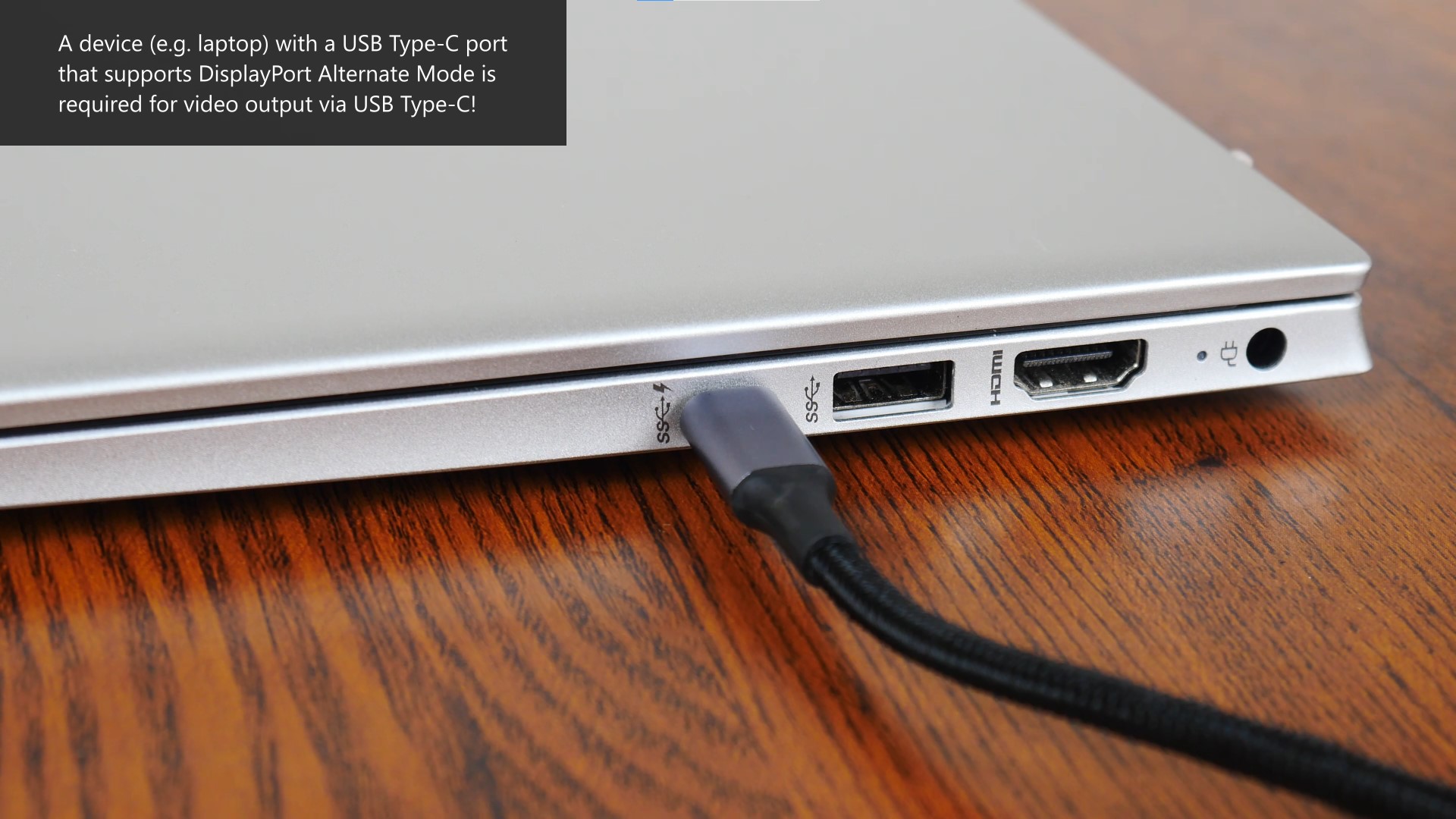 In order for USB Type-C video input on the MD272P to work properly, end-users will have to make sure that their device of choice comes with a USB Type-C port that supports DisplayPort Alternate Mode.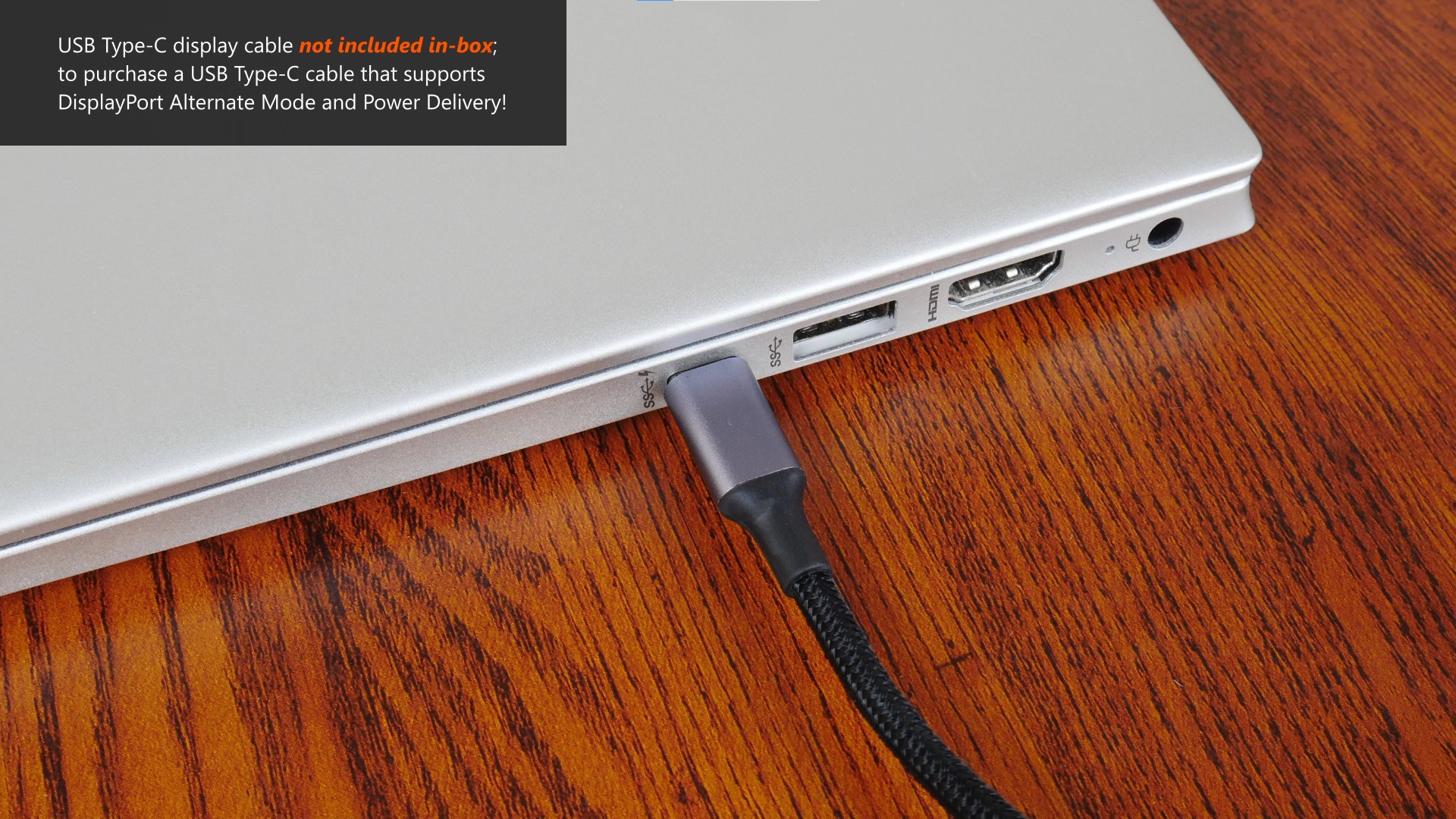 In addition to the above, a display-capable USB Type-C cable will have to be used as well. where the said cable should support DisplayPort Alternate Mode (and Power Delivery to enable device charging). Unfortunately, MSI does not include such a cable with the MD272P, where end-users will have to purchase their own such cable separately.
That said, with a compatible USB Type-C device and USB Type-C cable in place, the best part about this setup is the ability to charge the device that is connected to the MD272P's USB Type-C port - this is because the said port supports Power Delivery of up to 65W.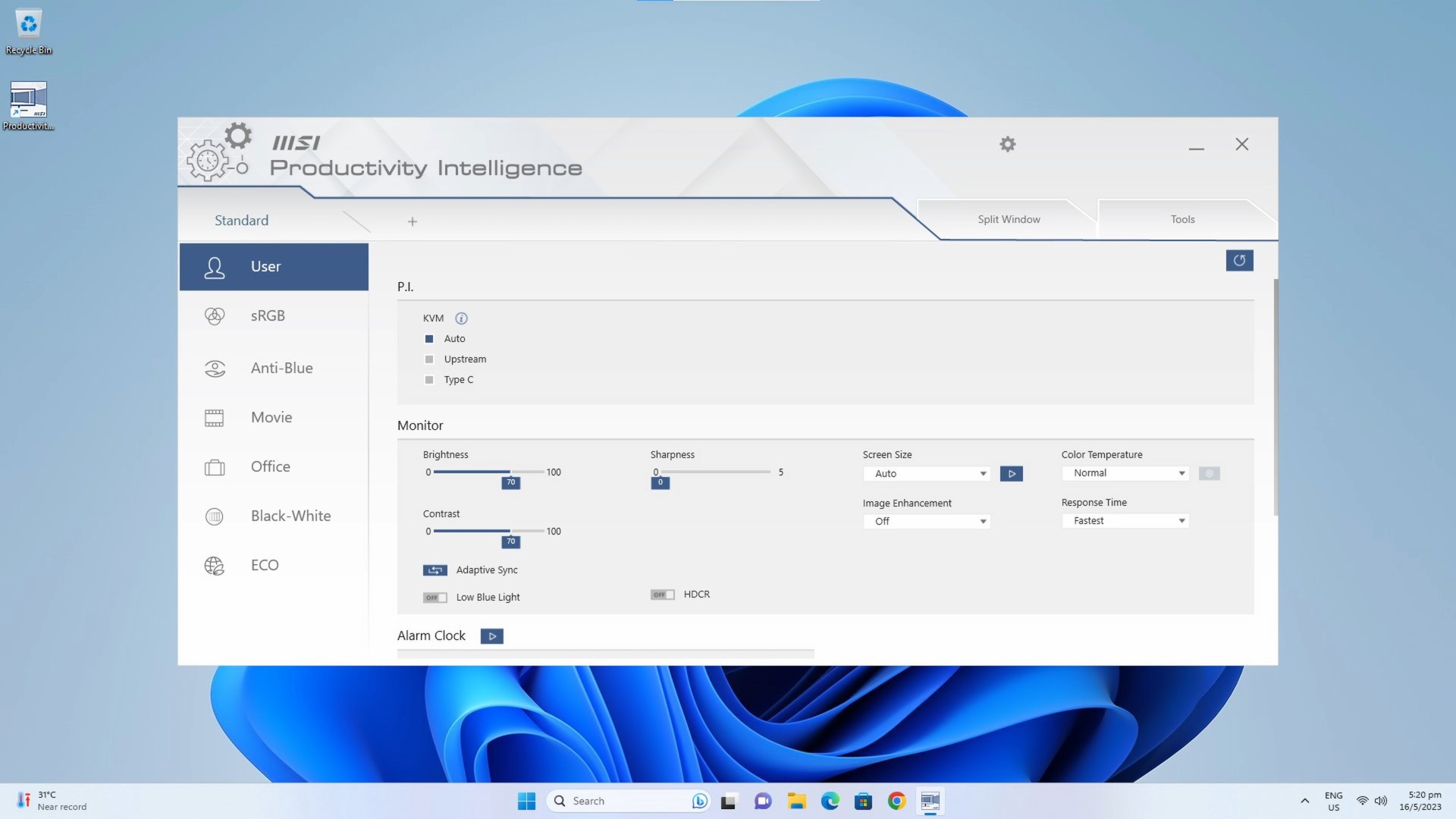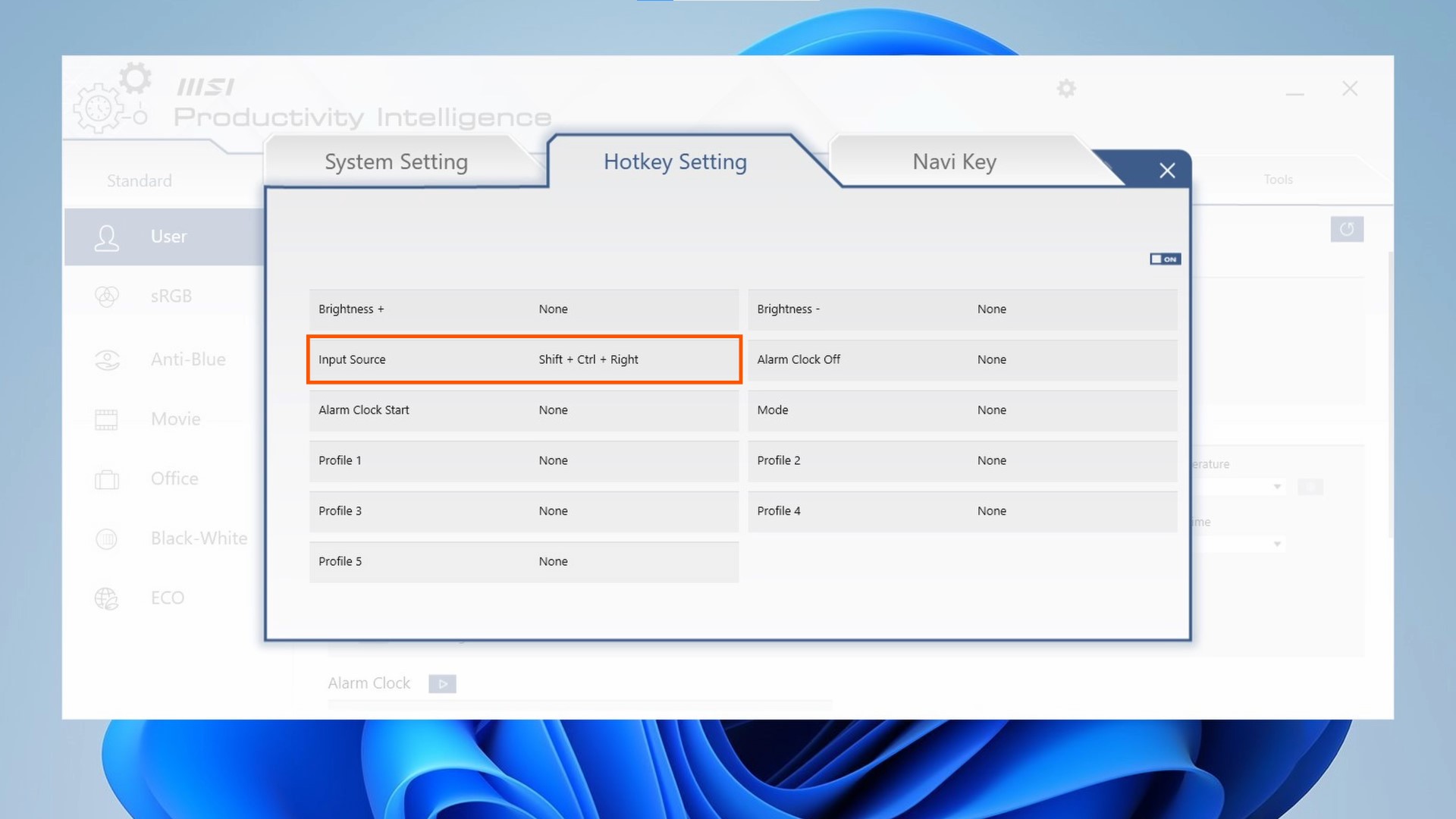 Operating the KVM switch can be done either via the on-monitor controls, or via MSI's Productivity Intelligence app, which would have to be downloaded and installed on both PCs that you intend to use the MD272P with. With the app installed, you can then toggle between devices via a couple of clicks on your mouse, or even via configurable hotkeys, which is convenient for sure.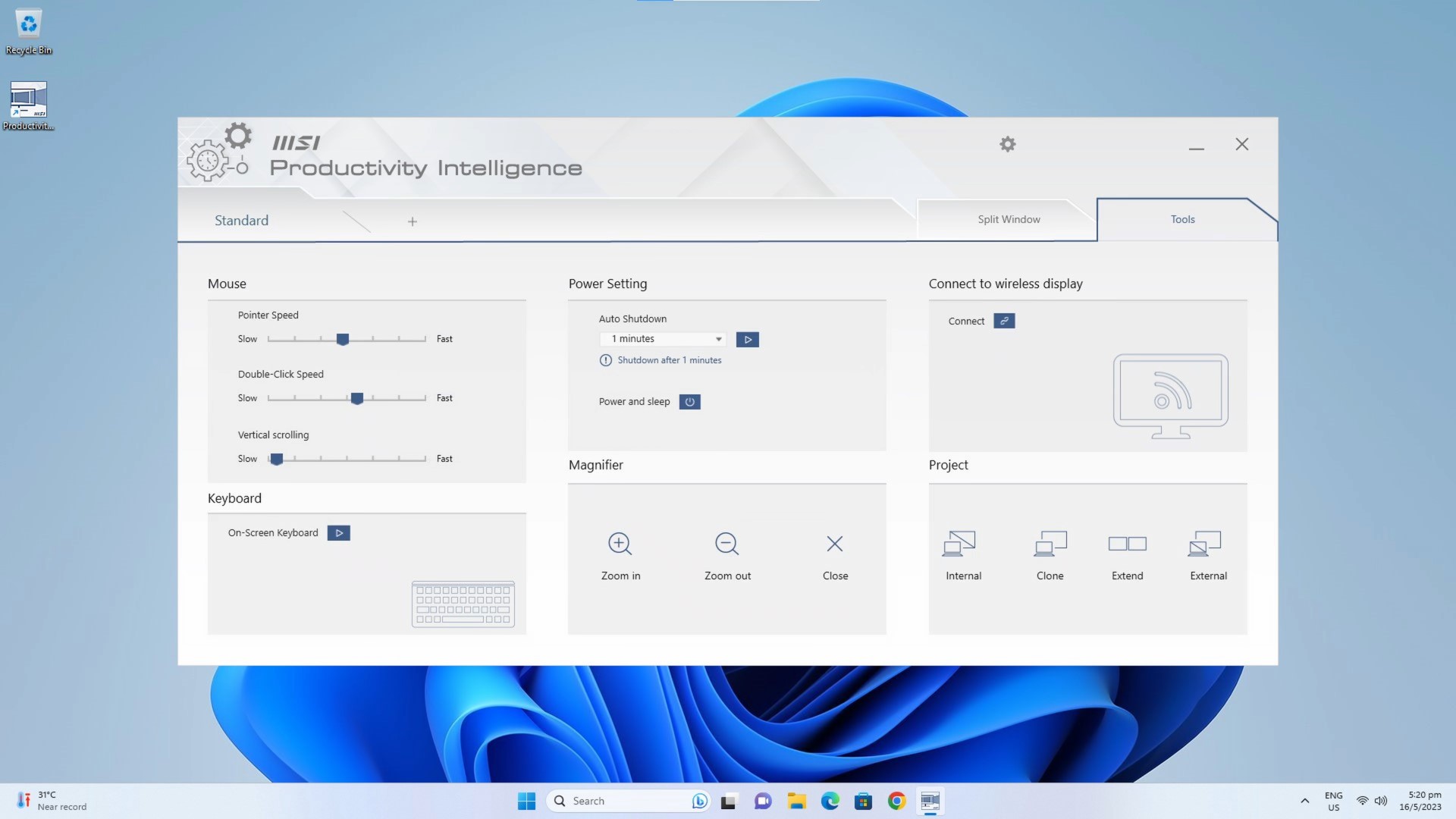 That said, with the Productivity Intelligence app, end-users do also gain access to other monitor settings and features that can be configured in-app.
Conclusion & Pricing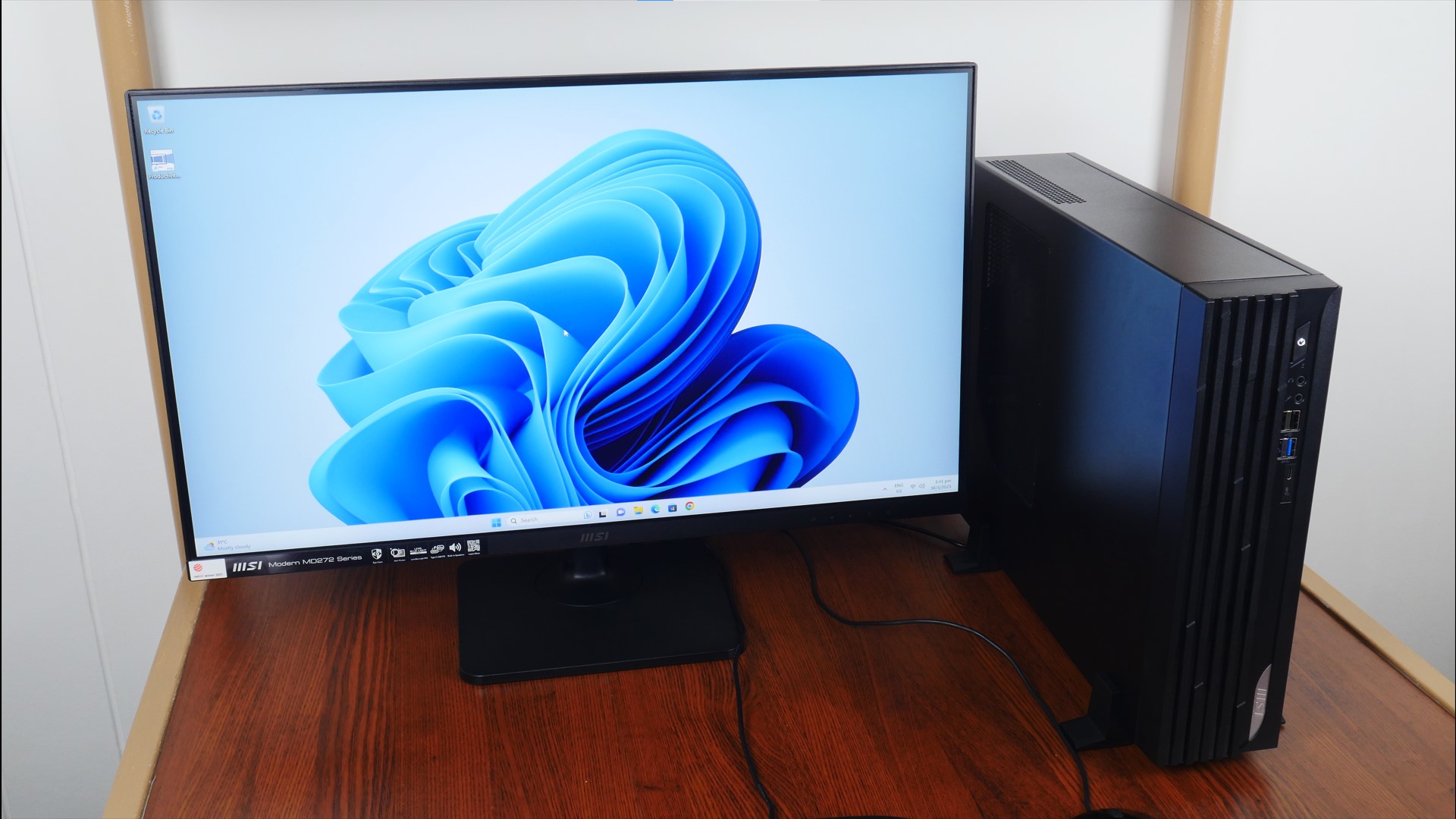 To sum up, the MSI Modern MD272P is a compelling monitor offering for business and productivity-oriented end-users that deal predominantly with say, spreadsheet work and PowerPoint slides, who may have to alternate between two work devices frequently, where the KVM feature would be a major selling point for sure. This is backed by decent build quality and visuals courtesy of the MD272P's 75Hz 1080p panel. That said, given the specs of this monitor, end-users who deal with colour-sensitive work (such as graphic designers and professional video editors) may want to look at other monitors that are designed for such workloads.
Some misses worth mentioning, I do wish that MSI had included a display-capable USB Type-C cable with the monitor, which would save one the hassle of needing to purchase such a cable separately. In addition, while the MD272P's built-in speakers might be adequate for the occasional teleconference call, end-users might be better off using their own external speakers or earphones, given the speakers' audio quality that does leave much to be desired.
As of mid-May 2023, the Modern MD272P is available to purchase for a price of around $319 Singapore dollars from offline and online retailers in Singapore. International viewers can get this monitor for around $190 US dollars from e-Commerce sites such as Amazon.
Get this monitor from Amazon: https://amzn.to/435WPe3 (affiliate link)

Get this monitor from Shopee Singapore: https://shope.ee/LHxno6G70 (affiliate link)
Get this monitor from Lazada Singapore: https://c.lazada.sg/t/c.Yl5tpj?sub_aff_id=alktech (affiliate link)

ALKtech may earn commissions from qualifying purchases made using affiliate links, at no extra cost to you as a customer. These commissions go a long way in supporting the platform!

The monitor and desktop PC featured in this article were review units provided on loan from MSI.