Review: ASUS ROG STRIX XG259CM 24.5" Gaming Monitor
The ASUS ROG STRIX XG259CM is a feature-packed 1080p gaming monitor with a fast refresh rate of 240Hz, albeit at a significant price tag.
ASUS is no stranger to the gaming monitor market, with an extensive product catalog spanning the likes of professional content creation monitors, to gaming monitors like the ROG STRIX XG259CM which we'll be taking a look at in this article.
Packaging & Contents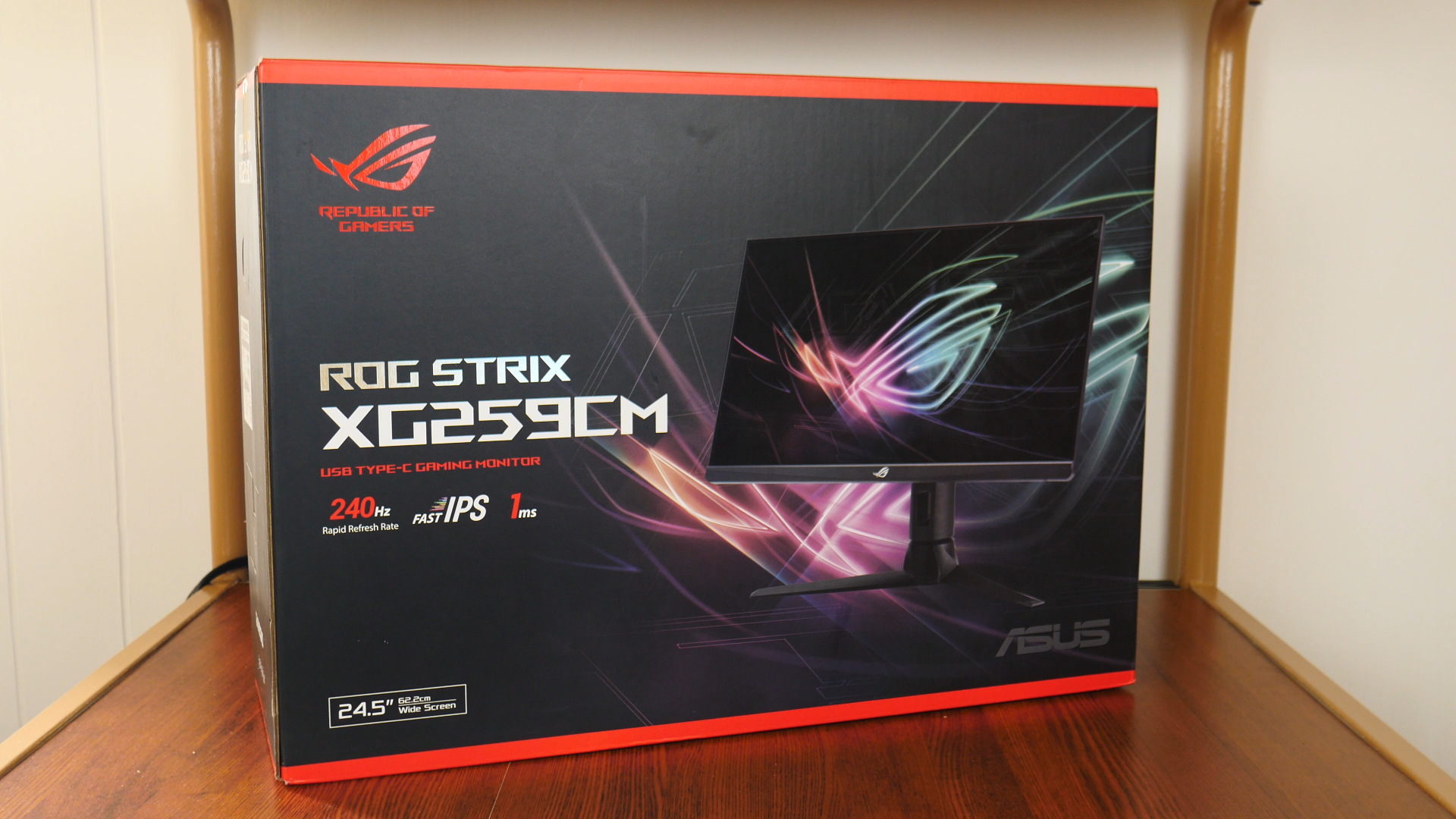 As a gaming monitor from the Republic of Gamers (ROG) line-up, the box unsurprisingly comes in the usual black and red colourway that has come to be associated with ROG products, and sports motifs that hint at the monitor's gaming pedigree.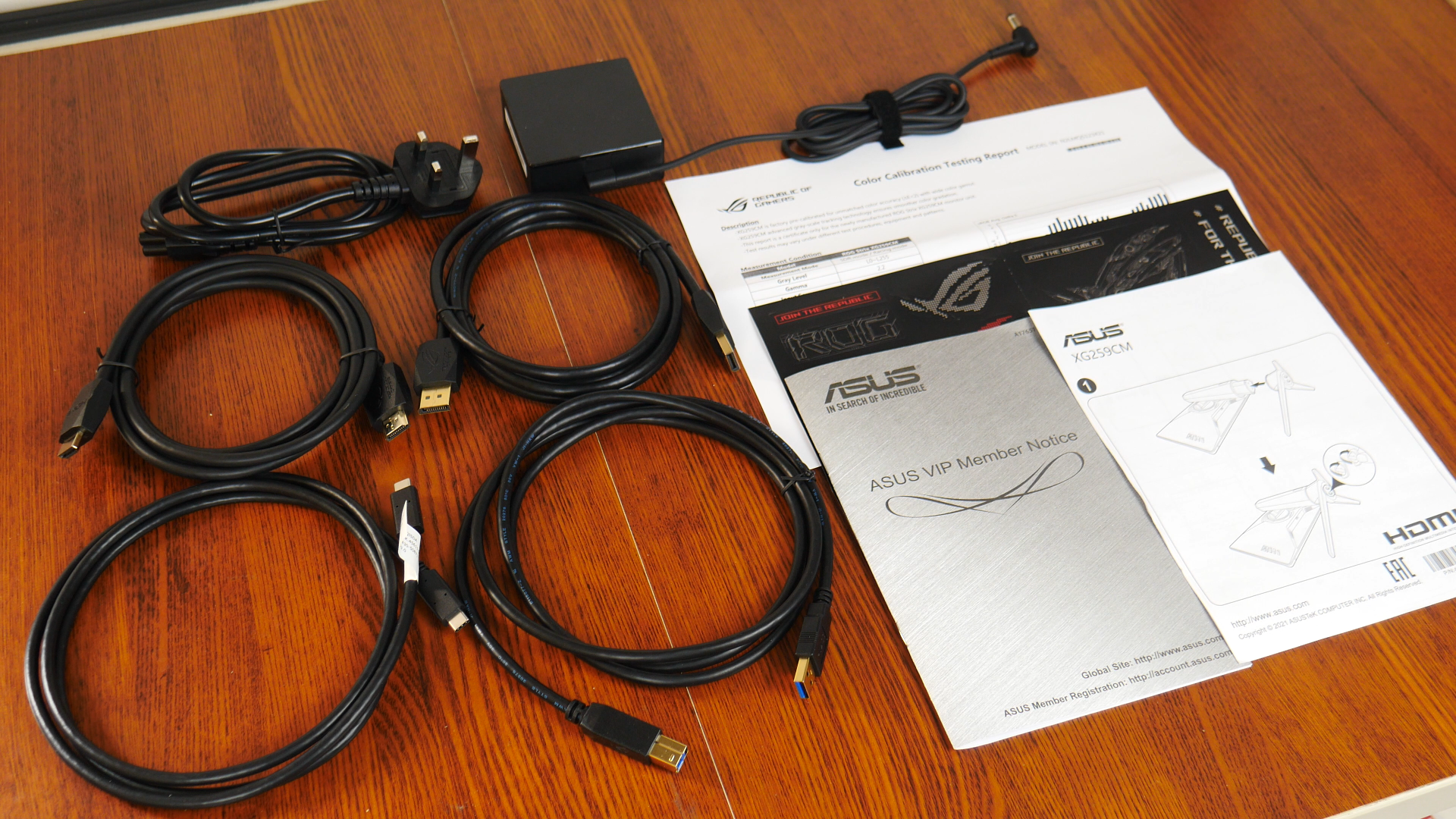 The XG259CM comes with the following accessories:
Power brick
Power cord
DisplayPort cable
HDMI cable
Male USB Type-B to male USB Type-A cable
Male USB Type-C to male USB Type-C cable
Quick start guide
Warranty information leaflet
Factory colour calibration report
Sheet of ROG stickers
Specifications
Display Type: 24.5" IPS panel, full HD (1080p) resolution, anti-glare matte finish, LED backlighting
Refresh Rate: 240Hz
Response Time: 1ms (GTG)
Maximum Brightness: 400nits
Colour Support: 16.7 million colours (8-bit panel)
HDR Support: HDR10
Special Features: ELMB Sync support, tripod mounting hole, built-in KVM switch
Dimensions With Stand: 558mm x (381mm~491mm) x 234mm
Net Weight With Stand: 6.1kg
Aesthetics & Build Quality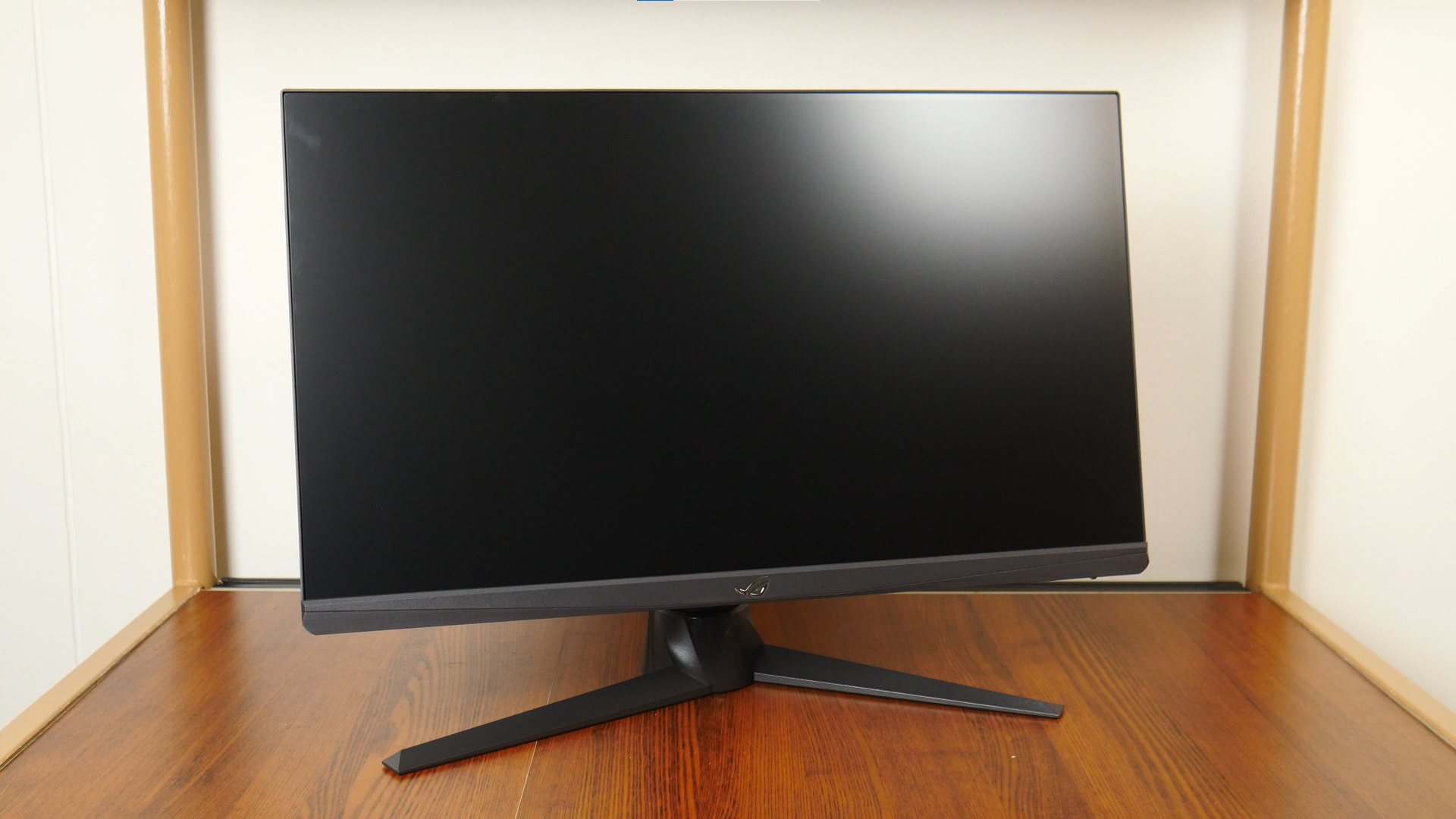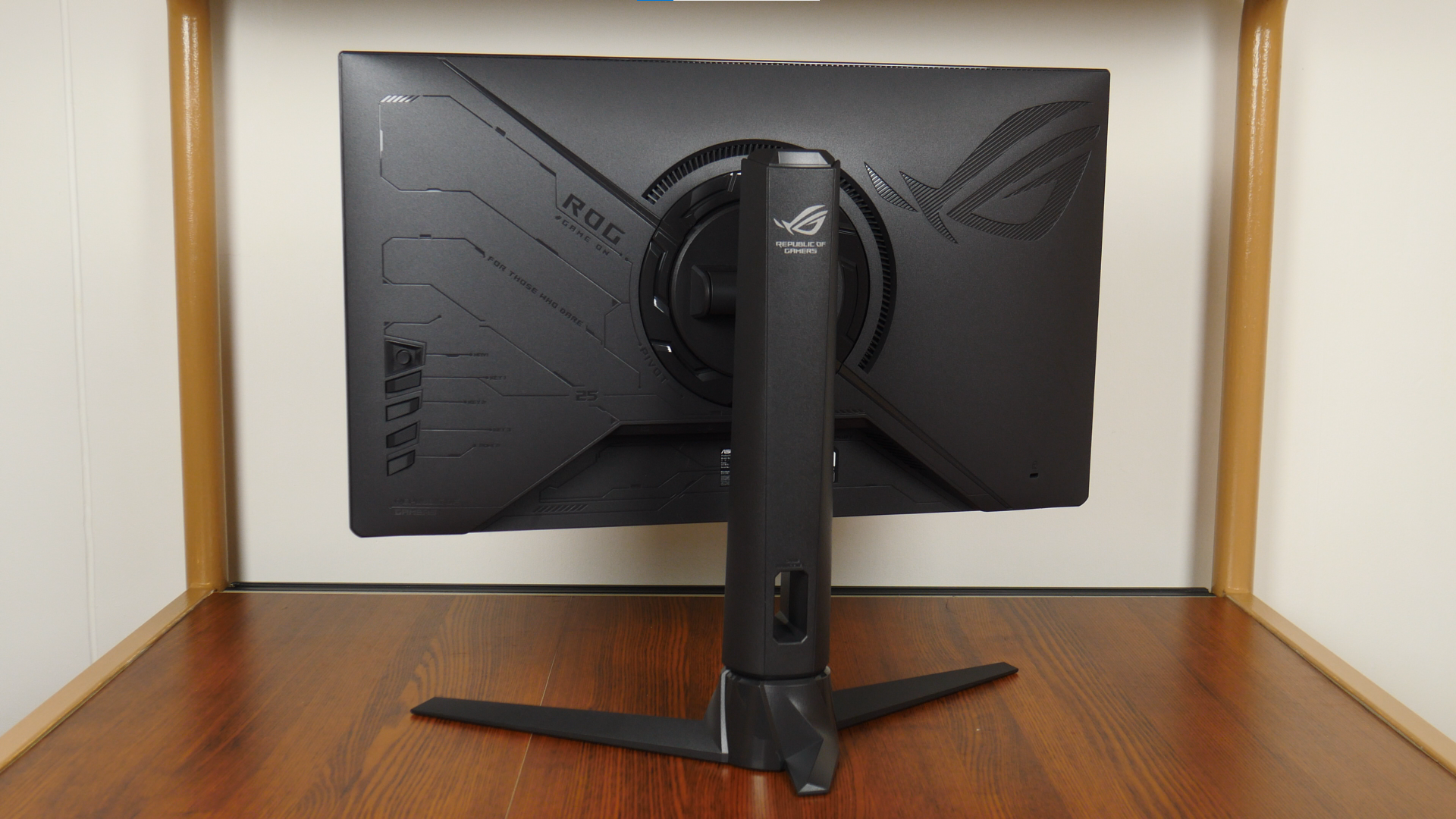 The body of the ROG Strix XG259CM is made of plastic of a light grey colour, with a mix of textured matte finishes and gloss finishes. The front of the monitor has a relatively muted appearance for a ROG product - this is made up for with the PCB trace motifs and smattering of ROG logos that can be found on the rear of the monitor. For this particular monitor, ASUS has done away with RGB bling, where the monitor is completely devoid of any aesthetic LEDs.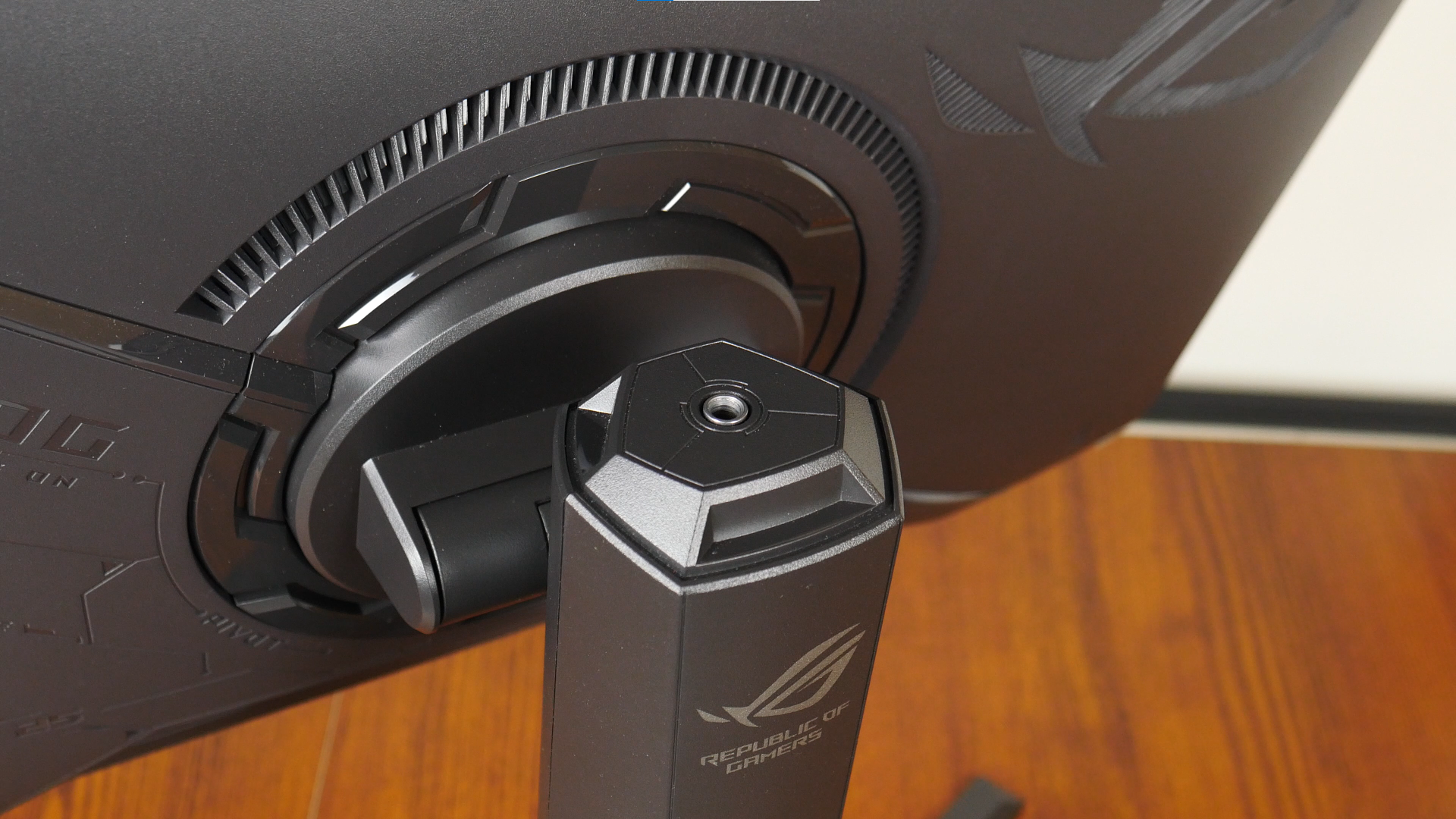 The included monitor stand is solidly built, and has a tripod mount socket at the top of the stand, which allows end-users to mount a camera for various applications, such as livestreaming while gaming.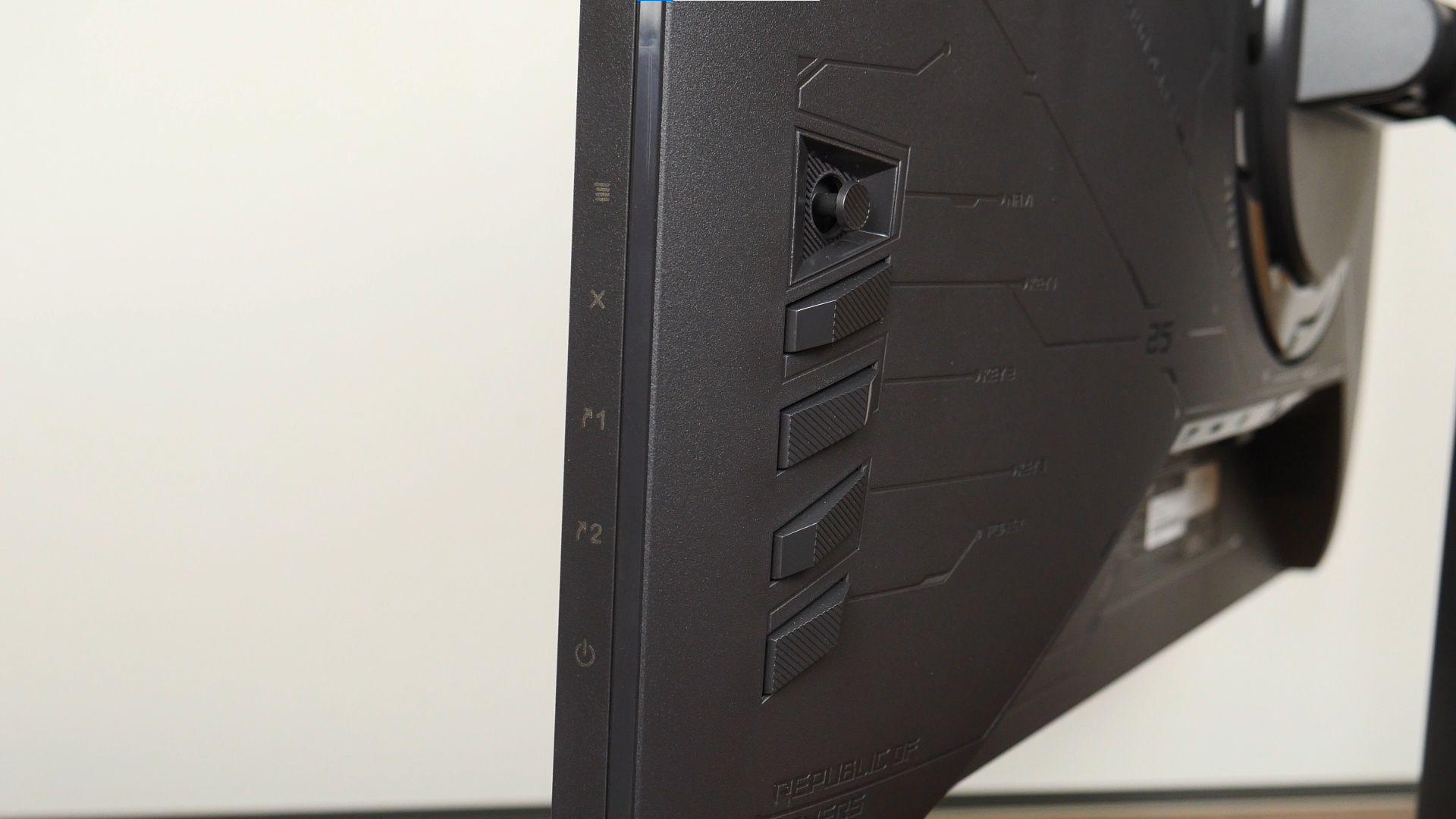 Controls for the monitor are conveniently located behind one of the edges of the monitor. A five-way joystick accords ease in navigating the OSD, while the two user-configurable shortcut keys are a nice to have.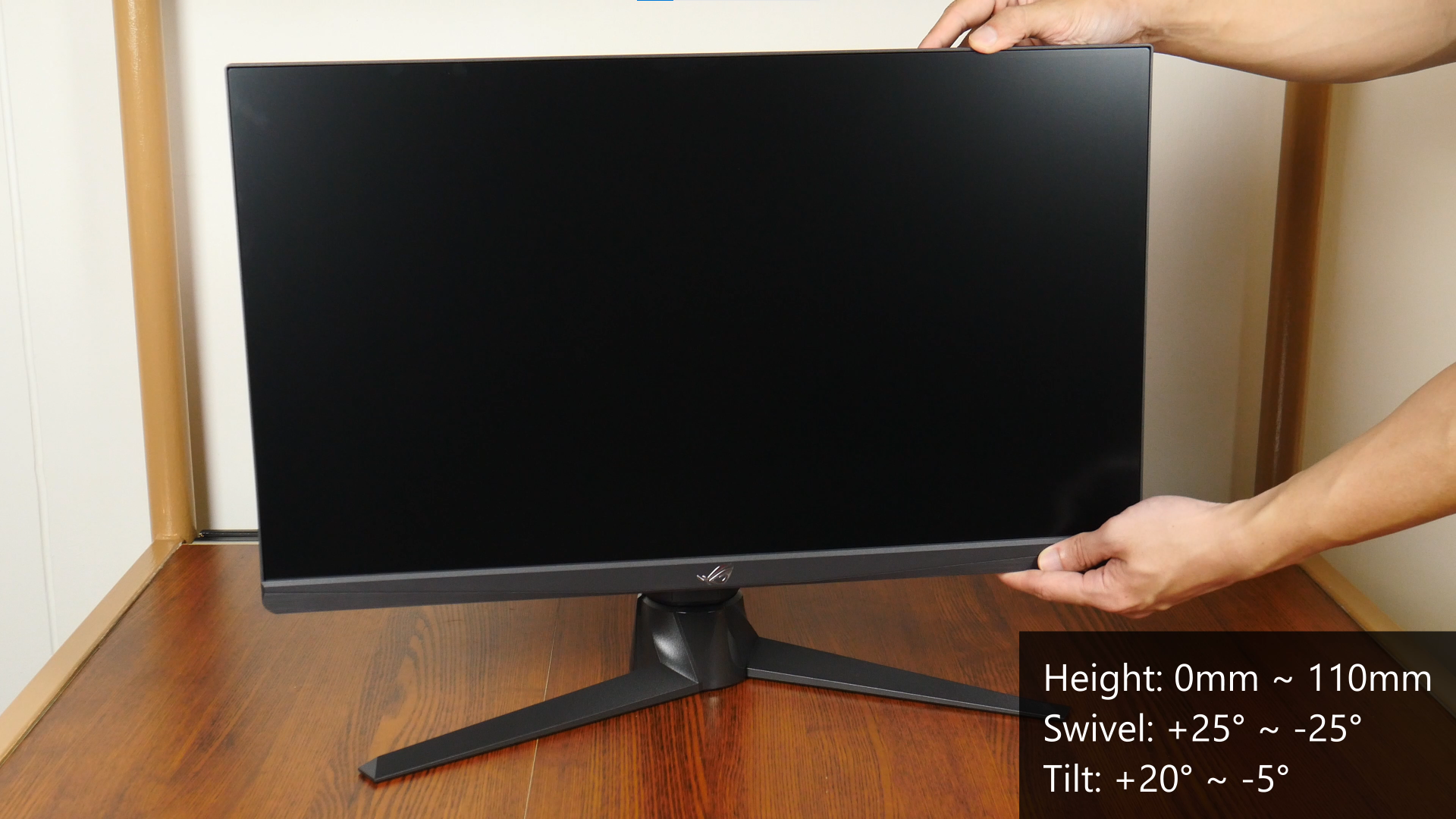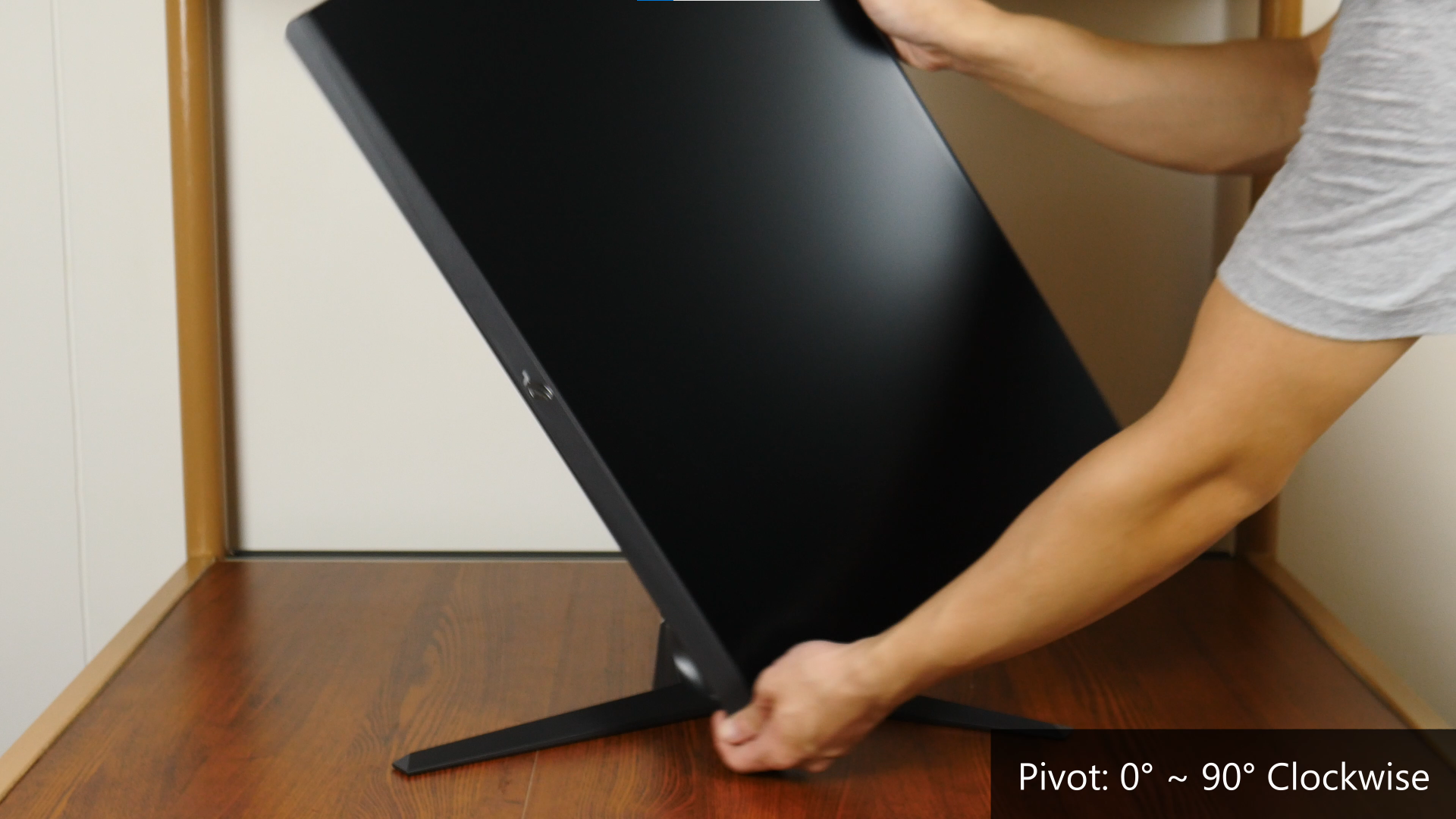 Adjustments for height, swivel, tilt as well as pivot are easily done on-the-fly, and provides end-users flexibility in setting up the monitor in the best way possible to suit their needs.
Panel Performance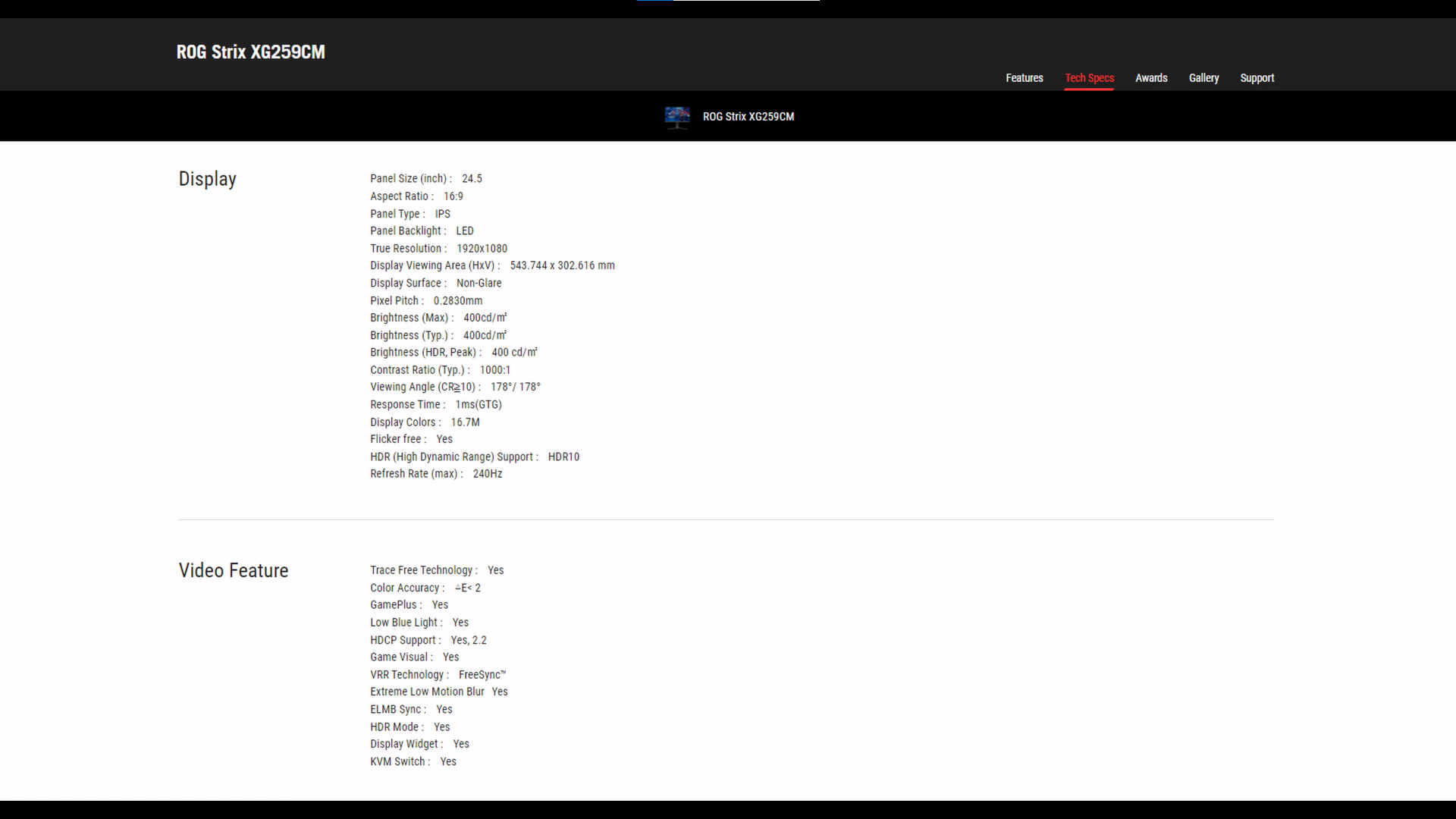 As a 1080p gaming monitor, the XG259CM boasts a snappy 240Hz refresh rate with a 1ms (GTG) response time, as well as a maximum brightness of 400nits. Being an 8-bit panel, it has the ability to output 16.7 million colours.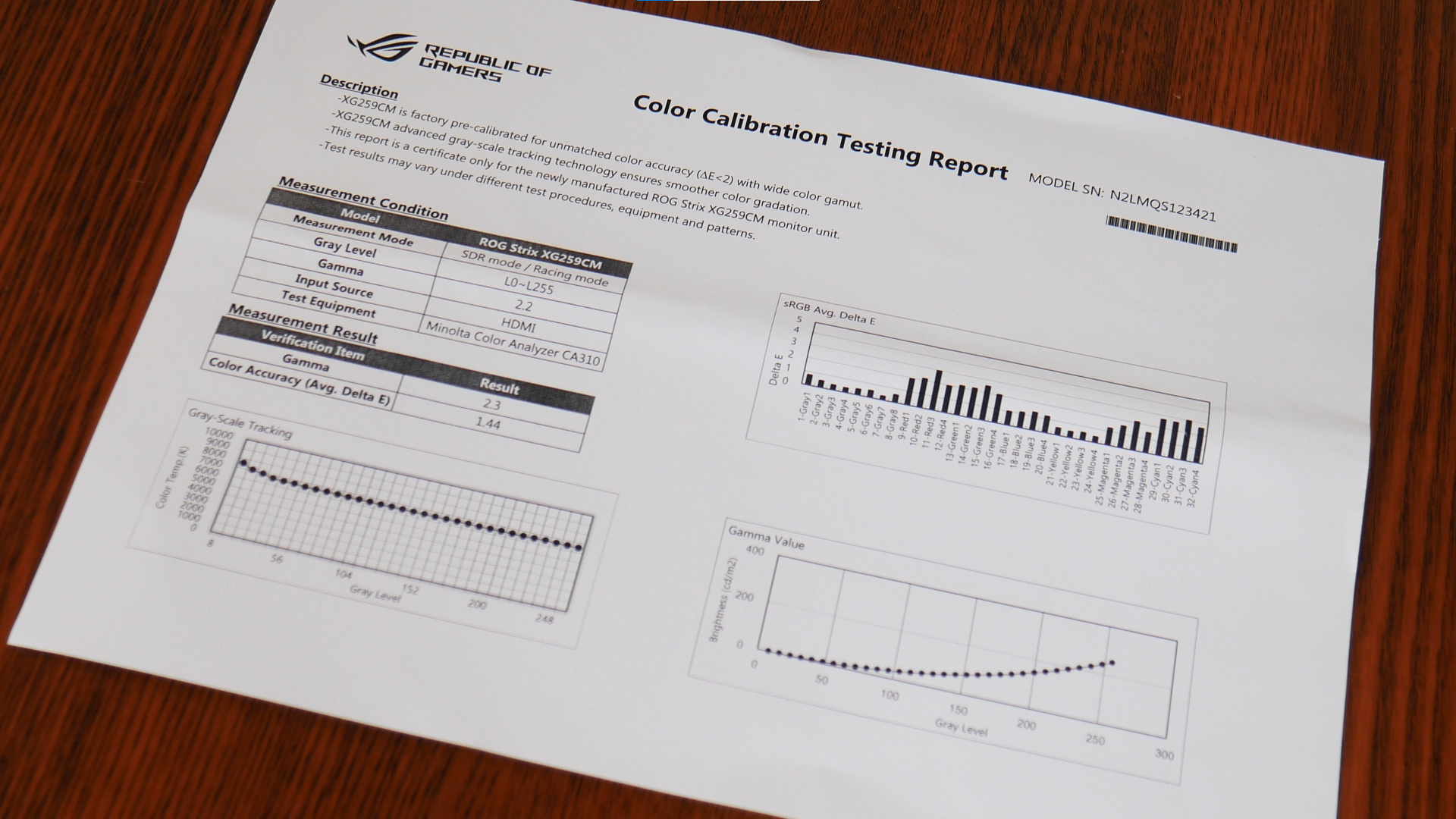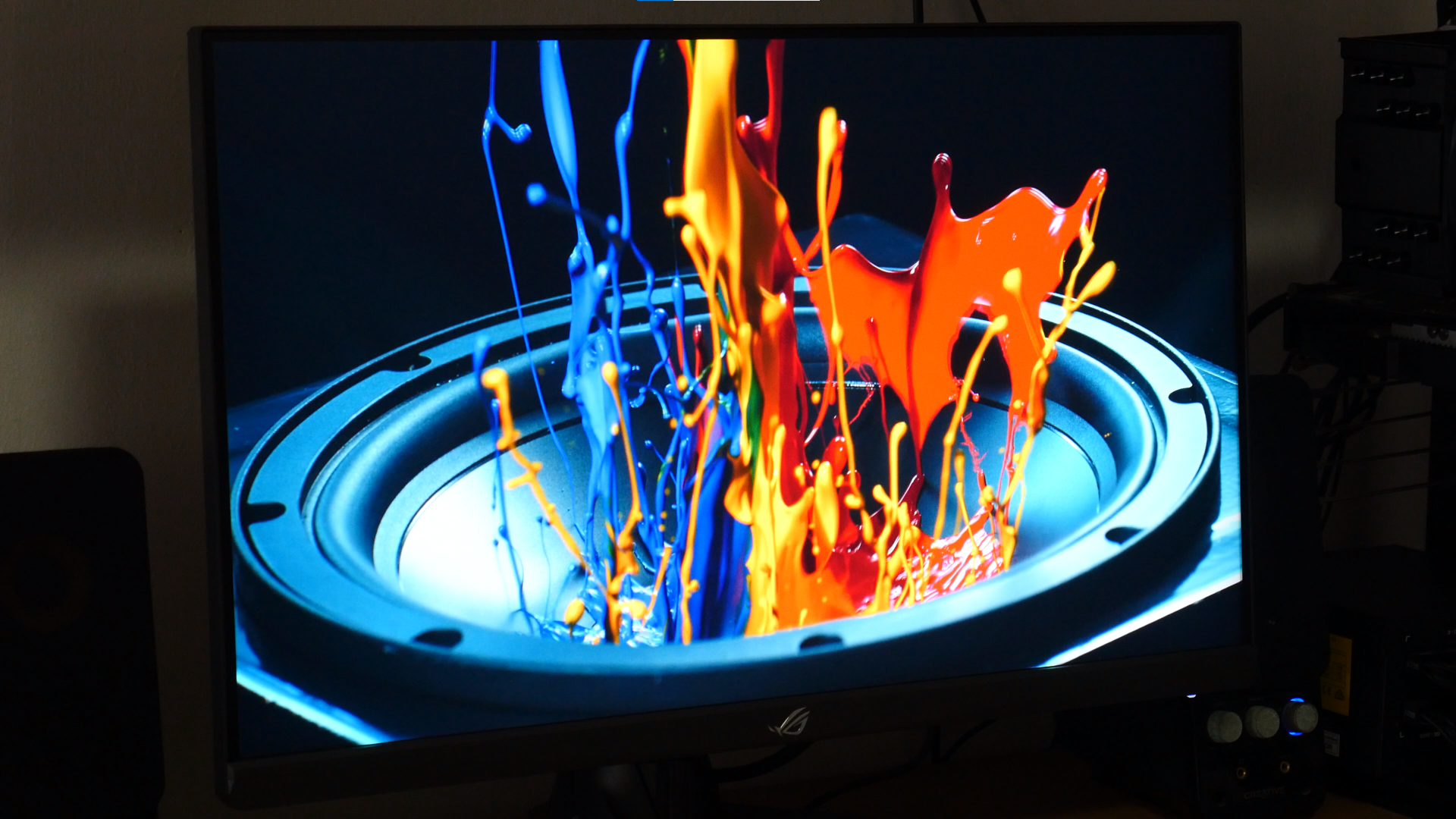 ASUS includes a colour calibration report with every XG259CM that it ships, and for this particular monitor, the report states that the average Delta E (dE) value attained was 1.44, which is a highly respectable result. For context, dE values of less than 1 indicate colour accuracy that is near-perfect. As I did not have a colorimeter, I was unable to test the actual colour accuracy of the monitor, but that said, I found the colours of the panel to be vivid and pleasing to the eyes during testing.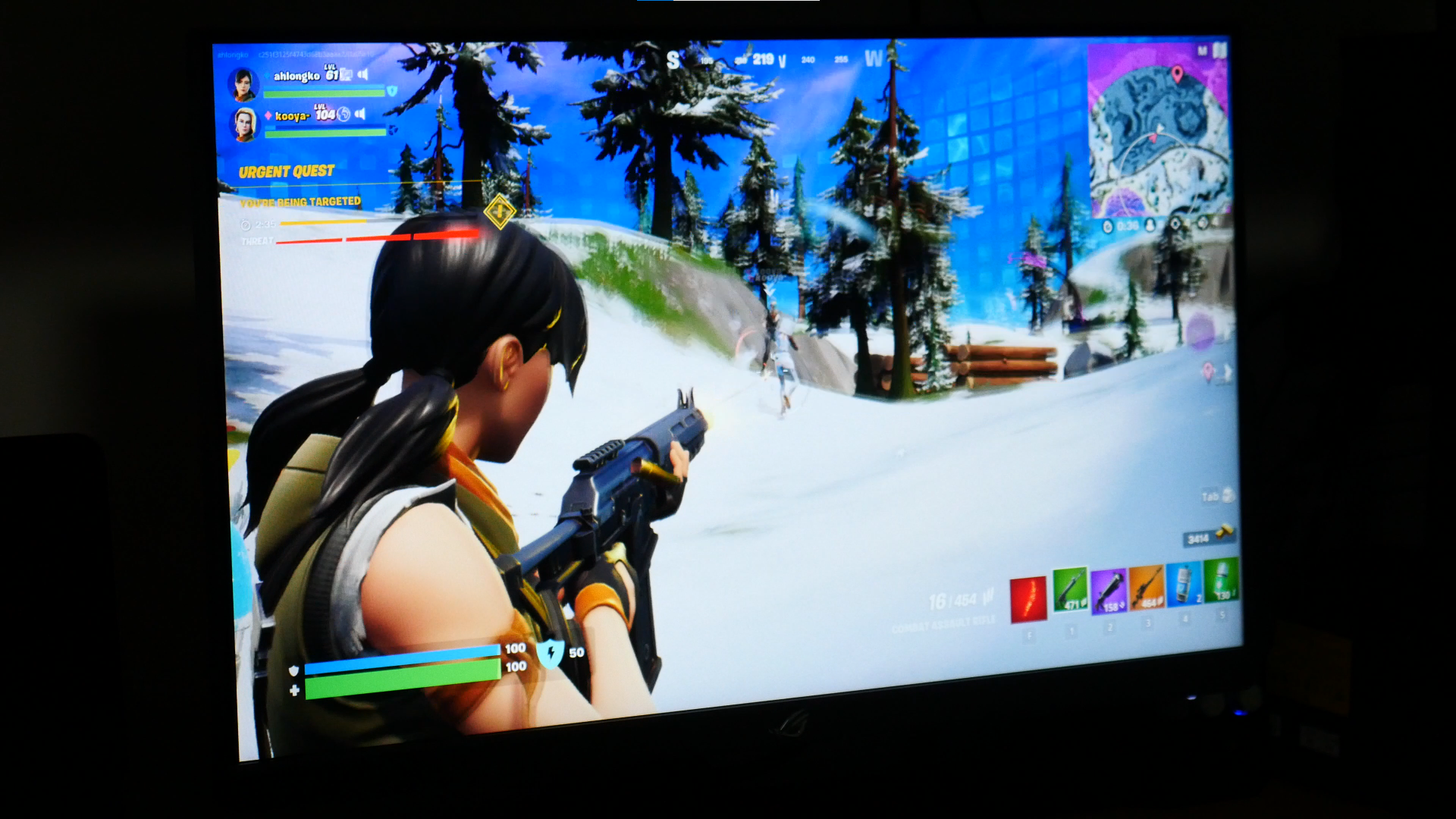 The gaming experience with this monitor was buttery smooth, owing to the 240Hz maximum refresh rate that the XG259CM's panel has support for, making this monitor well-suited for individuals who game at high framerates.
Blur Reduction Features
The monitor supports AMD's FreeSync Premium Variable Refresh Rate (VRR) technology, and is touted to be G-Sync compatible as well.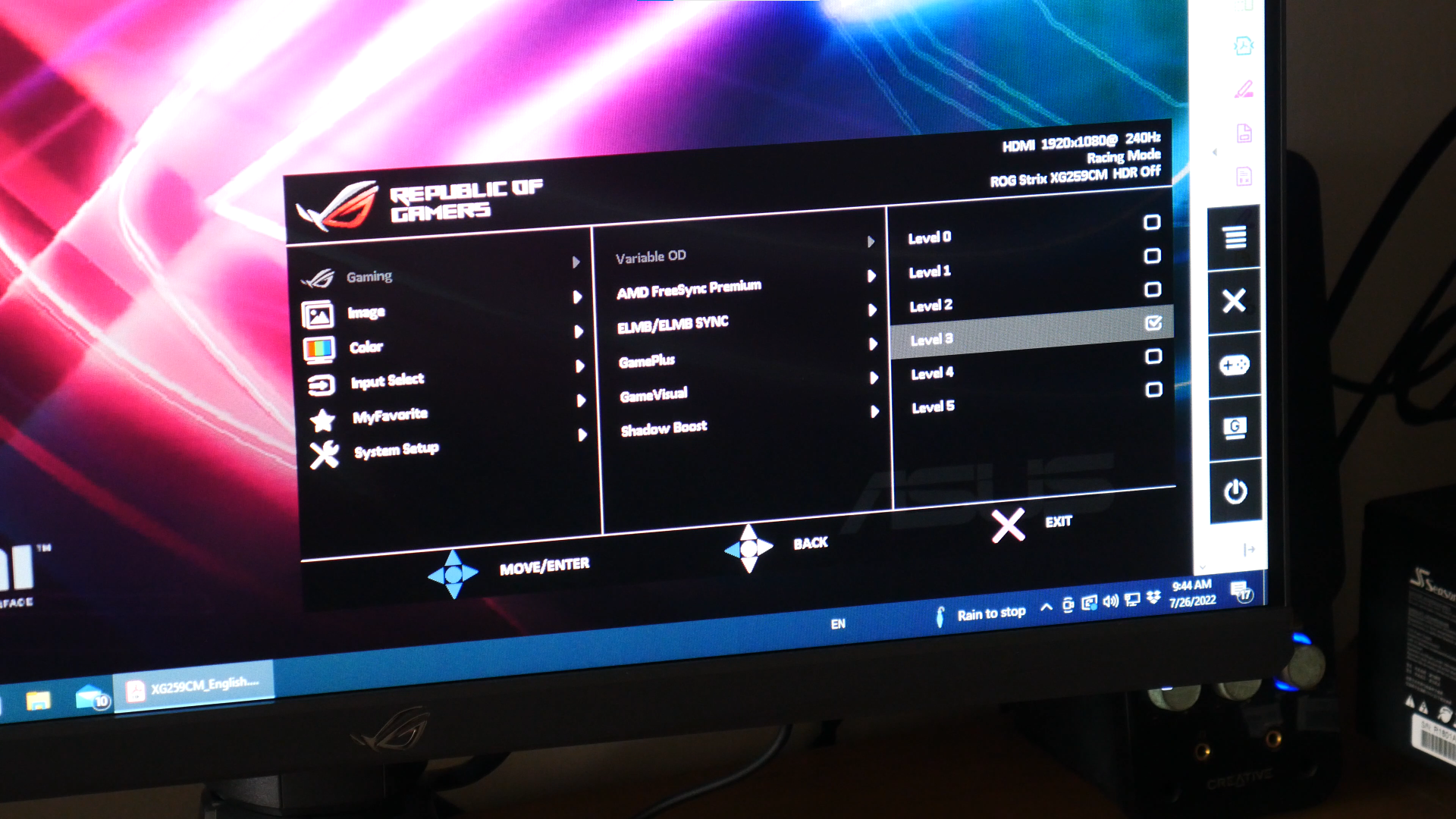 Five levels of overdrive capability are included with this monitor - overdrive allows one to tweak the response time of the monitor panel so as to reduce ghosting and smearing, which would be more applicable for contexts in which one would be gaming at high framerates.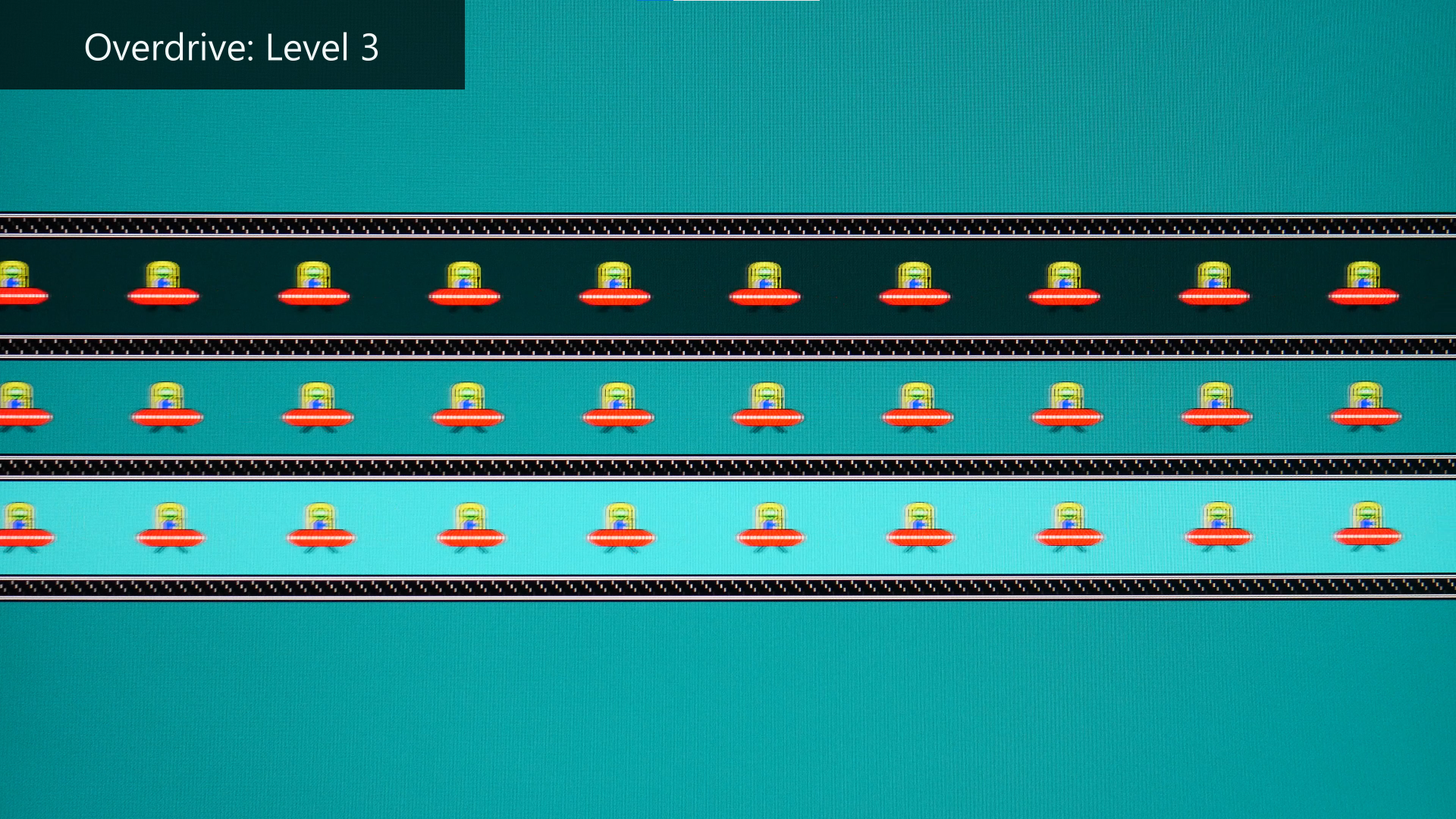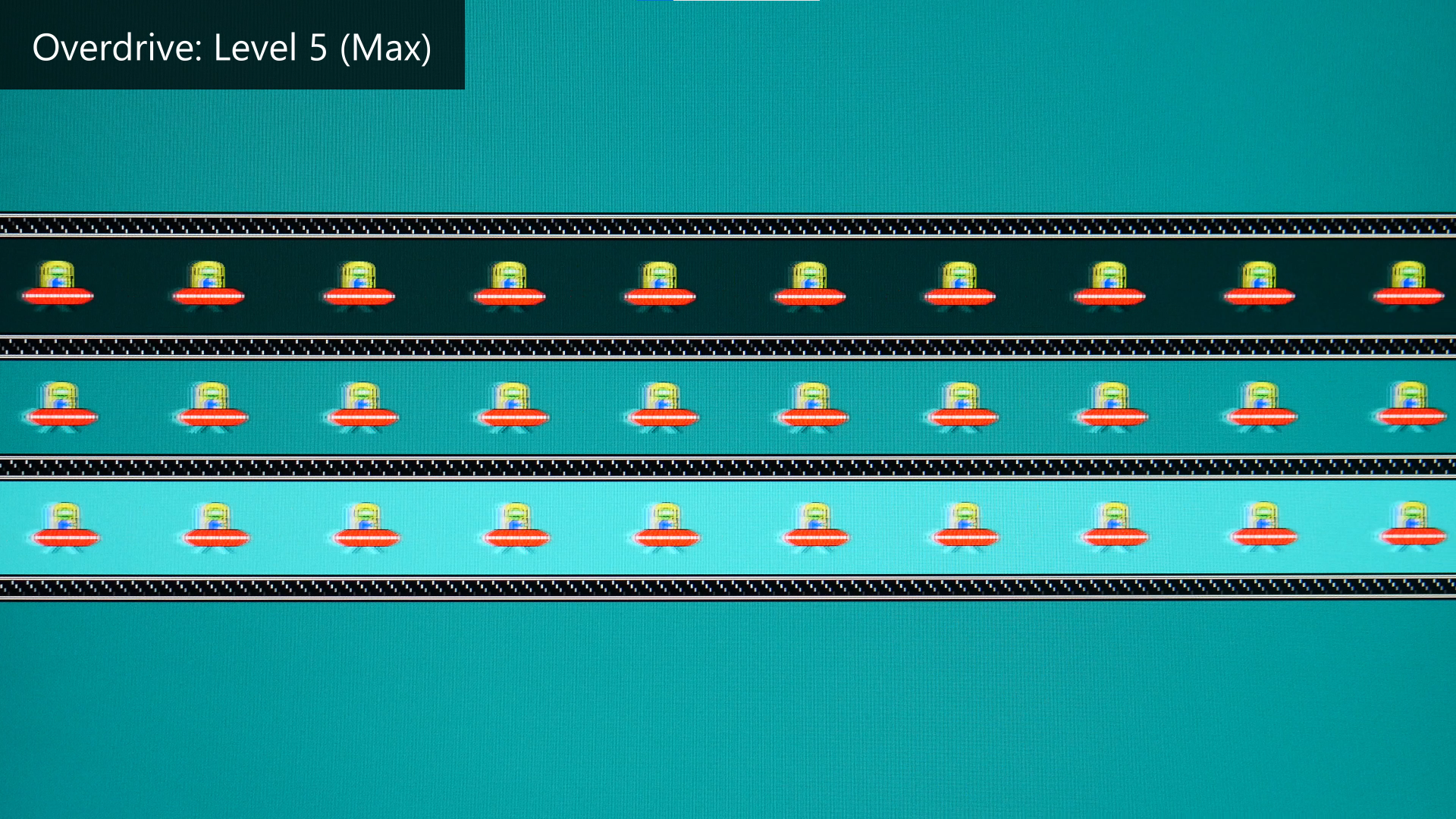 With Blur Buster's Motion UFO tests, I found Level 3 to be the best overdrive setting for the monitor, while Level 5, the highest setting, resulted in discernible coronas/overshooting. Do note that the images above were captured without a pursuit camera setup due to a lack of the necessary equipment.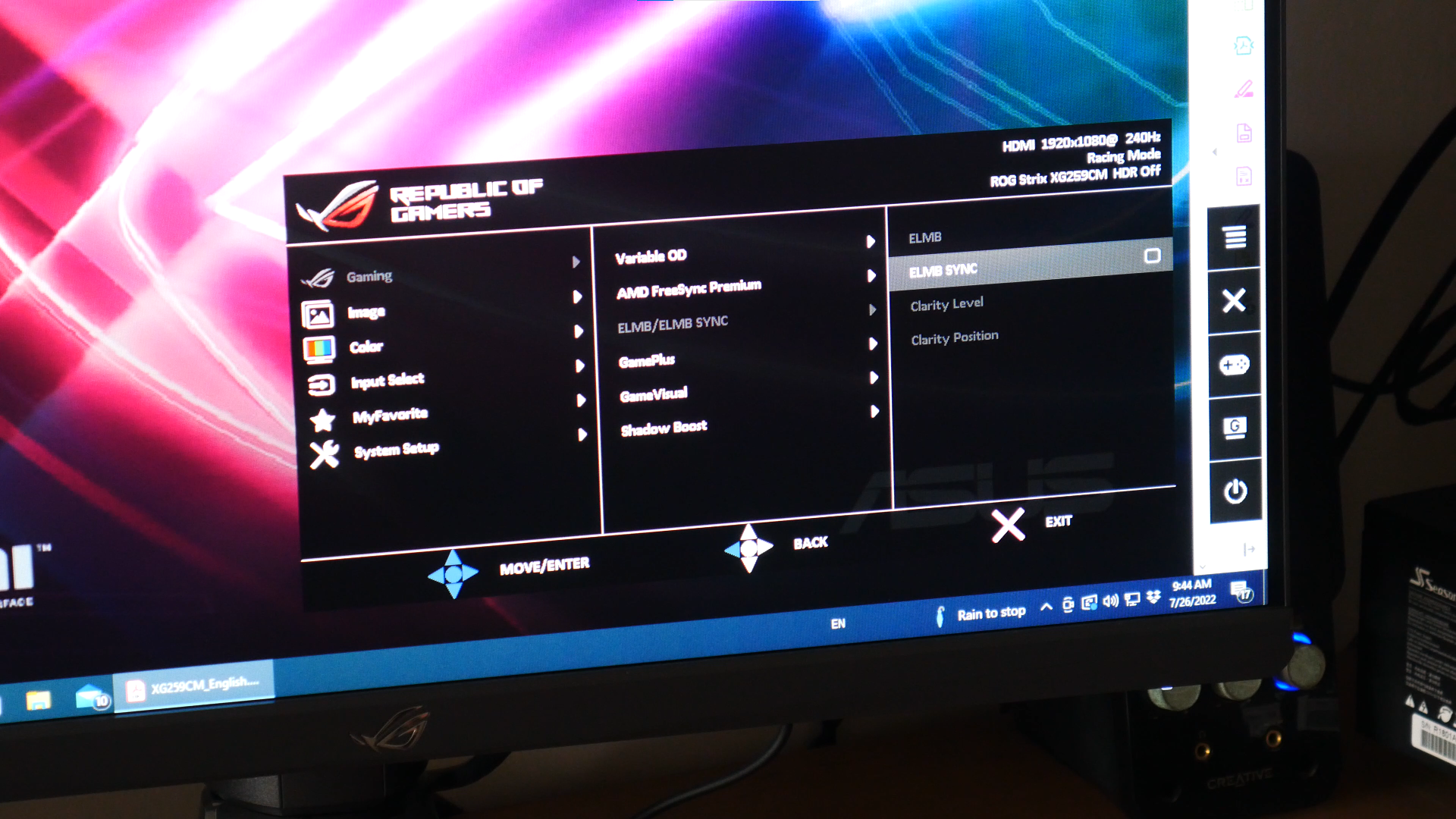 The XG259CM also features Extreme Low Motion Blur, or ELMB technology, which is ASUS's implementation of black frame insertion technology. In a nutshell, ELMB switches off the backlight of the monitor in between refreshes, so as to reduce instances of blurred images on screen. This monitor in particular, supports ELMB SYNC, which means that one can use ELMB while enabling NVIDIA's G-SYNC at the same time for a hopefully smoother visual experience. Do note that it is not possible to enable both overdrive and ELMB Sync at the same time, so end-users would have to choose between the two.
Other Features
The XG259CM also comes with a Shadow Boost feature, which helps lighten dark areas of games without overexposing brighter areas.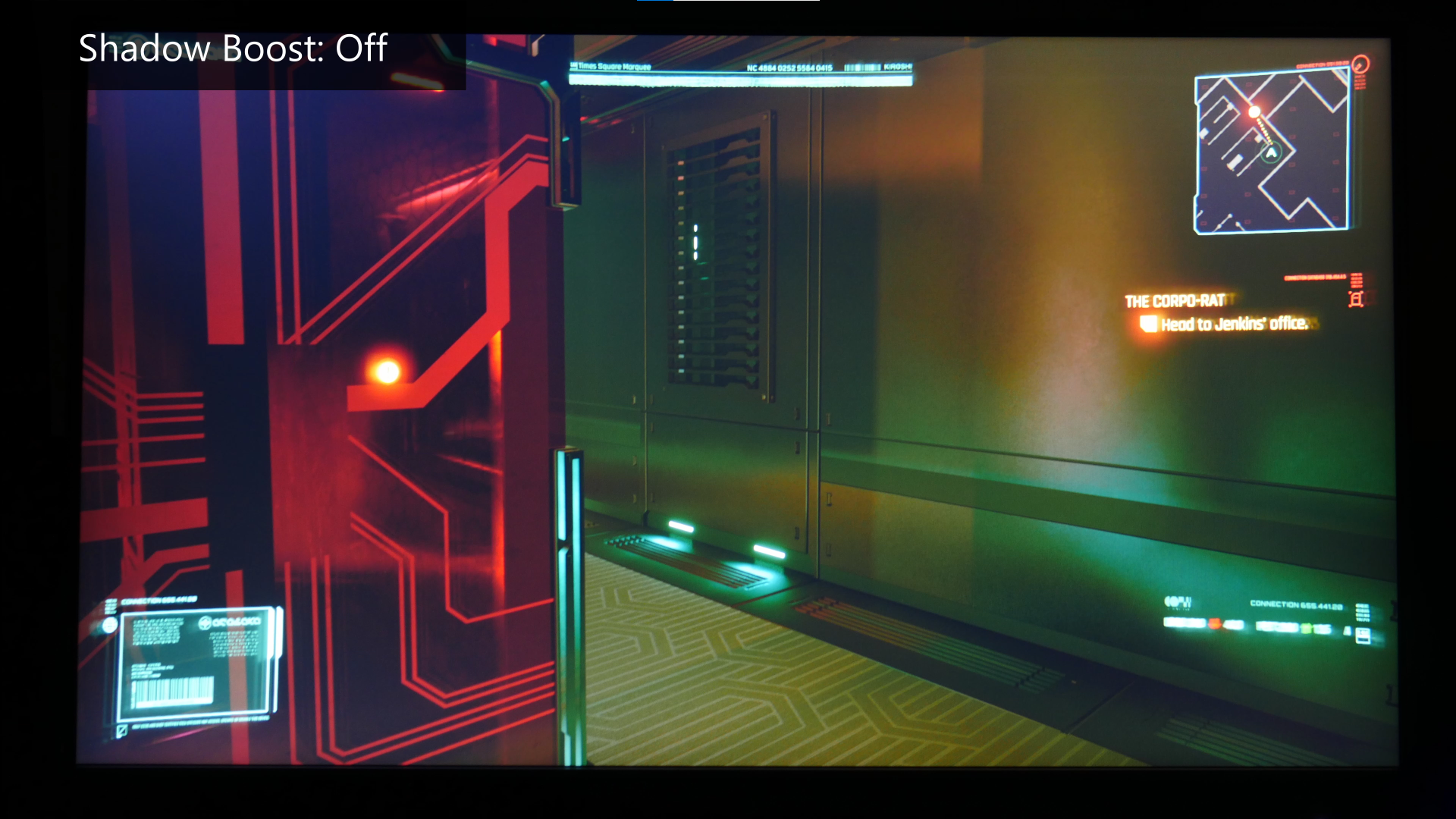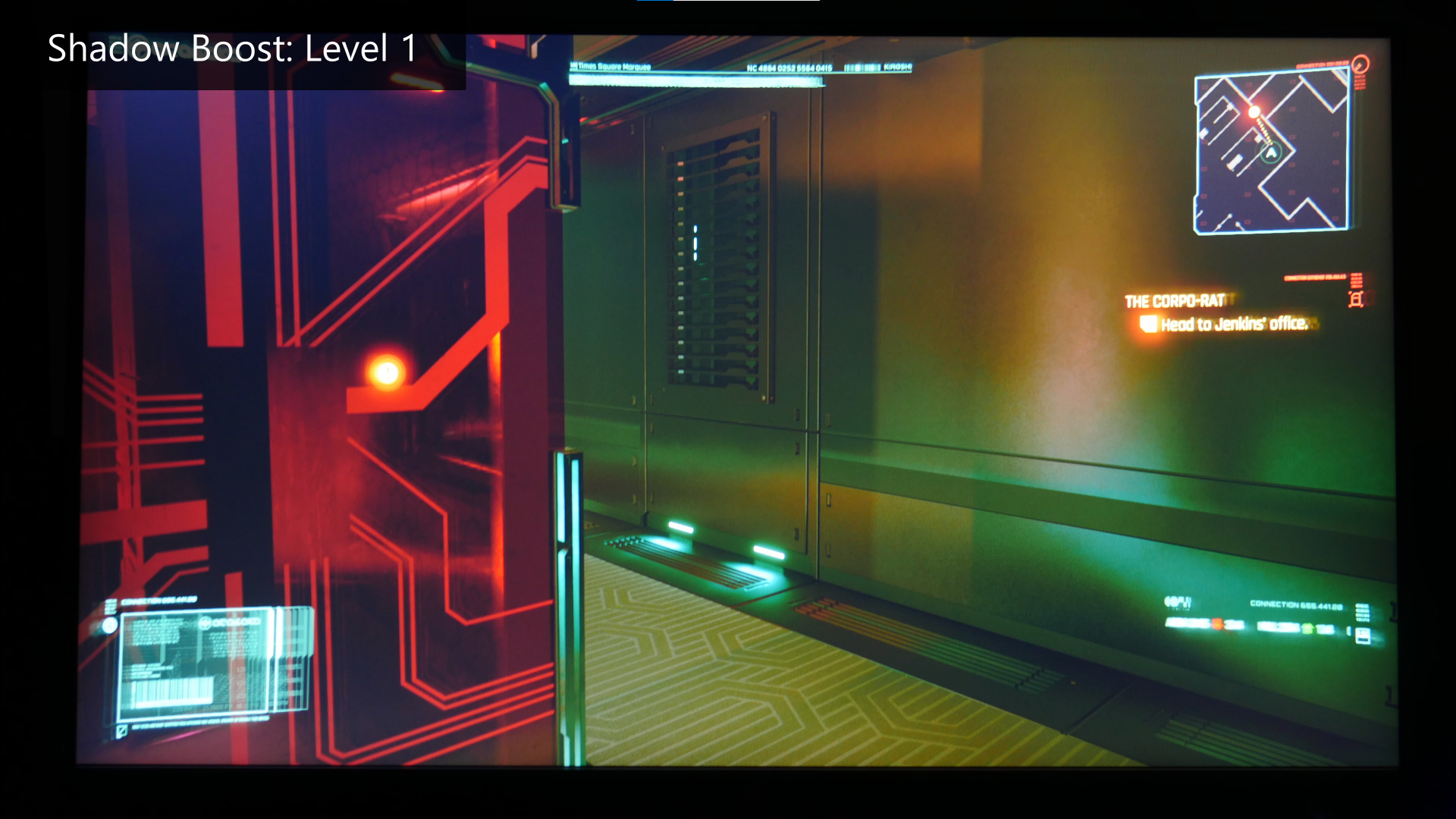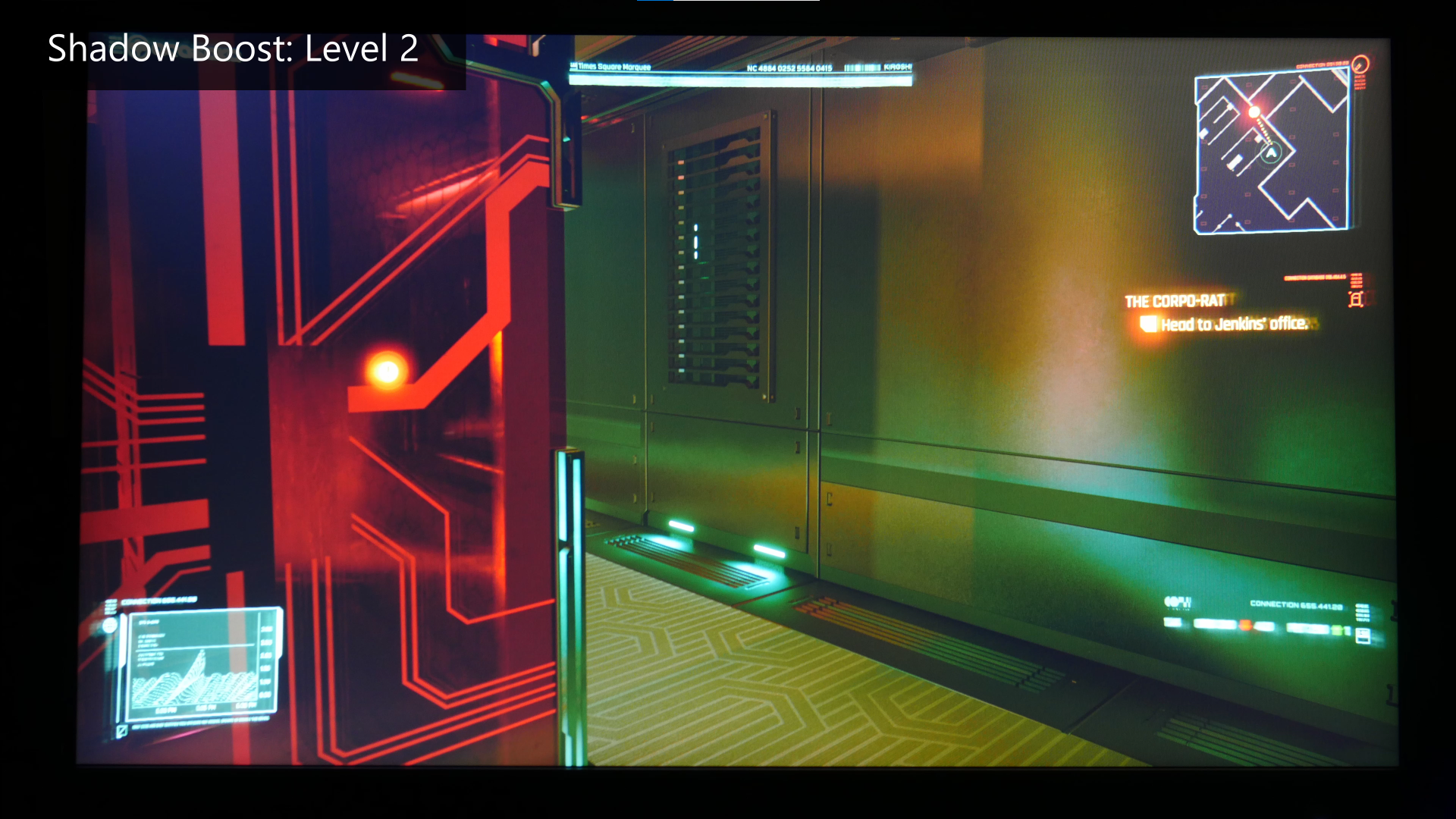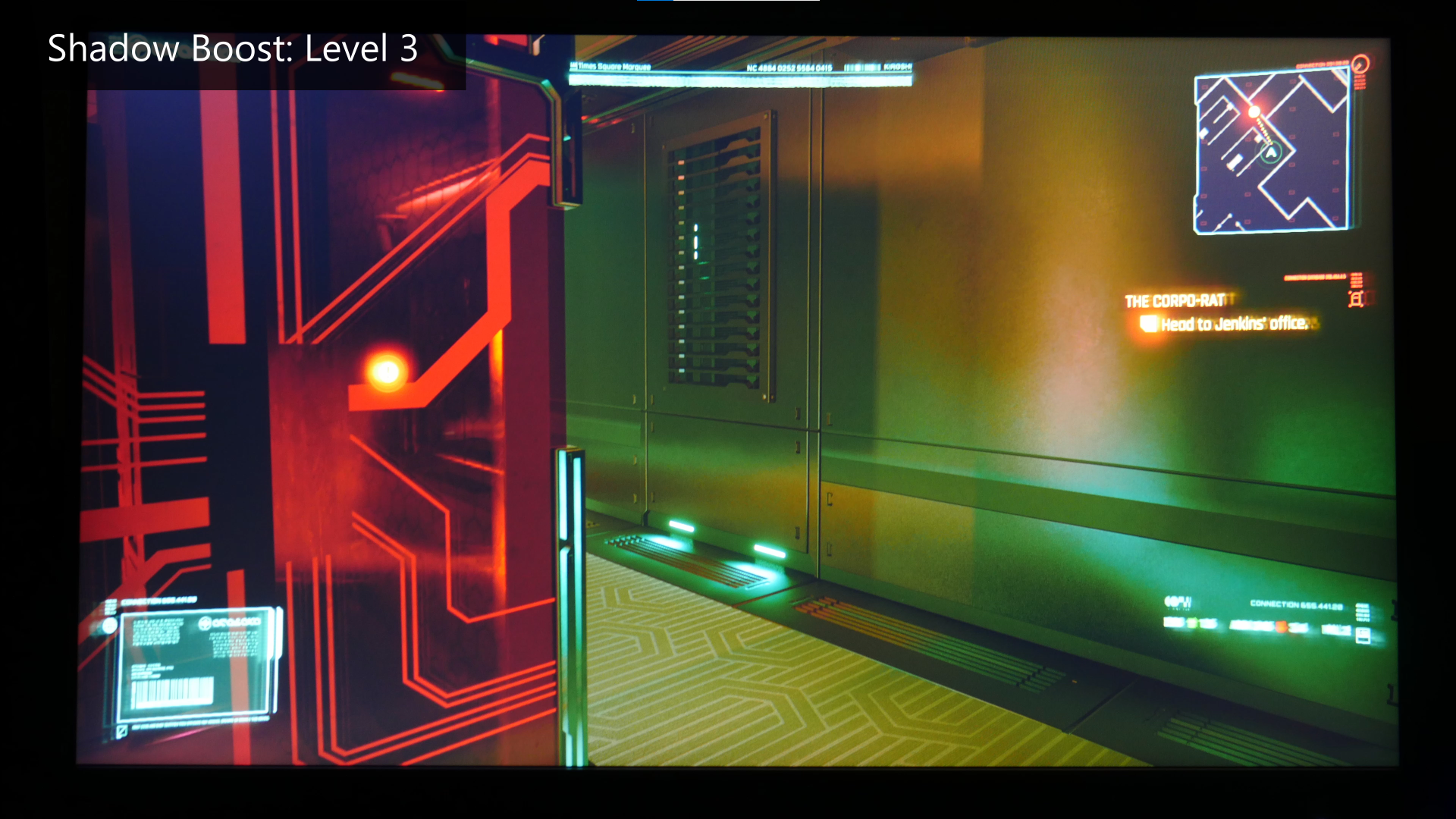 There are three levels of Shadow Boost to select from, and the various settings indeed do a good job of lightening dark areas without impairing the exposure of brighter areas on-screen.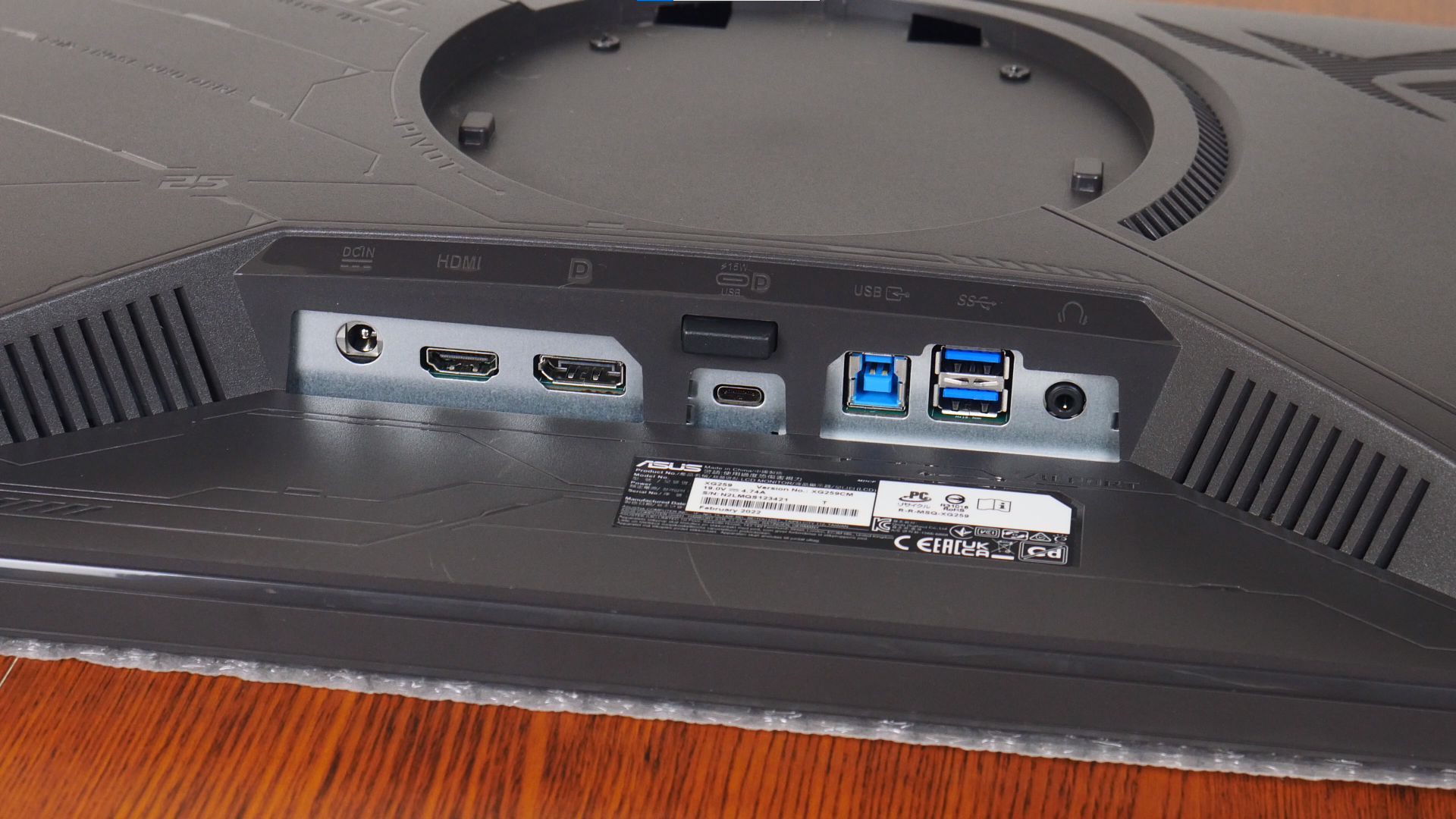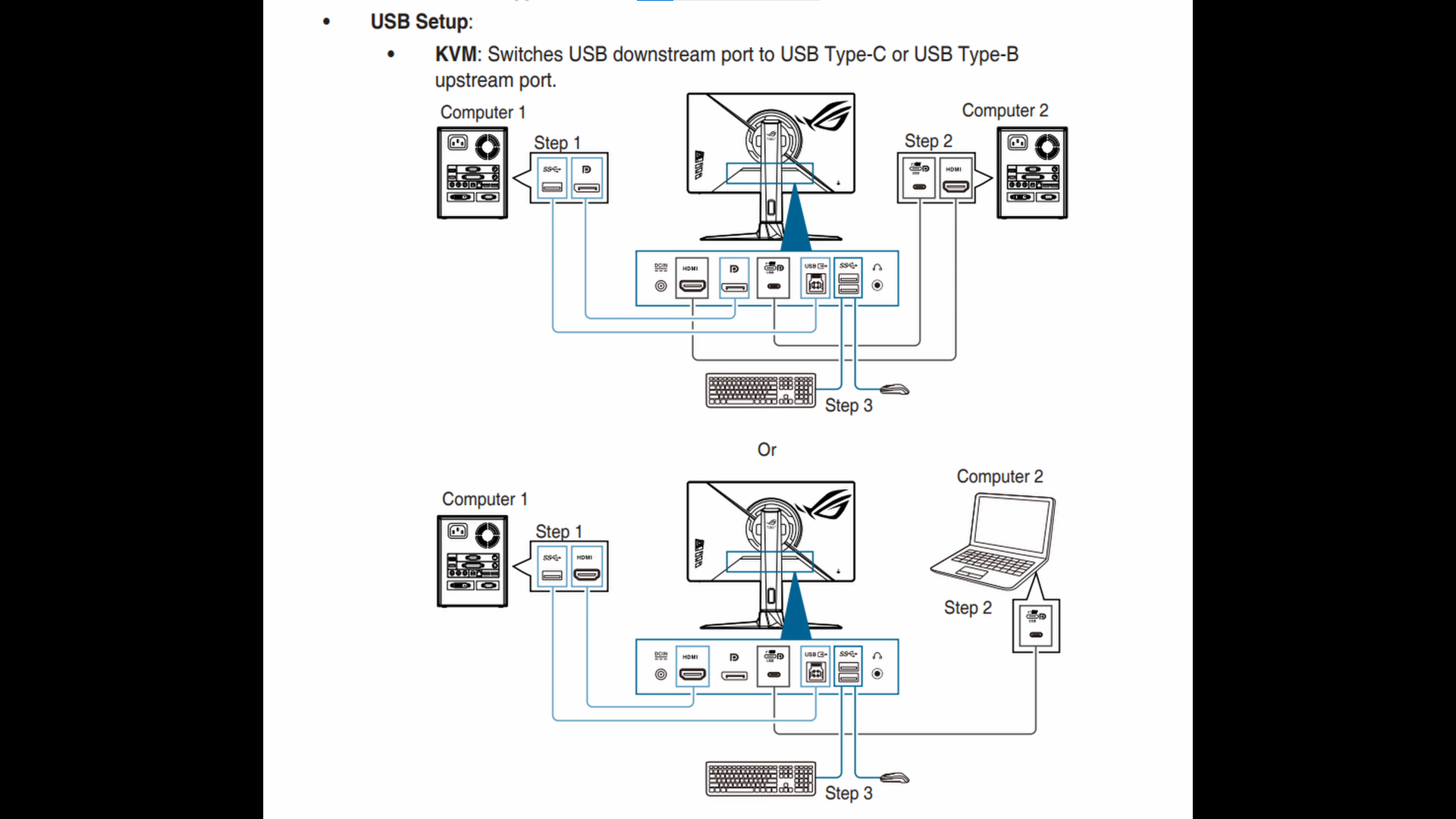 Another key feature of the XG259CM is a built-in KVM switch, which allows up to two devices (e.g. a desktop PC and a laptop) to be controlled with just one keyboard and mouse. Setting up the KVM switch will depend on the types of ports available on your devices, as per the illustration above taken from the monitor manual.
Conclusion & Pricing
The ASUS ROG Strix XG259CM is a gaming monitor that is positioned at the higher end of the spectrum of 1080p gaming monitors. It sports a high refresh rate of 240Hz, great colour accuracy, blur reduction features such as ELMB, as well as good build quality, making it a solid contender for serious gamers on the lookout for a 1080p gaming monitor.
One downside however, is the XG259CM's price, which seems to vary wildly from market to market. In Singapore, the monitor goes for a recommended retail price of $709 Singapore dollars as of August 2022, which places it in expensive territory for a 1080p gaming monitor - this is especially when one considers the fact that similarly fast, if not faster, 1080p gaming monitors can be had at lower prices, even from ASUS's own product stable. On international eCommerce sites such as Amazon however, I was able to find the XG259CM for around $363 US dollars, which could represent better value. With these pricing differences in different markets in mind, it all boils down to whether or not you'd appreciate the XG259CM's inclusion of features such as a built-in KVM switch, better colour accuracy and so on.
Get this monitor from Amazon: https://amzn.to/3zQTpQG (affiliate link)
Get this monitor from Shopee Singapore: https://shope.ee/3fR0tLx2zQ (affiliate link)
Get this monitor from Lazada Singapore: https://c.lazada.sg/t/c.YT0sit?sub_aff_id=alktech (affiliate link)
ALKtech may earn commissions from qualifying purchases made using affiliate links, at no extra cost to you as a customer. These commissions go a long way in supporting the platform!
The monitor featured in this article was a review unit provided on loan from ASUS Singapore.