MSI's MAG B760 TOMAHAWK WIFI shapes up to be a mainstream Intel B760 motherboard offering that serves up good value with its feature set, making it an ideal contender for a mid-range Intel gaming PC build.
3rd January 2023 marked the official release of Intel's non-K 13th generation Raptor Lake CPUs, as well as mid-range chipsets such as the H770 and B760, rounding off the Raptor Lake product stack that saw the initial launch of products such as the Core i5-13600K and the range-topping Intel Z790 chipset back in September 2022. To get in on the post-launch excitement, we'll be checking out yet another mainstream Intel B760 motherboard that is targeted at mid-range PC builds for this article: the MSI MAG B760 TOMAHAWK WIFI.
Summary of Specifications

Processor Support: Intel 13th Gen Core processors & 12th Gen Core, Pentium Gold and Celeron processors
Chipset: Intel B760
Memory: 4x DDR5 slots, max 192GB, up to DDR5 7000+ (OC) support
Audio: Realtek ALC897 audio codec
LAN: Realtek RTL8125BG 2.5 Gigabit Ethernet
WIFI: Intel WIFI 6E with Bluetooth 5.3
Expansion Slots: 1x PCIe 5.0 x16, 1x PCIe 3.0 x16 (operates at x4 mode), 1x PCIe 4.0 x1
Storage: 4x SATA III, 2x PCIe 4.0 x4 M.2 (NVMe mode only), 1x PCIe 4.0 x4 M.2 (NVMe or SATA mode)
Form Factor: ATX
Packaging & Contents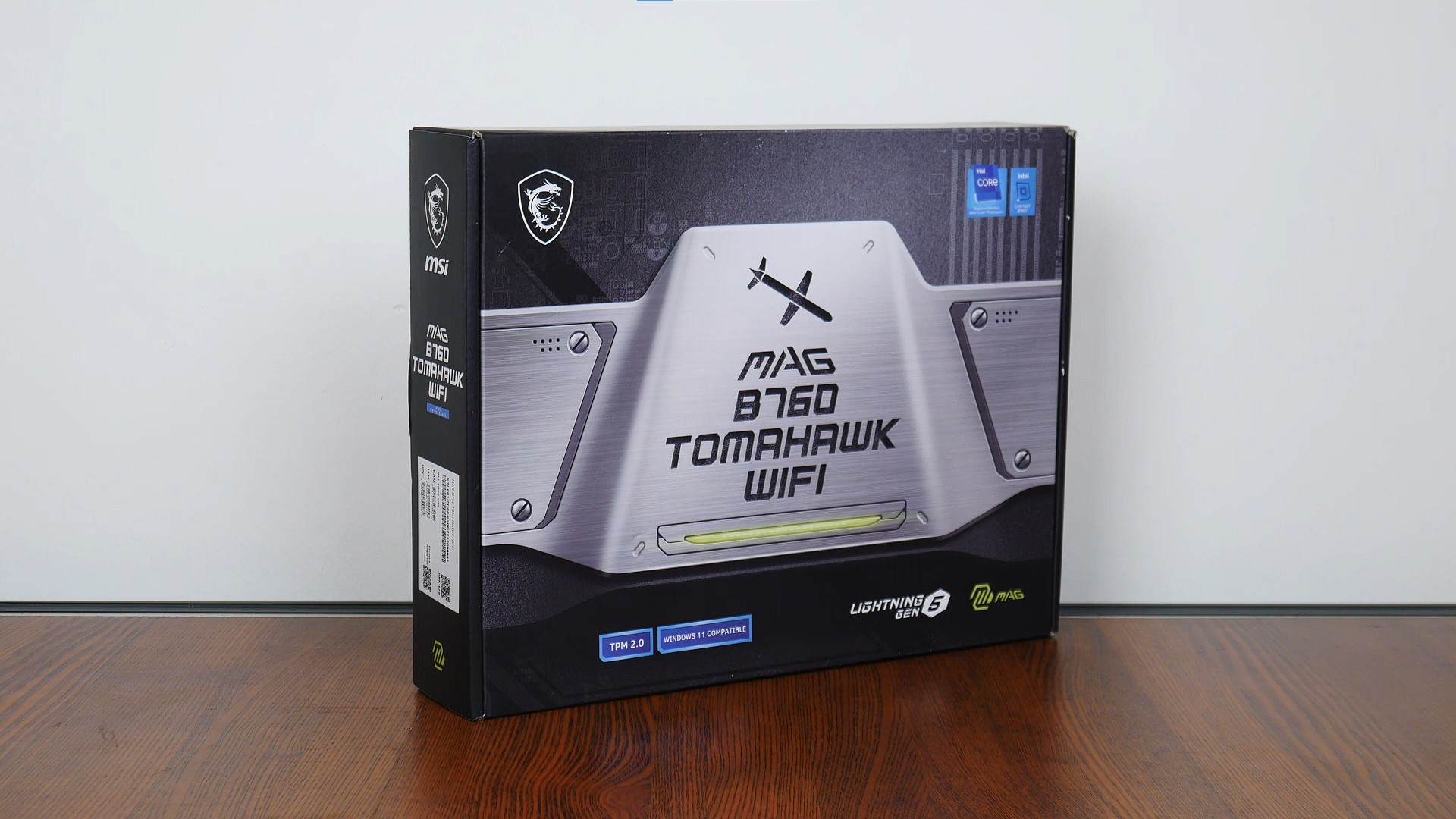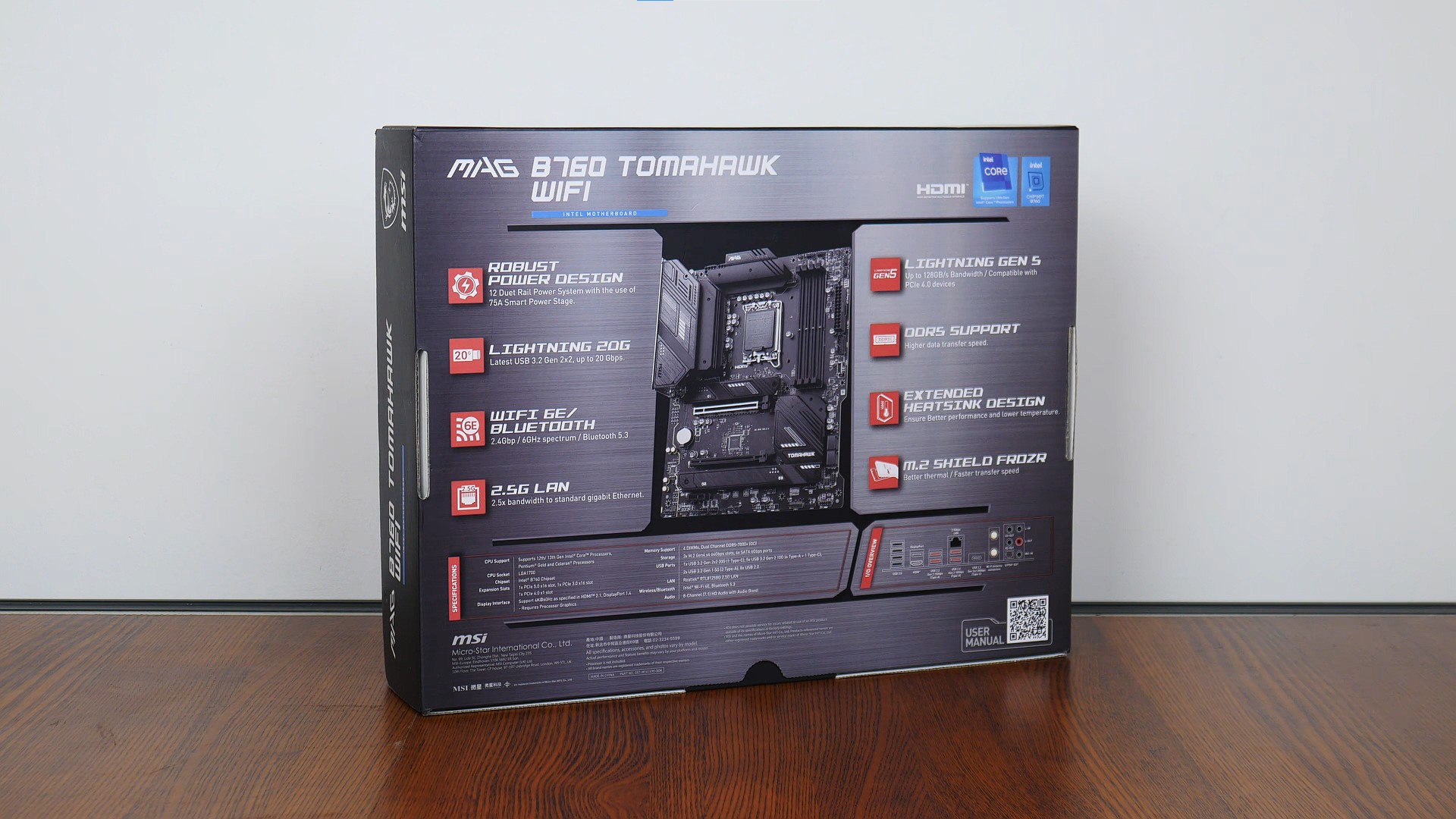 The MAG B760 TOMAHAWK WIFI comes in a grey and silver box with a drone motif on the front for a more gamer-oriented appearance. For those of you wondering about product positioning in the context of MSI's product stack, the MAG series of motherboards are targeted at mainstream users, where it places above the PRO series of boards targeted at the value-oriented demographic, and below the performance-oriented MPG series and the range-topping MEG series of enthusiast-class offerings.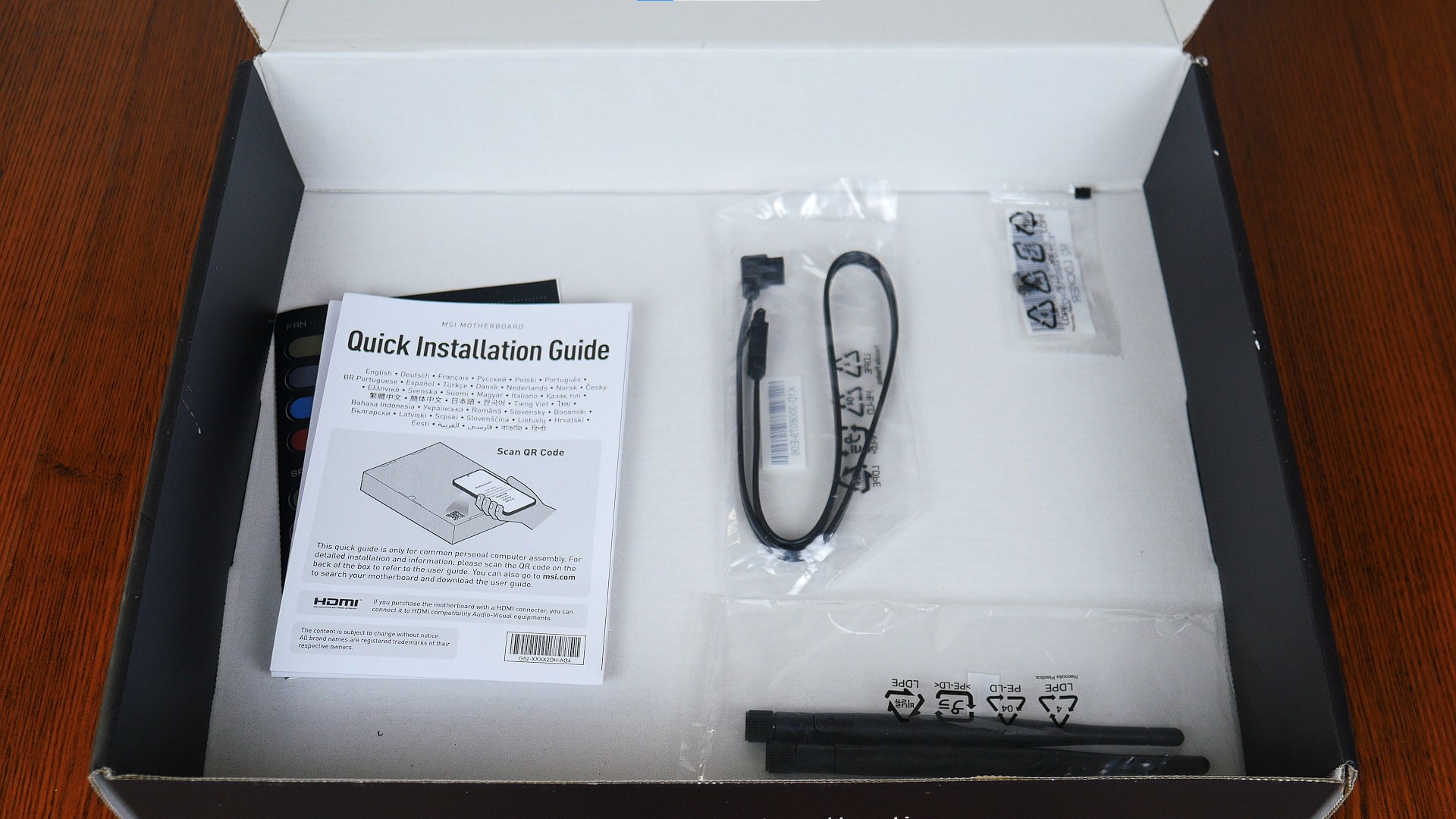 The board comes with the following accessories:
WIFI antennae
1x SATA III cable
1x EZ M.2 Clip
Quick installation guide
Regulatory information leaflet
Sheet of decorative stickers
Board Aesthetics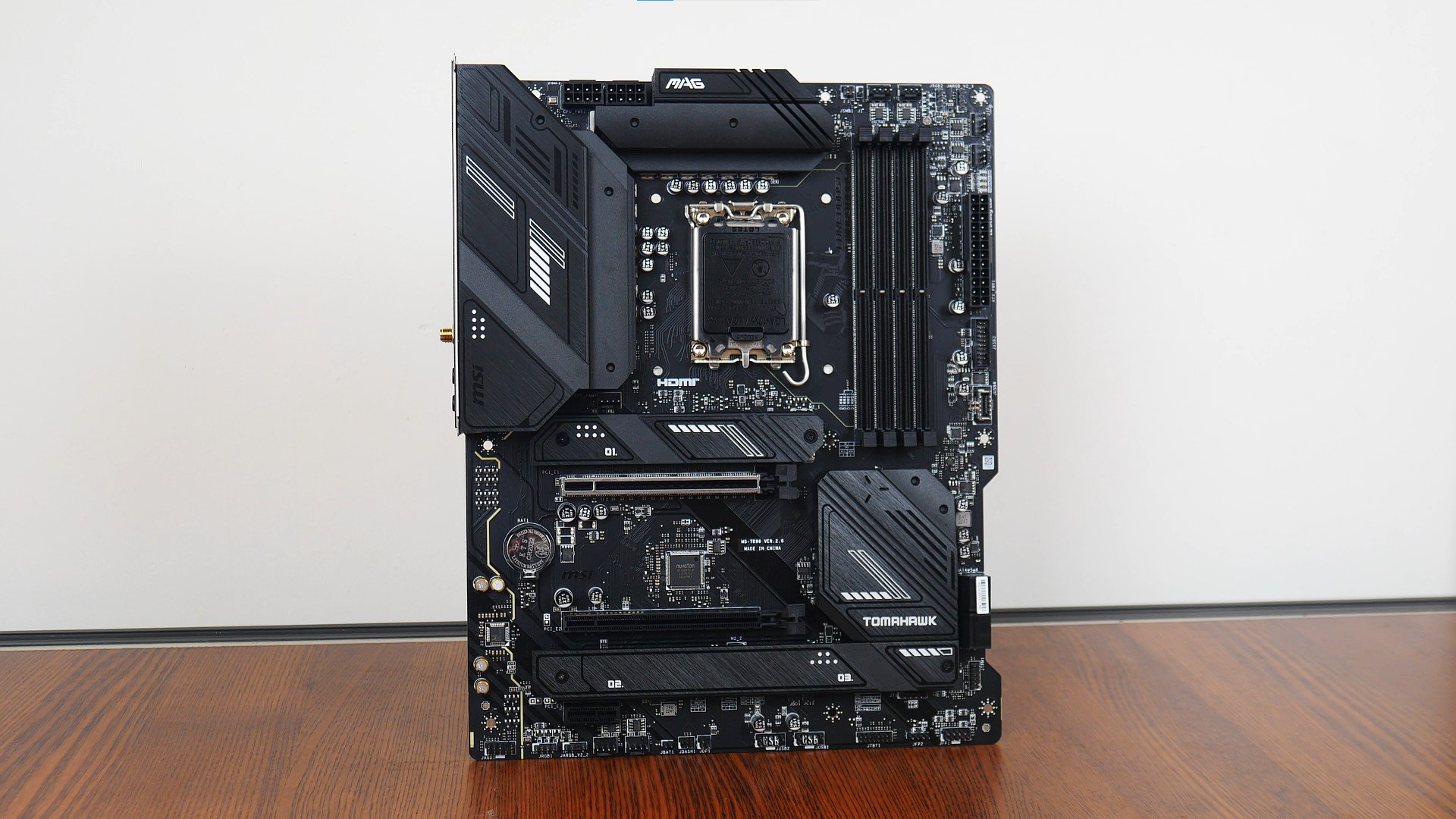 With the MAG B760 TOMAHAWK WIFI, MSI has gone for a relatively understated aesthetic with a black-coloured PCB and large black heatsinks all around that feature silver accents for added contrast. The board does not come with any onboard RGB LED accents, though it does of course come with RGB headers - the locations of these headers will be covered later on in this article.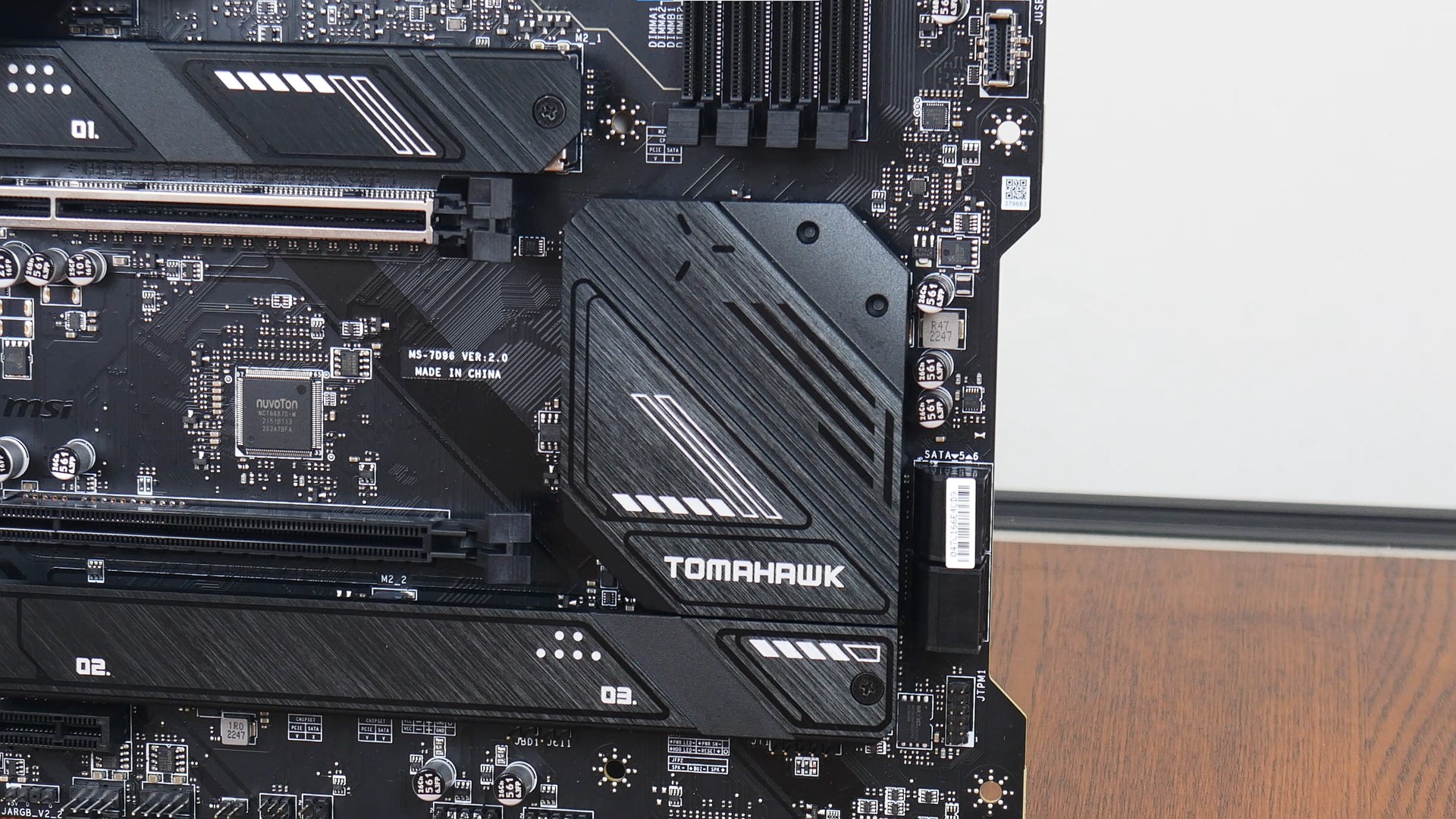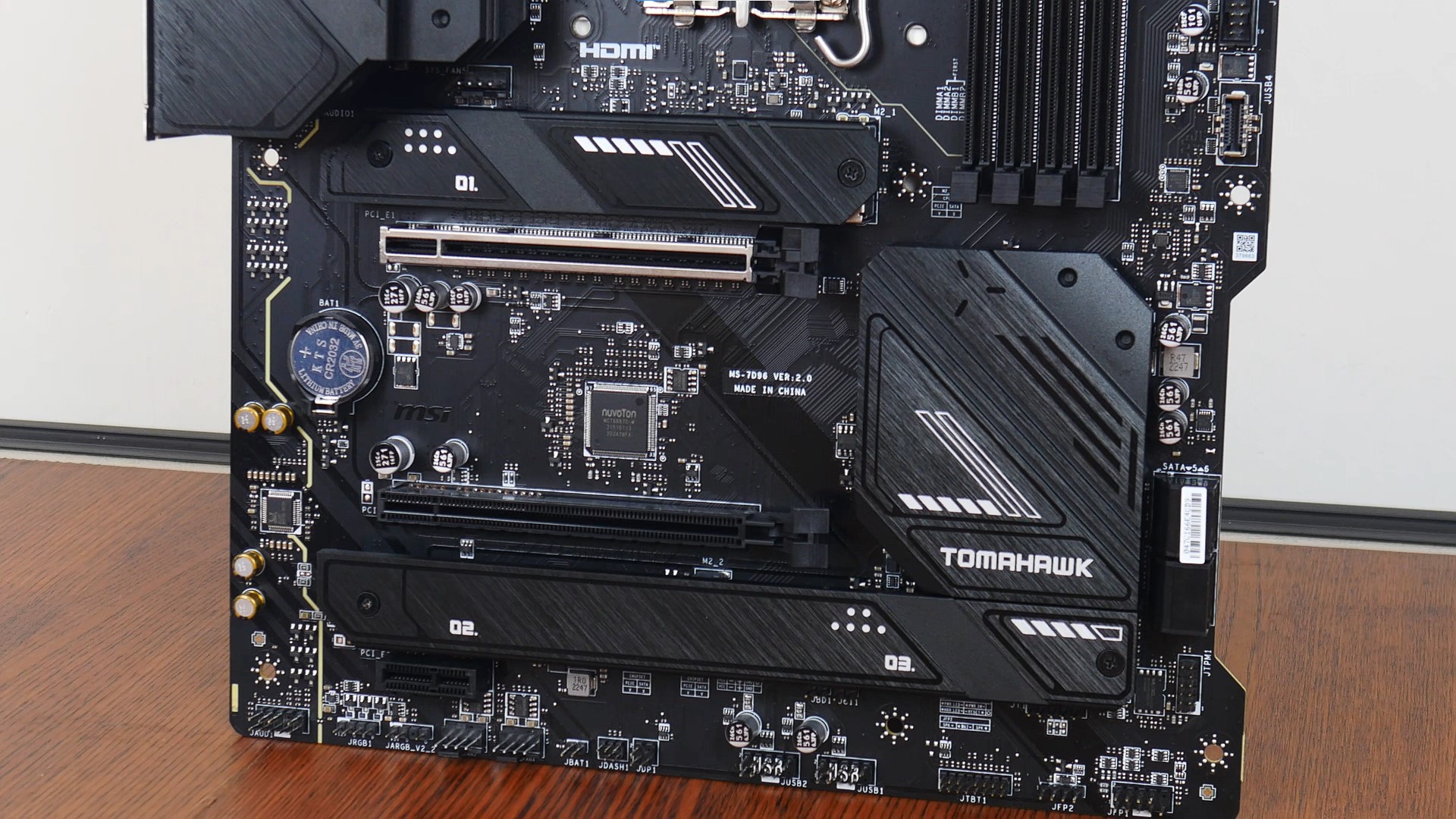 The board's Intel B760 chipset is cooled by a large passive heatsink sporting a brushed aluminium finish, and MSI has also included heatsinks for all three M.2 slots that this board comes with, with the second and third M.2 slots sharing a common heatsink.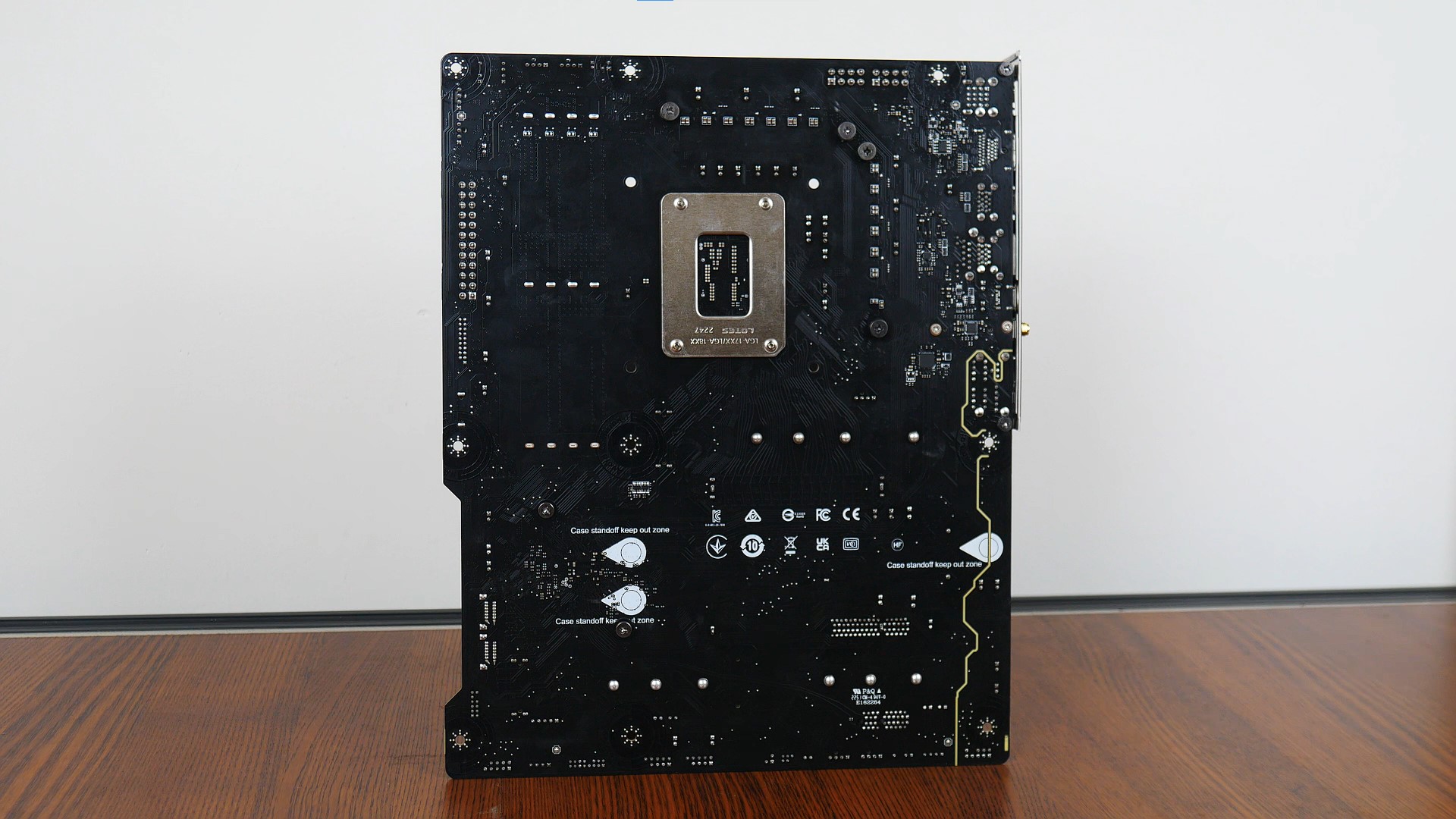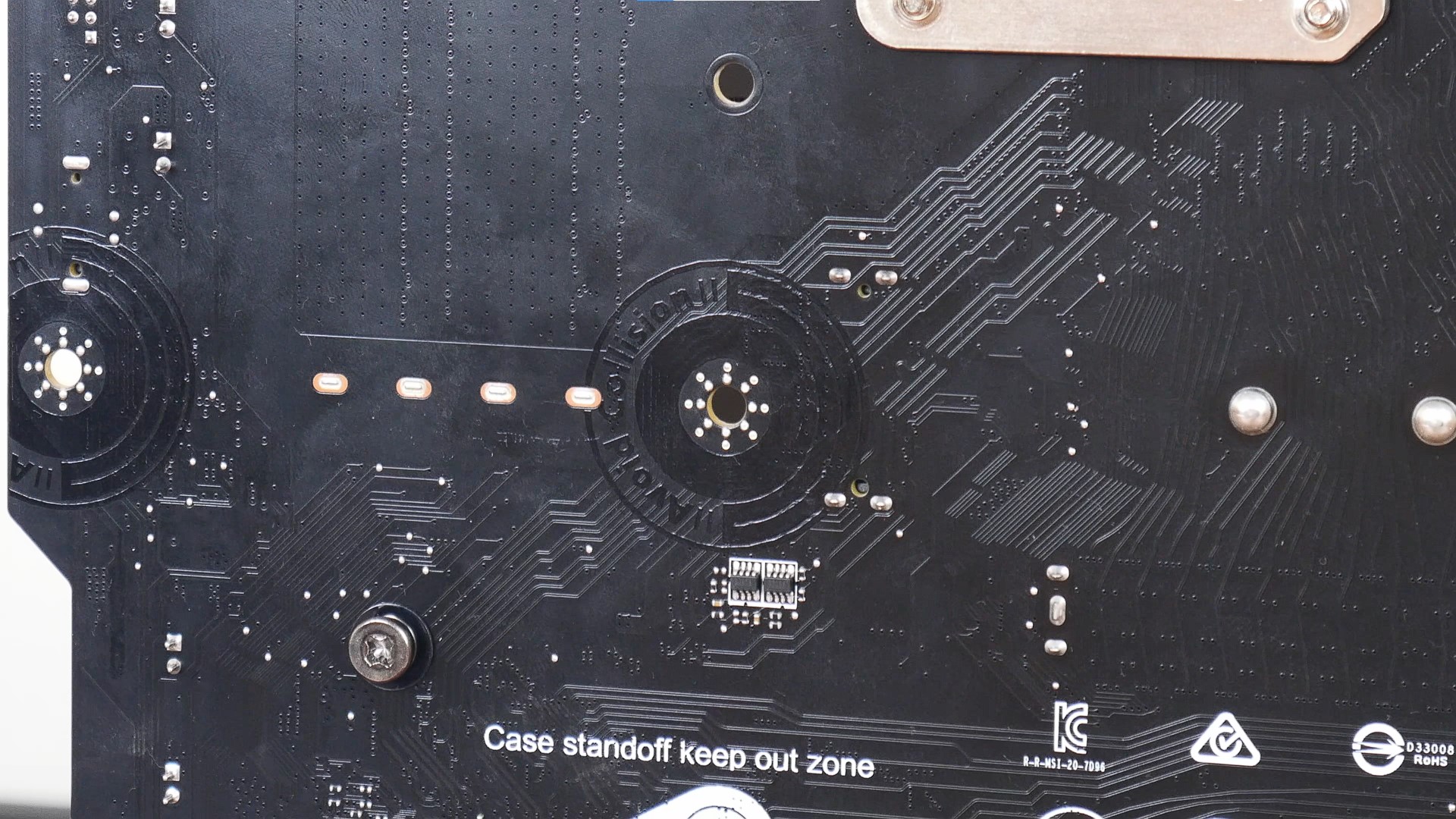 Over on the rear of the MAG B760 TOMAHAWK WIFI, we see that MSI has several markings indicated as "case standoff keep out zones". These markings serve as a reminder not to install unnecessary case standoffs that could otherwise short the circuitry found on the rear of the motherboard. Another helpful feature worth noting is the protective paint that MSI has applied around the screw holes of the board, which are supposed to help protect the PCB against scratches during motherboard installation.
VRM & Memory Support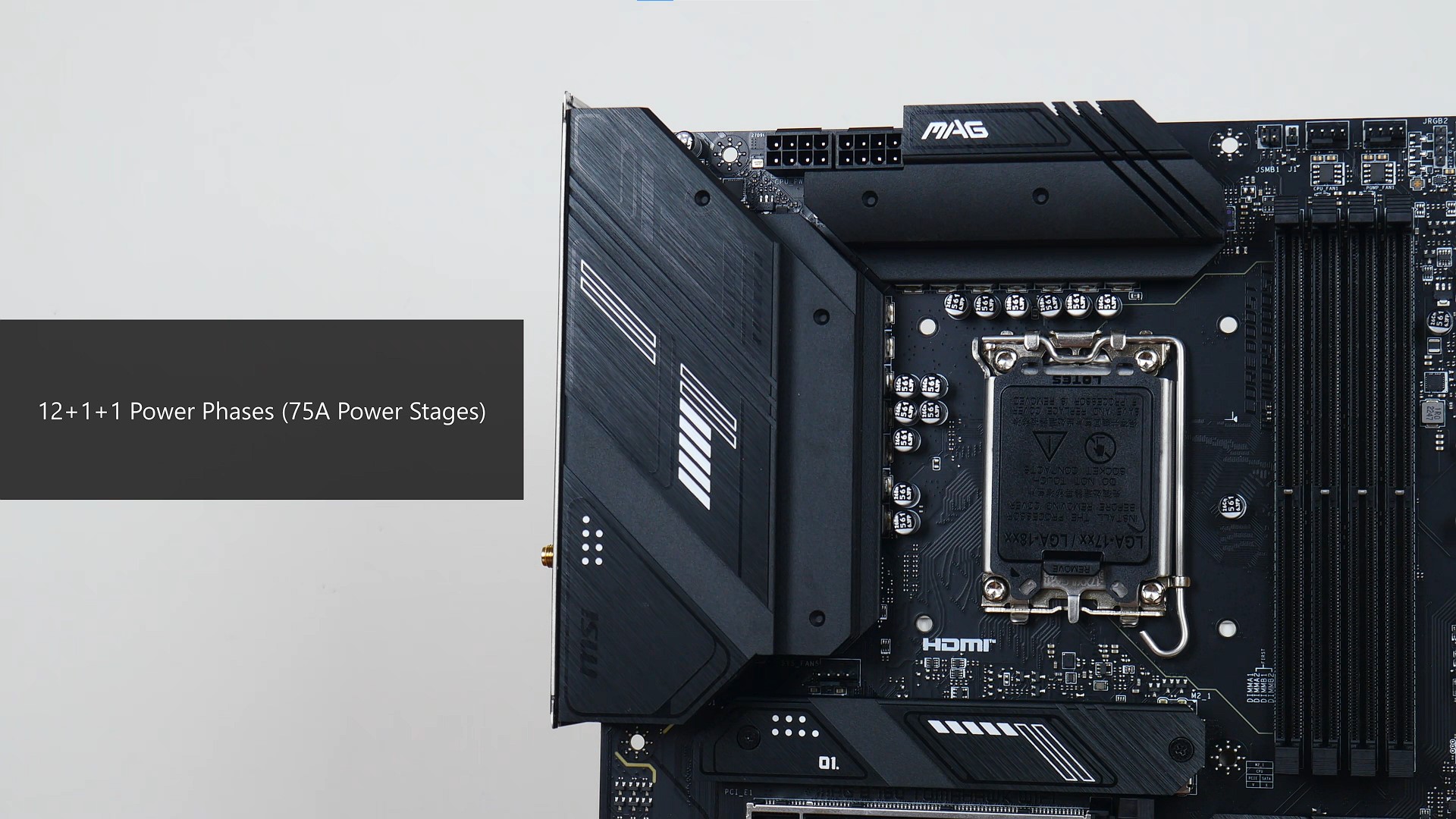 In terms of its power delivery solution, the MAG B760 TOMAHAWK WIFI comes with 12+1+1 power phases with 75A power stages.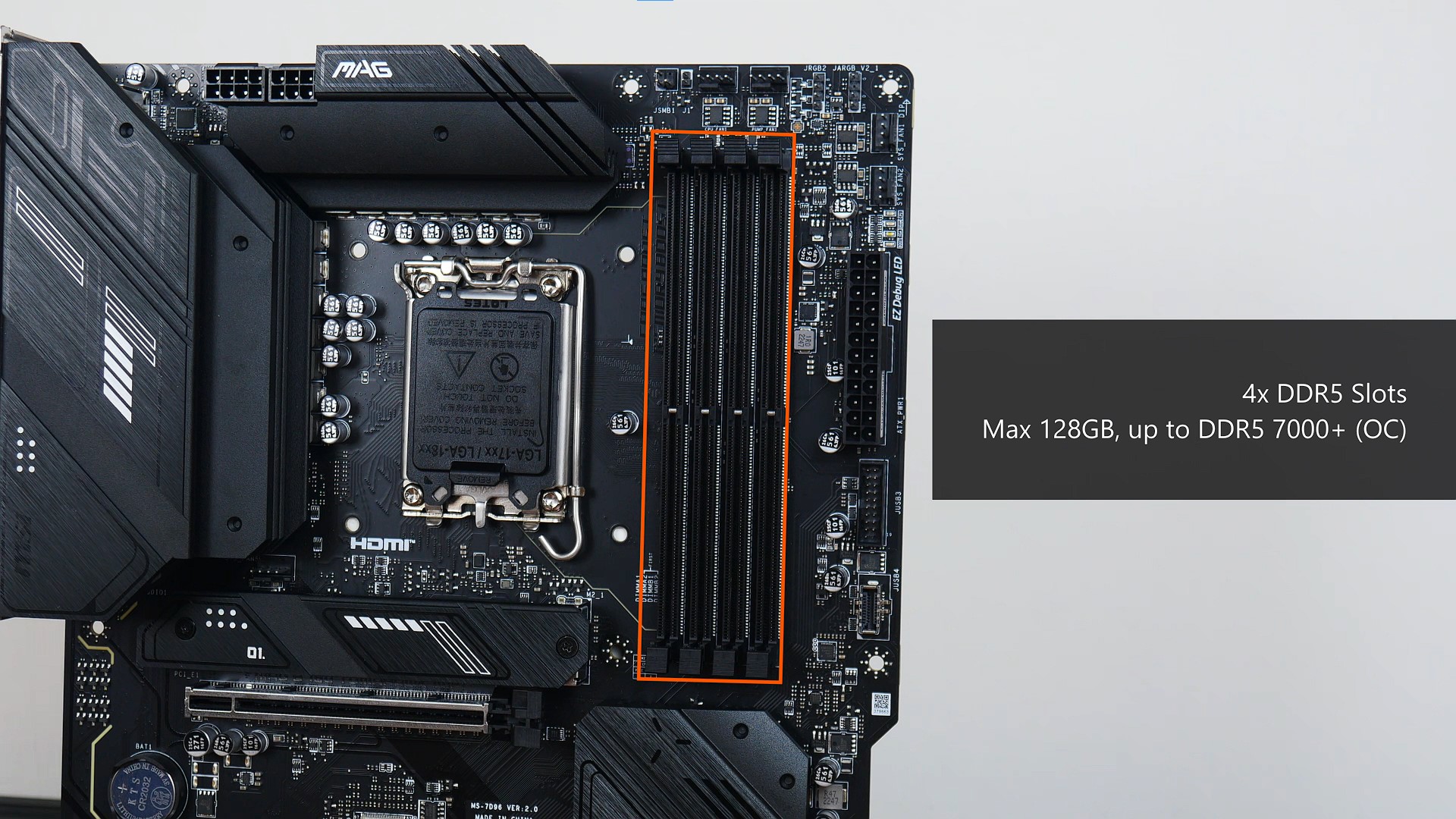 Editor's note as of August 2023: the article and video for this motherboard were published before 48GB DDR5 memory modules were available - according to MSI's specs page, this board now supports up to 192GB of RAM with 4x 48GB DDR5 memory modules.
Memory support is by way of four DDR5 slots with support for a maximum of 192GBs of RAM, and the DDR5 7000+ (OC) standard. The slots are made of plastic, and sport a dual-tabbed design. On a side note, MSI does manufacture a DDR4 variant of this board, which, you've guessed it right, utilises DDR4 memory instead of DDR5. In view of this, if you're intending to purchase this board, you'd do well to check the product name before committing to a purchase, lest you end up with the wrong board variant.
Front Panel USB Connectivity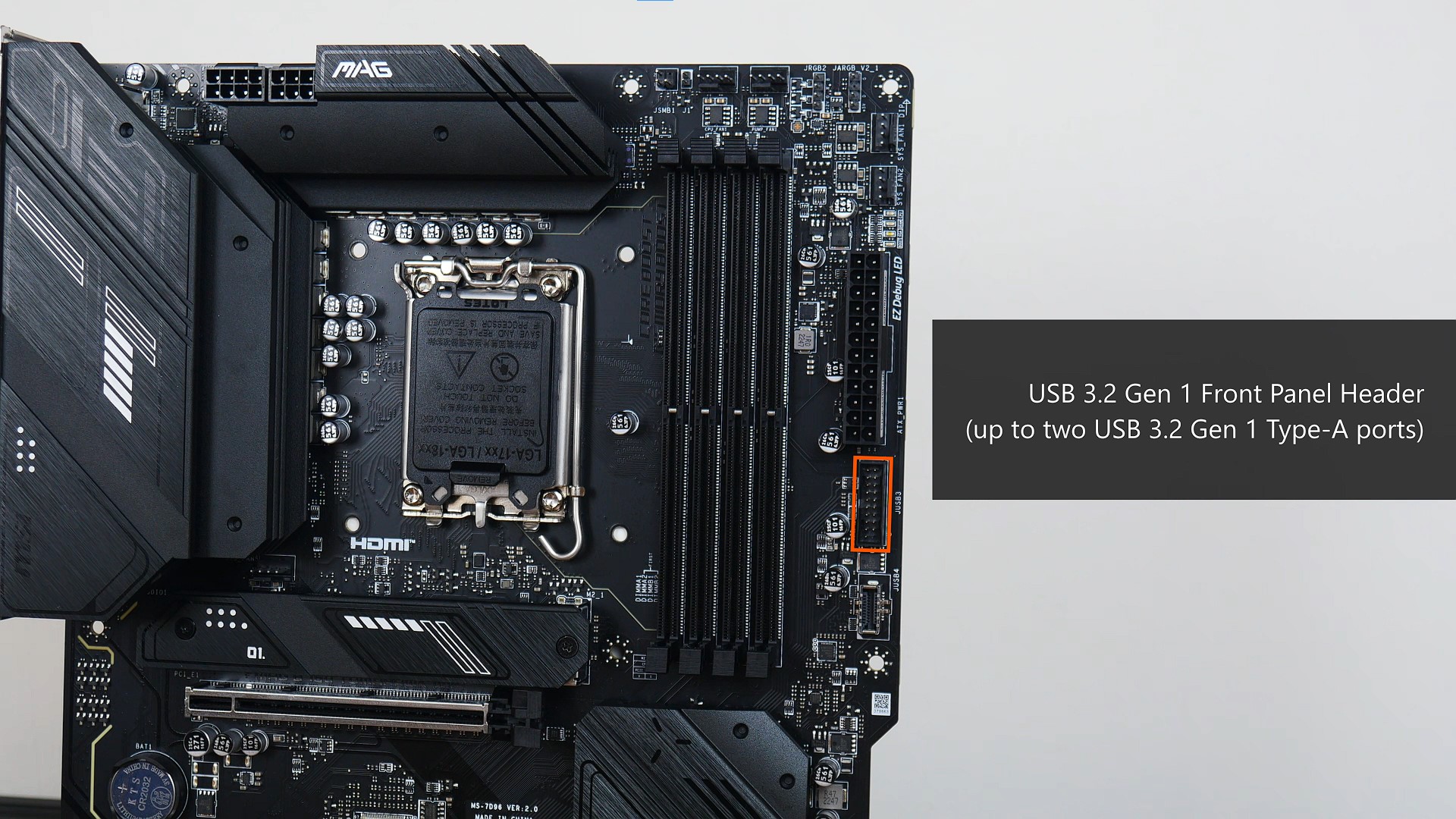 Moving on to front panel USB 3.2 connectivity, MSI has included a USB 3.2 Gen 1 front panel header near the RAM slots that provides for two front panel USB 3.2 Gen 1 Type-A ports, as well as a USB 3.2 Gen 2 Type-C front panel header.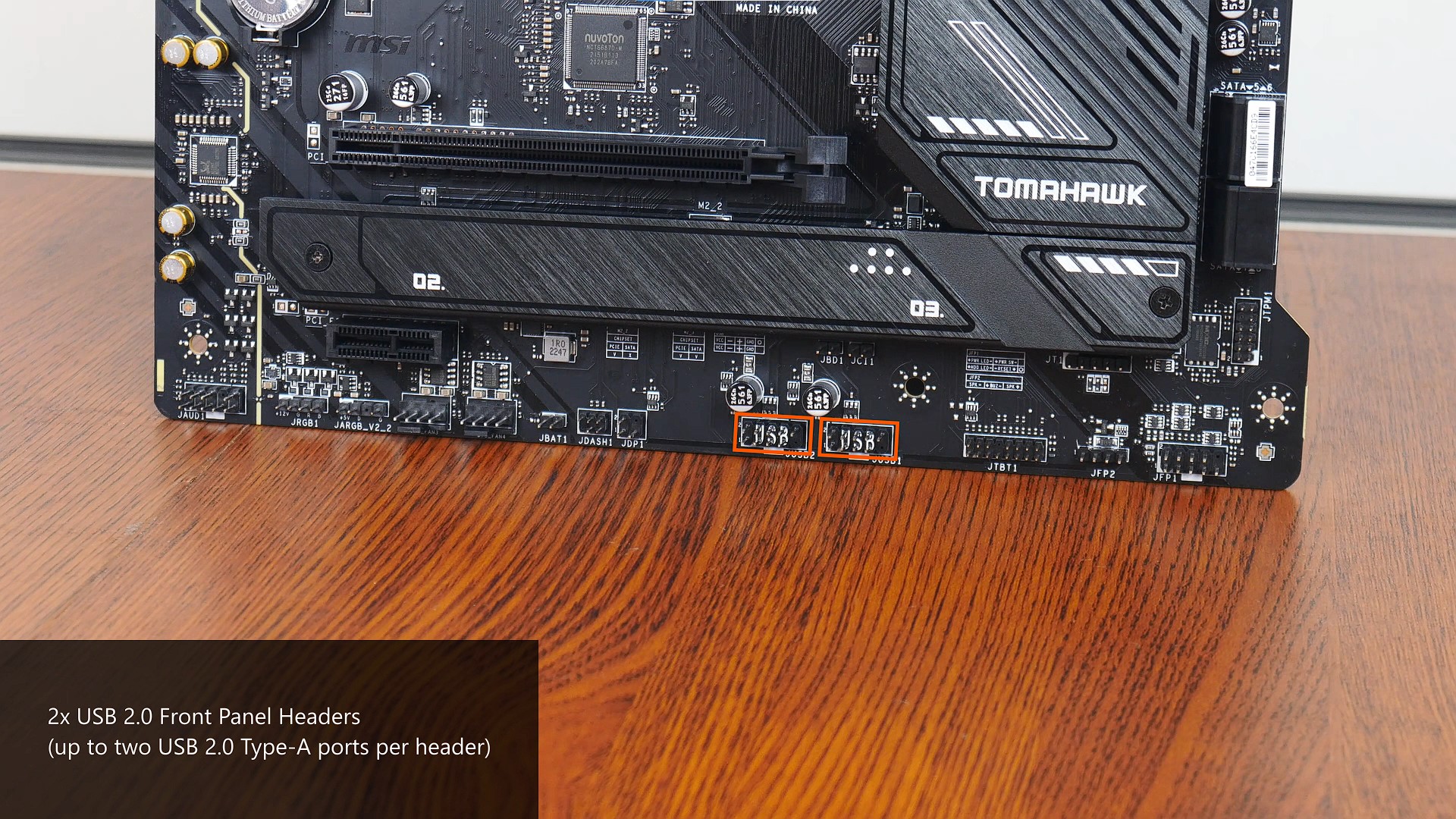 While still on the topic of front panel USB connectivity, the bottom edge of the motherboard houses two front panel USB 2.0 headers. Each of these headers provides for up to two front panel USB 2.0 Type-A ports, for a total of four ports.
Expansion Slots & Storage Options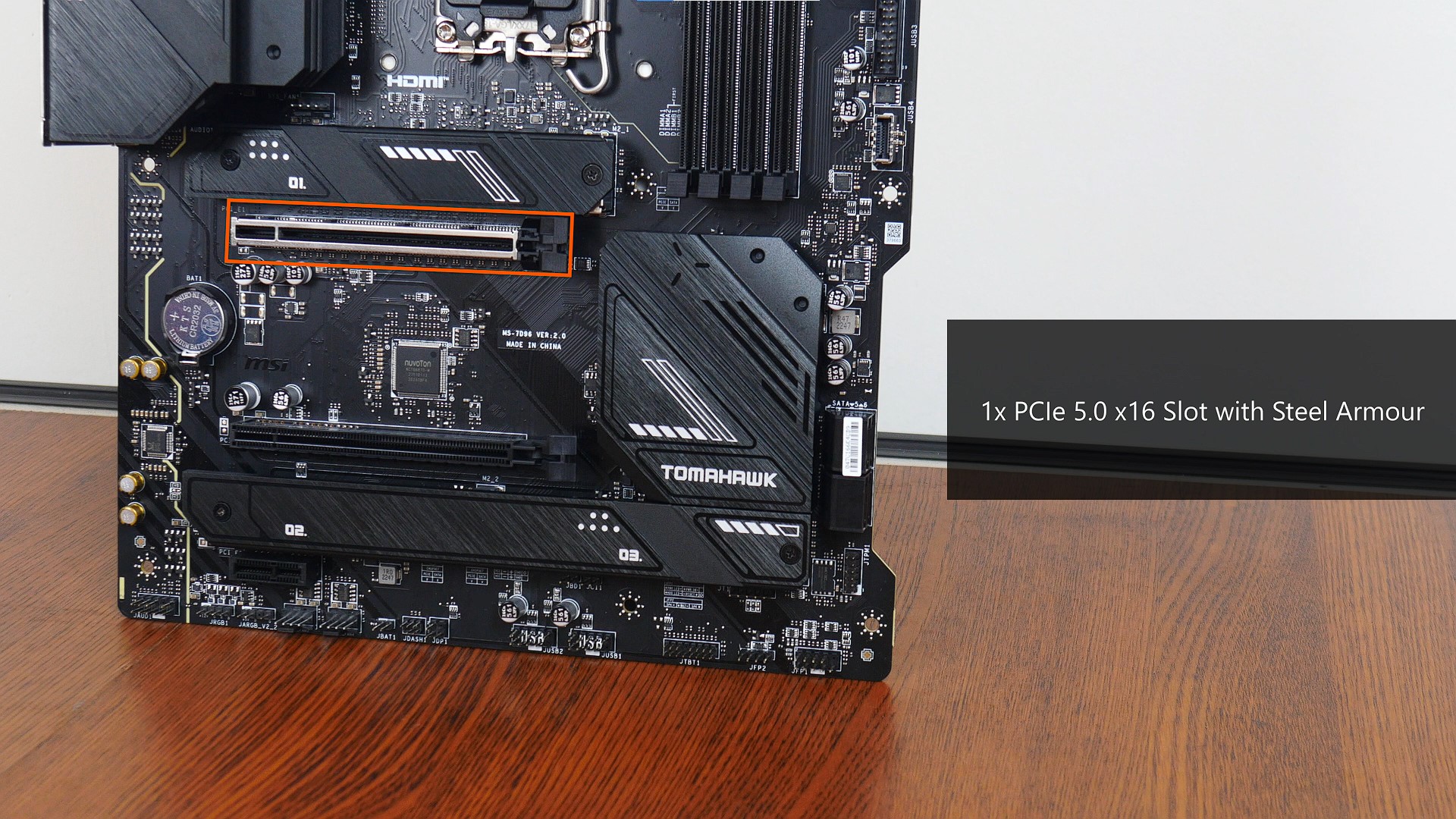 The MAG B760 TOMAHAWK WIFI comes with a PCIe 5.0 x16 slot for a graphics card – the said slot comes with the Steel Armour feature that reinforces the slot against heavy graphics cards.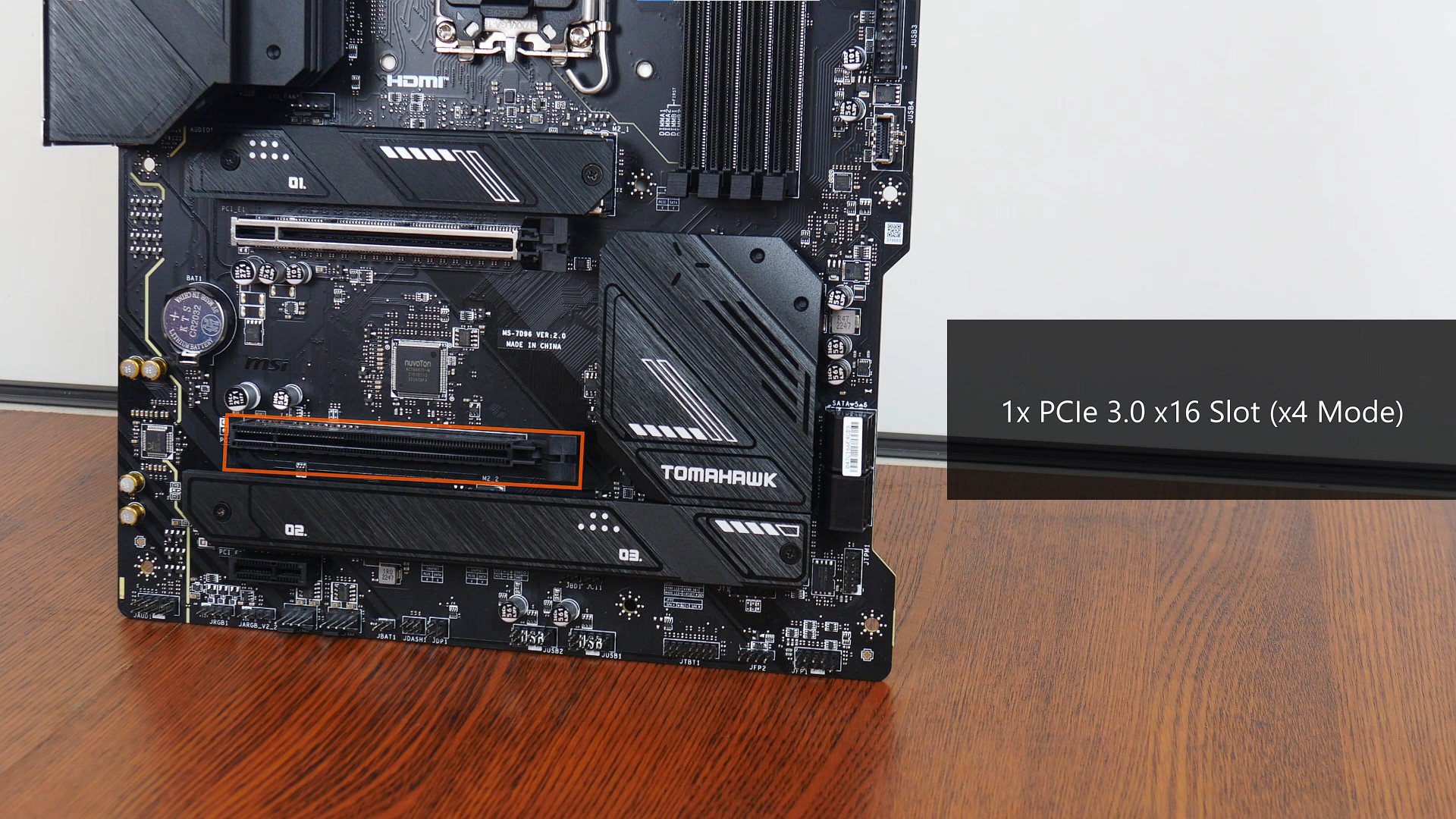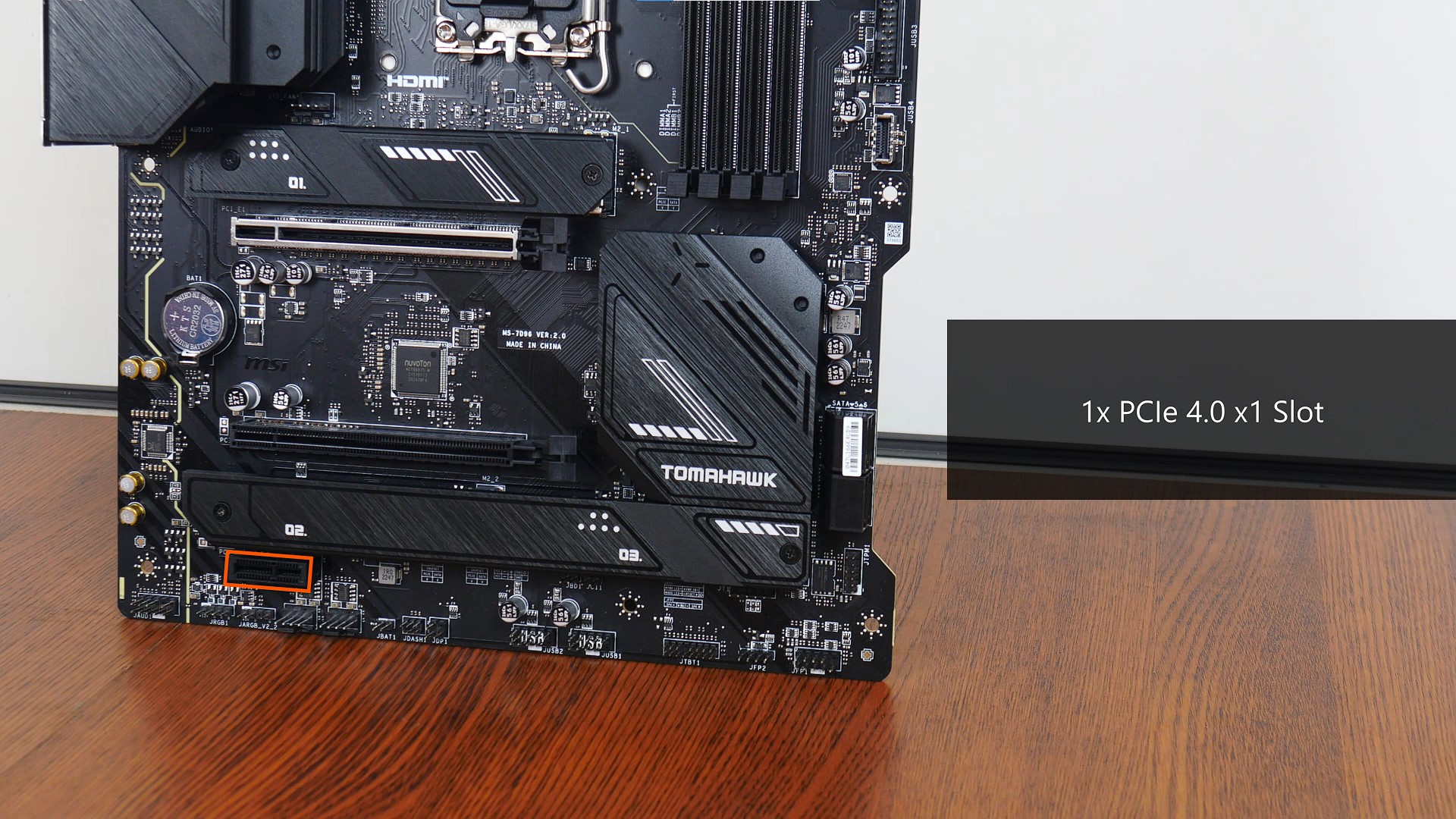 Also included is a full-length PCIe 3.0 x16 slot that operates at x4 mode, as well as a PCIe 4.0 x1 slot.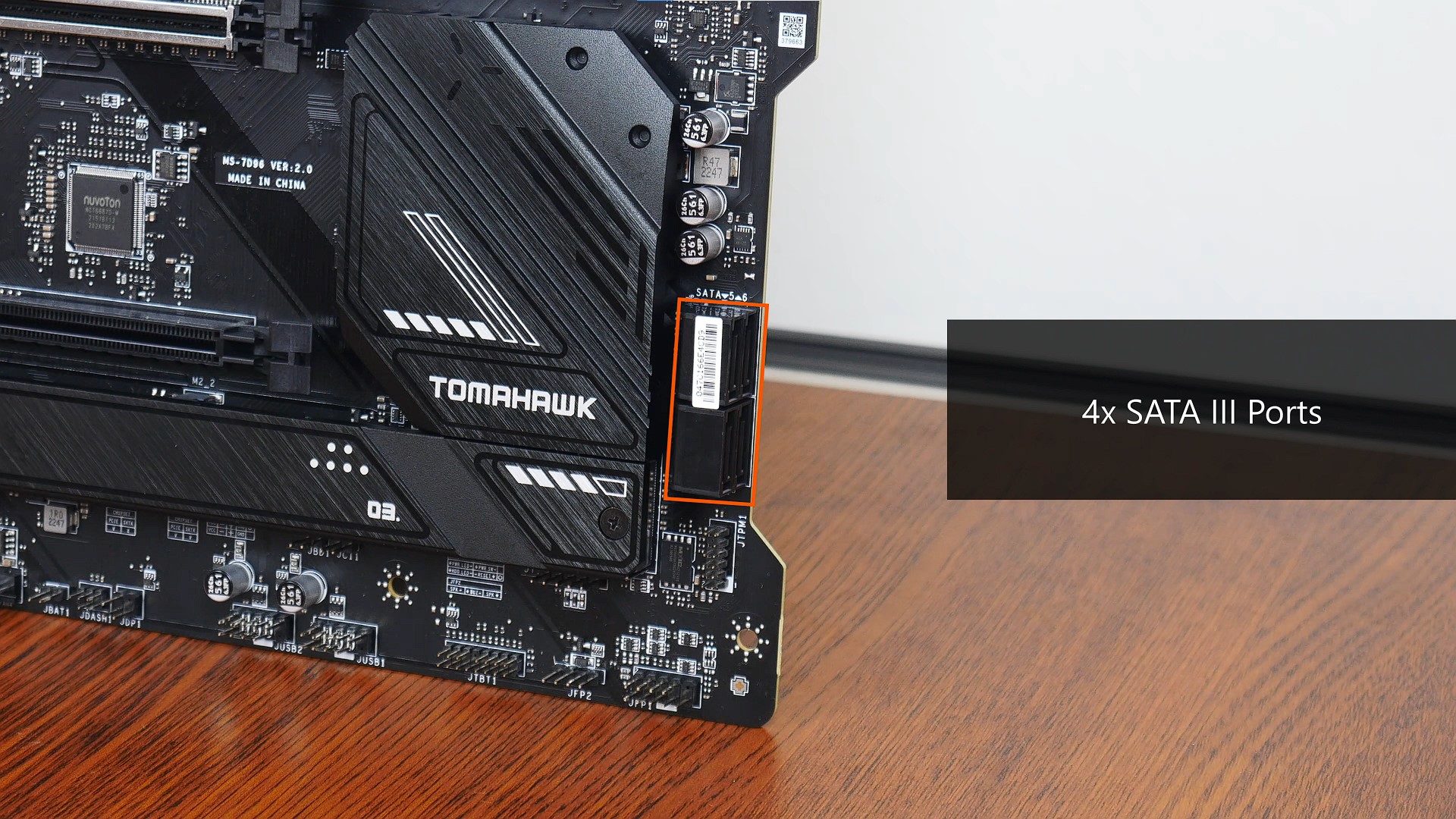 For internal storage devices, MSI has included four SATA III ports in a right-angled configuration so as to aid with cable management. You might have noticed that there is a notch in the long edge of the board where the SATA ports are located - I'm guessing that the said notch is supposed to help with cable management when the board is mounted within a PC case, which is a nice touch.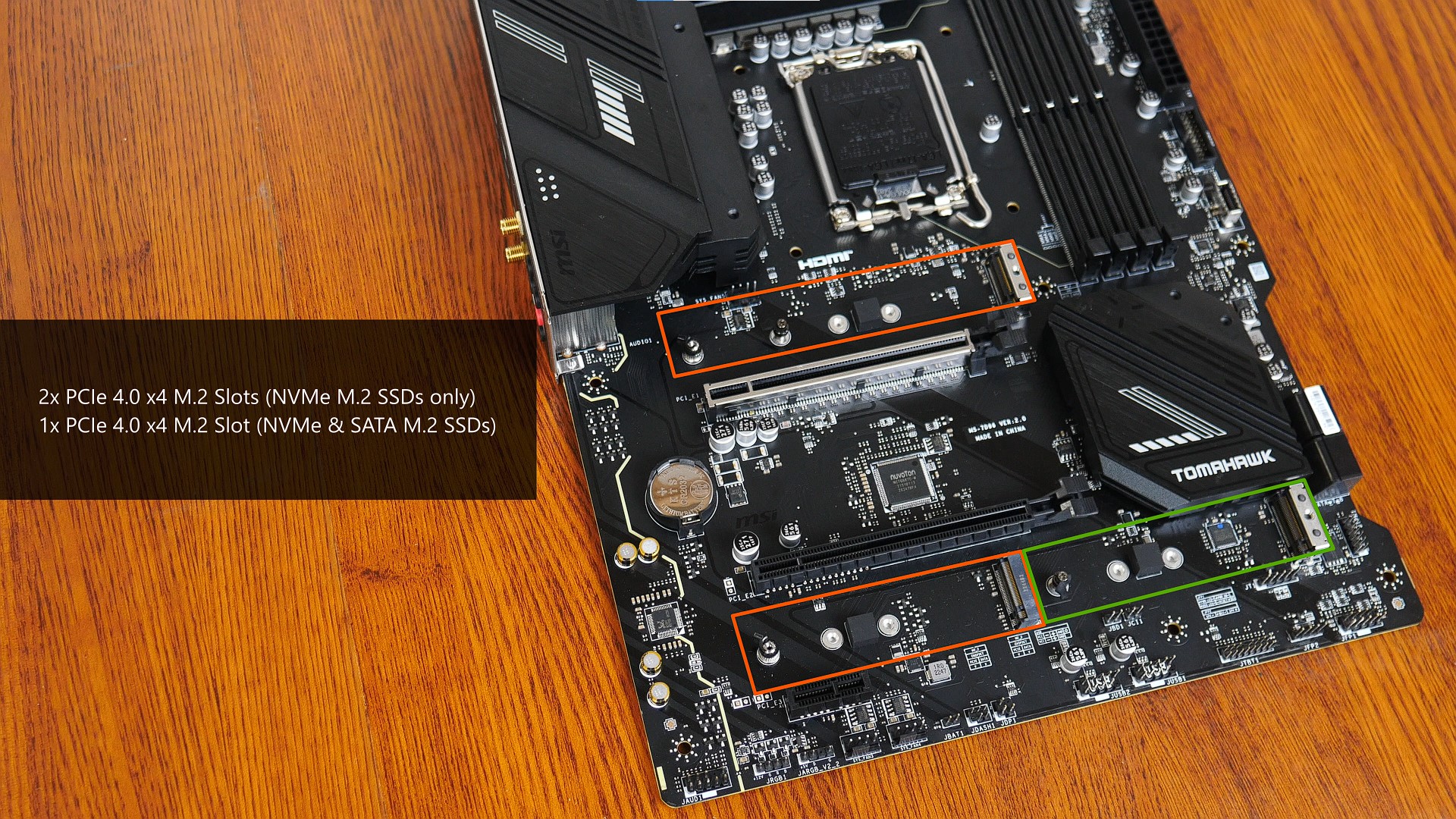 Also included are three PCIe 4.0 x4 M.2 slots, where the first two slots highlighted in orange above support NVMe M.2 SSDs only. The third slot highlighted in green, slot M2_3. supports either a NVMe or SATA M.2 drive. Do note though, that if you have a SATA M.2 drive installed in the said slot, one of the SATA III ports, SATA_7, will be disabled.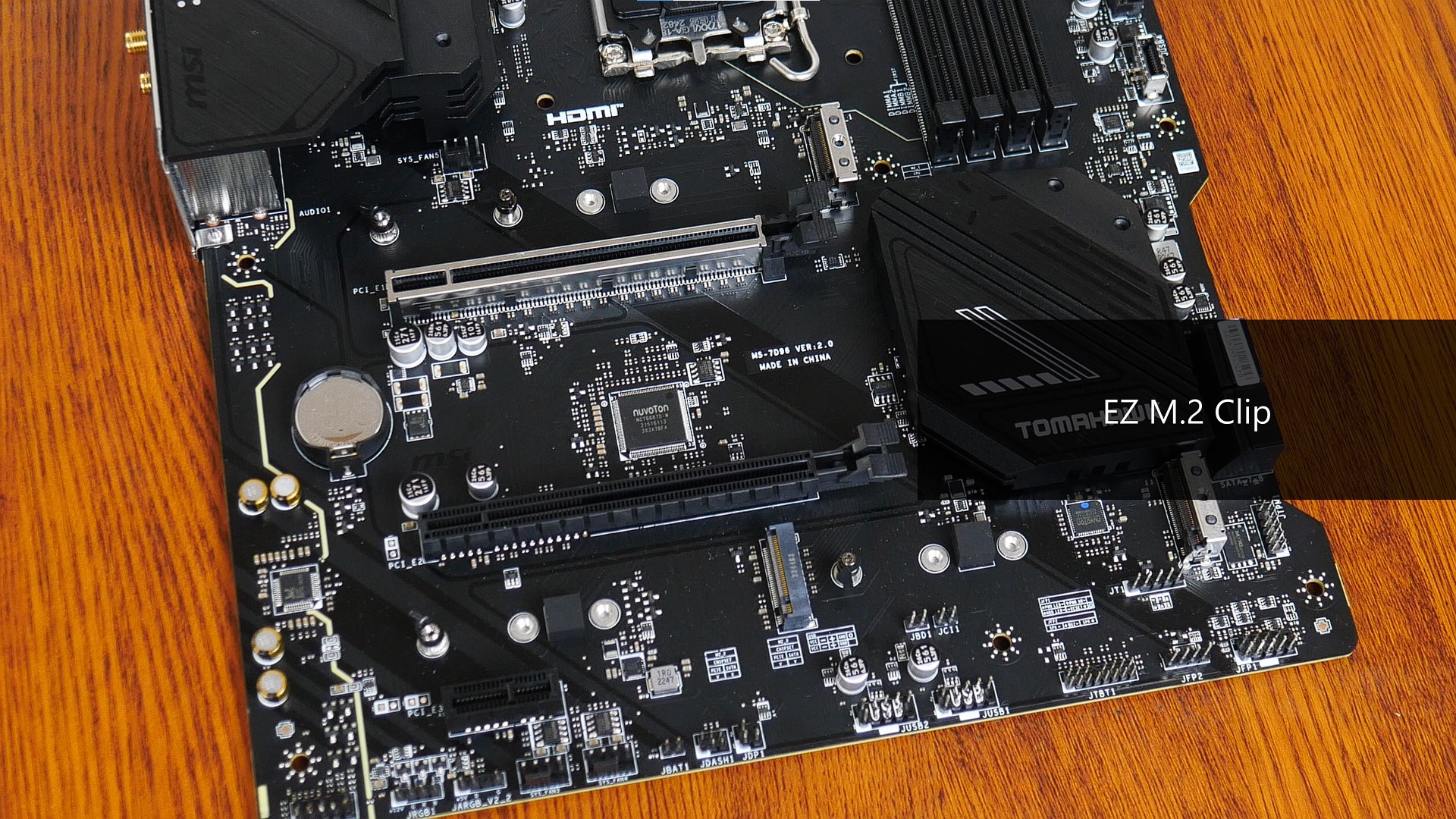 To facilitate the tool-less installation and removal of M.2 drives, MSI has included its EZ M.2 Clip feature for all three M.2 slots, which is a nice-to-have.
Audio & Internet Connectivity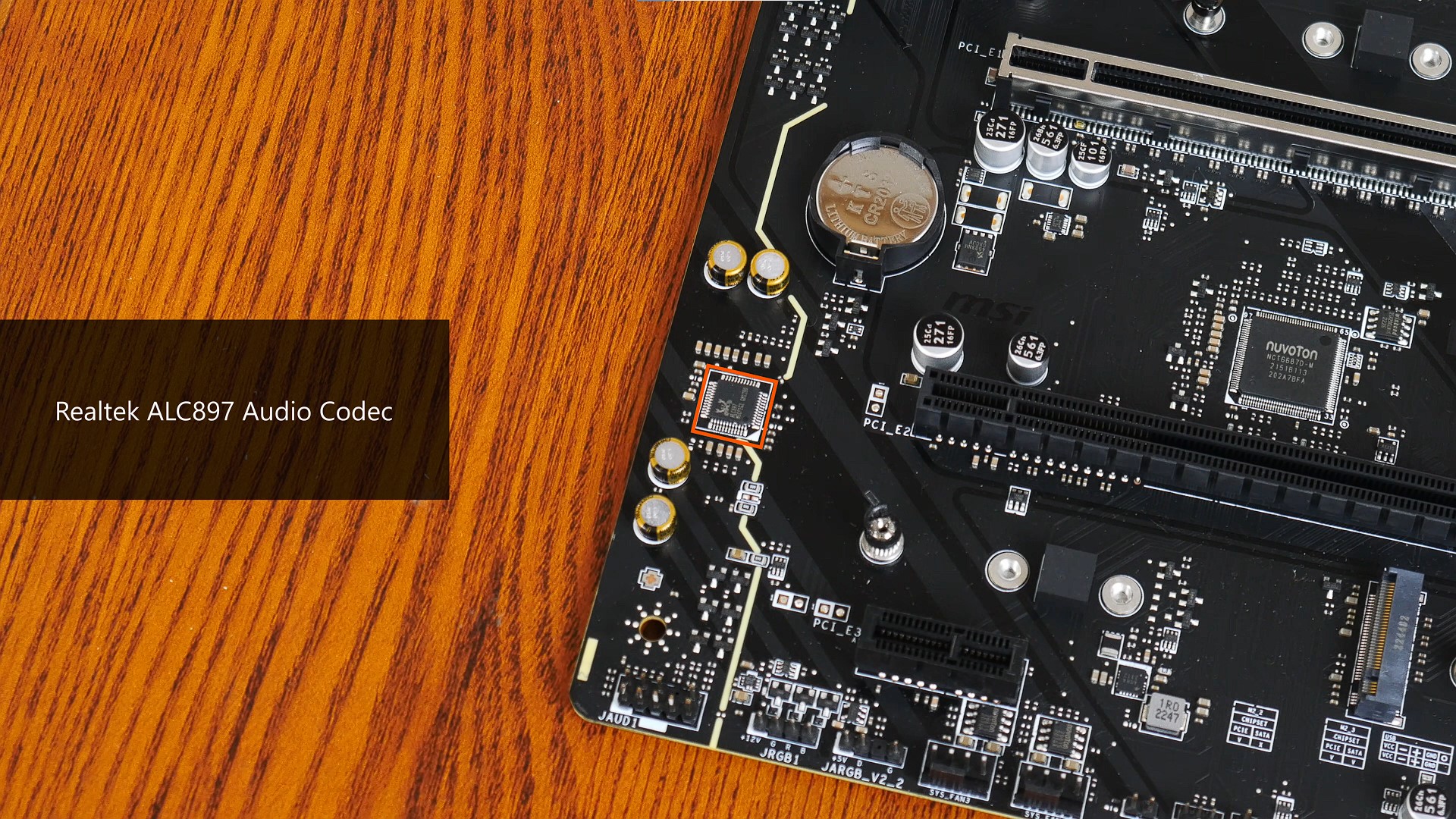 In terms of audio, the MAG B760 TOMAHAWK WIFI comes with Realtek's ALC897 audio codec, which is an entry-level part. I do wish that MSI had included a higher-end audio codec instead, which would have given this board an additional advantage over other competitor offerings out there. Wired internet connectivity is powered by another Realtek part, the RTL8125BG, which serves up 2.5 Gigabit Ethernet support, while wireless connectivity is courtesy of an Intel WIFI 6E module that serves up Bluetooth 5.3 support as well.
Fan & RGB Headers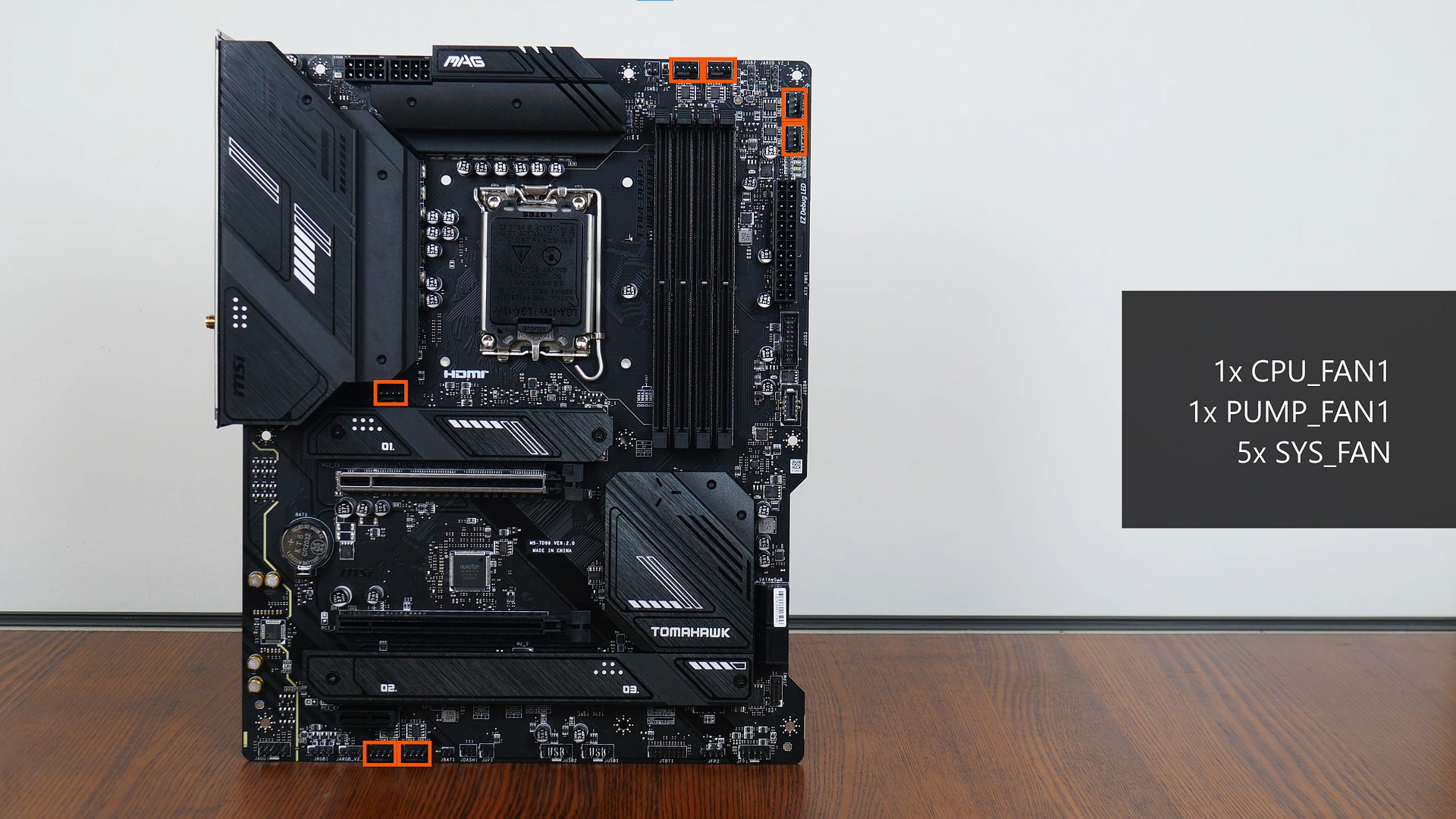 MSI has included a total of seven fan headers with the board:
1x CPU_FAN1
1x PUMP_FAN1
5x SYS_FAN
RGB headers are in no short supply too, where MSI has included two addressable RGB headers (highlighted in orange) and two 12V standard RGB headers (highlighted in green).
Other Features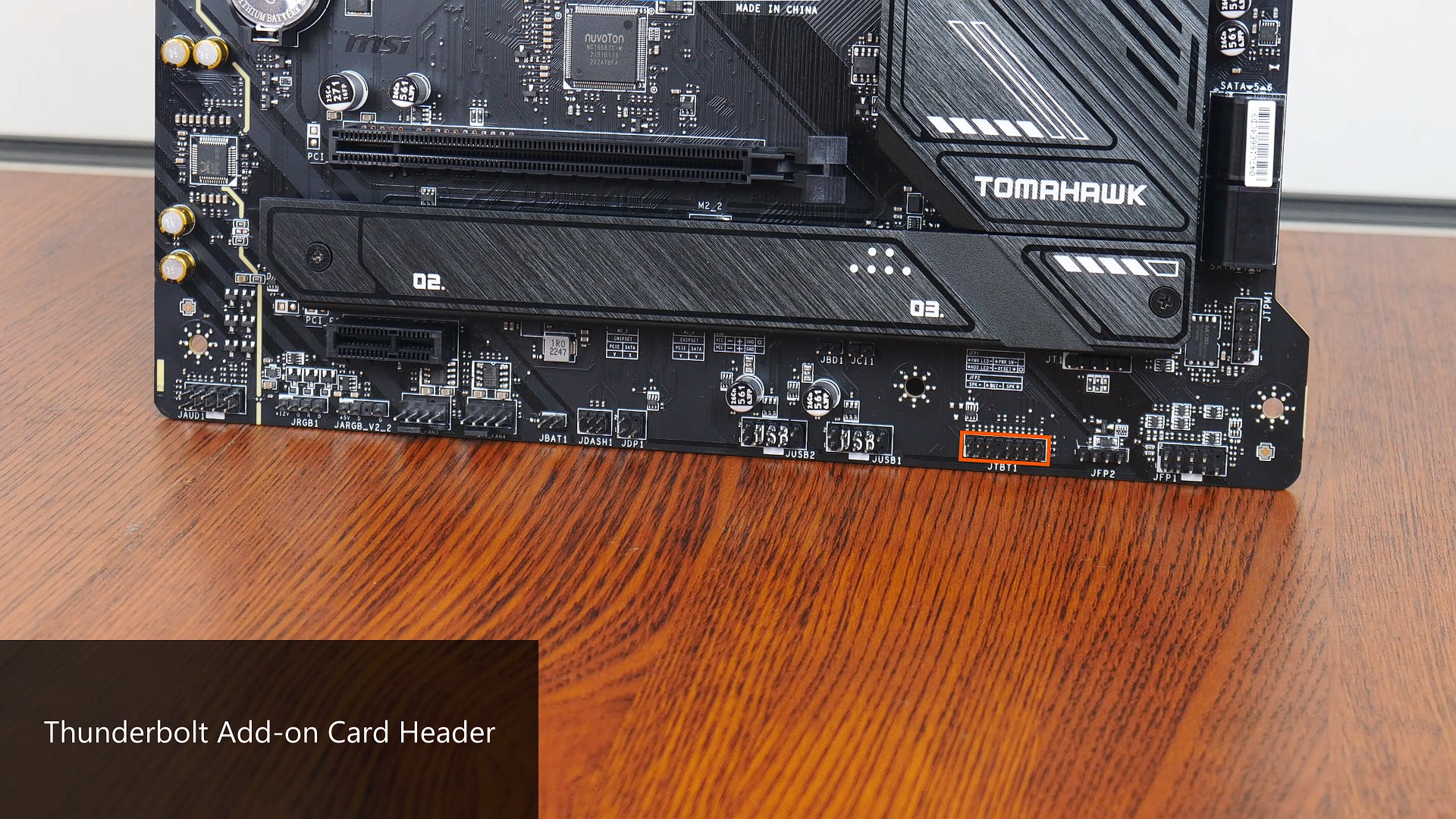 Near the bottom edge of the board is a Thunderbolt add-on card header that is to be used in conjunction with a Thunderbolt add-on card that is sold separately by MSI.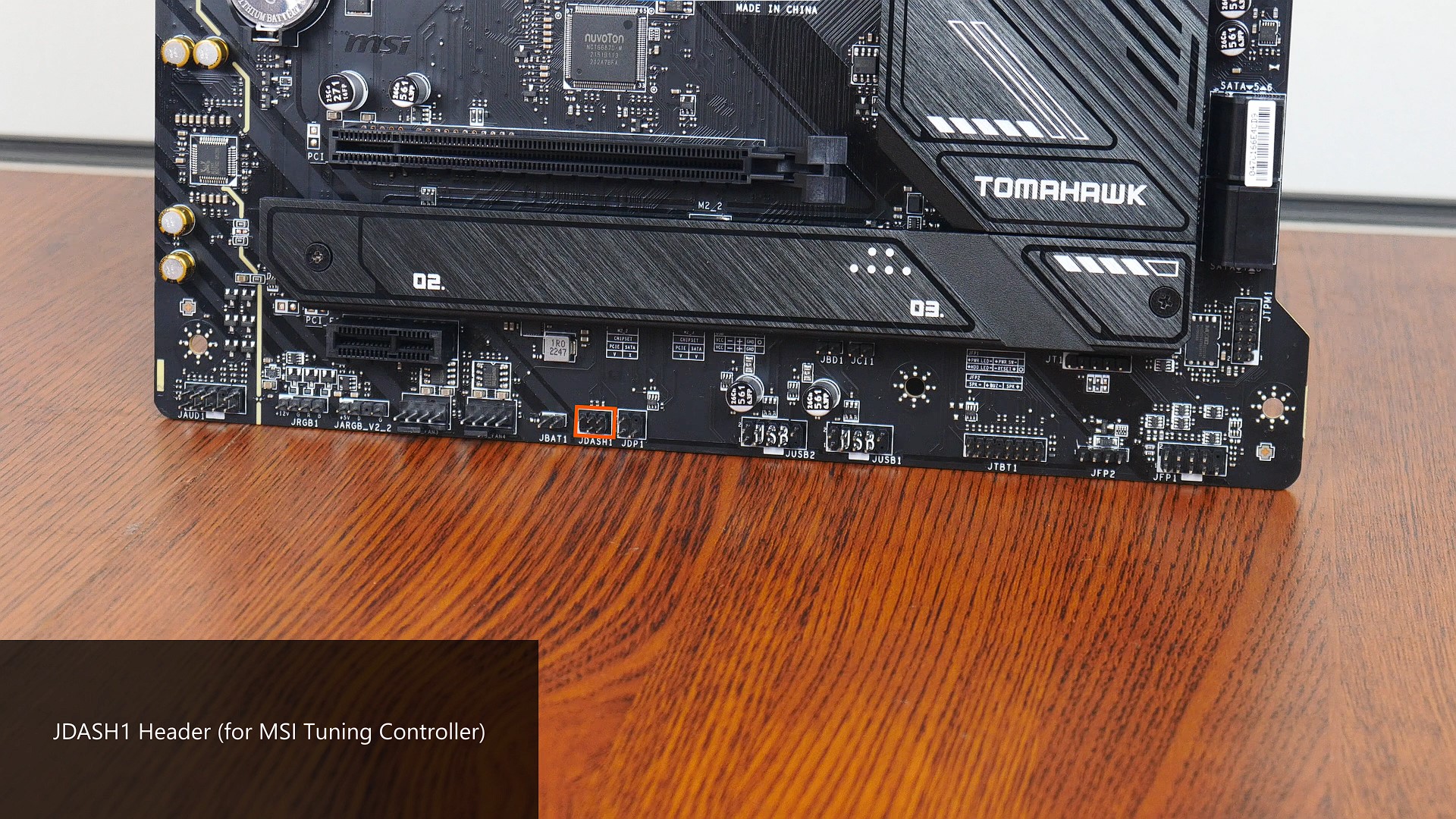 Further to the left of the Thunderbolt header is a JDASH1 header that is to be used with an optional MSI Tuning Controller module. Oddly enough, the Tuning Controller does not seem to be available to purchase as of the time of writing this article, and seems to have come included with previous-gen high-end MSI motherboards.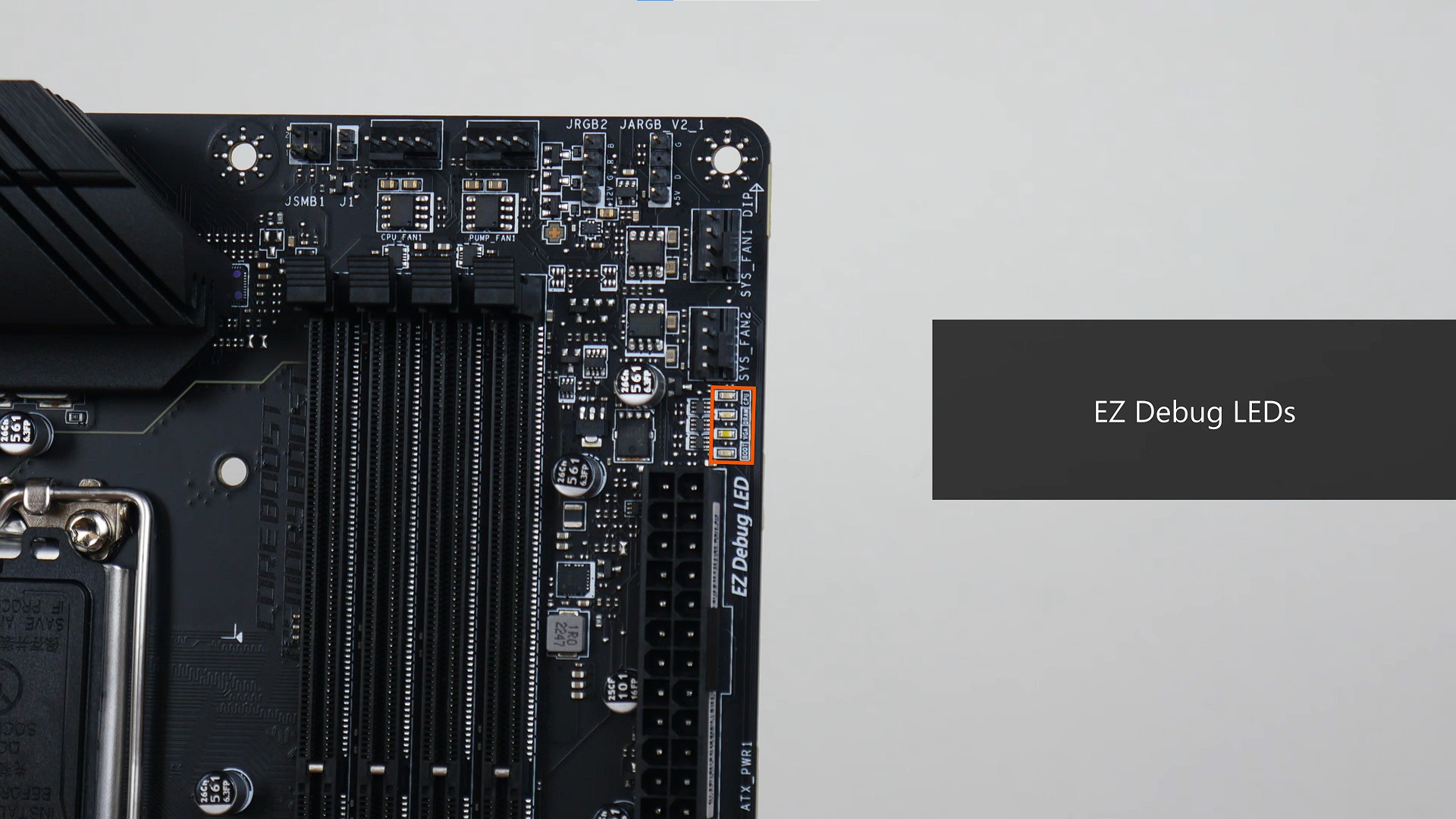 Moving up top, a set of EZ Debug LEDs are included near the RAM slots - the said LEDs can be used to troubleshoot PC startup issues.
Rear I/O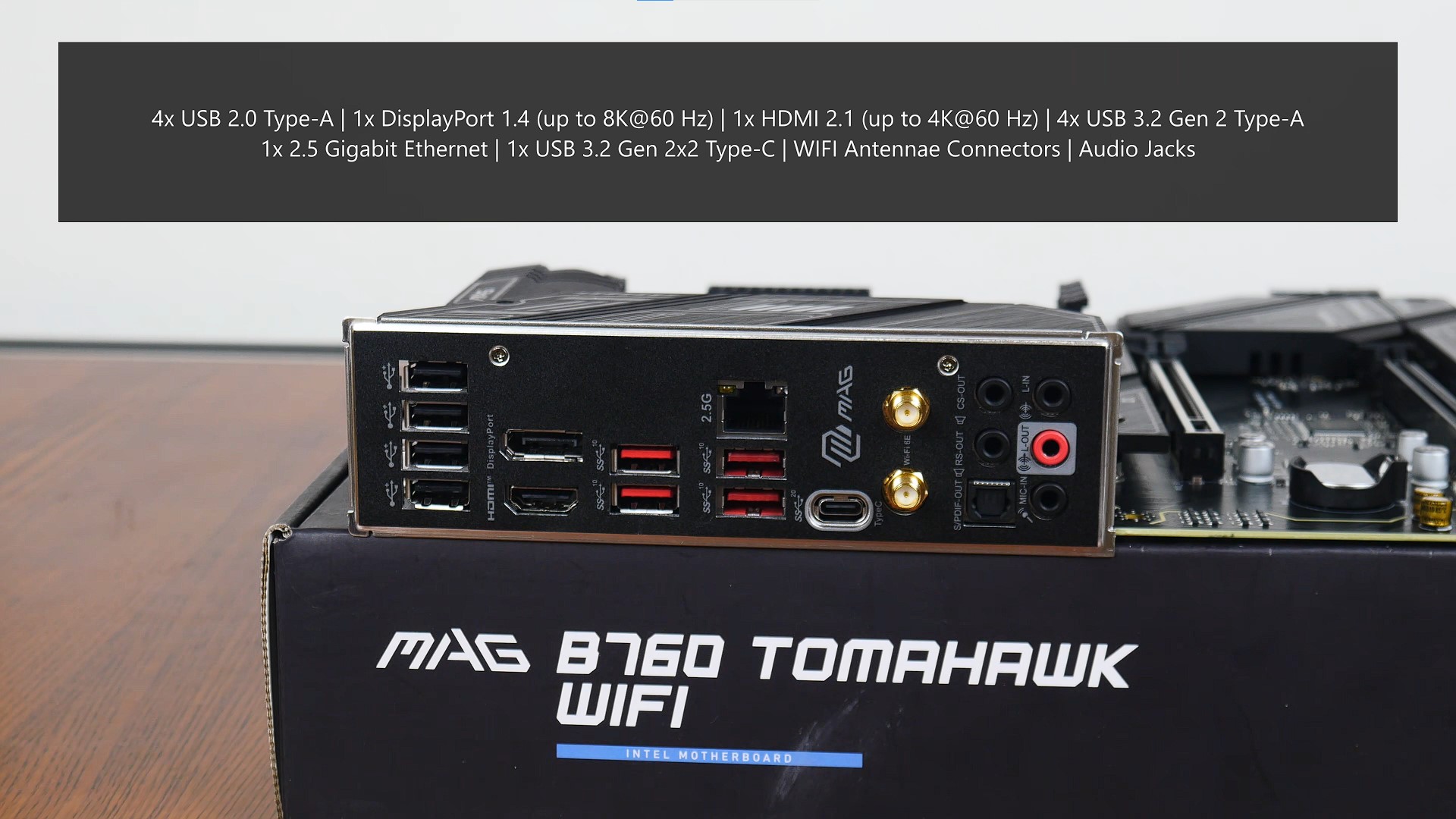 As can be seen, the MAG B760 TOMAHAWK WIFI comes with an integrated I/O shield, where it has the following rear I/O ports:
4x USB 2.0 Type-A
1x DisplayPort 1.4 (up to 8K resolution @ 60 Hz)
1x HDMI 2.1 (up to 4K resolution @ 60 Hz)
4x USB 3.2 Gen 2 Type-A (10 Gbps)
1x 2.5 Gigabit Ethernet
1x USB 3.2 Gen 2x2 Type-C (20 Gbps)
WIFI antennae connectors
Audio jacks
Conclusion & Pricing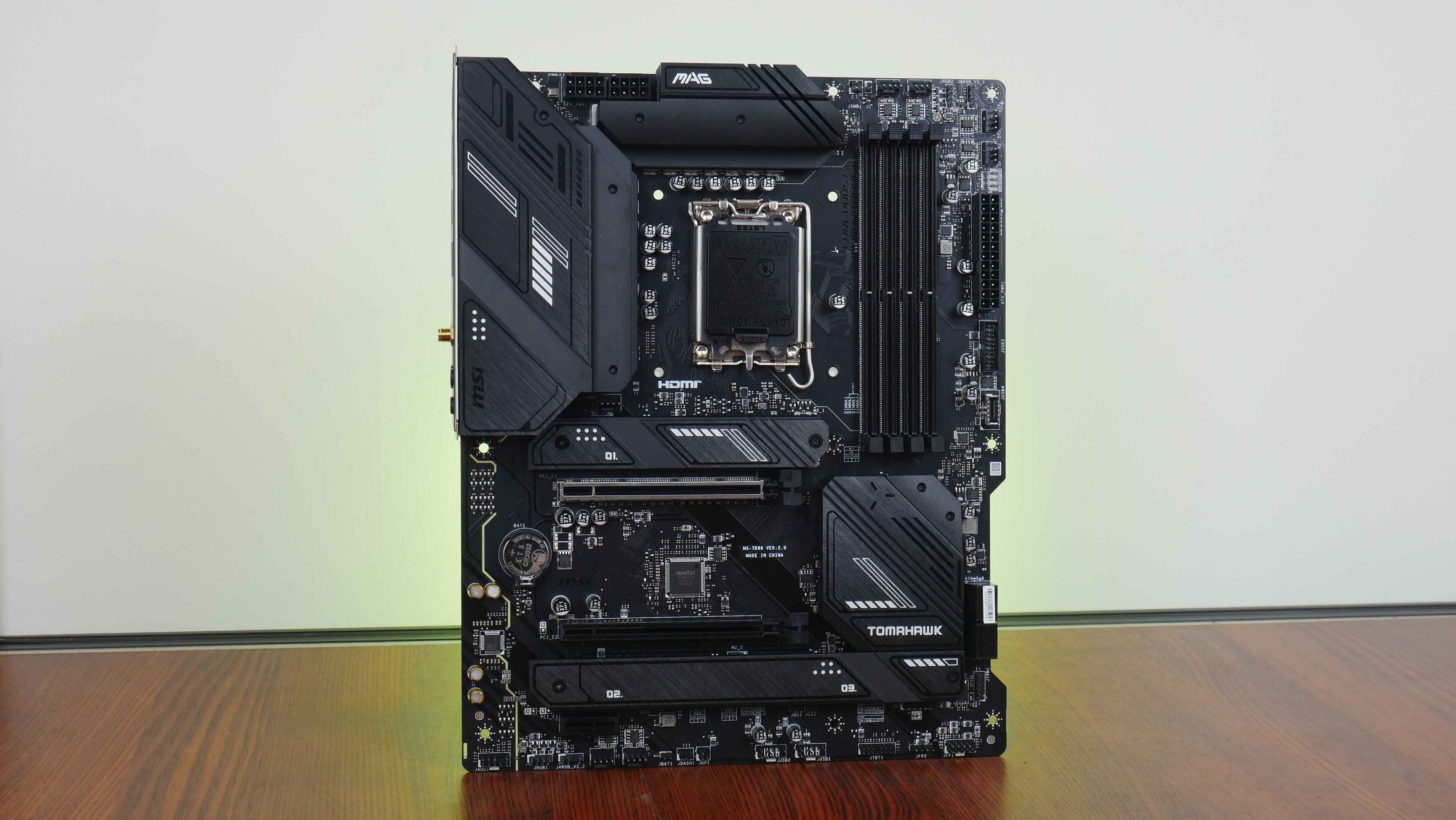 In conclusion, the MSI MAG B760 TOMAHAWK WIFI checks the right boxes as a mid-range Intel B760 motherboard offering, where it serves up features such as PCIe 5.0 support for a graphics card, 2.5 Gigabit Ethernet and WIFI 6E connectivity, as well as a good assortment of USB 3.2 ports. I do wish though, that MSI had included a higher-end audio codec with this board, as the included ALC897 audio codec is an entry-level part commonly found on budget motherboards - this would have made the board an even more compelling option in the face of its competition.

As of January 2023, the MAG B760 TOMAHAWK WIFI is available to purchase in Singapore for a price of around $390 Singapore dollars from offline and online retailers, International readers can purchase this board for around $220 US dollars from eCommerce sites such as Newegg.
Get this board from Amazon: https://amzn.to/3H7NVEP (affiliate link)

Get this board from Shopee Singapore: https://shope.ee/8KH8biJCFd (affiliate link)

ALKtech may earn commissions from qualifying purchases made using affiliate links, at no extra cost to you as a customer. These commissions go a long way in supporting the platform!

The motherboard featured in this article was a review unit provided on loan from MSI.