The Gigabyte Z790 AORUS ELITE AX DDR4 is a decent mid-range motherboard offering for anyone looking to build a new Intel 13th Generation Raptor Lake PC with DDR4 memory.
Intel's 13th generation Raptor Lake processor and Z790 motherboard offerings have been on the market for more than a month now, and with products such as the i5-13600K that has quite possibly, taken the performance and value crown from AMD, there's no better time than now to be building a new PC. If you're in the market for a new Intel Raptor Lake PC at the mid-to-high-end that still uses DDR4 memory, the Gigabyte AORUS ELITE AX DDR4 might just fit the bill given its features.
Summary of Specifications
Processor Support: Intel 13th Gen Core processors & 12th Gen Core, Pentium Gold and Celeron processors
Chipset: Intel Z790
Memory: 4x DDR4 slots, max 128GB, up to DDR4 5333 (OC) support
Audio: Realtek audio codec with Chemicon and WIMA audio capacitors
LAN: Realtek RTL8125BG 2.5 Gigabit Ethernet
WIFI: Intel AX211NGW WIFI 6E module with built-in Bluetooth 5.3
Expansion Slots: 1x PCIe 5.0 x16, 2x PCIe 4.0 x16 (x4 mode)
Storage: 4x SATA III, 3x PCIe 4.0 x4 M.2 (NVMe mode only), 1x PCIe 4.0 x4 M.2 (NVMe & SATA mode)
Form Factor: ATX
Packaging & Contents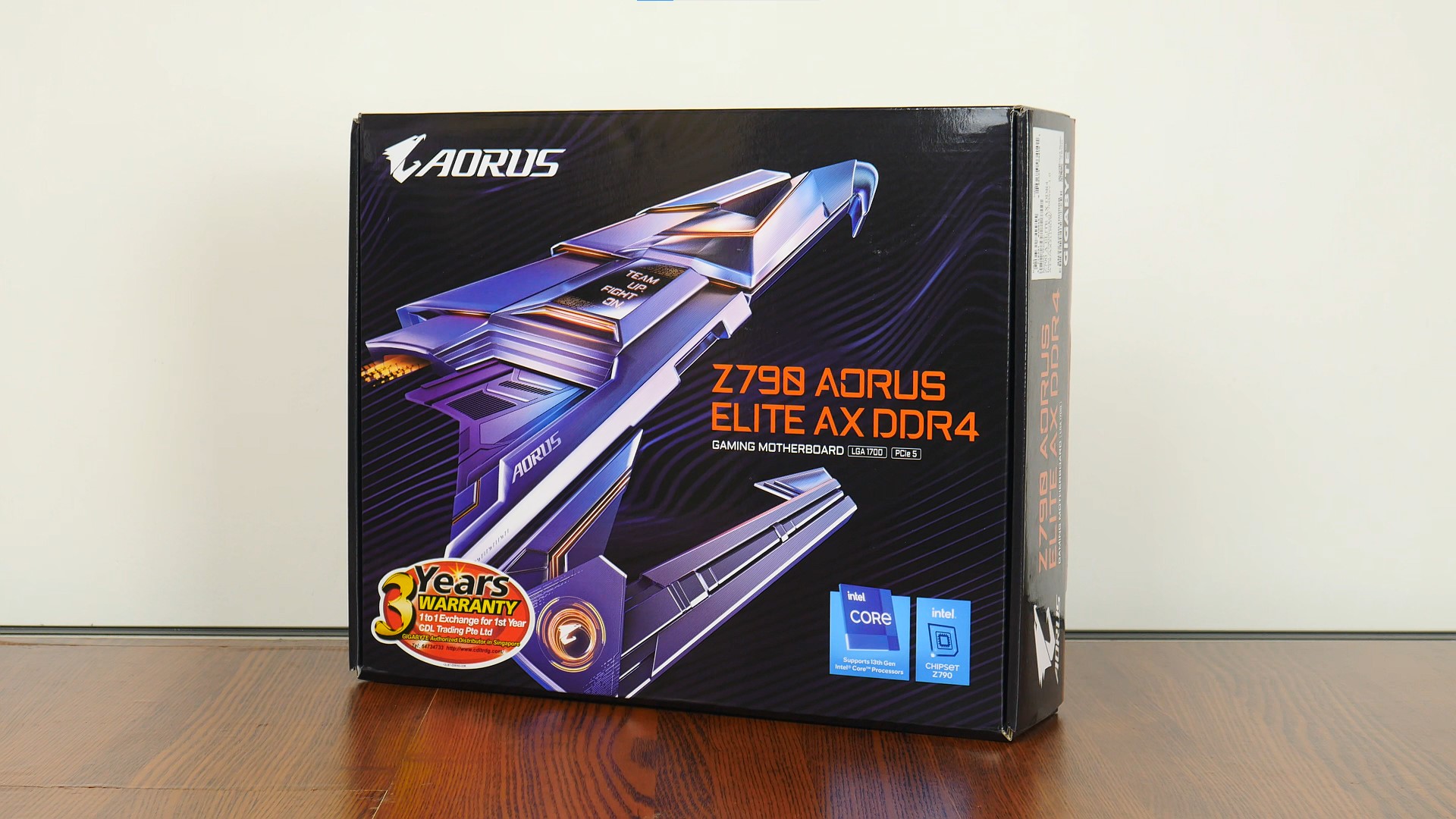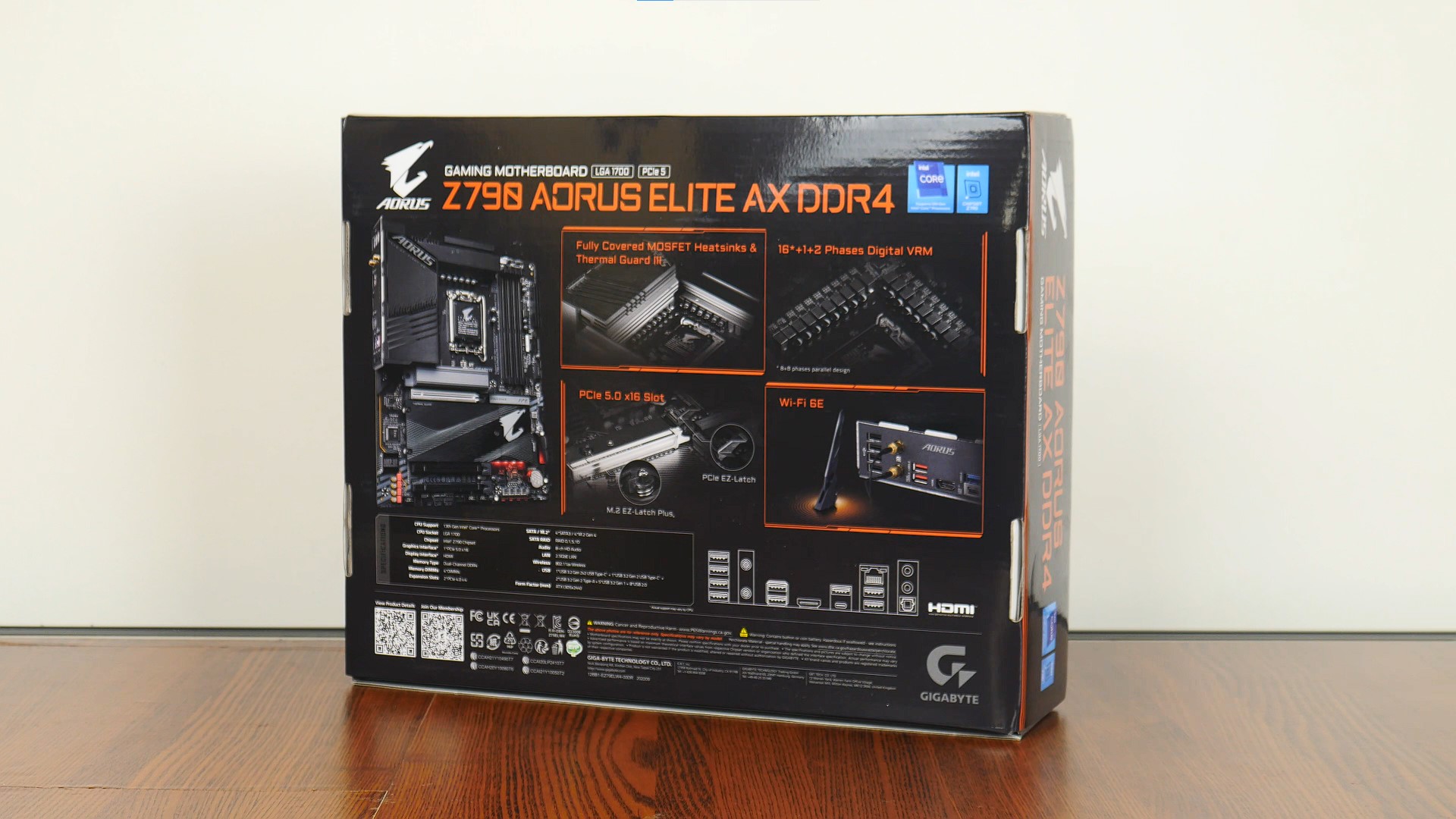 As a product offering from Gigabyte's AORUS line-up that is targeted at gamers looking to build a mid-to-high-end PC, the Z790 AORUS ELITE AX DDR4 comes in a box that sports the usual AORUS colourway, with the AORUS falcon featuring prominently on the front of the box.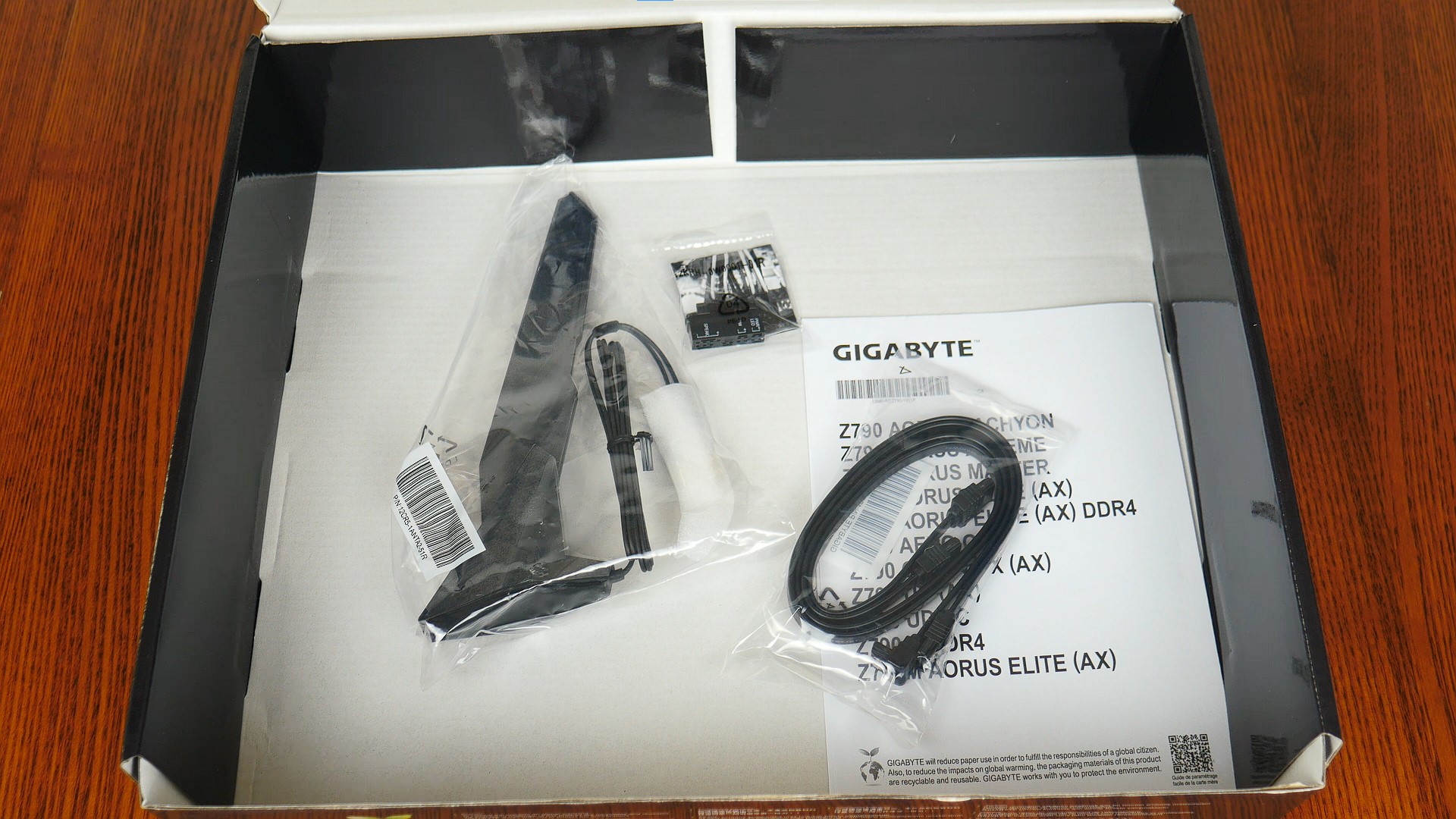 Included with the board are the following accessories:
WIFI antenna
2x SATA III cables
Gigabyte G Connector
Quick start guide
For a mid-range motherboard offering, the Z790 AORUS ELITE AX DDR4 comes with the bare minimum in terms of accessories - I've been observing this phenomenon of late with Gigabyte's low-to-mid tier offerings, where the brand has cut down on the number of accessories and printed materials included with their products, especially motherboards. Upon closer inspection of the footnote found on the first page of the quick start guide, it would appear that Gigabyte's set itself a target to reduce the amount of packaging waste generated from its products, which could explain why the brand's opted to go with fewer accessories and printed materials that would otherwise end up in the trash bin.
Board Aesthetics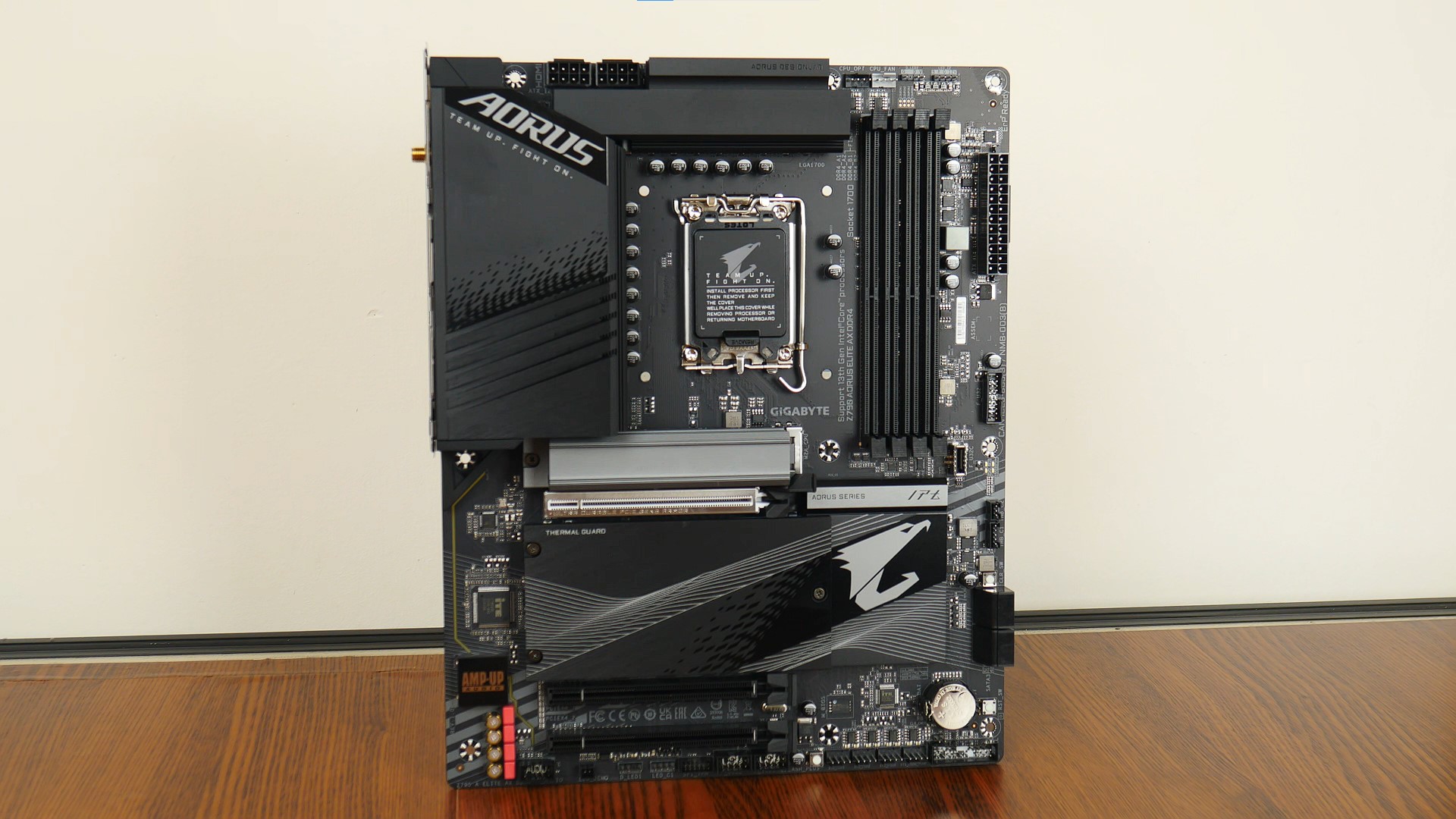 The Z790 AORUS ELITE AX DDR4 sports a black and silver colourway with touches of grey for good measure, with line motifs on the heatsinks for added visual appeal. On the whole, it looks relatively understated in terms of its appearance when compared to other flashier gamer-oriented motherboards on the market.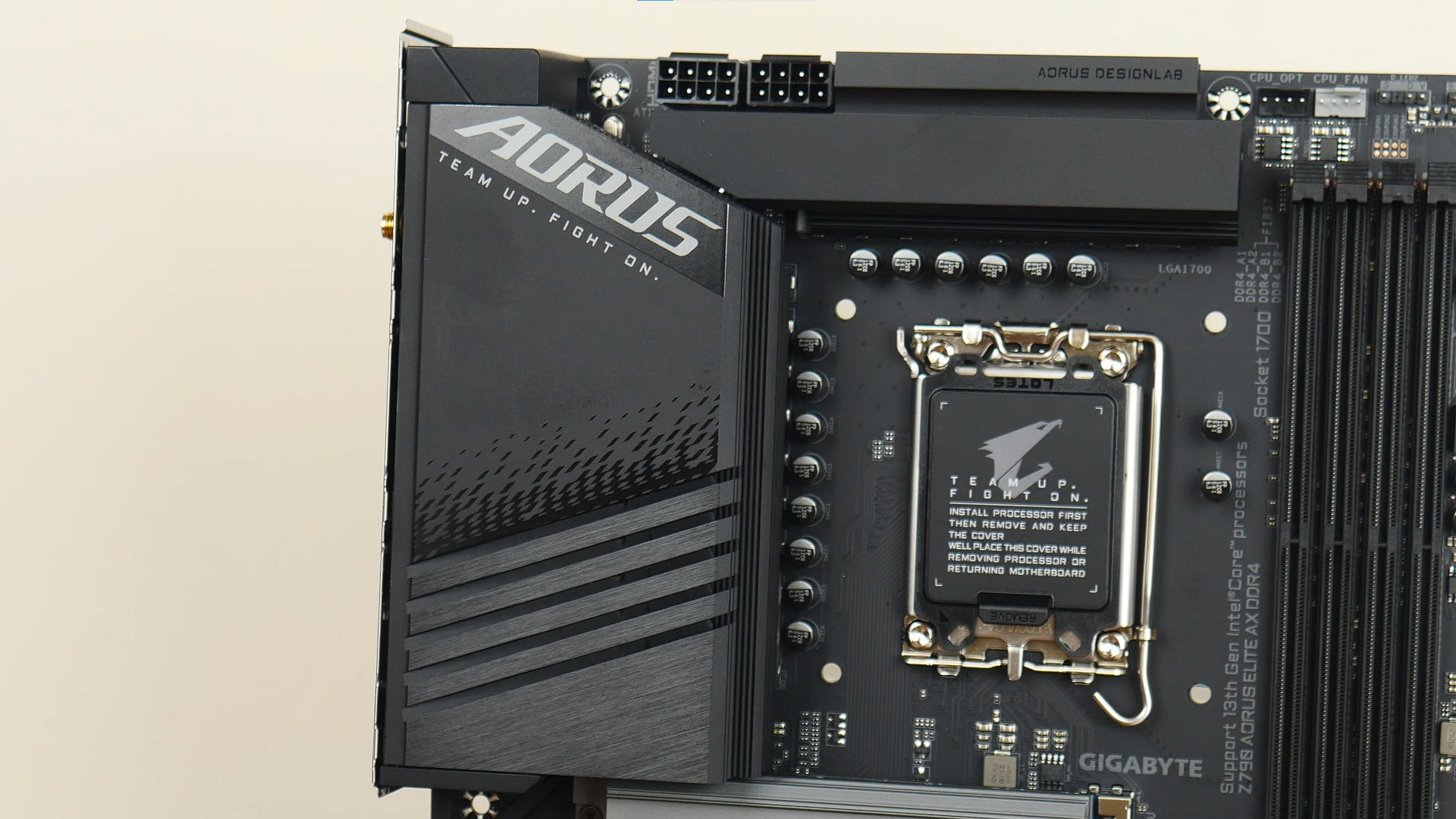 The board comes with an integrated I/O shield design, with large black heatsinks for the VRMs.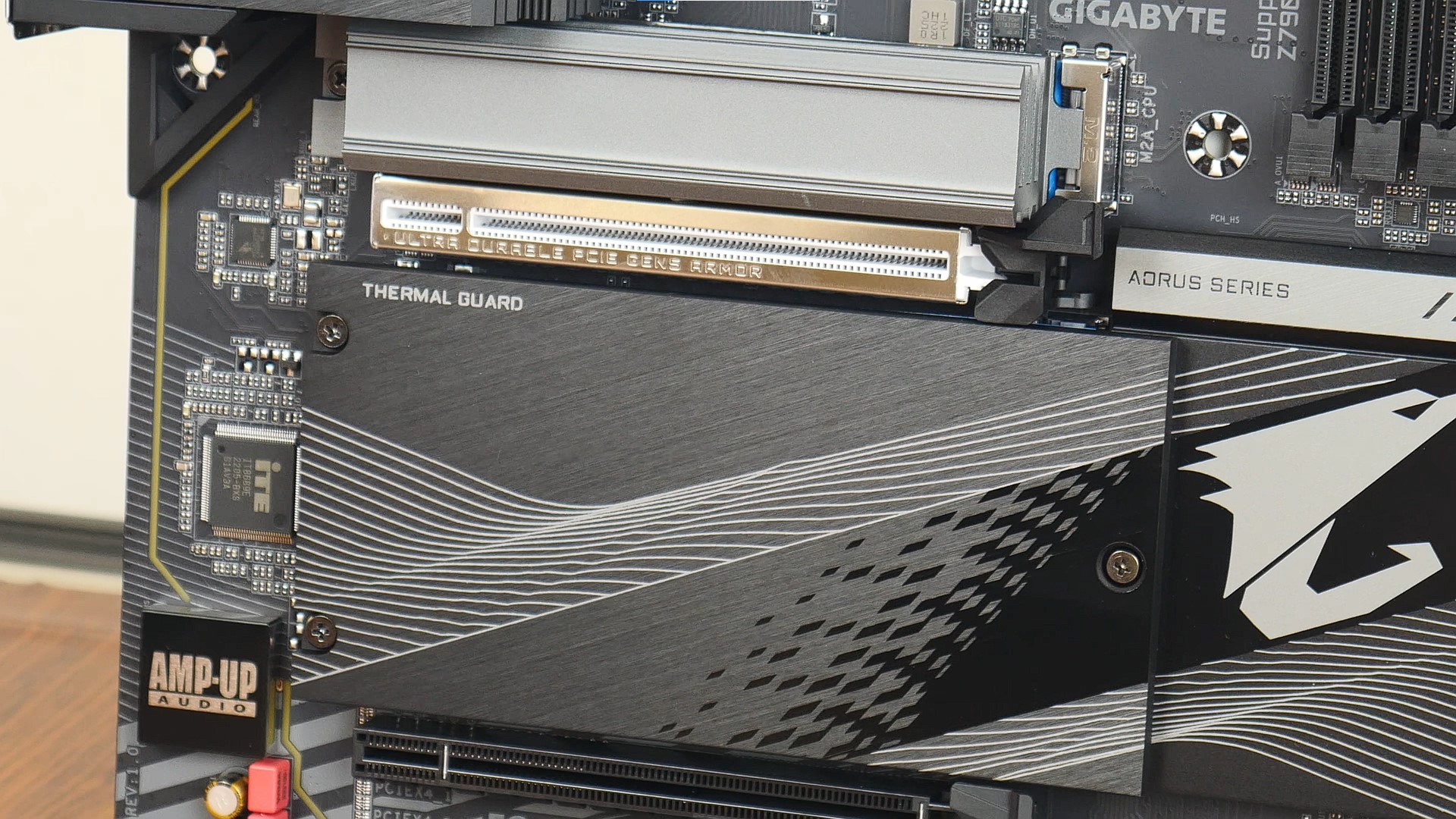 Also included is a chunky silver heatsink for the primary M.2 drive slot, and a shared heatsink for the remaining three M.2 drive slots that the Z790 AORUS ELITE AX DDR4 comes with.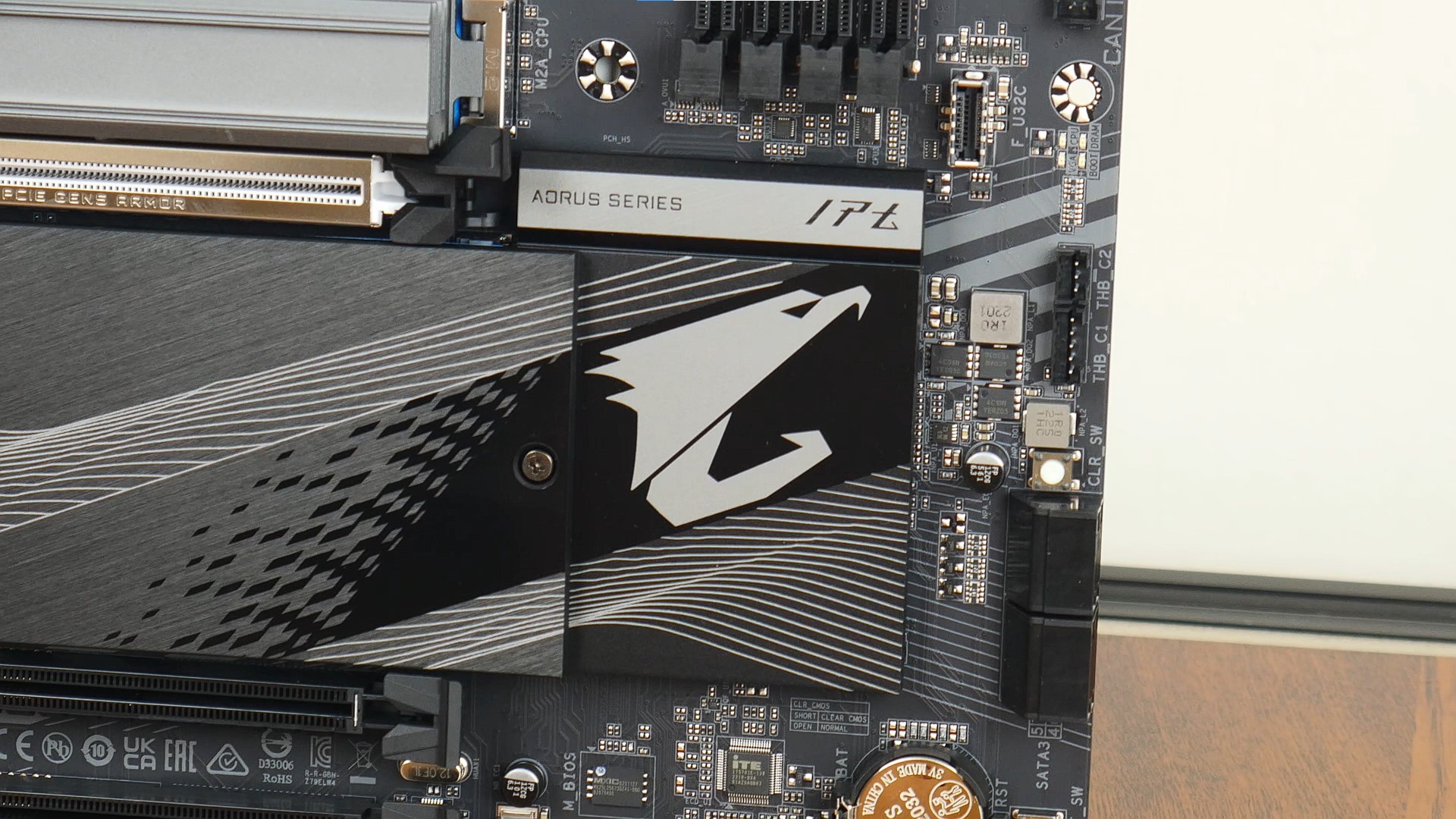 The Z790 chipset is cooled with a passive heatsink that sports the AORUS falcon motif that certainly enhances the overall appearance of the board. RGB junkies will be pleased to note that Gigabyte's included RGB LEDs beneath the chipset heatsink, which can be configured via the RGB Fusion app.
VRM & Memory Support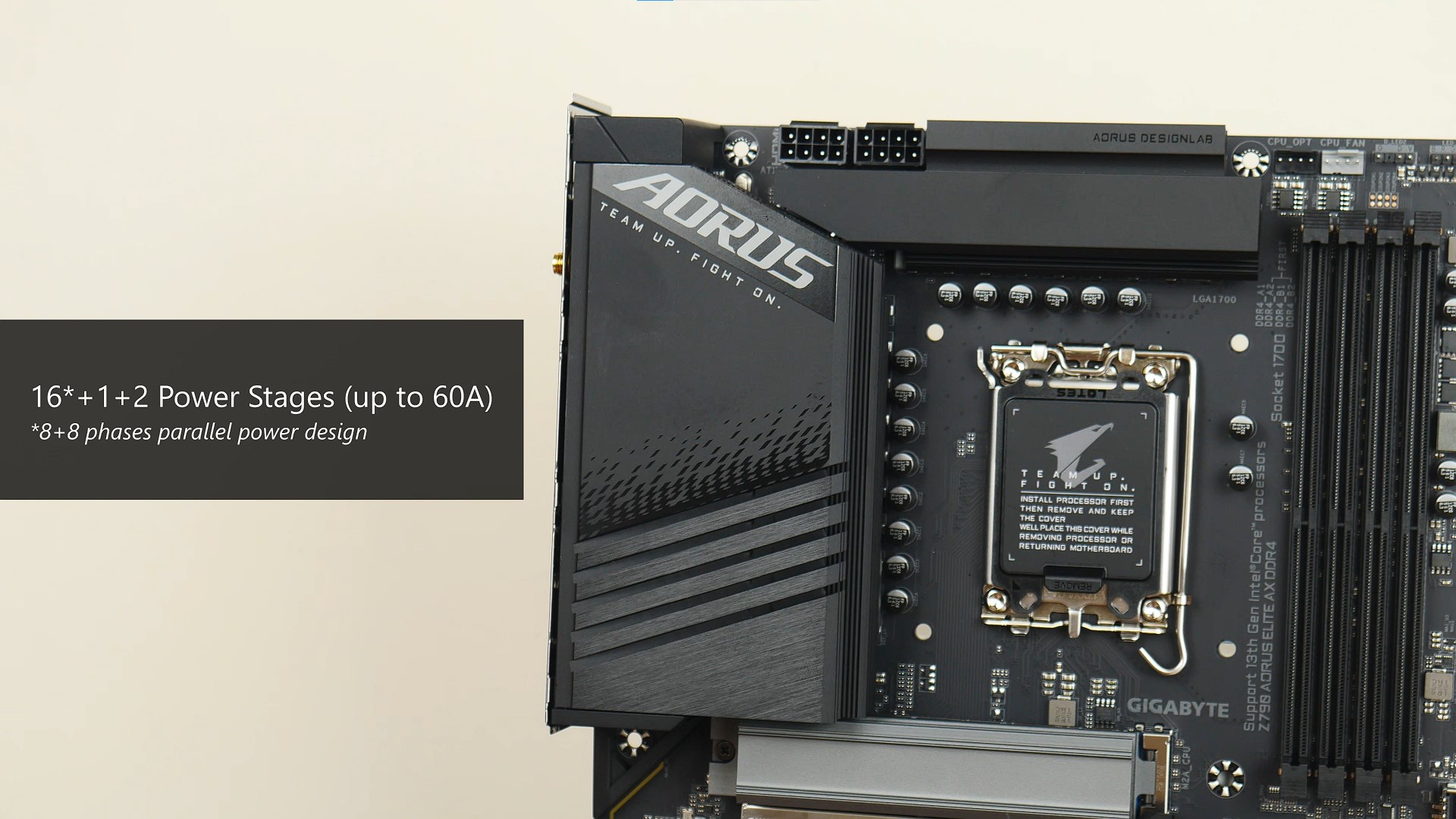 In terms of the board's VRM setup, Gigabyte's included 16+1+2 power stages rated for up to 60A, where its fine print states that the 16 phases for the processor is actually an "8+8 phases parallel power design".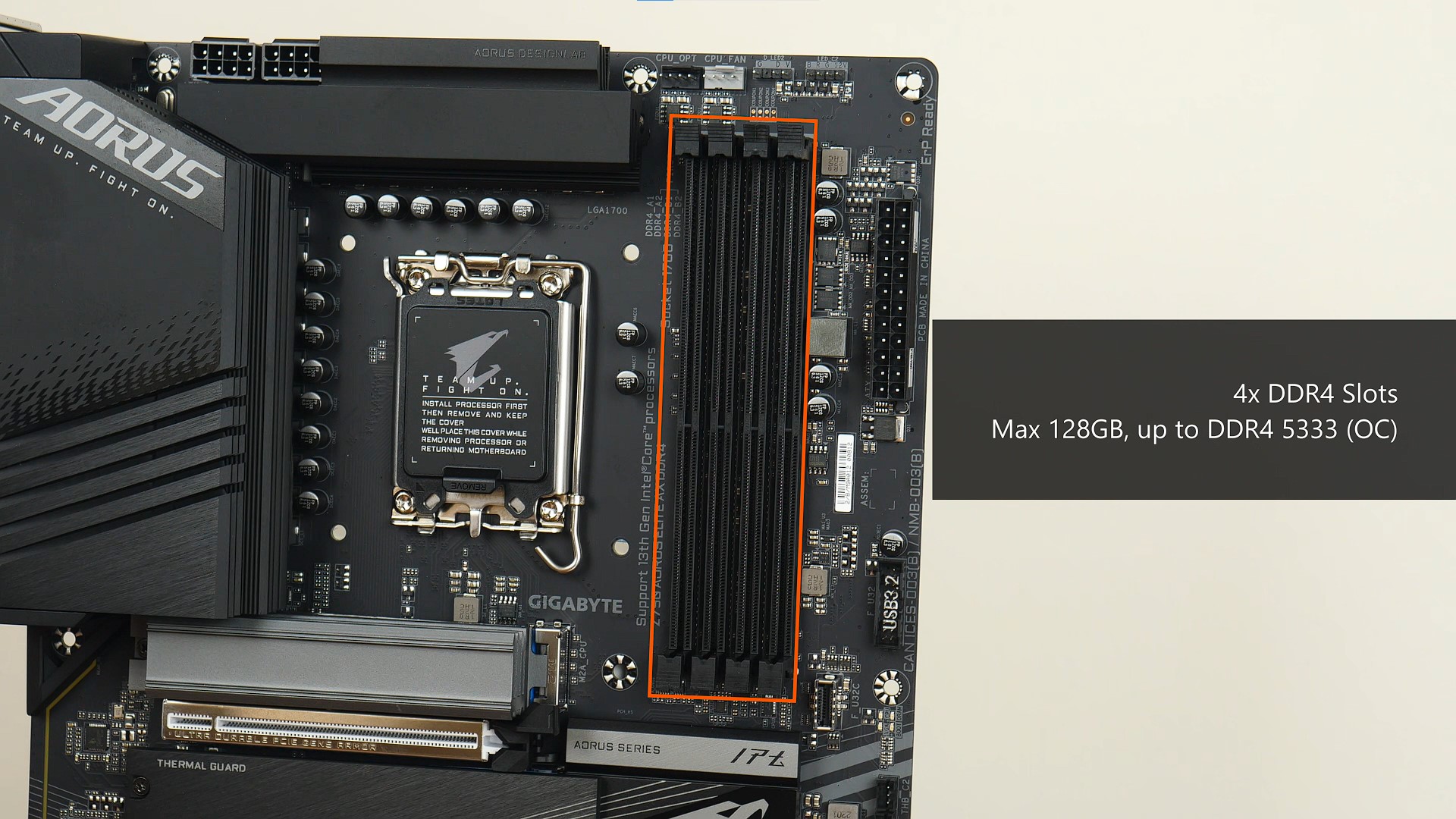 For memory support, the Z790 AORUS ELITE AX DDR4 comes with four DDR4 slots with support for up to 128GBs of RAM, and the DDR4 5333 standard when overclocked, with plastic slots of a dual-tabbed design. Do note that Gigabyte does manufacture a DDR5 variant of this board, the Z790 AORUS ELITE AX, so be sure to check the name of the motherboard before making a purchase, lest you end up with one that can't be used with the RAM that you have on hand.
Front Panel USB Headers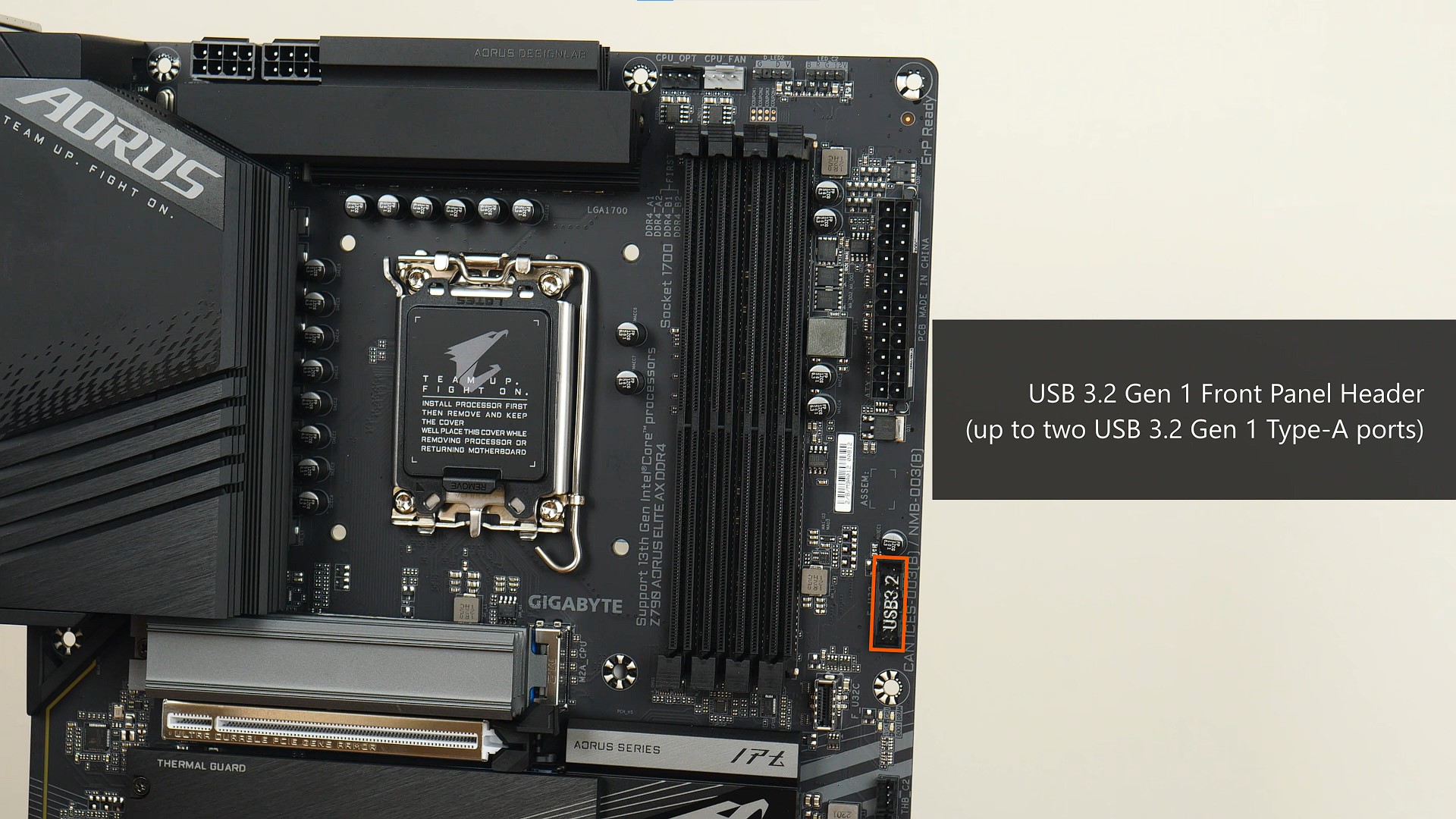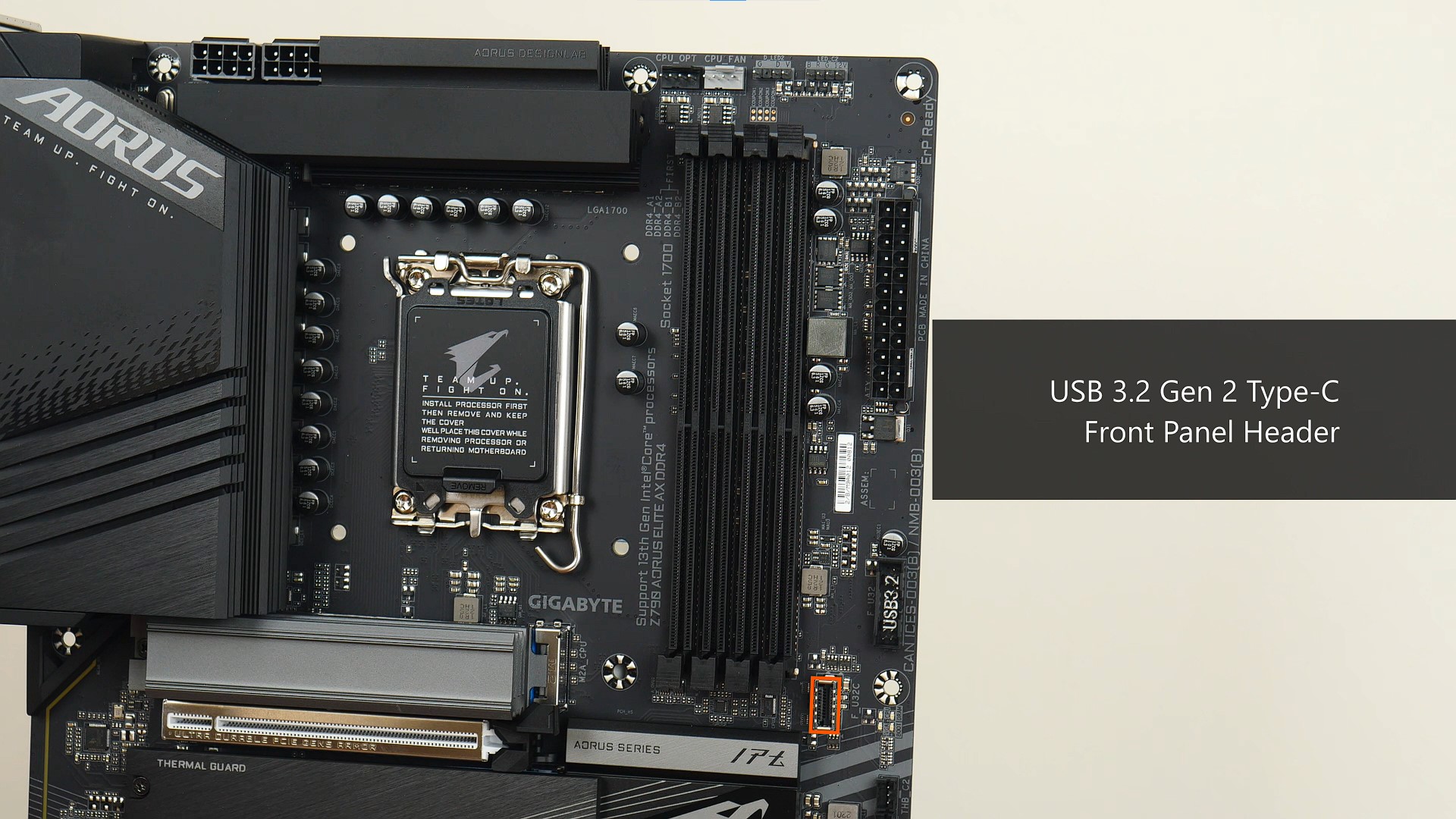 Moving on to front panel USB connectivity options, Gigabyte has included a single front panel USB 3.2 Gen 1 header that supports up to two front panel USB 3.2 Gen 1 Type-A ports, as well as a single USB 3.2 Gen 2 Type-C front panel header.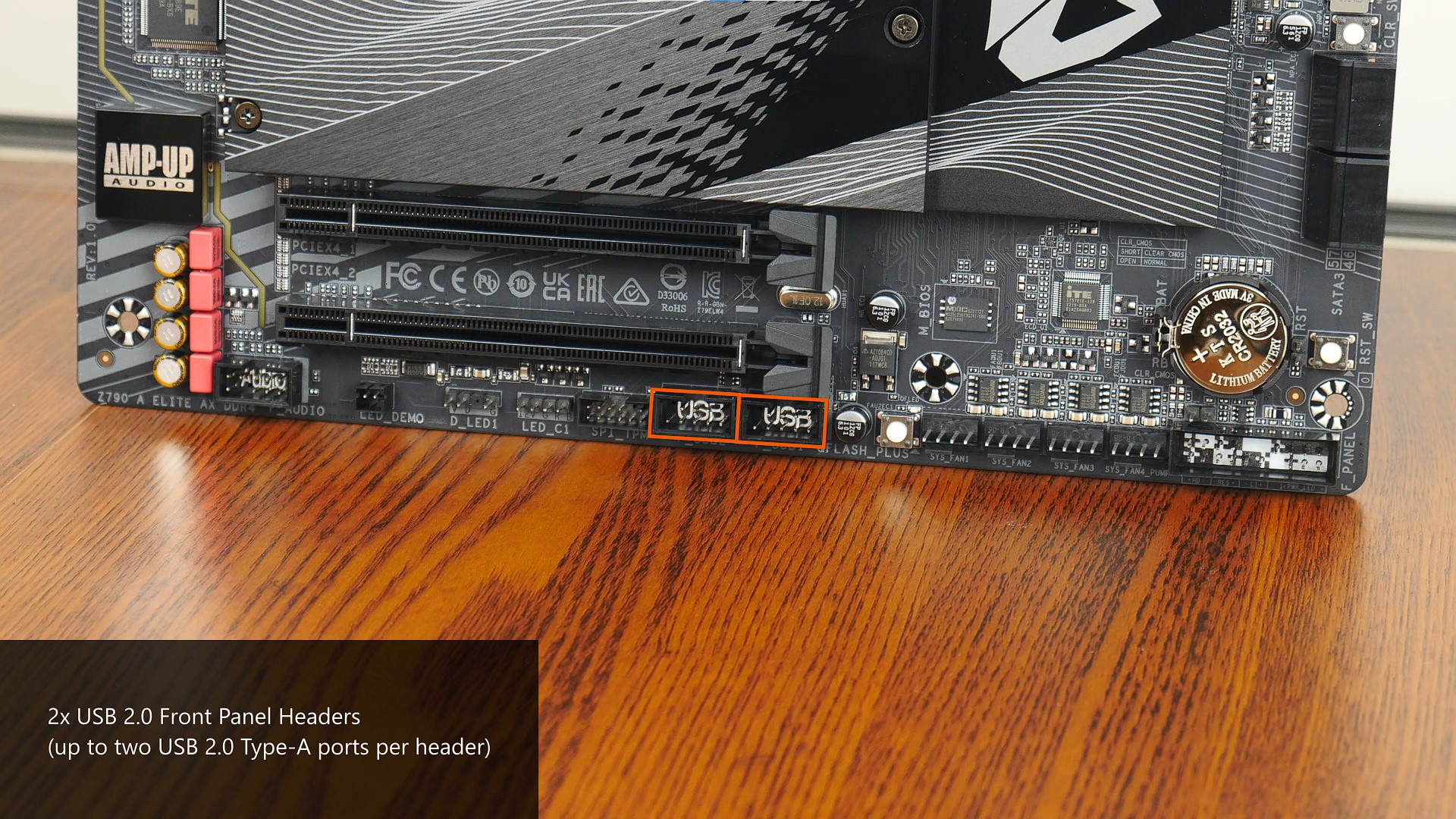 Rounding off the front panel USB connectivity section are two front panel USB 2.0 headers that can be found near the bottom edge of the board, with each header providing for two front panel USB 2.0 Type-A ports.
Expansion Slots & Storage Options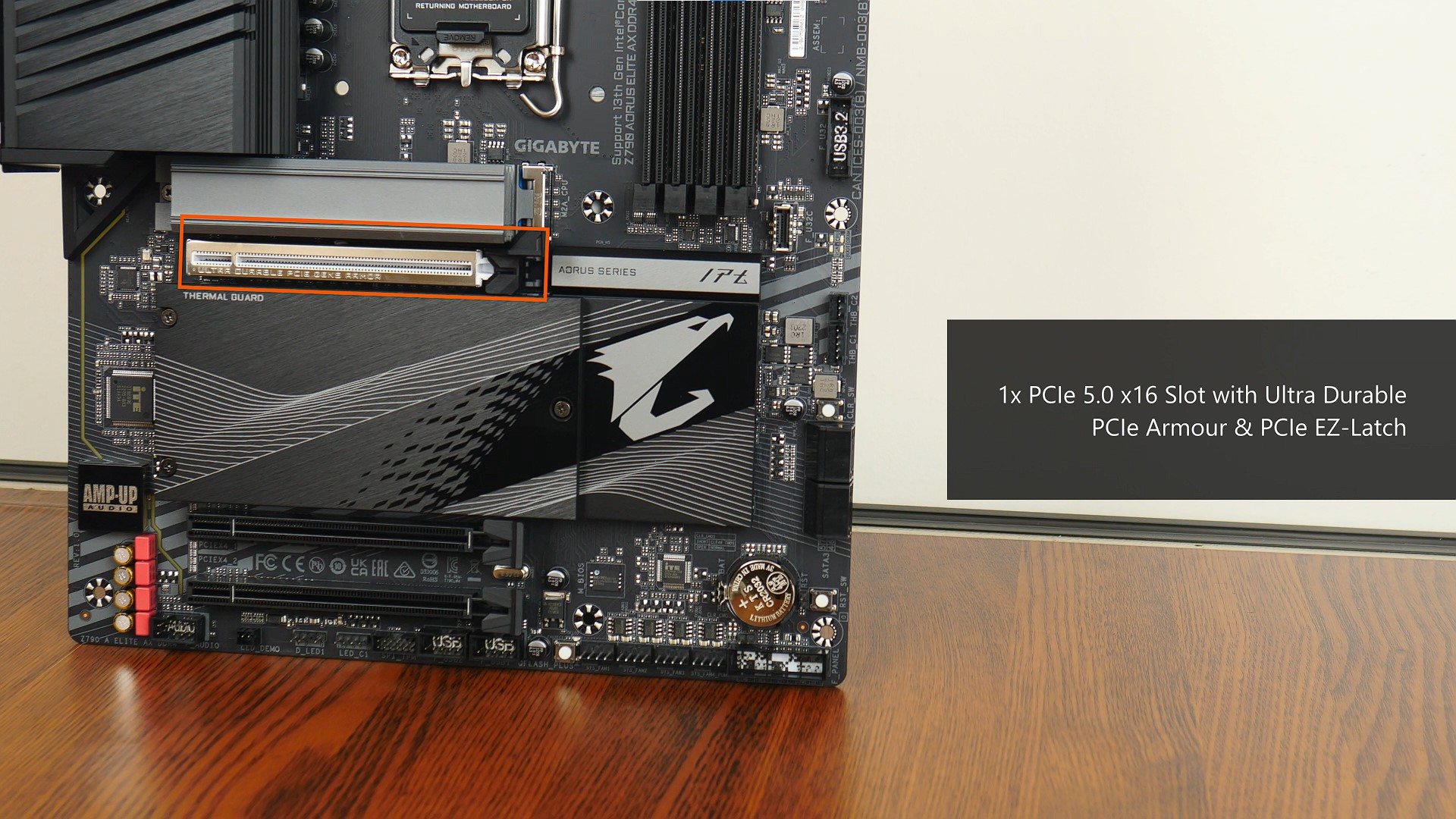 The Z790 AORUS ELITE AX DDR4 comes with a single PCIe 5.0 x16 slot that boasts Gigabyte's Ultra Durable PCIe Armour that reinforces the slot against heavy graphics cards. The slot also comes with the PCIe EZ-Latch feature, which is essentially an oversized retention tab on the PCIe slot that helps make removing a graphics card from the slot less of a painful affair in a completed PC build.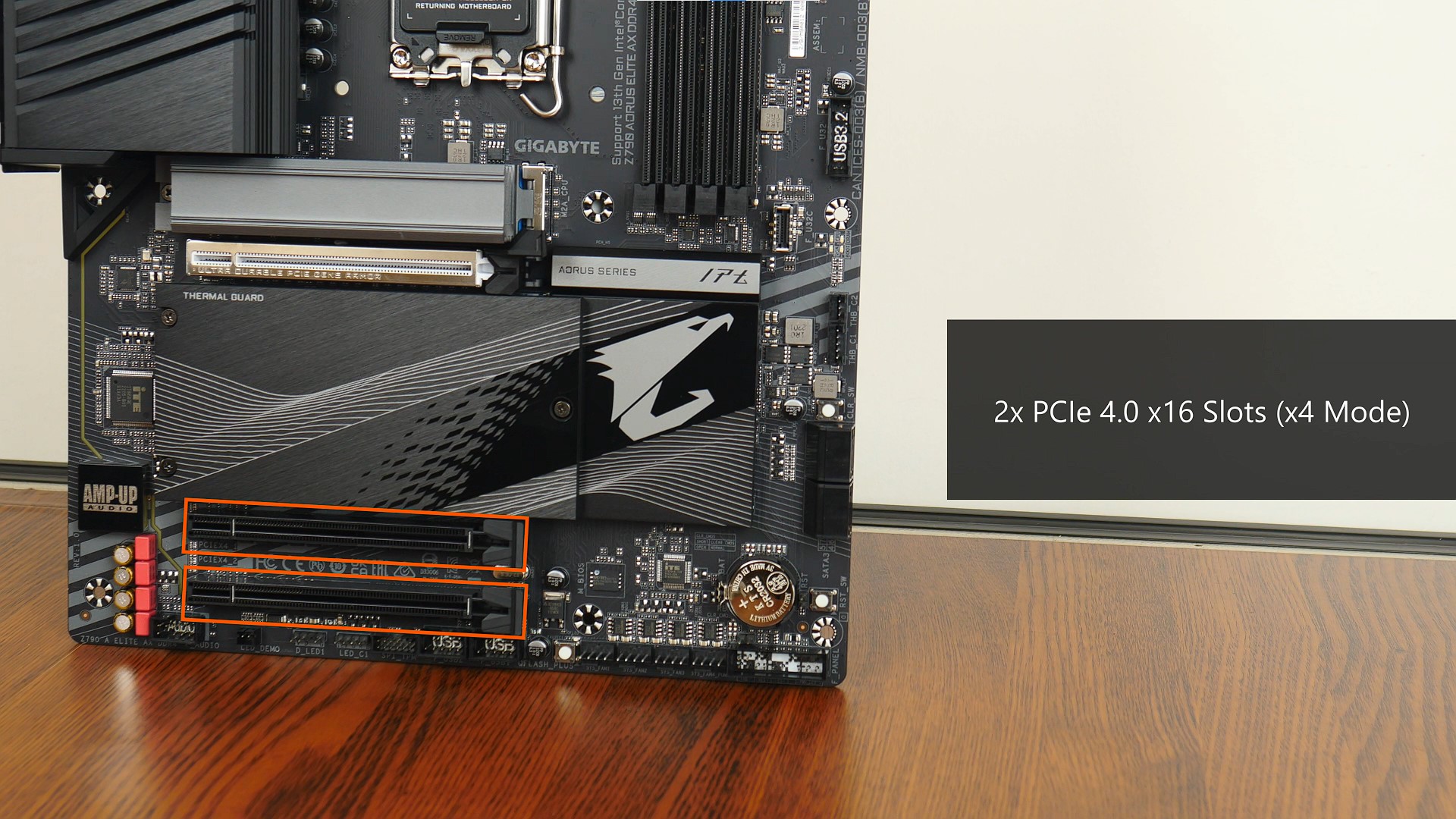 Also included are two full-length PCIe 4.0 x16 slots that both operate at x4 mode.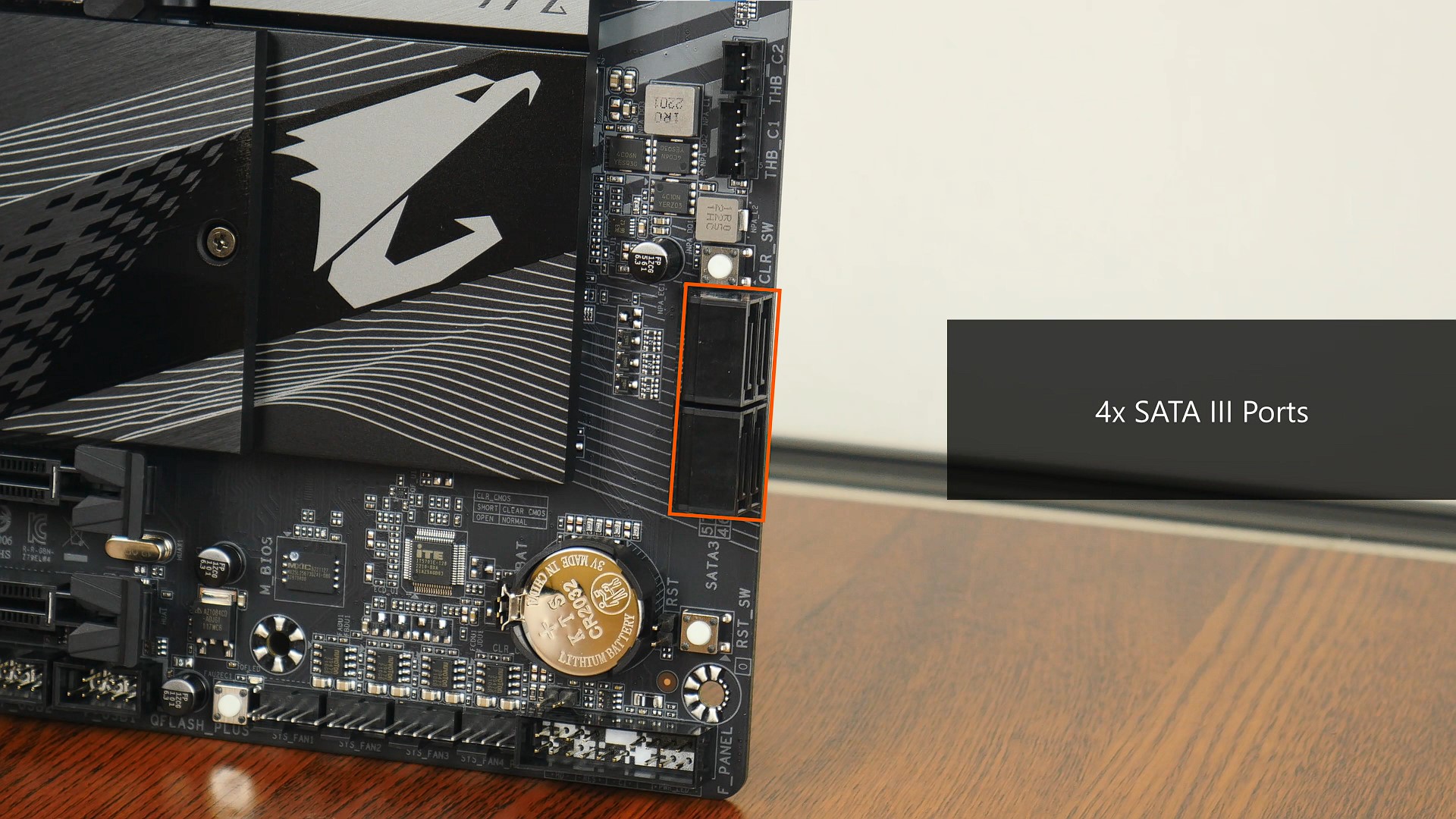 Four SATA III ports are included with the board, with all four ports positioned at a right angle so as to aid with cable management.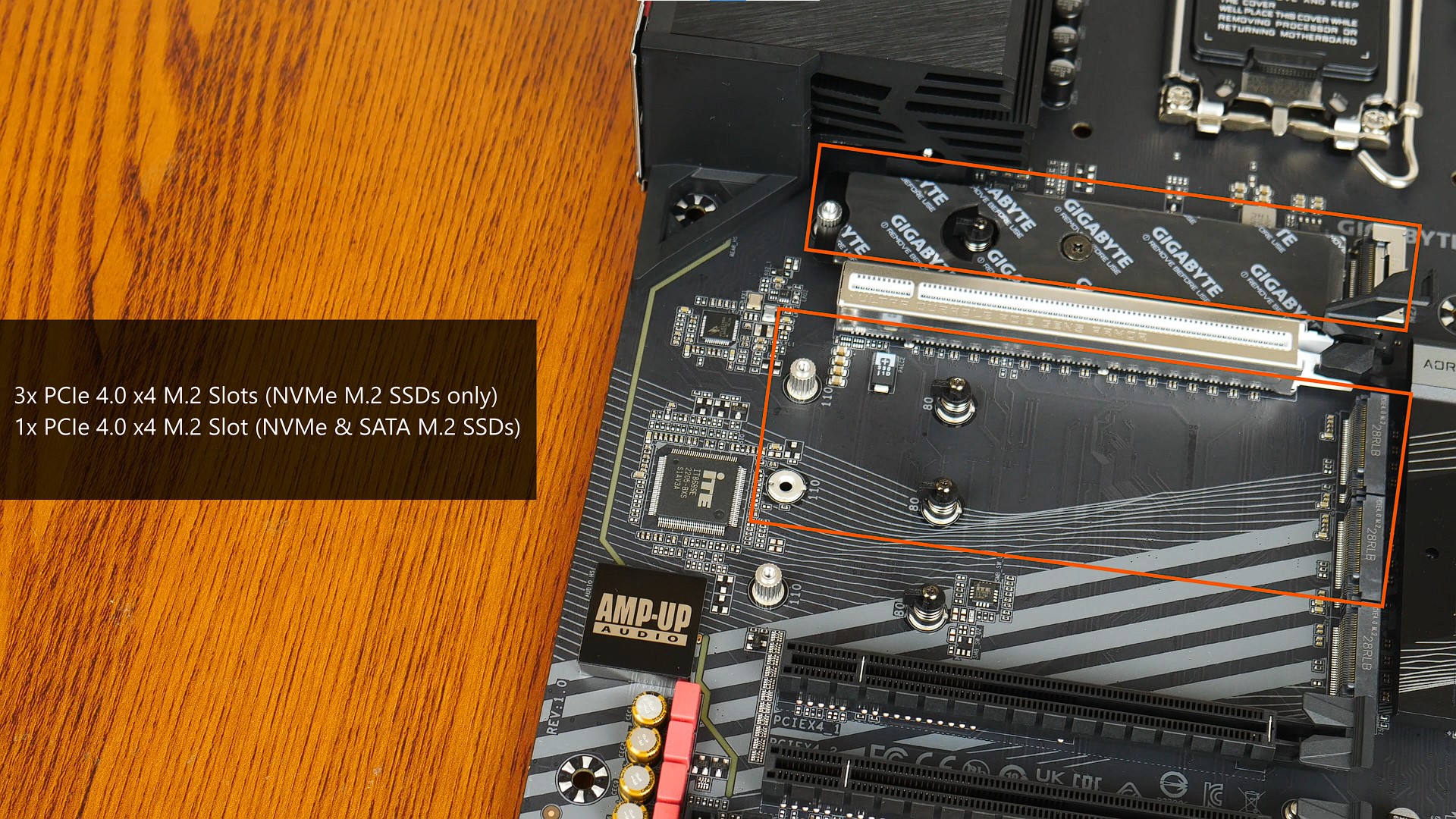 The Z790 AORUS ELITE AX DDR4 also comes with four PCIe 4.0 x4 M.2 slots, of which the first three slots highlighted above support only NVMe M.2 drives...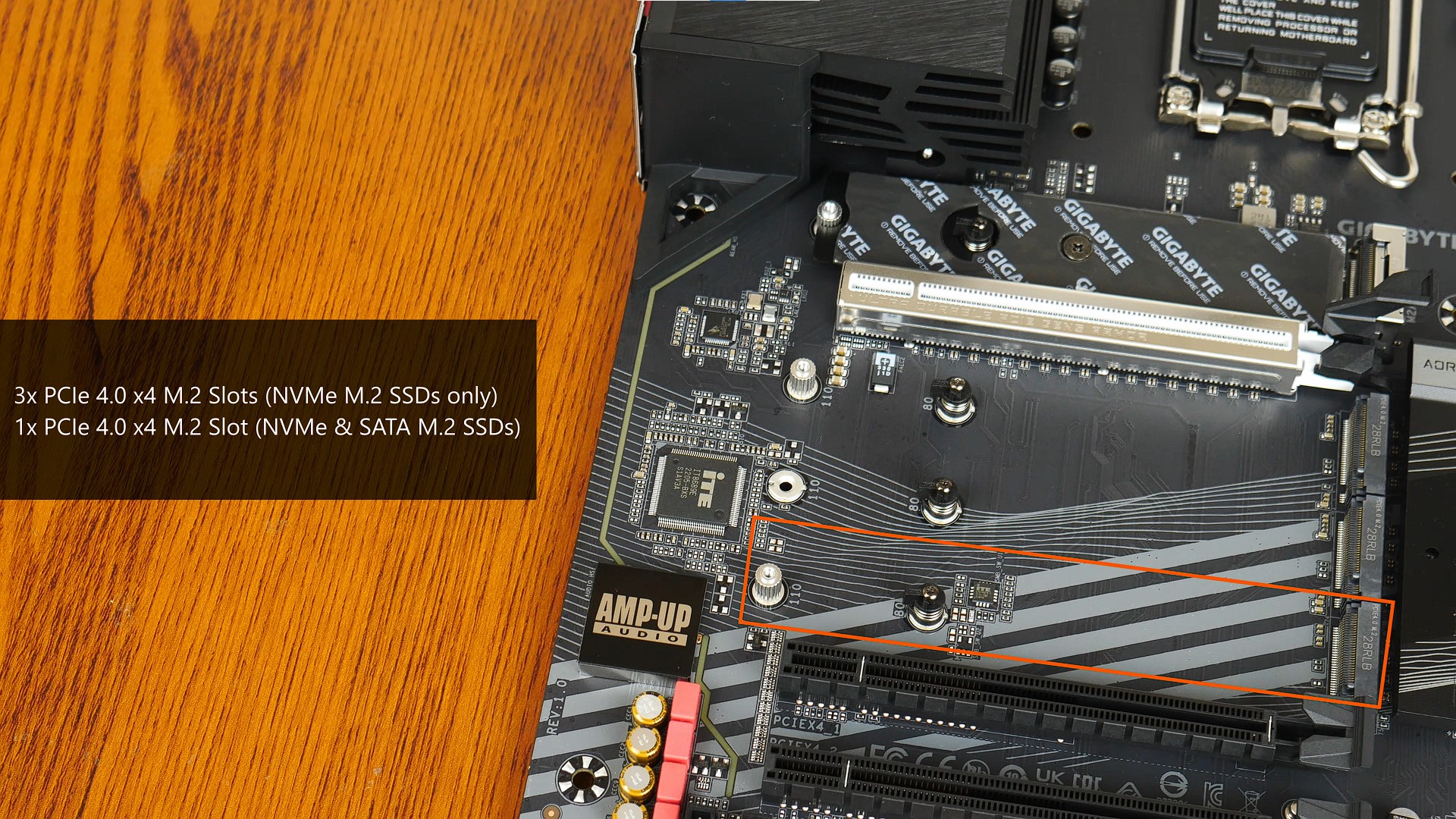 ...whilst the fourth and bottom slot, M2M_SB, supports both NVMe and SATA M.2 drives.
Audio & Internet Connectivity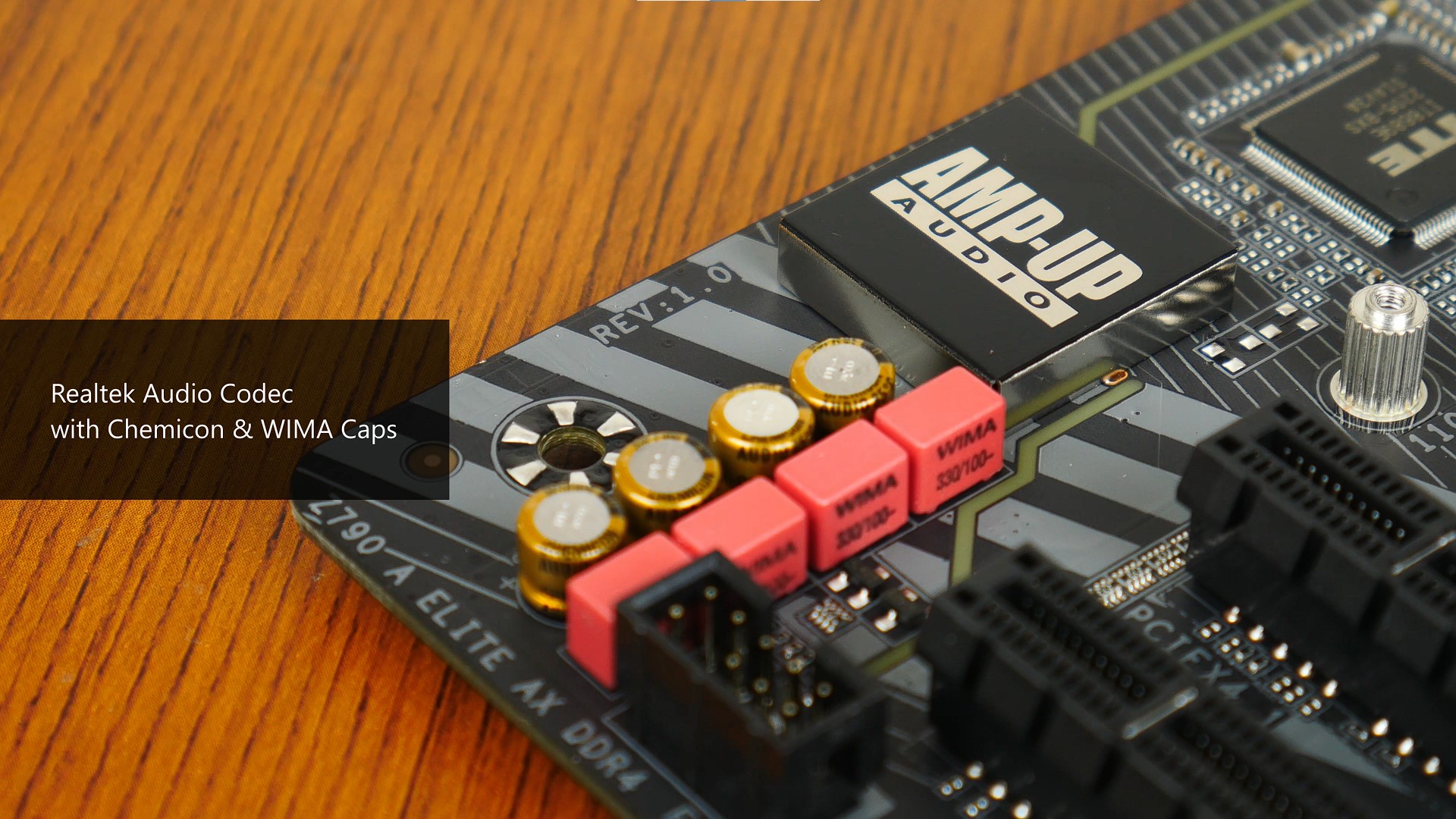 For some reason, Gigabyte doesn't disclose on its public-facing assets what model of Realtek audio codec that the Z790 AORUS ELITE AX DDR4 comes with, and this is not helped by the fact that the audio chip sits beneath a metal shield that prevents visual identification. That said, some internet sleuthing reveals that this board likely comes with the ALC897 audio codec, which is an entry-level part. Accompanying the Realtek audio codec are premium Chemicon and WIMA capacitors that should help with enhancing the audio experience with this board.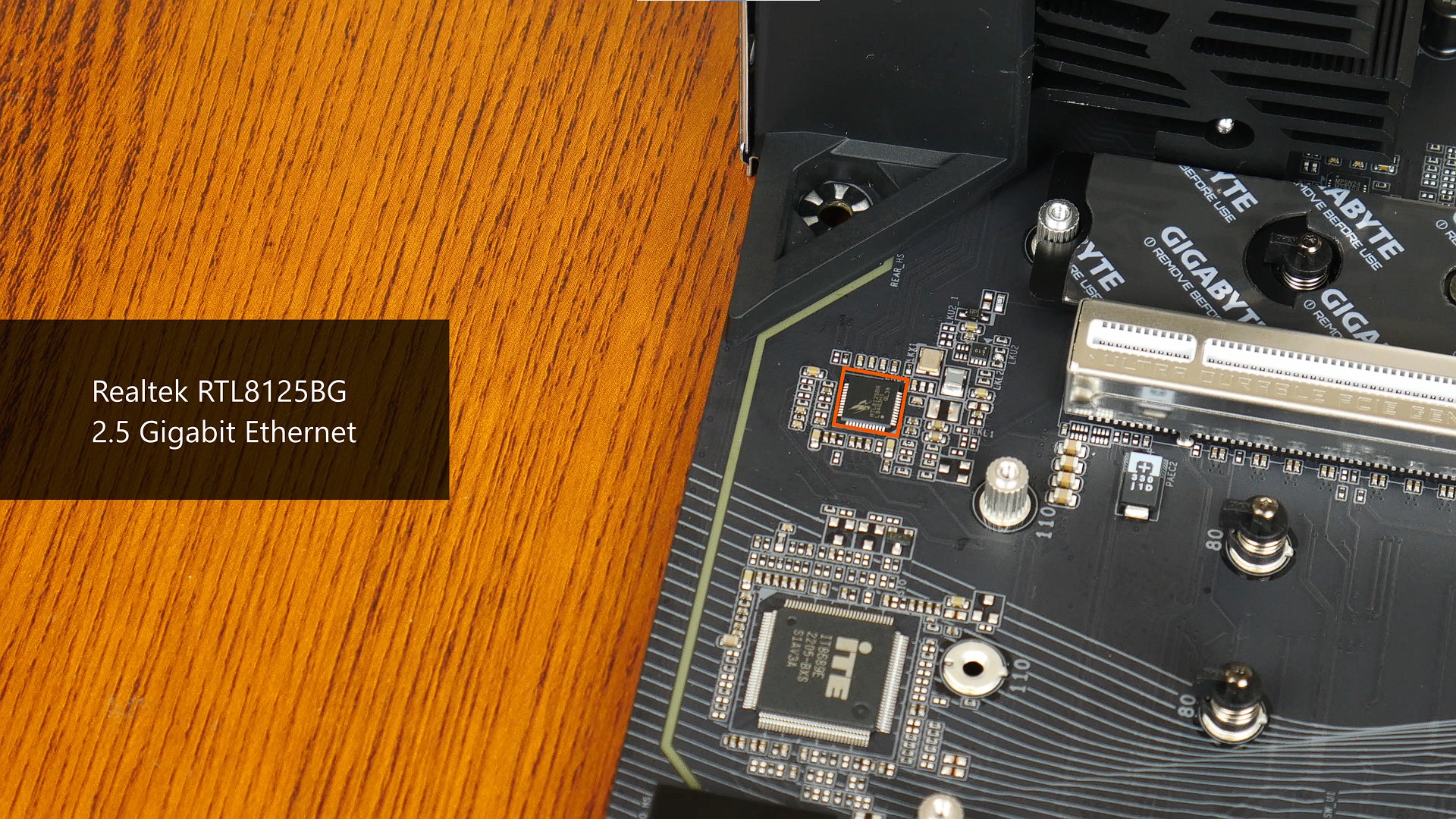 Wired internet connectivity for the board is powered by another Realtek part, the RTL8125BG, which serves up 2.5 Gigabit Ethernet connectivity. Wireless connectivity on the other hand, is courtesy of Intel's AX211NGW that provides for WIFI 6E connectivity and Bluetooth 5.3 support.
Fan & RGB Headers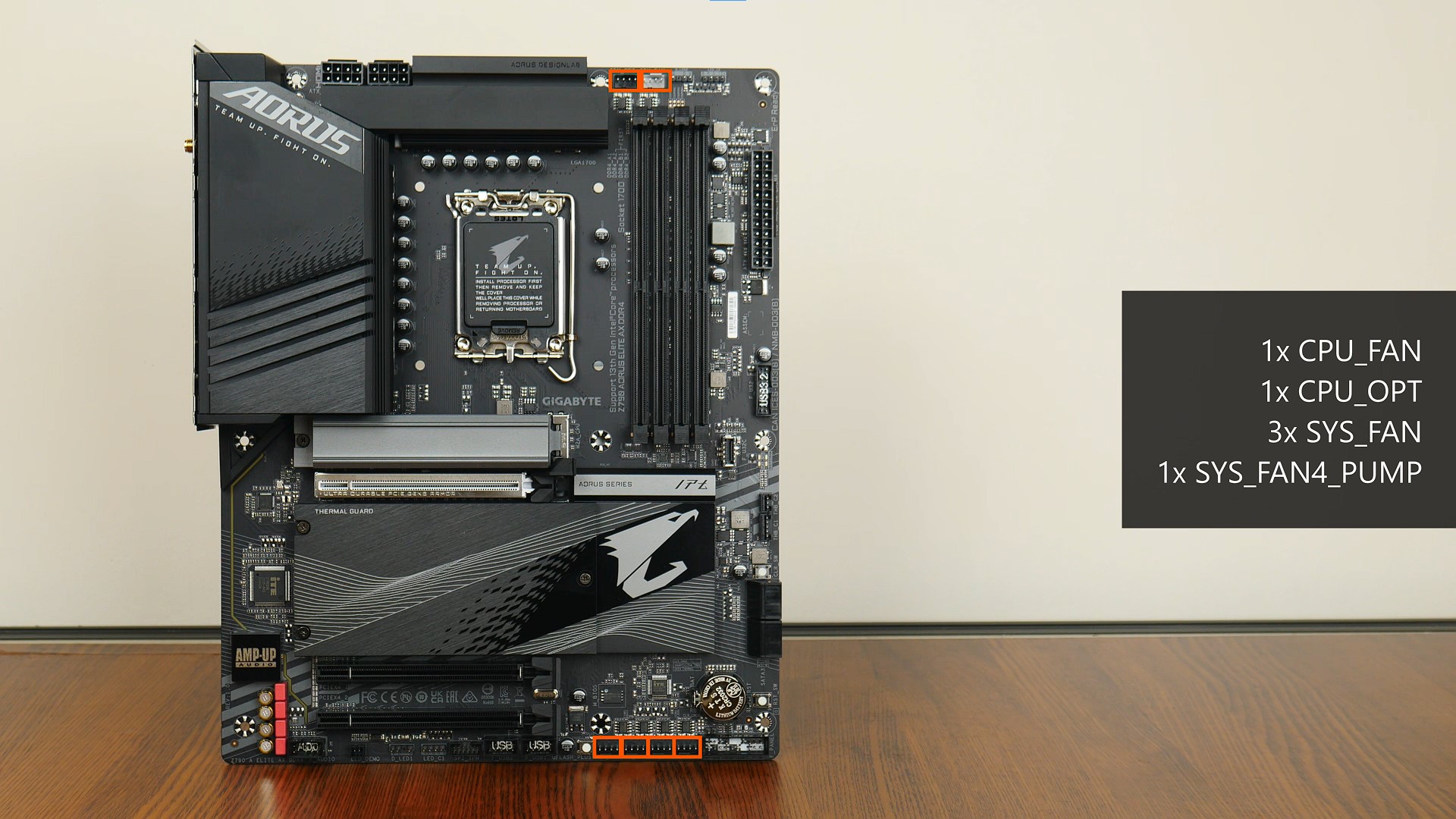 Fan headers are in no short supply with the Z790 AORUS ELITE AX DDR4, where it comes with six of them:
1x CPU_FAN
1x CPU_OPT
3X SYS_FAN
1x SYS_FAN4_PUMP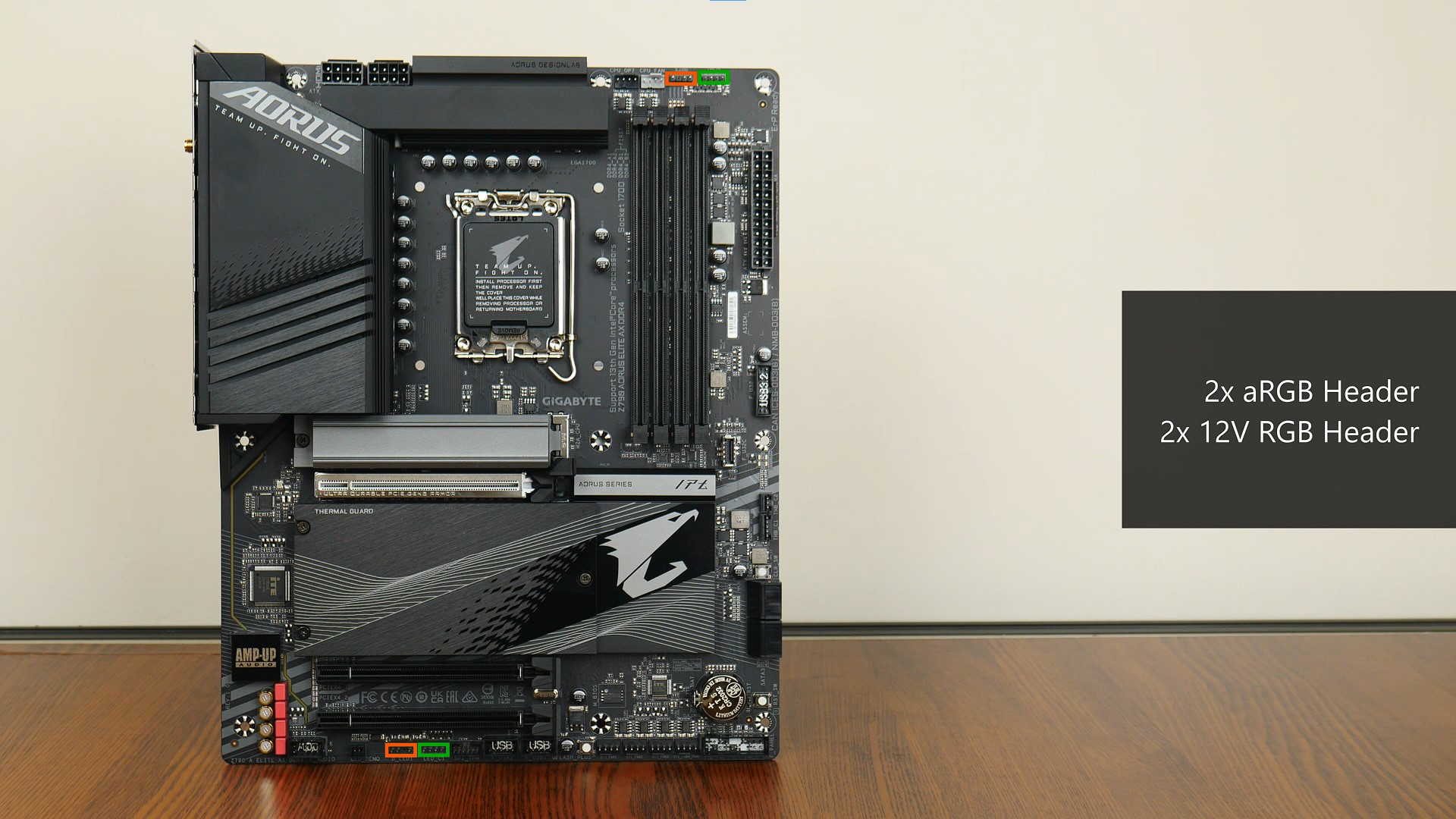 Also included are two addressable RGB headers, as well as two 12V RGB headers.
Other Features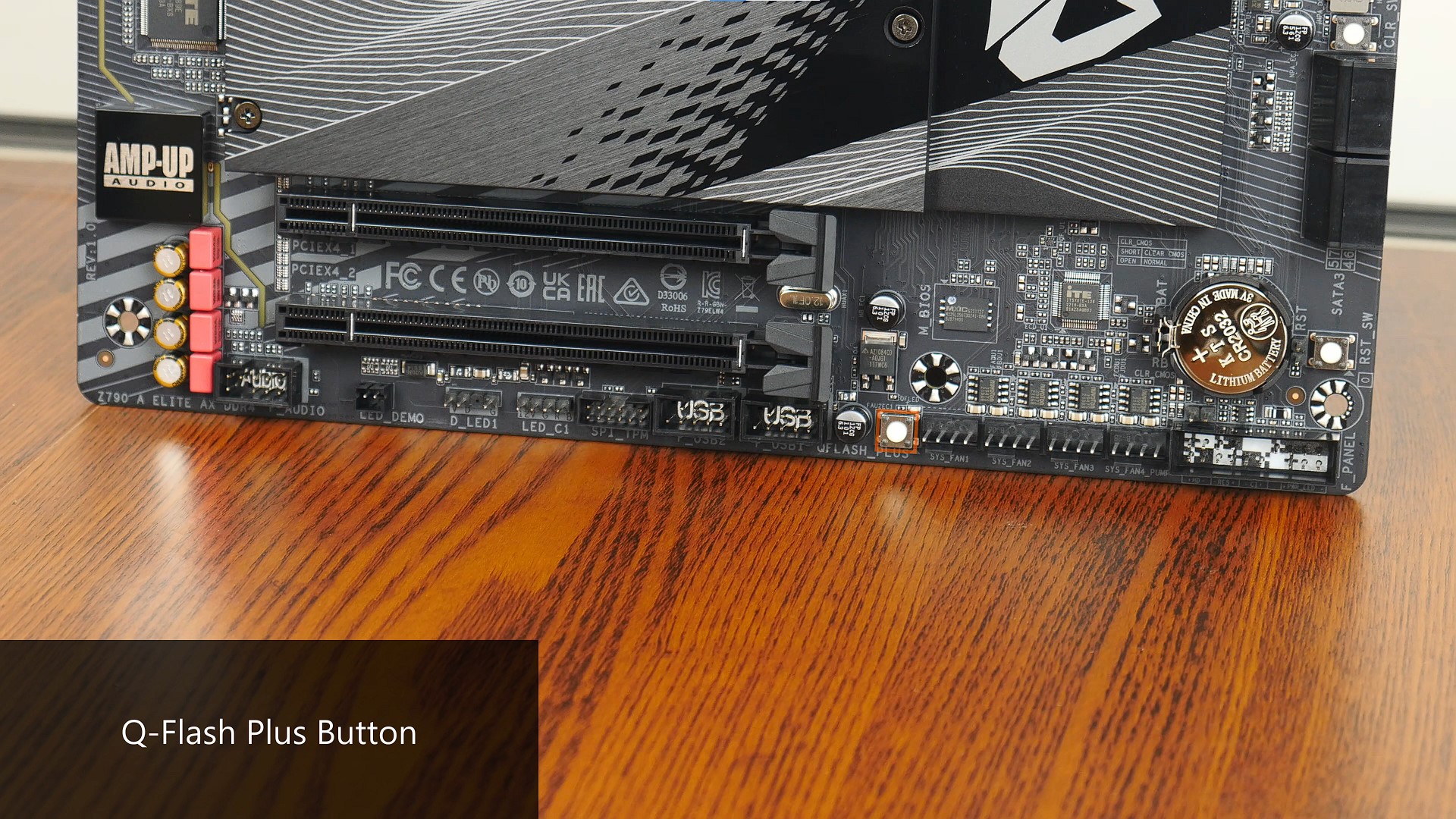 Q-Flash Plus is Gigabyte's flavour of a feature that allows end-users to update a motherboard's BIOS without needing to install a processor, RAM or graphics card, and the Z790 AORUS ELITE AX DDR4 comes with a Q-Flash Plus button near the bottom edge of the board for this very purpose. A handy feature to have for sure, seeing as Intel has yet to release lower-end Raptor Lake processor offerings to round up its 13th generation CPU stack (as of the time of writing this article).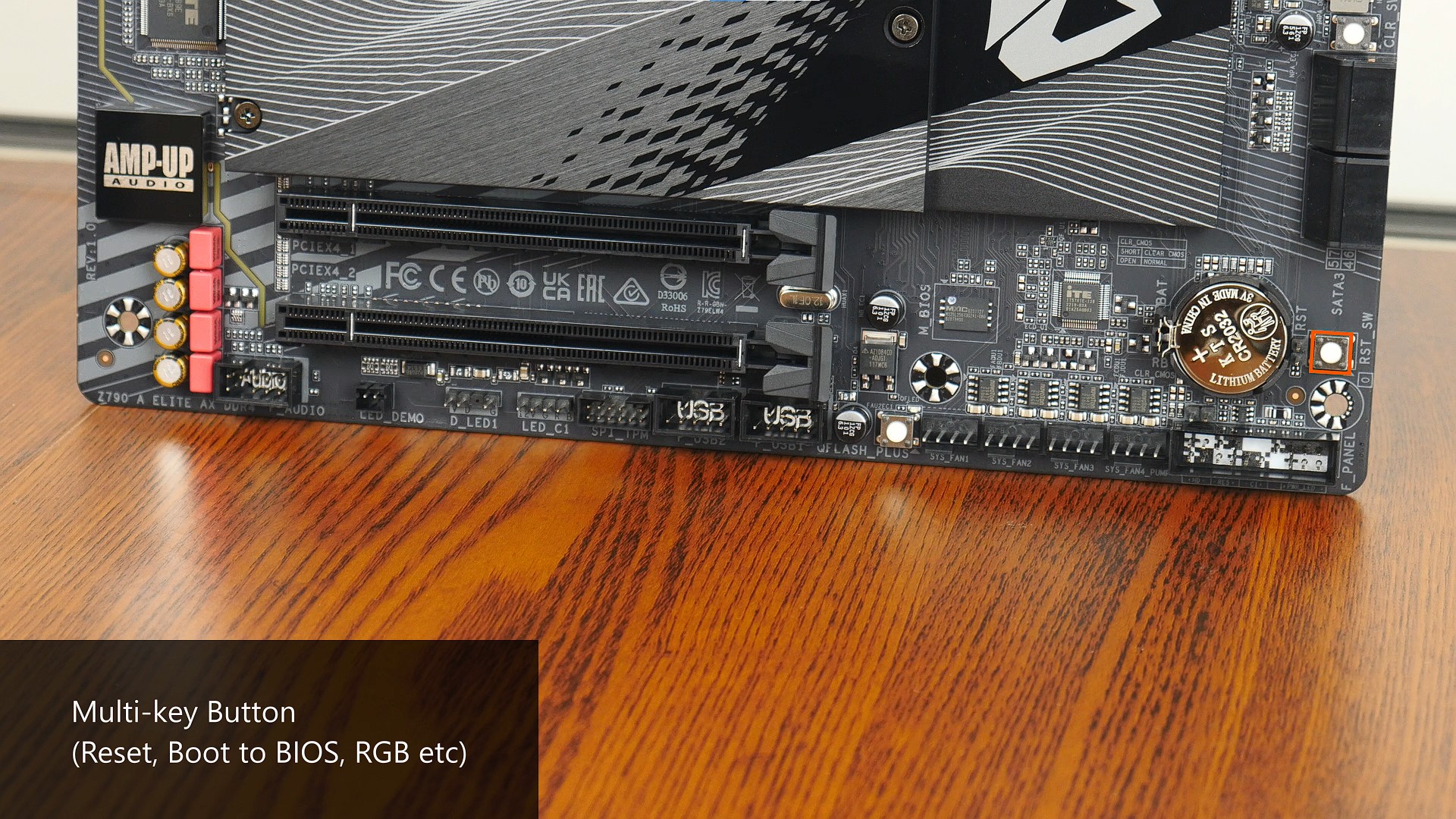 Further to the right of the bottom edge of the board, is a multi-key button that can be configured within the BIOS to serve a variety of different functions. Some possible functions include to serve as a reset switch, or even to control the RGB lighting effects of supported peripherals connected to the RGB headers of the motherboard.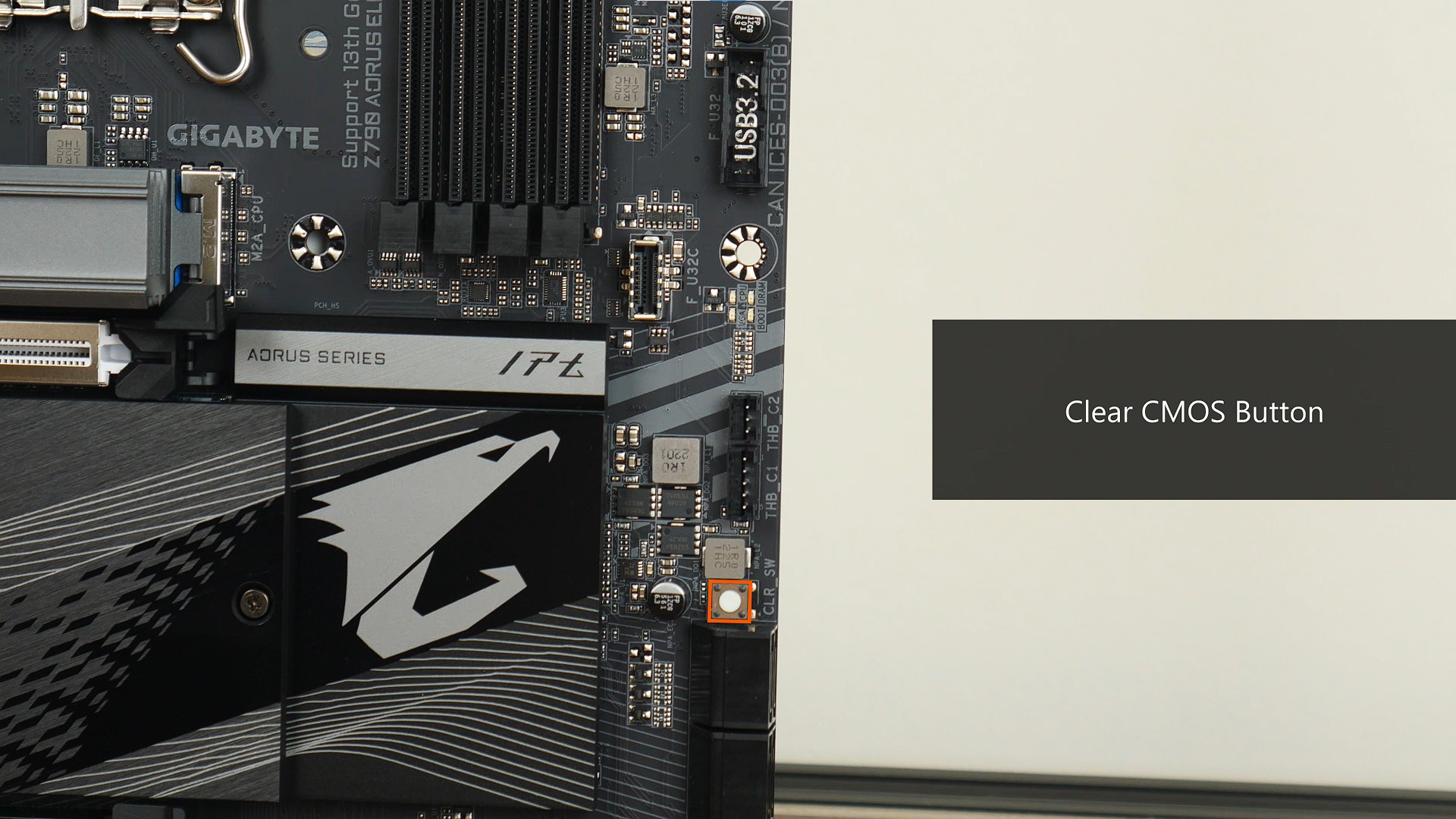 Near the SATA ports is a Clear CMOS button that allows end-users to reset the board's BIOS without having to remove the onboard CMOS battery.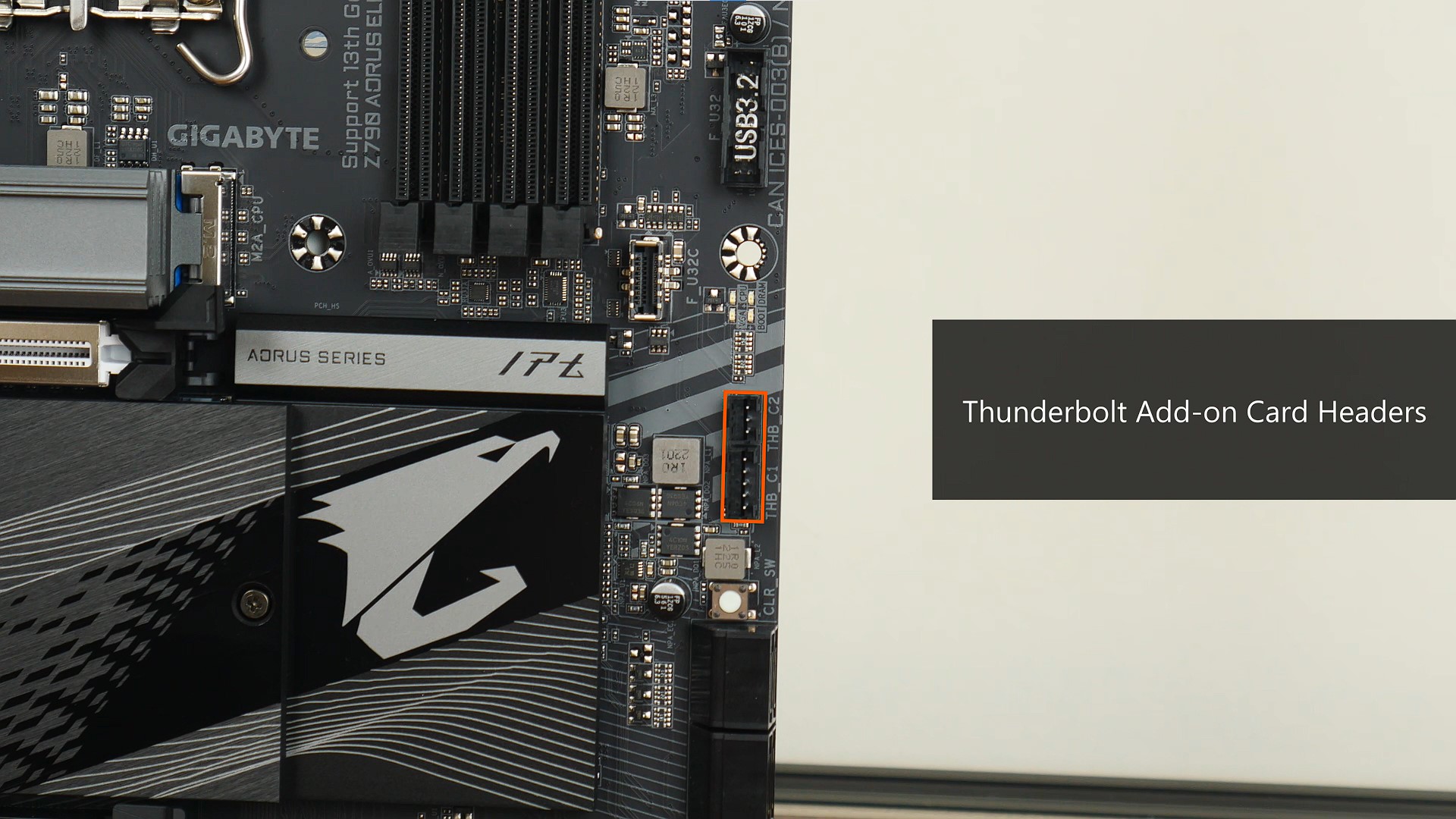 The board also comes with Thunderbolt add-on card headers that are to be used in conjunction with a Thunderbolt add-on card that is sold separately by Gigabyte - the said optional card adds additional Thunderbolt 4 and DisplayPort connectors to your PC.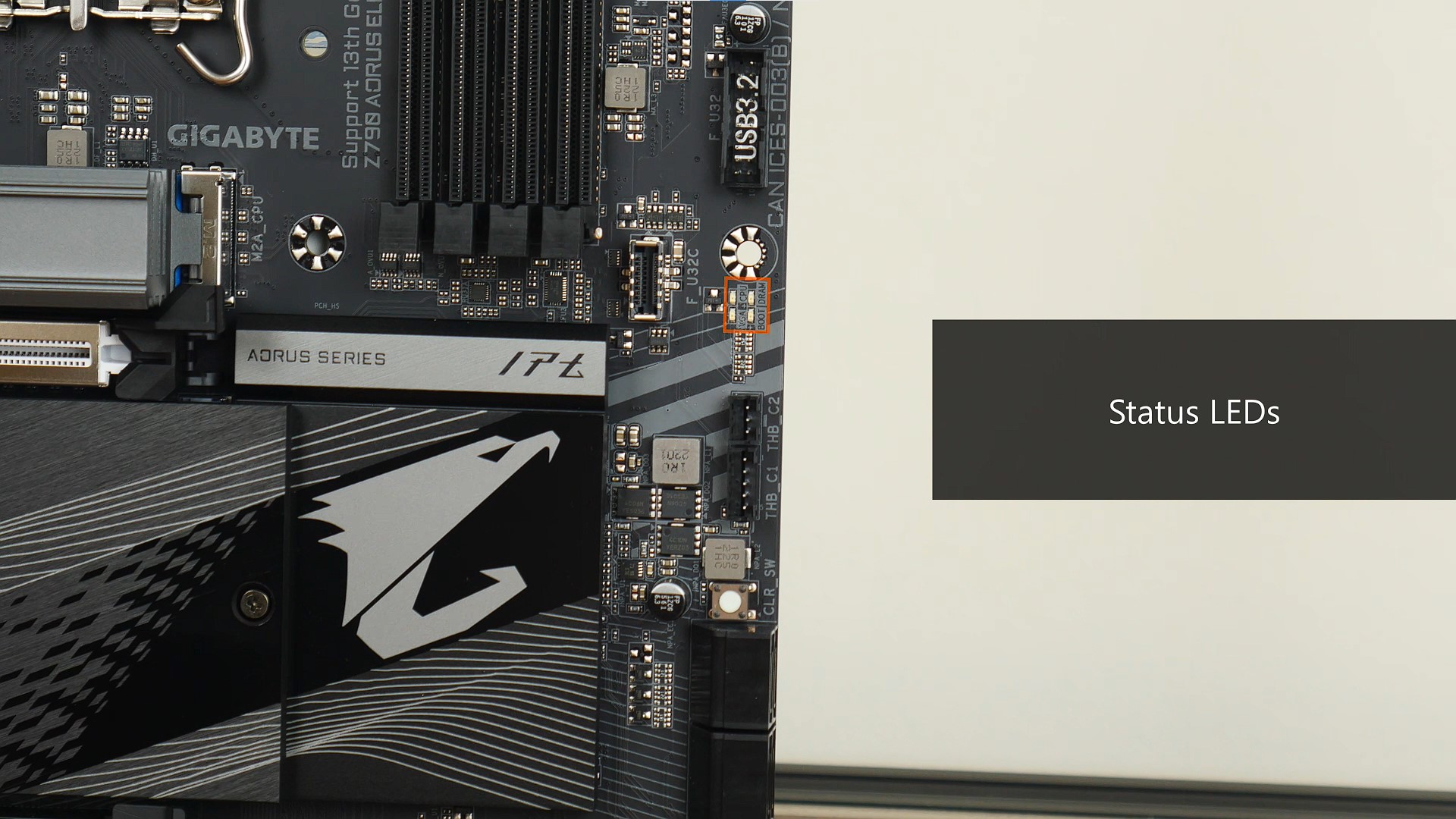 To aid with the diagnosis of PC startup issues, Gigabyte has also included a set of Status LEDs that can help with troubleshooting efforts.
Rear I/O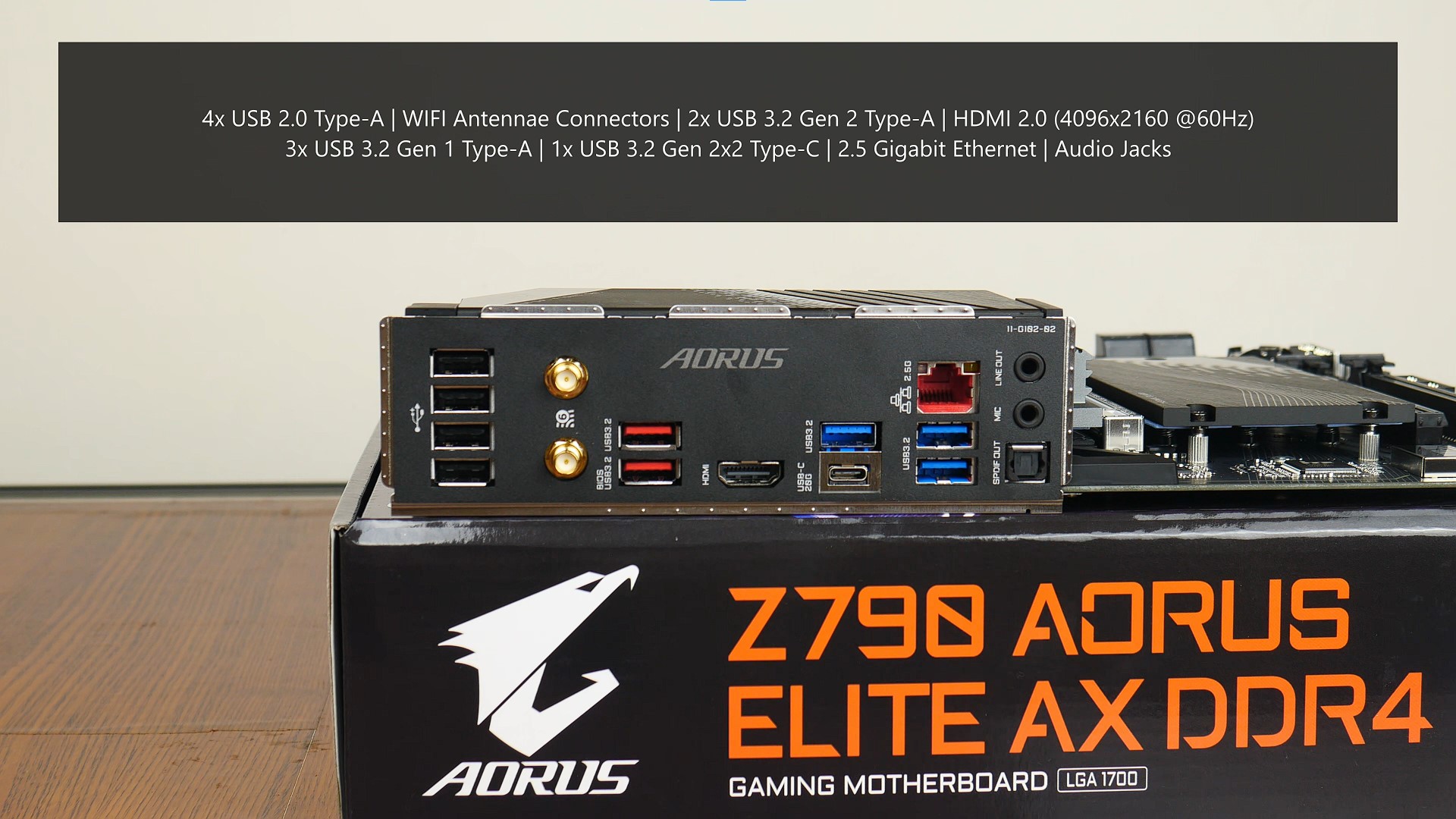 The Z790 AORUS ELITE AX DDR4 comes with an integrated I/O shield, and has the following ports on the rear I/O:
4x USB 2.0 Type-A
WIFI antennae connectors
2x USB 3.2 Gen 2 Type-A (10 Gbps)
1x HDMI 2.0 port (max 4096x2160@60Hz)
3x USB 3.2 Gen 1 Type-A (5 Gbps)
1x USB 3.2 Gen 2x2 Type-C (20 Gbps)
2.5 Gigabit Ethernet port
Audio jacks
Conclusion & Pricing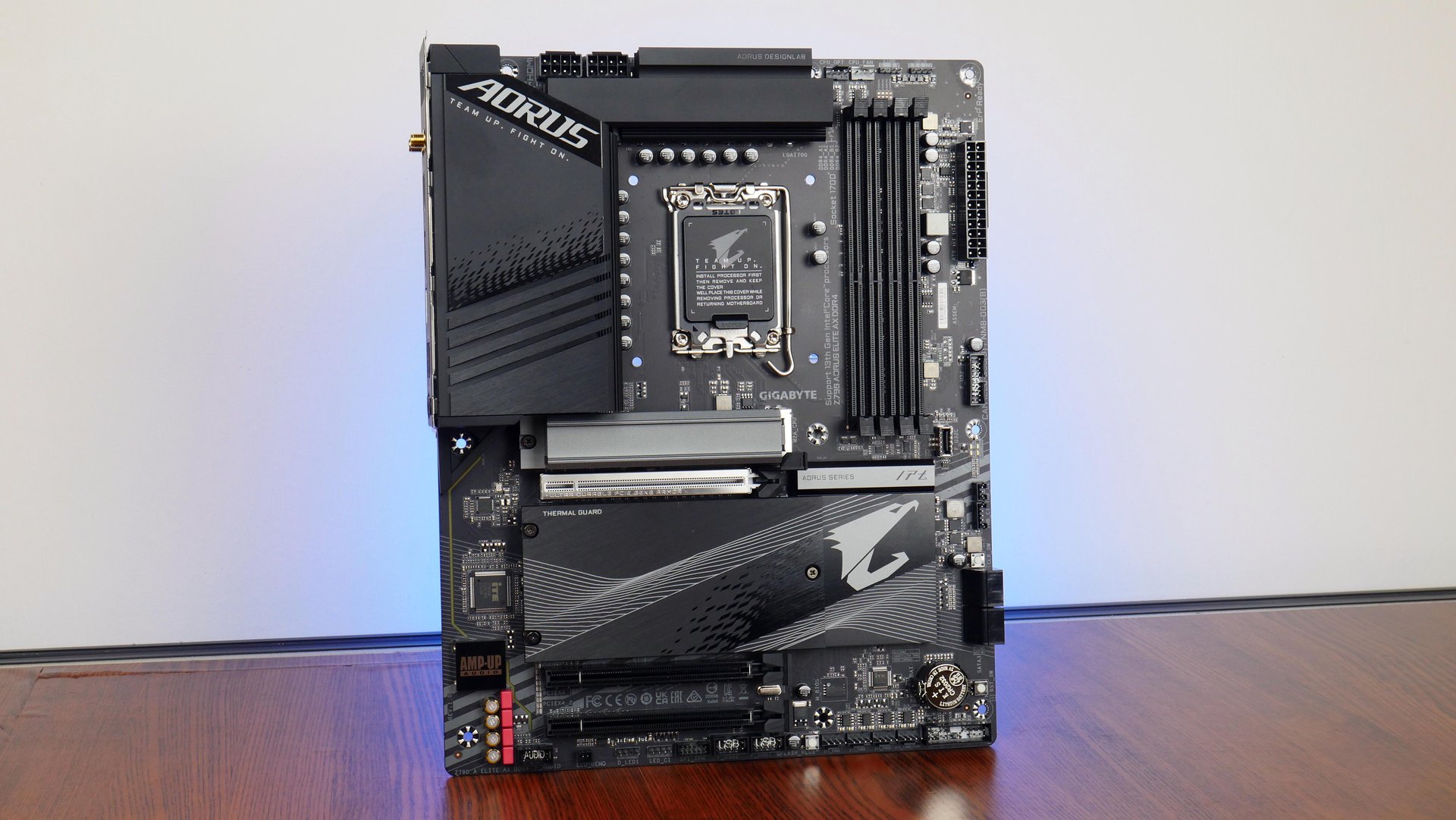 The Gigabyte Z790 AORUS ELITE AX DDR4 comes across as a decent mid-range Intel Z790 motherboard offering that would do well in mid-to-higher tier gaming PC builds sporting say, the Intel Core i5-13600K or the i7-13700K processors. It has a good looking aesthetic and modern features that shouldn't be missed out on in a modern PC, such as PCIe 5.0 support for a graphics card, 2.5 Gigabit Ethernet, WIFI 6E and so on, all while serving up DDR4 memory support that should help to keep build costs low, albeit at a slight performance penalty over DDR5.
That said, given that previous-gen Intel Z690 and B660 motherboards can still be had new on the market, and the fact that the Z790 offers only minimal incremental improvements over the Z690 that it replaces, it might be worth your while to check out motherboards with such Intel 600-series chipsets for your new Intel PC build. This is because Z690 and B660 boards on the higher-end could come with similar (if not better) features, might be priced cheaper than their Z790 counterparts as retailers attempt to clear their stock, and more importantly, still serve up support for 13th Gen Raptor Lake processors with just a BIOS update.
Granted, the situation would change once new Z690 and B660 boards have completely sold out on the market, and when motherboards touting Intel's mid-range 700 series chipsets (e.g. B760, H770) launch likely in January next year. Till then, it still might be worth looking at older Intel Z690 and B660 boards to see which offerings serve up the best value, before committing to a purchase decision.
The Z790 AORUS ELITE AX DDR4 is currently available for a price of around $485 Singapore dollars through online and physical retailers in Singapore, or around $259 US dollars for international readers from eCommerce sites such as Newegg.
Get this board from Amazon: https://amzn.to/3UTIYDV (affiliate link)
Get this board from Shopee Singapore: https://shope.ee/2VHqgDkYvC (affiliate link)
Get this board from Lazada Singapore: https://c.lazada.sg/t/c.Yjxltt?sub_aff_id=alktech (affiliate link)
ALKtech may earn commissions from qualifying purchases made using affiliate links, at no extra cost to you as a customer. These commissions go a long way in supporting the platform!
The motherboard featured in this article was a review unit provided on loan from CDL Trading Pte Ltd, an authorised distributor for Gigabyte in Singapore.