Review: Gigabyte X670 AORUS ELITE AX AM5 Motherboard
Positioned comfortably in the middle of Gigabyte's AM5 motherboard product stack, the X670 AORUS ELITE AX is a decent offering of an AMD X670 motherboard that would do well in mid-range PC builds.
With AMD's "Zen 4" Ryzen 7000 series of processors on the AM5 platform, as well as Intel's 13th generation Raptor Lake offerings in the LGA1700 package having been on the market for some time now, there's no better time to be building a new PC, especially since AMD has finally lowered prices across the board for its Ryzen 7000 offerings since Black Friday, which took place on 25 November 2022. The last I checked before writing this article, these lowered prices are still in place post-Black Friday, making the AMD AM5 platform a whole lot more interesting from a value perspective than before
To recap, the AMD AM5 platform launched on 27 September 2022 to the common refrain that prices for its CPUs and motherboards were too high, where especially at the mid-range, products such as the Ryzen 5 7600X struggled for relevance against Intel's undisputed performance and value king, the Core i5-13600K. With that, might the tides have turned in favour for AMD with its latest price revisions? For today's article, we'll be focusing our attention on an AMD X670 motherboard offering for those of you out there keen on getting in on the AMD AM5 platform at the mid-range - Gigabyte's X670 AORUS ELITE AX.
Summary of Specifications
Processor Support: AMD Ryzen 7000 series (Zen 4) AM5 processors
Chipset: AMD X670
Memory: 4x DDR5 slots, max 128GB, up to DDR5 6666 (OC) support
Audio: Realtek ALC897 audio codec
LAN: Realtek RTL8125BG 2.5 Gigabit Ethernet
WIFI: AMD RZ616 WIFI 6E with Bluetooth 5.2
Expansion Slots: 1x PCIe 4.0 x16, 1x PCIe 4.0 x16 (operates at x4 mode), 1x PCIe 3.0 x16 (operates at x2 mode)
Storage: 4x SATA III, 1x PCIe 5.0 x4 M.2, 3x PCIe 4.0 x4 M.2 (M.2 slots support NVMe SSDs only)
Form Factor: ATX
Packaging & Contents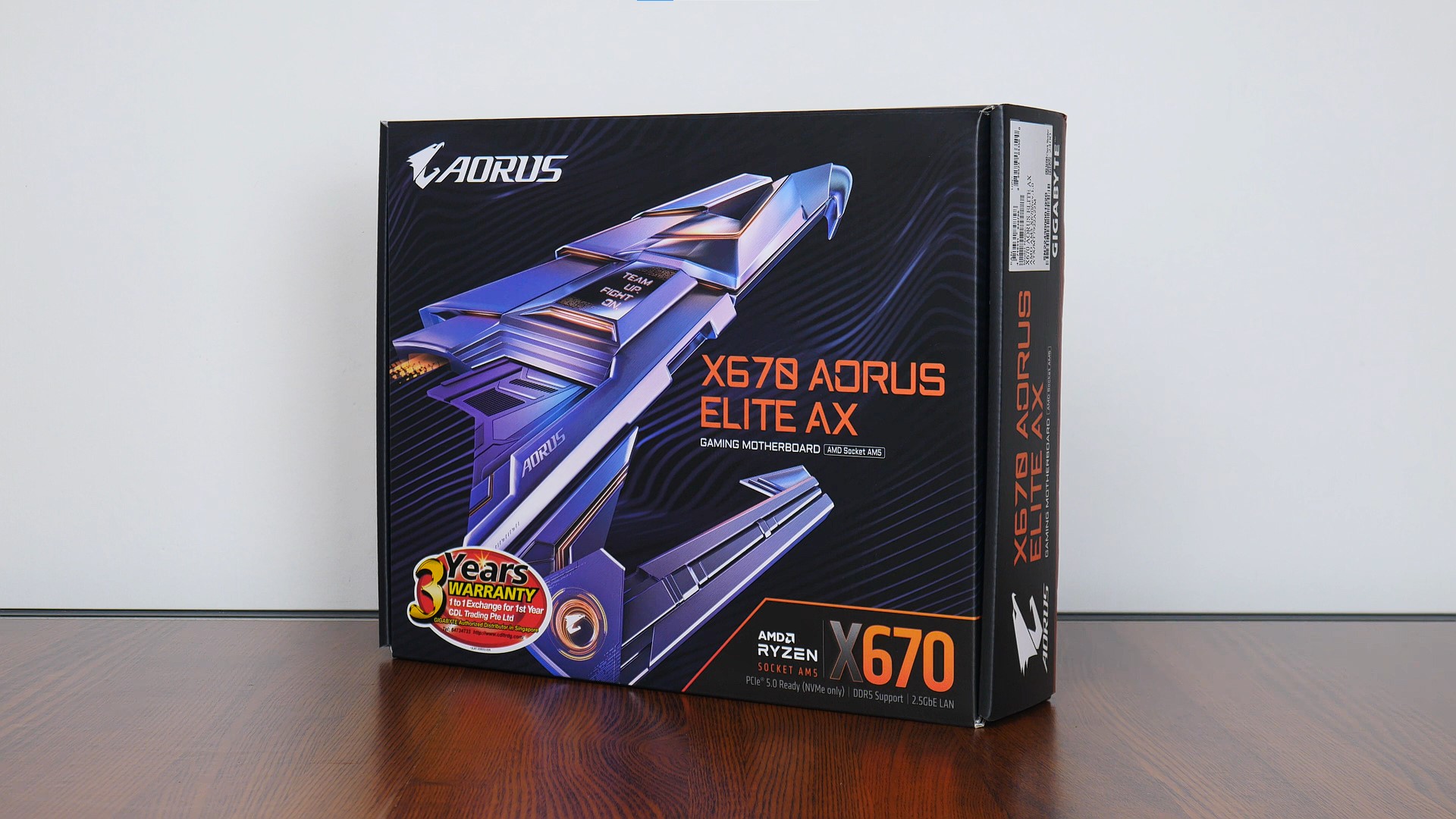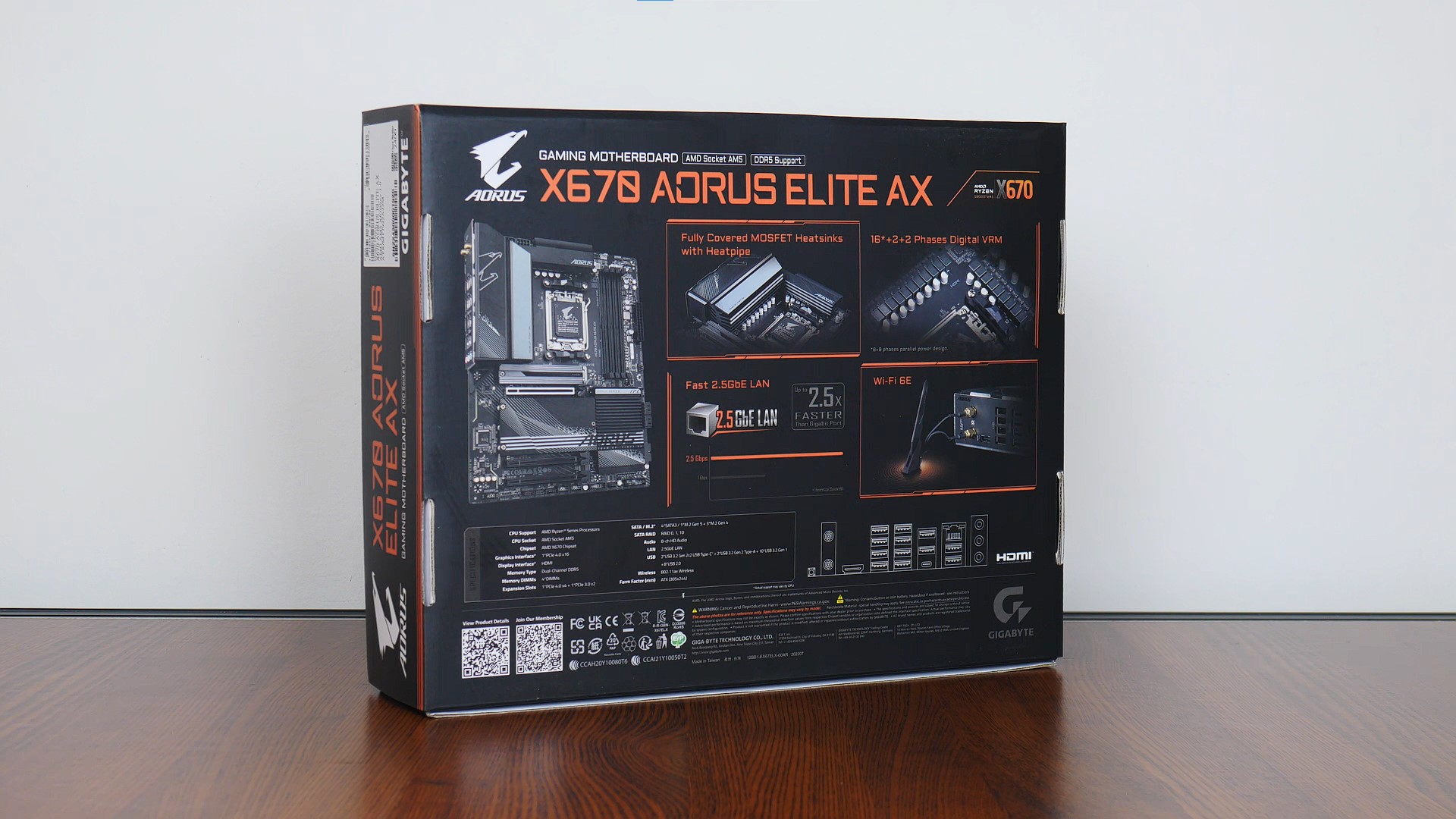 The AORUS series of product offerings by Gigabyte is targeted at gamers looking to build a mid-to-high-end DIY PC, placing above the Gigabyte Gaming and Ultra Durable line-up of motherboard products. The X670 AORUS ELITE AX therefore, comes in a box that sports the usual AORUS colourway, with the AORUS falcon motif featuring prominently on the front of the box.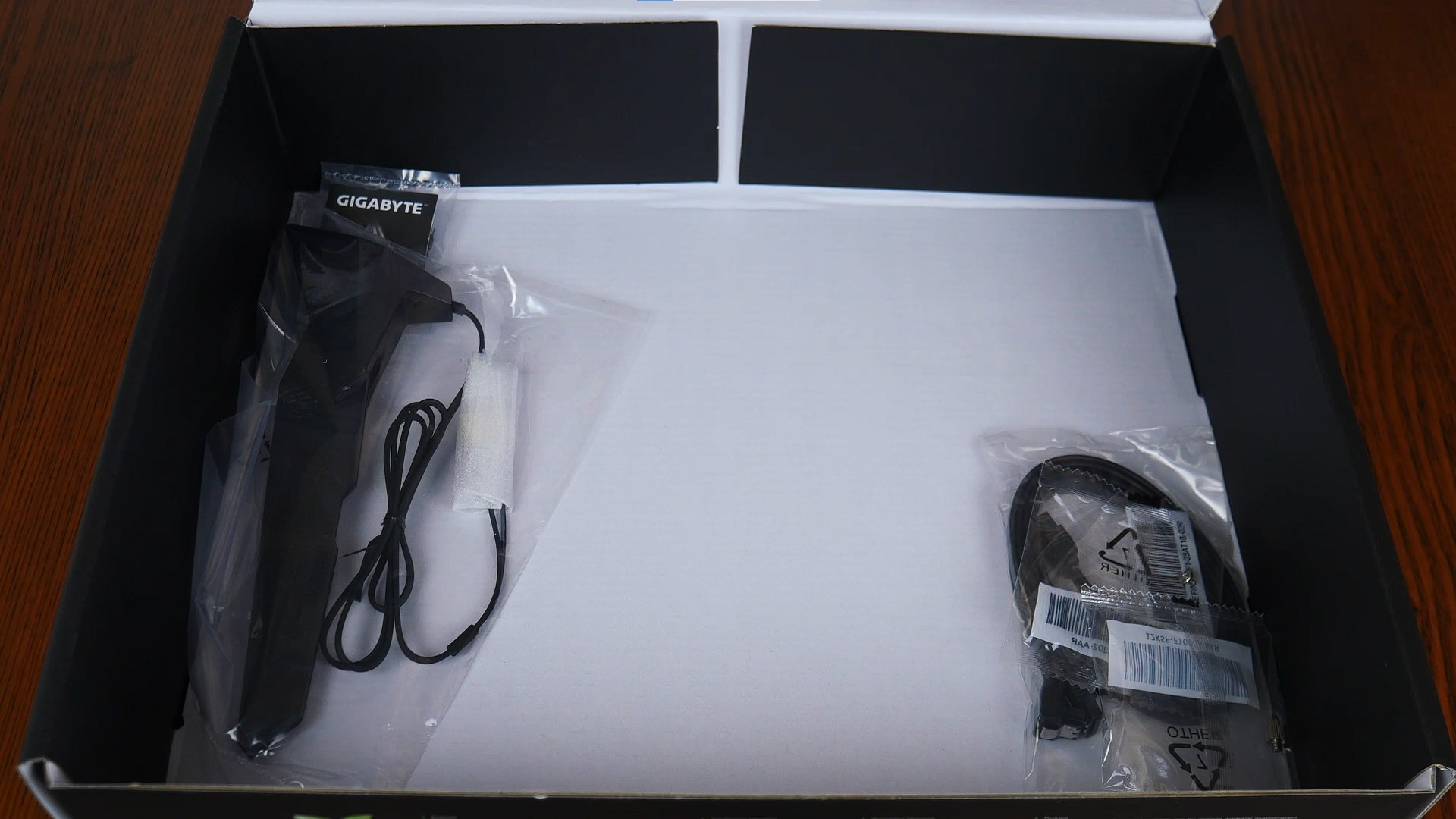 Included with the board are the following accessories:
WIFI antenna
2x SATA III cables
Gigabyte G Connector
Spare set of M.2 drive screw and stand-off
Quick start guide
AORUS case badge
Board Aesthetics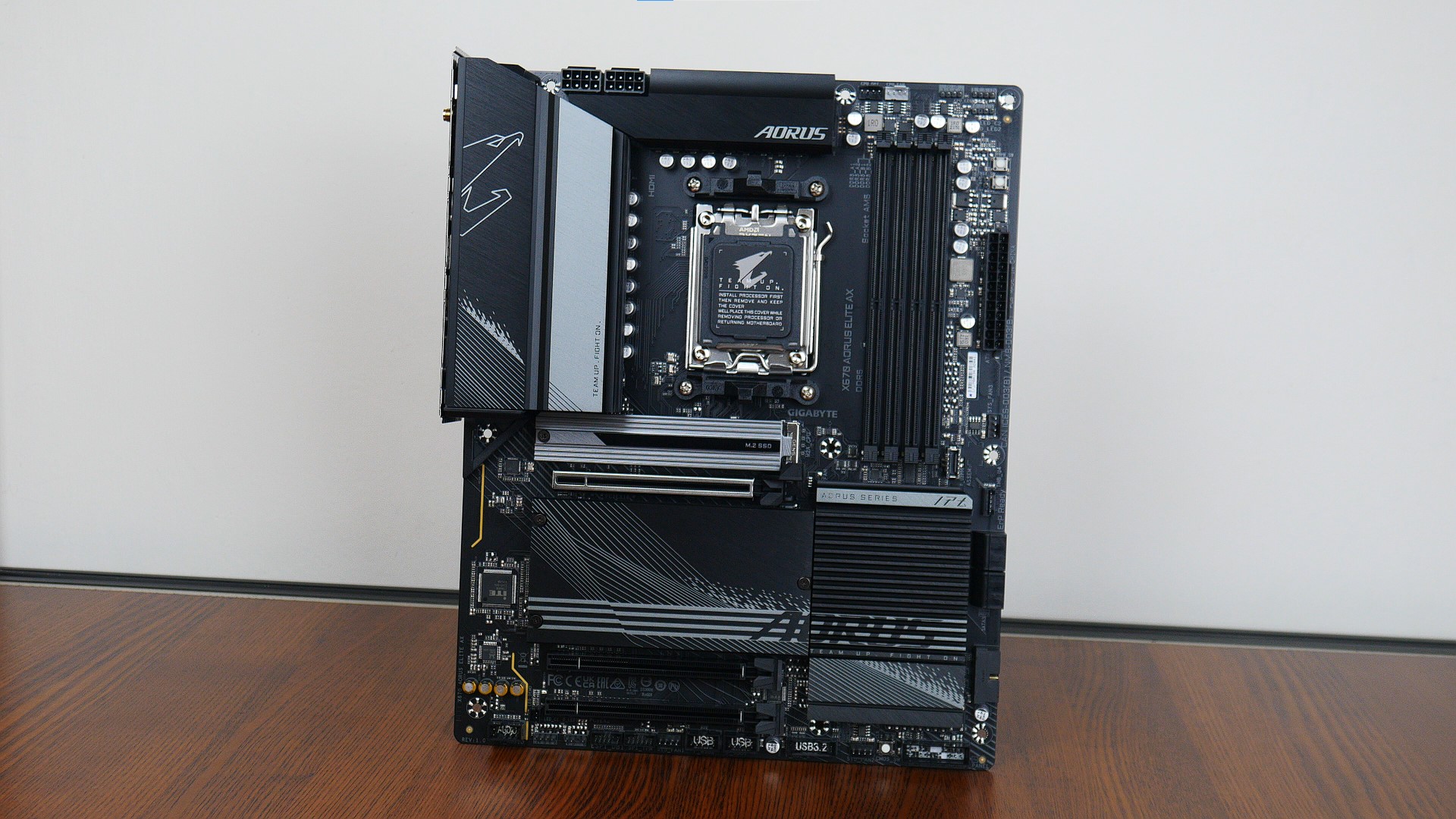 The X670 AORUS ELITE AX sports a black and silver colourway with line motifs on the heatsinks and PCB. Interestingly, Gigabyte has opted not to include any on-board RGB LEDs on say, the I/O shield cover or beneath the heatsinks to further spice up the motherboard's appearance. That said, end-users will have no issues installing their own RGB peripherals as the board does come with plenty of on-board RGB headers, more on that later on in this article.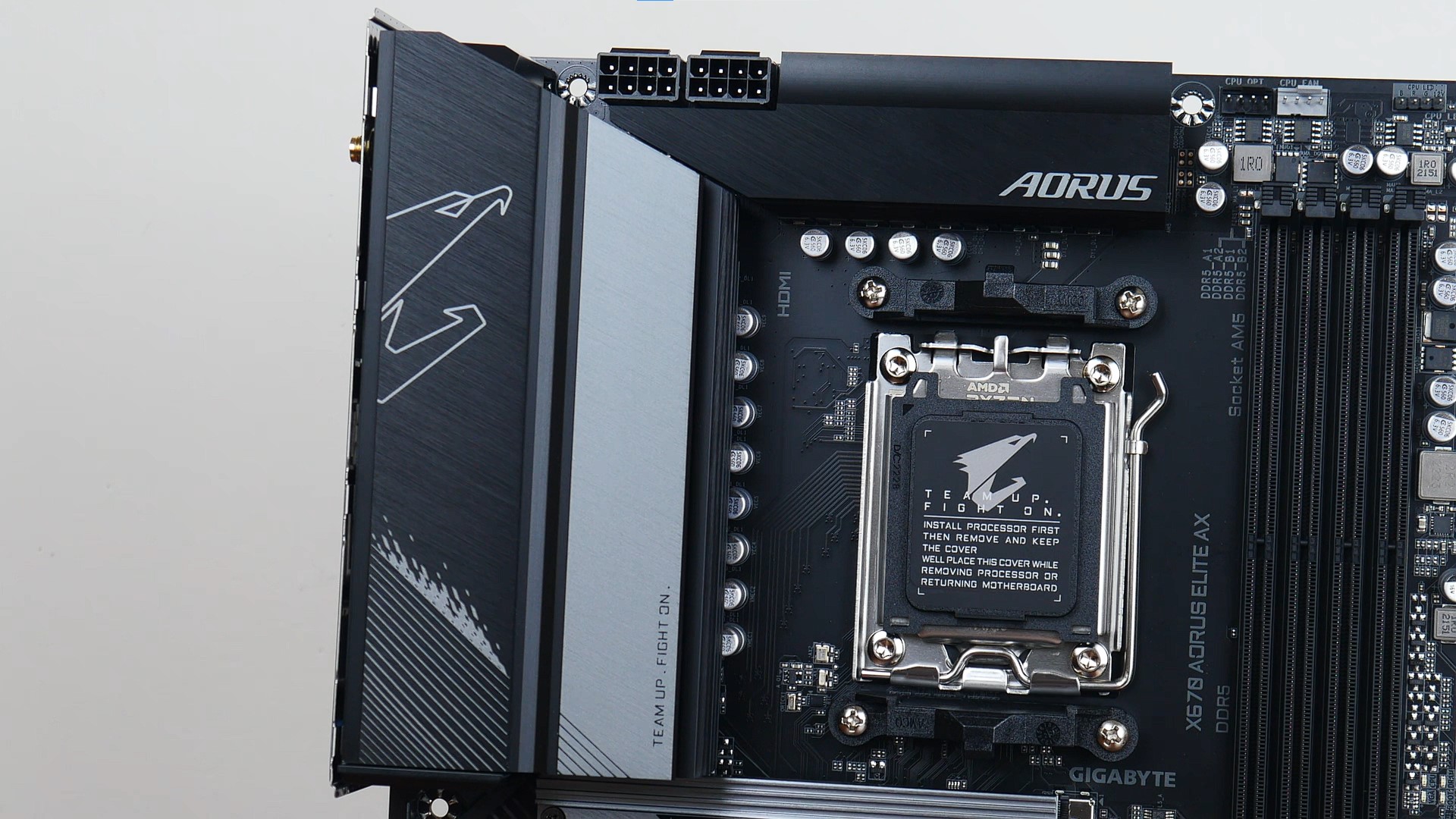 The board comes with an integrated I/O shield design, with large black heatsinks for the VRMs. According to the product information page on Gigabyte's website, the said VRM heatsinks sport 8mm-thick heat pipes, which should help with keeping the VRMs cool while the PC is in operation.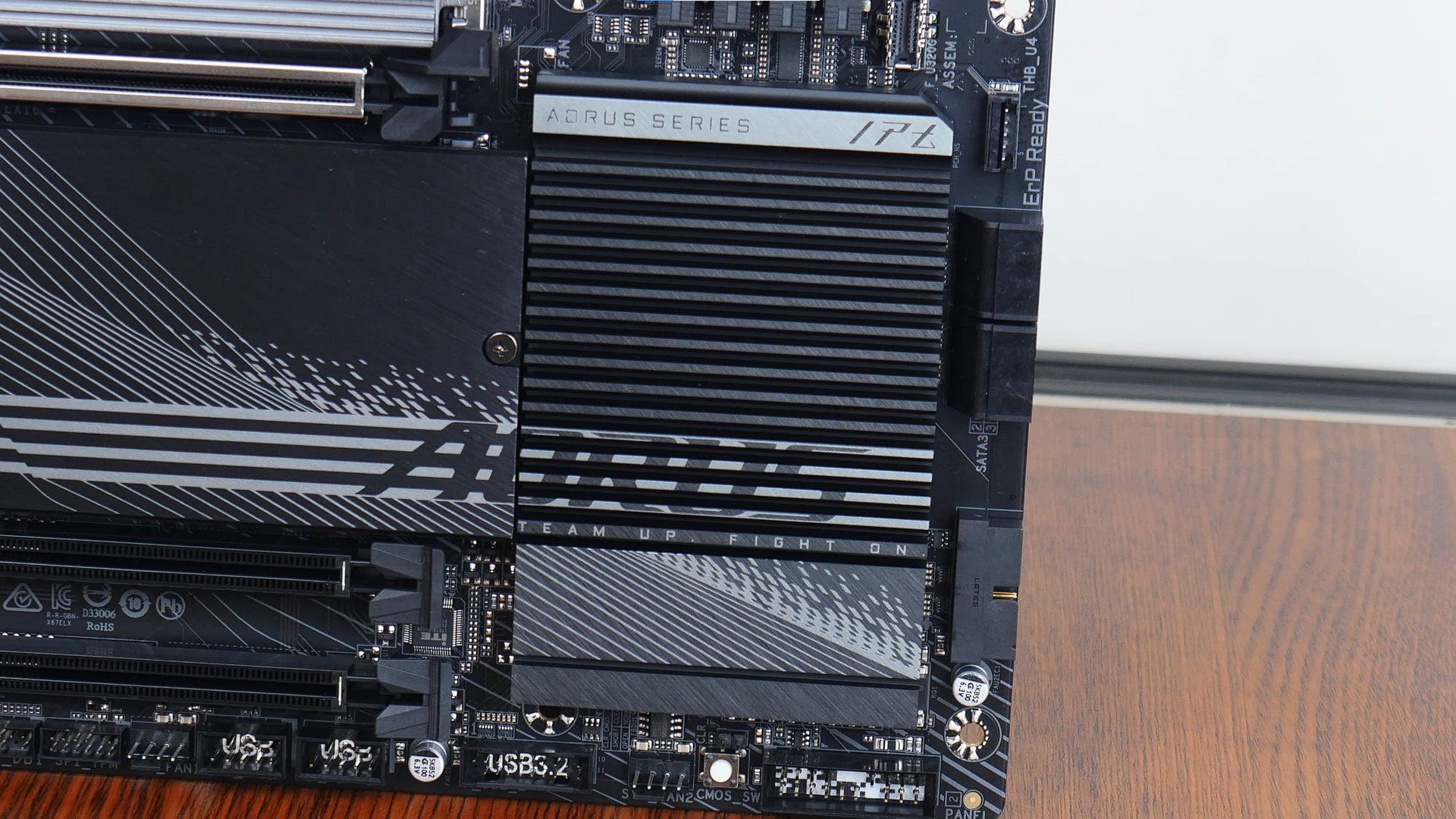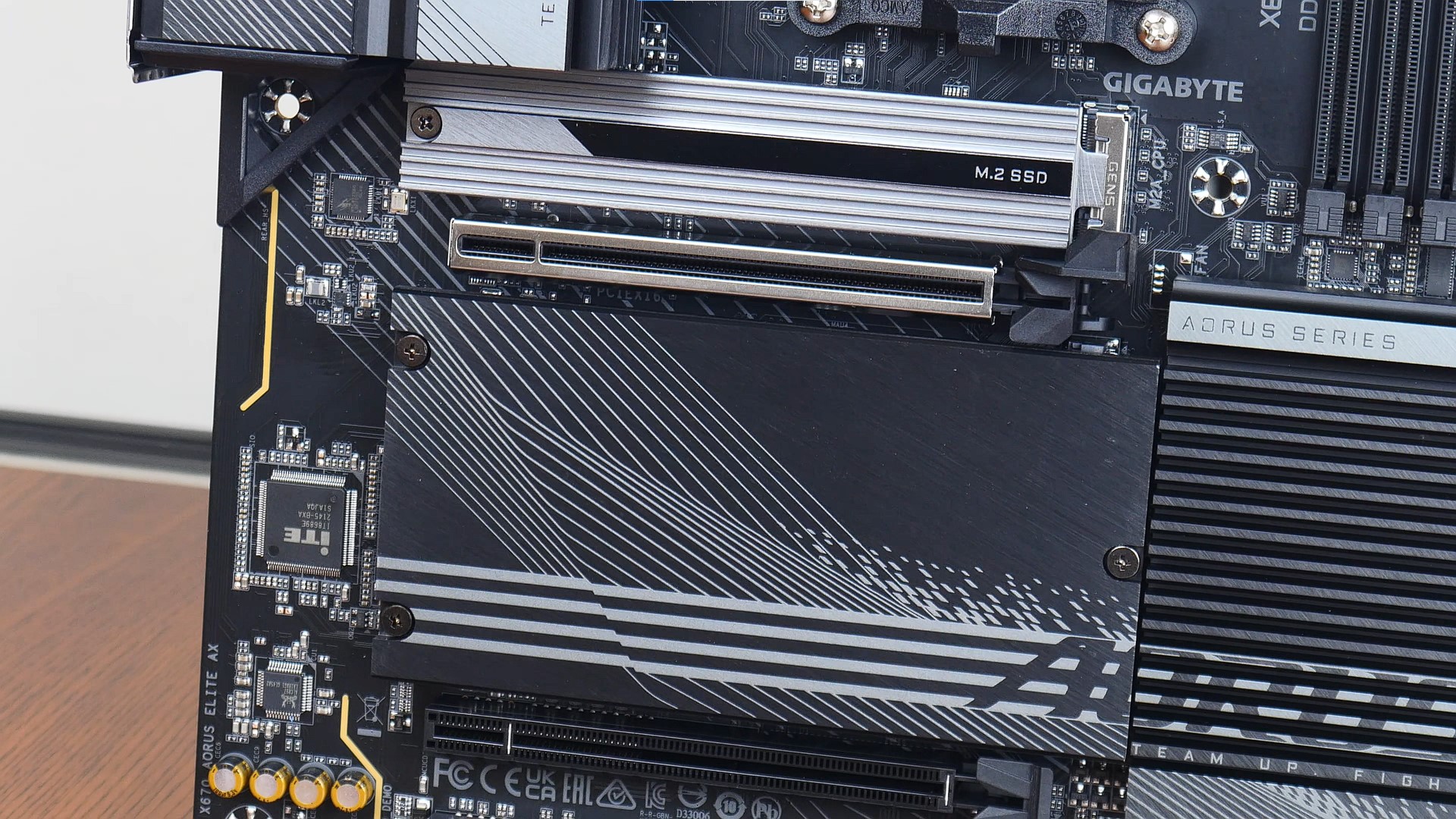 The X670 chipset is cooled by a passive heatsink, and Gigabyte has given the heatsink treatment for all four M.2 slots that this motherboard comes with.
VRM & Memory Support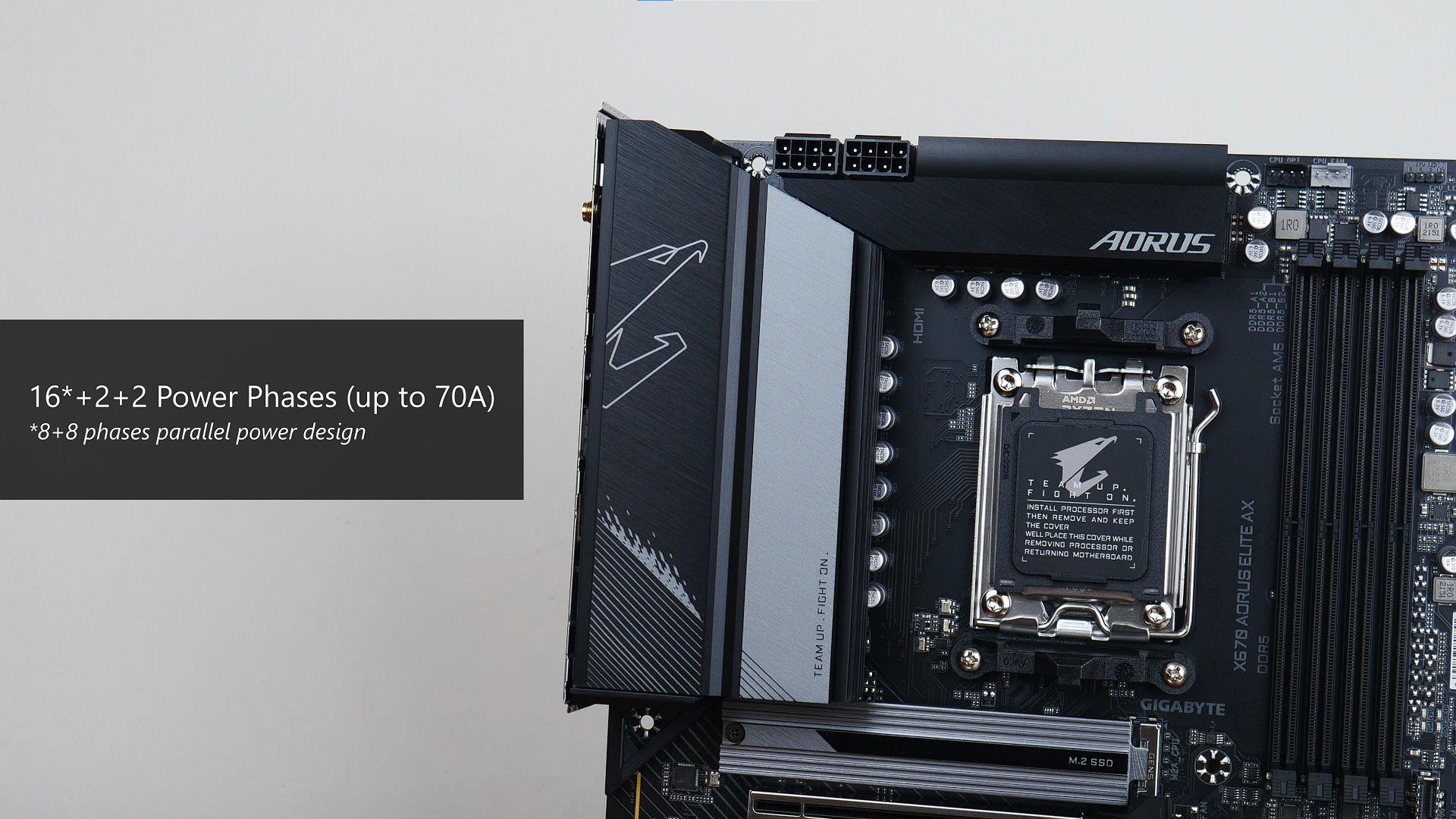 For the board's VRM setup, Gigabyte's included 16+2+2 power phases, with VCore power stages rated for 70A, where its fine print states that the 16 phases for the processor is actually an "8+8 phases parallel power design".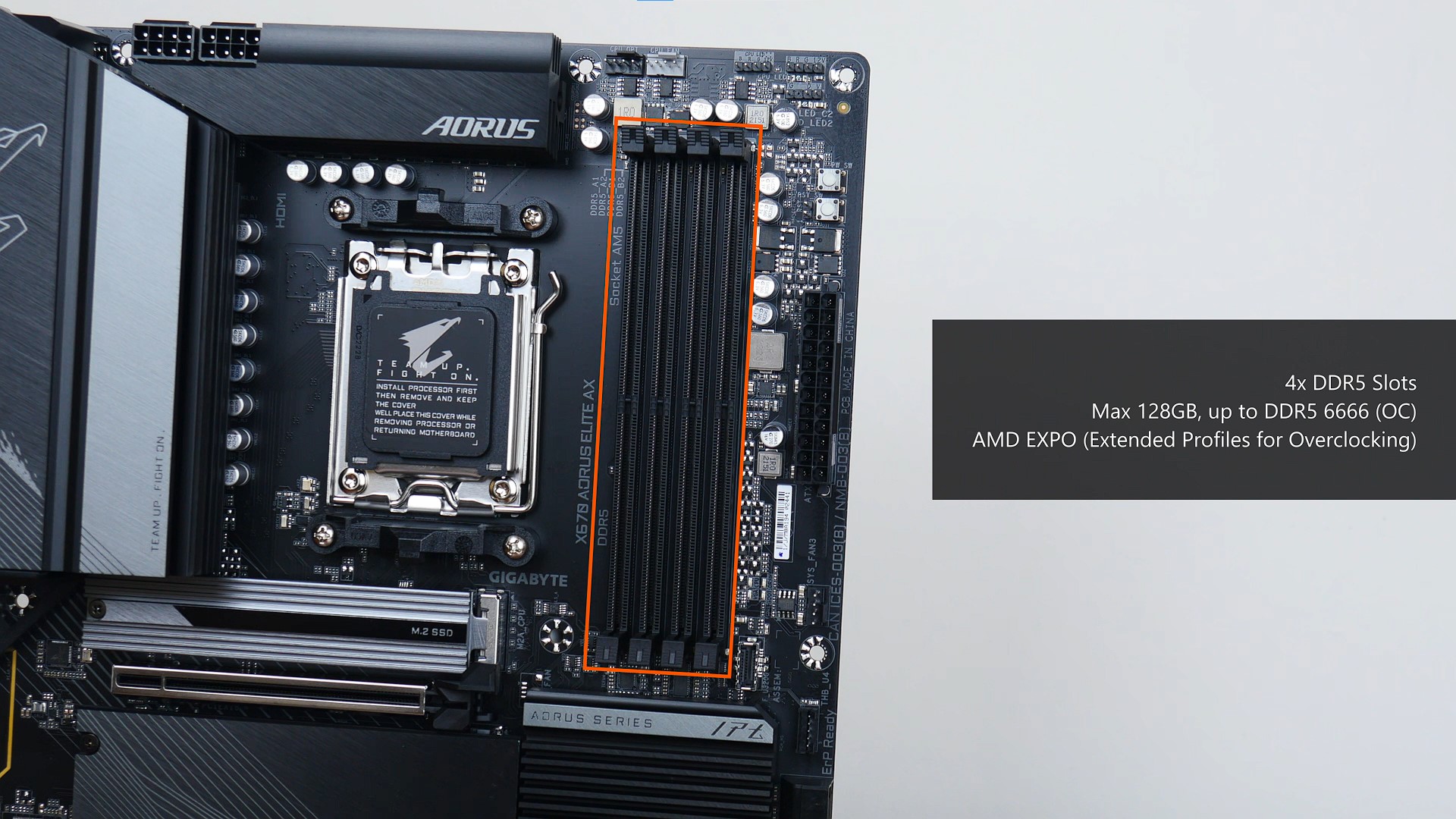 In terms of memory support, the X670 AORUS ELITE AX comes with four DDR5 slots with support for up to 128GBs of RAM, and the DDR5 6666 standard when overclocked, with plastic slots of a dual-tabbed design. Being an AM5 motherboard, the board also features AMD EXPO - Extended Profiles for Overclocking, which are built-in overclocking profiles for DDR5 memory, similar to what XMP stands for in Intel's ecosystem.
Front Panel USB Headers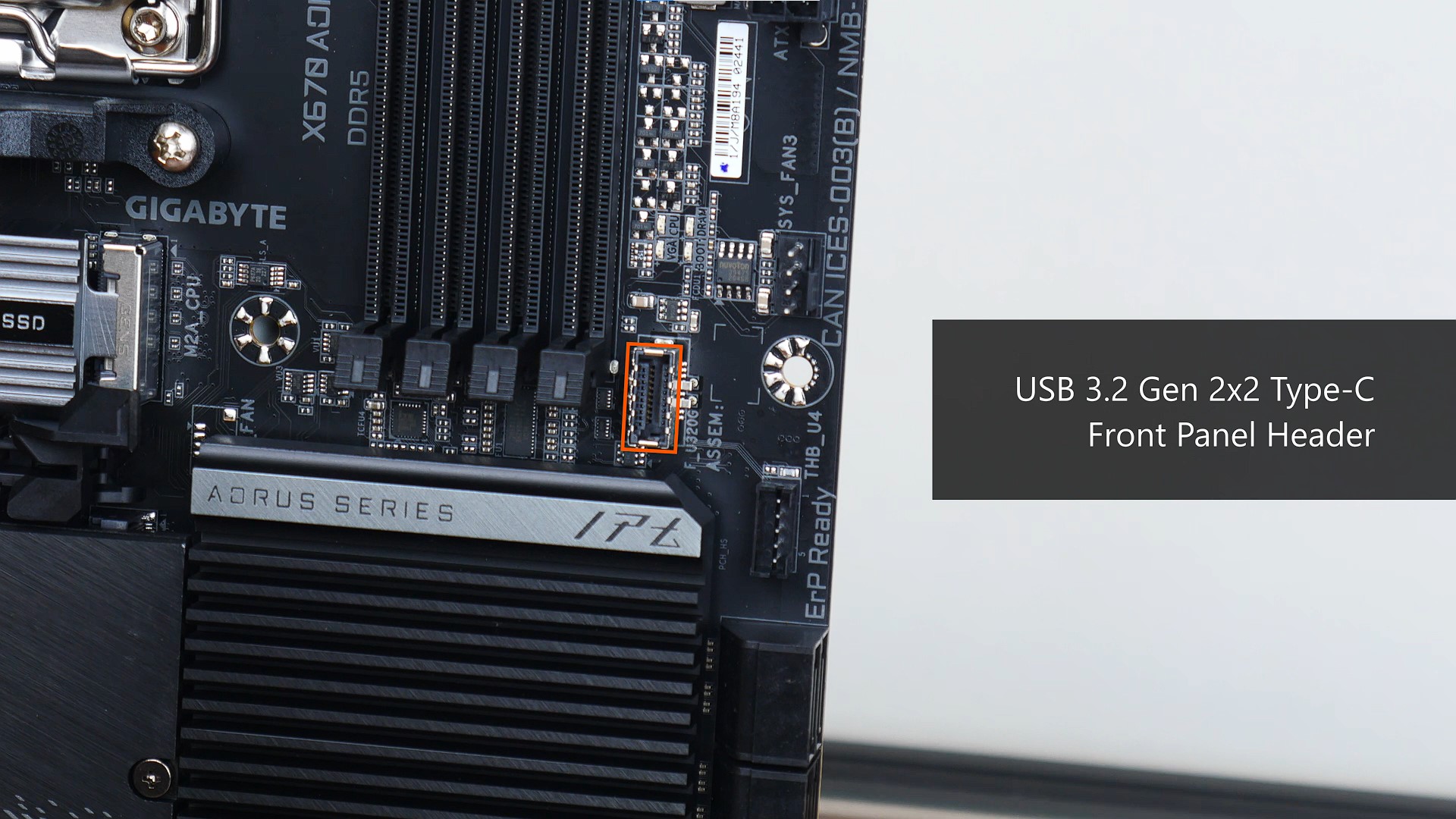 Moving on to front panel USB connectivity options, Gigabyte has included a single front panel USB 3.2 Gen 2x2 Type-C front panel header near the RAM slots.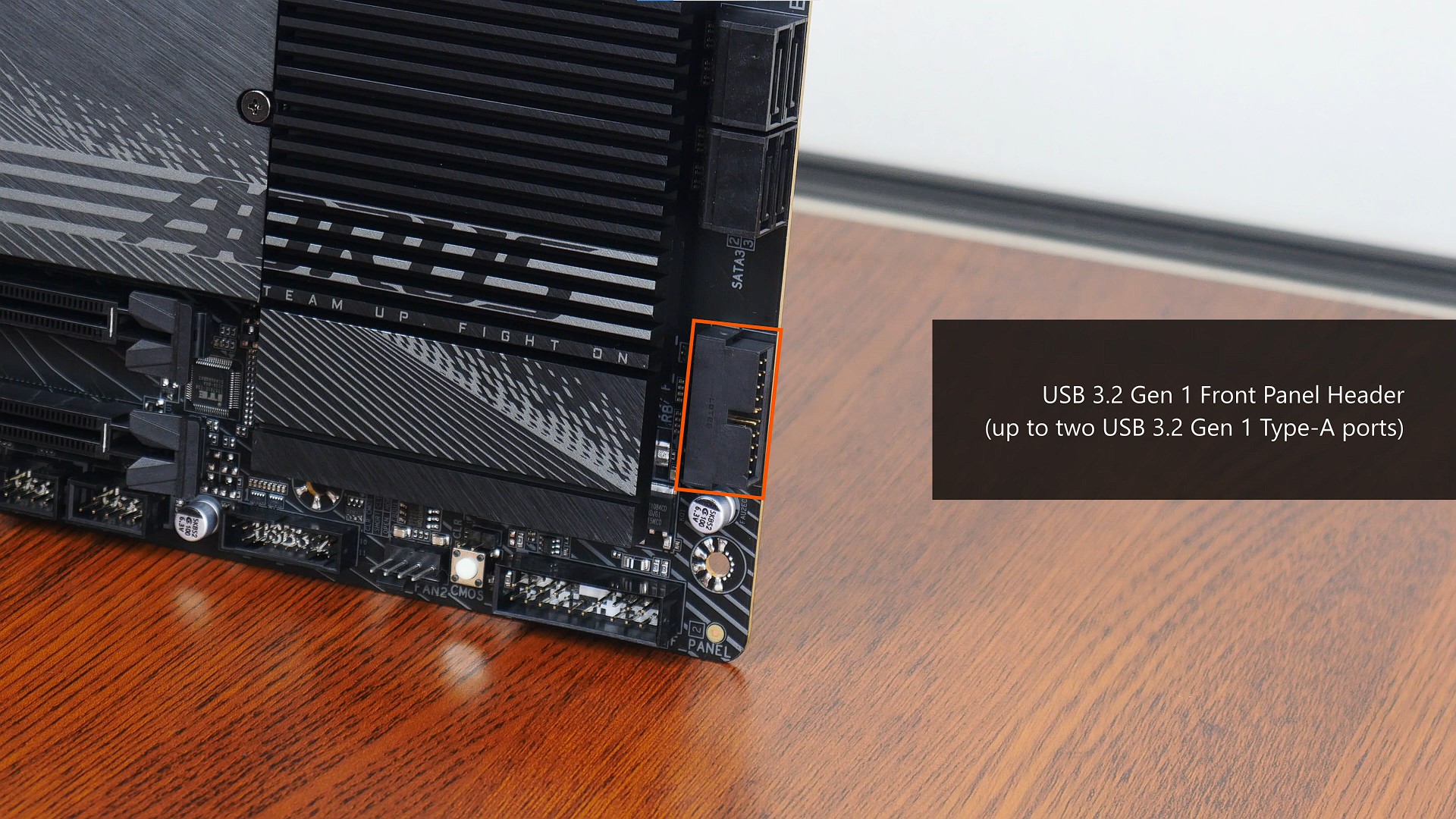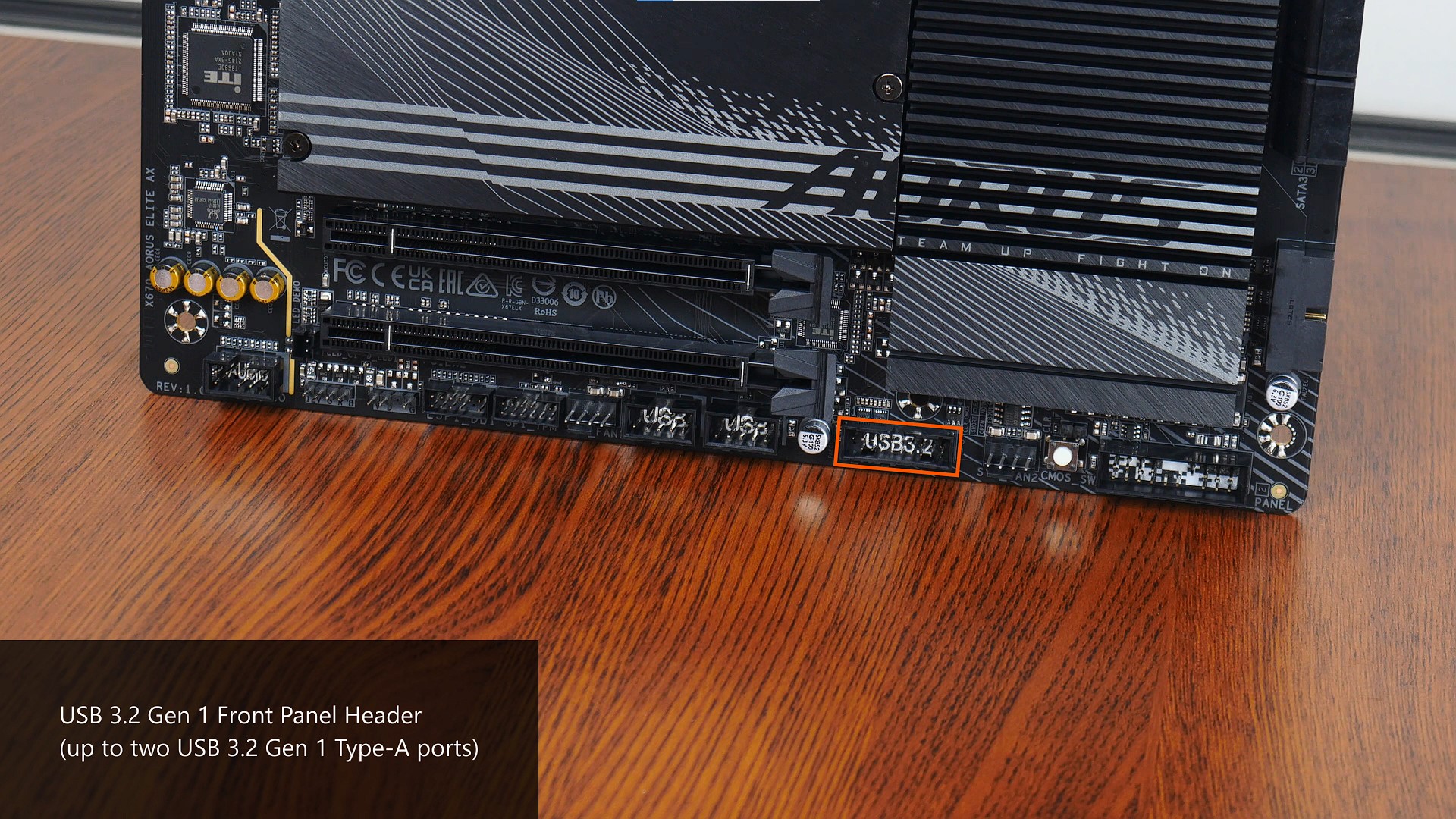 Also included are two front panel USB 3.2 Gen 1 headers, where each of these headers support up to two front panel USB 3.2 Gen 1 Type-A ports each.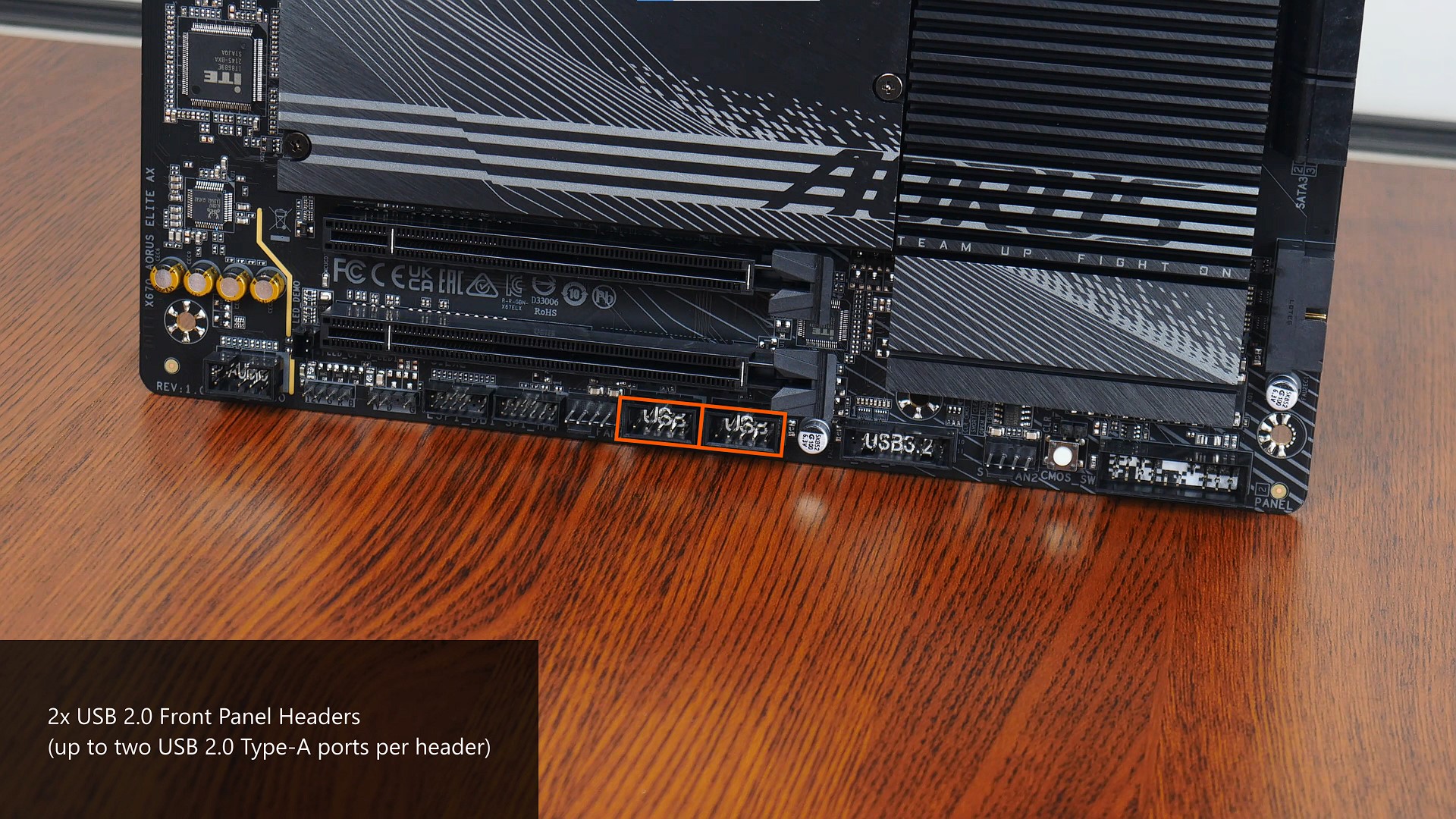 Rounding off the front panel USB connectivity section are two front panel USB 2.0 headers - these headers can be found near the bottom edge of the board. Each of these headers provide support for two front panel USB 2.0 Type-A ports, for a total of four ports.
Expansion Slots & Storage Options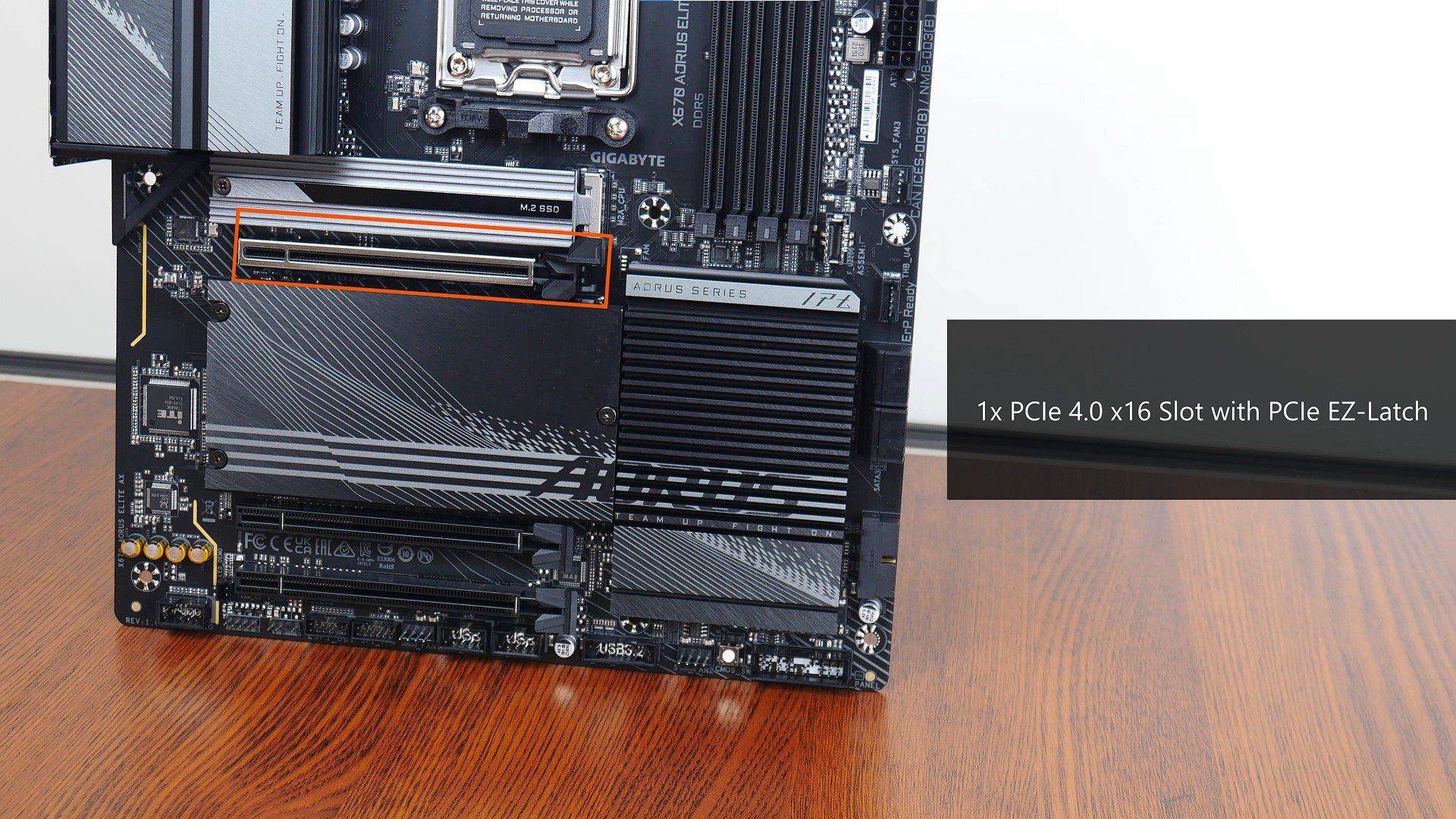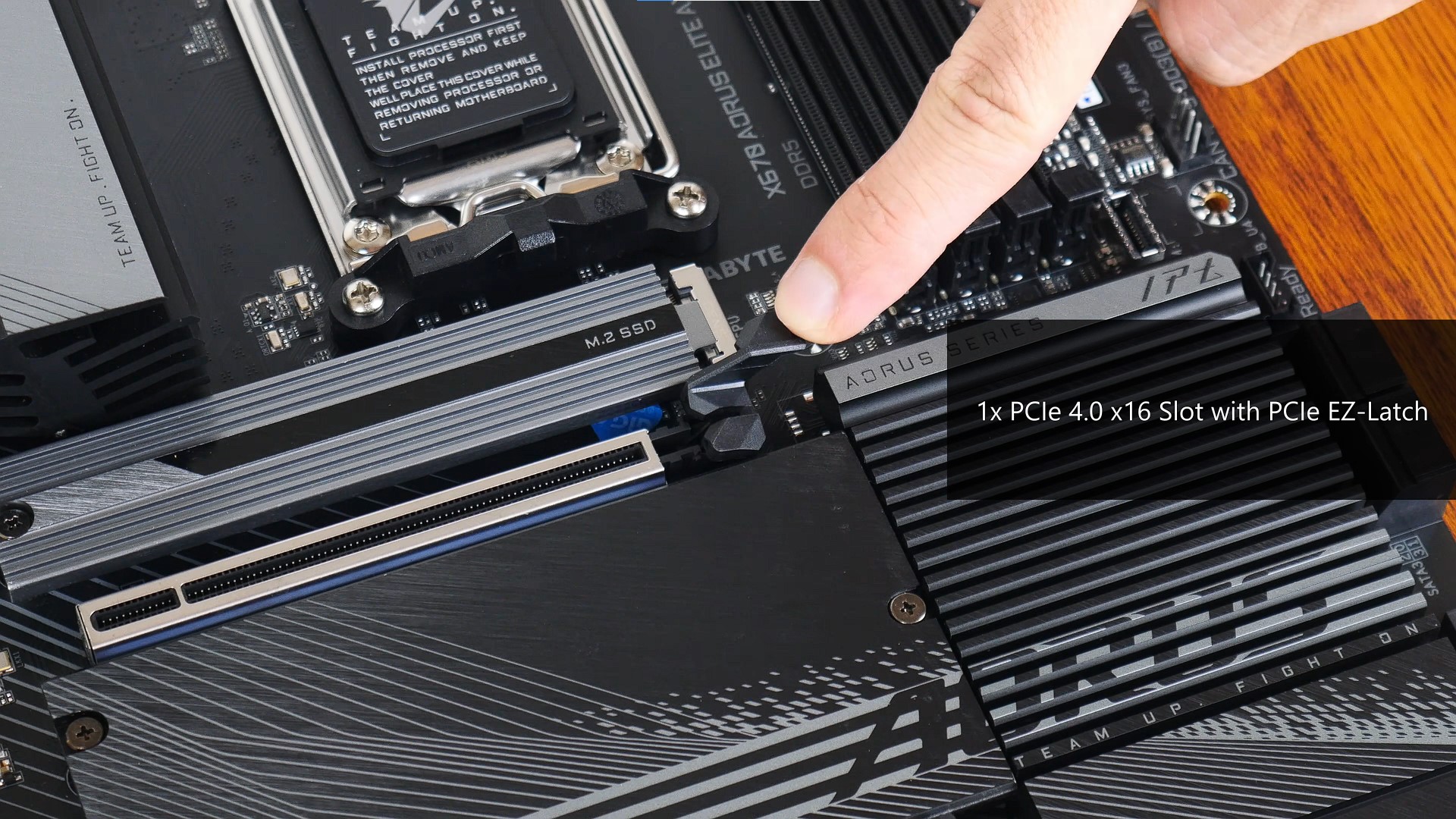 For the unaware, AMD X670 boards sport support for the PCIe 5.0 standard only for the M.2 slot, and not the for the graphics card slot. In this regard, the X670 AORUS ELITE AX comes with a single PCIe 4.0 x16 slot for a graphics card. The said slot sports the Ultra Durable PCIe Armour that reinforces the slot against heavy graphics cards, and also comes with the PCIe EZ-Latch feature, which is essentially an oversized retention tab on the PCIe slot that helps make removing a graphics card from the slot less of a painful affair in a completed PC build.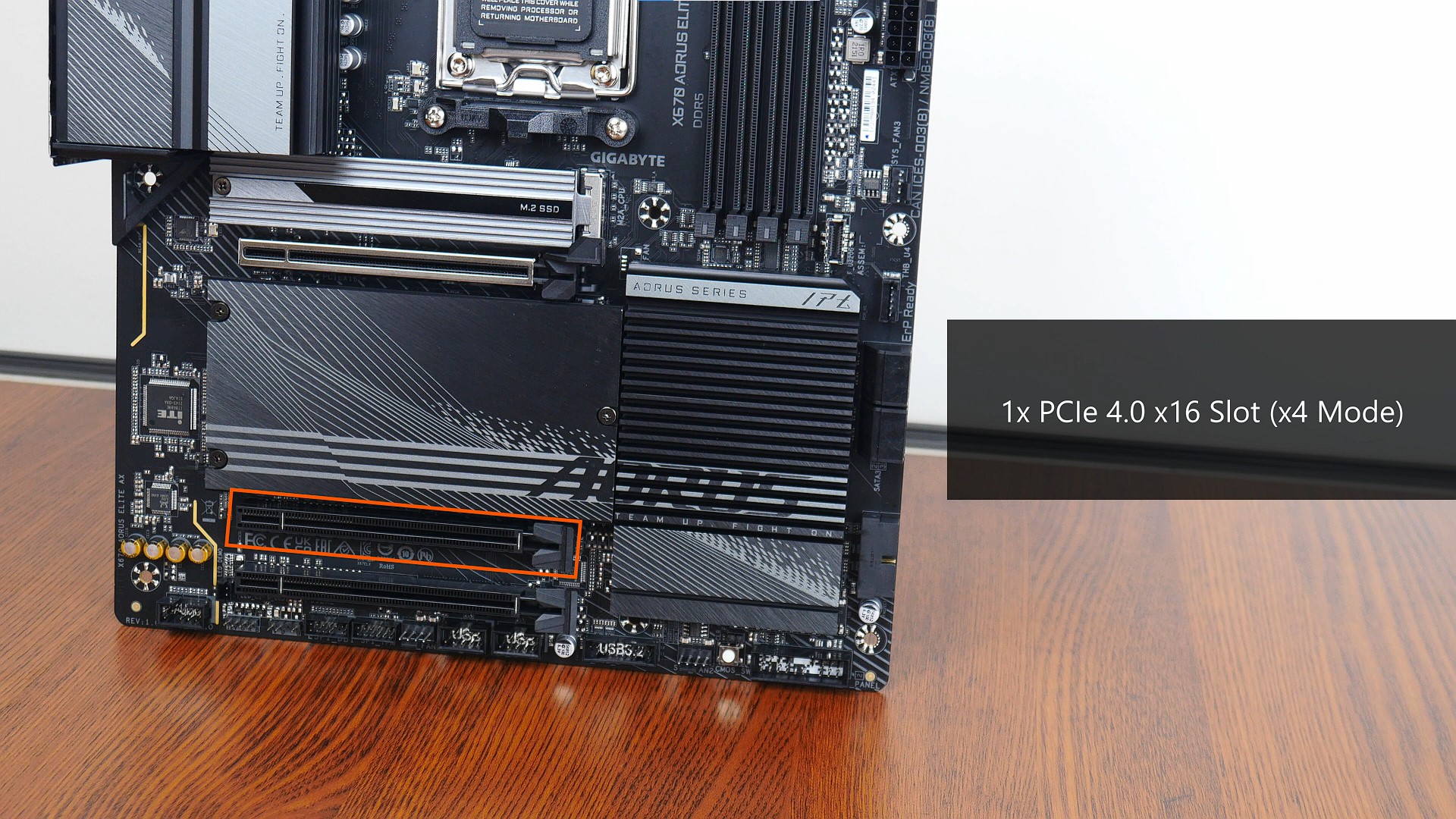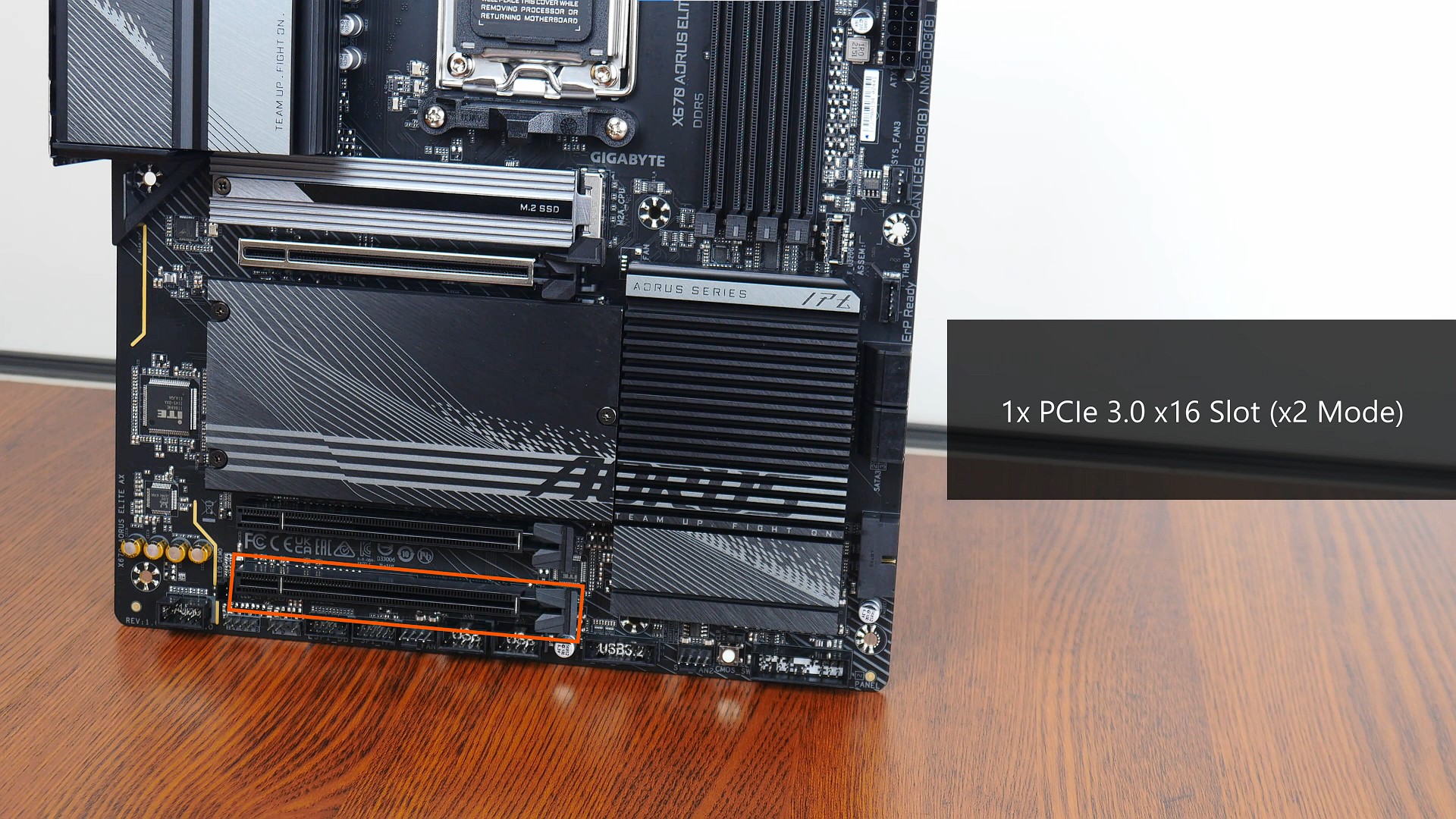 Also included with the board are a PCIe 4.0 x16 slot that operates at x4 mode, as well as a PCIe 3.0 x16 slot that operates at x2 mode.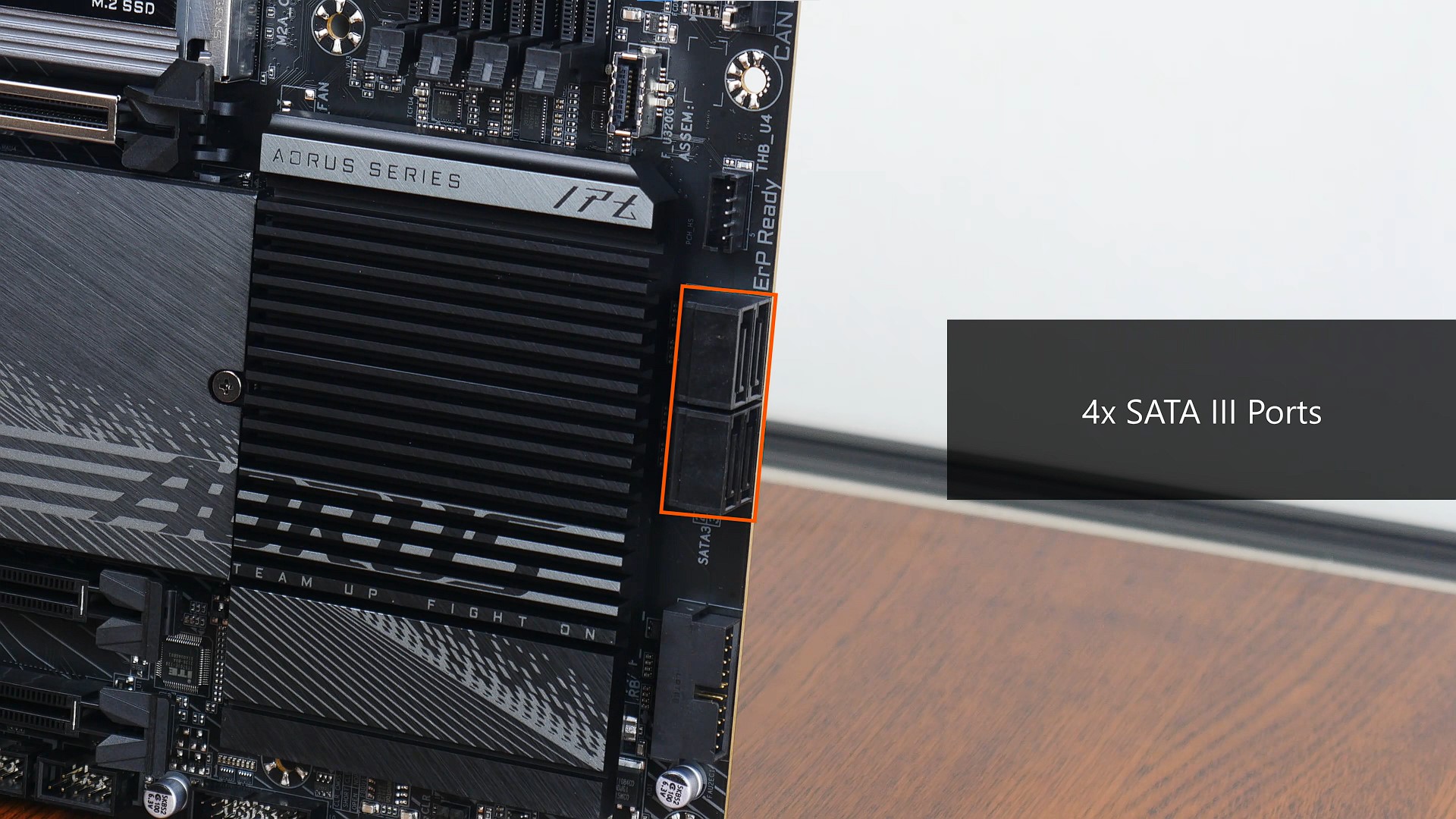 In terms of storage options, the X670 AORUS ELITE AX comes with four SATA III ports, a single PCIe 5.0 x4 slot as well as three PCIe 4.0 x4 slots. All four M.2 slots come with the PCIe EZ-Latch feature that facilitates the tool-less installation of M.2 drives. If you own SATA M.2 drives, do note that you'll not be able to use such SATA M.2 drives with the board, as the X670 AORUS ELITE AX's M.2 slots all sport support for NVMe drives only.
Audio & Internet Connectivity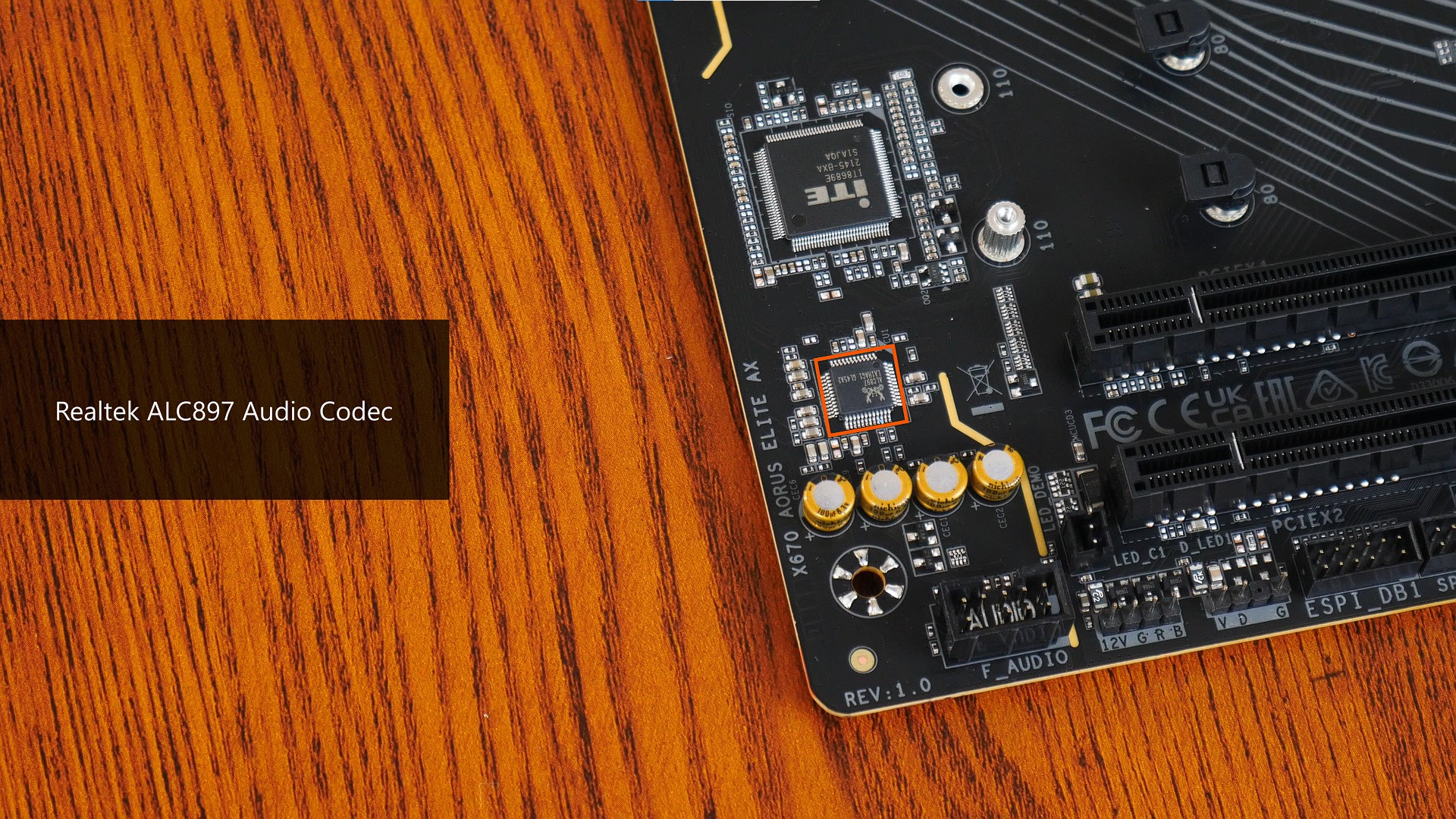 The board's audio is powered by Realtek's ALC897 audio codec, a low-end part that is commonly found on budget-oriented motherboards.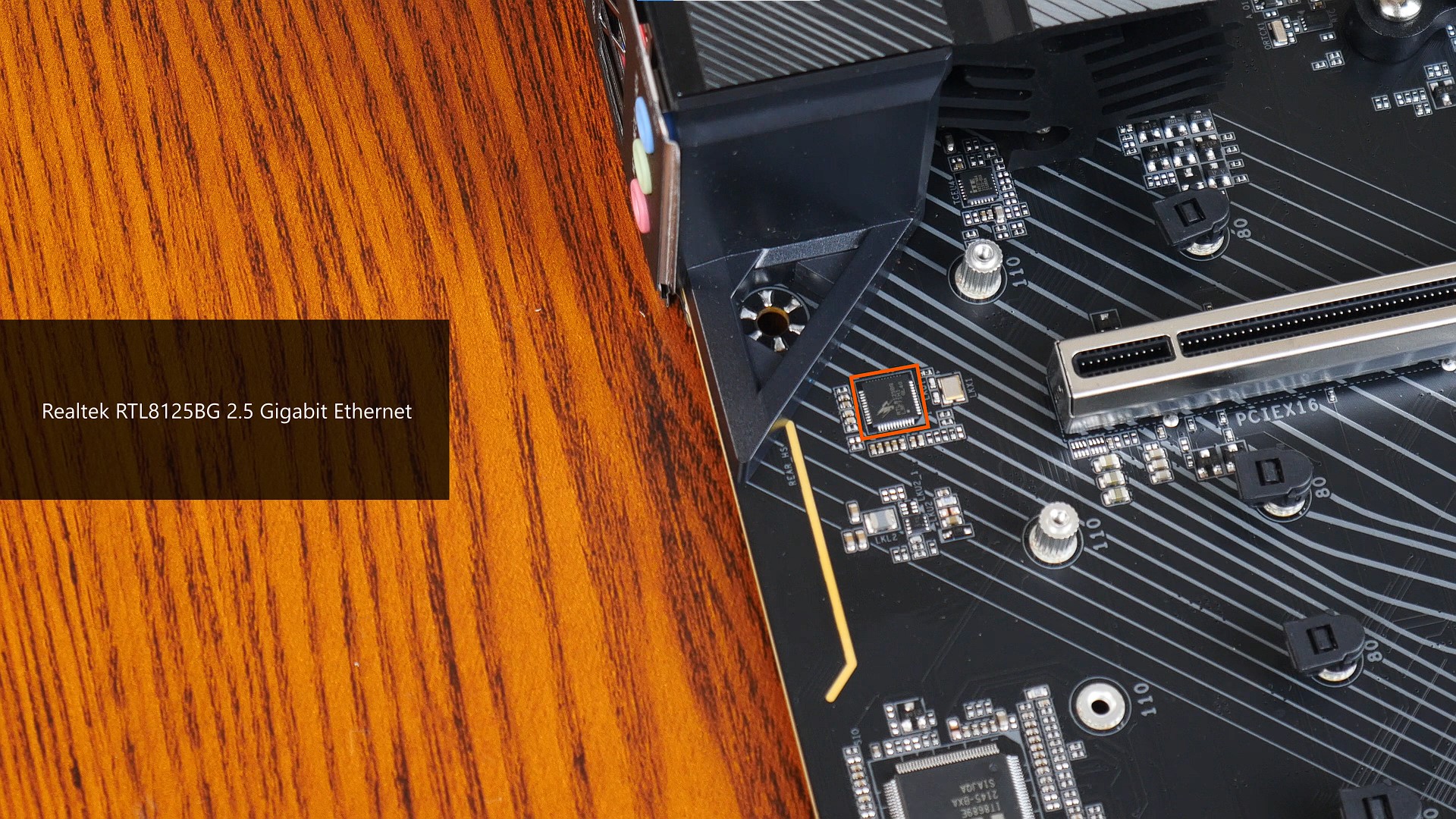 Internet connectivity on the other hand, is courtesy of Realtek's RTL8125BG 2.5 Gigabit Ethernet controller, while wireless connectivity is powered by AMD's RZ616 module that serves up WIFI 6E and Bluetooth 5.2 support.
Fan & RGB Headers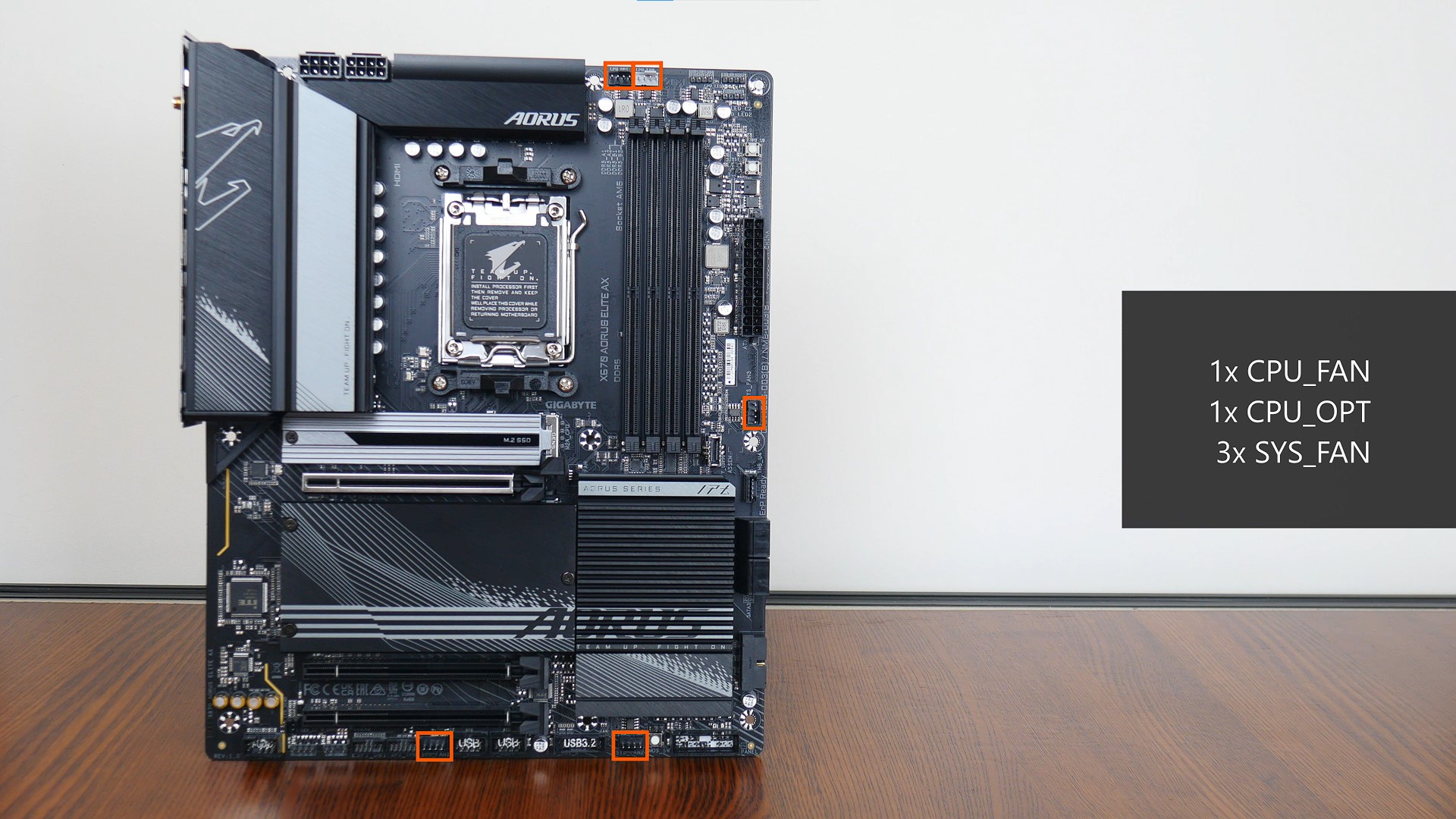 The X670 AORUS ELITE AX comes with a total of five fan headers:
1x CPU_FAN
1x CPU_OPT
3x SYS_FAN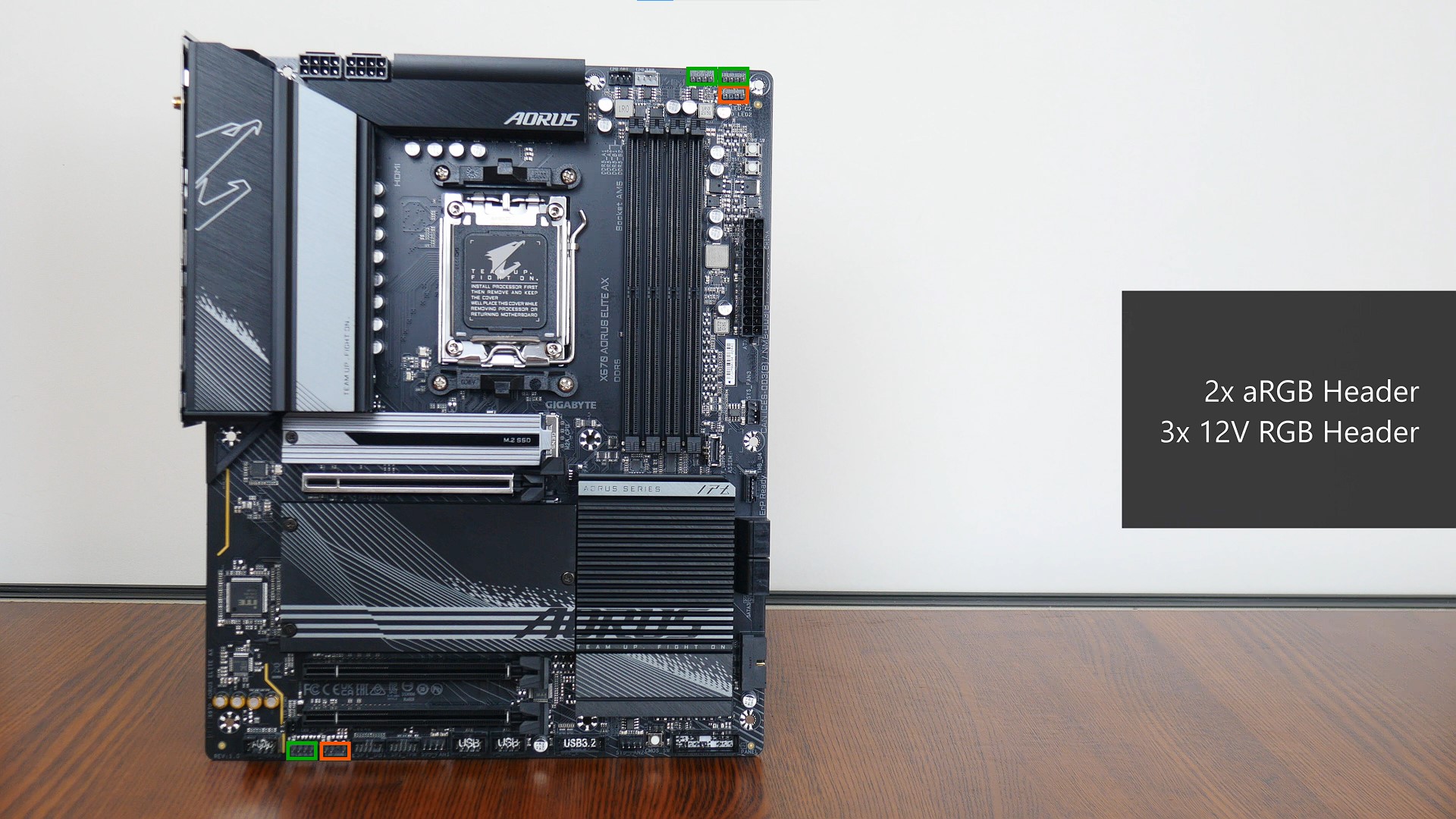 Also included are two addressable RGB headers, as well as three 12V RGB headers.
Other Features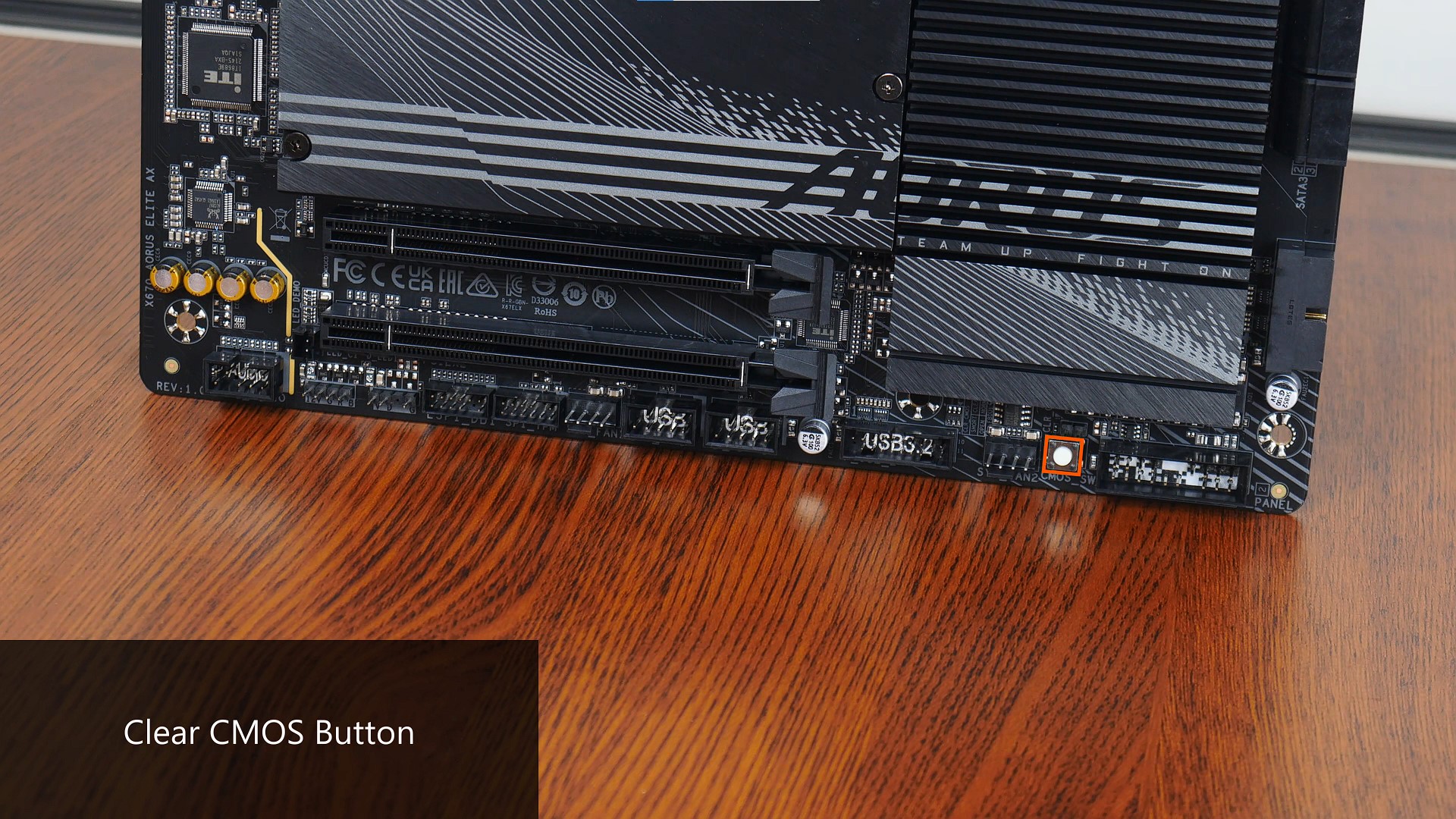 At the bottom edge of the board is a Clear CMOS button that allows end-users to restore the BIOS to its default settings with just a single click.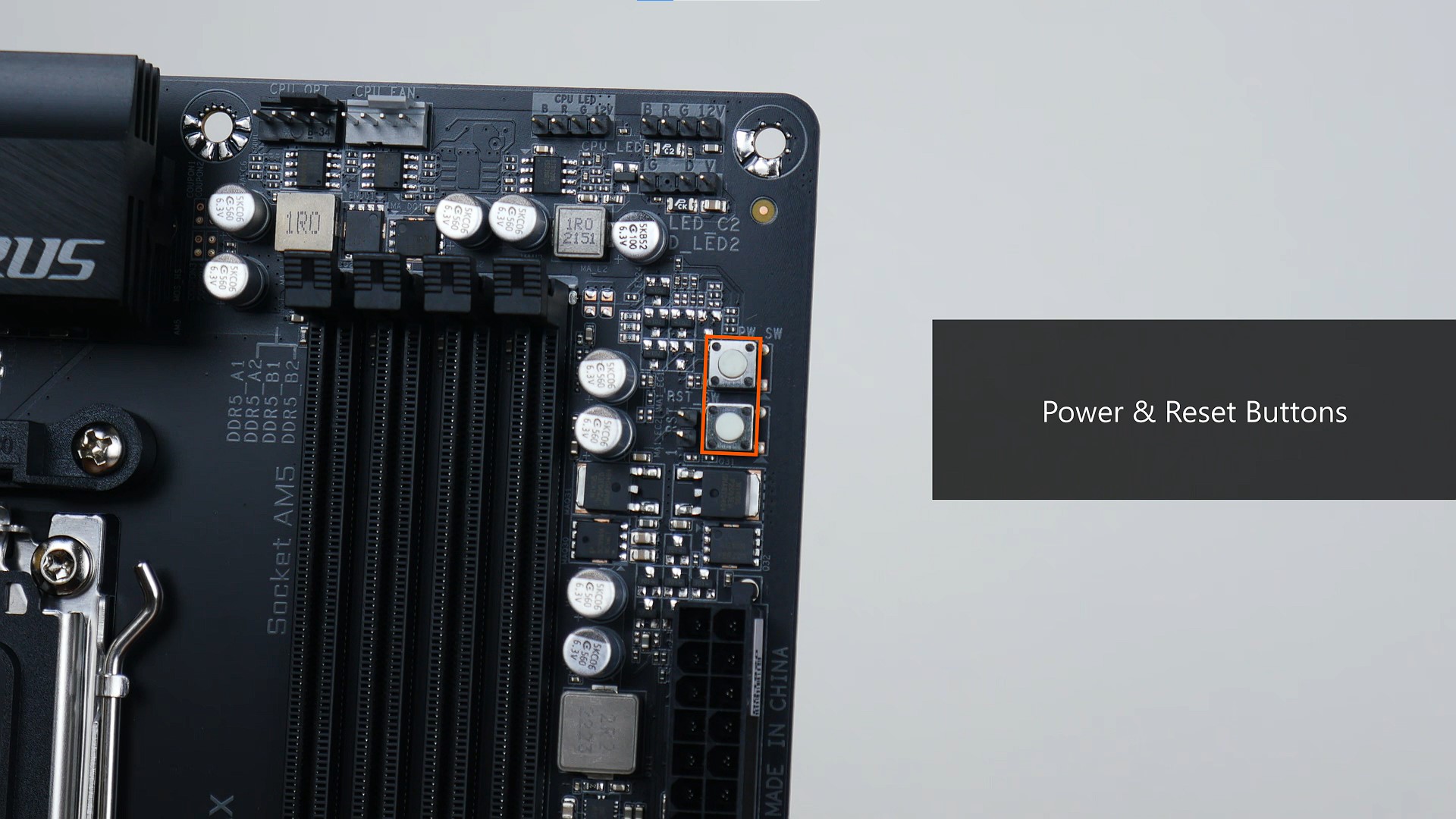 Moving up top, we see that Gigabyte has included on-board power and reset buttons - the reset button is what Gigabyte terms a multi-key button, which can be re-mapped within the BIOS to serve a variety of different functions, such as to serve as a switch that can enable and disable the board's on-board RGB devices, and so on.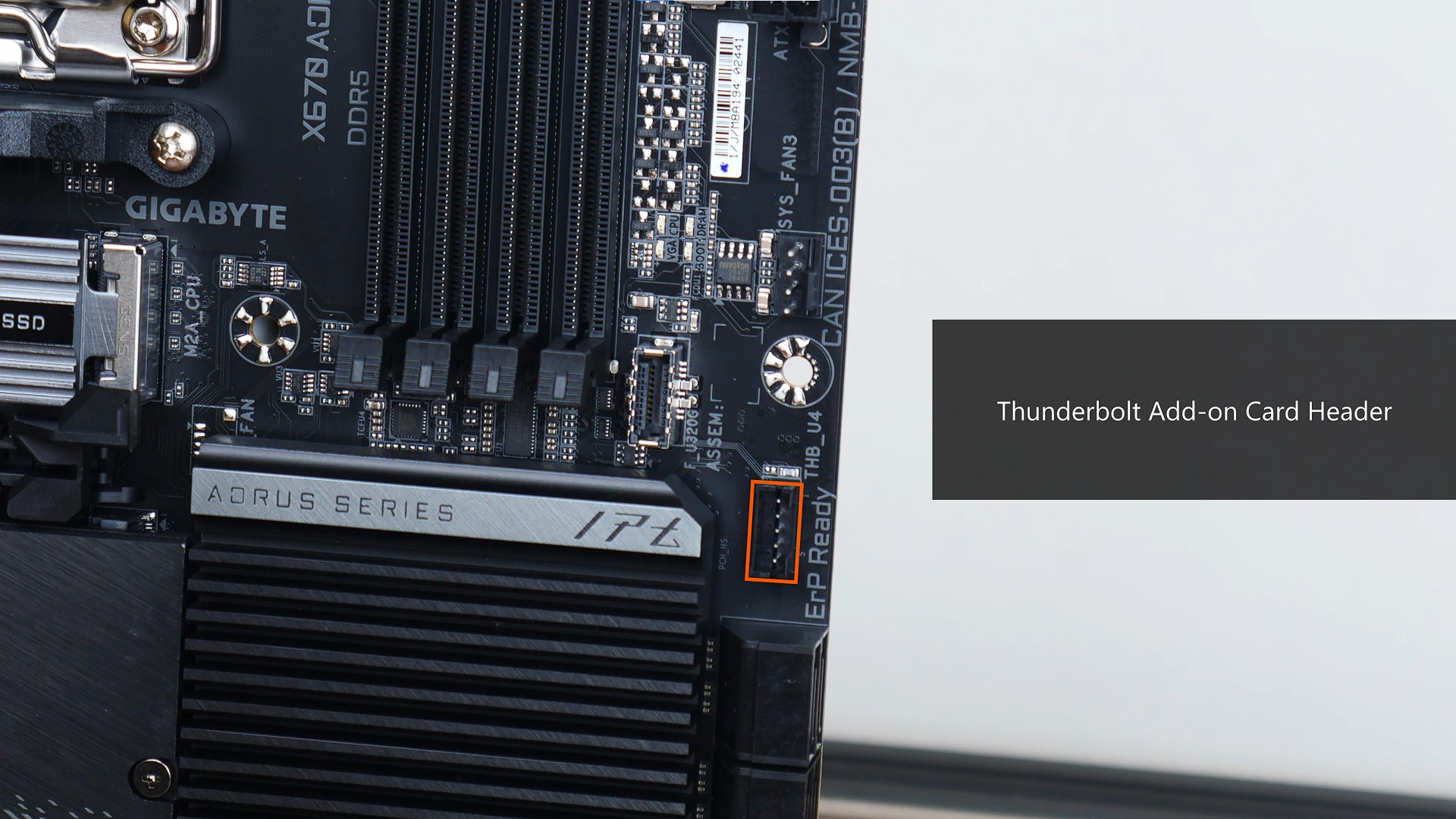 The board also comes with status LEDs that can help with troubleshooting PC start-up issues, and near the said LEDs, a Thunderbolt add-on card header that is to be used in conjunction with an add-on card that is sold separately by Gigabyte. The header is labelled "THB_U4", seemingly indicating that this add-on card, which appears to be unreleased at the time of writing this article, might also serve up USB4 ports as well.
Rear I/O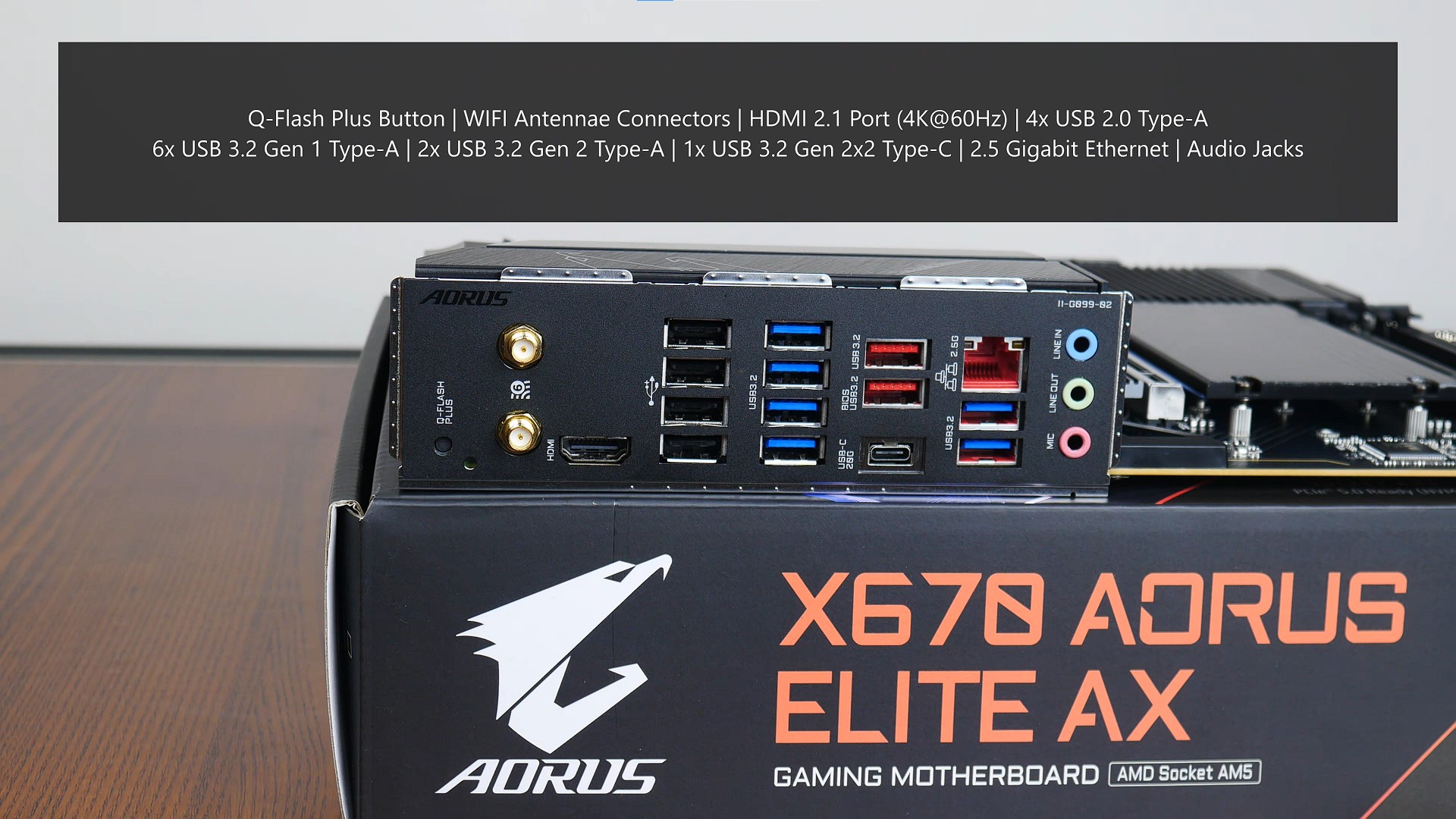 The X670 AORUS ELITE AX comes with an integrated I/O shield design, with the following ports on the rear I/O:
WIFI antennae connectors
1x HDMI 2.1 port (display output of up to 4K resolution at 60Hz)
4x USB 2,0 Type-A
6x USB 3.2 Gen 1 Type-A (5 Gbps)
2x USB 3.2 Gen 2 Type-A (10 Gbps)
1x USB 3.2 Gen 2x2 Type-C (20 Gbps)
2.5 Gigabit Ethernet port
Audio jack connectors
Also included is a Q-Flash Plus button that allows end-users to update the board's BIOS without needing to install a CPU, RAM or graphics card - a handy feature to have for sure, seeing as the AM5 platform is expected to support several generations of Ryzen processors beyond the 7000 series.
Conclusion & Pricing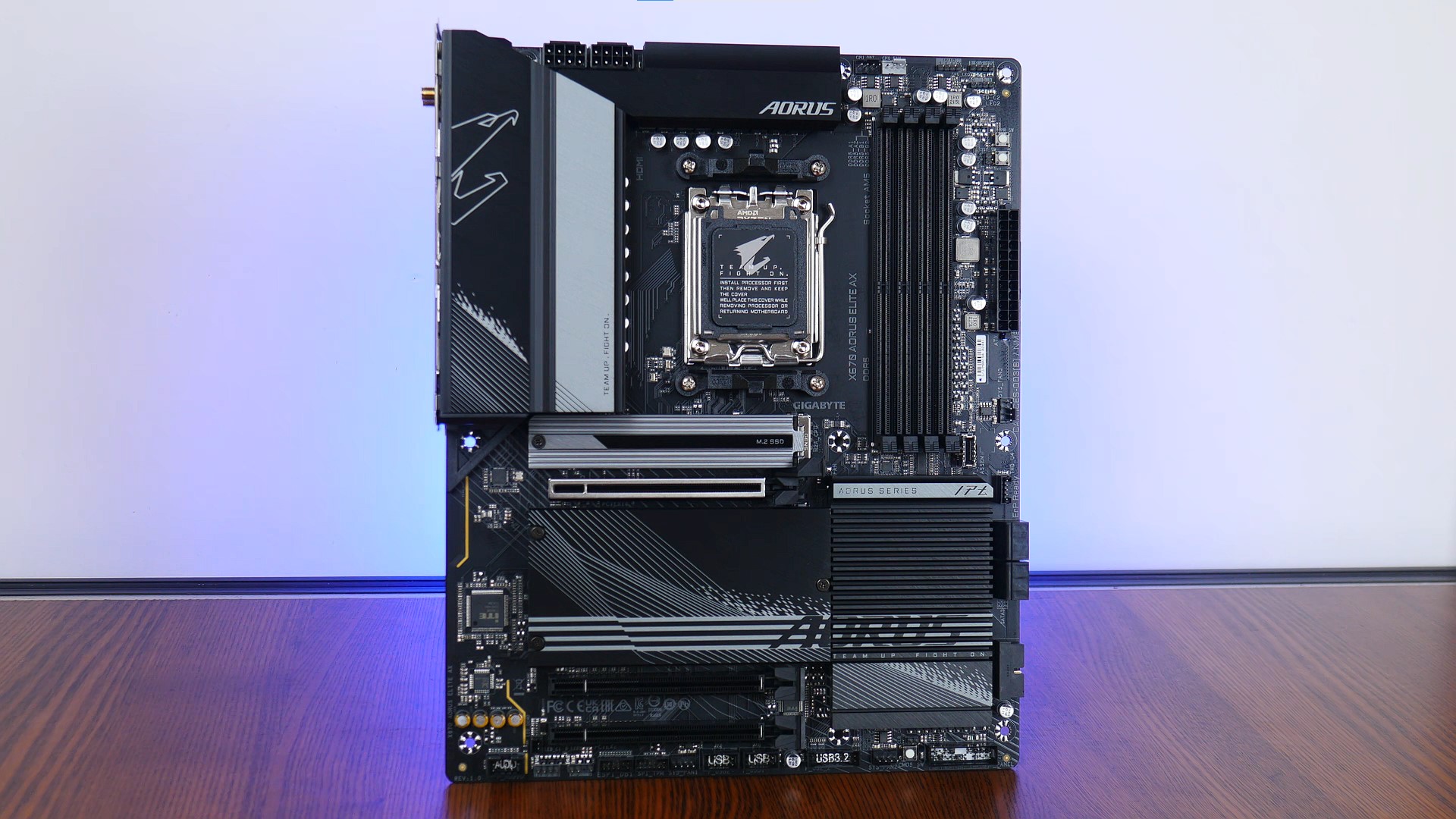 To sum up, the Gigabyte X670 AORUS ELITE AX sports a decent feature set for a mid-range AMD AM5 motherboard. With features such as DDR5 support, a PCIe 5.0 x4 M.2 slot, ample USB 3.2 connectivity options (the inclusion of dual USB 3,2 Gen 2x2 Type-C ports is a pleasant surprise), you've got all the ingredients for a modern AMD Ryzen 7000 series PC build that will also have a good upgrade path in the future.

It would have been great to see a higher-end audio codec included with this board though, as the Realtek ALC897 audio codec that it comes with is a pretty low-end part. One other potential issue to consider is the value proposition that X670 boards have against say, similarly priced AMD B650 or even B650E boards that could serve up similar, or even better specs at around the same price point - this would ultimately boil down to pricing decisions by retailers depending on which country you're from.

As of December 2022, the X670 AORUS ELITE AX is available for a price of around $479 Singapore dollars through retailers based in Singapore, or for you international folks, around $290 US dollars from ecommerce sites such as Newegg.
Get this board from Amazon: https://amzn.to/3uy9yHk (affiliate link)
Get this board from Shopee Singapore: https://shope.ee/8zVoh9soVs (affiliate link)
ALKtech may earn commissions from qualifying purchases made using affiliate links, at no extra cost to you as a customer. These commissions go a long way in supporting the platform!
The motherboard featured in this article was a review unit provided on loan from CDL Trading Pte Ltd, an authorised distributor for Gigabyte in Singapore.