Review: ASUS PRIME X670E-PRO WIFI AM5 Motherboard
ASUS serves up a balanced AMD X670E motherboard offering that is Ryzen 7000 ready.
Exciting times ahead, as AMD's Ryzen 7000 series of processors and their corresponding X670E and X670 motherboards have just launched. As of 27 September 2022, consumers can now get their hands on Zen 4 goodness, where with the Ryzen 7000 series, the company claims that it has managed to achieve 13% improvements in instructions per clock (IPC) compared to the offerings from the previous generation Ryzen 5000 (Zen 3) series. These claims are sure to be put to the test in the coming days (if not hours), as the inevitable slew of third-party Ryzen 7000 series benchmark results start to hit the web. To get in on the excitement, ALKtech gives a Ryzen 7000-ready motherboard a once-over, the ASUS PRIME X670E-PRO WIFI.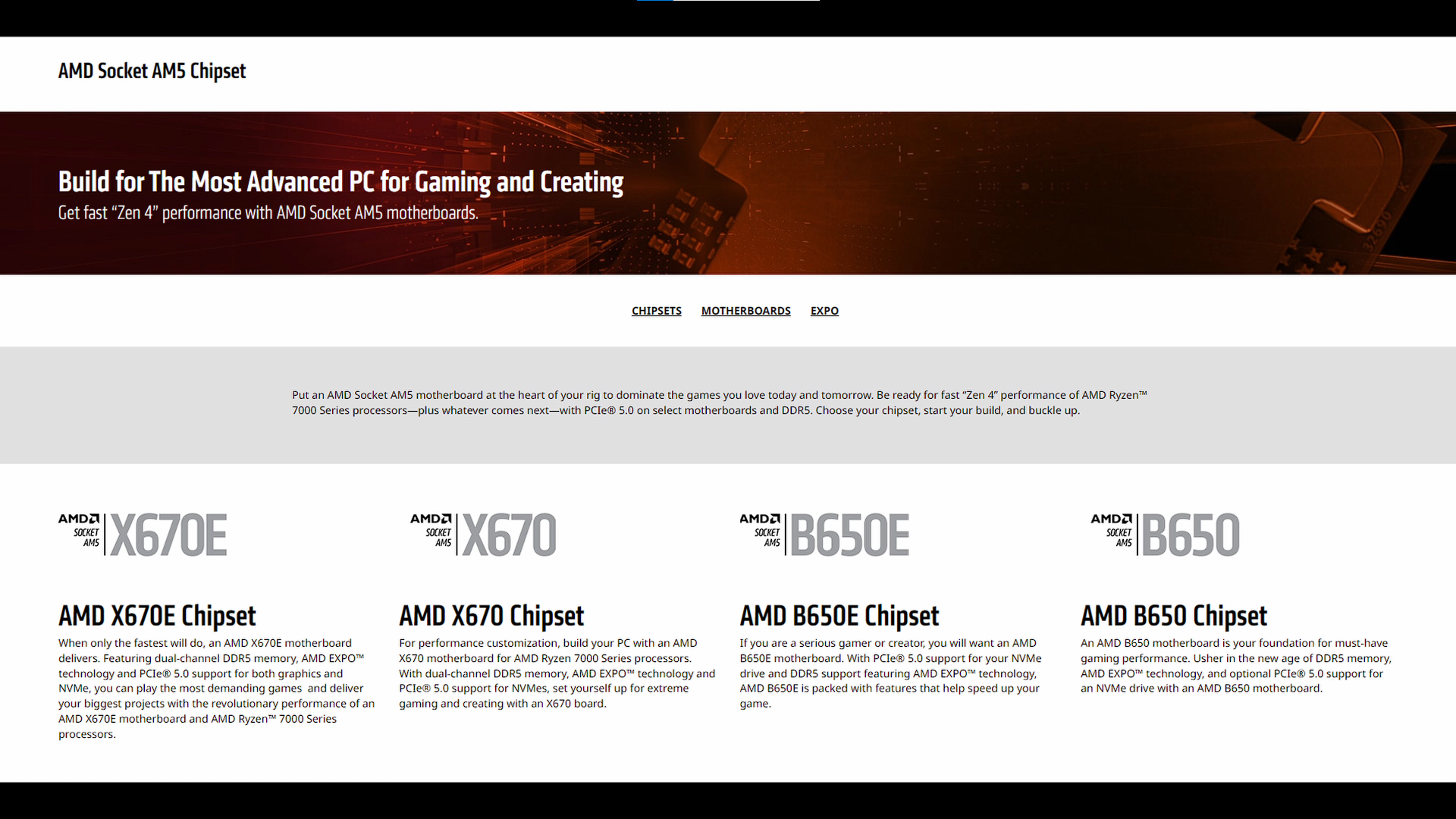 Source: AMD website
The Ryzen 7000 series of processors will launch alongside the range-topping X670E and X670 motherboard chipsets first - AMD's mid-tier chipset offerings, the B650E and B650, will likely launch in October 2022. Heralding the arrival of the Ryzen 7000 series is a new processor socket too, AM5, which sees the retirement of the venerable AM4 socket that has served AMD users well since its debut way back in September of 2016.
One key difference between the X670E and X670 chipsets is PCIe 5.0 connectivity; while both chipsets will serve up PCIe 5.0 support, the X670E chipset will offer PCIe 5.0 support for both GPU and M.2 applications. The X670 chipset on the other hand, will offer PCIe 5.0 support for either the GPU or M.2 drives only, a decision to be taken by motherboard manufacturers. The PRIME X670E-PRO WIFI featured in this article, as its name implies, is powered by the top-of-the-line X670E chipset.
Summary of Specifications
Processor Support: AMD Ryzen 7000 series (Zen 4) AM5 processors
Chipset: AMD X670E
Memory: 4x DDR5 slots, max 128GB, up to DDR5 6400+ (OC) support
Audio: Realtek S1220A audio codec with DTS:X Ultra support
LAN: Realtek 2.5 Gigabit Ethernet
WIFI: AMD RZ608 or AMD RZ616 WIFI 6E module with built-in Bluetooth 5.2
Expansion Slots: 1x PCIe 5.0 x16, 1x PCIe 4.0 x4, 1x PCIe 4.0 x16 (x4 mode)
Storage: 4x SATA III, 1x PCIe 5.0 x4 M.2, 2x PCIe 4.0 x4 M.2, 1x PCIe 3.0 x4 M.2 (SATA mode supported)
Form Factor: ATX
Packaging & Contents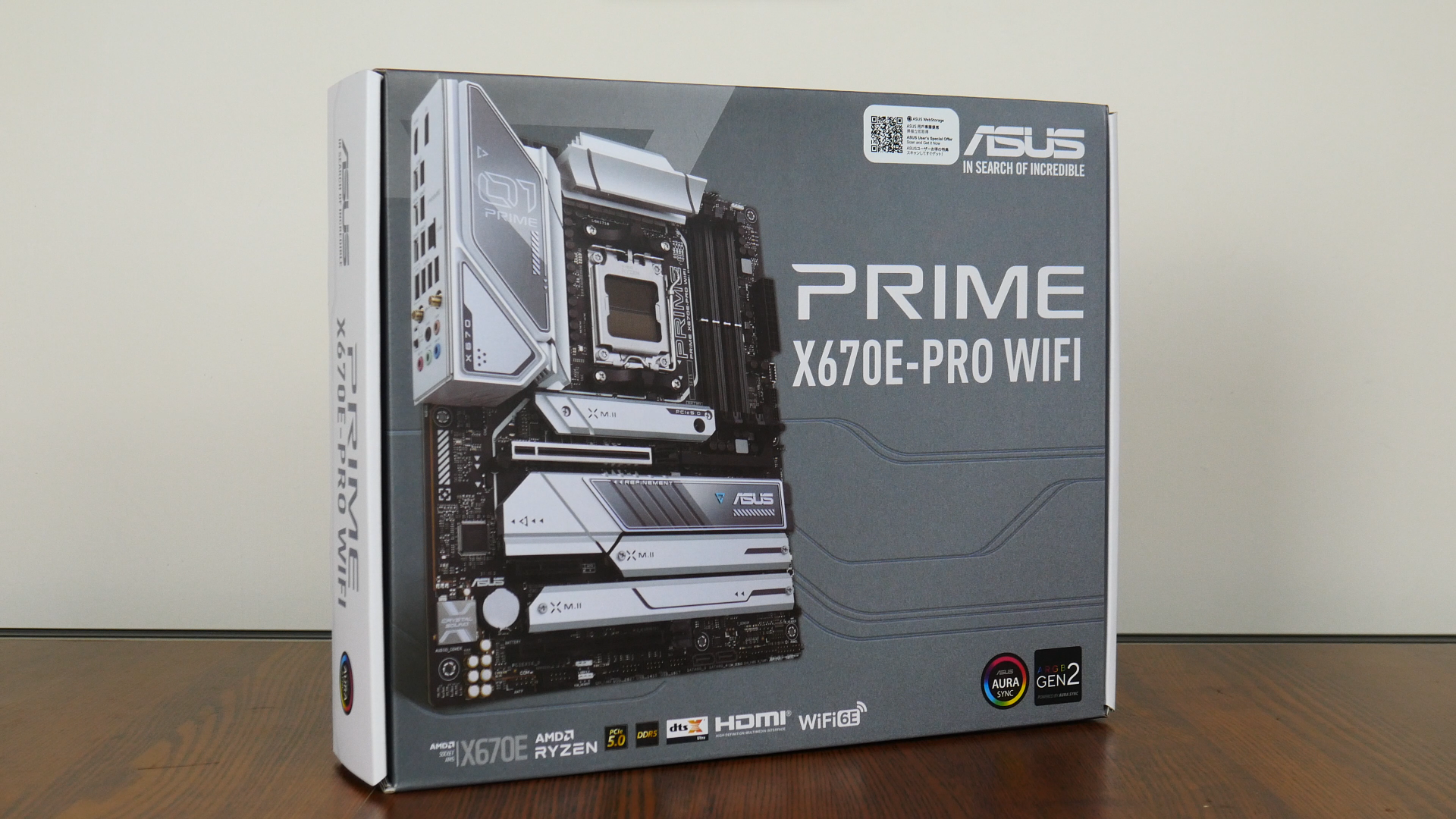 In keeping with the design language of the PRIME series of motherboards, the X670E-PRO WIFI comes in a conservatively-styled grey and white box.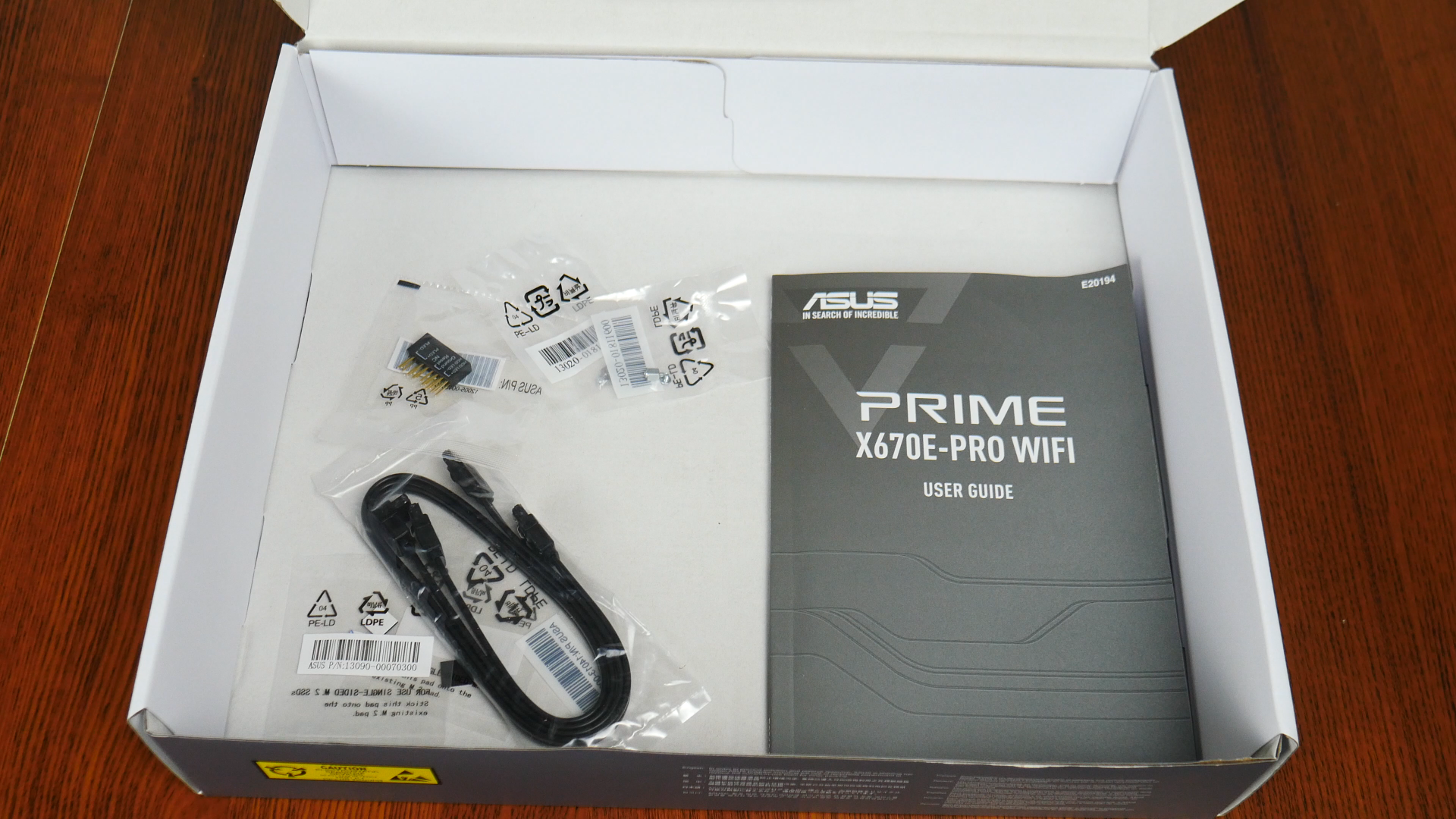 The motherboard comes with the following accessories:
1x WIFI antenna
2x SATA III cables
2 packs of M.2 drive screws and standoffs
2x M.2 rubber pads (adds height clearance for single-sided M.2 SSDs)
1x Q-Connector (aids with connecting the PC case's front panel headers to the motherboard)
User manual
DVD driver disc
ASUS WebStorage promotional leaflet
Board Aesthetics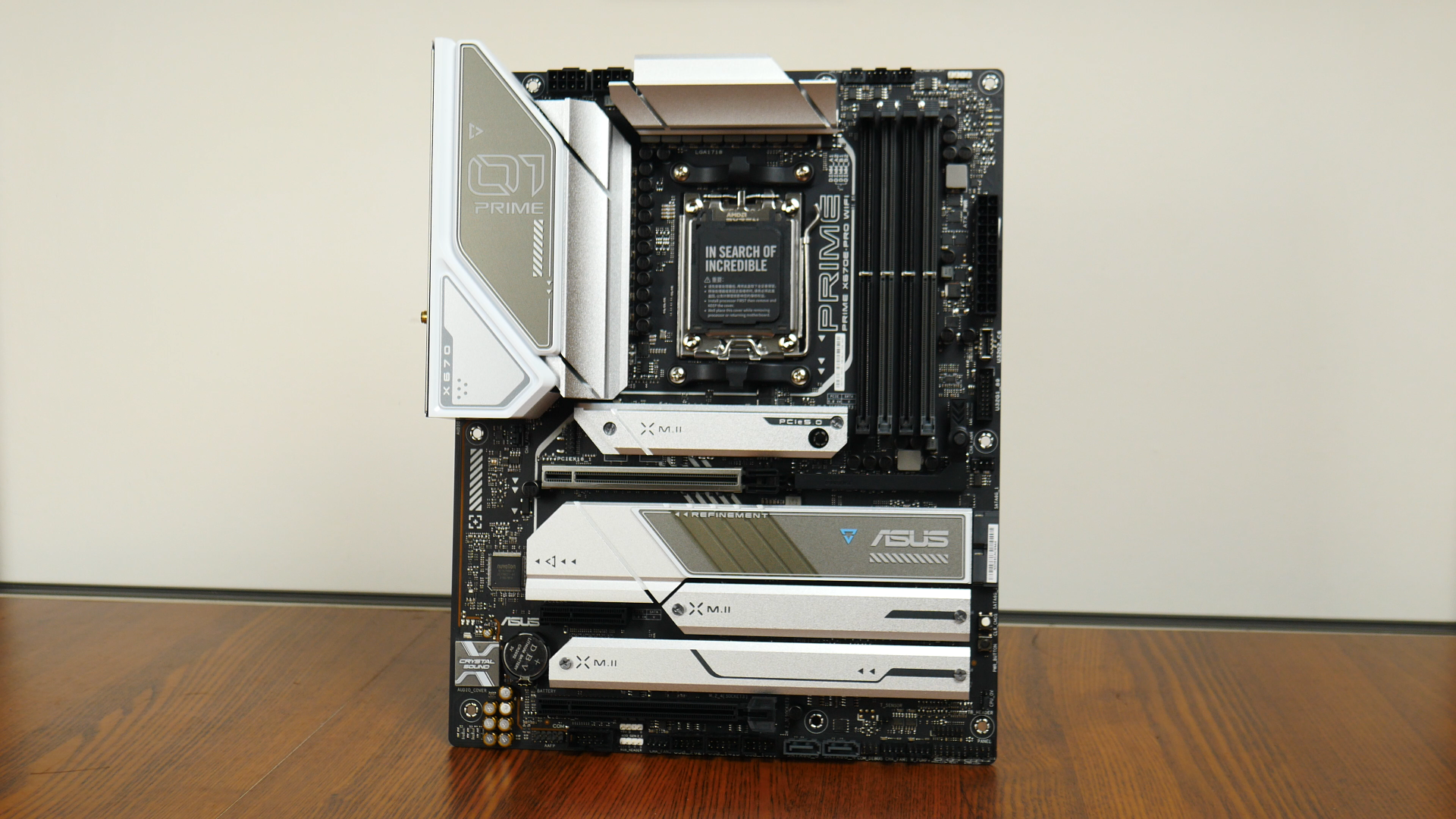 ASUS has gone with a predominantly silver-on-black colour scheme for the PRIME X670E-PRO WIFI, with large silver heatsinks spread across the board.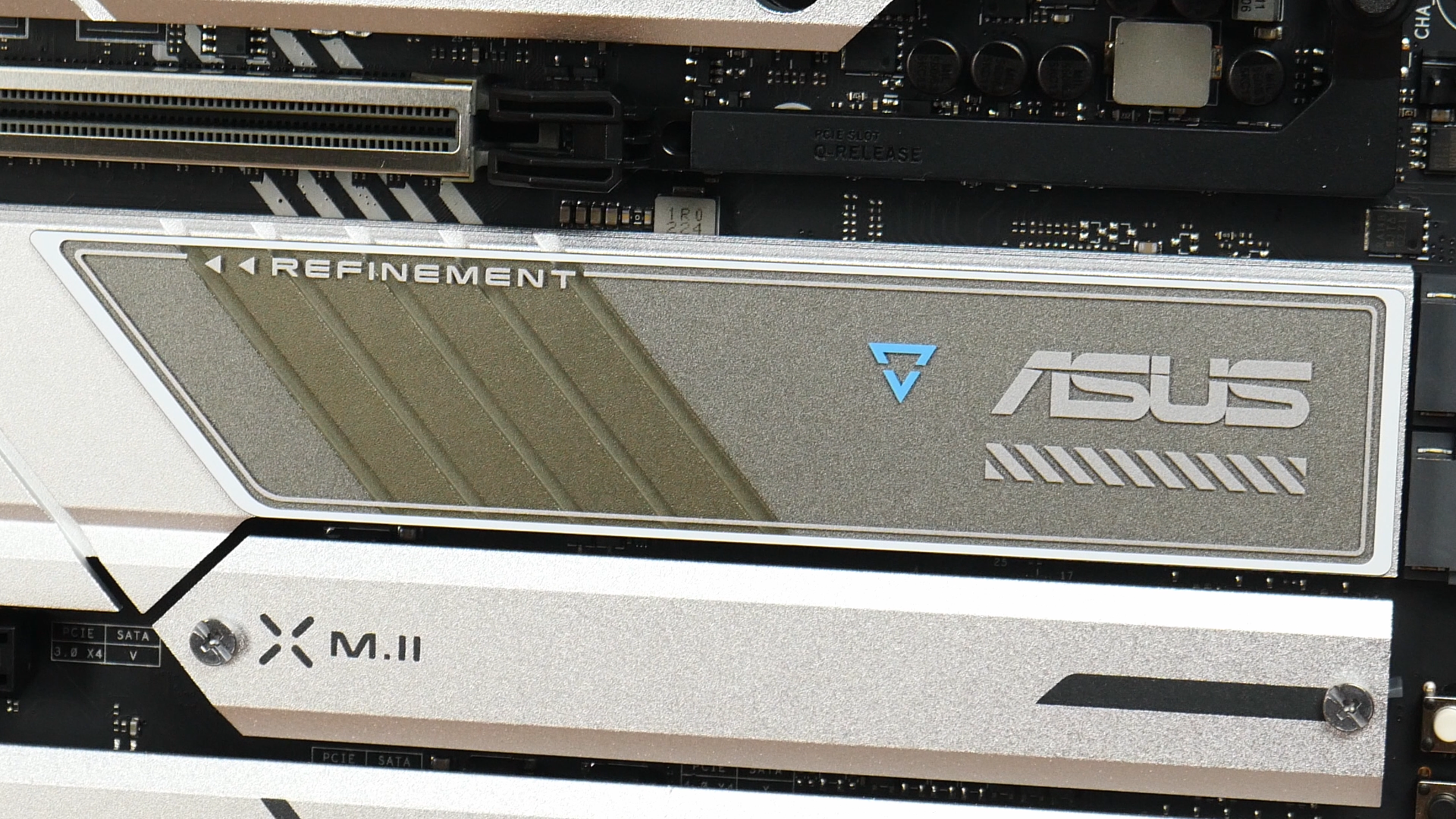 The board comes with an integrated I/O shield design that lends a premium appearance to the board. One aesthetic feature that I like is the inclusion of plastic accents for some of the heatsinks, which adds visual interest.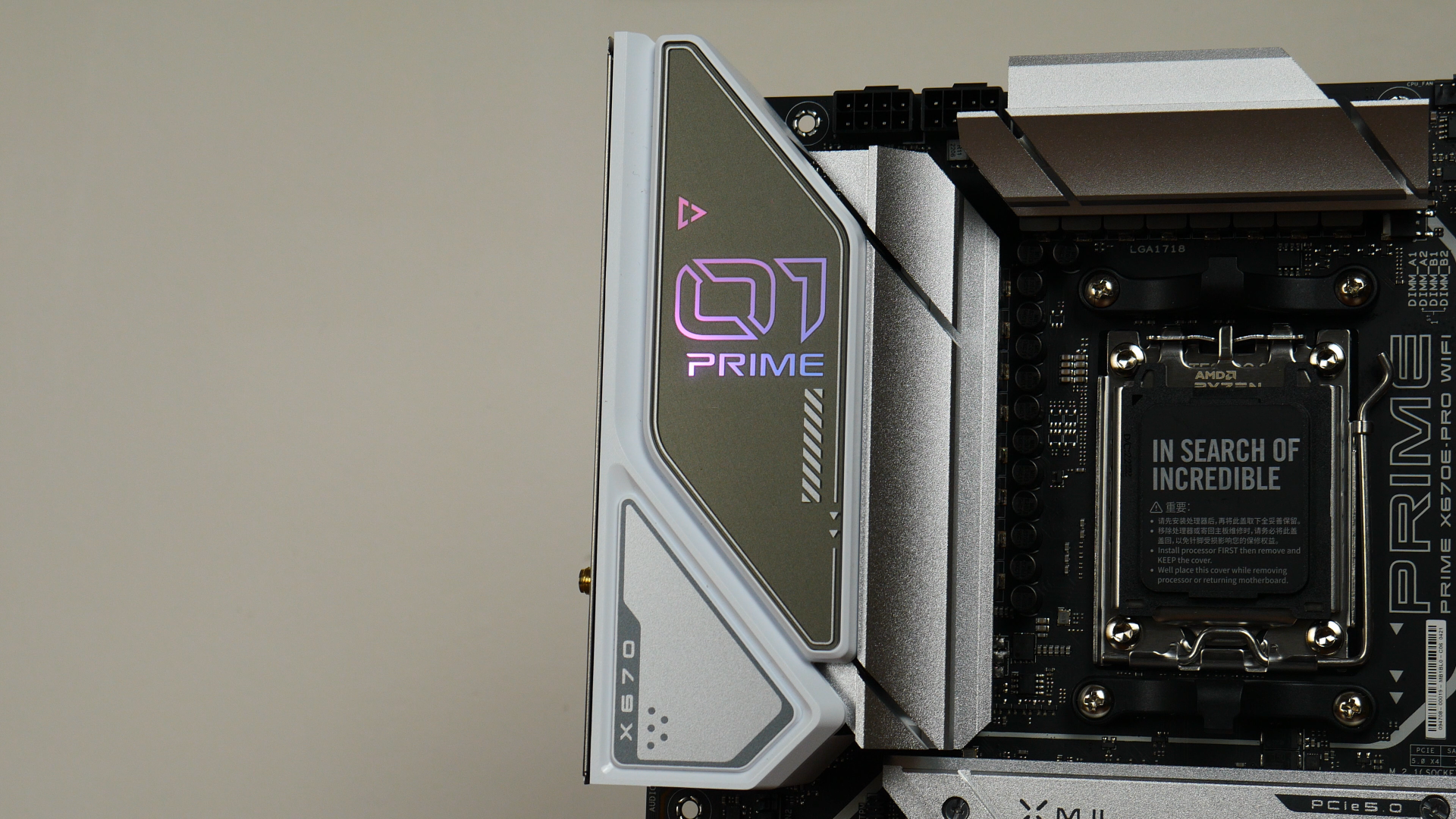 Further sprucing up the appearance of the board are RGB LEDs that are built into the integrated I/O shield cover. Given the design of the motifs that adorn the board, I find that the PRIME X670E-PRO WIFI has a pleasing spaceship-like aesthetic that would look interesting in a white-themed PC build.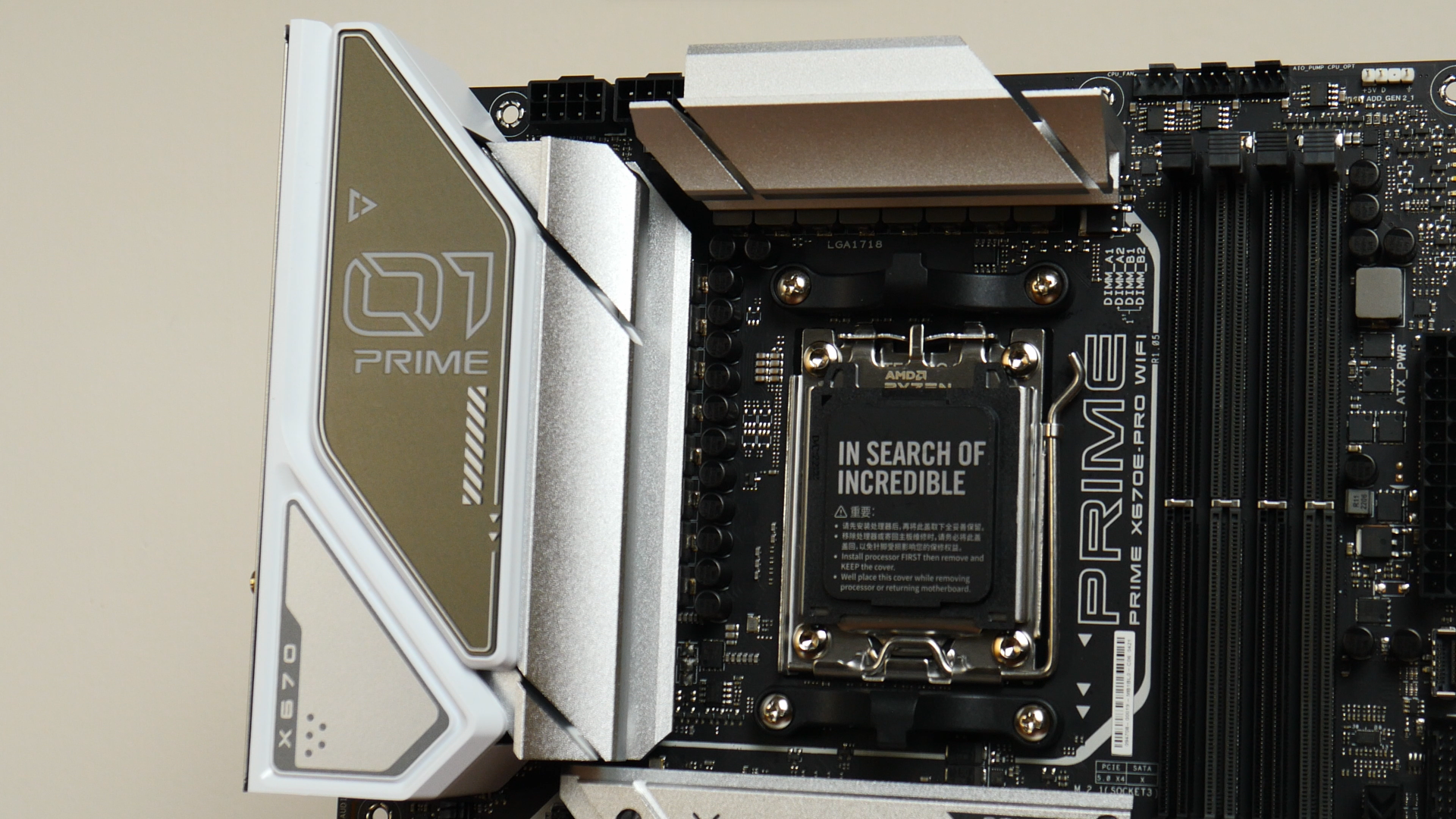 The VRM heatsinks for this motherboard appear to be decently sized...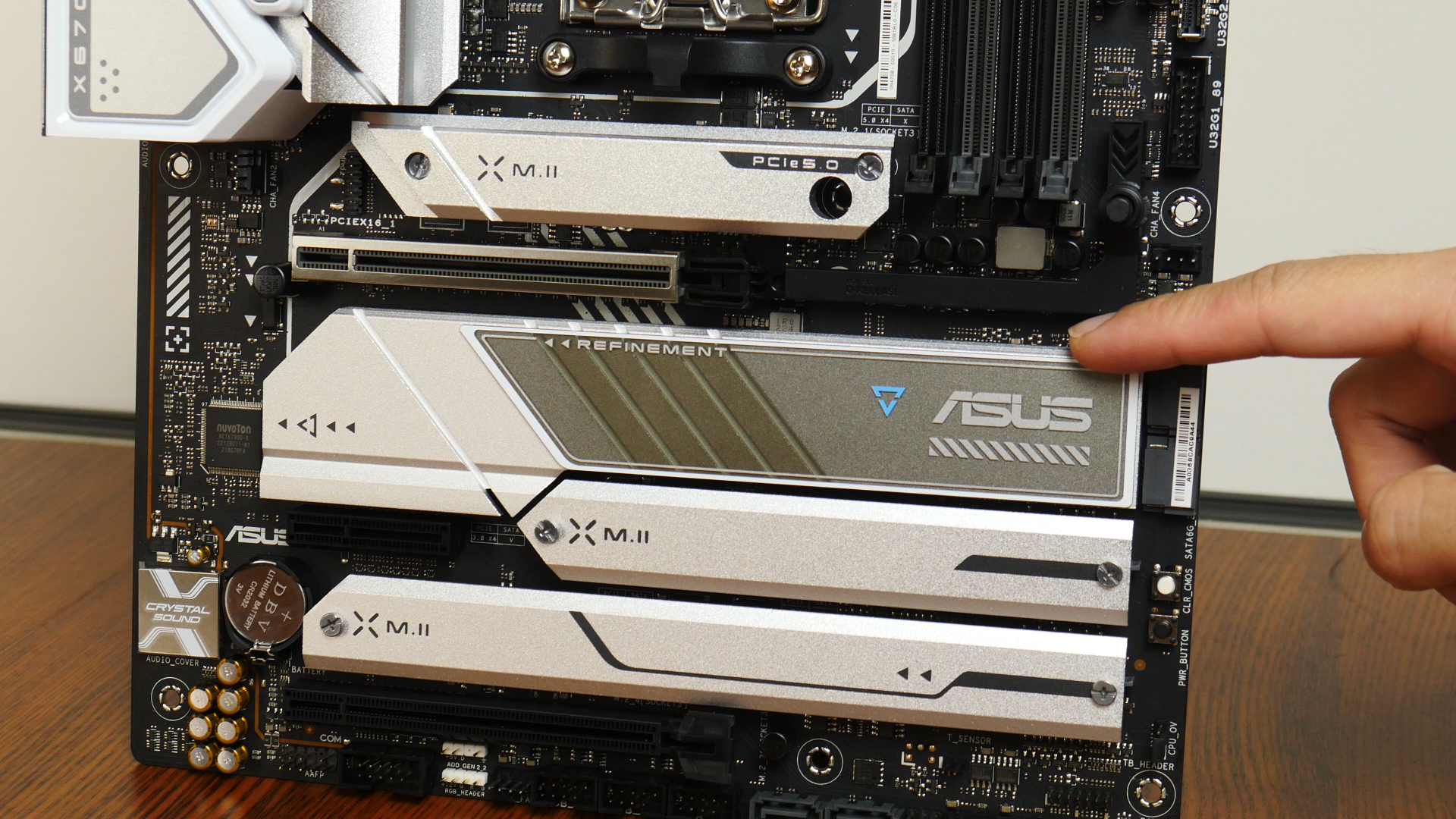 ...and ASUS has also included a passive heatsink for the dual chipsets of the X670E as well. To round things off, all four of the PRIME X670E-PRO WIFI's M.2 slots have heatsinks too.
VRM & Memory Support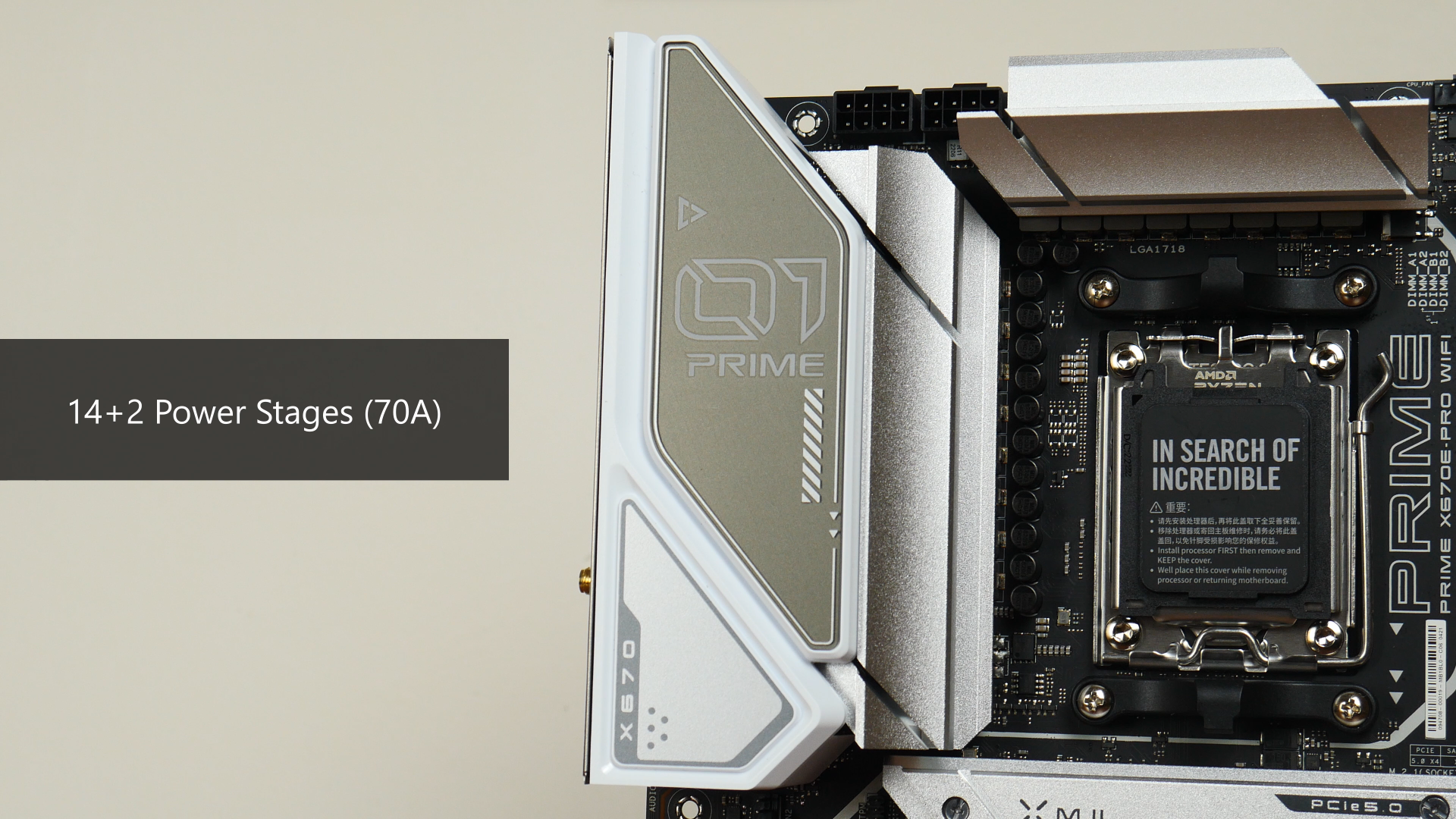 The board comes with 14+2 power stages rated for 70A, and has four DDR5 slots that support up to 128GBs of RAM, and the DDR5 6400+ standard when overclocked. With AM5's launch comes the introduction of AMD EXPO - Extended Profiles for Overclocking, which are built-in overclocking profiles for DDR5 memory, similar to what XMP stands for in Intel's world. The slots feature a single-tab design called Q-DIMM, which is a great quality-of-life feature by ASUS that helps with RAM removal, especially when a graphics card is already installed.
Front Panel USB Headers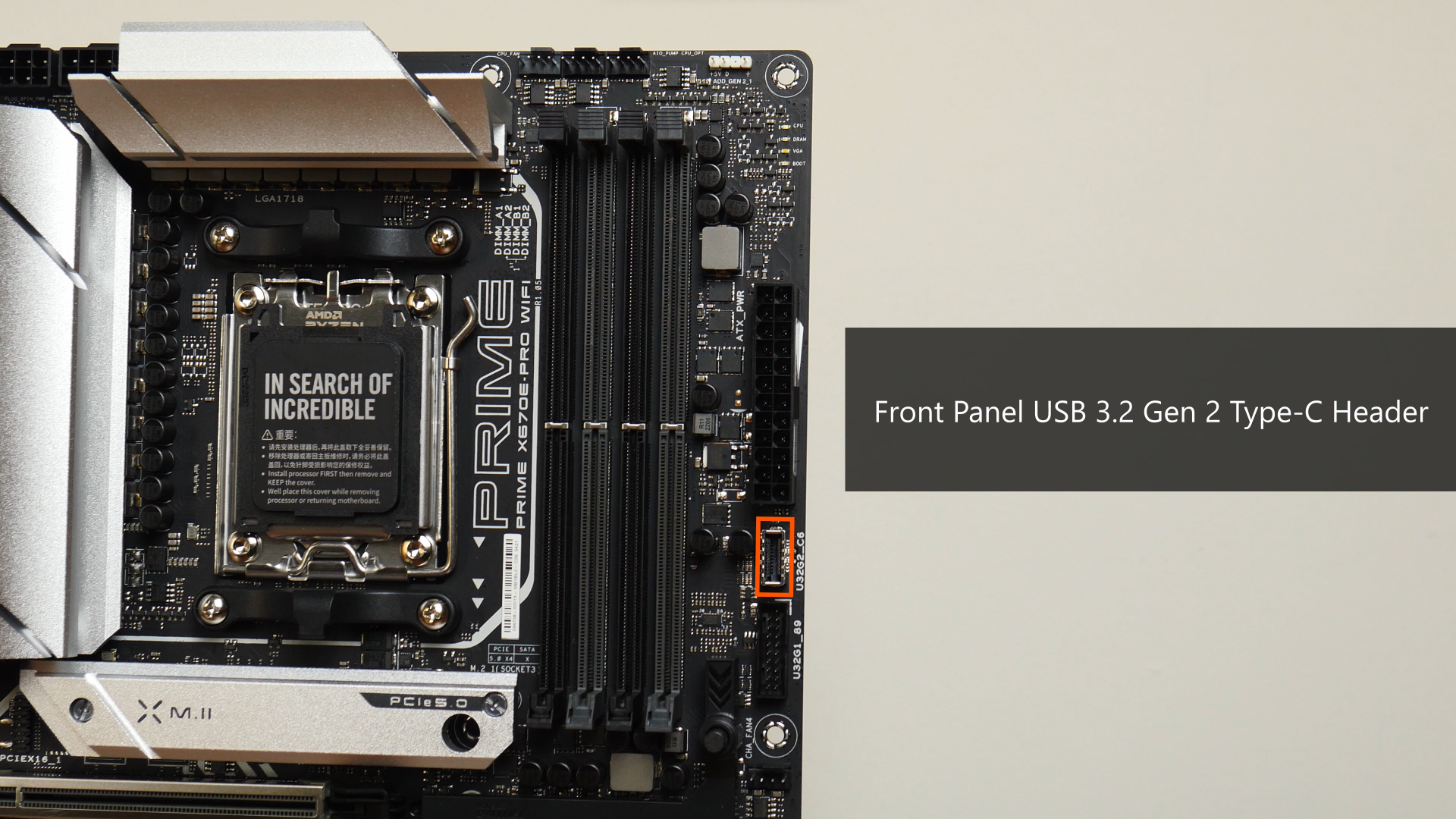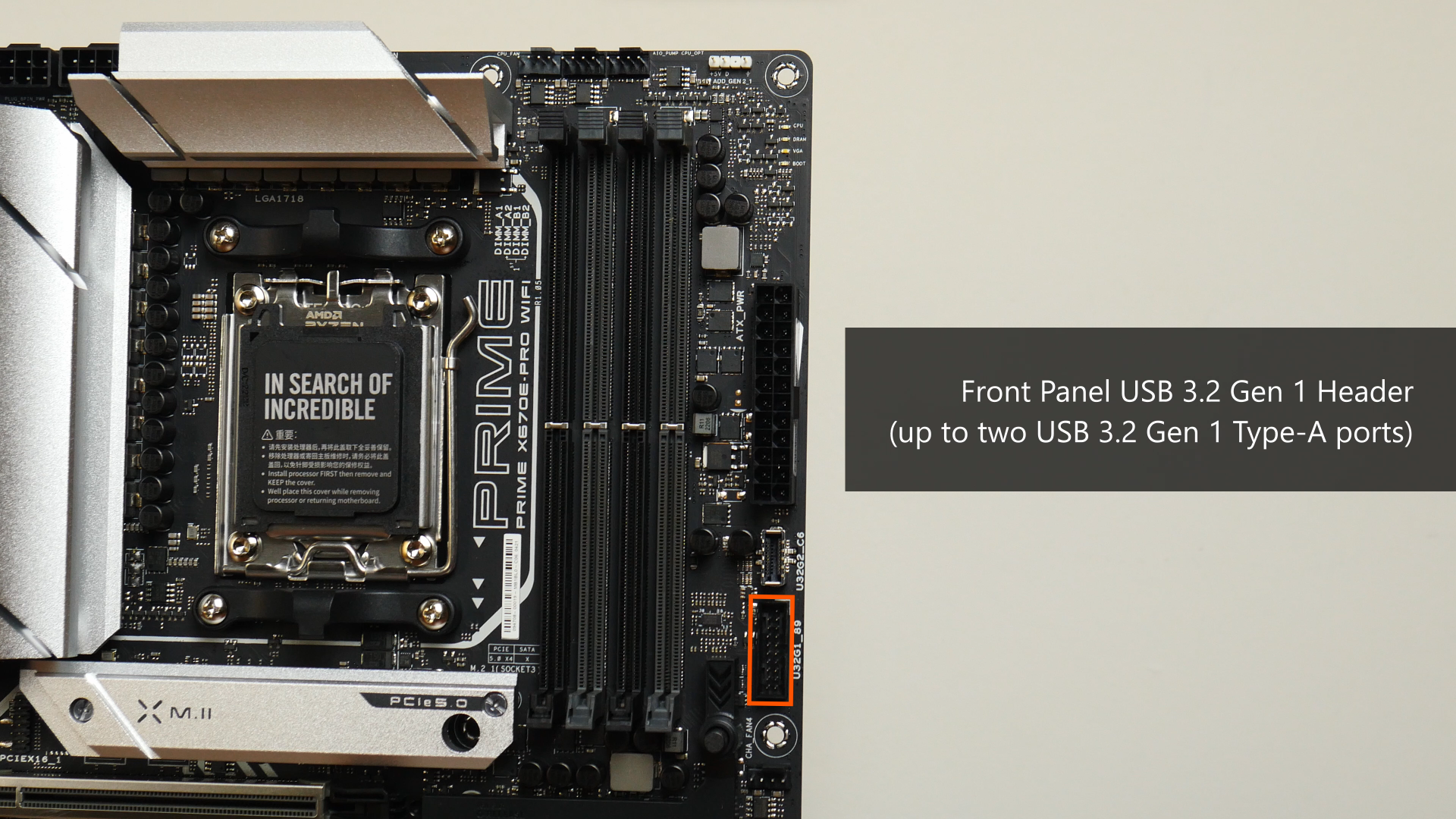 Front panel USB 3.2 connectivity is courtesy of a USB 3.2 Gen 2 Type-C header, as well as a USB 3.2 Gen 1 Type-A header that supports up to two USB 3.2 Gen 1 Type-A ports.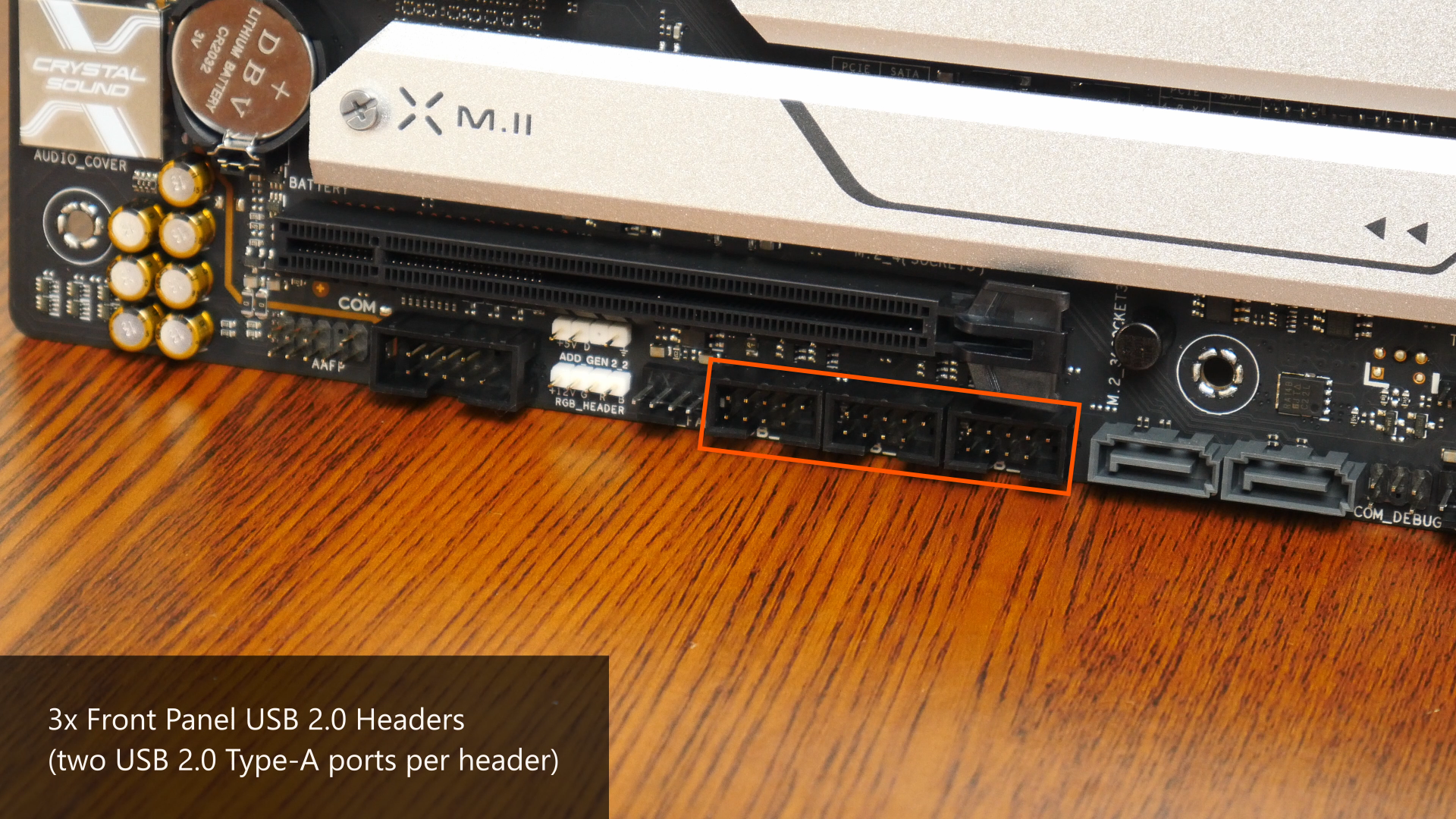 The board also comes with three USB 2.0 front panel headers, with each header supporting up to two front panel USB 2.0 Type-A ports.
Expansion Slots & Storage Options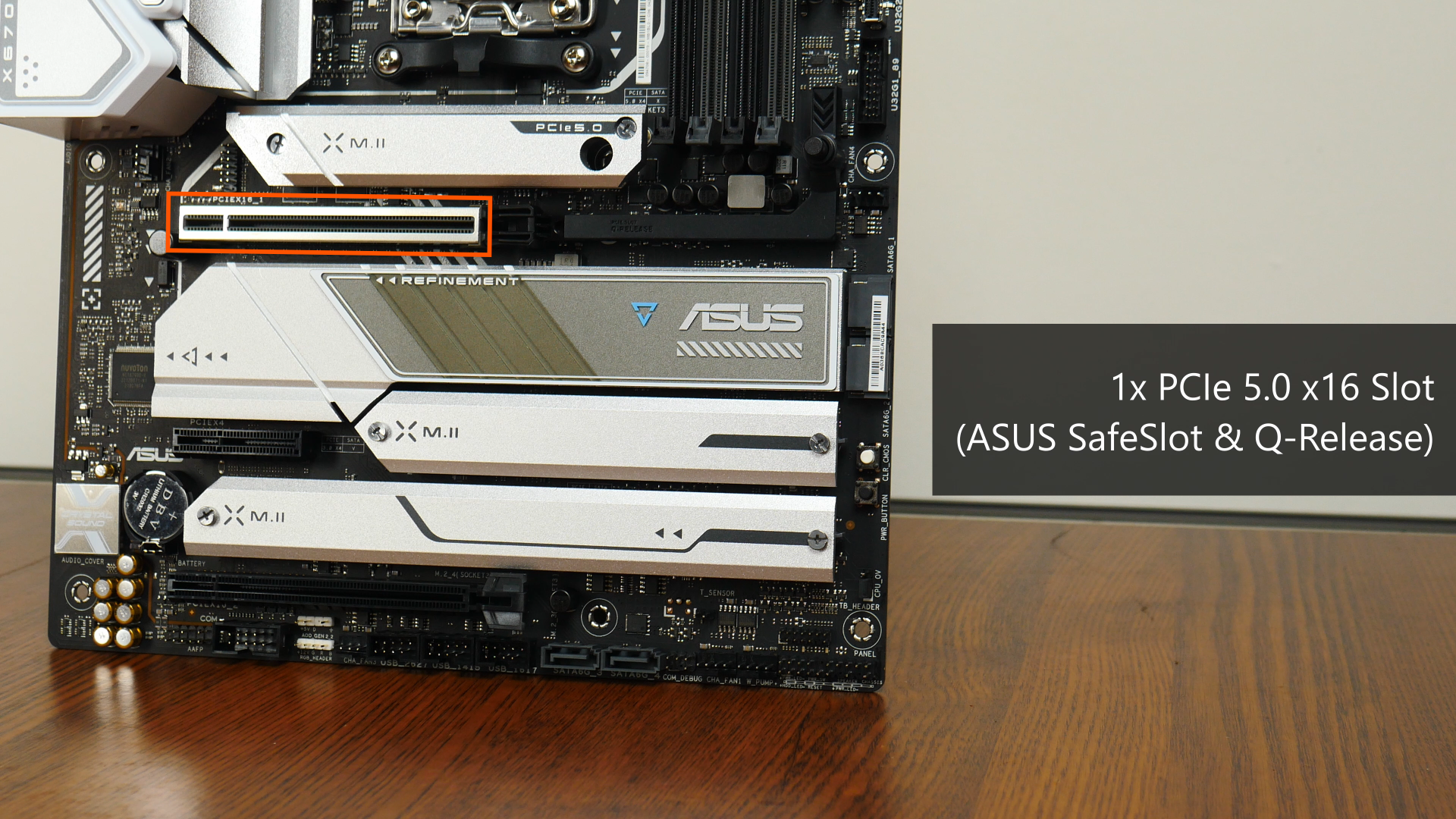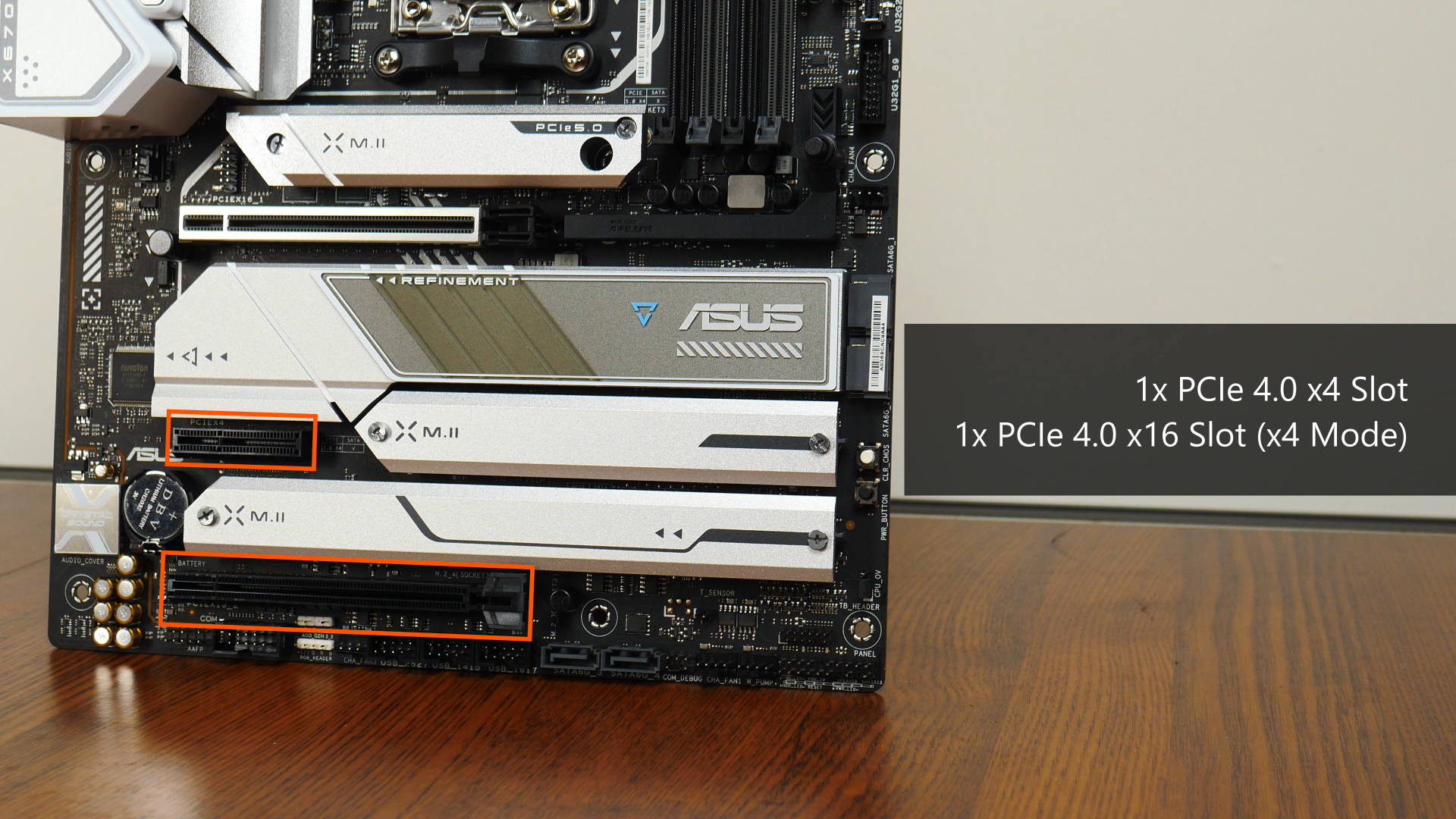 In terms of expansion slots, the PRIME X670E-PRO WIFI comes with a single PCIe 5.0 x16 slot, a PCIe 4.0 x4 slot, as well as a full-length PCIe 4.0 x16 slot that operates at x4 mode. The PCIe 5.0 x16 slot comes with ASUS's SafeSlot feature which reinforces the slot for use with heavy graphics cards, and also boasts a Q-Release feature.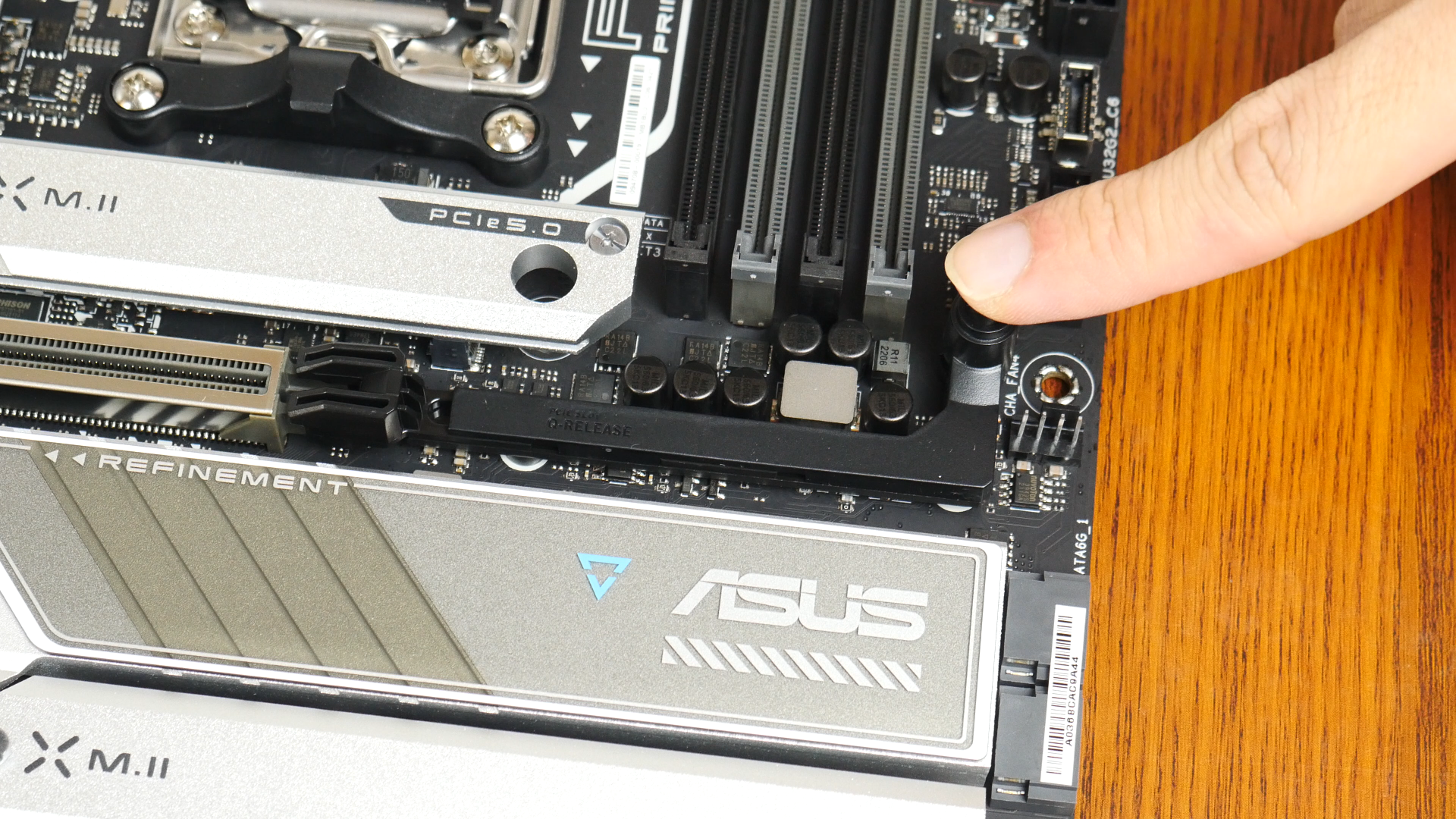 Q-Release facilitates the easy removal of a graphics card from the PCIe 5.0 x16 slot. With this feature, end-users need only press a button to undo the catch on the PCIe slot, before pulling the graphics card out and away from the slot.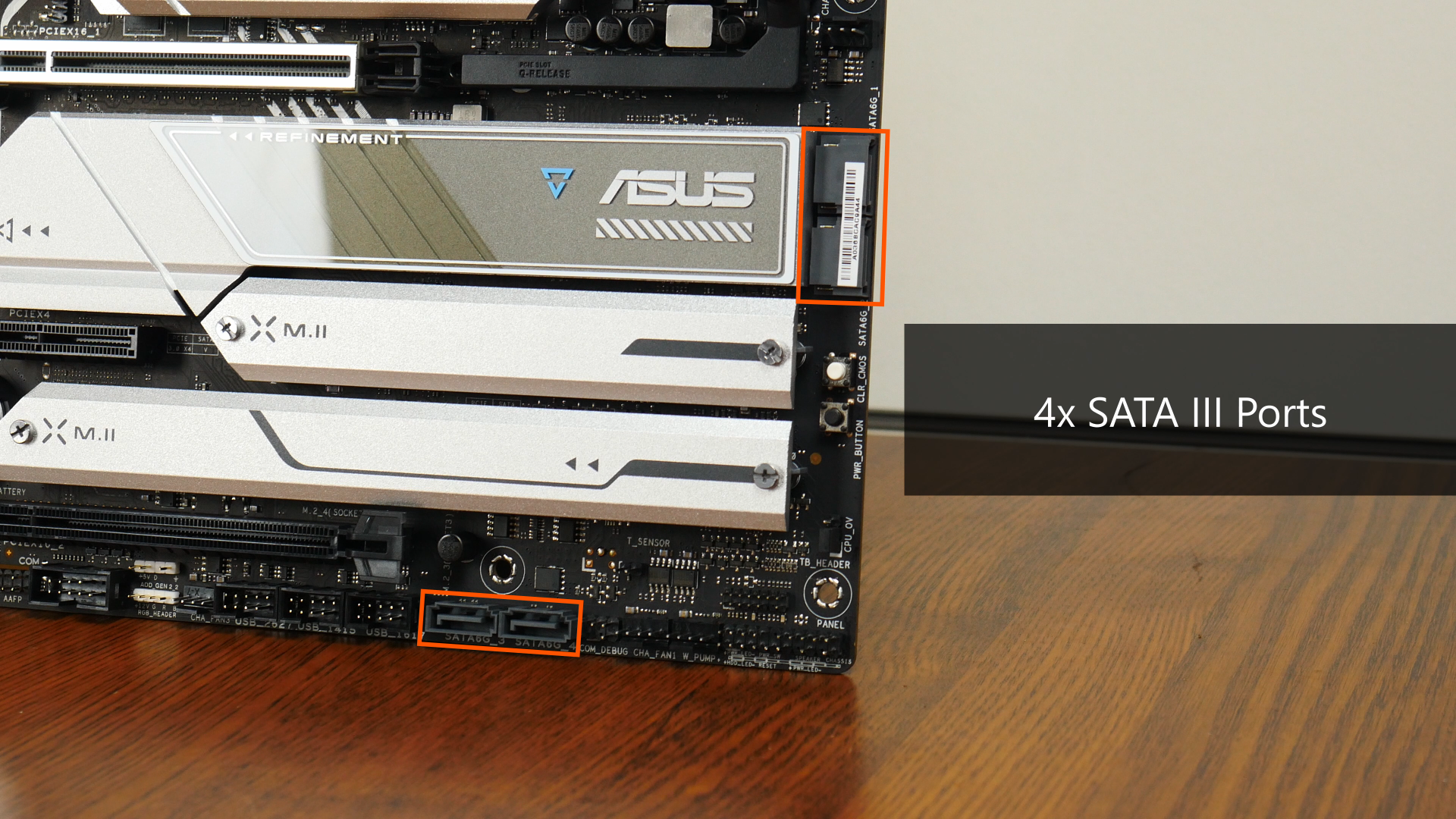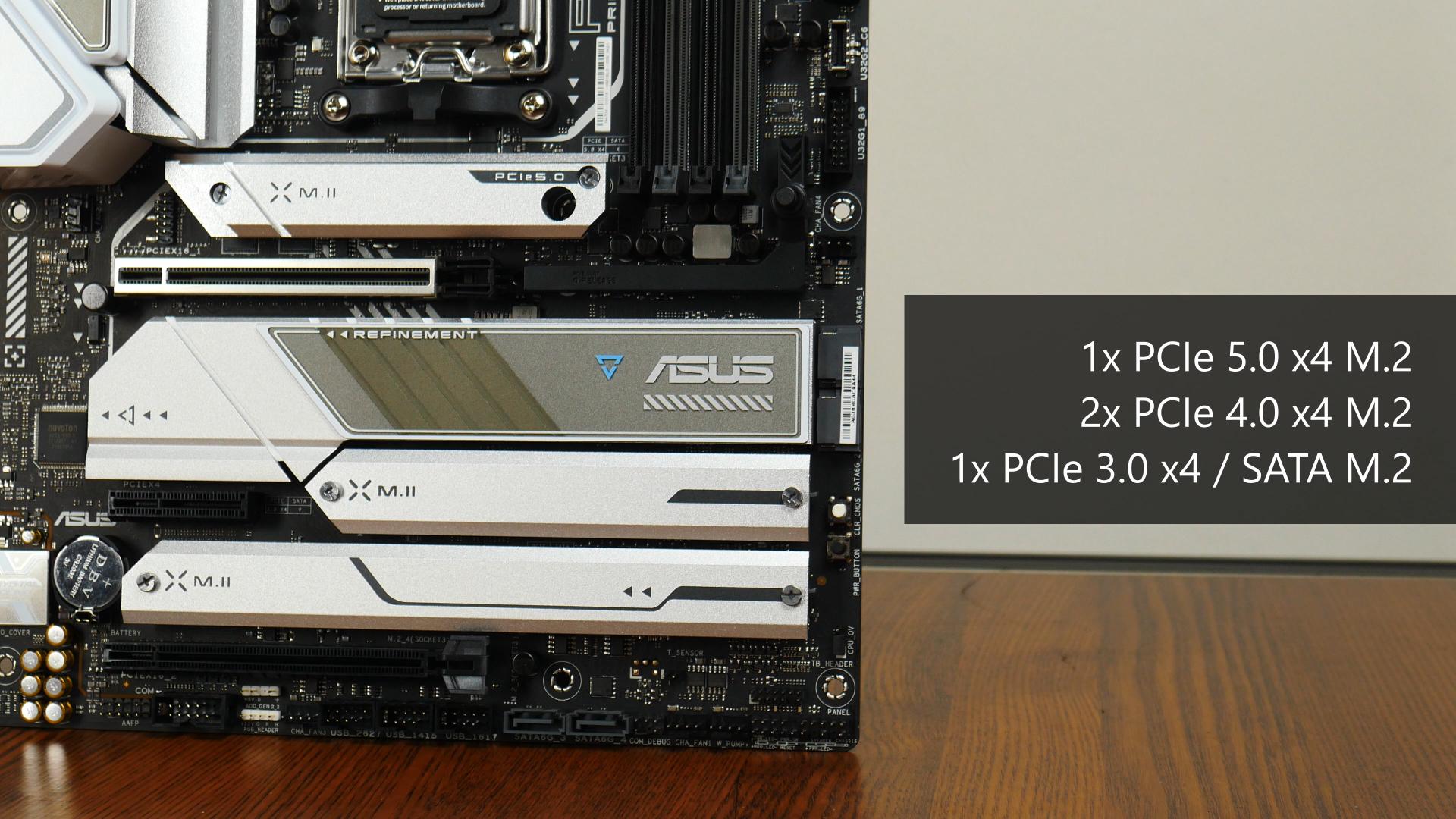 Moving on to storage options, ASUS has included four SATA III ports, with two ports in a straight-angled configuration, and two ports in a right-angled configuration to aid with cable management. In terms of M.2 drives, the PRIME X670E-PRO WIFI comes with a single PCIe 5.0 x4 M.2 slot, two PCIe 4.0 x4 M.2 slots, as well as a PCIe 3.0 x4 M.2 slot that also provides support for SATA M.2 drives. Do note that the PCIe 3.0 x4 M.2 slot (slot M.2_2) shares bandwidth with the first two SATA ports, where if a NVMe M.2 SSD operating at x4 mode is installed on the M.2_2 slot, SATA ports 1 & 2 will be disabled.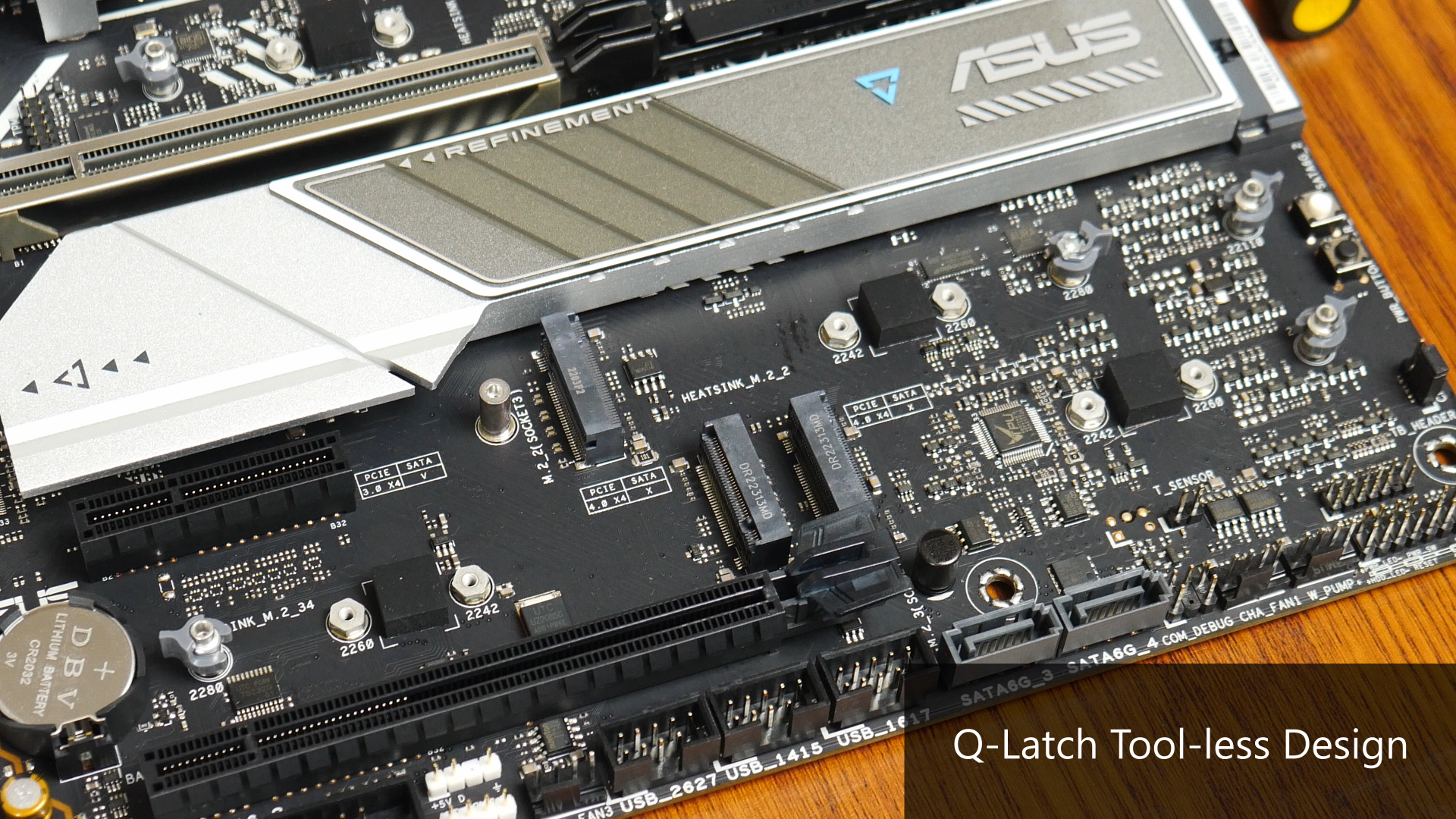 To facilitate the tool-less installation of M.2 drives, ASUS has included its Q-Latch feature for all four of the board's M.2 drive slots.
Audio & Internet Connectivity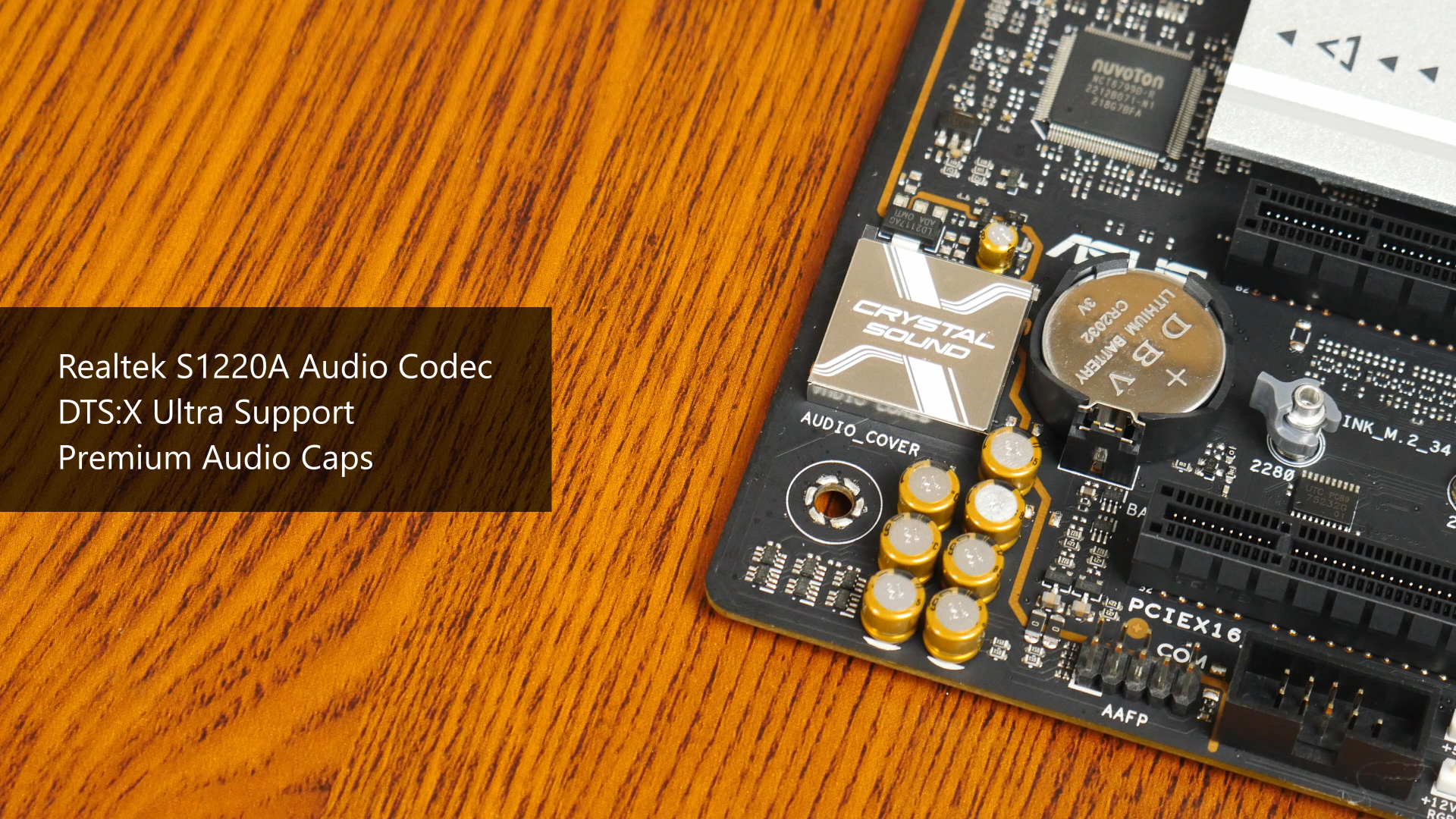 The PRIME X670E-PRO WIFI comes with Realtek's S1220A audio codec, which, coupled with DTS:X Ultra support and premium audio capacitors, provides for a higher-end audio experience.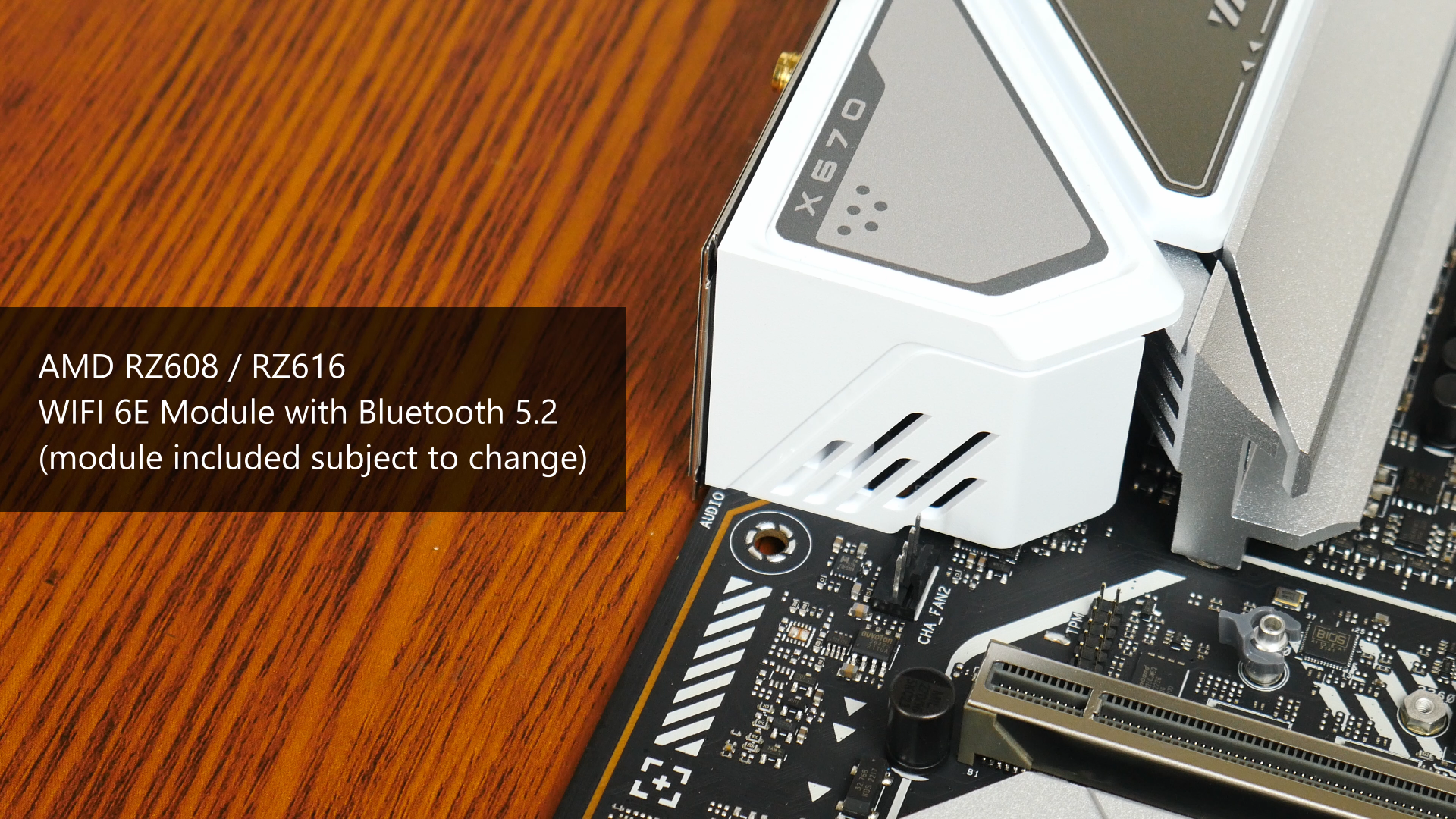 ASUS provides an unspecified Realtek Ethernet chip that provides support for 2.5 Gigabit Ethernet (I was unable to physically inspect the Ethernet chip which is hidden beneath the integrated I/O shield). WIFI duty on the other hand, according to the compliance notices in the motherboard manual, is courtesy of either AMD's RZ608 or RZ616 module. Both modules are WIFI 6E parts that support Bluetooth 5.2 - as to which module would come included eventually with the board that you purchase, this would likely boil down to parts availability at the point of the motherboard's manufacture.
Fan & RGB Headers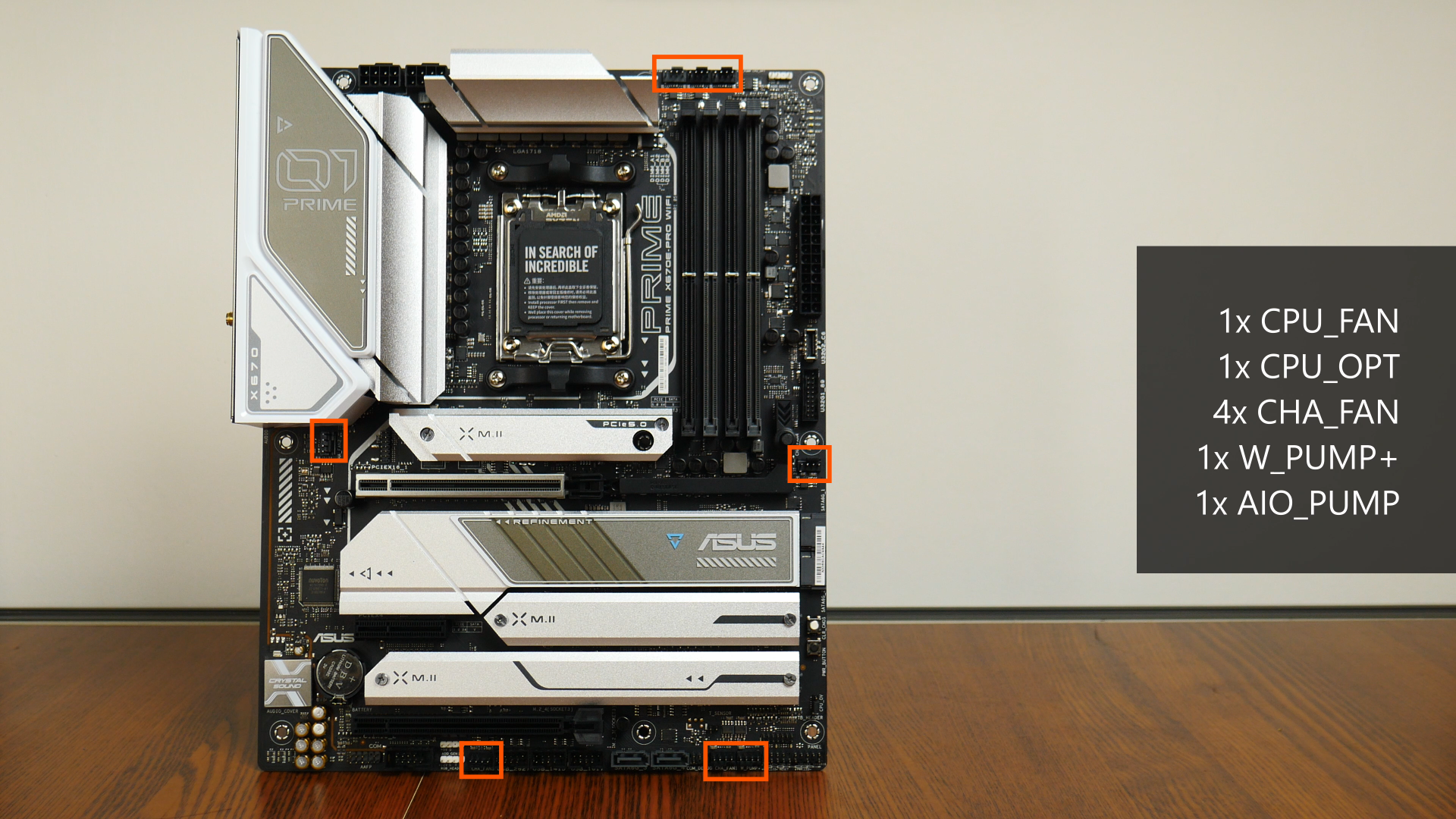 The PRIME X670E-PRO WIFI comes with eight fan headers:
1x CPU_FAN
1x CPU_OPT
4x CHA_FAN
1x W_PUMP+
1x AIO_PUMP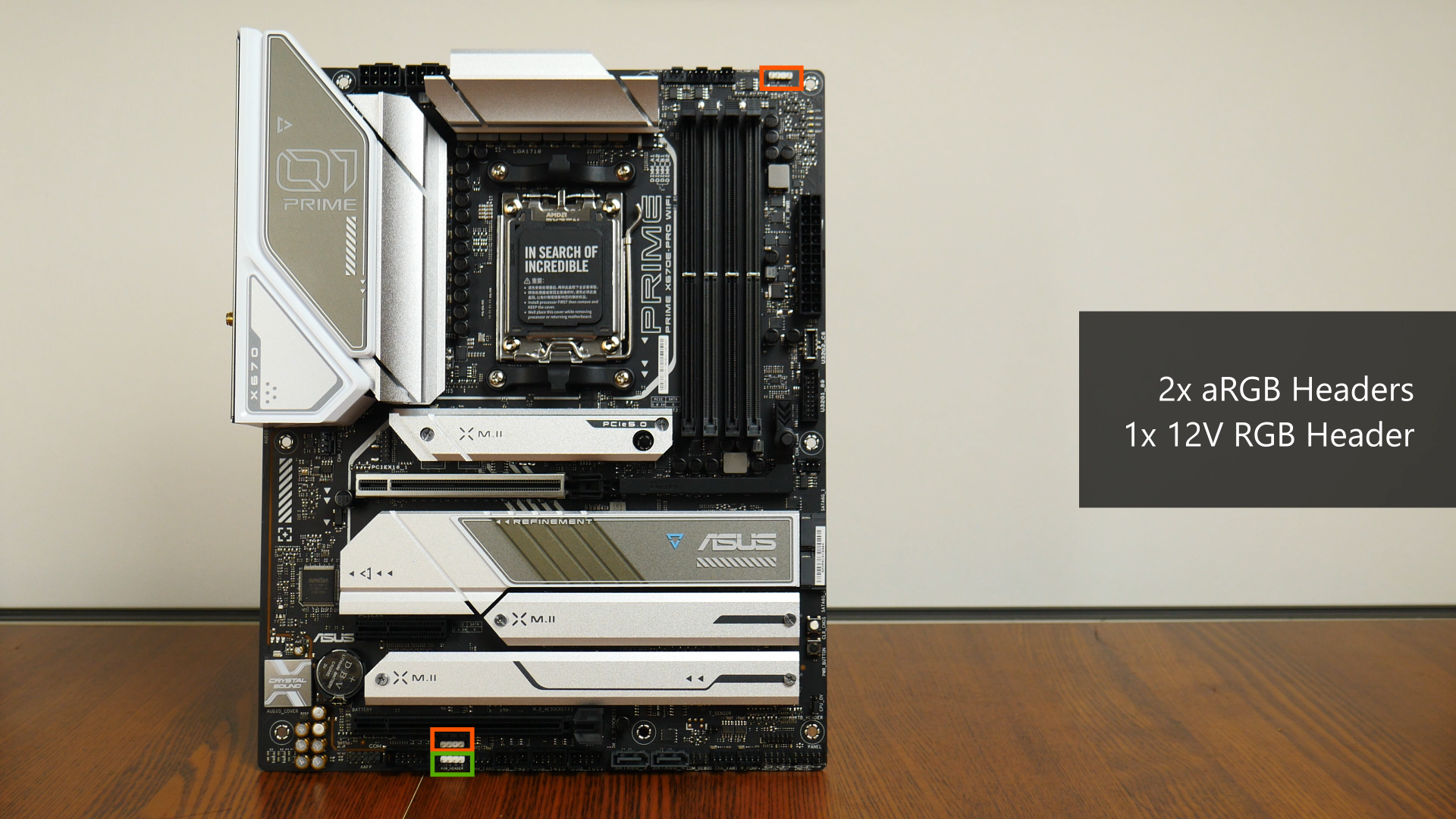 RGB device support is by means of two 5V addressable RGB headers, and a single 12V RGB header.
Other Features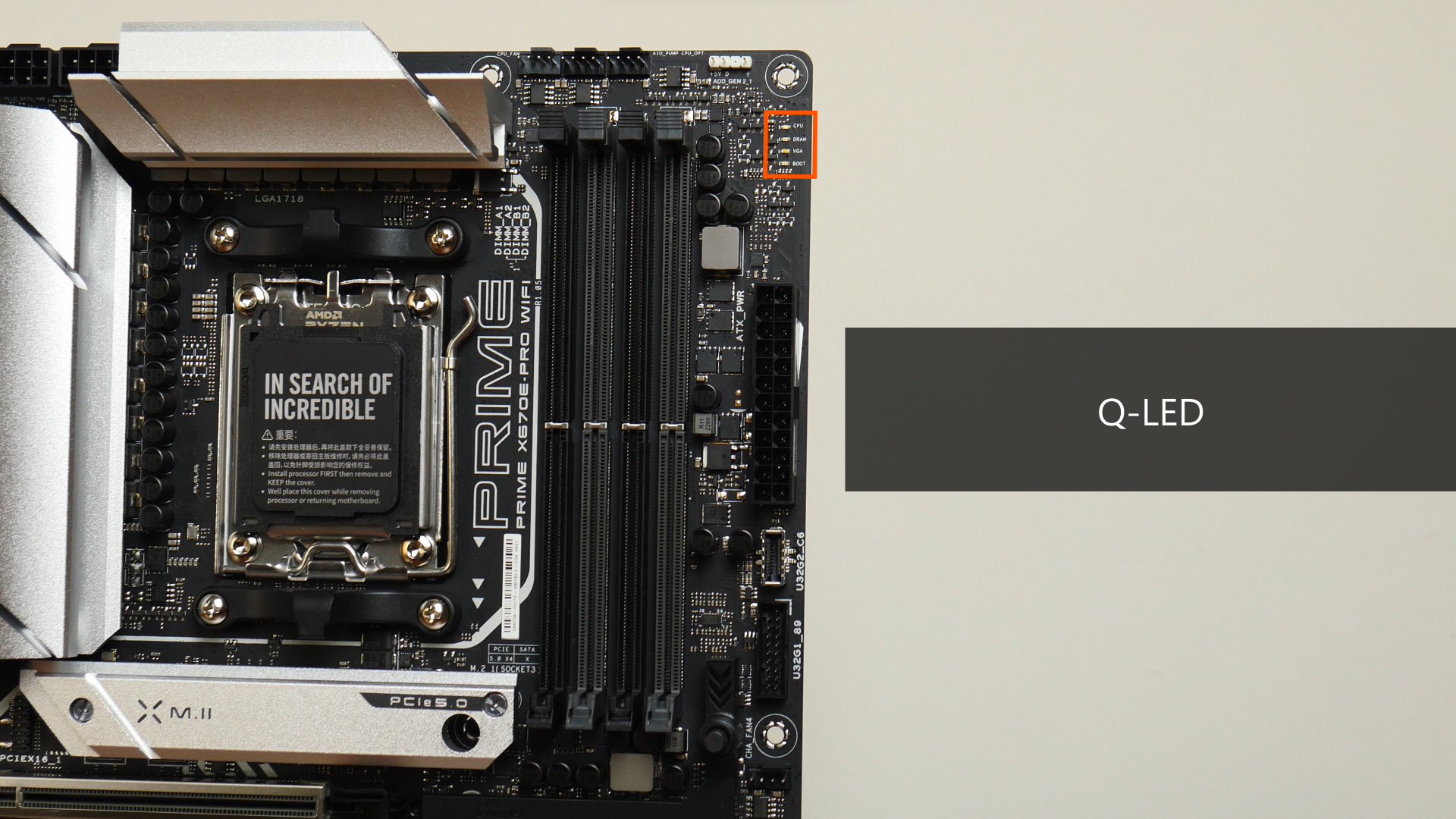 A handy feature that ASUS has included is Q-LED, which are a series of LEDs on the motherboard that help with troubleshooting Power On Self Test (POST) issues.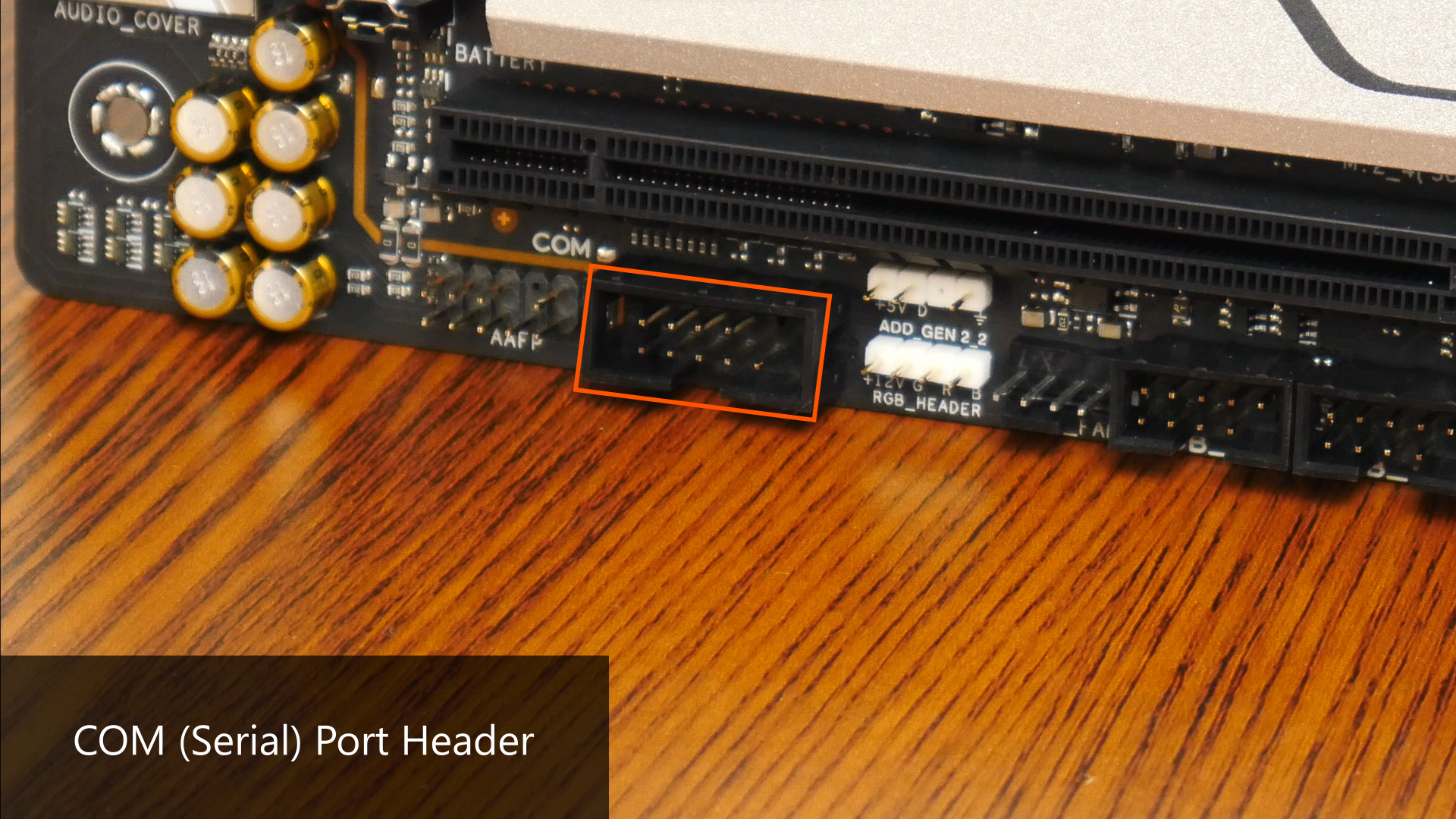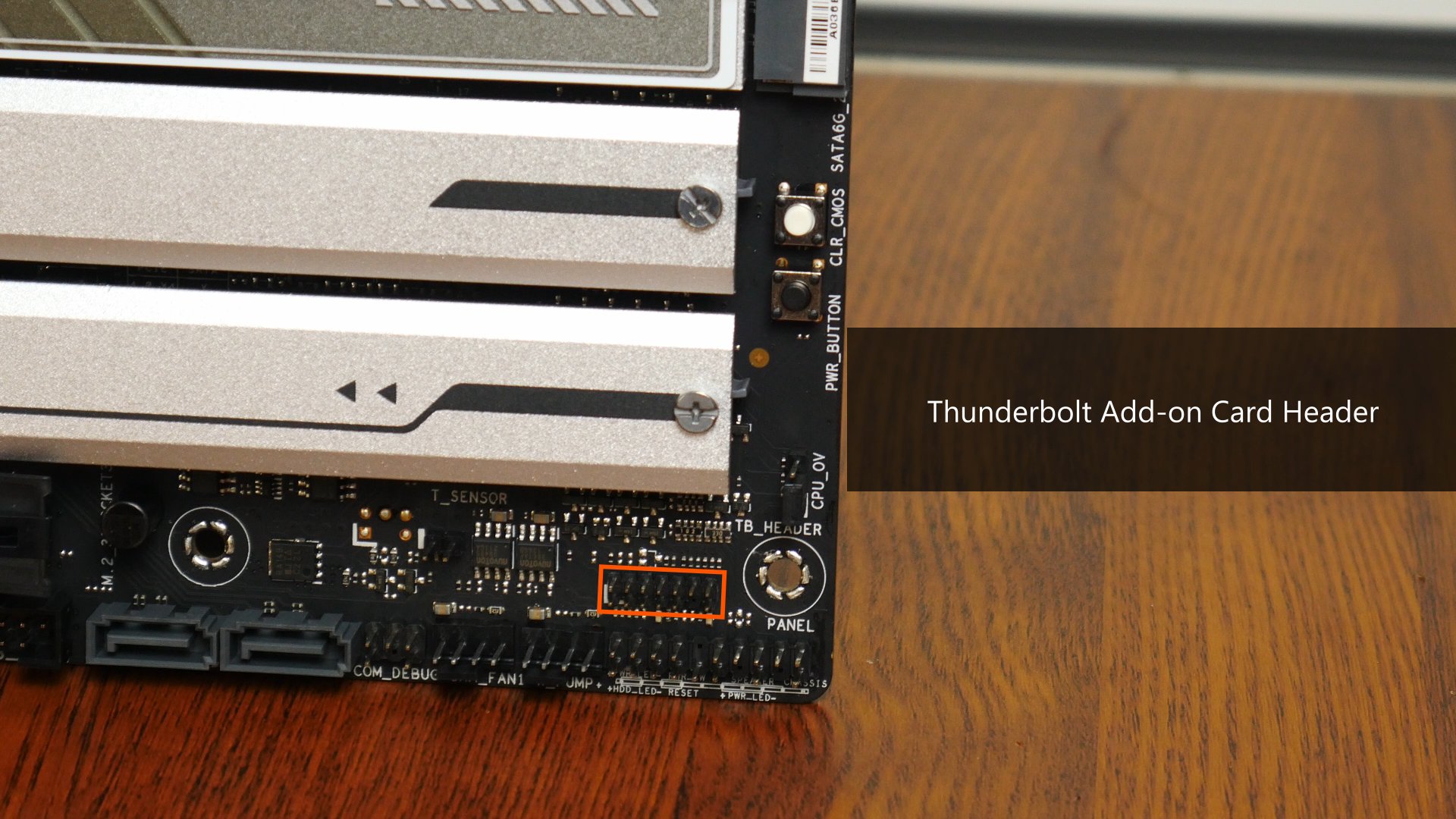 A surprising inclusion with the board is a serial port header, which could come in useful in business settings that still use legacy PC hardware. Also included is a Thunderbolt add-on card header, which is to be used in conjunction with a Thunderbolt 4 add-on card that is sold separately by ASUS.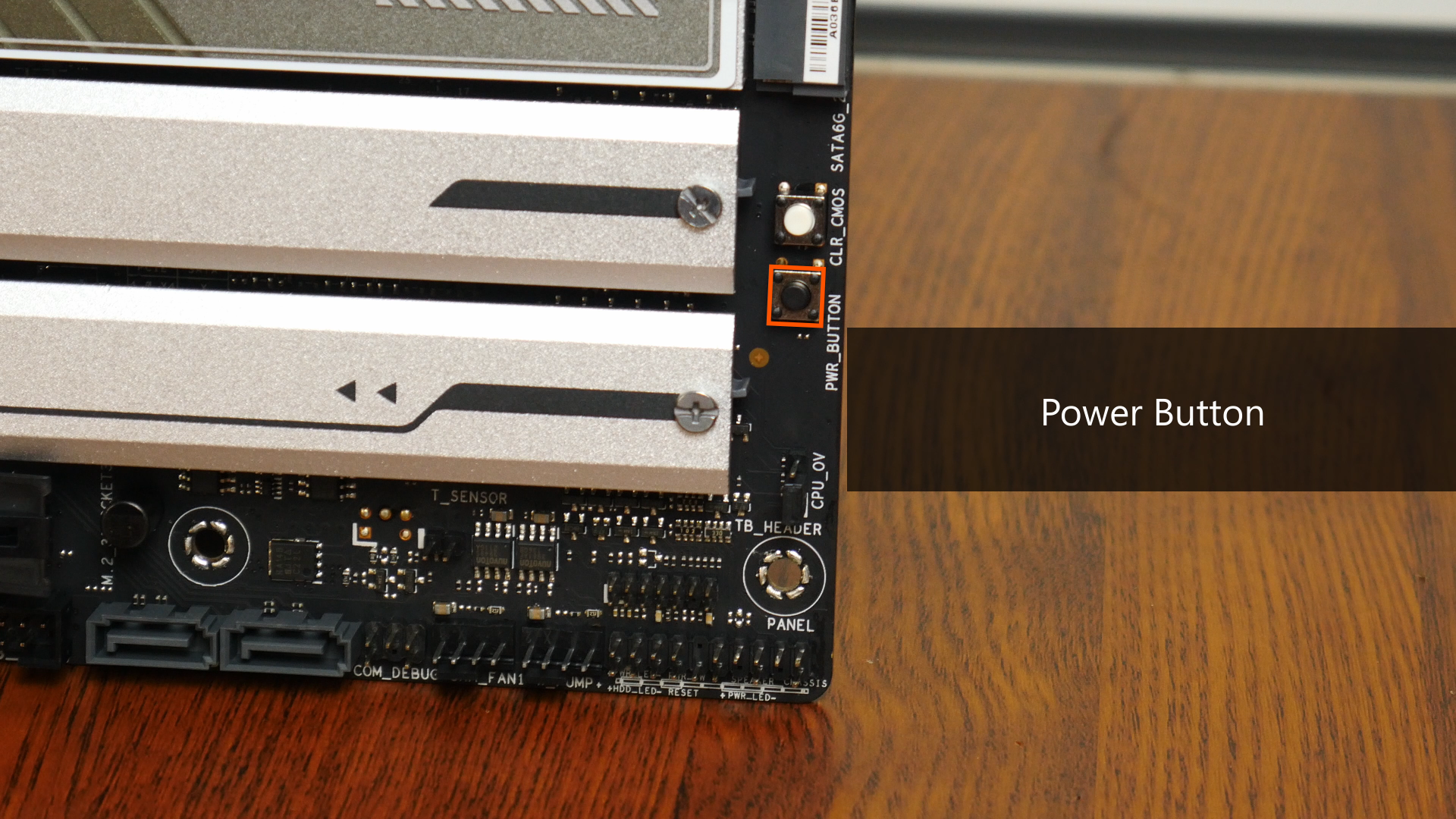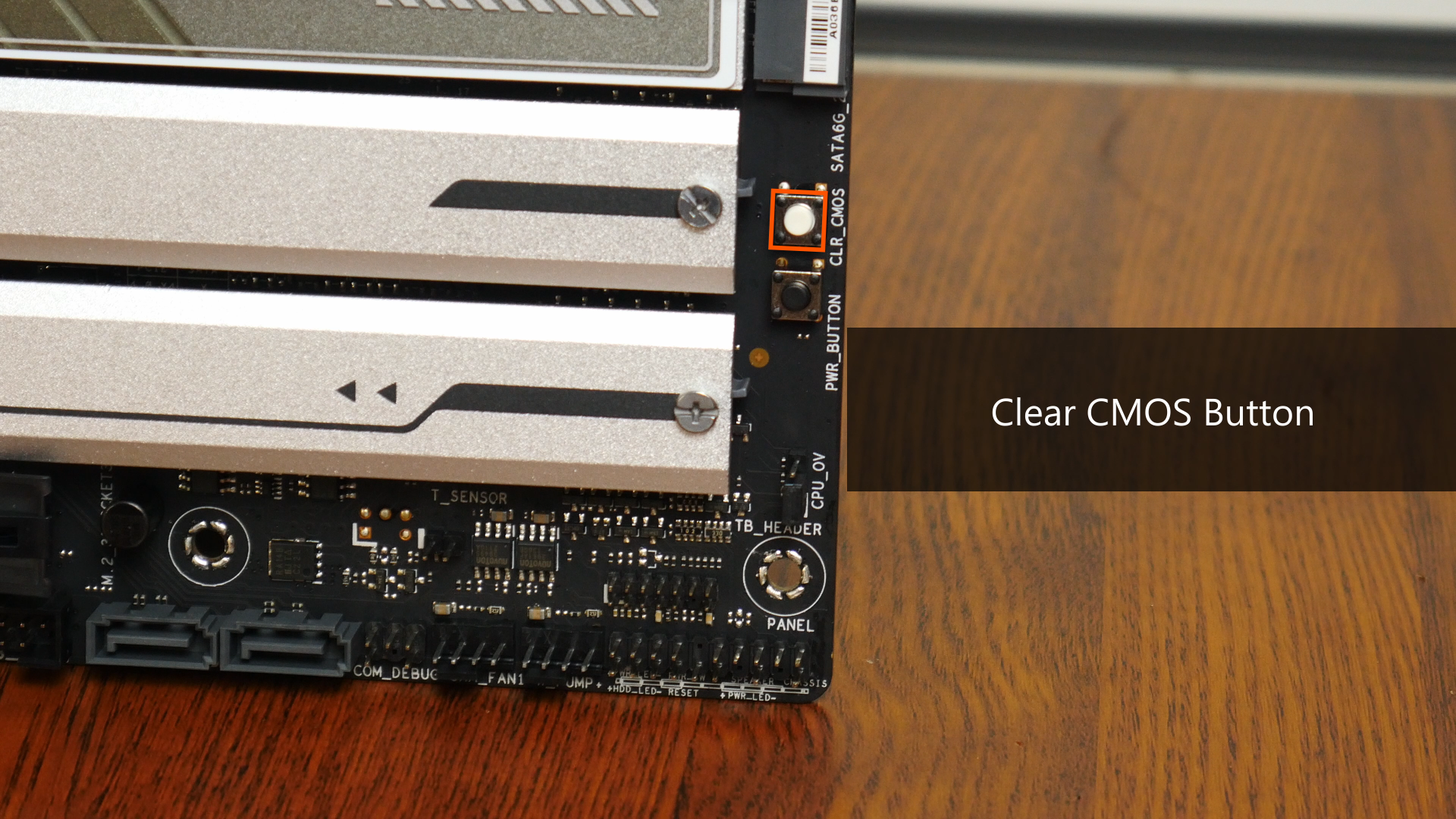 Another unexpected feature that comes with the PRIME X670E-PRO WIFI is a CPU Over Voltage jumper, which allows end-users to unlock a wider range of voltage options for overclocking purposes. Near the over voltage jumper are two useful features: an onboard Clear CMOS button, which allows one to clear the CMOS without having to remove the onboard CR2032 battery, and a power button.
Rear I/O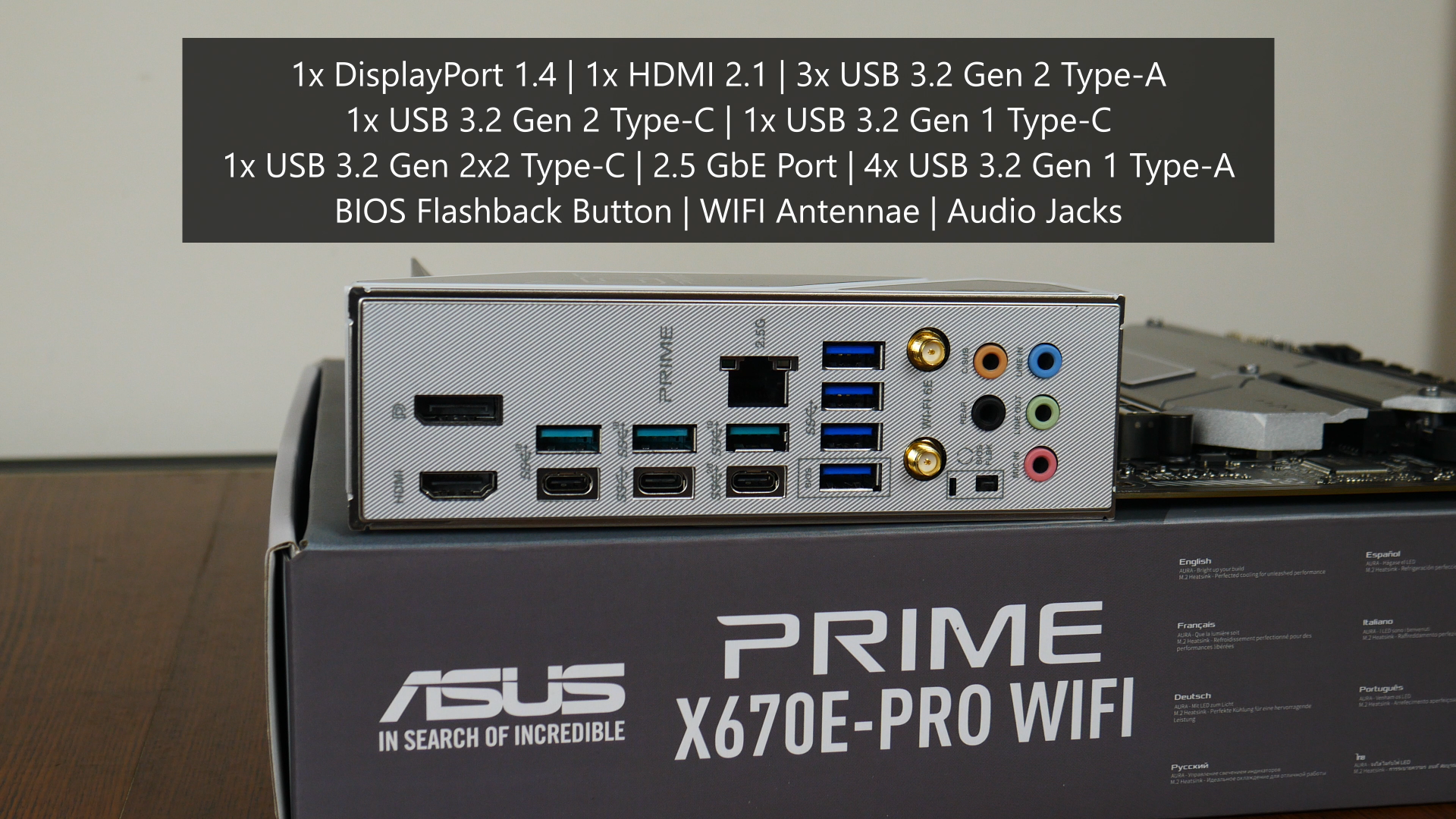 The rear I/O of the board comprises the following ports:
1x DisplayPort 1.4 (max 8K resolution @ 60Hz)
1x HDMI 2.1 (max 4K resolution @ 60Hz)
3x USB 3.2 Gen 2 Type-A (10Gbps)
1x USB 3.2 Gen 2 Type-C (10Gbps)
1x USB 3.2 Gen 1 Type-C (5Gbps)
1x USB 3,2 Gen 2x2 Type-C (20Gbps)
1x 2.5 Gigabit Ethernet port
4x USB 3.2 Gen 1 Type-A (5Gbps)
WIFI antennae connectors
BIOS Flashback button
Audio jacks
BIOS Flashback allows end-users to update the motherboard's BIOS without needing a processor, RAM and graphics card installed. Given that the AM5 platform should support several generations of new Ryzen processors in the future, this sure is a handy feature to have.
Conclusion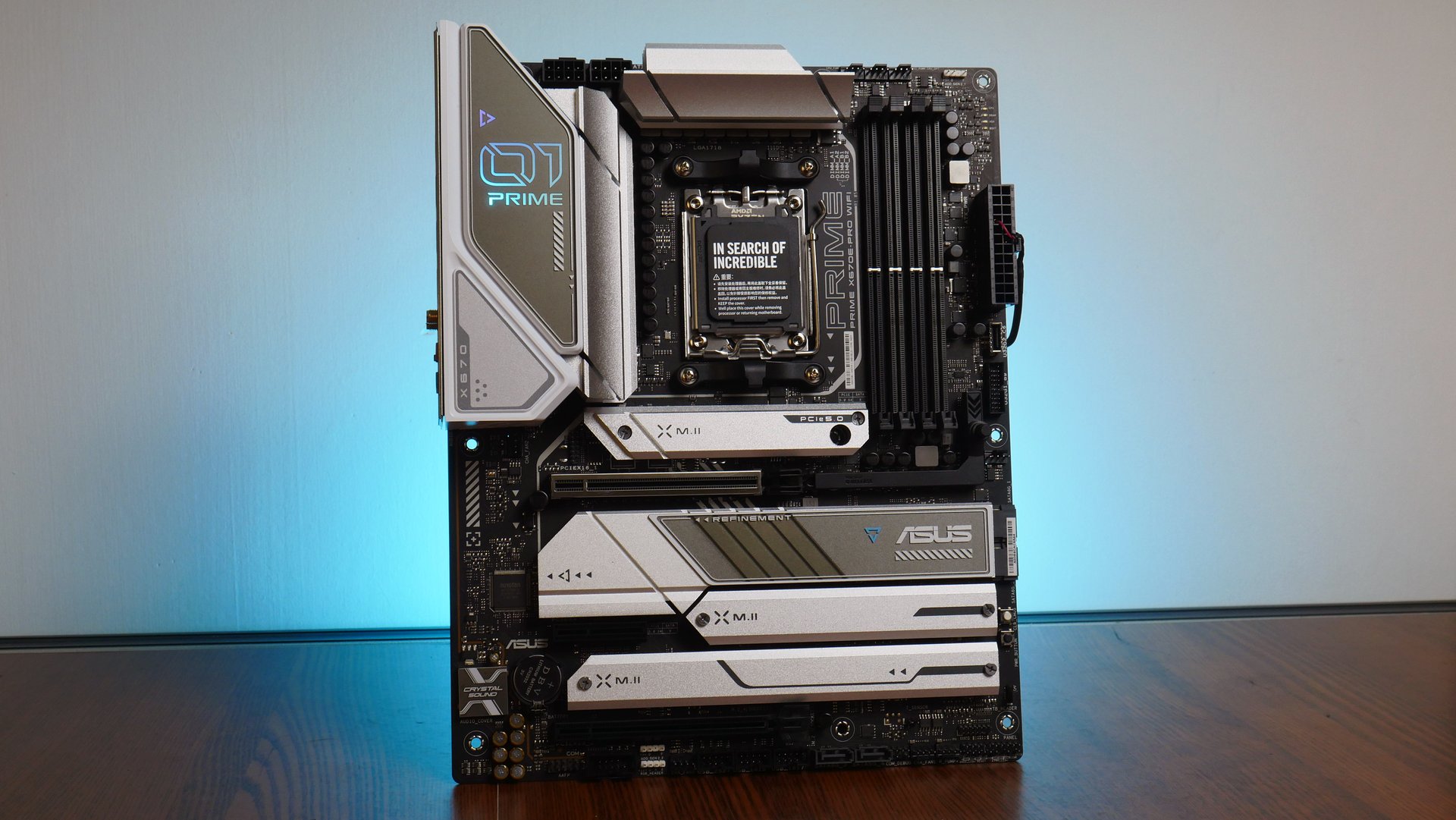 Given its features, the ASUS PRIME X670E-PRO WIFI shapes up to be a very balanced AM5 motherboard. WIth a good mix of new features such as DDR5 support, PCIe 5.0 connectivity on the graphics card slot as well as a M.2 slot, 2.5 Gigabit Ethernet alongside WIFI 6E, and helpful features such as Q-Release, this could well be a X670E motherboard worth taking a look at, especially if you're in the market for a mid-range X670E motherboard.
Updated on 28 September 2022: The PRIME X670E-PRO WIFI has an indicative price of $609 Singapore dollars through retailers based in Singapore. For overseas readers, the board can be purchased online from eRetailers such as Newegg for $349.99 US dollars.
Get this motherboard from Amazon: https://amzn.to/3RfAl3Y (affiliate link)
Get this motherboard from Shopee Singapore: https://shope.ee/7eyjXSsZcL (affiliate link)

ALKtech may earn commissions from qualifying purchases made using affiliate links, at no extra cost to you as a customer. These commissions go a long way in supporting the platform!

The motherboard featured in this article was a review unit provided on loan from ASUS Singapore.