The Cooler Master CMP 320 serves up good value as a micro ATX PC case targeted at gamers on a budget, with an interesting front panel aesthetic and good build quality.
Special thanks to Cooler Master for sponsoring the CMP 320 PC case featured in this article.
Cooler Master is no stranger to the DIY PC market, where it is arguably one of the go-to brands when it comes to PC cases. With an extensive line-up of such PC cases to suit every possible use-case imaginable, from the HAF series targeted at gamers looking for the very best features, to the MasterBox series aimed squarely at mid-range gamers, to the CMP series targeted at gamers looking for great value, there's almost certainly a Cooler Master PC case for everyone.
For today's article, we'll be checking out a micro ATX Cooler Master gaming PC case that is designed to serve up a good mix of features at an affordable price point - the CMP 320. Featuring a well-ventilated design with a full-mesh front panel, dual 120mm preinstalled addressable RGB fans at the front, a tempered glass side panel as well as extensive hardware support, read on to see if the CMP 320 is any good!
Summary of Specifications (CP320-KGNN-S00)
Colour: Black
Materials: Steel, plastic, tempered glass
Dimensions: 445.5mm x 204mm x 425mm (including protrusions),

431.8mm x 204mm x 410mm (excluding protrusions)

Volume: 38.52L

Motherboard Support: Mini ITX, Micro ATX

Expansion Slots: 4




Drive Bays: 2x 2.5"/3.5" drive combo bays & 2x 2.5" drive mounts

Front I/O: 1x USB 3.2 Gen 1 Type-A, 1x USB 2.0 Type-A. 1x 3.5mm microphone/headphone combo jack

Included Fans: 2x preinstalled addressable RGB 120mm case fans at the front (Cooler Master CF120)

Top Panel Cooling Support: up to 2x 140mm fans or up to 1x 280mm radiator

Front Panel Cooling Support: up to 3x 120mm fans or 1x 240mm radiator

Rear Panel Cooling Support; up to 1x 120mm fan or 1x 120mm radiator
Packaging & Accessories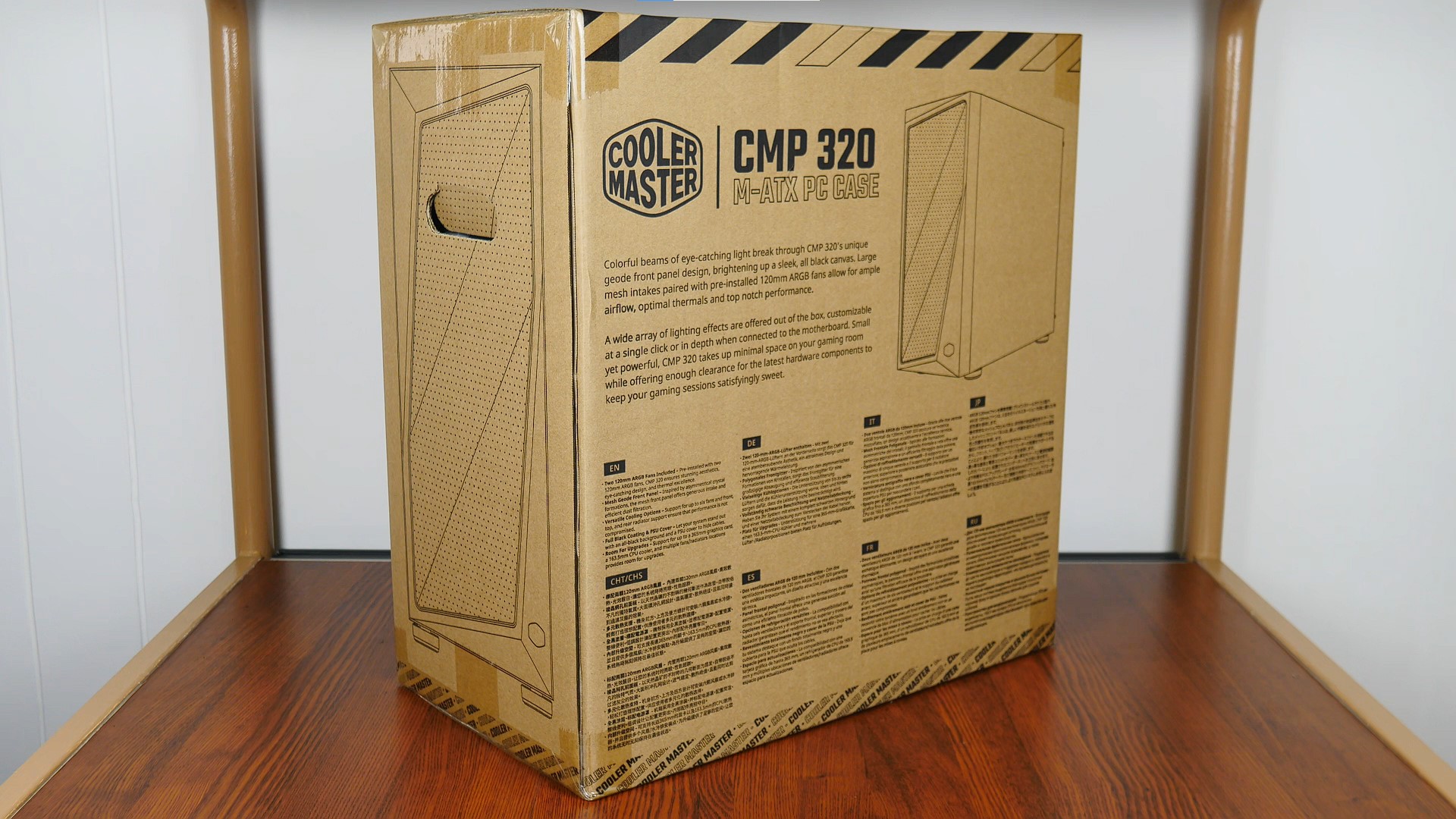 The Cooler Master CMP 320 comes shipped in a brown cardboard box with the usual product illustrations and descriptions found on all sides.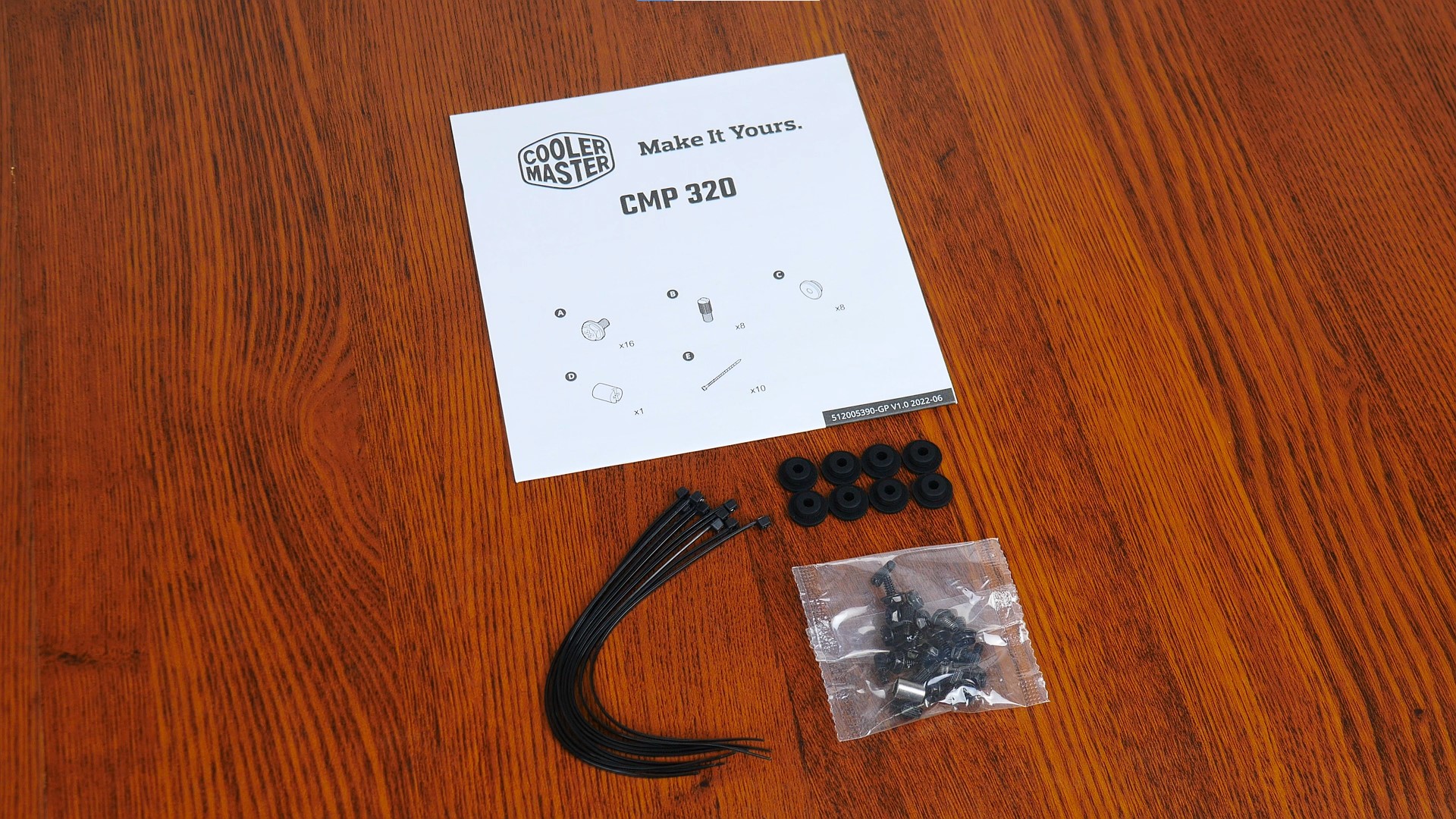 The following accessories come included with the CMP 320:
Quick start guide
10x screws (for motherboard/graphics card/power supply mounting)
8x mounting screws (for 2.5" drives)
8x rubber grommets (for mounting 2.5" drives)
1x motherboard standoff installation tool
10x cable ties
Do note that the motherboard standoffs come preinstalled on the motherboard tray of the case.
Exterior Walkthrough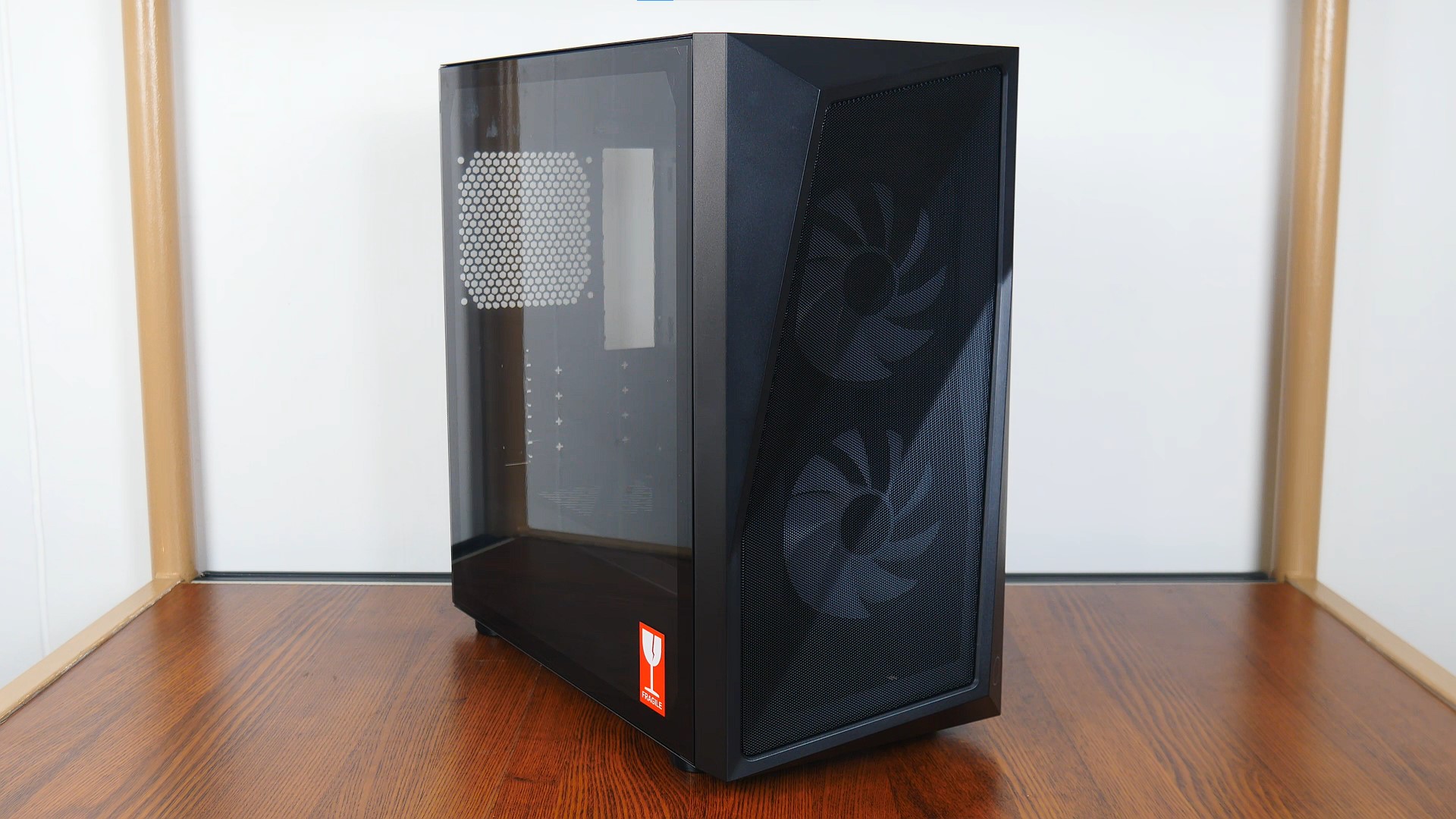 With the PC case out of the packaging, we see that the CMP 320 comes in a full-black colour, where it is constructed of steel and plastic, and comes with a tempered glass side panel.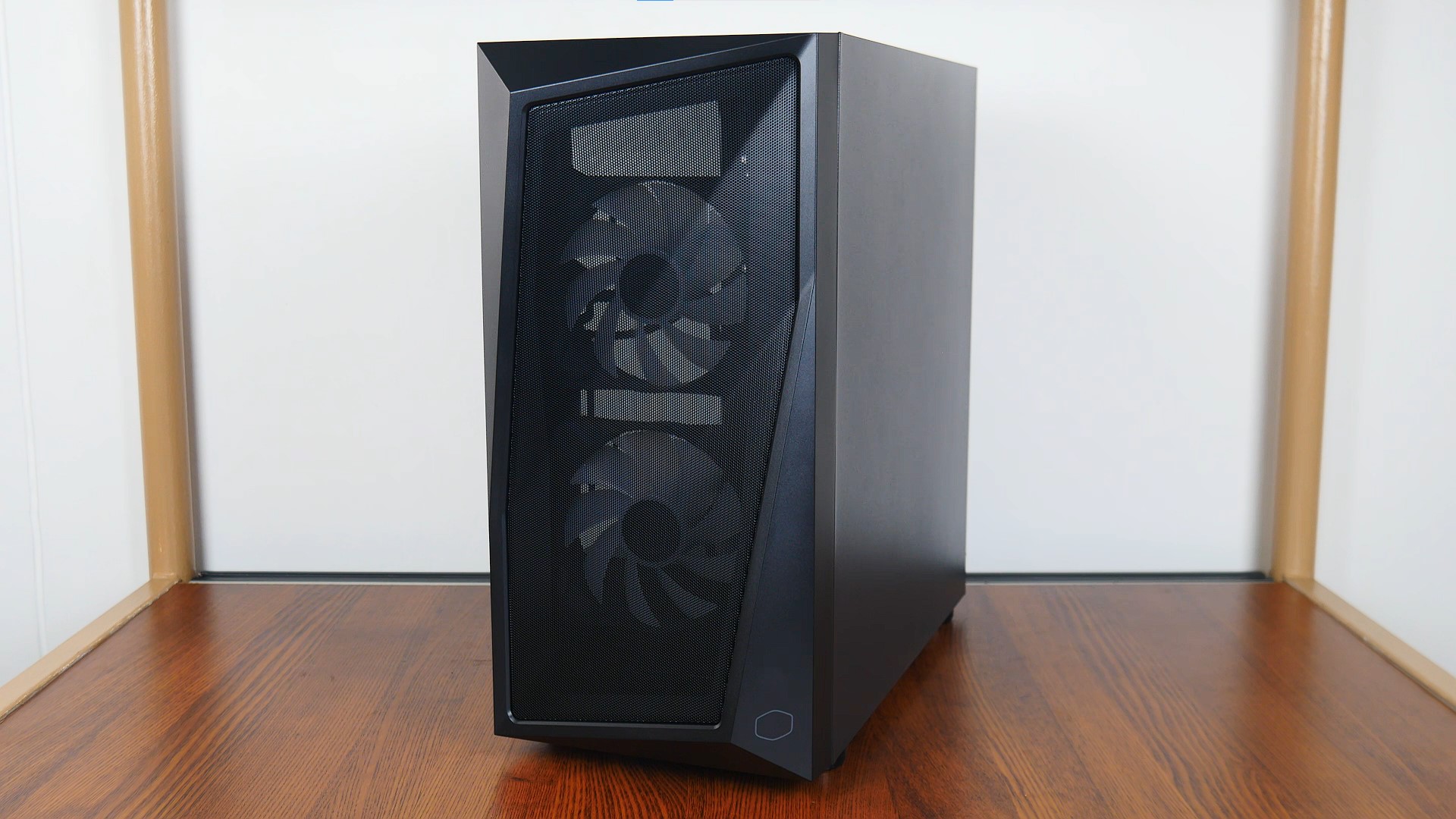 The front panel of the case sports a full mesh design, with an aesthetic that is inspired by asymmetrical crystal formations, at least according to Cooler Master's marketing blurb. It sure looks good though, where an interesting visual effect is created when light falls onto the mesh panel from different angles. Cooler Master has also opted for a minimalist rendition of its logo in the bottom right hand corner of the front panel, which blends in nicely with the overall aesthetic of the CMP 320.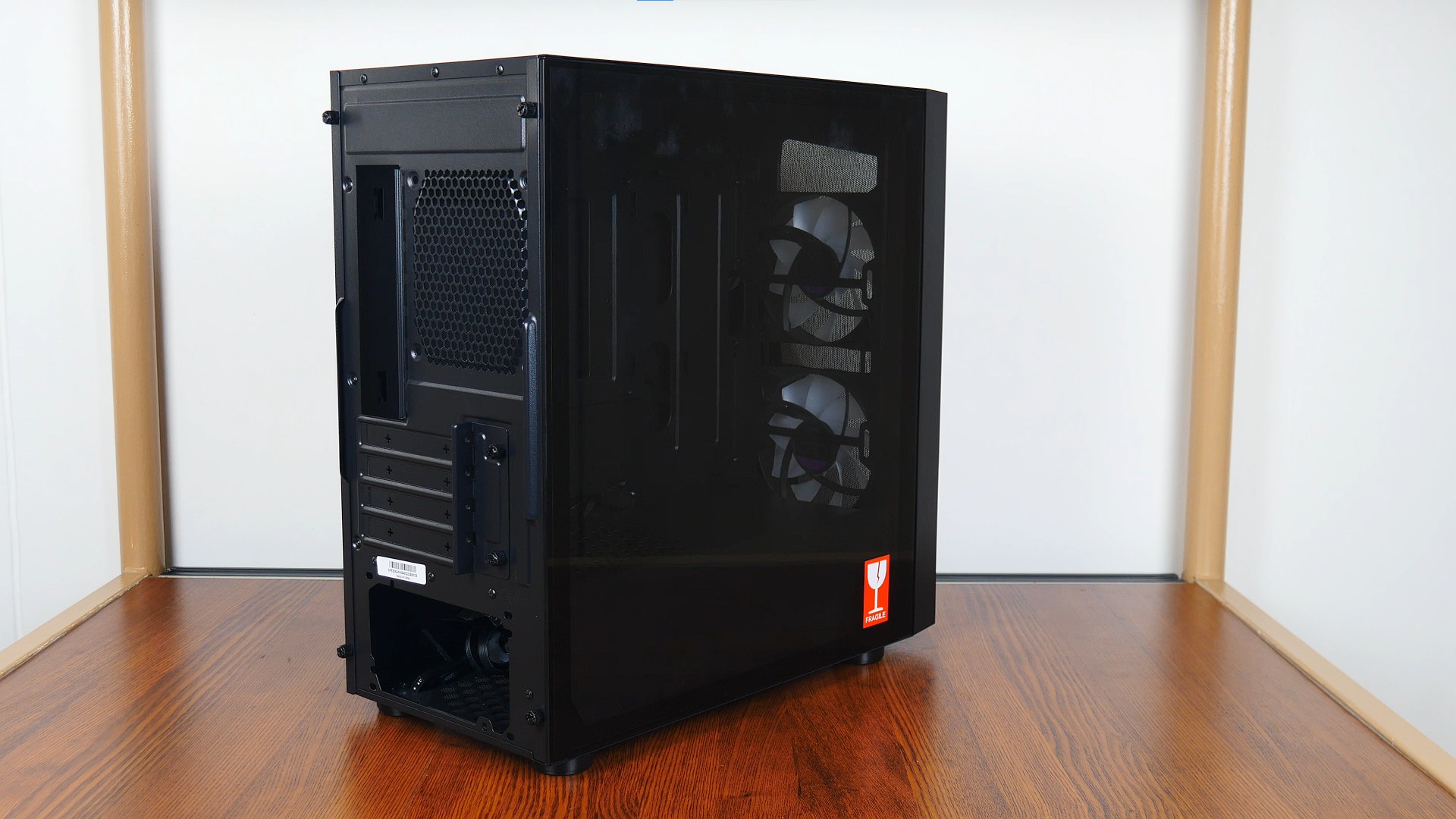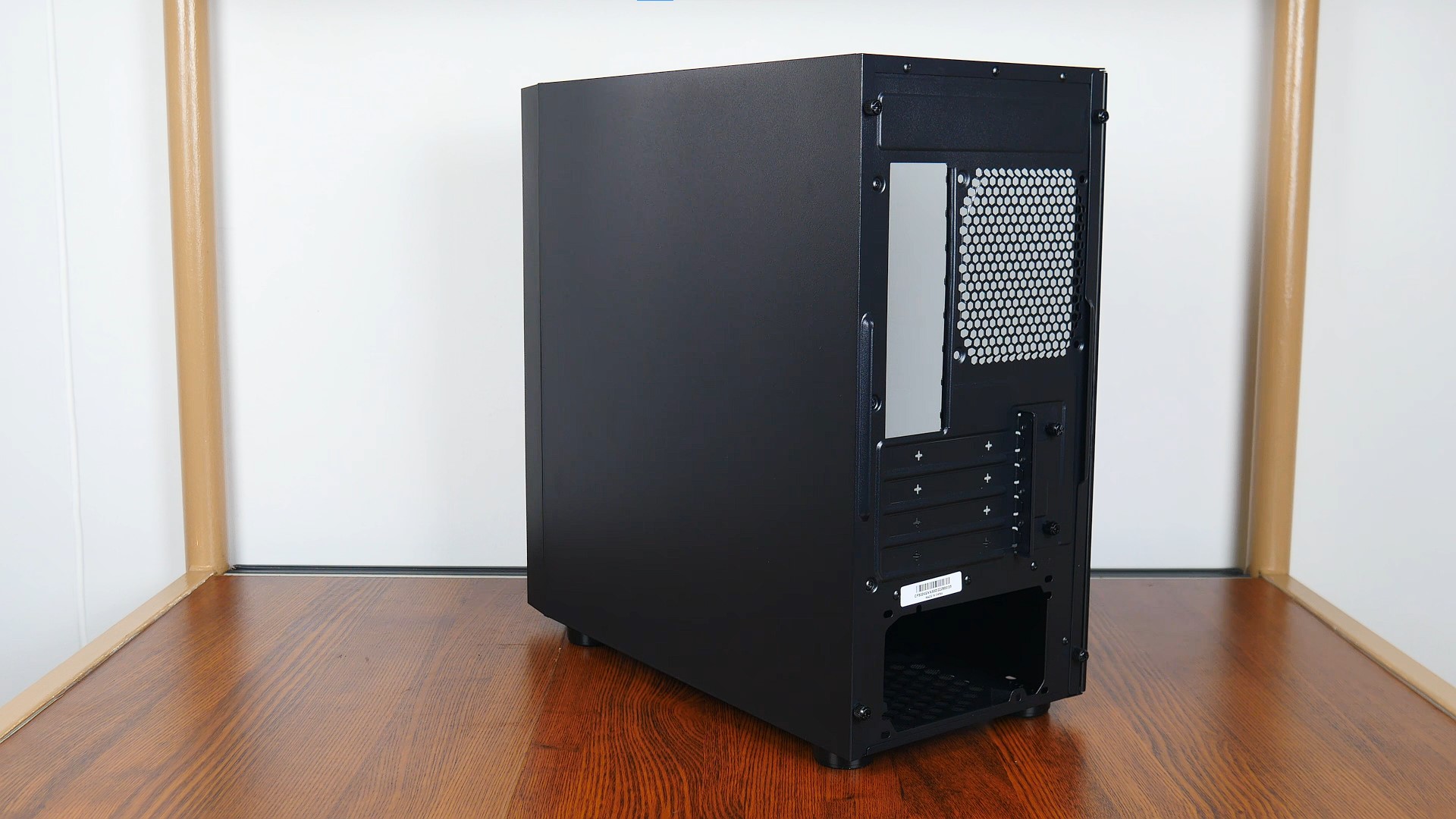 The tempered glass side panel of the case is held in place by two thumbscrews, and the same can be said of the other side panel too, which is made of steel and does not feature any ventilation openings.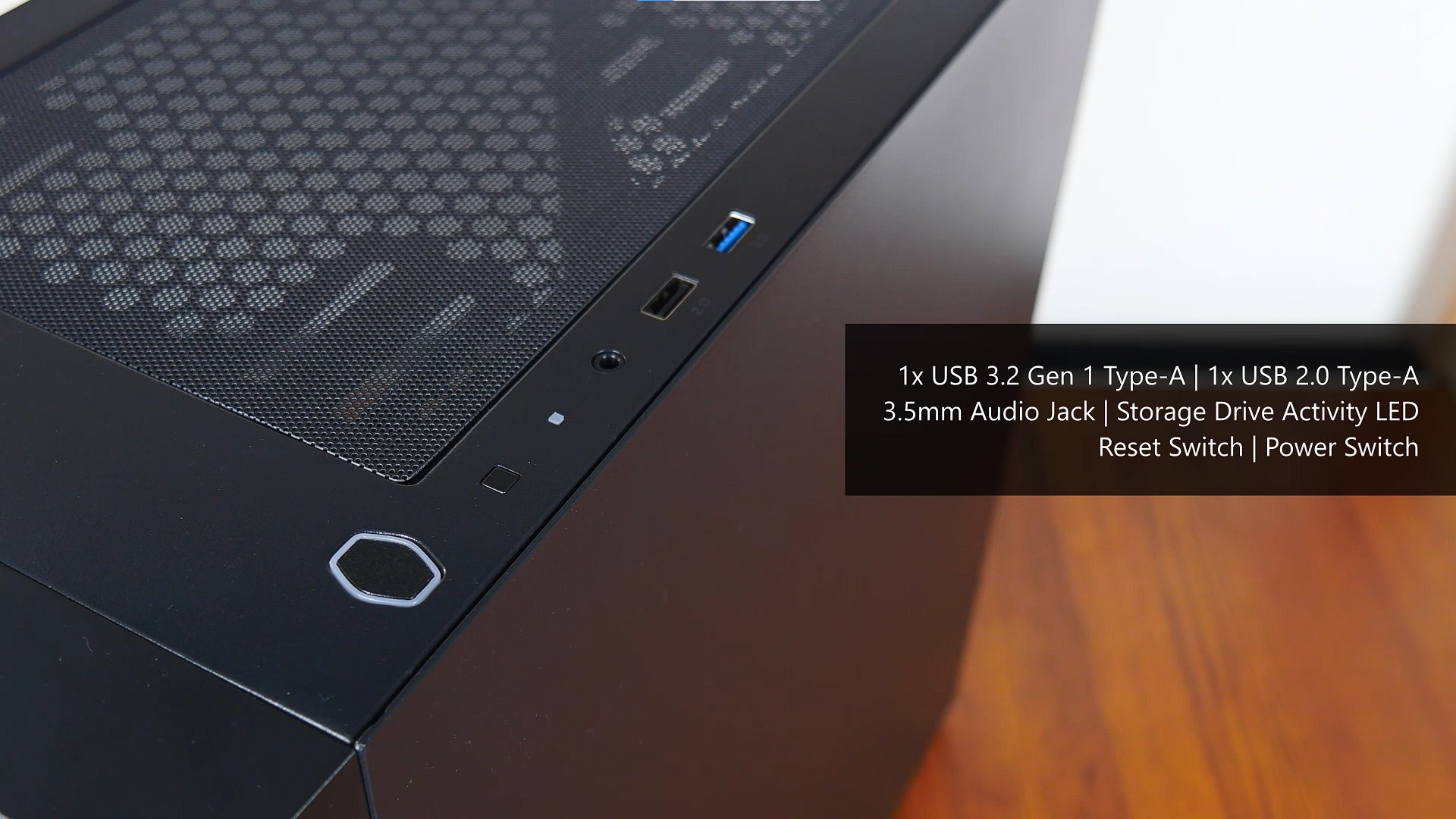 The CMP 320's front panel I/O is located on the top of the PC case, where we get the following ports and buttons:
1x USB 3.2 Gen 1 Type-A
1x USB 2.0 Type-A
1x 3.5mm microphone/headphone combo jack
Storage drive activity indicator LED
Reset switch
Power switch
As you would have noticed from the photo above, the power switch comes in the shape of Cooler Master's logo, which is a nice touch.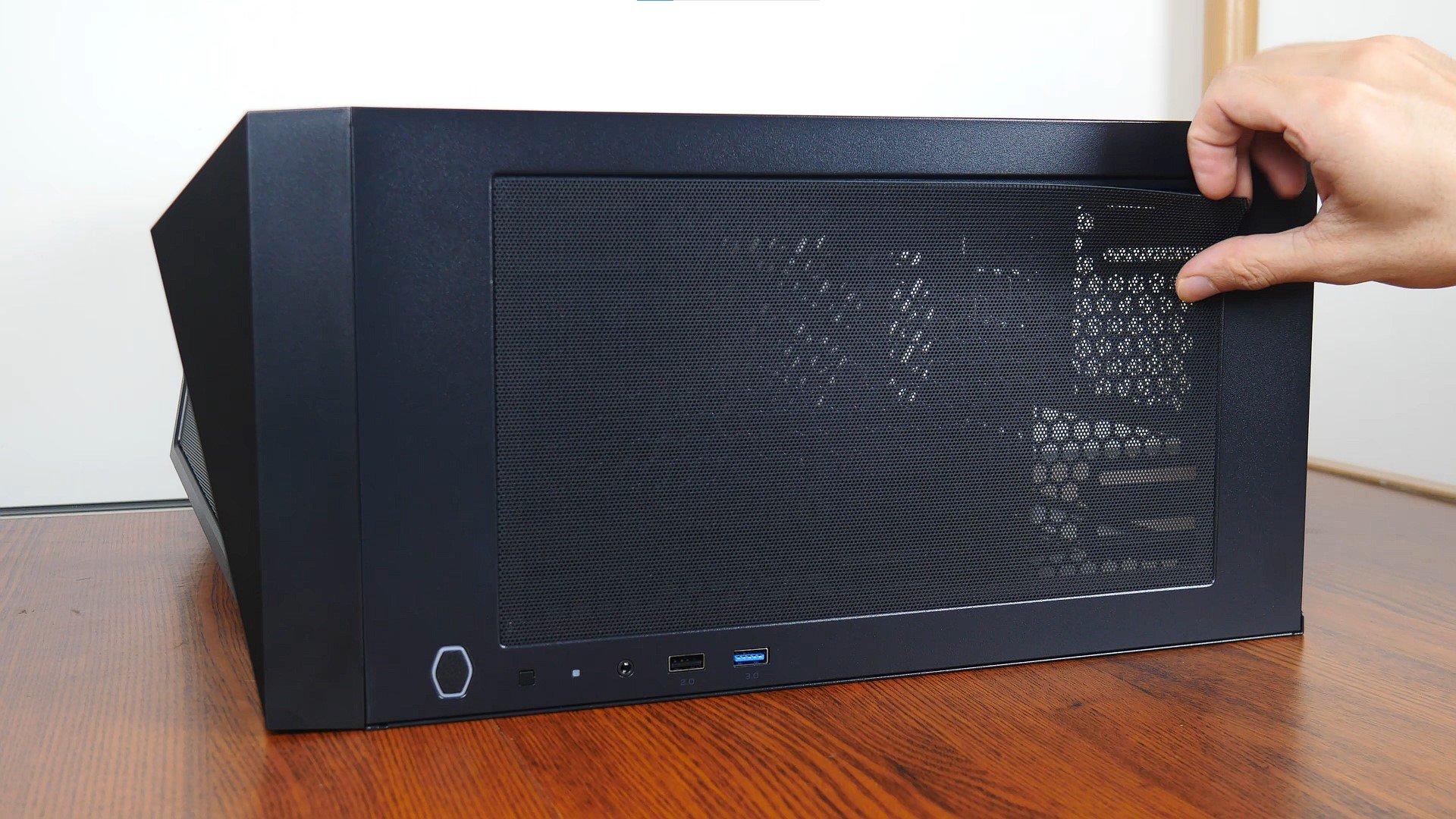 The case comes with a large ventilation opening on the top panel that features a removable dust filter. The said dust filter is held in place by magnets, making it easy to remove for cleaning as and when needed.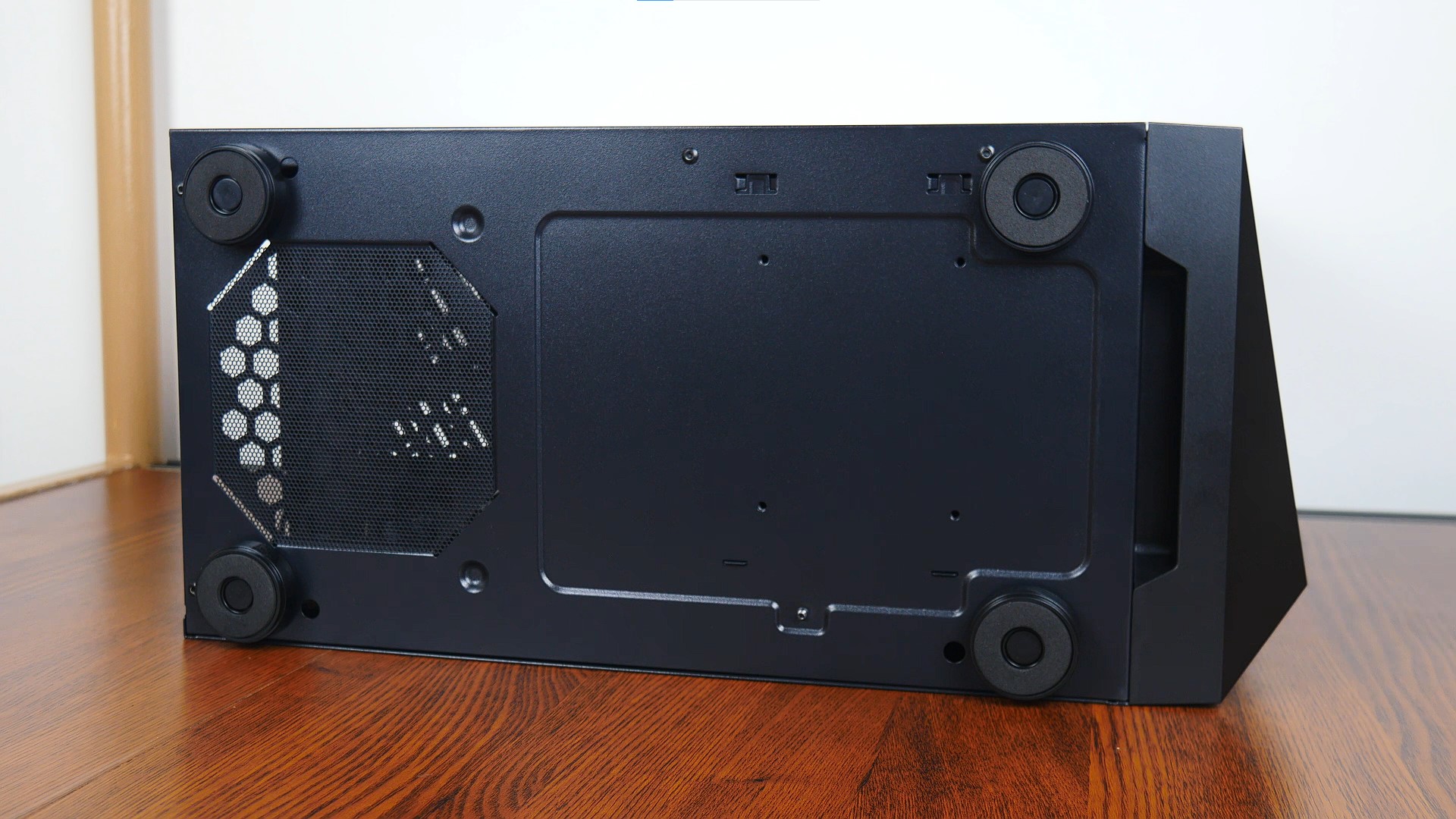 As a case with a bottom-mounted power supply design, the CMP 320 has an intake opening for the power supply's cooling fan, which also features a removable dust filter.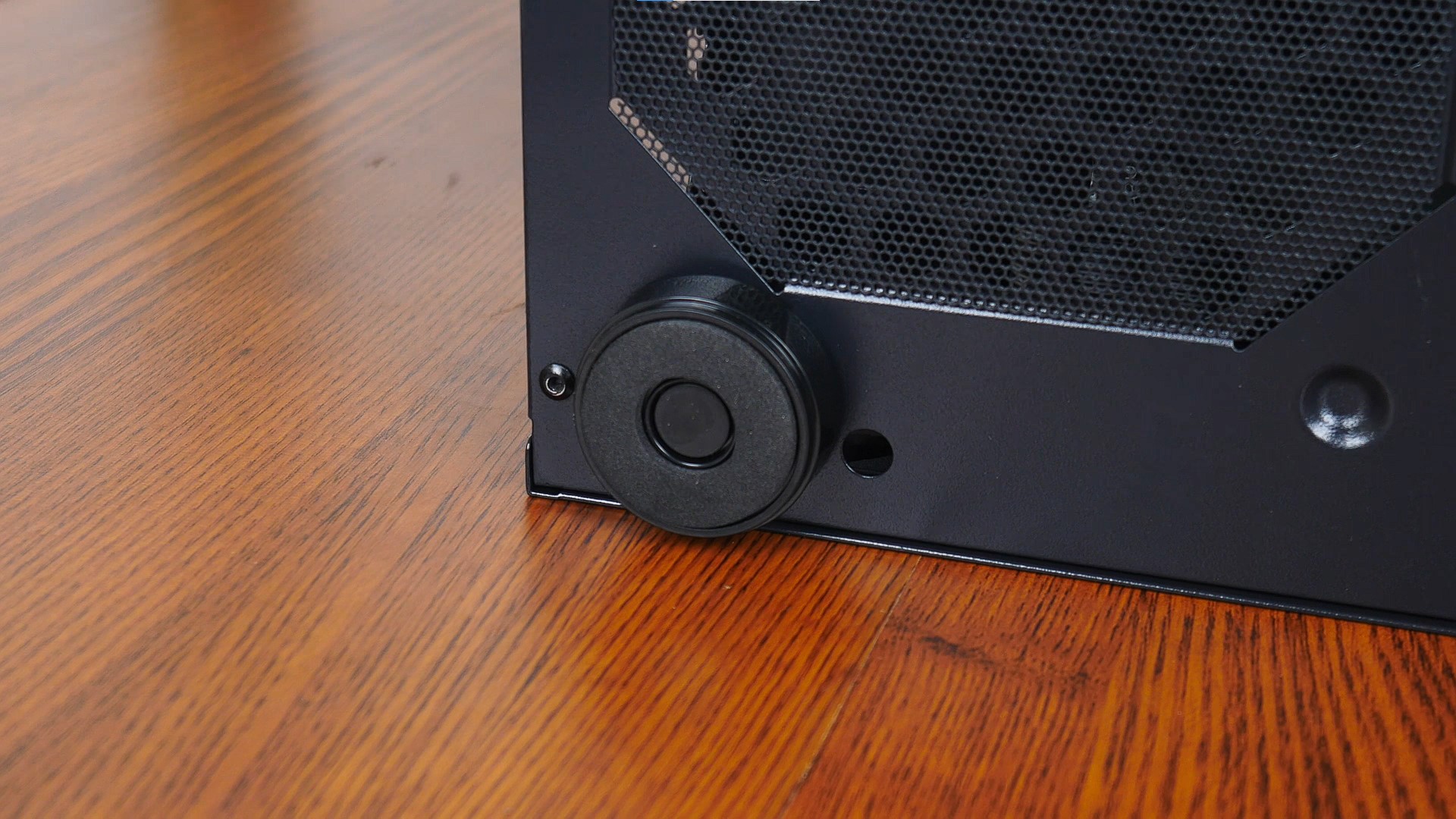 That said, the case comes with four round plastic feet with foam inserts, which seem sturdy enough.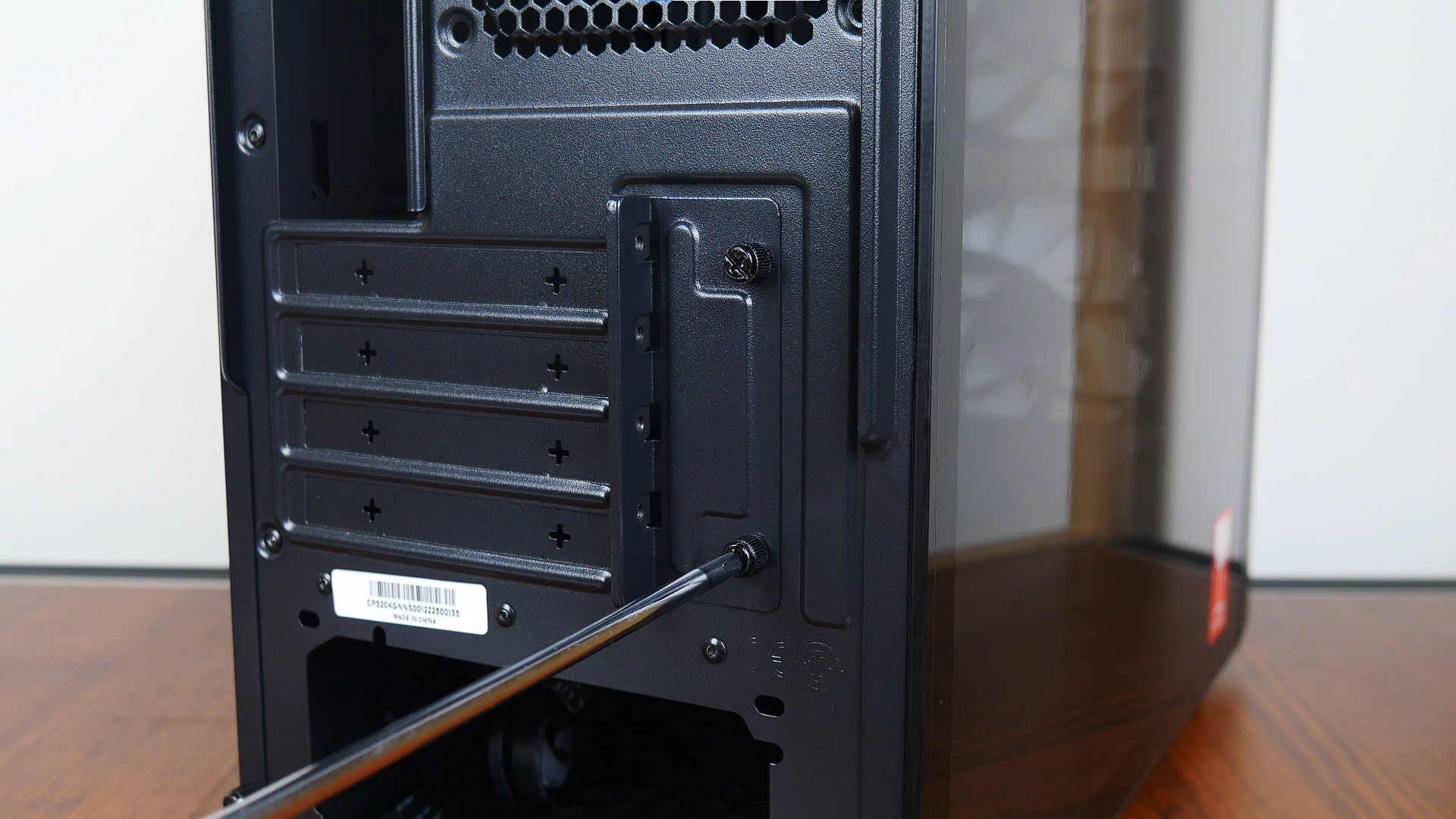 The rear of the CMP 320 is a pretty standard affair, where the expansion slot openings come with non-reusable snap-off covers. Cooler Master has also included a support plate that is held in place by two thumbscrews, which helps to further secure the metal brackets of installed expansion cards in place.
Cooling Hardware Support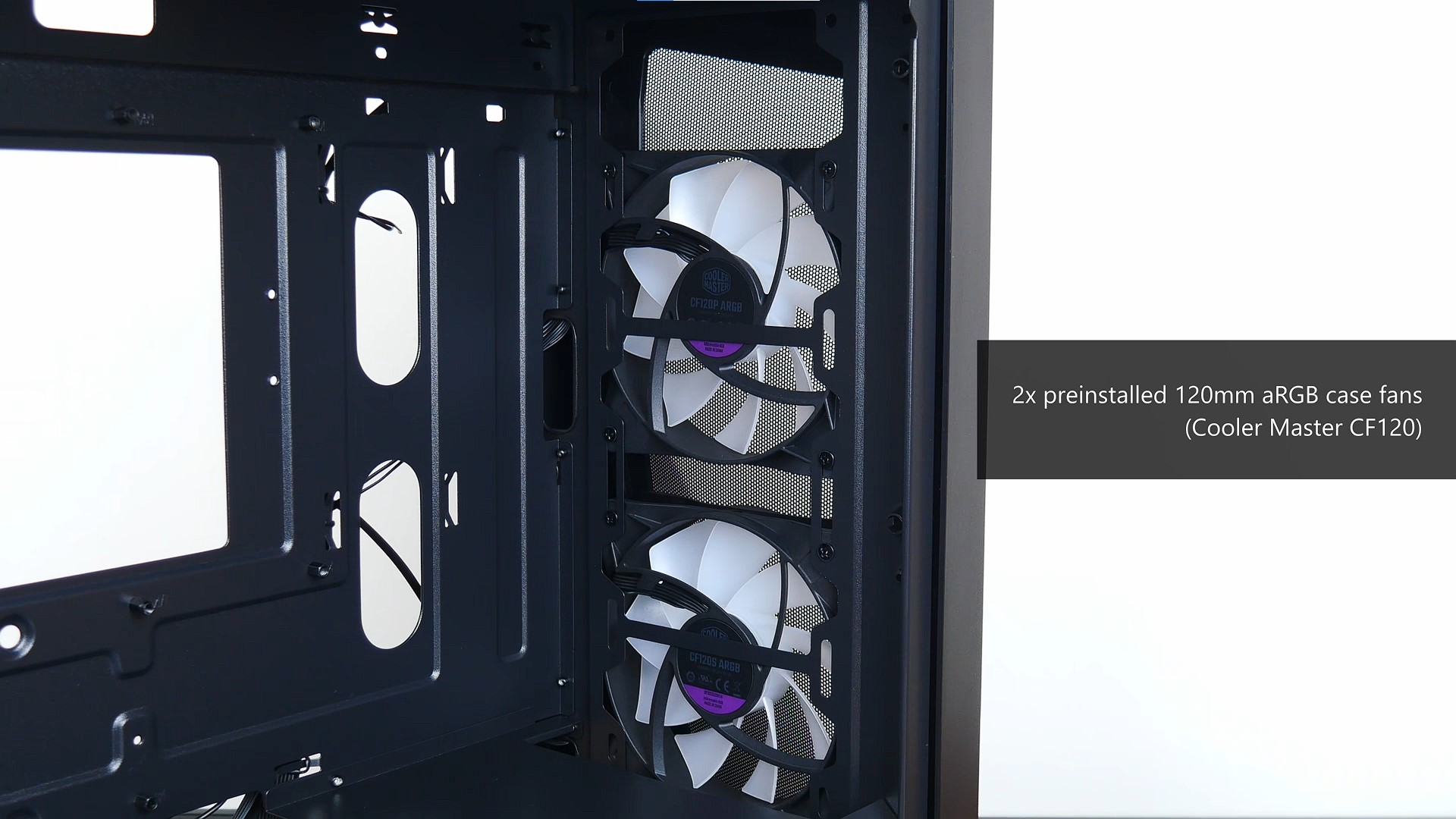 The CMP320 comes preinstalled with two 120mm addressable RGB intake fans with model number CF120 mounted behind the front panel.
Do note that there seems to be two variants of this case, an earlier variant that does not come with an addressable RGB/fan hub, and a newer variant that does comes with the said addressable RGB/fan hub. With some internet sleuthing, it appears that CMP 320s with serial numbers CP320KGNNS001224700001 and later would come with the addressable RGB/fan hub - this can be seen from the specifications sheet available to download from Cooler Master's website, which is aptly titled "CMP 320 Product Sheet (CF120 ARGB+ Hub SN after CP320KGNNS001224700001)".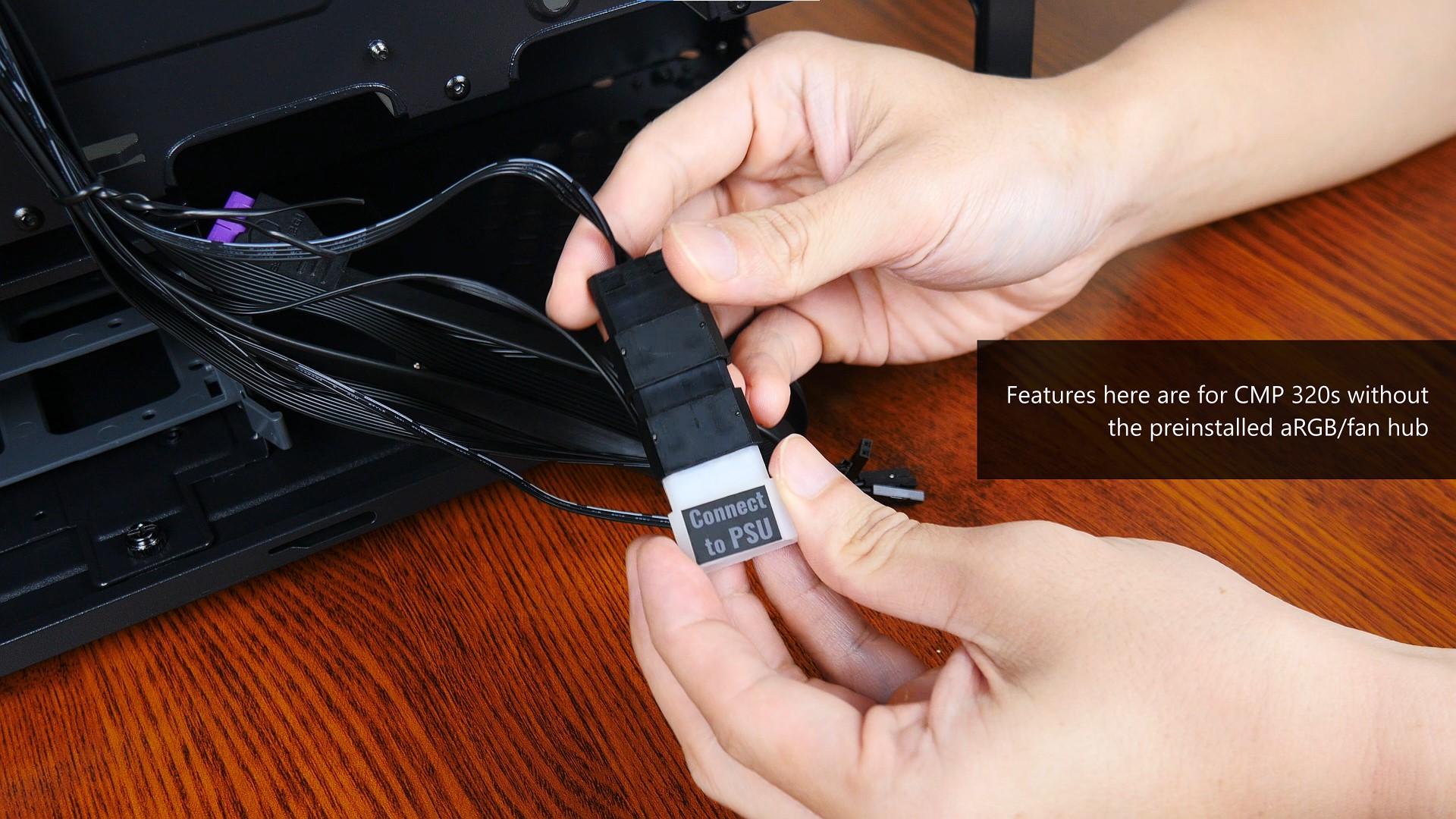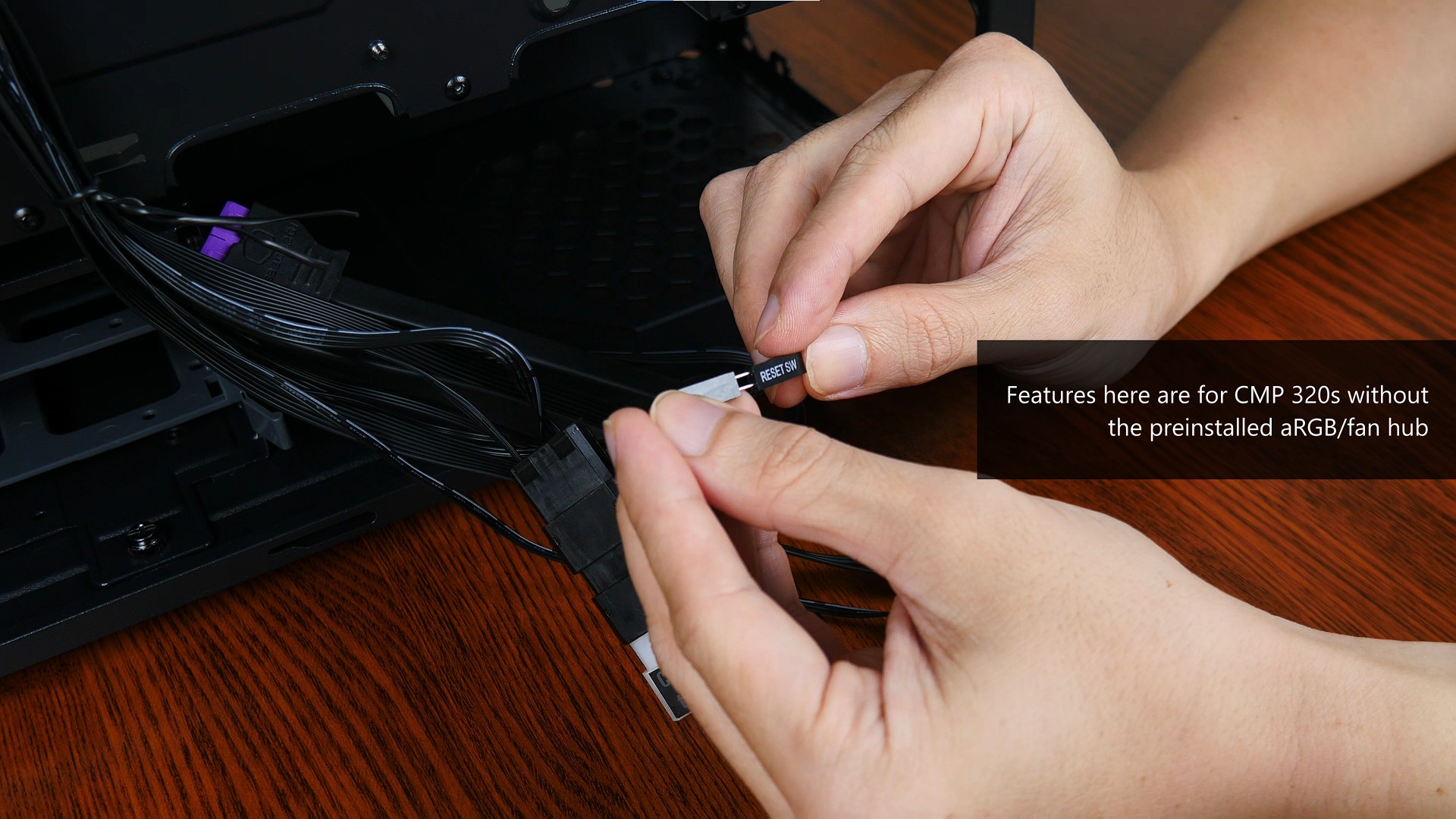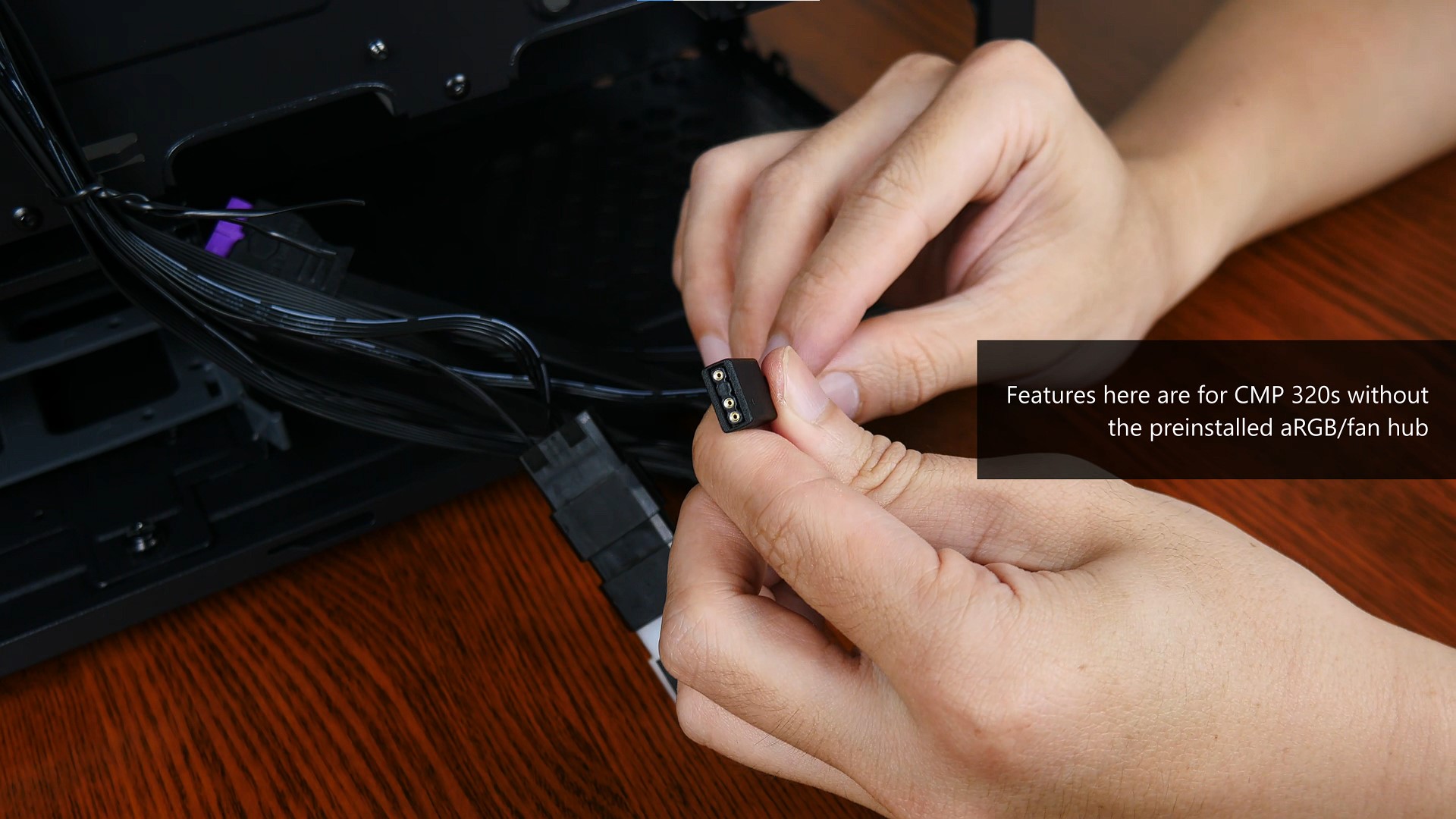 With the above in mind, the CMP 320 that I received for this review comes with the older addressable RGB fan setup that draws power from a Molex connector, instead of the usual three-pin or four-pin fan connectors. This setup also comes with a feature that allows end-users to control the RGB lighting effects of the fans via the reset button of the case, where one would have to connect the reset header of the case to the two pin connector of the preinstalled fans. Otherwise, one can simply connect the addressable RGB connector of the fans to the appropriate motherboard addressable RGB header - this would be the preferred option as doing so would allow you to control the RGB lighting effects via the appropriate motherboard software from within Windows.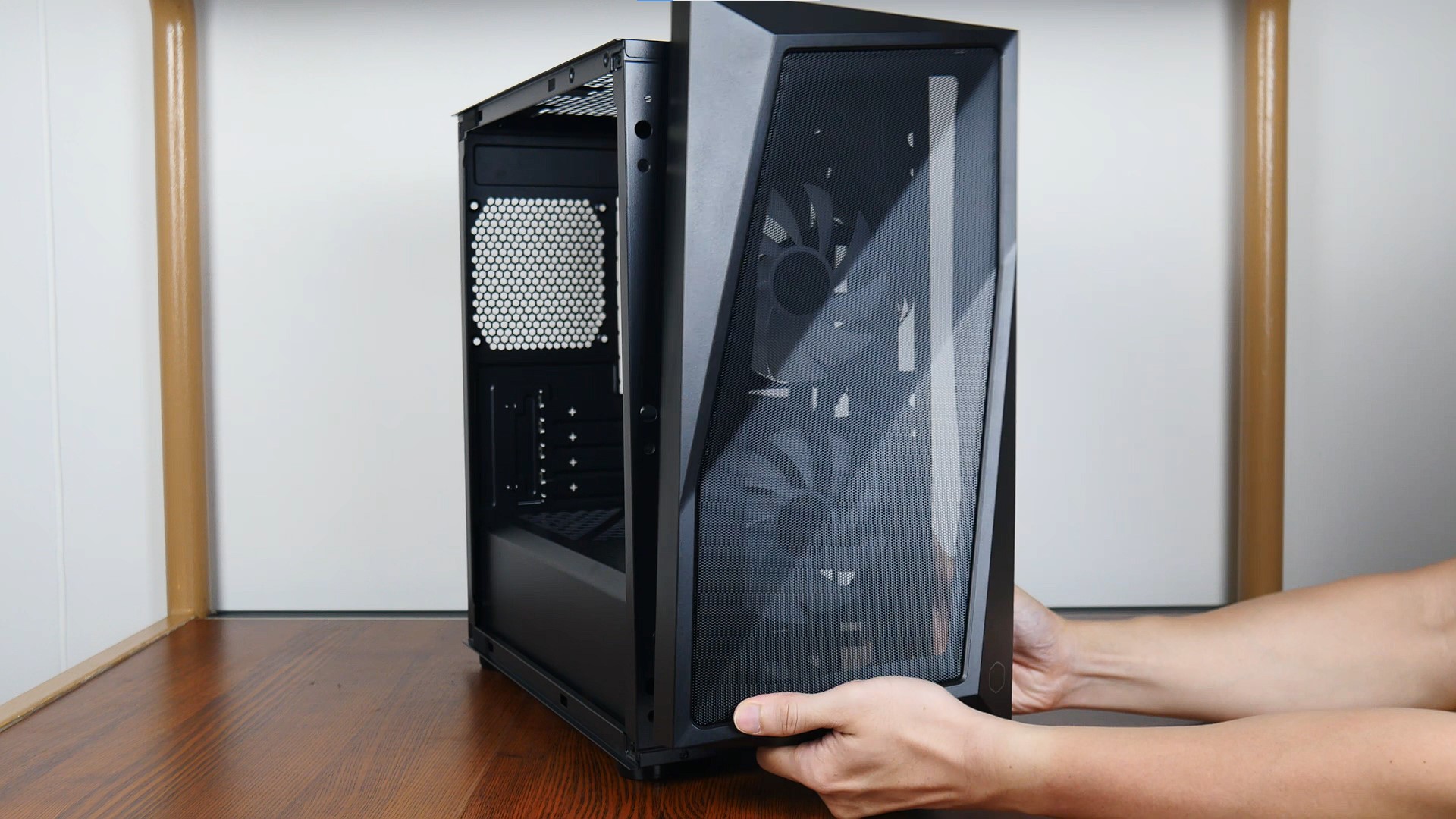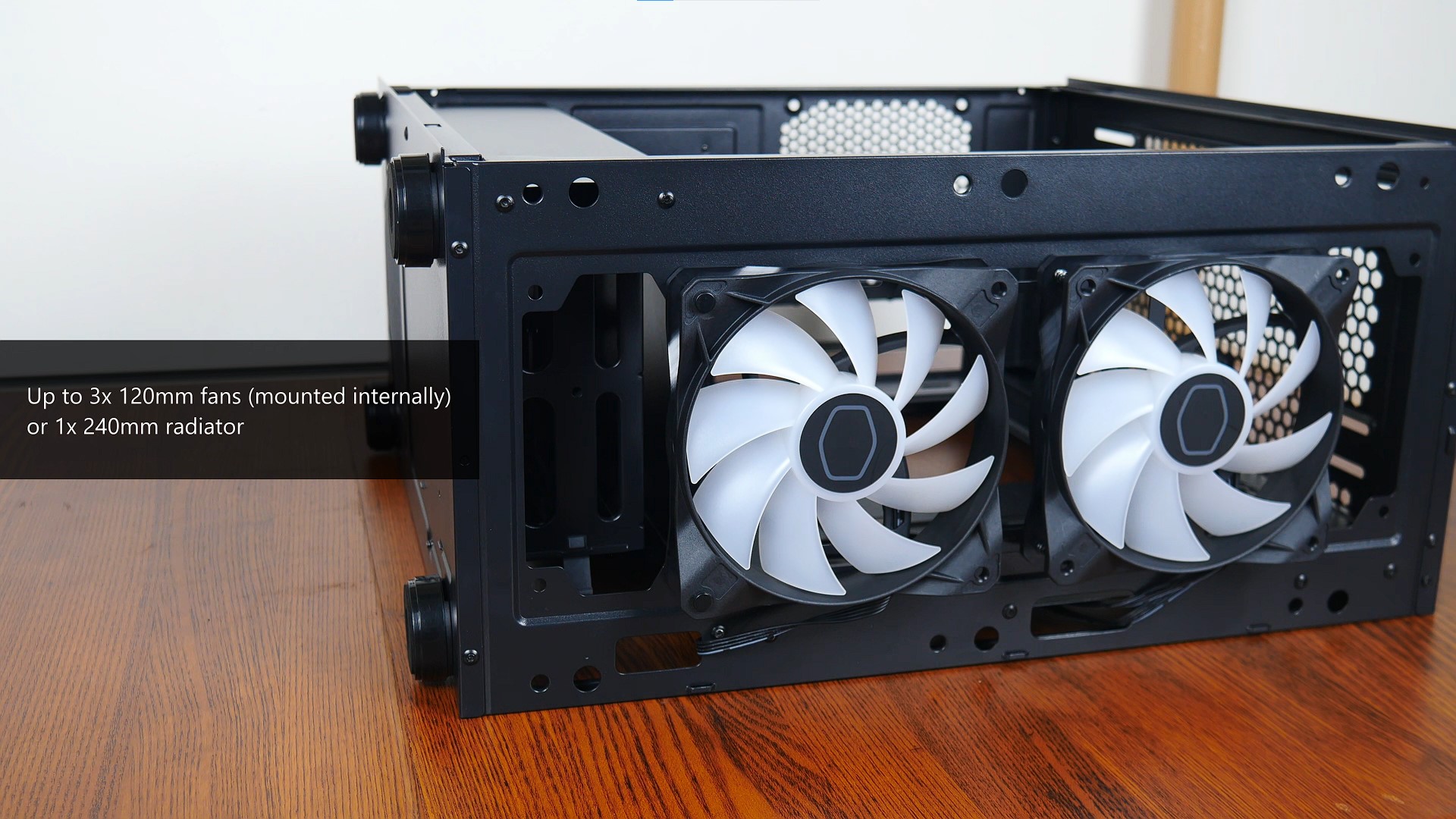 That said, the front panel of the CMP 320 is easily removed, where it snaps into place by means of plastic retention clips. Once removed, end users of this case can replace the two preinstalled CF120 fans (which are mounted externally) with up to three 120mm fans that are mounted internally, or a radiator of size up to 240mm.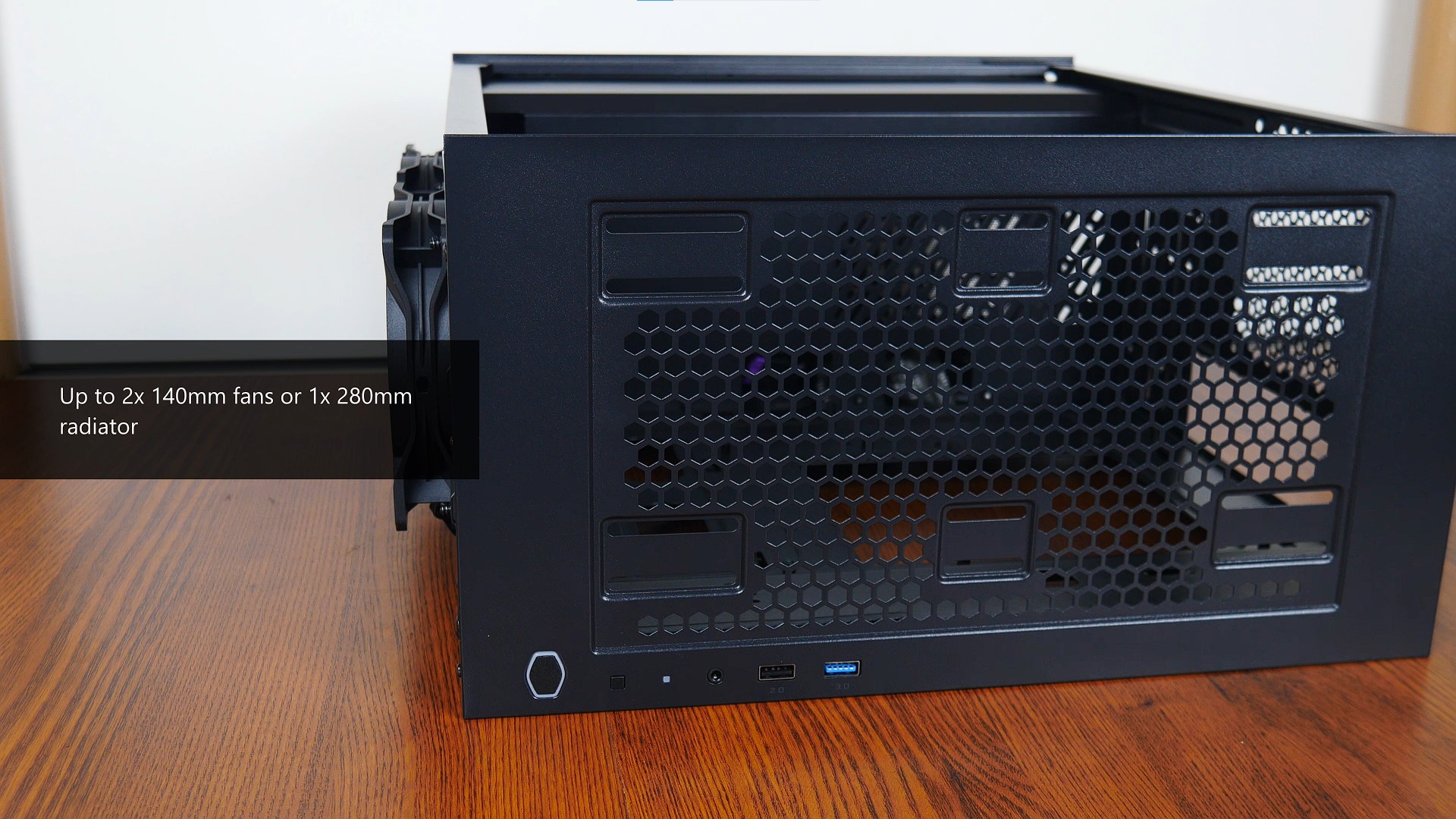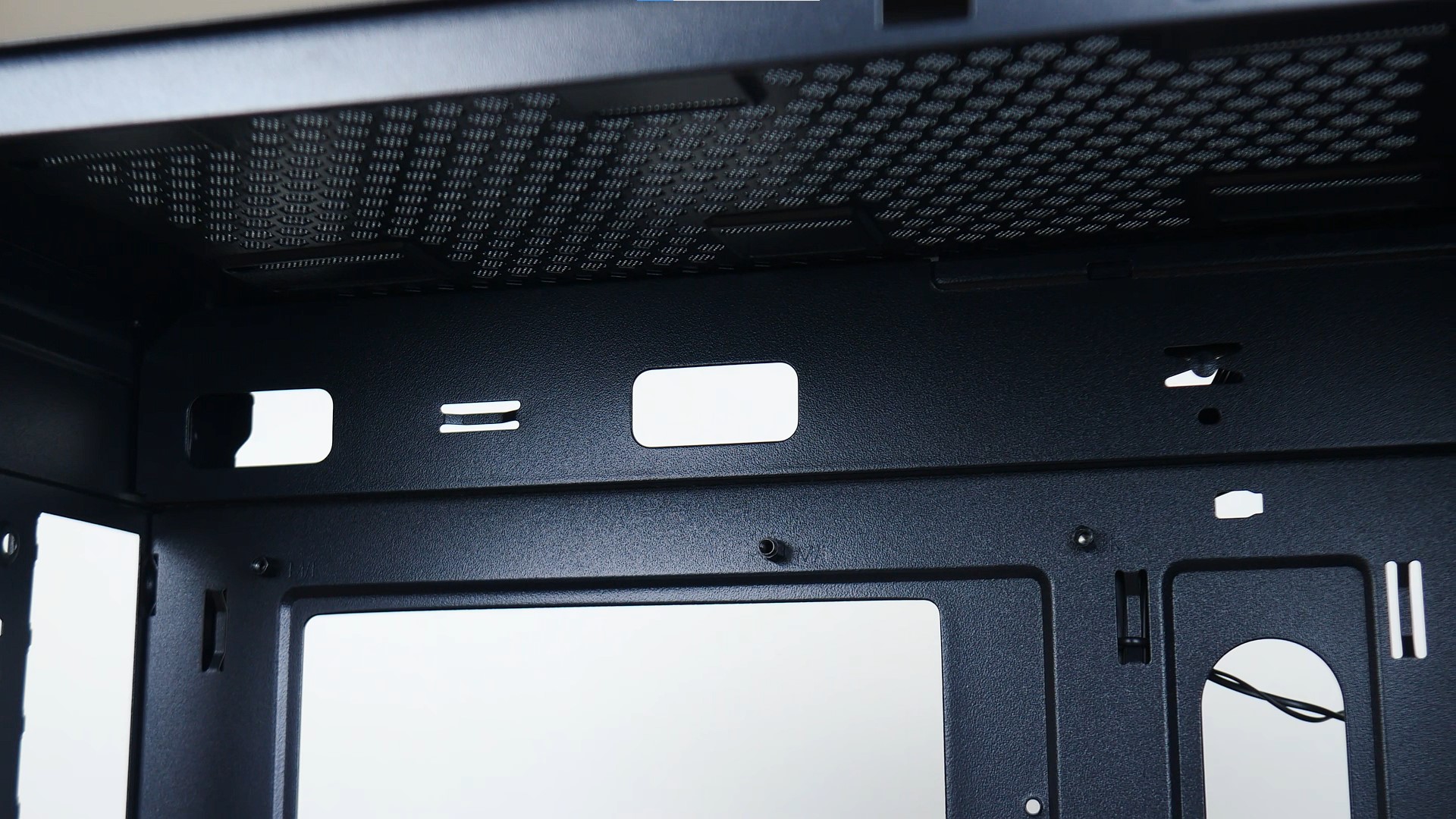 As mentioned earlier, the top panel of the case comes with a ventilation opening with a removable dust filter - the said ventilation opening supports up to two 140mm case fans or a radiator of size up to 280mm. For end-users of this case intending to install a top-mounted radiator, Cooler Master has factored in what seems to be sufficient height clearance for such a radiator to be installed with relative ease.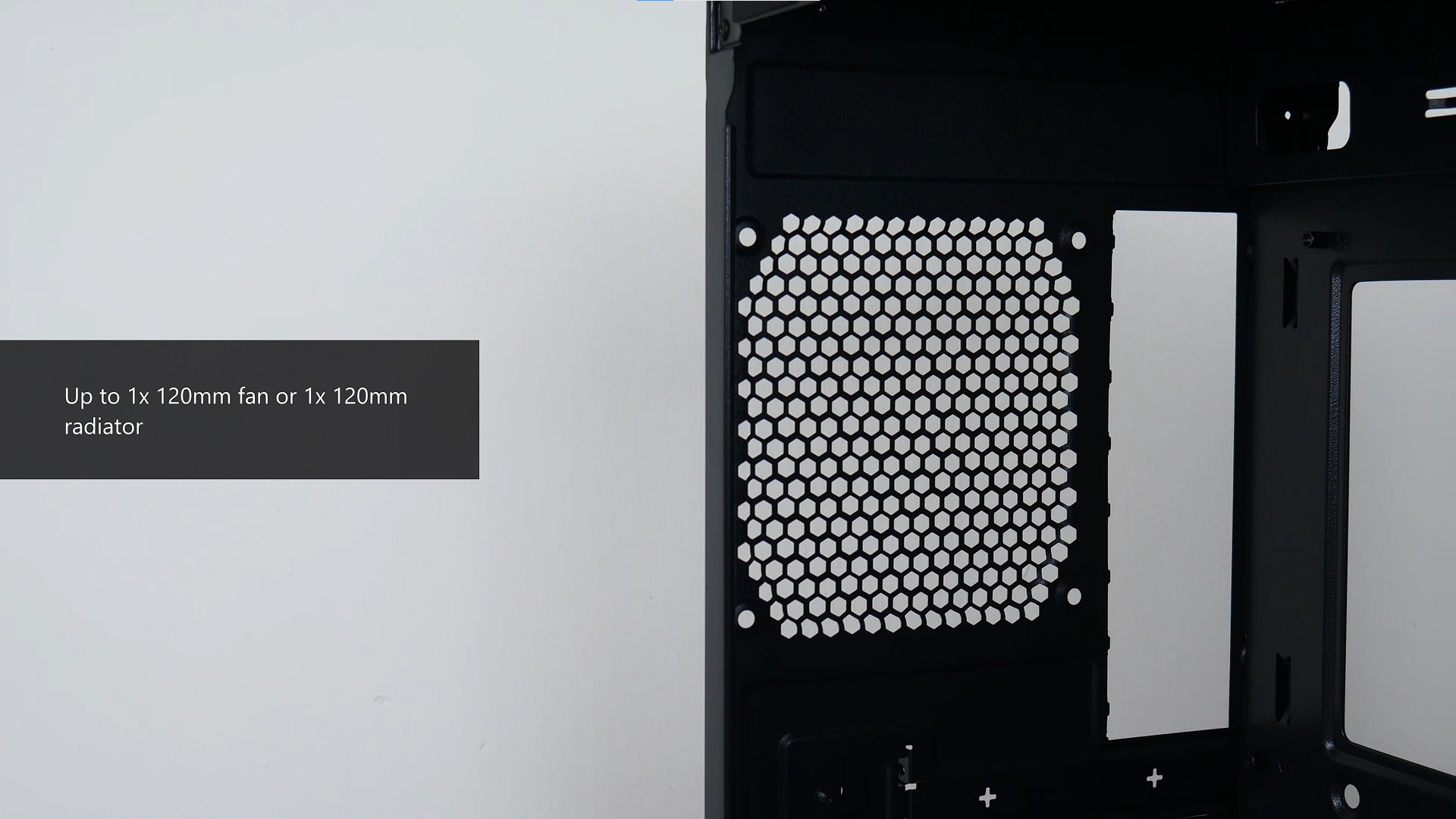 To round up this section on cooling hardware support, the rear of the CMP 320 comes with a single ventilation opening that supports a single 120mm case fan or a radiator of size up to 120mm.
Dimensions & Clearances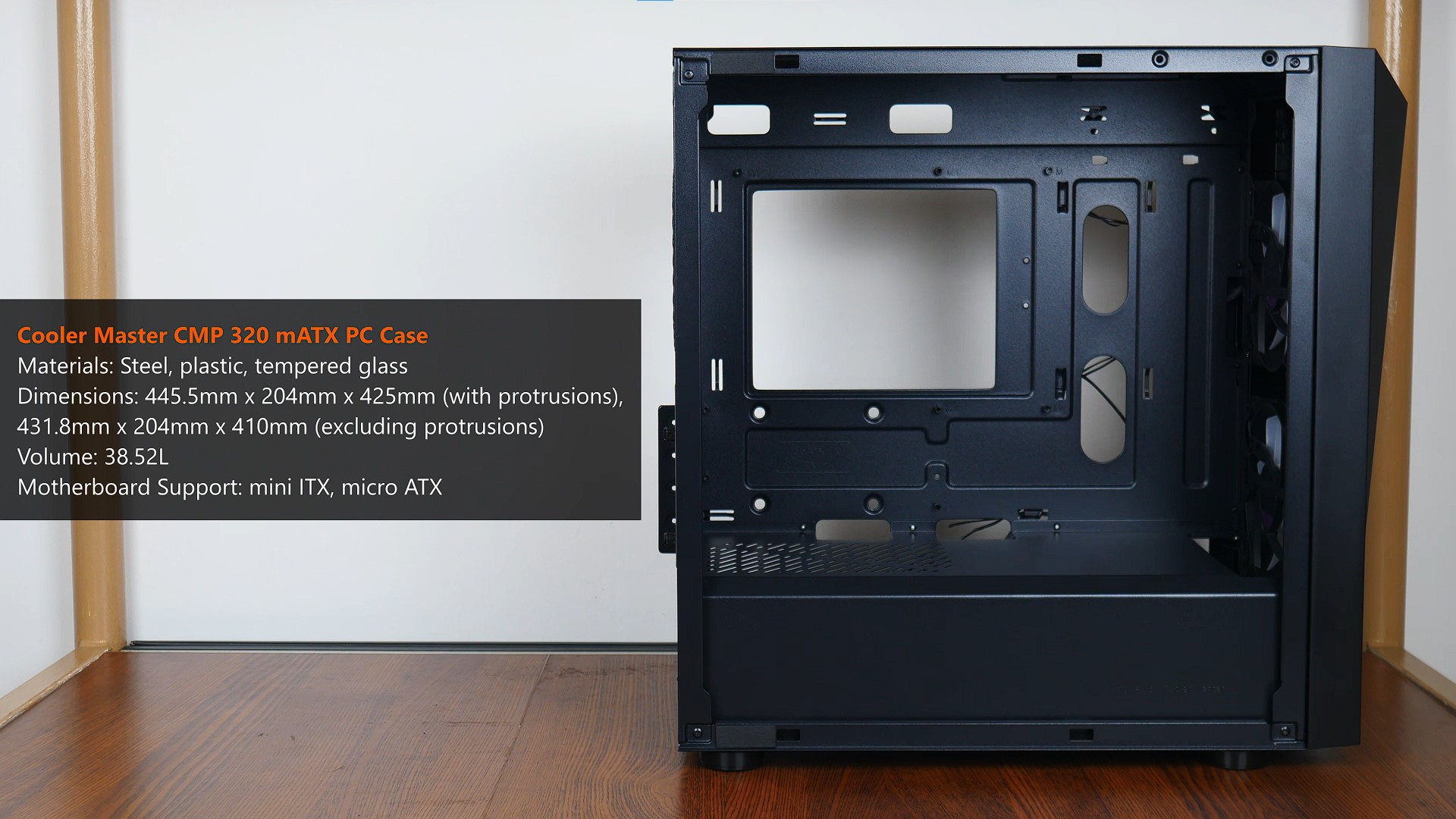 In terms of physical dimensions, Cooler Master has positioned the CMP 320 to be more of a compact microATX case that occupies a smaller footprint, where it measures in at 445.5mm x 204mm x 425mm (with protrusions included). According to the brand, the case supports CPU coolers of heights up to 163.5mm.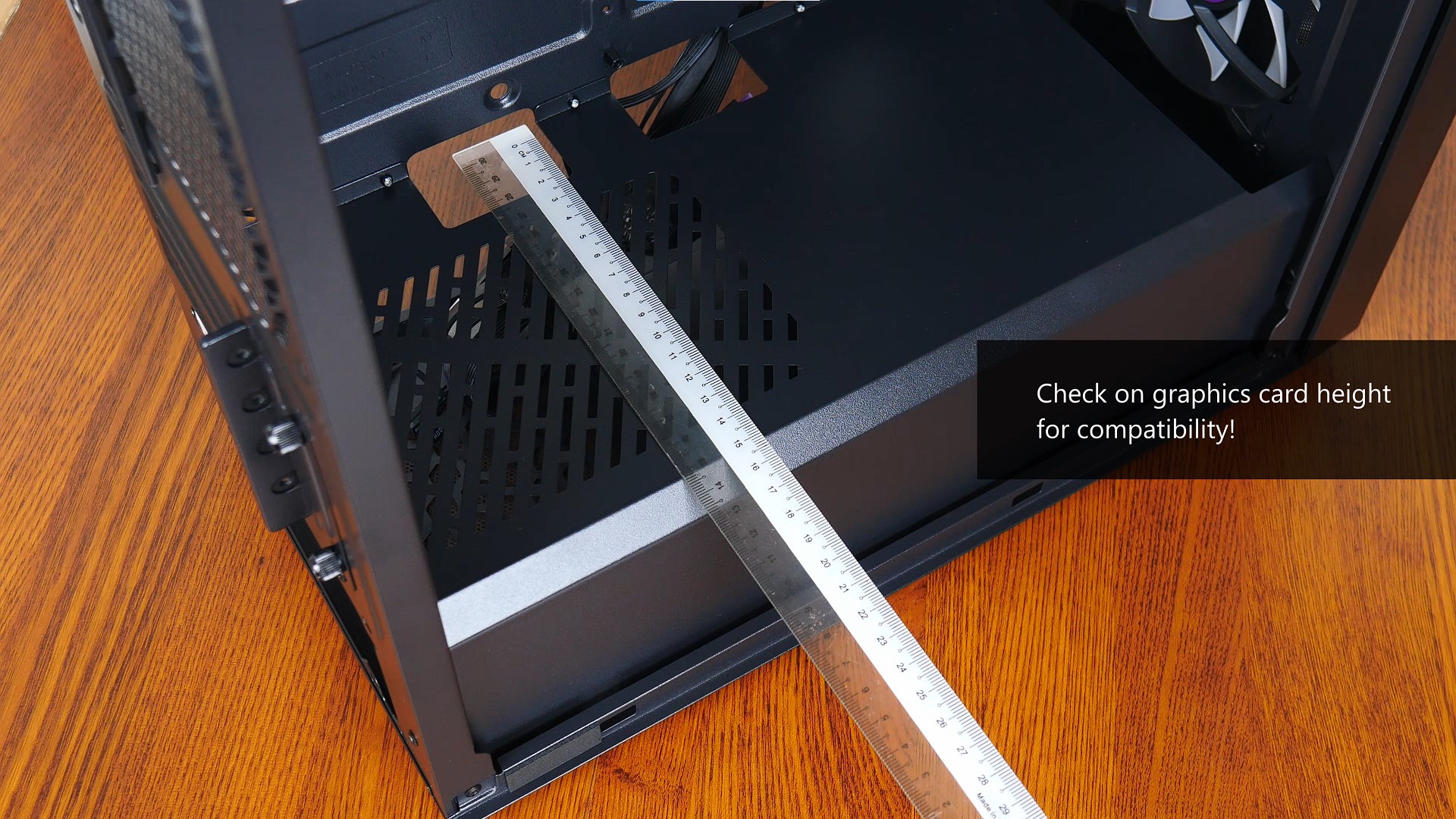 While Cooler Master advertises the CMP 320 to have support for graphics cards with lengths of up to 365mm, that is, without front case fans mounted internally or a front mounted radiator for that matter, the height of your graphics card is an important factor to consider too. Given the width of this case, end users who intend to install a large high-end graphics card (especially cards powered by a GeForce RTX 4090 or RTX 4080 GPU with a beefy cooler) may find that the tempered glass side panel might get in the way of the power cable(s) that connect to such graphics cards. This is especially given the fact that such graphics cards utilise a 12VHPWR power connector, where end-users would likely have to use a power adapter attachment in order to power these cards, which would add additional height to these already-tall graphics cards. In view of this, it would appear that AMD's Radeon RX 7900 XTX and RX 7900 XT offerings would be more well-suited for use with the CMP 320, given that graphics cards powered by these GPUs tend to use smaller coolers and your standard eight-pin PCIe power connectors.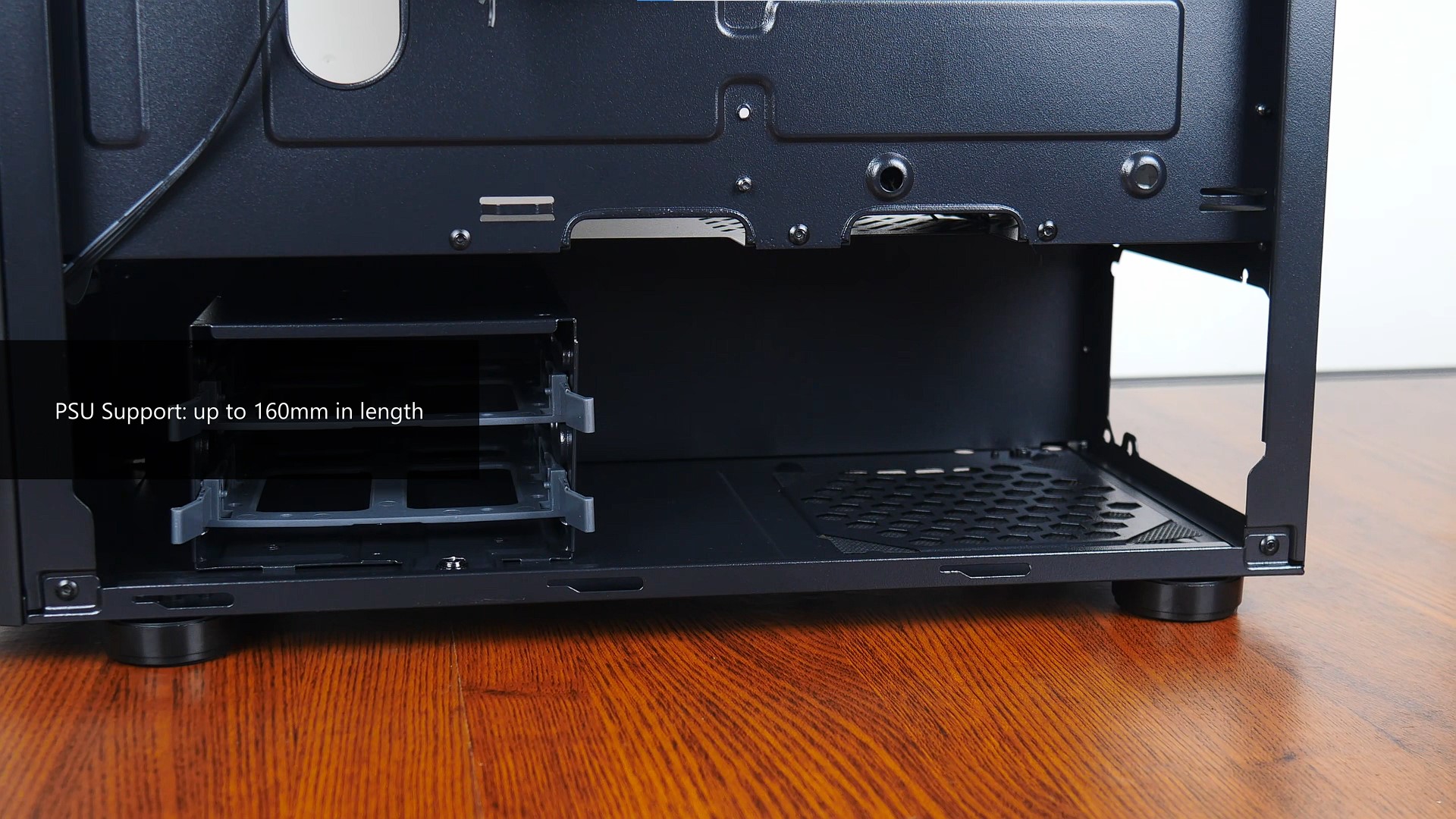 For power supplies, the CMP 320 supports power supply units of lengths up to 160mm - this is a conservative figure quoted by Cooler Master presumably to take into consideration the space taken up by cables that would stick out from the rear of a typical power supply.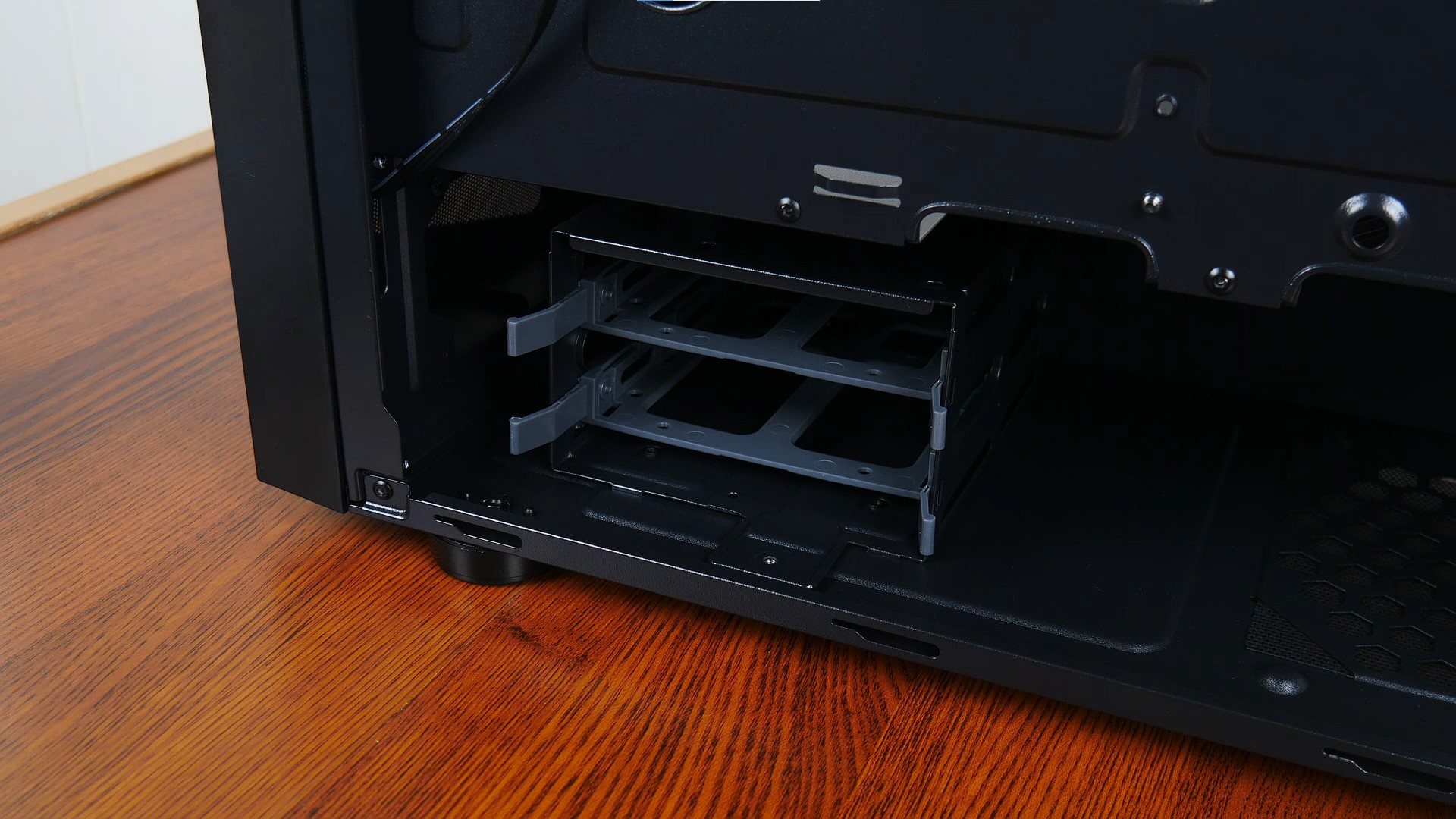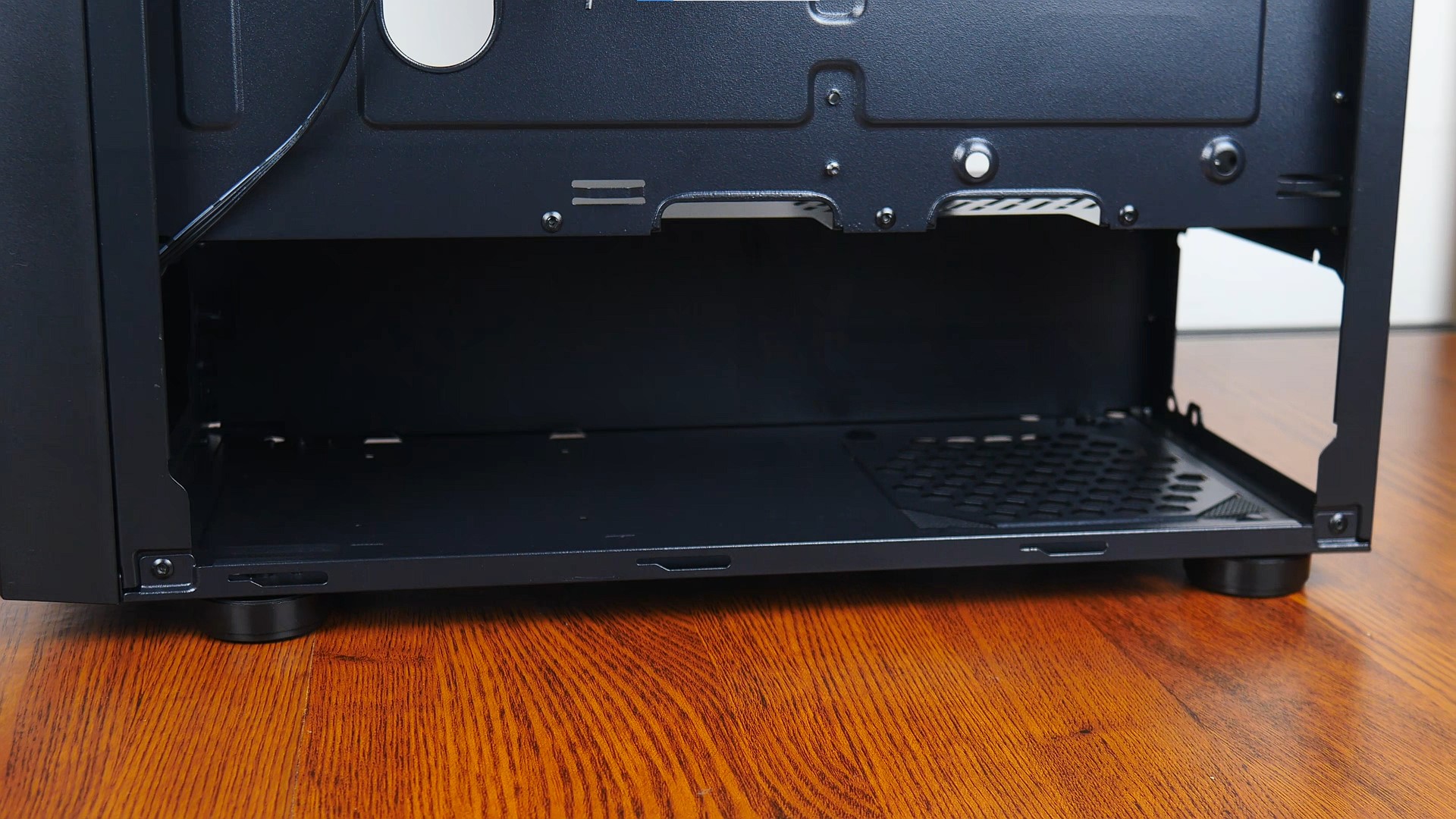 For users who have no need to install 2.5" or 3.5" storage drives, the CMP 320 comes with a removable drive cage situated beneath the power supply shroud that can be removed, so as to make space for longer power supply units and to facilitate better cable management.
Storage Drive Support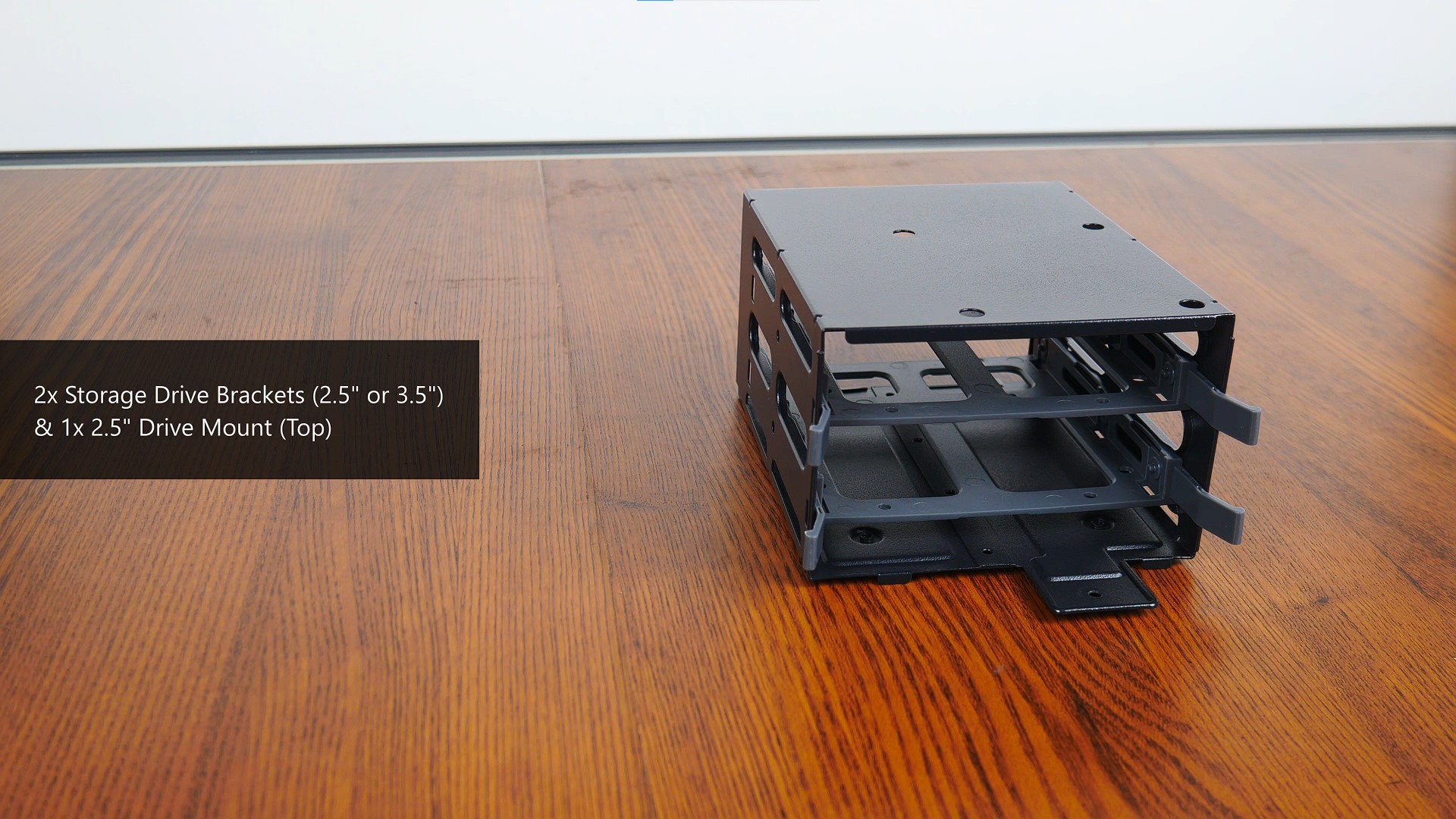 The removable drive cage as mentioned in the prior paragraph comes with two removable plastic brackets that slide into place, where each bracket has mounting holes that support either a 2.5" drive or a 3.5" drive. The top of the cage also houses space for an additional 2.5" storage drive, which can be mounted with the included rubber grommets and drive mounting screws.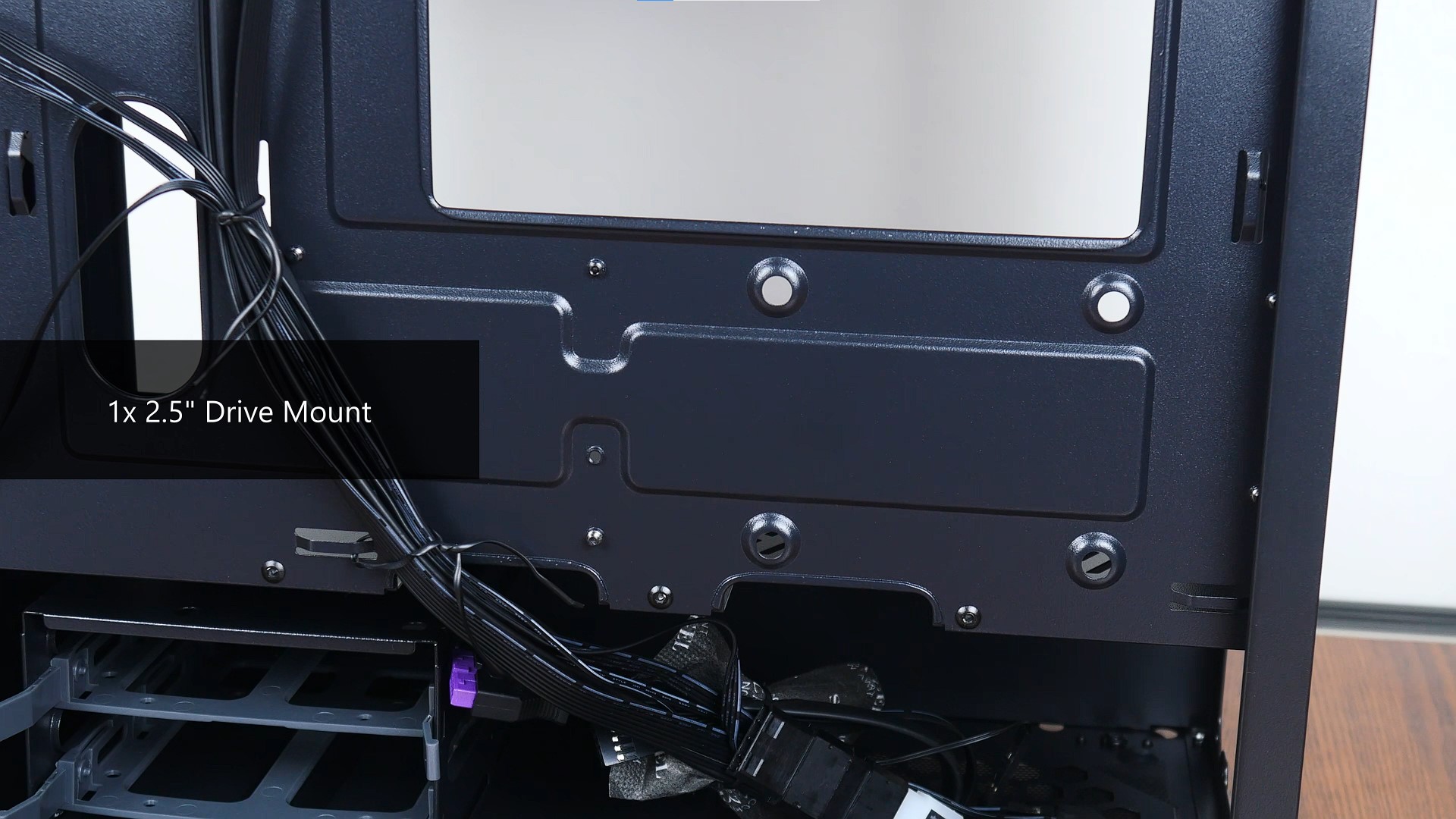 Also included is another 2.5" storage drive mount that is situated on the back of the CMP 320's motherboard tray.
Installation Experience
To simulate a PC build with the Cooler Master CMP 320 case, the following hardware components were used:
Motherboard: Gigabyte B550M AORUS ELITE
Processor: AMD Ryzen 5 3600
CPU Cooler: Cooler Master ML240L V2 ARGB
RAM:

16GB (2x8GB) Kingston HyperX Fury DDR4 3200 CL16

Storage: Crucial P3 500GB NVMe SSD

Graphics Card: ASUS DUAL-RX580-O4G

Power Supply Unit: Cooler Master V1000 80 PLUS Gold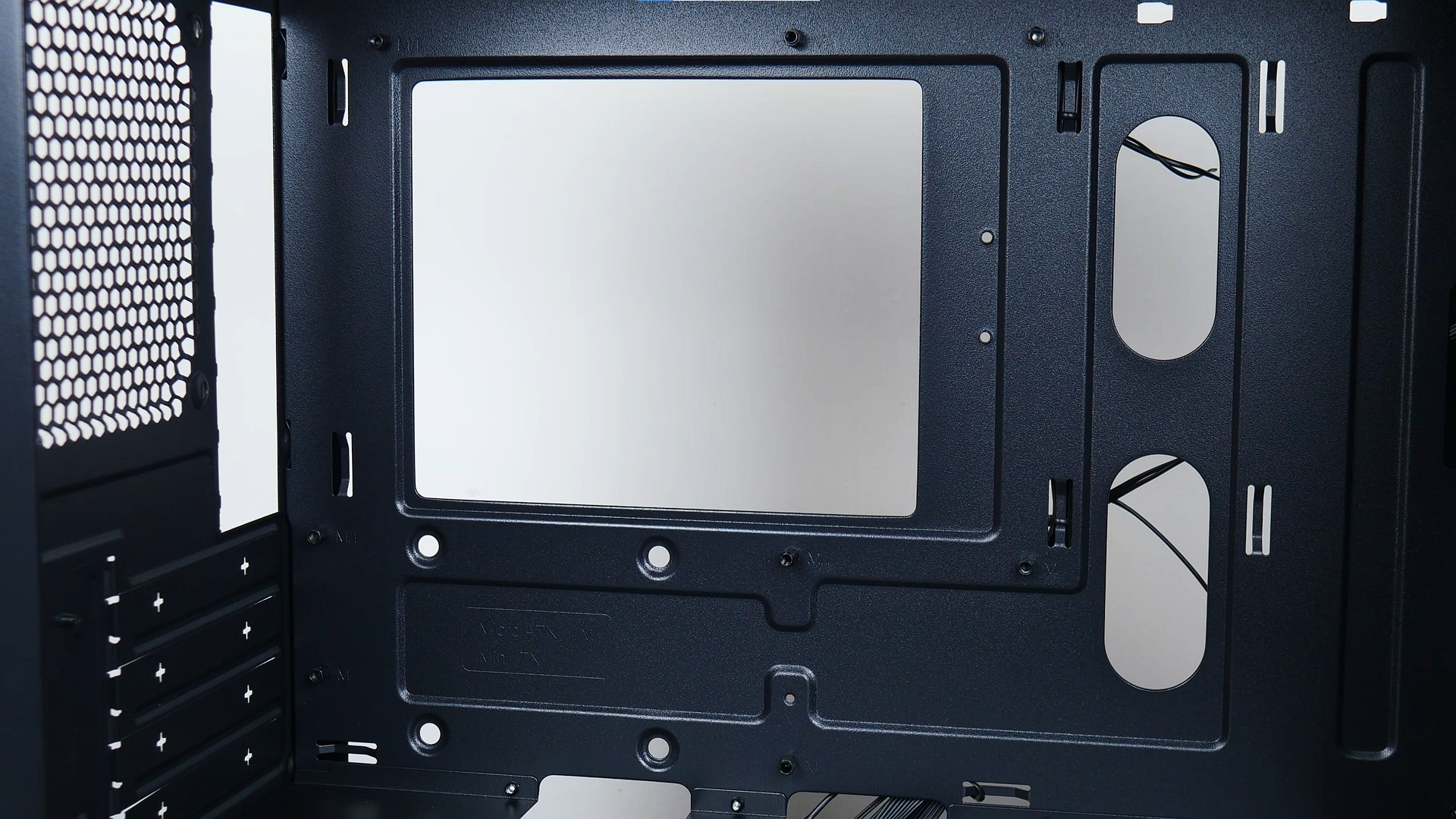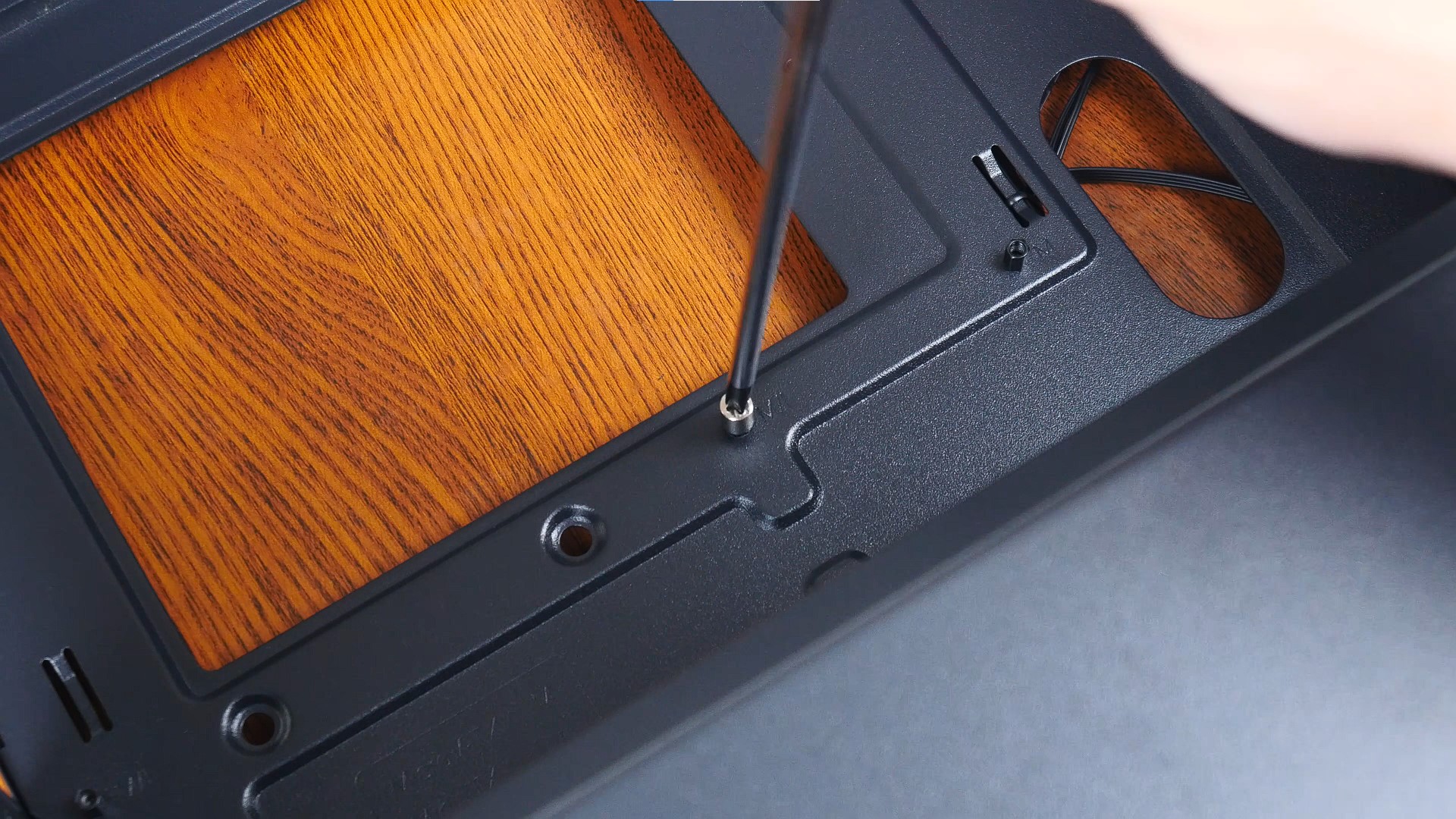 Getting a motherboard installed into the CMP 320 was a fuss-free affair, where the case comes preinstalled with motherboard standoffs. Should you need to reposition these standoffs, Cooler Master has included a motherboard standoff installation attachment that allows you to install and remove the said standoffs with a Philips head screwdriver. A handy quality-of-life accessory to have for sure.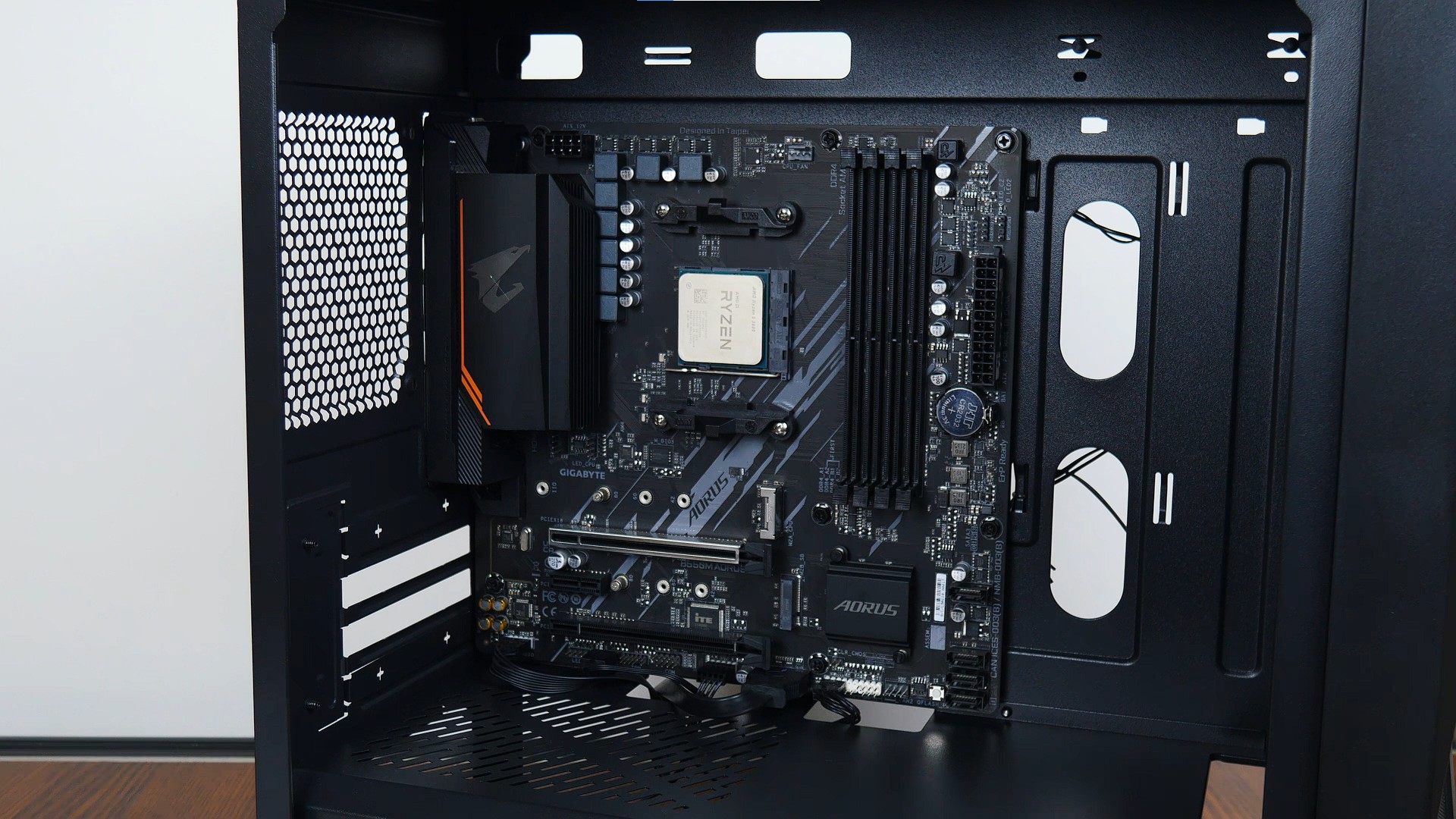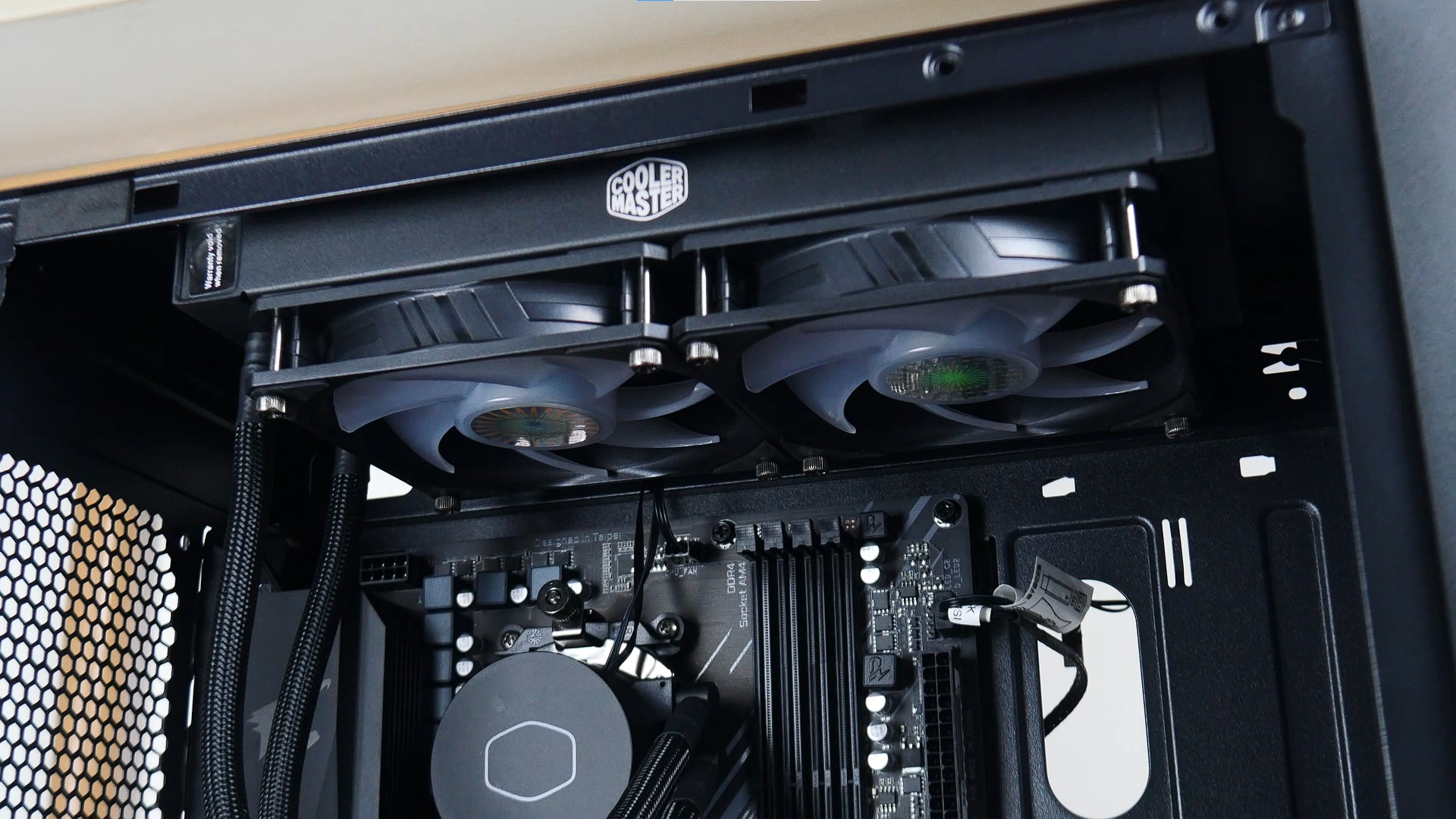 With a micro ATX motherboard in place, installing the radiator of Cooler Master's ML240L V2 ARGB AIO liquid CPU cooler on the top panel of the PC case was a pretty straightforward process too - the case definitely has more than enough height and width clearance for a 240mm radiator up top.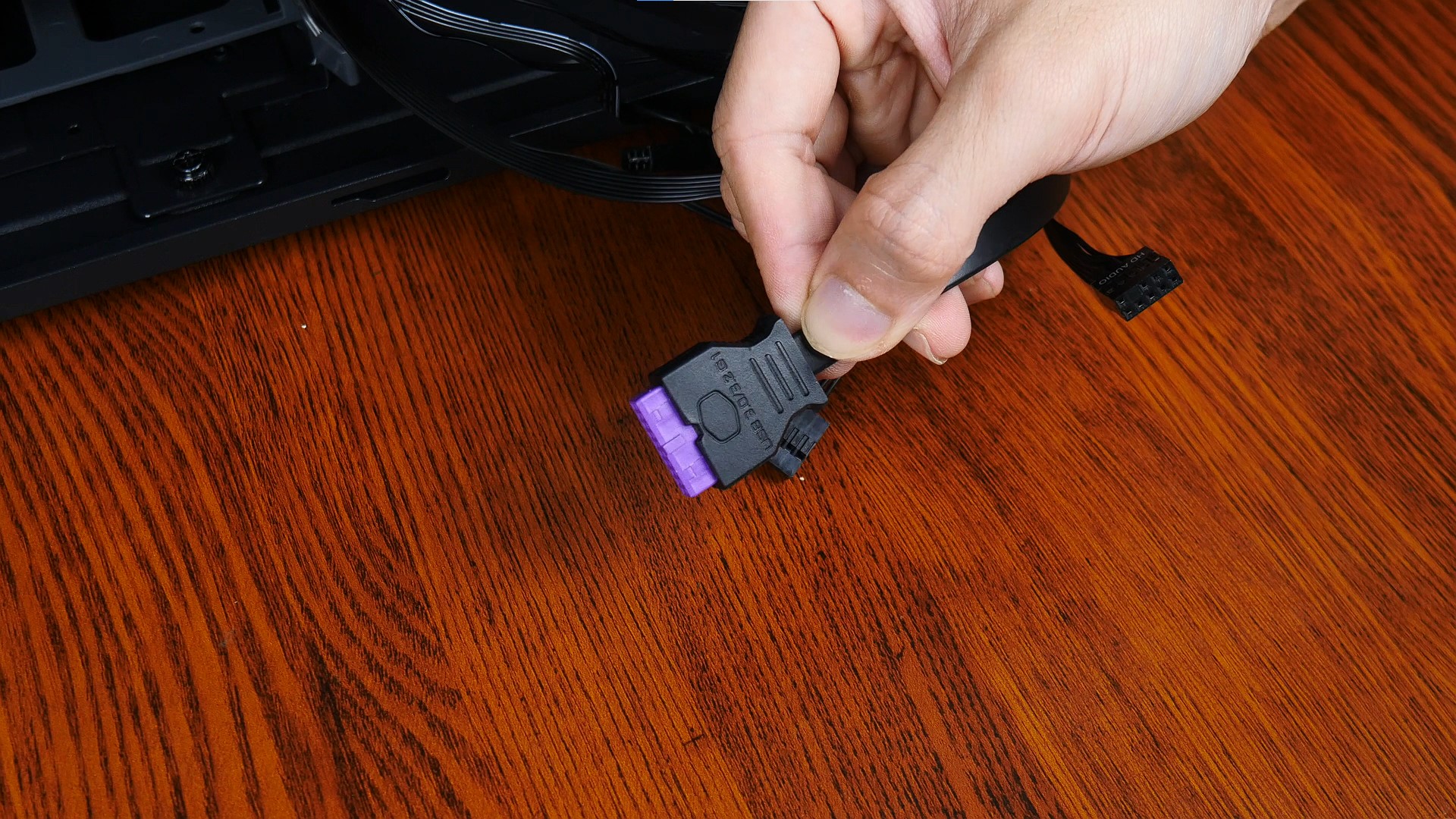 The CMP 320 comes with your run-of-the-mill front panel connectors - what really stood out for me was the fact that the motherboard connector for the case's front panel USB 3.2 Gen 1 Type-A port comes finished in Cooler Master's trademark shade of purple.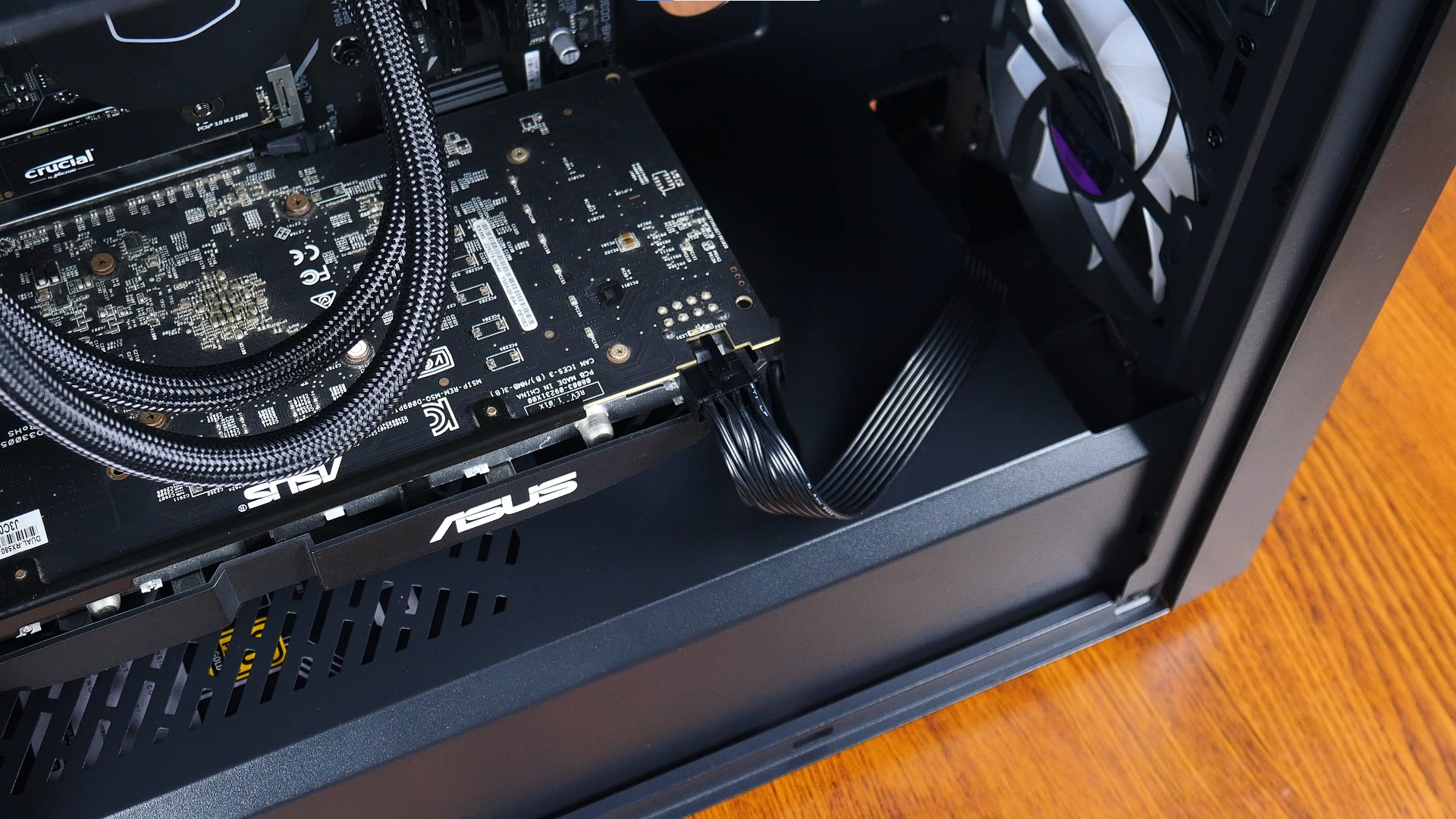 While I did not face any graphics card power connector clearance issues with ASUS's DUAL RX 580 4GB graphics card that measures in at 24.2cm x 12.89cm x 3.8cm, I could clearly see how end-users of this case intending to install large and tall graphics cards might run into clearance issues, especially if these said graphics cards require the use of a clunky 12VHWPR power adapter attachment that would very likely obstruct the reinstatement of the CMP 320's tempered glass side panel.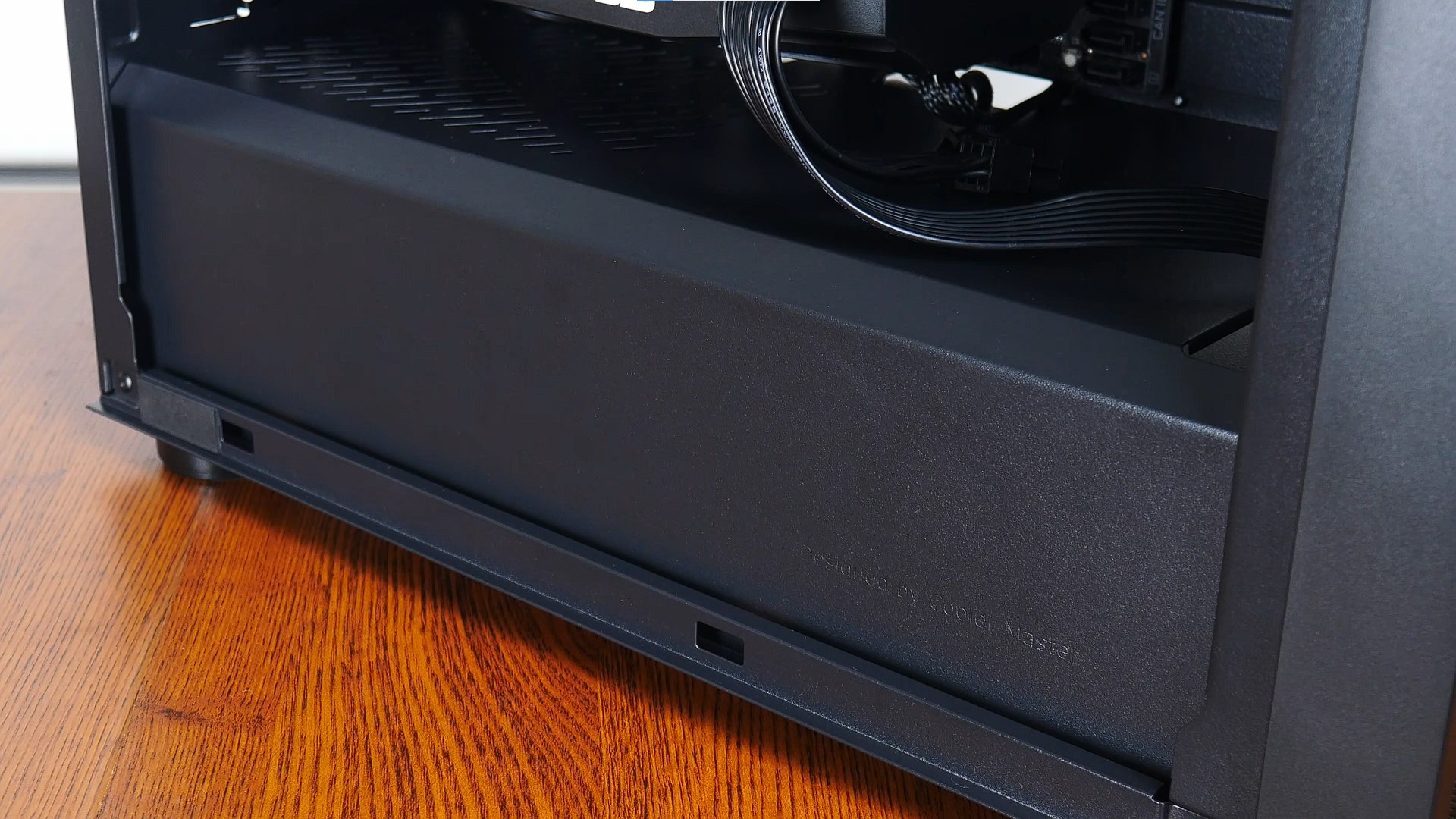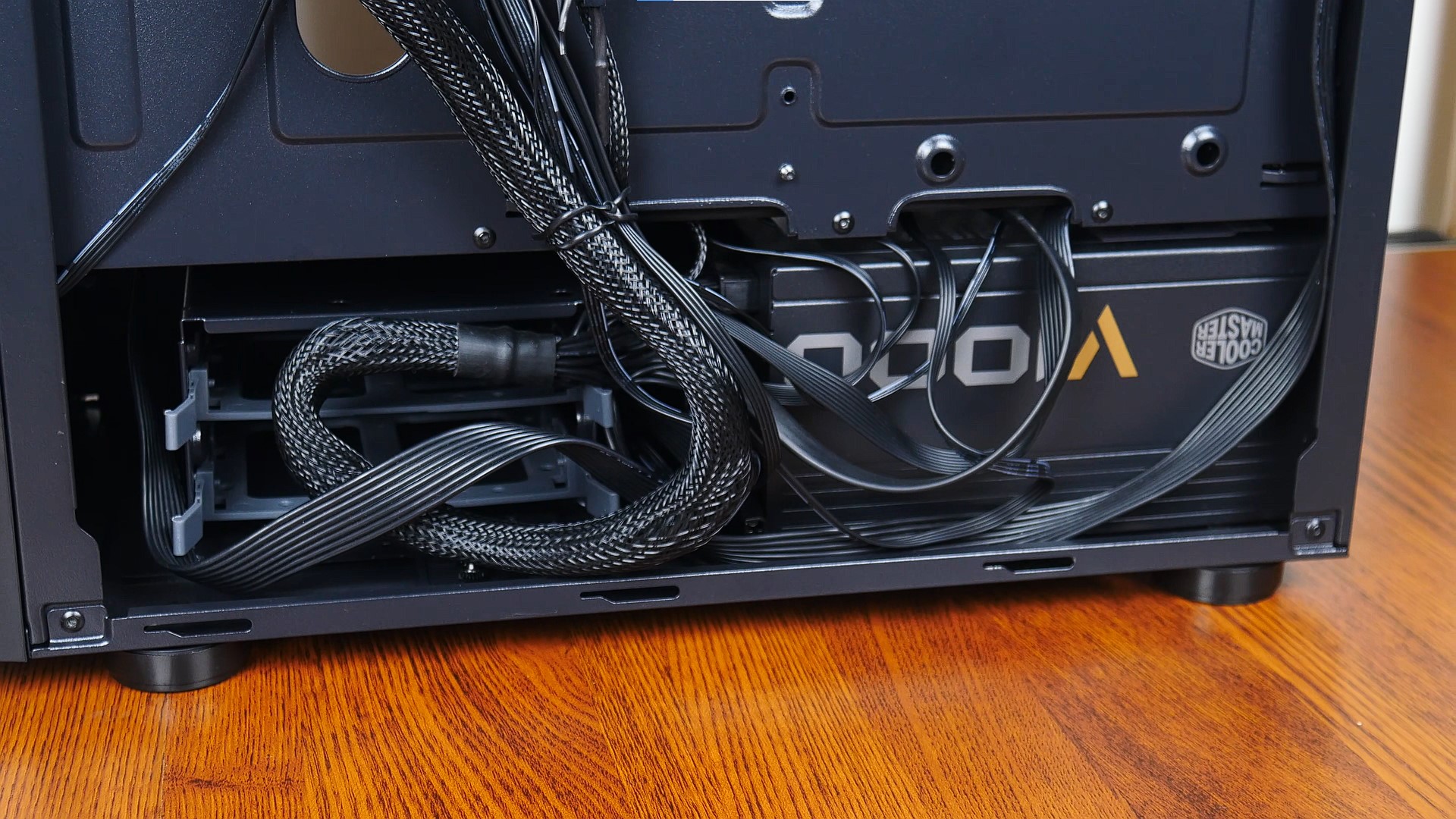 The case's power supply shroud goes a long way in keeping unsightly cables out of plain sight, and for the purposes of this demo build, Cooler Master's V1000 GOLD was used. The V1000 GOLD is a fully modular power supply unit that measures in at 170mm for length - while it does come in at 10mm over Cooler Master's recommended power supply length (160mm), I still managed to fit the V1000 and its accompanying power cables into the CMP 320 even with the storage drive cage in place, though admittedly, it was a bit of a tight squeeze.
Finished Build & Conclusion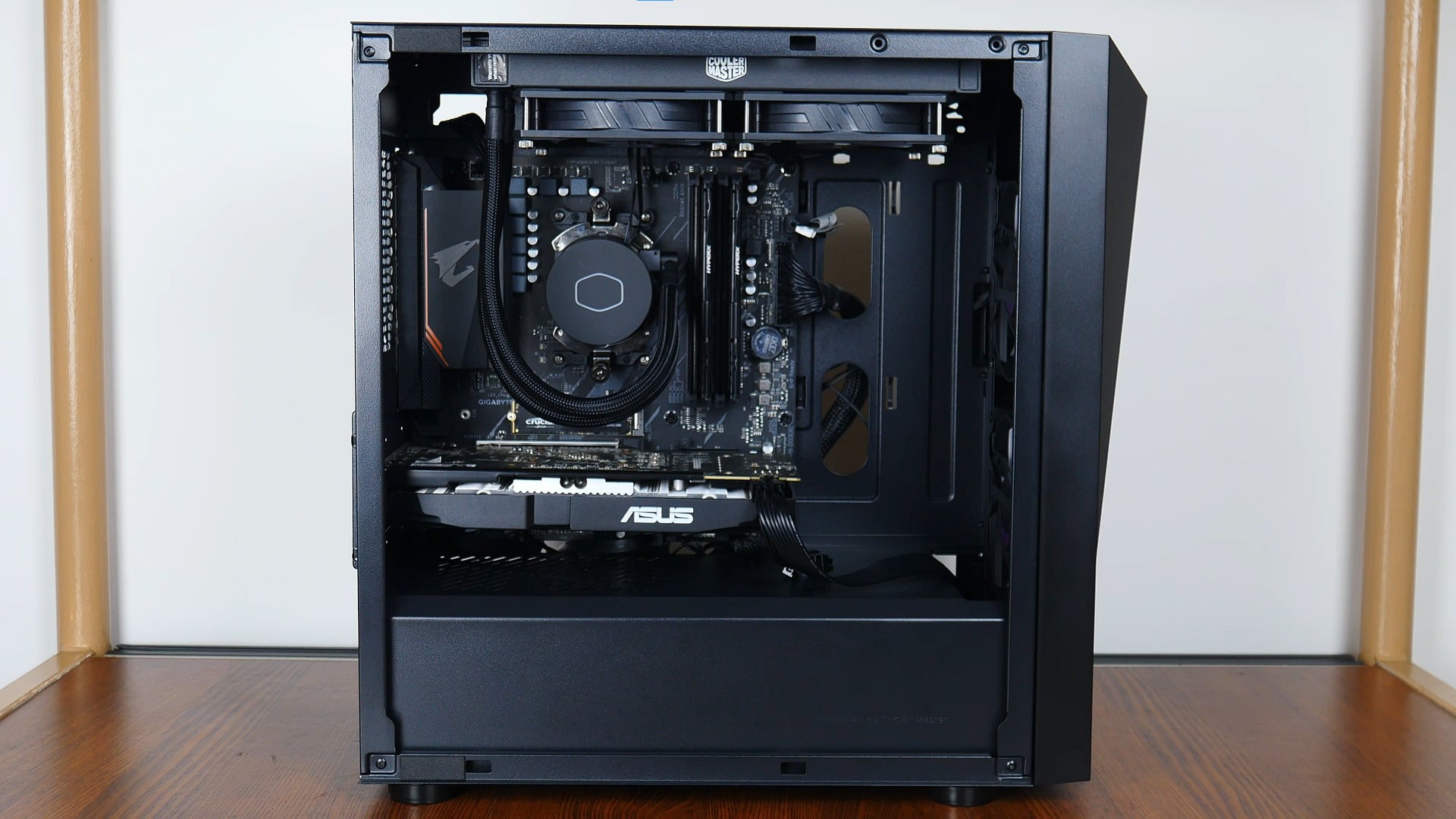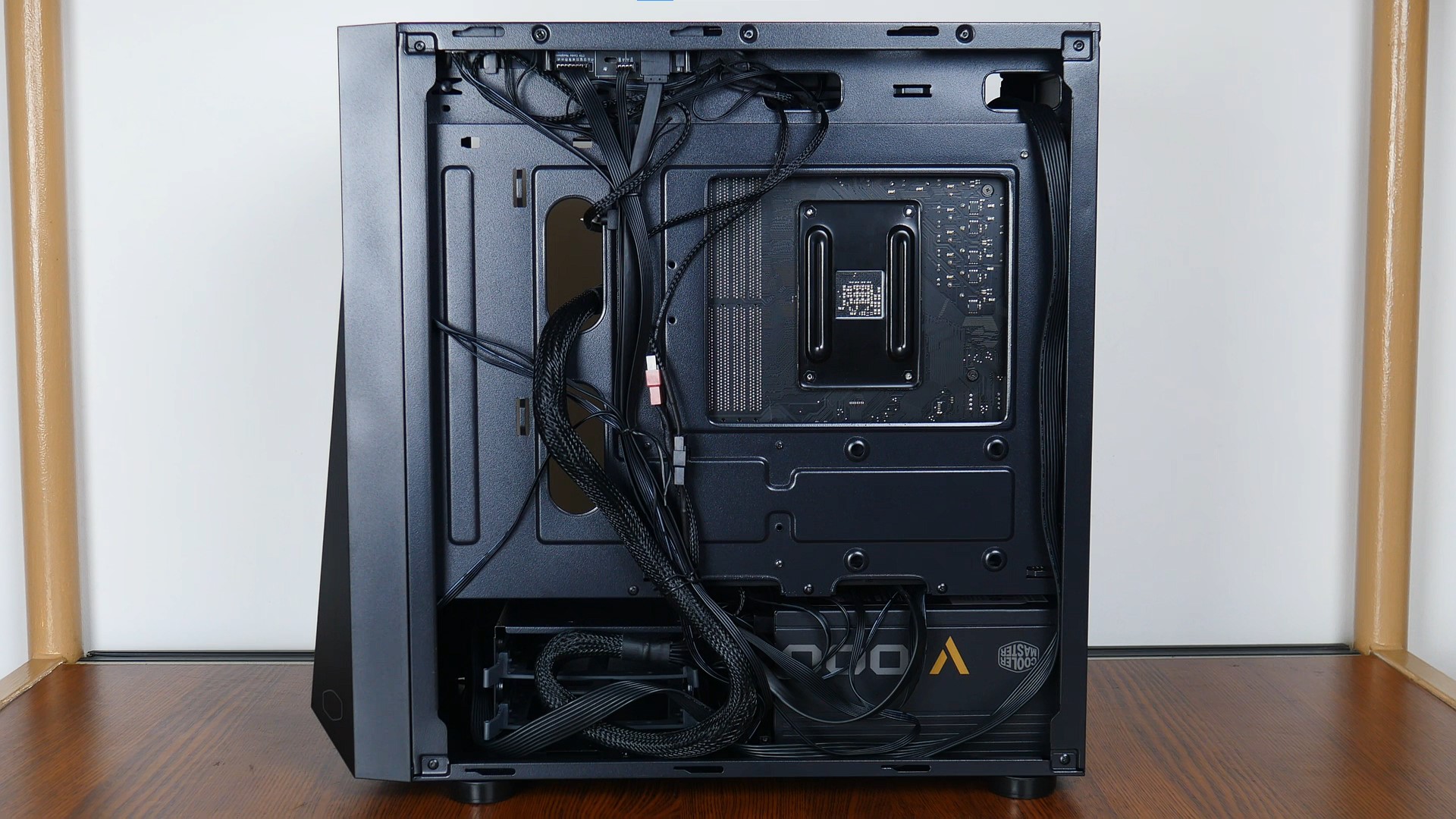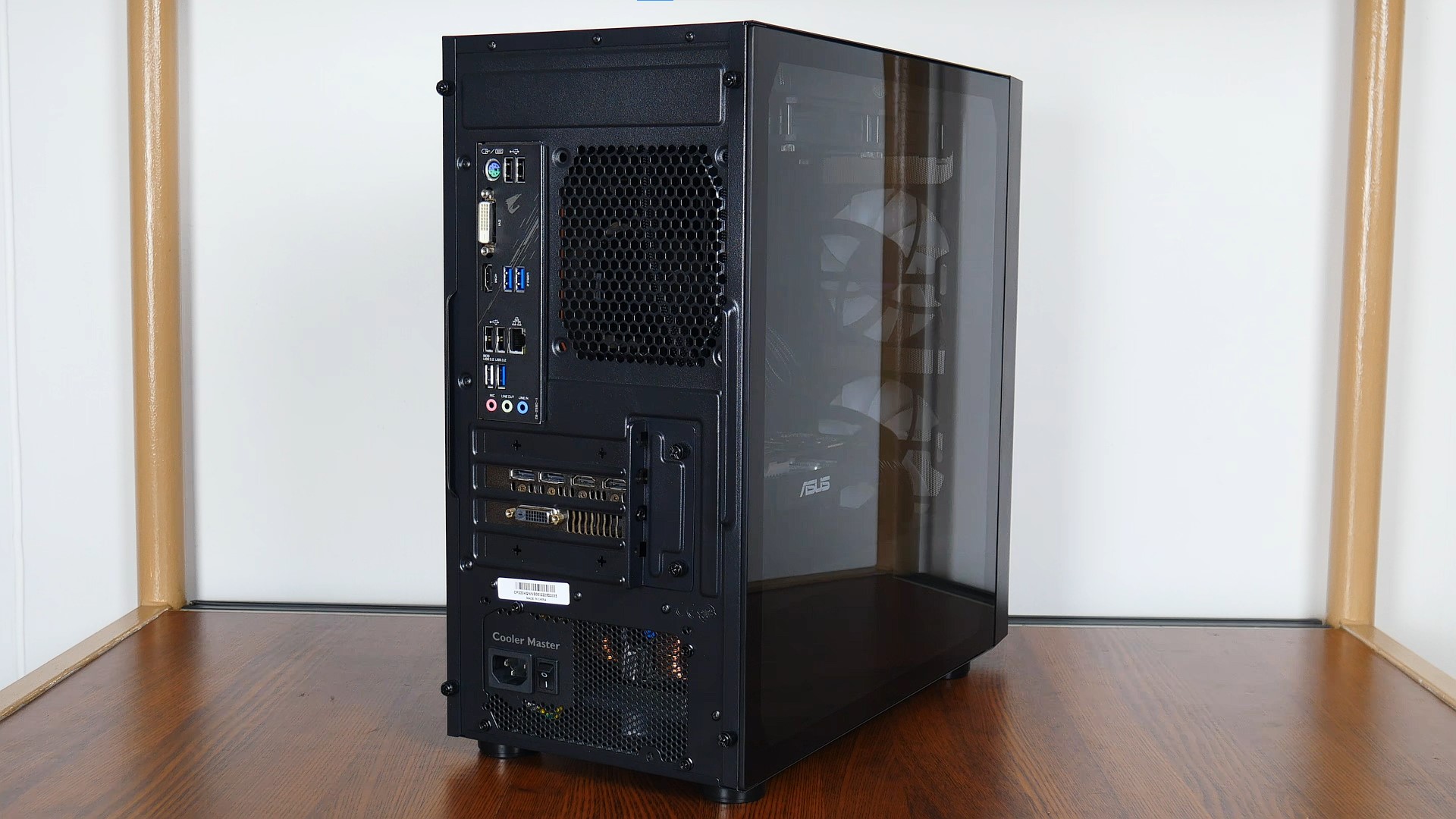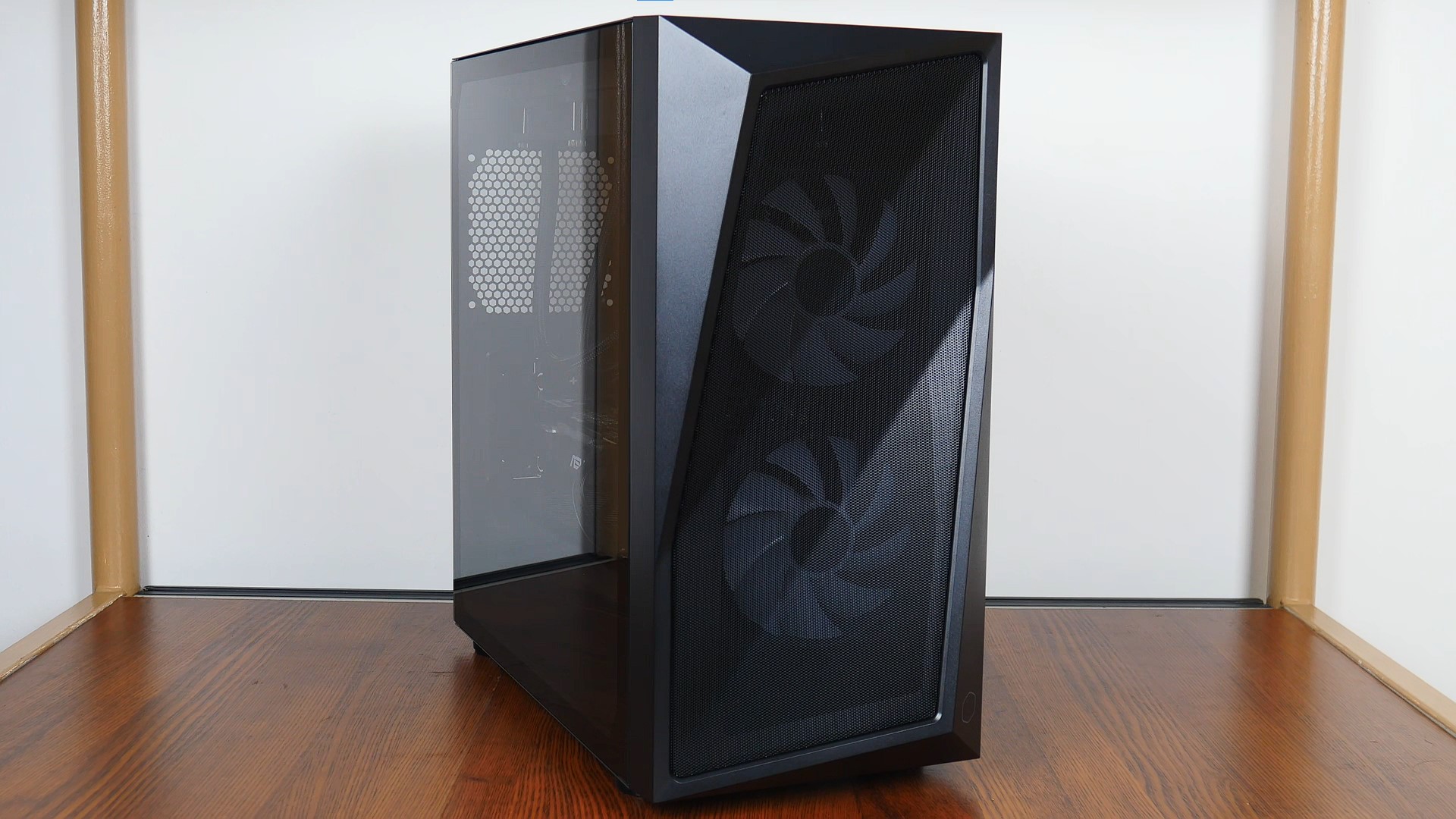 On the whole, I enjoyed putting together the demo build featured above using the Cooler Master CMP 320 PC case, where its aesthetics and build quality really stood out for me.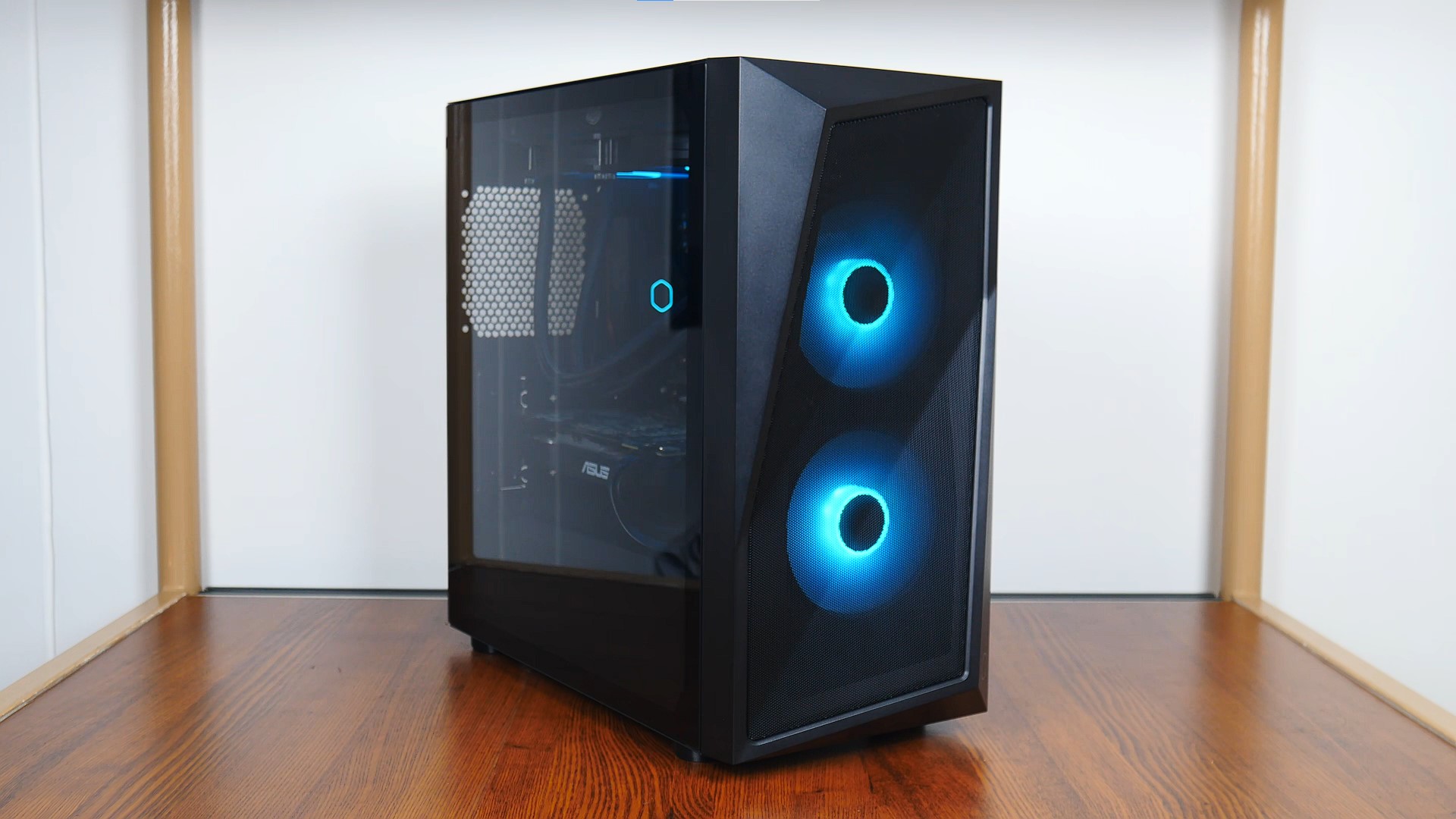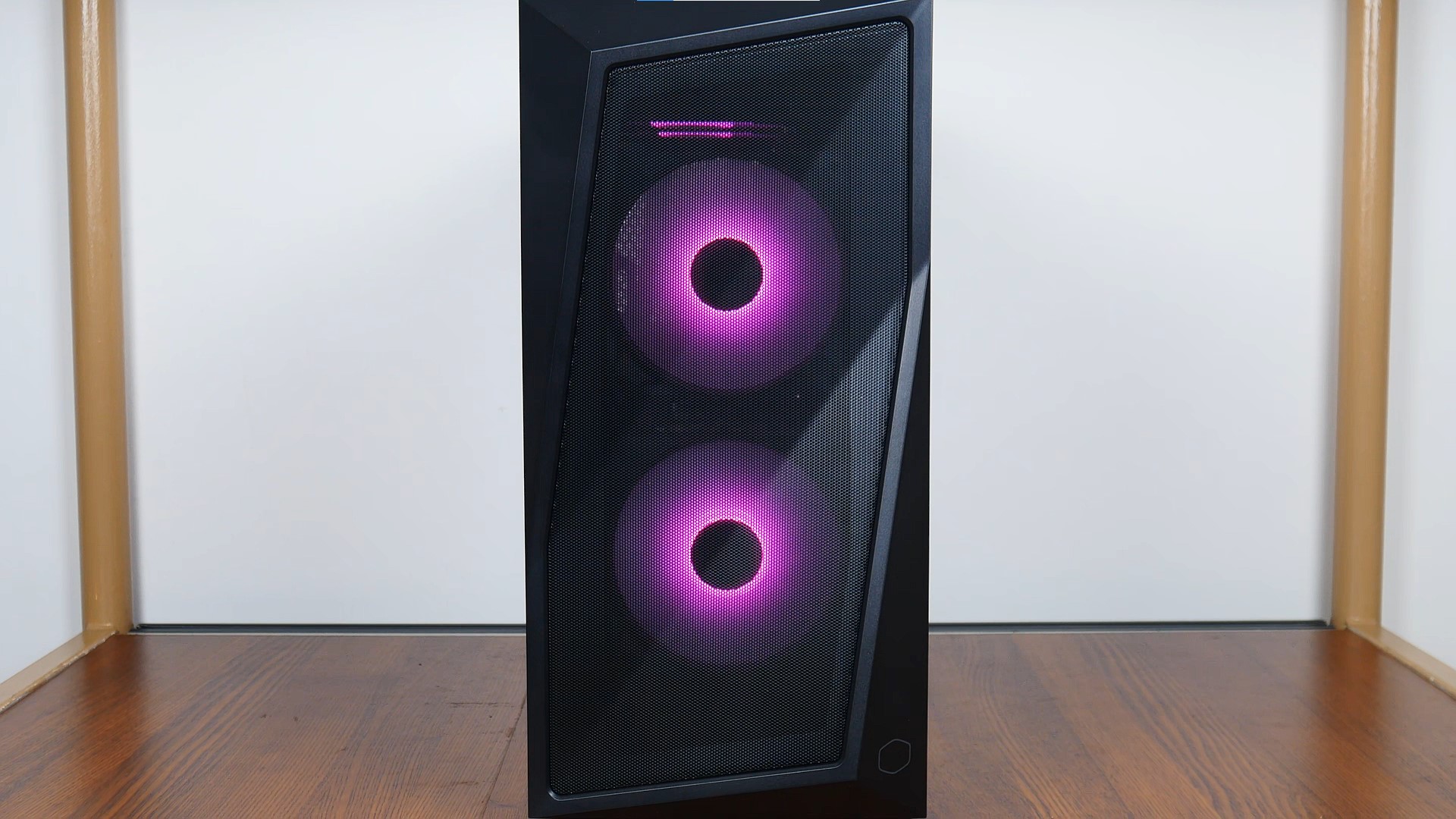 In my opinion, the visual effect created by the angles of the front mesh opening, together with the illuminated addressable RGB case fans was really nice without being overly bling.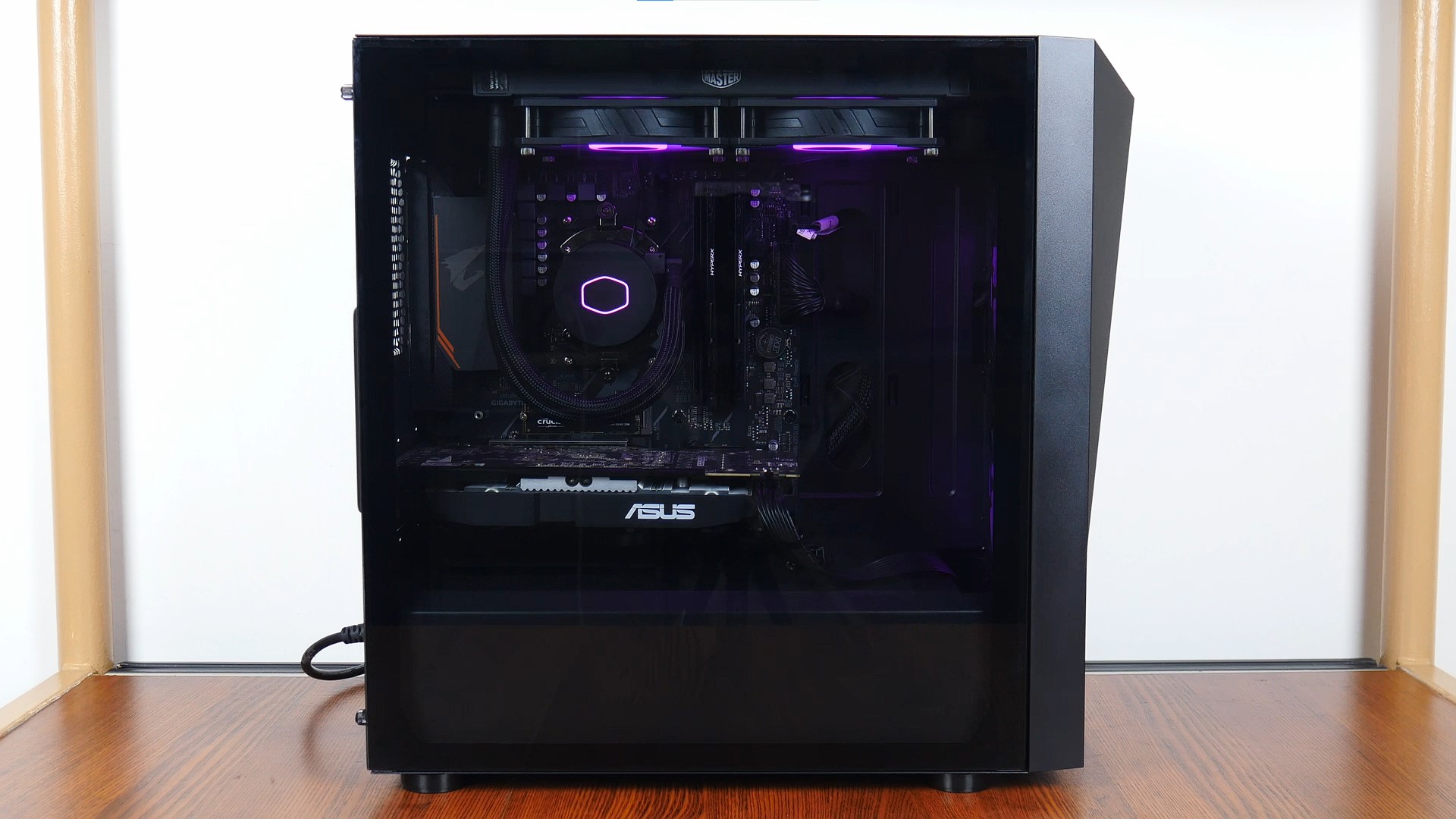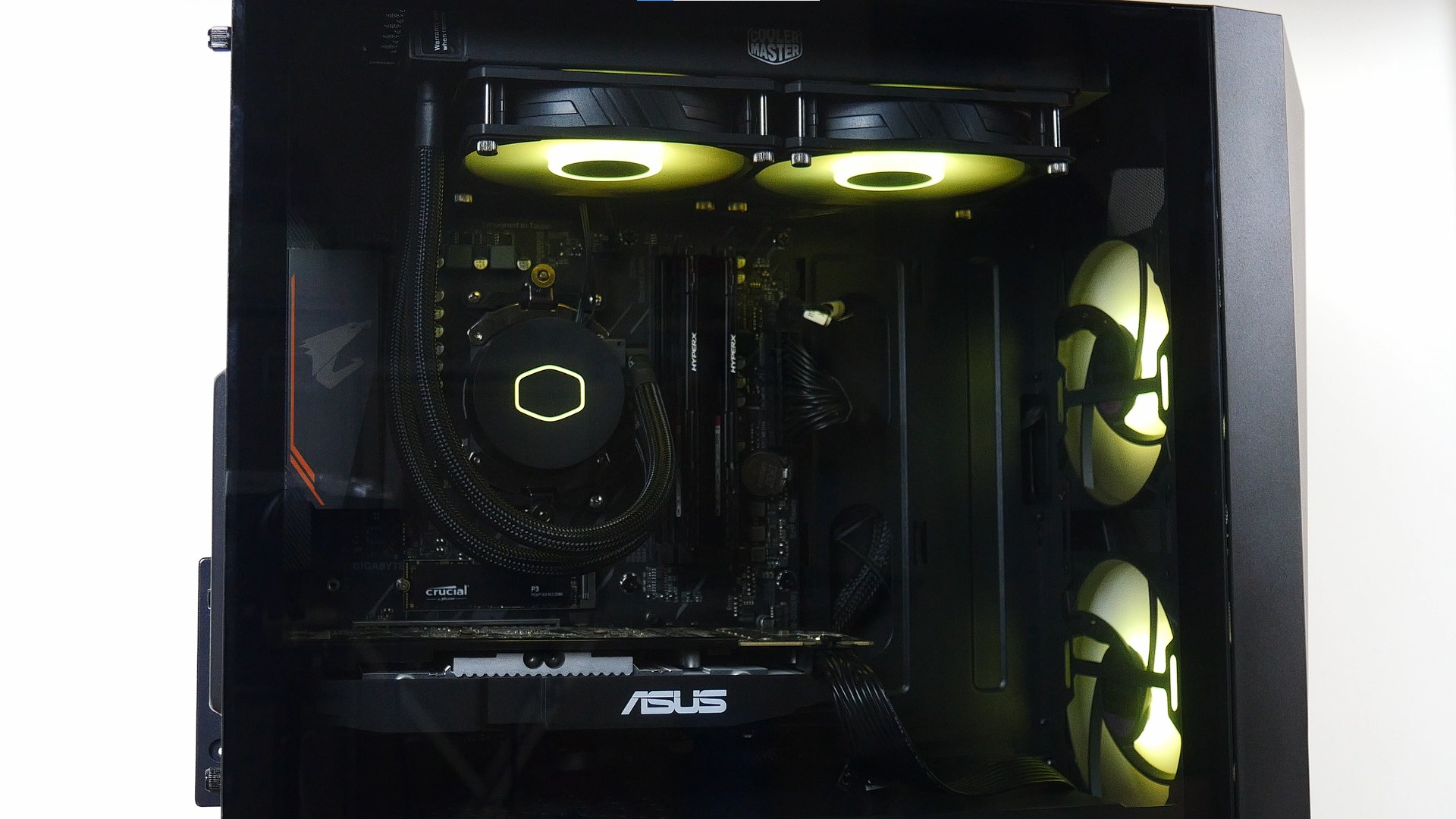 In addition, I found the CMP 320's build quality to be pretty good for its intended price point, where I did not face any issues with setting it up. Also, given the relatively unobstructed ventilation openings all around, it should perform pretty well from a thermal performance perspective with some good cooling hardware in place.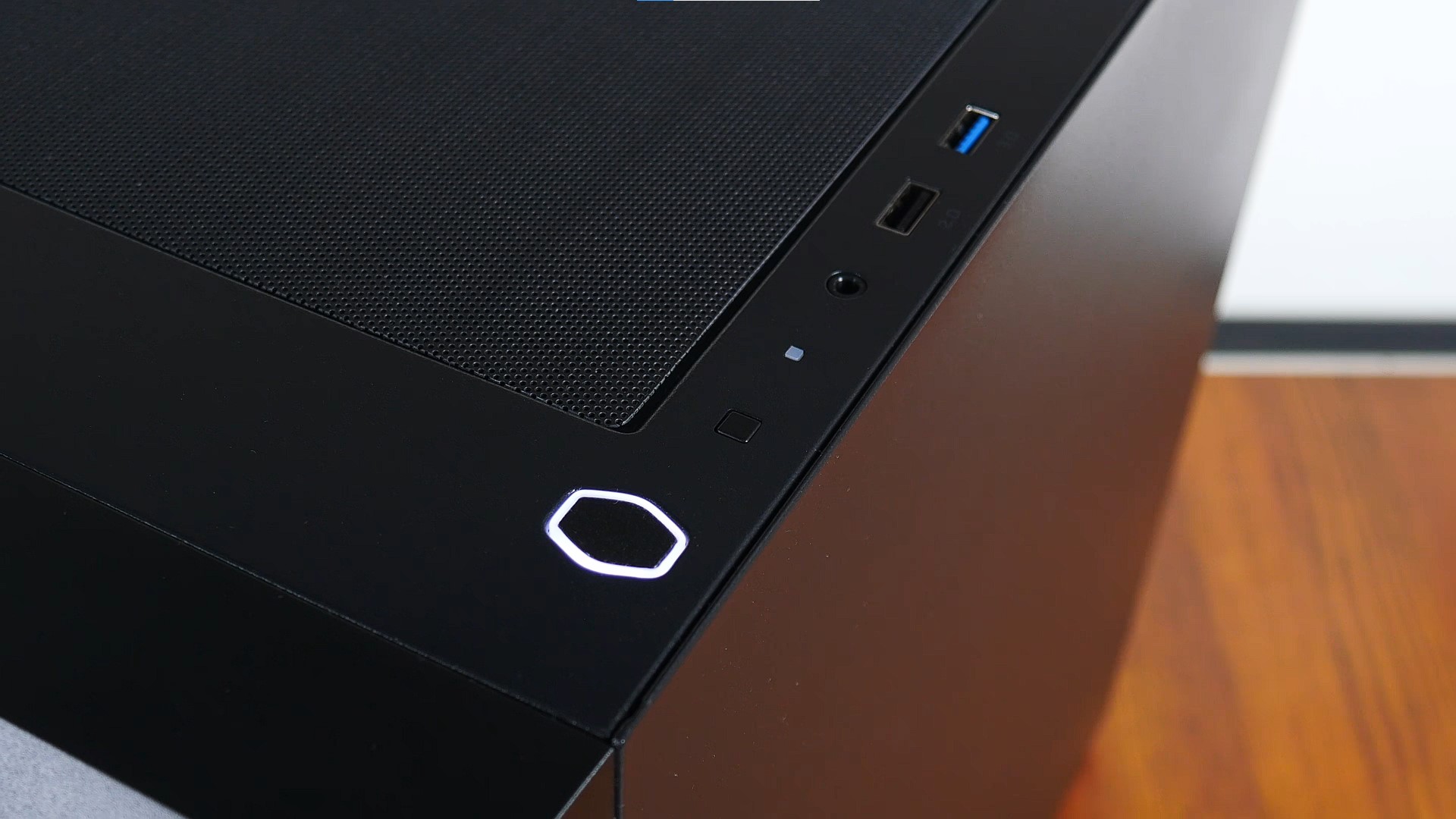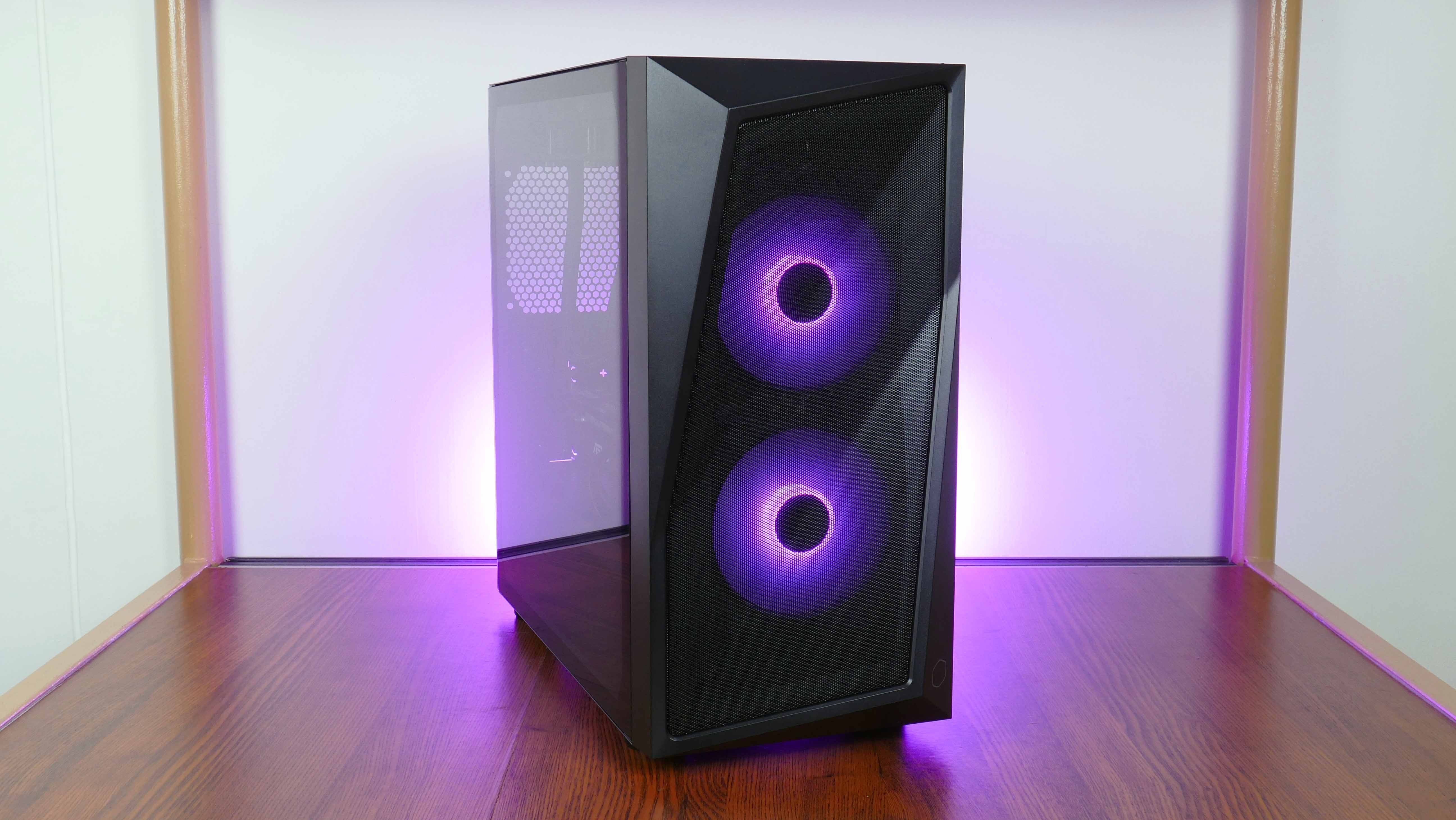 All in all, as a PC case targeted at gamers on a budget, I'd say that the CMP 320 checks all the right boxes in terms of its aesthetics, build quality and features.
As of mid-February 2023, the Cooler Master CMP 320 is available to purchase offline and online from select retailers around the world - I found a listing for this case on Amazon UK for a price of approximately £71 - availability should improve in the coming weeks as Cooler Master gets the case out to more distributors around the world.
Get this PC case from Amazon: https://amzn.to/3lEmzhg (affiliate link)

ALKtech may earn commissions from qualifying purchases made using affiliate links, at no extra cost to you as a customer. These commissions go a long way in supporting the platform!

The PC case featured in this article was sponsored by Cooler Master.