Review: ASUS TUF Gaming Z790-PLUS WIFI D4 Raptor Lake Motherboard
DDR4 memory with Intel's latest 13th generation Raptor Lake processors? You read that right!
Not to be outdone by AMD, whose Ryzen 7000 series of processors and accompanying X670E/X670 chipset motherboards were just launched for sale on 27 September 2022, Intel's finally lifted the veil on its much-anticipated 13th generation "Raptor Lake" processors and 700 series chipset offerings.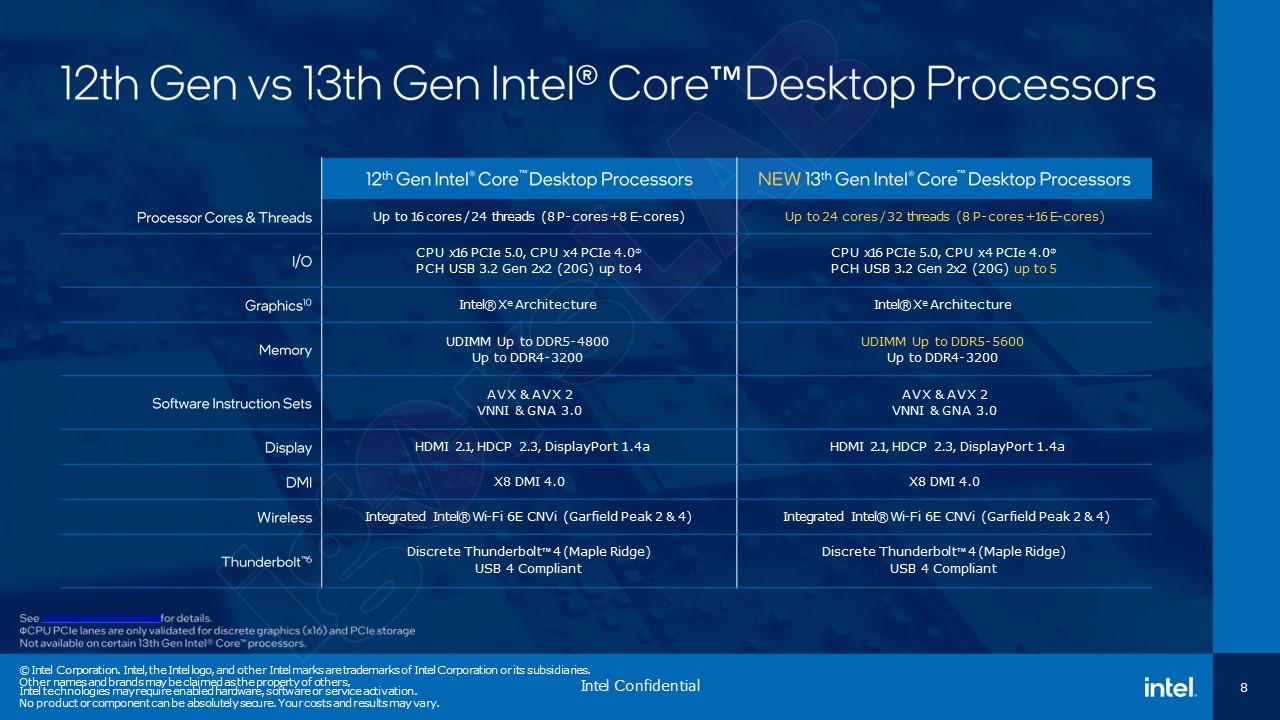 Source: Igor's Lab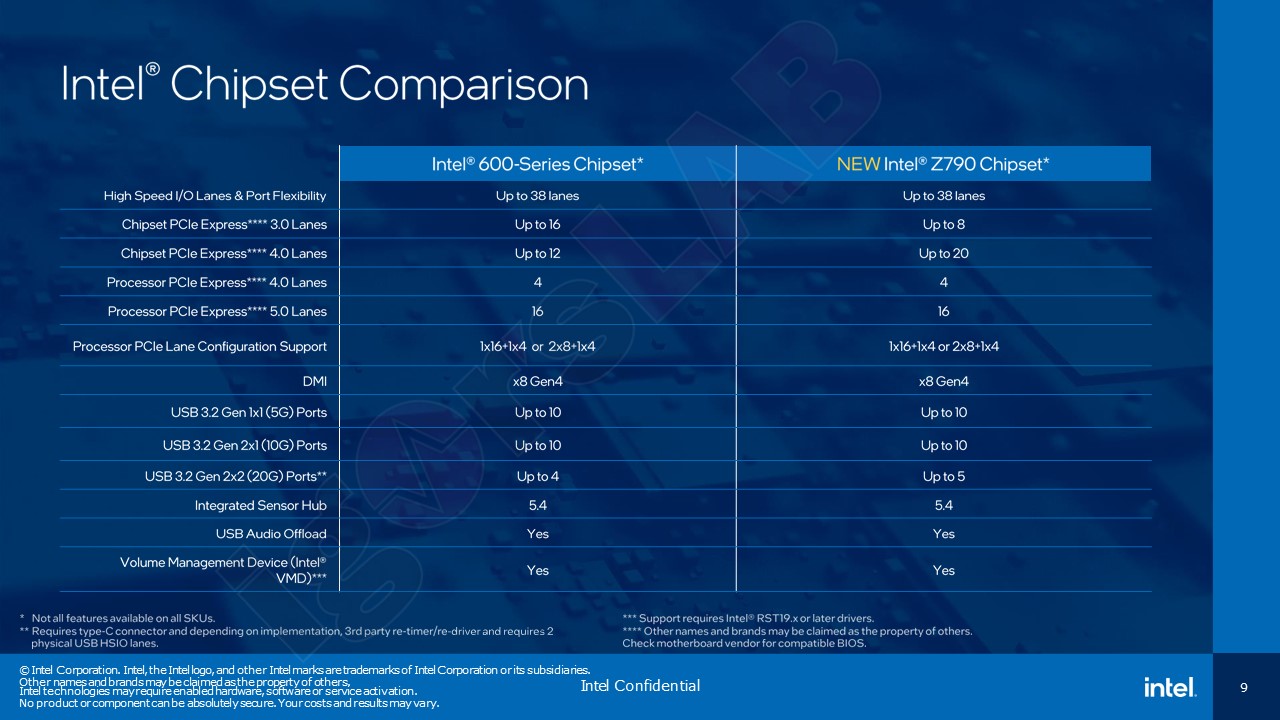 Source: Igor's Lab
Based on the screengrabs above from Igor's Lab, which shows information on Intel's latest offerings that were leaked earlier this month, it can be seen that Raptor Lake offers incremental rather than revolutionary improvements over Alder Lake, which is unsurprising given that the same LGA1700 package is used for both generations of processors. Of particular interest is the fact that Intel's 700 series of chipsets (or at least the Z790) will not come with native PCIe 5.0 M.2 drive support, where Raptor Lake serves up 16 PCIe 5.0 processor lanes, the same as what Alder Lake had to offer. In view of this, it's highly likely that native PCIe 5,0 support all around (graphics and M.2) will likely only arrive with Intel's 14th generation Meteor Lake offerings.
With that, the ASUS TUF Gaming Z790-PLUS WIFI D4 featured in this article is a mid-range motherboard offering sporting the Intel Z790 chipset, and hails from the TUF Gaming series of products that are targeted at the casual gamer demographic.
Summary of Specifications
Processor Support: Intel 13th Gen Core processors & 12th Gen Core, Pentium Gold and Celeron processors
Chipset: Intel Z790
Memory: 4x DDR4 slots, max 128GB, up to DDR4 5333 (OC) support
Audio: Realtek S1220A audio codec
LAN: Intel I226-V 2.5 Gigabit Ethernet
WIFI: Intel AX201NGW WIFI 6 module with built-in Bluetooth 5.2
Expansion Slots: 1x PCIe 5.0 x16, 2x PCIe 3.0 x1, 1x PCIe 4.0 x4, 1x PCIe 4.0 x16 (x4 mode)
Storage: 4x SATA III, 3x PCIe 4.0 x4 M.2 (NVMe mode), 1x PCIe 4.0 x4 M.2 (NVMe & SATA mode)
Form Factor: ATX
Packaging & Contents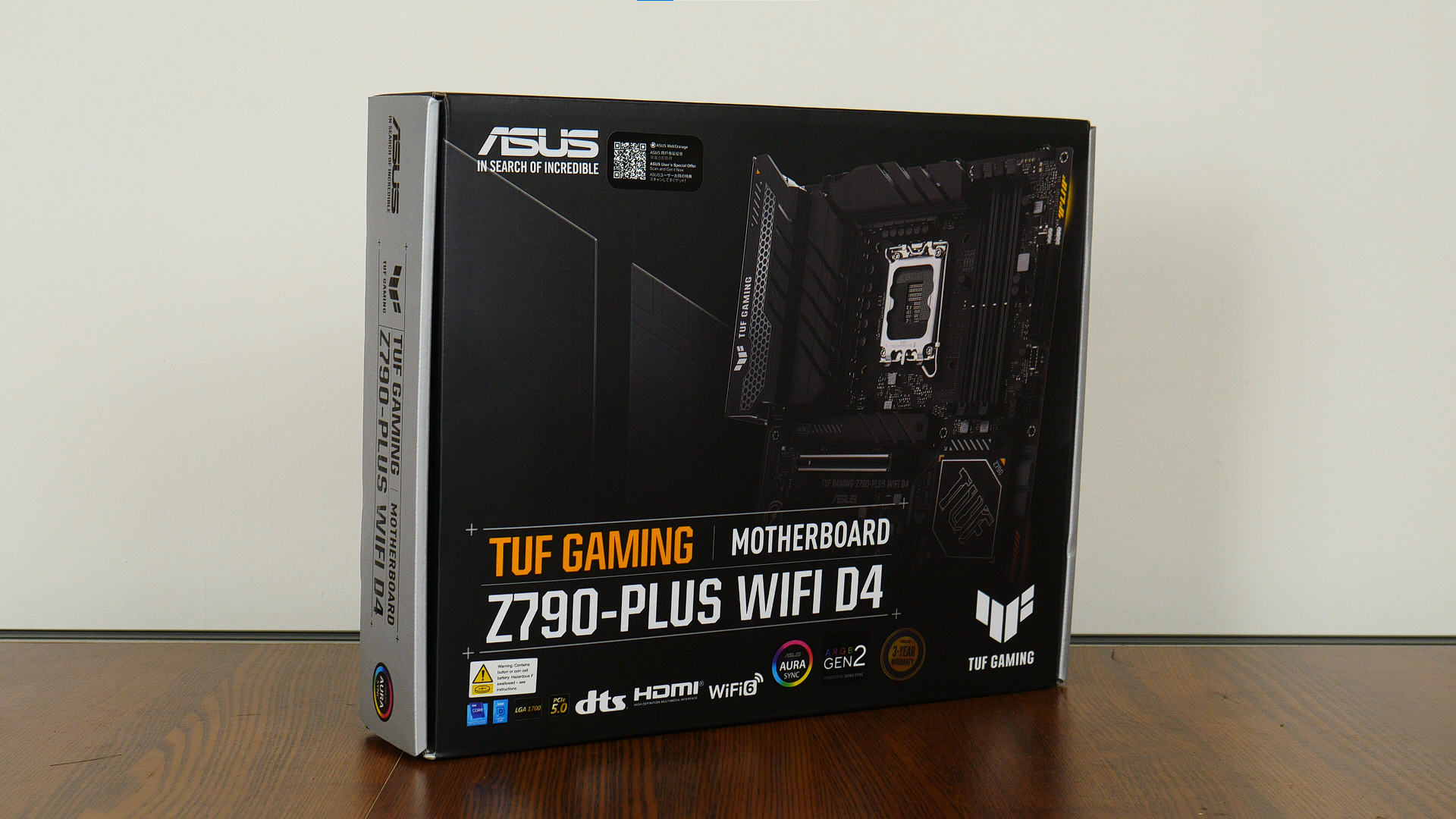 As a nod to the TUF Gaming line-up's brand identity, the TUF Gaming Z790-PLUS WIFI D4 comes in a black and silver box with yellow accents.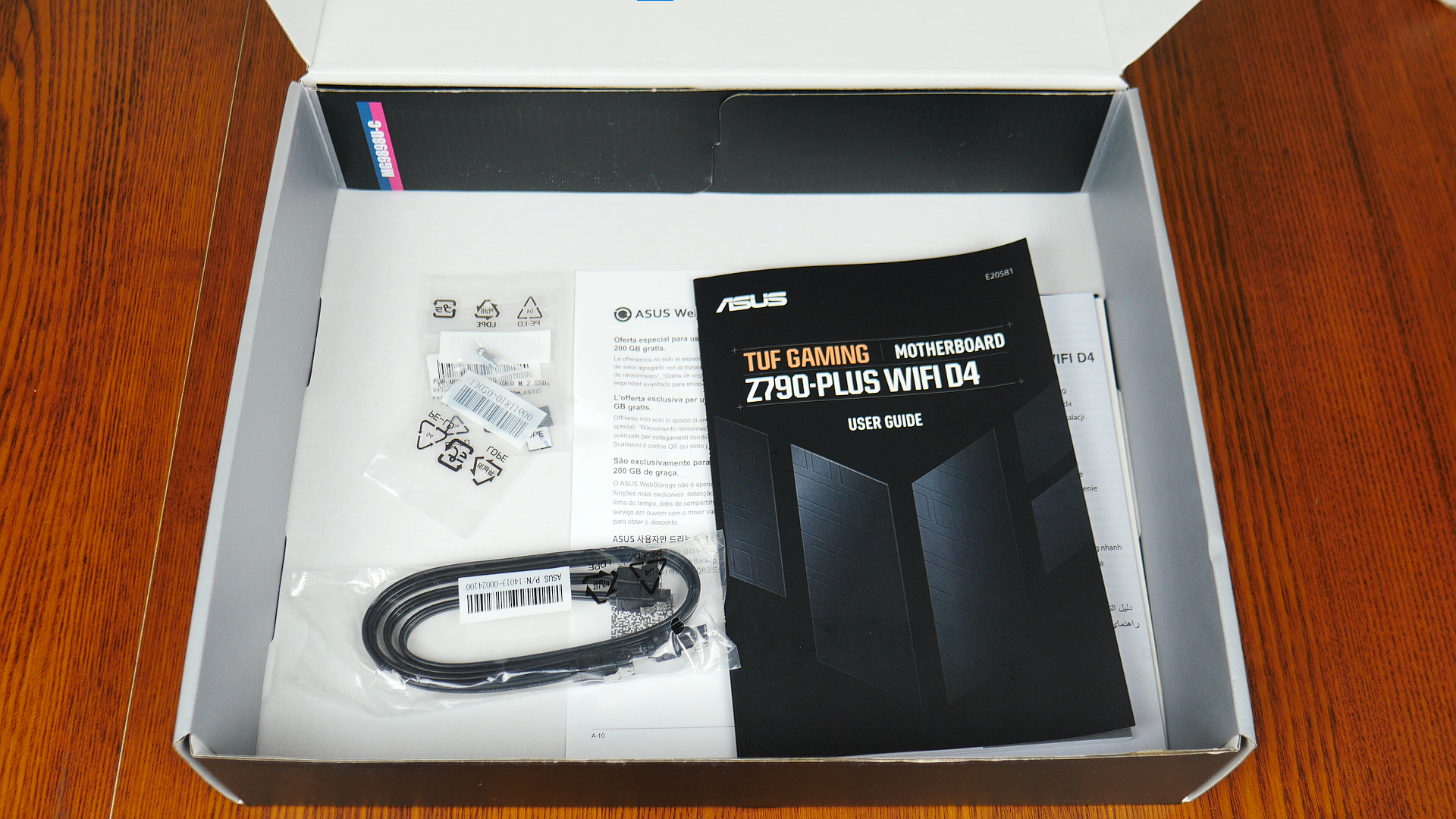 The following accessories come included with the board:
1x WIFI antenna
2x SATA III cables
1 pack of M.2 drive screws and standoffs
2x M.2 rubber pads (adds height clearance for single-sided M.2 SSDs)
User manual
Quick start guide
DVD driver disc
TUF Gaming Certificate of Reliability
TUF Gaming decorative stickers
ASUS WebStorage promotional leaflet
Board Aesthetics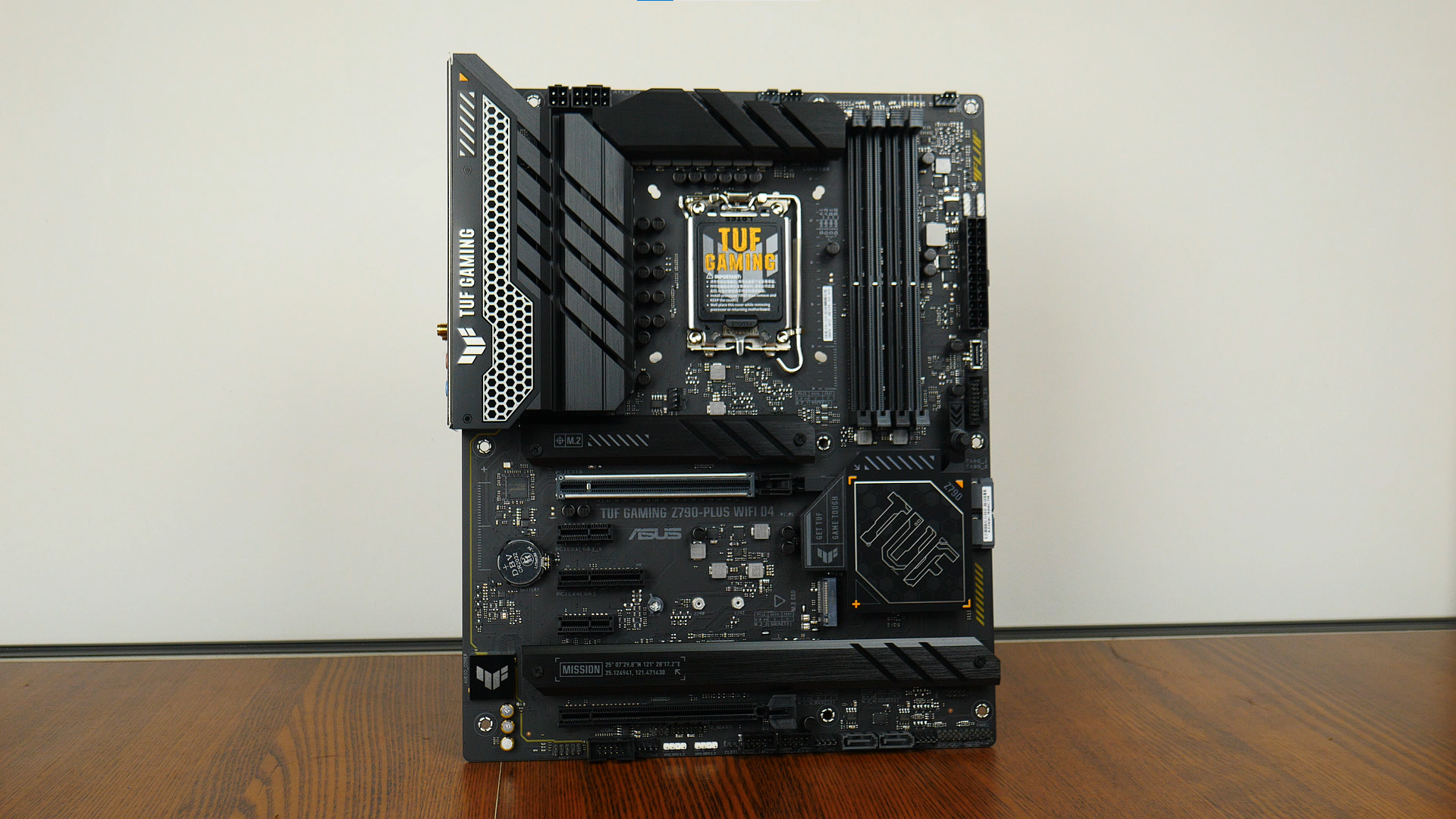 The TUF Gaming Z790-PLUS WIFI D4 has a black and grey colour scheme with small touches of yellow thrown in for added contrast. It features an integrated I/O shield, and comes with large black heatsinks all around that are adorned with TUF Gaming motifs.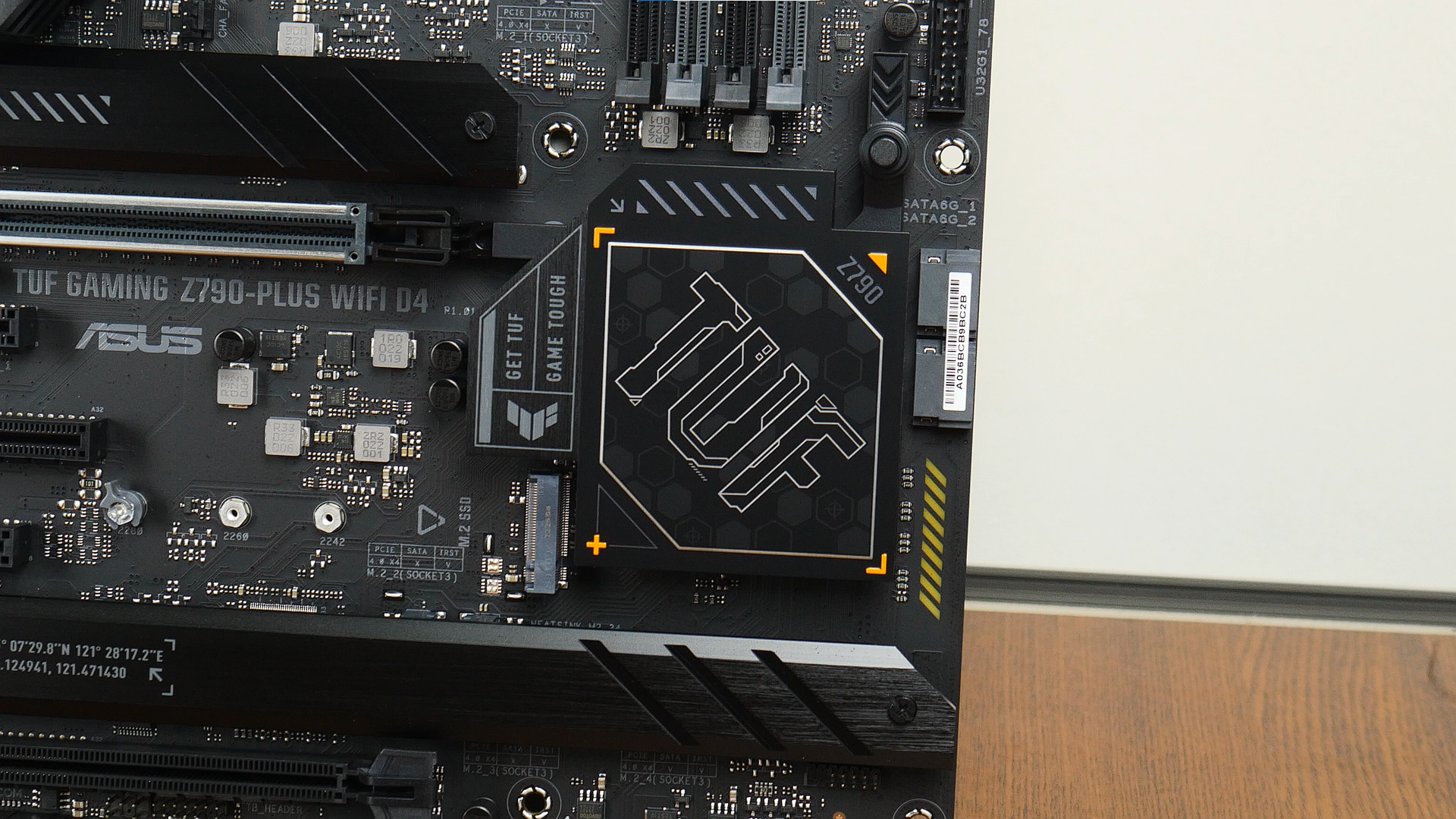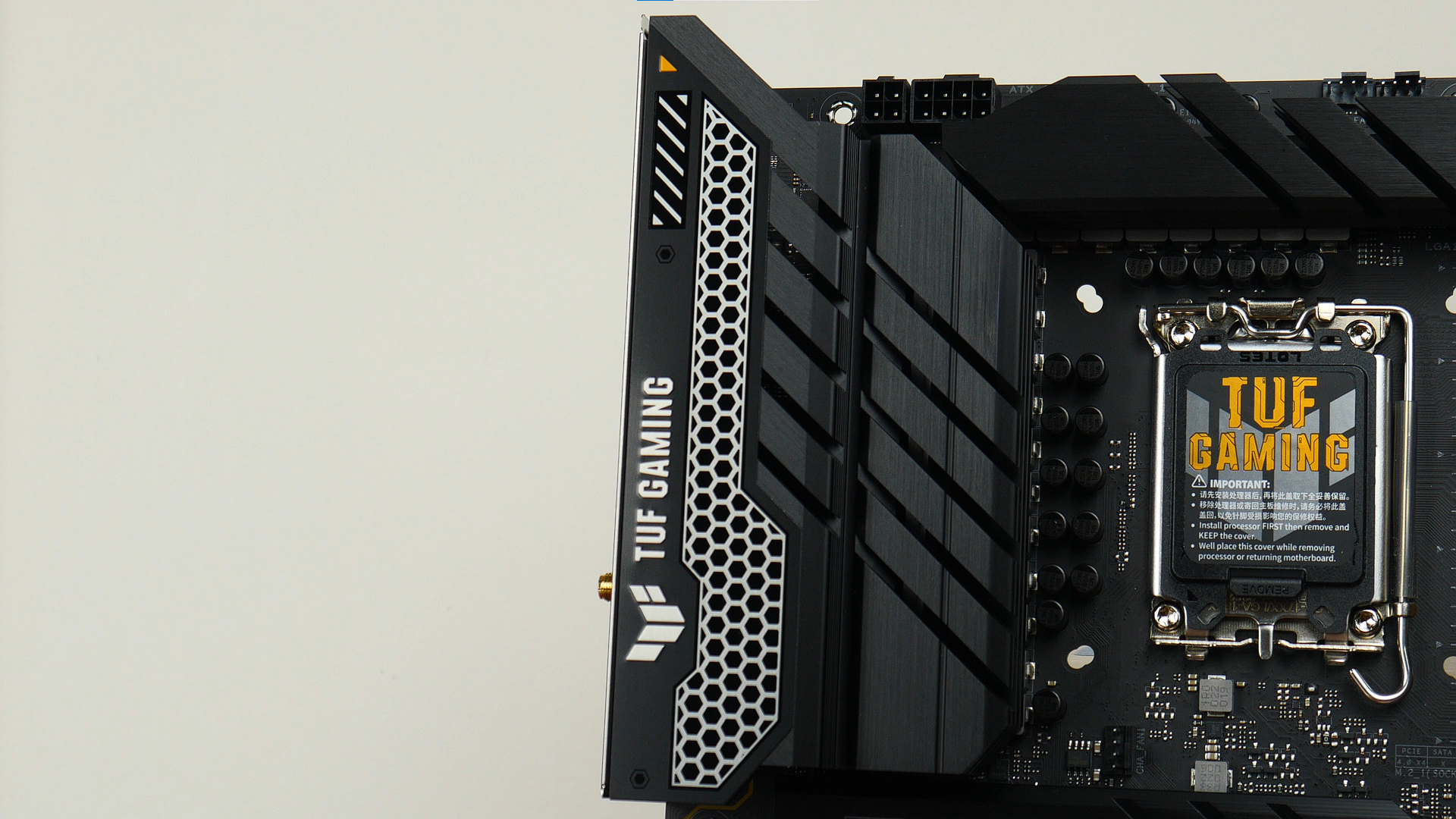 A hexagonal theme is evident with this board, where hexagonal motifs can be found on the chipset heatsink as well as on the integrated I/O shield cover.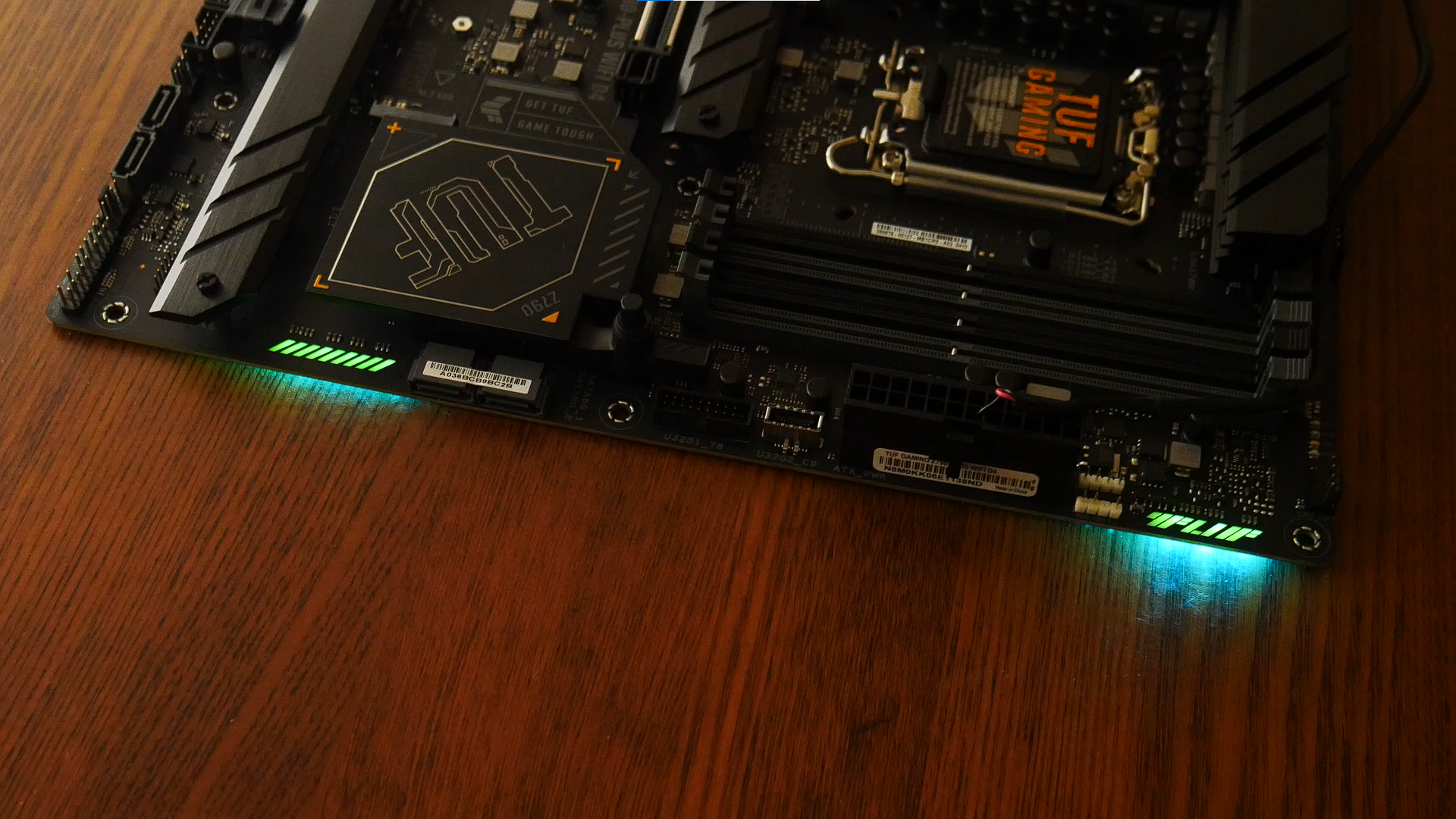 The Z790-PLUS WIFI D4 comes with built-in RGB LEDs as pictured above, which in my opinion, enhances the overall appearance of the board.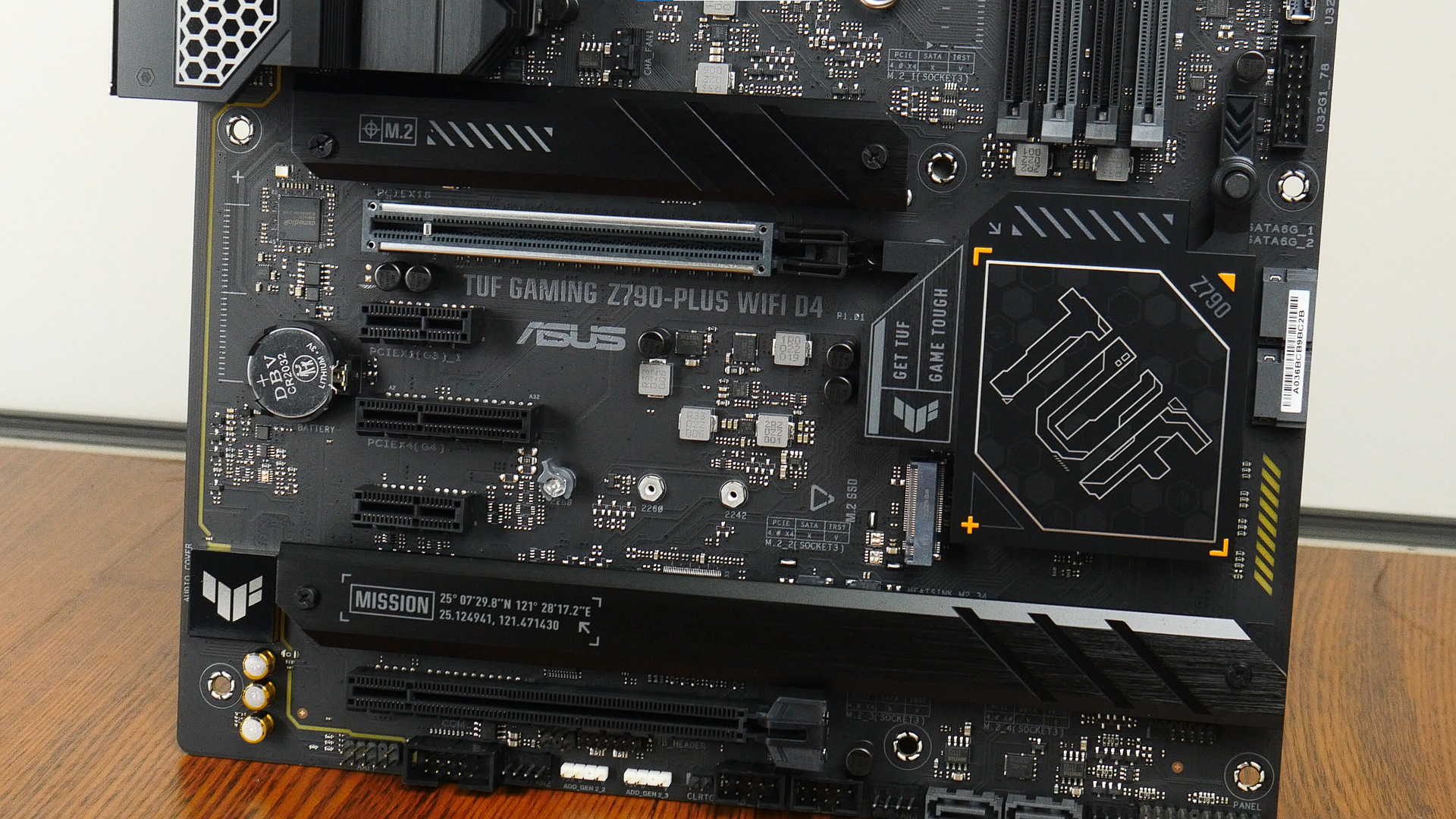 The board comes with VRM heatsinks that are decently sized, and has a passive heatsink for the Z790 chipset. Also included are heatsinks for three out of the four M.2 drive slots.
VRM & Memory Support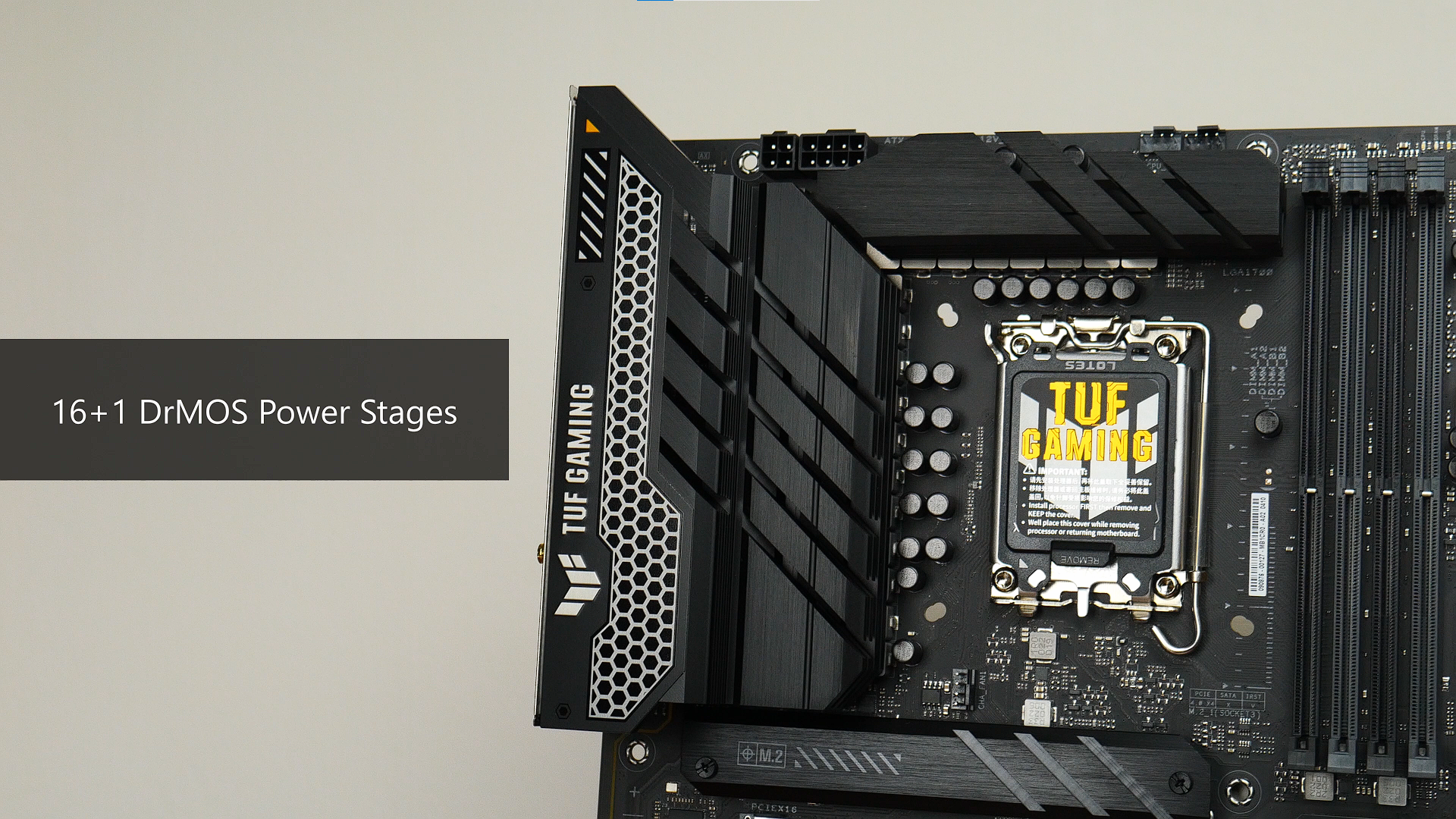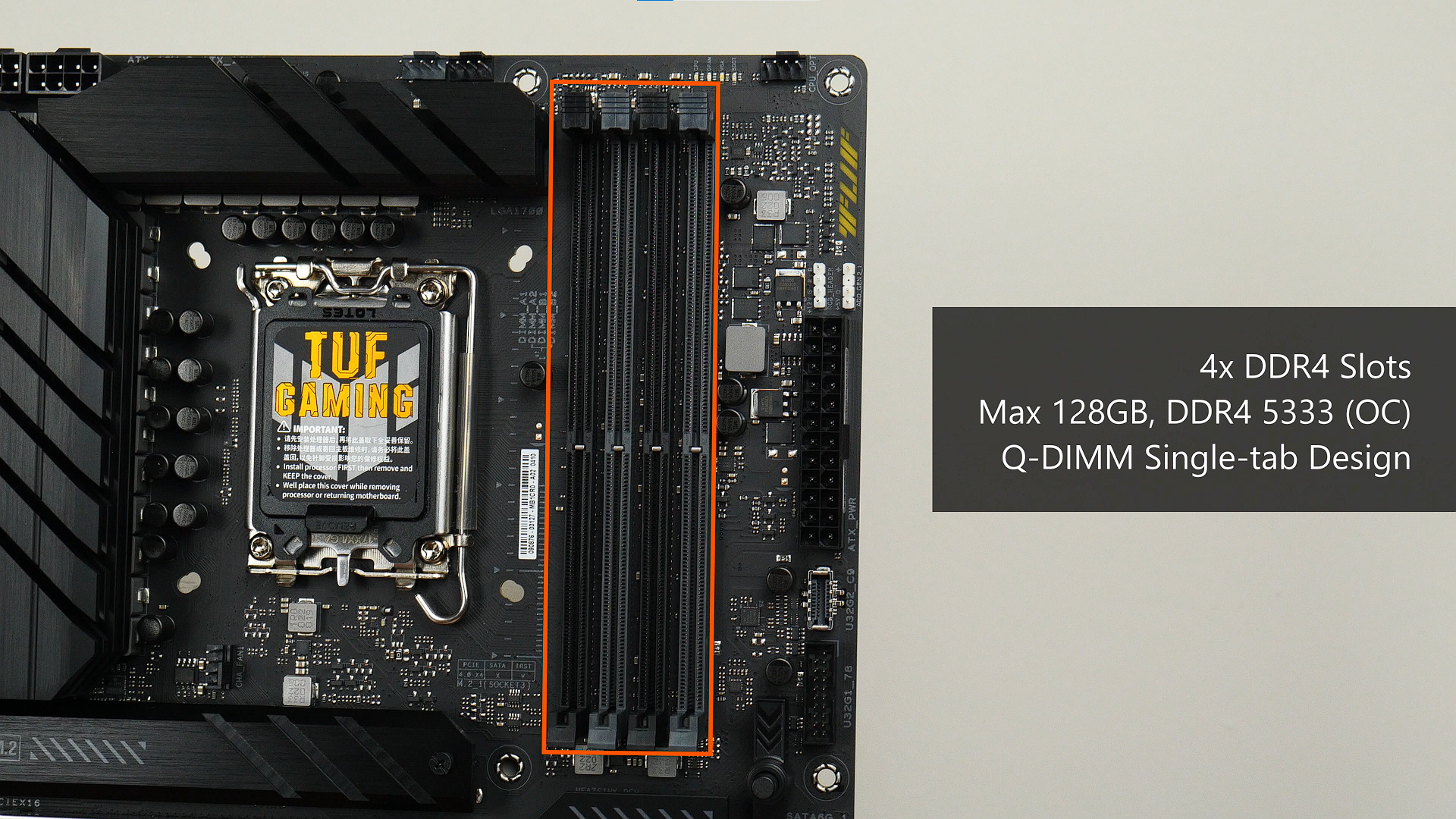 The board comes with 16+1 DrMOS power stages, and has four DDR4 slots that support a maximum of 128GBs of RAM, and the DDR4 5333 standard when overclocked. The RAM slots feature a single-tab design called Q-DIMM, which helps with RAM installation and removal especially for completed builds.
Front Panel USB Headers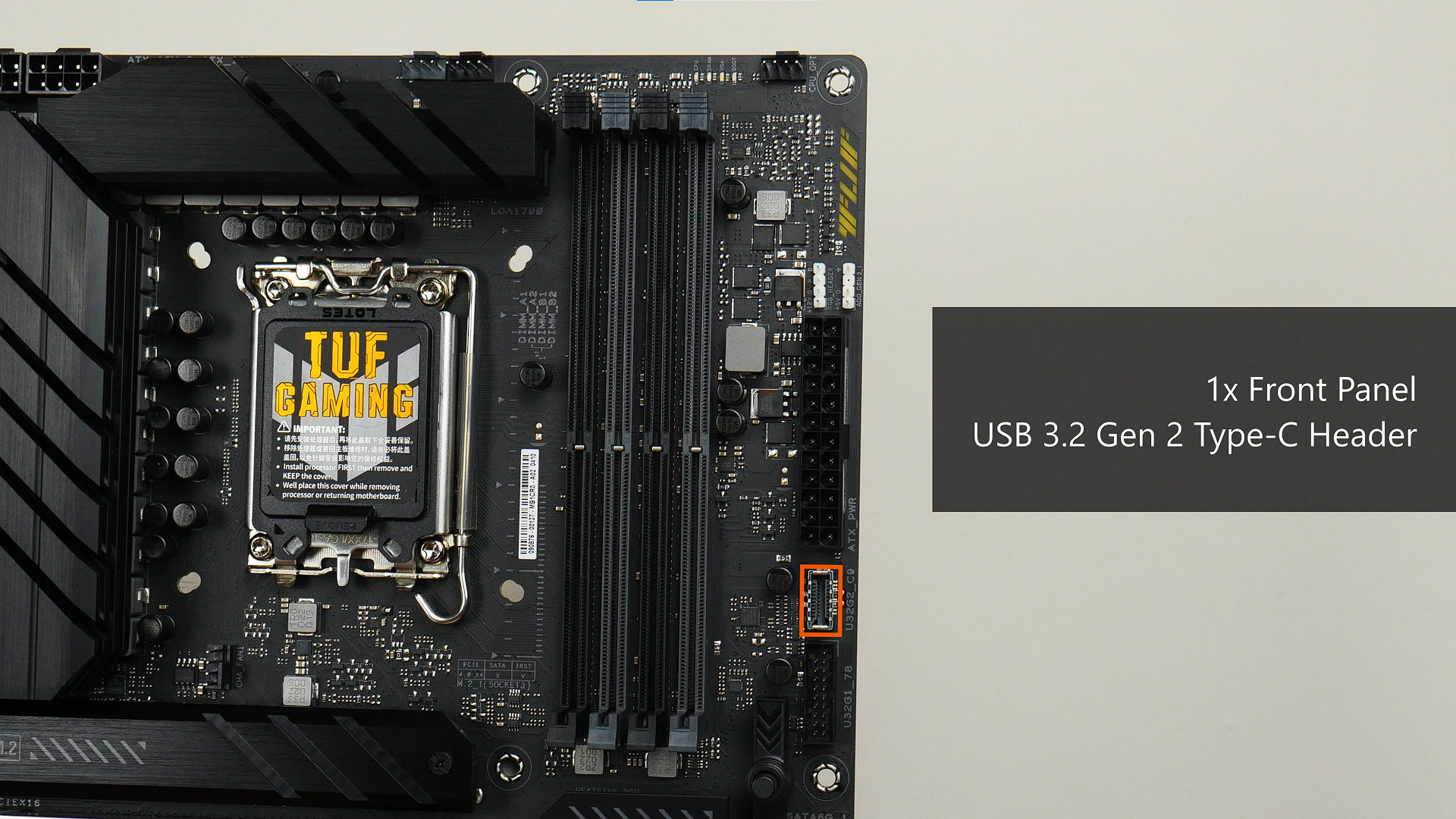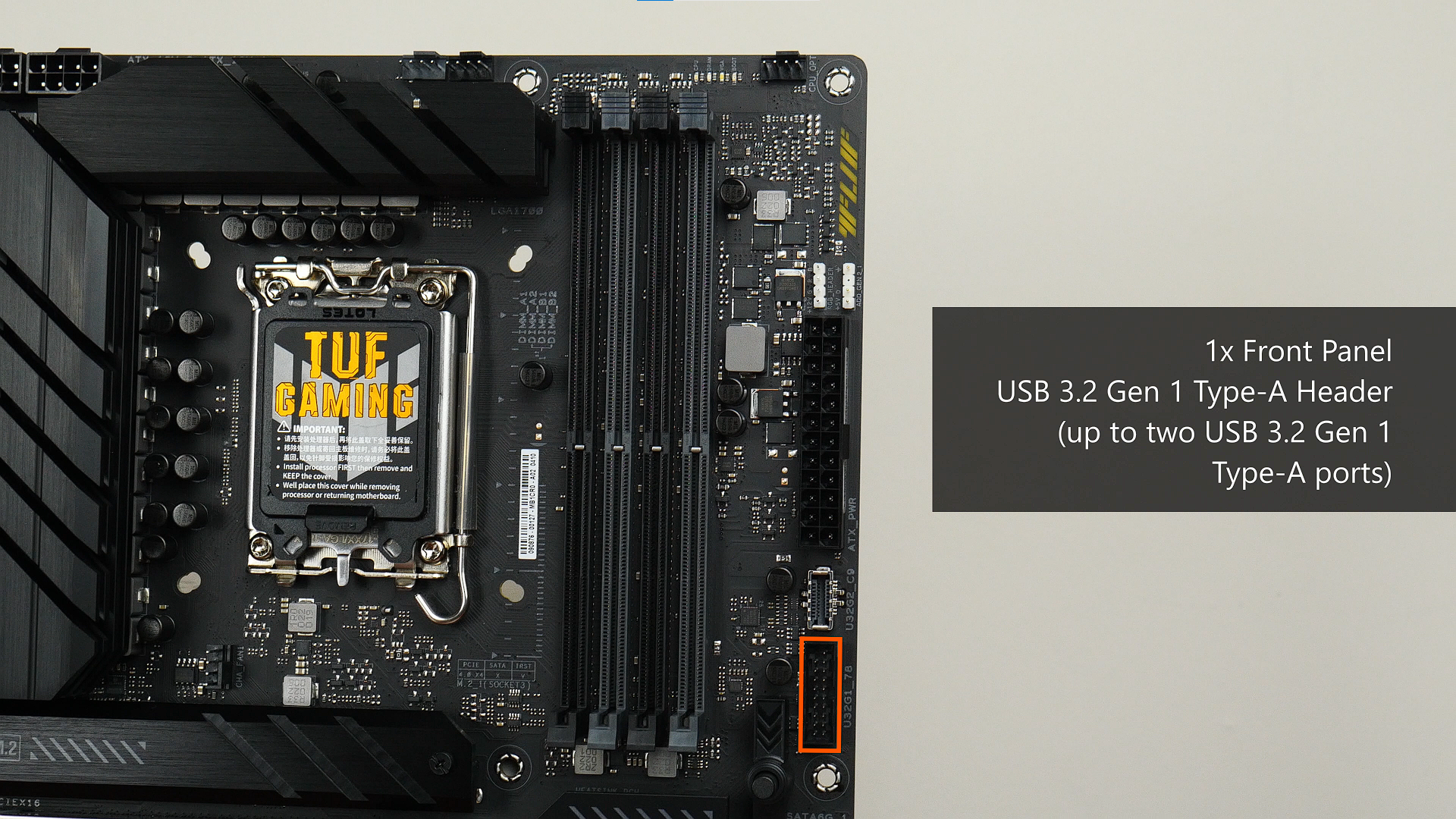 Front panel USB 3.2 connectivity is courtesy of a single USB 3.2 Gen 2 Type-C front panel header, as well as a USB 3.2 Gen 1 front panel header that provides support for up to two USB 3,2 Gen 1 Type-A ports.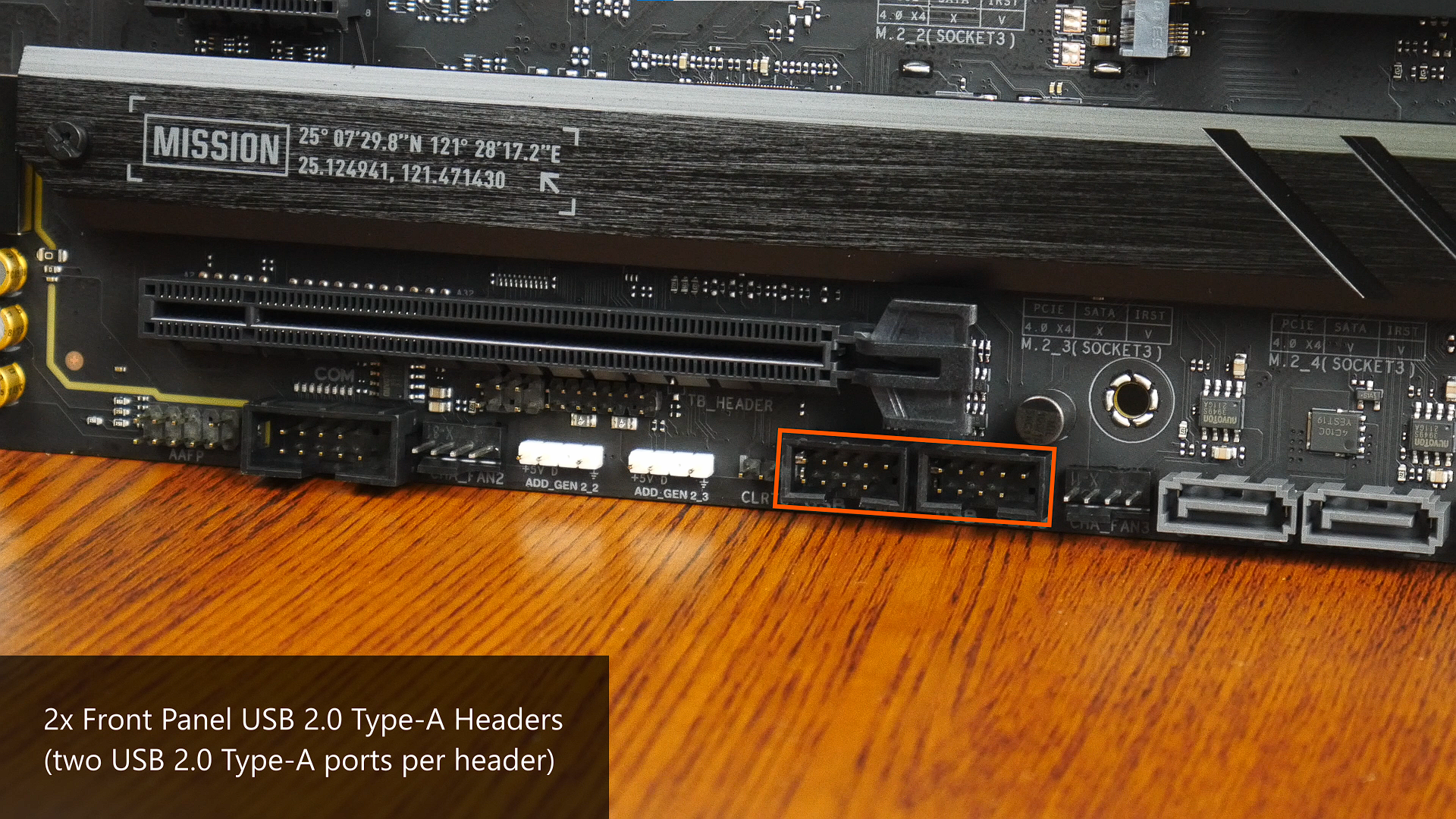 Also included are two USB 2.0 front panel headers located on the bottom edge of the motherboard, with each header providing up to two USB 2.0 Type-A ports.
Expansion Slots & Storage Options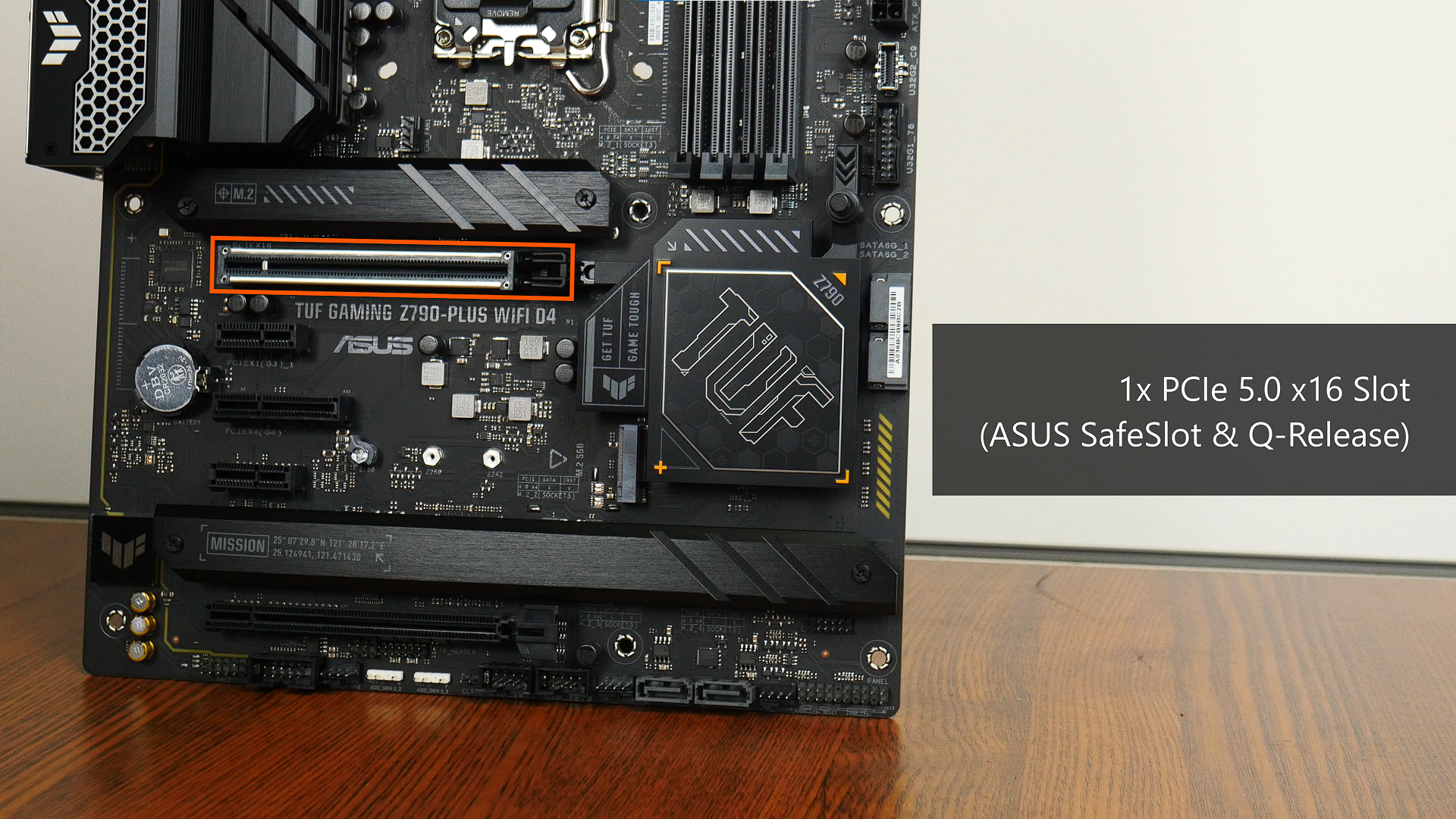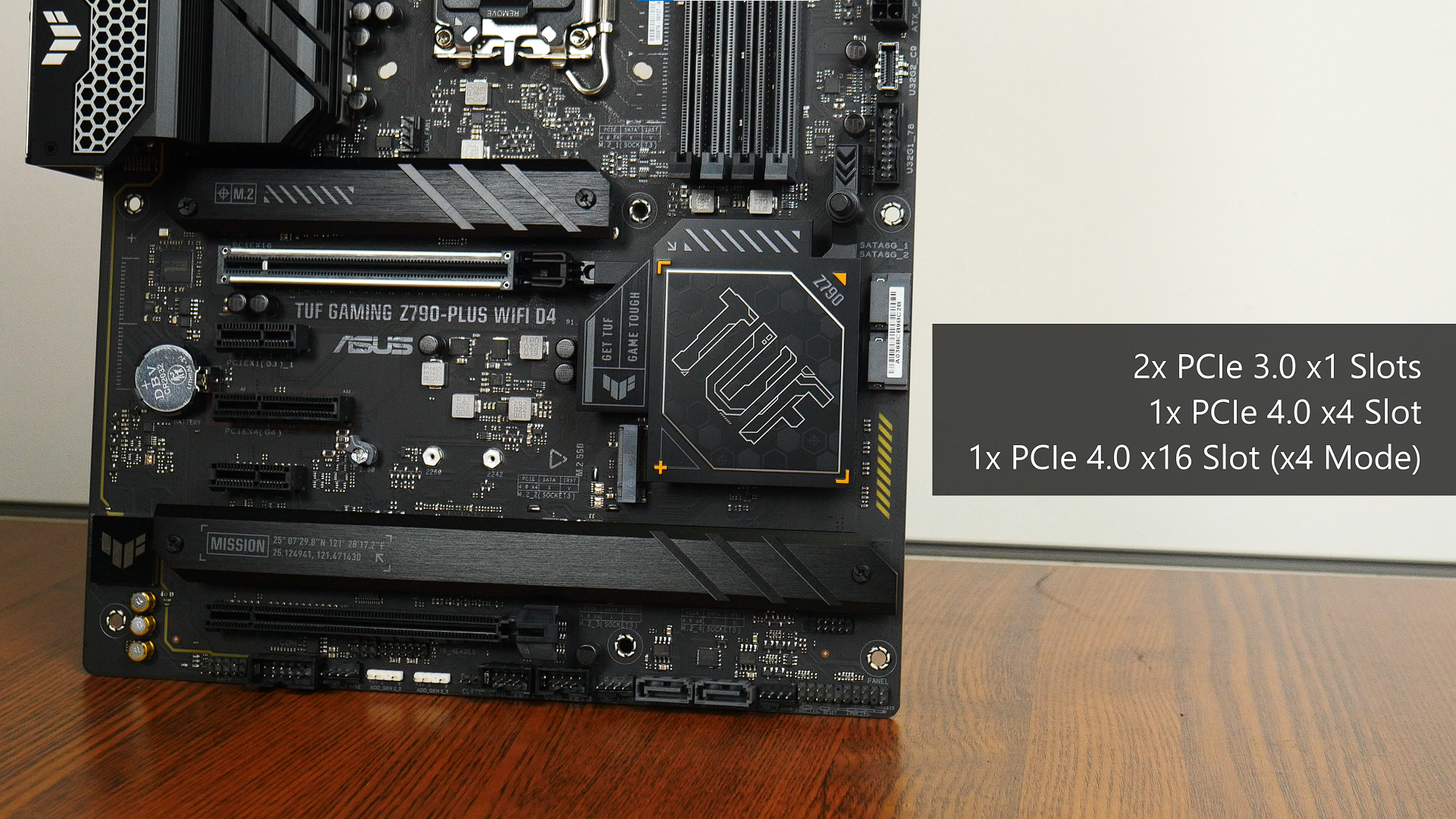 A single PCIe 5.0 x16 slot with the ASUS SafeSlot and Q-Release features are included with the TUF Gaming Z790-PLUS WIFI D4. SafeSlot reinforces the slot against heavy graphics cards , whilst Q-Release is a handy feature that makes the removal of graphics cards from a build a hassle-free process.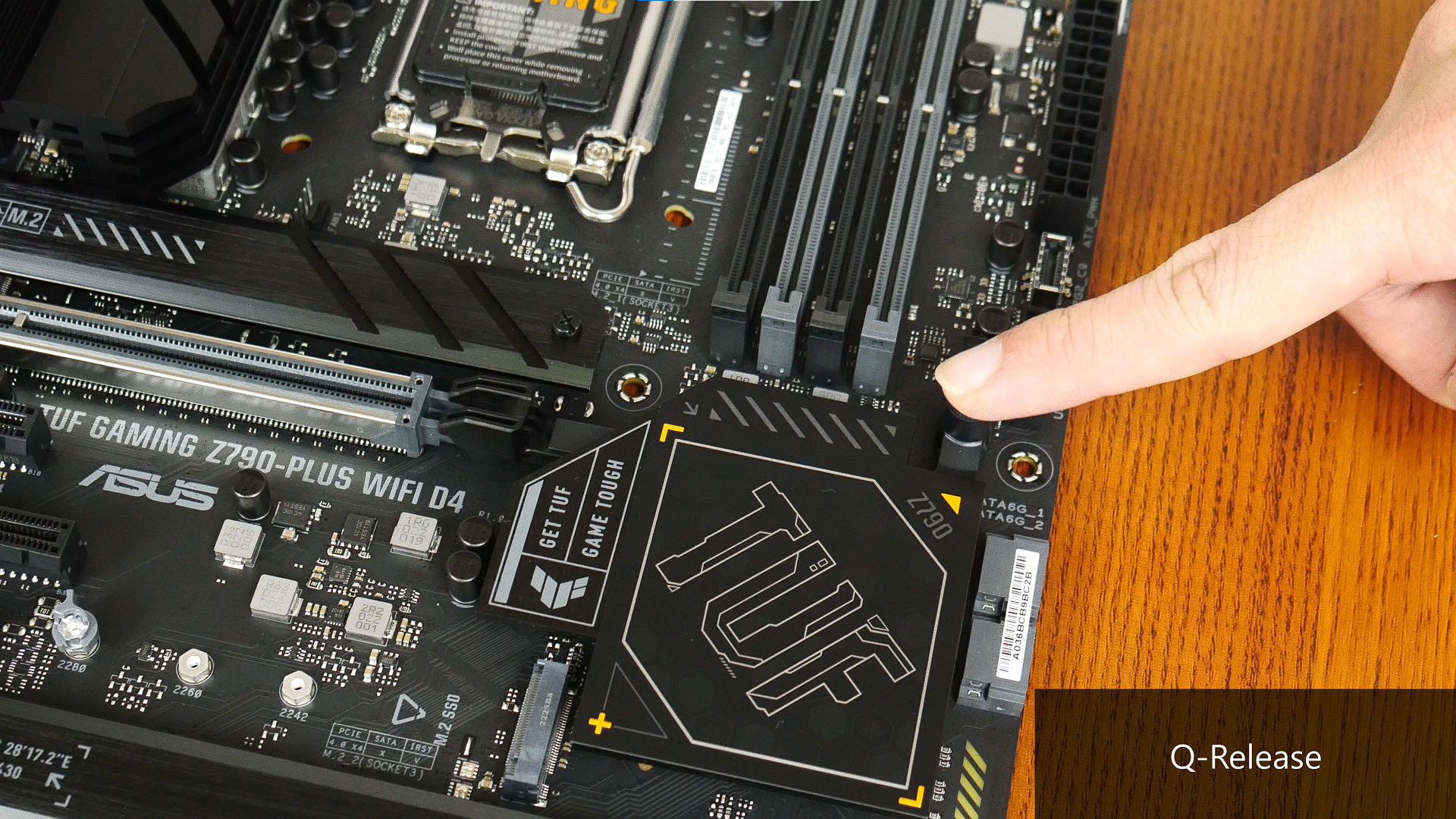 A button is included on the motherboard to allow end-users to operate the Q-Release mechanism; simply pressing down on the said button will release the latch that holds the graphics card in place, thereby allowing for the easy removal of a graphics card out and away from the PCIe 5.0 x16 slot.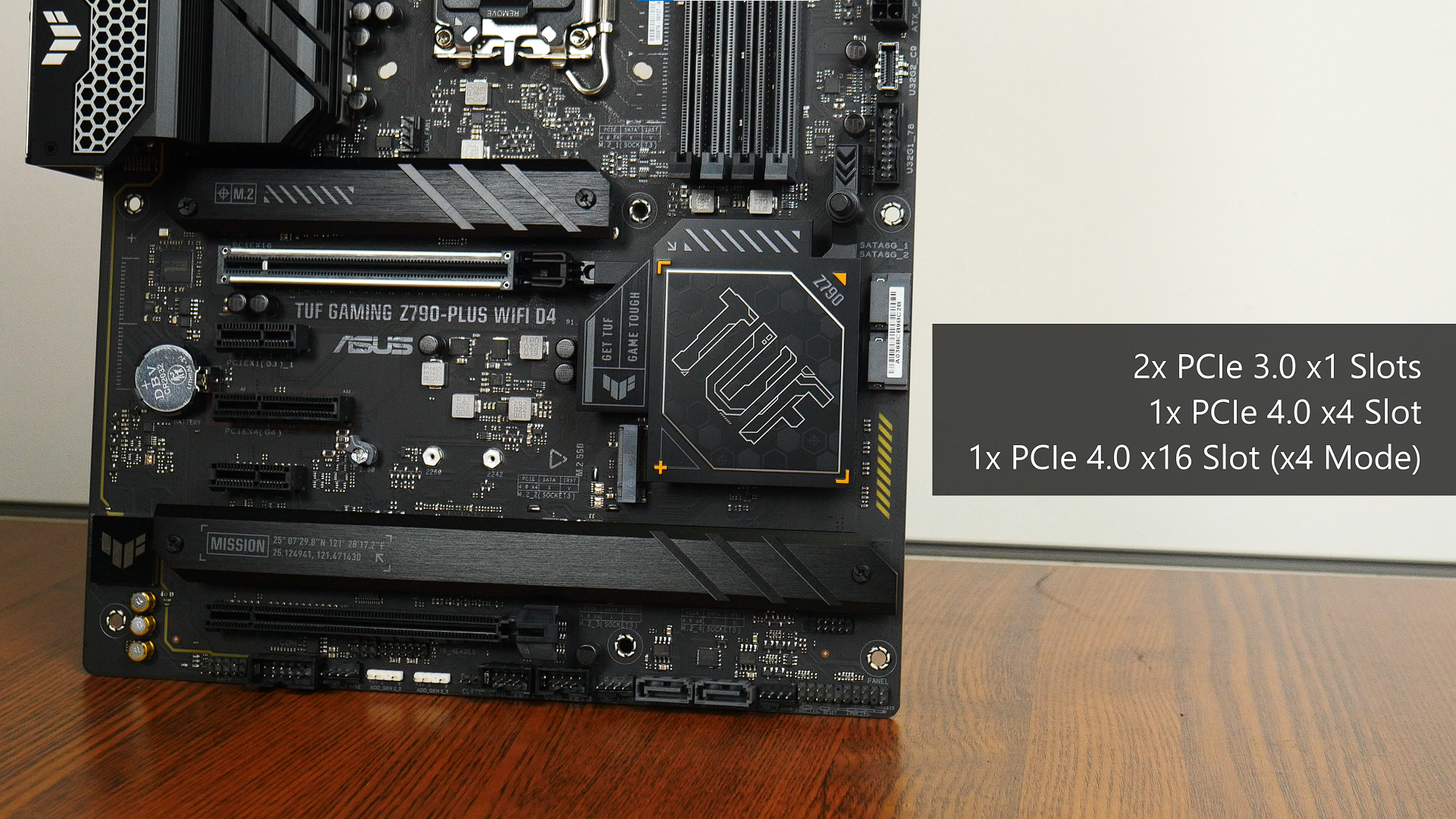 Rounding up the expansion slots department, we also get two PCIe 3.0 x1 slots, a PCIe 4.0 x4 slot, as well as a full-length PCIe 4.0 x16 slot that operates at x4 mode.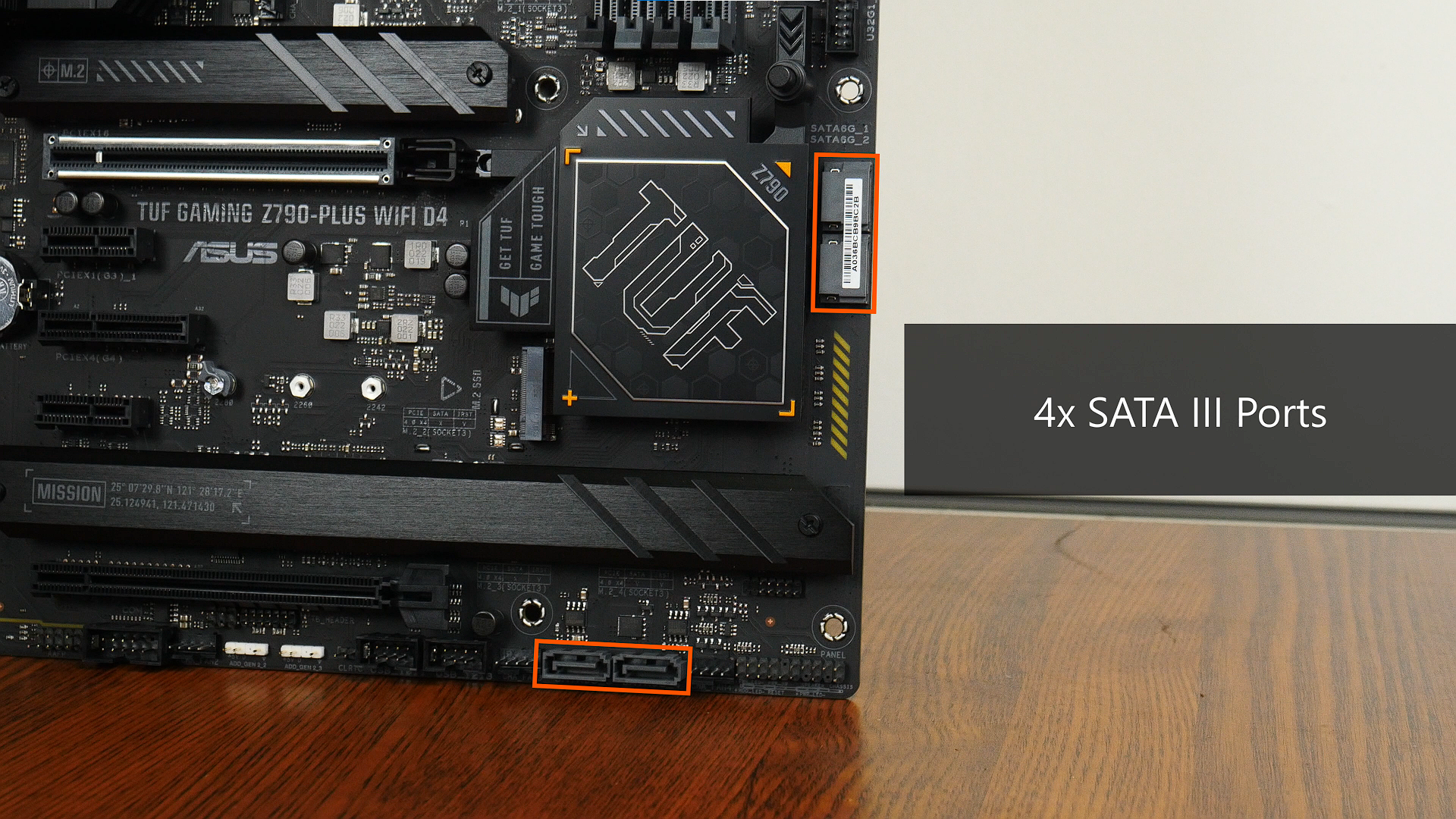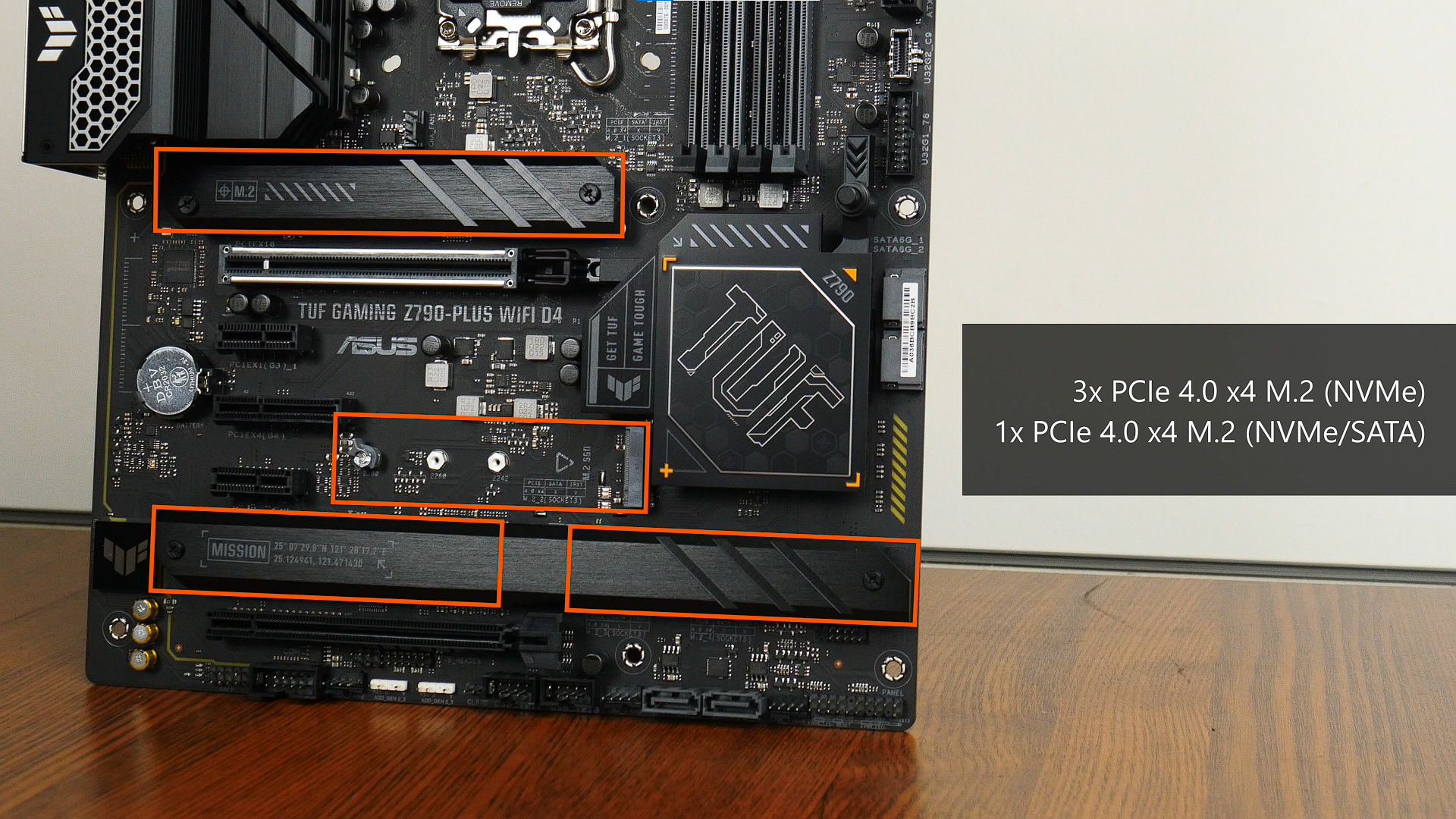 Moving on to storage features, the board comes with four SATA III ports, with two ports in a right-angled configuration to aid with cable management, and two ports in a straight-angled configuration, M.2 drive support is by means of four PCIe 4.0 x4 M.2 slots, with the fourth slot (M.2_4) supporting both NVMe and SATA M.2 drives.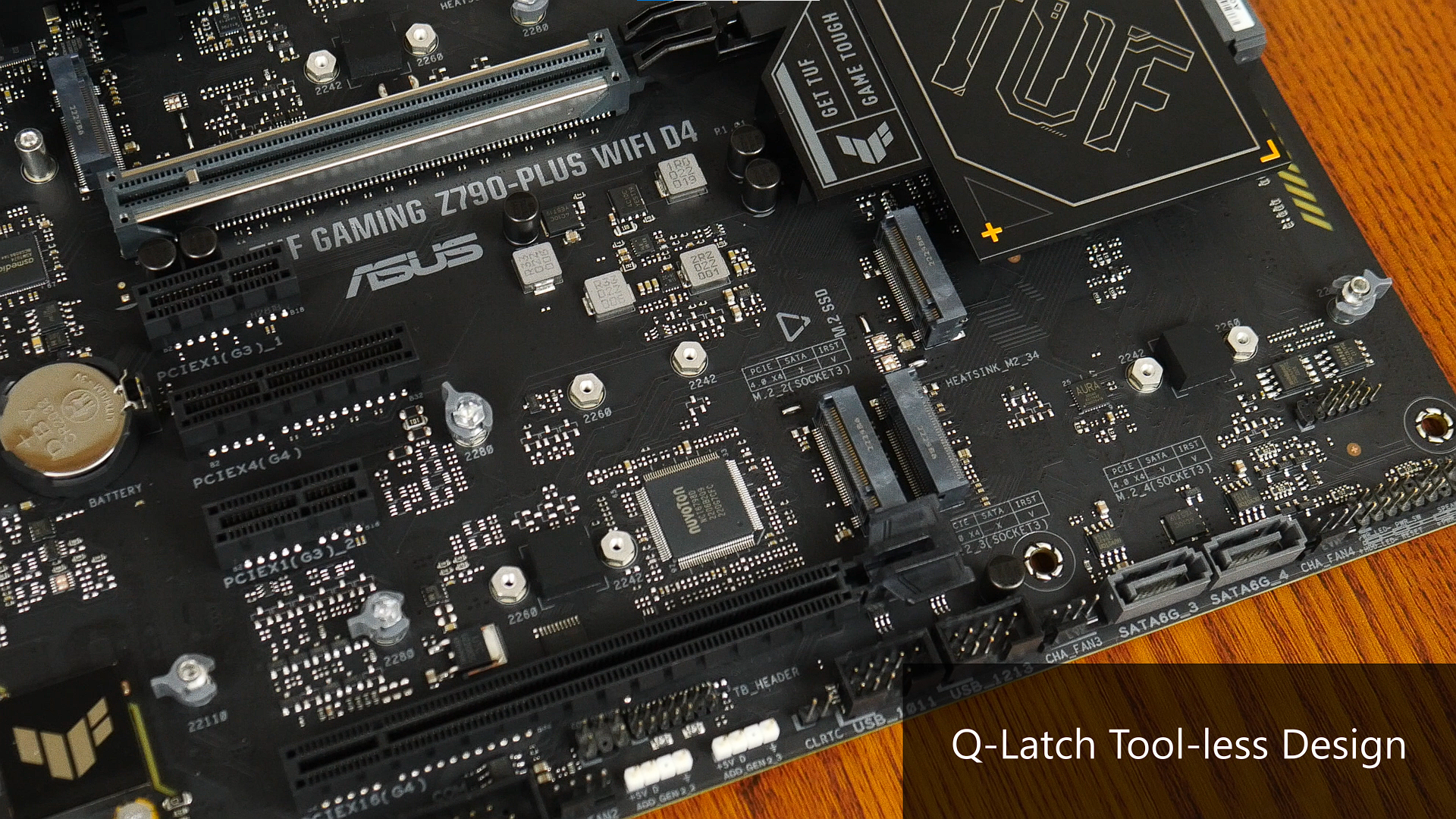 All four of the M.2 drive slots feature Q-Latch, which replaces the traditional screw and standoff arrangement with plastic devices that facilitate a tool-less M.2 drive installation experience.
Audio & Internet Connectivity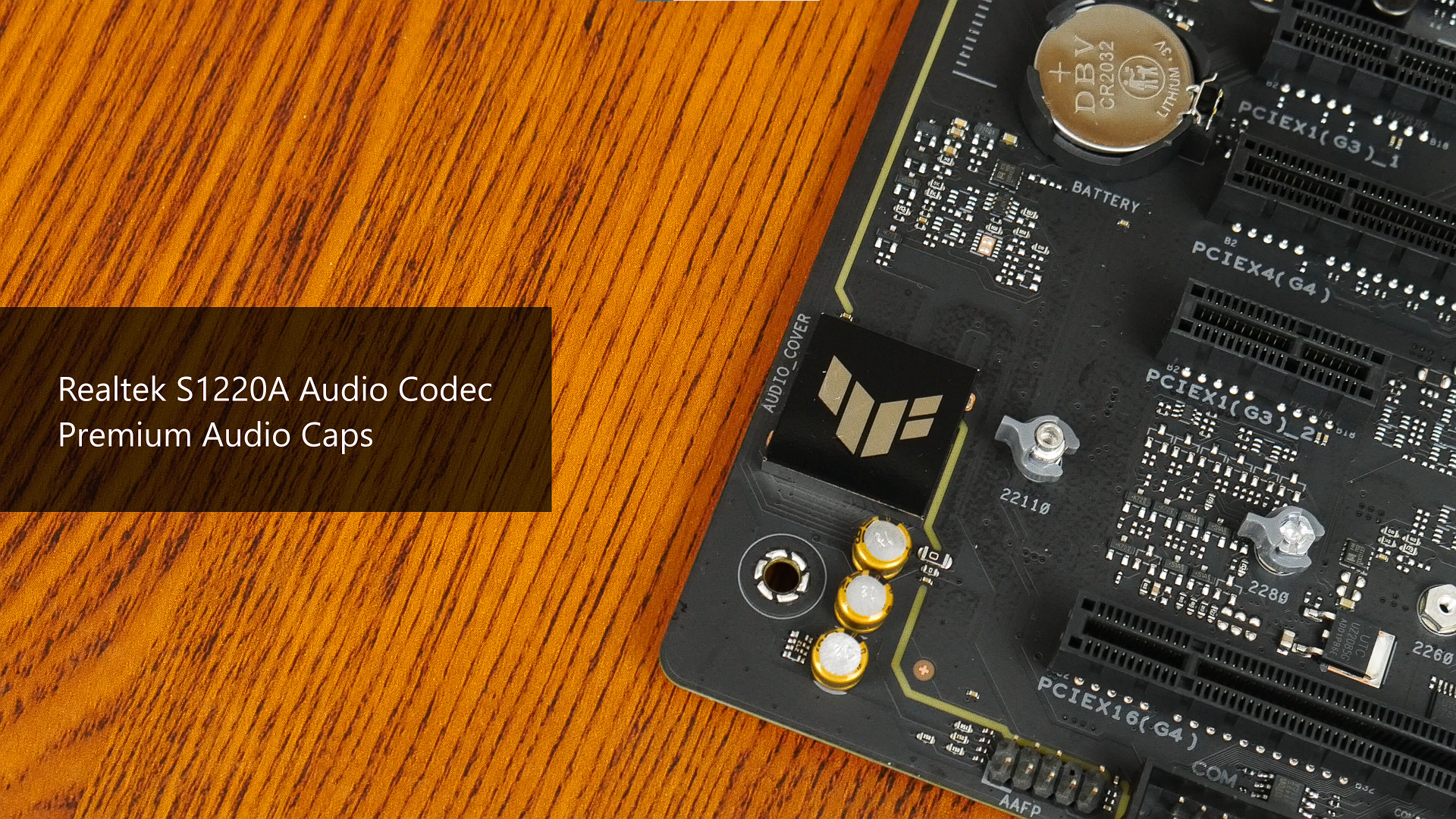 The TUF Gaming Z790-PLUS WIFI D4 comes with Realtek's S1220A audio codec, which is a higher-end part compared to the commonly-found ALC800 series. The board also sports premium audio capacitors according to ASUS.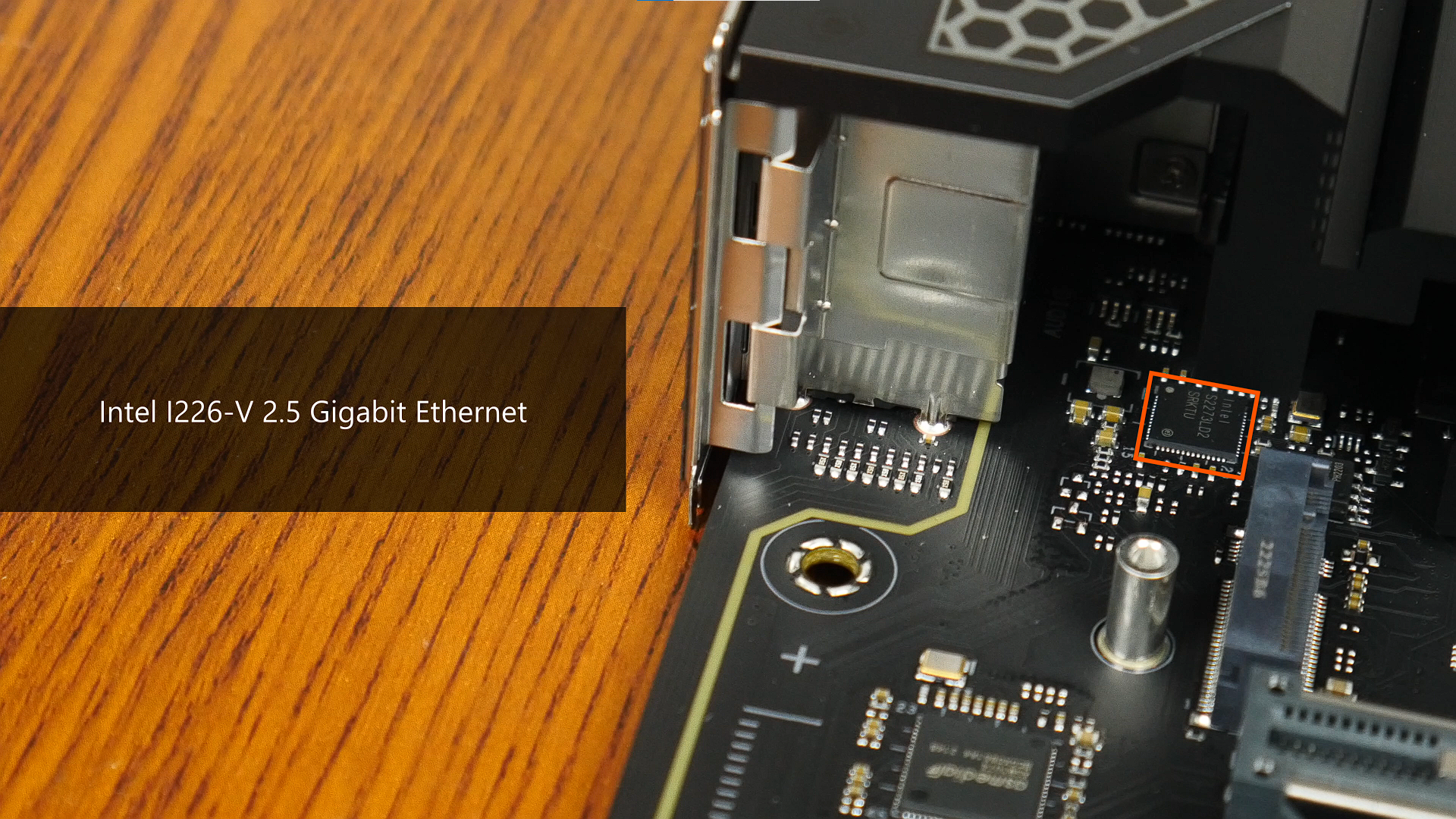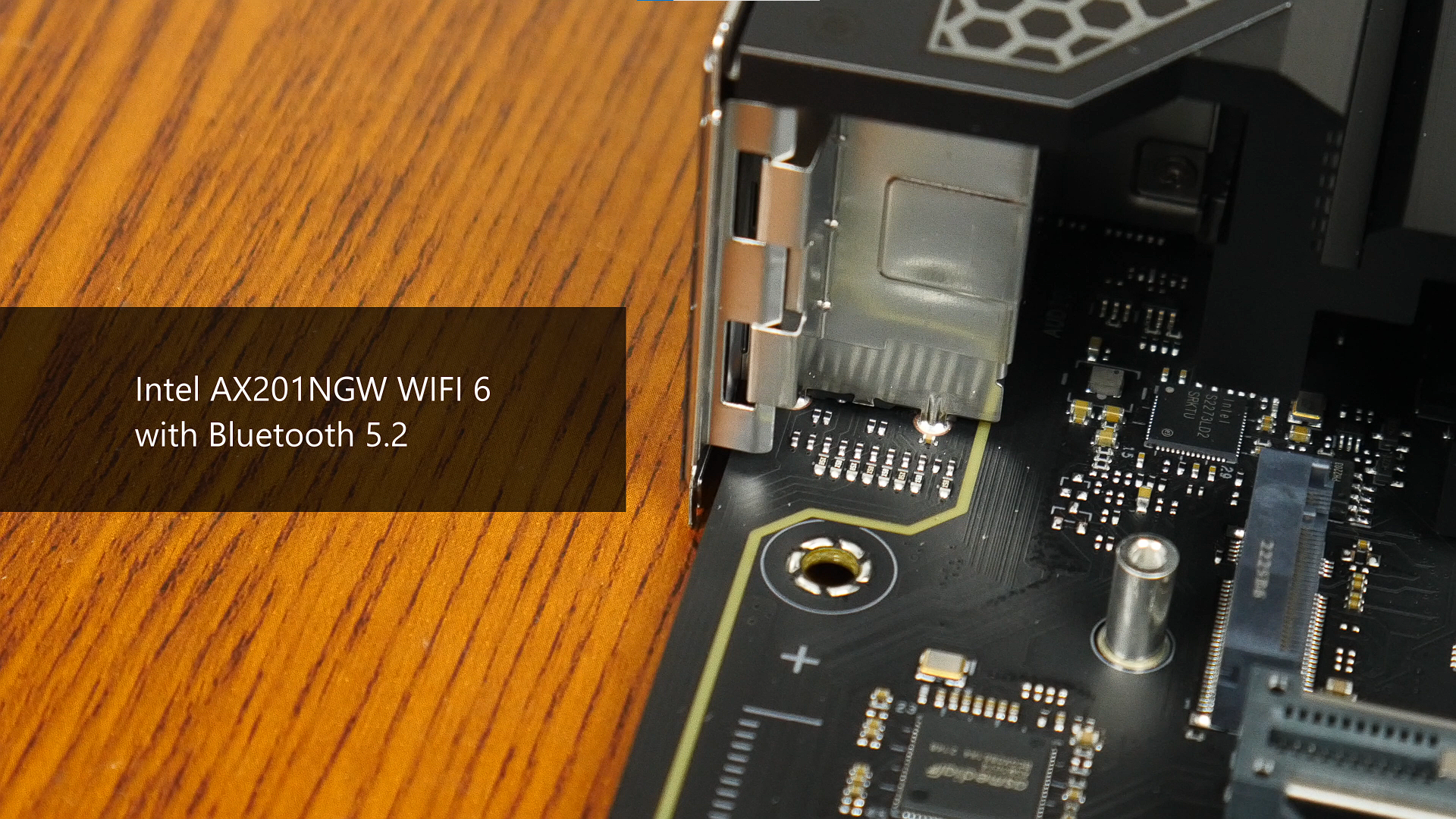 Wired internet connectivity is powered by Intel's I226-V part, which supports 2.5 Gigabit Ethernet. This being a board with built-in WIFI, ASUS has included Intel's AX201NGW that provides support for WIFI 6 and Bluetooth 5.2.
Fan & RGB Headers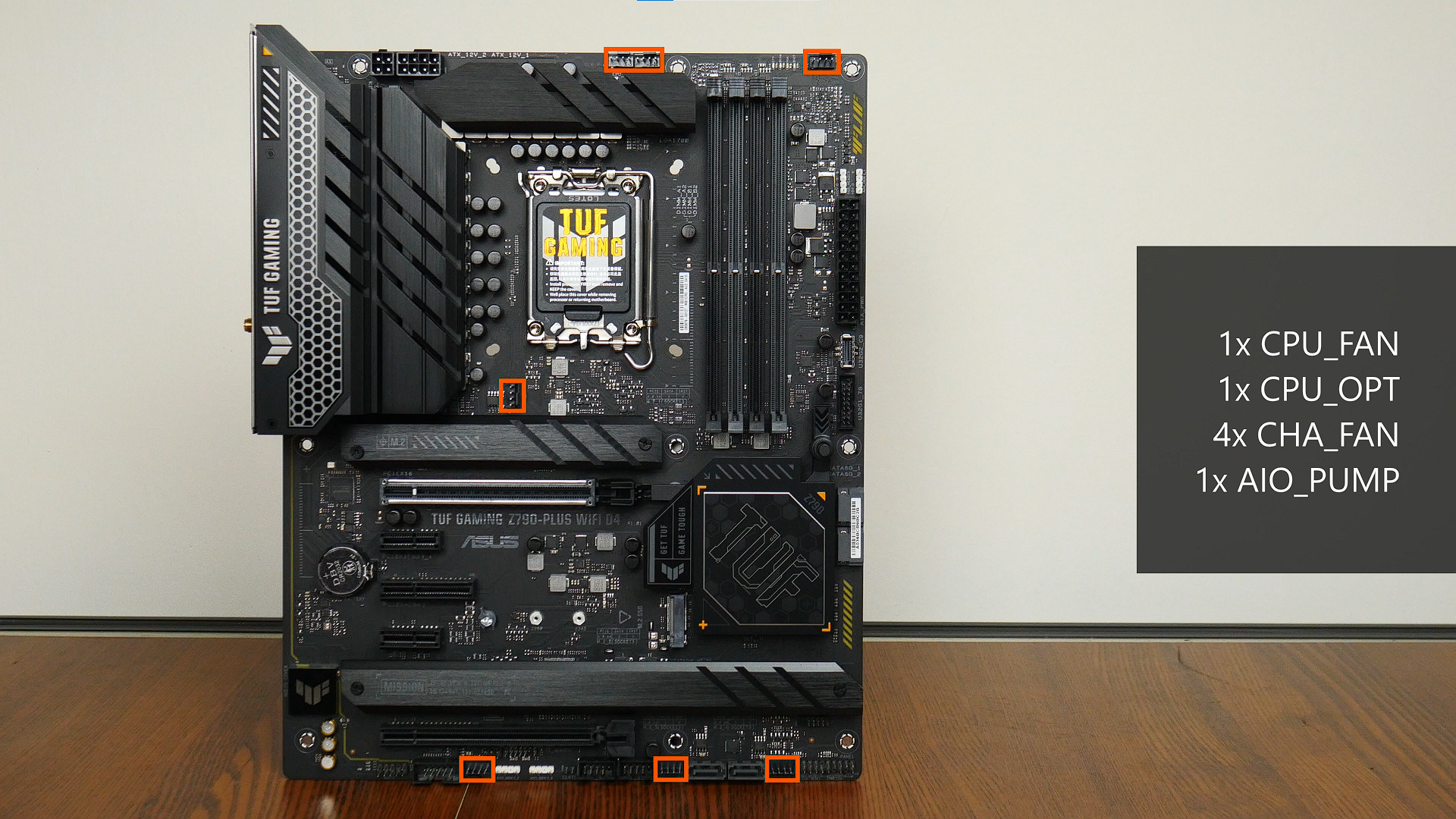 The TUF Gaming Z790-PLUS WIFI D4 comes with seven fan headers:
1x CPU_FAN
1x CPU_OPT
4x CHA_FAN
1x AIO_PUMP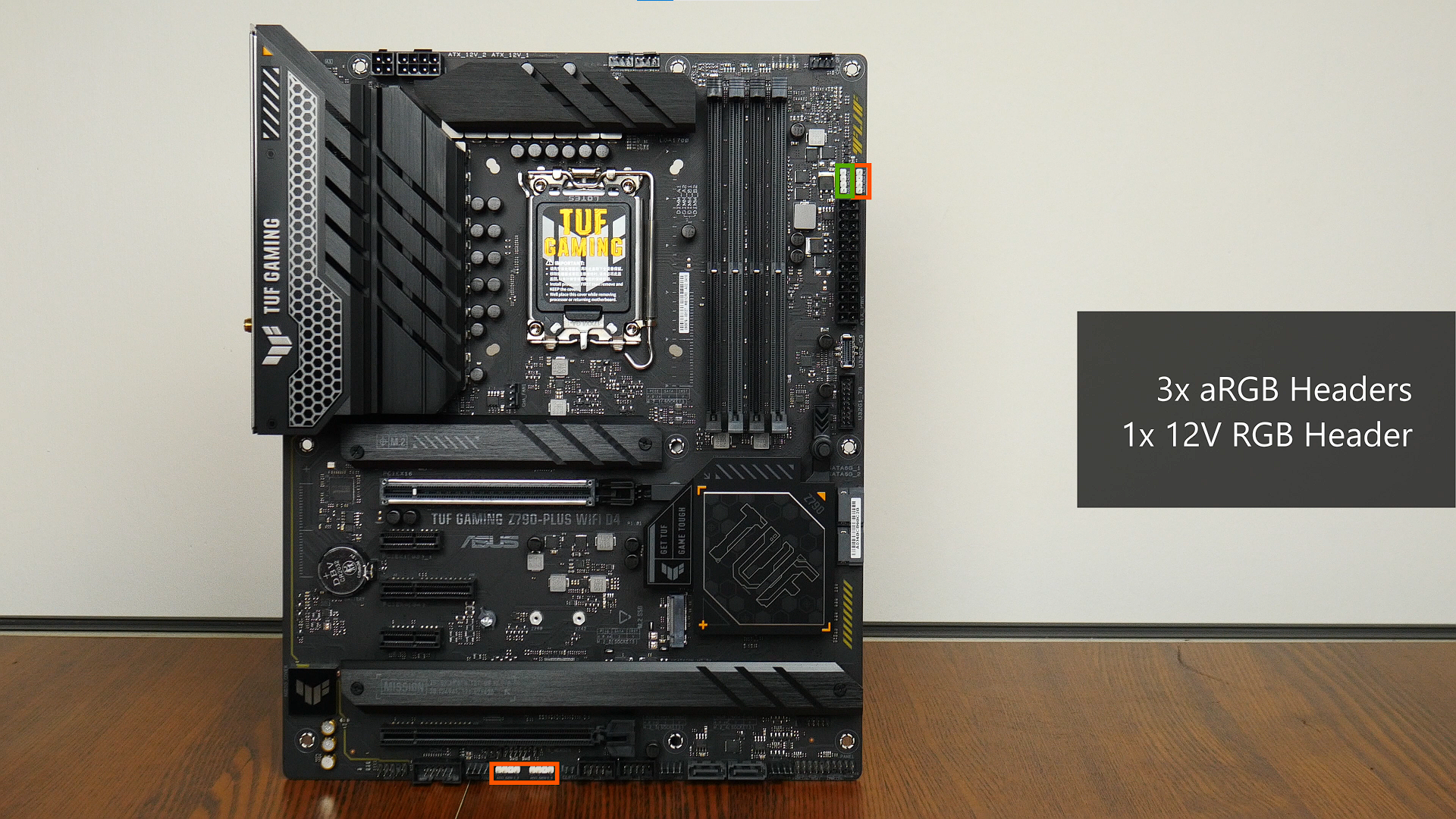 RGB headers are in no short supply with this board, where ASUS includes three addressable RGB headers and a single 12V standard RGB header.
Other Features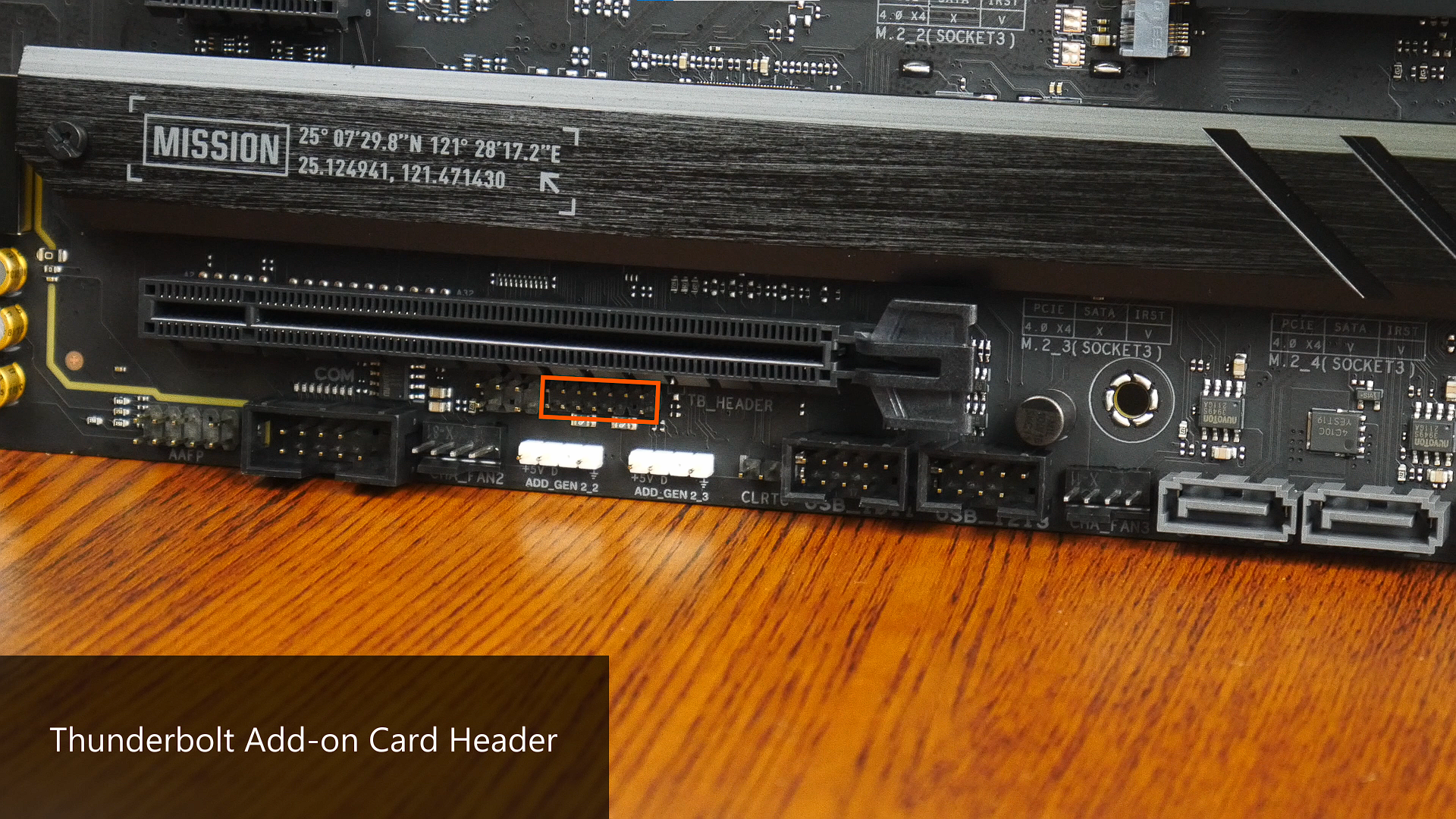 The TUF Gaming Z790-PLUS WIFI D4 does not come with built-in Thunderbolt ports. It does however, come with a Thunderbolt add-on card header that is to be used in conjunction with an add-on card that is sold separately by ASUS. The said add-on card adds Thunderbolt 4 ports and additional DisplayPort connectors to the PC.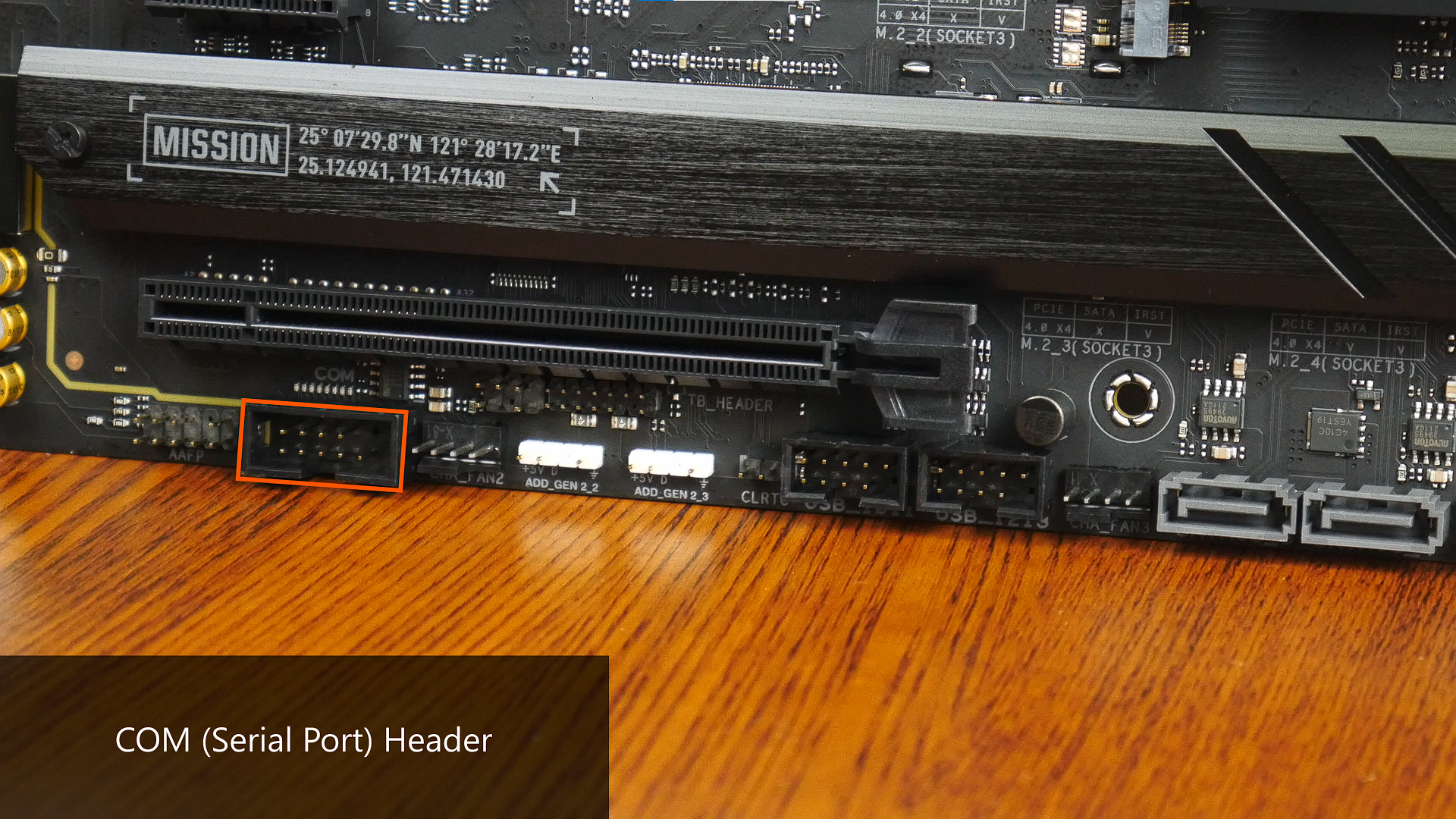 The board also comes with a serial port header, an unexpected feature that could come in useful in business settings that still use legacy PC hardware.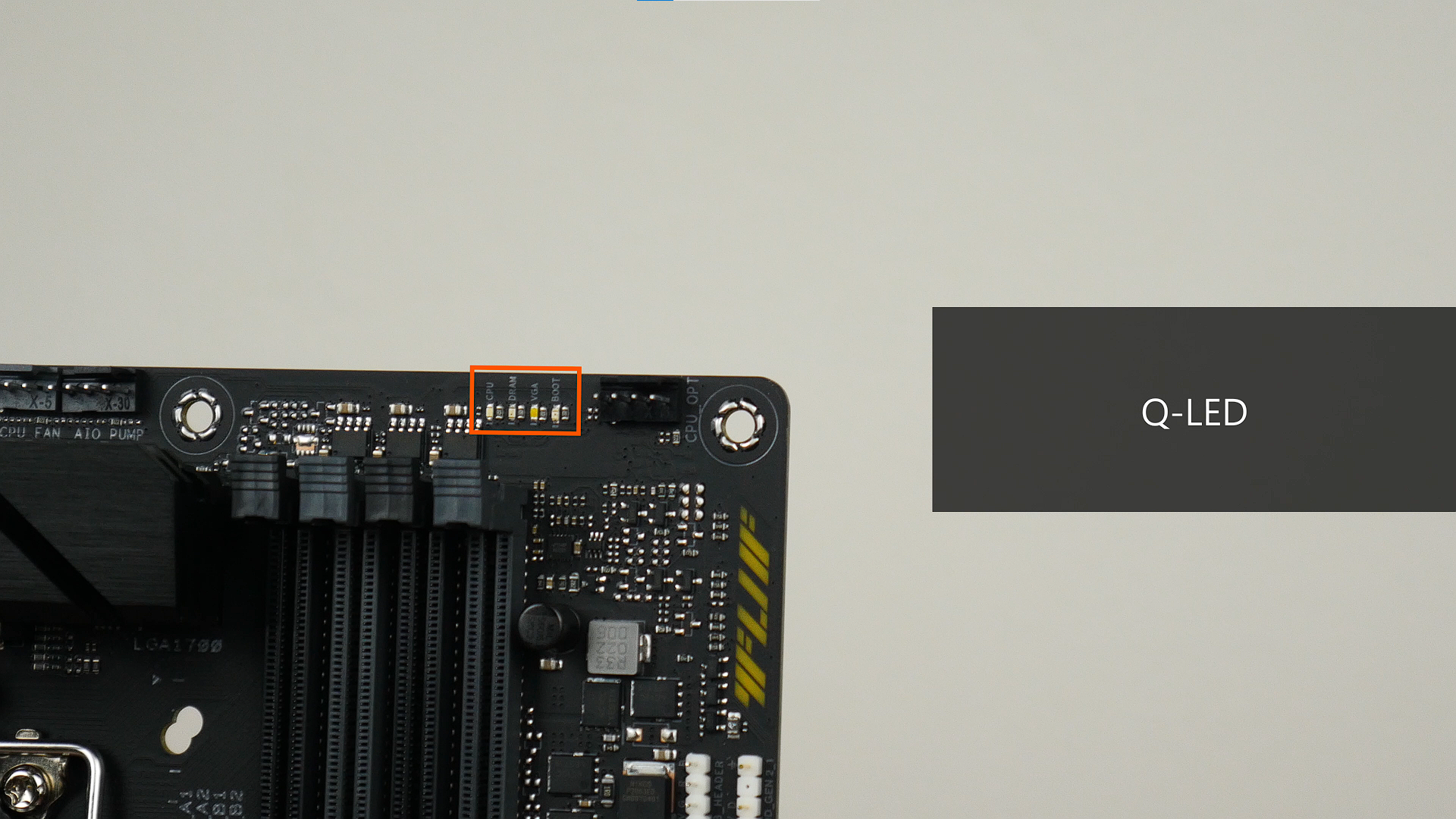 A set of LEDs that ASUS calls Q-LED are included near the top edge of the board - Q-LED is a feature that helps end-users with troubleshooting Power On Self Test issues.
Rear I/O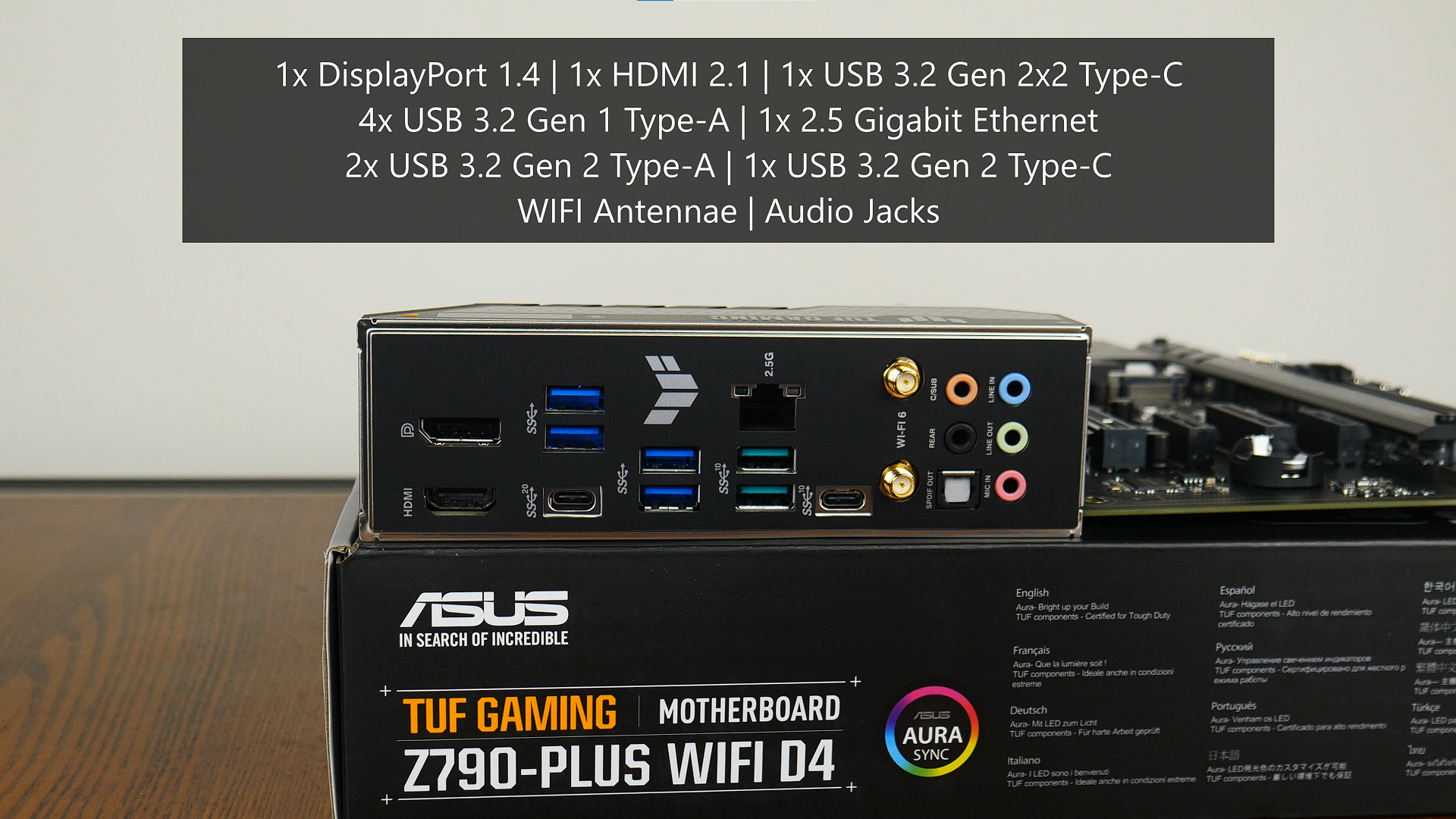 The TUF Gaming Z790-PLUS WIFI D4 comes with the following rear I/O ports:
1x DisplayPort 1.4 (max 4K resolution @ 60Hz)
1x HDMI 2.1 (max 4K resolution @ 60Hz)

1x USB 3,2 Gen 2x2 Type-C (20Gbps)

4x USB 3.2 Gen 1 Type-A (5Gbps)
1x 2.5 Gigabit Ethernet port
2x USB 3.2 Gen 2 Type-A (10Gbps)
1x USB 3.2 Gen 2 Type-C (10Gbps)
WIFI antennae connectors
Audio jacks
Conclusion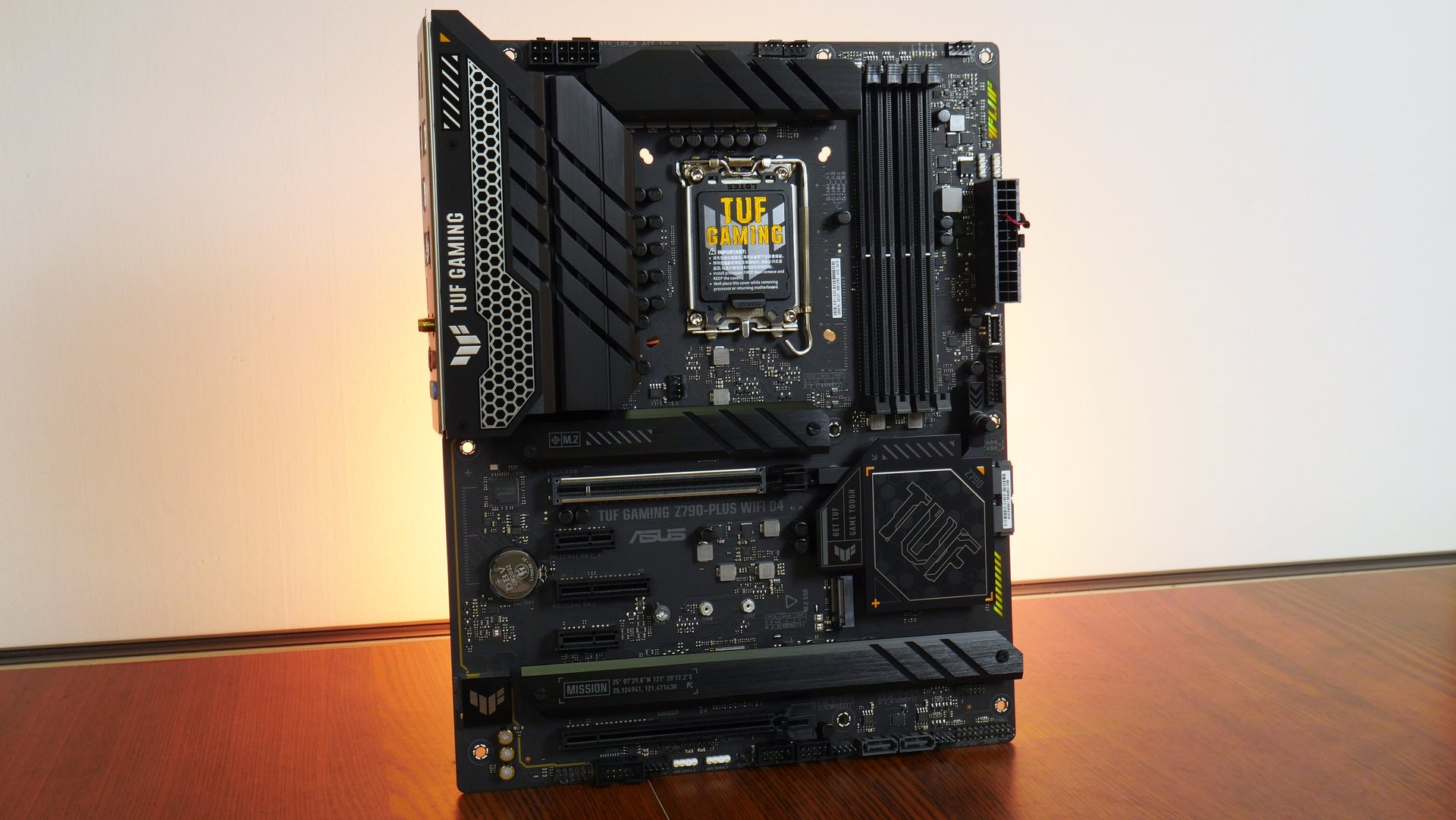 The ASUS TUF Gaming Z790-PLUS WIFI D4 is a good-looking motherboard with all the features that one would ever need for a modern Intel 13th generation Raptor Lake gaming PC. With features such as PCIe 5.0 support for a graphics card, 2.5 Gigabit Ethernet as well as WIFI 6, all while providing support for DDR4 memory that would go a long way in lowering the costs of building a PC with this board, this board sure is an interesting option to consider when viewed in light of the slew of new products from the AMD and Intel camps.
It's a pity that Intel's 700-series of chipsets did not come with additional PCIe 5.0 lanes for M.2 drives, which would have allowed it to be more future-proof alongside AMD's top-of-the-range X670E chipset that offers PCIe 5.0 connectivity all around. That said, whether to build a new PC with Intel's 13th generation processors, or AMD's Ryzen 7000 series offerings also depends on many other factors, such as pricing and availability. As more information is made available in the coming days and weeks, a clearer picture will emerge on the pros and cons of AMD's and Intel's latest product offerings.
As of the time of writing this article, pricing information is not yet available - the article will be updated accordingly once the said information is made public.
Get this motherboard from Amazon: https://amzn.to/3UQZc0d (affiliate link)
Get this motherboard from Shopee Singapore: https://shope.ee/AtCIYqHrc (affiliate link)
Get this motherboard from Lazada Singapore: https://c.lazada.sg/t/c.YjqD5e?sub_aff_id=alktech (affiliate link)

ALKtech may earn commissions from qualifying purchases made using affiliate links, at no extra cost to you as a customer. These commissions go a long way in supporting the platform!

The motherboard featured in this article was a review unit provided on loan from ASUS Singapore.