Gigabyte's M32U is a compelling option in the 4K 32" gaming monitor segment.
Gigabyte's M32U has been in the market for some time now, and is one of the few monitor offerings from major manufacturers in the 32" size segment with support for the 4K resolution and a high refresh rate. For today's article, we'll be taking a closer look at the M32U to see if it still represents great value, especially given a recent drop in prices (as of mid-August 2022).
Packaging & Contents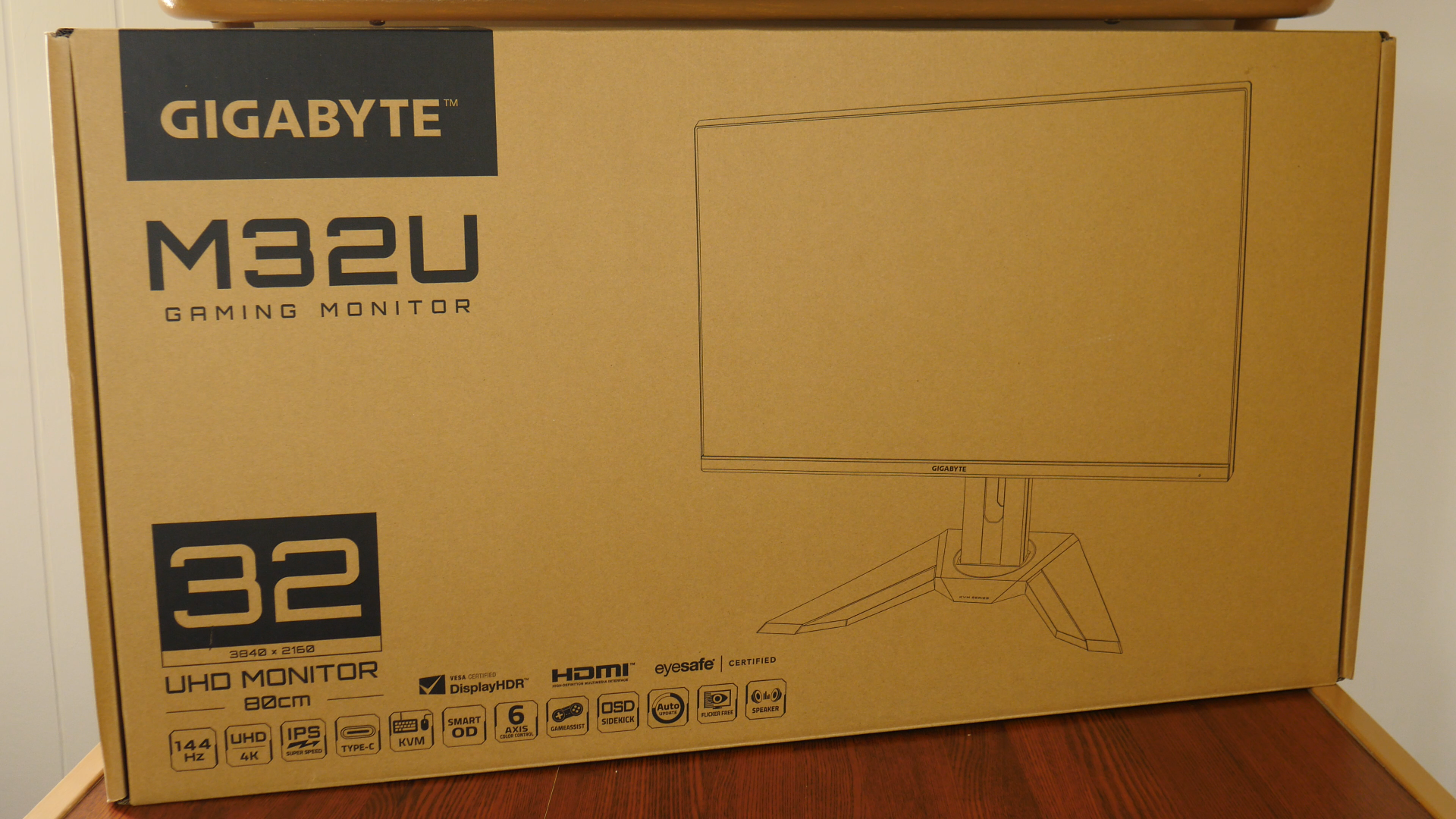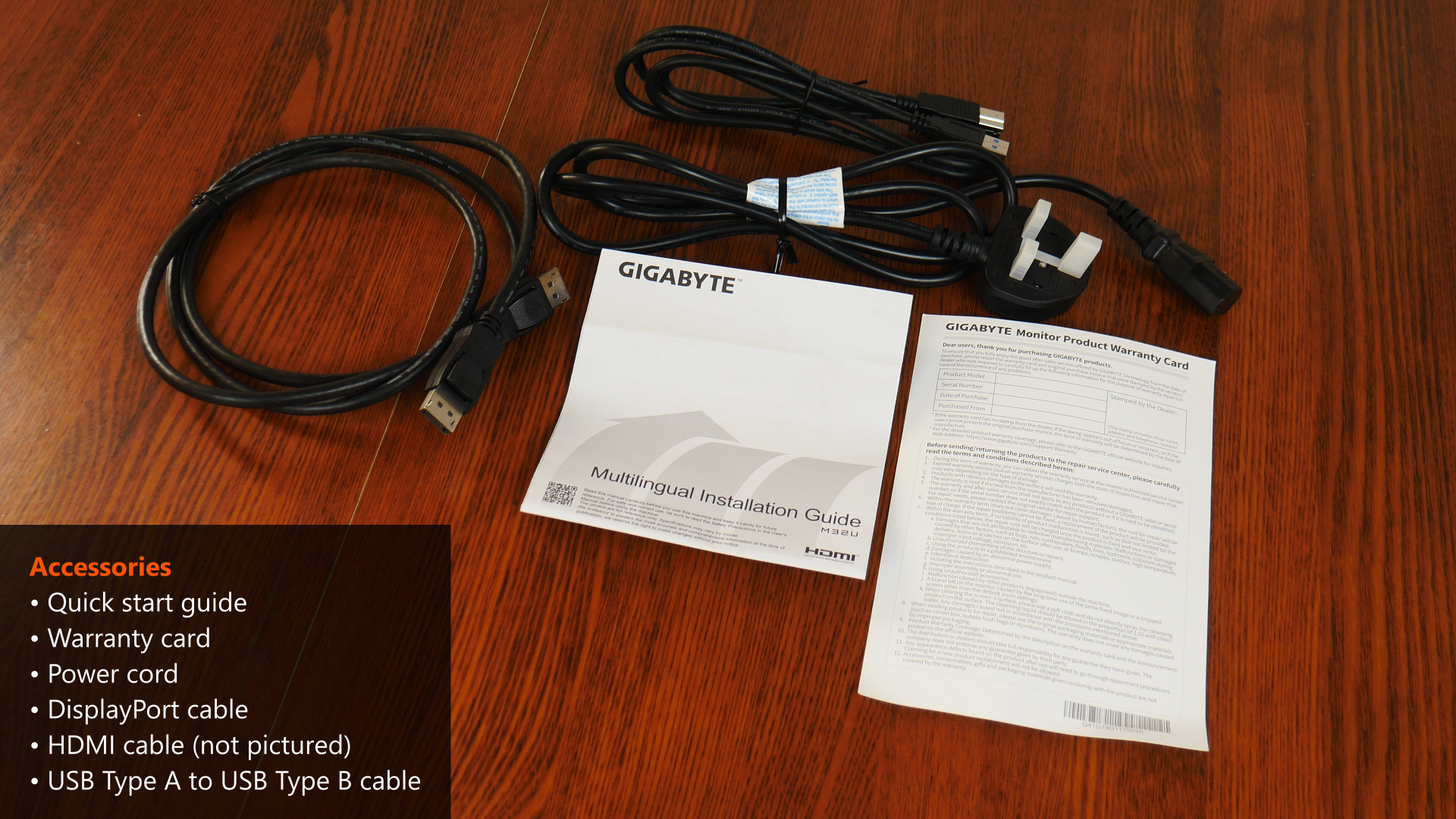 The M32U ships in a nondescript brown cardboard box, which belies the gaming pedigree of the monitor, and comes with the following accessories:
Quick start guide

Warranty card

Power cord

DisplayPort cable

HDMI cable

USB Type A to USB Type B cable
Specifications
Display Type: 31.5" IPS panel, 4K resolution, anti-glare matte finish, LED backlighting
Refresh Rate: 144Hz
Response Time: 1ms (MPRT)
Maximum Brightness: 350nits
Colour Support: 10-bit (8-bit + FRC)
HDR Support: VESA-certified HDR400
Special Features: Aim Stablizer Sync, built-in KVM switch, built-in 3W stereo speakers
Dimensions With Stand: 715.3mm x 585.3mm x 244.3mm
Net Weight With Stand: 10.35kg
Aesthetics & Build Quality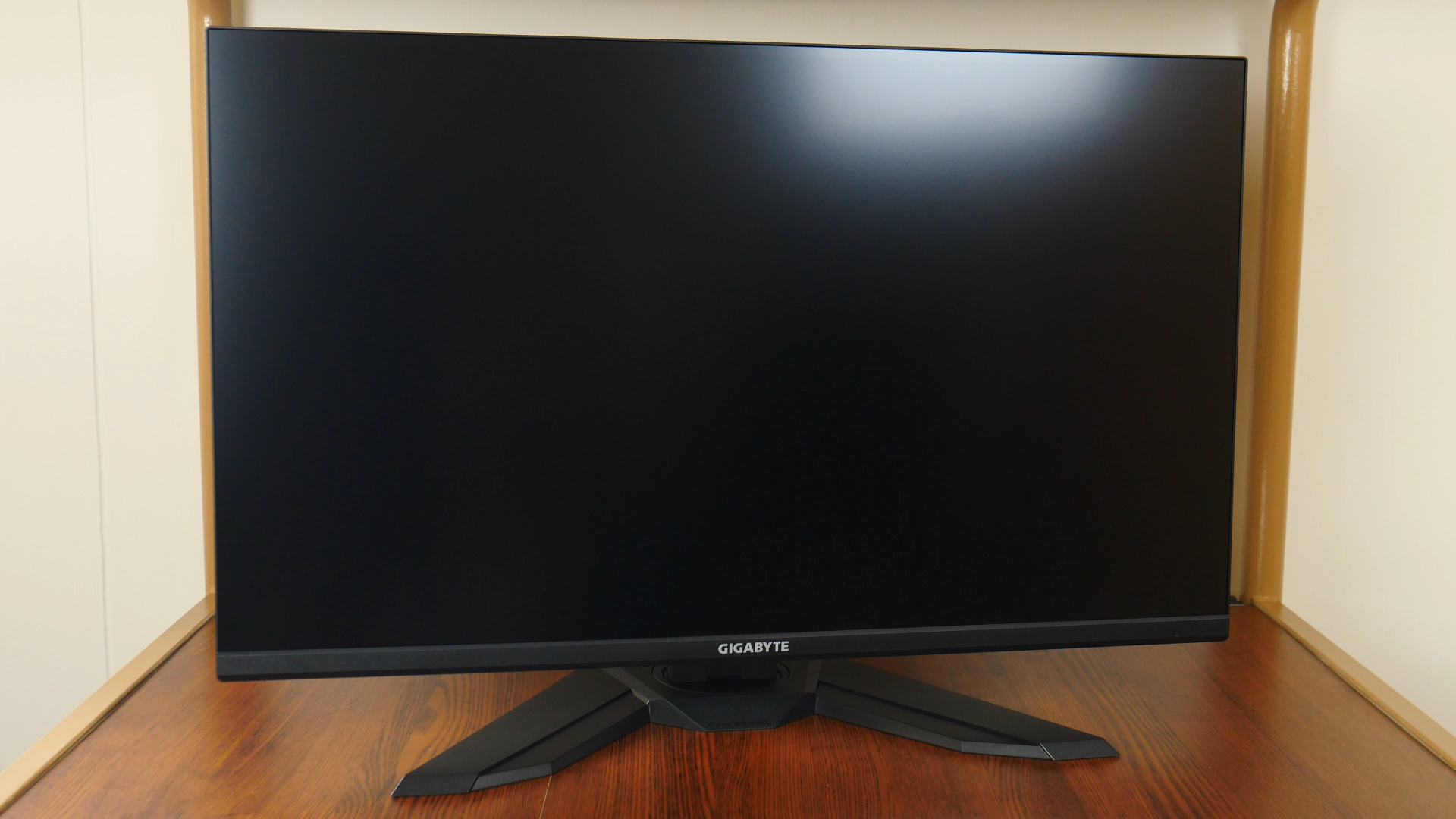 The M32U is constructed entirely of black-coloured plastic which is predominantly of a textured matte finish, with some bits sporting a gloss finish for added contrast. It sports a thin bezel design, and is free of aesthetic LEDs/RGB bling - given its unremarkable aesthetics, anyone could be forgiven for mistaking the M32U as an office productivity monitor.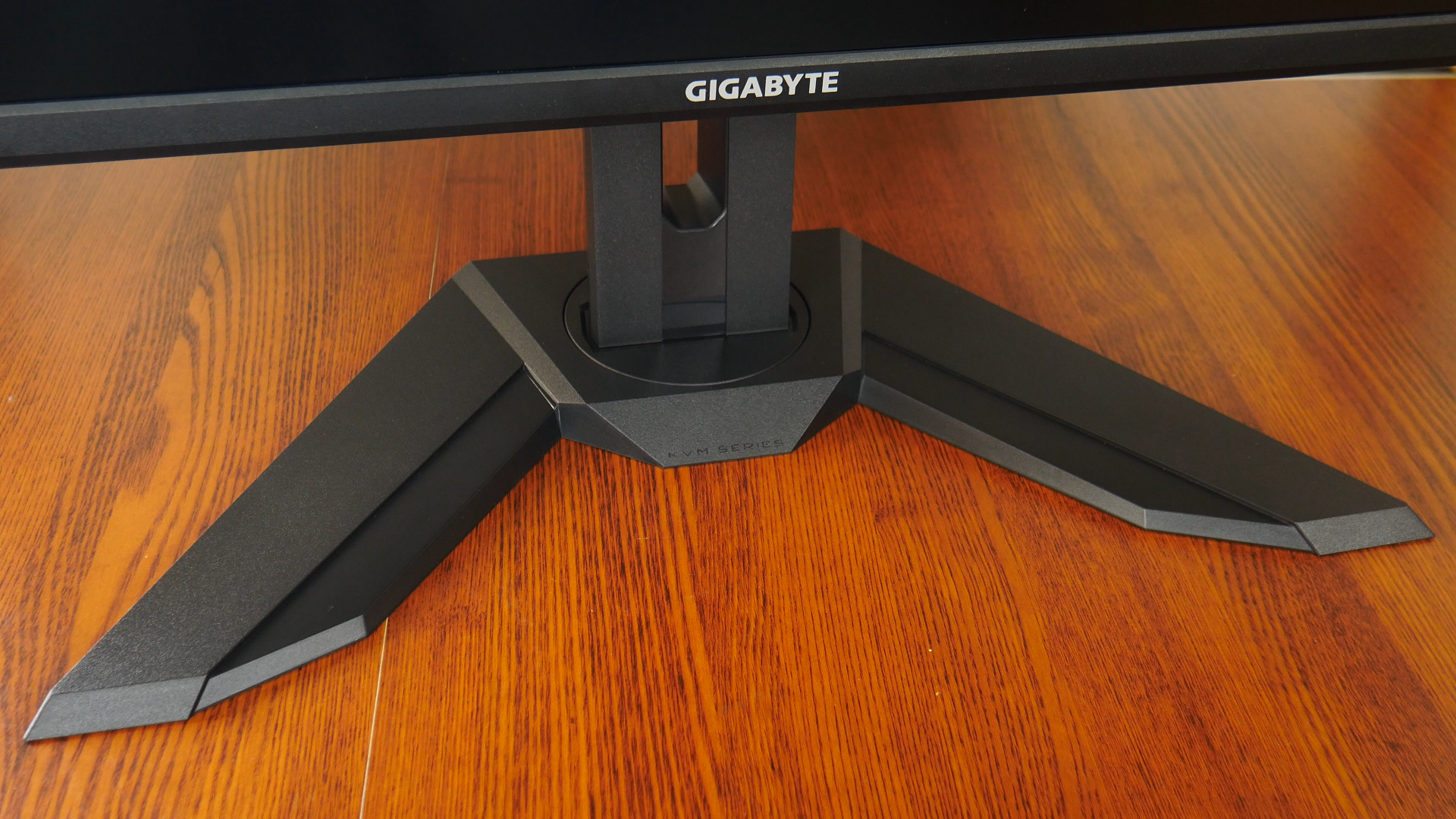 The stand that comes included with the monitor is well-built and should hold up well against the weight of the monitor panel. It also comes with a hole to aid with cable management.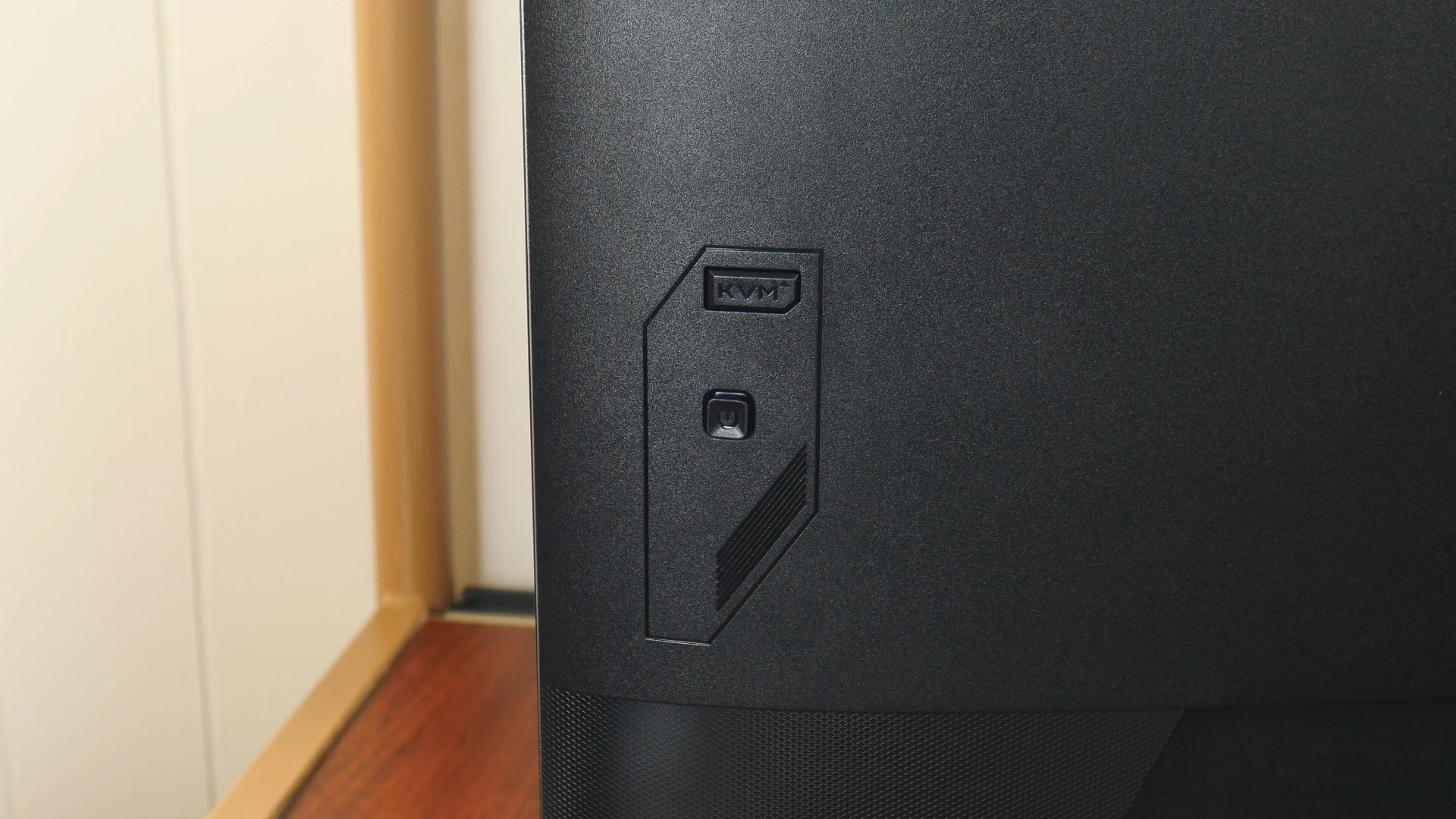 Controls for the M32U are a simple two-button affair, comprising a five-way joystick that doubles up as the power button and as a joystick for navigating the OSD, and a keyboard video mouse (KVM) button that allows end-users to activate the built-in KVM switch.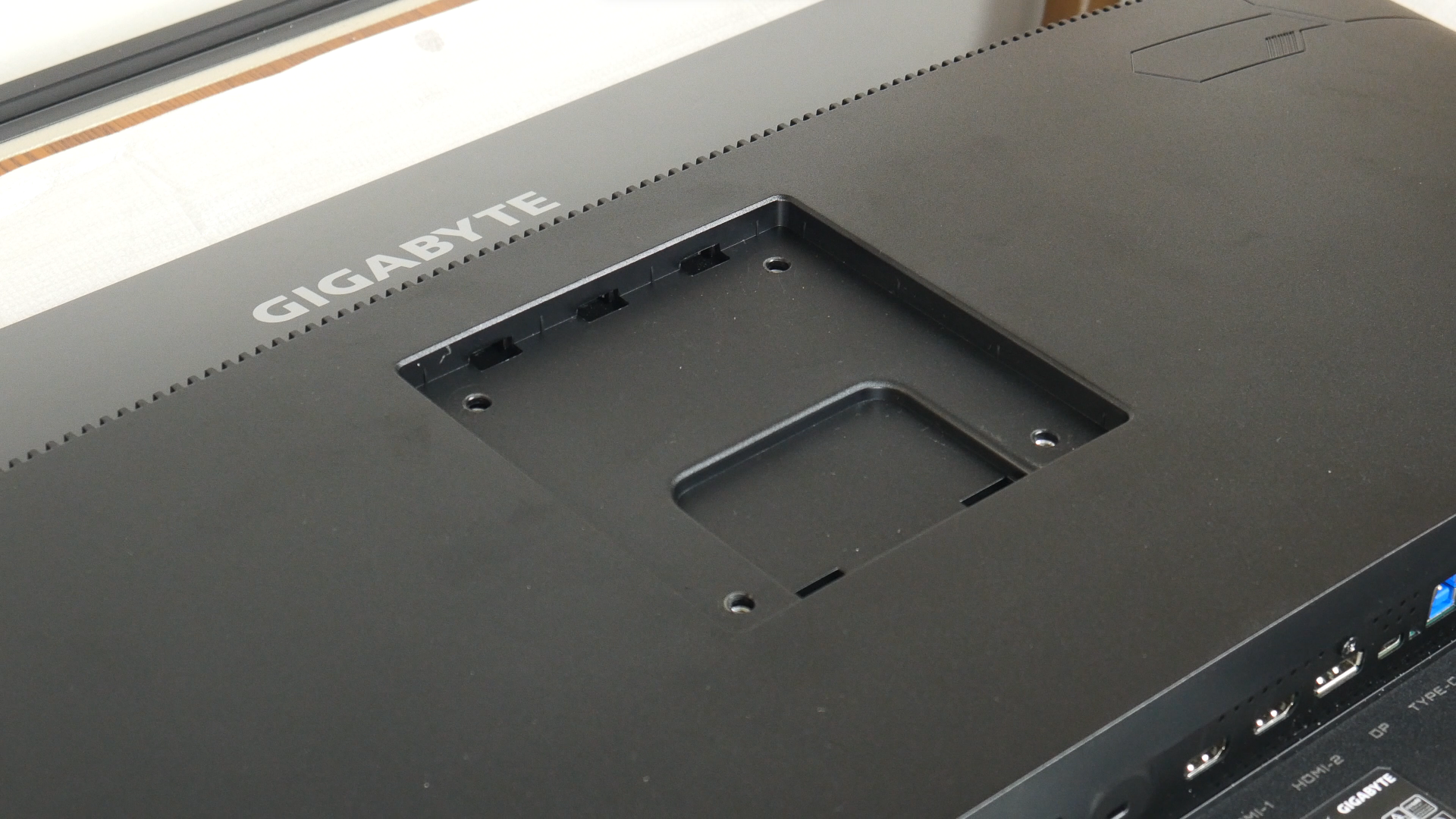 For users intending to use the monitor with a VESA mount, removing the stand is a hassle-free affair, and reveals a standard 100mm x 100mm VESA mount.
The M32U comes with height, tilt and swivel adjustments:
Height adjustment: up to 130mm
Tilt adjustment: -5° to +20°
Swivel adjustment: -30° - +30°
Do note that the included stand does not support pivot adjustments.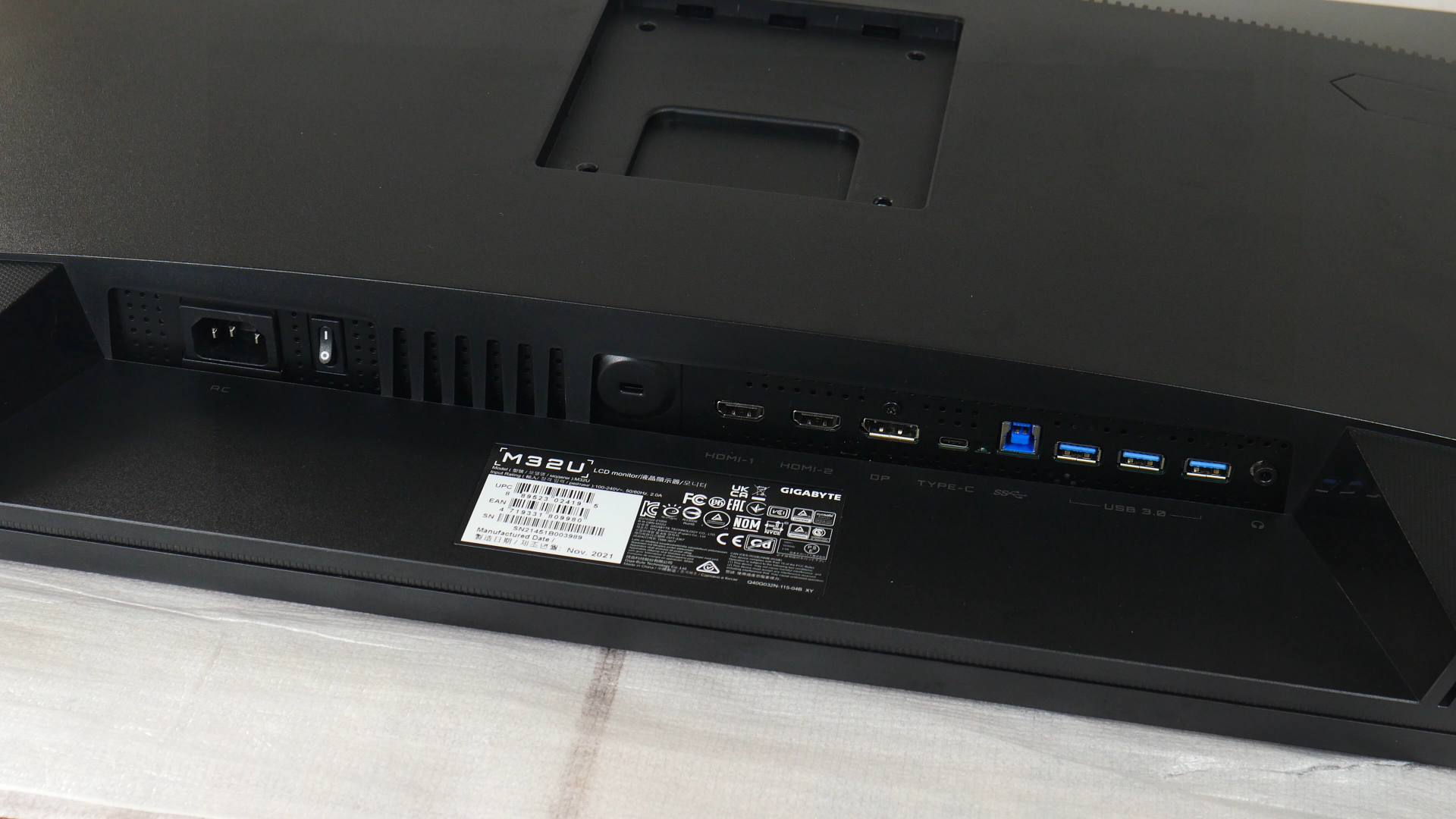 On to the rear I/O of the monitor, the M32U comes with a power cord connector, a power switch, a Kensington lock slot opening, two HDMI 2.1 ports, a single DisplayPort 1.4 port, a USB Type-C port supporting display input and Power Delivery, a USB Type-B upstream port, three USB 3.0 Type-A downstream ports, as well as a 3.5mm audio out jack for external speakers or headphones.
Panel Specs & Performance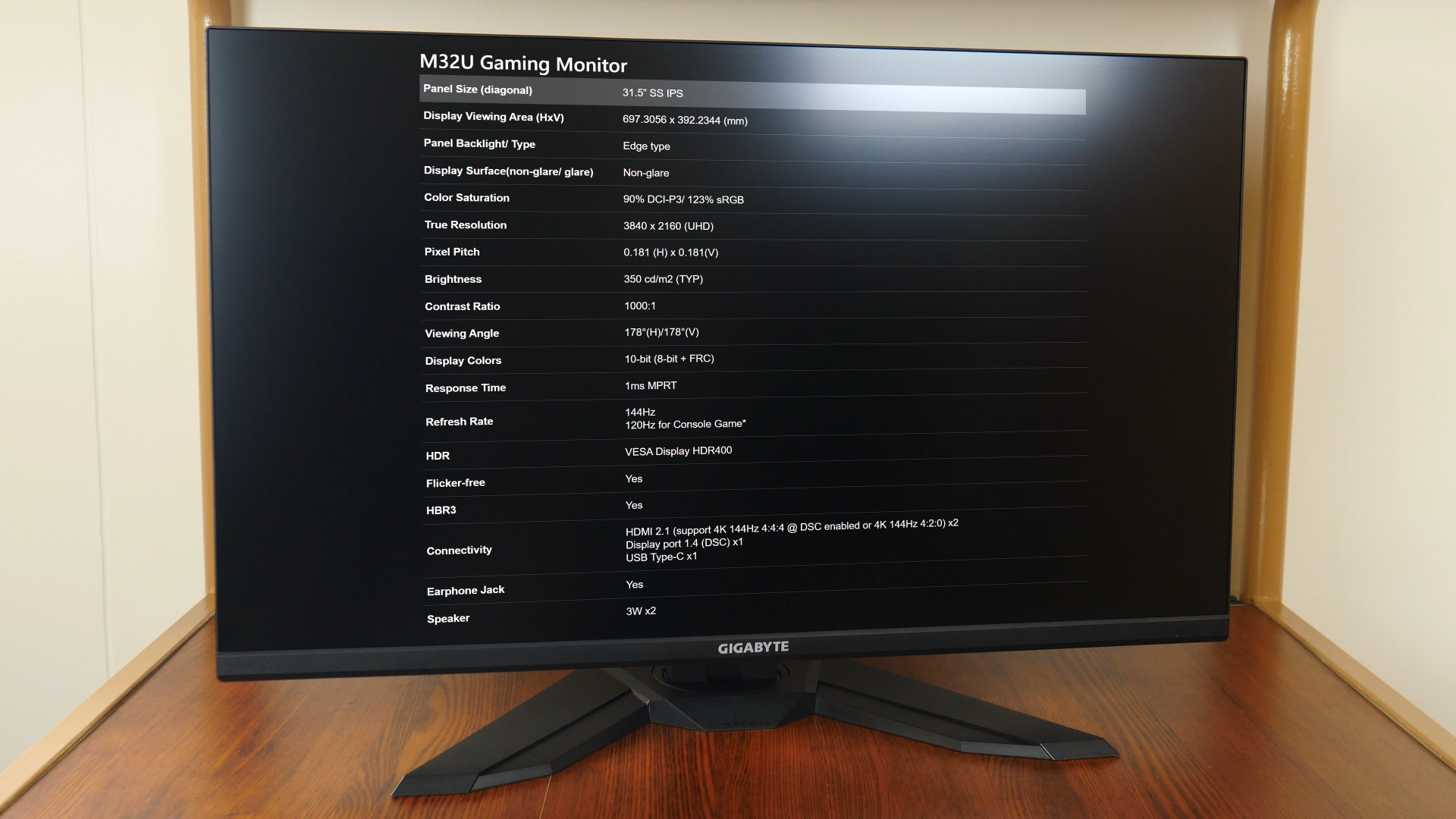 As a 4K gaming monitor, the M32U sports a snappy maximum refresh rate of 144Hz with a 1ms (MPRT) response time, a maximum brightness of 350nits, and support for a 10-bit (8-bit + Frame Rate Control) colour depth.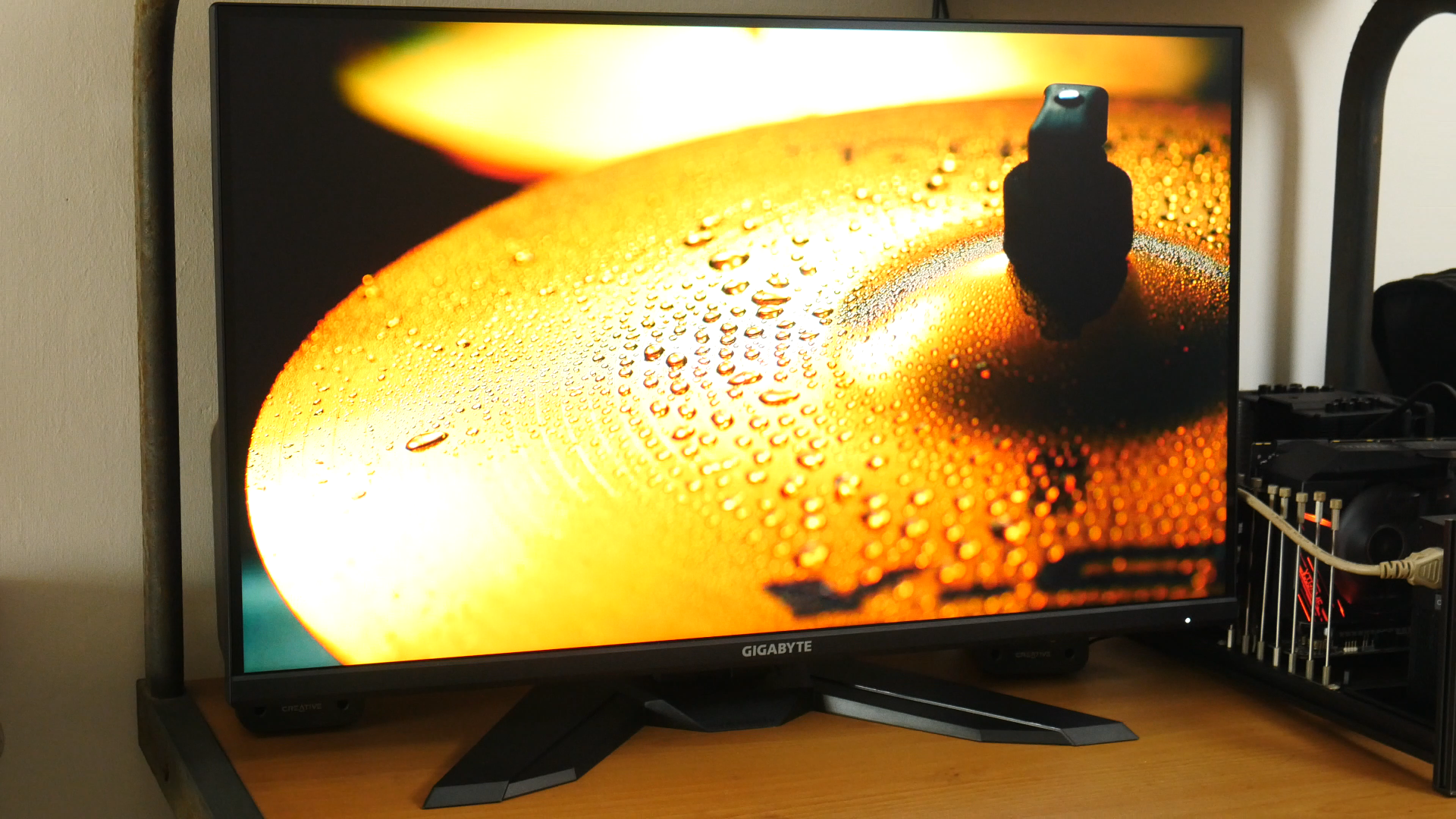 In terms of the monitor's colour reproduction capabilities, Gigabyte advertises the M32U to have 90% coverage of the DCI-P3 standard. Unfortunately, I was unable to test the monitor's actual colour accuracy due to a lack of equipment - that said, other prior reviews of this monitor seem to indicate that with proper colour calibration, the M32U has the chops for good colour accuracy, so much so that end-users could probably get away with a spot of professional photo or video editing on this monitor.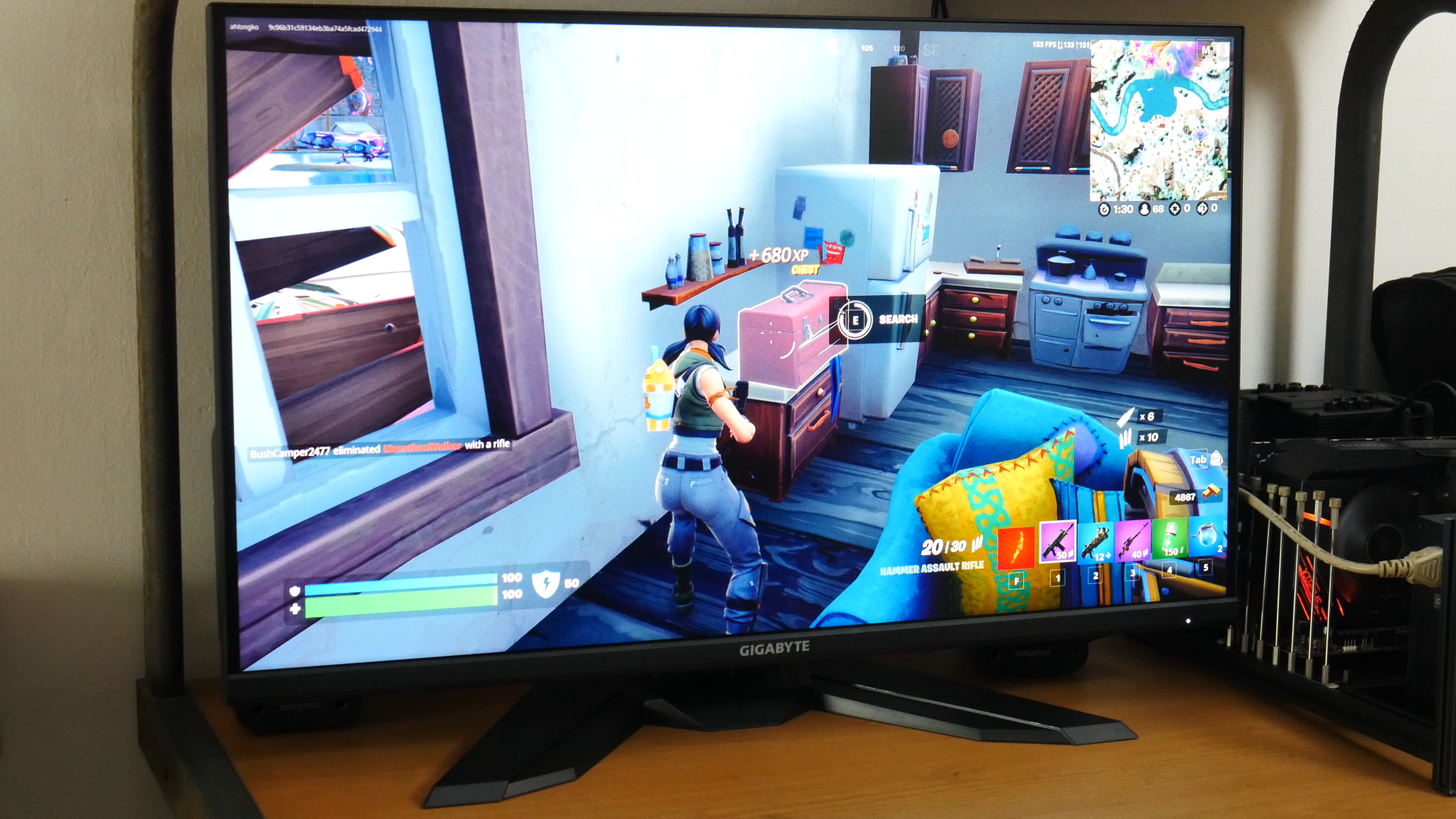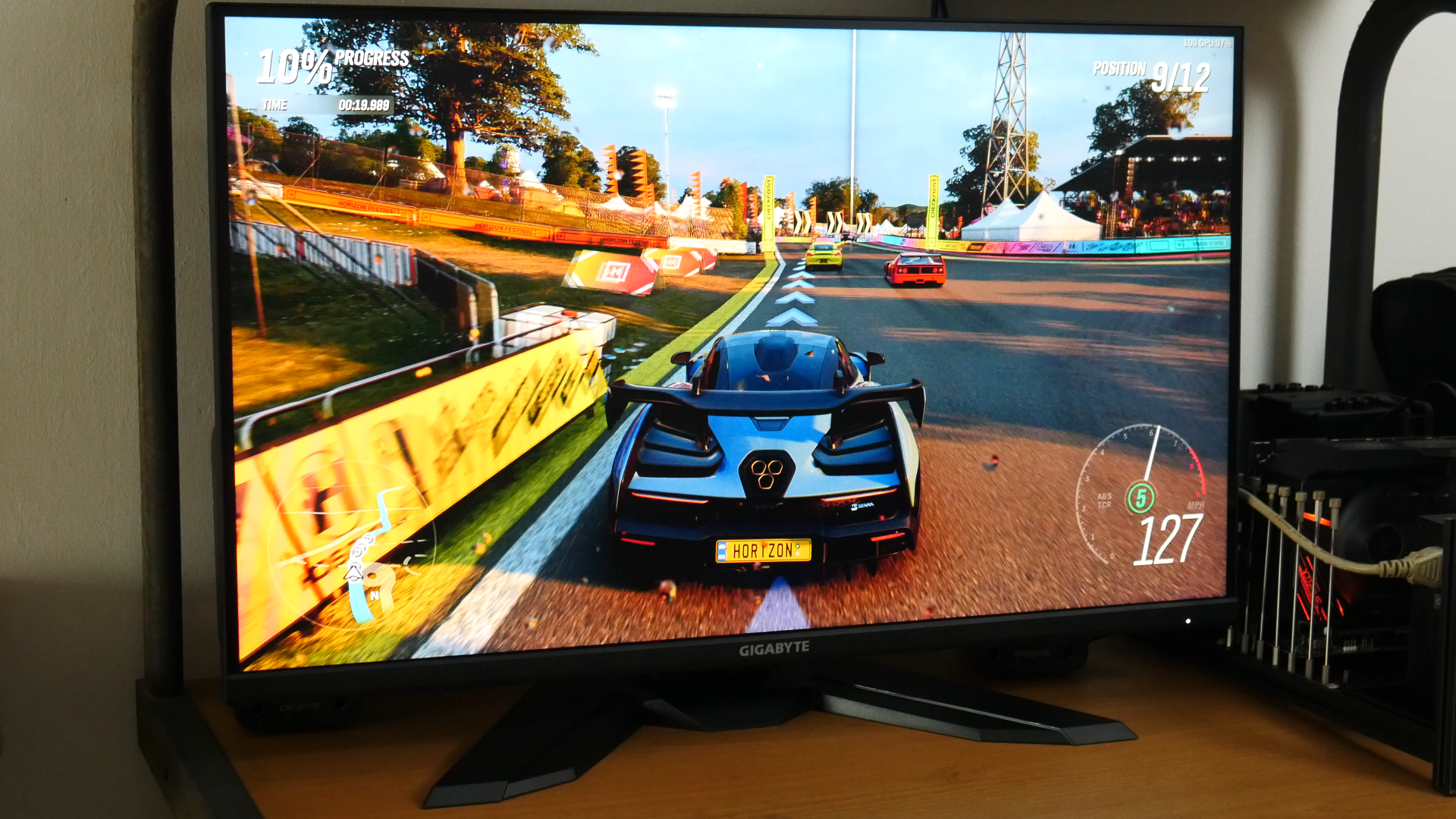 Given the monitor's specifications, the gaming experience with it was stellar, especially when paired with a high-end graphics card capable of gaming at high framerates on the 4K resolution. For the purposes of this review, Gigabyte's AORUS GeForce RTX 3090 XTREME 24G was paired with the M32U, and using the game Fortnite as an example, with the High graphics preset with ray tracing switched off, I was able to game with an average FPS of 136 without experiencing any screen tear or smearing.
Blur Reduction Features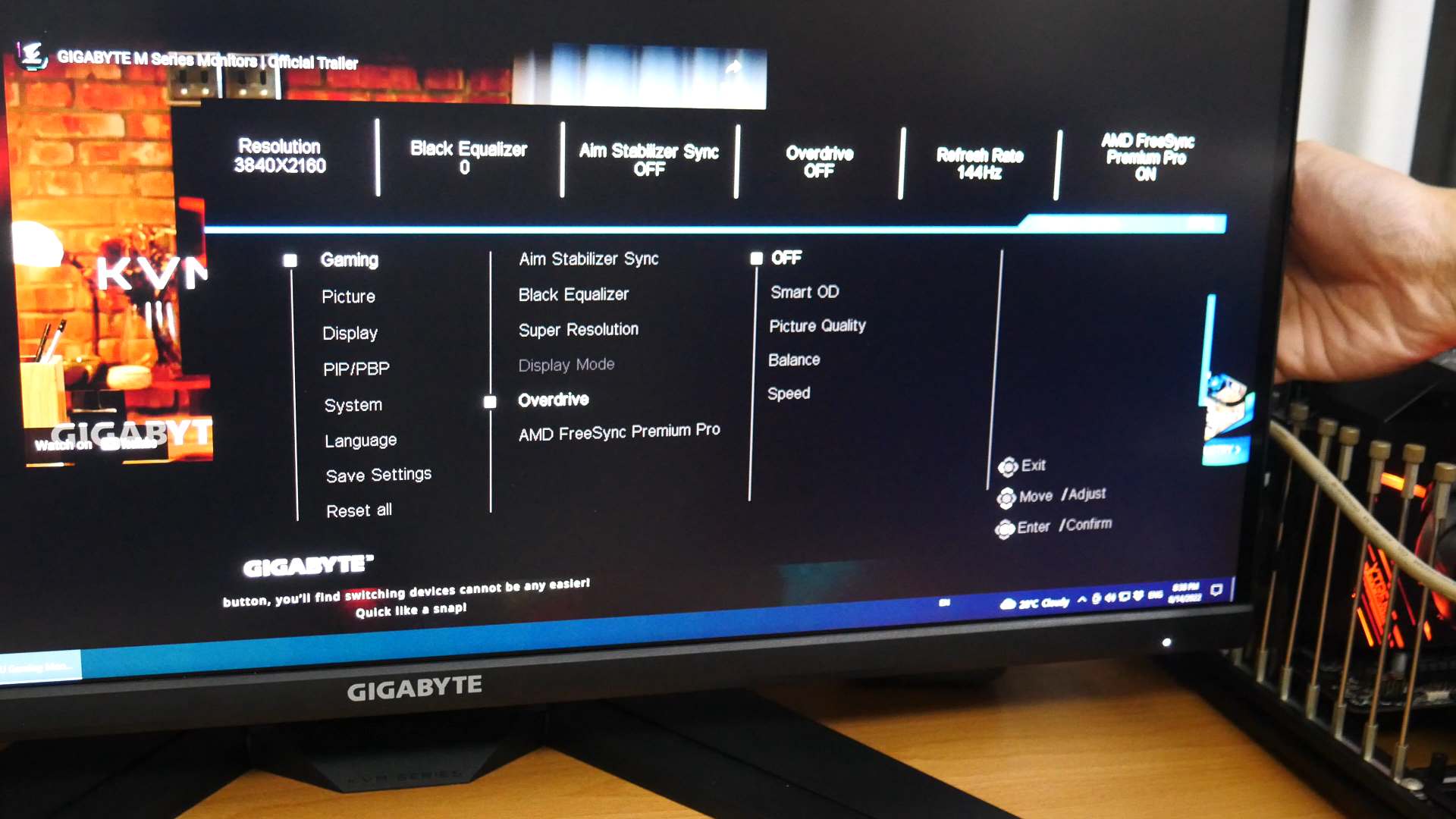 The M32U comes with support for AMD's FreeSync Premium Pro variable refresh rate technology, and also sports support for five levels of overdrive. Overdrive allows one to tweak the response time of the monitor panel so as to reduce ghosting and smearing, and would be more applicable for contexts in which one would be gaming at high framerates.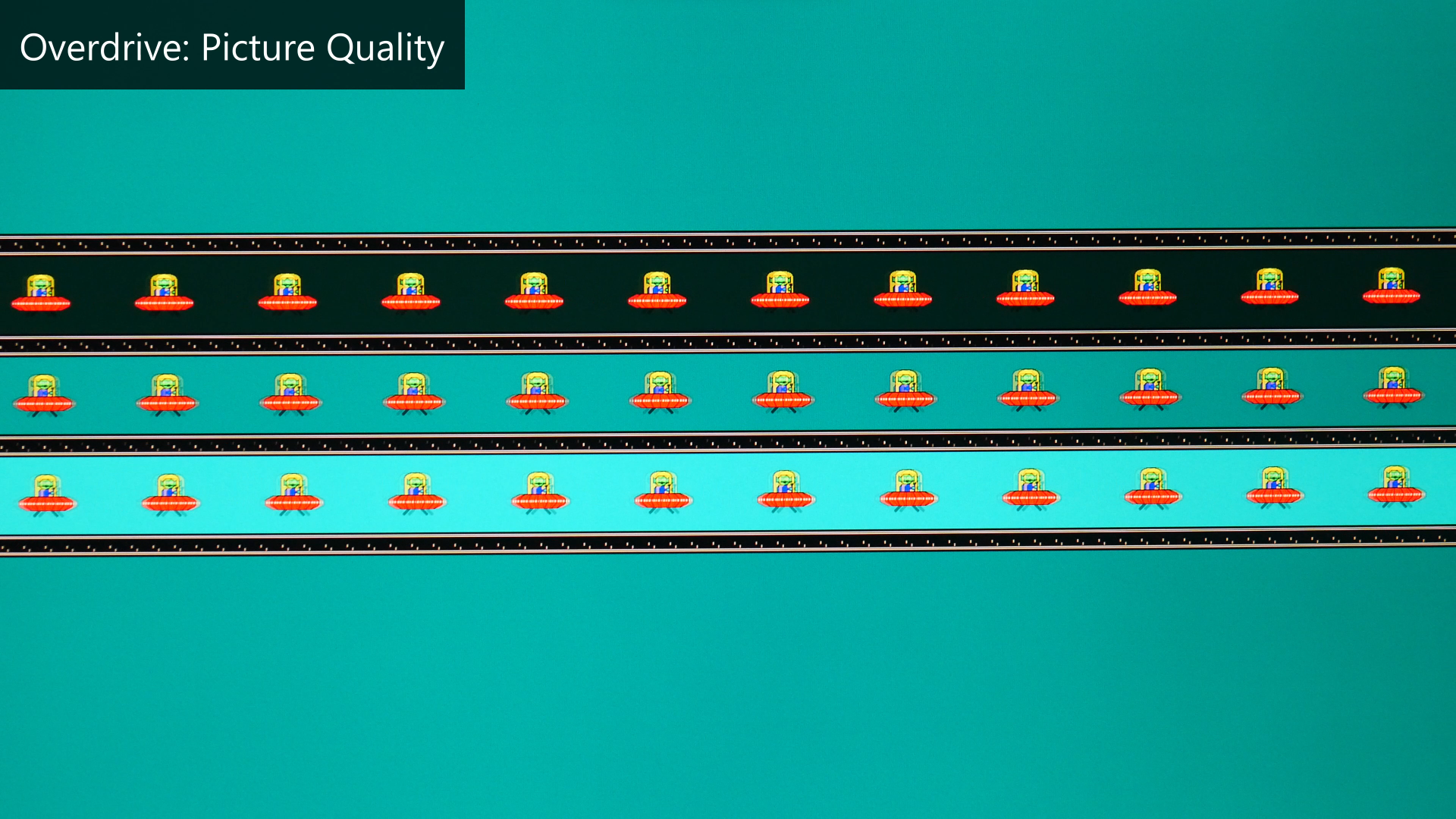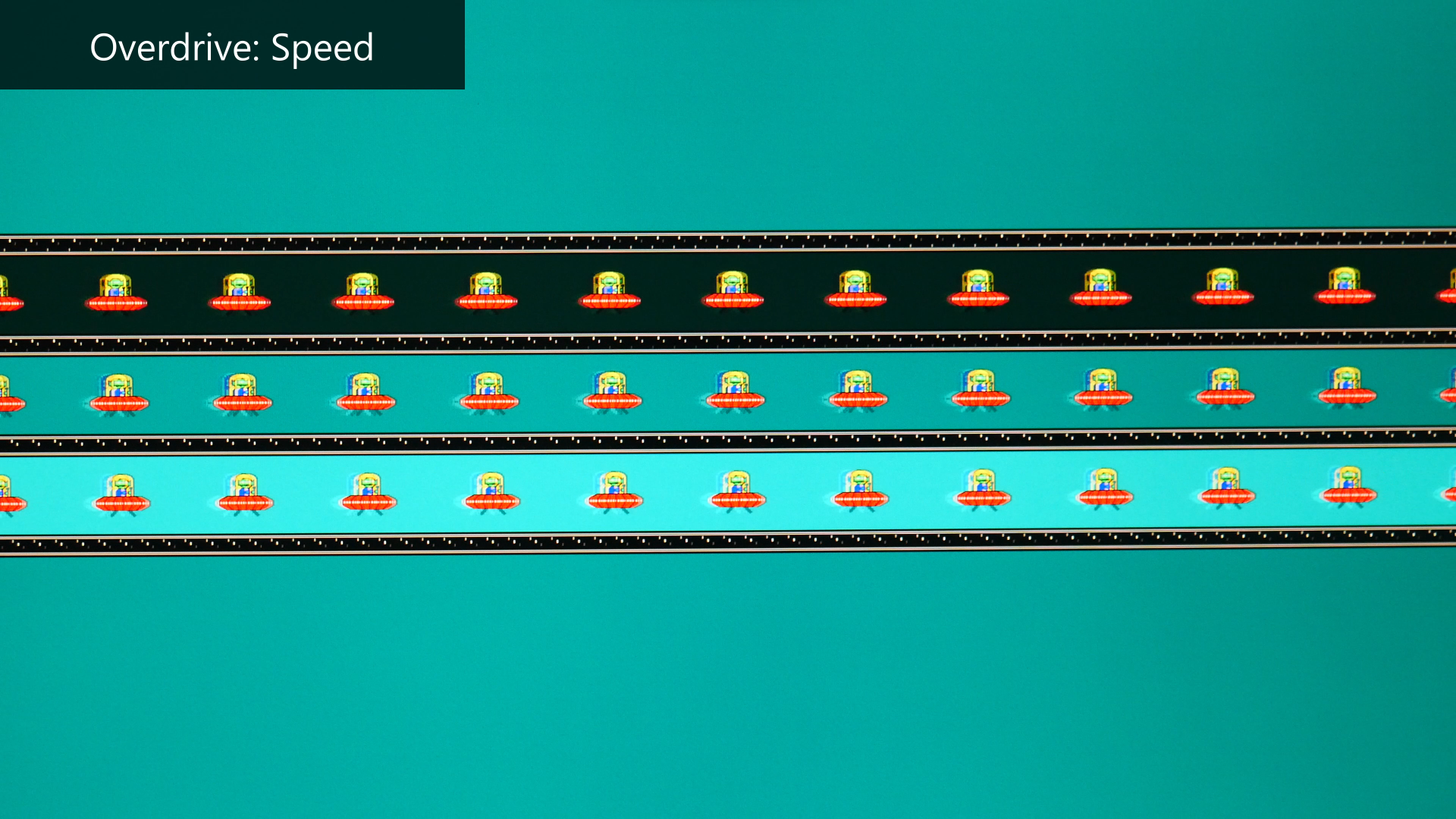 With Blur Buster's Motion UFO tests, I found the "Picture Quality" overdrive setting to be the best overdrive setting for the monitor, while the "Speed" setting resulted in discernible coronas/overshoot. Do note that the images above were captured without a pursuit camera setup due to a lack of the necessary equipment.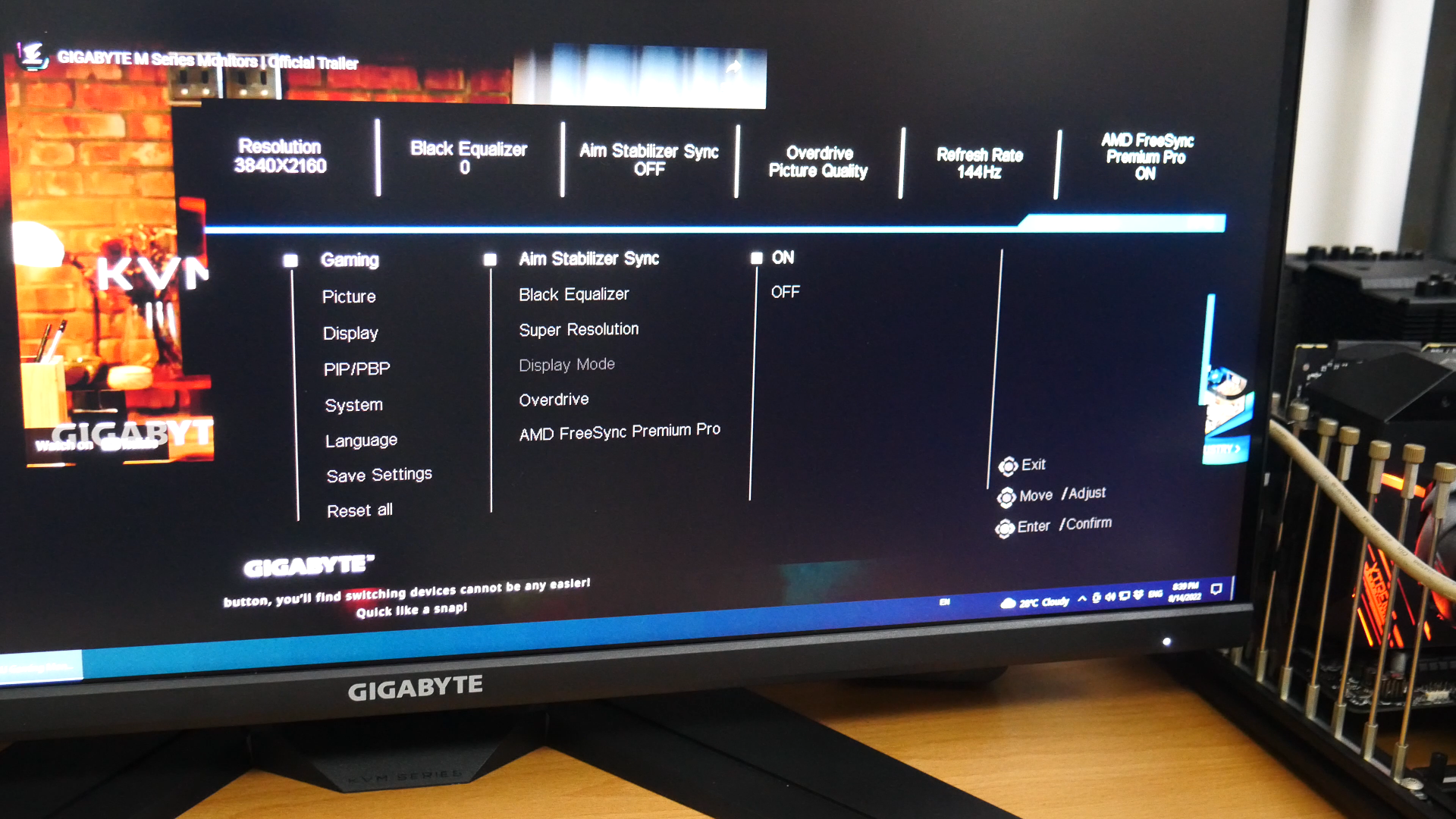 Gigabyte has also included a feature called "Aim Stabilizer Sync", which is its version of black frame insertion technology. In a nutshell, Aim Stabilizer Sync switches off the backlight of the monitor in between refreshes, so as to reduce instances of blurred images on screen - do note that enabling this feature is at the expense of the monitor's brightness, and I did observe some inverse ghosting as well when it was enabled.
Other Features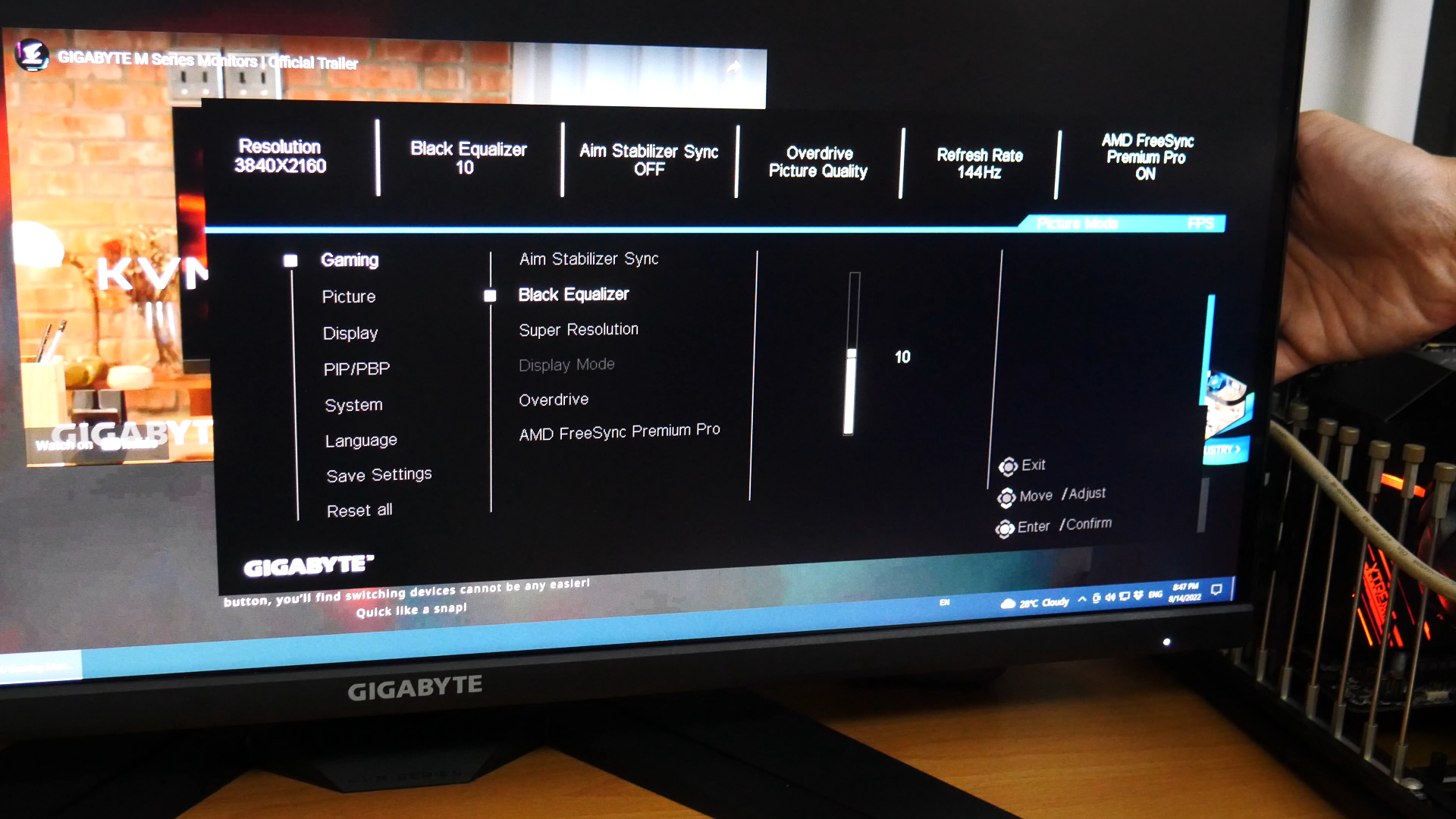 The M32U comes with a "Black Equalizer" feature which helps to lighten dark areas of games without overexposing brighter areas.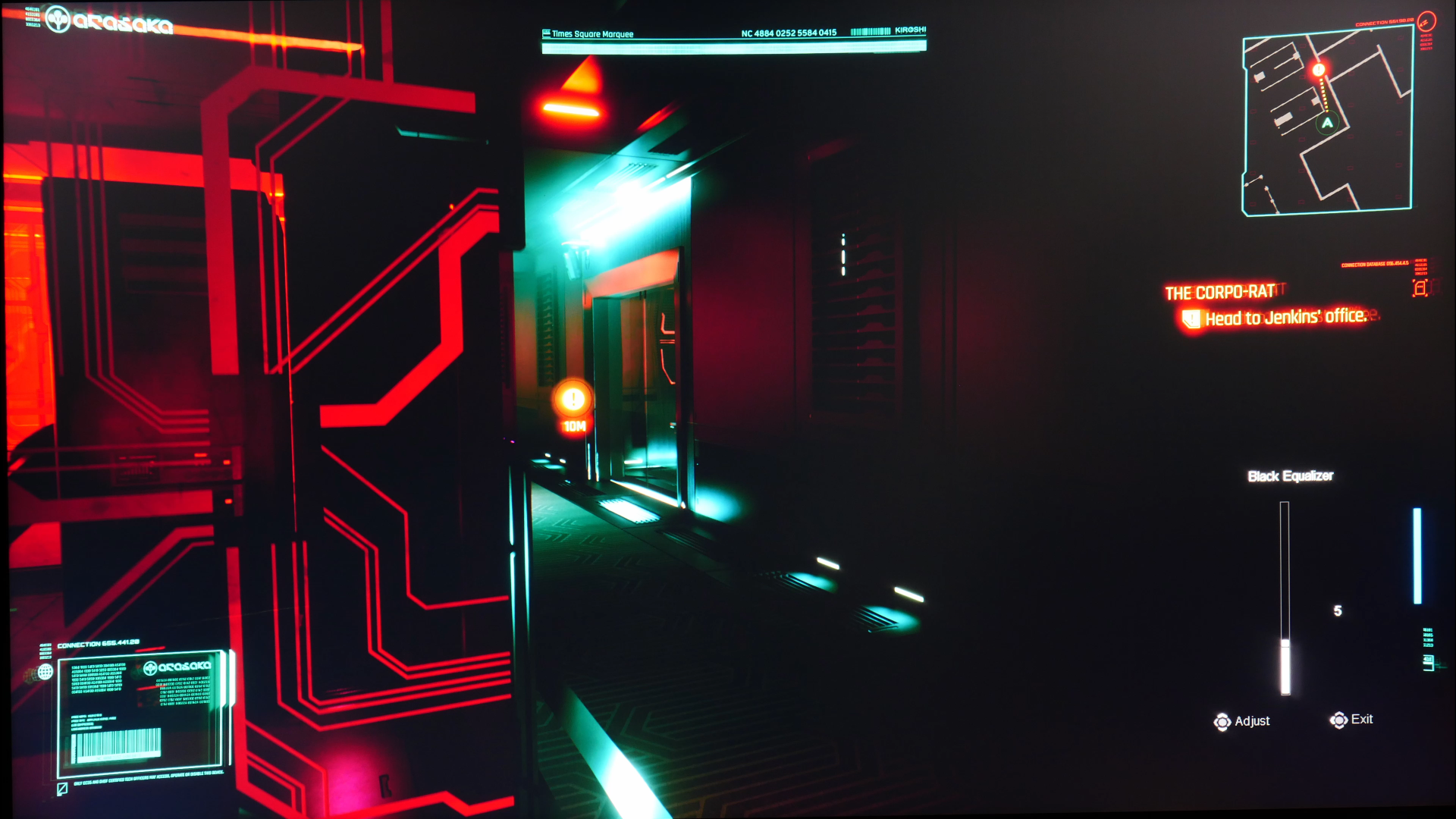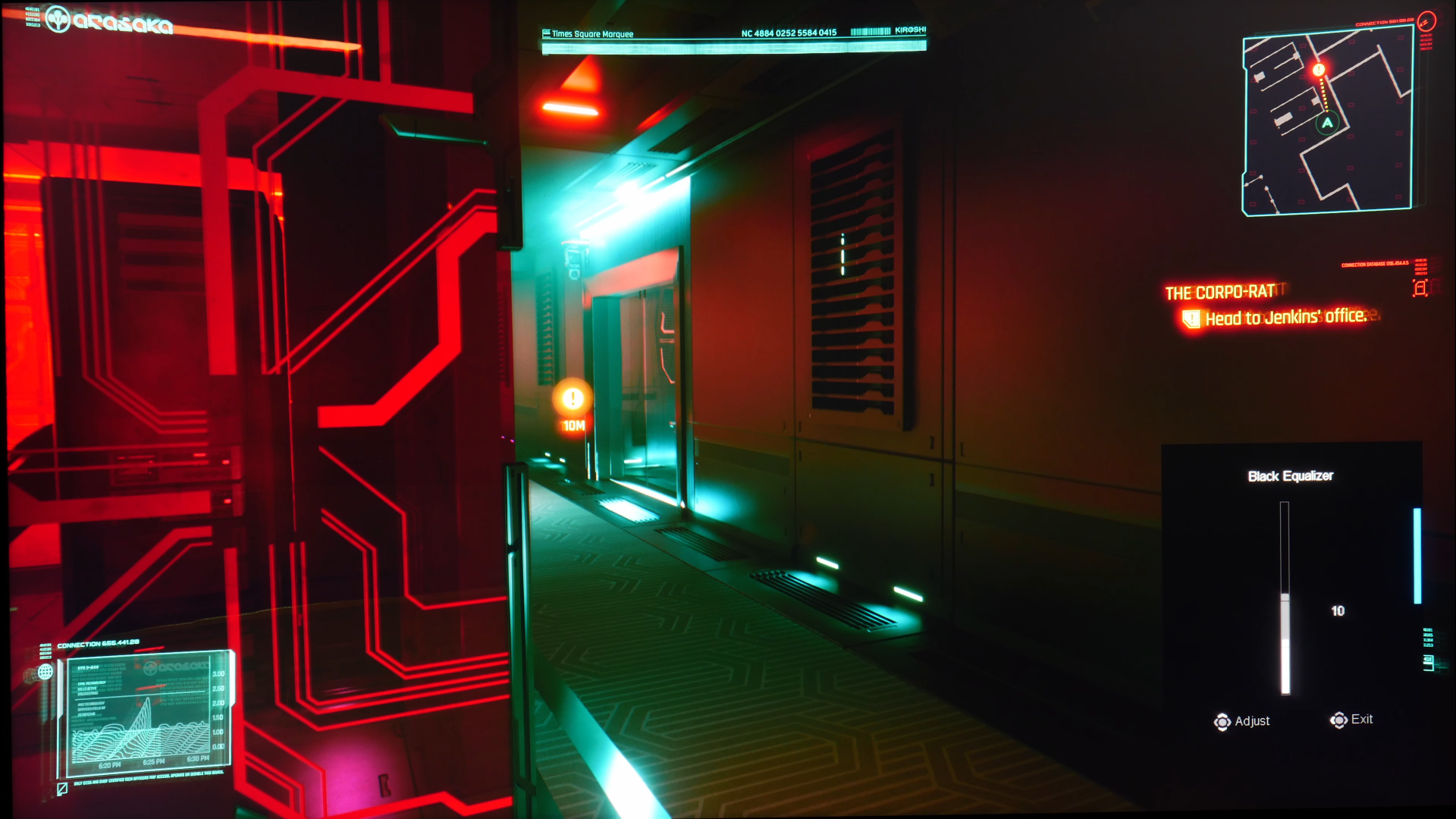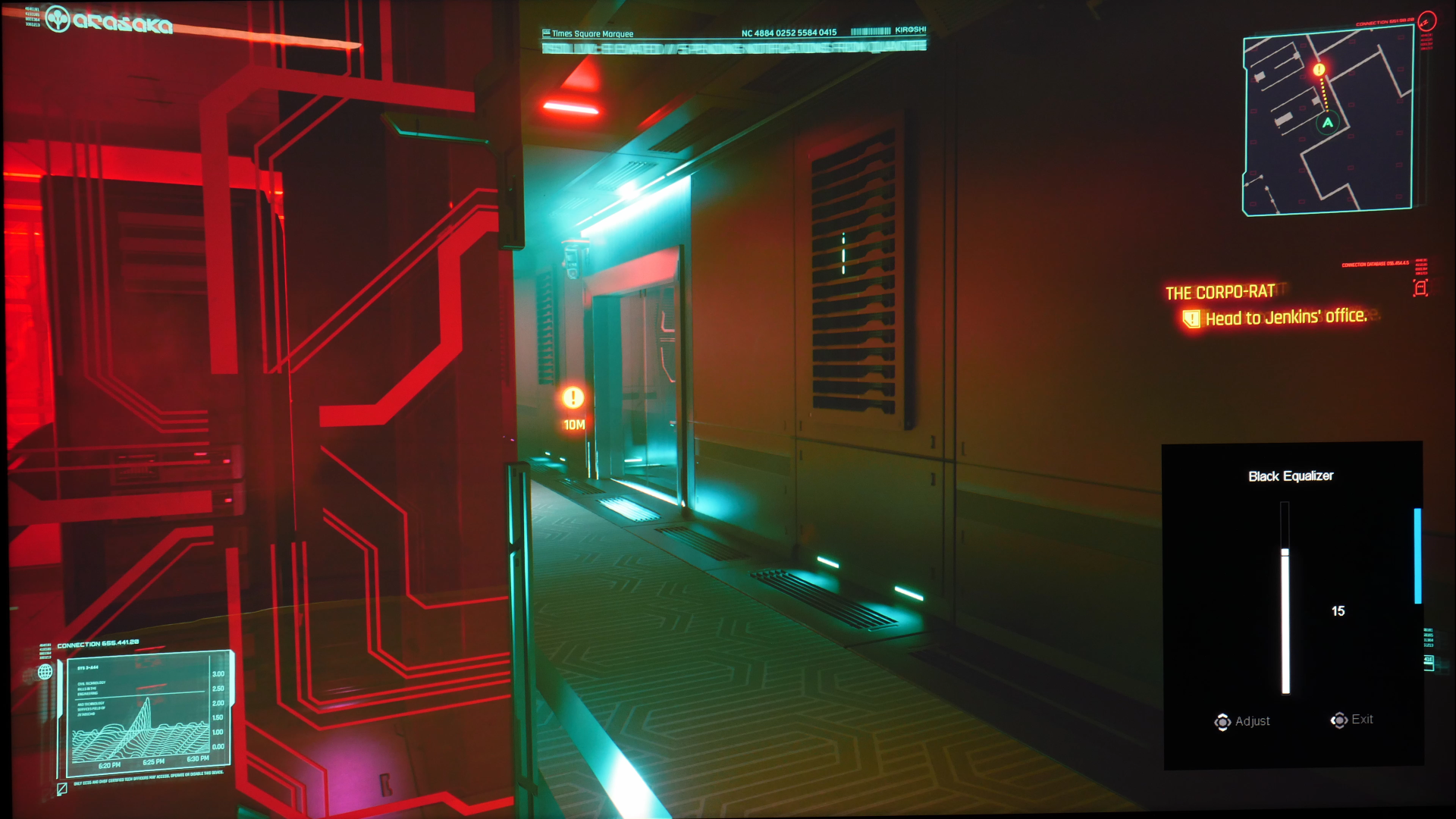 In my opinion, I found that a setting of between 8 to 12 seemed to be the sweet spot for this monitor, where anything below or above this range made on-screen visuals either too dark or washed out respectively.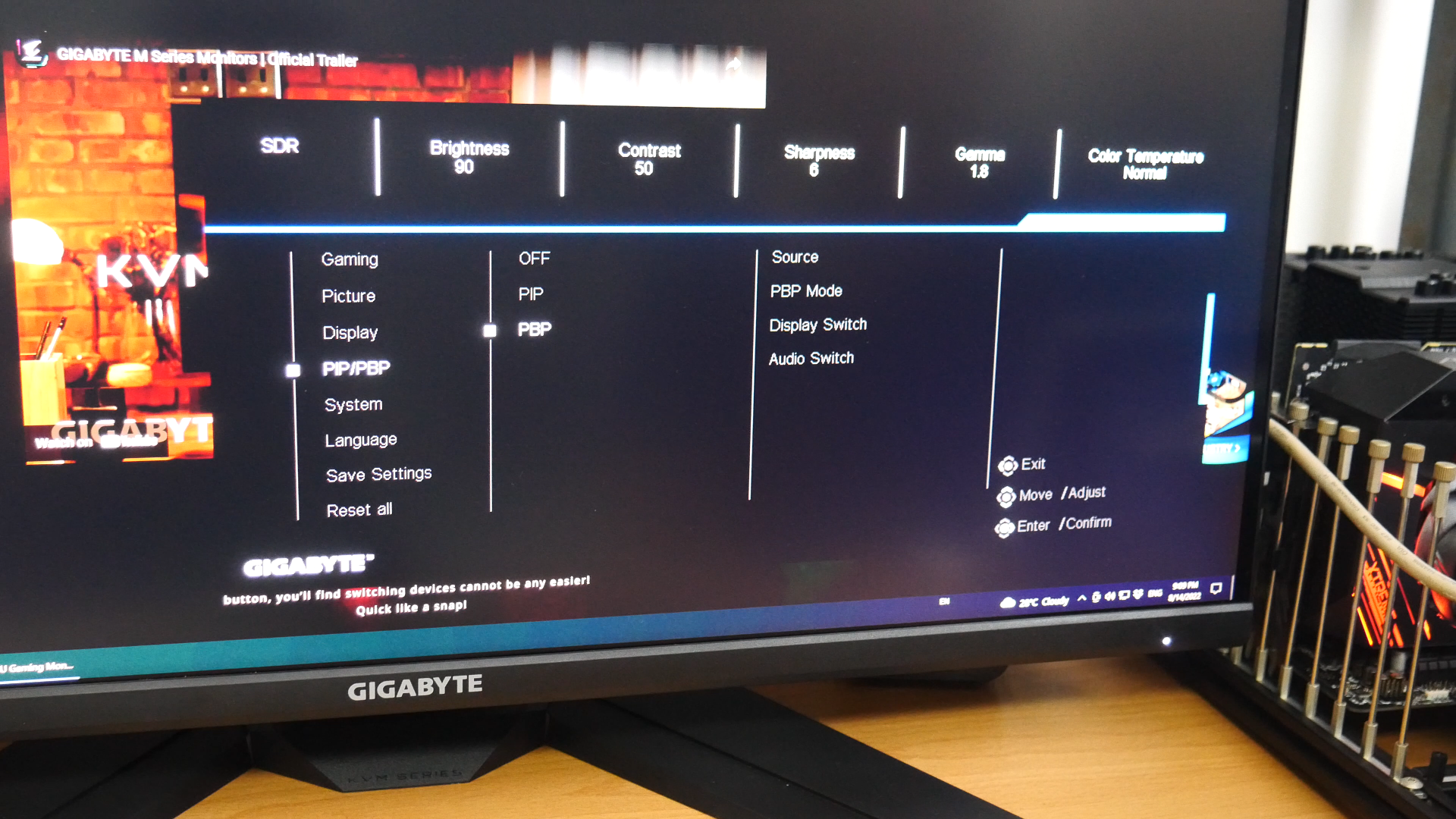 Gigabyte's also included a Picture-in-Picture (PIP) and a Picture-by-Picture (PBP) feature for the M32U, which allows end-users to have the display outputs of two devices displayed concurrently on the monitor screen, which is a nifty feature to have.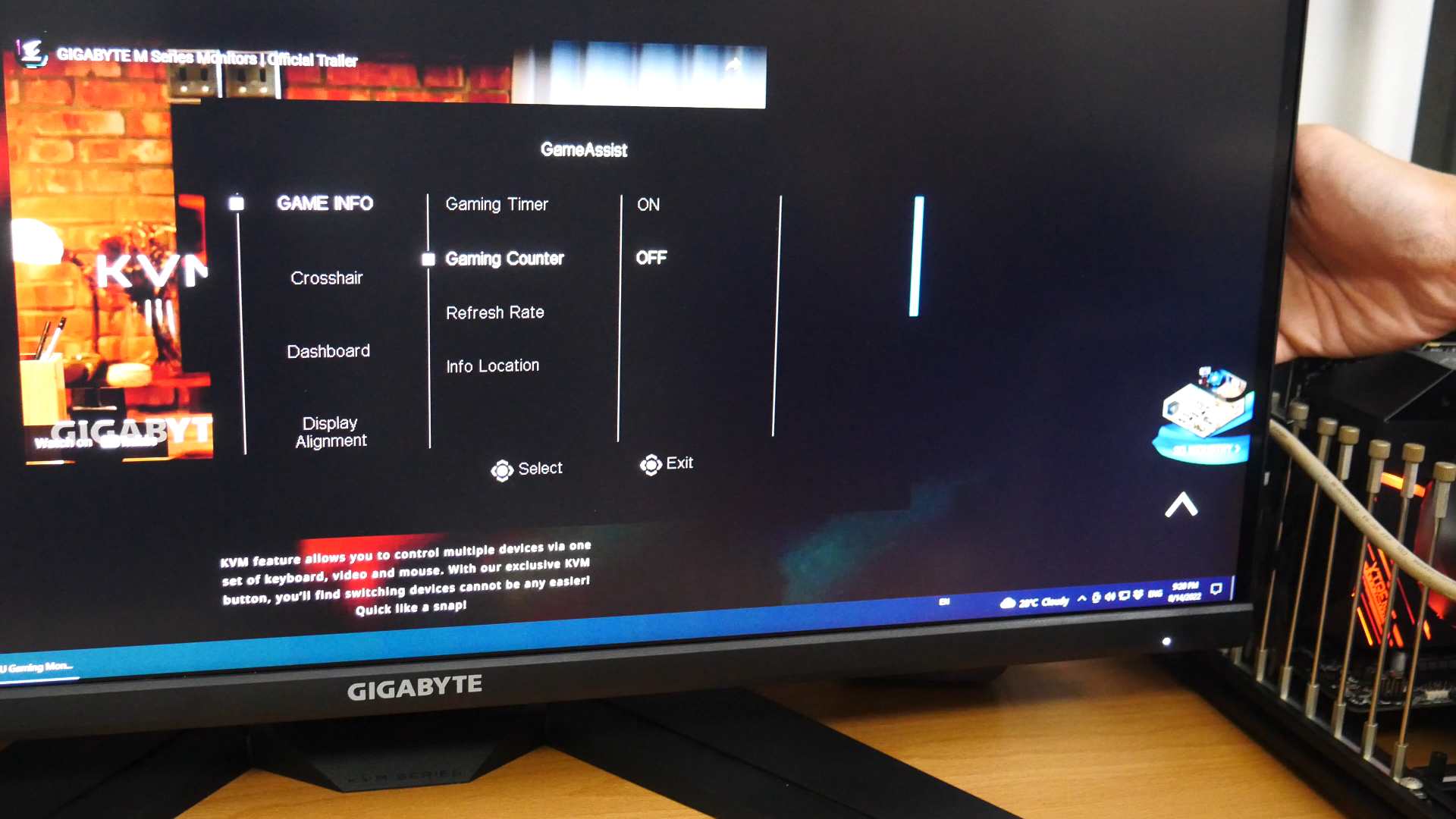 The M32U comes with "Game Assist", which includes a slew of features such as an on-screen gaming timer and counter, and can be represented in the form of an on-screen widget, like so:
Within the Game Assist menu, a Dashboard feature can be enabled to allow users to display another on-screen widget that shows vital PC statistics such as CPU and GPU temperatures, clock speeds and so on. Do note that for this feature to be enabled, your PC would have to be connected to the M32U via its upstream USB port.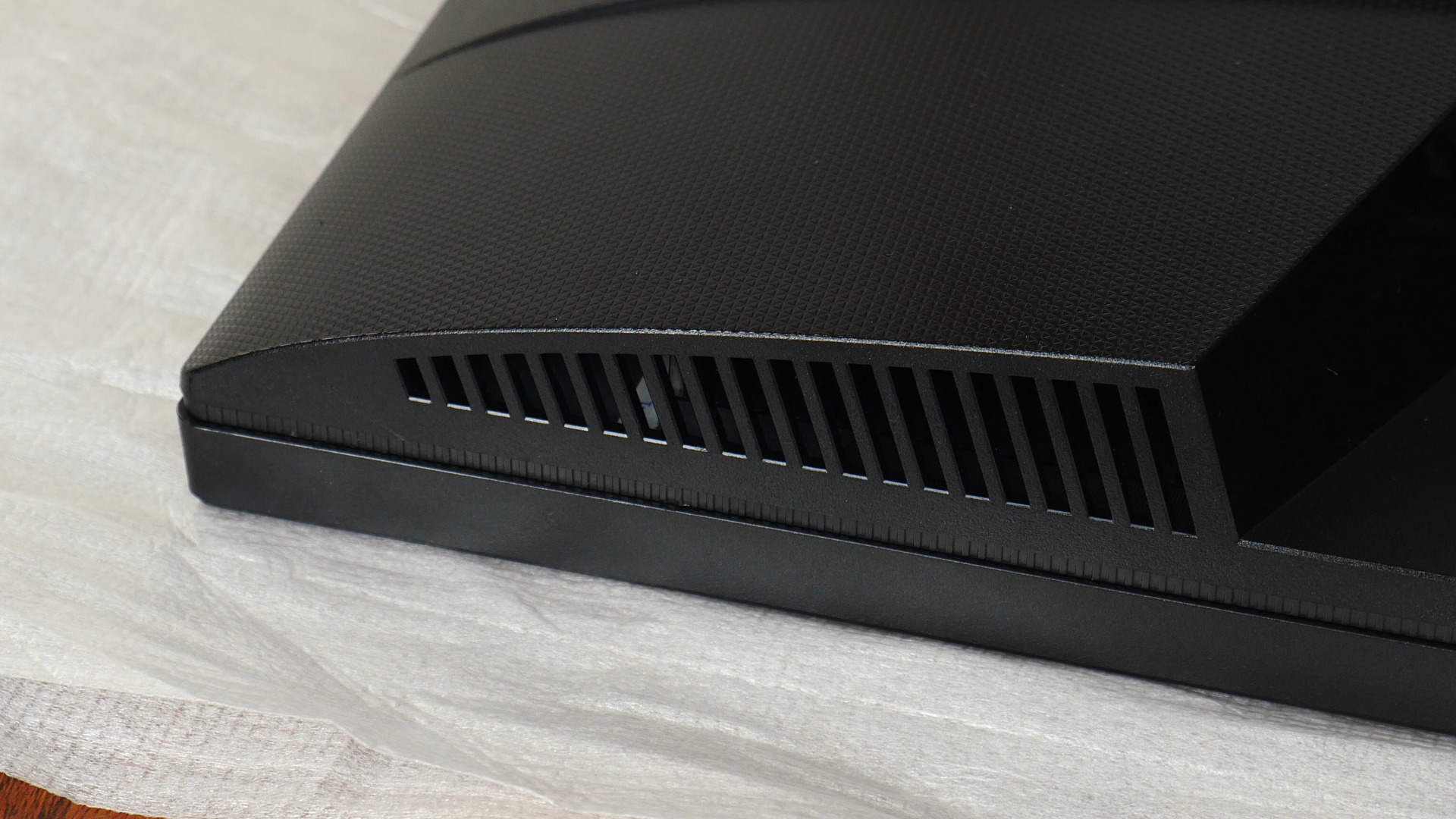 A rather surprising feature to include is a pair of 3W stereo speakers - in the spirit of built-in monitor speakers, the sound quality of the M32U's speakers leaves much to be desired. While they are plenty loud, the lack of bass and audio definition is evident, and you'd probably be better off using an external pair of speakers or headphones instead.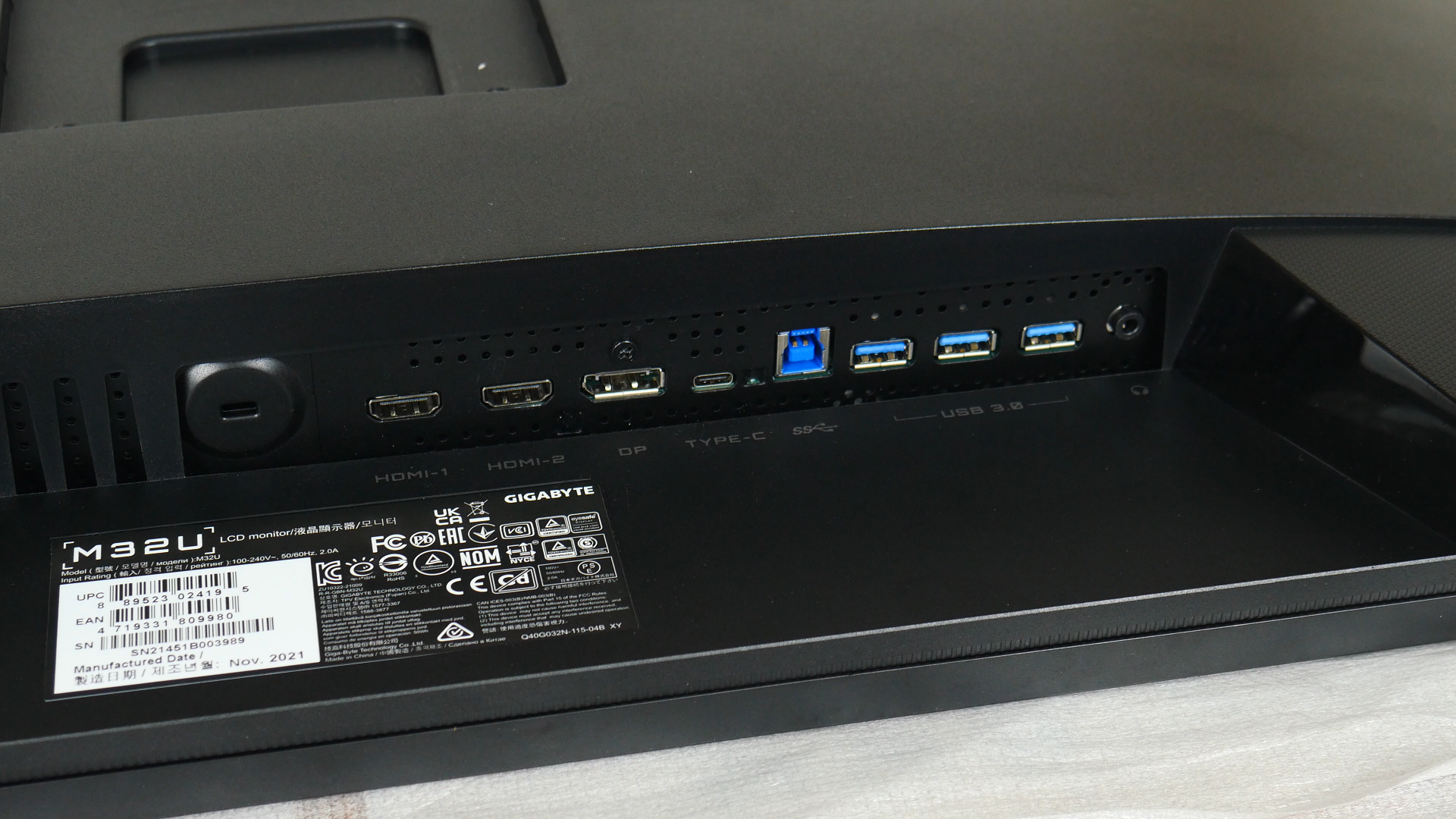 Rounding up the special features that the M32U has is a built-in KVM switch, which allows up to two devices (e.g. a desktop PC and a laptop) to be controlled with just one keyboard and mouse. Setting up the KVM switch will depend on the types of ports available on your devices.
Conclusion & Pricing
The Gigabyte M32U is a feature-rich 4K gaming monitor which sports a relatively affordable price tag compared to the rest of its competition, where as of August 2022, the M32U can be had for a price of approximately $700 US dollars from international eCommerce sites such as Newegg. In Singapore however, prices are slightly more expensive, where the monitor can be purchased for around $1199 Singapore dollars from online and offline retailers. With features such as a fast refresh rate of 144Hz, blur reduction features such as Aim Stabilizer Sync, and other value-added bells and whistles such as a built-in KVM switch, the M32U is hard to beat in terms of its pricing and value proposition. Some minor downsides to note include the speakers, which given their performance, could have been omitted from the M32U's feature set, as well as the rather ordinary appearance of the monitor, which could be a good or bad thing depending on whether or not you'd appreciate a gaming monitor having an understated aesthetic.
Get this monitor from Amazon: https://amzn.to/3dE9Oz3 (affiliate link)
Get this monitor from Shopee Singapore: https://shope.ee/8eqso8DjWr (affiliate link)
Get this monitor from Lazada Singapore: https://c.lazada.sg/t/c.YhbUBt?sub_aff_id=alktech (affiliate link)
ALKtech may earn commissions from qualifying purchases made using affiliate links, at no extra cost to you as a customer. These commissions go a long way in supporting the platform!
The monitor featured in this article was a review unit provided on loan from CDL Trading Pte Ltd, an authorised distributor for Gigabyte in Singapore.