Review: Cooler Master Mobius 120 OC 120mm Fan
The Mobius 120 OC is Cooler Master's flagship offering from its high-end Mobius line-up of performance-oriented PC cooling fans, sporting features such as a ring blade design and speeds of up to 3200 RPM.
Special thanks to Cooler Master for sponsoring the Mobius 120 OC featured in this article.
Mention the name Cooler Master and chances are, mental images of CPU coolers, case fans and PC cases would come to mind. The brand is undisputedly one of the leaders in its field when it comes to these products in the DIY PC market, having been around for 30 years and counting.
For today's article, we'll be taking a look at a new premium 120mm PC cooling fan for 2023 - the Mobius 120 OC. Hailing from the high-end Mobius range of performance-oriented case fans (that can also be used for your AIO liquid CPU cooler's radiator, or on your CPU air cooler that supports 120mm fans), the Mobius 120 OC is Cooler Master's flagship case fan product with features such as a ring blade design, three selectable speeds of up to 3200 RPM via an on-cable toggle switch, all backed by a lifetime warranty for a peace-of-mind.
Summary of Specifications (MFZ-M2NN-32NPK-R1)
Dimensions: 120mm x 120mm x 27mm
Fan Speeds: Low (0-1500 ± 200 RPM), Medium (0-2400 ± 250 RPM), High (0-3200 ± 10% RPM)
Airflow: 42.2CFM (Low), 65.5CFM (Medium), 88.1CFM (High)
Fan Bearing Type: Double ball bearings
RGB: No
Warranty: Lifetime
Packaging & Accessories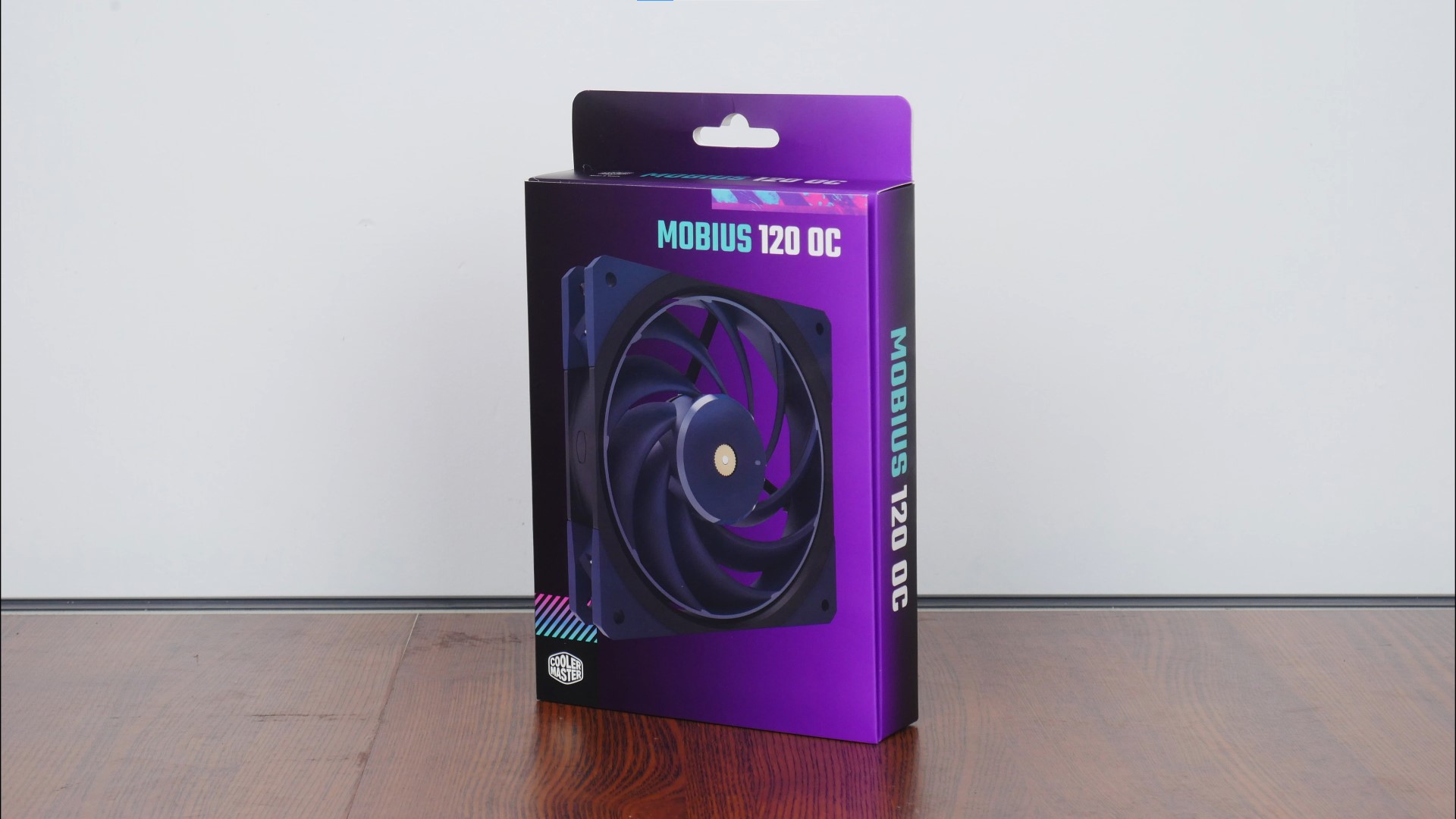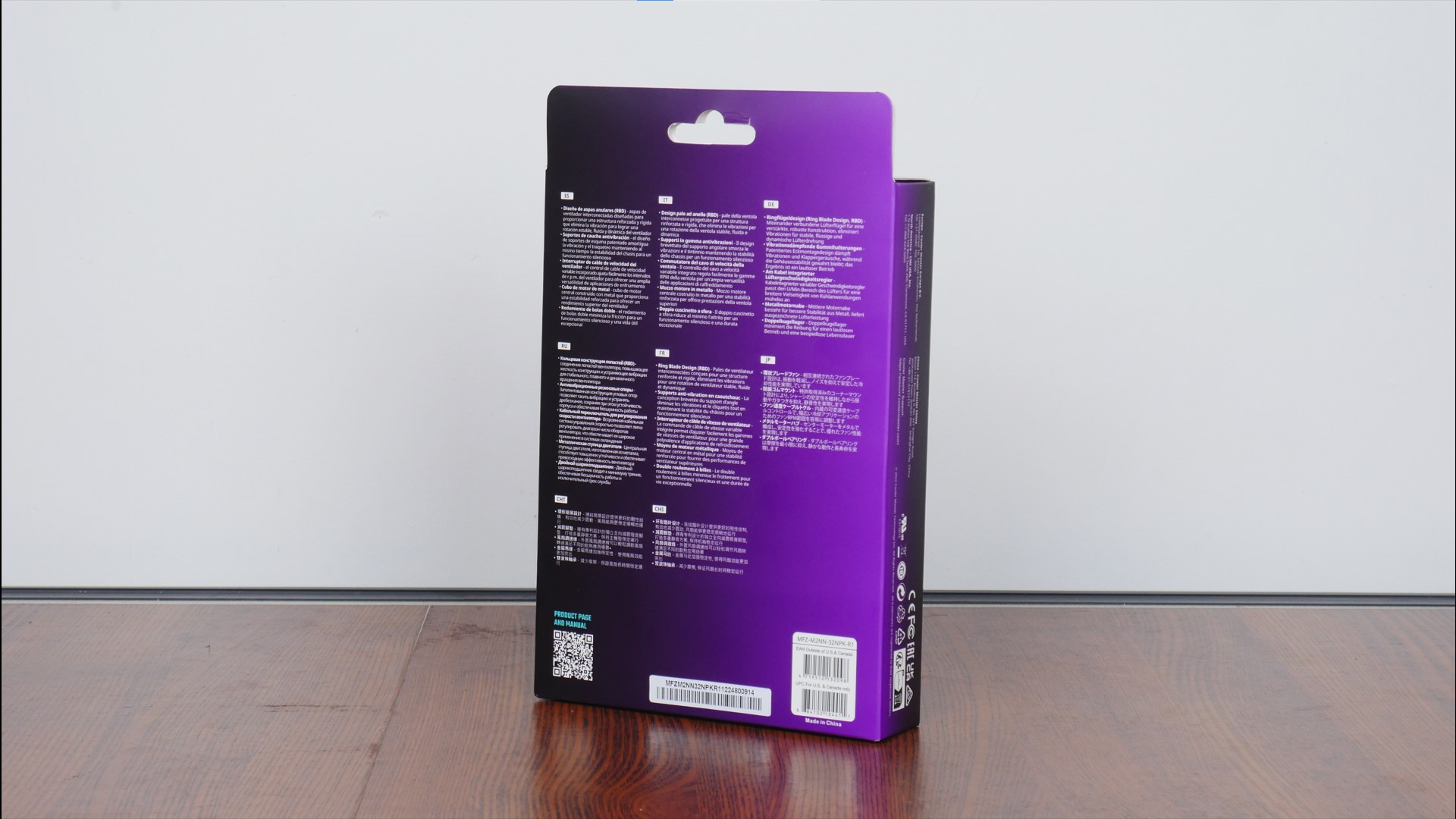 The Mobius 120 OC comes in a box sporting Cooler Master's signature brand colours = purple with splashes of cyan and pink for added visual appeal.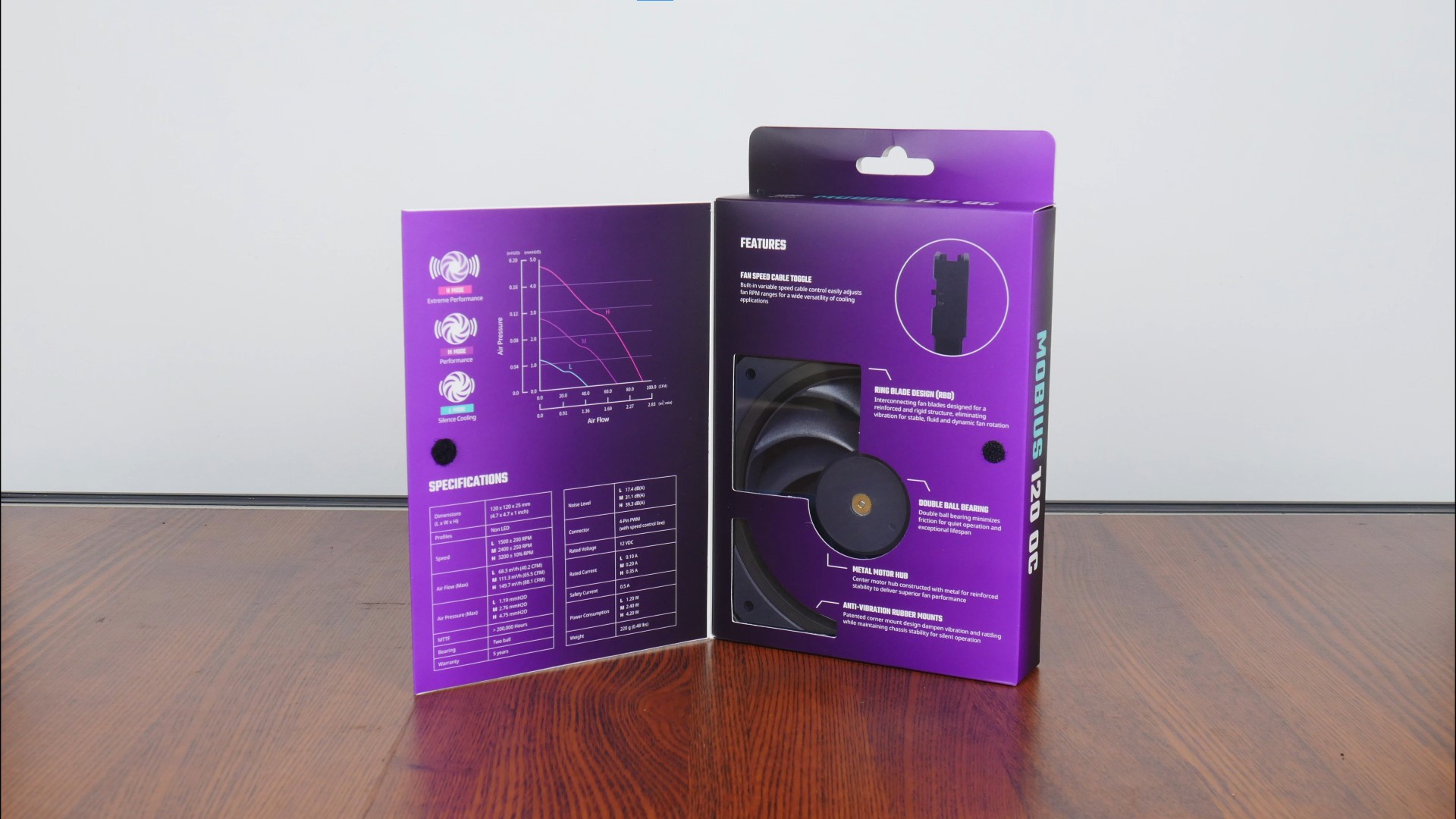 The box features a lid that is held in place by Velcro stickers - opening up the lid reveals a clear plastic window through which one can take a quick peek at the Mobius 120 OC, as well as some writeups on the key features that the fan comes with.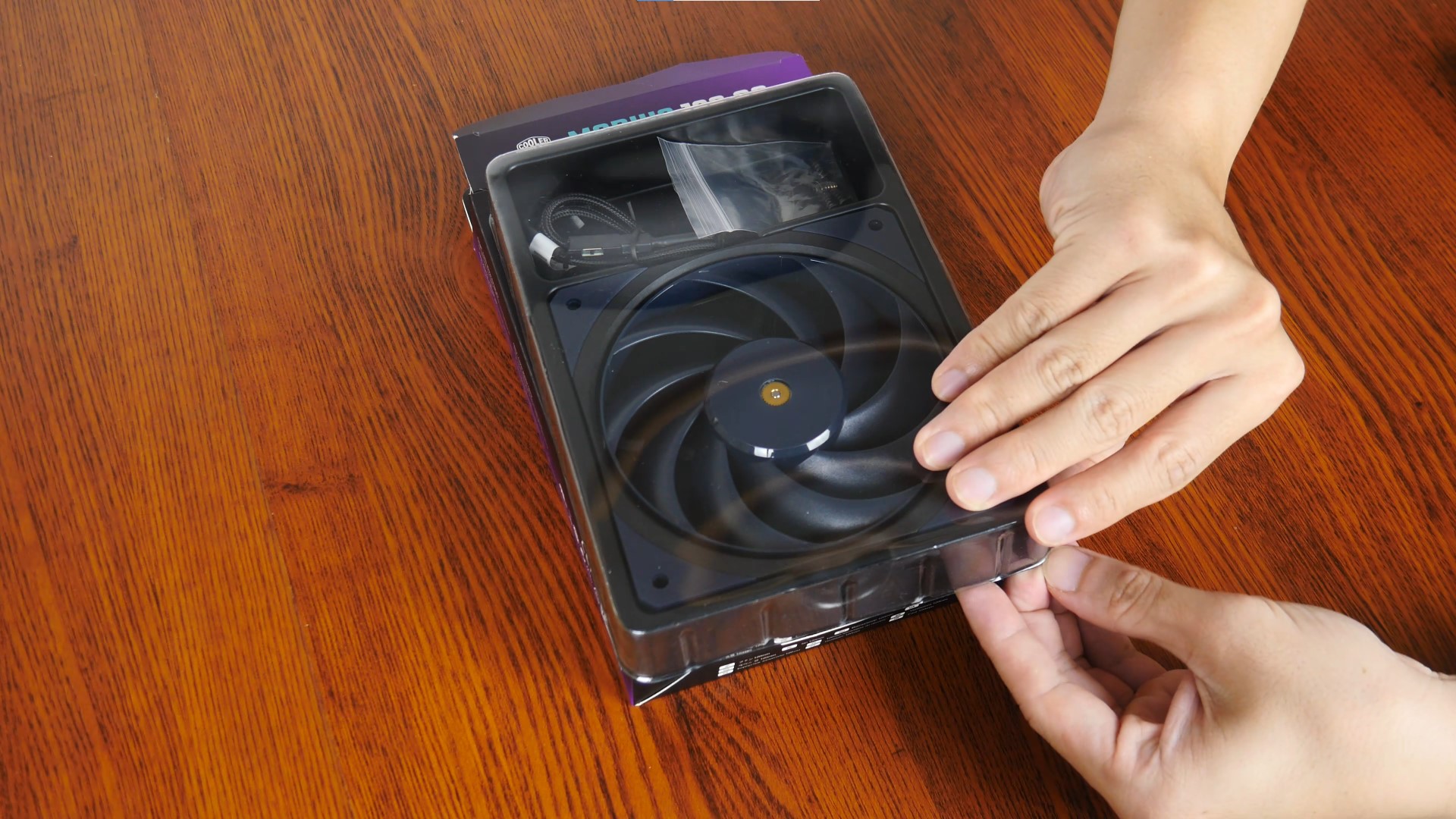 Cooler Master's included the following accessories with the Mobius 120 OC:
4x metal screws
4x anti-vibration mounts (can be used in place of the metal screws to secure the fan to your PC case)
Aesthetics & Physical Features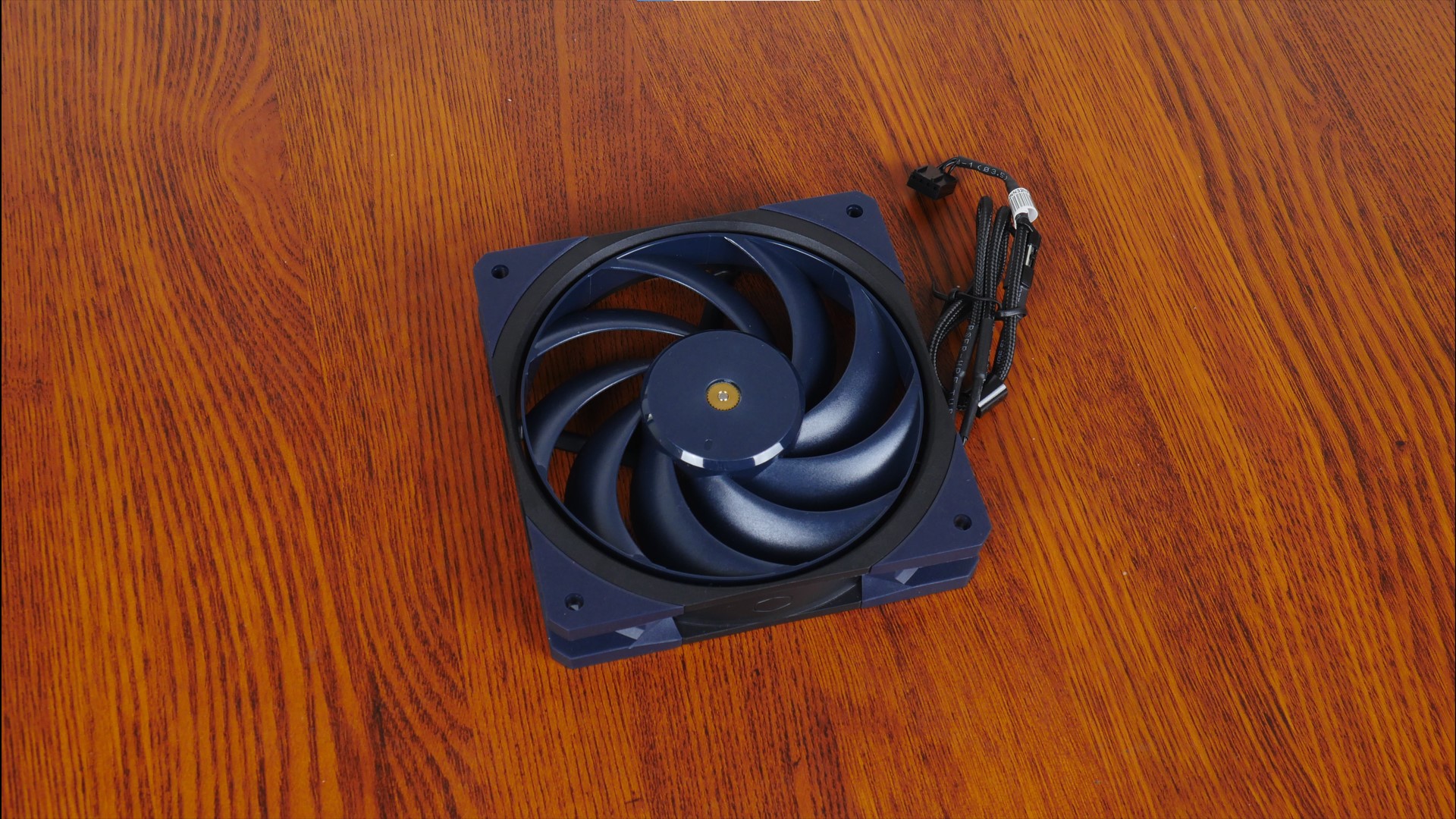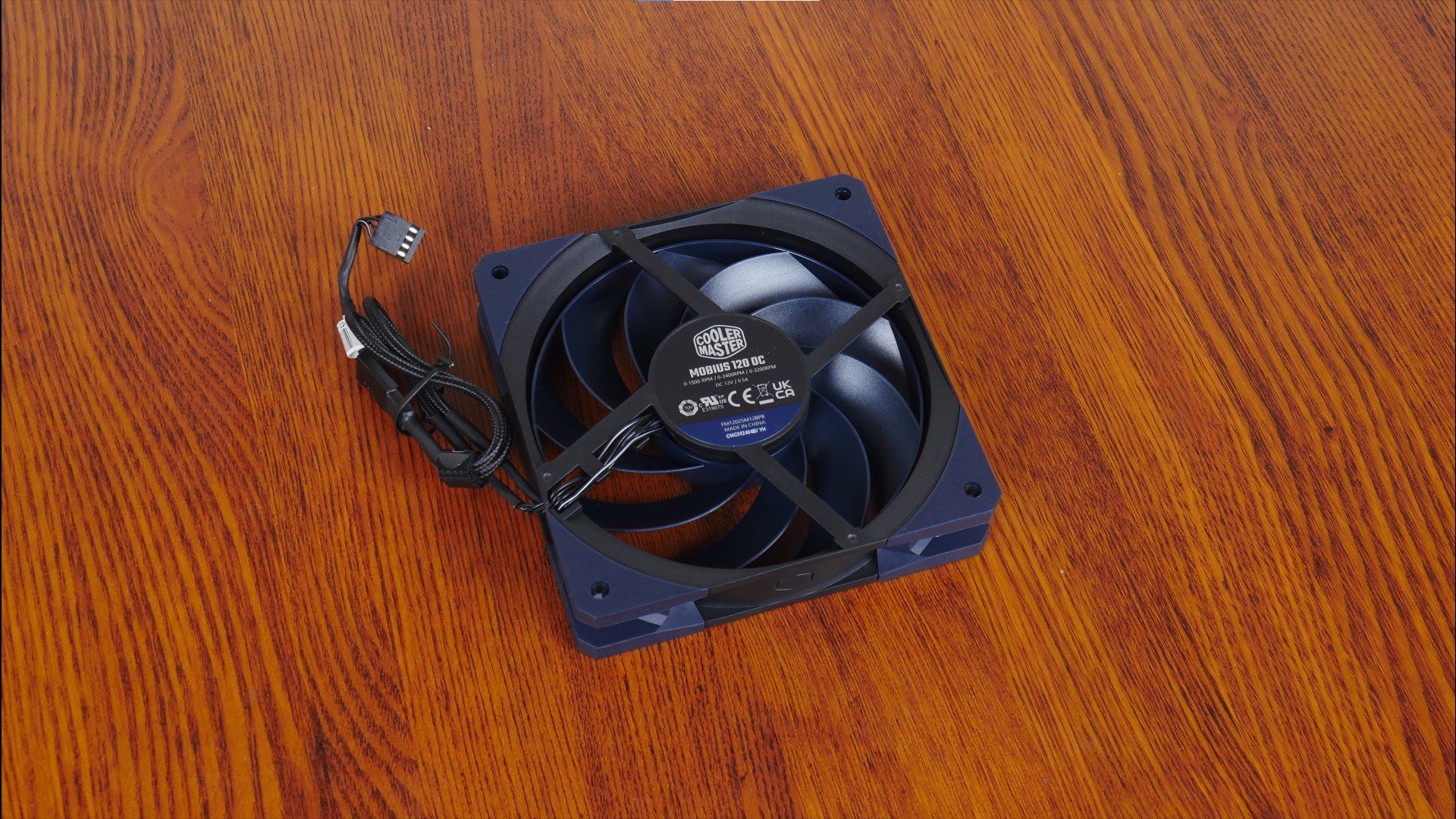 Interestingly, Cooler Master's opted for a navy blue and black colourway for the Mobius 120 OC, where the fan assembly and corner mounts are of the said navy blue colour, whilst the fan frame is finished in black. The fan sports nine blades with a ring blade design that helps with reducing unwanted vibrations, a key bugbear of high-RPM fans. It also comes with a metal motor hub with double ball bearings for better fan performance and quieter operation to boot. If you're a RGB junkie, it's worth noting that the Mobius 120 OC does not come with RGB LED accents of any sort.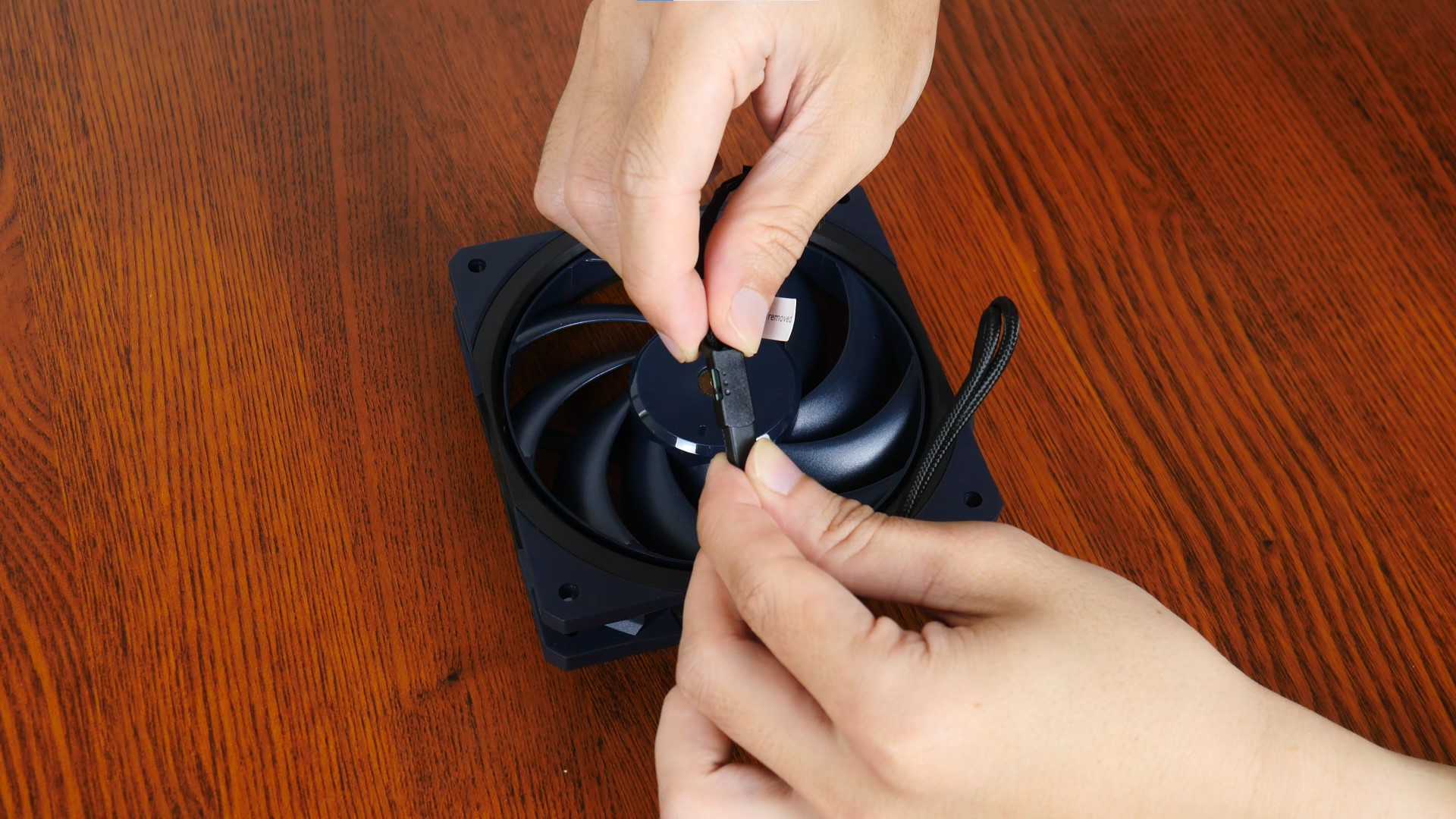 A key feature of the Mobius 120 OC is the inclusion of an on-cable speed toggle switch, that allows users of this fan to select from three preset fan speeds on-the-fly. The Low setting gets you a speed of 1500 RPM, the Medium setting 2400 RPM, and the High setting a whopping 3200 RPM.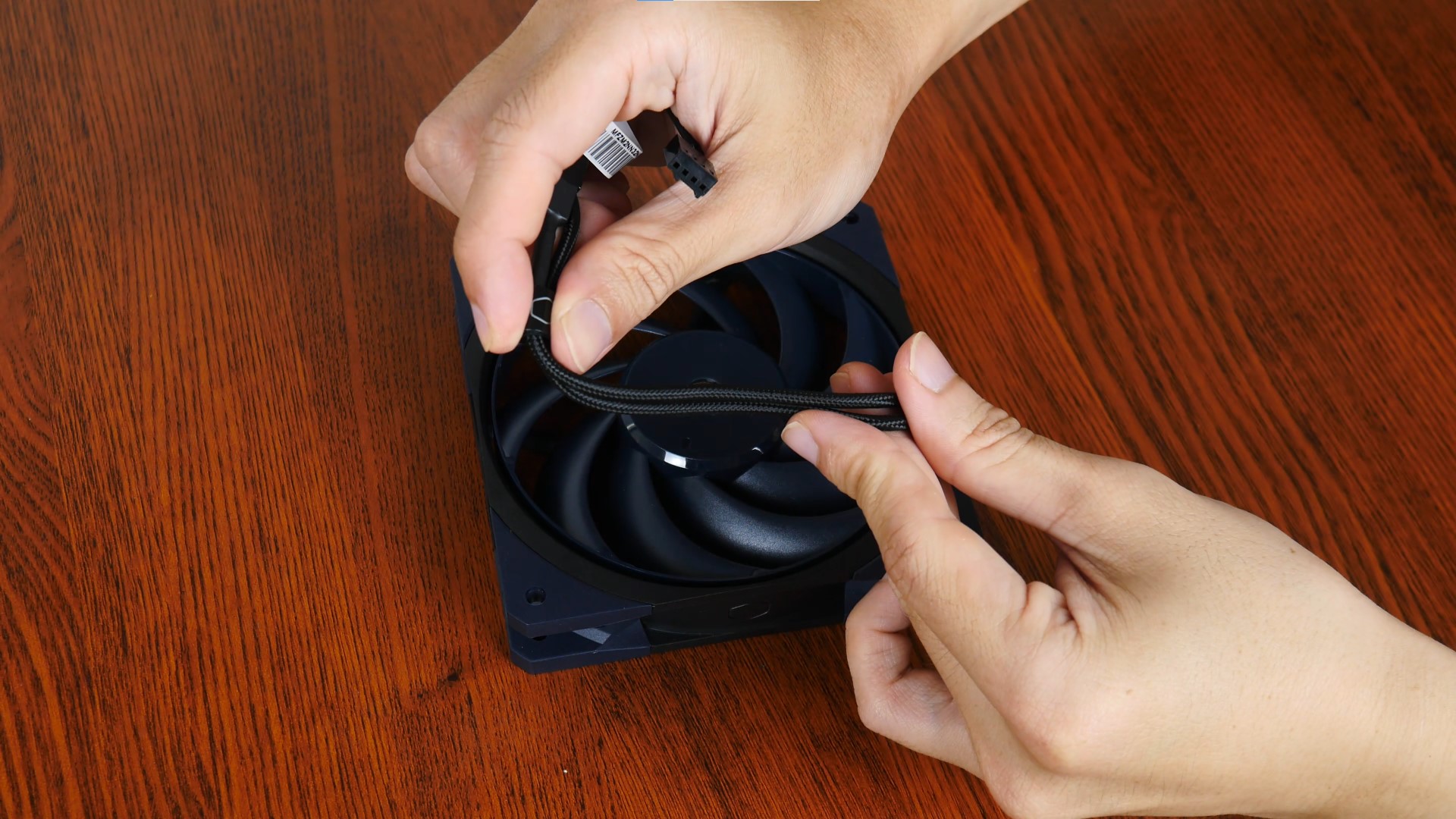 As a nod to the fan's flagship pedigree, the four-pin PWM connector sports a braided cable design for a premium look and feel.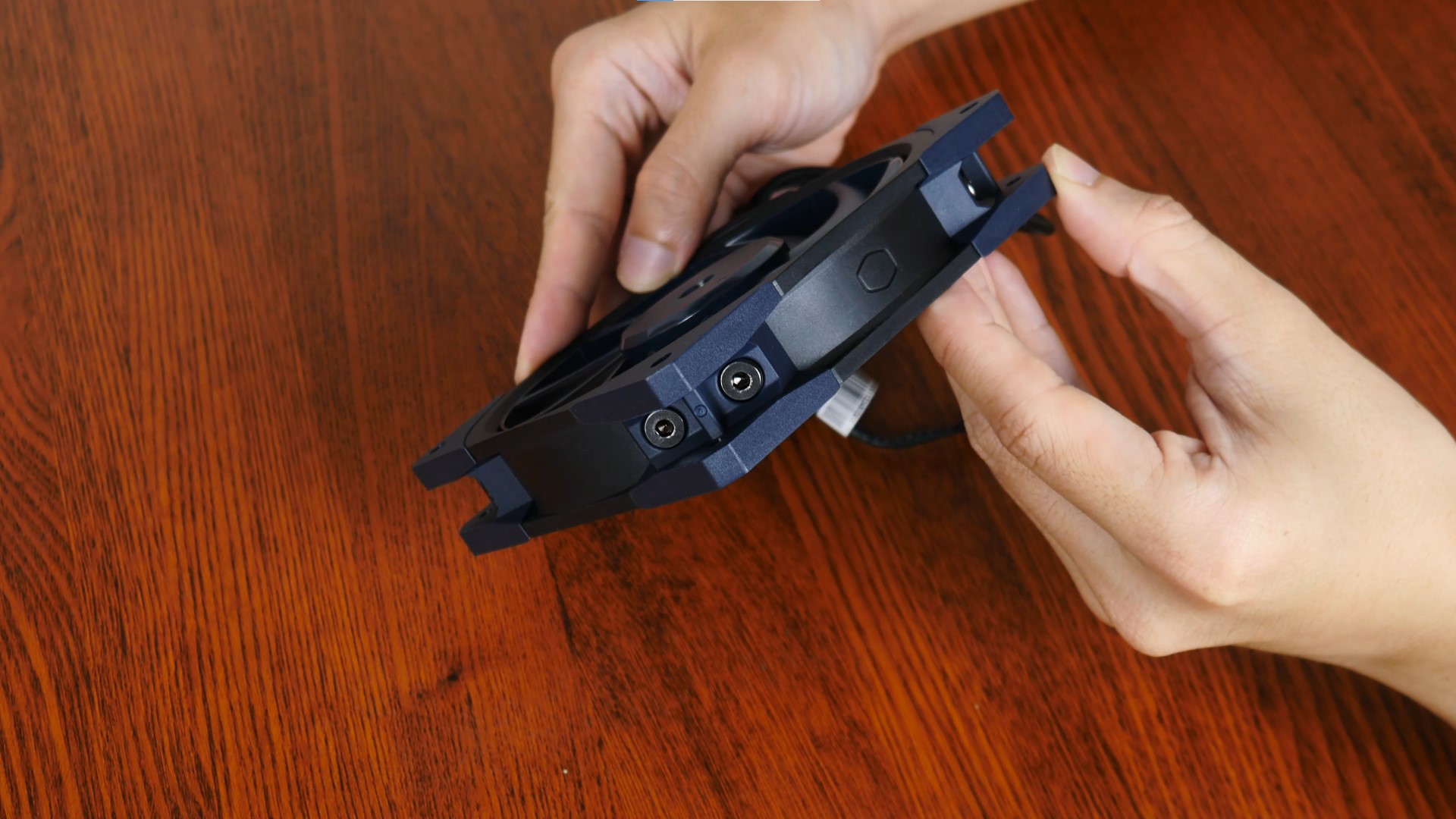 Another feature worth mentioning is the Mobius 120 OC's anti-vibration dampeners found on the four corners of the fan frame, which sport a premium design that should go a long way in reducing unwanted vibrations.
Test Bench Specs, Testing Methodology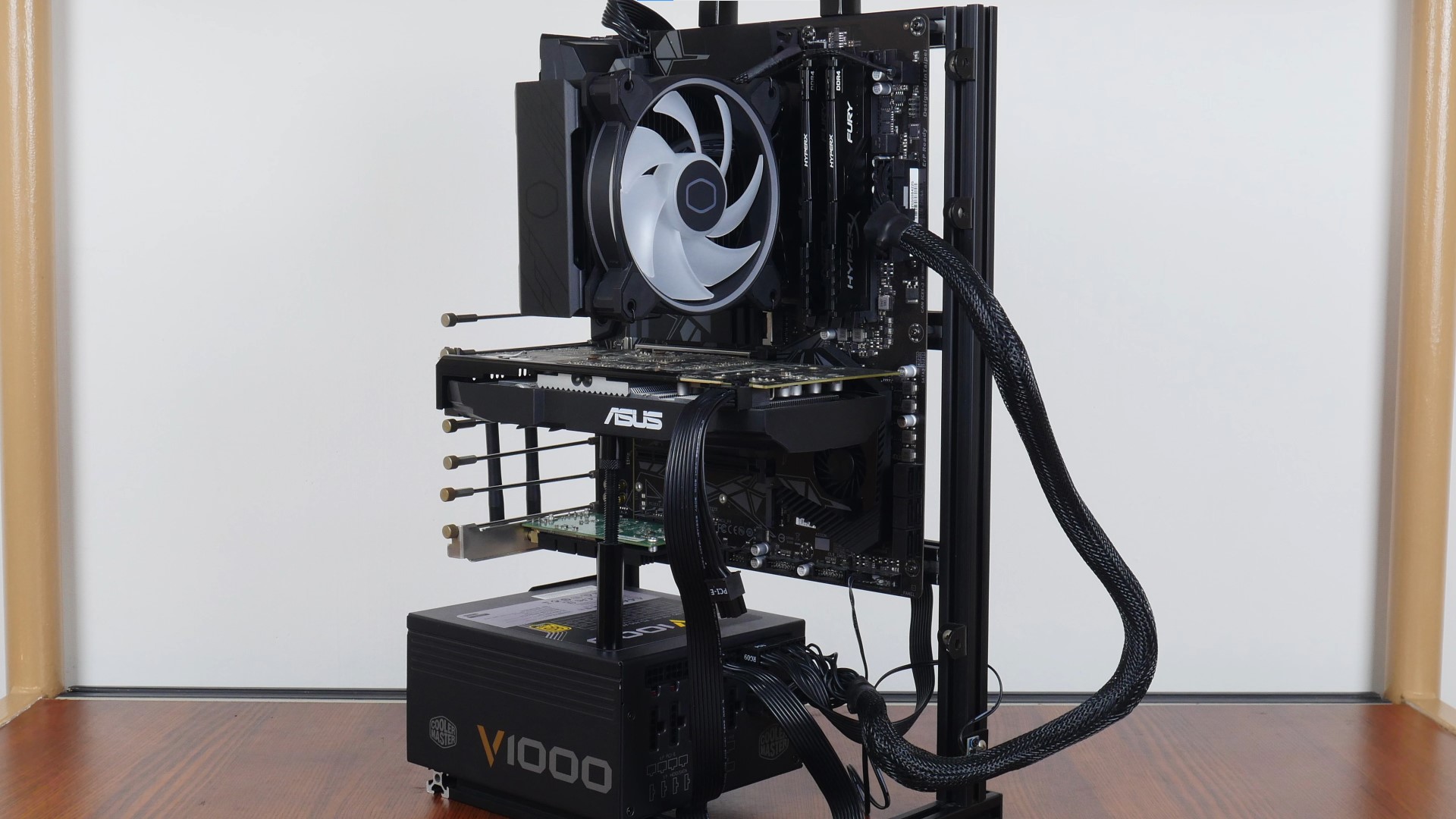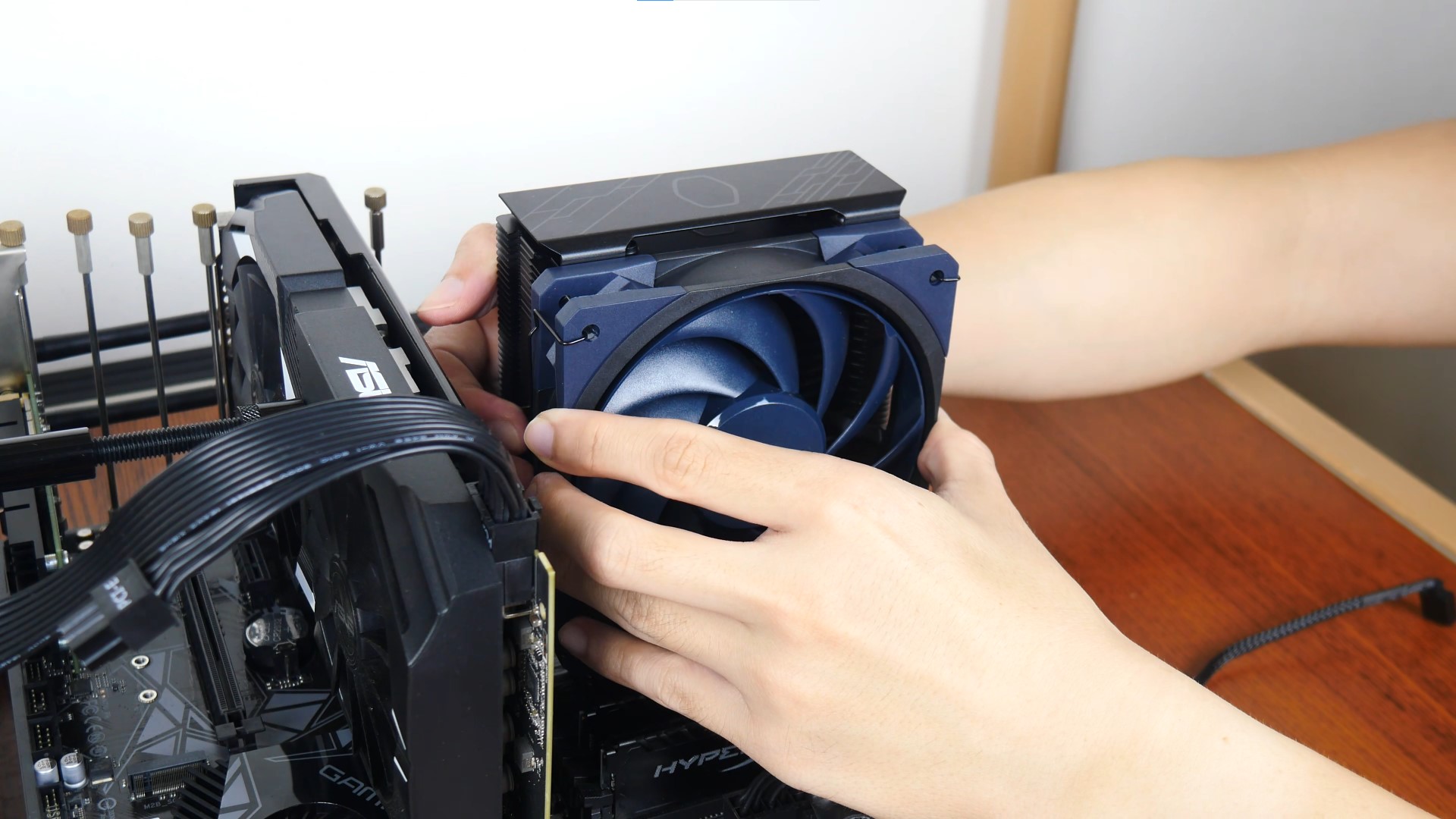 To do a quick test of the cooling prowess of the Mobius 120 OC, it'll be used to replace the stock Cooler Master MF120 HALO² fan that comes as standard with the Cooler Master Hyper 212 Halo Black, a mid-range CPU air cooler, where the said cooler will then be installed on an AMD AM4 test bench with a Ryzen 5 5600 processor.
Test Bench Specifications
CPU: AMD Ryzen 5 5600
CPU Cooler: Cooler Master Hyper 212 Halo Black with Cooler Master MasterGel Pro thermal paste
Motherboard: Gigabyte X570 GAMING X
Memory: 2x8GB Kingston HyperX Fury DDR4 3200
Graphics: ASUS DUAL RX 580 4GB OC
Storage: Gigabyte NVMe SSD 512GB
Power Supply: Cooler Master V1000 Gold
Case: OEM open-air test bench
OS: Microsoft Windows 11 Pro (21H2)
The Cinebench R23 multi core test was used to assess the performance of the Mobius 120 OC on the Hyper 212 Halo Black's cooling tower. For comparison purposes, the same test was also run under the same conditions using the Halo Black's stock fan, the MF120 HALO².
The hardware monitoring app HWiNFO64 was used to measure and log the CPU's temperature throughout the entirety of testing, where the "CPU CCD1 (Tdie)" readouts were used. In addition, during testing, the default BIOS fan curve was used, and the approximate temperature of the test bench's surroundings was measured to be around 29°C.
Test Results
As can be seen above, using the Mobius 120 OC on the Medium and High fan speed settings resulted in temperature drops of between 1.6°C to 2.3°C when compared to the stock MF120 HALO² fan's performance. In addition, at the Low fan speed setting, which saw the Mobius 120 OC spin at an estimated average speed of 1435 RPM, the Ryzen 5 5600 achieved an average CPU CCD1 temperature reading of 62.2°C - this is in contrast to the MF120 HALO², which spun at a higher speed of around 1850 RPM on average to achieve a similar average CPU CCD1 reading of 62.1°C. Again, during the entirety of testing, the default BIOS fan curve was used, where the system was left to its own devices to adjust the fan speed to suit the CPU's load and heat output levels.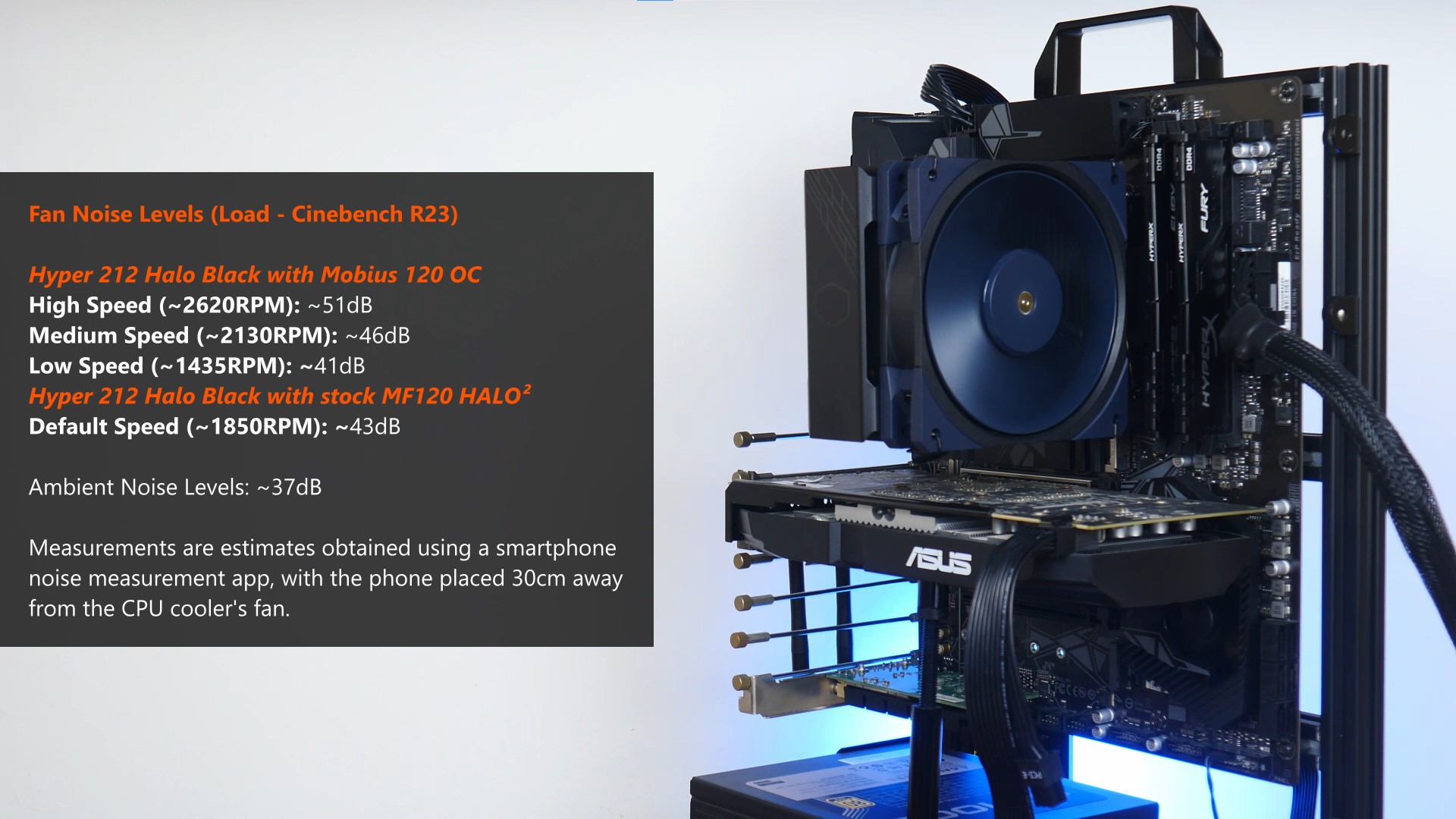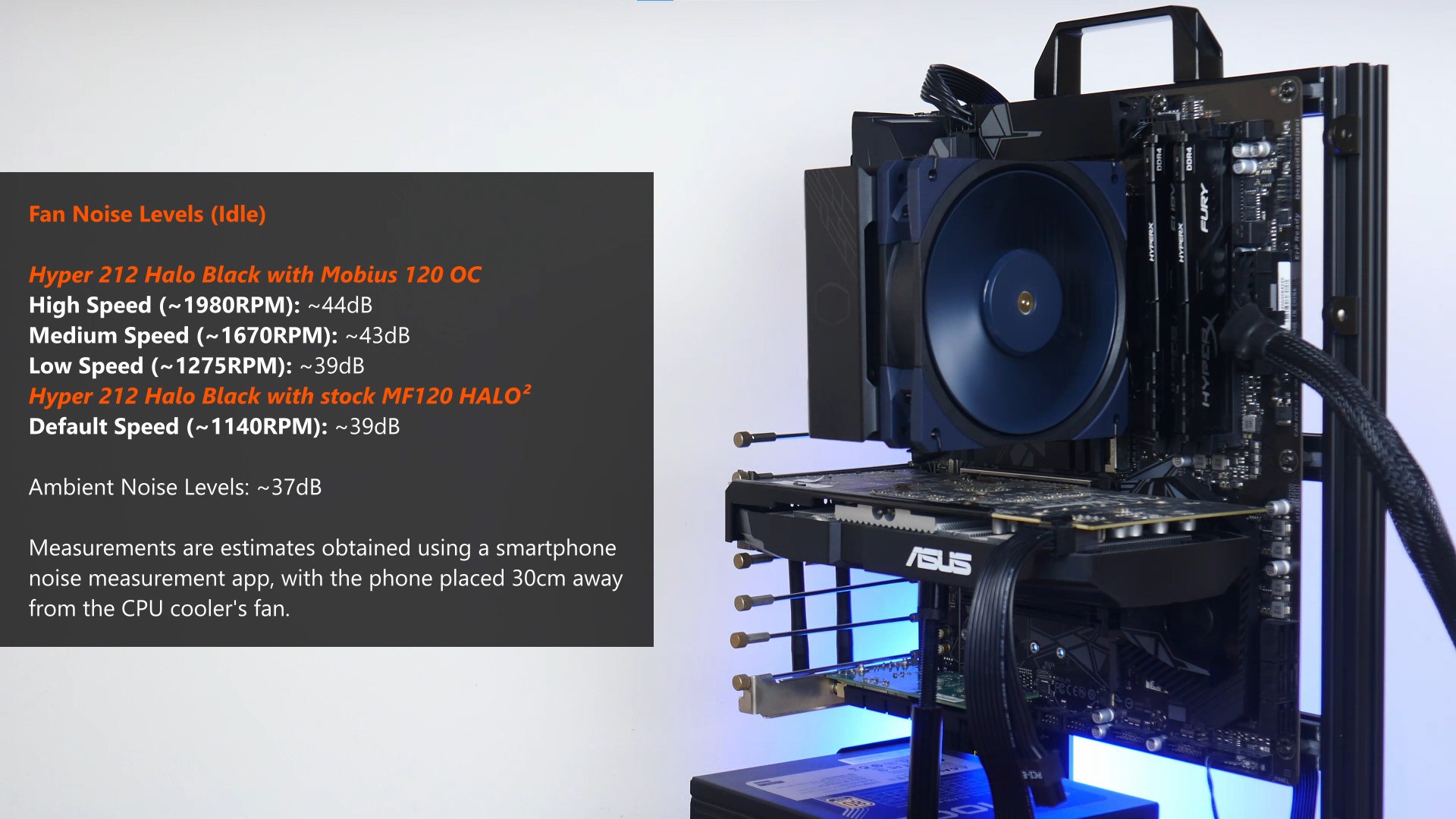 In terms of fan noise, while I did not have a proper decibel meter with which to measure the noise output from the Mobius 120 OC, I made do with a noise measurement app on my smartphone instead to get a rough estimate, where I placed my phone placed 30cm away from the CPU cooler's fan. On the whole, I found the Mobius 120 OC to be relatively quiet at the Low and Medium speed settings. On the High speed setting, which saw the fan spin up to an average speed of around 2620 RPM, the fan was noticeably louder, but not in a way that I found too overbearing.
Conclusion & Pricing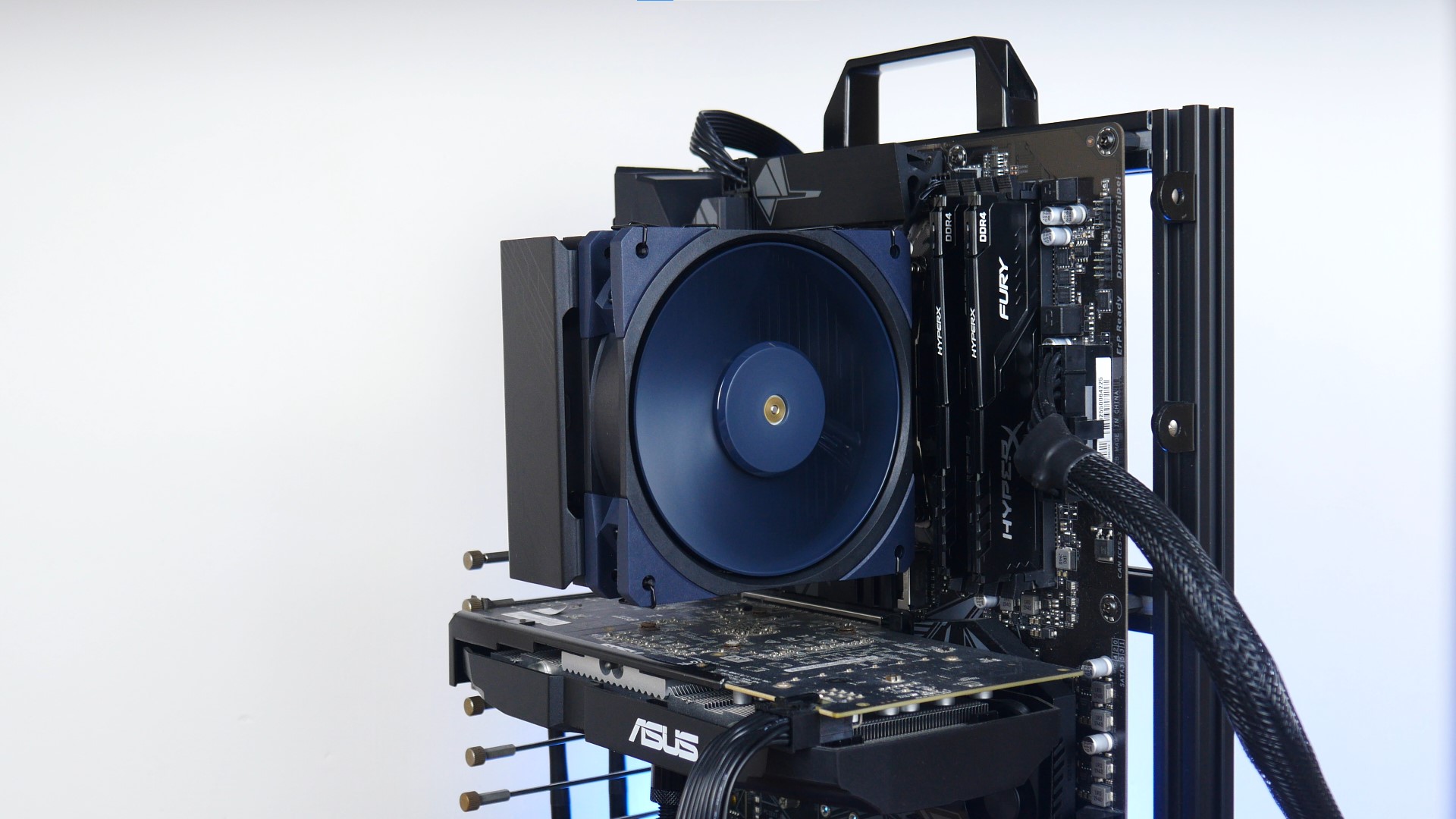 All in all, the Cooler Master Mobius 120 OC is indeed a flagship high-performance case fan that looks the part, and performs pretty well – this fan would definitely be at home on the radiators of high-end AIO liquid CPU coolers and high-end CPU air coolers so as to maximise its potential. Even when installed on a CPU air cooler such as the Hyper 212 Halo Black, a decent amount of improvement in thermal performance was obtained, despite the fact that the Hyper 212 Halo Black is a mid-range offering with a slim cooling tower design.

As of early April 2023, the Mobius 120 OC is available to purchase for a price of around $35 US dollars from e-Commerce sites such as Amazon, which converts to roughly $47 Singapore dollars.
Get this CPU cooler from Amazon: https://amzn.to/3ZG1K3h (affiliate link)

ALKtech may earn commissions from qualifying purchases made using affiliate links, at no extra cost to you as a customer. These commissions go a long way in supporting the platform!

The CPU cooler featured in this article was sponsored by Cooler Master.