Is your high-end wireless gaming router running hot? Cooler Master's Connect Stand could be just the product to keep your router's temperature in check.
Special thanks to Cooler Master for sponsoring the Connect Stand featured in this article.
Manufacturers of networking products are constantly pushing boundaries when it comes to data transfer speeds, especially with regard to wireless data transfer standards. With the latest WIFI 7 standard just around the corner, no surprises then, that the wireless networking devices of today have come to run hotter than before, as they pack more and more features to ensure the fastest possible wireless data transfer speeds. Enter the Cooler Master Connect Stand, a networking device cooler that could just be the accessory to have, so as to ensure that devices such as a WIFI 6E gaming router runs as cool as possible for maximum performance.
Summary of Specifications (MNX-SSRK-12NFK-R1)
Material: Metal mesh, plastic, rubber
Dimensions: 295mm x 170mm x 74mm
Fan Type: Cooler Master SickleFlow 120 Reverse Edition
Fan Speed: 1200 RPM ± 10%
Fan Airflow: 39.7 CFM ± 10%
Fan Noise Level: 22.3 dBA
Max. Loading Weight: 5kg
Packaging & Accessories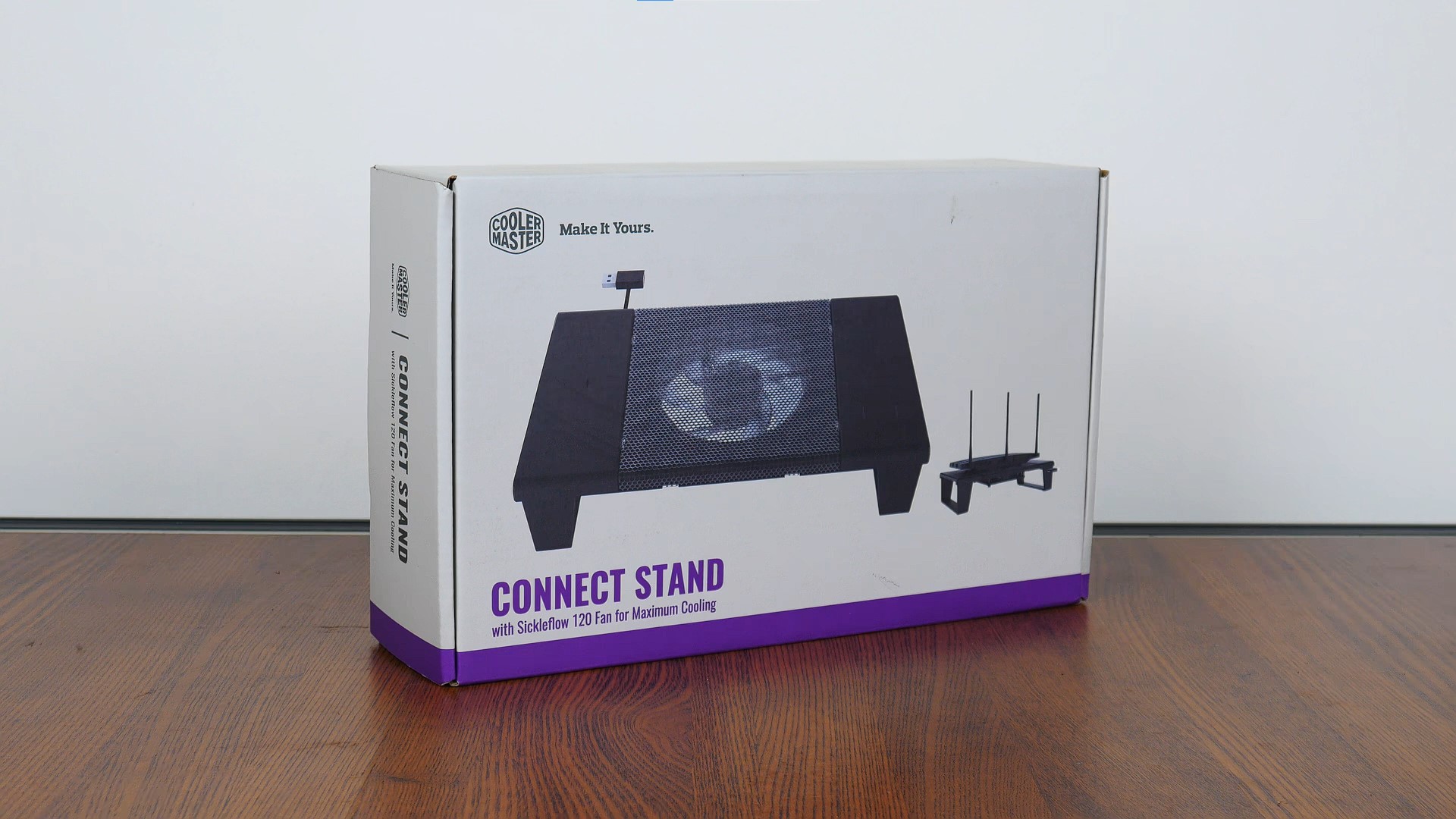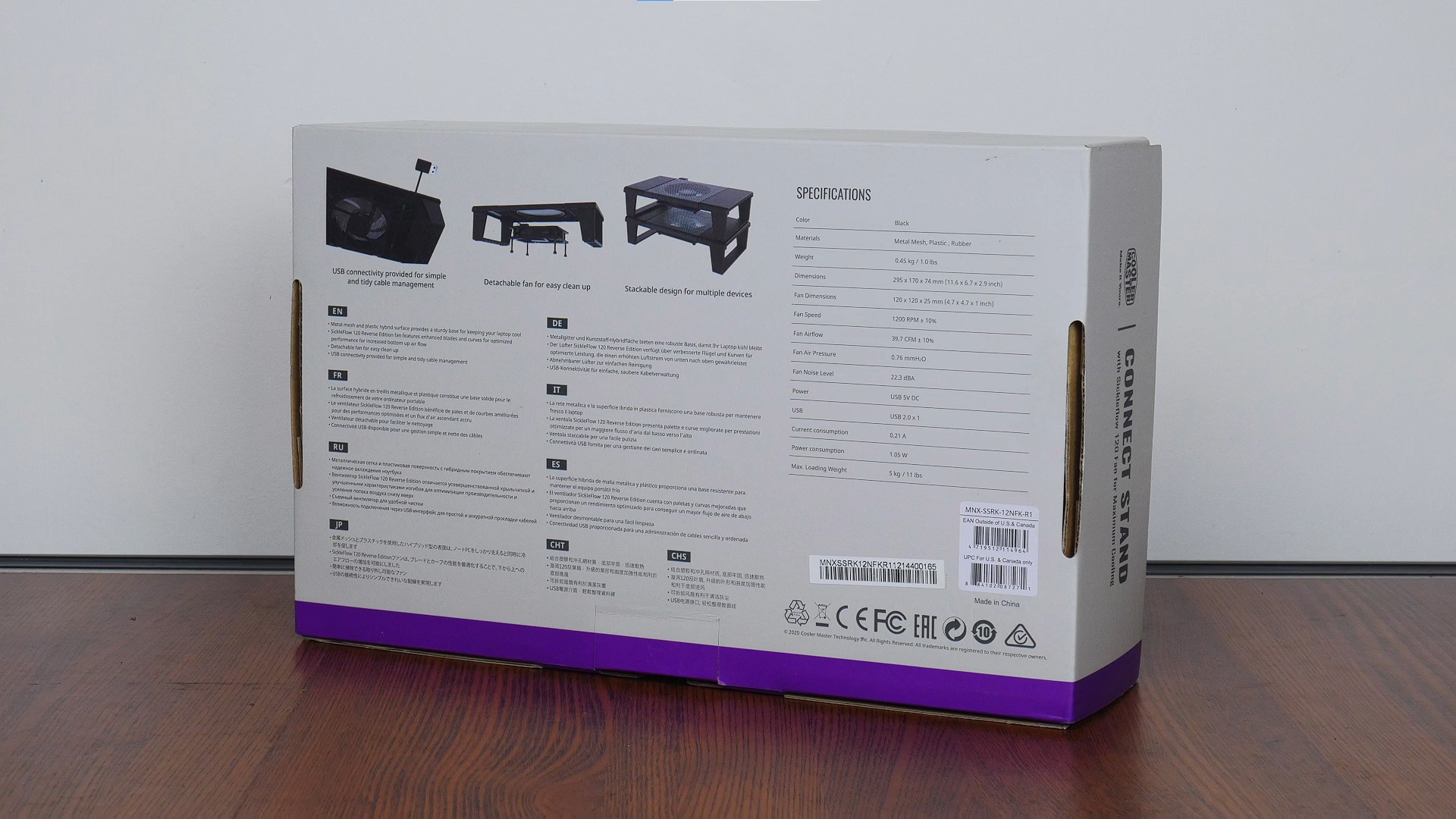 The Connect Stand comes in a light grey cardboard box with a bottom border coloured in Cooler Master's trademark shade of purple.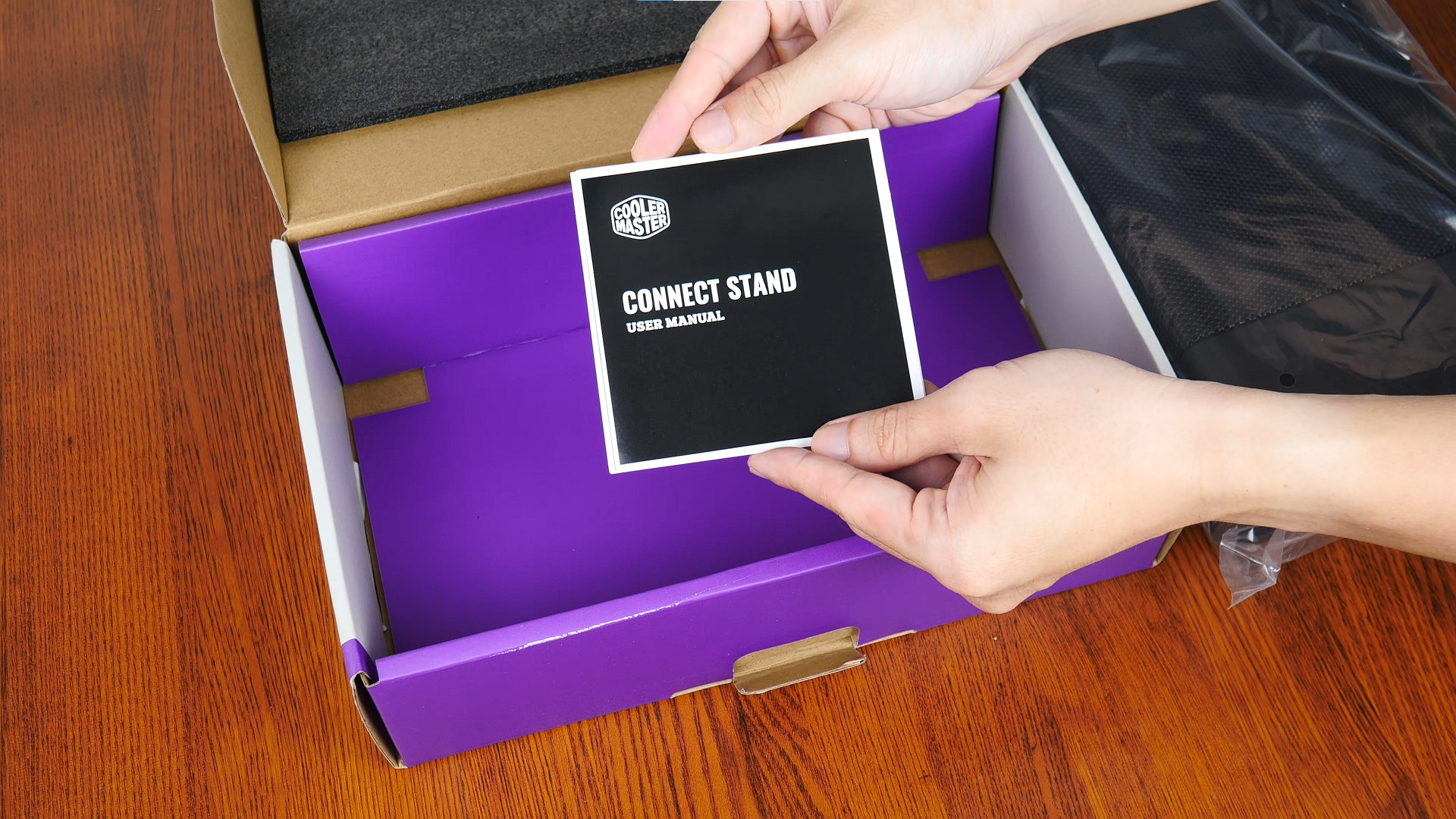 In terms of accessories, the Connect Stand comes with just a user manual, as well as a warranty card.
Aesthetics & Physical Features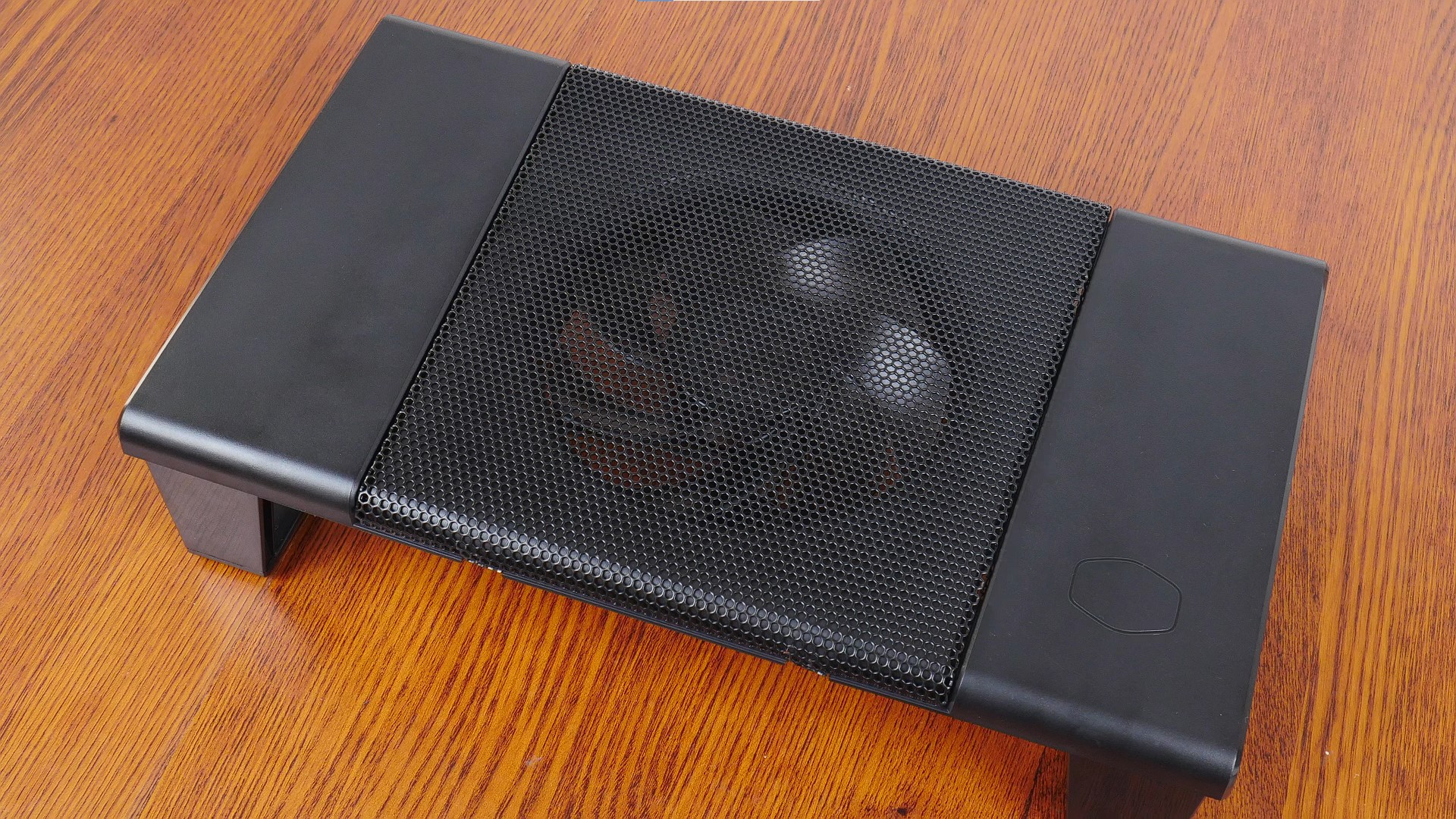 As can be seen, the Connect Stand comes finished in black, is made out of a combination of plastic with metal mesh openings for airflow, and comes with anti-slip rubber feet. Measuring in at 295mm x 170mm x 74mm, it comes equipped with a single 120mm Cooler Master SickleFlow Reverse Edition fan.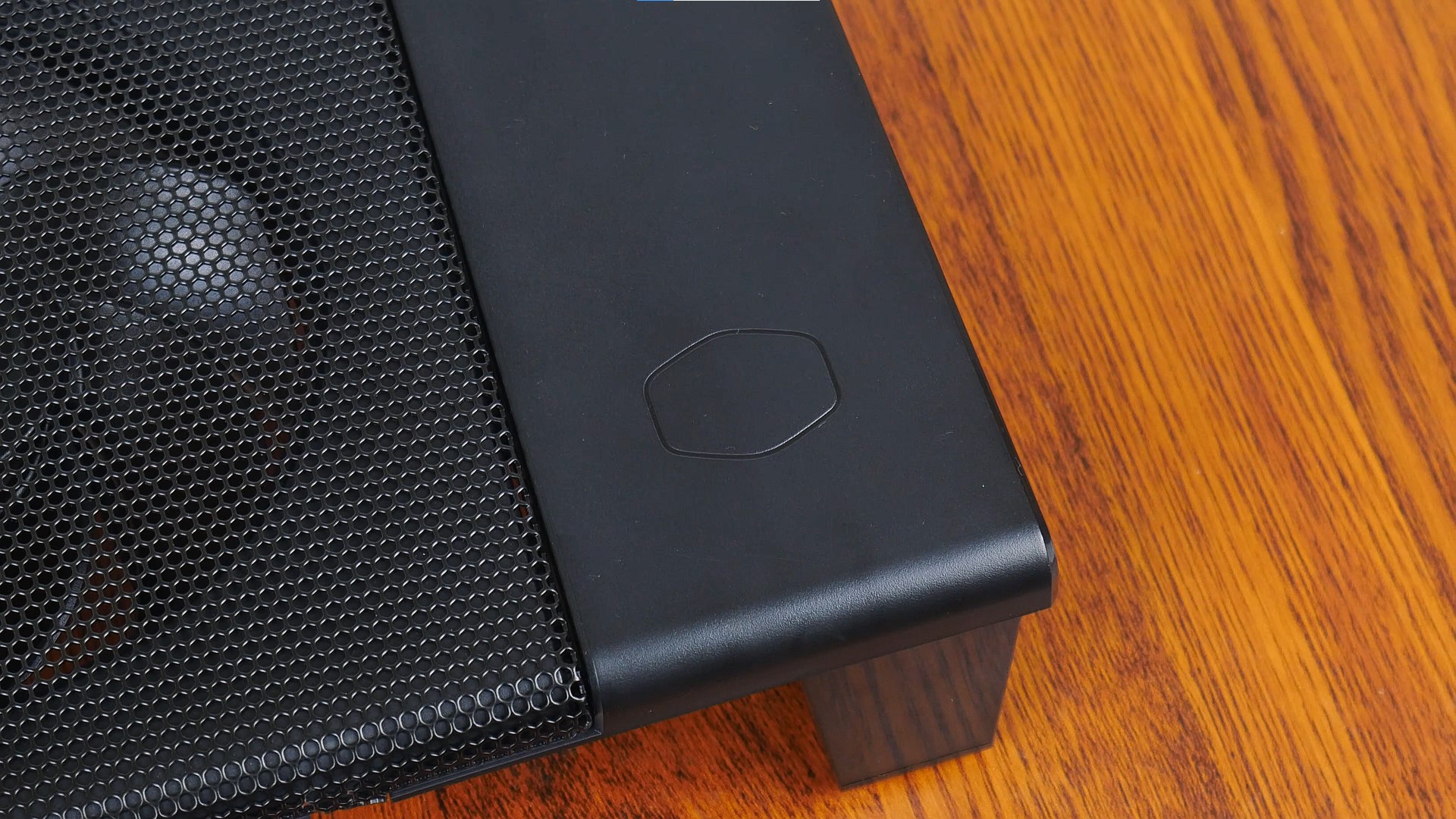 The top of the stand comes finished in matte plastic, where we get a minimalistic rendition of the Cooler Master logo in the bottom right hand corner.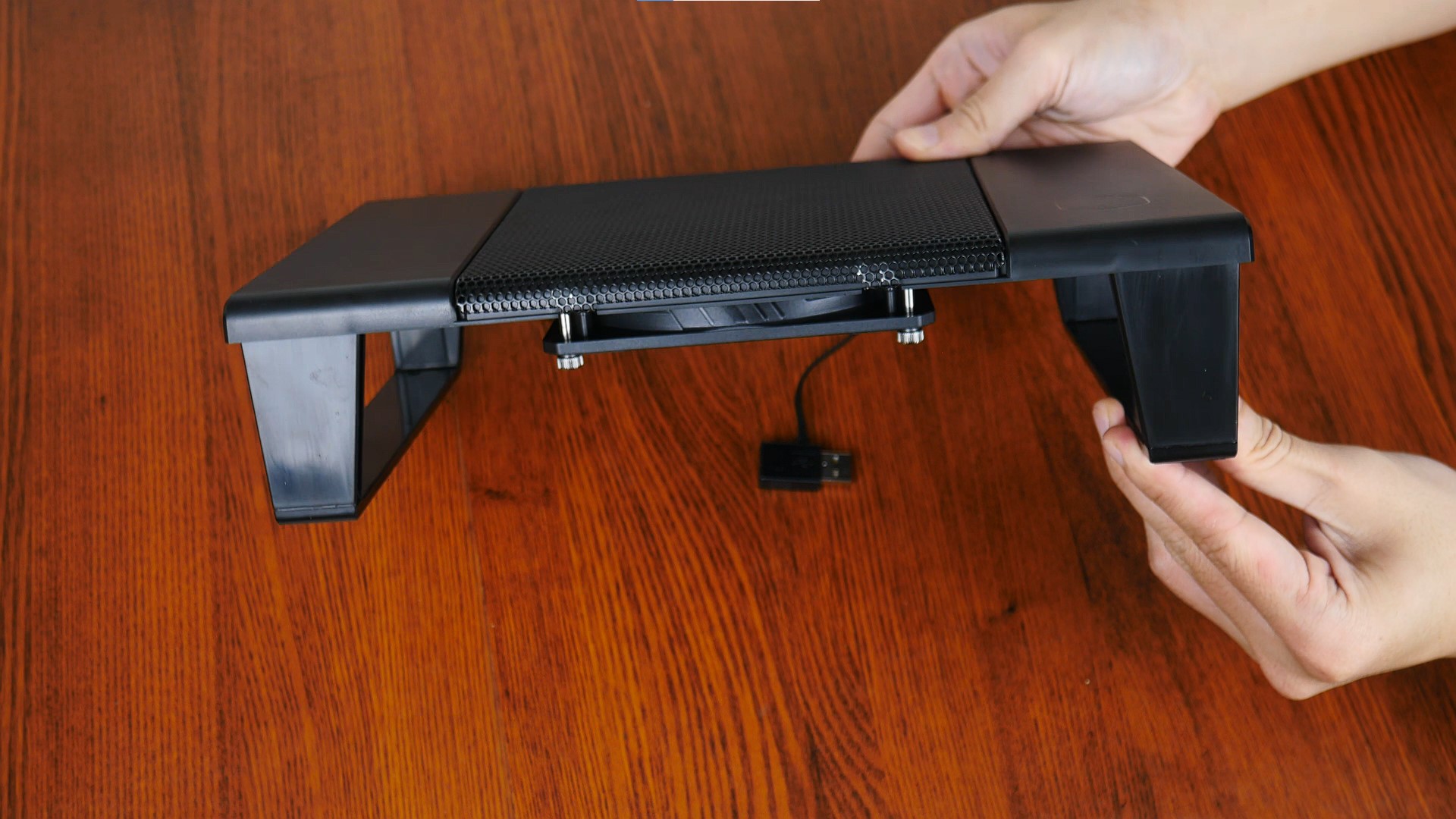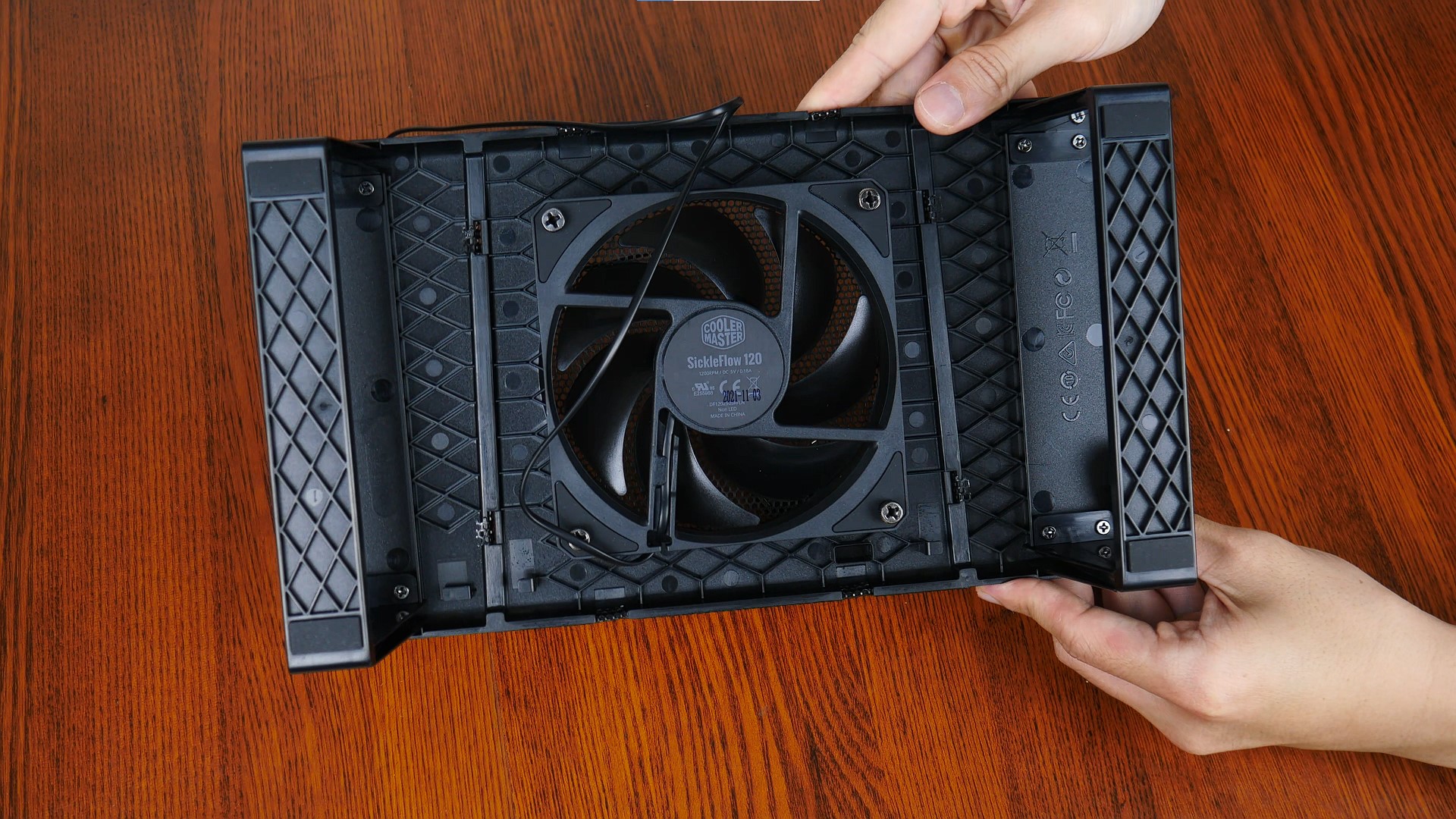 The Connect Stand's legs are made of plastic and have a glossy finish to them, and flipping the stand over, we see that there are four rubber anti-slip feet for the legs too. The stand comes with a single 120mm fan, Cooler Master's SickleFlow 120 Reverse Edition, where as its name implies, the orientation of the fan is reversed from your typical 120mm PC case fans, so as to protect one's fingers from the fan blades when handling the Connect Stand.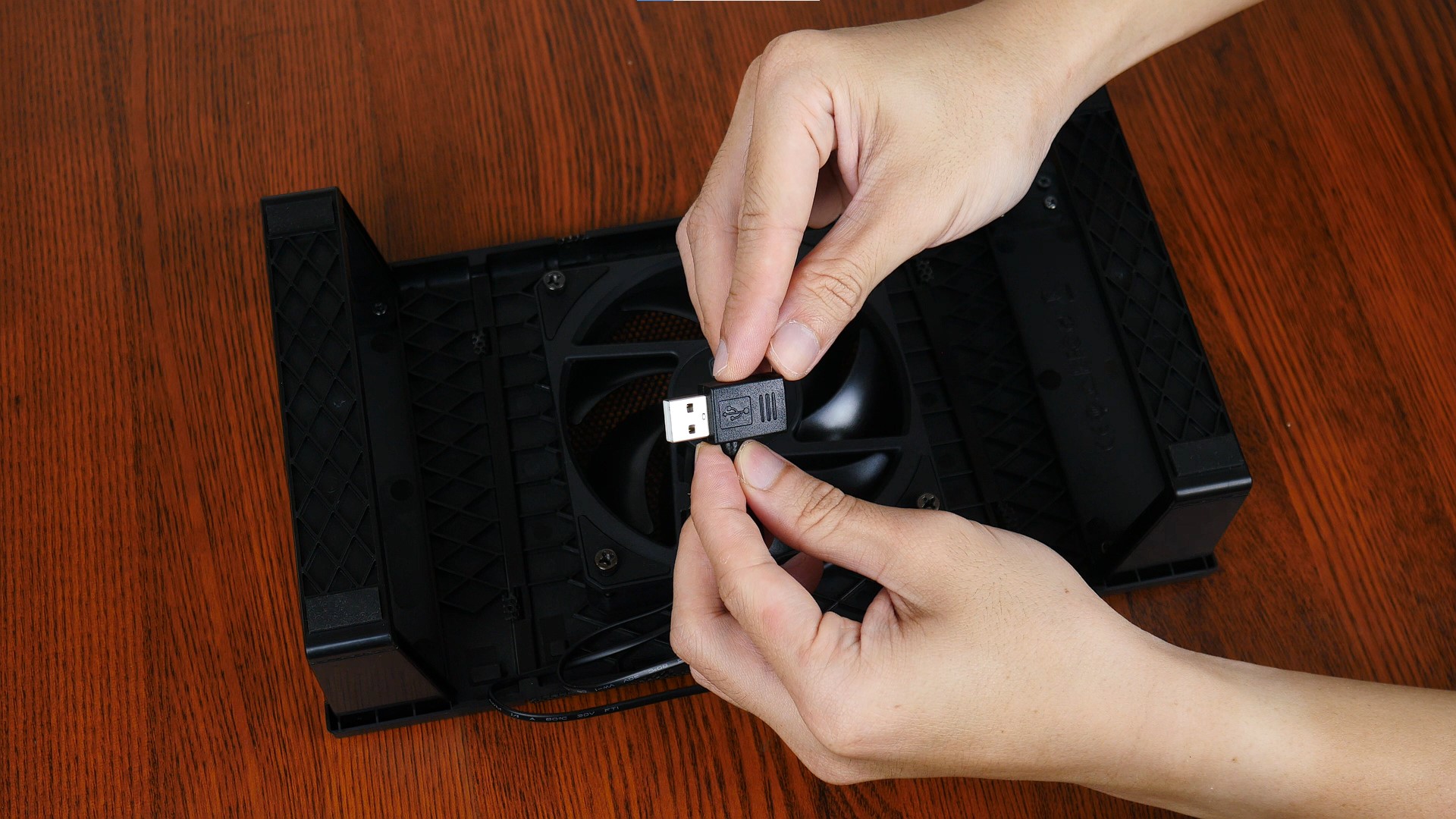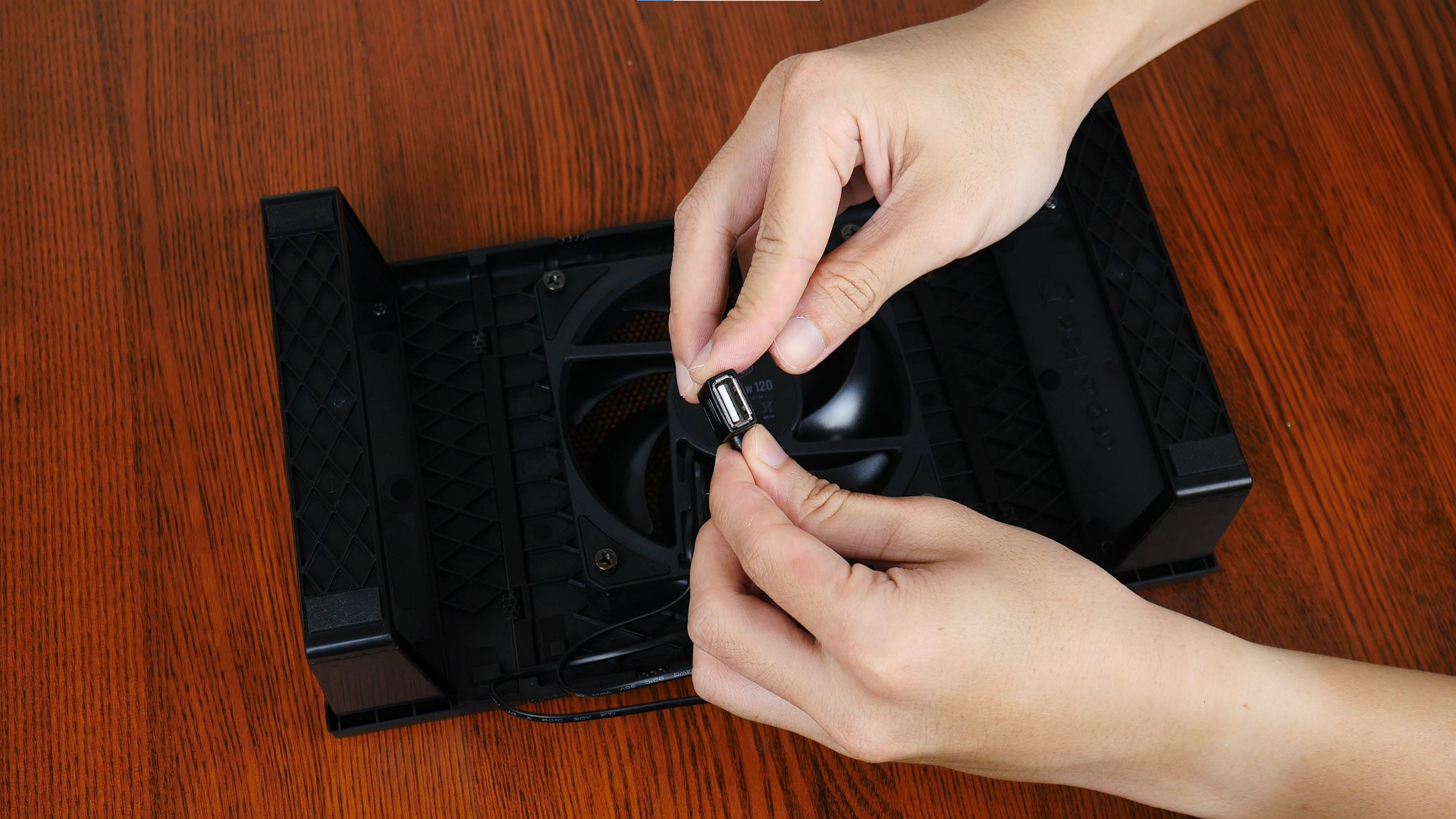 The said fan draws power from a passthrough USB Type-A connector, which has a male USB Type-A connector on one end and a female USB Type-A port on the other end. This is an important feature to have, where you'll likely be powering the Connect Stand's fan via your wireless router's USB port - having the passthrough feature would mean that you wouldn't need to sacrifice the connectivity of the said USB port just to power the SickleFlow fan.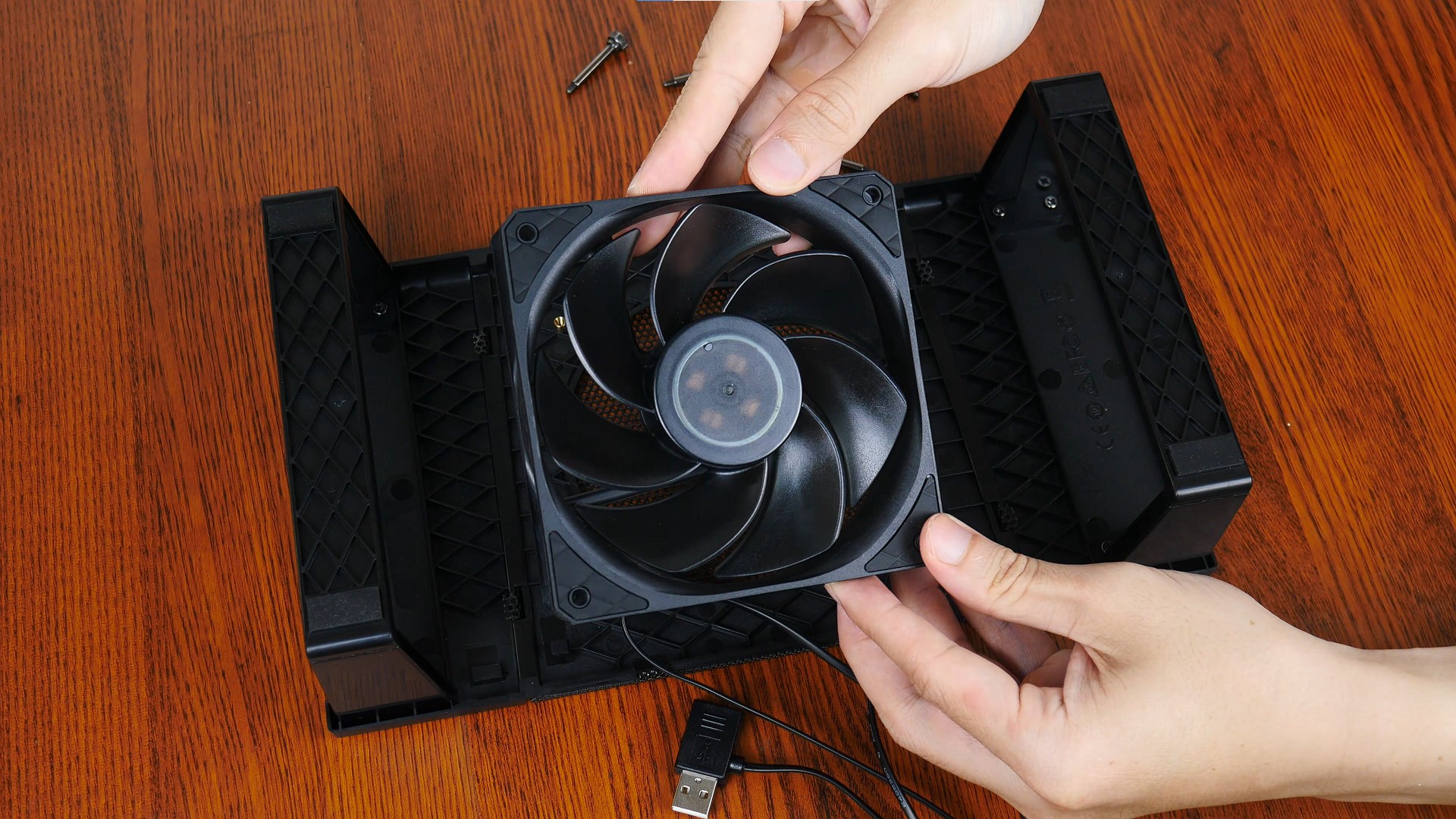 Removing the SickleFlow fan for cleaning purposes is a pretty straightforward process too, where it's just a simple matter of just undoing the four thumbscrews that hold the fan in place.
Usage Experience, Conclusion & Pricing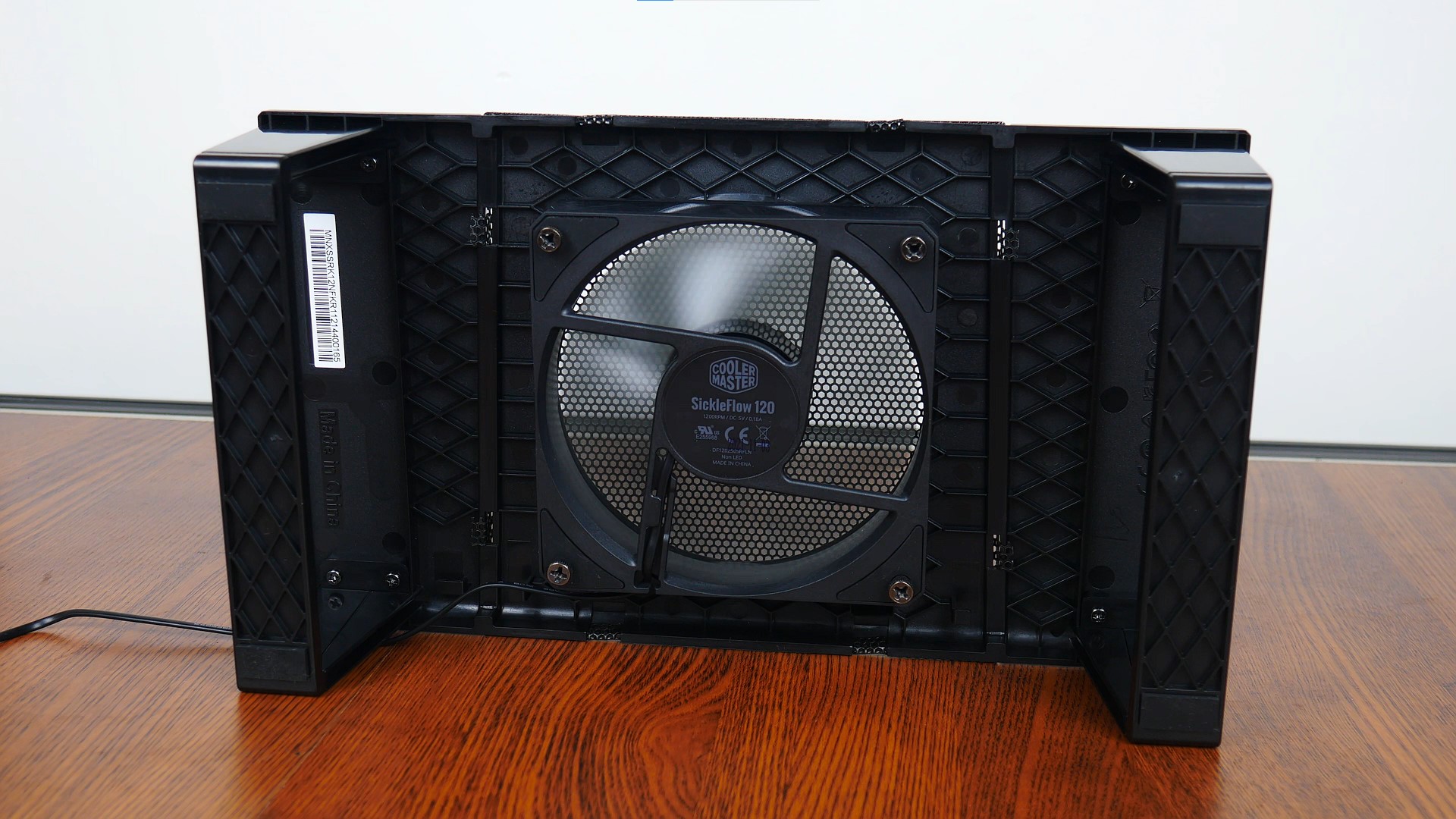 In terms of usage experience, I found the SickleFlow 120 fan to be pretty quiet, all while moving a good amount of air, meaning to say that the Connect Stand should do a pretty good job of cooling even high-end network devices such as a wireless gaming router.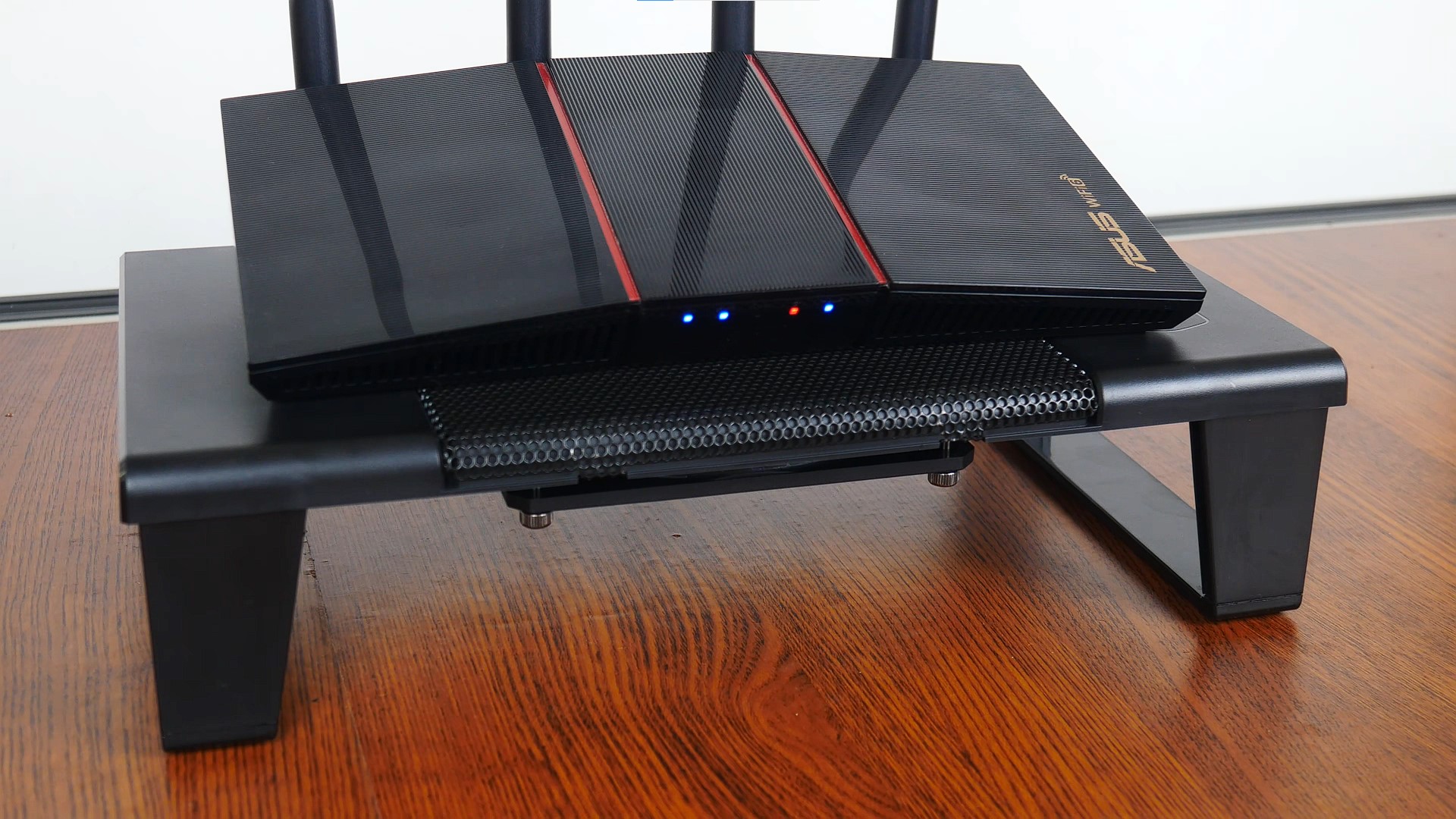 All in all, the fit and finish of the Connect Stand was pretty decent in my opinion, where it should get its job done pretty well without any fuss. If you're facing thermal issues with your networking device such as a modem or router, the Cooler Master Connect Stand might well be the accessory to help you keep temperatures at bay.
As of end-February 2023, the Connect Stand is available to purchase in Singapore for a price of $59 Singapore dollars, which converts to roughly $44 US dollars for you international readers.
Get the Connect Stand from Amazon: https://amzn.to/3Z23cNm (affiliate link)
Get the Connect Stand from Shopee Singapore: https://shope.ee/3VCmNelFZY (affiliate link)

ALKtech may earn commissions from qualifying purchases made using affiliate links, at no extra cost to you as a customer. These commissions go a long way in supporting the platform!

The networking device cooler featured in this article was sponsored by Cooler Master.