Looking for a rugged external M.2 SSD enclosure that boasts dust, shock and water resistance? ASUS's TUF Gaming A1 has got you covered with its military-inspired looks and solid build quality.
External SSD enclosures tend to be no-nonsense, functional affairs - think simple plastic enclosures with a USB cable that simply get the job done. Enter the TUF Gaming A1, ASUS's answer to a high-end portable M.2 SSD enclosure with bells and whistles.
Summary of Specifications
Interface: USB 3.2 Gen 2x1 Type-C (up to 10 Gbps transfer rate)
SSD Compatibility: NVMe or SATA, in the M.2 2280, 2260 or 2242 form factors
Dimensions: 125.28mm (L) x 54.27mm (W) x 13.3 mm (H)
Weight: 142g
Special Features: IP68 dust and water resistance, MIL-STD-810H 516.8 Procedure IV drop-tested, ASUS Q-Latch
Packaging & Accessories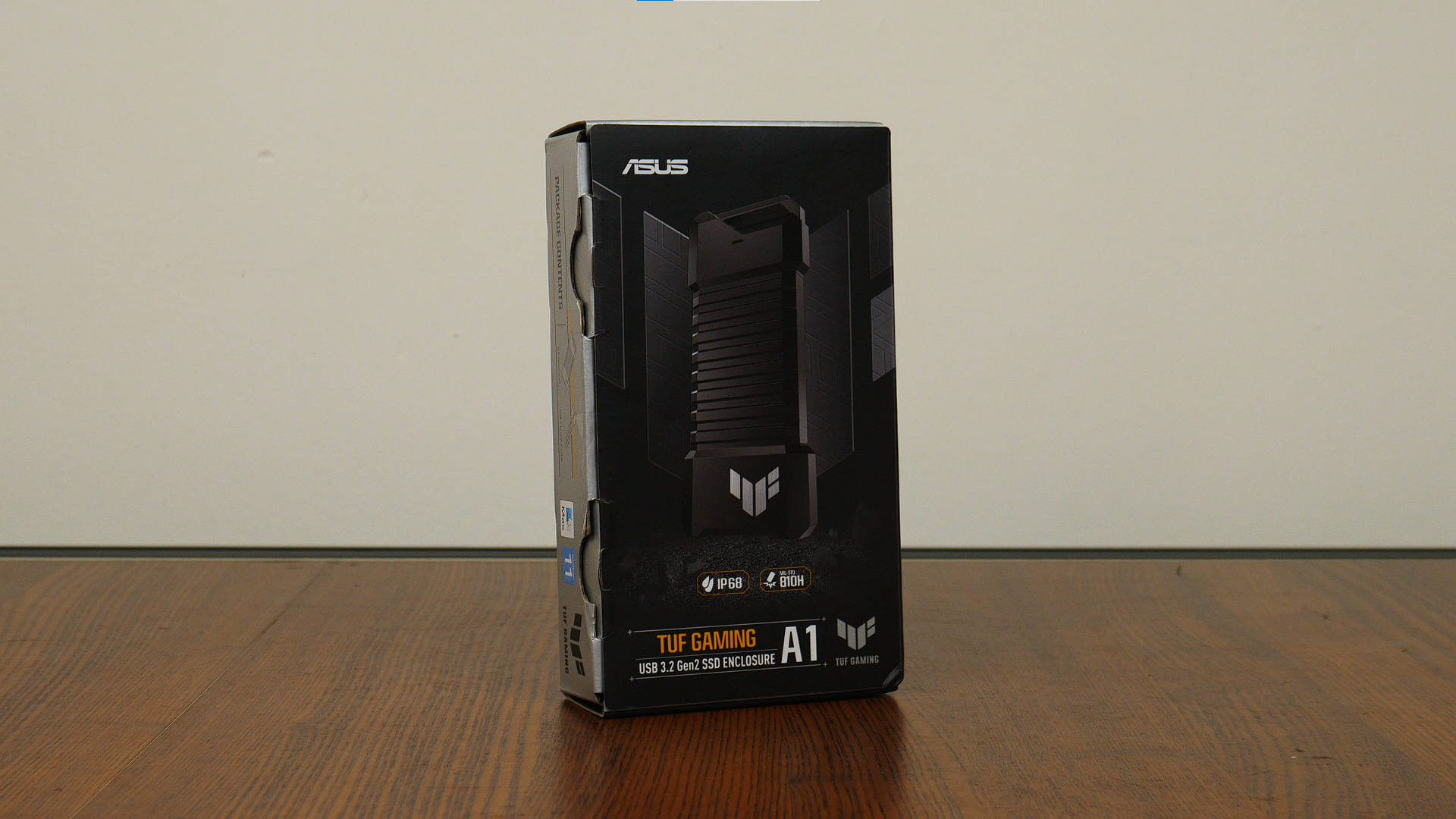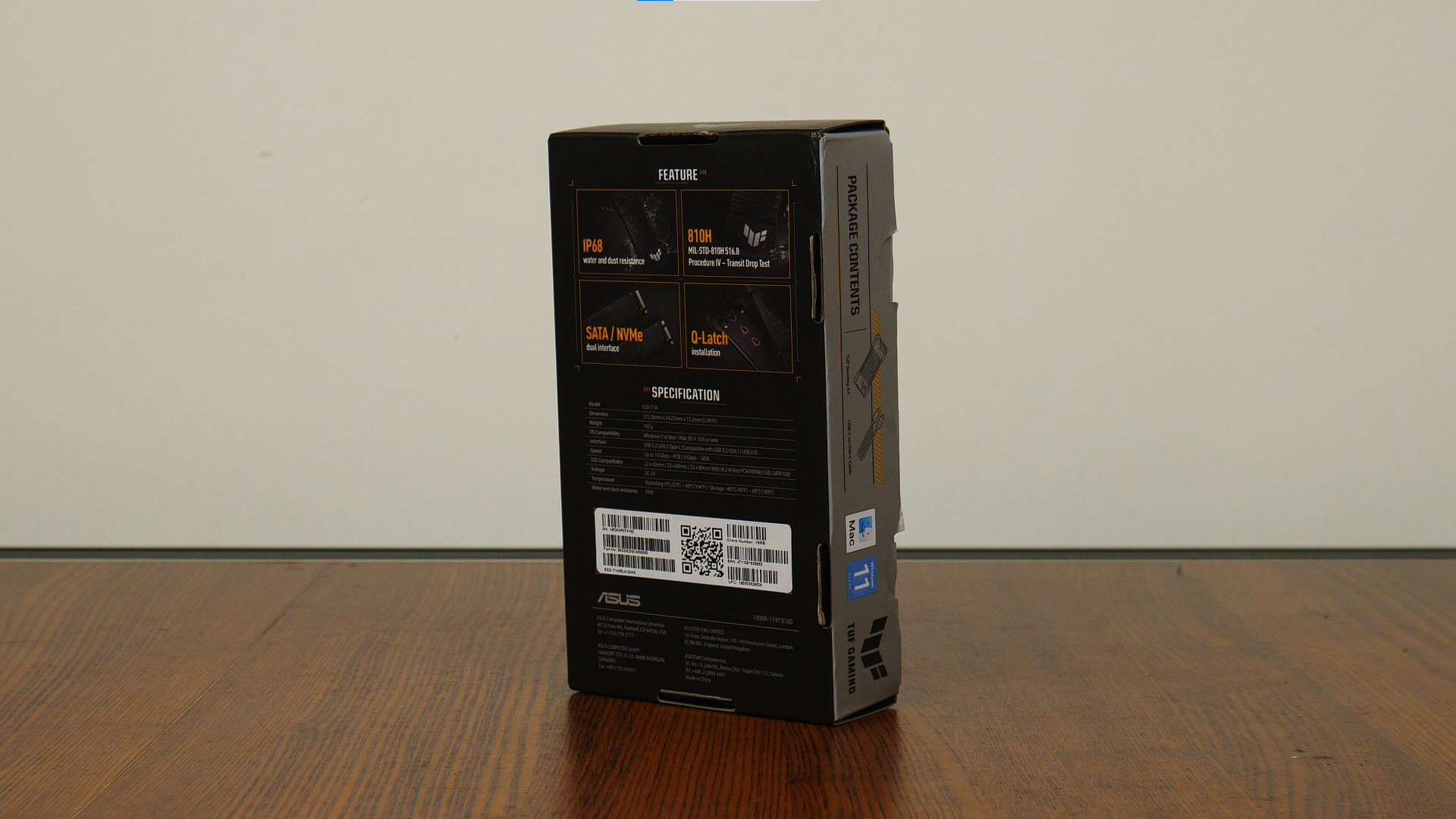 The TUF Gaming A1 comes in a box with the usual TUF Gaming colourway - think black on silver, with touches of yellow thrown in for good measure.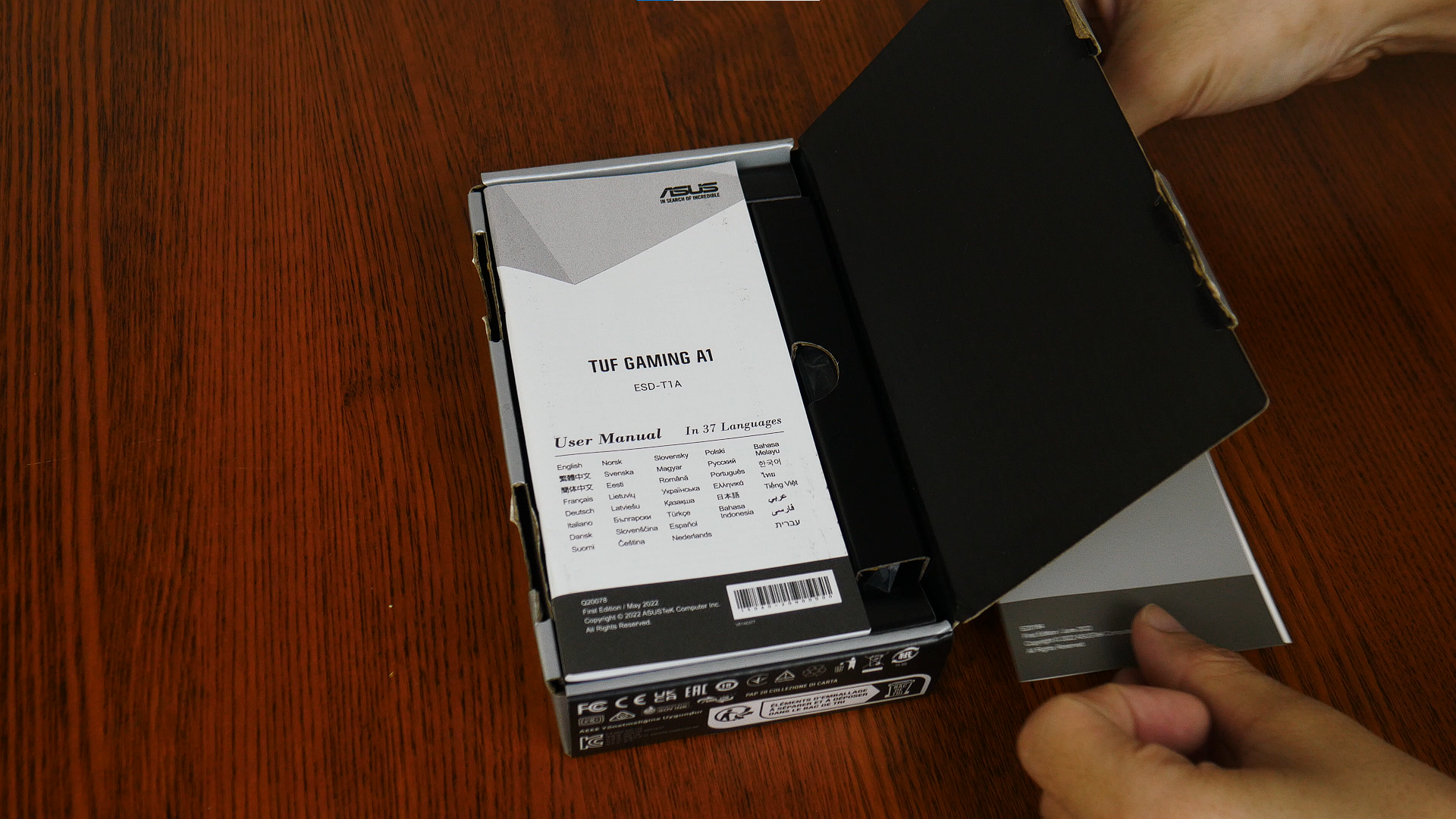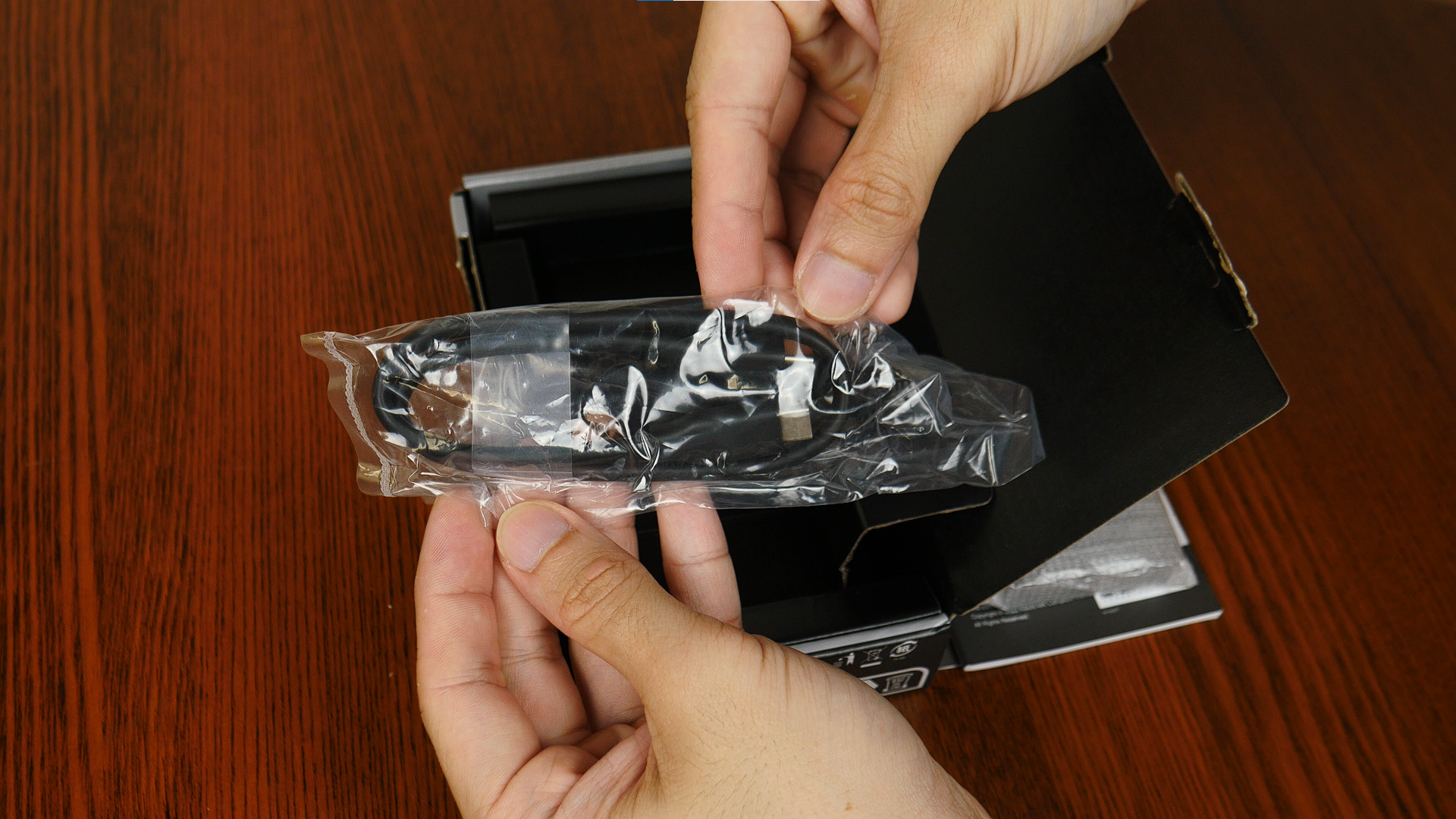 The following accessories are included in the packaging:
Quick start guide
Multi-language user manual
USB Type-C male to USB Type-C male cable
Allen key
Aesthetics & Construction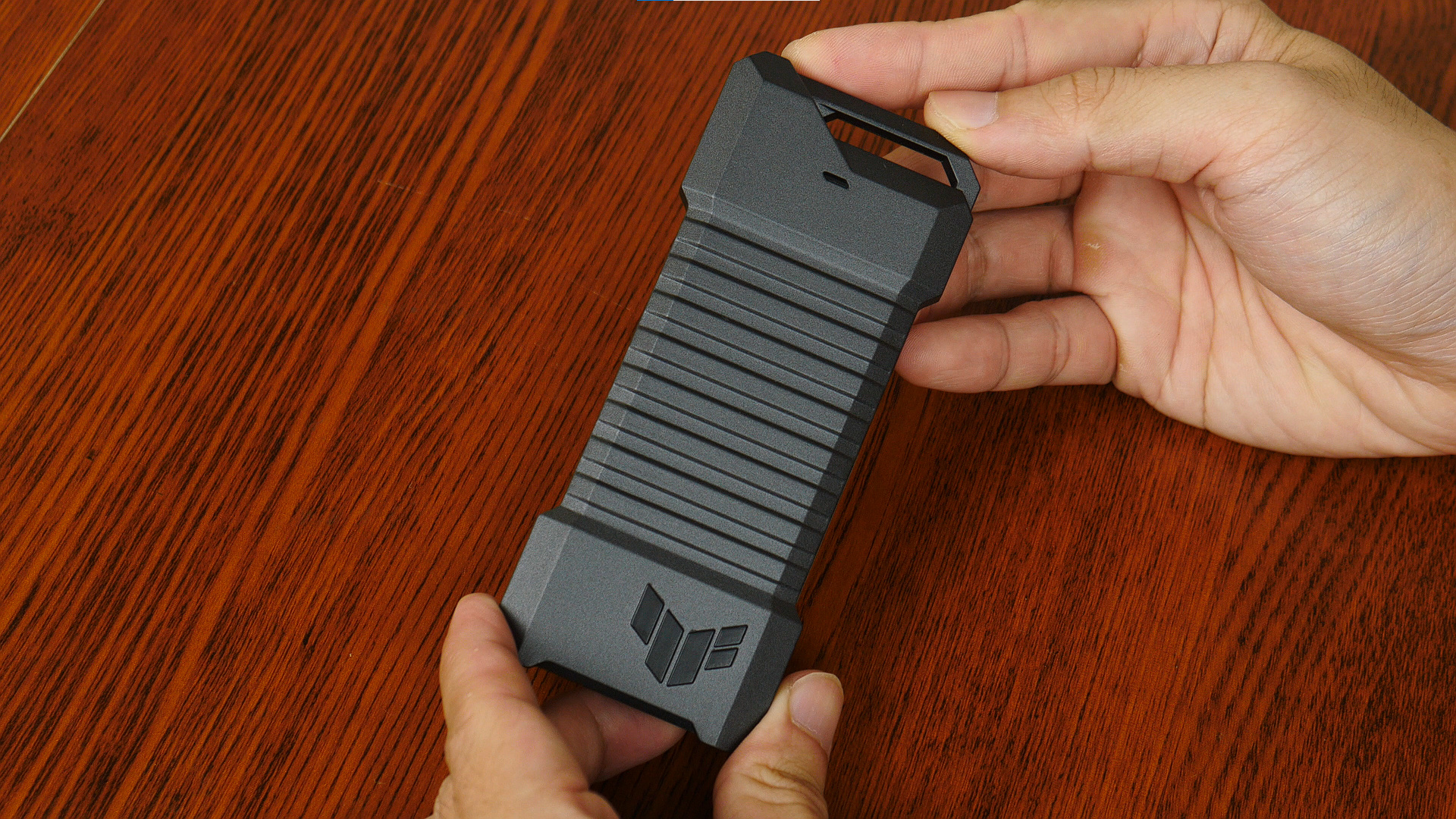 Being constructed entirely of metal (likely aluminium) in a light metallic grey colour, the enclosure is hefty and feels very solidly-built when held in the hand. At the top of the enclosure is a drive activity indicator LED in white, and at the bottom, a TUF Gaming logo in black.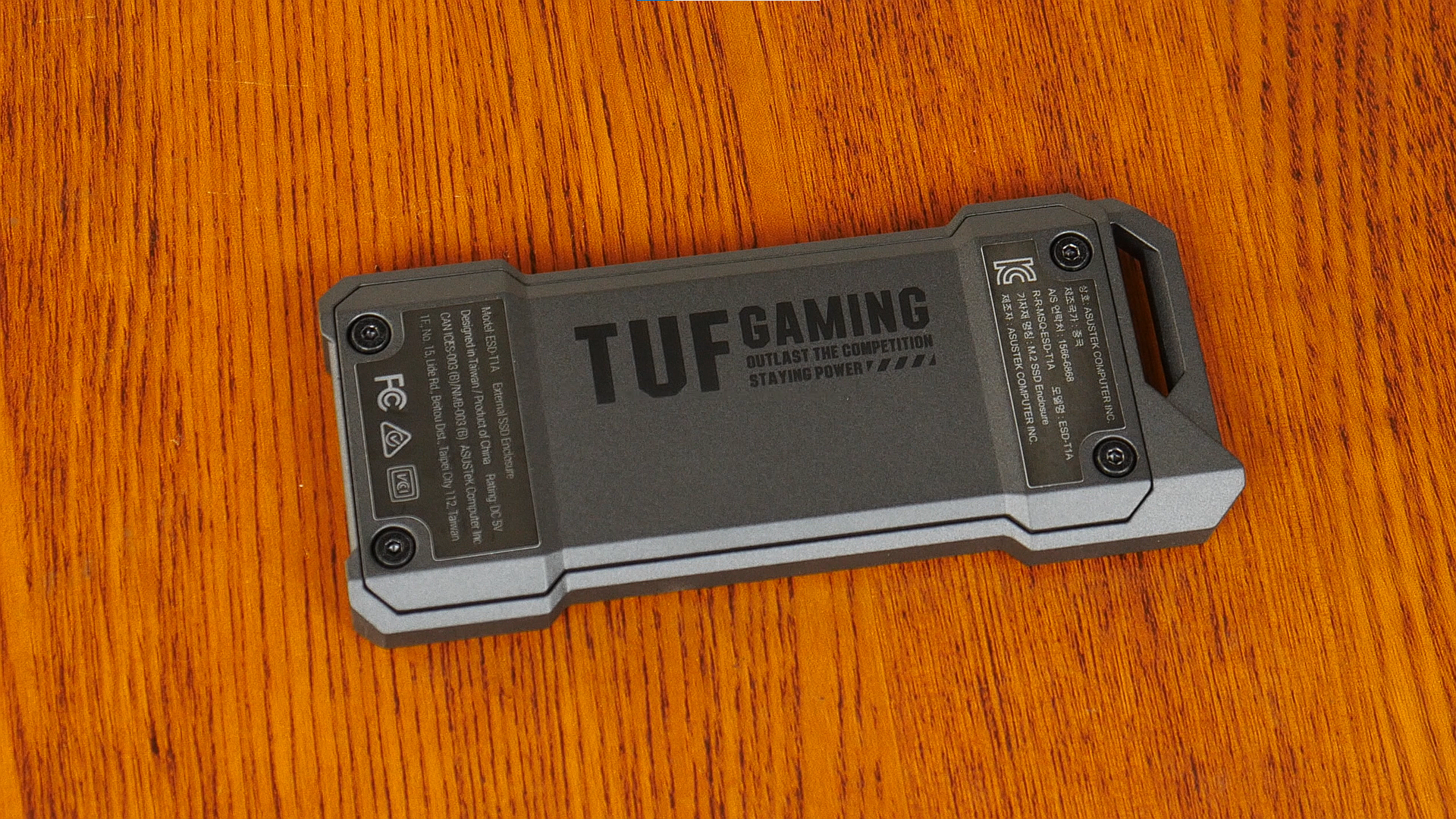 Moving over to the rear of the enclosure, we see that a TUF Gaming motif is printed onto a backplate that is held in place by four hex screws - the said backplate grants you access to the insides of the enclosure so as to facilitate the installation of a M.2 SSD.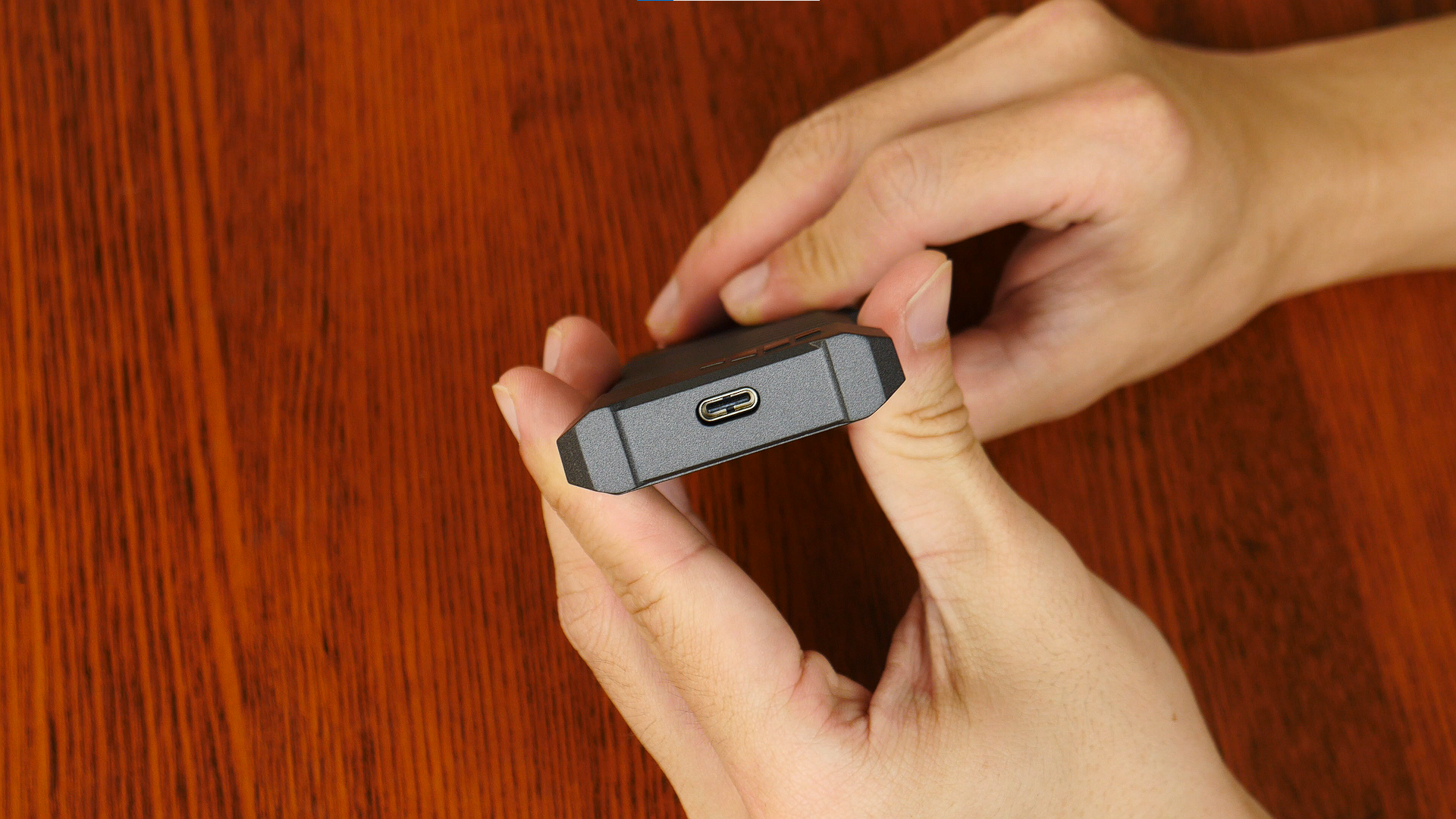 Connectivity wise, the TUF Gaming A1's USB Type-C port is located on the bottom short edge of the enclosure.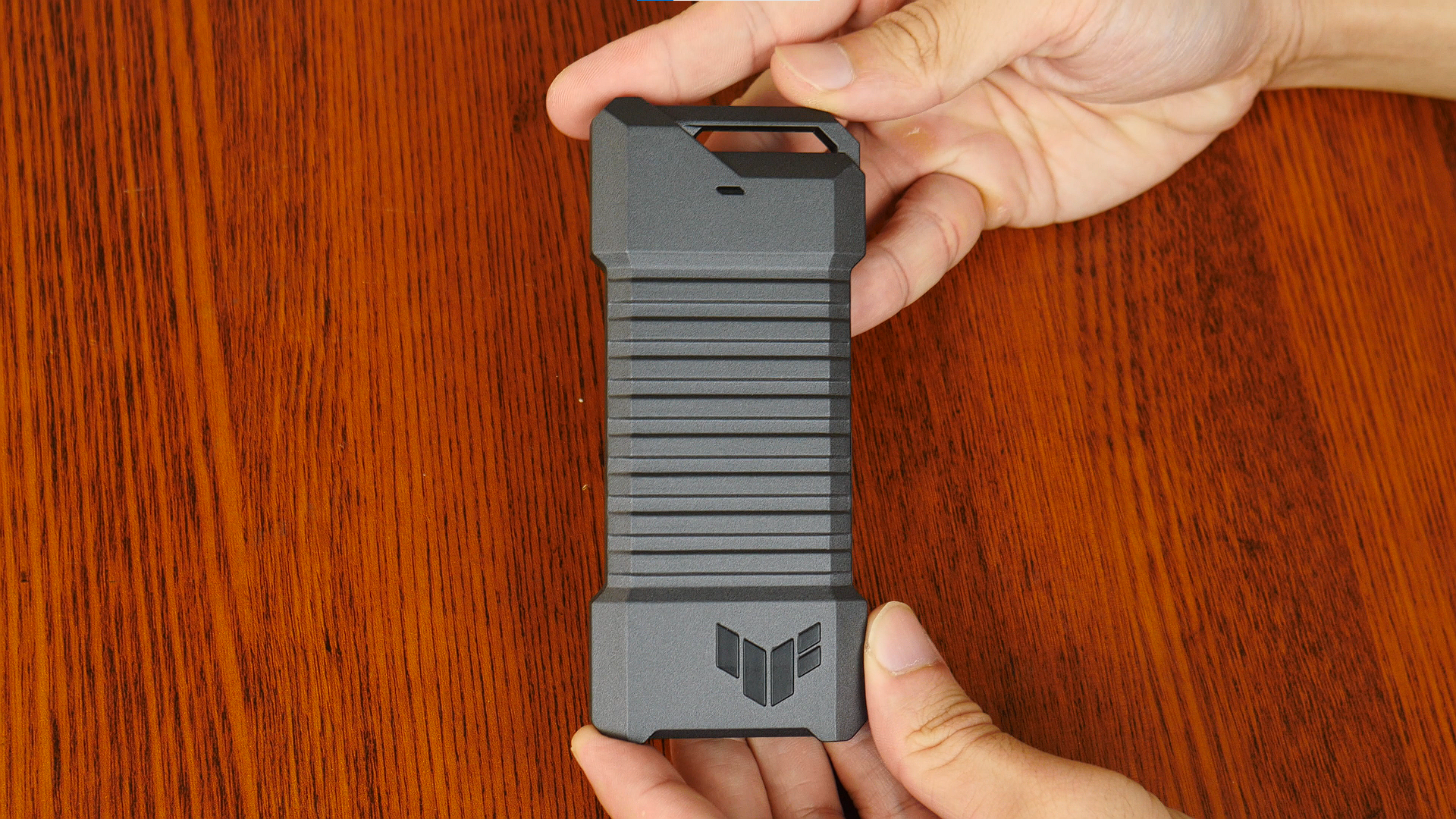 On the whole, the SSD enclosure oozes premium-ness, given the quality of its construction and the materials used. While I'm unable to put a finger on the TUF Gaming A1's design inspiration, it looks like a cross between a jerry can and a remote detonation device - it definitely wouldn't look out of place in a military setting for sure.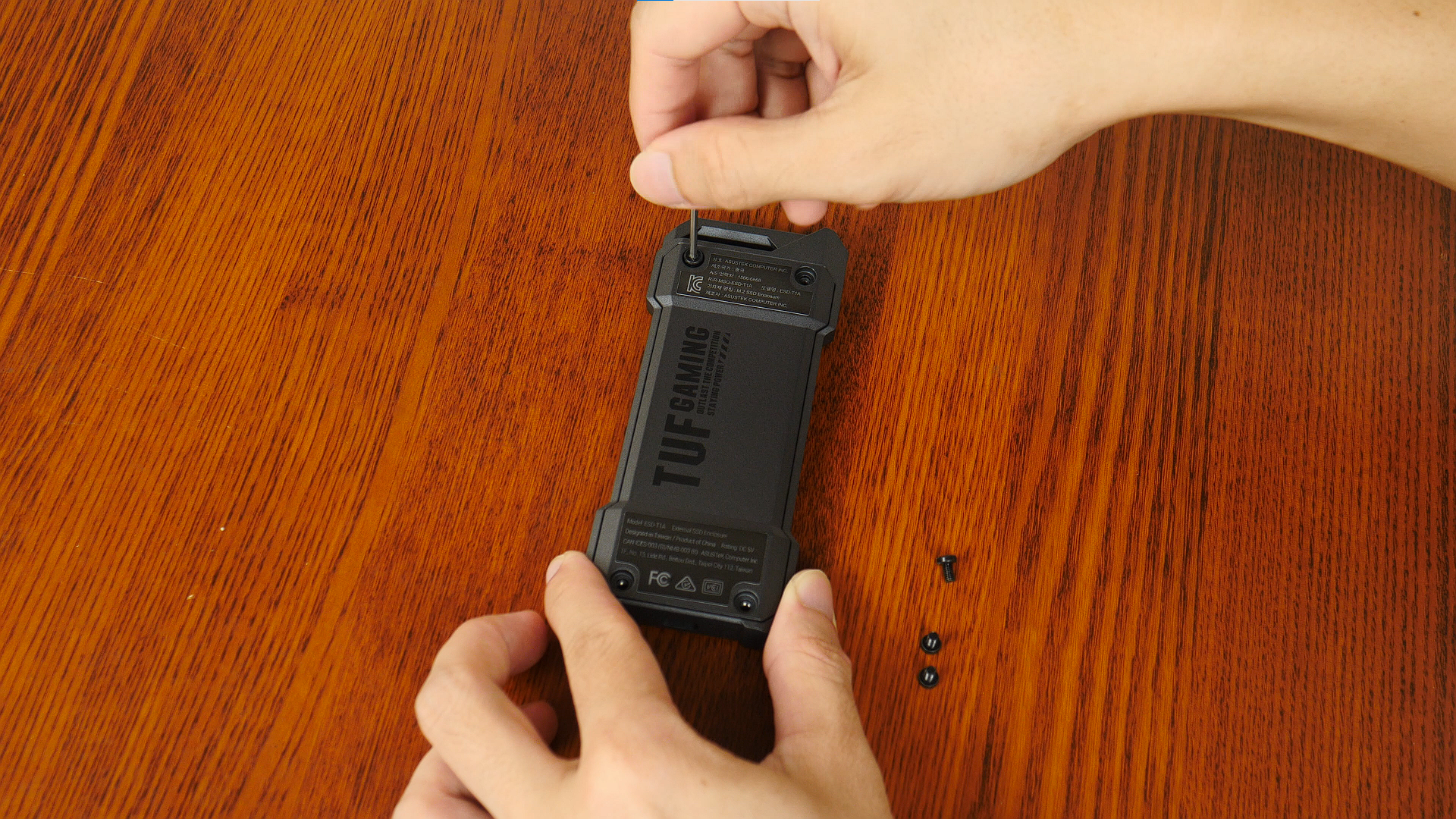 Removing the backplate of the enclosure is a straightforward affair using the included Allen key to undo the four hex screws that hold it in place.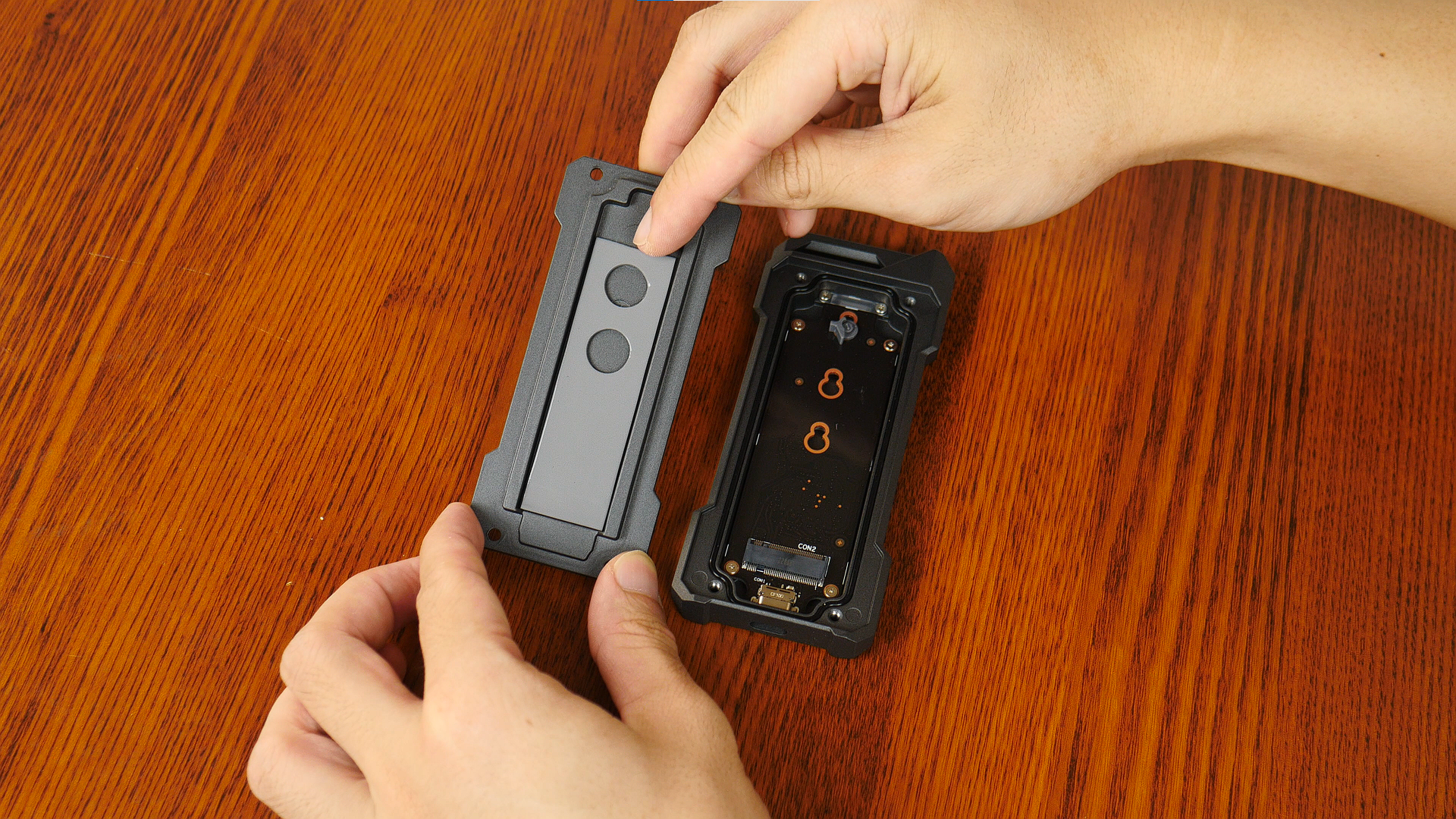 With the backplate popped off, you'll notice that ASUS has included a thermal pad on the internal surface of the backplate - this is to help with heat dissipation from the installed M.2 SSD.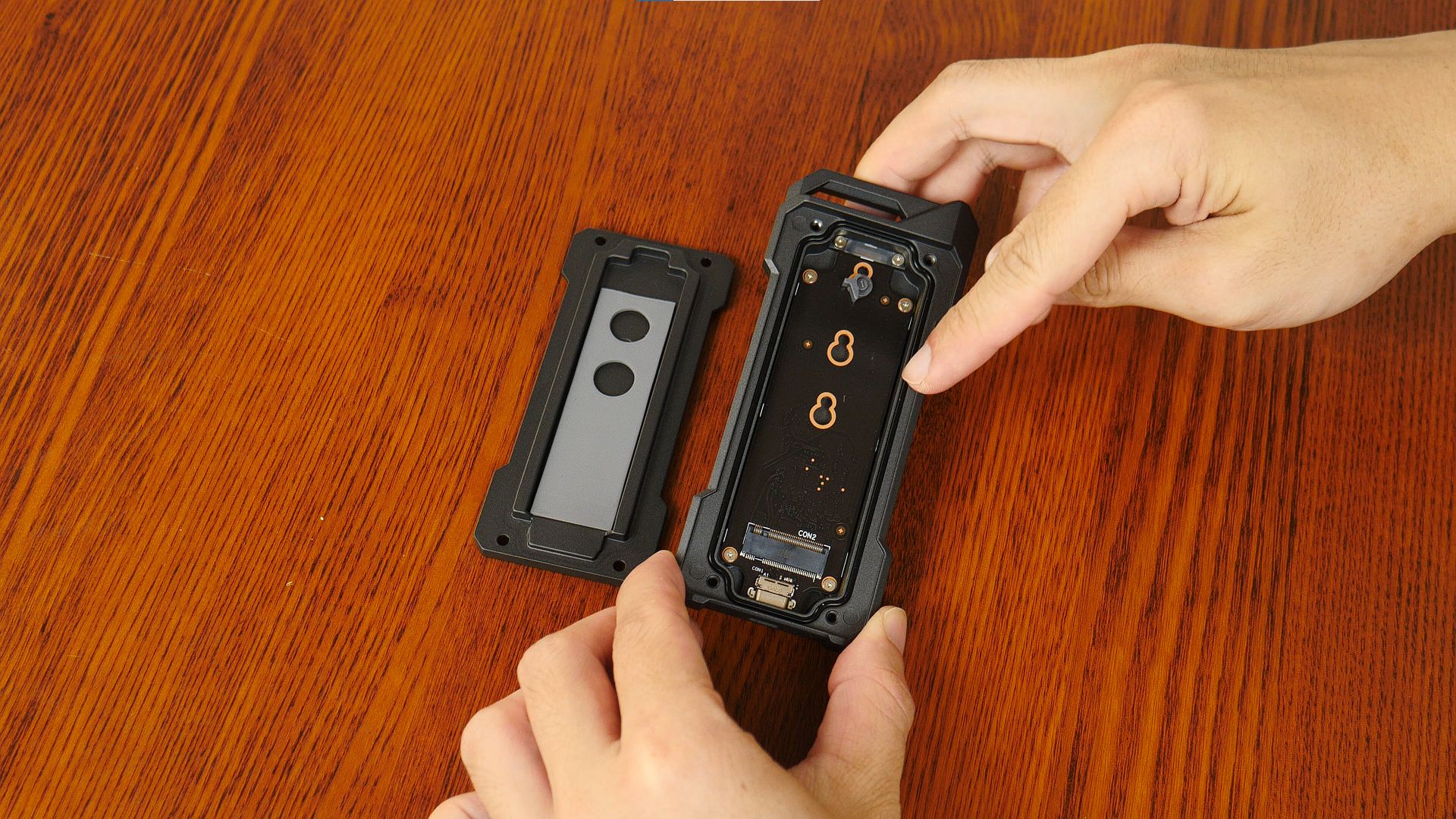 Taking a closer look at the construction of the TUF Gaming A1 from within, you'll notice that a rubber gasket is included where the backplate meets the main body of the SSD enclosure. This probably helps the enclosure to achieve its IP68 dust and water resistance rating.
Tech Specs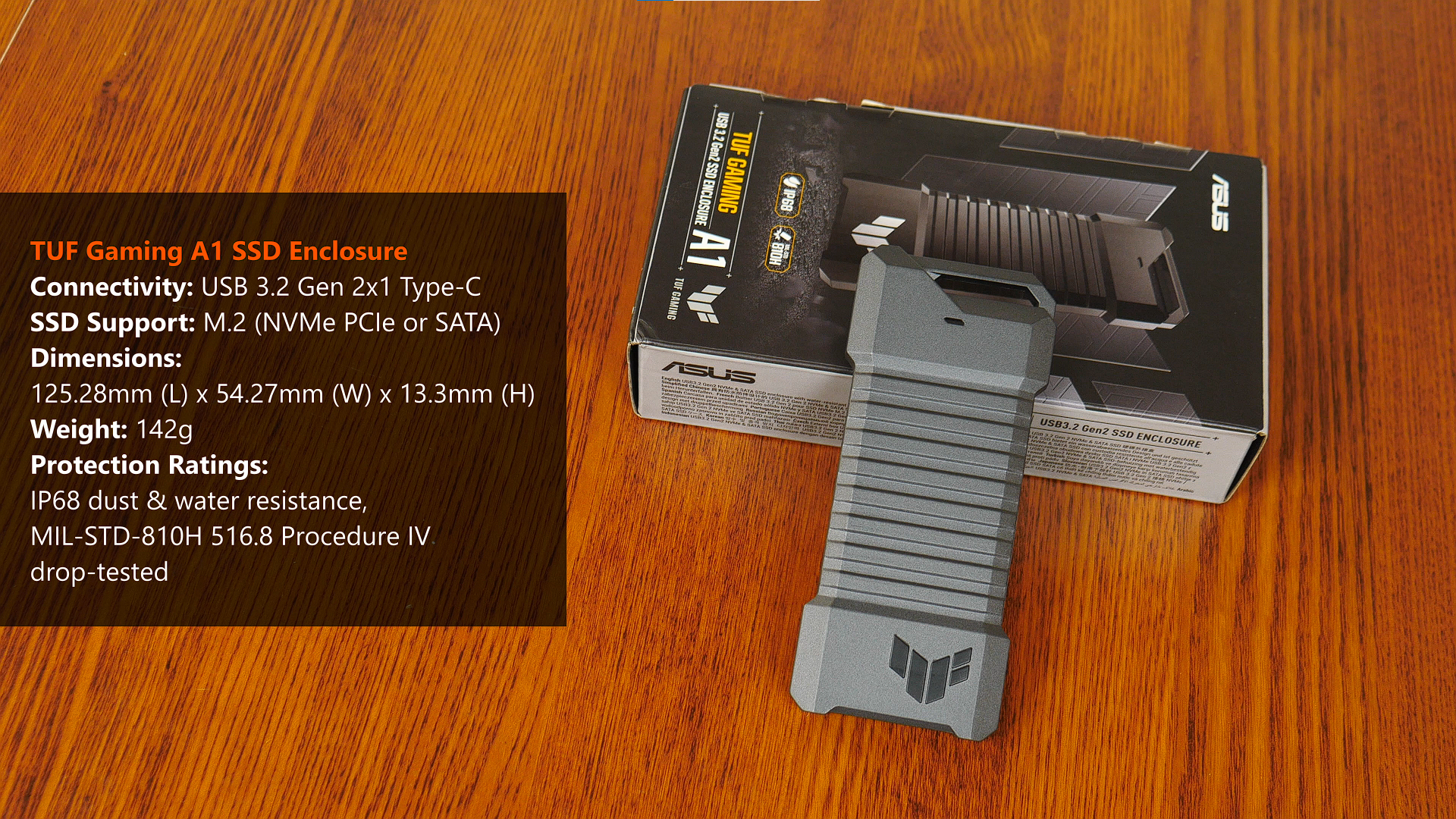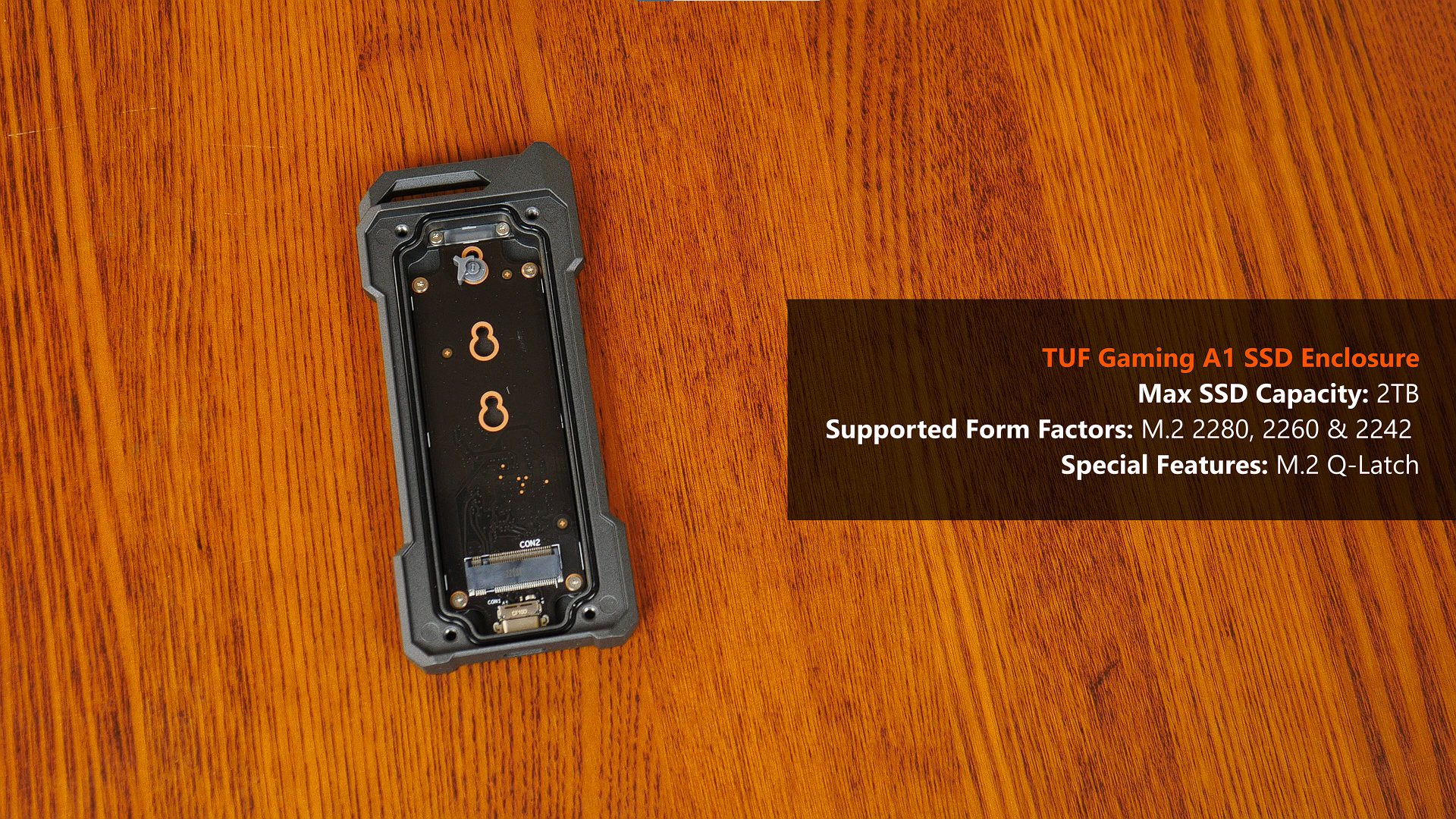 The TUF Gaming A1 utilises the USB 3.2 Gen 2 (10 Gbps) Type-C interface for connectivity with a device of choice, such as a PC or gaming console - the PlayStation 5 included. In terms of SSD support, the TUF Gaming A1 supports both NVMe and SATA M.2 SSDs in the 2280, 2260 or 2242 form factors. Do note however, that the maximum supported SSD capacity is 2TB, which may restrict the future upgrade pathway for end-users.
Key features that set this SSD enclosure apart from the competition would be its IP68 dust and water resistance, as well as its shock resistance that conforms to the US Military's MIL-STD-810H standard. The IP68 rating means that the TUF Gaming A1 is dust-tight, and is protected against water ingress from extended immersion at depths over 1 meter. For shock resistance, ASUS claims that the TUF Gaming A1 is tested as per Method 516.8 Procedure IV of the US Military's MIL-STD-810H standard - indications that the A1 would probably brush off more than its fair share of knocks, drops and even accidental water immersions from daily usage.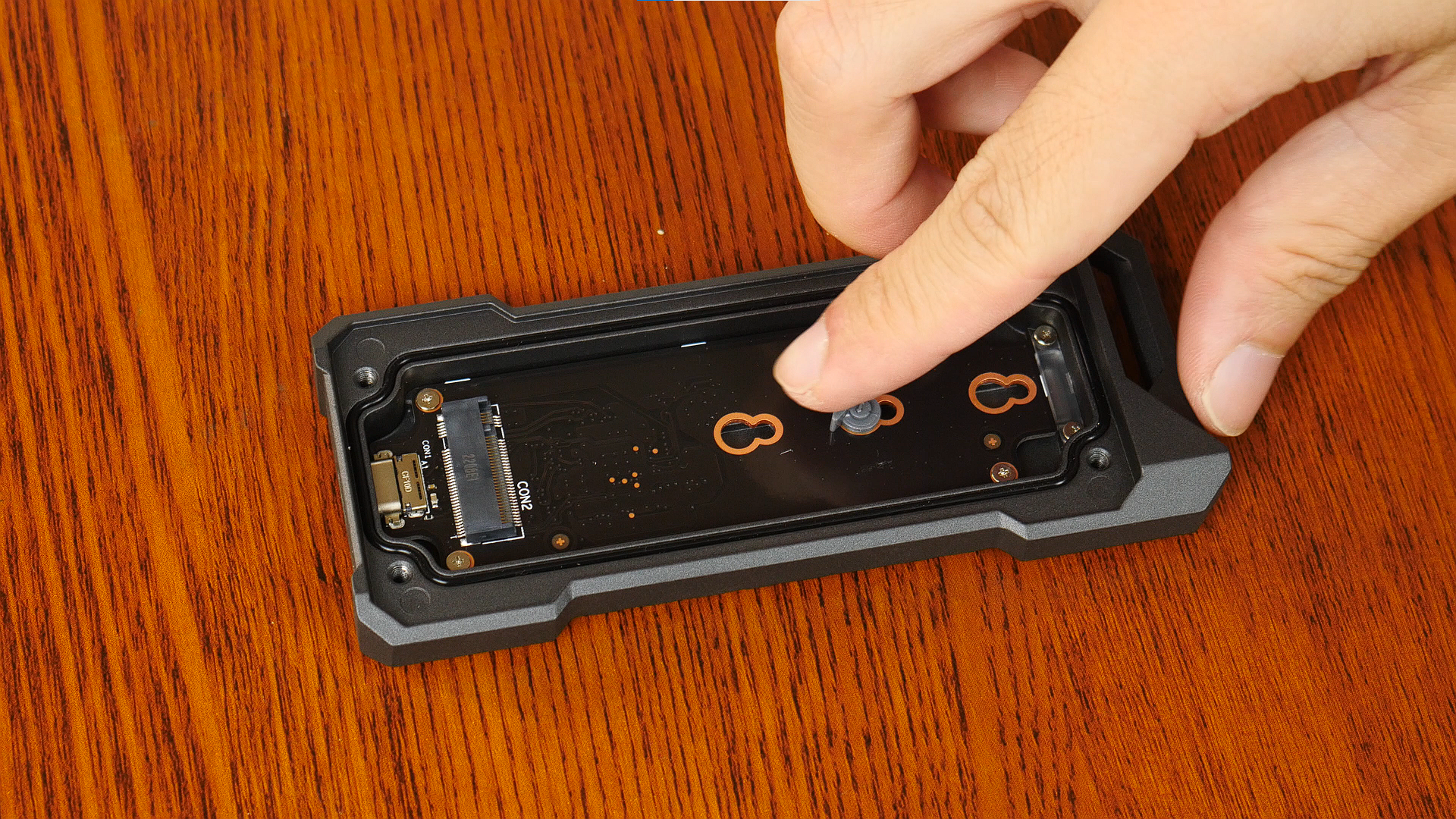 Another welcome feature included with the TUF Gaming A1 is ASUS's implementation of Q-Latch, which allows end-users to install a M.2 SSD of choice in a tool-less fashion. The Q-Latch is easily repositioned on the PCB of the enclosure, so as to suit different M.2 SSD lengths (2280, 2260 or 2242).
Installation Experience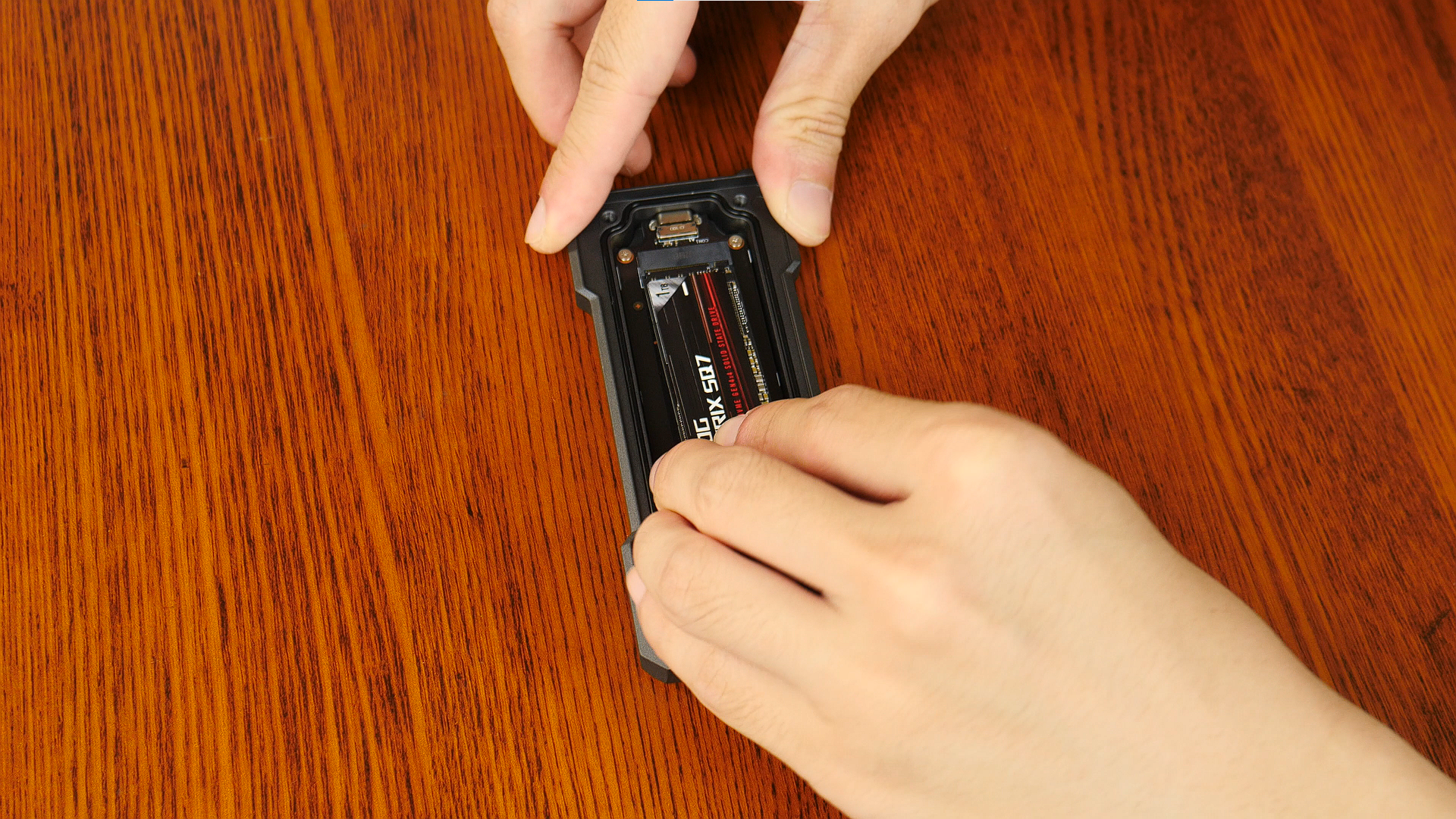 Getting the TUF Gaming A1 all set up is a painless affair, especially with the Q-Latch feature, where installing a M.2 SSD into the enclosure and having it ready for use should take you no more than five minutes in total. Simply insert the SSD into the M.2 slot, replace the backplate, and you're good to go.
Benchmarks & Test Setup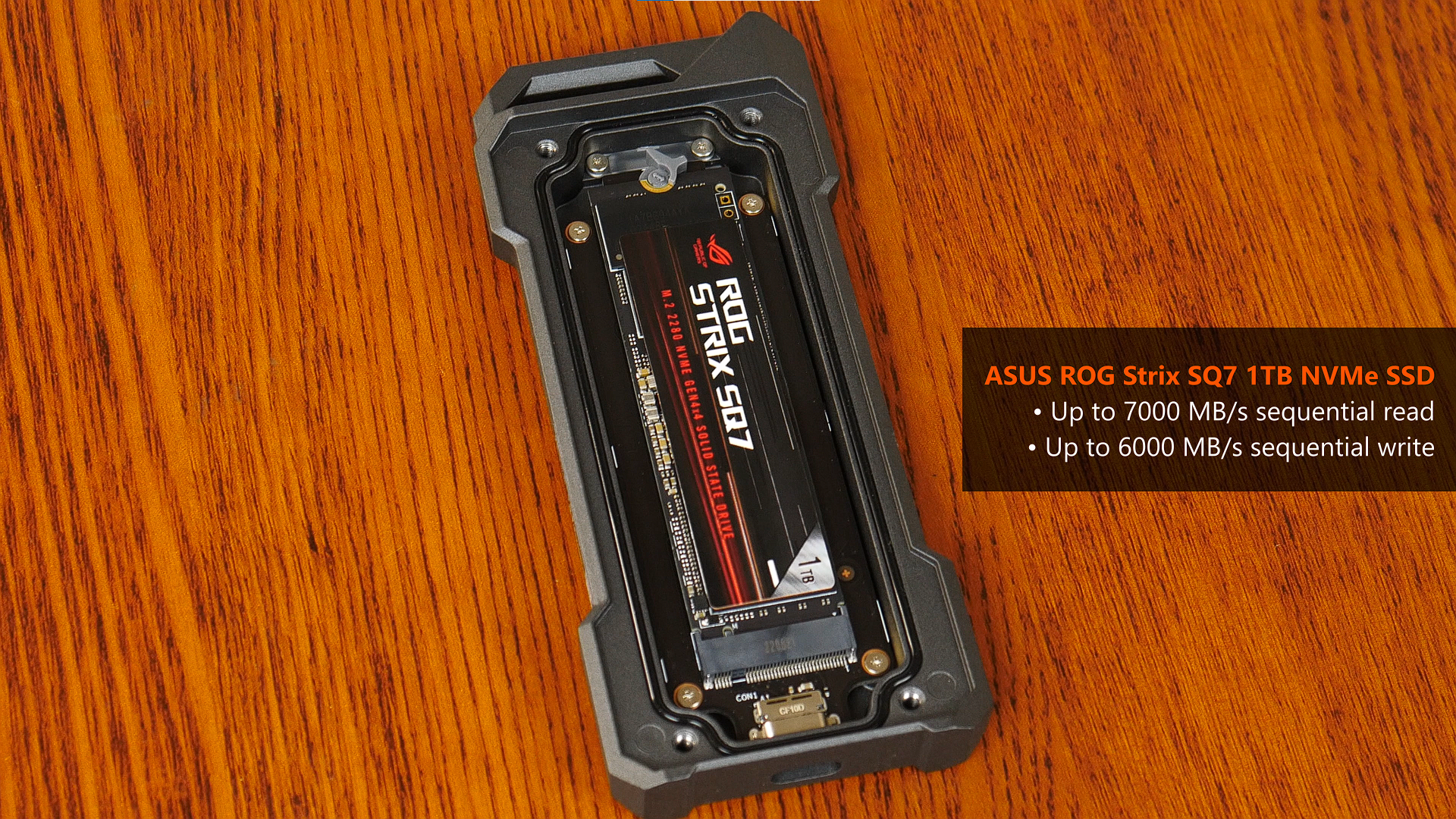 To put the SSD enclosure through its paces, an ASUS ROG Strix SQ7 1TB NVMe SSD will be used together with the TUF Gaming A1. The SQ7 is a PCIe 4.0 x4 NVMe SSD that is rated for write speeds of up to 7000 MB/s and read speeds of up to 6000 MB/s.
The following tests will be run to get a sensing of the data transfer speeds with the SSD enclosure:
CrystalDiskMark 8.0.4
File transfer test
For both tests, the TUF Gaming A1 will be connected to the rear USB 3.2 Gen 2 Type-C port of a PC with the following specs:
Processor: AMD Ryzen 5 5600
RAM: 16GB (2x8GB) Kingston HyperX Predator DDR4 3200
Motherboard: ASRock X570M Pro4
Storage: ADATA XPG SX8200 Pro 512GB
Graphics: ASUS DUAL RX 580 4GB with AMD Adrenalin 22.5.1 drivers
Power Supply: Seasonic M12II-620 EVO
Case: Generic open-air Test Bench
OS: Microsoft Windows 10 Pro (21H1)
CrystalDiskMark 8.0.4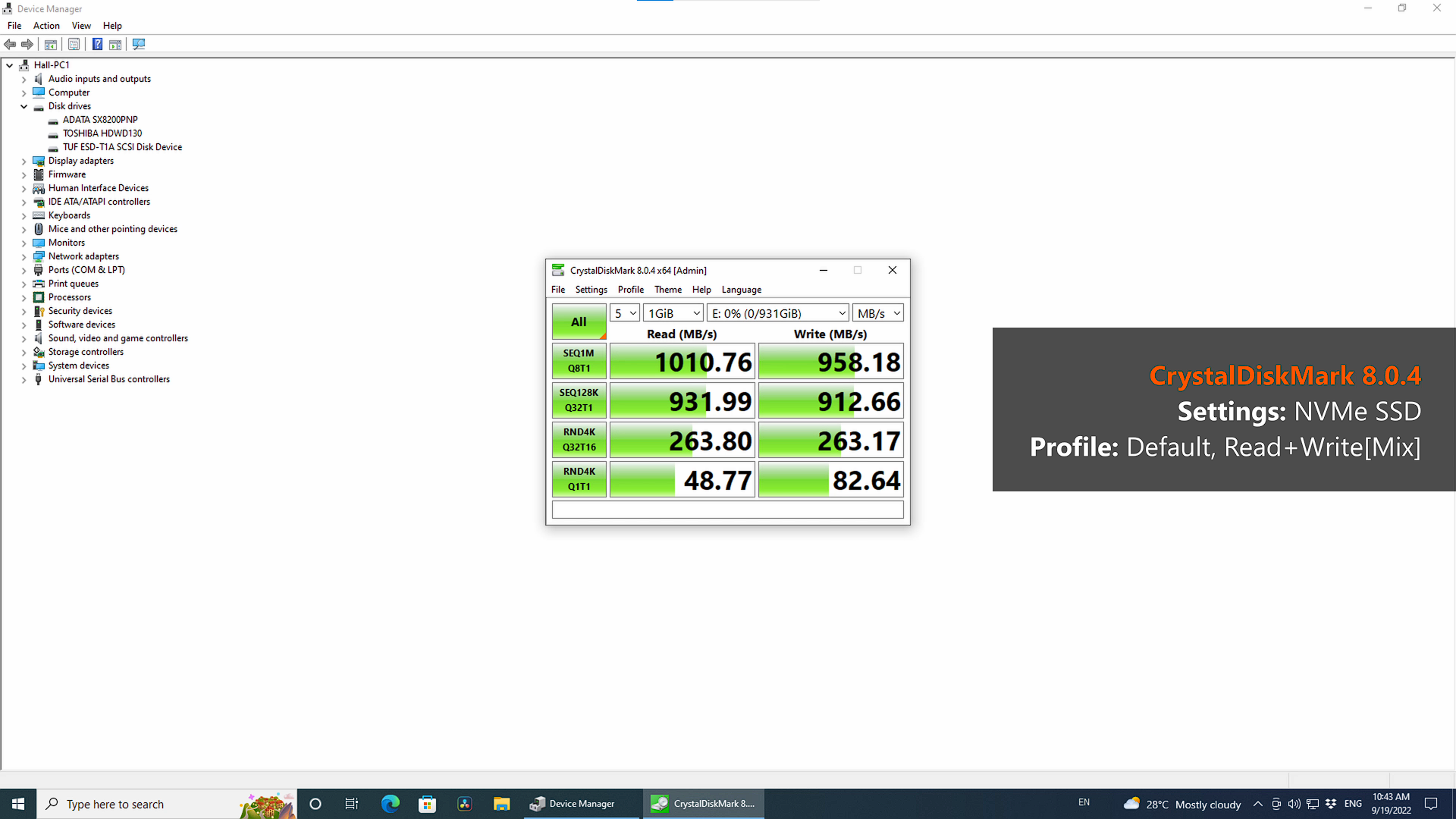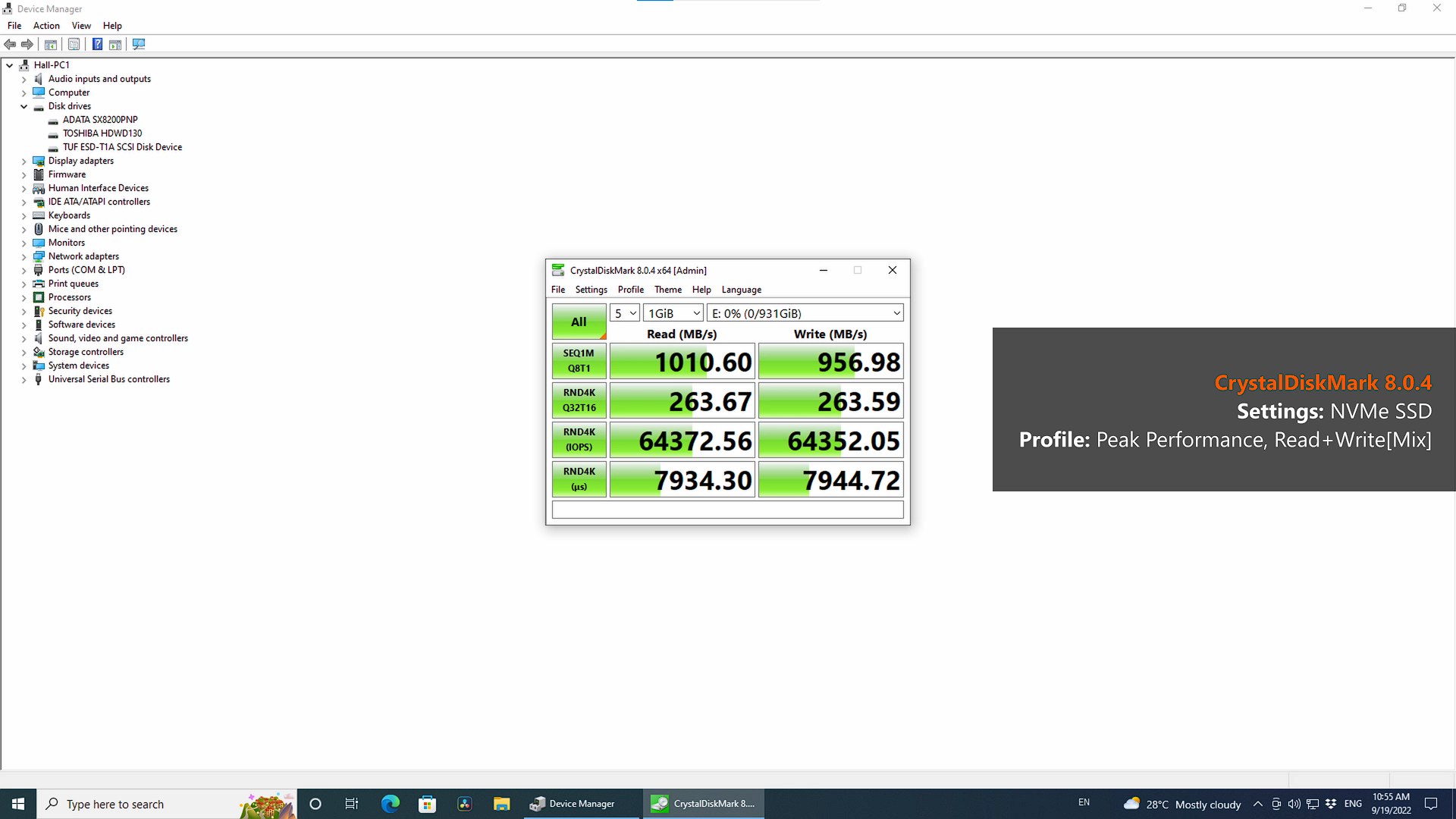 On both the Default and Peak Performance test profiles, the TUF Gaming A1 achieved sequential read speeds of around 1010 MB/s and sequential write speeds of around 957 MB/s with the settings as seen in the above screenshots.
File Transfer Test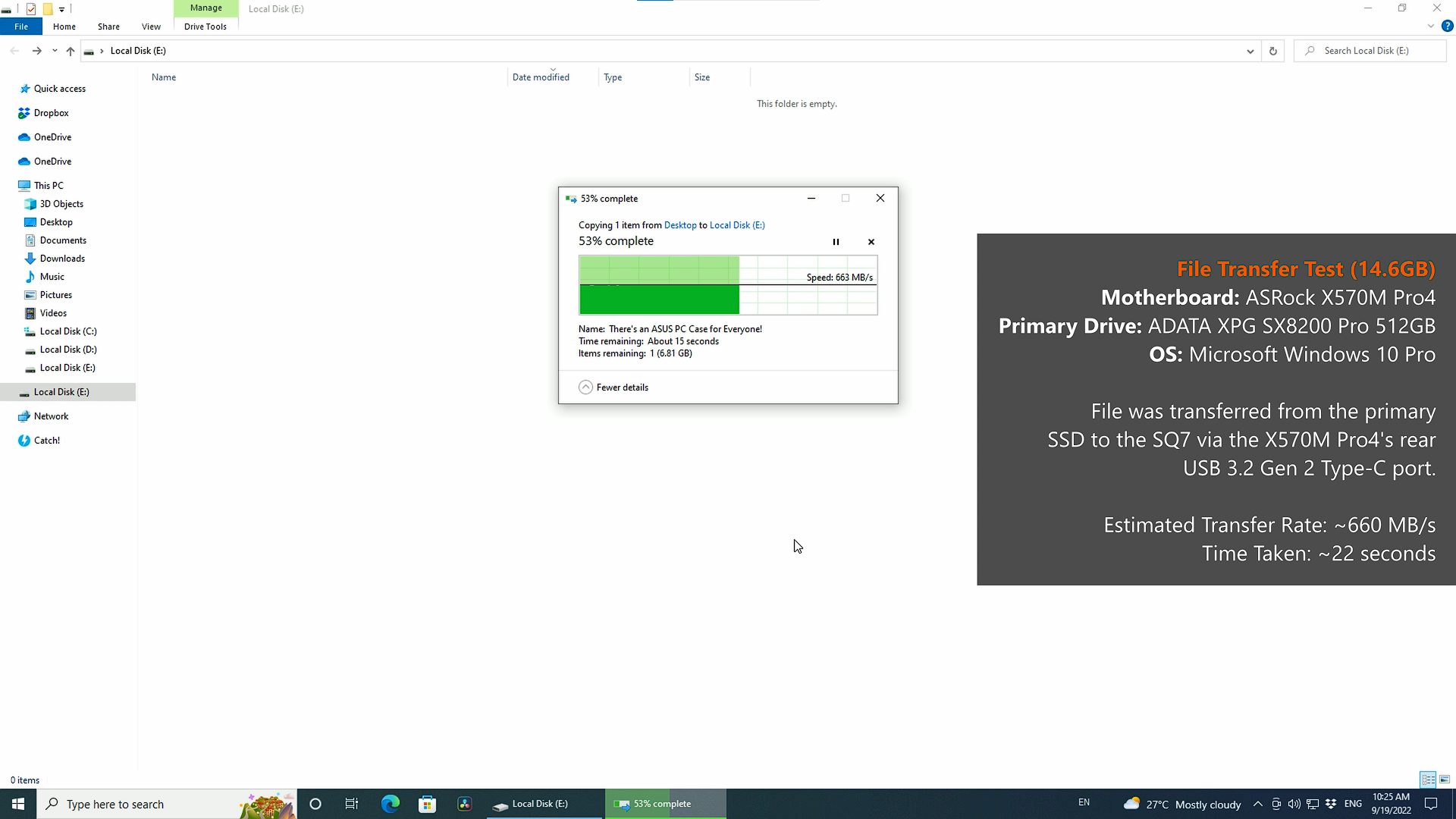 For this quick test, a 14.6GB .mp4 file was transferred from a primary OS drive (ADATA XPG SX8200 Pro 512GB NVMe SSD) with Windows 10 Pro installed, to the ASUS SQ7 by means of the TUF Gaming A1 SSD enclosure. The transfer took around 22 seconds to complete, with an estimated data transfer rate of around 660 MB/s.
Conclusion & Pricing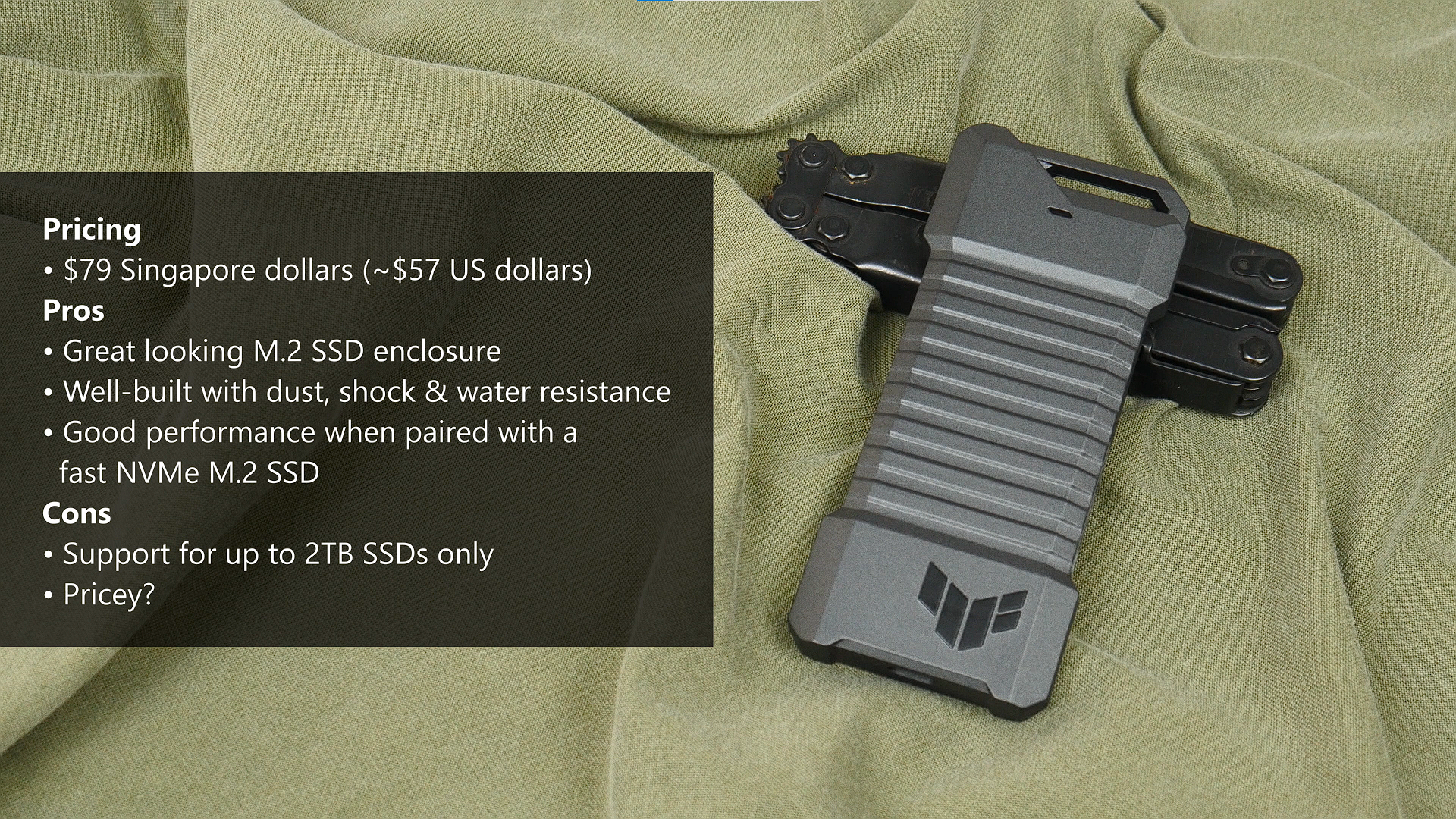 In conclusion, the ASUS TUF Gaming A1 is a well-built premium SSD enclosure that, given its aesthetics, is bound to be a conversation starter for sure. With its dust, shock and water resistance, as well as decent performance when paired with a fast M.2 SSD, it's no wonder that it commands a recommended retail price of $79 Singapore dollars (~$57 US dollars after currency conversion), pricing it on the higher-end in a sea of SSD enclosure offerings that tend to be of the no-frills variety.
One shortcoming to note however, is the enclosure's SSD capacity limitation, where according to ASUS's product page, it's stated to support SSDs of up to 2TB in capacity - it would have been great if the TUF Gaming A1 had support for SSDs beyond 2TB in size for added future-proofness. In all fairness though, it's worth noting that other competitor enclosure offerings seem to have the same 2TB capacity restriction, so all things considered, the TUF Gaming A1 still works out to be a solid offering of a premium portable M.2 SSD enclosure.
As of late September 2022, my understanding is that the TUF Gaming A1 is being currently being shipped to retailers around the world, so availability should improve in the coming weeks or so.
Get this SSD enclosure from Amazon: https://amzn.to/3dAswrI (affiliate link)
ALKtech may earn commissions from qualifying purchases made using affiliate links, at no extra cost to you as a customer. These commissions go a long way in supporting the platform!
The SSD enclosure featured in this article was a review unit on loan from ASUS Singapore.