In its 15ARH7H guise that is powered by AMD's Ryzen 7 6800H processor and NVIDIA's GeForce RTX 3060 GPU, the Legion 5 proves to be a solid 1440p gaming laptop.
Laptops powered by AMD's "Rembrandt" Ryzen 6000 series of mobile processors have slowly but steadily made appearances in mid-to-high range laptops since their announcement at the start of 2022. Powered by the Zen 3+ architecture and built atop TSMC's 6nm process technology, the Ryzen 6000 series of processors have Intel's 12th Gen mobile CPUs (and 13th Gen mobile CPUs when they eventually launch) squarely in their sights. For today's article, ALKtech checks out a gaming laptop powered by the performance-oriented Ryzen 7 6800H processor, Lenovo's Legion 5.
In its Gen 7 iteration, the Legion 5 with model number 15ARH7H comes equipped with either the Ryzen 5 6600H processor, a six-core part, or the Ryzen 7 6800H, an eight-core part. For the purposes of this article, the 82RD006DSB variant of the Legion 5, which is a Singapore-specific SKU, will take centerstage.
Packaging & Accessories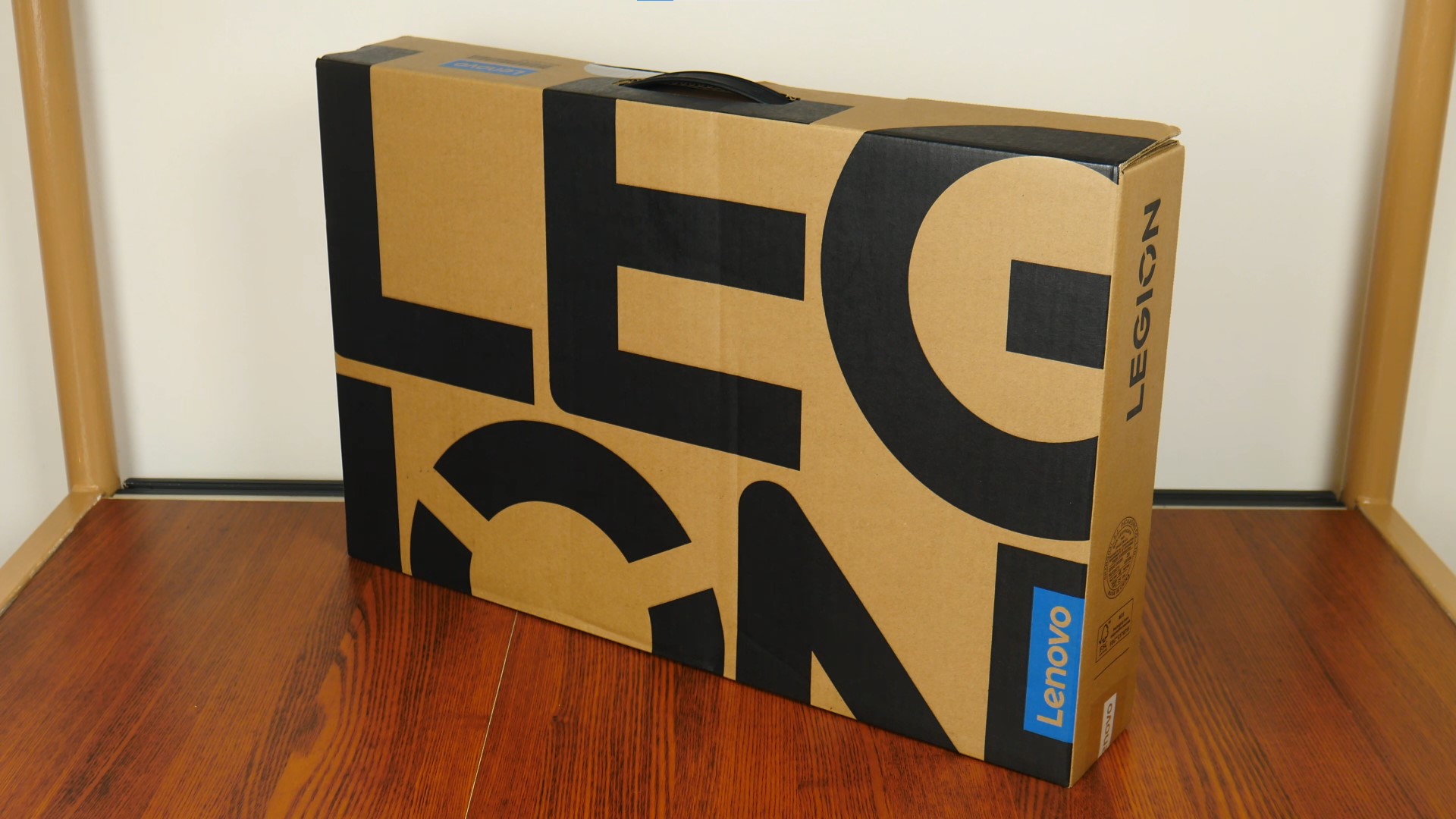 The Legion 5 comes in a brown cardboard box that belies its gaming pedigree, with nary a gamer-esque graphic in sight.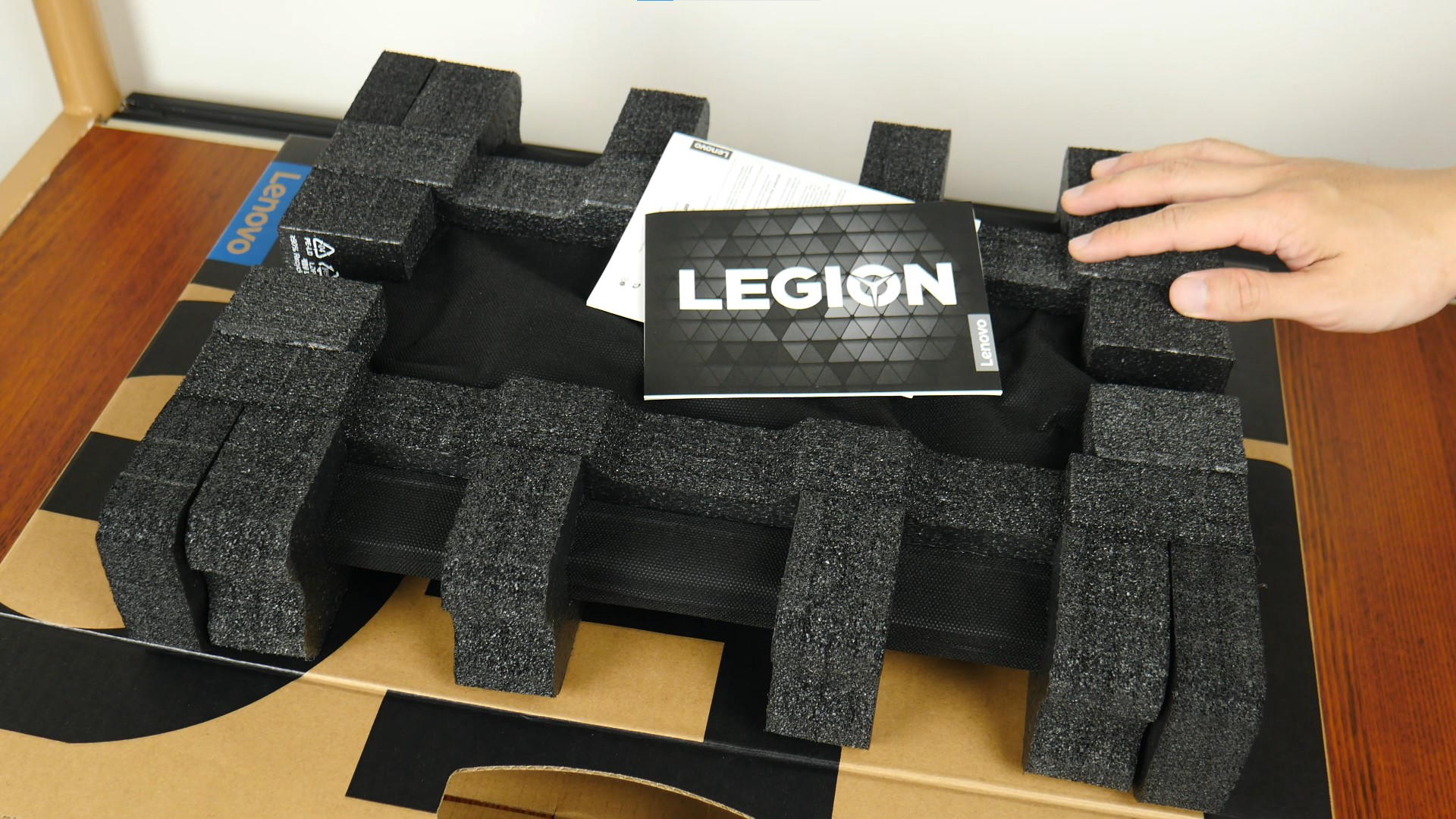 Included with the laptop are the following accessories:
Quick Start guide
Safety information leaflet
Lenovo Premium Care flyer
Power cord
230W AC power adapter (model ADL230SDC3A)
Aesthetics & Build Quality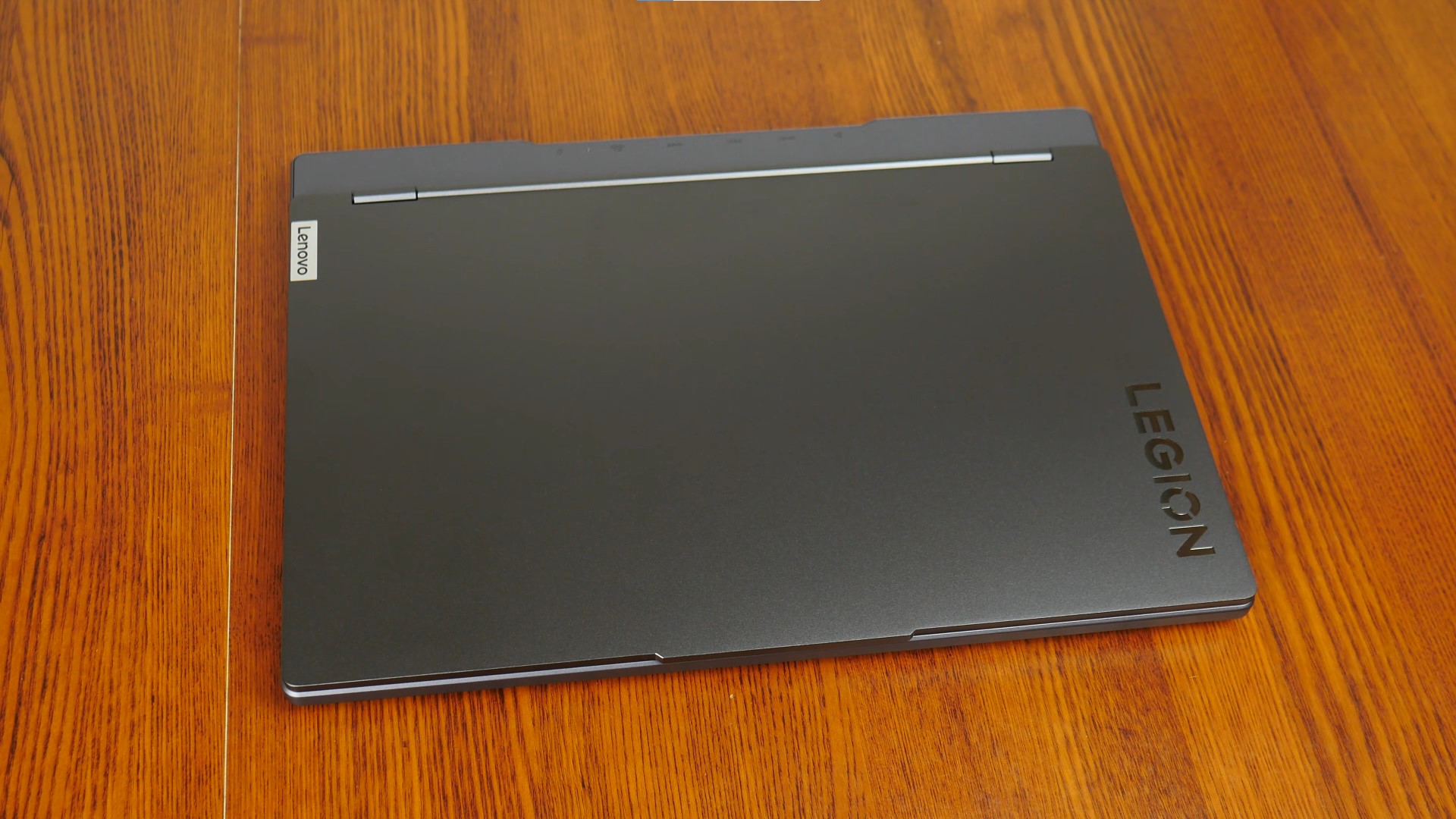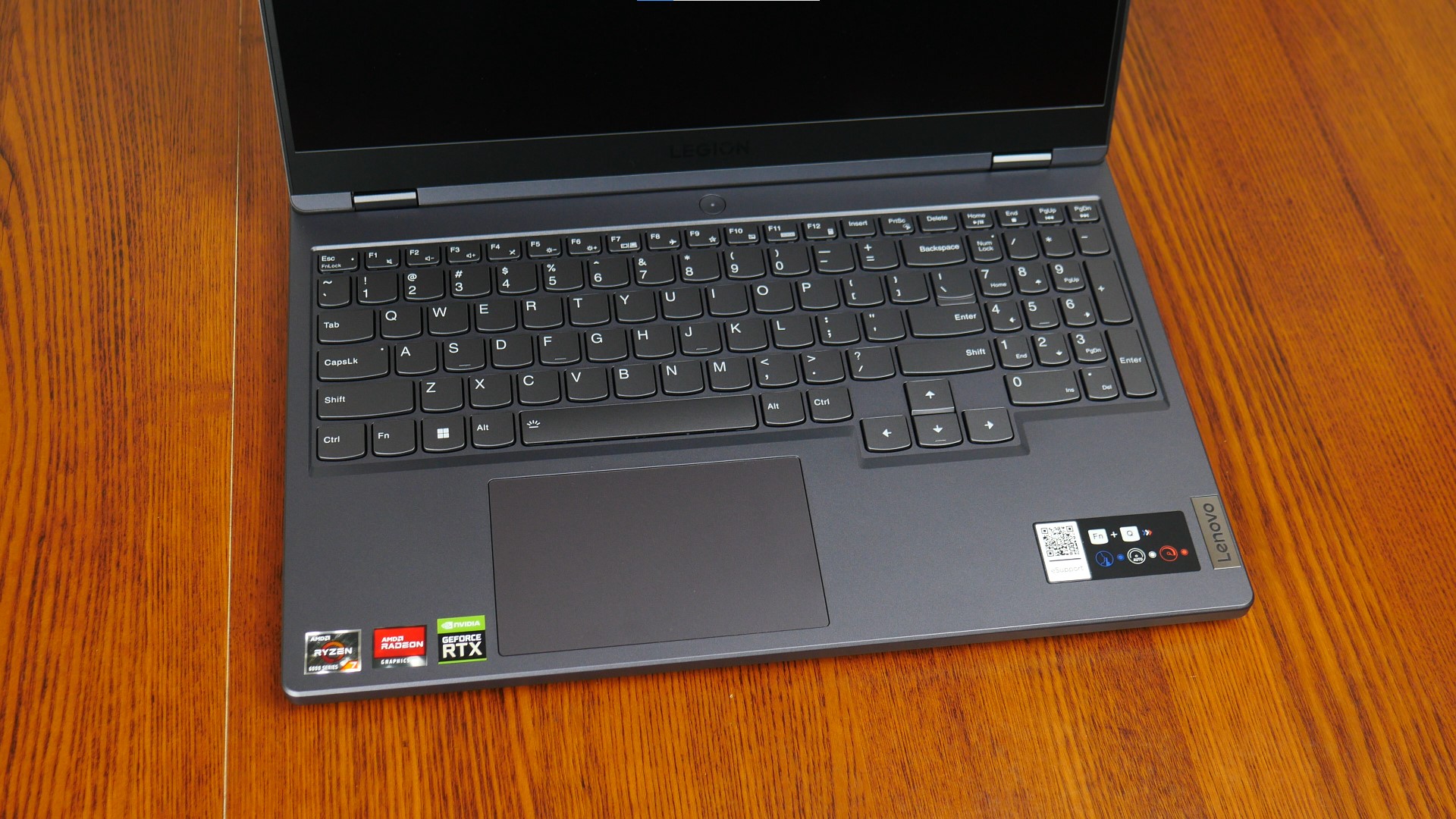 The Legion 5 sports a relatively muted appearance for a gaming laptop, with an aluminium lid and the rest of the body made out of plastic.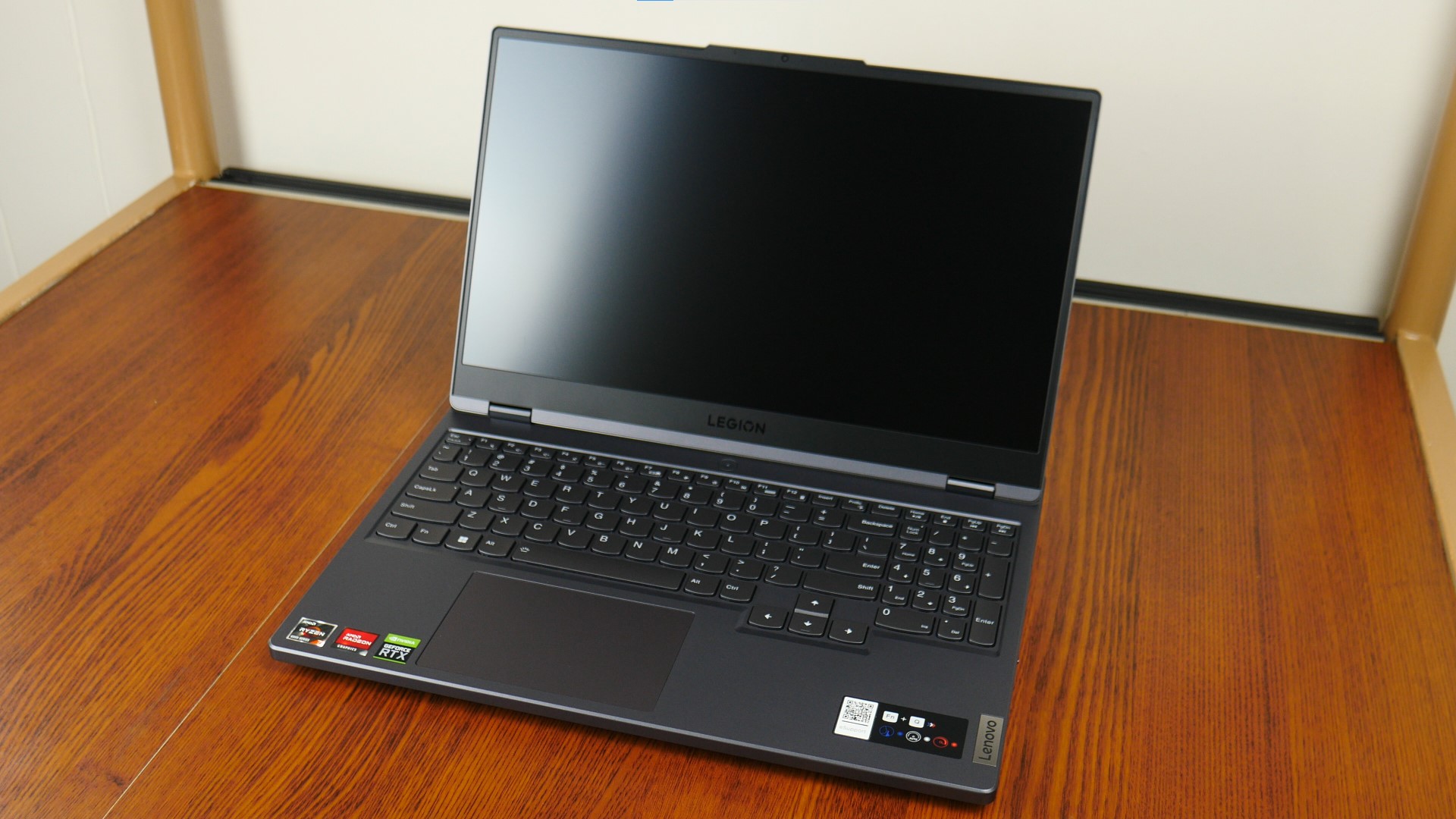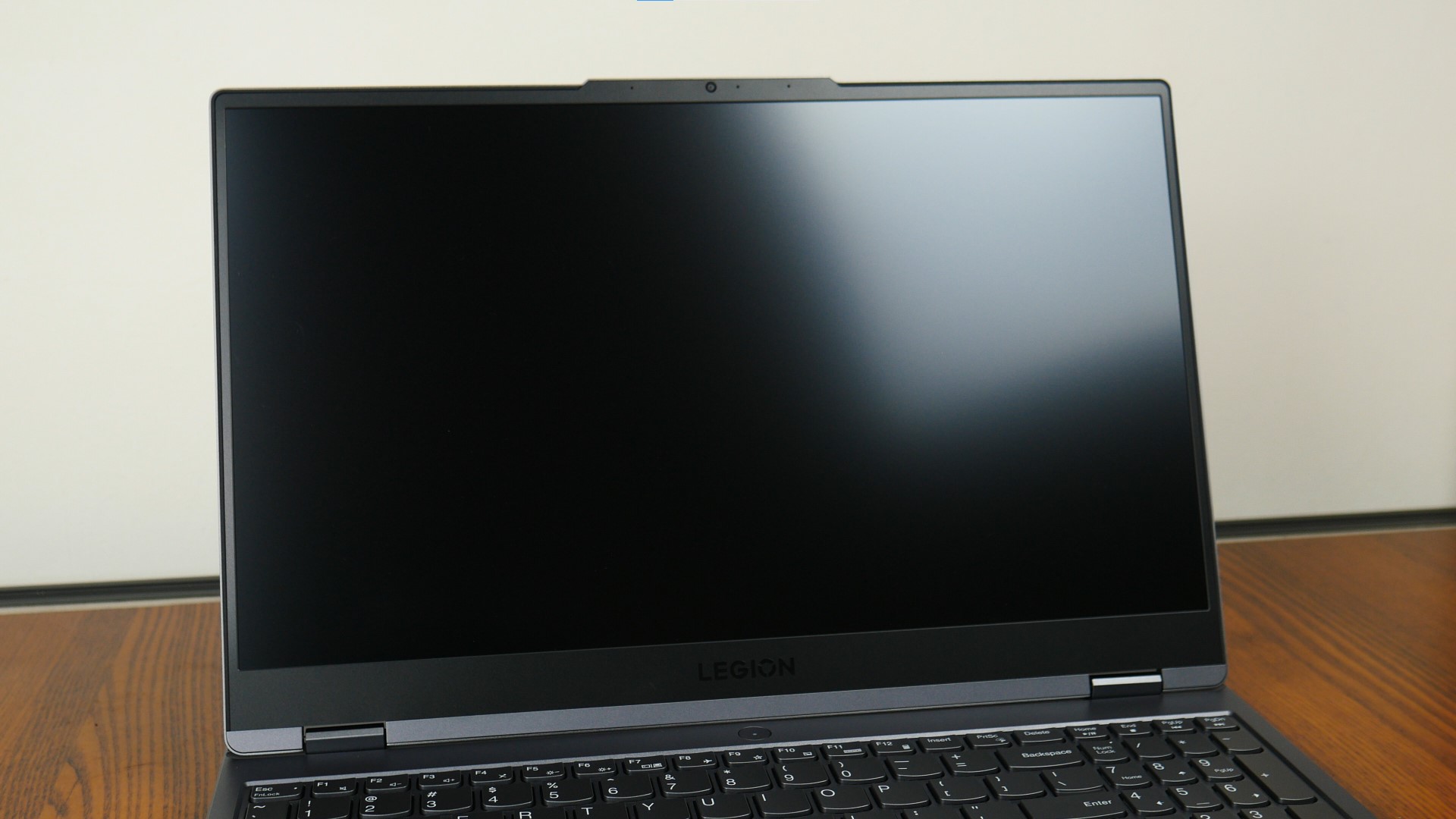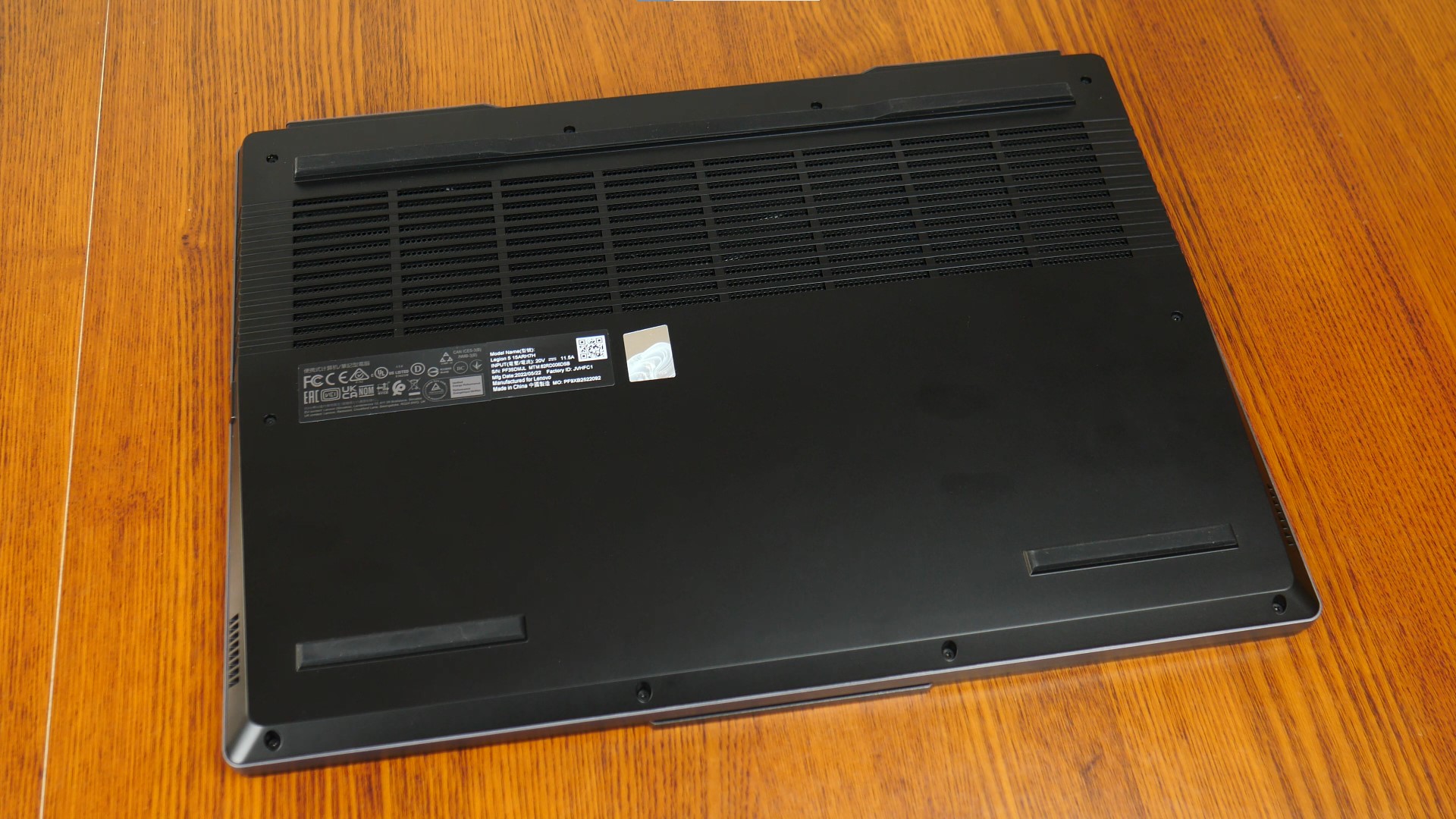 This particular model of Legion 5 comes in a colour that Lenovo terms "Storm Grey", with majority of the laptop finished in the said shade of grey. The bezel of the LCD screen and the base of the laptop are finished in black for contrast.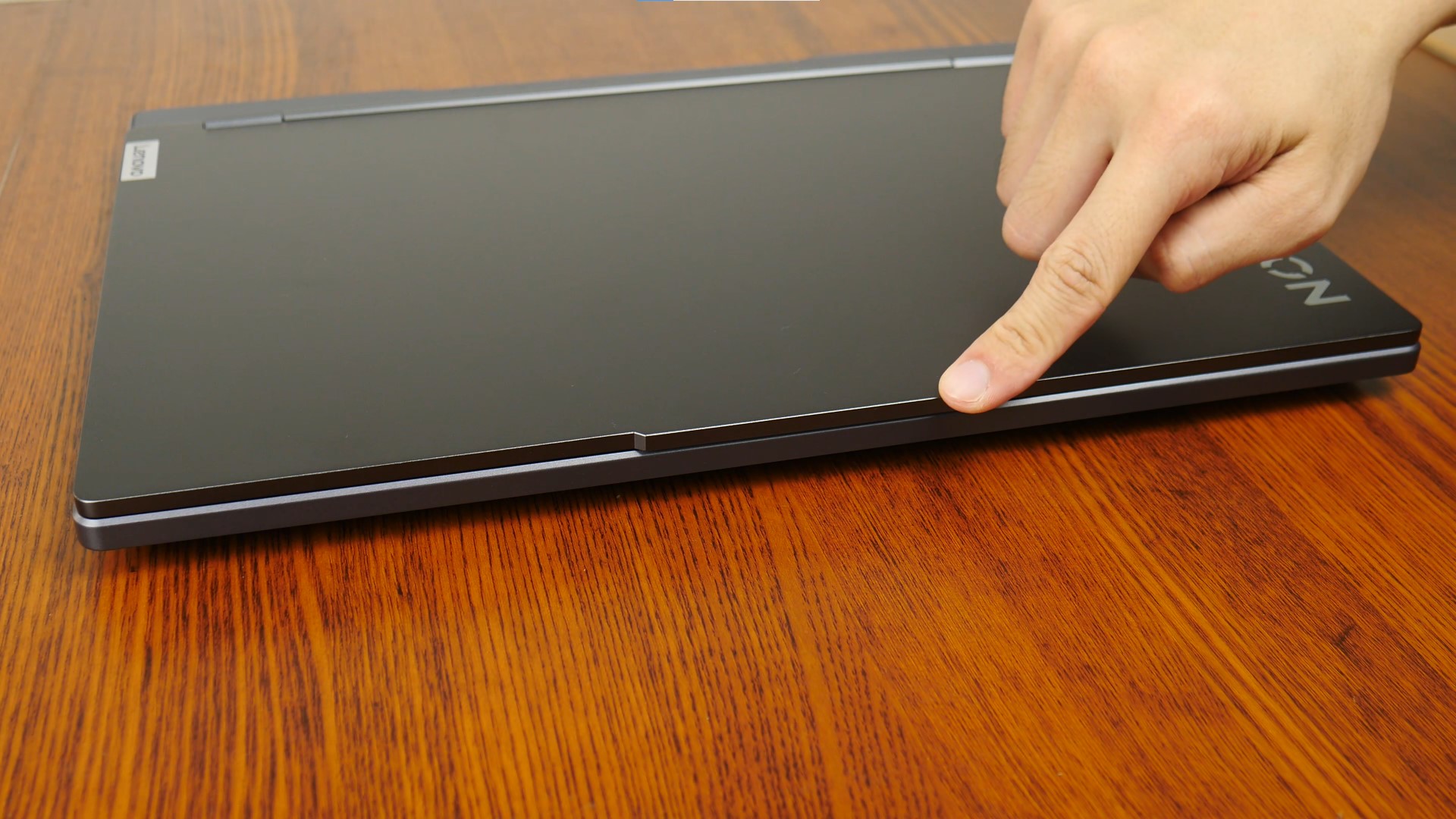 Despite its majority-plastic construction, the Legion 5 feels pretty sturdily-built, and its hinge action is solid with no hint of flex or wobble from the chassis when opening the lid. The lid can also be conveniently opened with just a single finger, owing to the lip that is built into the long edge of the lid.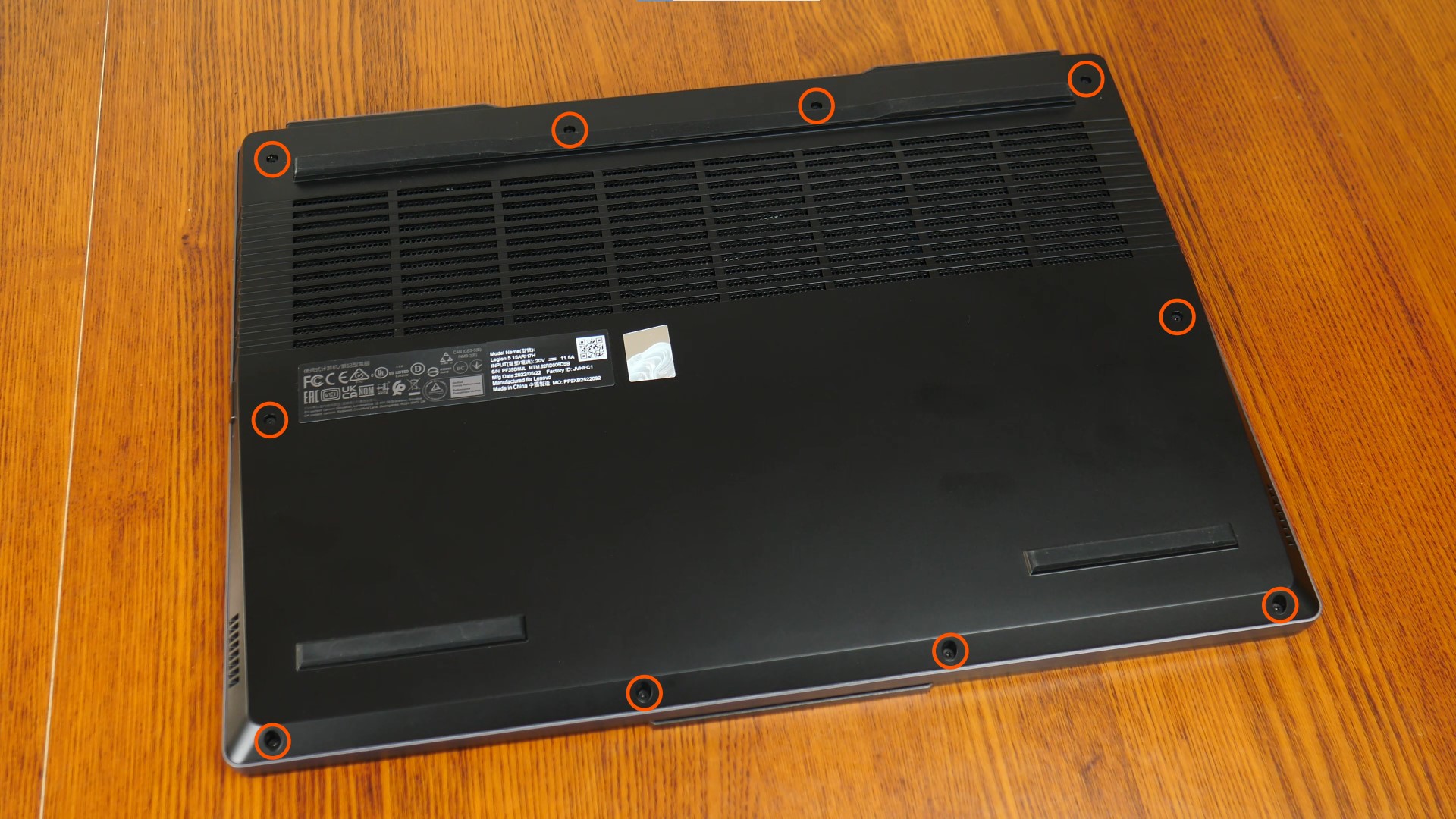 Lenovo seems to have designed the Legion 5 with ease of serviceability in mind, where gaining access to the laptop's innards seems straightforward enough an affair. The plastic base of the laptop is held in place by ten Philips-type screws which have to be undone - end-users would then have to use a plastic pry tool to pop off the base cover.
Physical Connectivity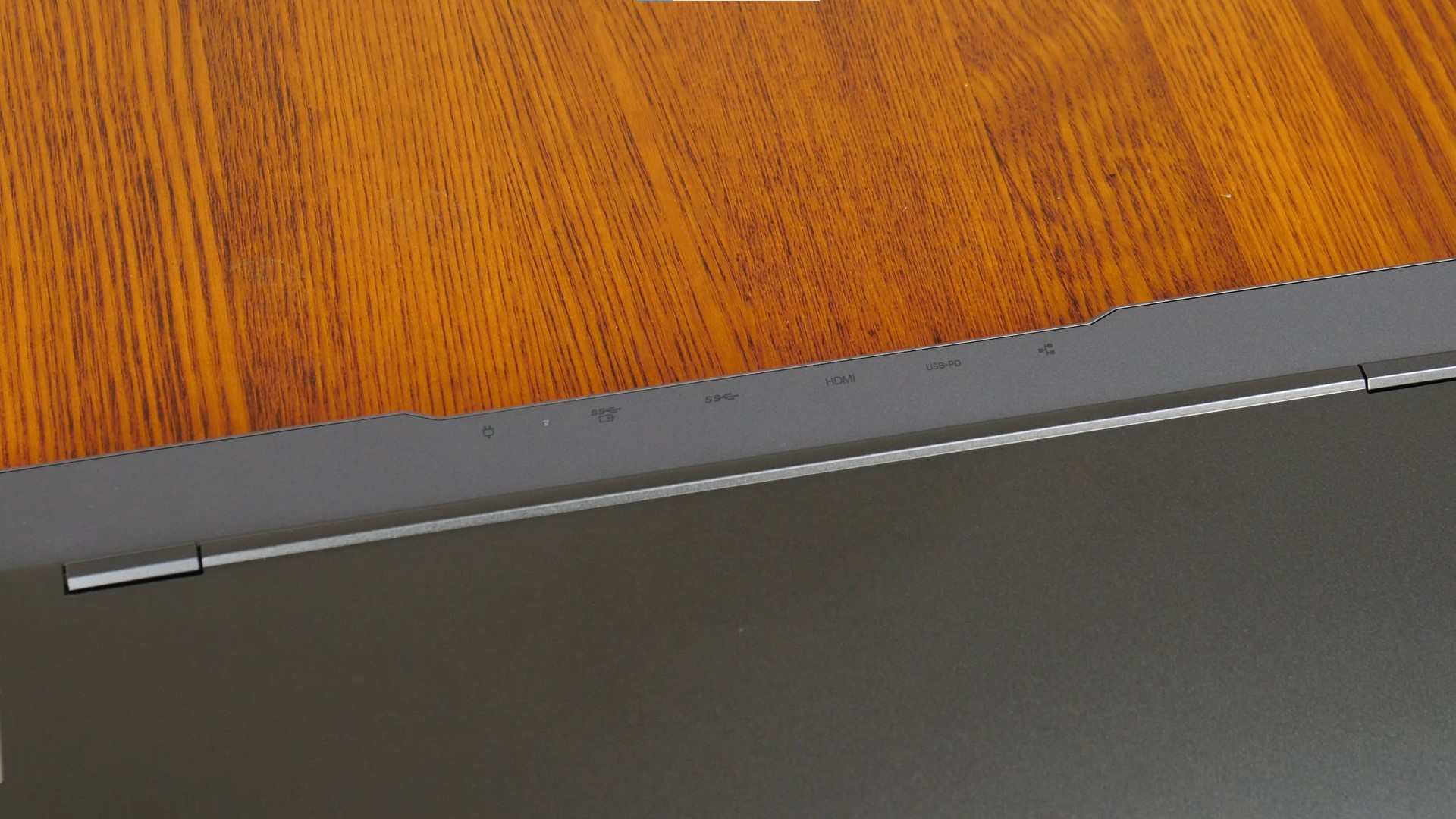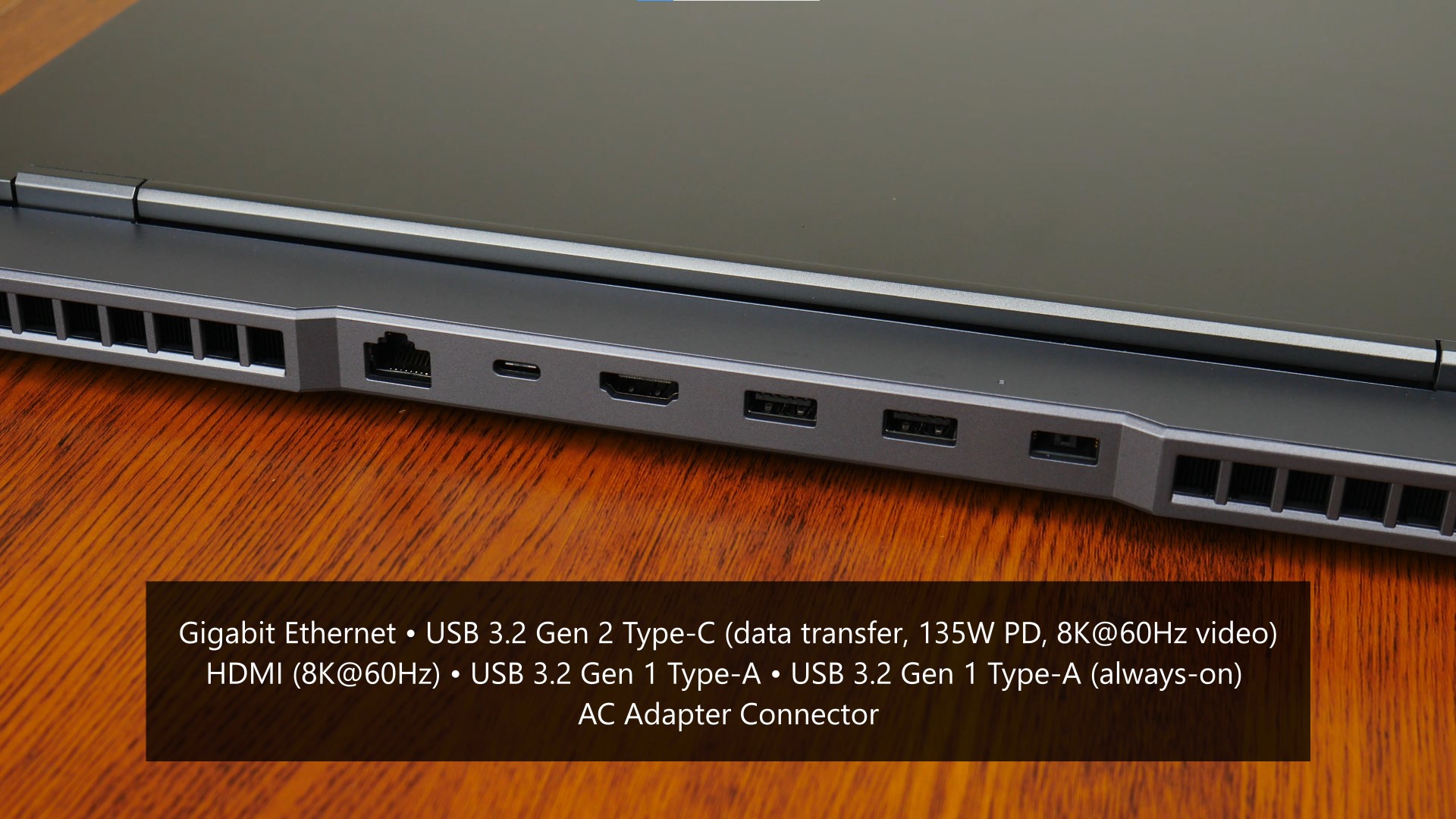 The Legion 5 comes with a decent set of I/O ports for connectivity purposes. Over on the rear, we get the following ports:
Gigabit Ethernet port
USB 3.2 Gen 2 Type-C port (supports data transfer, 135W Power Delivery and video output of up to 8K resolution at 60Hz)
HDMI port (supports video output of up to 8K resolution at 60Hz)
USB 3.2 Gen 1 Type-A port
USB 3.2 Gen 1 Type-A port (always-on)
AC adapter port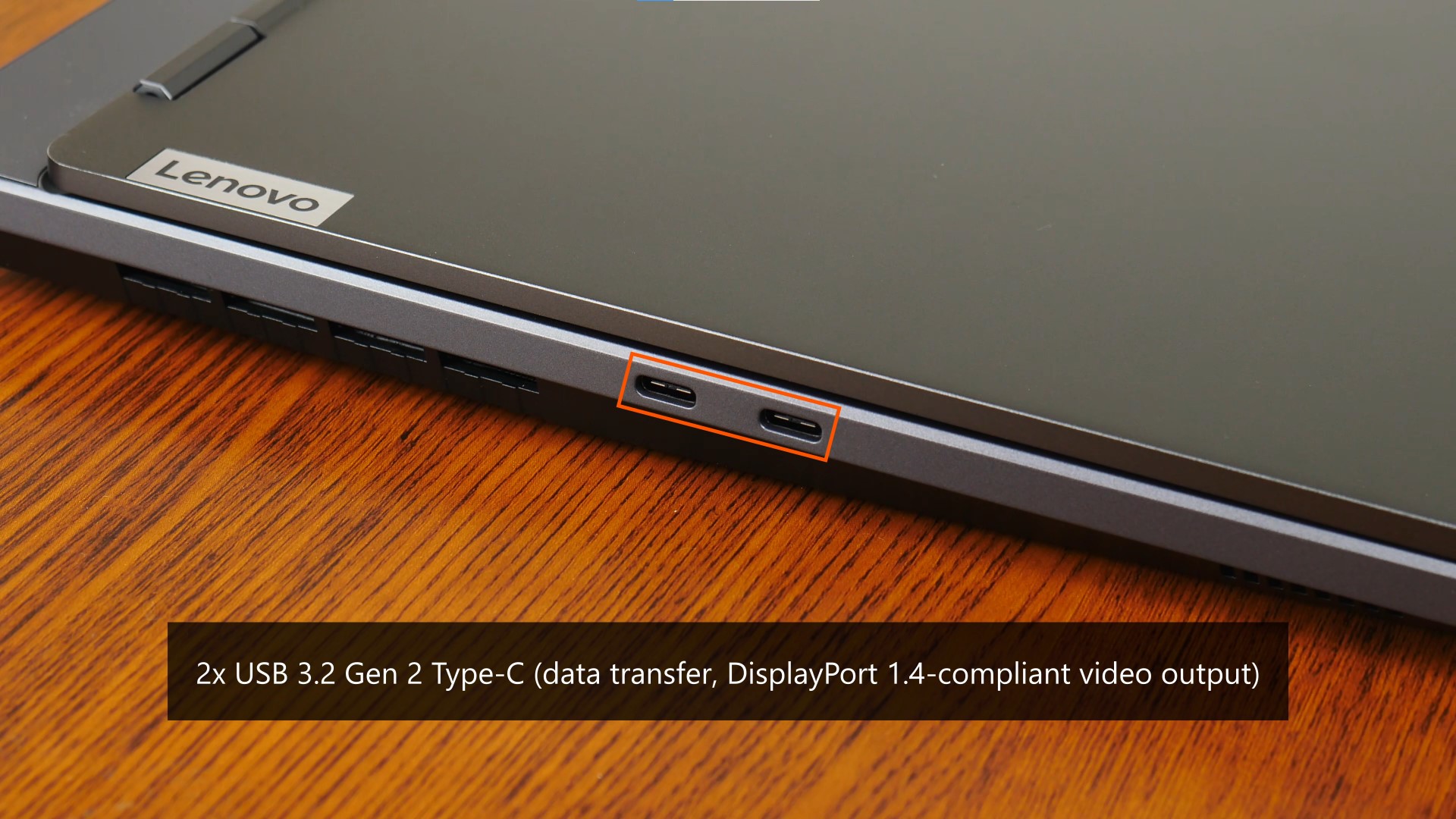 Over on the left short edge of the laptop, we get two USB Type-C ports. For some reason, Lenovo's customer facing marketing materials state that these two ports conform to the USB 3.2 Gen 2 Type-C standard, where they both support data transfer and DisplayPort 1.4-compliant video output. However, with some internet sleuthing, Lenovo's Product Specifications Reference portal (link here: https://psref.lenovo.com/Product/Legion_5_15ARH7H?tab=spec) reveals that one of these USB Type-C ports actually supports the latest USB4 standard with a BIOS update: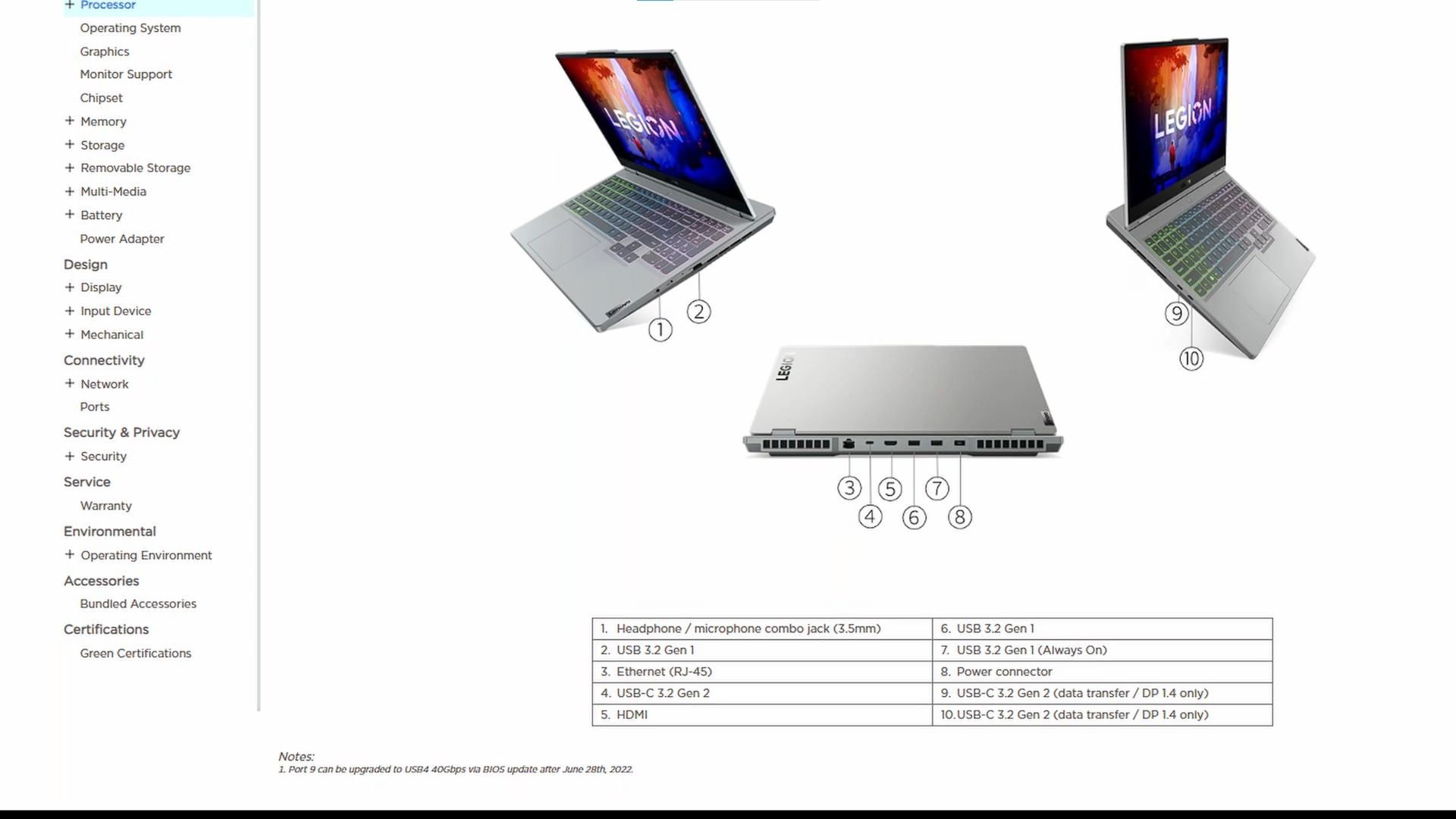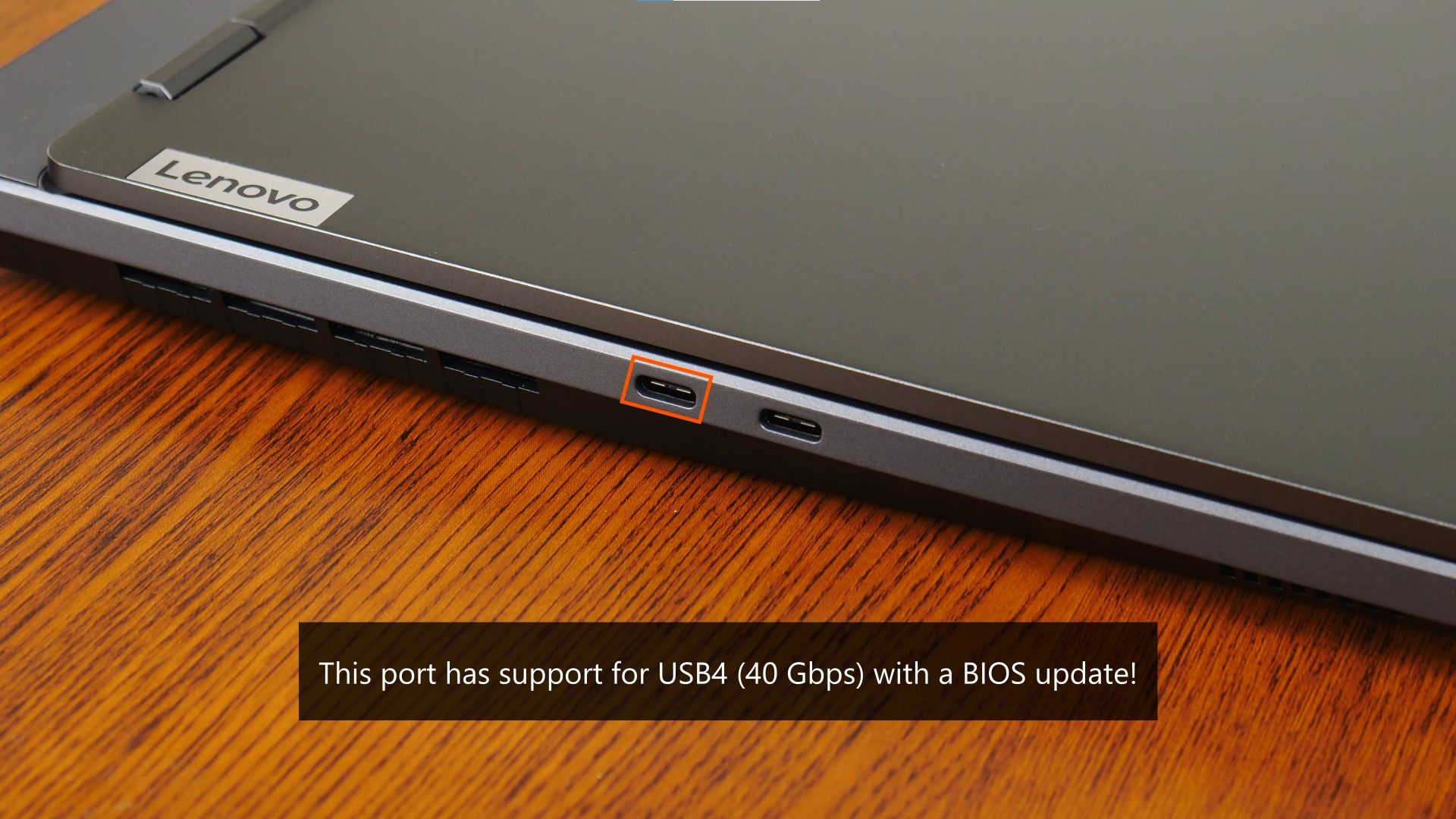 Blink, and you'll miss out the small footnote that Lenovo's consigned the USB4 feature to. Why the company has chosen not to trumpet this feature on its main product features page is beyond me, but end-users of the 15ARH7H would do well to update their laptop's BIOS to the latest version so as to "unlock" this feature (if they don't already have it). Verifying whether or not a BIOS update is needed to enable USB4 is as simple as checking whether the line-item for USB4 exists in Device Manager, like so: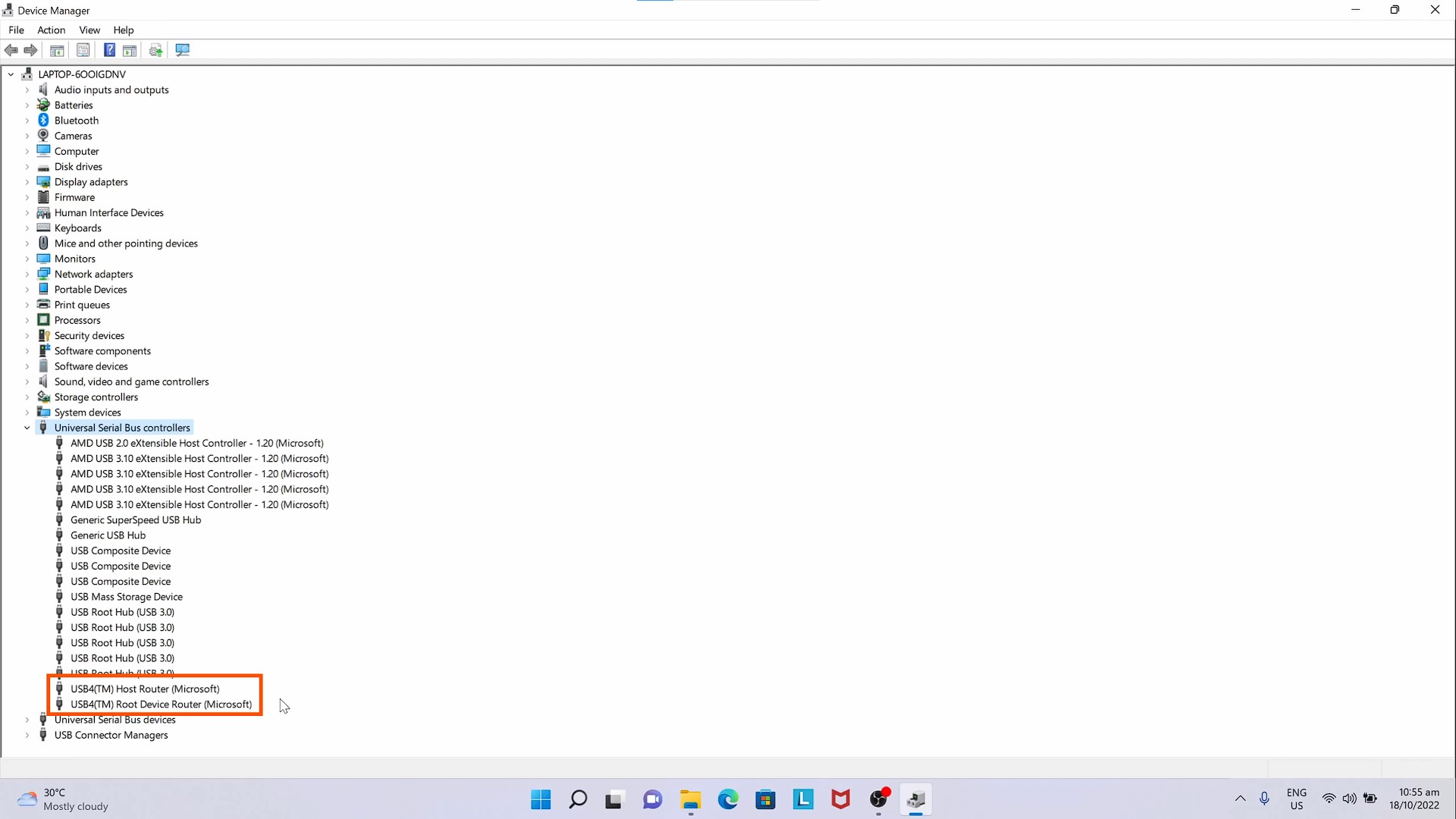 If there are USB4 line items under the "Universal Serial Bus Controllers" section, your Legion 5 should have the latest BIOS installed. If not, downloading and installing the latest BIOS is actually a pretty straightforward affair - the latest BIOS can be found on the Support page for this particular laptop.
Rounding off the external connectivity section, the right short edge of the laptop houses a 3.5mm headphone/microphone combo jack, an E-Camera Shutter Switch which is essentially, a physical switch used to enable and disable the laptop's built-in webcam for added peace-of-mind, a power indicator LED, as well as a USB 3.2 Gen 1 Type-A port.
Summary of Specifications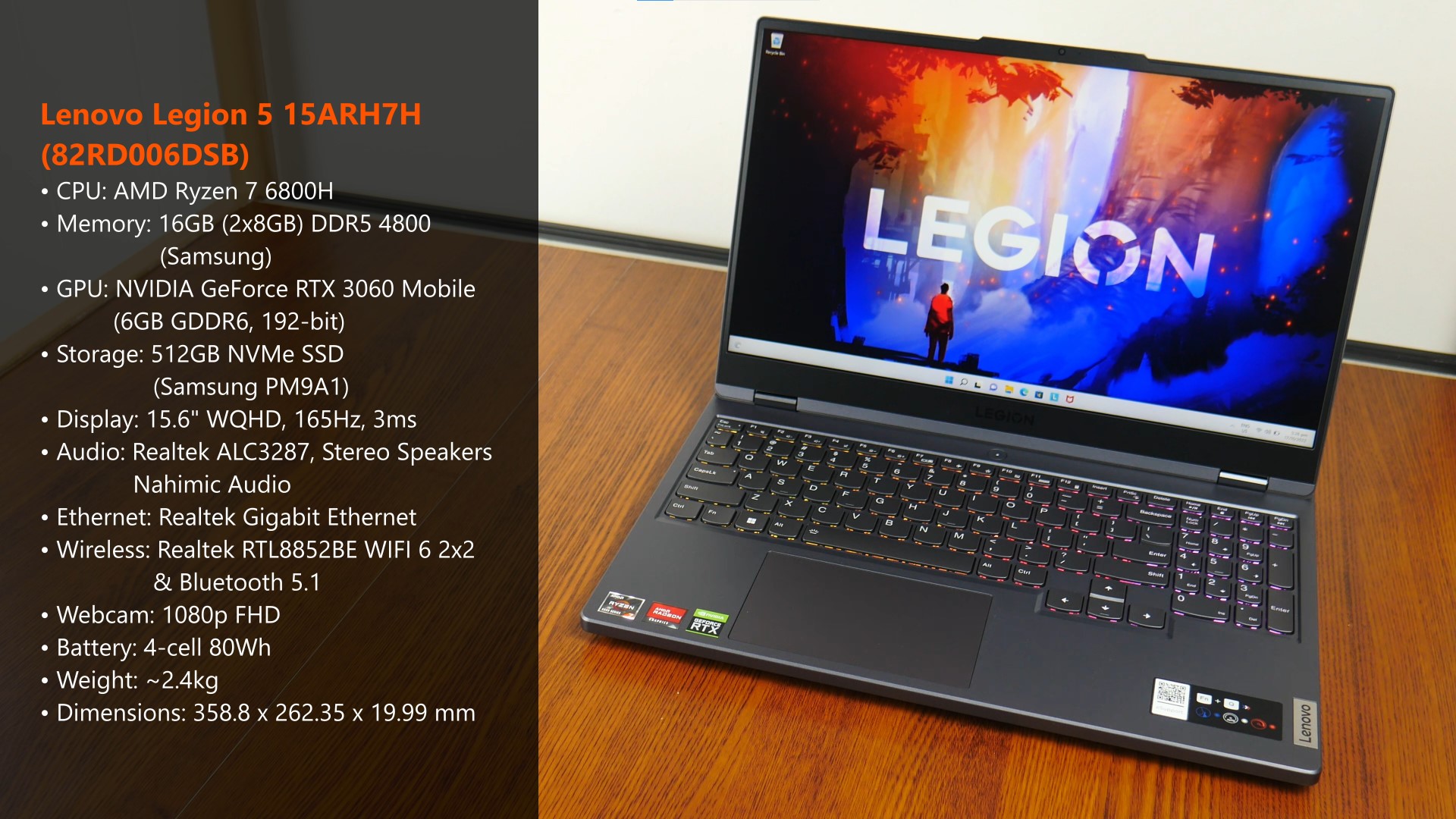 The Legion 5 15ARH7H, with model number 82RD006DSB featured in this article, comes with the following specs:
Processor: AMD Ryzen 7 6800H (8C/16T, 3.2Ghz base clock, 4.7GHz boost clock)
Memory: 16GB (2x8GB) Samsung DDR5 4800 RAM running in quad channel configuration
Graphics: NVIDIA GeForce RTX 3060 Laptop GPU with 6GB Samsung GDDR6 VRAM (192-bit)
Storage: 512GB Samsung PM9A1 NVMe SSD (MZVL2512HCJQ)
Display: 15.6" WQHD (1440p) IPS LCD, 165Hz refresh rate, 3ms response time
Audio: Realtek ALC3287 audio codec with built-in stereo speakers, Nahimic audio feature
Ethernet: Realtek Gigabit Ethernet
Wireless: Realtek RTL8852BE WIFI 6 with Bluetooth 5.1
Webcam: 1080p full HD webcam with built-in mic
Battery: 4-cell 80Wh
Weight: ~2.4kg
Dimensions: 358.8 x 262.35 x 19.99 mm
Display Overview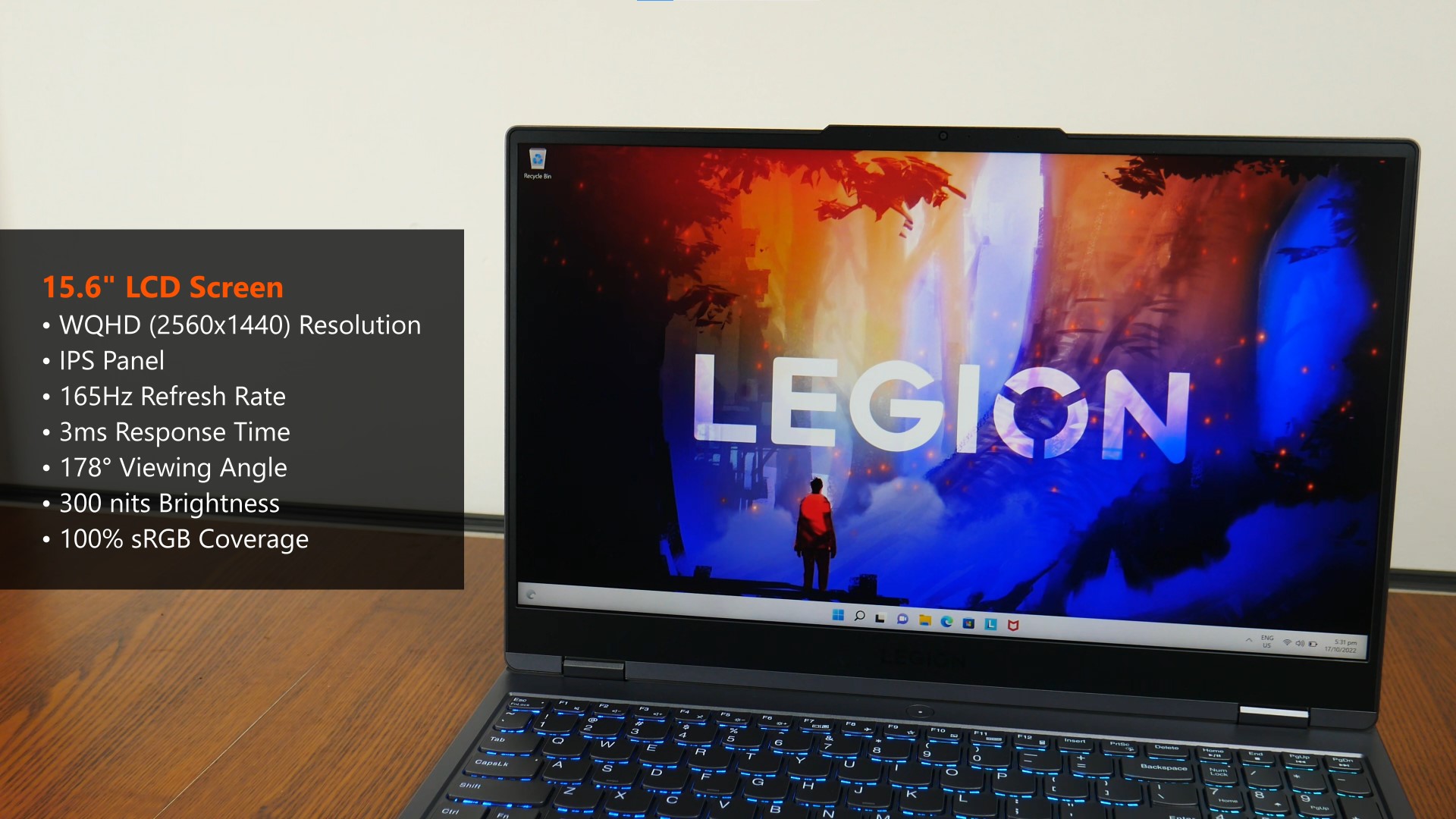 The 82RD006DSB in this article comes equipped with a 15.6" WQHD (2560x1440) IPS LCD panel that boasts a snappy refresh rate of 165Hz and a 3ms response time. Lenovo also touts the screen to have a 178° viewing angle, a maximum brightness of 300 nits, as well as 100% sRGB coverage, which should make for pretty good-looking visuals.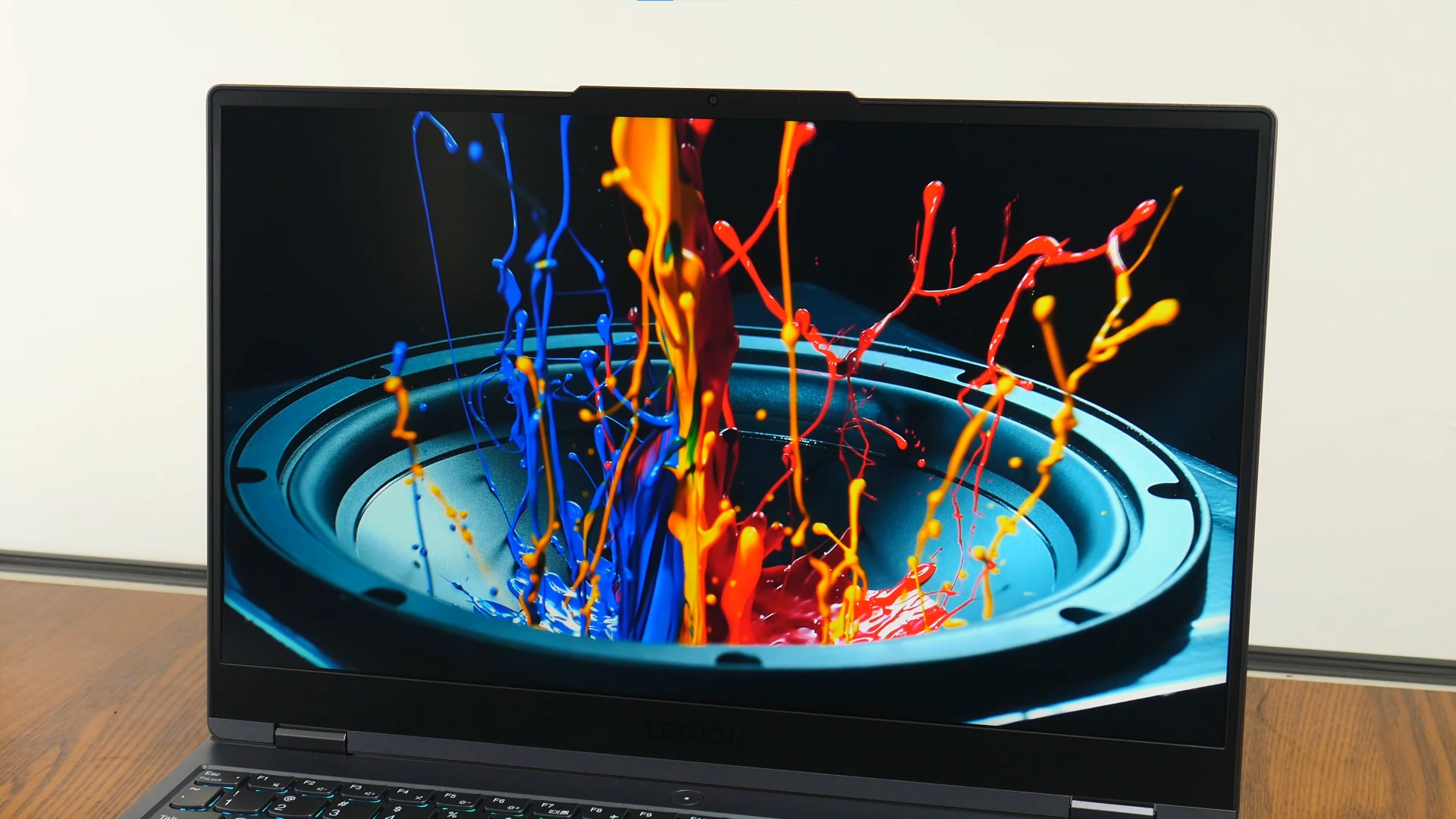 As of the time of writing this article, I did not have a colourimeter to test the display's actual colour accuracy, but based on subjective visual observation alone, colours seemed crisp and vivid out-of-the-box to my eyes.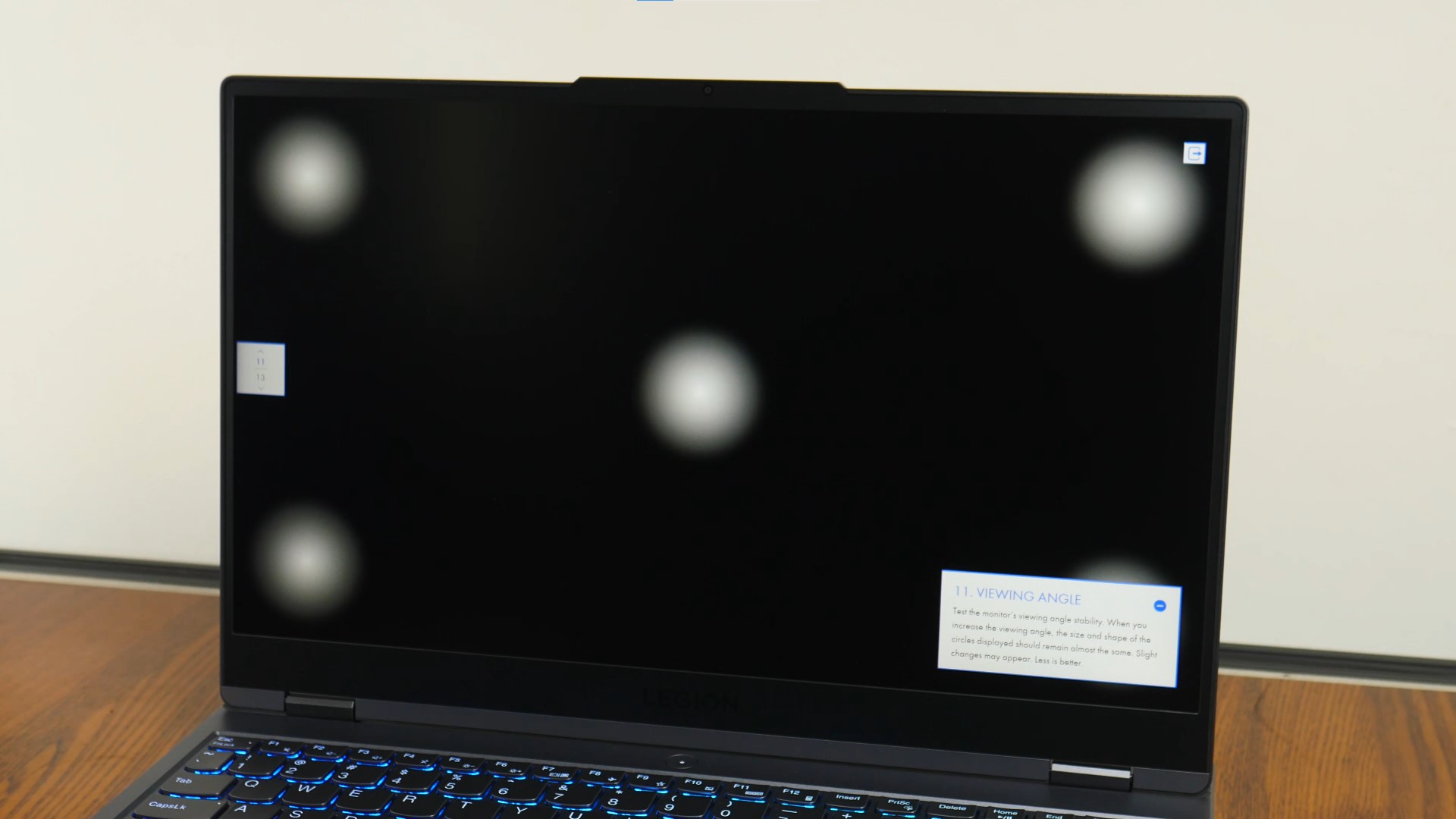 Viewing angles are great too with the screen, and I did not observe any backlight bleed during testing.
Preinstalled Apps & Bloatware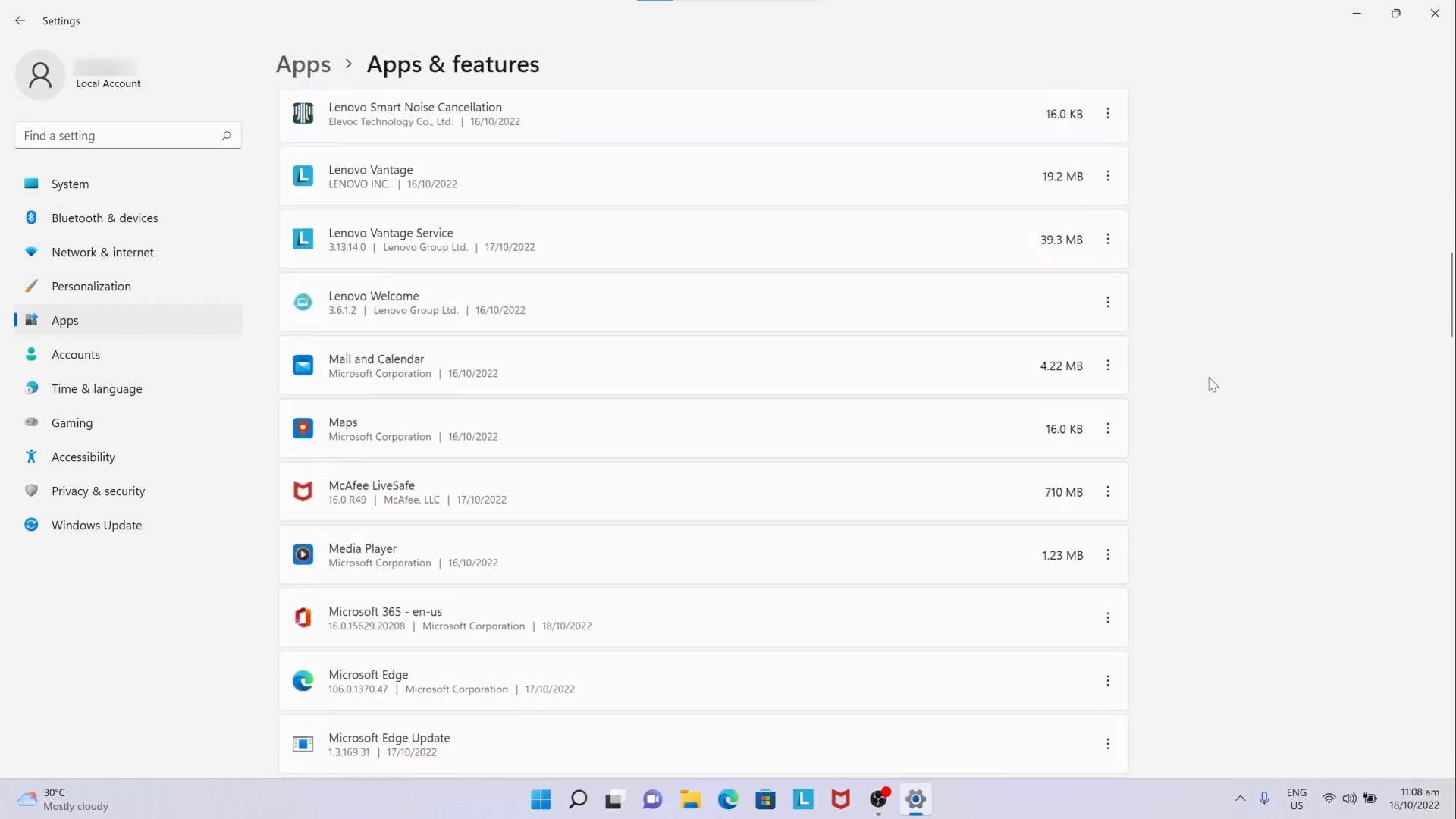 The Legion 5 comes with Microsoft Windows 11 Home (21H2) pre-installed, and has a surprisingly light installation with not much bloatware. I'd probably ditch the McAfee antivirus software, and go for a free antivirus app instead.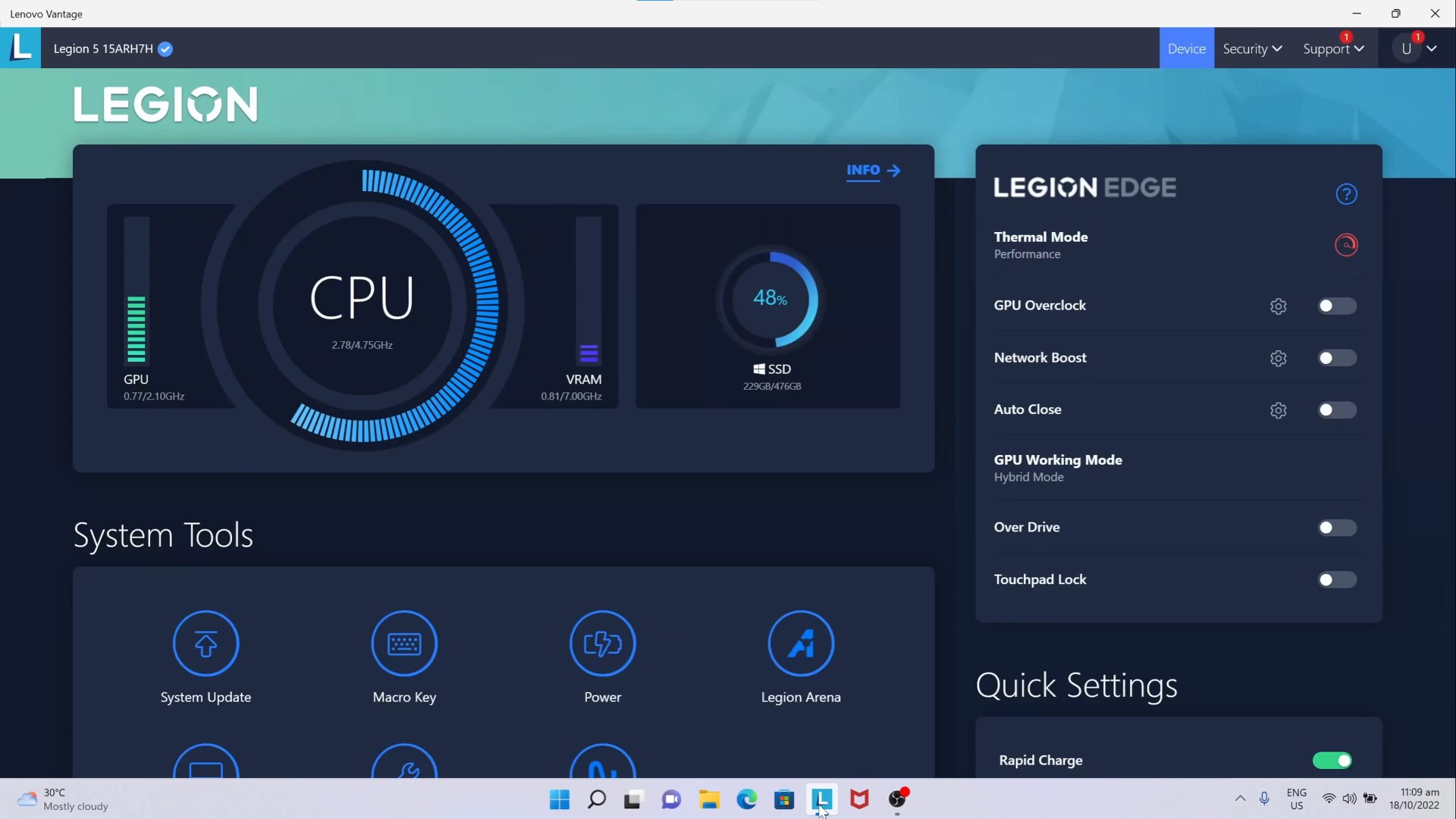 The Legion 5 comes with Lenovo's Vantage app, which is an all-in-one application that allows end-users to configure a variety of laptop settings, ranging from performance and power profiles, to audio settings, and even the ability to configure the keyboard's RGB lighting effects. The app was straightforward enough to use, and afforded a plethora of configuration options for the laptop.
Webcam & Microphone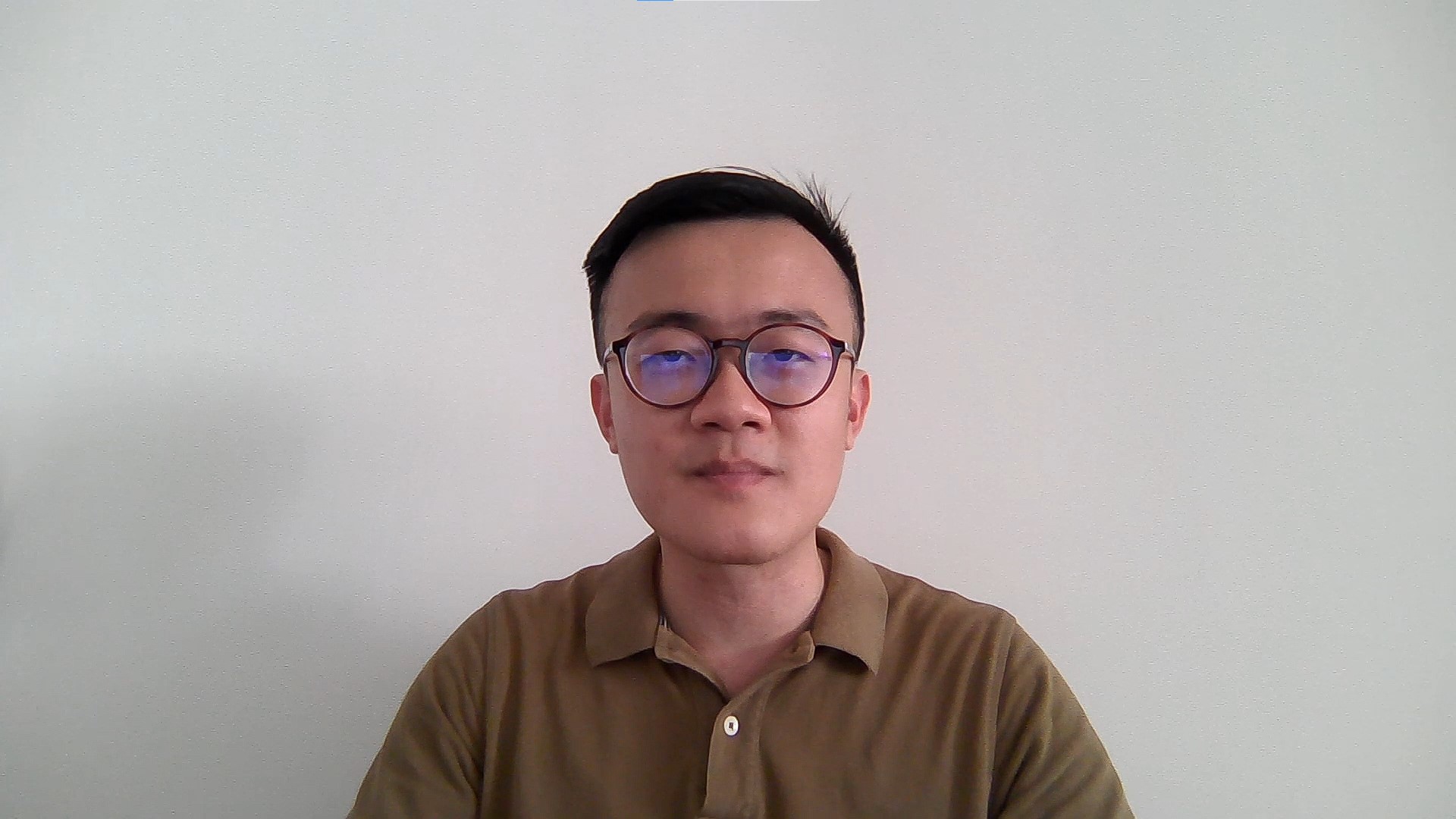 The Legion 5 comes with a 1080p full HD webcam that has Lenovo's E-Camera shutter switch feature - as mentioned earlier, the E-Camera switch is a physical switch that allows end-users to enable and disable the laptop's webcam, so as to serve as an added layer of security against accidental webcam activation or even against malicious actors trying to gain control of the laptop's webcam via malware. That said, the webcam's video quality is passable, though not the best - ditto that for the laptop's built-in microphone. For typical work conference calls and the like, the Legion 5 should do just fine. However, gamers, at whom this laptop is targeted at, may find the video and audio quality a little wanting especially if live streaming while gaming is on the cards.
Audio Experience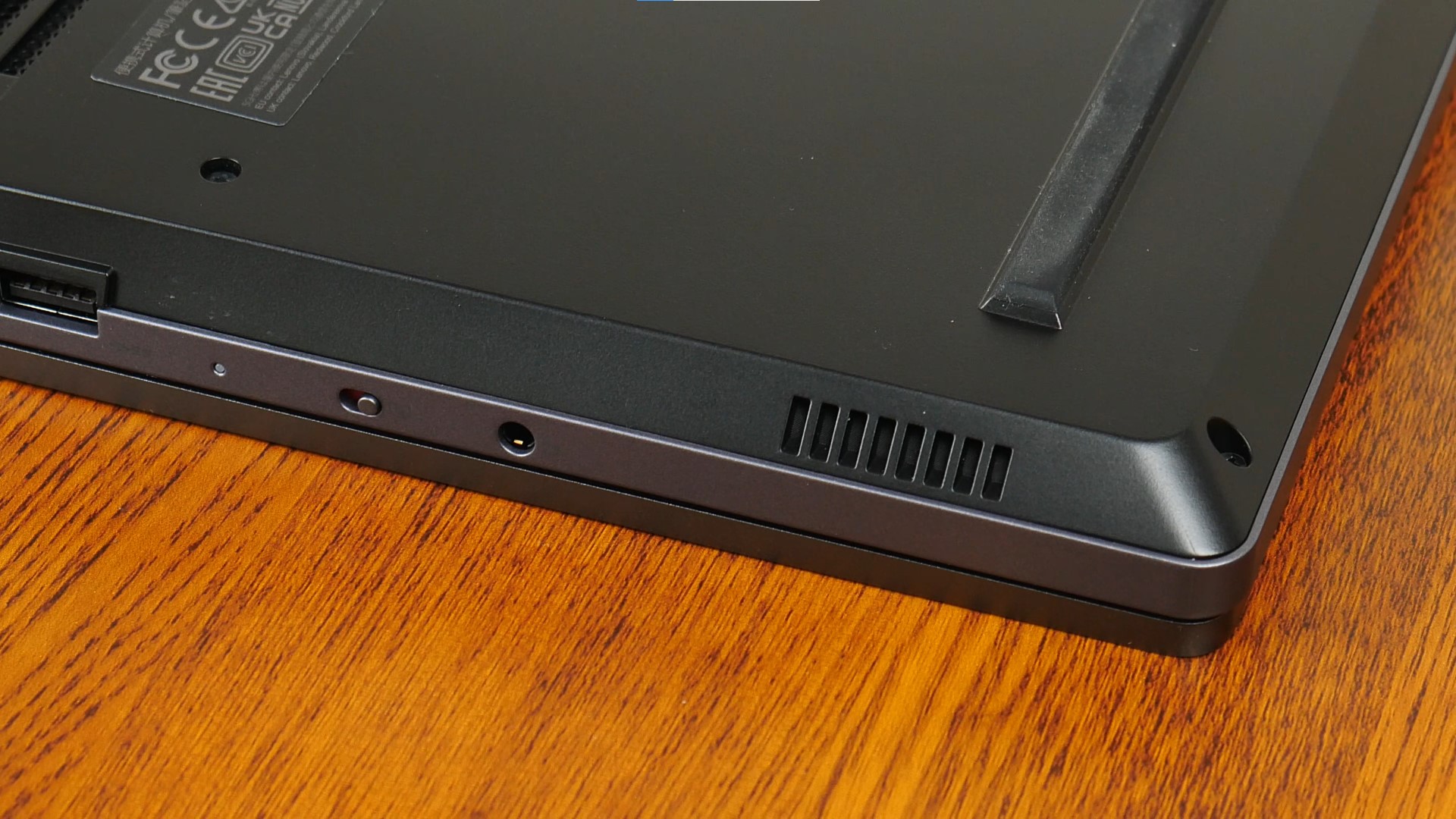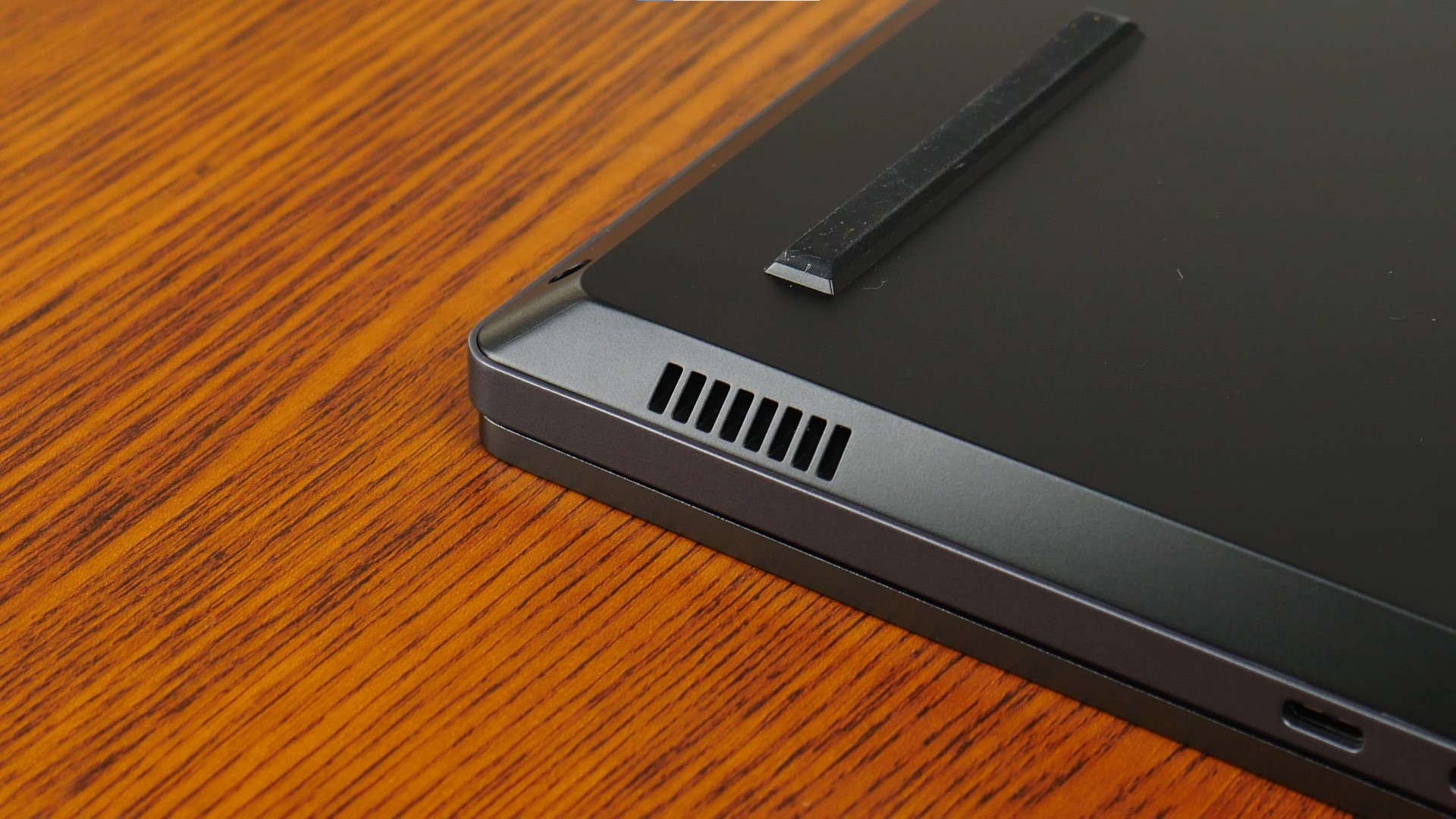 The Legion 5 comes with built-in stereo speakers powered by Realtek's ALC3287 audio, and unfortunately, the sound quality does not impress, in large part due to the quality of the speakers. Be it while gaming or listening to music, the sound quality of the speakers came across as muddy with a lack of definition and bass.
Thankfully, the same cannot be said of the experience when using external headphones or speakers - coupled with the use of the laptop's built-in Nahimic audio control panel, which was full-fledged and allowed me to configure a soundscape that suited my personal preferences, I thoroughly enjoyed the audio experience with even my humble JBL C150SI in-ear headphones. Given the potential customer profile for this laptop, owners of this laptop would probably wind up using gaming headsets or a proper external speaker setup anyway.
Keyboard & Touchpad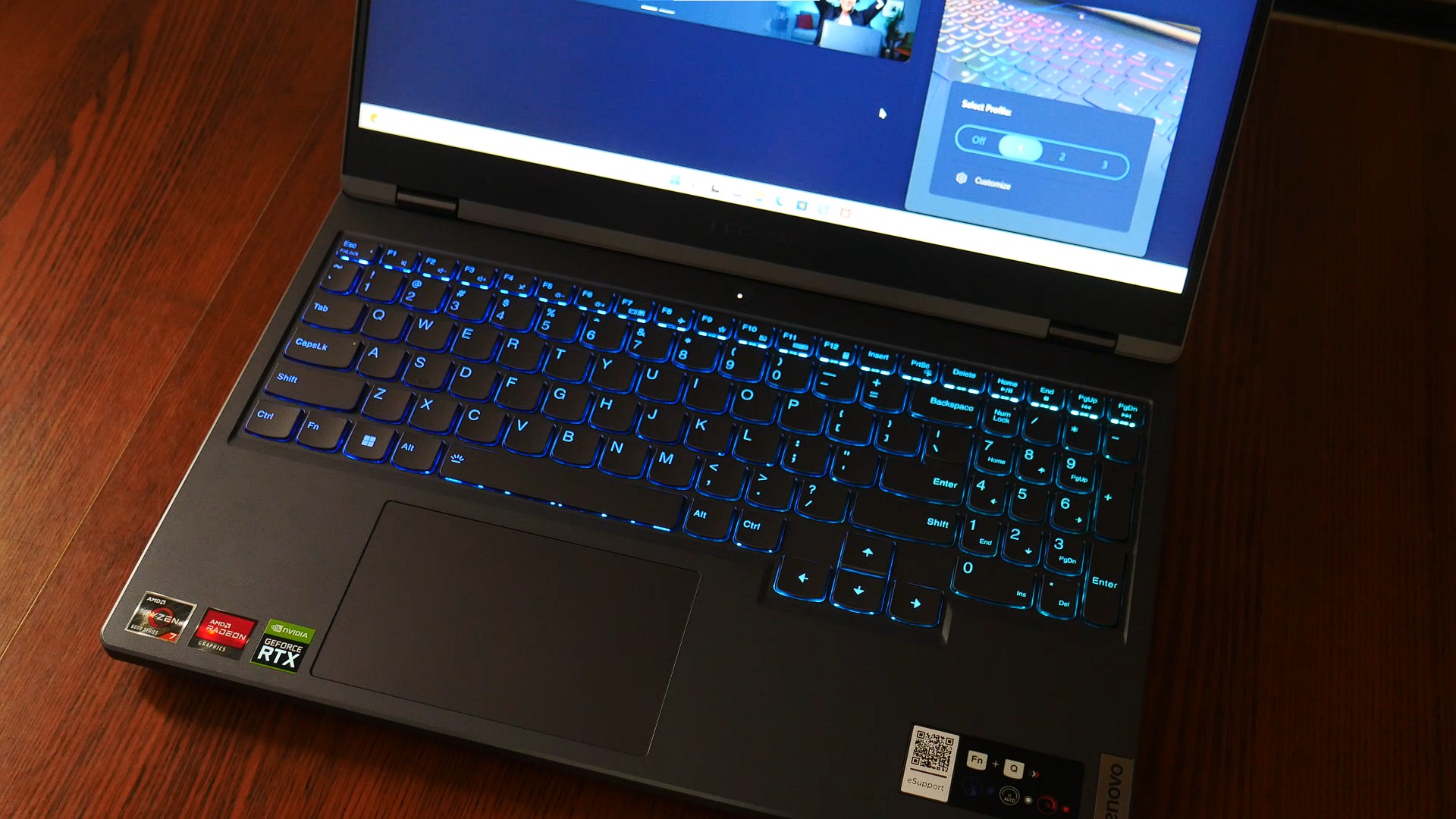 Included with the laptop is a four-zone RGB LED backlit keyboard that serves up a number pad as well. The typing experience with the keyboard was good, where I found the keys to be spaced out sufficiently for my needs, even with the number pad's presence. In terms of the RGB LED backlighting, owners of this laptop have the option of choosing between three preset lighting patterns, with additional customisation possible via the Legion Spectrum section of the Lenovo Vantage app. Those who do not fancy RGB bling have the option of switching off the LEDs for a sleeper appearance as well.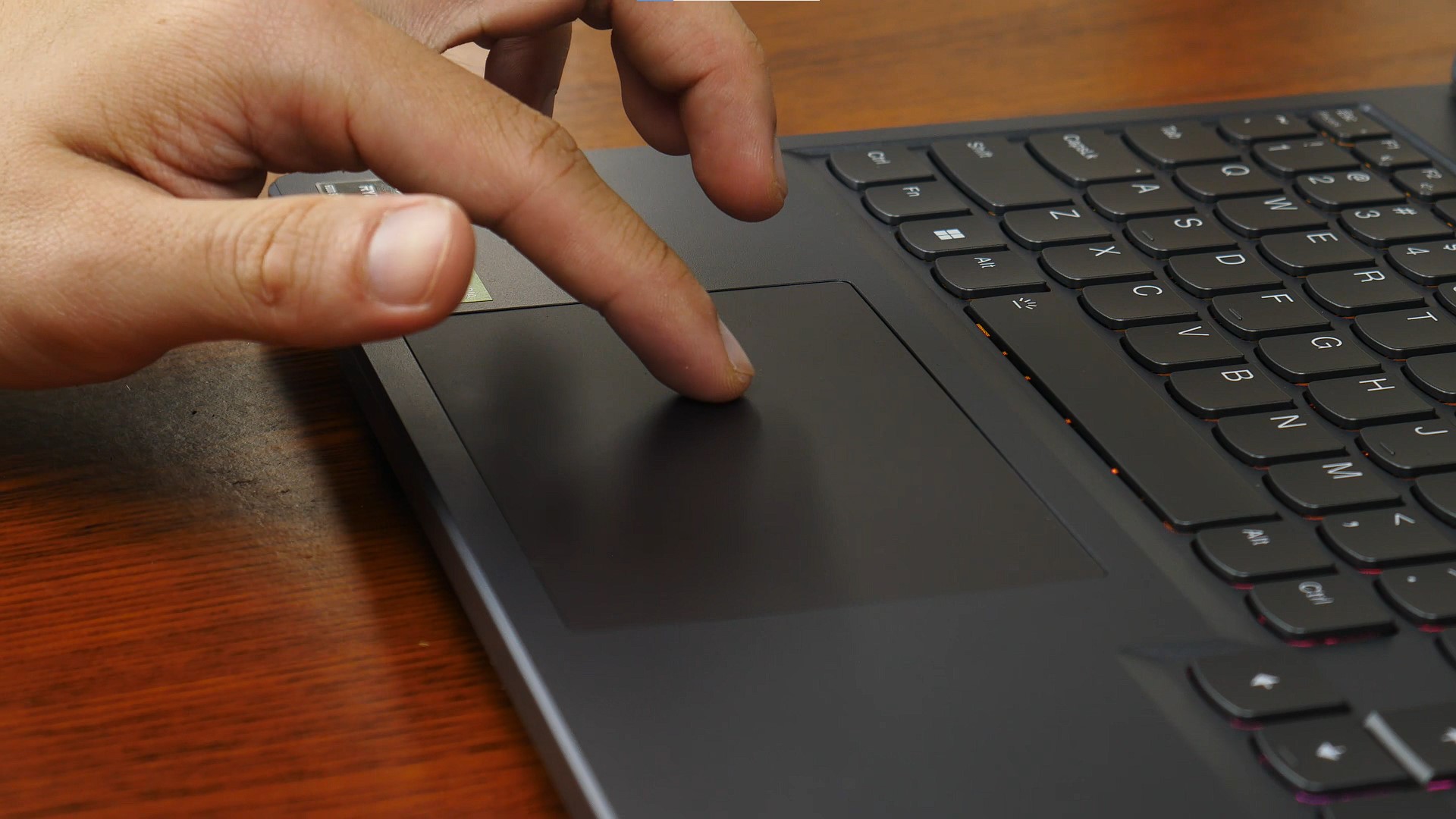 The included touchpad supports multi-touch gestures, and click action is ordinary enough to say the least, and gets the job done with no frills. It's worth noting that the Legion 5 does not come with a built-in fingerprint reader.
Benchmarks & Test Setup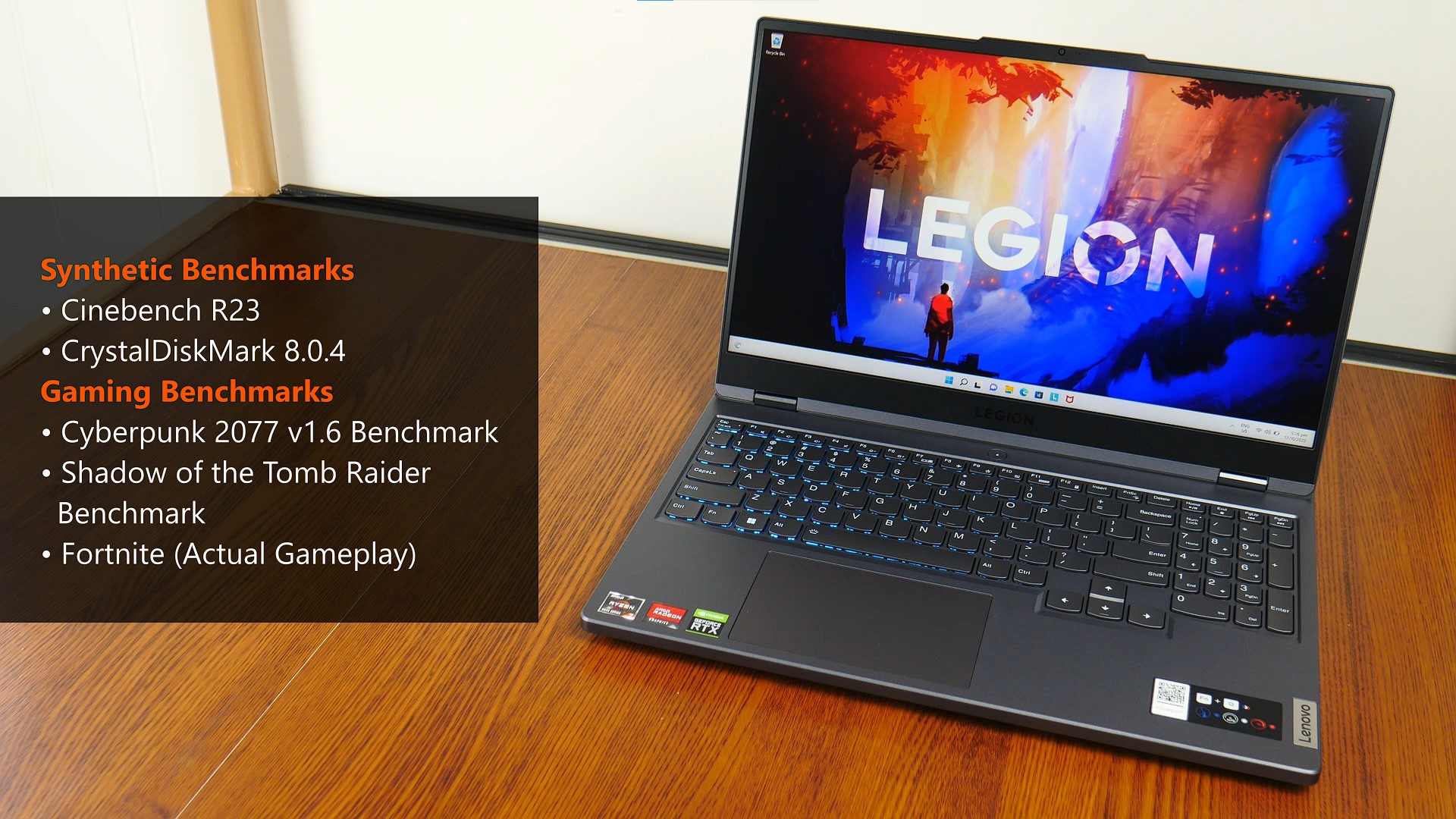 To get a sensing of the Legion 5 15ARH7H's performance, the following tests were run:
Synthetic Benchmarks
Cinebench R23
CrystalDiskMark 8.0.4
Gaming
Cyberpunk 2077 v1.6 Built-in Benchmark
Shadow of the Tomb Raider Built-in Benchmark
Fortnite (Actual Gameplay)
All games were run at the native 1440p (2560x1440) resolution supported by the laptop's LCD display panel.
The test setup was as follows: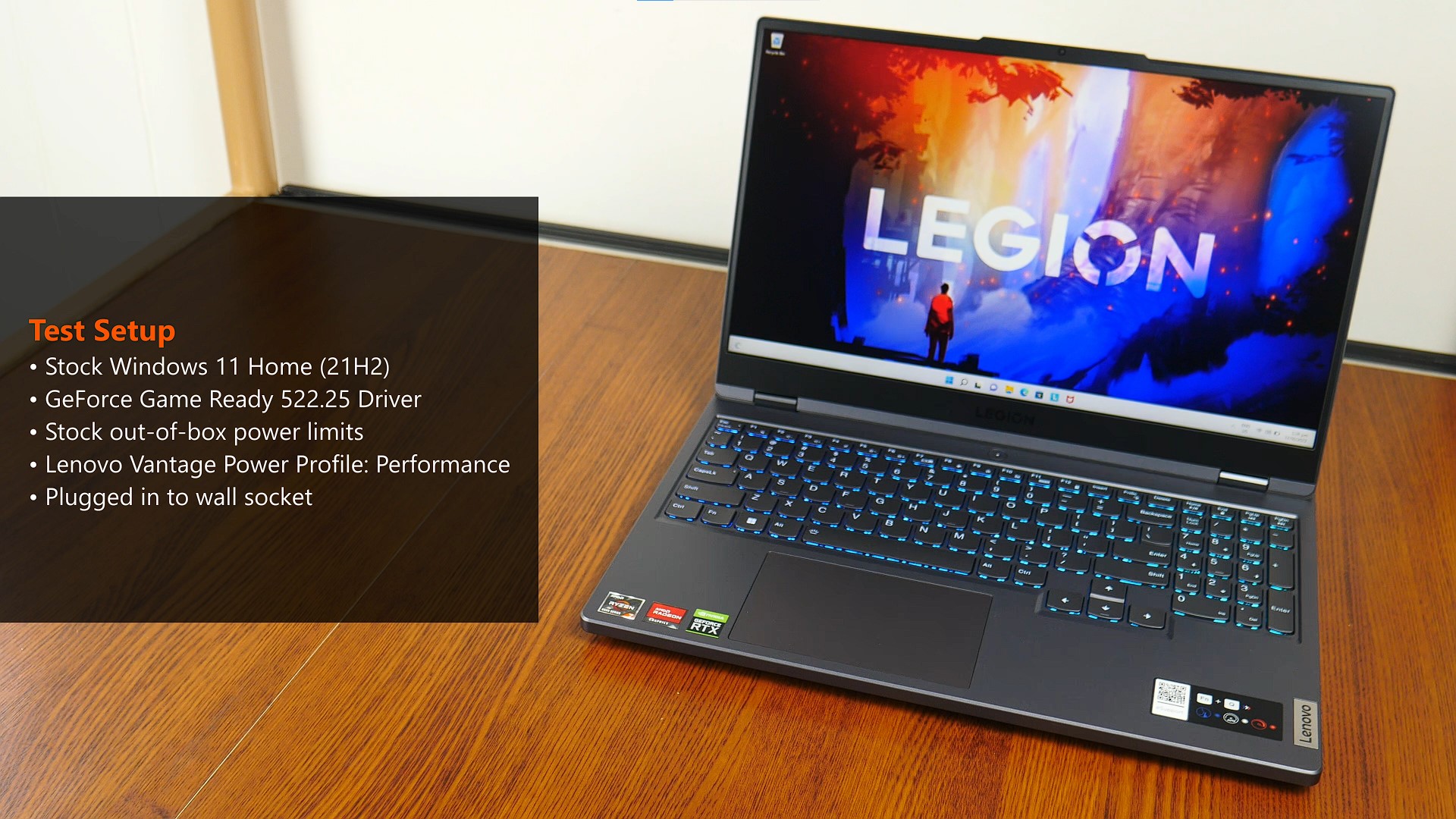 The stock installation of Windows 11 Home (21H2) was used, and the NVIDIA graphics driver was updated to the latest version (522.25) which was downloaded from NVIDIA's website. No tweaks were made to the power limits of the laptop's CPU and GPU, and the laptop was plugged into the mains during the entirety of benchmarking and testing. The Power/Thermal profile was also set to the "Performance" mode within the Lenovo Vantage app.
Cinebench R23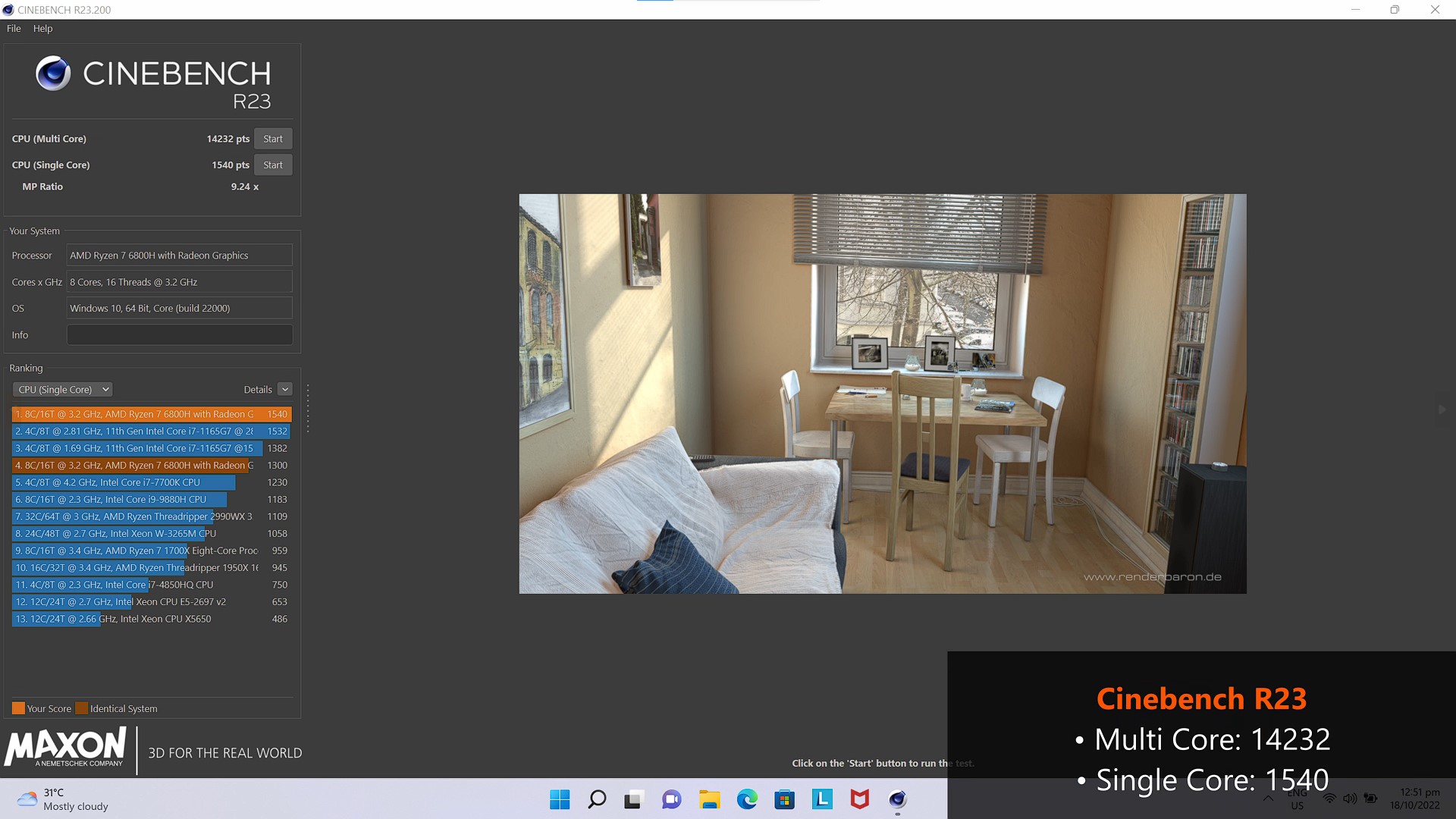 With Cinebench R23, the Legion 5 15ARH7H scores 14232 points for the multi core test, and 1540 points for the single core test, which is a good showing for the laptop's performance-oriented AMD Ryzen 7 6800H processor.
CrystalDiskMark 8.0.4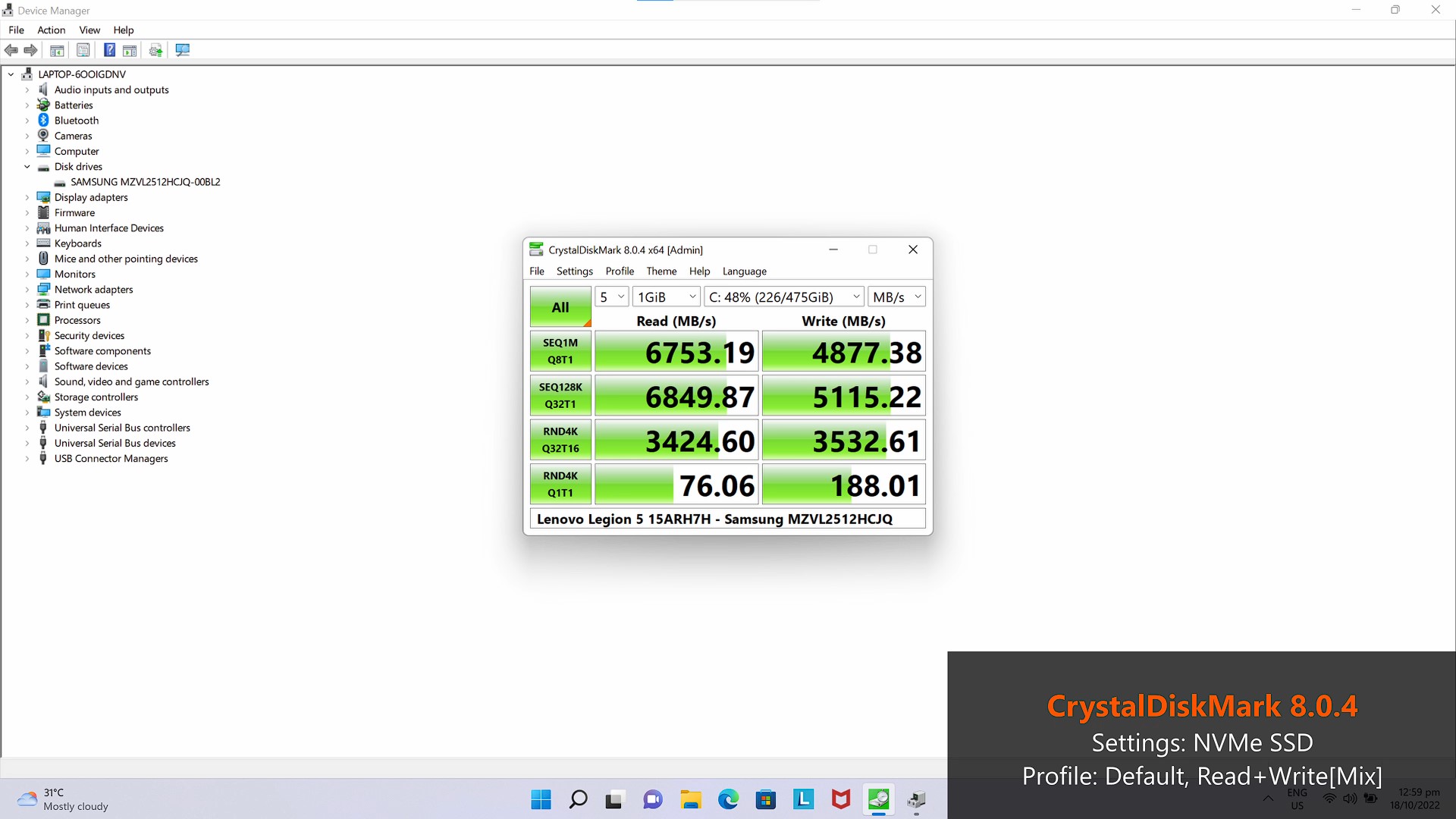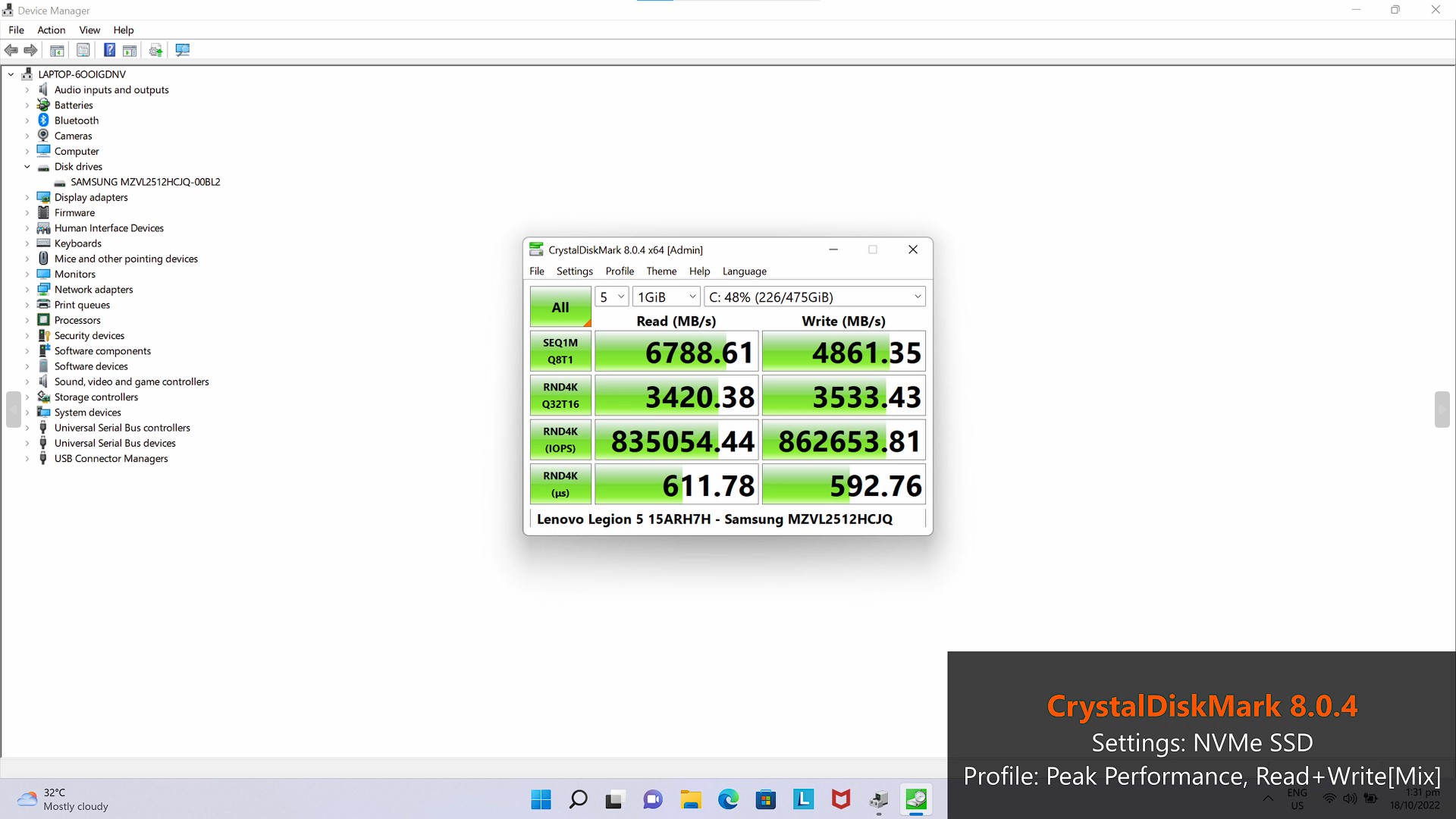 Bearing in mind that the 512GB Samsung PM9A1 (MZVL2512HCJQ) NVMe SSD that comes with the Legion 5 has an advertised sequential read and write speed of 6900MB/s and 5000MB/s respectively, the CrystalDiskMark scores are pretty close to Samsung's advertised speeds, making for a pretty snappy SSD that should perform as intended. The PM9A1 sports TLC NAND flash, and utilises the PCIe 4.0 x4 interface; according to some quarters, the PM9A1 is actually the OEM version of Samsung's retail 980 Pro SKU.
Cyberpunk 2077 v1.6 Benchmark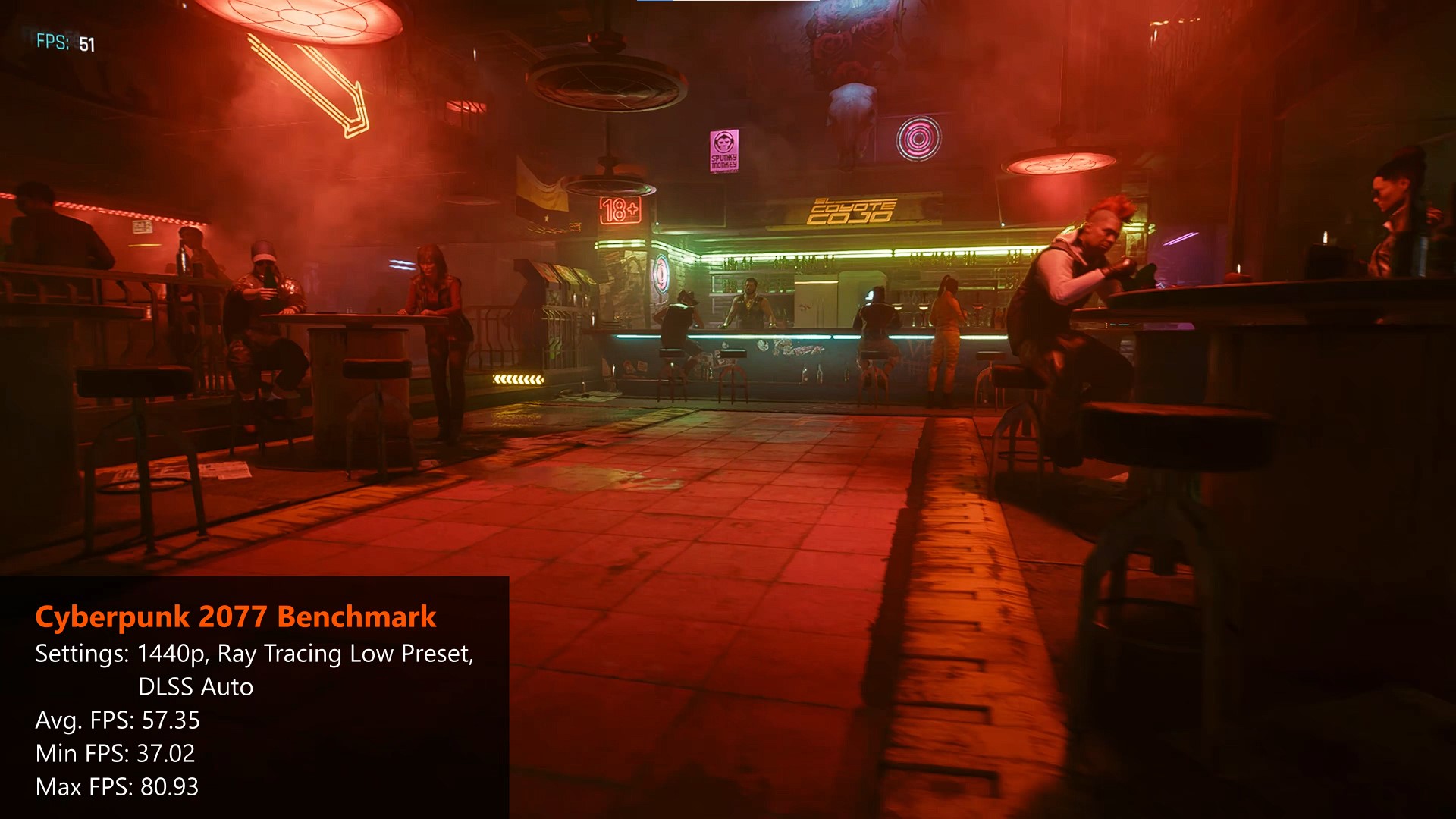 With Cyberpunk 2077 v1.6's built-in graphics benchmark, the Legion 5 achieves an average FPS of 57.35, a minimum FPS of 37.02 and a maximum FPS of 80.93. These results were achieved on the laptop's native 1440p resolution, using the Ray Tracing: Low graphics preset with DLSS enabled and set to the Auto profile. Enabling DLSS is a must if you're intending to enable some form of ray tracing while playing Cyberpunk 2077, as not doing so would result in unplayable framerates. Unsurprising really, given how graphically intensive ray tracing is with the Cyberpunk 2077 game title.
Shadow of the Tomb Raider Benchmark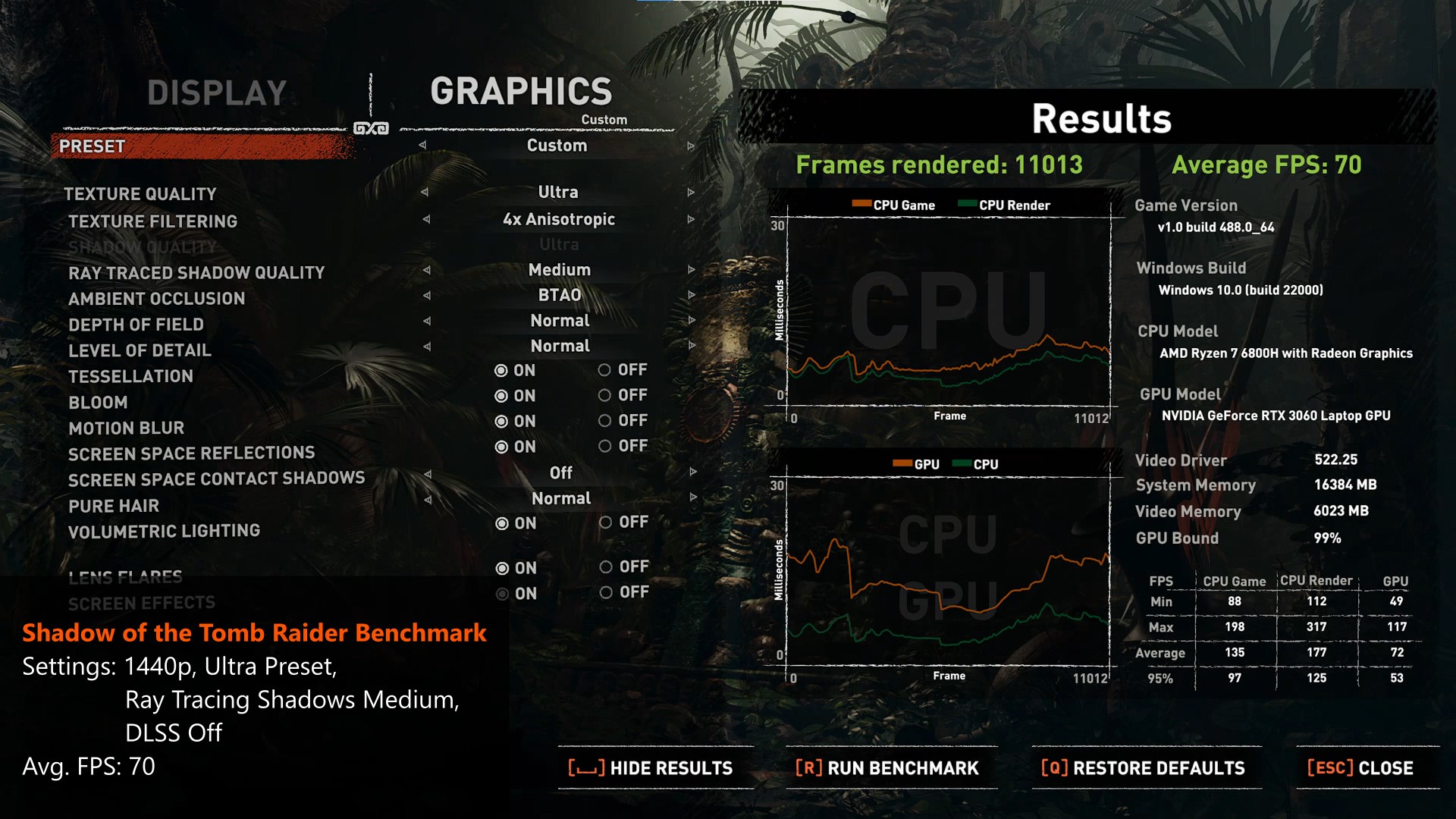 Moving on to Shadow of the Tomb Raider's built-in benchmark test, on the Ultra graphics preset with ray tracing shadows set to Medium and DLSS disabled, the Legion 5 attains an average FPS of 70. Again, this set of results was achieved while on the 1440p resolution.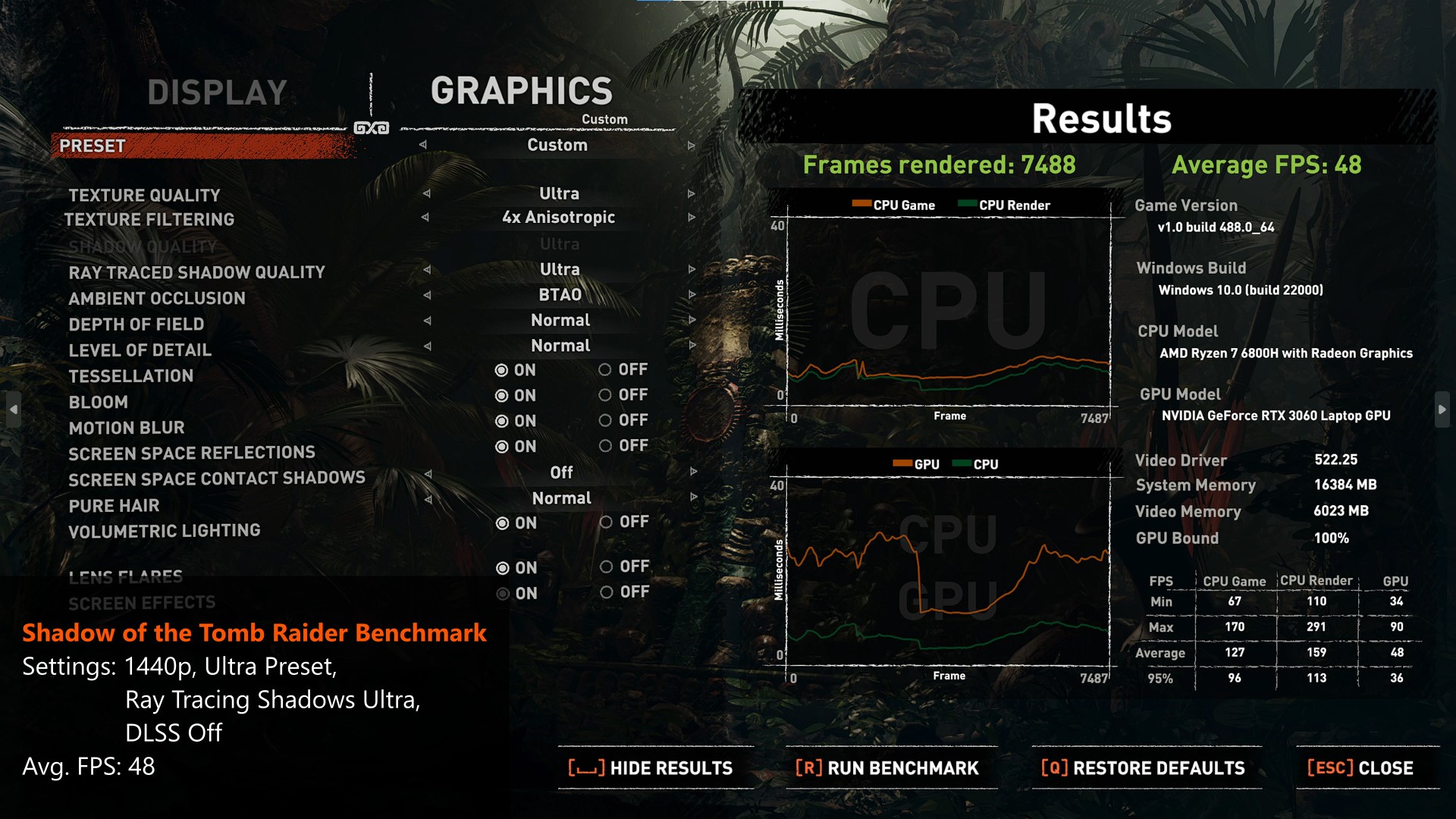 Bumping the ray tracing shadows quality to Ultra, the Legion 5 achieved a respectable average FPS of 48 - again, this result was achieved with DLSS disabled, on the 1440p resolution setting. Should DLSS have been enabled, a healthy performance gain would have been gotten for sure.
Fortnite (Actual Gameplay)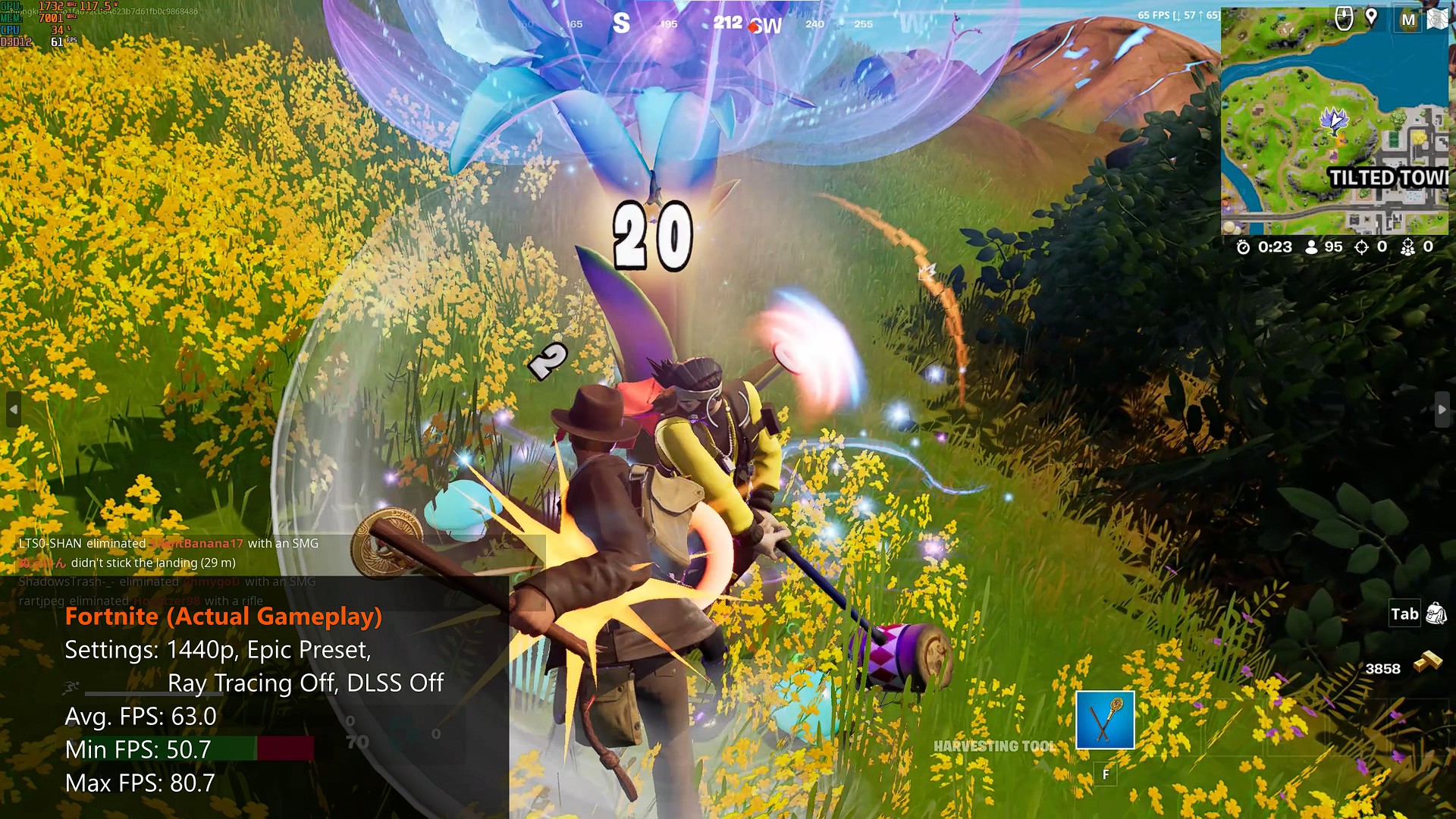 On the Epic graphics setting with both ray tracing and DLSS disabled, the Legion 5 achieved a very playable average FPS of 63.0, a minimum FPS of 50.7 and a maximum FPS of 80.7.
Acoustics, Thermals & Gameplay Comfort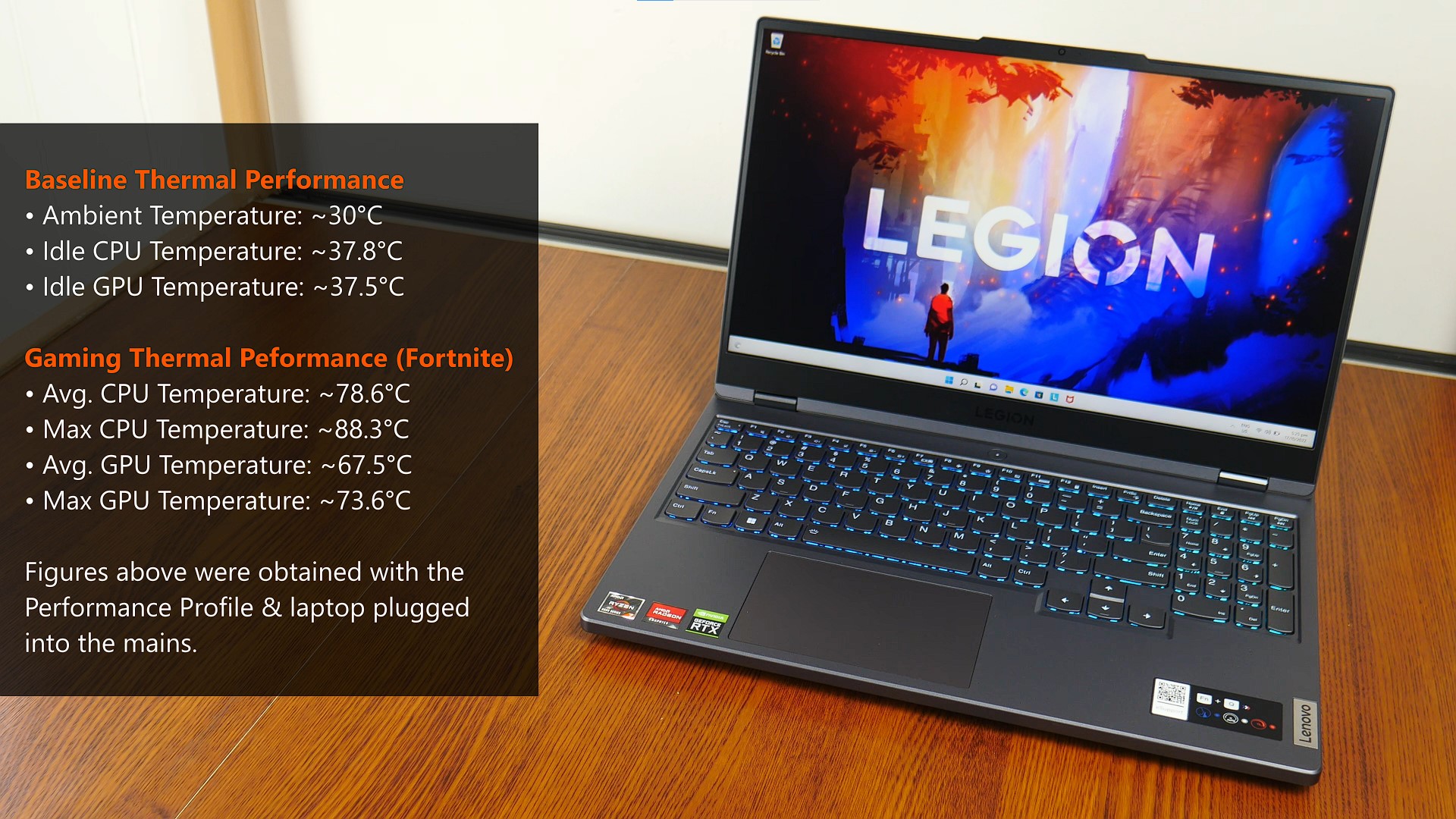 To get a sensing of the laptop's thermal performance, sensor readouts from the HWiNFO64 app were obtained:
Baseline Thermal Performance
Ambient Temperature: ~30°C
Idle CPU Temperature: ~37.8°C
Idle GPU Temperature: ~37.5°C
Gaming Thermal Performance (while playing Fortnite)
Average CPU Temperature: ~78.6°C

Maximum CPU Temperature: ~88.3°C

Average GPU Temperature: ~67.5°C

Maximum GPU Temperature: ~73.6°C
The results above were obtained while on the Performance thermal profile, with the laptop plugged into the mains.
While idle or on light loads, the Legion 5's fans did not spin up, and the laptop was consequently silent. However, during heavy loads such as while gaming, the fans spun up and were loud - the only saving grace was that I could not hear the fan noise while gaming with headphones on, or with the built-in stereo speakers turned up to around 50% volume.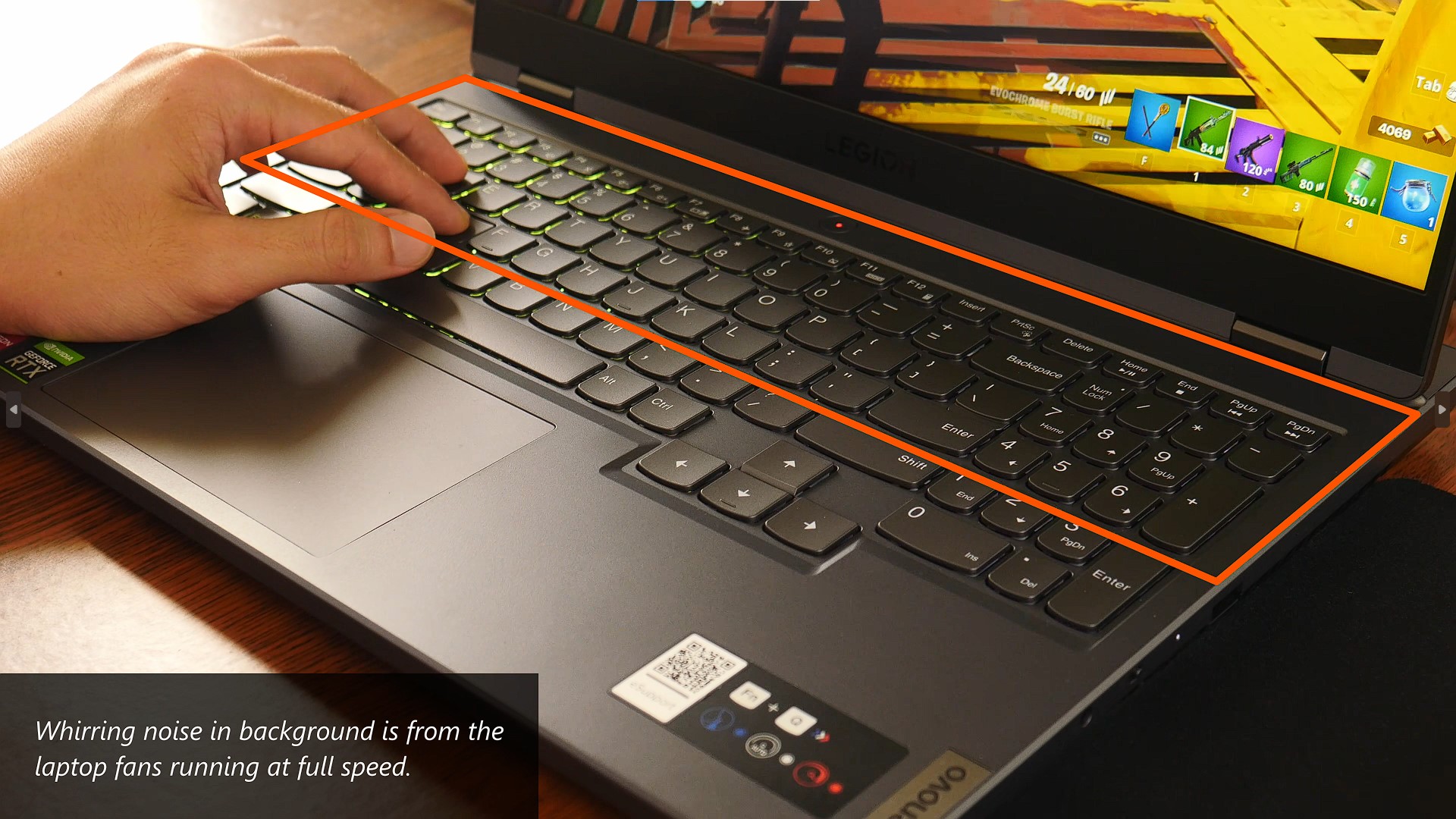 In spite of the warm CPU and GPU temperatures while gaming, gaming comfort was not compromised, where most of the heat output was concentrated around the region of the keyboard as highlighted by the screenshot above. As a result of this, the palm rest area did not get uncomfortably warm at all, and I was able to game in comfort with the laptop's built-in keyboard.
Conclusion & Pricing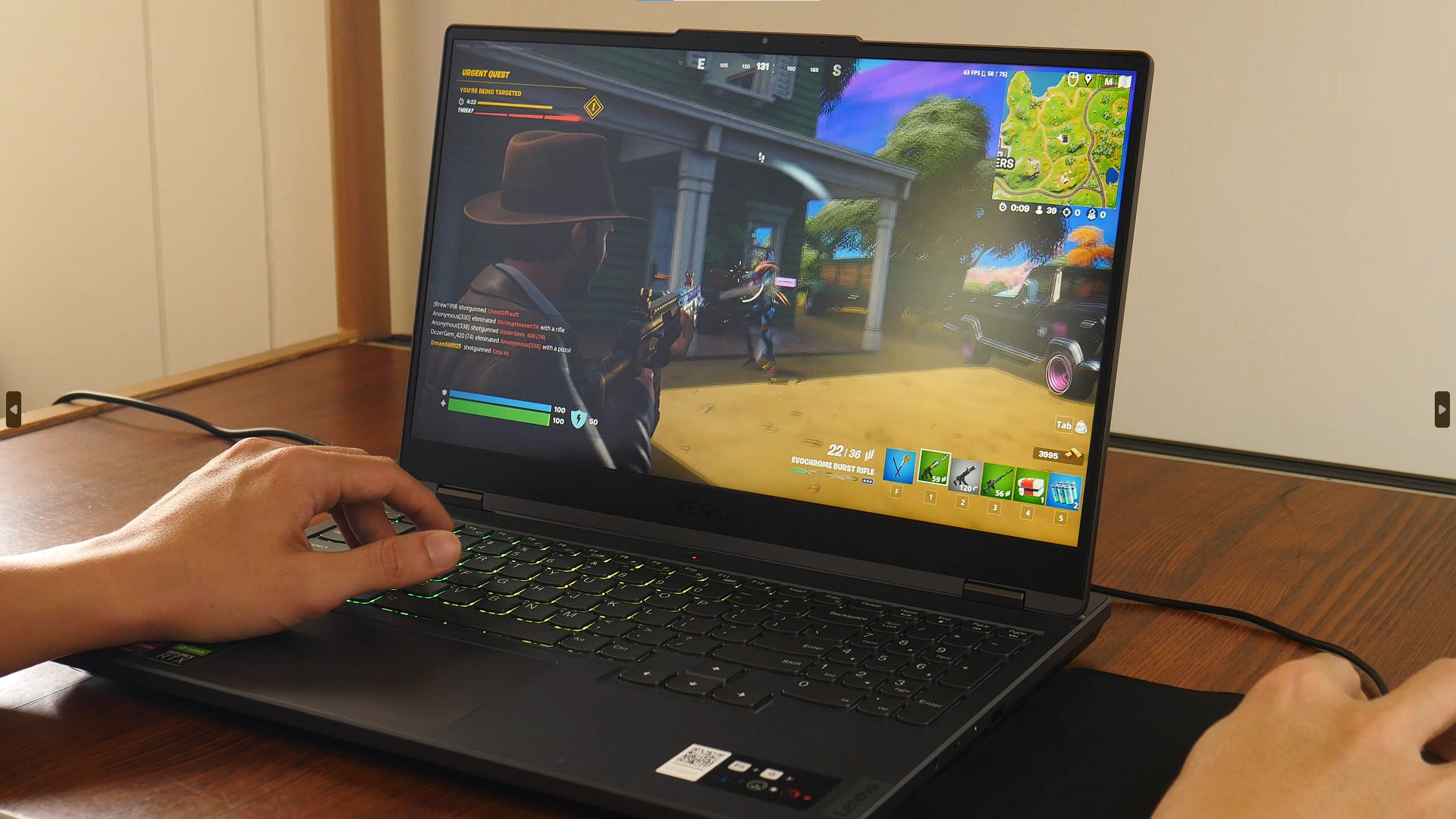 In the 15ARH7H guise equipped with AMD's Ryzen 7 6800H processor and NVIDIA's GeForce RTX 3060 Laptop GPU, the Legion 5 Gen 7 shapes up to be a very capable 15.6" 1440p gaming laptop that is capable of taking on today's gaming titles with aplomb at decent graphics settings. This is helped along by a speedy NVMe SSD and a great looking LCD display that helped ensure a smooth overall gameplay experience. Build quality is great too, despite the laptop's predominantly plastic construction.
Some downsides to highlight include the heat and noise output while gaming (which all things considered, are kind of hard to avoid given the size and space constraints of a typical laptop chassis), the built-in speakers which leave much to be desired, as well as the so-so built-in webcam and microphone. While I'm personally okay with how the Legion 5 looks, gamers who desire a gaming laptop that looks the part might come away slightly disappointed, owing to how ordinary the laptop looks, RGB backlit keyboard aside.
That said, in my opinion at least, these cons do not detract from the fact that the Legion 5 still does its job well as a gaming laptop, where gaming performance and comfort should take centerstage.
As of October 2022, the Lenovo Legion 5 15ARH7H (82RD006DSB) is available in Singapore for a price of approximately $1949 Singapore dollars, which converts to roughly $1373 US dollars. Do bear in mind that Lenovo releases variations of the 15ARH7H suited for different countries, with different memory, storage and even WIFI module configurations.
Get this laptop from Amazon: https://amzn.to/3z2PRtE (affiliate link)
Get this laptop (1TB SSD variant) from Shopee Singapore: https://shope.ee/9zN7xrMjeT (affiliate link)
ALKtech may earn commissions from qualifying purchases made using affiliate links, at no extra cost to you as a customer. These commissions go a long way in supporting the platform!
The laptop featured in this article was a retail-purchased product.